Mumbai is a city of luxury. Michelin starred meals, some of the most expensive real estate in the world, and the home of Bollywood. You might think it's a budget travelers nightmare. But you would be wrong. You can comfortably travel in Mumbai for $10 a day. Or less. In fact, India may be one of the easiest countries in the world to budget travel.
Why?
Sticking to a budget of $10 a day, although possible all over the world, can sometimes hinder the experience. If you can't gorge yourself on local food and explore historical sights or temples then can you really say you got to fully experience the country? India is all about culture and food & a backpacker budget of $10 lets you have all that and more in Mumbai.
6 Simple Tips for Saving Money in Mumbai
1.Haggle
There are no set prices in India. Or very few anyway. Unless it's food, consider all prices negotiable – learn how to haggle and practice hard!
2. Visit During the Low Season
You need to take the weather into account when you visit India. Mumbai weather comes in three seasons–Summer, Winter, and Monsoon. From June through September, when the rain pounds down on the city, tourists are in short supply. Prices will be the lowest this time of year.
Consider visiting during the shoulder season in late May/June or September/Early October for a good balance of decent weather and low prices.
3. Carry a portable battery to recharge your phone
This seems like a weird recommendation but let me explain. You're out exploring the city, getting lost in twisting neighborhoods & your phone dies. What's your plan to get back to your hostel? Without a recharge, you might be forced to cough up the rupees to pay for a tuk-tuk ride home instead of the leisurely walk you had planned.
4. Cash is King
If you're paying with credit, you're overpaying. India runs on cash & Mumbai is no different. If you're dining somewhere that encourages card payment it's not going to be budget-friendly.
Pull out as much cash as allowed to avoid excessive ATM fees.
5. Make Friends with Locals
The only recommendations better than those from the backpacker grapevine are those from well-connected locals. You can visit Mumbai 100 times and you'll never know it better than a resident of the city. Making friends at your hostel or with chatty chai vendors gives you an insight into the attractions worth seeing.
6. Trade your daily coffee habit for Chai
Chai is the lifeblood of India. You'll shave a dollar or two off your daily budget by swapping out your morning coffee for the ubiquitous steaming orange spiced beverage served in teeny tiny cups from dawn till dusk.
Budget Travel Tips for Getting Around Mumbai
Mumbai is a massive sprawling city. This suckers many out-of-towners into shelling out the cash for an overpriced cab or all-inclusive tour. But if you break the city into smaller segments, it becomes much more manageable. Even on foot.
Mumbai is a walkable city. Just don't try to cover too much ground in one day. Remember bite-sized pieces.
That being said, in a city with a quarter of a million rickshaws crowding the streets daily, it's pretty easy to find a cheap driver for the day & riding in an open-air death machine through the streets of Mumbai is one of those "must-have" experiences in India.
But if you want to get where you're going efficiently, cheaply, and alongside the locals, you gotta take the railway. It's an attraction in itself.
The Mumbai Suburban Railway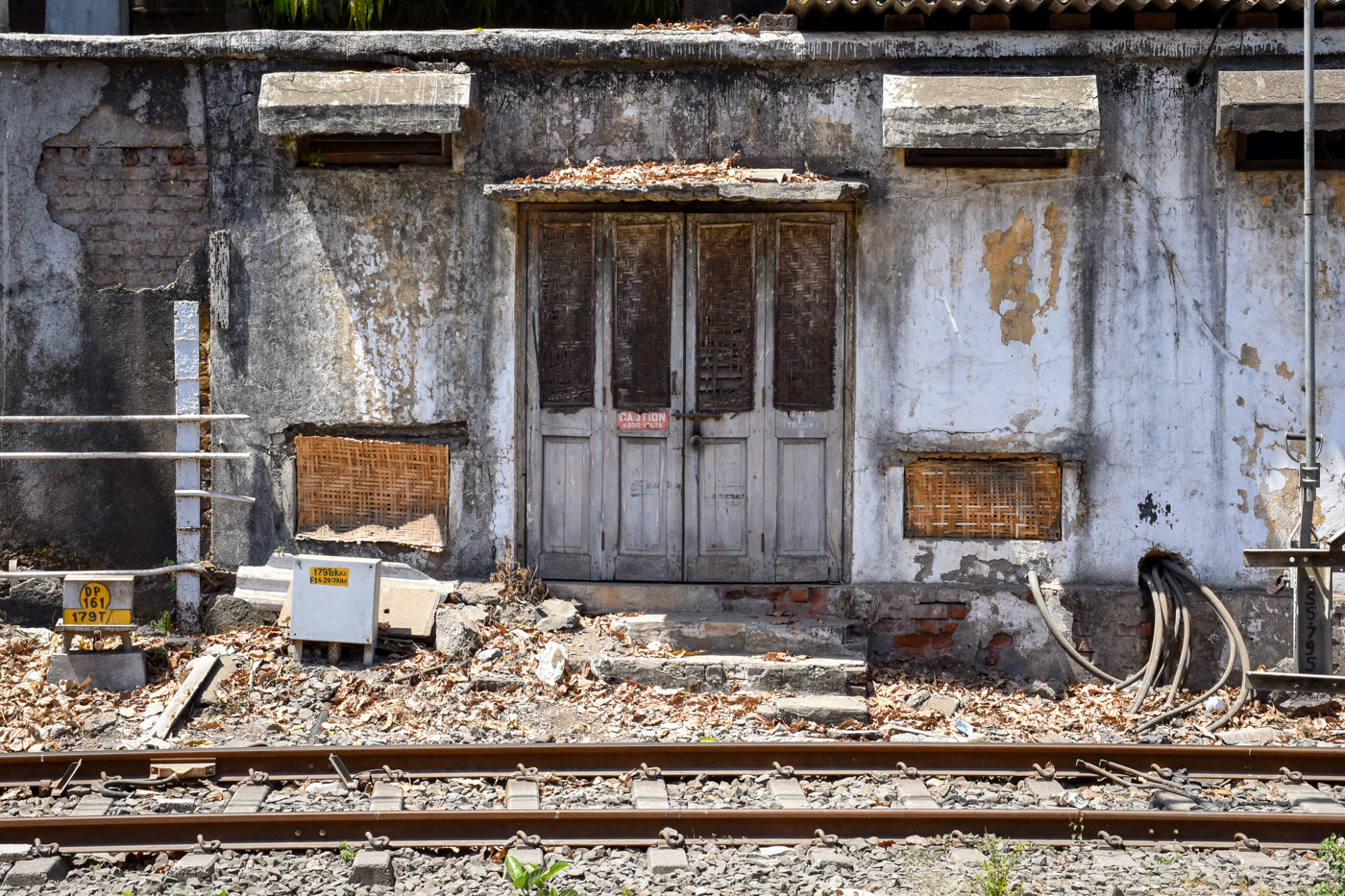 You get about 5 seconds to board the open-air cars before the train goes hurtling through the city to its next destination. Those closest to the doorway (or hanging outside it) will often gracefully leap from the still-moving car onto their platform before it has coasted to a stop in one effortless motion.
This twisting network of tracks connects all corners of the city & offers a glimpse of local life. Check out a train station platform at rush hour. Or visit Churchgate Station at noon to see the hundreds of Dabbawalas pouring off the trains to deliver their hot lunches all over the city.
Trains in Mumbai are a whirlwind of activity. Performers clapping musical instruments, Hijras sauntering up to passengers collecting rupees and placing curses on those who don't open their wallets, & unfortunately, child beggars. As I said, the trains are an attraction in themselves.
Tips for Cheap Train Travel in Mumbai
Although tickets are rarely checked, make sure to buy one. It's just the right thing to do. & at no more than $0.20 a ride across town it's practically free.
If the train car is relatively empty, I recommend grabbing a spot near the door to watch the city pass by & take full advantage of your free city tour. Just be careful not to fall out if it's a packed car. Sadly, that's a common occurrence on Mumbai's tracks.
You won't see many women on the train if any at all. If that makes you uncomfortable there are "Women Only" cars located at the front & back of the trains.
Apps to get You Around Mumbai for Cheap
These apps will help you get from point A to point B at the cheapest possible price point.
Maps.Me
This is always my go-to travel map app. Maps are available offline & the walking directions wind you through residential neighborhoods and interesting alleyways I never would have found otherwise.
Mumbai Local Train Timetable
Pretty self-explanatory. But with routes snaking across the city (& country) this is the best way to keep track of it all.
Travelkhana
Spend any time in India at all & you'll become well-versed with the train system. This app allows you to order food from the street vendors at the train stations along your route & have the food delivered to you in your seat at a designated stop. This is a lifesaver on long-haul or overnight trains. Although, I will admit the steaming plastic cups from the Chai Wallah & provided meals weren't half bad. (The app is only available for download in India)
Redbus
The best way to book your bus tickets! Redbus lets you book your route online & has neat features for those not familiar with Indian buses, like the option to see photos of the bus & read reviews from others who have taken the same route.
Uber or Ola
Mumbai has embraced the world of ride-share. Uber is available in Mumbai, but for faster service, I would recommend downloading Ola. It works the same as Uber but with more drivers & often cheaper fares, it's the best ride-share app in town. You can also book Uber Tuk-Tuk's in many Indian cities including Mumbai.
How to Score Free Accommodation in Mumbai
Accommodation is the biggest budget suck for backpackers & paying for a place to sleep every night is going to eat into your $10 a day budget. Luckily for you, there are loads of ways to sleep for free.
Couchsurf
This is my favorite way to sleep for free. & the Couchsurfing community in India is wonderful. You'll get to make a friend and free up your budget to splurge on snacks.
Work at a Hostel
This is another great option to sleep for free as long as you don't mind donating your time at a Mumbai Hostel. This strategy works best for those who are on an open-ended or long-term trip. You should also consider Workaway or HelpX.
How to Find Budget-Friendly Accommodation in Mumbai
Not trying to lose valuable exploring time or sleep in a stranger's home? Not a problem. Although the average cost of a hotel in Mumbai is around $60 there are plenty of budget-friendly options in the city. You can easily spend $6 a night in Mumbai and be perfectly comfortable.
Tips for Scoring the Cheapest Accommodation
Book early & online. Unlike the rest of the continent, India doesn't always reward those without a plan. The cheap options often fill up fast with other Indian tourists.
Steer clear of Colaba (or any other tourist-heavy area), if you're looking for a cheap room.
Consider the location of your budget-friendly room. A cheap room is fine & dandy, but if you are nowhere near the railway you might have to cough up extra cash on transport or traverse long distances on foot.
Pick Your Neighborhood Wisely
As I talked with other travelers about Mumbai, I began to notice a sharp divide between those who loved the city and those who hated it. It seemed those who loved Mumbai stayed in these neighborhoods & those who hated it had the misfortune to base themselves elsewhere. The best neighbourhoods in Mumbai are;
Vile Parle (East). Nearest the airport, connected to the rest of the city via the metro, & bursting with local food spots.
Bandra West. Budget-friendly & some of the best nightlife in town. It's also covered in street art, teeming with markets, and its central location is rather convenient.
Kala Ghoda. Art and shopping. Kala Ghoda is a hip trendy suburb near the tourist epicenter of Mumbai. It's not as budget-traveler friendly as the other two neighborhoods. But you might get lucky.
How to Find the Best Cheap Food in India
As I may have mentioned before, India is food. The country's cuisine is perhaps one of the most diverse in the world. And one of the most beloved, a perfect balance of sweet, savory, spicy, and sour.
The mish-mash of cultures and cuisines that create good food is always at its best in a big city. Here in Mumbai, you have your traditional Northern & Southern Indian styles meshing to become something all its own. So, how do you find the best cheap food in Mumbai?
1.Follow the Locals
Locals eat many meals out in restaurants. This means cheap traditional food spots will be brimming with locals during meal times. Follow the crowds.
2.Spot the No Frills Dining
Can't pronounce the name? Or even find it? Tucked into an alleyway? Is the restaurant a tiny undecorated space? These are all signs of killer Indian food. & cheap food. As long as the first rule is also followed.
3.Don't Be Afraid of Street Food
Even adventurous travelers can sometimes balk at the sanitary conditions of some street vendors in India. But if it's busy, it's probably fine. This is where you're gonna score the cheapest Indian eats.
4.Avoid the Tourist Zones
Food near major tourist attractions is always overpriced. Instead, look for food a few streets down and you'll be rewarded with cheaper & often better quality food.
5.A Local Meal in Mumbai Shouldn't Cost More than $2
If your daily budget in Mumbai is $10 then we have to drive those food costs down. 3 meals a day at no more than $2 a pop. If you stick to local food this shouldn't be a problem. Here are some of the iconic cheap eats you should look for.
Iconic (Cheap) Mumbai Foods to Try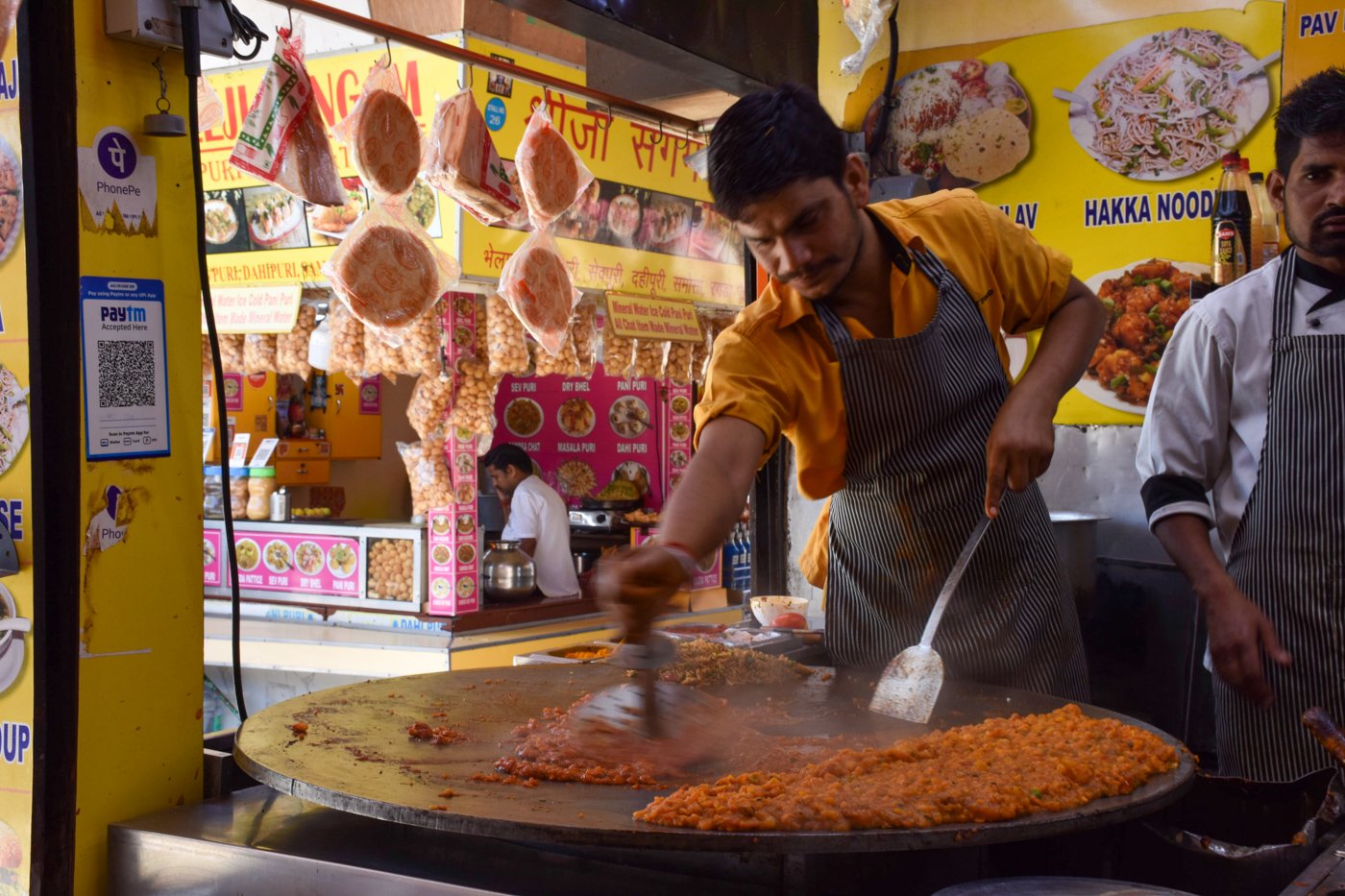 Pav Bahji
Pav Bahji is quintessential Mumbai street food. Mashed vegetables like potatoes, peppers, and peas, smothered in a perfectly spiced red sauce to drench your buttery warm buns in. Thinly chopped red onion and cilantro are liberally sprinkled on top. It's common street food but you'll find it on most Mumbai menus.
Typical Cost: 70 Rupees or $0.95
Falooda
This is a playful Indian dish to satisfy your sweet tooth. Rose syrup, chilled milk or vanilla ice cream, cooked green vermicelli, and basil seeds served in a thick milkshake style glass. Vendors throw in their mix of nuts, jelly cubes, and fruit to make it their own. It's a sweet and refreshing snack on those hot Bombay beach days.
The best version is Kulfi Falooda Rabri at the Juhu beach night street food market.
Typical Cost: 75 rupees or about $1
Chaat
Every city does it differently, every street vendor even. & when locals find the chaat stall they love they come back every day. One of the most popular Mumbai varieties is Dahi Puri Chaat. The crispy puffed puris are typically filled with potato, onion, and boiled chana (chickpeas) and topped with tamarind chutney, coriander chutney, garlic chutney, and spiced yogurt. They are sweet, spicy, savory, herbaceous, and have such an interesting texture you'll easily eat the whole plate.
Typical Cost: 50 rupees or $0.68
Thali Meal
A small portion of several daily specials is served on a silver platter often with rice, chapati, and chutneys. It's a perfect lunch & different in every region in India. & for those on a budget, it's the best way to sample everything.
Typical Cost: 120 Rupees or about $1.63.
Other Iconic Mumbai Plates to Try
Batata vada. Potato mixed with coriander, chilies, ginger, and turmeric, battered and fried. Voila.
The Bombay sandwich. Beetroot, boiled potatoes, cucumbers, tomatoes, onion rings, and mint chutney, toasted is best. You'll be hard-pressed to find this sandwich outside of Mumbai.
Bombay Duck. It's not what you think. Small strips of fish fried and covered in red curry sauce.
Sheera/Shira. A delightful dessert or breakfast pudding. Semolina, sugar, ghee, cashews, and raisins mix to create a fluffy warm bowl of comfort food.
Iranian Milky Chai & Bun Maska. The Iranian and Pakistani neighborhoods are alive and well in India & serving classics in seemingly crumbling, but busy establishments all over town. Kyani & Co has mastered the craft after 116-years of serving the same dish.
Dosai. Originating in South India, these fermented rice/lentil batter pancakes can be filled with a variety of sauces or cheese & are found at every Mumbai establishment.
Looking for Budget-Friendly Vegetarian Options?
India is a vegetarian paradise. So much, in fact, restaurants advertise "non-vegetarian" if they serve meat, otherwise assume veggie is the standard. Pav Bahji, Dosai, Bun Maska, Sheera, & more; all come 100% meat-free.
How to Drink in Mumbai for Cheap
As a former bartender, I can attest that humans love to drink. Myself included. For budget-travelers, however, this can be a major budget killer. Alcohol is quite expensive in India (sometimes even more so than in Europe!) owing to high taxes. To stay in Mumbai for under $10 a day, you're not going to be imbibing too heavily.
Drink outside of bars
Although Mumbai is packed full of luxurious cocktail bars and rooftop lounges you're gonna want to stick to the ground floor establishments. Specifically, the liquor shops where you can buy your poison and walk away.
Just like everywhere else in the world alcohol is cheapest when purchased by the bottle & there are plenty of local shops where you can pick up a case of Kingfishers (the local beer) or a bottle of liquor to last you the week.
Make Friends With Locals
Whether you're Couchsurfing or roughing it at a hostel you should easily be able to make some local friends. They always have the inside scoop on dirt-cheap watering holes.
Cocktails run about $4 on average, but large Kingfishers will only set you back $2.
100% Free Attractions in Mumbai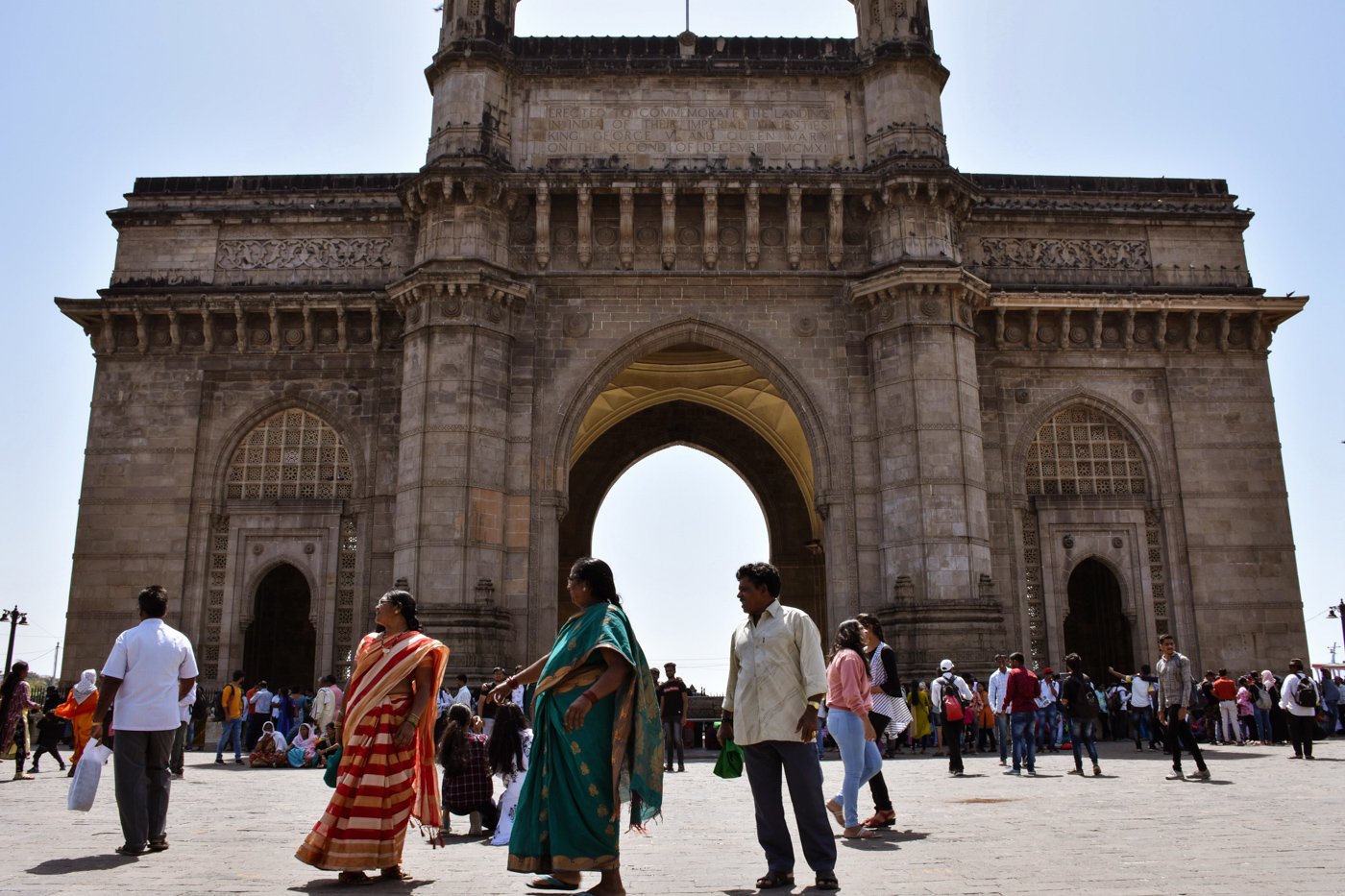 Sticking to free activities in Mumbai is simple enough. There are dozens of them. Here is a small list of attractions and activities that allow you to immerse in Mumbai's culture at no cost to you.
Take a Free Yoga Class
Lots of small traditional yoga centers offer free classes to first-time visitors. My favorite free yoga classes, however, were hosted at hostels because they tend to be more tailored to beginners.
Browse Mumbai's Free Museums
Mani Bhavan. Highlighting Mahatma Gandhi's transition from childhood to adulthood. It even has letters from Gandhi to Hitler on display.
RBI Monetary Museum. A collection of extremely rare coins.
Partake in a local festival
Does your visit happen to be coinciding with the annual Hindu celebration of Holi? Every March locals and tourists alike celebrate Holi with a Crayola-colored paint fight. As one of India's most popular festivals (& most fun), it's well worth adding to your bucketlist.
The best part is it's easy to celebrate Holi for free with the locals.
Visit Dharavi Independently
Asia's largest slum is the focus of hundreds of guided tours in Mumbai. But you don't need an escort to visit Dharavi. You can lose an entire day wandering the chaotic alleyways and crowded streets of Dharavi sipping Chai and scouting out the best street art. It's one of my favorite scenic strolls in Mumbai.
Other great Neighborhoods to Walk Through
Kala Ghoda.
Chor Bazaar.
Bandra West. Hill road, specifically.
Indulge Your Senses at Mumbai's Markets
Colorful markets are at the core of Indian culture. Groceries, clothing, spices, and home goods are all purchased on the streets. The Thieves Market is one of the best. Antiques, coins, phonograms, and eclectic vintage wall hangings make the market an attraction worth visiting.
Visit the Sea Link Viewpoint, Chhatrapati Shivaji Terminus, & Gateway of India
Three tourist attractions well worth a visit to understand the grand extravagance of Mumbai architecture. A stretching highway, a gothic train station, and elaborately designed arches on the sea.
Visit the Dhobi Ghat
The massive outdoor laundry is one of the most popular attractions in the heart of Mumbai. & even if laundry isn't enthralling to you it is worth a stop.
Take a Self-Guided Street Art Tour
Mumbai has plenty of budding street artists and with them came entire neighborhoods painted with intricate murals. Aside from the aforementioned Dharavi, you can also wander through Chapel Street in Bandra or the Kala Ghoda Pavement Gallery in Southern Mumbai.
Take a Beachy Walk
Don't we all love long walks on the beach? Juhu and Bandstand Beach on the Bandra coast are some of the best. I'll be honest, it won't compare to the sunny beaches of Goa or the stunning shores of nearby Sri Lanka…but you'll get your beach fix.
Explore the Religious Diversity of Mumbai
Like most cities in India, Mumbai is bursting with temples. Buddhist, Hindi, Muslim, Christian, even Jewish. Here are a few you should visit.
Haji Ali Dargah. A stunning sea-side mosque.
Mumbadevi Temple or Babulnath Temple. Traditional Hindu Temples.
ISKCON. A world-renowned meditation center.
Explore One of the Local Fishing Markets
Long before it was the ultra-modern city of today, Mumbai began as a fishing village. Pay homage to Mumbai's slowly dwindling fishing villages by watching the days catch roll in at dawn. Worli Fishing Village and the Crawford Market are the most popular.
You can also check out the complete list of the best things to do in Mumbai on a budget.
Everyone knows you can travel through India for next to nothing. It's been a haven for budget travelers for decades. Mumbai however, has garnered a reputation as a luxury travel destination. But not so, Mumbai can easily be traveled on as little as $10 per day. Or with a slightly inflated budget of as little as $20 per day you can revel in all the comfort rarely afforded budget-travelers. Mumbai is a unique Indian metropolis and shouldn't be missed by even the most frugal of travelers.
This guest post was contributed by Geena Truman of Beyond The Bucket List.
---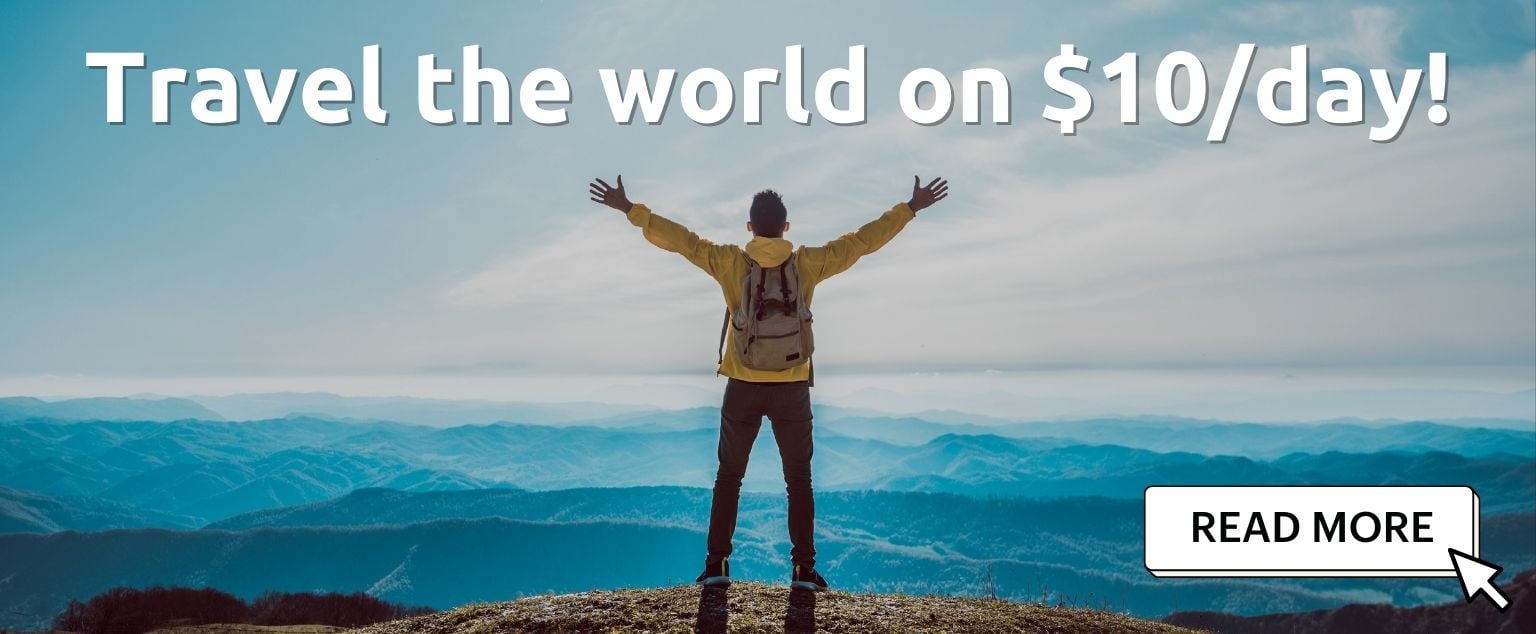 And for transparency's sake, please know that some of the links in our content are affiliate links. That means that if you book your accommodation, buy your gear, or sort your insurance through our link, we earn a small commission (at no extra cost to you). That said, we only link to the gear we trust and never recommend services we don't believe are up to scratch. Again, thank you!