More often than not, when foreigners discover that Craig and I (Gemma, Two Scots Abroad) are from Scotland their automatic response is "ahhh, Braveheart; whisky and Edinburgh!". Fair play to our capital which does indeed have a castle on top of a volcano but Scotland is so much more than Mel Gibson (he isn't even Scottish), castles and booze (although unfortunately alcohol does play a large part of our culture!). Scotland also has rolling hills, fierce lochs (lakes) and blue skies* all of which can be experienced by trekking The West Highland Way.
Last year was the year that we all turned thirty. What did you do/plan to do for your thirtieth birthday? Shopping trip to NYC? Party time in Ibiza? What about a 96 mile trek through the West Coast of Scotland? Not something I had considered before either but this is what my friends and I chose to do to celebrate three decades of living, and I gotta tell you, I have never felt so alive!
My good friends Helen, Julie and I set off from Milngavie, pronounced Mull-guy (just outside of Glasgow) on the Monday, we had friends joining us on Thursday and we aimed to finish in Fort William on Saturday. Did we make it? Yes, but not without injury and troubles!
The twenty mile trek on day one concluded in Balmaha with a hot tub, definitely the best way to congratulate yourself after a hard day's walking – as if the views itself were not enough of a treat!

Day two saw our first man down, Julie's feet had taken a terrible beating so she bowed out to rest up and rejoin us on Thursday. Full of food and loaded with a hefty packed lunch we set off out of Balmaha on the road to Inveranan. Unfortunately, we only managed two hours of walking and three hours of being lost. We blame the new infrastructure improvements for making us take a wrong turn. Luckily Helen was familiar with the area and called family who helped us track down a water taxi. We did make it to our destination at the popular Drovers Inn but we didn't exactly walk all the way! We got stuck in on a tasty steak pie, well earned, before crashing out for an early night.
Day three was the day of doom for me. It rained a lot, we walked through lots of cow poo with little break and my Achilles began to burn and ache. I've never felt pain like it! I felt physically sick but had to hobble on using my walking sticks for crutches. When we arrived in Bridge of Orchy, I was told this is a common problem at this stage but the best position for injury to happen as the public bus takes you to the end point of day four. Annoyed that I couldn't play out the whole trek, it was my turn to step out. Helen said the views were stunning and annoyingly it's the shortest (but not necessarily the easiest) day. It culminates in my favourite area of Scotland – Glencoe. This is where many people come to ski. The mountains always remind me of how inferior we really are to nature.
I took the bus to Glencoe (and met my buddies on board) on day four and used the RICE method to avoid further injury. Determined to complete the whole of the West Highland Way, my friend Gordon and I drove back to Bridge of Orchy to do the twelve mile trek to Glencoe but managed to take the wrong path (spotting a theme here?!) so I am yet to complete it. Funny though.
Day five was completed (successfully) in trainers. Head first and feeling strong we took on The Devil's Staircase, singing songs to keep our spirits up through the drizzle. We walked into the valley of Kinlochleven, my first time sleeping in a valley.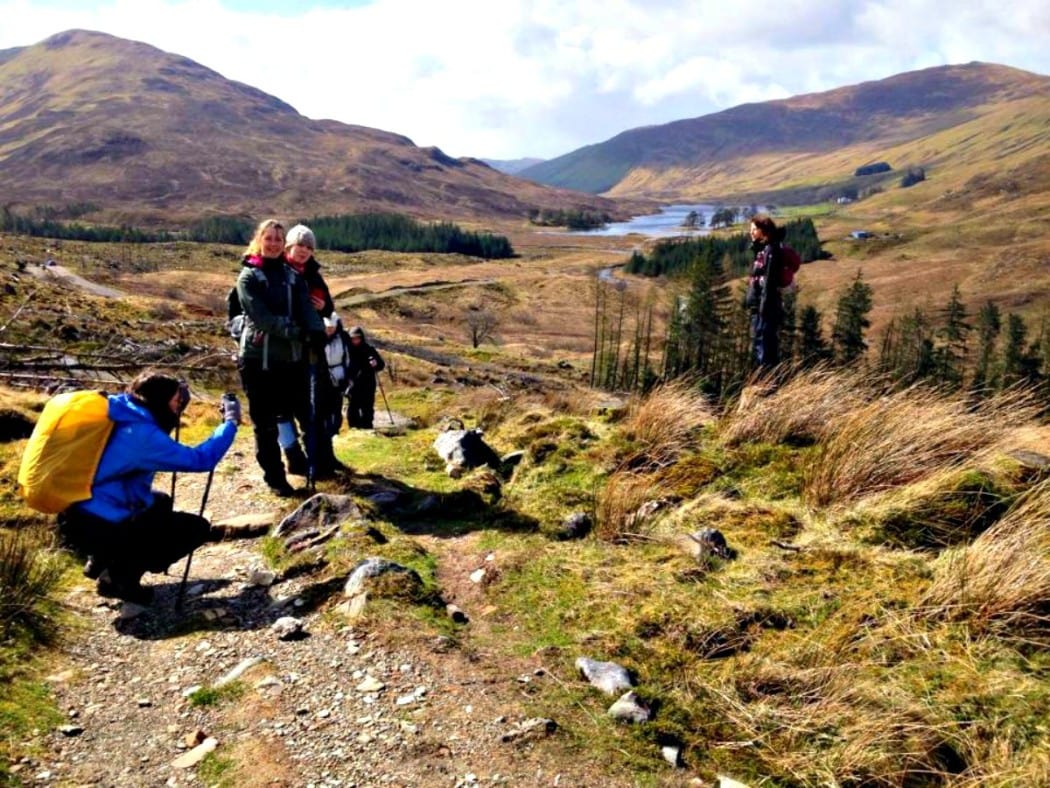 Day six was one of my favourite days. As we hiked out of the valley the sun came up, showing off Scotland's real beauty. It was a long slog in the rain which subsided as we hit the forest. At the end of the woods my parents were waiting on us with a bottle of cava to celebrate, however it wasn't quite over yet. We had an even harder slog through the town centre of Fort William. I seriously considered a piggyback from my Dad but remembered I was nearly thirty and he is fifty-eight! We cursed the town's decision to move the end of the West Highland Way to the end of the High Street and away from the beginning. However, we made it, full troop and gasping for a cider black.
At this age, it's difficult to get a group friends to commit to celebrations so this week was truly special. Weddings, mortgages, babies and saving (for the 18 month career break for us Two Scots) suddenly become priority yet you forget who has supported you to get to that point. Not only did I get to see more of Scotland's beauty and take in her fresh air but also had the opportunity to spend quality time with good friends.
*Blue skies not guaranteed
About Two Scots Abroad: Gemma and Craig have downed their tools as teacher and tradesman and are traveling The Americas on an 18 month career break. They are currently living it up on the Sunshine Coast of Canada after four months in North, South America and Cuba. Catch up on their stories of trekking to Machu Picchu; partying at SXSW festival (Austin) and discovering that Colombia is safe, friendly and not full of drug lords as the Western media would have you believe at Two Scots Abroad. Never miss a tweet by following them on Twitter! Show them some love and give them a like on Facebook.