Do believe the hype – Switzerland is a gem. A wonderland of mountains, Alpine villages, valleys, and lakes and cheese-laden cuisine. With plenty of outdoor activities, this European country is up there as one of the best and most beautiful. Despite the COVID-19 pandemic, it's still amazing.
We've created this guide to Switzerland's COVID entry requirements to help you figure out what's going on here. You'll find all the information you need, including what countries are on its safe list, what travel restrictions are in place, and what its New Normal looks like.
Our guide has everything YOU NEED TO KNOW for travelling to Switzerland in 2020.
A message from Will, the OG Broke Backpacker
Amigos, let's face the facts: travel isn't what it was. Things have changed.
We strive at The Broke Backpacker to be the best source of up-to-date and relevant information in the travel-sphere. All the information here was sourced, checked, double-checked, and published on 16/11/2020. While the information was correct then—and we will outline any changes and updates that we do make in the future—it's important to respect the immense changeability of this topic.
If you're going to be travelling amongst the coronavirus world, you need to, do your own research and do it hard. No one blog or website is a sufficient source, and even if it was, it might all just go tits up anyway.
This information changes more often than I fart in a day. Tread with caution.
And if you do see some misinformation, please leave a (constructive) comment so that we can patch it up! We really do appreciate your support and input in these weirdest of times.
Who Can Travel to Switzerland Right Now?
The travel restrictions for Switzerland are fairly straightforward. As of 15th June, Switzerland lifted travel restrictions for nationals and citizens of European Union member states, EFTA and Schengen area countries. So travel to Switzerland is back on the menu.
Those outside of this bloc of European countries remain subject to Switzerland's travel ban, except for those on a short safe list of countries below:
Austria
Belgium
Bulgaria
Croatia
Cyprus
Czech Republic
Denmark
Estonia
Finland
France
Germany
Greece
Hungary
Iceland
Ireland
Italy
Latvia
Liechtenstein
Lithuania
Luxembourg
Malta
Netherlands
Norway
Poland
Portugal
Romania
Slovakia
Slovenia
Spain
Sweden
United Kingdom
Australia
Japan
New Zealand
Rwanda
South Korea
Singapore
Thailand
Uruguay
Any country not on the list above is currently "high risk," and those travelling from such countries may not enter Switzerland's borders, except under exceptional circumstances. For more information on this, please see this FAQ from the Swiss State Secretariat for Migration.
Can Americans travel to Switzerland?
Currently, American tourists are not permitted to travel to Switzerland.
Essential travel is possible for travellers from the United States who meet the requirements for such travel as stated by the State Secretariat for Migration (i.e. important business meetings), but a special entry permit is needed.
Tourists planning to visit Switzerland in the future, however, should bear in mind the following entry requirements should the situation change.
Alas, it's hard days for the Americanos, but have no fear! We've put together a couple of sexy COVID-proof travel guides that may just help you plan your travels through the Ragnarok times:
What are the COVID-19 Entry Requirements for Switzerland?
Switzerland has lifted its travel ban for Schengen area and European Union countries, including the United Kingdom. These countries may travel freely to Switzerland, provided they meet Switzerland's entry requirements, which are as follows.
It's important to note that all passengers arriving in Switzerland must wear a mask on flights in and out of the country, as well as in the airport.
At present, any passengers arriving from countries on the Switzerland safe travel list will not have to provide a negative COVID-19 test on arrival.
However, visitors arriving from countries with high levels of infection rates may be subject to health screenings and temperature checks at borders on arrival.
Those who are found to have symptoms of COVID-19 will be required to quarantine and will be recommended to undergo a test.
From 29th October, visitors entering Switzerland from its safe travel list are no longer required to self-isolate/quarantine.
However, those who have visited high-risk countries within ten days before their visit will be required to self-isolate/quarantine. Those who have transited in one of the high-risk countries, or were in the country for less than 24 hours, do not need to quarantine on arrival.
Travellers who have to quarantine must do so immediately on arrival for ten days. You must report your arrival to local canton-level authorities within two days. After the ten days, if you do not have any symptoms, check with local medical services before you come out of quarantine.
Note that a negative COVID-19 test result does not exempt individuals from quarantine, nor shorten the period. Those with symptoms of COVID-19, or who have come into close contact with someone who tested positive for COVID-19 during their stay in Switzerland should self-isolate for ten days
It is also recommended that you have a COVID-19 test. Those who test negative may leave quarantine after 24 hours.
Those who do not comply with quarantine will be subject to fines of up to CHF10,000 (around US$10,970).
Many countries require travellers to complete compulsory forms or documents to enter, but this is not the case in Switzerland. However, in certain cases, travellers from areas considered to have an increased risk of infection may be asked to provide their contact details on arrival in Switzerland.
The collection of contact details is for tracing passengers in case it is found that there were infectious passengers on your transport. Contact details will also be used to monitor compliance with quarantine by local cantonal authorities.
Though it is not mandatory, Swiss authorities recommend that all visitors download the SwissCovid app. This is a contact tracing app that aims to break the chain of transmission and infection of COVID-19.
There are currently no changes to the visa application process in Switzerland. Those who can travel to Switzerland visa-free may continue to do so, but entry requirements as listed above still apply.
Nationals and residents of the EU, EFTA/Schengen area can enter Switzerland's borders without a visa. Other countries may also enter visa-free. To find out if you are exempt from applying for a visa to Switzerland, please see the country's online visa system to check.
From 19th March 2020, Switzerland stopped accepting visa applications and the issuing of both national and Schengen visas. Restrictions are being gradually eased, but in some circumstances, suspension of visa applications is still in effect (Visa C, for example).
Whether or not you can apply for a Swiss visa depends on the restrictions imposed according to the pandemic situation in your country.
Visitors who may travel to Switzerland visa-free are not obliged to have travel insurance prior to travelling. However, due to the coronavirus pandemic, it is more important than ever to travel with adequate insurance to cover any costs incurred relating to COVID-19, including those related to accommodation and not only healthcare.
Things change quickly, and it is highly recommended that you get comprehensive coverage. See our travel insurance section for more information.
Note that those who are applying for a Schengen area visa are required to have travel insurance of up to €30,000 coverage.
Wondering where to stay on a trip to Switzerland? Check out our area guides!
Switzerland's Travel Restrictions – On the Ground in Switzerland
Like other countries across the world, Switzerland is learning to live with coronavirus. To prevent the surge of new COVID-19 cases, there are some New Normal guidelines that both citizens and visitors to the country should follow. Some of these include:
Social distancing (1.5 metres or more)
Washing hands with soap
Follow cough and sneeze etiquette (into tissues or sleeves)
Ventilate rooms where possible
Wearing a mask is mandatory in Switzerland. From 6th July, masks must be worn on public transport, extended on 19th October to include all indoor public spaces, as well as in outdoor zones where social distancing cannot be observed. There may also be further restrictions in different cantons.
From 15th August, passengers arriving by plane must wear masks on flights in and out of Switzerland, and at airports.
Failure to wear a mask can result in a fine of up to CHF10,000 (around US$10,900). Children under 12 years of age are exempt from wearing a mask.
As of 28th October, Switzerland's Federal Council announced extended national measures to prevent the spread of COVID-19. There are restrictions in place, such as a ten-person limit on gatherings of friends and family.
These apply throughout the country but can vary in local cantonal regions; some may be more strict than national measures, for example, but must be observed at canton-level.
For further restrictions imposed in the region you may be travelling to, please check the relevant cantonal website.
What Tourist Services Have Reopened in Switzerland?
The further measures imposed as of 28th October extend to many services throughout Switzerland. Some public spaces and services are still open, albeit in a limited capacity and/or under restrictions on opening hours. These include:
Bars, restaurants and cafes
Hotels and other accommodation
Shops
Hiking trails
Tourist offices
Museums and galleries
Ski resorts (such as Verbier)
Some of the restrictions include a curfew on restaurants and bars, which must be closed from 11 p.m. to 6 a.m. There also must be no more than four people per table (no standing room allowed), and you will be required to supply your contact details. Children are not included in the count.
Sporting and cultural events of more than 15 people are currently banned, as are any other events of more than 50 people. Leisure facilities and nightclubs remain closed for the time being.
https://www.bag.admin.ch/bag/en/home/das-bag/aktuell/medienmitteilungen.msg-id-80882.html
https://www.gov.uk/foreign-travel-advice/switzerland/coronavirus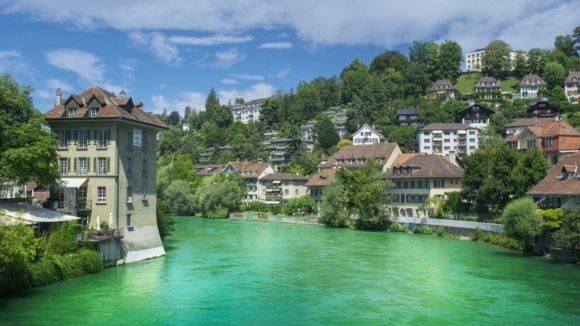 Now, while travel insurance is not a mandatory entry requirement for ___, that doesn't mean you shouldn't have it. You really shouldn't ever be travelling without insurance, and that goes double for the pandemic!
Keeping yourself covered against coronavirus mishaps is a complex subject, however, Americans get it easy. Our favourite insurance provider World Nomads just got favourite-r! They're covering against COVID-related incidents and will also count for countries where corona coverage is a requirement.
Is there a backup option? Sure is—SafetyWing Travel Insurance! SafetWing is the cheap, long-term insurance for cheap, long-term travellers. And now, they've stepped up to the plate covering travellers and digital nomads against the scourge… at a bargain!
And if neither of those two choices are right for you? Well, in that case, I strongly, strongly, strongly recommend doing your own research on the top travel insurance companies and finding one right for your trip.
The Best Travel Backpack?!
Pssssst! Not picked the perfect travel backpack yet? The Broke Backpacker team has tried out over thirty backpacks this year! Our favourite carry on backpack is the Nomatic Travel Bag.
Read our full review!
And Keep Smiling
Switzerland remains an incredible gem of natural beauty. It'll take a lot more than COVID-19 to stop the Swiss Alps from being as eminently visitable and jaw-droppingly beautiful as they are.
Many of Switzerland's best bits involve going outside. Whether that's hiking in Alpine valleys, strolling around a glassy city lake, or zooming down mountainsides, it's all well-ventilated!
Things may change in the future, but for now, there's no reason why you shouldn't be planning a trip to Switzerland. And if you're not able to travel to Switzerland right now – well, here's hoping.