Bath is Britain's oldest wellness retreat. The natural thermal springs that led the Romans to construct the baths are still a popular attraction today, and coincidentally, the reason why the city was named Bath.
In addition to these namesake baths, the city has an abundance of historic sites, museums, and galleries to visit. On top of that, the many examples of Georgian architecture have resulted in Bath being the backdrop to more than a few popular movies and TV shows (I'm looking at you, Bridgerton fans).
And it isn't just the city that is packed full of attractions, but the surrounding areas are loaded with countryside hidden gems. Within a short drive, you'll find well-known attractions like Stonehenge, Cheddar Gorge, and some notable country estates like Bowood House and Iford Manor.
With so many things to do in Bath, deciding how to spend your time in the city can be overwhelming. With that in mind, I've compiled this list of some of the most notable and unmissable attractions in Bath, as well as some lesser-known hidden gems.
Let's get started…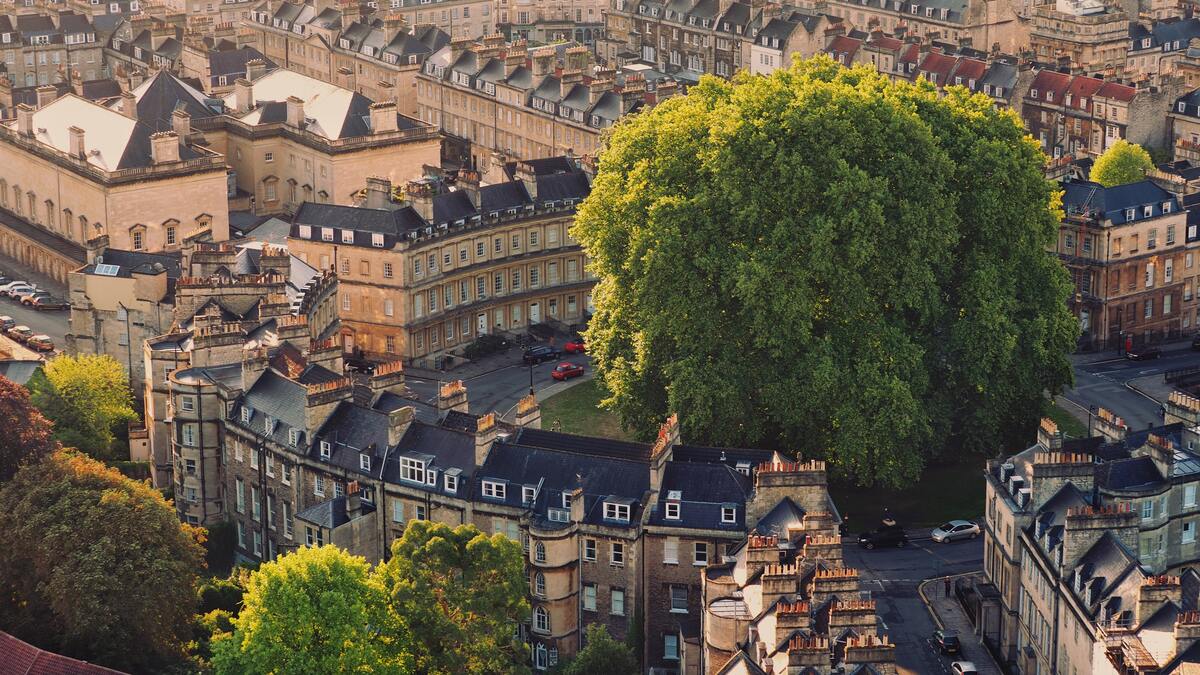 Unlock Our GREATEST Travel Secrets!
Sign up for our newsletter and get the best travel tips delivered right to your inbox.
The Top Things to do in Bath
Just got to Bath and don't have much time to look for an activity? Don't worry, these are the top unmissable Bath attractions you should consider adding to your trip.
What better place to start your visit to Bath than stopping at the city's namesake – the Roman Baths. Explore this historic site where the people of Roman Britain would come to bathe in the natural thermal springs.
The Roman Baths complex features original Roman walkways and the ruins of a temple dedicated to the goddess Sulis Minerva. Adjacent to the bathing complex, you'll find a museum where you can see various Roman artifacts, including a bronze head of the Sulis Minerva.
After marvelling at the Baths, take a wonder around the city and see what other nods towards Roman history you can find nestled amongst the architecture.
Entrance: Adult – £27.50 on weekends, £25.50 on weekdays. Children (6 – 18) – £20.00 on weekends, £18.00 on weekdays
Hours: 9:30 to 18:00 on weekdays, 9:00 to 18:00 on weekdays
Address: Roman Baths, Abbey Church Yard, Bath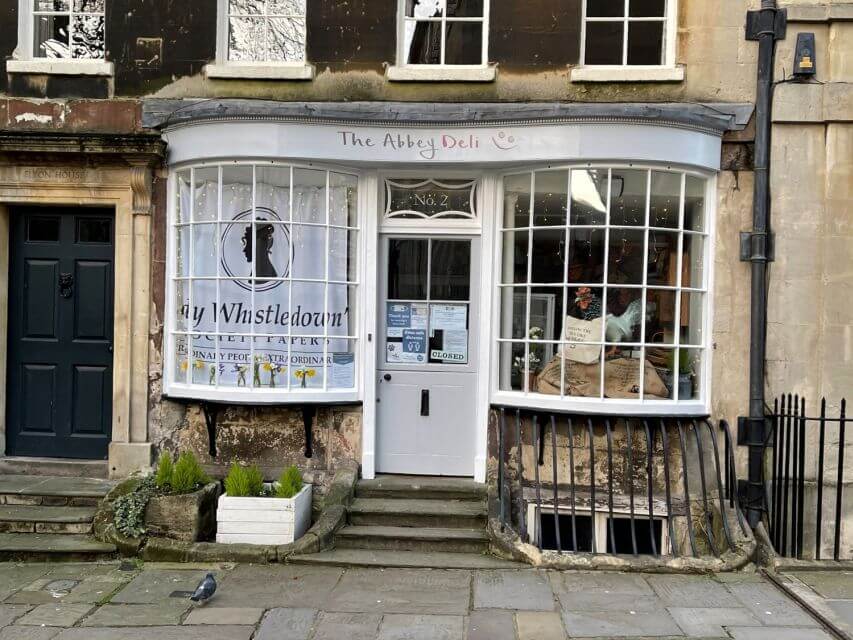 Dear reader, it is Lady Whistledown's recommendation that one of the best things to do in Bath is take a guided walking tour. This will allow you to explore prominent filming locations from Season one and two of the hit Netflix series, Bridgerton.
Locations include the homes of Lady Danbury and the Featheringtons, as well as the Modiste's dress shop. Serious fans will delight in seeing the fictional world come to life. Along the way, you'll also learn more about the Regency period and the societal rules that governed everyday life.
Entrance: £15.00
Hours: Tour times vary
Address: Tour starts at the entrance to Bath Abbey
See the beautiful city from a different perspective. Float along the River Avon in a traditional cruiser boat as you admire the city's major attractions as they glide past.
The boat is an authentic 1960s small cruiser that has been lovingly restored. When the weather is good, the cockpit roof will be open. The cockpit will be warmed on cooler days by a cozy coal fire.
As you enjoy a delightful glass (or two) of Prosecco, you'll have a fantastic view of the city center and its unique architecture.
Entrance: £25
Hours: Tour times vary
Address: Tour starts at Bath Quays Waterside
4. Wonder at the beauty of Bath Abbey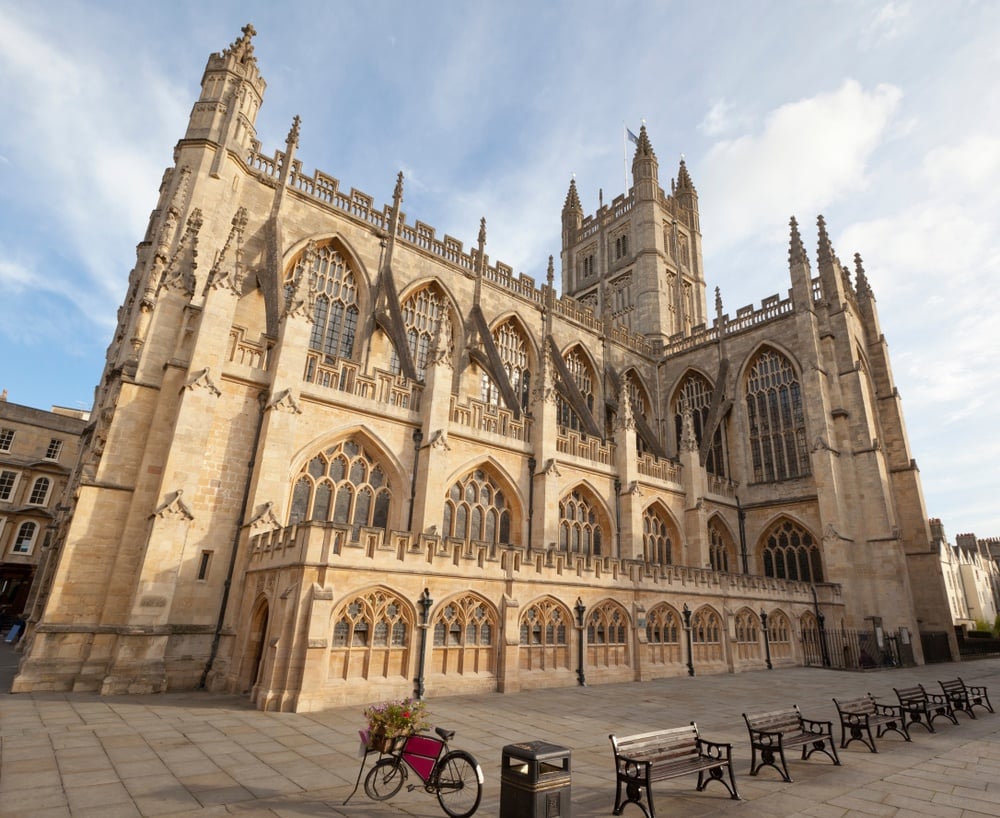 Bath Abbey is an oasis of peace in the heart of this bustling city. The Cathedral has survived for over 1000 years and is a popular attraction in Bath for worshippers and visitors.
When you visit the abbey, there's plenty to see on your own or as part of a tour. Take a moment to look up at the astoundingly ornate fan-vaulted ceiling and take in the beauty of the West Window and the Great East Window.
Sit inside Birde Chapel to see the delicate stone carvings, read moving memorials on the abbey walls, or head up the bell tower for a view of the city.
Entrance: Free
Hours: 10:00 to 17:30 (Monday to Friday), 10:00 to 18:00 (Saturday)
Address: 11A York St, Bath
5. Explore contemporary and historic fashion
Visit the Fashion Museum Bath to see an impressive collection of historic fashion. The collection of over 100,000 objects ranging from authentic and historic pieces to a contemporary Dress of the Year collection.
A fun thing to do in Bath for families is to spend some time in the dressing-up area where you can try on replica garments from Regency, Victorian, and Georgian times.
The museum is housed in the Assembly Rooms – one of Bath's finest Georgian buildings. It's free to look around these gorgeous rooms if they aren't being used for a function.
Entrance: Adult – £10, Child (18 and under) – £7.75
Hours: Tuesday to Sunday: 10:00 to 17:00
Address: Fashion Museum, Assembly Rooms, Bennett Street, Bath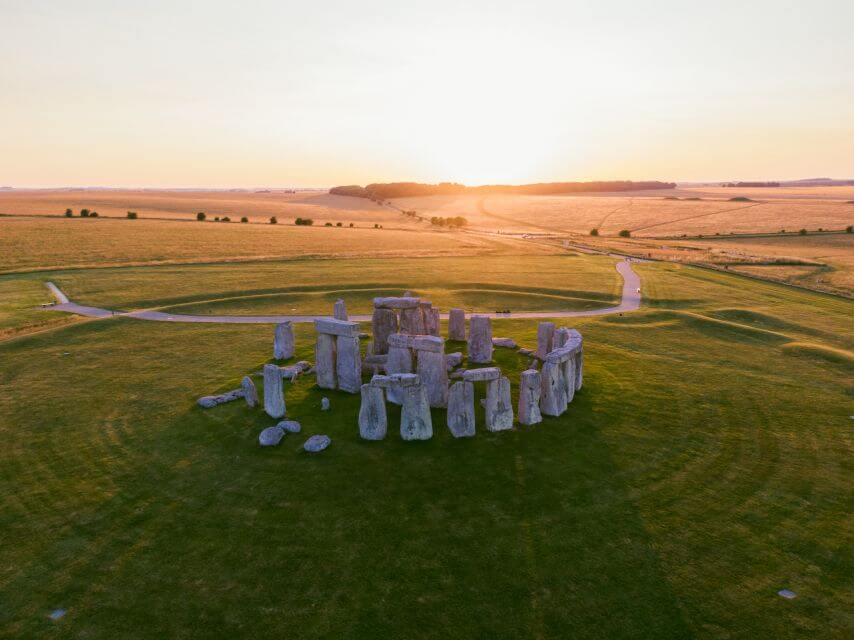 Stonehenge is arguably one of England's most iconic destinations and is only an hour from Bath by car. When it comes to attractions near Bath, this is one not to be missed. In fact, anyone visiting the UK should make sure it's on their list of things to see.
Explore this UNESCO World Heritage Site and its fascinating and mysterious history on a guided tour. Learn about the theories behind its creation and the recent archeological discoveries.
After that, head to the charming, medieval city of Salisbury for lunch. Visit the splendid Cathedral where you can see Britain's tallest spire and the world's oldest working clock. Enjoy a leisurely stroll through the streets of this city before returning to Bath.
Entrance: £435 per group
Hours: Tour times vary
Address: Stonehenge and Salisbury
Small Pack Problems? 😉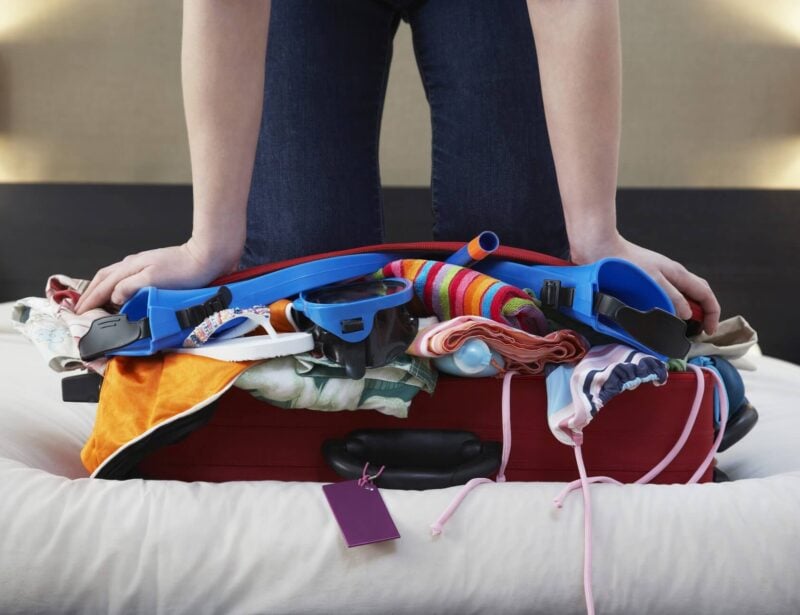 My missus travels with all her clothes in ziplock bags: don't be like my missus. UP YOUR PACKING GAME!
Packing cubes for the globetrotters and compression sacks for the real adventurers – these babies are a traveller's best kept secret. They organise yo' packing and minimise its volume too so you can pack MORE.
Or, y'know… you can stick to ziplock bags.
View Our Fave Cubes
Or Check Out the Sacks!
Here's your chance to hear historical tales you won't find in textbooks. This history tour will have you explore this city's epic history in a fun, light-hearted, and engaging way. As you walk along, you'll be exploring the more unconventional chapters in the city's history.
Hear the lesser-known stories of famous landmarks like Bath Abbey, Pulteney Bridge, and Royal Crescent. Your guide will reveal exciting and more mischievous tales from history as you take in all the main attractions in Bath.
Entrance: £135 per group
Hours: Tour times vary
Address: Tour starts at Bath Abbey
8. Experience the world of Jane Austen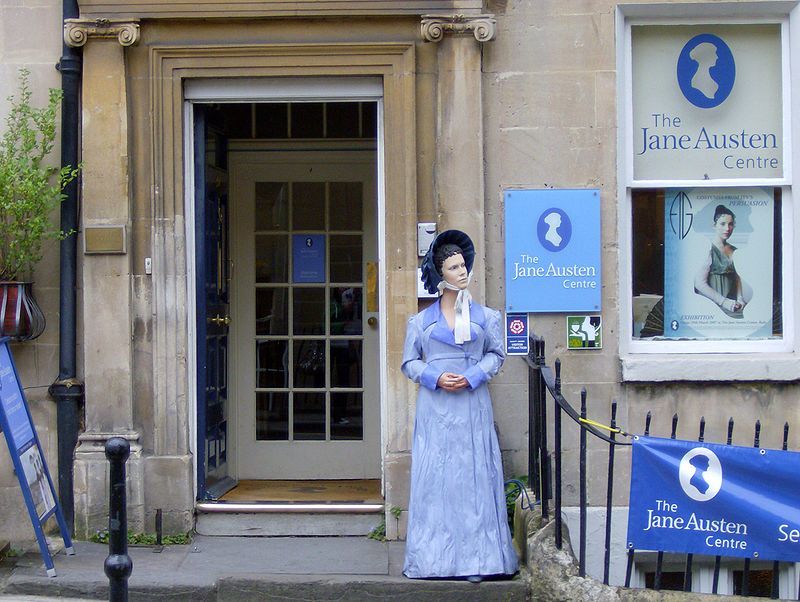 "It is a truth universally acknowledged…" that a visitor to Bath should definitely stop in at the Jane Austen Center. Step into the world of Bath's most famous resident and world-renowned author, who lived here for several years. In fact, two of her novels – Northanger Abbey and Persuasion – are set in Bath.
Experience Regency times and how they might have influenced Jane Austen and her writing. Dress up in typical clothing of the times, taste Regency food in the Tea Room, and get your picture taken with a waxwork of Jane Austen.
Entrance: Adult – £12.50, child – £5.50
Hours: 10:00 – 17:00 (Sunday to Friday), 10:00 to 17:30 (Saturday)
Address: 40 Gay Street, Bath
Within easy reach of the city, you'll find various top attractions near Bath to explore on a day trip. Castle Combe is just one of these. It's one of the most photographed villages in England – and for good reason.
After exploring the picturesque cottages of this typical Cotswolds village, you'll head to Bowood House and Gardens in the heart of Wiltshire. Spend time at this incredible Georgian country house and its impeccable gardens. Enjoy lunch before setting off to your next destination.
The beautiful village of Lacock, a 13th-century village, is your last stop before returning to Bath. The town has been the location for many films and series, including Downton Abbey and Harry Potter, and has a fascinating history to explore.
Entrance: £425 per group
Hours: Tour times vary
Address: Tour starts at Bath Spa Train Station
10. Shoot for the stars at Herschel Museum of Astronomy
Visit the home of noted astronomer William Herschel. In this house, Herschel discovered Uranus in 1781 using a telescope of his own design. He would go on to make many important observations that have expanded our understanding of the cosmos.
The house was built around 1764 and has been fully restored to reflect the authentic style of the Georgian period. Within, you'll find original telescopes, globes, and planetary models, a music room, a workshop, and a variety of other artifacts. Don't miss the gardens which replicate a typical garden of the times.
Entrance: Adult – £11.50, Children (5 – 15 years) – £5.50
Hours: 10:00 – 17:00 (Tuesday to Sunday)
Address: 19 New King Street, Bath
Is This the Best Daypack EVER???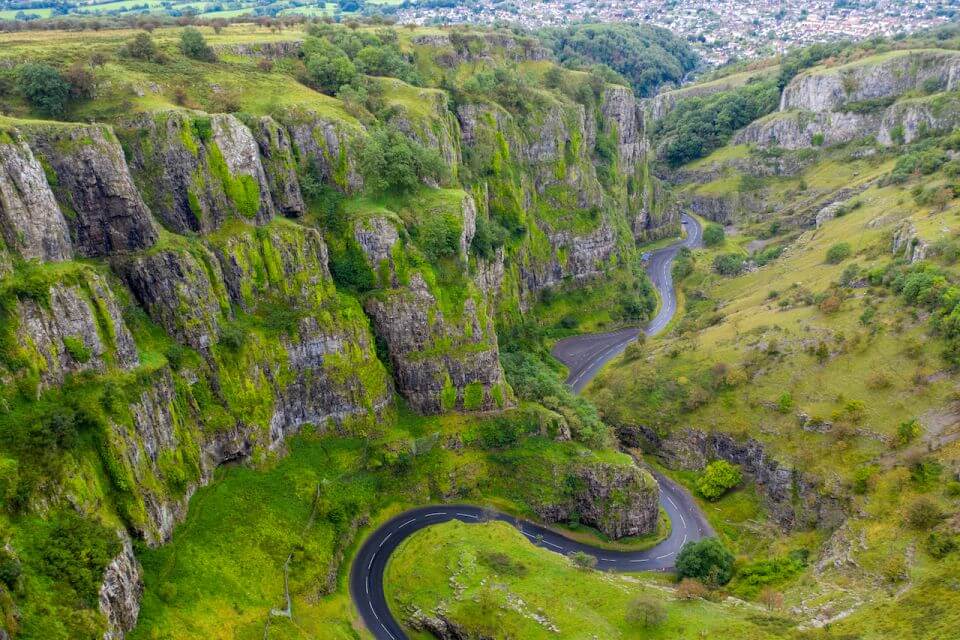 Take a day trip through one of the most beautiful and scenic regions as you head towards Wells. This historic city gets its name from the freshwater springs that well up to this day in the gardens of the Bishop's residence.
Explore beautiful gothic architecture in the cathedral, with its stained glass windows and scissor arches. After lunch, you'll make your way to Cheddar Gorge, with its limestone cliffs.
These cliffs have been used as natural refrigerators by cheesemakers since the Middle Ages. Visit the local cheesemaker to try some authentic cheddar cheese, stroll through the 17th-century village and take in the scenery. If you're visiting Bath for a weekend, this is the ideal day trip to see what lies beyond the city centre.
Entrance: £420 per group
Hours: Tour times vary
Address: Tour begins at Bath Spa Train Station
12. Visit Pulteney Bridge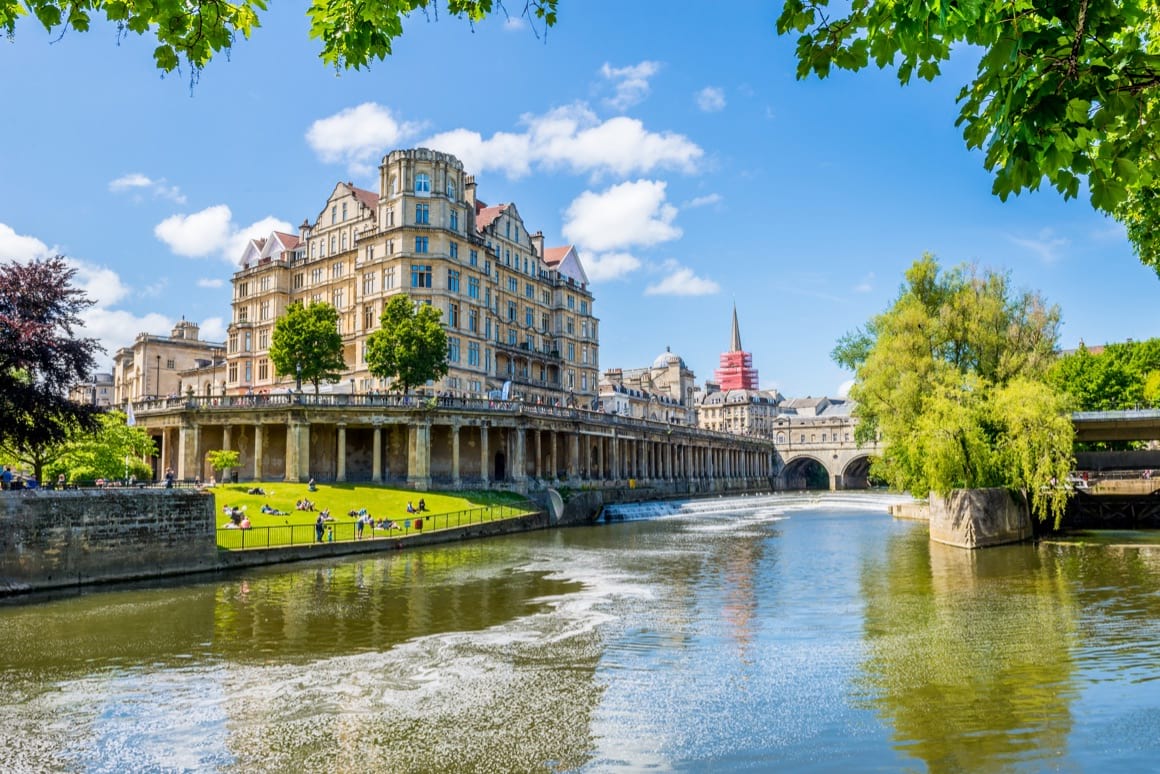 Indeed, one of Bath's most iconic locations, Pulteney Bridge, is a must-see. The bridge was initially built in 1769 and cost 10 times its original estimate to complete. What makes this bridge so special is that it is one of the few of its kind in the world to have commercial buildings on both sides.
If you're looking for romantic things to do in Bath, an evening stroll starting or ending at the bridge is highly recommended. There are several quaint places to eat and drink.
Entrance: Free
Hours: N/A
Address: Bridge Street, Bath
13. See the impressive Royal Crescent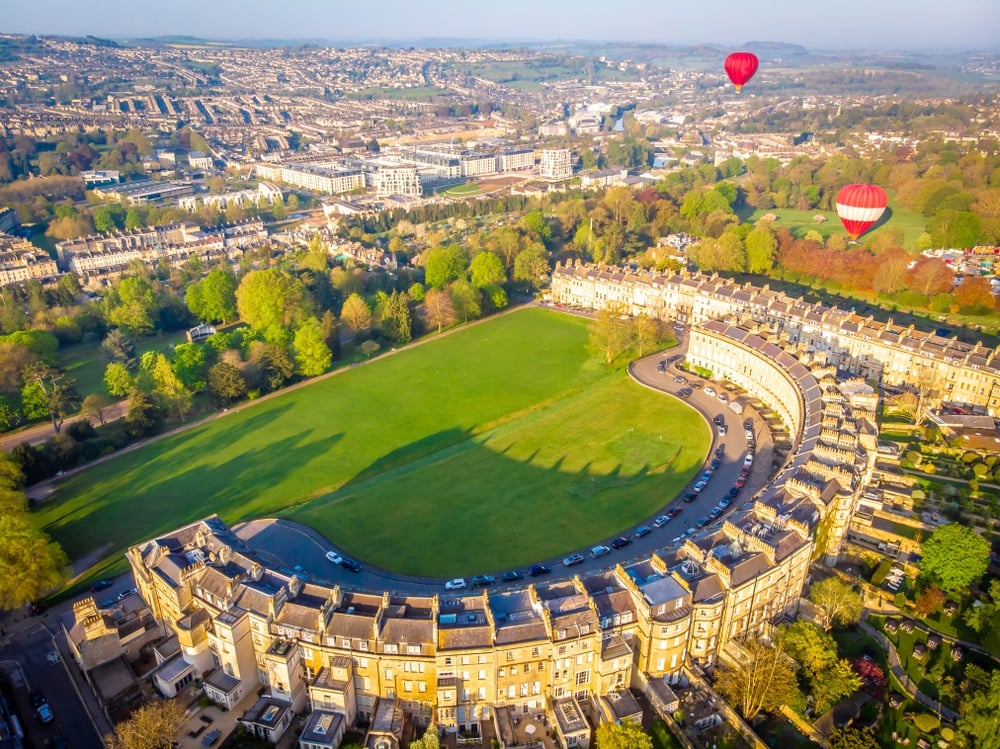 Originally built between 1767 and 1774, the Royal Crescent is a row of 30 terraced houses set in a semi-circle. The crescent is about 50 feet long and overlooks a central terraced lawn.
A popular location for film and TV, hardcore Bridgerton fans will recognize No 1 as the residence of the Featheringtons in the Netflix series.
Today, there are only 10 full-sized townhouses. The rest have been split into apartments, a museum, and the center house is now the Royal Crescent Hotel & Spa (worth a visit for some pampering).
Entrance: Free
Hours: N/A
Address: Thinktank, Birmingham Science Museum, Millennium Point, Birmingham
14. Explore the beautiful Prior Park Landscape Garden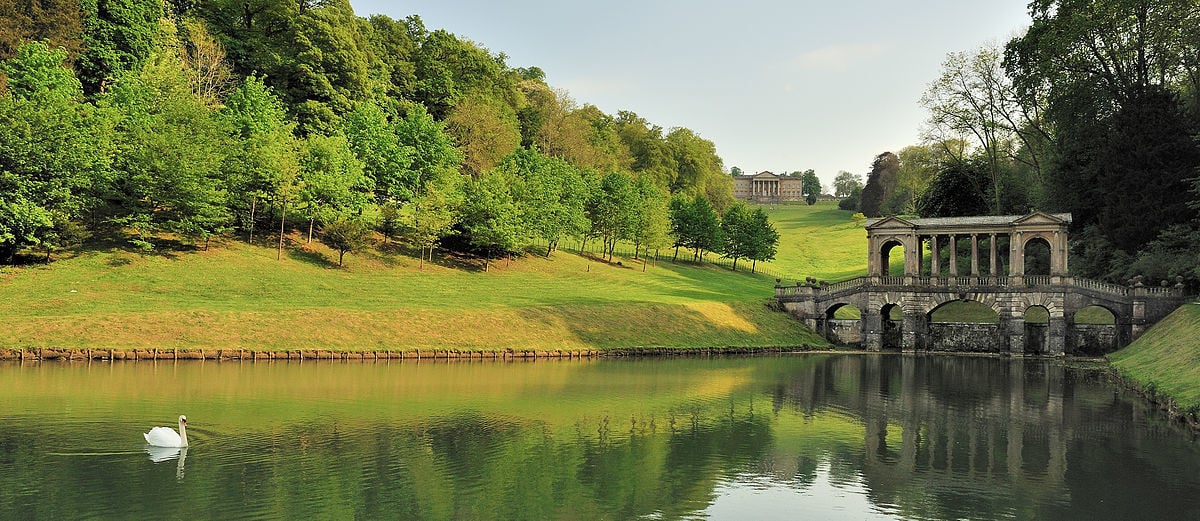 Spend a tranquil day outdoors at Prior Park Landscape Garden, a beautiful 18th-century landscape garden operated by the National Trust. Enjoy magnificent views and stroll along the 6-mile circular route that winds through woodlands and meadows.
Explore some of the history here at the Iron Age hill fort. See remnants of Roman settlements, the Palladian Bridge, and the lovingly restored Summerhouse. If all that fresh air works up an appetite, The Tea Shed serves hot and cold drinks, ice cream, cakes, and snacks.
Entrance: Adult – £8, Child – £4
Hours: 10:00 to 17:00
Address: Ralph Allen Drive, Bath
Travel with peace of mind. Travel WITH a security belt.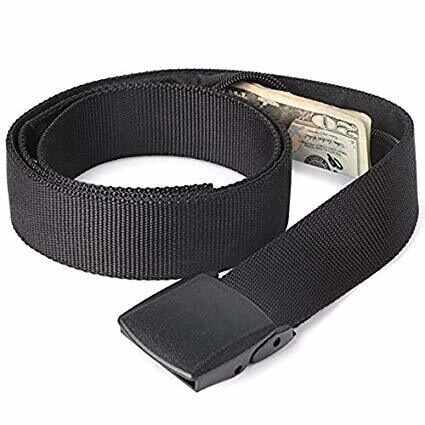 Get your cash stashed with this awesome Pacsafe money belt. It will keep your valuables safe no matter where you go.
It looks exactly like a normal belt except for a SECRET interior pocket perfectly designed to hide a wad of cash or a passport copy. Never get caught with your pants down again! (Unless you want to.)
Hide Yo' Money!
15. Enjoy a Bath Bunn at Sally Lunn's Easting House
Housed in one of the oldest homes in Bath, Sally Lunn's Eating House is a highly recommended attraction in Bath. Of course, you absolutely must try a Bath Bunn – an authentic regional specialty created initially by Sally.
While the main event is undoubtedly trying the local cuisine and authentic historical dishes, there's also a kitchen museum to explore. Here, you can see the actual kitchen Sally Lunn would have used and get a taste of life and the culinary arts in Georgian Bath.
Entrance: Free
Hours: 10:00 to late
Address: 4 North Parade Passage, Bath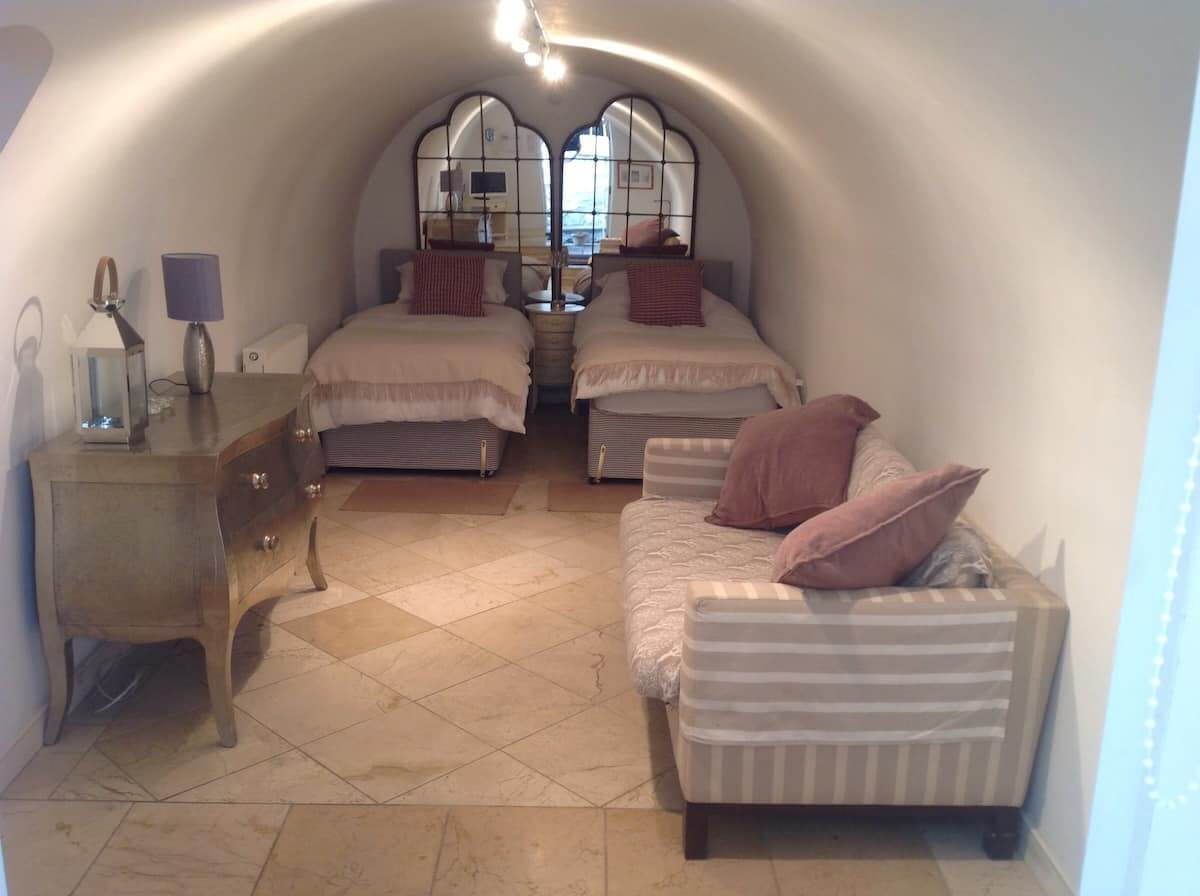 The city of Bath has numerous well-preserved and lovingly restored Georgian-style buildings. A visit here simply wouldn't be complete without a night or two spent in typical Georgian style at this beautiful studio apartment.
Complete with vaulted ceilings and original stone steps, this beautiful townhouse is just a five-minute walk to the city center and its many cafes, bars, and restaurants. Modern conveniences add to the comfort of the apartment, including Wi-Fi, heating, and a small kitchen area for basic meal preparation.
Entrance: £87 per night
Hours: N/A
Address: Bath
17. Step into another world at Iford Manor Estate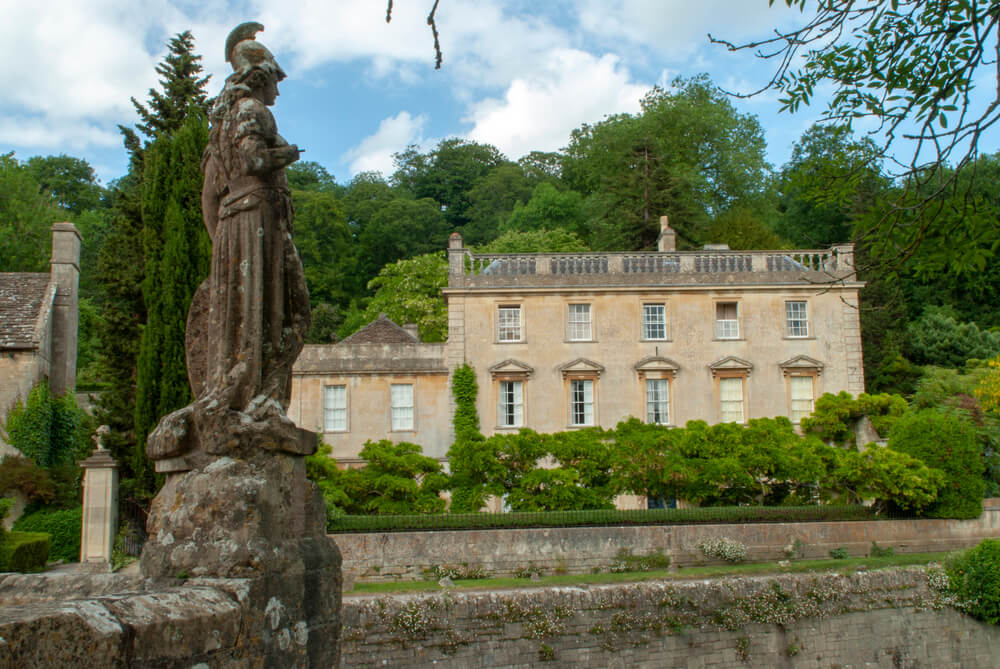 Set in a peaceful valley, Iford Manor Estate has been so lovingly restored that visiting here is like traveling back in time. Explore the gorgeous Italianate gardens, which feature ancient statues, terraces, and architecture. Don't miss the beautiful Oriental garden.
There's a new café where you can enjoy lunch, snacks, and afternoon tea. If you want something more substantial, the restaurant serves delectable dishes – reservations are required.
If you'd like to extend your stay in this timeless place, you can book a stay at the quaint Rowley Cottage at Iford Manor.
Entrance: Adult – £7.50, child (10 to 18) – £6.50
Hours: 11:00 to 16:00
Address: nr. Bradford on Avon, Wiltshire
18. See European art at Victoria Art Gallery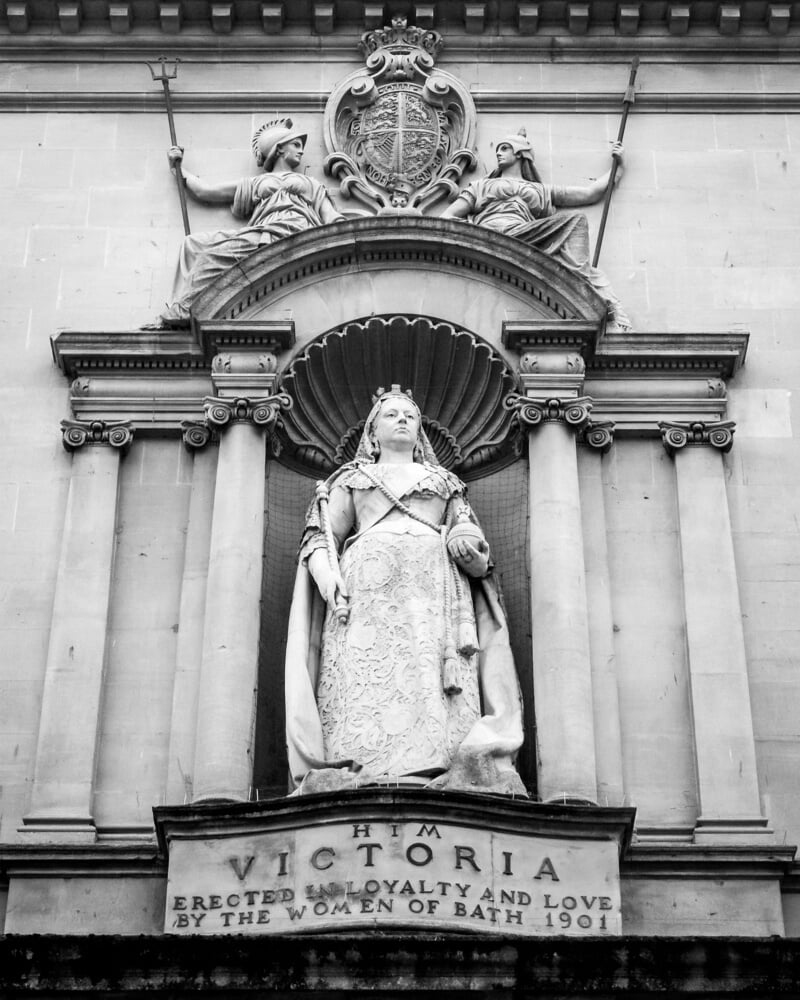 What better way to spend a morning or afternoon than quietly browsing a fantastic art collection? The Victoria Art Gallery houses a splendid array of European art spanning hundreds of years. See such works as the Adoration of the Magi from 1840 and Silence by Howard Hodgkin from early this century.
Bath was at one time an important center for portrait painters, and so many artists of the time lived and worked in Bath. The gallery's ground floor contains two temporary exhibition spaces with exhibits changing every few months.
Entrance: Adult – £7, Child (6 – 18 years) – £2.50
Hours: 10:30 to 17:00 (Tuesday to Sunday)
Address: Bridge Street, Bath
19. Go to the Theatre Royal Bath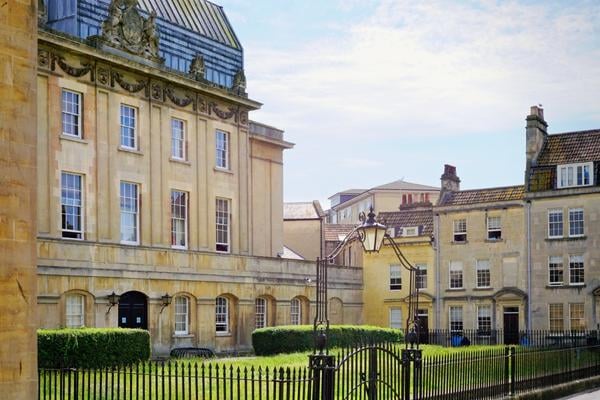 The Theatre Royal in Bath is one of the oldest working theatres in the country, having been built in 1805. The building was built in 1862 after the previous building was destroyed by fire. Since then, it's survived two world wars and has been lovingly renovated.
There are three auditoriums, the Main House, Ustinov Studio, and the egg theatre for children and young people. Take in a show or book a backstage tour to go behind the curtain and see what goes into production here.
Entrance: Ticket prices vary
Hours: Show times vary
Address: Sawclose, Bath
Forget boring accommodation… book yourself an EPIC STAY!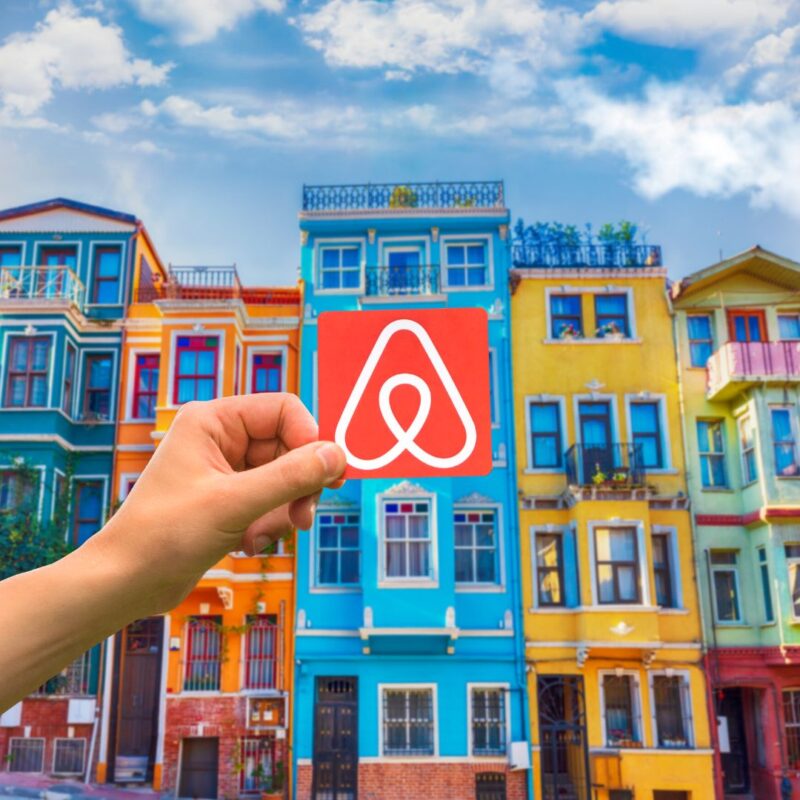 Why stay in a naff hotel when you can stay in a cosy, stylish local house instead? And for half the money too!
Stay somewhere EPIC and save your hard-earned dollars — from houses to barns to castles and caves, there is an Airbnb for every occasion!
Book an EPIC Stay
20. See the truth behind Sham Castle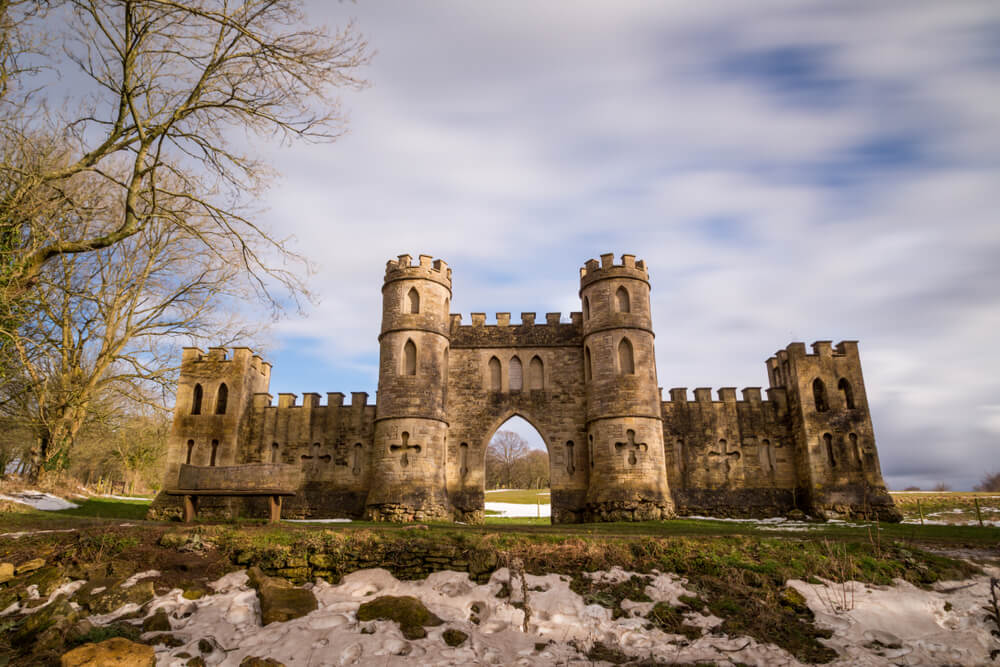 As the name suggests, Shame Castle is, well, a sham. What appears to be a castle when seen from the front is nothing more than a wall, a façade, with no actual building behind it. Known as a folly castle, it's one of the more peculiar attractions in Bath.
What makes a visit here even more worth it are the magnificent views of Bath from the ridge that Sham Castle occupies. One of the best ways to reach the castle is along the Bath Skyline walking trail, which takes in this, and many other viewpoints.
Entrance: Free
Hours: N/A
Address: Golf Course Road, Bath
21. Take a stroll in Victoria Park
Take some time out from sightseeing and touring to enjoy a peaceful stroll along the avenue of trees in Royal Victoria Park. That's not all that's on offer at this early 19th-century public park.
The 25 hectares of park encompass a botanic garden, a lake, rolling lawns, monuments, and many pathways to walk along. There's even a bowling green, aviary, and a bandstand. Bring a picnic and enjoy it at one of the tables or in the shade of the trees.
Entrance: Free
Hours: N/A
Address: Marlborough Ln, Bath
Where to Stay in Bath
There's a wide range of places to stay in Bath, from luxury hotels, modern apartments, countryside escapes, and historical city hostels. Whatever your budget or travel style, there's something for you. Check out my recommendations of where to stay in Bath.
Centrally located in Bath, this Georgian apartment was originally built in the 18th century. The home offers an authentic experience but with added modern benefits like Wi-Fi, a smart TV and laundry facilities.
There is one bedroom and all the necessities for those who wish to self-cater. If you'd prefer to dine out, there are restaurants nearby, and the city center is just a short walk away.
Best Hostel in Bath – YHA Bath
One of the highest-rated hostels in Bath is the YHA Bath. The hostel is ideally located near the city center. It offers private rooms with either en suite or shared toilet and shower facilities.
After a day spent exploring the many attractions in Bath, return to the hostel to relax in the lounge or enjoy a meal at the licensed restaurant.
Chestnuts House is ideally located in the heart of the city, near many attractions in Bath. The hotel is intimate, with five bright, spacious, and tastefully decorated rooms. Air-conditioning, tv, and tea- and coffee-making facilities make these rooms a comfortable place to return to after a day of exploring. Guests also have access to the lounge and gardens.
Some Additional Tips for Visiting Bath
Before you go booking your place to stay and mapping out your itinerary, I have a few more pieces of advice to give you about visiting Bath…
Invest in travel insurance! You never know what may happen on the road.
Wear comfy walking shoes. Bath is small enough that you can get most places on foot. Public transport like buses are affordable and reliable, should you need to use them.
Look to the Weatherspoons for cheap authentic grub. If you want to dine out without breaking the bank, pubs are a great way to fill up without emptying your wallet. The Weatherspoons is a pub chain in the UK that is known for offering cheap pub grub. They are usually set in historic buildings, too.
Look for the Blue plaques. Blue plaques on buildings denote a famous person that once lived there. Keep an eye out for these.
Weekends are busy. When visiting the more popular attractions, it's advisable to plan your visit during the week and as early in the day as possible to avoid crowds.
Bring a good water bottle with you and avoid buying single-use plastic ones!
Book a festival ticket at one of the UK's popular Festivals.
Don't forget your travel insurance for Bath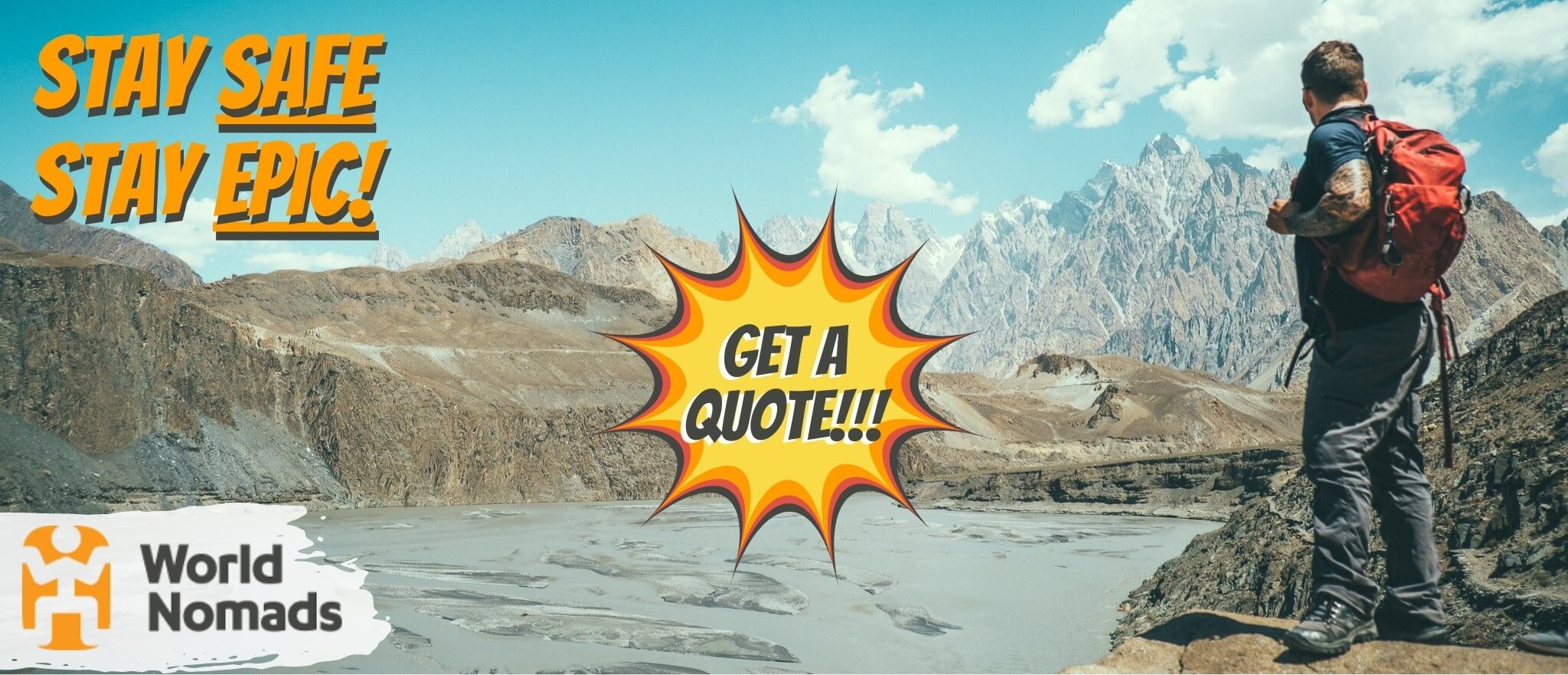 World Nomads' mission is to support and encourage travellers to explore their boundaries. They offer simple & flexible travel insurance, and safety advice to help you travel confidently.
They've been doing it since 2002 – protecting, connecting, and inspiring independent travellers just like you.
Get a quote below or read our in-depth review!
World Nomads provides travel insurance for travelers in over 100 countries. As an affiliate, we receive a fee when you get a quote from World Nomads using this link. We do not represent World Nomads. This is information only and not a recommendation to buy travel insurance.
Final Thoughts on Things to Do in Bath
The city of Bath is known for its astounding Georgian architecture and, of course, its namesake Roman Baths. It's the only UK city with the coveted title of UNESCO World Heritage Site.
It's easy to see why thousands of visitors come to Bath every year. With a list of attractions in Bath that includes historic buildings, top eateries, museums, and galleries, you'll find yourself hard-pressed to squeeze it all in.
Hopefully, this list has helped you pick out those attractions you absolutely don't want to miss, so you can plan carefully to make the most of your time in this enchanting city.
---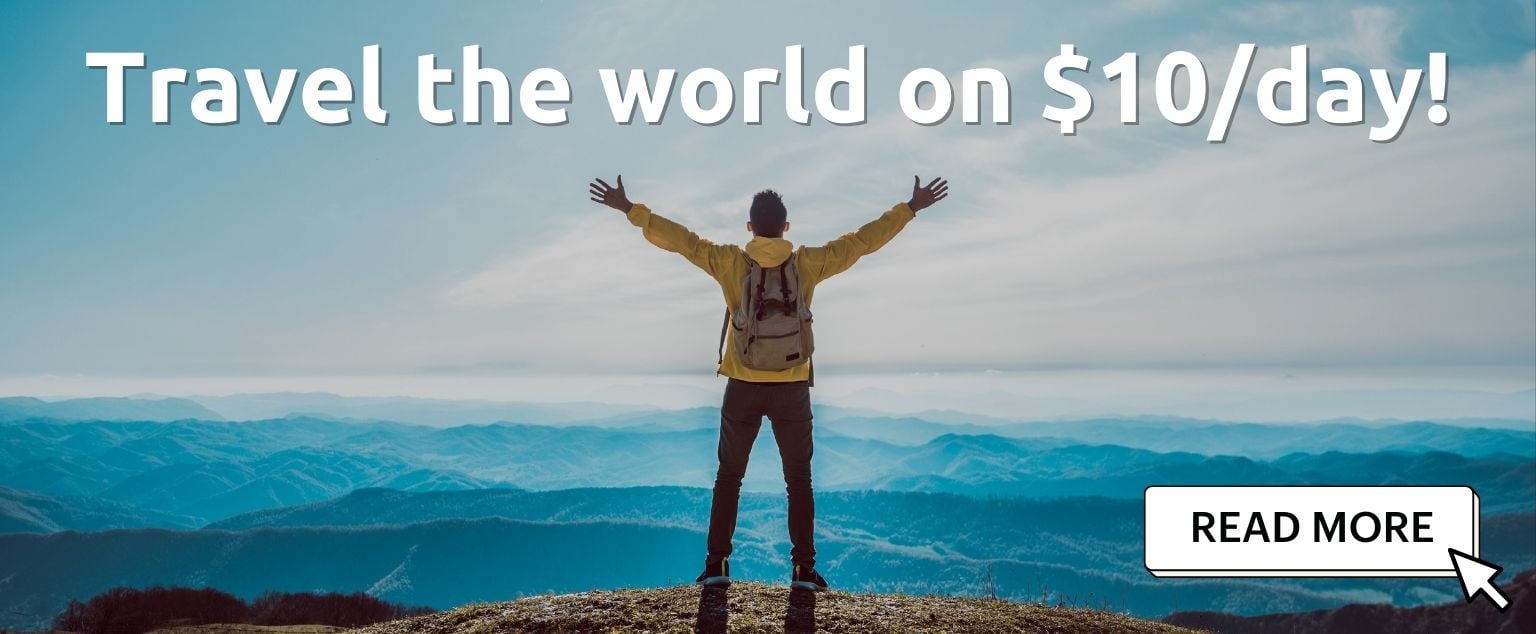 And for transparency's sake, please know that some of the links in our content are affiliate links. That means that if you book your accommodation, buy your gear, or sort your insurance through our link, we earn a small commission (at no extra cost to you). That said, we only link to the gear we trust and never recommend services we don't believe are up to scratch. Again, thank you!