There's nothing quite like the English seaside. With its cool, refreshing waters and dandy beaches, and dramatic cliffs, it's no wonder that Bournemouth is one of the UK's most popular holiday destinations on the South East Coast.
Powdery soft beaches beckon while the countryside is enhanced with ruins, quaint villages full of tearooms, and lively markets. If you're looking for a seaside escape, there's a myriad of attractions in Bournemouth to suit any type of traveler.
Regardless of the season, you'll always find super fun things to do in Bournemouth: whether you're here for watersports or to hike in the New Forest Walking Festival.
But if you're not sure which attractions to add to your itinerary, don't worry, because these are all the top Bournemouth attractions!

Unlock Our GREATEST Travel Secrets!
Sign up for our newsletter and get the best travel tips delivered right to your inbox.
The Top Things to Do in Bournemouth
Figuring out which attraction to see first is often the most complicated decision, especially when there's so much to see and do! But fret not, these are the top five Bournemouth attractions that you can't afford to miss!
1. Chill on Bournemouth Beach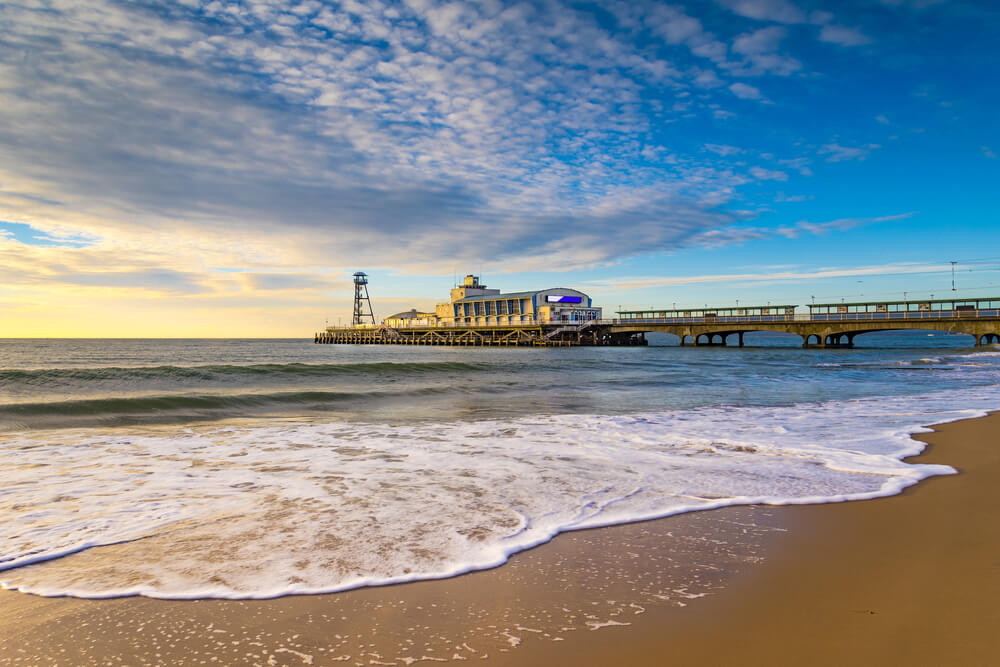 Of course the most perfect thing to do in Bournemouth in summer is to hit the beach, and Bournemouth Beach is touted as one of the best in the country.
Bournemouth Beach encompasses the town's seven-mile coastline but here's an insider tip for you: the strip of soft sand nestled by the Lower Gardens is by far the most picturesque area on the beach.
Close to the Undercliff Promenade, this area is easily recognizable by its brightly colored beach huts, and yes – you can rent them for the day! Because this Bay has its own micro-climate, you'll also get to enjoy the warmest ocean temperatures in the country.
Whether it's just chilling on the sand with an ice cream cone or strolling along the seafront, Bournemouth Beach certainly ticks all the boxes!
Entrance fee: N/A
Hours: Open 24/7
Address: Undercliff Rd, Boscombe, Bournemouth BH1 3NZ, UK
When choosing where to stay in Bournemouth, you should undoubtedly choose a place with unrivaled ocean views. Not only does this apartment offer top-floor ocean views, but you'll be right across the street from the Blue Flag Southbourne Beach – perfect for enjoying a dip in the ocean whenever you want!
With on-site parking, this harmonious haven comfortably sleeps two in the beautiful double bedroom. Nearby, you'll find plenty of restaurants and cafes, but if you don't feel like going out, you can always whip up a quick meal in the modern, well-equipped kitchen. All the comforts of home await, including a lounge and dining area.
As the day winds down, watch the sunset from your private balcony which also features delightful views of the Isle of Wight and Swanage. It certainly beats most bed and breakfasts in Bournemouth in terms of what it offers.
Entrance fee: $158/night
Hours: Check-in from 3 p.m. to 12 a.m., Checkout at 11 a.m.
Address: Bournemouth, England, UK
Here's your chance to take in the kind of blisteringly beautiful sights that you usually find floating around on social media!
Perfect for travelers looking for things to do near Bournemouth, this E-bike tour not only helps you avoid the crowds, but you'll also be able to explore the rest of Dorset in a fun and engaging way.
This activity kicks off in Sandbanks and includes a ferry ride to Studland which offers plenty of great photo opportunities.
As your cycling adventure continues, check out popular spots like Poole Harbor and Harry's Rock. And if you get peckish after all that cycling, rest assured that the activity does include a stop by Corfe Castle where you can treat yourself to a delicious lunch.
Entrance fee: $83.62
Hours: 10 a.m. to 2 p.m. (aprox.)
Address: Pickup from various spots in Bournemouth
4. Catch a Footie Game at Vitality Stadium
It's no secret that football is one of the most popular sports in the UK – as evidenced by the clusters of people kicking a ball around on Bournemouth Beach or in the lower gardens.
Head over to Vitality Stadium in King's Park to join the locals as they cheer on The AFC Bournemouth – locally known as The Cherries.
Night games usually kick off with a light show but if you're attending a match during the day, be sure to bring your cap and shades since the lower rows are exposed to super bright sunlight.
Vitality Stadium has plenty of food on offer, including a range of homemade pies, so you'll have lots to munch on while watching the game!
Entrance fee: Depends on the game
Hours: 9 a.m. to 5 p.m. (Monday to Friday), 10 a.m. to 3 p.m. (Sundays), 9.30 a.m. to 4 p.m. (Non-matchday Saturdays)
Address: Dean Court, Kings Park, Bournemouth BH7 7AF
5. Wander the Upper Gardens
Spend a relaxing day outside at Bournemouth's popular upper gardens. This venue offers a tranquil respite from the hustle of the busy city center.
When the sun's out, you can even bring a picnic to enjoy in this serene setting at sunset – undeniably one of the most romantic things to do in Bournemouth!
The gardens boast a 'three continents' theme with separate North American, Asian, and European sections, each featuring an array of local plant species. You'll also find several unusual trees including a North American Giant Redwood which is said to be the largest in England.
As you venture deeper into the Upper Gardens, you'll be greeted by a stunning Gothic-Victorian tower that once used to feed water into the fountain.
Entrance fee: $83.62
Hours: Open 24 hours
Address: 27a Surrey Rd, Bournemouth BH4 9JX, UK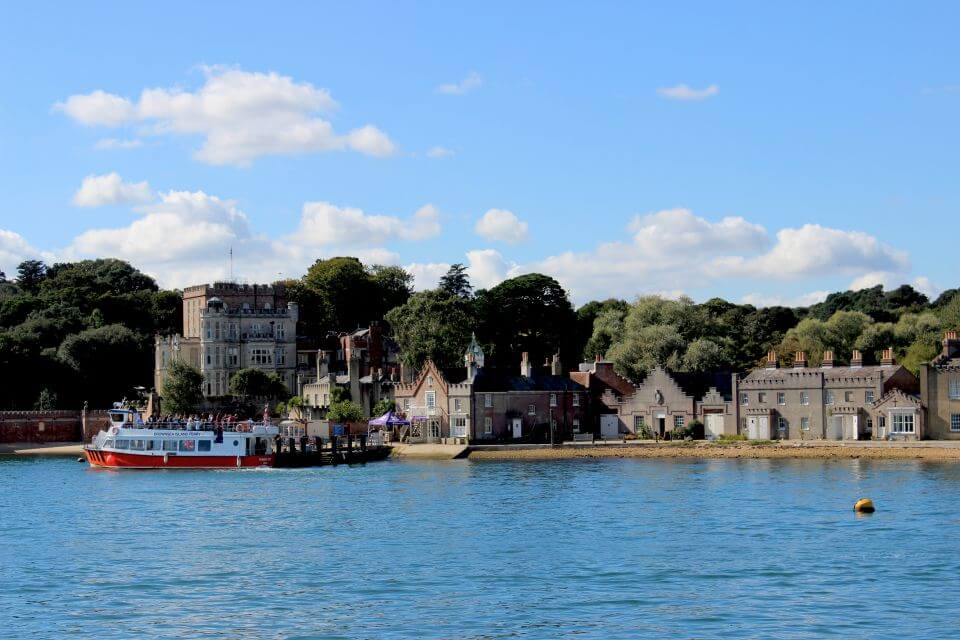 Learn more about the local history and see Europe's biggest natural harbor from a scenic cruise. Start off from Poole Quay and sail past Brownsea Island, known for its abundant wildlife and castle.
Kick back and relax in the boat's saloon or on the open deck while enjoying blissful views of the Sandbanks and the Golden Mile – an aptly named area that's easily recognizable by its opulent villas.
This Poole Harbor cruise also takes you past Long, Round, Furzey, and Green Islands which apparently inspired classic tales like Gulliver's Travel and Lord of the Rings.
The whole activity is punctuated by the Captain's informative commentary. For a better experience, I would suggest that you choose a seat near the bow.
Entrance fee: $14.95
Hours: Dependent on tour
Address: Jolly Sailor, The Quay, Poole, UK
Small Pack Problems? 😉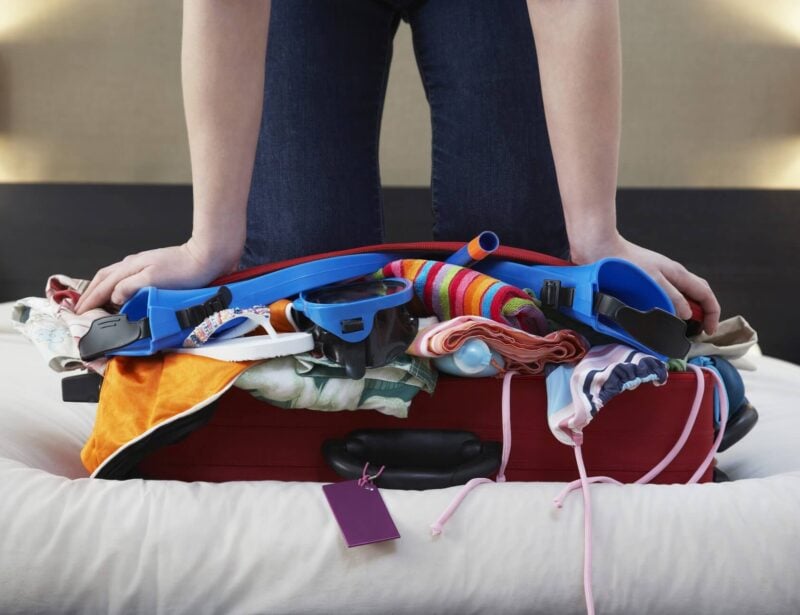 My missus travels with all her clothes in ziplock bags: don't be like my missus. UP YOUR PACKING GAME!
Packing cubes for the globetrotters and compression sacks for the real adventurers – these babies are a traveller's best kept secret. They organise yo' packing and minimise its volume too so you can pack MORE.
Or, y'know… you can stick to ziplock bags.
View Our Fave Cubes
Or Check Out the Sacks!
Are you looking for the best day trips from Bournemouth? Well, how about an escapade to Bath, located less than two hours away?
In my opinion, the best way to spend a day in Bath would be to book a walking tour of the city with an optional Roman Baths entry.
Discover impressive Georgian landmarks like the Royal Crescent- which you may recognize from popular shows like Bridgeton – and walk on the historic Pulteney Bridge that featured Les Miserables.
And if you've opted for the Roman Baths entry (which I very strongly suggest that you do), you'll also get to stroll the original walkways, explore the temple ruins, and check out Roman artifacts like the bronze head of the goddess Sulis Minerva.
Entrance fee: $24.21
Hours: Dependent on tour
Address: Various meeting points in Bath
8. Mosey Around the Russell-Cotes Art Gallery and Museum
Nestled in a sublime Art Nouveau building, the Russell-Cotes Art Gallery and Museum is hailed as one of the 'most fascinating historic houses in England.'
This building was once home to two Victorian collectors. Nowadays, visitors can mosey about the Art Nouveau interior, enhanced by an incredible collection of Pre-Raphaelite and Victorian art. The museum is also packed with various titbits that the couple picked up during their travels to New Zealand, Russia, and Australia.
Because it's perched on a clifftop, you'll be treated to awe-inspiring views of the Bay- perfect for those IG pictures! After your tour, you can always grab a snack from the on-site terrace café.
Entrance fee: $9.50 (adults), 5 (kids 5-17)
Hours: 10 a.m. to 5 p.m. (Tuesday to Sunday)
Address: Cliff Promenade, Bournemouth BH1 3AA, UK
9. Attend Candlelight Nights at the Lower Gardens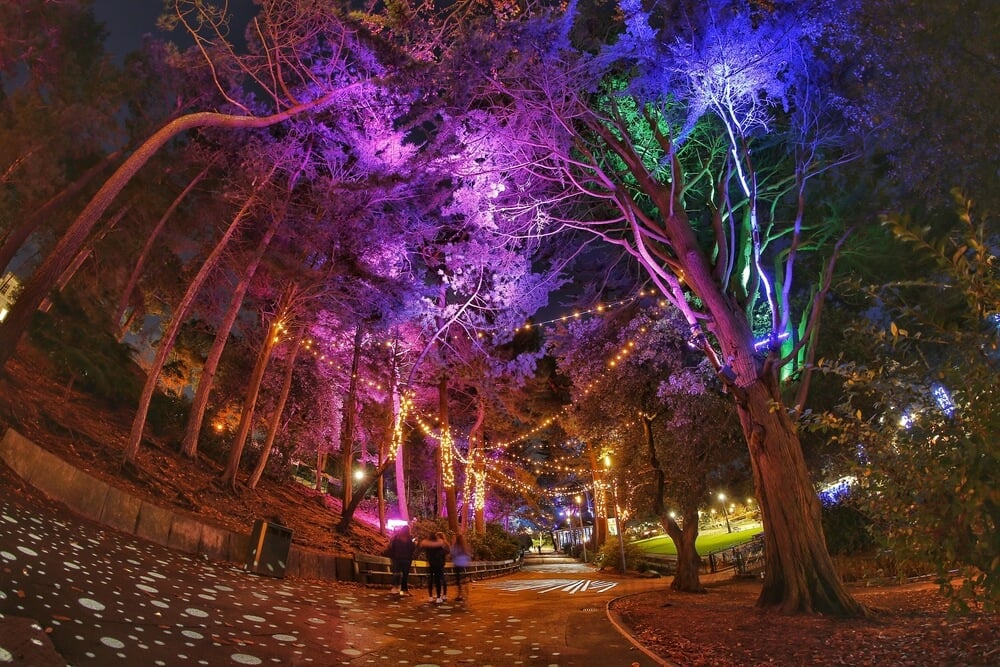 I've covered the Upper Gardens, but did you know that a quick drive away lies Bournemouth's Lower Gardens?
This spot is admittedly not as tranquil as its Upper counterpart since it's closer to popular sites like the pier, the beach, and the city's main shopping center – but rest assured that it's just as picturesque!
You'll find a range of events and activities, including mini-golfing and live music at the Pine Walk Bandstand.
Travelers looking for things to do in Bournemouth at night can check out the garden's Candlelight Evenings, a longstanding tradition that takes place every Wednesday evening in August. Thousands of candles are lit in multicolored jars, and everyone can participate in a candlelit procession through the garden.
Since it's free to enter, this is the perfect activity for backpackers in the UK on a budget.
Entrance fee: Free
Hours: Open 24 hours
Address: Westover Road, Bournemouth BH2 5AH, UK
This tour takes you across the Jurassic Coast, a UNESCO World Heritage Site that's famous for its striking geology.
Not only will you get to explore the Jurassic Coast at leisure, but you can also embark on the Durdle Door hike to pose for pics by its natural limestone arch. Be sure to wear your comfiest shoes since the terrain is a bit uneven in this area.
The hike can be challenging but you can always opt for another activity if you don't feel up to it.
Relax and take in that fresh sea breeze from Lulworth Cove while enjoying sweeping views of Hambury Tout, then fuel up with a snack at nearby eateries like The Boat Shed Cafe or Finley's Cafe.
Entrance fee: $42.36
Hours: 11 a.m. to 6 p.m.
Address: Boscombe, Bournemouth, UK
Is This the Best Daypack EVER???
11. Hike through the New Forest National Park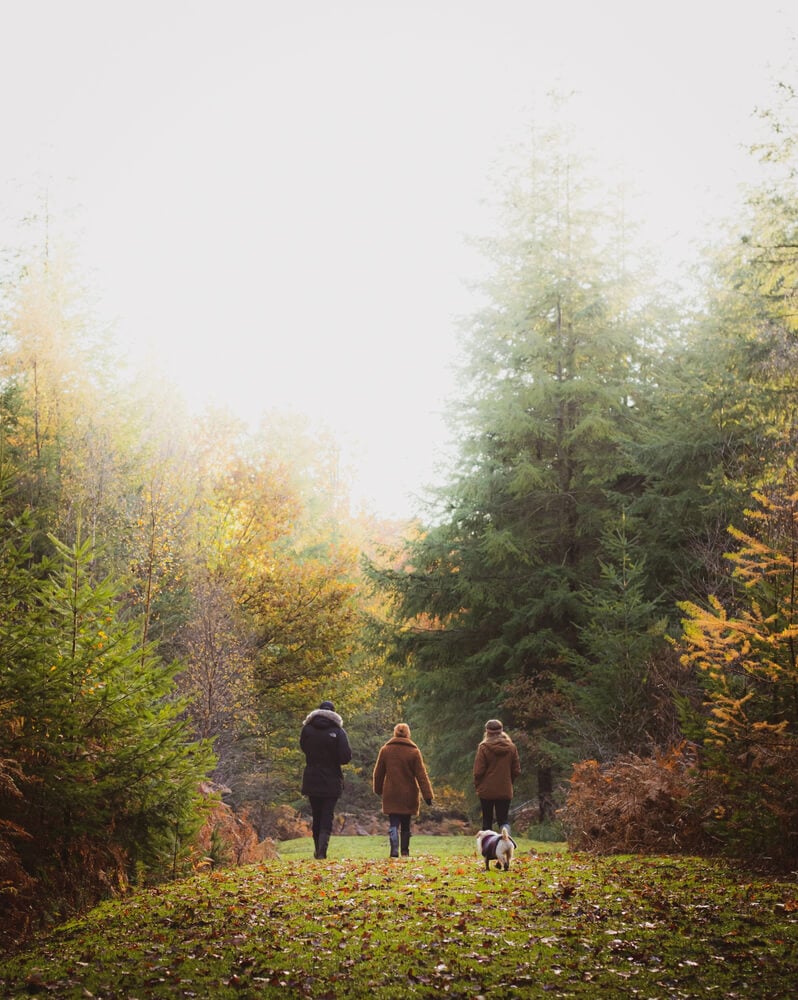 Leave the bustling buzz of the city behind as you enter the New Forest National Park, a reserve that lies just 15 minutes from Bournemouth's center.
Rumor has it that the park dates all the way back to the days of William the Conqueror. If British history isn't exactly your thing, this means over a thousand years!
A vast tract of lush moorland and heath, the New Forest National Park is an amazing place to hike, bike, or take a nature walk through the dew-speckled trees- one of the best things to do in Bournemouth with kids.
Travelers visiting from mid-October to early November will be privy to the New Forest Walking Festival which features oodles of family-friendly fun.
Entrance fee: Free
Hours: Open 24 hours
Address: Avenue Road, Lymington, Dorset, SO41 9ZG, UK
12. Check out Christchurch Castle
Okay, Christchurch Castle isn't exactly located in Bournemouth per se, but I can absolutely recommend a trip to this English Heritage site that's found 15 minutes from the city.
While this used to be quite an elaborate structure way back in the 12th century, only two parts withstood the test of time: the Norman House (a former chamber block), and the remains of a motte-and-bailey castle.
If you're feeling particularly adventurous, you can even attempt to climb up the super steep stairs leading to the top where you can gaze out at the beautiful countryside views.
While you're in the area, I can also recommend a visit to nearby Hurst Castle, an artillery fortress located less than 30 minutes away.
Entrance fee: Free
Hours: Open 24 hours
Address: Castle and Norman House, Castle St, Christchurch BH23 1DT, UK
13. Browse through the Boscombe Open Air Market
Whether you're looking for souvenirs, cheap eats, or even antiques, Boscombe Open Air Market has certainly got you covered.
Best of all, this market features an ever-changing array of stalls, so no two visits are ever quite the same. You'll be able to shop for various types of products including fresh produce, plants, jewelry, accessories, flowers, and more.
You'll also find plenty of scrumptious food – and it's not just the local cuisine either: Boscombe Open Air Market has a wide range of international offerings including Indian, Thai, and even Brazilian. Talk about foodie bonanza!
The market offers easy access to other attractions in Bournemouth such as the Chine Gardens and Pokesdown Mile, a vibrant area dotted with retro shops and antique boutiques.
Entrance fee: Free
Hours: 9 a.m. to 5 p.m. (Thursday and Saturday only)
Address: Unit B, The Cotton Exchange, 501-507 Christchurch Rd, Bournemouth BH1 4AE, UK
14. Relax with a Cuppa
Ask any local where you can get the best tea in town, and they'll point you right towards Frieda's Tearoom!
Practically an institution in the city, this place was widely popularized because of its Tea Bus ride. While the Tea Bus has sadly been discontinued, you can still book a luxury Afternoon Tea Experience at their family-run eatery.
After all, there's no better way to experience the local culture than to indulge in one of the most popular traditions in Britain, right? Just remember to lift your little finger when sipping from the dainty Victorian teacups.
Along with their traditional teatime offerings, this place also has other local goodies, including a Full English breakfast.
Entrance fee: Free
Hours: 9 a.m. to 5 p.m.
Address: City Centre, 7 Stafford Rd, Bournemouth BH1 1JH, UK
Travel with peace of mind. Travel WITH a security belt.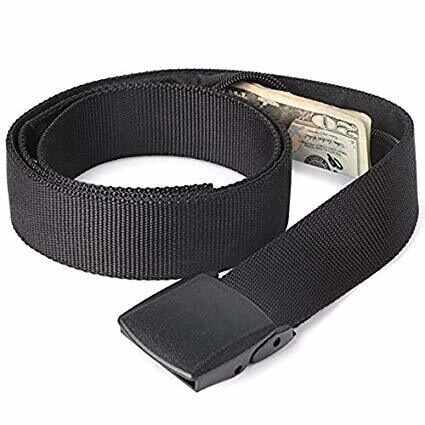 Get your cash stashed with this awesome Pacsafe money belt. It will keep your valuables safe no matter where you go.
It looks exactly like a normal belt except for a SECRET interior pocket perfectly designed to hide a wad of cash or a passport copy. Never get caught with your pants down again! (Unless you want to.)
Hide Yo' Money!
15. Indulge in Watersports at Sandbanks Beach
With golden shores and crystalline waters, this Blue Flag beach is a destination of choice for thousands of travelers each year.
This peninsula may be on the smaller side, but it features some of the best family-friendly activities in Bournemouth – including sandcastles galore and a crazy-golf course. There's also a playground, complete with a sensory play zone, sand diggers, swings, and more.
Because of its calm and shallow lagoon, this is one of the best premier UK locations for various types of watersports. Beginners can sign up for nautical lessons such as sailing, paddle boarding, and windsurfing.
You'll find plenty of companies offering equipment for hire so don't worry about lugging your own gear all the way to Bournemouth!
Entrance fee: Free
Hours: Open 24 hours
Address: Banks Rd, Poole BH13 7QQ, UK
16. Watch the Sunset from Bournemouth Pier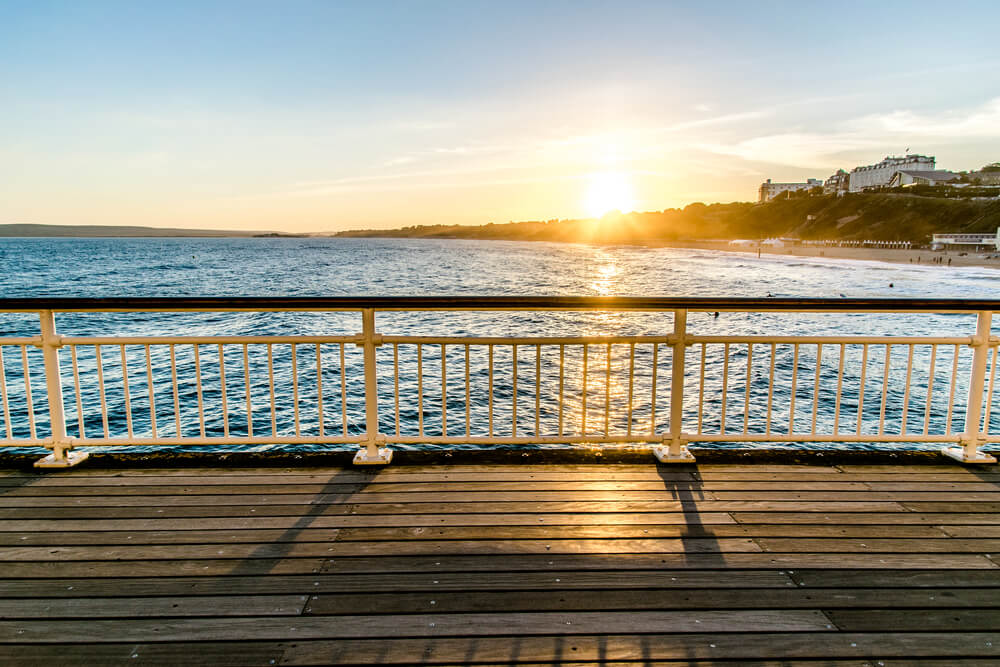 Certainly not one to miss, Bournemouth Pier offers the ideal vantage point for admiring the sunset, so head there early to bag yourself the best spot!
This Victorian-style pier also features several attractions, including an amusement arcade, a café, and even a variety theatres. To get your adrenaline pumping, check out the on-site Rock Reef Activity Center where you can zip line right from the pier to the shore!
In addition to its various activities, the Pier regularly hosts events such as the Bournemouth Air Festival and outdoor concerts. The official website is full of info about upcoming events so be sure to check it out when planning your trip to Bournemouth.
Entrance fee: $1.70 (adults), $5.25 (families with 2 adults and 3 children), $1.20 (children)
Hours: 9 a.m. to 11 p.m.
Address: Pier Approach, Bournemouth BH2 5AA, UK
17. Take a Ride on the Land Train
One of the best things to do in Bournemouth, the Land Train allows you to just kick back and enjoy a leisurely ride by the seafront – perfect for first-time visitors who would like a sneak peek of the city's beautiful beaches!
The brightly colored fleet of five trains usually operates two routes along the seafront.
The first runs from East Bournemouth Pier to Boscombe Pier before returning, while the second (and more popular route) departs from the west side of the pier and travels all the way to Alum Chine, with a couple of stops along the way.
The fleet mainly runs from April to October, although there are some weekend rides in the winter, depending on weather conditions.
Entrance fee: $4.50 (adults), $12.50 (family ticket), $2.80 (children 5-16), free for one Carer traveling with a disabled person
Hours: 10 a.m. to 5 p.m., Monday to Sunday (April 9 to October 31)
Address: Departures from Bournemouth Pier East and Bournemouth Pier West
Where to Stay in Bournemouth
From luxury hotels to charming cottages in Bournemouth, there's a wide range of accommodation options in the city. As such, you'll definitely find something that matches your travel style, budget, and group size.
Here are my recommendations of where to stay in Bournemouth.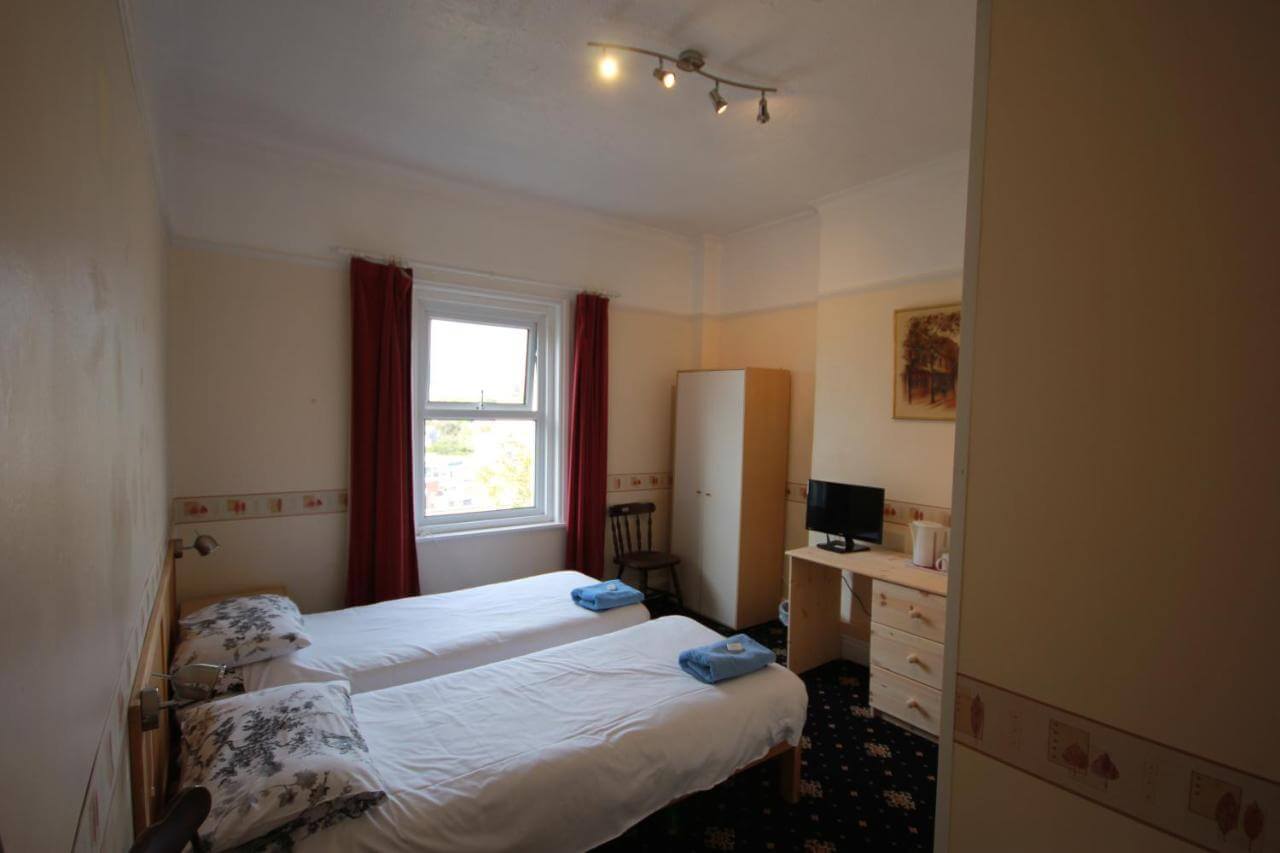 Located just a quick stroll from the beach, Dolphins Hotel offers bed and breakfast accommodation in Bournemouth's lively city center.
This family-run property boasts spacious rooms with double or twin beds to comfortably accommodate two guests. Family rooms add an extra bed for up to three people.
In the morning, fuel up with a complimentary Full English breakfast before exploring nearby attractions like the Lower Gardens, Boscombe Beach, and the Bournemouth Pier.
Within walking distance from Bournemouth's stunning beaches, lies this quirky space that sleeps three guests in one bedroom.
While this Bournemouth lodge does provide a fully equipped kitchen, you'll also find plenty of cafes and eateries nearby. And when you're done exploring for the day, kick back and relax in the private outdoor hot tub.
Since it's located near the top things to do in Bournemouth, you'll enjoy easy access to attractions like Boscombe Beach, the Coastal Activity Park, and Boscombe Chine Gardens.
Best Hotel in Bournemouth – Derby Manor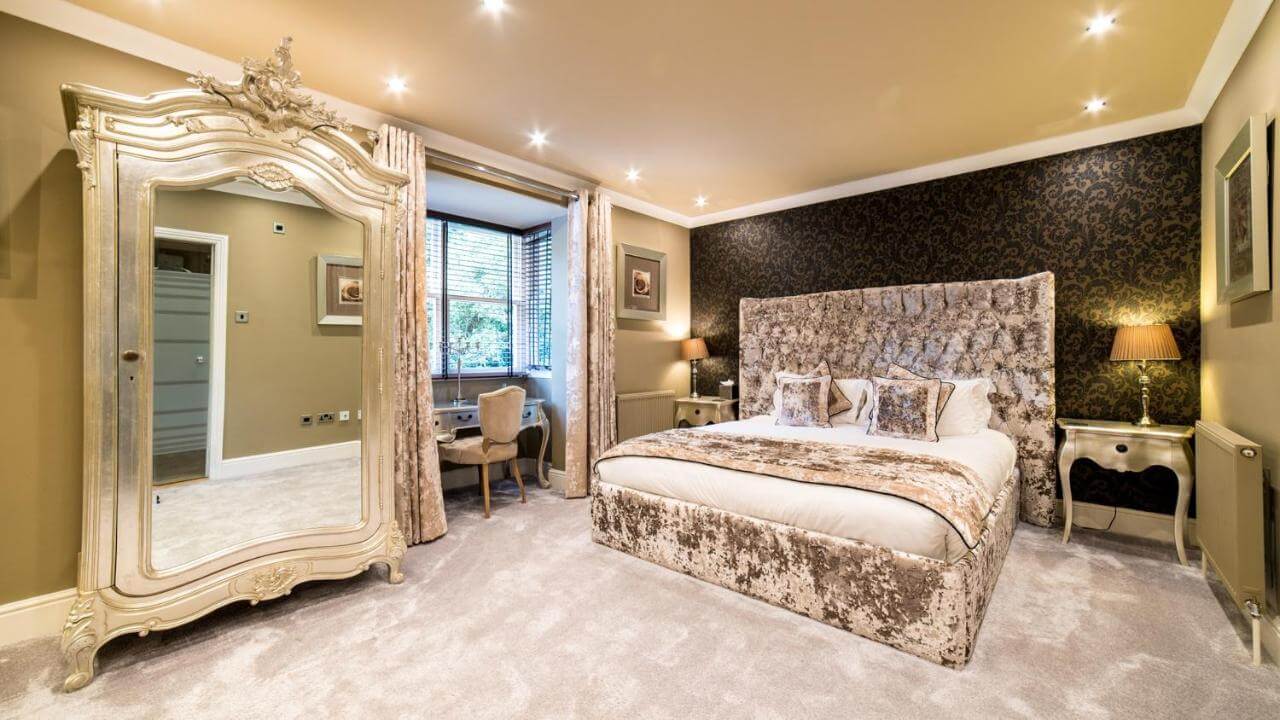 Featuring a daily choice of Continental or Full English breakfast, this Edwardian-style, adult-only hotel offers refined rooms that sleep up to two guests.
Each unit boasts complimentary chocolates, biscuits, hot chocolate, as well as tea and coffee-making facilities. Select rooms have added plush seating areas.
Spend a day exploring nearby attractions like Sandbanks, Eastcliff Beach, and the Russell Cotes Art Gallery & Museum, then retreat to the hotel to enjoy handcrafted cocktails at the on-site bar.
Some Additional Tips for Visiting Bournemouth
Now, I know you're eager to pack your suitcase and zip off to Bournemouth but before you do, be sure to check out my top tips for traveling to this coastal city…
Invest in travel insurance! You never know what may happen on the road.
Splurge on a Beach Hut. If you're staying in Bournemouth long-term, I would absolutely recommend that you splurge on a Beach Hut. Not only will you be right by the ocean's edge, but the soft sloshing of the waves against the shore might just give you the best sleep of your life!
Enjoy Fish and Chips. It's no secret that Fish and Chips are the stars of English cuisine and in my opinion, Bournemouth is one of the best places to savor this delectable dish.
Cycle your Way around the City. Yes, there are plenty of hop-on, hop-off tours that cover the main attractions in Bournemouth. However, my advice would be to rent a bike to explore the wider Bournemouth area.
Download the Beach Check App. This free app can be handy for travelers who're planning on visiting Bournemouth in the summer. You'll be able to take advantage of a traffic light system that'll help you avoid busy hotspots and congested beaches. You'll find the Apple App and Google Play links on the official city council page.
Bring a good water bottle with you and avoid buying single-use plastic ones!
Don't forget your travel insurance for Bournemouth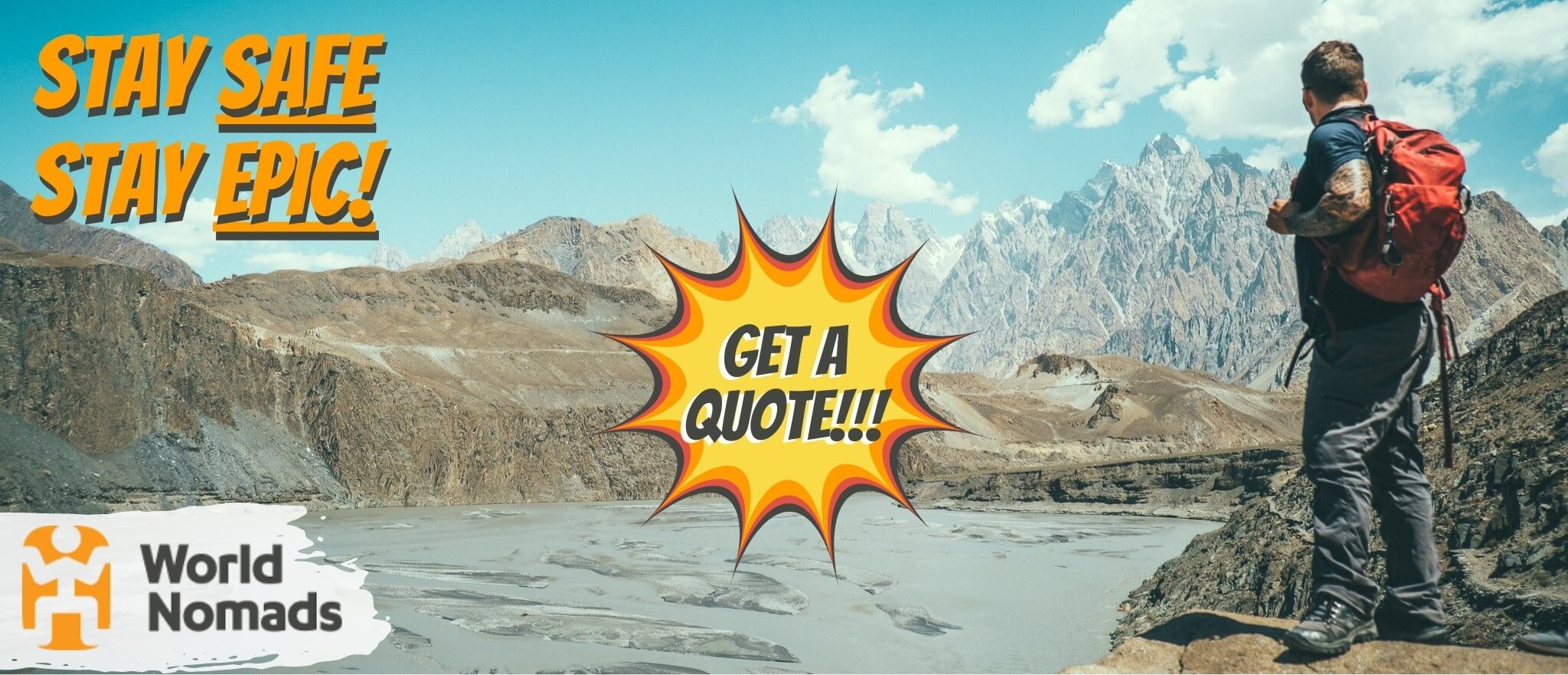 World Nomads' mission is to support and encourage travellers to explore their boundaries. They offer simple & flexible travel insurance, and safety advice to help you travel confidently.
They've been doing it since 2002 – protecting, connecting, and inspiring independent travellers just like you.
Get a quote below or read our in-depth review!
World Nomads provides travel insurance for travelers in over 100 countries. As an affiliate, we receive a fee when you get a quote from World Nomads using this link. We do not represent World Nomads. This is information only and not a recommendation to buy travel insurance.
Final Thoughts on Things to do in Bournemouth
Brimming with sun-soaked sights, delicious fish and chips, and endless stretches of sand, this city is a traveler's dream come true!
There's always plenty to explore in Bournemouth, with its rugged landscape, museums, and gardens that look like they were plucked right out of a fairytale.
Fans of the great outdoors will no doubt relish in the countless open-air activities while families traveling with children will be more than happy with kid-friendly events like the New Forest Walking Festival.
And if your vacation goal is to simply laze about on the shore with the warm sand between your toes…well, there are lots of coastlines here to keep you going for a while.
Hopefully, this guide has made it easier to sift through the vast array of activities in Bournemouth so you can kick off your stay on a high note!
---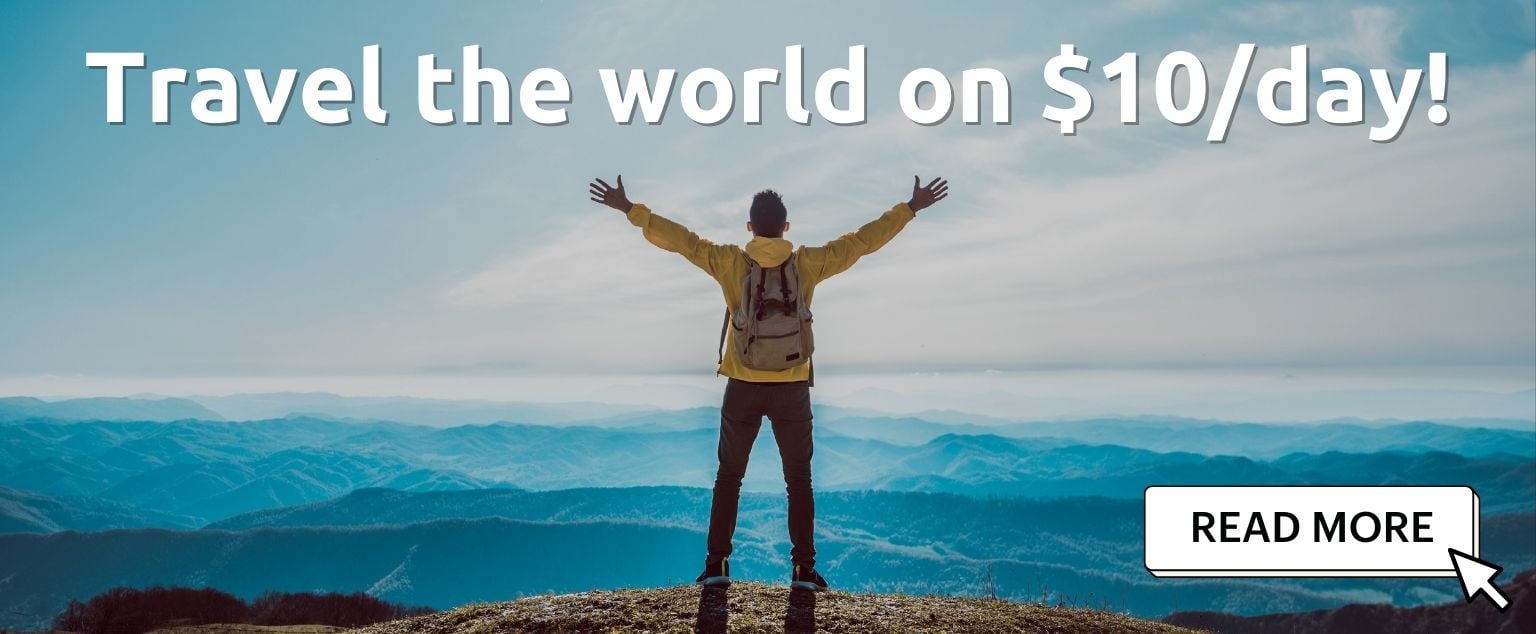 And for transparency's sake, please know that some of the links in our content are affiliate links. That means that if you book your accommodation, buy your gear, or sort your insurance through our link, we earn a small commission (at no extra cost to you). That said, we only link to the gear we trust and never recommend services we don't believe are up to scratch. Again, thank you!