Miami is a coastal metropolis famous for its year-round good weather and luxury lifestyle. Beaming with Latin culture and soul, the city is a unique blend of cultures, cuisines, and jaw-dropping nature spots. From amazing beaches to a nightlife scene that's second to none, Miami has something for everyone.
One area in particular that attracts tourists, is Miami Beach. This island city is well connected to the rest of the city by bridges and is well known for its beaches, from North Shore Open Space Park, Lummus Park to South Pointe Park.
You'll also find Millionaire's Row and the Art Deco Historic district here, complete with pastel-colored buildings.
No matter what you're looking for, Miami Beach is sure to have something that will interest you. But before you can board a plane and start booking places to stay, it's a good idea to select some of the best things to do in Miami Beach to add to your itinerary.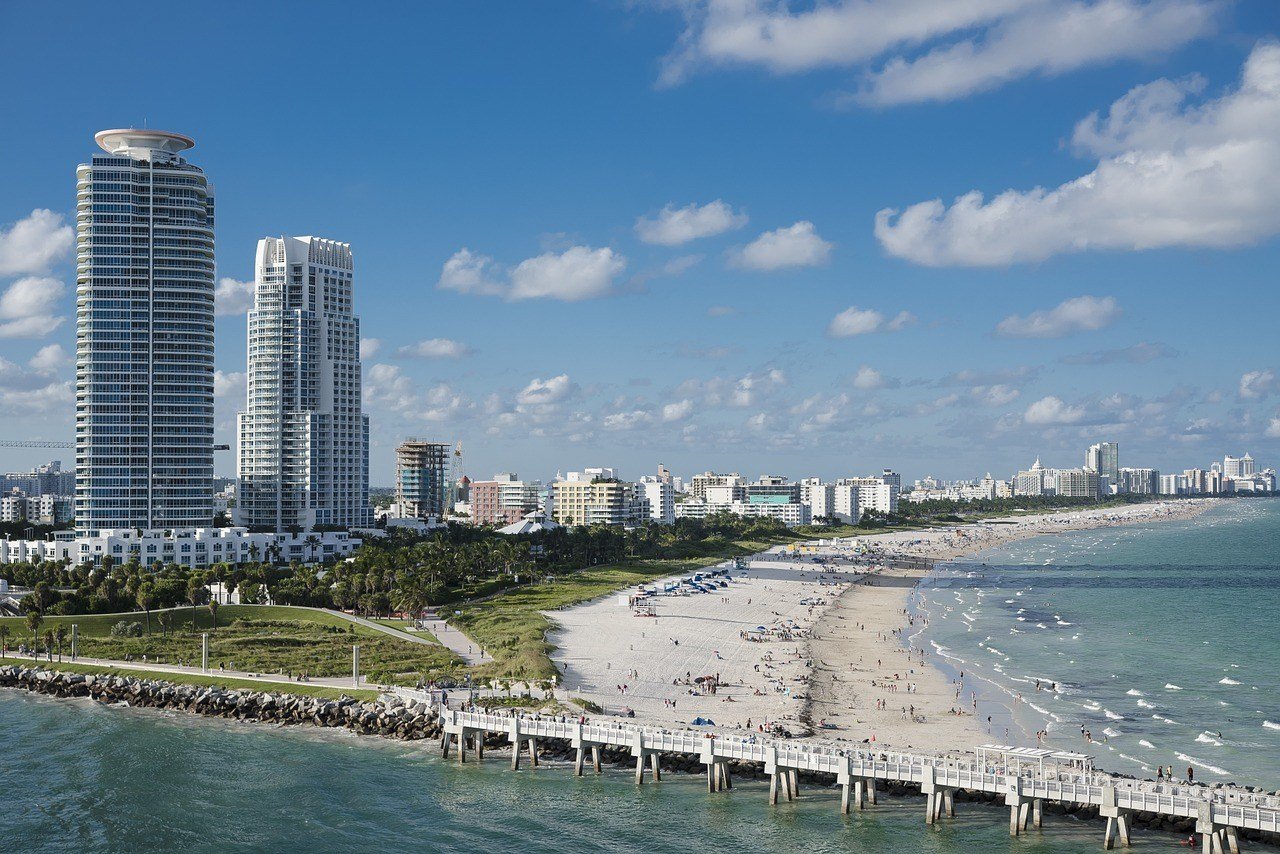 The Top Things to Do in Miami Beach
Below you'll discover a list of my personal favorite things to do in Miami Beach. These are must-dos for any visitor to the city, and they should be high on your priority list. If you've only got a short time in Miami Beach, make sure to tick these off your Miami Beach itinerary first.
Get ready to be transported into another world. From the high rises of Miami to the green marshes of the everglades, you really can't miss this!
The Everglades is one of the top things to do while you are in Miami, especially for first time visitors to Florida.
The National Park is full of alligators, turtles, and many different species of birds. You can tour the park on foot, by bike, or by boat. One of my favorite ways to explore the area is by airboat, and there are tours available that will take you through the swampy waters.
Entrance: $26.39
Hours: 9AM – 5PM
Address: Everglades National Park, Miami, Florida
2. Explore South Beach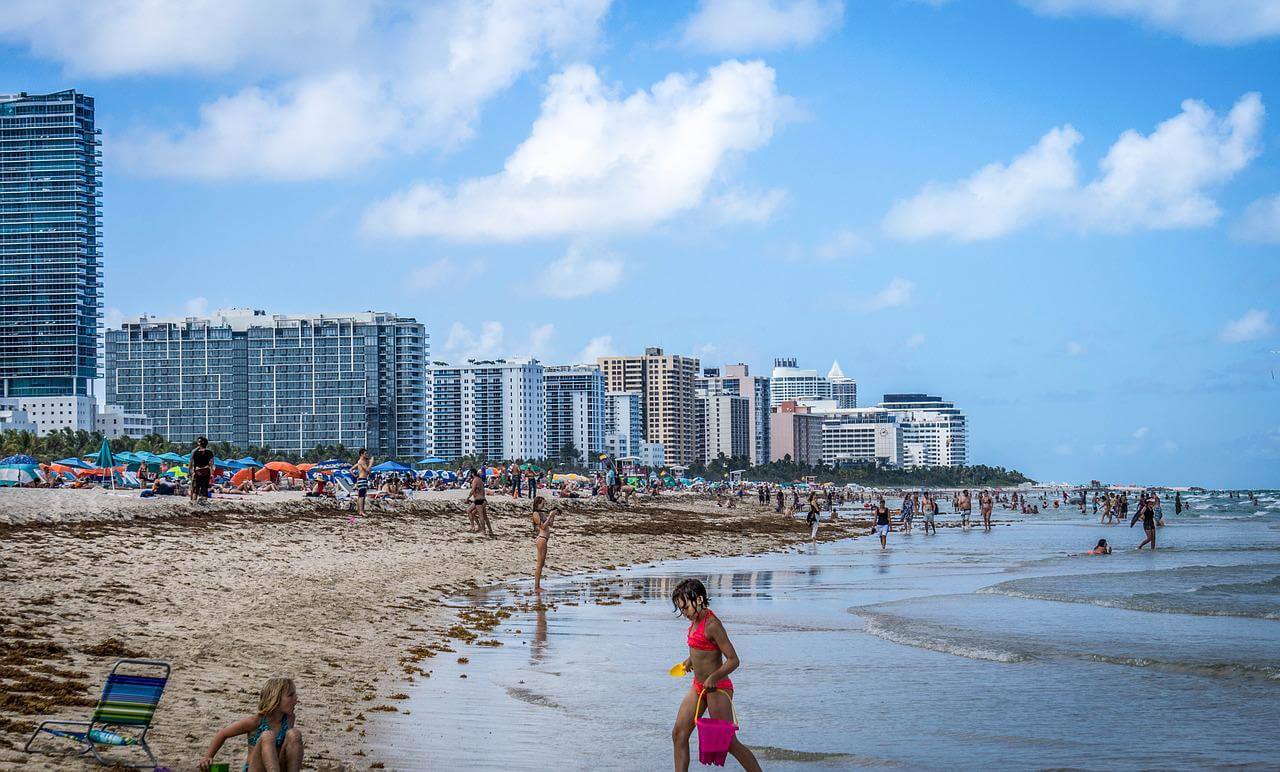 Every time I think of Miami, I think of tans, bikinis, and tequila and that is exactly what you can expect at South Beach.
There is a reason it is one of the most popular tourist destinations in Miami. It is known for its white sand beaches, turquoise water, and Art Deco architecture. South Beach is also home to a number of restaurants, bars, and clubs. If you're looking to party, this is the place to be.
You will find all kinds of travelers and locals alike at South Beach – there is absolutely no way you can't enjoy your day in the sun! Just make sure to drink water in between your cocktails.
Since it's free to visit the beach, this is the best thing to do for backpackers in Miami.
Entrance: NA
Hours: NA
Address: South Beach, Miami Beach
Miami is full of some of the biggest money makers in the game and they are all in one place – Millionaire Row! This is one of the most exclusive neighborhoods in Miami.
You can find some of the most beautiful homes and yachts in the city. Many of the residents are celebrities, athletes, and business moguls.
The best way to see this area is by boat, where you can see the extravagant houses and their sprawling lawns and gardens. Spend the day on the Miami River and get some inspiration for your morning affirmations. You might even see a celebrity or two.
You might even consider getting your own boat rental and mapping out your own itinerary.
Entrance: $35
Hours: 10AM – 7.30PM
Address: Depart from 401 Biscayne Blvd, 33131, Miami
What is the One Item Every Traveller NEEDS???
There is one item every traveller NEEDS. Some travellers don't even know they need it, but those travellers need it more than anyone.
What is this forgotten essential of the backpacker-life? SPOILERS! Guess you'll just have to click the button to find out. 😉
Find Out What It Is!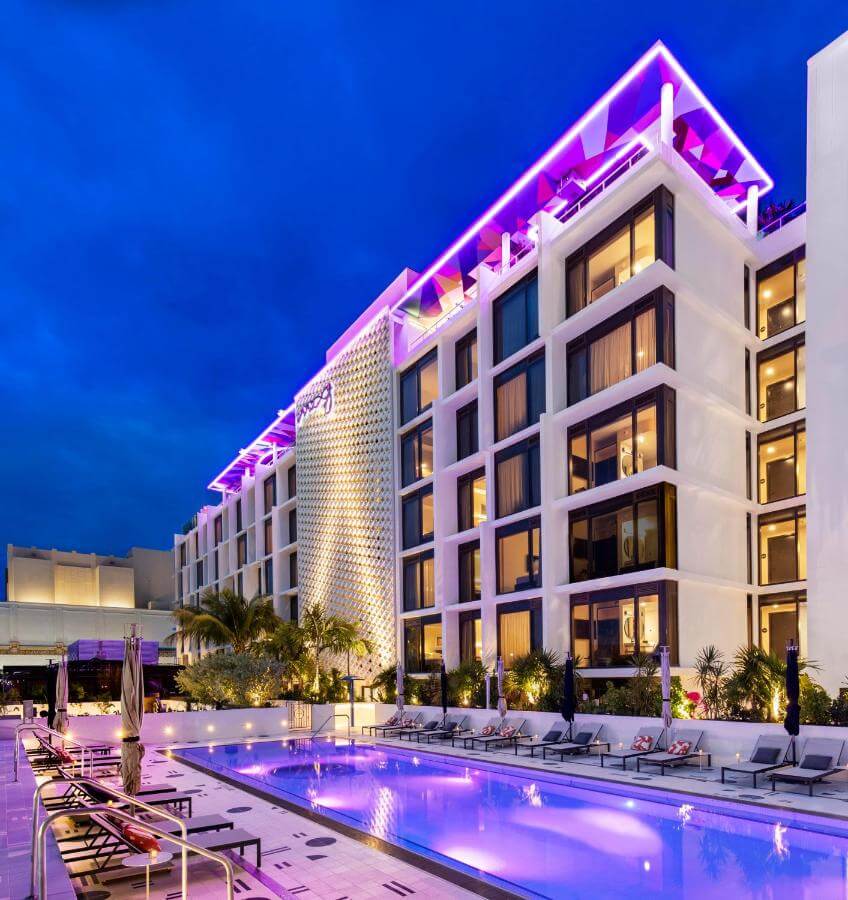 We all know that Instagram is a huge part of travel these days. Everyone wants to get that perfect shot to flood their followers' feed.
Well, look no further than MOXY South Beach. It is one of the most Instagrammable hotels in Miami and it is actually a lot of fun.
The hotel's design is inspired by nautical themes and Art Deco architecture. It is also conveniently located near all of South Beach's finest attractions with plenty of ocean view rooms.
This insanely hip hotel is full of young adults looking for a good time while in Miami, so you're guaranteed to have a blast and take that perfect picture.
Entrance: Prices from $379/per night
Hours: Check-in from 3pm, Check-out 10am
Address: MOXI Miami South Beach, 915 Washington Avenue, Miami Beach, 33139
5. Vizcaya Museum and Gardens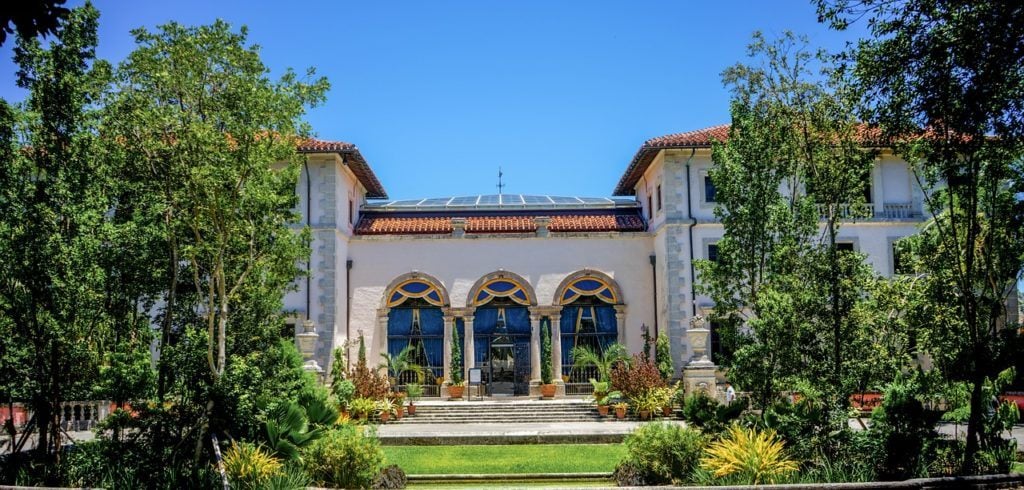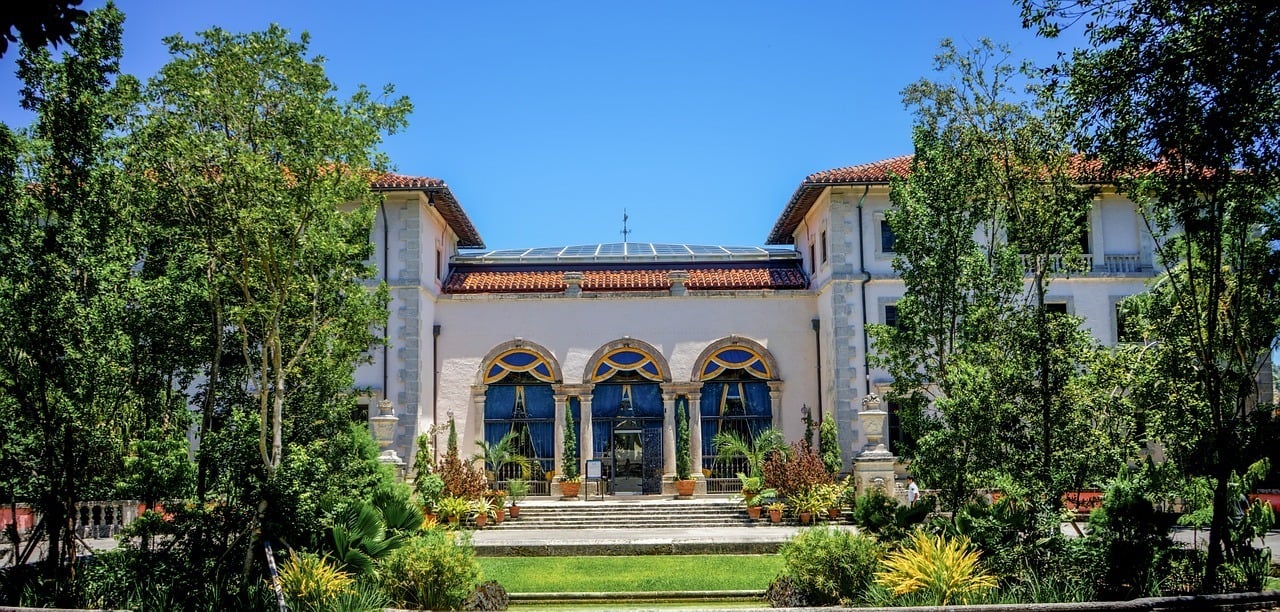 Miami isn't all beach and party, it has a large cultural background and this is a must-see for any history or architecture lover.
The Vizcaya Museum and Gardens were built in the early 1900s by an American industrialist and it is stunning. The 54-acre property is full of sculptures, fountains, and gardens.
The main house has 34 rooms that are open to the public. You can explore the different rooms and learn about the history of the home and its owner.
After you tour the main house, take some time to walk around the grounds. The gardens are breathtaking and offer plenty of photo opportunities. If you are interested in learning more about the history of Miami, this is a great place to start.
Entrance: $25
Hours: 9.30am – 4.30pm (closed Tuesdays)
Address: 3251 S Miami Ave, Miami, FL 33129
One of my favorite things to do in Miami Beach is rent a jet ski and cruise around Biscayne Bay. You can see some of the most beautiful homes in Miami and the sparkling Miami skyline from the water… and you never know who could be out in the water.
I may or may not have seen DJ Khaled out and about a number of times… just sayin'!
The water is crystal clear and the views are incredible. You can even stop at one of the sandbars to take a break and swim. Just make sure you bring plenty of sun cream!
Entrance: $64
Hours: 10am – 1.30pm
Address: Miami Watersports, 110 Malaga avenue, 33134 Coral Gables
Small Pack Problems? 😉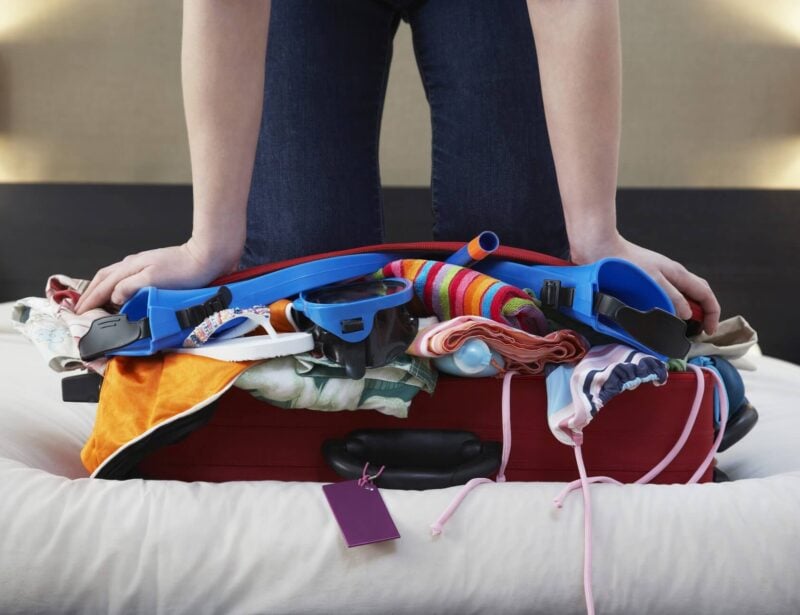 My missus travels with all her clothes in ziplock bags: don't be like my missus. UP YOUR PACKING GAME!
Packing cubes for the globetrotters and compression sacks for the real adventurers – these babies are a traveller's best kept secret. They organise yo' packing and minimise its volume too so you can pack MORE.
Or, y'know… you can stick to ziplock bags.
View Our Fave Cubes
Or Check Out the Sacks!
7. Catch a Miami Dolphins Football Game
No trip to Miami is complete without catching a Miami Dolphins football game. The NFL team is one of the most popular in the city and their games are always a good time.
Even if you're not a huge football fan, you will enjoy tailgating and being in the stadium. There is nothing like experiencing a game surrounded by die-hard fans.
If you can't make it to a game, you can still experience the Miami Dolphins by taking a tour of the Hard Rock Stadium. You will get to see the locker room, field, and more. It is a great way to learn about the team and its history.
Entrance: Dependent on ticket
Hours: Dependent on game
Address: 347 Don Shula Dr, Miami Gardens, FL 33056, United States
Super Blue Miami is an immersive art experience that is unlike anything you have ever seen. I know, I know, immersive exhibits are everywhere these days, but the Super Blue Miami is a must-see.
The exhibit is full of labyrinths of light and sound installations that you can interact with and take photos of, bringing other dimensions to life. It is the perfect place to let your mind explore and have some fun.
Entrance: $36
Hours: 11am – 7pm (Monday, Wednesday, Thursday) 10am – 8pm (Friday, Saturday, Sunday) Closed Tuesday
Address: 1101 NW 23rd St, Miami, FL 33127
9. Learn How to Graffiti in Wynwood
Wynwood is the arts district of Miami and it is a must-see when you are in the city. The graffiti in Wynwood is some of the best I have ever seen. You can find murals and graffiti on almost every building. It is truly a work of art.
Join a walking tour to explore the area or dig a little deeper and learn the art of graffiti. You can join a tour, and your guide will teach you about the history of graffiti in Wynwood and how to create your own piece of art.
It is a great way to immerse yourself in the culture of Wynwood and also leave a little piece of yourself on a wall in the district.
Entrance: $39
Hours: 11am – 12pm
Address: 266 NW 26th St, Miami, FL 33127
10. Neptune Memorial Reef
One of the most unique things in Miami Beach is to see the Neptune Memorial Reef. The Reef is located off the coast of Miami and is a man-made reef made up of concrete statues. The statues are designed to be the final resting place of hundreds of people.
Many people bring the ashes of their loved ones here to be scattered in the hope that they will become part of the reef and create new life.
It is a beautiful and unique place that is definitely worth checking out. It is also a great way to learn about the importance of coral reefs and how, as humans, we can help create a more sustainable life for the coral reef in the world.
The best way to see it is by diving, so be sure to do your research and find a qualified PADI diving school to take you out.
Entrance: NA
Hours: NA
Address: Off the coast of Biscayne Bay
Is This the Best Daypack EVER???
11. Enjoy a Night out at LIV
I know what you've been thinking this whole article… get me to the nightlife! No worries, I have the spot for you. One of the best things to do in Miami Beach at night is to go out to LIV.
LIV is one of the most popular nightclubs in Miami and it is a guaranteed night to remember – or not. The club has multiple levels and each level has its own vibe. LIV attracts the rich and famous of Miami so any given night you could see a celebrity or two.
Dress to impress and be prepared to spend some money because this is definitely not a cheap night out, but it is worth it, I promise. If you want an unforgettable night out in Miami, LIV is the place to be.
Entrance: NA
Hours: 11pm – 5am (closed Monday and Tuesday)
Address: 4441 Collins Ave, Miami Beach, FL 33140
If you are looking for something a bit more low-key, one of my favorite nighttime activities is paddle boarding out on the river. You can paddle board through the mangroves and see the city lights from the water. It is a great way to relax and enjoy the city all lit up.
Paddle boarding at night is definitely a unique experience and something you won't find in many other places. Miami is warm pretty much all year round so this is a great activity to do any time of year if you want to skip the club.
Entrance: $69
Hours: 8pm
Address: 301 NW N River Dr, Miami, FL 33128, USA
13. Ziff Ballet Opera House
Sometimes you need a night off from the booze, but don't want to spend the evening at your BnB. The Ziff Ballet Opera House is the perfect place to go if you want to experience some culture while you are in Miami.
The Opera House is home to the Florida Grand Opera and the Miami City Ballet. It is a beautiful building inside and out and definitely worth checking out. Even if you don't catch a show, it is worth it to walk around and take in the architecture.
Entrance: dependent on show
Hours: dependent on show
Address: 1300 Biscayne Blvd, Miami, FL 33132
Watching the sky change from blue to orange to pink is one of my favorite ways to enjoy an evening with a loved one and Miami does it right. There is no more romantic activity in Miami than taking a sunset cruise.
Whether it is the first date or you are celebrating 10 years, you cannot go wrong with enjoying the sunset, a few glasses of champagne, and if you're lucky, catching a glimpse of dolphins. It is the perfect way to end a day together and enjoy each other's company.
Entrance: $85
Hours: 6pm
Address: 401 Biscayne Blvd, Miami, FL 33132,
Travel with peace of mind. Travel WITH a security belt.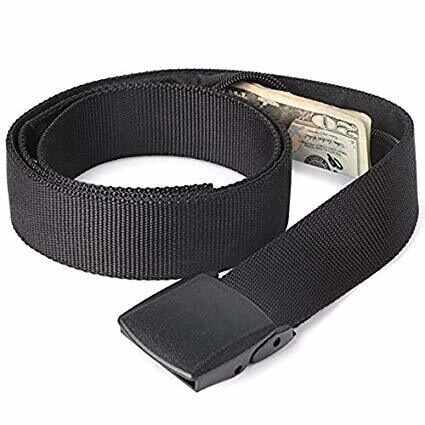 Get your cash stashed with this awesome Pacsafe money belt. It will keep your valuables safe no matter where you go.
It looks exactly like a normal belt except for a SECRET interior pocket perfectly designed to hide a wad of cash or a passport copy. Never get caught with your pants down again! (Unless you want to.)
View on REI!
15. Have dinner at Area 31
For a truly romantic dinner, you need to go to Area 31. The restaurant is located on the 16th floor of the EPIC hotel and has stunning views of the city. The menu changes seasonally so you can be sure you are getting the freshest ingredients. They also have an amazing wine list to accompany your meal.
The atmosphere is perfect to share with the one you love and the food will not disappoint. It is the perfect spot for a special night out with someone special. Make sure to dress to the nines as this is an upscale restaurant that will require a reservation a few weeks in advance.
Entrance: free
Hours: 7am – 9pm (10pm on Friday, Saturday, Sunday)
Address: 270 Biscayne Blvd Way, Miami, FL 33131
16. Walk or bike through Wynwood
I think we can all agree that Miami is expensive, so if I can participate in some free activities, then sign me up! Wynwood is one of the coolest neighborhoods in Miami and it is also one of the best places to visit to see street art for free.
The area has been taken over by artists and you can find amazing murals on just about every building. It is a great place to walk or bike around and explore all the different art.
Wynwood is also home to a number of art galleries, so if you are looking to buy some art while you are in town this is the place to go. Even if you are not in the market for art, it is still worth checking out the galleries. They often have free wine and cheese receptions which makes for a great evening.
Entrance: NA
Hours: NA
Address: Wynwood Miami
17. Visit the Institute of Contemporary Arts
The ICA is one of the best museums in Miami and it is free – not just on a random Monday from 1pm-3pm but it is free every day.
The museum is always changing so you can be sure to see something new every time you visit. They often have special exhibits that are only in town for a short time, so if you see something that interests you, make sure to go check it out.
Even if you are not into contemporary art, the museum is still worth a visit. You will find a number of free events that they host throughout the year. From concerts to movie screenings, there is always something going on. Make sure to check their website before you go to see what is happening during your visit.
Entrance: free
Hours: 12pm-6pm (closed Monday and Tuesday)
Address: 61 NE 41st St, Miami, FL 3313
18. Spend the day at the Phillip and Patricia Frost Museum of Science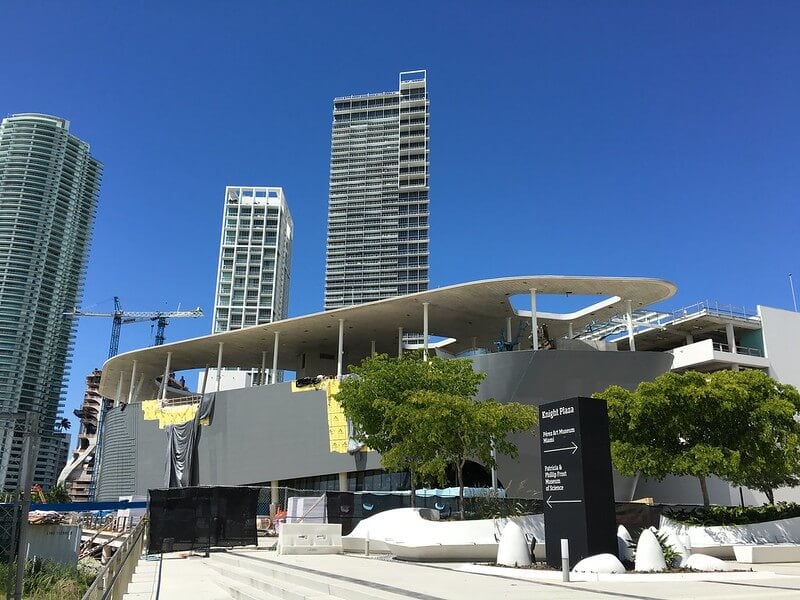 This museum is one of the coolest in Miami and it is perfect for kids. The majority of the museum is interactive perfect for those growing brains. They have an aquarium, a planetarium, and even a laser show. The best part is that kids under three are free. If you have older kids they will also enjoy all the hands-on exhibits.
The museum is located in Museum Park which is also home to the Miami Art Museum. So, if you have some time after exploring the science museum, you can also check out the art museum.
Entrance: $29.95
Hours: 10am-7pm
Address: 1101 Biscayne Blvd, Miami, FL 33132
19. Visit the Zoological Wildlife Foundation
The Zoological Wildlife Foundation is a great place to take the kids for a day. They have a number of different animals encounters that the kids will love.
If you are looking for a unique experience this is the place to go. The foundation makes an effort to protect endangered species, so you can feel good about your visit.
They also have a number of educational programs that the kids can participate in, making it a great option for parents who need to keep their kids busy for a bit.
They offer behind-the-scenes tours, animal training classes, and even keeper-for-a-day experiences. These are all great ways to learn more about the animals and their habitats.
Entrance: $22.95
Hours: 8am – 6pm
Address: 16225 SW 172nd Ave, Miami, FL 33187
20. Visit Little Havana
Trust me when I say no trip to Miami is complete without a visit to Little Havana. This is the heart of Cuban culture in Miami and it is a great place to experience some of the best food in the city.
From Cuban sandwiches to handmade cigars, your mouth will not stop drooling while walking the streets of Calle Ocho.
Calle Ocho is the main street in Little Havana. This is where you will find most of the shops and restaurants. If you are looking for souvenirs, this is the place to go. You will find a number of Cuban art galleries and shops selling Cuban coffee and cigars.
Entrance: free
Hours: NA
Address: Little Havana, Miami
Forget boring accommodation… book yourself an EPIC STAY!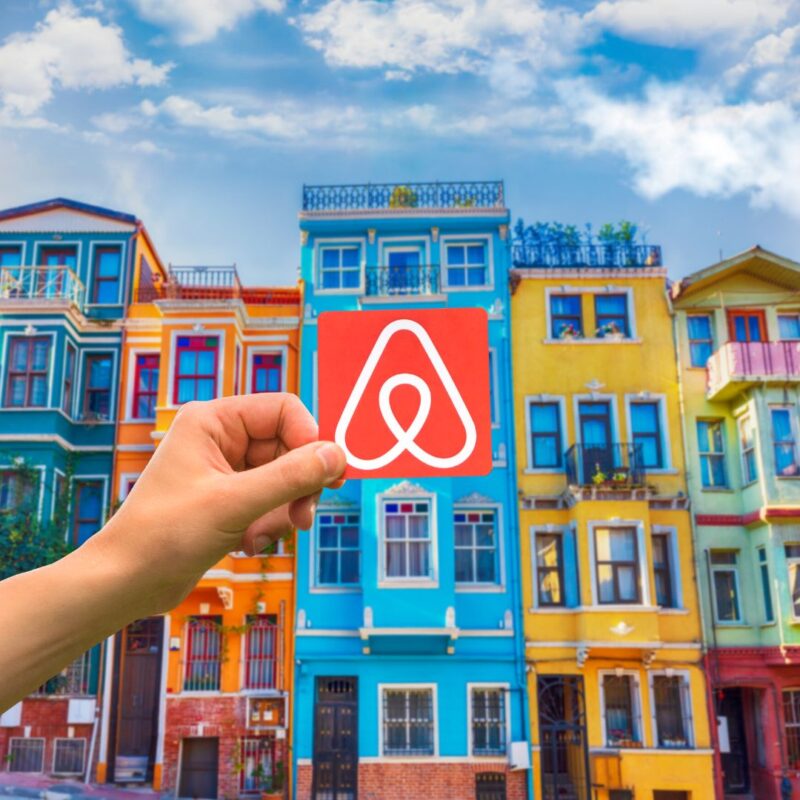 Why stay in a naff hotel when you can stay in a cosy, stylish local house instead? And for half the money too!
Stay somewhere EPIC and save your hard-earned dollars — from houses to barns to castles and caves, there is an Airbnb for every occasion!
Book an EPIC Stay
21. Have dinner at Komodo
Looking for a special night out in Miami. Komodo is one of the most popular restaurants in Miami and it is definitely worth a visit. The restaurant is known for its unique Asian-fusion cuisine and draws in many famous people.
They have a number of small plates that are perfect for sharing making it a great option if you are dining with a group. Some of my favorite dishes include the crispy rice with spicy tuna and the Wagyu beef skewers.
Make sure to make a reservation in advance as the restaurant can get pretty busy, especially on the weekends.
Entrance: NA
Hours: 6pm -11pm (12pm on Weekends)
Address: 801 Brickell Ave, Miami, FL 33131, United States
22. Enjoy an afternoon at the Venetian pool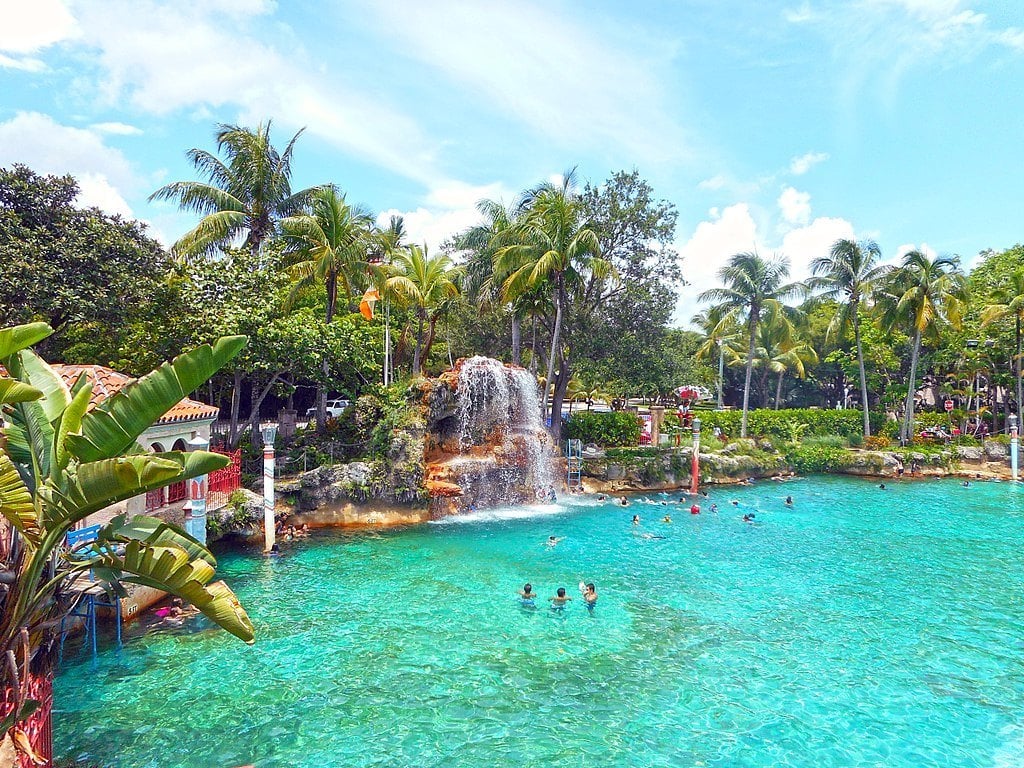 The Venetian Pool is one of the most iconic places in Miami. This historic pool was built in 1924 and it is still one of the best places to cool off in the city.
The pool is filled with spring water and it has a number of grottos and waterfalls. It is the perfect place to spend a hot day in Miami.
There is a small admission fee, but it is one of the best things to do in Miami Beach in the summer. The pool is only open during the day and is first come first serve so make sure to go early to get a spot.
Entrance: $7.50
Hours: 11.30am – 6.30 pm (4.30pm on Weekends)
Address: 2701 De Soto Blvd, Coral Gables, FL 33134
23. Catch a Miami Heat Game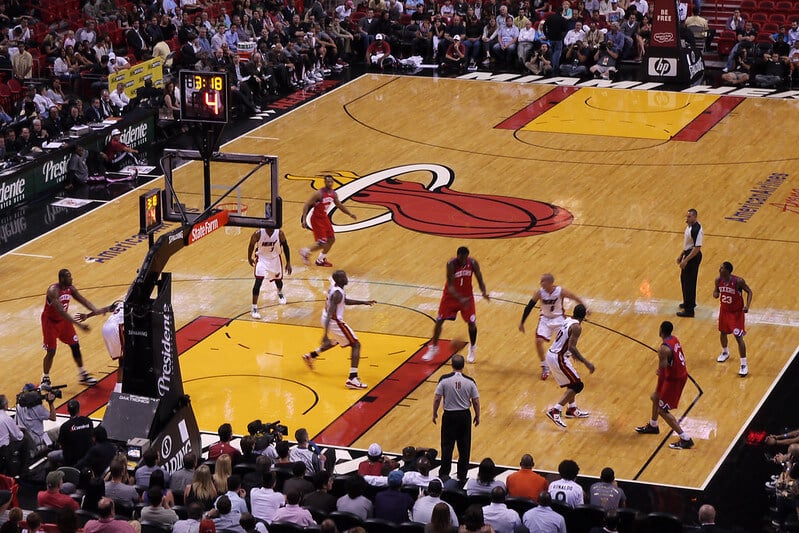 Want to hear the city of Miami come alive? Attend a Miami Heat NBA game, one of the most popular things to do in the city.
You will find all of Miami come together to cheer on the home team. The atmosphere is electric and the games are always a lot of fun. If you are a basketball fan, this is definitely something you need to check out.
The games are played at the American Airlines Arena which is located in Downtown Miami. You can also take a tour of the arena when there are no games going on. If you are unable to make it to the game, make sure to head to the nearby bars after a win as the streets will be full of people celebrating.
Entrance: depends on game
Hours: depends on game
Address: 601 Biscayne Blvd, Miami, FL 33132
Where to Stay in Miami Beach
Miami is a big city, and it can be tough to figure out where to stay, even on Miami Beach which is a huge strip.
Whether you're looking for apartments, hotels or hostels, these are some of my top recommendations for where to stay in Miami Beach…
Generator Miami is one of the coolest hostels in Miami Beach. It offers stylish and comfortable accommodation at a great price, and it's conveniently located close to all the best bars (my fave), restaurants, and shops. What's more, Generator Miami also has a great pool to cool off from the Florida sun – and trust me, you will need it! If you're looking for a fun and affordable place to stay in Miami, then Generator Miami is the perfect choice.
This Cozy Miami Beach condo is perfect for a weekend stay in the city. The home is a spacious studio that can sleep up to four people, and it has a large fully equipped kitchen. You also have access to the incredible outdoor with a gorgeous pool. Miami can be incredibly expensive and your Miami Beach Airbnb can be one of your main expenses, thankfully this loft is an incredible price for its location and amenities.
The Betsy Hotel is one of my favorite places to spend a weekend in Miami. A luxurious hotel at a reasonable price – for Miami Beach, anyway. It's located right across from South Beach and has incredible access to the city, as well as one of the best rooftop pools in the whole city with 360-degree views. You're centrally located to all of Miami's best attractions.
Some Additional Tips for Visiting Miami
Before you fly off to Miami Beach and start mapping out your itinerary, I have just a few more tips for you…
Invest in travel insurance! You never know what may happen on the road.
Visit during the off-season. Miami is an incredibly popular destination, which means that accommodation and flights can be expensive, especially during peak season. If you're looking to save some money, visit during the off-season instead.
Prepare to spend money. Miami is not a cheap city, so be prepared to spend money while you're there. However, there are plenty of ways to save money if you're smart about it. For example, take advantage of happy hour deals, look for free or cheap events happening around the city, and eat at cheaper restaurants during lunch instead of dinner.
Don't flash your cash. Miami is safe, but it's also known for its flashy cars and expensive clothes, so it does attract pick pockets and robbers in some place. It's best to veer on the side of caution and keep your valuables hidden and out of sight.
Bring a good water bottle with you and avoid buying single-use plastic ones!
Find cheap flights. Every once in a while, a killer deal pops up.
Don't forget your travel insurance for Miami Beach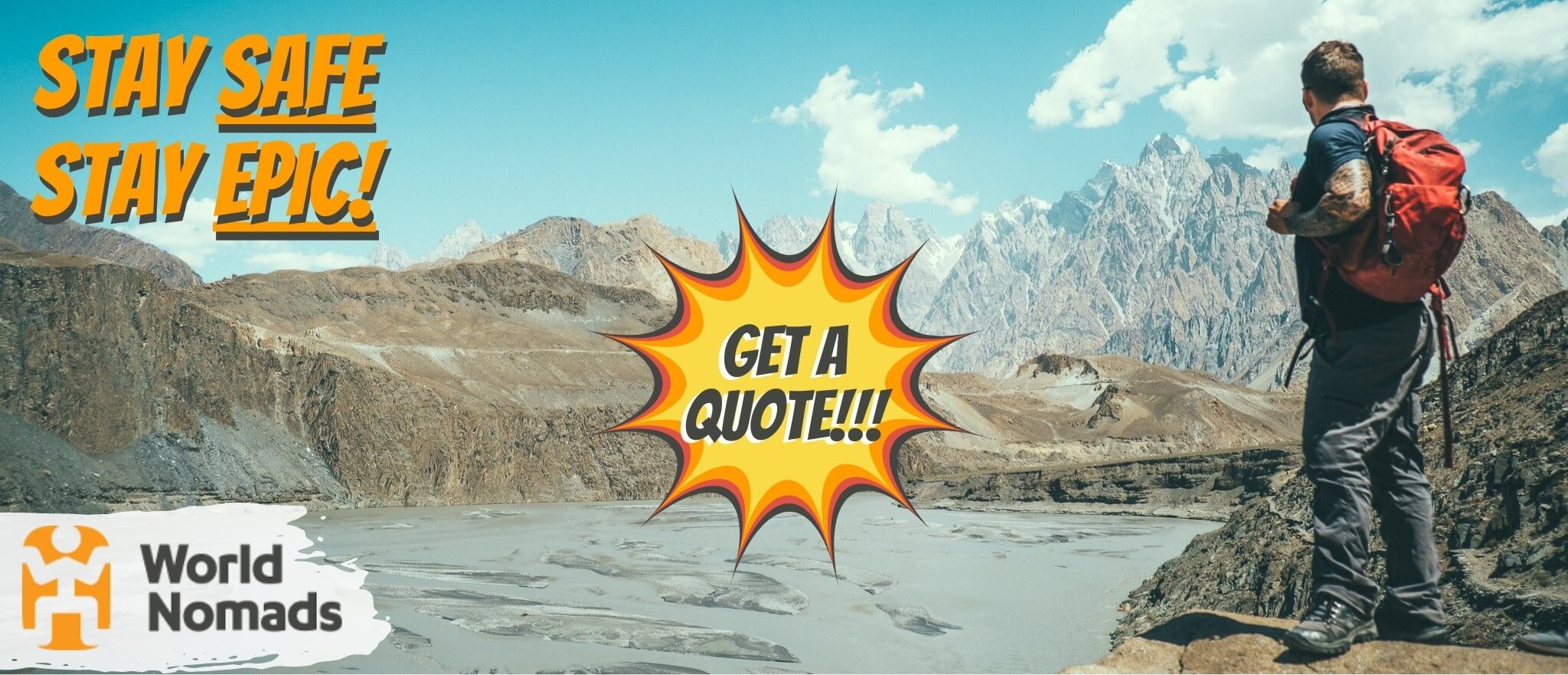 It's good to get lost sometimes, but it's also good not to get too lost. There are people that want you home in one piece.
There's one travel insurance provider The Broke Backpacker trusts for all his wildest shenanigans… World Nomads!
Click the button below to get a quote on your insurance or read our in-depth review of World Nomads' coverage. And then… let the shenanigans begin. 😉
Final Thoughts on Things to Do in Miami Beach
I can't say enough good things about Miami Beach, it truly holds a special place in my heart. From its year-round incredible weather to its thriving Latin scene, it truly brings spice to my life that I never knew I needed and I can't wait for you to experience it.
Whether you are looking for a beach getaway or a cultural experience, Miami Beach is the perfect destination for you.
You will find yourself experiencing a new way of living as well as some of the best food, shopping, and entertainment that the city has to offer.
Miami is a city like no other and it needs to be high on your list of next destinations.
---
Thanks for reading – that was fun! 😀
We bring you epic FREE content!
Find out how YOU can help support us.
We're a big site with a big team and this job isn't always easy. But we do it because we love it – we love providing epic and free content. We love the knowledge that our content keeps you adventuring. We don't ask for money, but if you'd like to find out how you can help the site in more organic ways, click the button below.
Thank you for your support 🙂
---
Bye for now, but not forever!
If you want MORE top-tier Broke Backpacker content like this, then sign up for our weekly newsletter below to get the latest and greatest!
And for transparency's sake, please know that some of the links in our content are affiliate links. That means that if you book your accommodation, buy your gear, or sort your insurance through our link, we earn a small commission (at no extra cost to you). That said, we only link to the gear we trust and never recommend services we don't believe are up to scratch. Again, thank you!