Craic, Guinness, whiskey, pubs, ghosts, churches, history, architecture, fun locals, more craic, more Guinness, more whiskey – that's right, everyone; we're in Dublin and we're loving it. We're not actually there, we're just employing a technique to immerse you in what's to follow.
There's a lot to do in Dublin. We really mean it – A LOT. Given just a limited time in this fun, cultural powerhouse of a city, what the hell should you do with that precious, precious time? What are the most awesome things to do?
Luckily for you we've gone and done the hard work for you, haven't we? With our list of awesome things to do in Dublin, all you have to do is take a look and select what sounds like the best craic to you while traveling in Ireland.
So, without further ado, let's jump into what awesome stuff Dublin has to offer (in no particular order)!
30 Awesome Things to do in Dublin
Foodies and hungry backpackers, wake up and hear our call! There's a lot of food on offer all over Dublin and all of it is just waiting to be discovered, Instagrammed, and then eaten – in that order, every single time. The best way to discover all this food is on a tour of the city with a local. That way you get to find out about all the cool, hidden places that only people who know Dublin well would know about. We absolutely love the idea of discovering this cool city's hidden gastronomic gems.
2. Big feels at The Little Museum of Dublin
The name of this place might not exactly sell it, but we are definitely sure that this is one of the places to visit in Dublin. It's called The Little Museum of Dublin because all the things exhibited here are, well, little – small, you know? But you shouldn't underestimate the power of small objects – nor their historical importance! These include the very first edition of James Joyce's Ulysses and a statue of Bono, amongst other things. There's a tour every Thursday on the history of women in Dublin, too, which is cool.
3. Go and see The Hungry Tree
For something completely low-key and leftfield, why don't you go visit a tree that's eating a bench? Yes, why not indeed. The tree is an 80-year-old London Plane (we're also unfamiliar with this species, but whatever) and it's also located on the grounds of the oldest surviving law school in Dublin. This is called King's Inns, or more formally The Honorable Society of King's Inns, and dates back to 154. It's worth a walk-around too – after you've finished taking and uploading your photos of The Hungry Tree. FYI the bench is cast iron.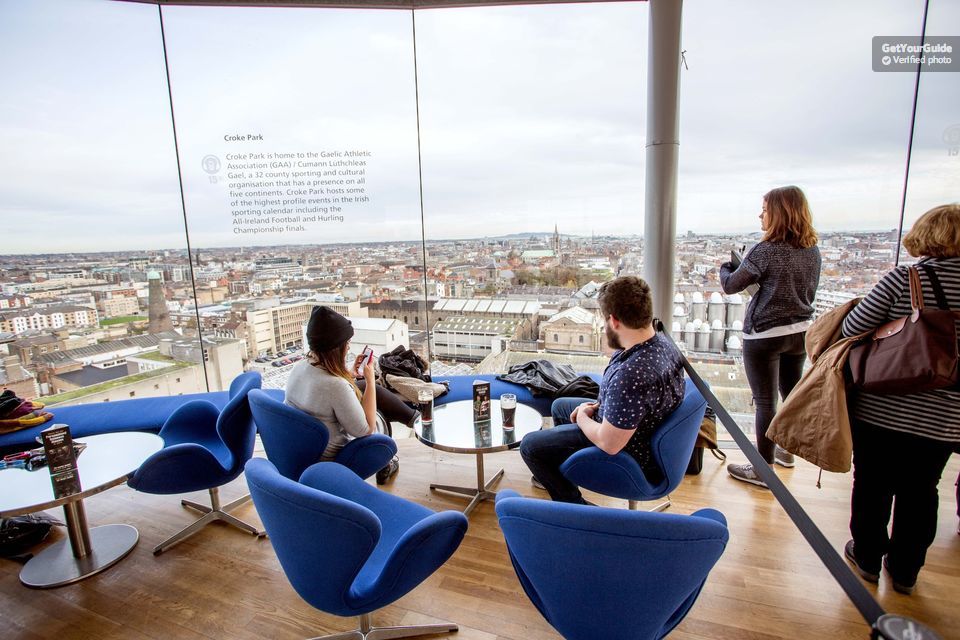 Everyone knows about Guinness, right? It's literally one of the most famous things about Dublin, one of its most well-known international exports, and is therefore pretty much synonymous with the city. It sort of automatically makes this one of the most awesome things to do in Dublin. Yep, the Guinness Storehouse involves a tour and its all about the black stuff, of course, so naturally, this one piques our interest, you know? Combine that with tastings, which we're wholly down with, plus a rooftop bar and a free pint, and we're all over this one.
5. Make friends with mummies at St Michan's Church
This church was originally built for marauding Vikings – yeah, you read that right – VIKINGS. In Ireland. Did you know that? They got everywhere, those pesky Vikings. Anyway, from 1095 – which this church dates back to – it went through a few changes. But whilst all that was going on, the crypt was still there, like, underground. And in the crypt? Mummies – what else? Fans of the macabre will love this place – you can tour around it. There are the preserved remains of a crusader and some famous Dublin families, too. Why mummies? All that limestone keeps 'em dry, so now you know.
6. Be a bookworm at Marsh's Library
This place is world-famous and people literally come from all over the planet to walk around the library and look at all the books. And we can definitely see why – it's damn cool, damn cool we say. It opened its doors in 1707, so the history game of this establishment is strong – it's even still got the original oak bookcases, all filled with a lot of old books (perfect for Instagram, all you social media addicts). Famous people have read books nice and quietly here, including Bram Stoker, Oscar Wilde, and James Joyce. Very cool place.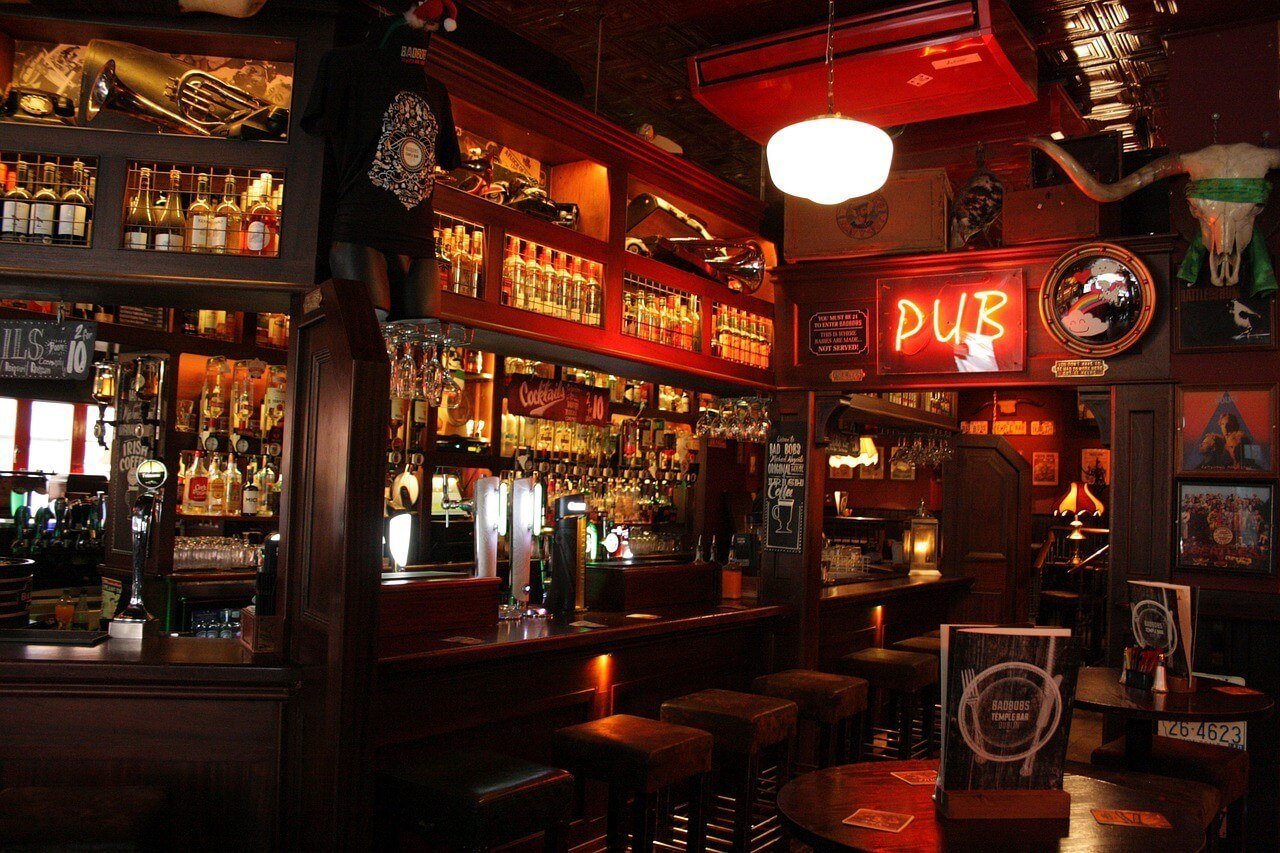 Drink, drink, drink, drink and more drink. Then drink some more. Going on a pub crawl in Dublin is a great shout since Dublin is absolutely choc-a-block with pubs. It's famous for pubs. What else can we say about pubs in Dublin? Anyway, if you go on a pub crawl, you might wanna think about doing a more backpacker-friendly pub crawl – if you're backpacking around Ireland, chances are you're going to want to be meeting people, right? That's always easier with a few beers – everybody knows that – which is why a pub crawl is on our list of awesome things to do in Dublin. Many Dublin hostels also run pub crawls.
8. Love legends? Let's go to the National Leprechaun Museum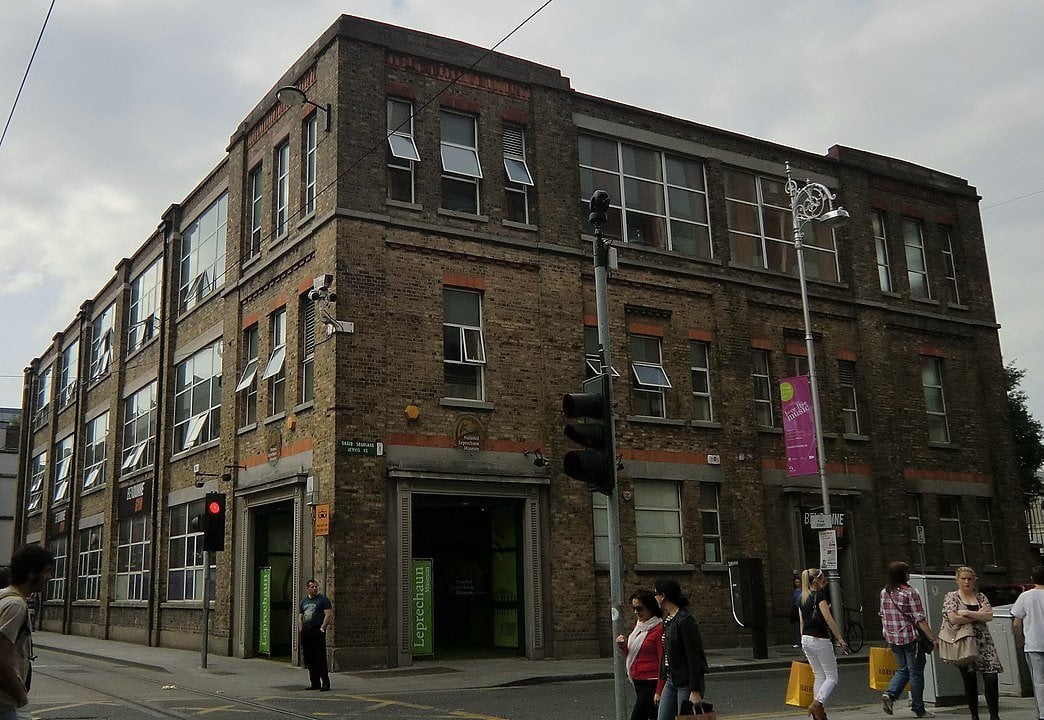 Yep, that's right, the National Leprechaun Museum. Although it's a stereotype that's kinda faded into the mists of time and old Simpsons episodes, there's still no doubt that the diminutive little leprechauns make up the most world-famous members of the Irish mythological family. So if you're into myths and legends and folklore and fairy tales and all that stuff, this museum is packed full of it. Thankfully, it's not just about leprechauns, (first sighted in the 8th Century, apparently) it's also got optical illusions, like rooms full of oversized furniture which… um… gives you an insight into what it's like to be a leprechaun… maybe?
9. Eat a damn tasty burrito at K Chido
Burritos? Dublin? Yeah, of course, what century do you think we're living in? You can get a burrito in many establishments in the Irish capital, of course, but none are quite as good as those purveyed by incredibly tasty K Chido. Serving customers out of a vintage Citroen HY that's been painted turquoise and pink, and located in a warehouse on Chancery Street, there's a lot of vegetarian options – which is great if you're a vegetarian. Meat options also available. Warning: extremely tasty.
10. Visit the oldest test rugby ground (still in use) in the world
Rugby fan? Yeah? Good, then you'll love this one. Lansdowne Road Stadium first opened its doors in 1872 and survived all the way until 2007, when it was demolished to make way for the newer, shinier Aviva Stadium. Although the old stadium doesn't exist anymore (actually sad) you can take a tour around the new stadium, where you can learn about Irish sporting history, visit the dressing rooms, go through the tunnels to the dugouts – a comprehensive experience for any self-respecting sports fan. Yeah, we should clarify that we DO know this is also used as a football stadium.
11. Eat and drink inside an old church
If you're a foodie, someone interested in history, or both – or if you just wanna see some cool shit, then you should definitely visit The Church. It's a bar and restaurant – but in a church. We're practically giddy at how incongruous these two establishments are. Anyway, the church itself dates back to the early 18th Century and inside it definitely looks the part (thanks to seven years of restoration from 1997). Wood panelling, columns, wood beams – even the organ's still here. And don't worry: it was deconsecrated in 1986, so there's no actual blasphemy happening on hallowed ground here.
12. Wakeboard outside Google's EU HQ
Silicon Docks is called Silicon Docks cause it's the Silicon Valley of Ireland. There are loads of tech companies based here – we're talkin' Facebook, Twitter, Airbnb, LinkedIn, Google and a bunch of other startups you've probably never heard of. I mean, if you're into tech, you might wanna just visit this area anyway and geek out (at what, we don't know), but if you want something a little more awesome to do in this place, try a spot of wakeboarding. Yep, since it's DOCKS there's a lot of water, and water is great for wakeboarding because you need it to float on and stuff.
There is Guinness in Dublin, yes. There is also whiskey – Jameson, to be precise. And since drinking and alcohol are major themes of Dublin, taking a fun lil' trip to the place where all the magic happens is most definitely an awesome thing to do in Dublin. Visiting the famous Bow Street Distillery is fun, especially for appreciators of alcohol. On a tour here, you'll learn how it all started back in 1780, get to wander around some of the original buildings, and most importantly, actually taste some whiskey and maybe purchase a bottle for your travels.
14. Creep around the crypt at Christ Church Cathedral
Hey, whaddya know, another awesome thing to do in Dublin that involves dead stuff! This time around, the dead stuff in question actually consists of a mummified cat and a mummified rat, which were found stuffed inside the pipes of the organ at Christ Church Cathedral. Weird. What's less weird, but still creepy, is the crypt here; it's the largest one in Britain and Ireland. Yep, it's 63.4 meters long and dates back to the 12th Century – the cathedral itself was built in 1030. Old and cool.
15. Walk around a real Georgian house at 14 Henrietta Street
One of the most famous – if not THE most famous – streets in Dublin, Henrietta Street is an absolute dream for anyone with an interest in architecture and films and stuff. Why films? What? Well, Henrietta Street has been used as a backdrop for many a historical drama and for good reason – it's the oldest Georgian street in the city. Now, you can actually walk around in one of its centuries-old townhouses. The authentic museum experience of 14 Henrietta Street officially opens on 15th September 2018, but between now and then you can visit on Friday to Saturday for a pre-launch gander.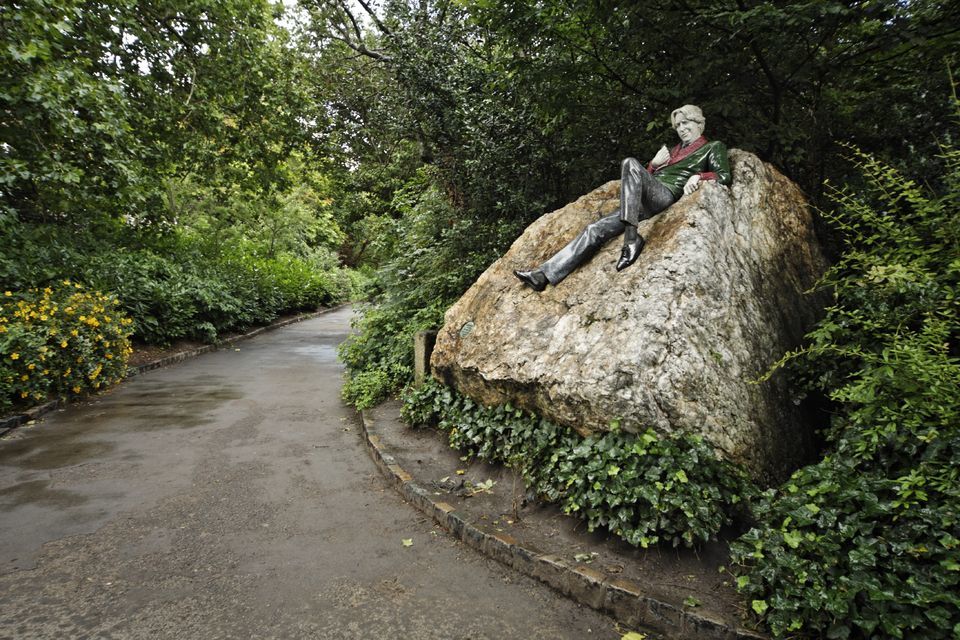 Dublin's literature game is STRONG. There are several literary heavyweights that inhabited Dublin at one point or another, these include Oscar Wilde (yeah, if you didn't know, now you know – he was Irish), James Joyce, Samuel Beckett, W. B. Yeats and Bram Stoker – real name Abraham, would you believe it? This is one of those awesome things to do in Dublin that might not suit everyone, mainly those interested in words and people who wrote a lot of them in the past. A Dublin literary tour involves visiting former homes and cosy lil' museums, things like that – you'll love it.
17. Get involved in the happenings of Happenings
Spontaneity and culture – every backpacker yearns for these things, right? So, the cool events hosted by fun-loving collective Happenings (fun name as well) will be right up your street. The events in question are more like mini-festivals and comprise performances, talks, live music and other public-speaking-based things in the grounds of old manor houses, for instance, or yoga classes en-masse, for another instance. These are nice events, of course, but be sure to check Happenings' Twitter or their site (happenings.ie) for news on actual upcoming, um, happenings.
18. Pretend you've got money to spend at the grand Powerscourt Centre
If you like shopping and if you like history, you're in luck – there's an amazing shopping experience to be had that combines both purchasing items (or just looking through the window dreaming about being able to purchase items beyond your purchasing power) AND heritage architecture. The Powerscourt Centre is basically a boutique mall of shops and very tasty cafes and restaurants set in renovated Georgian houses centred around an atrium. Antiques, make-up, sneakers… you can get it all. It's a treat for your eyes, but your wallet won't like it.
Not Ghostbusters, just Ghostbus. It's just as spooky though. So if you're a fan of spooks and ghouls and ghostly goings-on and all that scary stuff, then a trip on the Ghostbus is probably right up your street. Dublin seems to be full of crypts and mummified bodies and old tales of weird stuff, so to soak all this up on an actual tour is a comprehensive way to explore the scary underbelly of this city. Definitely an awesome thing to do in Dublin if you're a ghost fan.
20. Witness just what a mess Francis Bacon's studio was (is)
If you are an art-lover, and even if you're not, you will probably find it cool to go and see Francis Bacon's studio at the Hugh Lane gallery. Let's just say he wasn't renowned for his tidiness – it's a veritable mess of paint and painting implements that give you an insight into the chaotic mind of an artist – or one artist in particular. This was actually transferred – dirty paint pot by dirty paint pot – meticulously (which is sorta ironic) from the artist's London studio in 1998.
21. Gaze whimsically from the window of The Winding Stair after a spot of seafood
Named after a Yeats poem and overlooking the River Liffey, this bookshop-slash-restaurant is a great place to come if you wanna be somewhere that combines food with culture. Everybody who's backpacking should admit that they're partly doing it for the amazing food that can be found in countries other than their own. The Winding Stair is one of those places that you should go if you're on a food tour (which you probably are). Food's good here; grab a window seat, eat and contemplate. Browse the books downstairs. Good stuff.
22. Browse the dead animals at The Dead Zoo
Since you're in Dublin, you may as well get yourself over to the Natural History Museum – it's one of those awesome things to do in Dublin that you just shouldn't miss out on – if only for Instagram fodder. Why? Because there are literally so many (no, really) stuffed animals, fossilized animals and skeletons of animals on show here that's it's actually earned itself the colloquialism of 'The Dead Zoo'. That just plays up to Dublin's rep as a city of ghosts 'n' ghouls, but we love it and so will you.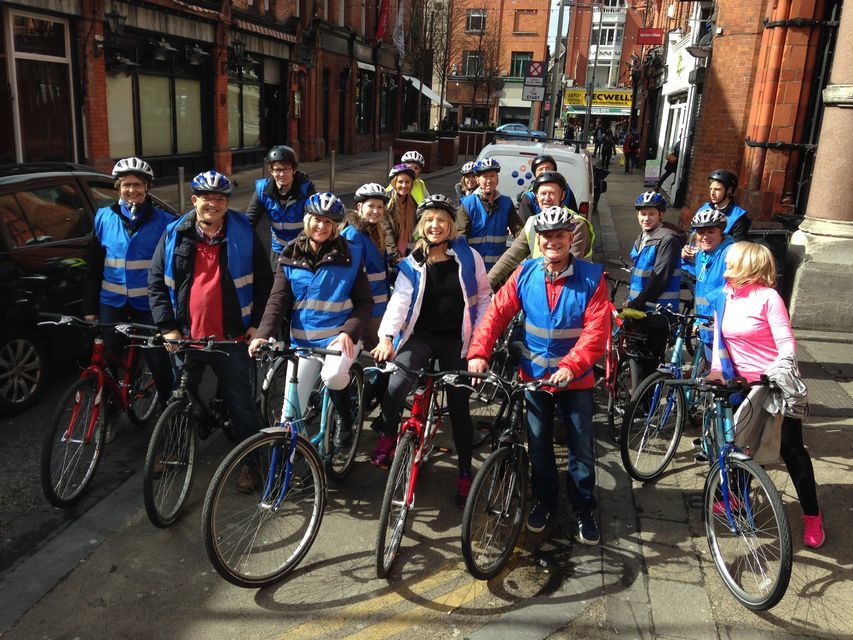 What's better than a walking tour of Dublin? A cycling tour, of course. Well, as long as you can ride a bicycle and don't get tired too quickly, this is a great way to see more of the city much more quickly than by foot. A cycling tour of Dublin will take in the massive St Patrick's Cathedral, Temple Bar, the Georgian architecture of Northside, College Green, Dublin Castle and loads more. Now you couldn't do all that just by walking, could you? Maybe you could, but riding bikes is fun.
24. Go to the Stag's Head and get your ukulele on
Ah, the ukulele. Alongside the Chekhov's gun of the hostel – the resting common room guitar – it is the scourge of the backpacker. Well, not the scourge, some people absolutely love it and carry one everywhere they go. The rest of us shudder. But if you are someone who loves music, and ukuleles particularly, then get yourself down to the Stag's Head. It's a lively pub at any time, but on Tuesdays, they do 'Ukulele Thursdays' where they play renditions of well-known songs on ukuleles – and invite the audience to play along, too. A definitely awesome thing to do in Dublin for music-lovers.
You probably think of apartment blocks as quite recent inventions. The '60s, right? Probably? Nope. Incorrect. Blocks of flats – or as they were more commonly known, tenement blocks – are pretty old and were rife in Dublin in the 1800's. In fact, in 1850, over half of Dublin's population lived in single-room tenements in basically slum conditions. You can go on a walking tour of the old cobbled streets where these buildings once stood and try to imagine the madness of it all. The last slum, on Henrietta Street, closed in 1972. Nineteen-seventy-two. Seriously, wow.
26. Hurl, hurl and hurl some more at a Gaelic games experience
Heard of hurling? It's an Irish sport – usually part of a series of sports you might not know about called Gaelic Games. There's Gaelic football, Gaelic handball, rounders (similar to actual rounders – and incidentally the least popular Gaelic game) and of course hurling. Hurling is sorta like lacrosse mixed with hockey and it can get pretty rowdy. You can experience this and other Gaelic games courtesy of Experience Gaelic Games. It's one of the best sport-based awesome things to do in Dublin, so if you're a restless, sports-oriented person backpacking here, you should try it out!
27. Do the James Joyce no-pub challenge
What? "A good puzzle would be to cross Dublin without passing a pub," or so said famous Dublin writer James Joyce. At first, this sounds like one of those Professor Layton problems, you know? Or something that doesn't make any sense at all, because why would you even WANT to cross Dublin without passing a pub? But it's one of those famous awesome things to do in Dublin (serious here: it didn't get solved for over 100 years, probably because everyone got too thirsty). You should try it out. We're not gonna give you the solution, of course, but just know this: it IS possible. Now get going.
28. Eat cakes that look like famous paintings at a 5-star hotel
Luxury is probs not top of your list, because you're presumably reading this as a backpacker on a stringent budget, but sometimes you gotta splash out, right? Or maybe you'd label yourself a flashpacker – but who actually would? Anyway, that is the convoluted introduction to this next entry. The Merrion Hotel is a 5-star hotel in a Georgian building – luxury. The afternoon tea here, or the 'art tea' (lol), comes complete with sweet treat versions of the hotel's somewhat famed art collection. Very nice, we say – not only for your Instagram but also for your immediate sensory experience of the world.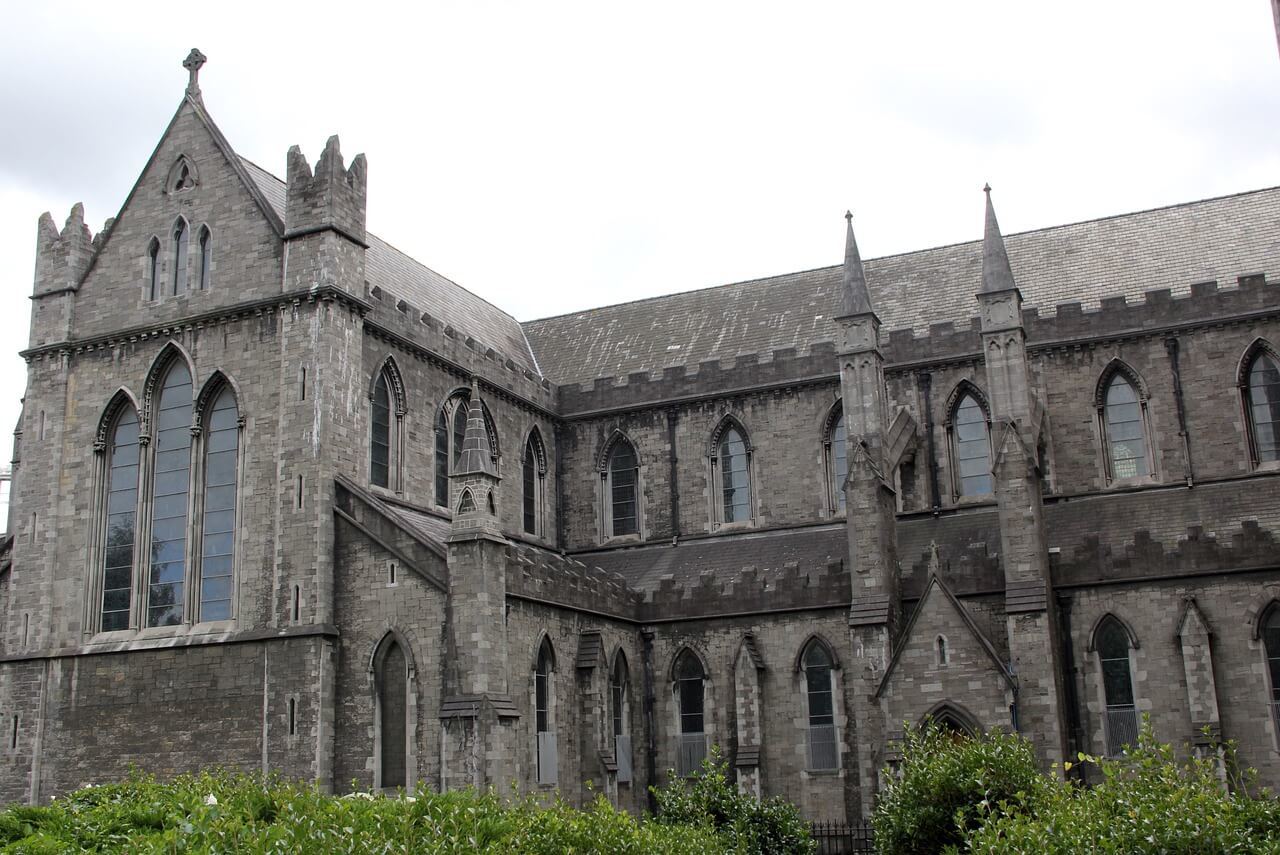 Being a mainly Catholic city in a mainly Catholic country, you don't really think about any other religion inhabiting Dublin, do you? Well, there was and still is the presence of a strong Jewish community in Dublin, and going on a tour to learn about it all is an awesome thing to do in Dublin because you never hear about its Jewish community. A tour will take in historic areas (Jews were 'permitted' to live here in the 12th Century but then expelled in 1290… then invited again in the 17th Century) as well as modern-day streets, where you'll find kosher bakeries and other Jewish-run establishments. Nice!
30. Chill on St Stevens Green
If walking around, taking tours, going to pubs, and all the other Dublin stuff is taking a toll on your mind and body, then you should probably take a little time out. A good place to do such a thing is St Stevens Green. Many Dubliners themselves find solace on the grass here with a picnic or something, so you should do the same; soak up the atmosphere, people-watch, you know the drill. There are some nice food vendors nearby, for example, Aungier Danger sells some AMAZING doughnuts, so grab a few and head to the Green.
That's it!
PS – Traveling to Dublin? Check out our epic Dublin city guide and our awesome Where to stay in Dublin guide.
Yup, there you go. All done. That was a whirlwind of awesome stuff, we have to say.
Who knew there was so much spooky stuff going on in Dublin? If you like your stories scary and your stays spooky, you'll definitely like this city. Then again, if you like drinking, this is the place for you too!
But it ain't all about that either – the history here! The literary heritage! Man, it makes our heads spin to think about all of the awesome things you can do in Dublin.
So we're glad to have been able to select what stood out for us the most. Now go have fun and don't drink too much, eh?
Like this post? PIN ME!!!