These days, almost all travellers hit the road with a phone and camera and the majority of digital nomads travel with a laptop as well. When I first hit the road, I had none of this and to be honest, it was a truly glorious time – but that's a story for another day!
When it comes to digital backup or even just the best way to backup photos, there's nobody that needs to be more careful than the digital nomad! Digital backup is actually not a very high priority for most people. I know that I ignored securing my shit for way too long… I've met a lot of people on the road who have lost years of photos, movies or content and so finally I decided to dive into the somewhat confusing topic of advanced digital security and tell you why digital backup and advanced digital security are so important and how you can make them a part of your daily life without much ado!
Today, we are going to cover
Protecting your gear from thieves
Catching thieves if they do steal your gear
Tracking your valuables across the world
Backing up your data to physical devices
Backing up your data to a cloud storage service
The best way to backup photos
How to go 'invisible' online with a VPN
How to protect your passwords with one nifty trick
Alright amigos, let's jump right in…
Keeping your shit safe in the physical world
Look, taking on the mantle of a digital nomad changes travel and that means you have to change HOW you travel and HOW you interact with the world.
Whether you're a cafe, co-working space or beach hammock kind of person, choose your working location strategically. Follow Wild Bill Hickock's advice and try to put your back up against a wall, a corner is even better – this way your enemies, or pesky thieves, can only come at you from one or two angles.
When you are in 'the zone', it's unlikely you'll be paying close attention to what is going on around you so keep your valuables out of sight – don't have your phone next to you on a table and for the love of God, don't leave it there if you pop up to get a quick refill of Java or to use the facilities. 99/100, it will still be there when you get back but trust me – that one time when it isn't, will really suck.
Here are some tips to keep your stuff safe in the real world…
Don't bring unnecessary valuables with you to your work-spot: A laptop and phone are normally enough, do you really need your iPad and iPod as well? Limit the potential risks.
Keep your phone in your pocket – there is no point in having it next to your laptop and it makes an attractive prize for an opportunist.
Keep your bag locked – it's always worth having a couple of cheap luggage locks with you for your bag zippers.
If you're more worried that someone might swipe your phone, try Project Prey. This FREE digital security program will track your gadgets locations, utilise your camera to take pictures of the thieves and allows you to remotely wipe your gadgets to keep your data safe. Prey also can capture logins, passwords and personal information which, if used as leverage, can help you get your devices back. This digital backup plan is a tiny step towards advanced digital security.
For your laptop, there is a Front Door Software program called Retriever. With Retriever, you can have a message pop up on your computer screen when it boots up. This can be your contact information or even the offer of a reward.
That said, it doesn't hurt to drop a small GPS tracker in your backpack. Tuck it into one of the smallest pockets of your bag. This way, if somebody does swipe your bag, you can hunt them down and murder them get them arrested.
Crucially, you should really be insuring your gear. Most insurance policies don't properly cover gear and will only pay out to a maximum amount of about $750 per item, and that's after you have paid a hefty excess. For a reliable company that CAN insure your gear, we recommend Gadget Cover . Their cover is widely considered the number one choice for photographers wanting to insure expensive cameras equipment.
Limited Laptop Lifespans Can Fuck You Over
A recent study showed that one-third of all laptops fail within three years of being purchased. This means good digital backup and advanced digital security (back yo' shit up bra!) is even more important, especially for digital nomads. So, when it comes to maintaining advanced digital security on your older laptop, you should not only be backing up to the cloud but you should also be keeping your laptop safe from knocks. I travel with this laptop case, it's basically indestructible. 
If your laptop does breathe its last breath, CrashPlan (more on this later) should be your first port of call. If you don't yet have a laptop; check out this extremely detailed breakdown of the best laptops to take travelling.
Keeping Your Digital Backup Nearby
I always travel with a mega-USB (this baby has 128MB and is tiny, I leave it plugged into my laptop at all times for extra space) as well as a portable hard drive. I back up my entire laptop to my hard drive once a month and keep my hard drive stored separately from my laptop so that if I lose one, I don't lose them both. There's a bunch of hard drives on the market but the Seagate 2 TB is the one I use, it has two terabytes of space (which is a lot!) and is tough as hell. If you want a really tough USB, I recommend this one.
Check out this post for a nice and easy walkthrough on how to do a computer backup on an external hard drive.
As a digital nomad, almost all of your advanced digital security efforts go towards protecting your work. However, you do have personal data on your devices as well. For many, this means heaps of pictures! Obviously, you want to backup photos of your travels and to do that, you need to know how to store photos. What's the best way to backup photos, you ask? Again, I recommend backing up to a portable hard drive but I also recommend checking out Flickr – they have a free digital backup option, but they also specialise in photo backup so they are one of the best and most affordable options.
Digital Backups to a Hard Drive are Not Reliable
Keep in mind that thieves aren't the only threat to your data. Laptops do break and so do hard drives – the majority of hard drives last about 3-5 years so it's worth installing [email protected] Hard Drive Monitor ($5.99; Windows) and SMARTReporter (free; OS X) which will both give you some advance warning of hard drive failure. So before delving into digital backup and advanced digital security, take care of physical security first!
I strongly recommend purchasing Crashplan – it has saved my ass more than once. CrashPlan, once installed, will automatically back up the entire contents of your laptop to an online cloud service. You can then 'download' all the data and settings on your laptop to a new device if your old device is lost, damaged or stolen.
Treat the Cloud like Your (Digital) Security Blanket
Owning a laptop means that eventually, your digital security methods will fail you and you'll lose data. If you don't regularly backup photos or do a computer backup, you could lose a whole lot. Protect your data and utilise advanced digital security practices – OK, that's a mouthful, let me break it down – save to the god-damn cloud! This way, if your device is stolen, your work isn't. For instance, you can store your photos online for free with Dropbox.
However, a better way to protect yourself might be a program like CrashPlan. What is truly excellent about CrashPlan is that when it does a computer backup, it downloads everything on your computer to the cloud. This means that the ability to backup your data and backup photos are endless. From $5 a month, it might just be the best way to backup your photos and the best way to store digital video especially if you are a content creator. 
Ditch Your Desk and Travel FOREVER!
Will has gone from broke backpacker to serial entrepreneur and… there are secrets he wants to share with YOU.
Over on Ditch Your Desk, you enter the mind of Will Hatton: blogs about online entrepreneurship, personal development, mastering your productivity, and an honest look at the digital nomad lifestyle.
9-5 or anytime, anywhere. The choice is yours.
[Visit] Ditch Your Desk
[Read] Online Entrepreneurship 101
Protect yourself online: Get a VPN
Investing in a VPN is well worth it. Not only is a VPN often the only way to access certain sites or apps in some countries, like Tinder in Iran or Facebook in China, but a VPN offers you a level of digital security and anonymity that is well worth having.
Here's a simple question – do you trust your government? Do you trust the government of every country you want to travel to?
If the answer is yes, well… I can't really help you, you my friend are beyond help.
If you answered no then huzzah, pass go, collect 200 bucks and spend some of it on a VPN.
Standing for Virtual Remote Network, VPN's essentially hide you from the rest of the virtual world by bouncing your IP address to a different god-damn continent and making you much harder to track.  This digital security solution can keep your bank and Paypal from realising you're changing countries every three days, which will also keep them from freezing your accounts – pretty useful.
A VPN will also help you stream entertainment from sites like Netflix, which isn't available worldwide. I've tried and tested over a dozen VPN providers on my travels, my favourite is Cocoon which, so far, has worked in every country I've tried it in.
Why is Cocoon so great?
Cocoon is significantly more advanced than a lot of other VPN services on the market – Cocoon is a browser that simply does more for you. In addition to all the normal features that most browsers provide, Cocoon delivers unparalleled security, privacy and accessibility.
Because Cocoon is a cloud-based browser, it is able to use patent-pending, advanced isolation technology to protect your computer from malware, keeping it away from your hard drive. The browser leverages antivirus scanning to check for viruses before they even reach a computer.
In addition to these isolation methods, cocoon keeps valuable data like credit card numbers, social security numbers, bank usernames and passwords from being stolen when users connect to the Internet by use of military-grade encrypted connections to our servers.
This means that even public WiFi connections in airports, libraries, and coffee shops – traditionally networks that leave Internet users vulnerable to identity theft – become secure connections while browsing in Cocoon.
Cocoon protects you from the invasion of your online privacy by hosting its servers in the cloud and deploying both proxies and military-grade encryption to keep your browsing history in a secure, private environment.
Here's a fact – your data belongs to no one but you and it's important that you keep your information private so you don't leave yourself open to identity theft or worse.  Cocoon has got your back – these guys enable you to browse without being worried about who might be watching you which is handy when you're traveling in countries like China…
As a growing number of nations restrict what people within their borders can and cannot see online, Cocoon provides complete accessibility to the global Internet. No matter where you are in the world, you can access all of the Internet as if you were in the USA. No firewalls, no censorship, just free, unfettered access to all the content the Internet has to offer.
As we mentioned earlier, an increasing number of governments are taking control of what websites may and may not be accessed within their borders. Travel to China, for example, and you won't even be able to access your Gmail…or Google search, or Google Maps, or any of the myriad sites and services that depend on Google.
The only way around this in the past has been to either purchase a reputable VPN or risk granting complete access to your browsing history with a free VPN. Now, with Cocoon, your secure browser can also provide access to the Internet, just as you would see it if your device were physically in the USA.
I strongly recommend checking out Cocoon so that you can continue to binge watch Netflix on your hangover days and access the full realms of the internet, without fear of your details being stolen, when traveling
Visit Cocoon here and get your ass covered!
Protect your passwords!
To improve your advanced digital security whilst travelling, begin with your password. Did you know even the best password is useless if you have auto-login enabled on all of your devices? If you can't go without this convenience (I know I can't), LastPass might be for you. This digital security control saves all of your passwords for you and will autofill all your fields. This way, you only sign into LastPass and it signs into everything else for you.
FAQ about the Best Digital Backup
Still have some questions? No problem! We've listed and answered the most commonly asked questions below. Here's what people usually want to know:
Digital Security Summary
Alright amigos, you got this far, you now know what to do. So you really have no excuse for not protecting your gear!
Let me recap!
Watch your gear!
Track your gear using a GPS tracker.
Backup your data to a hard drive! 
Backup your data to the cloud!
Use a VPN – to stay anonymous!
Sign up to LastPass to protect your passwords!
Love your Devices Well and They'll Love you
So amigos, biggest lesson here is to treat your devices, your digital backup, and your personal advanced digital security with a whole lotta love! The more love you show your devices and your digital security methods, the more likely they are to be with you for a long time. So go ahead, take the plunge into the idyllic world of complete digital security!
Get Insurance
If you gear is gonna break, then the pain will be less painful if you have insurance on it. Why not get a quote from World Nomads and see if they can help?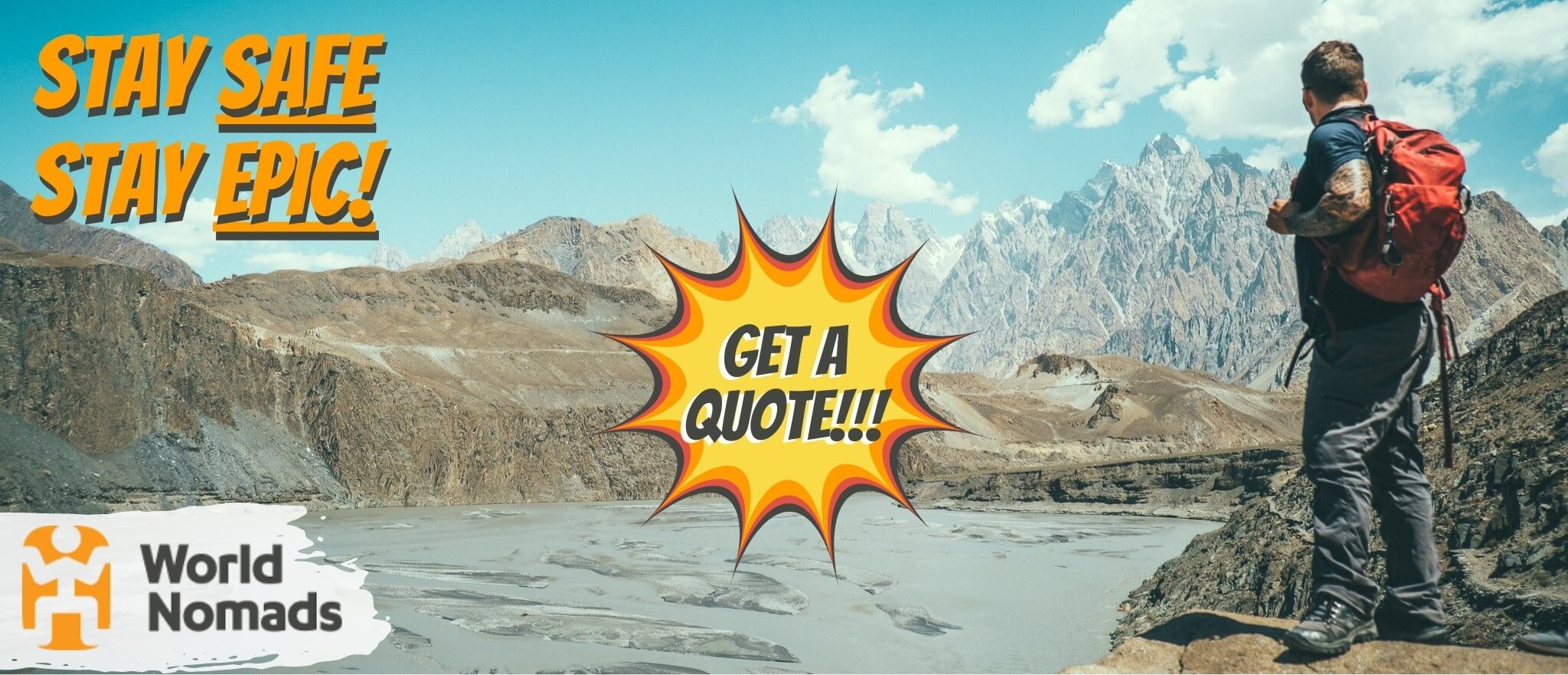 It's good to get lost sometimes, but it's also good not to get too lost. There are people that want you home in one piece.
There's one travel insurance provider The Broke Backpacker trusts for all his wildest shenanigans… World Nomads!
Click the button below to get a quote on your insurance or read our in-depth review of World Nomads' coverage. And then… let the shenanigans begin. 😉
---
Thanks for reading – that was fun! 😀
We bring you epic FREE content!
Find out how YOU can help support us.
We're a big site with a big team and this job isn't always easy. But we do it because we love it – we love providing epic and free content. We love the knowledge that our content keeps you adventuring. We don't ask for money, but if you'd like to find out how you can help the site in more organic ways, click the button below.
Thank you for your support 🙂
---
Bye for now, but not forever!
If you want MORE top-tier Broke Backpacker content like this, then sign up for our weekly newsletter below to get the latest and greatest!
And for transparency's sake, please know that some of the links in our content are affiliate links. That means that if you book your accommodation, buy your gear, or sort your insurance through our link, we earn a small commission (at no extra cost to you). That said, we only link to the gear we trust and never recommend services we don't believe are up to scratch. Again, thank you!