Welcome to my Tortuga laptop backpack review!
Tortuga backpacks have been a favorite amongst Broke Backpacker staff for years now. Their quality build design, functionality, and built-for-travel-people features epitomize what we look for in a great travel backpack.
Recently, Tortuga added a sexy new beast to its very popular Outbreaker line: The Tortuga Outbreaker Laptop Backpack.
Smaller and more compact than the 35 and 45-liter flagship Outbreaker backpacks, the Outbreaker laptop backpack is designed to be the ultimate compliment to your main travel pack – with all of the cool organizational features we have come to expect from other Tortuga backpacks.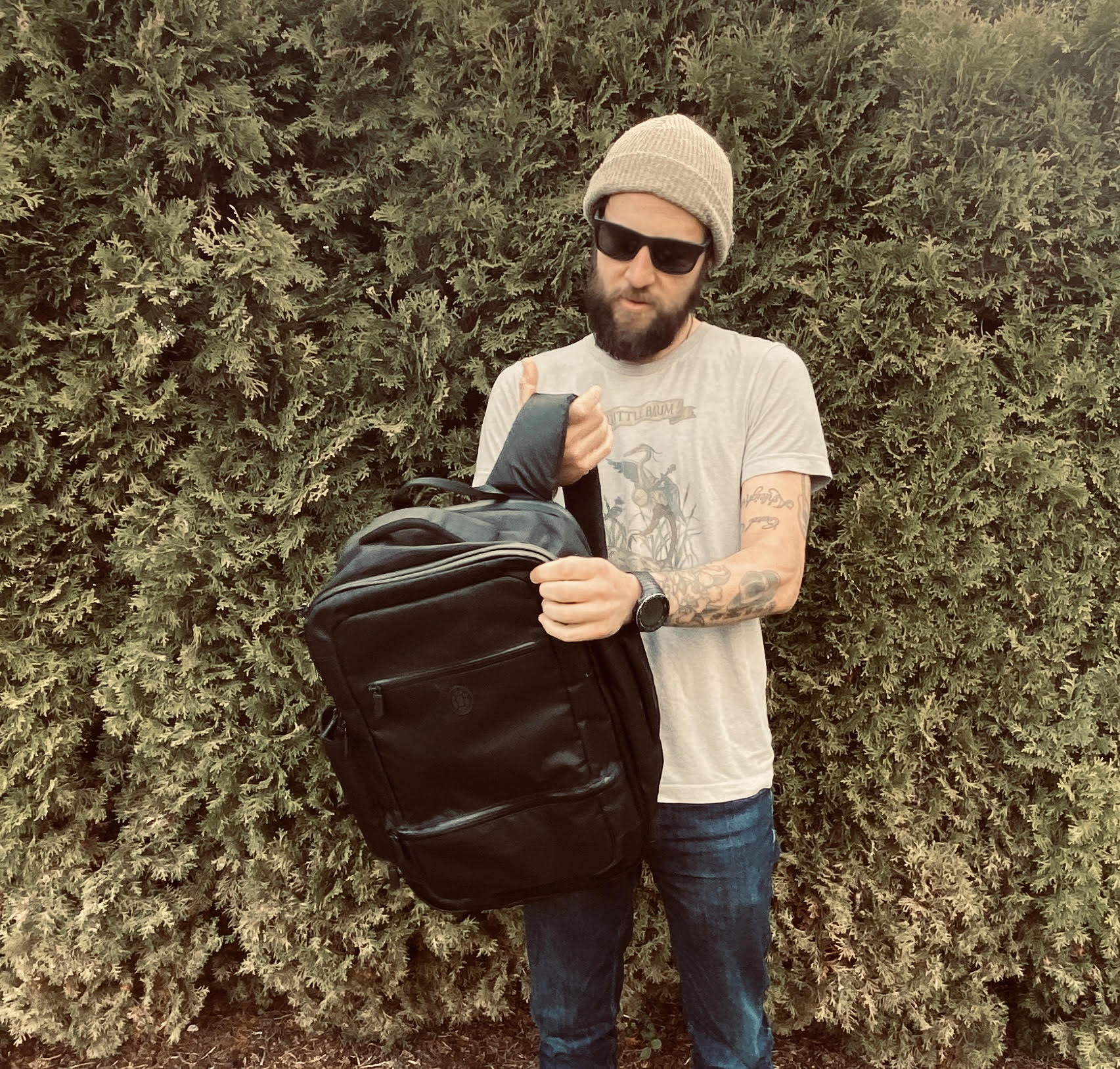 If you find the 35-liter Outbreaker to be a bit too small to be your primary travel backpack, but too large to be your carry-on bag for electronics, then the Outbreaker Laptop backpack will be sweet, sweet music to your traveling ears.
This super in-depth review will take you on a deep dive of this brand-new Tortuga laptop backpack. I'll go through the key differences between the original Outbreaker and the laptop version, key organizational features, materials used, packability and trip duration specs, security features, and other fun stuff.
Tortuga backpacks are badass and if you don't know them, this review is a great way to get to know their latest and greatest product.
Let's have a look at the epic Tortuga Outbreaker laptop backpack, shall we…
Quick Answer: Tortuga Outbreak Laptop Backpack Specs
Size: 27 liters
Number of Travel Days: 2-3
Weight: 3.2 lbs
Outer Material: VX 21 Waterproof Sail Cloth
Laptop Compartment: Duh!
Lockable Zippers?: Yes!
Ladies & Gents, It's Time to Step Your GEAR Game Up. 😉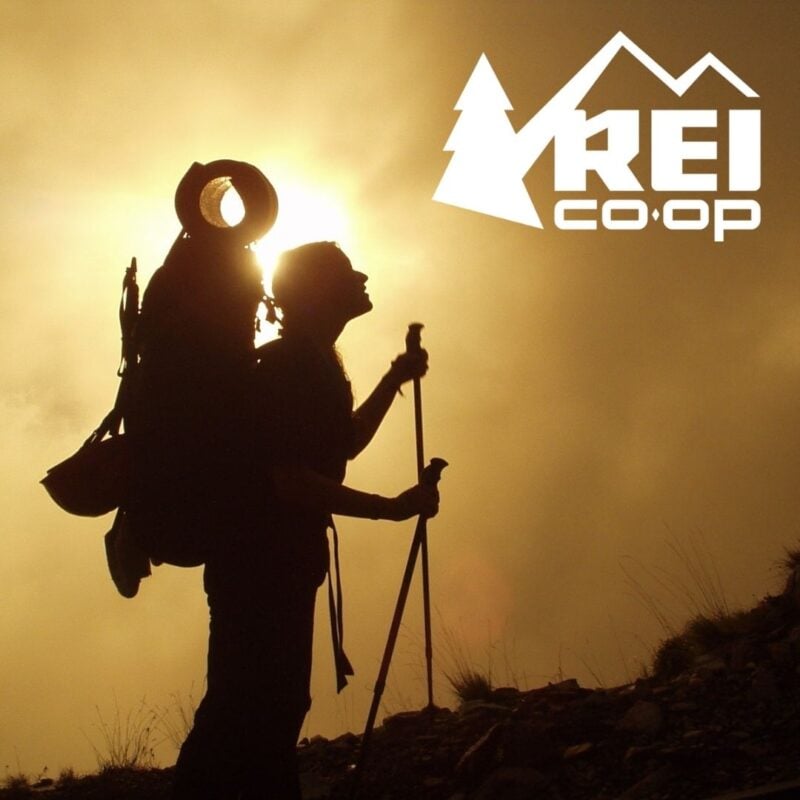 REI is one of America's biggest and most-loved outdoor gear retailers.
Now, for just $30, get a lifetime membership that entitles you to 10% OFF on most items, access to their trade-in scheme and discount rentals.
Join REI Today!
Pros
Great size for an everyday backpack
Mostly waterproof
Has an endless amount of pockets
Padded laptop sleeve
Cheaper than other Tortuga backpacks
Excellent back panel padding for support
Tough/durable
Clothing compartment has a clam-shell opening
Big water bottle pocket
Cons
Because there are so many pockets, I misplaced stuff a few times
No hipbelt pockets
No rain cover (though not really needed)
Sternum straps are a bit stiff to adjust
Pricey for a day backpack
Not much else to say!
The best present of all… is CONVENIENCE!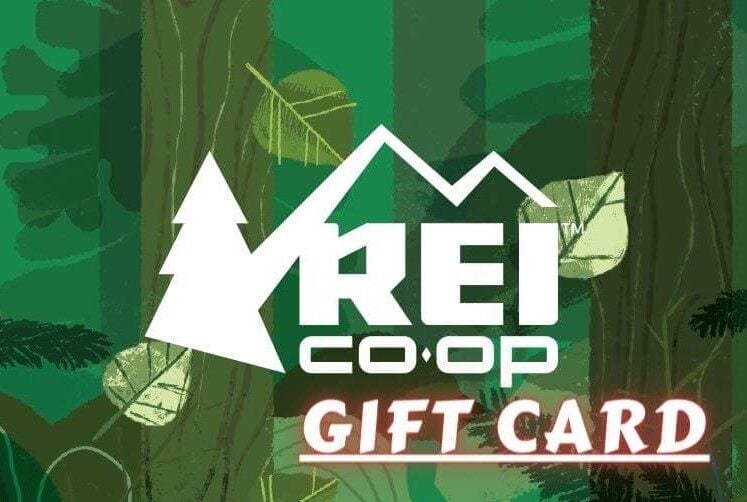 Now, you could spend a fat chunk of $$$ on the WRONG present for someone. Wrong size hiking boots, wrong fit backpack, wrong shape sleeping bag… As any adventurer will tell you, gear is a personal choice.
So give the adventurer in your life the gift of convenience: buy them an REI Co-op gift card! REI is The Broke Backpacker's retailer of choice for ALL things outdoors, and an REI gift card is the perfect present you can buy from them. And then you won't have to keep the receipt. 😉
Buy on REI!
Tortuga listened to the people… and what did the people want? A smaller daypack-sized backpack loaded with all the features. That is exactly what we got here with this Tortuga laptop backpack.
When selecting a backpack for your next big travel experience, you'll first need to ask yourself some questions.
What is it that you want in a carry-on/day backpack? Do you carry a laptop and other electronics? Are you a minimalist who only carries a bag of granola and rolling papers? Is 27-liters too much or too little for you? Is having a waterproof pack important to you?
As you stare into the great beyond asking yourself some of these important questions, this is what else you need to know:
Key Organizational Features
The obvious advantage to going with the Outbreaker laptop backpack over other models is the size vs organizational features ratio. For a relatively small travel backpack, there are endless options for how you can organize your stuff.
There is literally a pocket or sleeve for everything you need to carry.
My personal travel style demands an abundance of pockets. Without pockets, you might as well be carrying a potato sack with shoulder straps sewn to it. The modern human being tends to accumulate and have a need for transporting various necessities of contemporary life (for better or for worse). On any given trip, my carry-on bag alone will contain the following items:
13? Macbook Pro
iPhone 11 Pro
Fujifilm X-T3 camera with accessories
tiny travel tripod
Headphones
Keys
Computer and phone chargers
Powerbank
A down jacket
Small base layer top
Snacks
Grayl Geopress (fits in the side pocket!)
Folder containing various travel documents, visa paperwork, trekking permits, etc)
lip balm and gum
A notebook and a few pens
Wallet
Small toothbrush and toothpaste
vitamins, electrolytes, and other immune-boosting beauties to help me fight off the Coronavirus apocalypse.
Book
Other small bits and pieces
Because there are 3 individual zippered compartments, I've decided to break them down one by one. Here we go: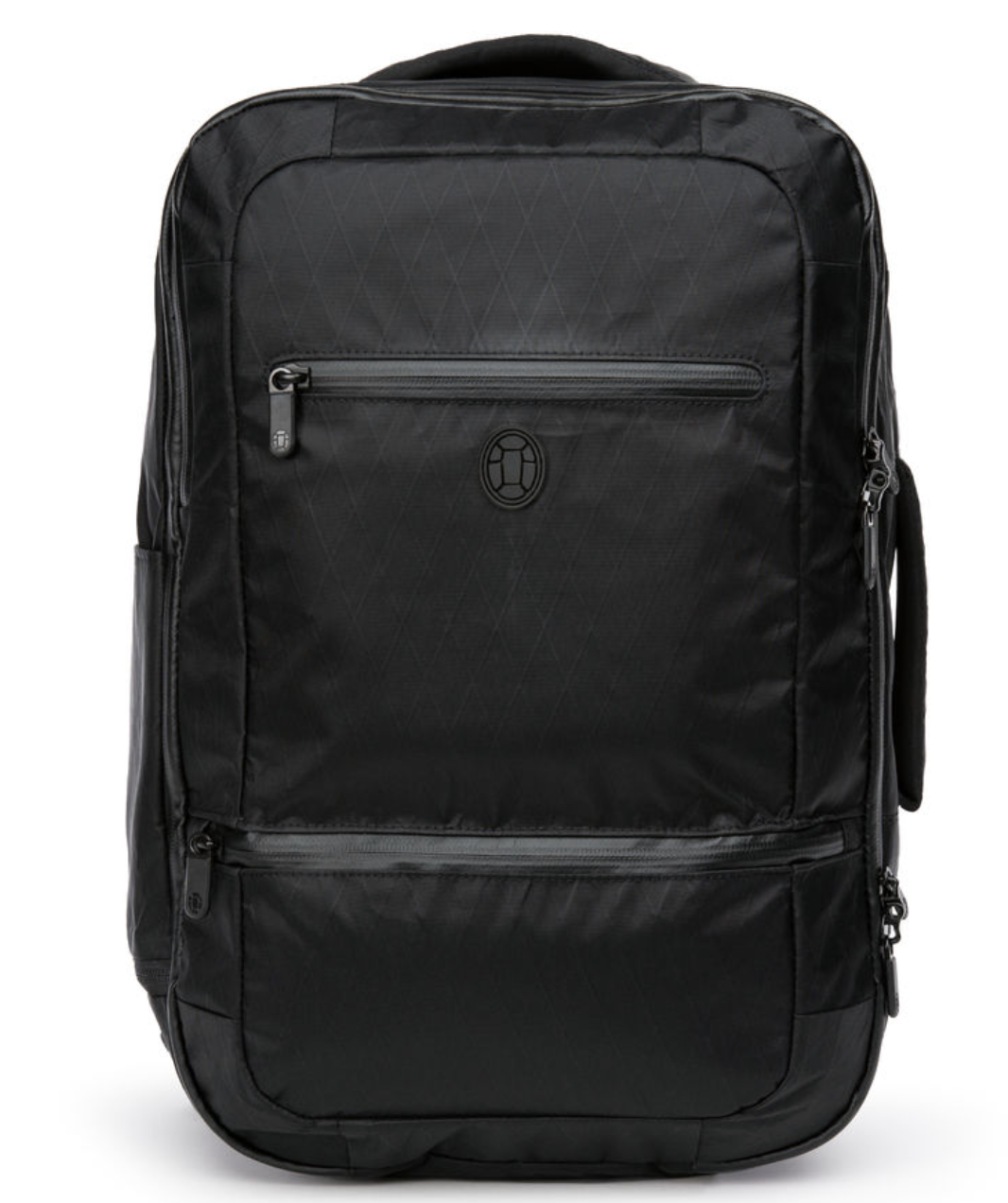 The Laptop Compartment
The namesake compartment of this backpack promises to do what's its name implies: keep your laptop safe and sound.
An ultra-soft fuzzy-lined laptop sleeve can accommodate laptops up to 15″ with another sleeve able to hold tablets up to 9.7″. For securing the laptop, the compartment is outfitted with a velcro strap so nothing moves
around even if you are sprinting across the airport to attempt to make your soon-to-be departing flight.
Unlike many other travel backpacks I have tested, the laptop is not a stand-alone spot for your laptop only. There are multiple large zippered pockets for keeping all of your electronic accessories in the same compartment as your laptop. For scale reference, you can easily fit chargers, an external hard drive, a small notebook, cables, memory cards, and the like with room to spare.
The laptop compartment is also one of two individual compartments that completely unzip so that the back is able to be accessed and packed flat – which is something I have yet to come across whilst doing other reviews of similarly sized packs.
The Clothing Compartment
The largest compartment found on the Outbreaker Laptop backpack is the clothing compartment. Here, you can pack 2-3 days worth of clothing. It is possible to pack more for more days if you are traveling to a warm place and don't need to bring any bulky jackets or multiple layers.
When packing the clothing compartment, you certainly don't feel like you are packing a traditional backpack. This is because —like the laptop compartment'— the clothing compartment features a clamshell opening. This allows you to pack the backpack just like you would a suitcase.
An added benefit to this design is you are able to access all of your clothing at once instead of search through the layers of clothing Mordor in a vertically packed traditional backpack.
Everyone has a different packing style (and wardrobe) so you'll just have to mess around with various folding techniques until you unlock the perfect clothing arrangement puzzle that works for you.
If working in simple square shapes makes sense to your brain over working in the abstract, you can opt for a Tortuga packing cube, which helps to streamline and compartmentalize the whole packing process.
The Miscellaneous Compartment
The smaller front compartment is where all of your other quick-access bits will live. This section is also loaded with zippered pockets and small sleeves perfect for things like small notebooks, smokes, pocket knife, pens, a passport, sunglasses, chewing gum, etc.
Note that this compartment does not unzip like a clamshell as the other does, but at the same time, it doesn't need to. You will not be packing large items or clothing into this space so access with never be an issue.
Tip: once you learn the backpack and its various storage options, try to pack your individual items in the same place every time. I found that I lost track of where the hell I was putting stuff as there are so many pockets on this thing… which is kind of an awesome phenomenon.
Between the three compartments, even the most meticulous and obsessive pocket-addict will never run out of available options for storing gear. Out of all the backpacks I have tested in the past year, this Tortuga laptop backpack has proven to be the most well-thought-out design from a user point of view. The backpack just makes sense. Having all of your stuff fit comfortably into place before you head to the airport will only do good things for your organizational brain.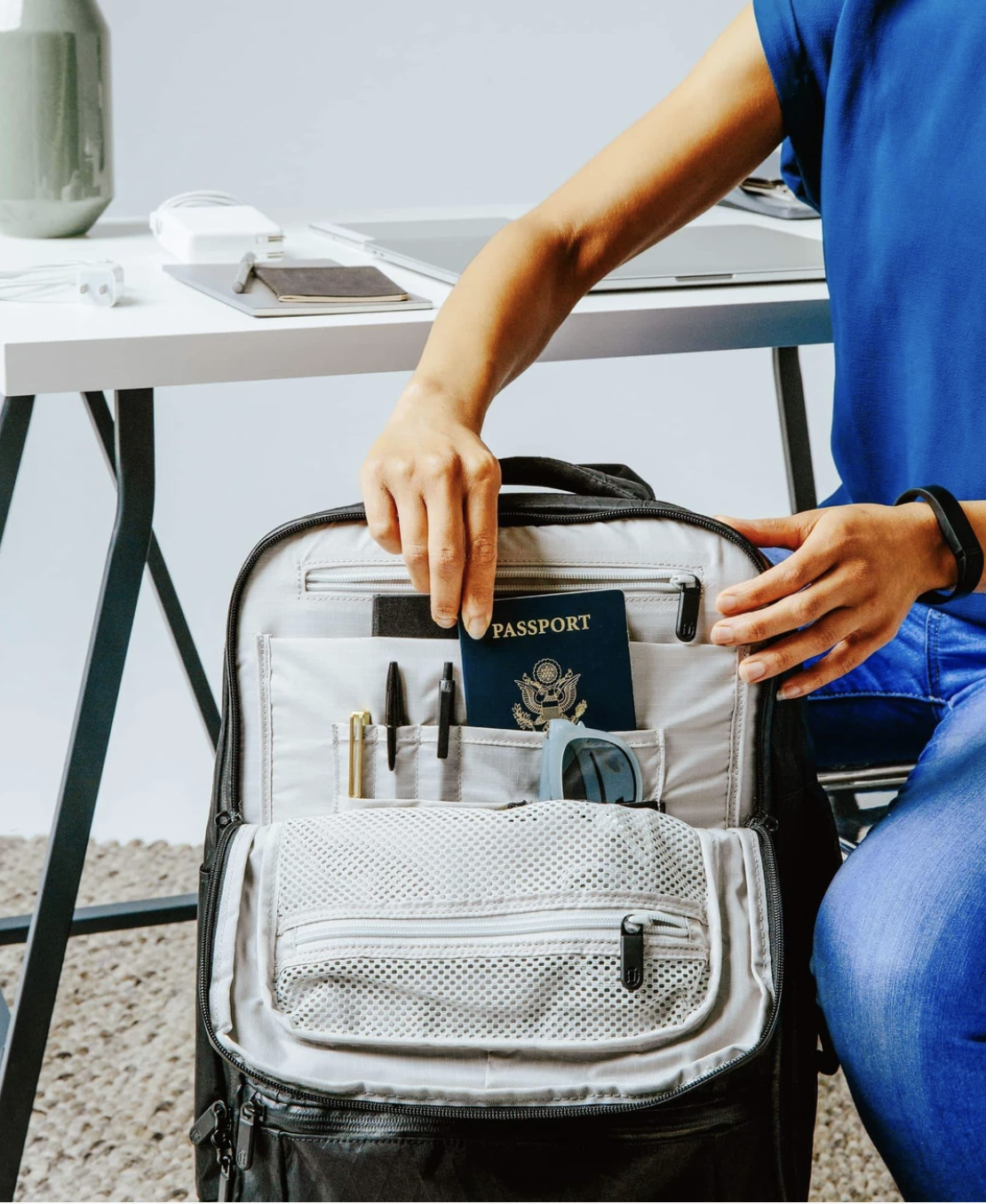 The Perfect Companion for the Tortuga Outbreaker Laptop Backpack
Save $$$ • Save the Planet • Save Your Stomach!
Drink water from ANYWHERE. The Grayl Geopress is the worlds leading filtered water bottle protecting you from all manner of waterborne nasties.
Single-use plastic bottles are a MASSIVE threat to marine life. Be a part of the solution and travel with a filter water bottle. Save money and the environment!
We've tested the Geopress rigorously from the icy heights of Pakistan to the tropical jungles of Bali, and can confirm: it's the best water bottle you'll ever buy!
View on REI
Read the Review
Outbreaker Laptop Backpack Size and Weight
Another noticeable difference between the larger Outbreaker series backpacks and the laptop backpack is the weight. Here are the exact weight specs for each Outbreaker model:
Small – Tortuga Outbreaker Laptop Backpack 27 liter -3.2 lbs (1.4 kg)
Medium – Tortuga Outbreaker 35 liter – 4.6 lbs (2.08 kg)
Large – Tortuga Outbreaker 45 liter – 5.1 lbs (2.31 kg)
An important aspect of any daypack is its base weight. You will likely spend thousands of hours of your life carrying a daypack. Ideally, the pack doesn't weigh a ton when it is empty. Most airlines have a carry-on limit in the ballpark of 15-16 pounds (roughly 7 kg). If your day pack weighs 5 pounds to start with, then that only leaves you with 10 pounds to work with. Your laptop alone probably weighs several pounds on its own. See where I am getting at?
The Tortuga laptop backpack is definitely not the lightest daypack out there (though lighter than the other Outbreaker packs). If you are looking for something lighter and more minimalist, check out the Osprey Skarab daypack.
In terms of size and fit, the Outbreaker Laptop backpack fits men and women of average height (whether you are on the short or tall spectrum.
Straps, Padding, and Carry Comfort
A backpack can have all of the bells and whistles in the world, but it needs to be comfortable also. That's a fact.
So, how does this Tortuga laptop backpack shape up? Here are the mechanics:
The back panel is constructed using Ariaprene foam… durable padding delivering extended use comfort. While some padding systems can degrade and flatten over time, all of the Tortuga backpacks I have been using these past few years still feel as comfy as the day I first got them.
Another benefit of using Ariaprene foam is that it does not retain moisture. Are sweaty summer days in the city in your future? The Outbreaker Laptop backpack was engineered to cope. Ariaprene is also hypoallergenic, so if you have ever experienced redness or itching after walking around with a backpack on a hot day in Colombia, it's probably because you are mildly allergic to something in the backpack material.
Though the Outbreaker Laptop backpack does not come with hip belt straps, the sternum/chest straps are adjustable so you can quickly dial in a balanced fit.
Even when this backpack is loaded up for a weekend of travel, the healthy dose of padding in all of the right places delivers a consistently pleasant carry experience that stays with you through a full day of carrying it.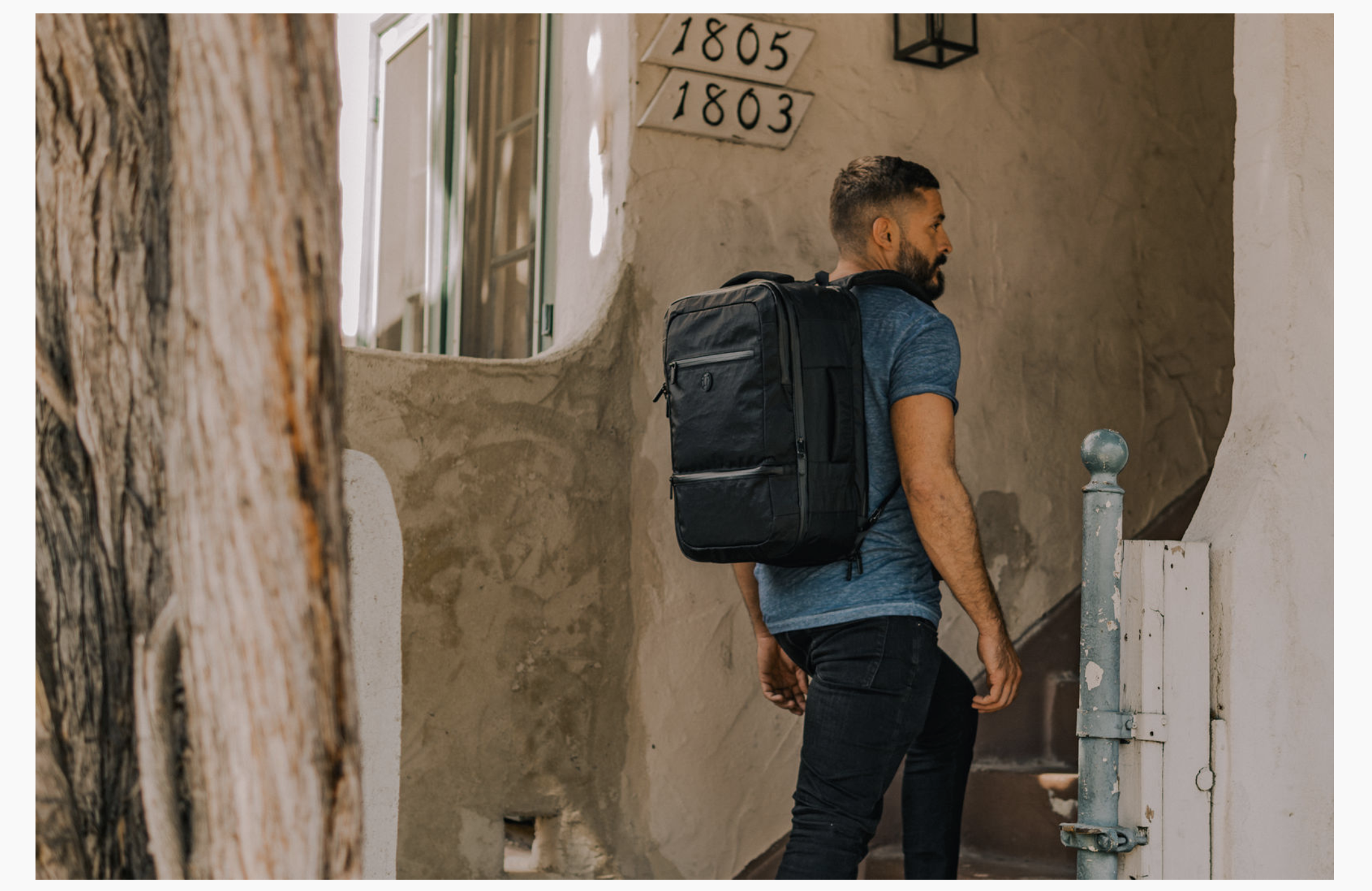 Carry-On Usability
Some of the bigger backpacks in the 35-45 liter range will meet the needs of most airline carry-on regulations. That said, if they are loaded with stuff, you aren't like going to be able to fit them under the airline seat.
Alas, another benefit of the Outbreaker Laptop backpack. Shaving off those extra liters down to 27 enables the Outbreaker Laptop pack to fit under the seats of most airlines. If you have ever been on a 13-hour flight, then you know how nice is to have the option of keeping your stuff close at hand.
The square, blocky shape of the Outbreaker Laptop backpack also means that it makes for a good "luggage neighbor" in the ever precious territory that is the overhead airline bin. That sweet old lady sitting next to you won't have to struggle to fit her small wheeled suitcase next to your pack.
Let's talk about everyone's favorite travel subject: security checkpoint lines.
For just about every airport in the world, I have been to in the last few years, the security checkpoints require every traveler to remove their laptops from the bag before sending your stuff through the Xray. The laptop compartment makes it super quick and easy to slip your laptop in and out as needed.
If you are traveling with wheeled luggage, the handy "pass-through" feature allows you to slip the backpack over the handle of your suitcase and wheel them both together as a paired unit.
Security
If you travel the world you know that keeping your stuff safe day in and day out is a constant work in progress. For us, this is a super important part of the laptop backpack review because as digital nomads we carry a decent bit of expensive kit.
Travel takes us to places where thieves are skilled in the art of stealing your stuff. In a perfect world, your backpack should make the job of the thief harder, not easier.
From a security point of view, I have mixed feelings about the Outbreaker Laptop pack. Let's talk about the positives first.
The zippers to all of the main compartments are lockable, so you can secure the most important compartments. In theory, you can lock all of the compartments, but in practice, that just sounds annoying and super impractical. Nobody wants to unlock THREE separate locks to access their backpack right? Pick one (probably the laptop compartment is the only one you need to lock). Still, a pretty cool feature to have on the Tortuga laptop backpack.
The tough outer fabric also makes the pack less susceptible to slasher thieves.
The main issue I have with this pack in terms of security is two outer pockets. These pockets make for an easy target for thieves operating in crowded areas. For traveling in an airport, I don't see these pockets as a problem.
But for street/city travel in busy markets, train stations, etc, I would not keep anything of any value in these outer pockets. They can be accessed too easily without you even noticing.
Materials and Waterproofness
A defining characteristic of Tortuga backpacks is the awesome fabric they use. The outer shell of this Tortuga laptop backpack is made from tough, water-resistant sailcloth. Why? Because sailcloth is pretty good at shedding water and holding up under the repetitive abuse of the sea.
While the sale cloth is not 100% waterproof, the pack can definitely handle a bit of rain, sea spray, or accidental liquid spills. I used this backpack pretty much every day throughout the rainy Portland, Oregon winter and I never had an issue with the inside of the backpack becoming wet.
You can have confidence in the water-shedding capabilities of the Outbreaker series. Just don't go dropping your backpack in the river and you should be just fine.
Another upgrade that sets the Outbreaker series apart from other travel packs is the water-resistant zippers.
To me, the zipper track looks similar to the seams on a tent. This provides the user with an added buffer to moisture penetration and is a feature I love on Tortuga backpacks.
The water-resistant components of this backpack make it an ideal candidate for a year-round everyday bag that can keep your stuff dry even in a grim rainstorm.
The Tortuga Laptop Backpack vs the World
For its class, the Tortuga Outbreaker Laptop backpack offers everything I look for in a compact travel pack. That said, there are plenty of worthy competitors on the market.
If you are looking for something a bit bigger, the AER Travel Pack 2 is one of my personal favourites. It may only be 5 liters bigger by volume, but the amount of stuff you can fit inside is considerable.
Since you already know about the larger Outbreaker series from Tortuga backpacks, I am going to tell you about two other top travel packs on the market.
The AER Travel Pack 2 has been a TBB staff favorite since its release and is probably the best full-sized travel backpack on the market right now. For a multi-month adventure around Southeast Asia or Central America, the I would consider something bigger, in the 50-60 liter range. Check out the full Aer Travel Pack 2 review here.
For photographers with more than just a camera and a kit lens, the Wandrd Prvke 31 is my go-to when I am packing all of my lenses and tripod. The Wandrd packing cube fits perfectly into the backpack (plus there is a laptop sleeve as well), so it's a worthy competitor to the Tortuga Outbreaker laptop backpack.
Competitor Comparison Table

Our GREATEST Travel Secrets…
Pop your email here & get the original Broke Backpacker Bible for FREE.
Tortuga Outbreaker Laptop Backpack Review: Final Thoughts
As you have probably gathered by now, I am a fan of Tortuga backpacks… but unfortunately, now it's time to come to the end of the epic adventure that has been this laptop backpack review!
The new Outbreaker Laptop backpack delivers big value in a small package and is one of the best packs I have reviewed this year. Big enough to be a solid weekend bag, and yet small enough to not be cumbersome, this Tortuga backpack is the perfect fit for anyone who travels light but still wants plenty of cool features.
I would have liked to see a hipbelt (and hipbelt pockets) and perhaps a few secret stash pockets, but these weaknesses are small potatoes when looking at the bigger picture.
The Tortuga Outbreaker daypack ticks all of the important boxes:
Durable
Functional
Comfortable
Subtle
Reasonably Priced.
Since the Tortuga Outbreaker daypack line comes in bigger sizes as well (35 and 45 liter) you really do have the option to go with the right pack size for your personal travel needs.
For a fully featured backpack that can get you through a getaway weekend, everyday city life, and serve as your primary daypack on multi-month backpacking trips, the Tortuga Outbreaker Laptop backpack is the obvious choice.
What is our final score for the Tortuga Laptop Backpack? We give it a rating of 4.7 out 5 stars!

---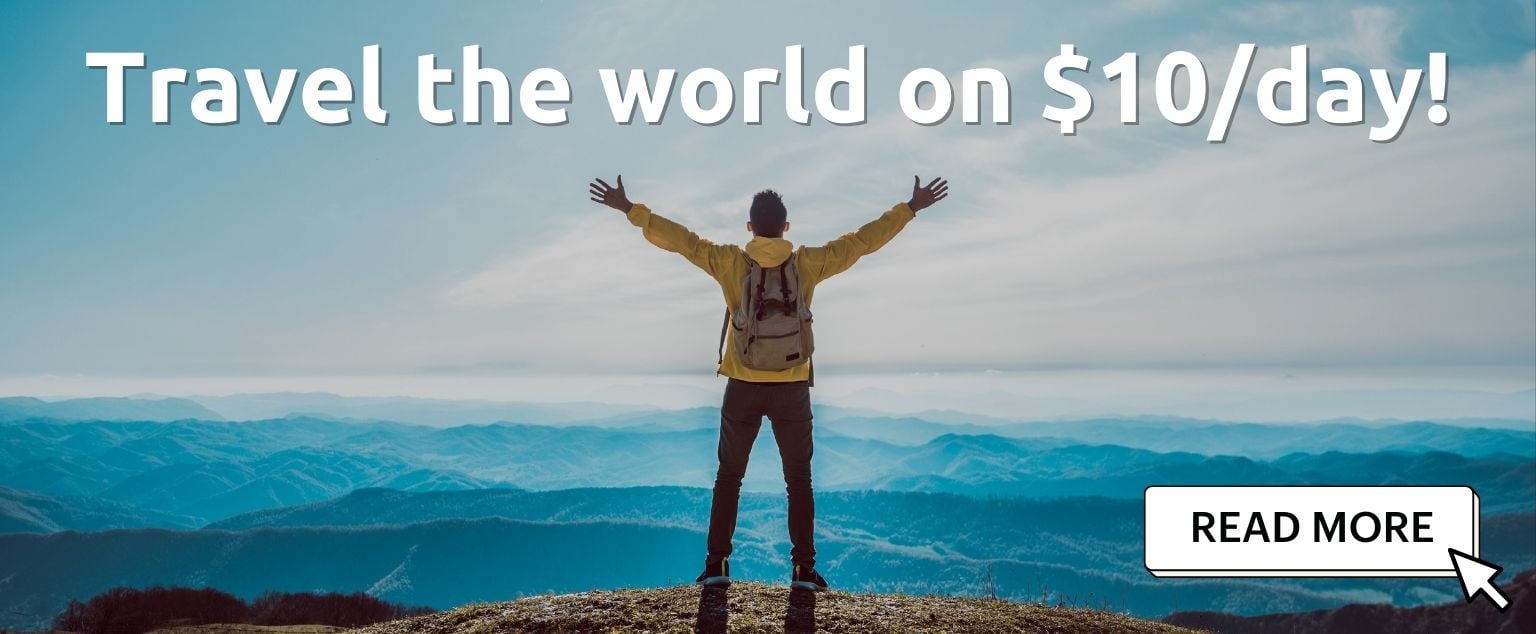 And for transparency's sake, please know that some of the links in our content are affiliate links. That means that if you book your accommodation, buy your gear, or sort your insurance through our link, we earn a small commission (at no extra cost to you). That said, we only link to the gear we trust and never recommend services we don't believe are up to scratch. Again, thank you!