COVID-19 has changed the world as we know it. It's fair to say that COVID has impacted every single sector of the global economy but no area has been harder hit than the travel sector.
In this post, I'm going to share with you my thoughts on how Covid-19 will affect the travel industry, my predictions on when things will go back to 'normal', screenshots and some hard data detailing how COVID has affected my own online businesses as well as my thoughts and advice on running a travel blog during this challenging time.
With half of the world in lockdown, global movement has been restricted until further notice. Demand for air travel is down by as much as 95%, causing massive losses across many huge companies. As economies around the world flounder, folks are not thinking about travel – they are thinking about whether or not they will have a job in a week's time. The situation is dire. The first thing to do is to accept that COVID is real, it is serious, it has changed everything. I advise you to view the facts in a calm and logical manner. We cannot ignore what is happening and we cannot pretend the effects will disappear like a beautiful miracle (despite Trump claiming as much).
Accept the situation for what it is my friends and then move past it without getting caught up in idiotic conspiracy theories. Try to maintain a positive and calm outlook. But understand this – We are not going to 'return to normal' by the end of the year. The global economy and the travel industry in particular is unlikely to recover until at least the end of 2021. This does not however mean that the travel industry will cease to exist – people will still travel, and travel bloggers (for those of you who care) will still exist.
Some of us worry that things may never return to normal, while others think that a whole new world of opportunities is about to open up. In my opinion, there will be a lot of opportunity over the next few months as many large companies are going to be knocked out of the picture – this makes it possible for hardworking entrepreneurs (who don't have massive monthly running costs) to disrupt the industry.
The pandemic is shaping up to be a once-in-a-lifetime crisis even Black Mirror writers would be terrified by, but if there's one thing we know for sure, it's that the virus will disappear long before the travel bug does.
And whilst experts are anticipating that travel will resume in a slow, highly-phased out and transitional manner, it's interesting to contemplate how COVID-19 will reshape the travel industry for the coming months and years to come.
7 Ways COVID-19 Will Change the Travel Industry
So, how will the world look out there for us travel lovers during the next couple of years? There's a lot of reasons to travel again in 2021, but we also have to consider how the playing field has changed.
Alright, some of this might not be news to you or may simply not interest you so if you're keen to just dive into the data I'm sharing from my own site and the advice I'm offering to folks working online right now, skip past this bit. These are some important points though which I believe will give you a better understanding of how the travel industry is likely to evolve and perform over the next two years.
1) Decrease in tourism
Global tourist arrivals are expected to decline by between 20 – 30% this year, meaning $30 – $50 billion less spending by international visitors. Those dramatic numbers reveal that the industry is in for a rocky ride.
Even if the industry picks up fairly quickly once the current situation improves, it will not immediately go back to pre-COVID levels. I'm estimating that it will take about two years. Other 'official' estimates suggest two to five years for the industry to economically recover from the pandemic.
One of the reasons for this slow recovery is fear. People won't feel comfortable travelling to countries with the uncertainty of how the virus has spread there, what government procedures exist to stop it, what new hygiene standards there are and how good the local health system is. "Home sweet home" has never felt so appealing to many folks as it does right now.
Another reason is the lack of disposable income. The US unemployment total, for example, reached 30 million over the past two months as a direct result of COVID-19. Experts foresee that a financial crisis will inevitably follow, which will increase the number of people filing for unemployment.
Increased unemployment rate leads to lower disposable income, which means less holidaying and more saving. Even if you travel as a broke backpacker, exploring the world on $10 a day, there will be less of our tribe on the road over the next couple of years as many folks just won't have the money or security to want to travel.
2) Sanitisation
Sanitisation is going to be critical in the coming years. "COVID-friendly" will be the new standard, and simply being clean may not be enough anymore.
Travel-industry businesses, like hotels and airlines, will change their operational procedures around cleanliness. Travellers will increasingly judge places and services by how they are keeping their spaces clean. As such, companies will need to be strategic with how they communicate with customers. They may invest in PR campaigns to publicise new pledges to provide clean and hygienic facilities. Cleanliness (or cleanliness publicity) may become a competitive weapon.
3) The Rise of isolated trips
Whilst the situation seems to be slowly improving in the West with the social distancing strategy, COVID is far from finished. The risk is that lifting the lockdown early (which will almost certainly happen in a bid to save the global economy) will lead to other outbreaks until we develop a vaccine. Harvard scientists are recommending that social distancing restrictions need to be maintained at least until the end of 2021.
Whether or not future outbreaks are severe, many people will still be keeping their distance out of habit and prudent responsibility. This means that many travellers will have and want to seek space when they travel, keeping human contact to a minimum. Certainly, we'll see domestic travel, likely featuring camping / glamping and road trips kick off first and I imagine that many people will want to avoid airports (and the risk of imposed 14-day quarantines) for some time.
As a result, travellers will avoid big cities and focus on remote areas to enjoy greater personal space. It's hard to imagine that we won't be avoiding each other for a long while still…
4) Rise of domestic trips
As I mentioned earlier, I reckon that domestic travel will bounce back and even boom way before international travel makes a significant comeback. The extra bonus incentive to stay close to home is avoiding a mandatory quarantine when entering a new country. We don't yet know how long this will be a normal procedure or which countries will, or won't, impose quarantines to arriving visitors but it makes international travel more of a headache and less appetising for sure.
I believe there will be a lot of demand for options that are easier on the wallet and closer to homes, like camping and road-tripping.
5) Technology & Automation
Technology will have a big role to play post-COVID-19 crisis. Electronic passports and IDs will be the new normal. Old, dirty passports will be left in the before-times. What can be digitized, will be digitized.
Medical screenings for healthy-seeming individuals could become the norm, and some countries may ask visitors to show a COVID-19 pass certificate. This can follow the same model as the yellow fever paper to get into some tropical countries.
We may FINALLY welcome robots in our workforce.
However, this may further increase the global unemployment rate, which is another post-COVID issue governments will have to address.
6) Potential rise in tourism in some countries
Some countries are not hit as bad as European countries and the United States – so far. Whilst it's too early to predict what is going to happen worldwide it's clear already that some countries are going to see an EXPLOSION in cases over the next few weeks – Brazil, for example, is fucked because it's run by an egotistical moron who downplays COVID, ignores his own scientist's warnings, undermines lockdown attempts and seems to be on a personal mission to chop down the rainforest – seriously, fuck that guy.
There is of course the moral conundrum as well – if you are coming from a COVID-hit county, it is not really fair or responsible to visit countries that have got things under control. This is why we canceled several of our trips to Pakistan and Iran; more on that later.
7) Flexible booking policies
Travel agencies, airlines, tours and hotels, amongst others, will absolutely have to roll out flexible booking policies in order to install enough faith to get customers booking again. Companies will also likely have to waive the notorious change fee amid the pandemic.
Alright! Boom, that's done with some of the doom, gloom and predictions on the travel industry itself… Let me now share with you some data, screenshots, and insights I've gathered from running one of the world's largest travel blogs.
Impact on Travel Bloggers, from my POV
The purpose of this section is not to bitch and moan. Lots of things are going right in my life despite the circumstances and there's a lot of things I personally have to be thankful for. I have been contacted by quite a few travel bloggers and online entrepreneurs asking for my predictions on what is going to happen and so the purpose of this part of the post is to show those folks what I have been dealing with and how I have structured my survival strategy.
The impact of COVID-19 on my business has been dramatic. Since the beginning of the pandemic, I have lost 80% of my traffic on TBB, 90% of my revenue and had to reshape my entire strategy for the year.
The above screenshot shows traffic on The Broke Backpacker from mid-Jan to mid-May. As you can see, the drop in traffic has been significant. We are currently holding at around 8000 – 10,000 users a day, which isn't bad. In 2019, we mostly had around 40,000 daily users – which is obviously significantly better.
The drop in income has been even worse than you would expect as whilst 8000 – 10000 people daily are still visiting the site, very few folks are spending money right now. The screenshot below shows one of our major income streams, and how it has decreased over the last few months.
This screenshot shows click-throughs to the affiliate partner dropping from a high of 2200 a day to about 150 a day. These numbers do not even tell the full story however as the conversion rate fell drastically over this time as well – this particular income stream has dropped in revenue by about 95%.
I'll be honest and say that I've found the last couple of months pretty tough – it's been hard to strategise when there are so many unknown variables. I have a team of over 30 people across all my businesses and it's been hard keeping everybody busy, and employed when there is very little work on the horizon that offers any chance of ROI within the year.
Early on I made a few decisions about how I would handle this crisis – I would not fire anybody, nor would I reduce hourly wages. I decided to wait a few months and see if the situation improved – this was back in February.
Gratitude for My Team
The situation has only gotten worse and so, last week, I introduced a wage cap system for my employees – giving everybody a living wage which they could earn each month but capping their hours after that. I didn't want to do this but it beat firing people.
I gave my team the option to work more hours than their wage cap allowed for with the promise that I will pay outstanding funds owed when TBB hits 20,000 daily users again (50% of what we used to average and double what we are hitting currently).
This seemed a fair way to do this as it means that 1. All my employees have a living wage they will be paid each month and 2. They can keep working full-time (let's be honest, with lockdown there's nothing else to do) and get paid back in the future when we hit a metric which all of them can see (as they have access to my Google analytics).
I was delighted and humbled, but not surprised when my entire team insisted they would continue working their asses off full-time to get this show back on the road, regardless of when they get paid for the extra work. I truly have a great tribe at my back.
By taking these steps I was able to reduce my costs by about 50% from $30,000 a month to more like $15,000 a month (On The Broke Backpacker, I have additional spend on other projects to factor in).
I could, of course, go into real 'survival mode' if I was keen to just save as much income as possible but this would involve letting my entire team go and I do not want to do that. I've spent several years building what is, by far, the strongest team behind any travel site. My team fucking rocks and it took a SERIOUS investment of time and money to get the team to where it is today, to dismantle it would be foolish as I do believe that the perils of Covid-19 will begin to dissipate in the next 6 months, paving the way for some recovery in the travel sector and for high-quality bloggers to make seriously good money again.
Travel Bloggers are Being Put to the Ultimate Test
There are other travel bloggers out there who, unfortunately, COVID will probably knock out of the game or at least seriously set back. Travel blogging has long been a competitive (and very full) space but many bloggers were able to stay afloat because of the large marketing budgets thrown around by travel companies. These will almost certainly not be around again for a while and so bloggers who relied entirely on social media to drive traffic are faced with an interesting challenge.
It is my opinion that the sponsored content sector will be dead for a while now – this means that if you are a travel blogger / influencer / good-looking ass in a bikini who is relying on paid marketing campaigns you absolutely HAVE to pivot if you are to survive. Some income streams will recover before others but it is my opinion that travel companies / hotels / tourism boards paying bloggers for marketing will not be throwing around cash again anytime soon.
All companies are being careful with funds right now and it was always difficult for companies to measure ROI on sponsored content so I believe it'll be a while before this comes back. In all honesty though – I may not be qualified to speculate on this as both sponsored content and social media are not a part of my business.
I have three major income models – affiliate marketing, selling my tours, producing my own products.
Affiliate Marketing in the time of Corona
Over the last couple of months, we have not only had to deal with Covid-19 but also unethical companies fucking over their affiliates. Amazon (which is one of very few companies to benefit from Covid-19) chose to cut its affiliate payouts in half with just one week's notice. I was owed six figures by one company for over three months and it was only by breaking out the big guns (threatening to send all relevant traffic to one of their competitors) that I was able to strong-arm them into paying.
Several other affiliate programs have reacted to falling revenue by cutting their affiliate payouts drastically – which, to me, makes no sense. Surely they want to incentivise bloggers to drive sales their way, now more than ever. Affiliate marketing has certainly been rocked over the last few weeks – Amazon's announcement shocked the affiliate marketing world and sent many online entrepreneurs scrambling to try and sell their sites before their month on month revenue dipped (thus reducing the value of their sites). Ultimately though, affiliate marketing remains my favourite way to make money online.
Recently, we have been experimenting with Youtube videos as part of a separate joint venture project. My long-time friend and JV partner Aaron Radcliffe took a deep dive into Youtube SEO, gaining subscribers and making quality videos and I'm stoked to report his hard efforts are already paying off. I'll tell you guys more about what we learn dipping our toe into Youtube in my next update…
Selling tours in the time of Corona
So far, we have had to cancel four fully booked Epic Backpacker Tours to Pakistan and Iran. This was a real blow to us and to our local partners. I've mentioned before that the tours are more of a passion than profit project. We do make some money out of them but we've always focussed on paying our staff well, and providing affordable adventures, rather than making loads of money. I sat down with Chris, EBT Co-Founder, a couple of months ago and we decided that we absolutely had to send financial relief to our partners on the ground, even though we couldn't run the tours.
I want to act with integrity and honour throughout this situation, regardless of the financial cost. We offered our guests full refunds on cancelled tours. We made the decision to pay our staff in Pakistan and Iran even though we would not be running the trips as we wanted to support our partners. We also raised funds (about $4000 in the end) for a food-drive in Pakistan to provide supplies to at-risk families.
We had to issue close to $100,000 in refunds to Epic Backpacker Tours customers where we have had to cancel their trips – this was a serious dent to the coffers. But am I worried? Hell no, my friends…
People are still booking Epic Backpacker Tours trips. This is an INCREDIBLY strong indicator that the tourism sector will bounce back faster than some reports (those 5-year doom-sayers) are indicating. Think about it – our tours are real adventures, to far-flung lands rather than more conventional travel destinations. If folks are still booking these kinds of trips, it indicates that travel is very much still on the brain and that folks are not intimidated by Corona to the extent that they wish to write off the year. This is, in my opinion, a really encouraging sign… Probably the most noteworthy positive sign I've spotted so far.
So heck, wanna go on an adventure to a far-flung wonderland and help support our incredible local mountain adventure family on the ground? You know where to go.
At the moment, we hope to be able to run our planned tours for the second half of the year, if we have to cancel them (which we WILL do if we feel we are putting EITHER our guests or our host families in the mountains at risk) we will do the honourable thing and offer full refunds.
Selling your own products in the time of Corona
As I've teased at before, I've been working on a super happy lucky fun secccccret project for a while now – Making backpacks out of recycled ocean plastic (shh! Don't tell anybody, we ain't ready yet!) and this project is still in the works.
My other gear project, Active Roots has been FUCKED by Covid-19 and right now I have $20,000 worth of stock sitting in Amazon warehouses, costing me monthly for storage. Because of this, we've decided to get rid of the stock as fast as possible and have been utilising paid Amazon ads to move it – this eats into the already tight margins meaning we'll probably break even or maybe make a very small profit but that's a win as far as I'm concerned as it frees up 20k to reinvest into something else.
It is a real shame as after two years of hard work AR was finally starting to show some promise but hell – this is an unprecedented event and there are bound to be casualties and that is why my friends – Always diversify your income streams and ventures, never have all your weed hidden in just one spot (or eggs in one basket, whatever).
One trend that does concern me is some travel bloggers really going out of their way to push, now more than ever, paid how to start a travel blog/ become an influencer courses… I am NOT a fan of this. Firstly, the courses I am aware of are WELL out of date and secondly, encouraging folks to invest money on these courses right now is irresponsible – NOBODY knows what's going to happen in the travel industry but if somebody was to ask me right now – 'Sup Will you sexy Mofo, should I start a travel blog right now' – my response, once I had dug into the WHY they wanted to blog and the WHAT they would cover, would probably be a no.
I have always said to folks – hell, it doesn't matter HOW you make your money online if it gives you the freedom to travel, and there are easier options than starting a travel blog so do consider going for something else.
I guess my point is – never start a travel blog with money being the driving factor – you'll lose patience. Every time I write something like the above I get messages from folks calling me out on me shitting all over bloggers selling 'how to be a travel blogger' course. It's true, I do shit all over those snake oil salesmen blogger courses.
But I also put my money where my mouth is – At Ditch Your Desk I post top quality info, for free, with no paid subscription wall, no attempts to take cash from readers, it's just for fun. The reason I do this is that I understand that courses on 'how to start a travel blog' / 'how to be an influencer' / 'how to become a FB ads whizz' are, by their very nature, out of date within 6 months of publishing. It seems dishonest to me to try to sell info that is 10 years out of date… Alright, rant over, let's move on.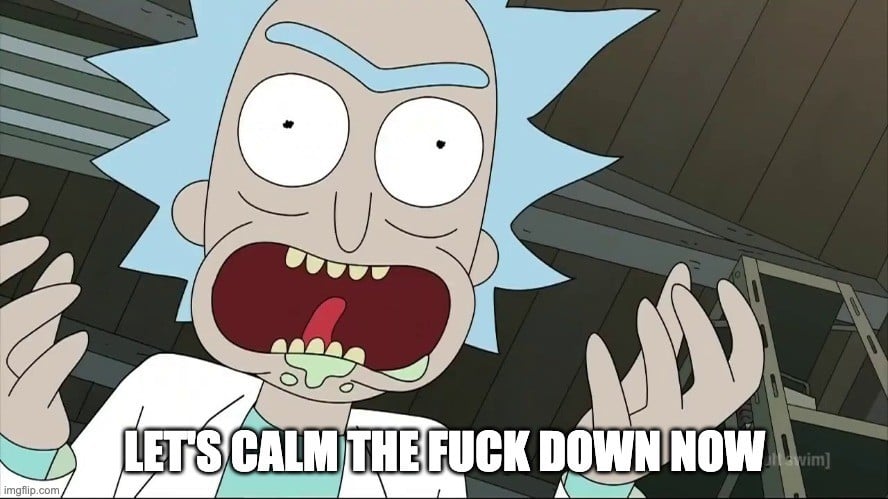 My strategy for 2020
My strategy for 2020 is complex, ever evolving and factors in my mental health more than normal in a bid to prevent burnout and the inevitable alcoholism that pops up to say a cheery howdy whenever I'm juggling too much.
For me personally, there's a lot of things to think about. I'm really determined to finish this year stronger than when I started, and how I define strength has changed – At the risk of sounding like a hippy-dippy bullshitter, I want to go on a mental journey where I confront things that scare me, make me uncomfortable or force me to re-evaluate my priorities. Deciding to go on this journey right now inevitably DOES affect the amount of energy I can pour into my businesses but luckily, I truly am passionate about 8 of the 9 projects I am involved in and, therefore, working hard comes fairly easy.
Alright, that's enough psycho-analysis, here's what I'm going to do in 2020 business-wise, I hope some of this helps you formulate your own surthrival strategies for this year.
DIVERSIFY INTO OTHER NICHES – For a long time, I've been focussing on diversifying into different areas. I did however make one pretty massive mistake. Everything I did (affiliate marketing, making my own products, starting a tour company, building a hostel) remained very much in the travel space. I do have a cryptocurrency JV behind the scenes but besides that my eggs, whilst being different kinds of eggs, are still very much fucking eggs (AND they are in the same basket!), I need to break out from just investing in eggs and buy some mangoes or hash or something. I am therefore aggressively working on entering new niches in the online space – I've picked out three so far and put down funds to get started.
FOCUS ON NEW TRAFFIC SOURCES – With search volume for travel related keywords hugely down, it's finally proved to me that I absolutely cannot rely on Google for all of my traffic. This is why I am now turning to making my own Youtube videos – I'm starting off by having my good buddy and EBT Co-Founder Chris over and then I'm having a ramble – talking about travel tales, things I learned on the road, entrepreneurship tips etc…. This is a none-monetised project at the moment – the goal is to learn more about how the Youtube Algorithm works, get more comfortable on camera and build up an audience in a new space.
INVEST INTO IMPROVING TBB – We are now in month one of a three month website overhaul, a project that is costing nearly $30,000 but is much needed. A slicker, faster, smoother website experience is coming your way my friends, stay tuned… We are also investing into FB ads experiments and crucially into further A/B testing on the site to improve conversion optimisation – effectively helping us design an optimal experience for our users.
GET TRIBAL OPEN – My biggest priority this year is to get Tribal Bali, soon to be the world's greatest hostel, open… It's coming my friends, every day more gets done and we get a step closer, stay tuned…
MY ADVICE FOR ONLINE ENTREPRENEURS IN 2020: Cut spending where you can, invest in yourself, your fitness and your mental health. Develop your skills – try 5 or 6 things and see what sticks. Be creative – it will bring you joy. Do not panic. Do not break. If you need help, reach out.
No one knows what's going to happen in the next few months, so it's been hard to come up with a post-COVID strategy.
Travelling has however taught me to step outside my comfort zone. Granted, this crisis is particularly uncomfortable, but I am grateful that I can apply what I've learnt on the road to manage it.
I see this crisis as an opportunity to reinvent myself, my business, work closely with my team and diversify. I'm focussing on trying to turn this challenging situation into a meaningful change. I'm not convinced it's all bad. It's only a matter of perspective, my friends… the skies are cleaner for one thing, and we haven't yet had to launch a bloody Guerilla war against evil energy companies for that to happen. That's a win.
Protecting the planet whilst encouraging people to reach their full potential through travelling is my mission. COVID-19 reminds me that we, travellers, need to honour the huge responsibility we have towards our beautiful planet.
Ingenuity is a wonderful thing and when the pressure is on, magical things can happen…
As I mentioned, I have been doing what I can to diversify into other niches – I acquired four sites over the last six months and we are now in the process of overhauling them, commissioning content and making them slick, speedy and sexy. For the first time ever, I am working outside of the travel niche and will be entering another rather magical niche – I have been advised not to reveal this, sorry folks – maybe once I've got the space well and truly dominated 😉
There are however a TON of really interesting opportunities right now – people are staying home, buying habits are changing, some traditionally static spaces are EXPLODING – this is best demonstrated with the chart below.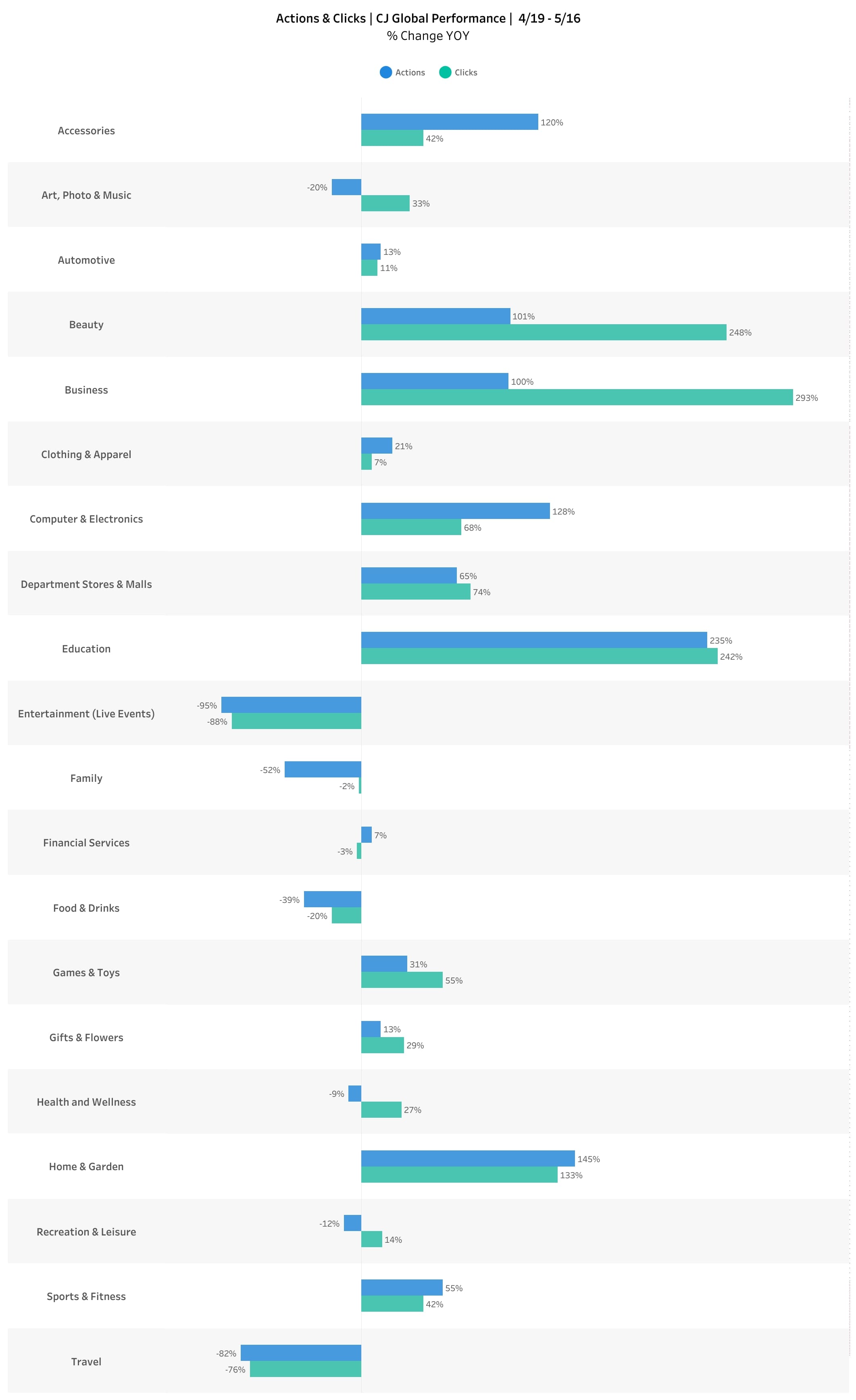 For many, Covid is all doom and gloom. But as the chart above shows there is HUGE growth in many niches during this crisis and this in turn means there are many opportunities for aspiring entrepreneurs to swoop in and make big bucks, all from behind a laptop and without breaking quarantine.
If you DO have a special skill, now may be the time to list yourself on Upwork and other similar platforms. Let's be honest – A lot of us are sitting around at home at the moment so now really is the perfect time to not only develop but also to share new skills – so if you have something you can share, do it!
Here's a fun one on the spur of the moment – I rarely do consultations because I'm pretty darn busy. When I do do them I charge $500 an hour. However, I will now do a 40 minute consultation call for a $100 donation to any one of these six charities:
Caring Hands, Pakistan: non-political, non-profit and non-governmental organization (NGO) providing assistance to families in and around Punjab.
Black Lives Matter: Supporting the movement and ongoing fight to end state-sanctioned violence, liberate Black people, and end white supremacy forever.
BAWA Bali: not-for-profit organisation that saves, protects and improves the lives of animals in Bali.
Moms Against Poverty (MAP): addresses children's basic needs through provisions of food and shelter to end childhood poverty.
Oxfam: this NGO is working hard to push for action on inequality, tax dodging, climate change and more.
UNHCR: a United Nation agency with the mandate to protect refugees around the world, forcibly displaced communities and stateless people.
Simply email me at [email protected] with details of what you want to chat about, I'll tell you if I think I can help you with your queries, you'll make the donation, provide a screenshot, and we'll chat – boom! Everybody is happy. Unless you don't like what I say, in which case, sorry, no backsies.
Alright friends, let's wrap this fucker up…
There you have it, my thoughts of how COVID-19 is going to change the way we travel in the future. It may, it may not. The reality is that no one knows what tomorrow will bring.
However, what's certain is that when we will wake up from the corona coma, the landscape will be unfamiliar, especially in the travel world. As such, we have to be ready to re-adapt and re-adjust.
Remember – nothing is certain, besides change. The world, society, the economy, you, me, everything – change is coming. Make sure you are on the right side of it.
Love, joy and growth to all you bad asses.
Peace, out.