November 2nd, 2015.
I hit the road and started a new journey.
The plan was to make my way from the UK to Papua New Guinea (PNG) without the use of flights. I expected it to take a year, maybe a year and a half.
I left England and hitchhiked across Europe, crashing out in gardens and fields, sleeping in my tent, on couches and sometimes in a nice warm bed. It was freezing and I saw only a few other backpackers, this was the absolute height of the low-season.
I was earning a relatively easy passive income of about $1000 a month from my blog (it took me about a year to get to this point) which meant that whenever I wanted a beer, I had nothing to worry about. I knew some bloggers were making six figures but I was perfectly content. My travel costs were pretty low which meant that most months I was actually saving money whilst travelling the world.
Livin' the dream.
I sped across Europe, hitchhiking through France, Belgium, The Netherlands, Germany, Switzerland, Austria, Slovenia and Croatia. In Croatia, I scored a car and spent a month exploring Bosnia, Montenegro, Serbia, Kosovo, Albania (hand's down – the highlight!) and Macedonia. I finally made my way to Bulgaria, before crossing to Turkey.
I spent a totally weird New Year's Eve blasted out of my brain in some ancient Greek ruins with my brother Alex and we chatted about what the hell I wanted out of this adventure. I realised I really didn't know, I just wanted to escape, I was looking for something and Papua New Guinea was extremely far away… It gave me time to figure out what the heck I was going to do.
Me and Alex headed up to Cappadocia where we spent an awesome week living in a cave and soaking in stunning views of snow-topped fairy chimneys.
Alex had to leave and I pushed on, hitchhiking through Southern Turkey to Tbilisi in Georgia where I spent a very drunken 27th birthday with a bunch of locals I met in a bar. Broke and hungover, I hitched onwards through knee-deep snow to Iran.
Iran was to be a country that would have a deep effect on my journey. I met a Persian girl, Nina, and we hitchhiked 3000km across Iran, getting a temporary Islamic marriage after a couple of days so the police would leave us be.
We camped out on an incredible multicoloured island and I wrestled with the decision of what to do next – Should I forget about Nina or see if we could travel further together?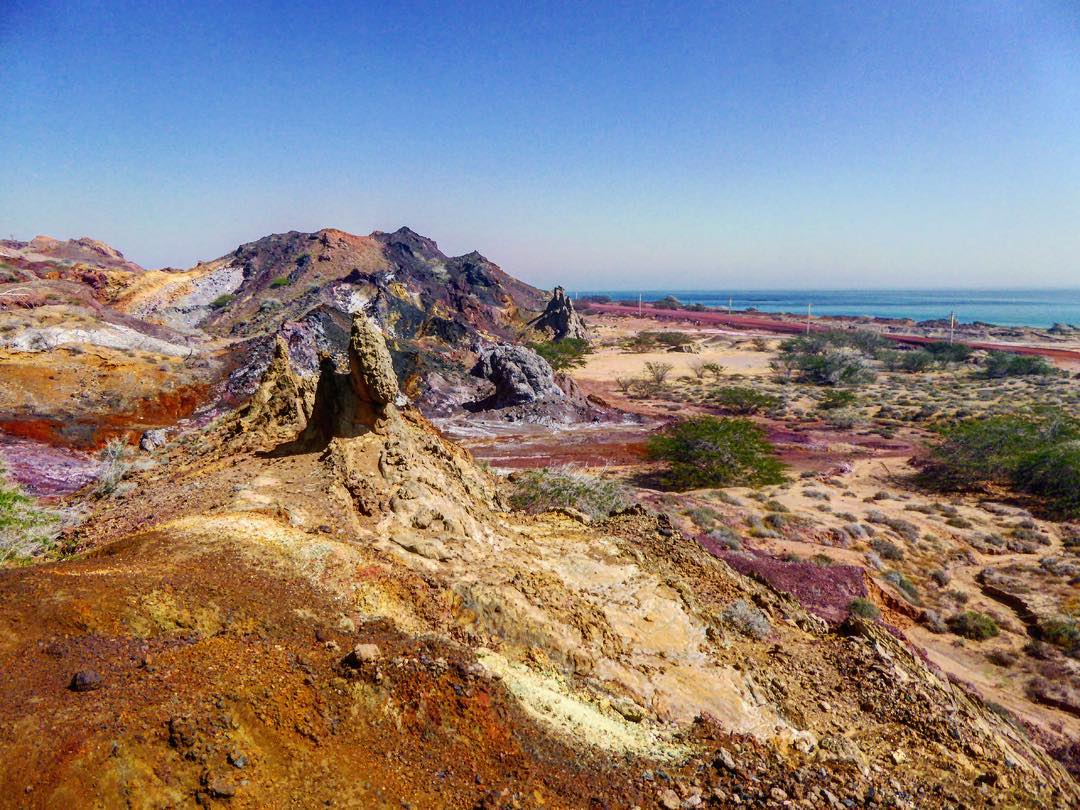 I left for Pakistan, spending six weeks trekking in the Northern mountains and seeing zero other foreigners the entire time I was there. I made many great friends and spent a week living in a remote village with Rehman, Sitara and my adopted family.
Pakistan turned out to be my favourite country by far – this is a land of towering peaks, endless hospitality and untouched adventures. On my last night, before crossing the border to India, I went to an underground rave on the outskirts of Lahore. It was mental.
I met Alex again in India and together we undertook our most challenging bro-venture to date; driving a piece of shit, but very pretty looking, rickshaw across a subcontinent.
We battled extreme heat, suicidal-phone-selfie-drivers, corrupt cops and hordes of monkeys.
Alex eventually left and I spent some time bumbling around in the Indian Himalayas before giving Nina a call. We chatted and I explained the situation – If she was down to travel cheap, to hitchhike and camp, to visit offbeat places – then she should get on the next flight to India.
I then promptly got myself arrested because the Gods laugh at my plans.
Nina arrived and we drove Tinkerbell into the mountains until she finally broke down beyond repair and we had to continue on foot.
India has changed. I first came here when I was 19, I spent a year and a half exploring this massive country with no phone. There was no wi-fi, no hostels, no real backpacker circuit. Today, India is definitely a little bit easier and that's a good thing… The hostels that are popping up make it easier to tap into the backpacking vibe and meet cool people. It was an odd feeling to be back in a country which had affected me in ways beyond counting. Nine years ago, travelling in India for the firs time was the beginning of a very new chapter in my life.
Me and Nina spent a month in the mountains working on improving the blog and planning out some other online ventures before getting ready to go to Nepal where we planned to cross to Bhutan.
In the eleventh hour, the Bhutanese company who was sponsoring our visas (Bhutanese visas are $270 a day so well out of my price range!) backed out.
Nina's Indian visa was close to expiry – it's a bitch to sort visas for Iranians – so we did a U-turn and headed back to the best mountain scenery in the world; Pakistan.
We camped out on the Deosai Plain, the second highest plain in the world. The stars started on the horizon, I have never seen anything like it, camping out on Deosai is like being inside a giant snow-globe. In the night, our tent was approached by four large bears, luckily the Pakistani army unit across the river came to our rescue and rushed our tent brandishing burning branches, it was quite a sight to behold.
We headed back to Hunza and spent time again with Rehman and his family. Totally broke and in need of some cash to keep the adventure going, I announced my plans to run an adventure tour and produced a promo video to help sell the slots.
The tour sold out in five days and I was over the moon – in September I will be leading twelve awesome backpackers, along with Alex, deep into the Pakistani mountains for a trekking trip like no other.
It was at this point that Nina's Mum, pretty concerned that Nina had dropped out of her dental degree in the last year to run off with a foreigner, demanded that Nina returns to Iran and that I tag along for inspection.
We flew back to Iran and I met the family.
Nina's family were incredibly welcoming and very liberal, I finished off their small collection of wine pretty quickly and spent many chilled evenings enjoying a cheeky smoke with Nina and her sister.
Our one month temporary marriage had long expired and so, partly to keep Nina's family happy, partly to make visas easier and partly because we wanted to, we arranged to have another wedding – a big fat Persian wedding.
I converted to Islam, for legal not spiritual reasons, and took the Shia name, Reza.
Will Reza Hatton
We spent a few weeks exploring Iran and hanging out with Nina's family before my visa was up and it was time once more to hit the road.
I had at this point been getting a lot of messages from followers who wanted to know – how could I afford to travel?
My travel blog was, in August 2016, making between $1500 and $2500 a month but it was inconsistent and we were usually spending more than we were earning. I racked up a credit card bill so that I could afford to pay my team and grow the business. Making money from a travel blog is not easy, the market is saturated and immature and therefore extremely vulnerable to manipulation by low-balling clients.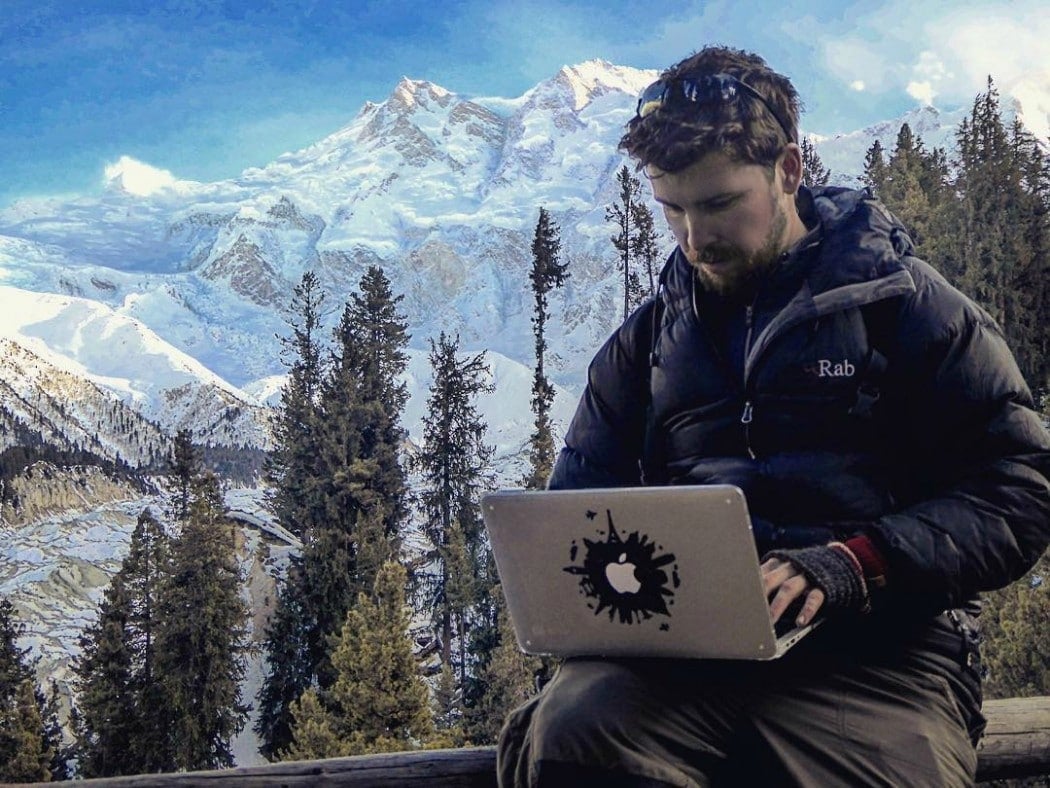 I found myself increasingly chained to my laptop as I struggled to make enough money out of the blog to fund everything and had to spend more and more time hustling online. I decided that this has to change if I am to get the best experience out of the actual travelling – which was the point of starting the blog in the first place.
In 2017, my objective is to experiment with different ways of making money online that are totally unrelated to travel blogging; I'll be launching a drop-shipping venture and setting up a few amazon niche websites. I hope to hit a combined income of $10,000 a month by December 2017.
I'll be blogging about the whole experience with complete transparency – whether it's a massive success or a pitiful failure.
The objective here (besides hoping to make a load of money) is to do a series of experiments into different digital nomad professions and provide you guys with a blueprint so that you too can ditch your desks and travel the world whilst earning a passive income.
To find out more about the 'ditch your desk' experiment, sign up to the newsletter below.
From Iran, we headed to Thailand to spend three months working our asses off and getting fit again (thank Allah for Crossfit!). Whilst in Thailand, I finally started working on my book – How to Travel the World on $10 a Day.
I was truly unsure at this point what to do about UK to PNG; officially, I had made it as far as Central India before turning around again in a mad-squiggle to Iran.
For New Years Eve 2016, I headed to Myanmar with Alex and Nina; we spent a happy few days off-roading around the temples of Bagan and finally found what we were looking for.
We spent a magical night camped out on an isolated temple, surrounded by fireworks, the occasional gong and Buddhist chanting drifting upon the wind. Nobody knew we were there and there was nobody around for at least a mile. It was an amazing, deeply moving, experience.
The sun came up, illuminating the truly splendid temples upon the first day of 2017.
We returned to Thailand and got stuck into another month of hardcore work, starting work on two new sites and preparing to launch a drop-shipping business in March.
My plan is to pick up UK to PNG where I left off. To travel from India via motorbike to Myanmar, Thailand, Laos, Cambodia and Vietnam – from here, I will attempt to build a boat and sail to Papua New Guinea via Indonesia.
But when? We are heading to Bhutan (we found a new sponsor) at the end of March 2017 for seventeen days (including an eleven day trek!) of adventure awesomeness…
After Bhutan, we are going to head back to Iran and then pop back to the UK (for a third wedding my parents want to throw) before returning to Pakistan for some top-secret gallivanting in remote corners of the country.
I'll be in Pakistan for a while, maybe three months, as I'll also be leading the adventure tour.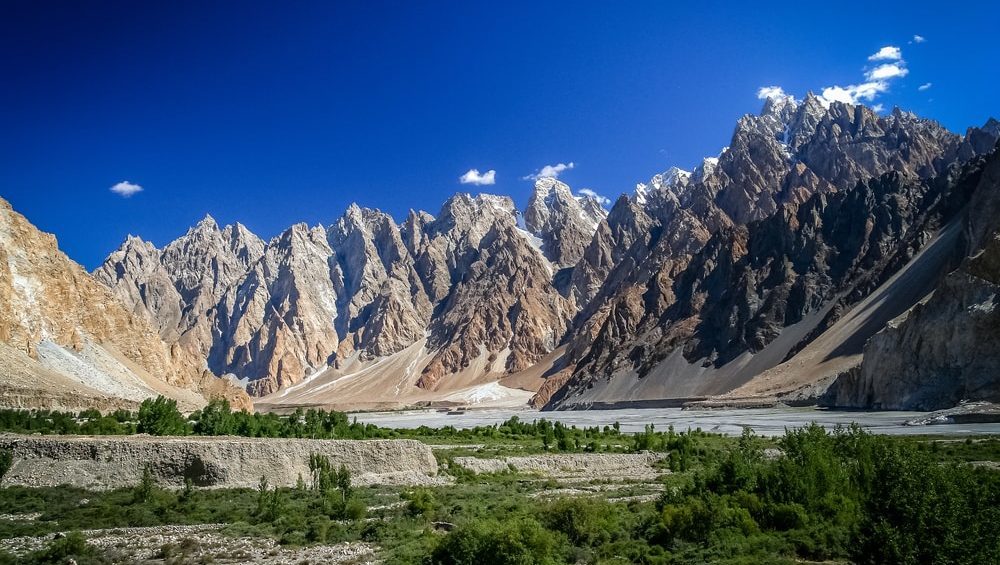 After Pakistan, I will probably take three months out to work my ass off online before hitting the road again properly and continuing UK to PNG.
But first, I need to change my position – I need to build a business online that can be run with just five hours input a week. A business which will be largely passive, which will enable me to travel and to focus on the travelling itself.
I predict my total monthly costs at roughly 5k.
Travel and living expenses for two people: 2k a month
Business running costs and staff: 3k a month
I want to build my online business to a point where I have a passive income of 10k a month. This is the magic number.
This will let me save 5k a month which I will put towards buying some land and opening a truly unique (off the grid and away from the internet) hostel somewhere in South America in a couple of years time.
When I first hit the road, nine years ago, I didn't have a phone. I travelled solo and jumped in an internet cafe maybe once every two months. It was an incredible way to travel and I wouldn't trade it for the world.
This is how I want to travel – without any commitment to my inbox.
I often manage to unplug for three to six weeks, when I'm in countries like Pakistan it's almost impossible to do any work anyway, but to unplug for twelve months (which is how long I think it will take to complete the journey to PNG) is simply not an option at the moment.
Most months now we bring in an online income of about 5k but my costs are so high as I am investing heavily at the moment and we are always, literally, broke.
Last week, I had $6 in my PayPal account and about $2000 in bills I needed to pay.
I have no savings, no back-up and no desire to work for anybody else, so to make this travel dream a reality I need to build a passive online income that I can manage with just five hours work a week.
That's the plan.
I am very excited for 2017, it is going to be a year filled with extremely sharp learning curves, unique opportunities and epic adventures and hopefully, at the end of this year, I can resume UK to PNG properly and do it the way it is meant to be done.
As always, thank you for your incredible support! If you want to learn how to ditch your desk, hit the road and travel on a budget of just $10 a day, check out The Backpacker Bible – This is everything I've learnt over the last nine years of backpacking – actionable advice on planning, safety, making friends, cutting your costs to almost zero, picking up work, getting off the beaten track, setting up an online income and getting the absolute most out of your adventures… Check it out here.