Aside from its classic Southern Charm, lively art scene, and fried food, the Tennessee city of Chattanooga attracts tourists for two main reasons.
Firstly, it's well known for its historical significance in the American Civil War. Located at the crossroads of Tennessee, Georgia, and Alabama, Chattanooga was (and still is) an important hub of railroads and national highways.
Flooded with historical buildings and war monuments, Downtown is dotted with decorative Victorian homes and mansions that can be rented as authentic luxury vacation rentals.
Secondly, nicknamed the 'Scenic City', Chattanooga is surrounded by the Appalachian Mountains, Cumberland Plateau Nature Reserve and a bit further out, the Chickamauga and Nickajack Lakes. The city is a natural hotspot scattered with stunning rivers, lakes, parks, and mountains.
In these natural settings, you'll find tons of log cabins and cottages surrounded by dense trees and mountainous landscapes. History buffs, fried food junkies, and outdoor enthusiasts will be blown away by this city.
But with so many accommodation options to choose from, finding the right vacation rental in Chattanooga can be a daunting task. That is why we have prepared this guide to take that headache away from you. Enjoy!
Quick Answer: These are the Top 5 Vacation Rentals in Chattanooga
Overall Best Value Vacation Rentals in Chattanooga
Overall Best Value Vacation Rentals in Chattanooga
Suburban 3 Bed House with Jacuzzi
> $$$
> 8 Guests
> Beautiful home filled with quirky modern furniture and top-quality appliances, including a Jacuzzi/pool
> Located in a residential neighborhood in the suburbs
Best Budget Vacation Rentals in Chattanooga
Best Budget Vacation Rentals in Chattanooga
New 2 Bed Apartment with Views
> $
> 4 Guests
> Contemporary furniture with windows overlooking views of the city and surrounds
> In the hills above the city, a 10-minute drive from downtown Chattanooga
Best Vacation Rentals for Couples in Chattanooga
Best Vacation Rentals for Couples in Chattanooga
Bright and Practical Studio Cabin
> $$
> 2 Guests
> Basic contemporary self-standing cabin with a spacious yard, BBQ, and firepit
> In a quiet neighborhood south of the city, only a few minutes drive to Lookout Mountain
Best Vacation Rentals for Families in Chattanooga
Best Vacation Rentals for Families in Chattanooga
Cozy 2 Bed with Rooftop Deck
> $$
> 5 Guests
> Welcoming apartment with colorful furniture, a yard and rooftop deck with city views
> Located in Southside Chattanooga, a few blocks from great eateries, shops, and attractions
Over-the-Top Luxury Vacation Rentals in Chattanooga
Over-the-Top Luxury Vacation Rentals in Chattanooga
4 Bed Mansion with River Views
> $$$$
> 10 Guests
> Ultra-modern home perched on the mountain with luxurious interiors and many outdoor viewing decks
> Located on Signal Mountain, out of the Chattanooga traffic yet only 4 miles away from downtown

Unlock Our GREATEST Travel Secrets!
Sign up for our newsletter and get the best travel tips delivered right to your inbox.
Types of Accommodation in Chattanooga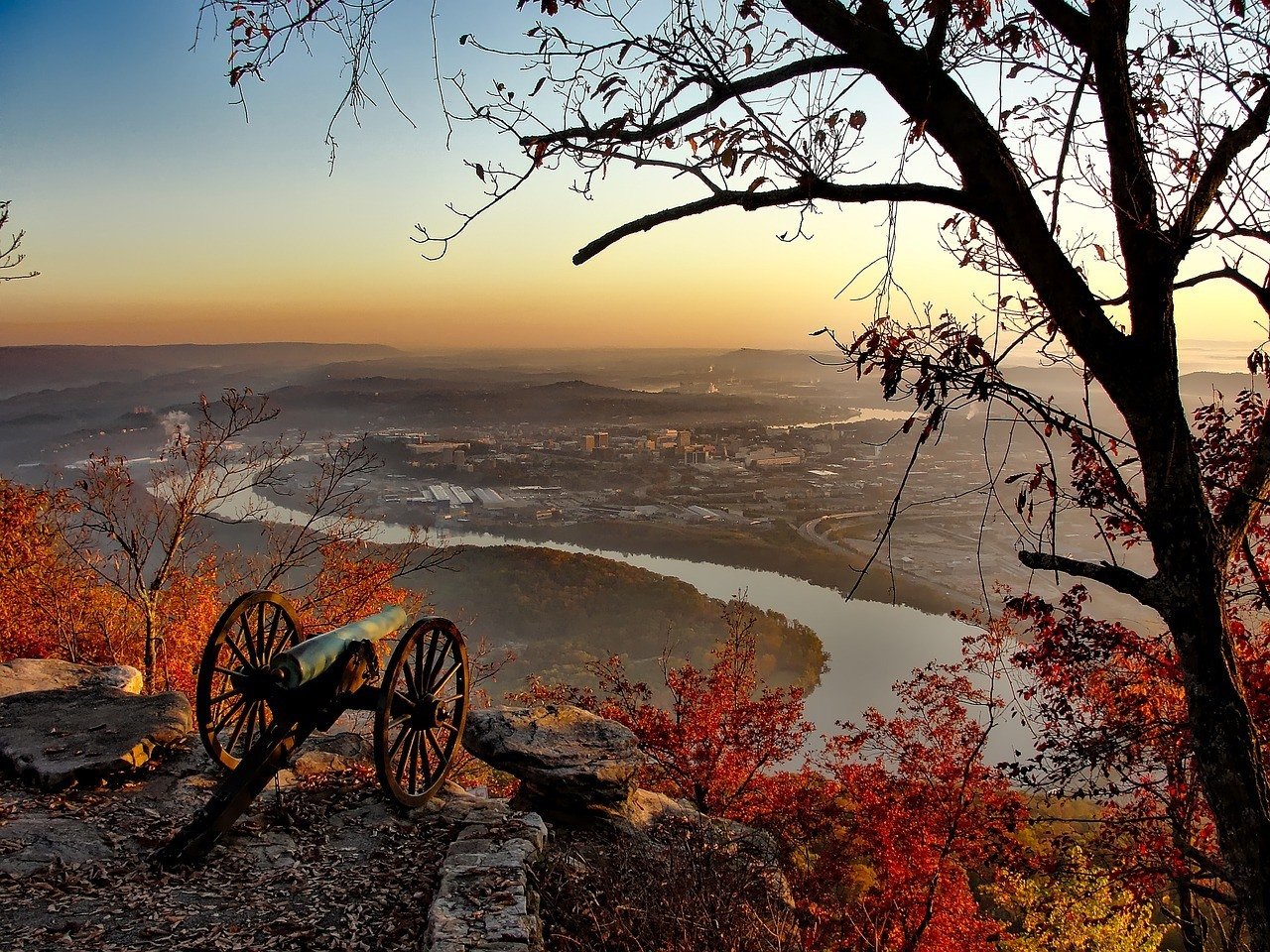 Historic Homes
As a crossroad between interstate roads and railway lines used during the American Civil War, it's no wonder this city is filled with historical Victorian homes. From small townhouses to extravagant mansions, most of these holiday rentals can be found in and around the city center. 
As some homes are over 120 years old, these Victorian rentals are filled to the brim with history and stories. You'll find many of these homes in the Battery Place, Glenwood, Missionary Ridge, and M.L. King neighborhoods.
Aside from being so centrally located, many historic homes have been refurbished and restored, combining clean interiors with authentic high ceilings, wooden floors, and skirting features, adding a little more luxury to the already charming building. 
Depending on the size, price, and level of luxury, these holiday homes in Chattanooga are ideal for families and groups of friends gathering in the city.
Mountain Cabins
Surrounded by rivers, ponds, and mountains, cabins are a popular option for adventurous travelers. Many of these cabins are built from timber and have traditional log interiors. Think wooden log walls, rustic furniture, and local art and linen. 
Located in some of the most beautiful parts of the city (usually just outside Downtown but within quick driving distance), these homes are perfect for anyone who loves the outdoors.
But even though they are often located in rural landscapes, that doesn't mean you have to live in filth and squaller. On the contrary, these log cabins have often been kitted out with plush furnishings and top-of-the-range applications so you can have a comfortable stay.
Whether you decide to stay at the river's edge or perched on top of the famous Lookout Mountain, you'll find a cabin that's the right size and budget for your travel group.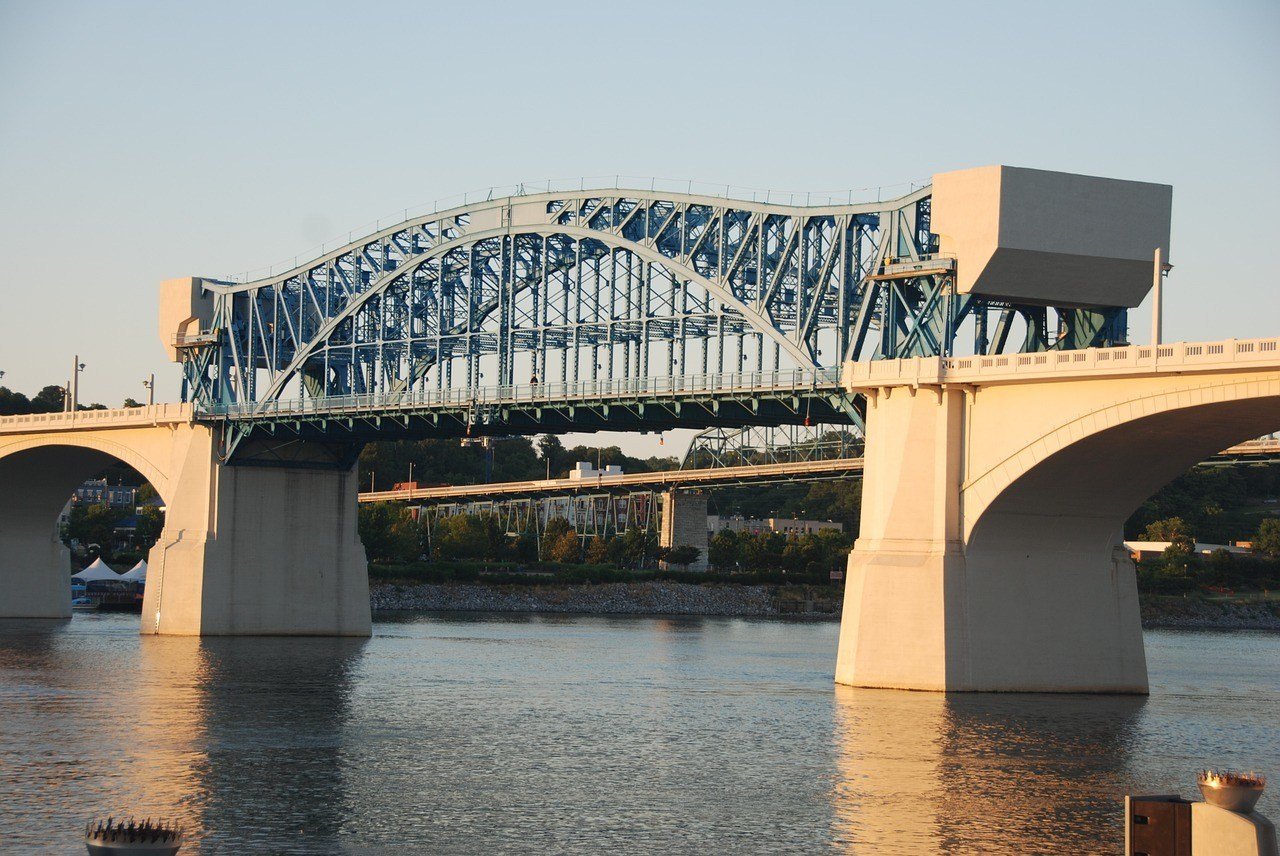 Townhouses
Within the inner city and its local neighborhoods, there are many residential townhouses up for rent. These homes are often the best vacation rentals in Chattanooga for their prime location, reasonable affordability, and spacious yards.
Many of these old homes have been remodeled and renovated using sleek interiors and contemporary furniture. Take it from us, a clean and homey space is inviting to all types of travelers.
Whether you're after a budget rental for you and your loved one or a spacious home to fit your extended family, you'll find the perfect townhouse in Chattanooga.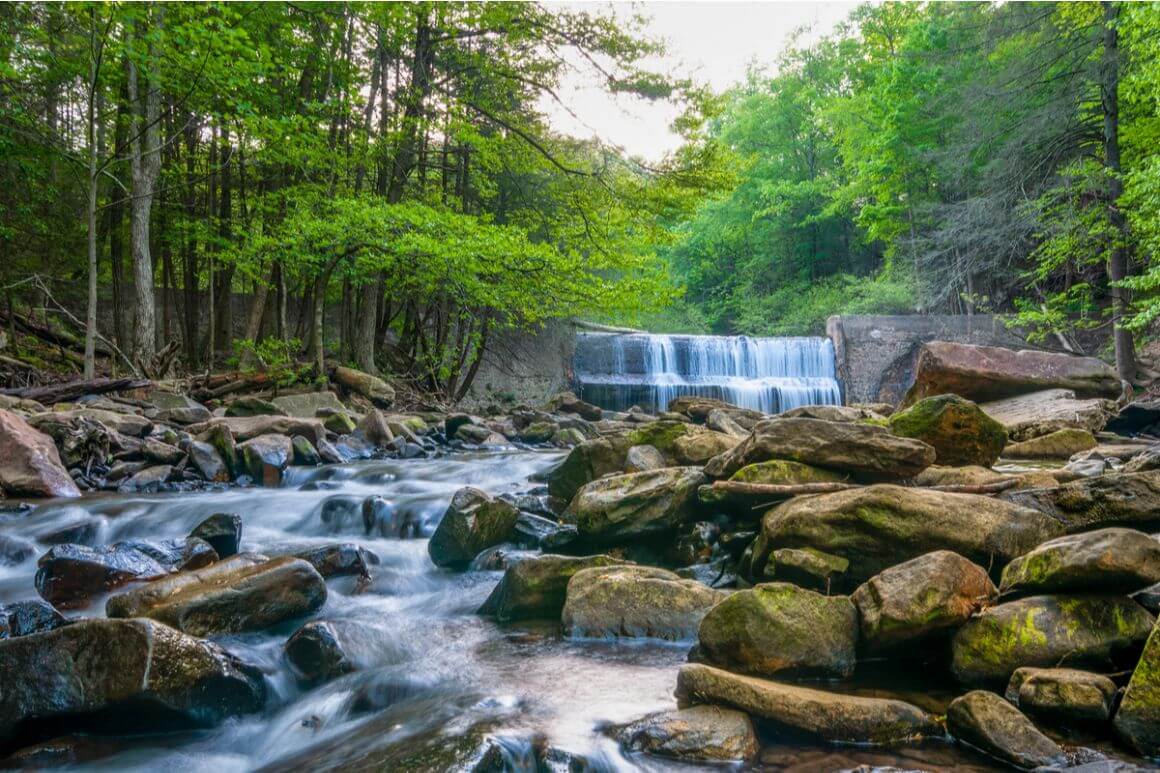 Top 20 Vacation Rentals in Chattanooga
An increase in quality vacation rentals is a big reason the city is becoming a popular tourist destination. Choose from historic industrial buildings in Downtown Chattanooga to log treehouses in the hills above the city.
If you're looking for a place to stay in Chattanooga, take a look at our top vacation rentals below.
Best Overall Vacation Rental in Chattanooga | 3-Bed Home W/ Jacuzzi
8 Guests
Located in a residential neighborhood in the suburbs
This three-bedroom home is as stylish as they come. Kitted out with modern fittings and sleek wooden flooring, the house is simple yet beautiful.
Each room is decorated with a different unique feature. From quirky wallpaper to stunning hanging lights over the central kitchen island, the open-concept living space is one of the most beautiful rooms in the home.
The home comes with three spacious bedrooms and even includes an outdoor living space and deck with a fire pit, BBQ, and a small swimming pool and jacuzzi.
4 Guests
In the hills above the city, a 10-minute drive from Downtown Chattanooga
This cute apartment sits in the residential hills of Chattanooga, boasting exquisite city and mountain views from the deck and balcony. It's super spacious and homey and has a fully equipped kitchen with all the appliances and equipment you might need from a self-catering vacation rental in Chattanooga.
At an affordable price, the two-bedroom home comes with washer/dryer facilities as well as a dedicated office workspace. This makes it a great spot for a long-term rental or digital nomads.
This property is also conveniently located just a 5-10 minute drive from Downtown Chattanooga, where you will find all the top attractions in the area, from The Chattanooga Choo Choo, TN Aquarium, Southern Bell Riverboat and of course some top-notch restaurants serving up delicious food.
Most Beautiful Vacation Rental in Chattanooga | 5-Bed Home with Patio
$$$
Impeccably designed with tasteful interiors and top-quality appliances
10 Guests
Located in the Northshore neighborhood, near to Downtown Chattanooga
Without a doubt, this is one of the most tastefully decorated holiday homes in the area. This family home has more than enough space for a large family or a group of friends.
The multi-level house has been refurbished with top-of-the-range cabinetry, lighting fixtures, and fittings. For example, the kitchen has a stunning central island with a waterfall white marble workspace.
Each of the 5 bedrooms is cozier than the next, with large glass windows looking out into a lush green yard. There's even a laundry room next to the kitchen – this will come in useful when traveling with a big group. 
For families, this incredible home is just a short drive from Downtown Chattanooga where you can take the kids to the Creative Discovery Museum or walk the scenic Rock City Gardens. 
Is This the Best Travel Pack EVER???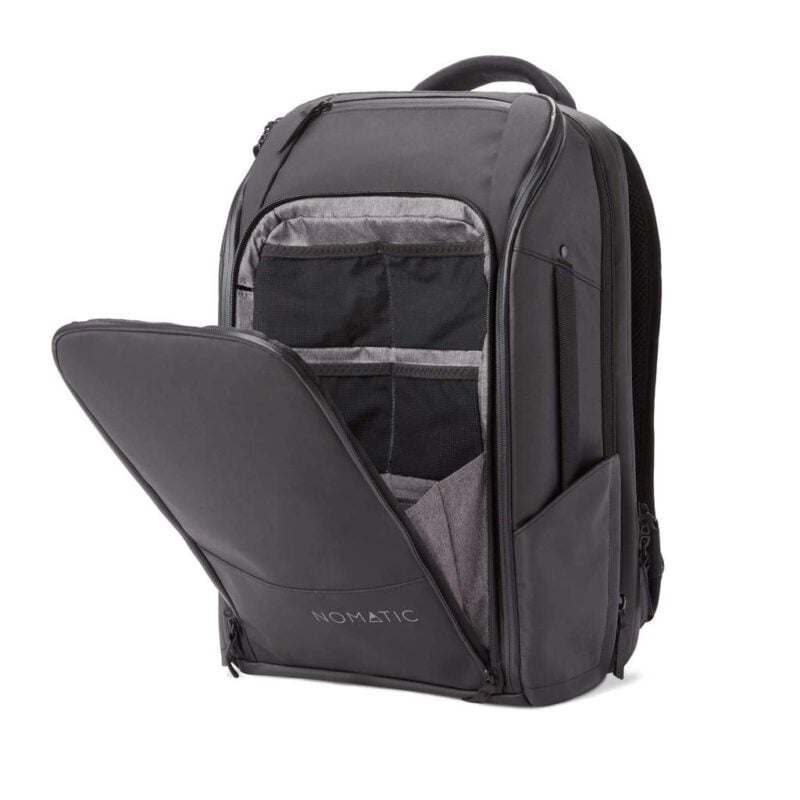 Most Luxurious Vacation Rental in Chattanooga | 4-Bed Riverside Mansion
$$$$
Perched on the mountain with many outdoor viewing decks
10 Guests
Located on Signal Mountain, 4 miles from Downtown
This luxurious mansion spans across a wide area of Signal Mountain. Designed in an ultra-modern style, the large concrete home has glass walls, inviting tons of natural light into the home.
The interior is fitted with warm furniture and classic linens. However, the best part of this home is the expansive 1,867 square feet deck that lines the entire home. The deck is fitted with outdoor living furniture, a BBQ, and atmosphere-enhancing lighting, and has exceptional views of the Tennessee River and city beneath it.
Inside the home, there are five spacious bedrooms and living space with a cozy wood-burning Fireplace, a 75″ LED flat-screen TV with a Bose sound system, and if you have more guests to house, the couches pullout into comfortable king-sized beds.
Best Vacation Rental in Chattanooga for Families | 2-Bed with Rooftop
$$
A yard and rooftop deck with city views
5 Guests
Located in Southside Chattanooga
Make yourself at home in this charming family home just outside Downtown Chattanooga. Fitted with clean wooden finishes and a top-of-the-range kitchen, this home has been filled with eclectic furniture pieces, art, and carpets. 
With laundry facilities and a dedicated workspace, feel free to stay awhile and make this your home-away-from-home. What makes this one of the best vacation rentals in Chattanooga for families, you ask? You'll be able to enjoy a sunset with your family on the outside deck, which has gorgeous mountain views.
It's also close to where the action is in Downtown Chattanooga where you will find a ton of things to do with the family.
Best Vacation Rental in Chattanooga for a Weekend | 2-Bed Condo
$$
Contemporary fittings and high-quality kitchen amenities
5 Guests
Located in Downtown Chattanooga, with views of Lookout Mountain.
This condo is located in a modern housing block in Downtown, with views of Lookout Mountain. The developers went all out with these condos, which have been well designed with contemporary interiors. From the window blinds to the plumbing fittings to the cabinetry, you'll find top-quality finishes throughout.
Each of the 2 bedrooms has been fitted with an extra comfortable large bed. Wondering whether you should bring along that extra friend? There are two rollaway mattresses provided to fit an extra two guests in.
As well as being perfectly decorated, it is also perfectly located in Downtown Chattanooga where you are within walking distance of all the main attractions. Central locations and top-notch interiors make this one of the best Airbnbs in Chattanooga.
Best Vacation Rental with a Pool and Jacuzzi | 4-Bed Mountainside Home
$$
Includes a private swimming pool and Jacuzzi on a deck overlooking the city
8 Guests
Located in a quiet residential neighborhood in the hills of Chattanooga
Surrounded by lush mountain greenery in a hilly neighborhood, this is one of the top holiday homes in Chattanooga with both a pool and Jacuzzi. The four-bedroom house is built from wooden panels with timber interiors giving it a warm and homey feel. The wood-burning fireplace adds to this inviting vibe.
However, the best part of this vacation rental in Chattanooga is the outdoor deck space, which includes a dining and lounge area, overlooking the sparkling city lights in the distance. With a pool and Jacuzzi built into the deck, this is the place to be on a hot Tennessee day.
But the luxury doesn't stop there, each of the four bedrooms has a memory foam mattress for the best night's sleep you'll ever have and the 2.5 bathrooms come with twin sinks, separate shower, and bath – so you won't need to queue outside the bathroom door in the morning waiting for Uncle John to finish clipping his toenails. Perfect!
Accessible Vacation Rental in Chattanooga | Farmhouse with 3-Beds
$$
Contemporary home on a spacious farm with no steps and a large porch
6 Guests
Located on a private farm at the base of Lookout Mountain
Can you think of a more lovely accessible holiday rental in Chattanooga than a classic farmhouse surrounded by acres of trees and pastures? This home has been built to resemble a classic farmhouse, mixed with contemporary touches for a more luxurious look. 
It's the best of both worlds – oldy-world farmhouse and sleek modern design, and the kitchen portrays this wonderfully. Wooden exposed beam ceilings compliment natural floors and state-of-the-art dining furniture. A log feature wall brings the traditional farm cabin feel into this self-catering vacation rental in Chattanooga, which is flooded with natural light.
This single-story, 2200 square foot cottage has three spacious bedrooms with queen-size beds and hotel-grade luxury linens. There are also plenty of spaces to chill out with a book, including a sun room where you can sit and look out for wildlife, or from the 550 square foot front porch.
Most Central Vacation Rental in Chattanooga | 1-Bed Condo
$$
Industrial-style condo with top-of-the-range fittings
2 Guests
In the center of the vibrant social hub in Chattanooga
Located bang-smack in the center of the most sociable district in Chattanooga, this modern condo is surrounded by excellent eateries, nightlife, shops, and attractions. The home itself has an industrial feel to it, with high ceilings showing exposed piping and classic red brick walls.
However, when it comes to interiors and furniture, the space has been fully kitted out using only the best of the best. Crisp linen sheets, mid-century-inspired leather sofas, and a state-of-the-art kitchen boasting up-scale stainless steel appliances are a taste of what you can expect from this contemporary central home.
Best Vacation Rental for a Large Family | 6-Bed River Cabin
$$$$
Eclectic classic cabin with mismatched furniture
15 Guests
Located a few miles out of the city, on the Tennessee River
This property boasts sunny river views and a huge covered deck with a private Jacuzzi – what more could you ask for from a self-catering vacation rental in Chattanooga? This classic cabin is filled with eclectic and local artifacts, creating a mix of all things Chattanooga for a really unique stay. 
Picture authentic curtain drapes, wooden ceiling fans, and timber walls throughout, as well as hand-stitched bedding and quilts in each of the six bedrooms. You'll feel as if you've taken a step back in time in this truly authentic cabin on the Tennessee River.
While this property is more remote and secluded, it sits right on the river and has porches and balconies with comfortable seating overlooking the water. You won't ever want to leave that spot, but if you do, it's only a 10-mile drive into central Chatanooga.
Best Vacation Rental in Chattanooga for Friends | 3-Bed Family Home
$$
Trendy multi-story home with a balcony, and a manicured lawn
8 Guests
In central Downtown Chattanooga, close to famous whiskey distilleries and attractions
This contemporary family home is decorated with impeccable interior style. You'll see stylish cabinetry, classy art, and edgy yet classic furniture in muted tones across this luxury vacation rental in Chattanooga. 
The best room of the house is the kitchen space, which is fully equipped with a double-door refrigerator and other top-of-the-line appliances. There is even a trendy center island with bar stools where your family can gather as you prepare a home-cooked meal together.
Each of the three bedrooms comes with a private shower so you won't need to fight over who gets to use the bathroom first in the morning. The property is also just 701 meters from the Chattanooga Whiskey Experimental Distillery so your in a super central location.
$$
A magical home in the trees with string bridges and raw timber beams
4 Guests
A short 20-minute drive from Downtown Chattanooga, in Trenton
Have you ever wanted to stay in a treehouse? Well, this fairytale cabin in the trees is about to make your dreams come true.
This magical space is designed to bring peace and relaxation to its guests. Located just outside the city, it is nestled in a rural and secluded location that can only be reached by your own private golf cart.
The building itself is comprised of strung bridges and wooden structures joined together to make one exquisite vacation rental. You'll find natural timber logs and live trees holding this structure in its place. Wondering how you'll get your suitcase inside? It has a lift. Yep, it's that cool.
Inside, you'll be treated with contemporary interiors and homey furniture, brought to life by the beams of light which shine through the many unique shaped windows across the treehouse.
Best Vacation Rental in Chattanooga for Honeymooners | 1-Bed Cabin
$$
Spacious home with high ceilings and a large outdoor yard
2 Guests
Only a few miles from the famous Lookout Mountain
Honeymooners will fall in love with this contemporary holiday cabin. The home sits on a large green property with tons of romantic trees surrounding the cabin. Step inside, and you'll be greeted with wooden floors, high beam ceilings, and contemporary, open-plan living space. 
When it's time to sleep, you'll find a cozy queen-sized double bed in a bedroom downstairs with its own private bathroom.
Warm white and neutral tones flow throughout the home, giving it a truly peaceful and relaxing vibe. With two twin beds located in the loft, not only is this an affordable spot for honeymooners, but it's also adequate for a small family.
Best Vacation Rental in Chattanooga for Nightlife | Chic 1-Bed Condo
$
Industrial exposed piped ceilings and brick walls
3 Guests
Located in Central Chattanooga
Chattanooga's nightlife is concentrated in the center of the city. This chic condo is perfectly located nearby many of the cities hottest nightclubs, bars, and eateries. The condo itself is built in an old industrial building which is still very clear today. Expect rough red-brick walls, high ceilings, with exposed metal pipes hanging from them.
It's a super basic yet practical space. The condo offers a full kitchen with everything you'll need to whip up a home-cooked meal or a bespoke cocktail before a night on the town making it one of the best vacation rentals in Chattanooga for party lovers.
It is also perfectly located near to all of Chattanooga's top attractions, such The Aquarium, Hunter Museum of American Art, Creative Discovery Museum and Coker Tire Museum.
Best Vacation Rental in Chattanooga with a View | 4-Bed Home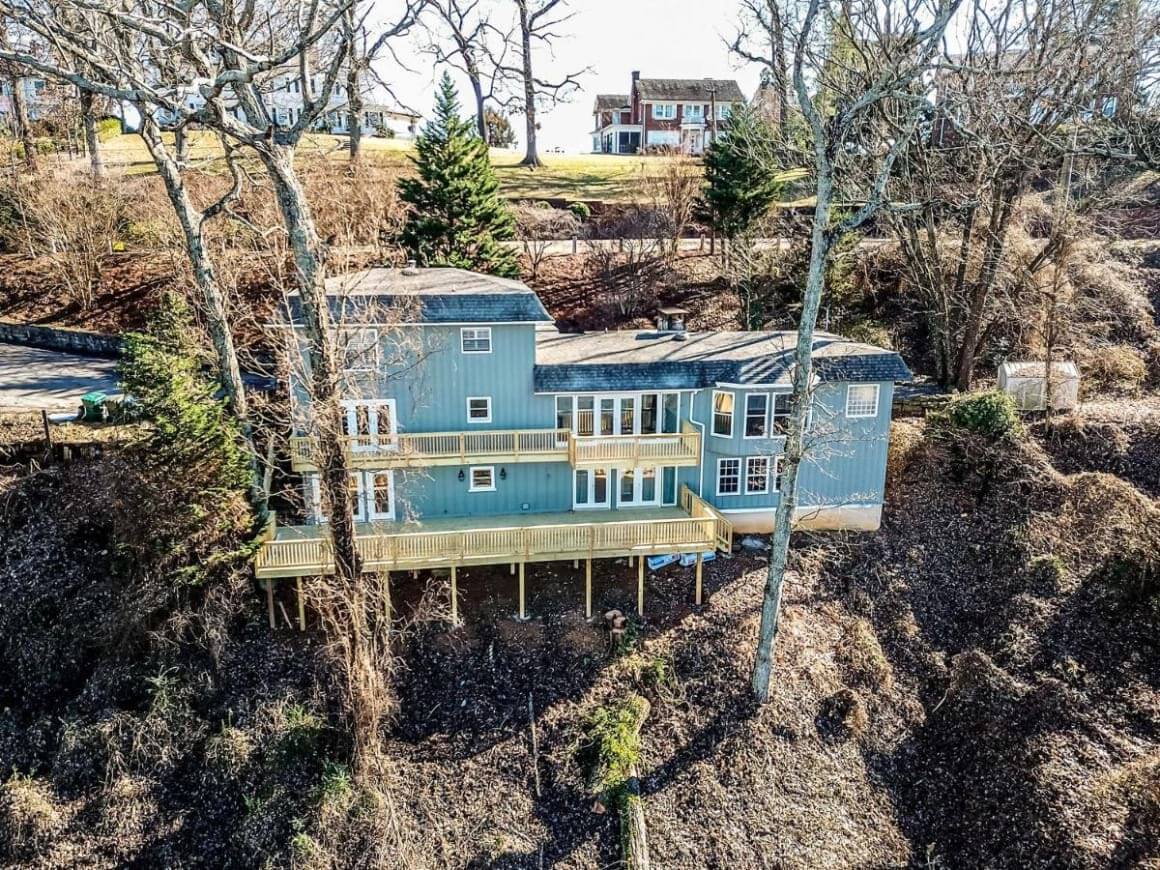 $$$
Stilt home perched on a cliff overlooking stunning city and mountain views
8 Guests
Located on Missionary Ridge, near historical civil war landmarks
This beautiful four-bedroom house is perched on the edge of the historic Missionary Ridge with extraordinary views of the city and its surrounding. 
It's a classy family home with a traditionally large open-plan living space including a fully equipped kitchen, lounge, and dining room, all of which are tastefully decorated. While the home has many windows boasting great views, the best spot to enjoy the view is from one of the two wraparound balconies on each level of the home.
Each of the four bedrooms comes with tons of space and king-sized or queen-sized beds, so everyone in your party can sleep peacefully with plenty of room.
Romantic Vacation Rental in Chattanooga for Couples | Bright Studio Cabin
$$
Self-standing cabin with a spacious yard, BBQ, and firepit
2 Guests
In a quiet neighborhood south of the city, nearby Lookout Mountain
This quaint studio cottage is the perfect affordable holiday rental for couples. Although it's a single-room living area, the spot feels very spacious. This self-catering vacation rental in Chattanooga includes an industrial-style kitchen with all the self-catering necessities, a comfortable sleeping area, and a private bathroom.
Best of all, the home sits on a large garden property surrounded by trees. I can just imagine enjoying my morning coffee listening to the birds chirp from the outdoor dining area.
It's also a short distance away from Look Out Mountain and The Lookout Mountain Incline Railway, so you're perfectly located near to the best attractions in the area.
Best Riverside Vacation Rental in Chattanooga | 1-Bed Cabin W/ Jacuzzi
$$
Eclectic cabin with a well-equipped kitchen and spacious deck overlooking the river
4 Guests
Just outside the city on the Tennessee Rivers
Get cozy with your family in this eclectic riverside cabin just outside the city of Chattanooga. Located on the banks of the Tennessee River, you can't ask for a more gorgeous view. Even better, feel free to enjoy the view from one of the many seating areas on the outdoor deck, or the private Jacuzzi!
The cabin is filled to the brim with everything you might expect to find in a southern cabin. Warm wooden walls, floors, and ceilings, bespoke leather couches, Native American art, hanging bull skulls, and hand-made wooden furniture can be expected.
Even though it's a one-bedroom cabin, there is plenty of space. The king-size bed is the perfect place to rest with its authentically designed soft linen while the kitchen and living space has an open-plan arrangement, bringing lots of light into the property.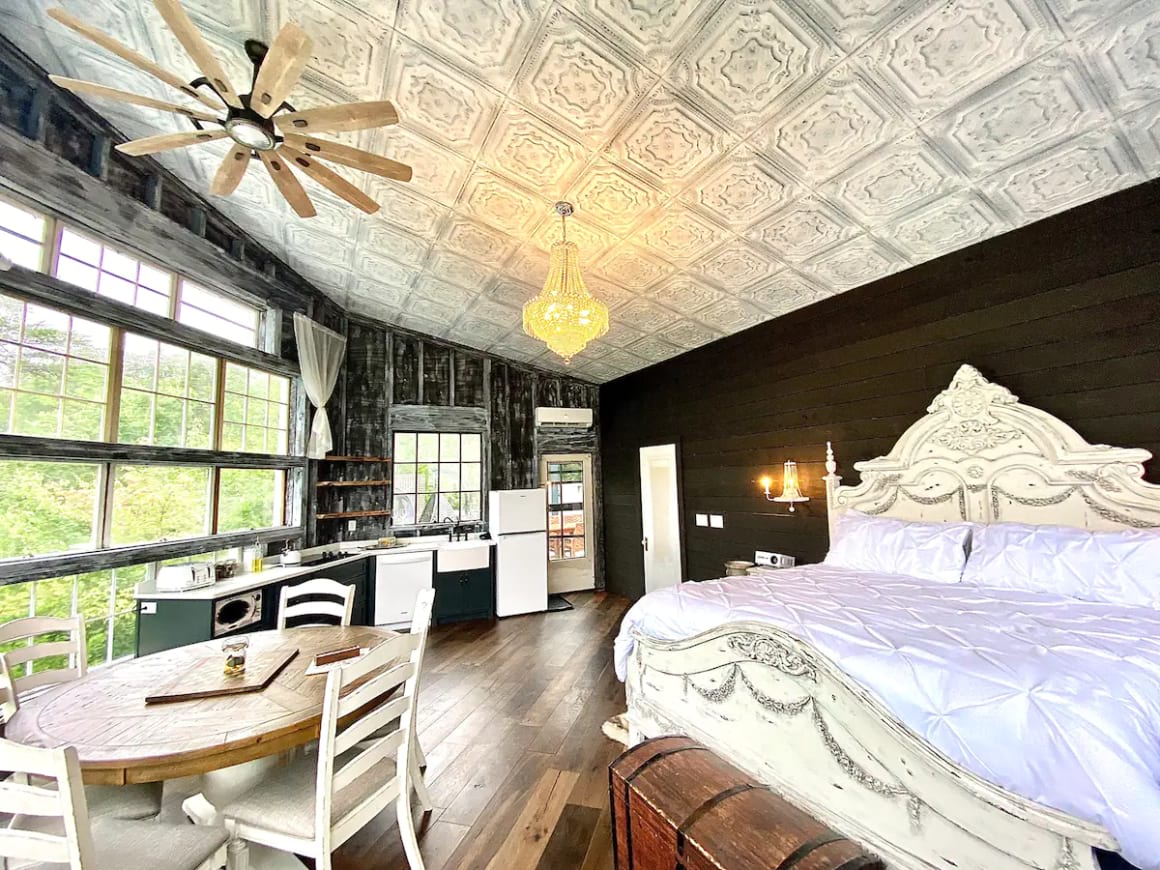 $$$
Spacious treehouse studio with tons of windows.
4 Guests
Located in a remote area in the Whitwell mountains, a short drive from Chattanooga
This unique treehouse studio is all about romance and the views. It's located high in the mountains, surrounded only by dense forest and mountain landscapes. The views are best enjoyed through the panels of windows. Additionally, the home has a huge deck with an outdoor living area. The deck even has a Jacuzzi and an outdoor shower.
Inside the studio, you'll be surprised to see high pressed ceilings, a decorative victorian bed frame, and a crystal chandelier. While uncharacteristic of a rustic mountain treehouse, it all seems to blend together perfectly in this rustic and romantic luxury vacation rental in Chattanooga.
This property was built as a wedding gift for his wife and is all about celebrating love. It was featured on Netflix's The World's Most Amazing Vacation Rentals series and Chip & Joanna Gaines' Magnolia Network.
Best Farmstay Vacation Rental in Chattanooga | 4-Bed Cabin with Views
$$$
Wooden cabin with classic farm-style interiors
10 Guests
On a peaceful farm with incredible mountain views
This farmhouse looks like something straight out of a fairytale. It's a classic symmetrical duplex with an overhanging porch surrounding the home. 
The farmhouse has been fitted with top-of-the-range fittings, including fancy tiling, plumbing, and cabinetry. However, the designers have done well to preserve the farmhouse charm by including traditional sliding barn doors and exposed wooden beams.
On the backside of the wraparound porch, there is even an outdoor lounge, BBQ area, and a private Jacuzzi with unreal views of the surrounding mountains. This property comes with firewood at the ready and 3-4 fishing poles for you to use.
Best Pet-Friendly Vacation Rental in Chattanooga | 2-Bed Home with Yard
$$$
Peaceful retreat with a spacious yard and covered patio
6 Guests
In a quiet residential neighborhood, a few miles from the city
This oddly shaped home is full of charm and is designed for outdoor living. It has both a full-covered lounge with comfortable furniture and carpets as well as an eight-seater dining table and hanging couch located on a porch with a BBQ.
Each of the two bedrooms comes with plenty of space and a lot of natural light. The kitchen has been fully equipped with all the necessities to allow you to have a fully self-catered vacation.
Surrounded by green trees and lush grass, you and your furry friends will be glad to spend most of your time enjoying the outdoor amenities. It almost seems like this home was built for a warm summer vacation with your dog.
Don't Forget Your Chattanooga Travel Insurance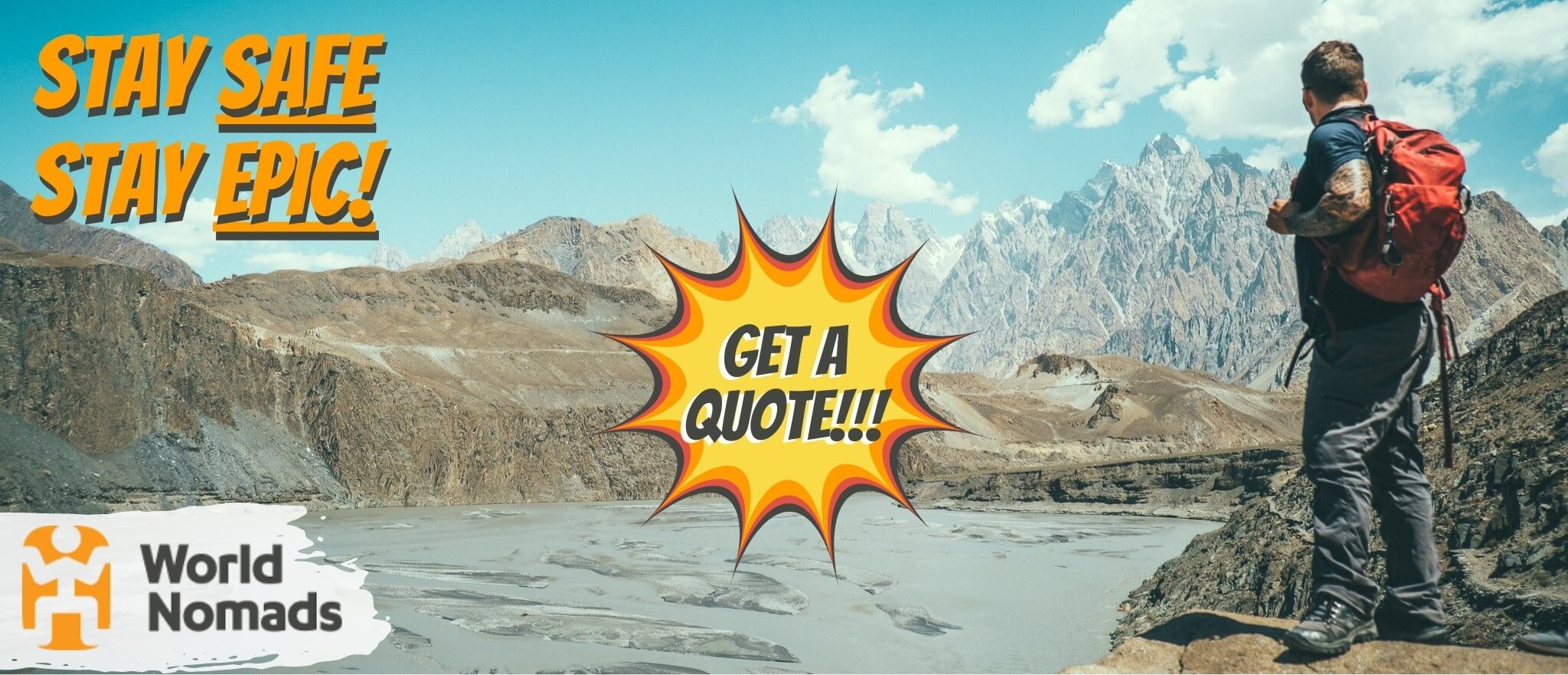 World Nomads' mission is to support and encourage travellers to explore their boundaries. They offer simple & flexible travel insurance, and safety advice to help you travel confidently.
They've been doing it since 2002 – protecting, connecting, and inspiring independent travellers just like you.
Get a quote below or read our in-depth review!
Final Thoughts
This exciting city is fast becoming a top southern travel destination for both history and nature lovers. Choose from quaint waters-edge cottages along the Tennessee River to historic Victorian manors to extravagant contemporary mansions perched on the well-known Lookout Mountain. 
Whether you're after an educational trip filled with civil war history and local Southern culture, or an outdoor adventure kayaking on the river and hiking the famous peaks around the city, you'll find amazing holiday homes in Chattanooga.
Do you have a favorite property from our list? Let us know in the comments.
---
Bye for now, but not forever!
If you want MORE top-tier Broke Backpacker content like this, then sign up for our weekly newsletter below to get the latest and greatest!
And for transparency's sake, please know that some of the links in our content are affiliate links. That means that if you book your accommodation, buy your gear, or sort your insurance through our link, we earn a small commission (at no extra cost to you). That said, we only link to the gear we trust and never recommend services we don't believe are up to scratch. Again, thank you!