Naples has been consistently rated as one of the USA's best vacation spots, and for good reason. With white sand beaches, high-end shopping, and heaps of great places to eat and drink, this Florida city is a vacationer's dream come true! The area can get a little expensive when it comes to accommodation, but don't stress. This list of 20 great vacation rentals in Naples has you covered, with something to suit every travel budget and style.
Golf fans will also have a whale of a time in Naples, as the city is known to have some of the best golf courses in the entire country. The city also gets some fantastic weather, with about 264 days of the year being sunny and warm. There are truly so many reasons to visit Naples.
So if you're dreaming of a trip to Florida and fancy checking out this beachside paradise, here's a great guide to kickstart your plans.
Quick Answer: These are the Top 5 Vacation Rentals in Naples, FL
Overall Best Value Vacation Rental in Naples, FL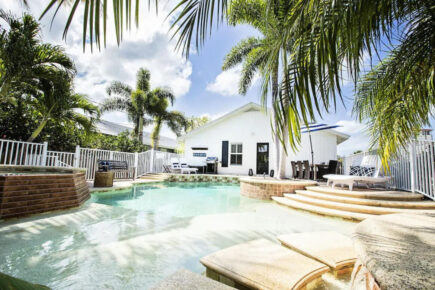 Overall Best Value Vacation Rental in Naples, FL
Nautical style home with 3 Bedrooms
> $$
> 6 guests
> Includes a private pool and spa
> Located close to Vanderbilt Beach
Best Budget Vacation Rental in Naples, FL
Best Budget Vacation Rental in Naples, FL
Waterfront 1 BR condo
> $
> 2 guests
> Cosy and bright condo
> Located in downtown Naples
Best Vacation Rental for Couples in Naples, FL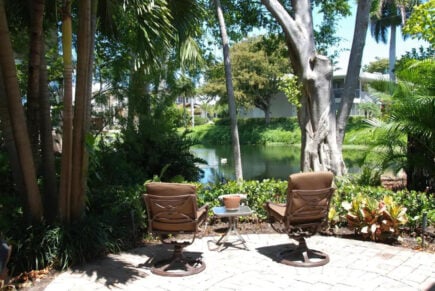 Best Vacation Rental for Couples in Naples, FL
Cute condo for a couple
> $
> 2 guests
> 5-minute walk to the beach
> Located in the heart of Old Naples
Best Vacation Rental for Families in Naples, FL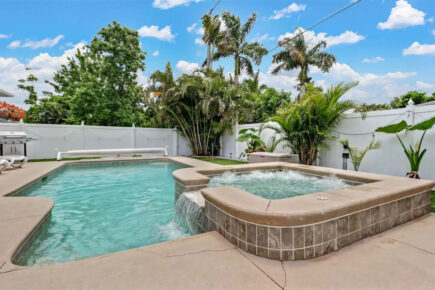 Best Vacation Rental for Families in Naples, FL
3 BR with pool and putting green
> $$
> 6 guests
> Beautifully designed outdoor space
> Located close to Sun N Fun Waterpark
Over-the-Top Luxury Vacation Rental in Naples, FL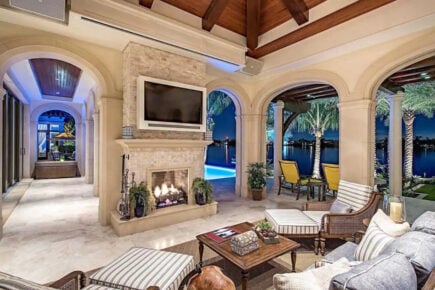 Over-the-Top Luxury Vacation Rental in Naples, FL
Mediterranean-style private estate home
> $$$$
> 8 guests
> Custom-built four-bedroom luxury home
> 5 minute drive to Naples Beach
Types of Accommodation in Naples
Before we look at our top picks, here's an overview of the most common types of vacation rentals you can expect to find in Naples, Florida.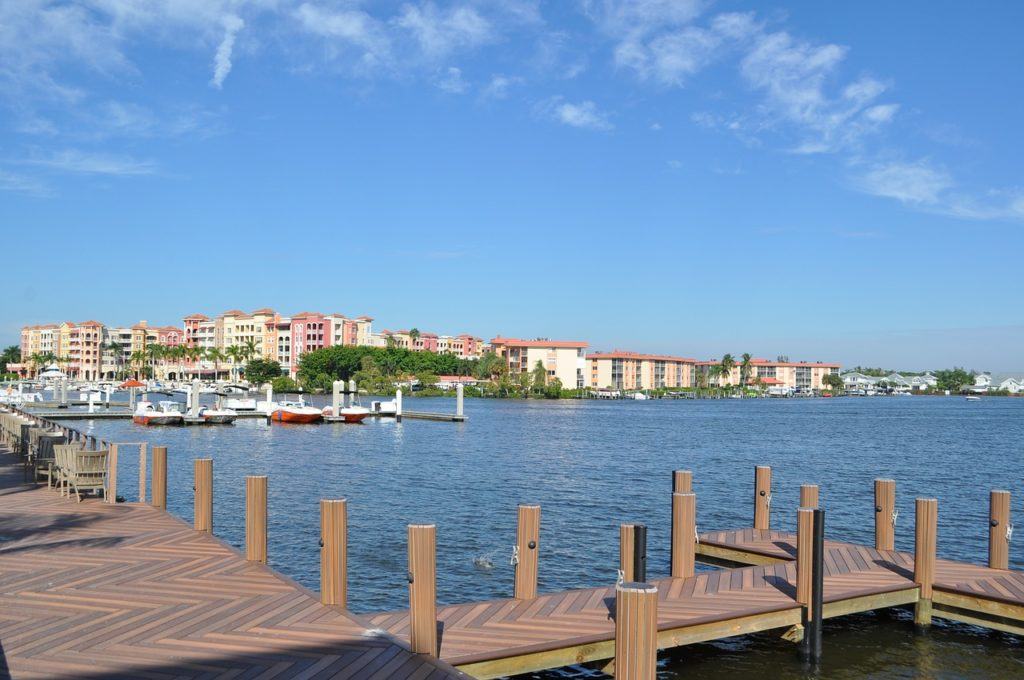 Apartments and Condos
Naples has a plethora of apartments and condominiums to choose from. Most of them have three to four bedrooms, sleeping about six to eight people. It is possible to find apartments with more space, but we reckon they're ideal for couples, small families or small groups of friends.
You'll find the nicest apartments around the Vanderbilt Beach area. Here, most condos will have amazing sea views and are steps away from the beach.
Beachfront Vacation Rentals
If you want to wake up to the sound of waves and enjoy your morning coffee watching the sunrise over the water, this is for you. Naples has endless holiday homes along its coastline, allowing you to make the most of this stunning area. These rentals are usually furnished in a modern, tasteful style, with all the creature comforts you could ask for.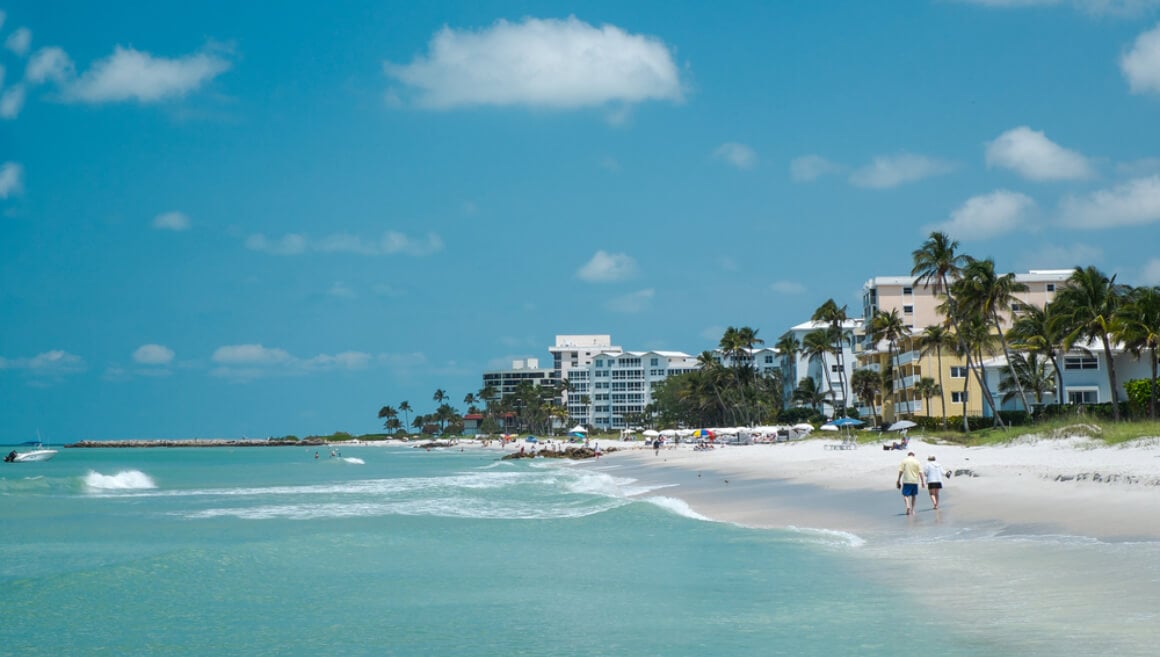 Private Suites in Resorts
Naples is home to some of America's best resorts and timeshares. Because Florida is where many Americans either holiday or retire, there are so many private timeshares available to rent here! The best thing about renting a private suite is that you get access to all the resort amenities at a fraction of the price you would pay normally.
The Top 20 Vacation Rentals in Naples
If you're like me and hate the generic cookie-cutter hotel room, Naples will not disappoint. The rentals here are stylish, comfortable and most feel like they have been decorated by people who actually care about making your holiday better. After all, it is always the little details that make the most difference!
$$
Includes a private pool and spa
6 guests
Close to Vanderbilt Beach
Somehow, cottages or houses that are decorated in pastel colours or shades of white always seem so peaceful and tranquil to me. If you're a fan of coastal chic homes that are tastefully decorated with thoughtful touches, I'll eat my hat if you don't end up falling in love with this home.
The holiday home boasts a fully-equipped kitchen, bedrooms with comfortable beds that you will want to melt into, and super clean interiors throughout. Outside, your private lanai area with a pool and a spa awaits. With all the space and facilities, this place is the ideal vacation rental for a family.
$
Direct access to the beach
6 guests
Walking distance to Venetian Village
This condo is so close to the ocean that you can hear the waves crashing onto the beach from almost every room! Although the rental only has two bedrooms, there is a sofa bed in the living room. This place is super affordable for the budget traveller or a group of friends who want to spend less on accommodation and more on sightseeing, shopping and eating out.
The apartment isn't flash but has pretty much everything you might need on holiday, including a washing machine, bathroom essentials, and cooking facilities.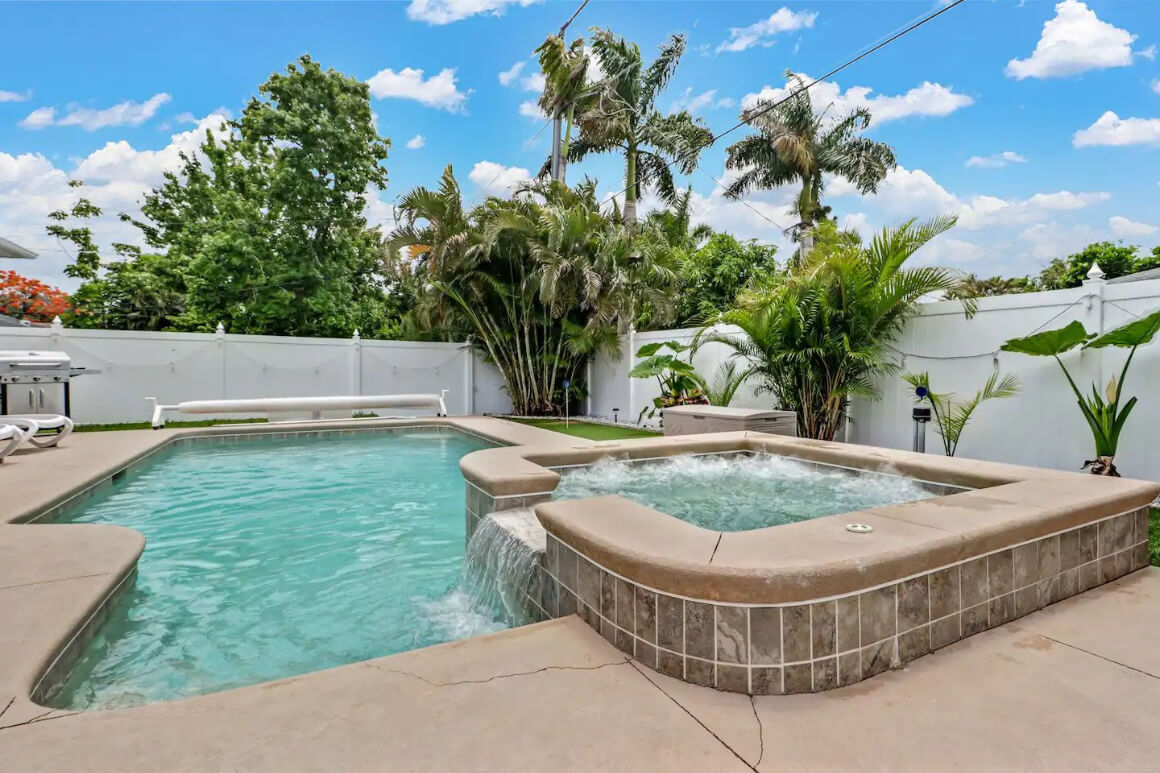 $$
Beautiful outdoor space
6 guests
Close to Sun N Fun Waterpark
This vacation rental in Naples is the perfect blend of a beautiful backyard and some seriously stunning interiors. The house is great for travellers of any age, offering superb amenities like a heated pool, a spa and even a little putting area.
Inside, high ceilings give the house a spacious look. The kitchen is complete with modern appliances, while the living and dining area has enough room for everyone. The rental does allow pets, but note there is an extra fee of $100 per booking.
Best Vacation Rental in Naples for a Family on a Budget | Affordable 3 BR home
$
Spacious backyard with heated pool
6 guests
Close to Vanderbilt Beach
This rental is perfect if you're travelling with the whole clan, as there are heaps of amenities for younger children to enjoy. The house comes with bikes and a shallow pool, perfect for the kids. There are also games and toys in the house to keep everyone occupied on rainy days.
The house has many restaurants, supermarkets, and other eateries nearby if you don't fancy cooking. If you do, a full chef's kitchen awaits you. The interiors are spacious and roomy with large sliding doors that open out to the pool.
Best Vacation Rental in Naples for Couples | Waterfront 1 BR condo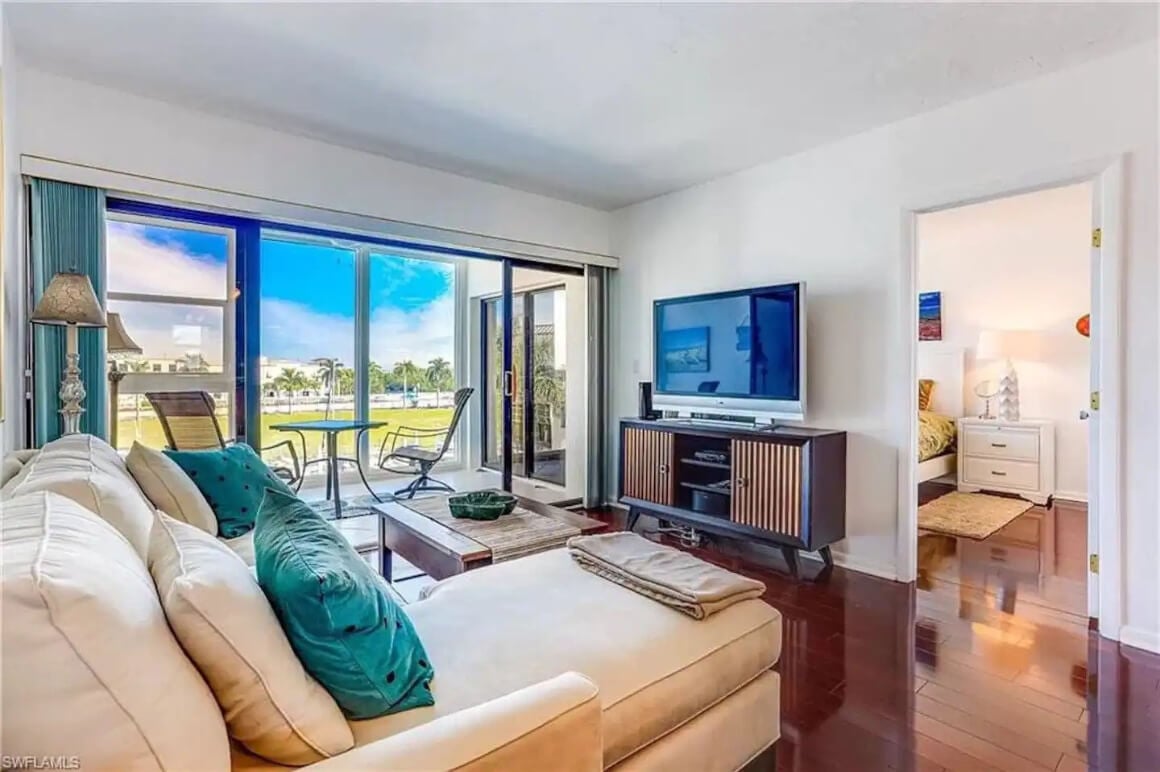 If you're travelling with your partner and want to stay close to all that Naples has to offer, then this cute apartment is the place for you! The condo is within walking distance of the famous Tin City, 5th Avenue South, and the beach.
While this Naples vacation rental is by no means luxe or super flash, it's bright throughout and offers a view of the boats docked below. Guests also have access to the shared pool in the complex.
6 guests
5 minute bike ride to Delnor Wiggins State Park
This home does charge an extra fee if you bring your pet, but we reckon it's absolutely worth it. The three-bedroom house is close to the beach and has a fenced-in backyard, so your pets can roam around leash-free. The on-site pool is for human use only, however.
The house has an open and spacious lanai area, with a saltwater pool that can be heated on request. The house has recently been renovated and features two full bathrooms. The master bedroom has a king bed, while the other two rooms have a queen and two twin beds, making it great for a family travelling with children.
Best Value for Money Holiday Rental in Naples | 4 BR spacious home
8 guests
In the Briarwood neighbourhood
This is my personal favourite vacation rental on the list. The sheer value for money that this place offers is insane. The house is gorgeous, with heaps of space filled with premium quality furnishings. The full kitchen is equipped with all the pots and pans you need to cook up a storm.
Outside, the relaxing lanai with the pool has enough seating for everyone to lie back and soak up some Vitamin D. There's a little fitness area for the people who want to work out, with weights and other equipment included.
Best Holiday Rental in Naples for a Weekend Getaway | Comfy 4 BR private house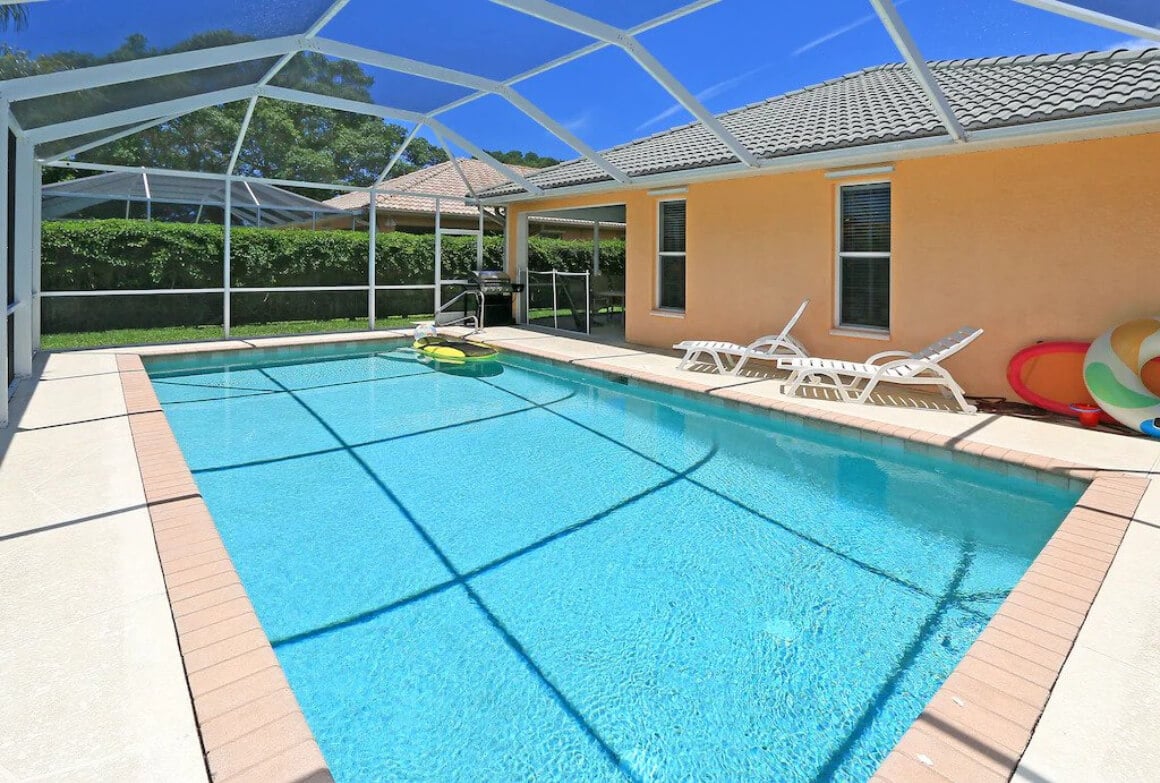 $$
Florida-style heated pool
8 guests
1 mile from Vanderbilt Beach
For a quick weekend getaway with friends or family, this vacation rental in Naples is a great option. It's super affordable and offers amenities that one would expect from a holiday home. The pool can be heated and the lanai area is full of space for everyone to chill out.
The house is a short drive or bike ride to the Ritz Carlton and some amazing golf courses. There are also some great Florida boat rentals, fishing charters, and sunset cruises if you want a relaxing weekend to simply unwind and relax.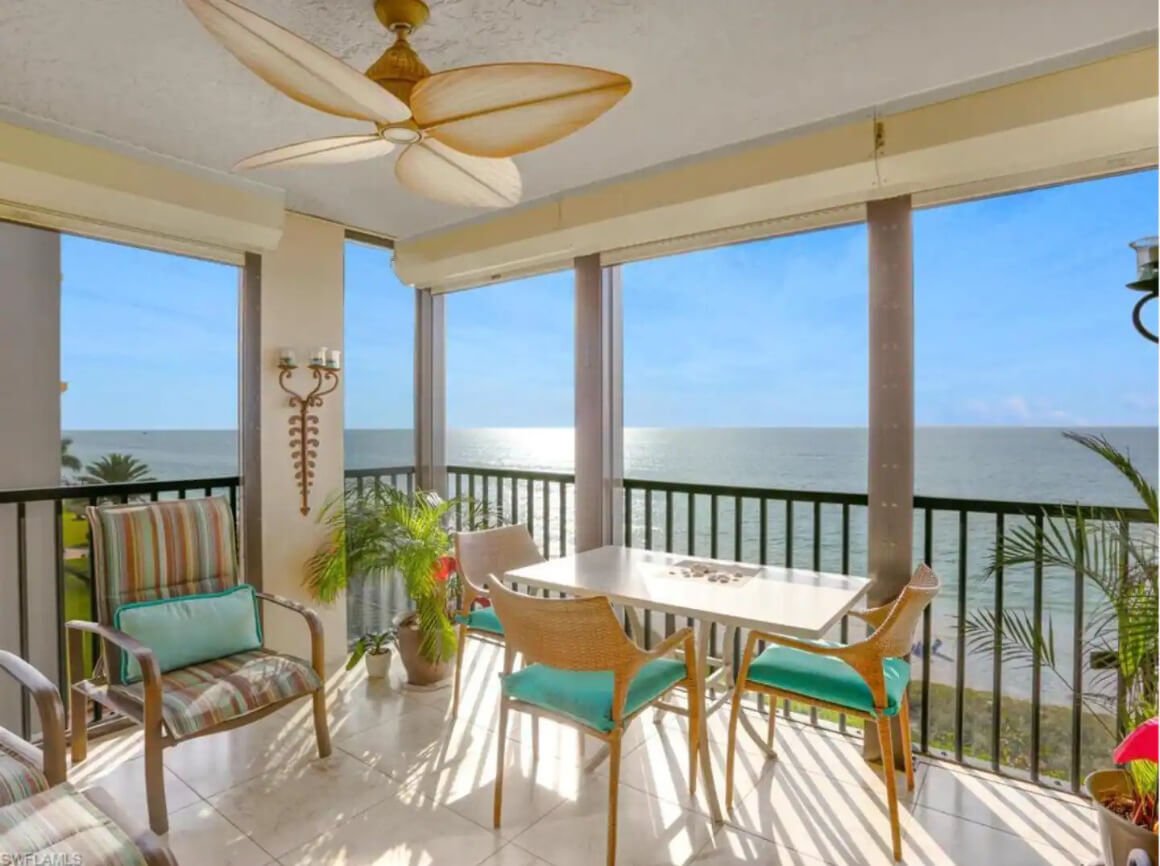 4 guests
Close to Vanderbilt Beach
If you're a beach bum, this vacation rental in Naples is the one for you. The apartment complex has direct access to the sand and is close to the premium shopping and dining places of Mercato, Waterside Shops and downtown Naples. The Gumbo Limbo at The Ritz Carlton is also only a short walk away.
Guests also have access to the shared Jacuzzi spa, BBQ and seating area by the beach. The apartment itself is furnished with modern appliances and comfortable furnishings that will leave you wanting for nothing. The private balcony is the perfect place to sip your morning coffee or unwind in the evenings with a glass of your favourite wine.
Best Vacation Rental in Naples for a Friends Getaway | Modern 3 BR apartment
$$$
Private balconies in every room
6 guests
Close to Artis- Naples
This luxe apartment is great for a group of friends travelling together. There's so much to do in the area, but the condo is just far enough to get you away from the hustle and bustle. Oh, and this awesome Naples vacation rental also has its own private beach!
The house features lots of neutrals and calming details. Comfortable furniture and chic metallic accents give the interiors a modern feel. The views alone are worth choosing this place! Spotlessly clean and stocked with amenities like beach gear, kitchen equipment and quality linen, the apartment also gives guests access to a shared fitness centre and pool downstairs.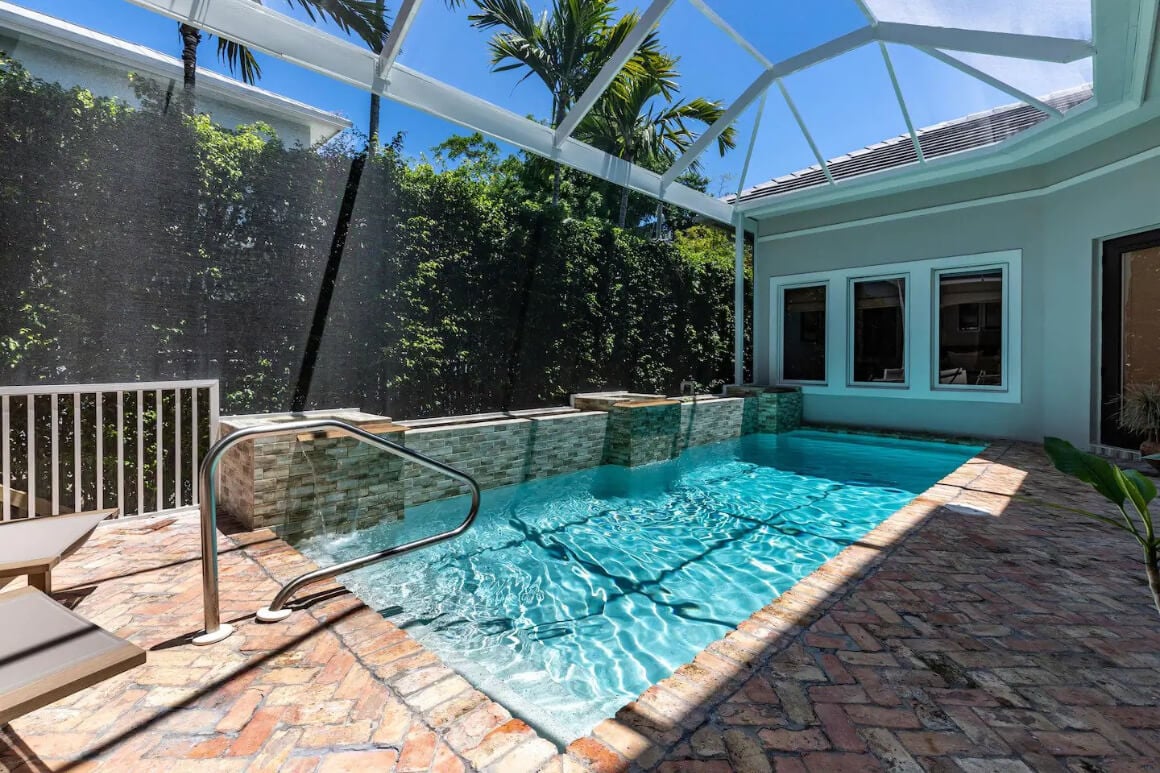 10 guests
Steps from Vanderbilt Beach
It isn't always easy to find a house that ticks all the boxes when you're travelling in a large group. However, we're confident that this vacation rental in Naples hits the sweet spot. Very luxurious but surprisingly affordable when split between 10 guests, this house might just blow your mind!
This Naples Airbnb offers heaps of living space for everyone to stretch out. The pool area is great for a relaxed day, or if you want to go exploring, you'll find that the beach is also close by.
Vacation Rental in Naples with a Covnenient Location | 3 BR Modern Bungalow
6 guests
Close to the Ritz Carlton
This bungalow is beautifully decorated with stylish interiors, but the best thing about it is its location! A short 3-minute drive away is Vanderbilt Beach and the Delanor- Wiggins Pass State Park. The Ritz Carlton is half a mile away, as is Mercato, Naples' upscale shopping and restaurant development.
The house itself has been recently redone and hence is offers modern appliances and comforts. There's a huge backyard with many fruit trees and flowers, giving the space a very tropical paradise kind of vibe.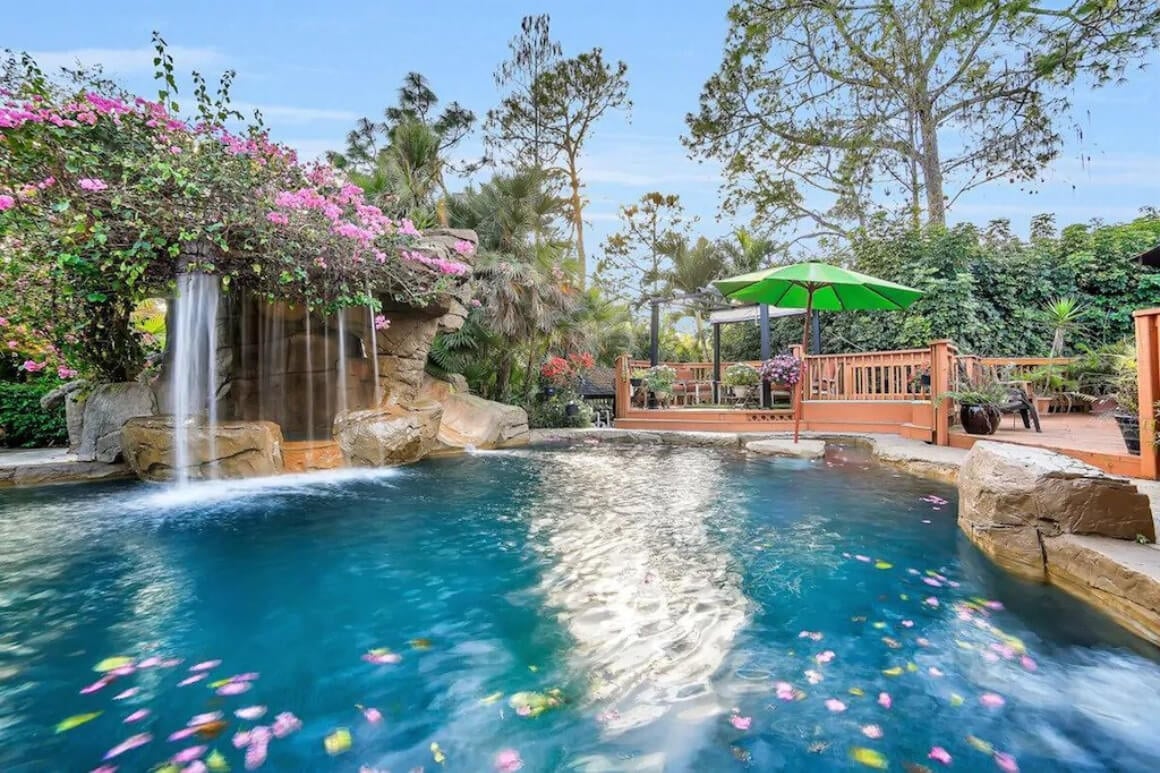 $$$
3 acres of tropical gardens
6 guests
Located in Rural Estates
You know how people visit other cities but never leave their rental to actually explore the area? I've never understood how that works… until now. Because honestly, I wouldn't blame you if you didn't step out of the pool at all!
The house has three Tiki Huts, one on the pool level, the second with a huge screen for movie nights, and the third for quieter times like morning yoga or cosy conversations. The entire property has speakers throughout that can be used to play music from your phone. There's a stunning pool that has a waterfall, a slide, a cave spa and a beach sitting area. What more could you need?!
Most Affordably Luxurious Vacation Rental in Naples | 4 BR private estate home
$$
Spacious home in Lely Resort
10 guests
Golf course and lake views
This expansive home in a golf resort sleeps 10 people across four bedrooms and a den area. Guests can enjoy a game of golf as well as beautiful views of the lake nearby.
The house has an open plan living and dining room opens out to extensive views. Guests also get access to the resort's private Players Club and Spa – what a bonus!
$$$
Floor to ceiling windows with gorgeous views
8 guests
North Naples location
Staying on the 22nd floor practically guarantees views that go on and on from every room! Soak in the stunning vistas of the Gulf of Mexico, Wiggins Pass, and a wildlife sanctuary if you choose to stay here.
The house is filled with luxurious, plush furniture that gives it a stylish and opulent vibe. The sunsets from the lanai are utterly gorgeous, while the 3,200+ feet open living area with a great room makes for the perfect Instagram-worthy background. There's a modern kitchen, private elevator and even a separate butler's pantry and bar.
If you're heading to Florida with friends, this cottage would honestly be perfect! It sits in a quiet, exclusive residential area and features cosy and bright interiors.
Three bedrooms sleep six guests, while the open-plan living area creates plenty of space for everyone to relax. Outdoors you can enjoy a private saltwater pool, or grab your beach essentials and embark on the two-minute drive to Clam Pass Beach! Shopping and dining options are also within easy reach.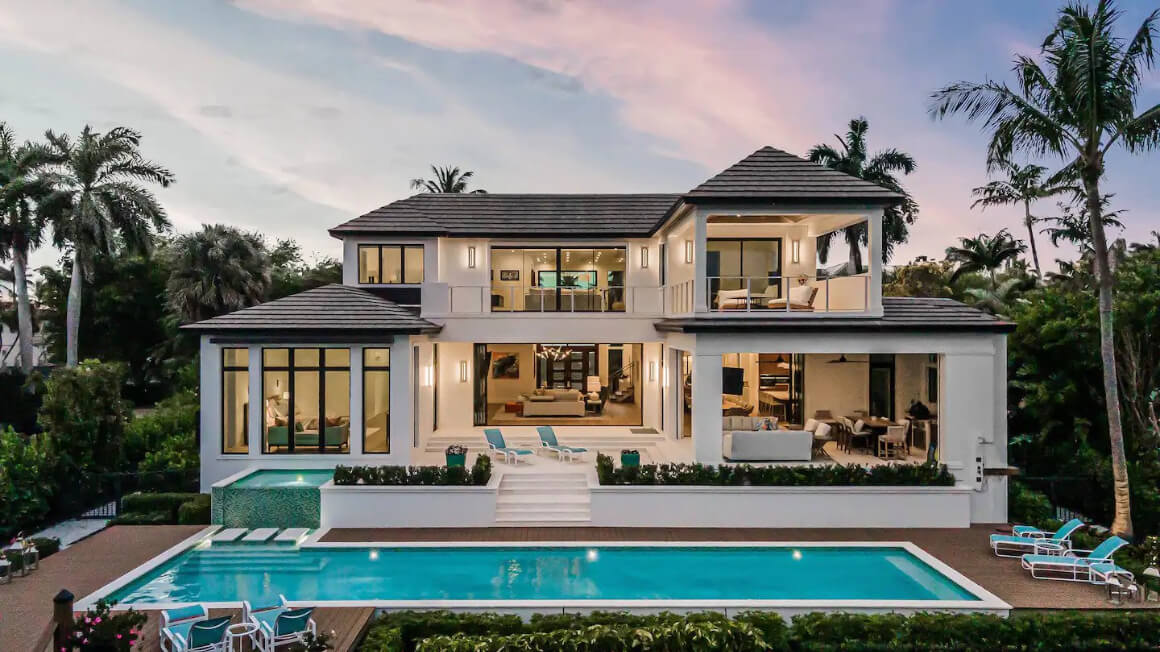 $$$$
Contemporary style house close to the beach
10 guests
Located in Port Royal
This house is all kinds of fancy and luxe. It boasts over 6,400 square feet of space, and offers no less than five bedrooms and seven bathrooms!
The master bedroom has a walk-in closet, a massive bathtub, and a walkthrough shower, as well as expansive views of Cutlass Cove. The huge lounge area opens up onto the deck, where you'll find a massive pool and a Jacuzzi that can fit 12.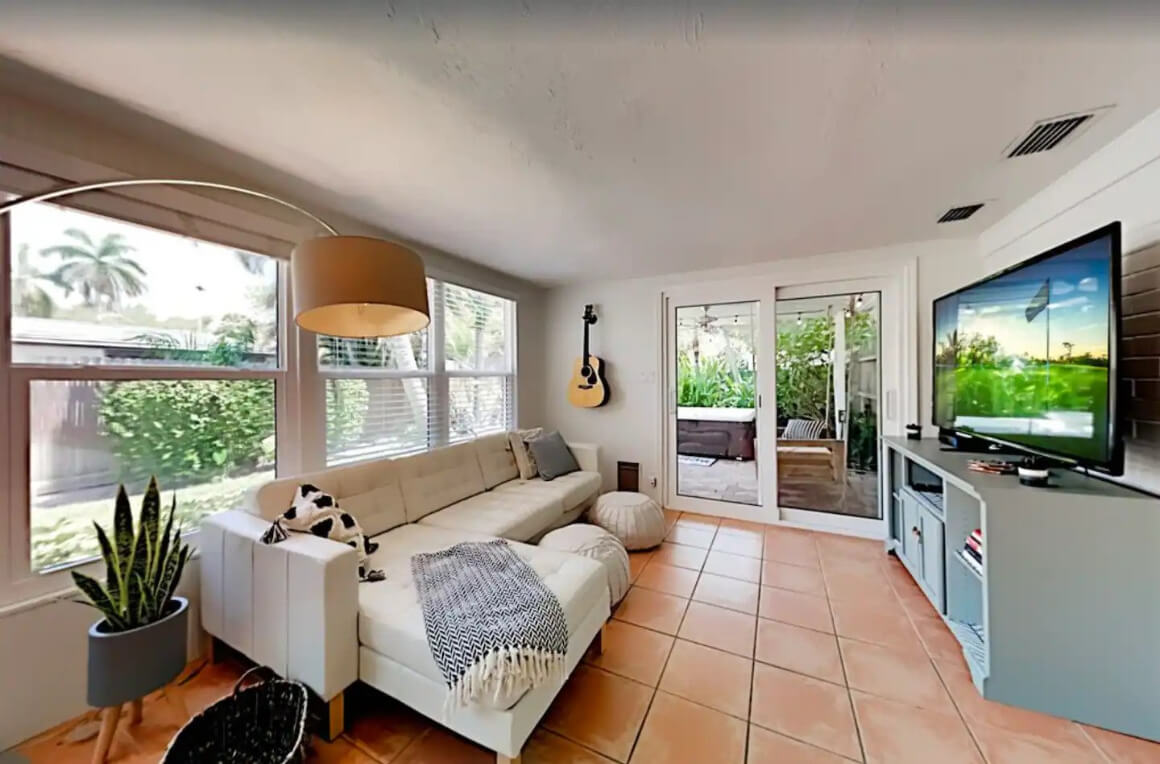 $$
Step-free home for easy accessibility
6 guests
1 mile from 5th Avenue South, Downtown Naples
This single level home has beautiful boho-chic interiors that instantly soothe your soul as soon as you walk into the house. The entire place is bright and airy and is spacious enough to accommodate everyone with people bumping elbows.
The tropical backyard features a private hot tub for you to relax in after a long day of exploring Naples' coolest attractions. Relax on the hanging day bed under a fan or in the hammock under the palm trees, for a lazy day. If you want to go out, the house is conveniently close to shopping and several eateries.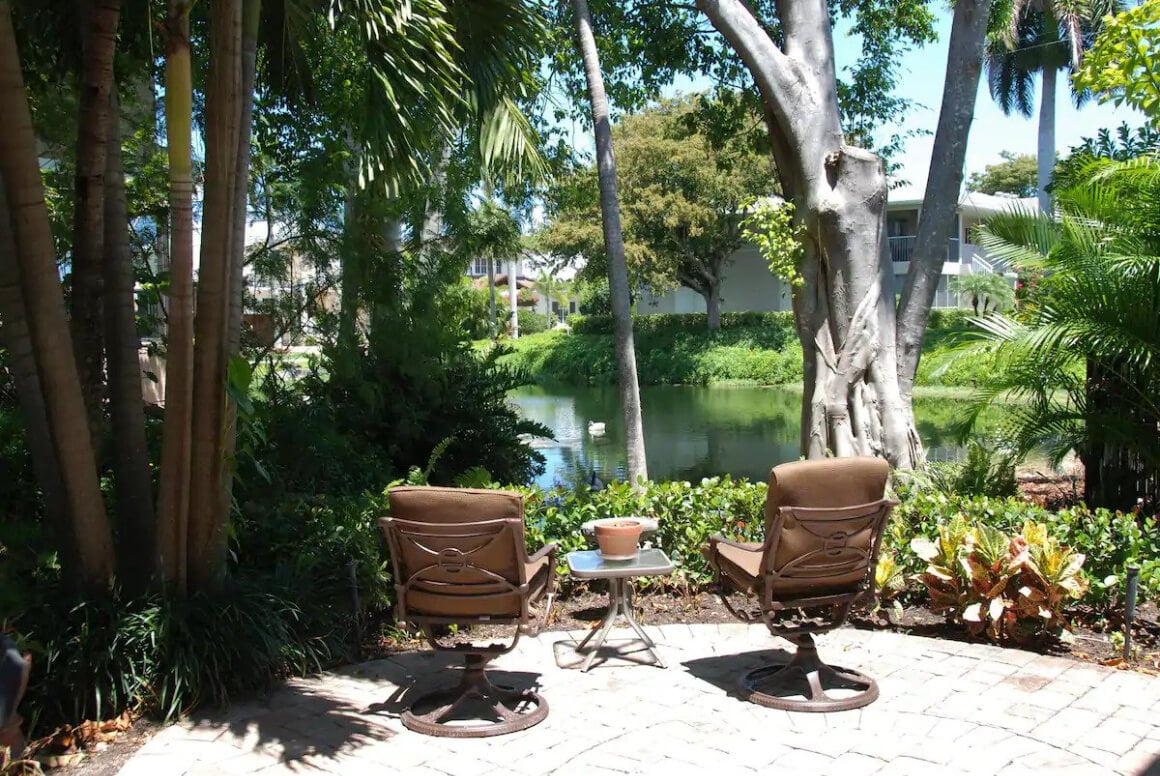 $
5-minute walk to the beach
2 guests
In the heart of Old Naples
This condo is great for couples looking for a private retreat in the outdoors. The private patio overlooks the lake, and the beach is just five minutes away. If you're after some fine dining, shopping, or fancy anything from tennis to performing arts, then this is the ideal place to base yourself.
The apartment itself boasts modern amenities and is the perfect cosy space for two. Interiors are bright, with natural light flowing in through the atrium doors that open out onto the patio.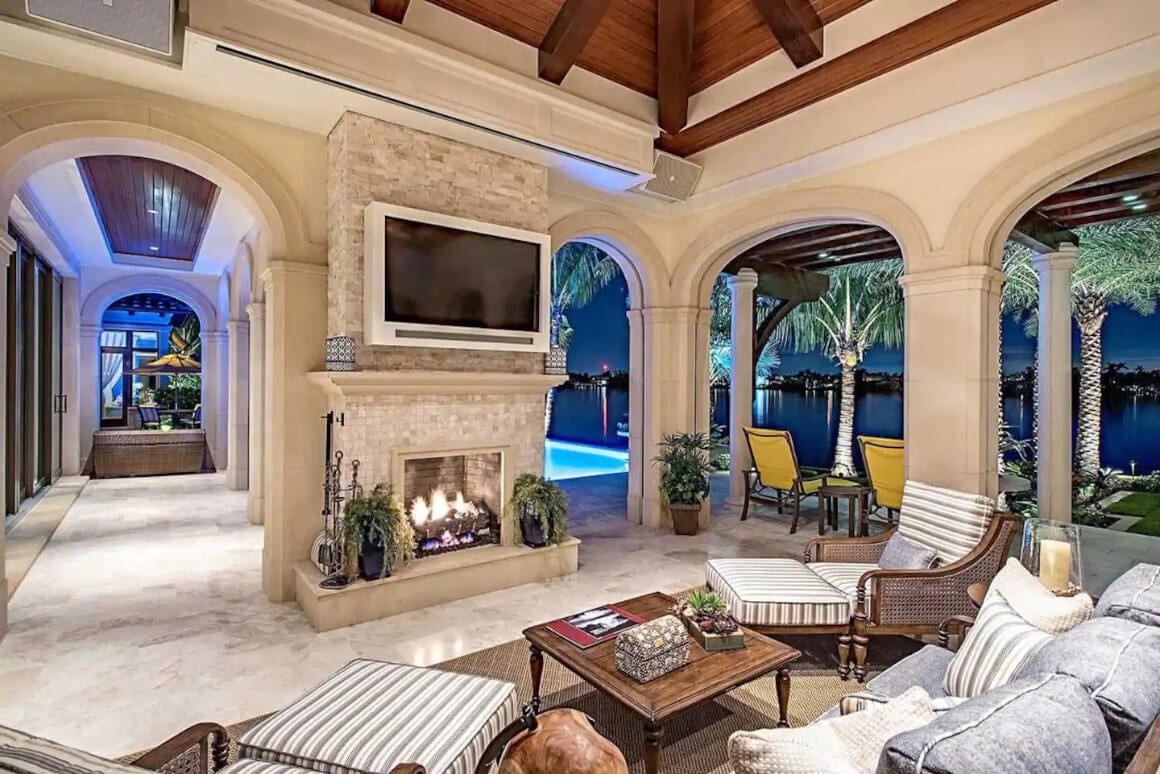 $$$$
Custom-built four-bedroom luxury home
8 guests
5 minute drive to Naples Beach
Got a few thousand dollars to spare? Me neither. But for those looking for something extra special or are celebrating a very special occasion, prepare to have your mind blown. Yes, this vacation rental in Naples is really, really expensive. Having said that, true luxury often comes at an eye-watering cost.
Set on 300 feet of frontage on calm Naples Bay, the house has an infinity pool that looks out to the bay. It's close to golf courses and the busy downtown area of Naples but is also far enough for you to savour the peace and privacy that this villa offers.
Naples Travel Insurance
ALWAYS sort out your backpacker insurance before your trip. There's plenty to choose from in that department, but a good place to start is Safety Wing.
They offer month-to-month payments, no lock-in contracts, and require absolutely no itineraries: that's the exact kind of insurance long-term travellers and digital nomads need.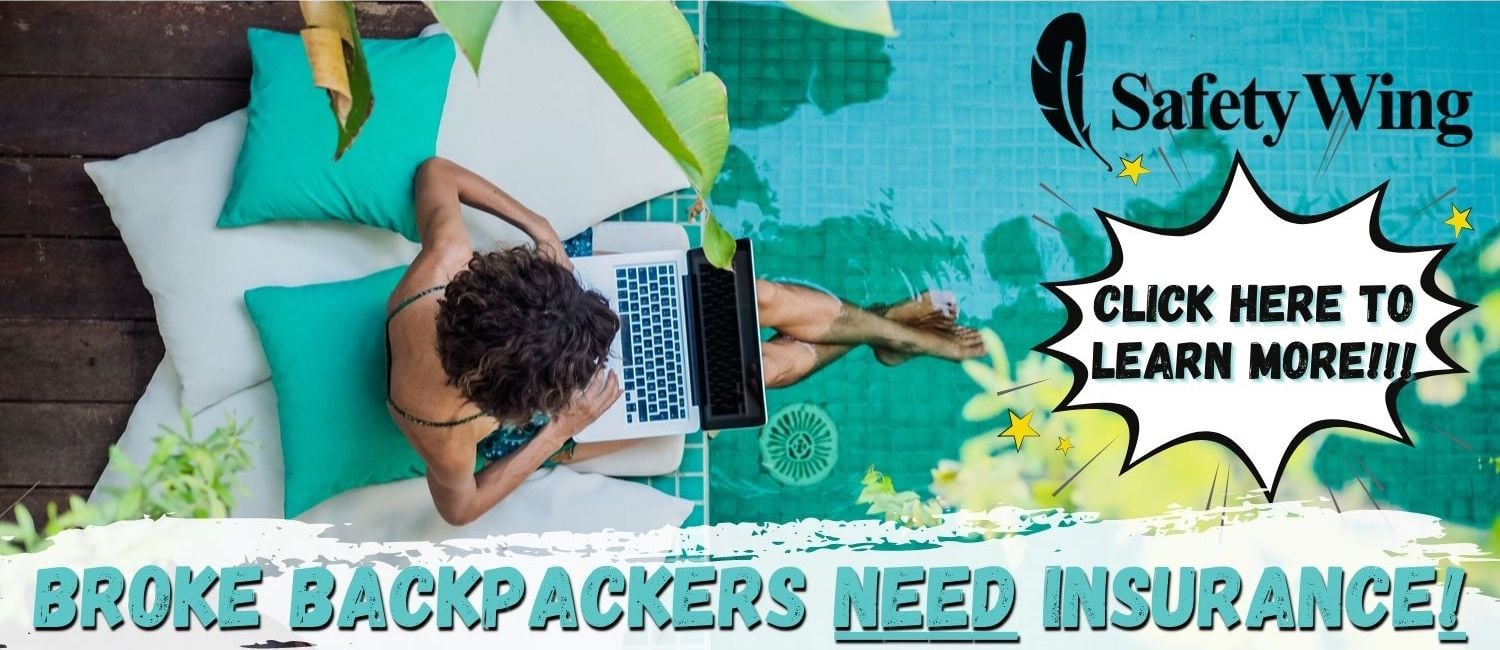 SafetyWing is cheap, easy, and admin-free: just sign up lickety-split so you can get back to it!
Click the button below to learn more about SafetyWing's setup or read our insider review for the full tasty scoop.
Final Thoughts
There's a huge variety of vacation rentals in Naples to suit every budget and travel style. Whether you want something budget-friendly or something super flashy and flamboyant, this Floridian city has it all.
While the nightlife might not be something to write home about, seeing that Naples is a place where many come to retire, the city makes up for it with its amazing beaches and laid back lifestyle. If this sounds like something you might enjoy, all that's left to do is pick your favourite rental and get packing!
Till next time!
---
Find out how YOU can support the site.
We're a big site with a big team and this job isn't always easy. But we do it because we love it – we love providing epic and free content. We love the knowledge that our content keeps you adventuring. We don't ask for money, but if you'd like to find out how you can help the site in more organic ways, click the button below.
Thank you for your support 🙂
And for transparency's sake, please know that some of the links in our content are affiliate links. That means that if you book your accommodation, buy your gear, or sort your insurance through our link, we earn a small commission (at no extra cost to you). That said, we only link to the gear we trust and never recommend services we don't believe are up to scratch. Again, thank you!