Denver is an amazing city at the foot of The Rocky Mountains. It's nicknamed the "Mile High City" because… trivia time… It lies exactly one mile above sea level! This incredible place is pedestrian-friendly. Exploring the city's most popular neighborhoods (Lower Downtown, Cherry Creek, River North Art District, and more) is easily done on foot.
Go eat, drink, and shop at Union Station, the remodeled Denver train station that has had a new lease on life. Or better yet, take yourself on a self-guided tour of the Denver Beer Trail and bask in the glory of this city's craft beer scene (be right back, currently basking). When you want a break from the urban center, try to catch a show at the Red Rocks Park and Amphitheatre, probably the dopest concert venue in the world – look it up, you'll see why!
Denver VRBOs are the best places to stay when visiting the city. You'll find a range of modern central condos, and quirky historical buildings! Everywhere is just a short walk to restaurants, bars, and shops, so no matter where you are, you'll be able to enjoy the city.
We've made a list of what we think are the most awesome rentals in Denver! Keep reading to find out more.
Quick Answer: These are the Top 5 VRBOs in Denver
Overall Best Value VRBO in Denver
Overall Best Value VRBO in Denver
Centrally Located Carriage House
> $
> 2 Guests
> High-speed Wi-Fi
> Beautiful garden with pond
Best Budget VRBO in Denver
Best Budget VRBO in Denver
Bright Guest Studio
> $
> 2 Guests
> Private entrance
> Spacious and bright
Best VRBO for Couples in Denver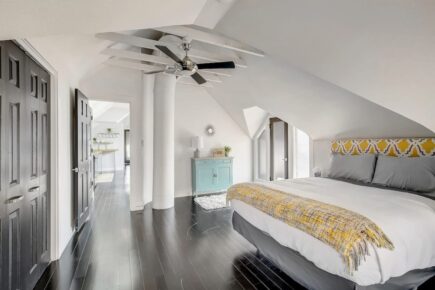 Best VRBO for Couples in Denver
Uptown Condo with Balcony
> $$
> 2 Guests
> 24/7 concierge
> Unique vaulted ceilings with skylights
Best VRBO for Families in Denver
Best VRBO for Families in Denver
Modern House with Home Theatre
> $$
> 10 Guests
> Kids bedroom with play tent
> Backyard with seatings
Over-the-Top Luxury VRBO in Denver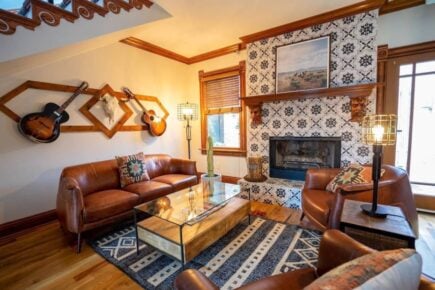 Over-the-Top Luxury VRBO in Denver
Entire Boutique Hotel
> $$$$
> 16 Guests
> Balcony and garden
> Incredible decor
What to Expect from VRBOs in Denver
When you stay in Denver, you can expect to be in either a house, townhouse, or condo. Lots of the Denver VRBOs are historical buildings dating back to the Victorian Era that have been lovingly restored while keeping their authenticity. Expect them to have either a kitchen or kitchenette, a cozy seating area, and an outdoor space of some sort, if you're lucky!
What's so great about rentals here is that wherever you are, you are always super close to the downtown action. But each individual neighborhood or district also has loads going on in terms of places to eat, shop, and things to do!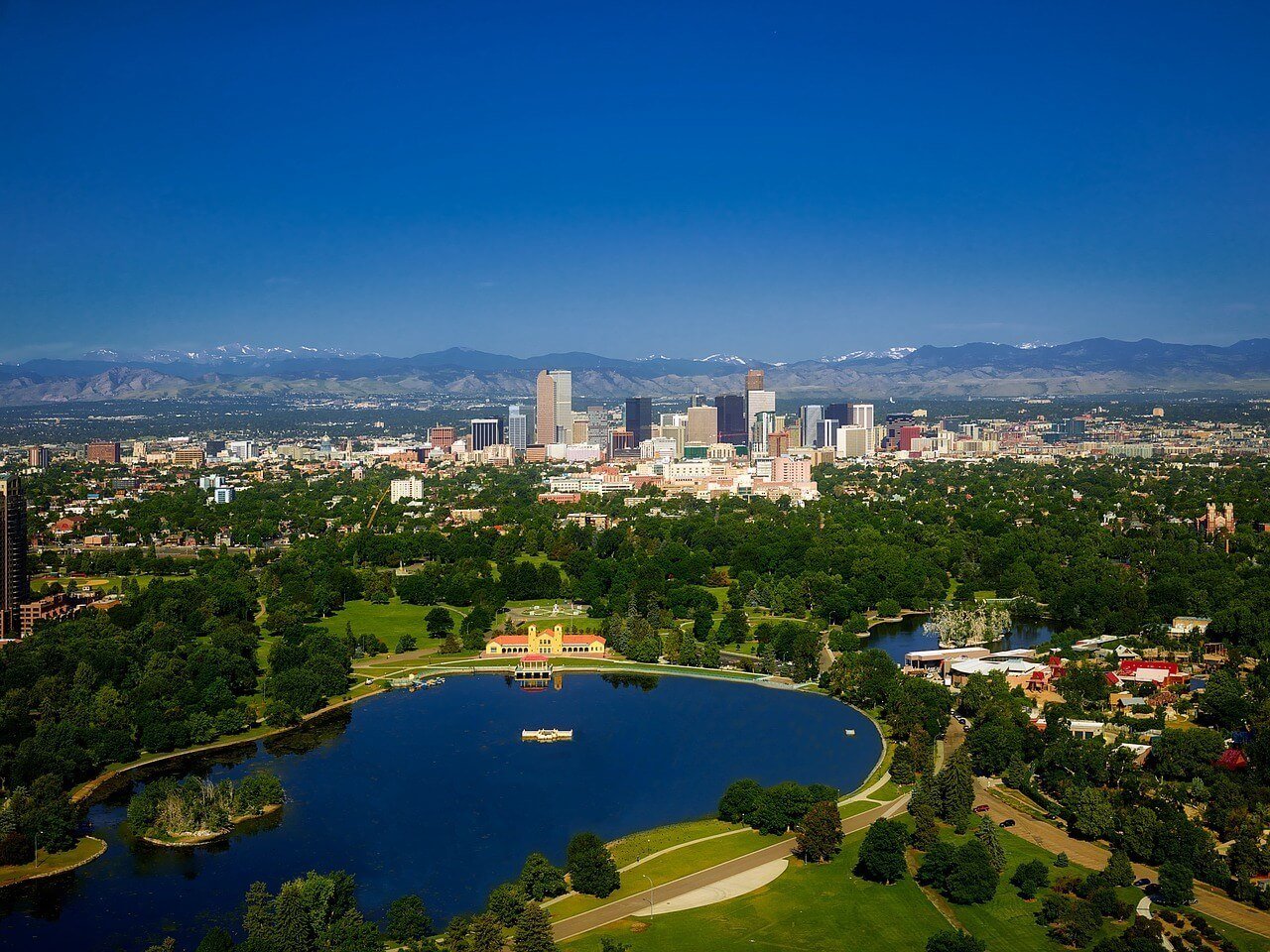 Houses
Houses are a popular option for families and groups of friends. They tend to be able to accommodate larger groups and have all the facilities for a stress-free stay like a full kitchen, a dining table, and a large living space. 
Many houses in Denver, however, are converted carriage houses which are an amazing fit for couples. They are a little more intimate and have a romantic, historical feel to them. You will be more likely to find these rentals in places like Cherry Creek and other more suburban neighborhoods.
Townhouses
Much like houses, townhouses are great for families and friends! They are large, spacious, and have all the conventional facilities and amenities for the most comfortable stay possible. Many townhouses are firmly in tune with their Victorian roots, not just in decor but in the preservation of their original features too. There are also a few very cool, modern properties out there that have us just ready to move in!
You will find these rentals in pretty much the same places as houses but with a little less seclusion since most townhouses are typically terraced buildings. 
Condos and Apartments
If you want to be just steps away from the downtown action, then condos and apartments are definitely the way to go. You will find these amazing, modern rentals literally across from the famous Union Station. So they are the perfect choice for those who would prefer to explore the city on foot but with the least actual walking possible. They are often decorated with a minimal style and have large windows that look out to the city, to let in lots of natural light.
Condos nearly always have a kitchen, living area, and dining space. You will have all the comforts of home while you're away.
Why Stay in a VRBO?
So why are we so obsessed with the VRBO booking platform? Well, let me tell you:
Local Experience: When you stay in a VRBO, you get the added bonus of a local host who is more than happy to give you the best recommendations about Denver!
Unique Properties: VRBO is the place to get unusual and interesting properties that have that little something special that hotels just don't seem to have.
Privacy: Many places have self-check-in for when you are just not in the mood for any human interaction whatsoever. Plus, you can also filter for completely private rentals!
Staying Long-Term: We get it, Denver is super cool and maybe you wanna stick around for longer than a weekend. Well, lucky for you, some VRBO hosts offer long-term discounts, and rentals are often fully equipped so you can spend your extended stay in comfort and style.
The 20 Top VRBOs in Denver
Get ready for some serious wanderlust-inducing properties. I present to you our ultimate top 20 VRBOs in Denver (keep your credit cards at the ready).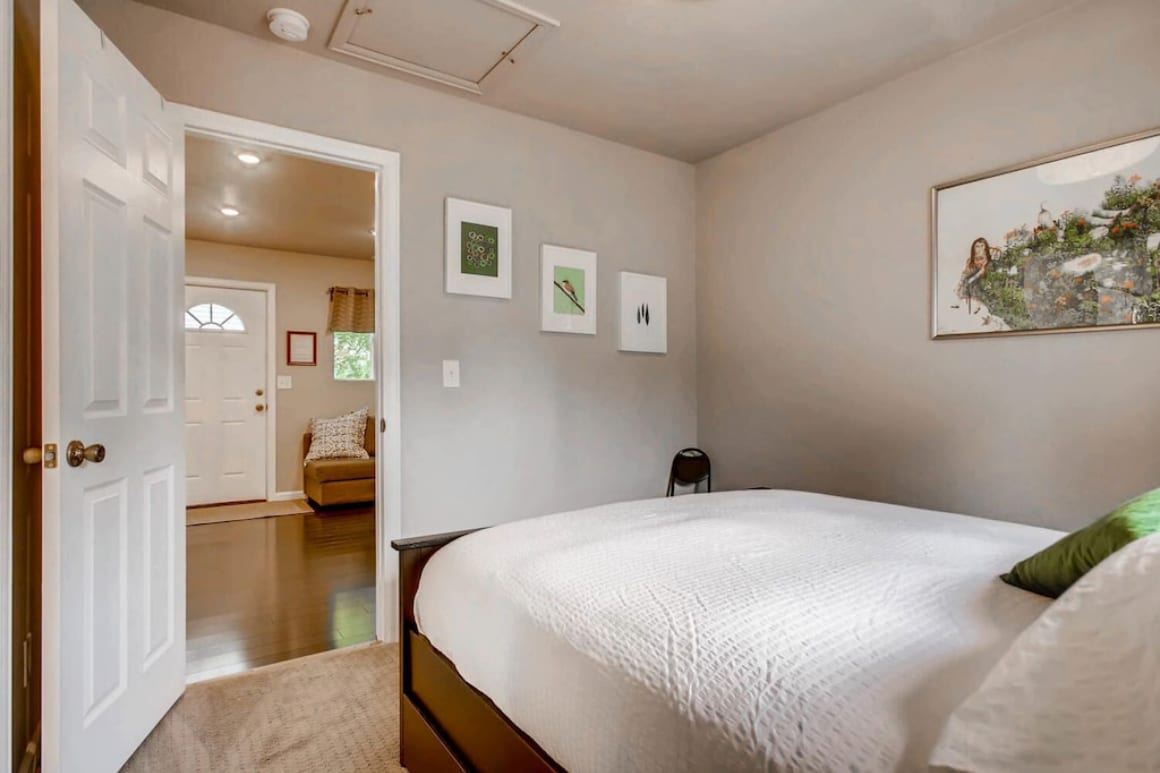 2 Guests
Beautiful garden with pond
This amazing Denver VRBO is in the historical neighborhood of Speer and is just a short drive away from downtown. We love the seclusion of the area and its convenient, central location with free on-street parking. Perfect for couples or those going solo, the carriage house is comfortable with a full kitchen, a modern bathroom, and the most beautiful garden!
The outdoor space is a great place to unwind and relax with a small pond and lots of greenery. The Cherry Creek path is nearby where you can opt to bike or walk along the scenic route into downtown Denver.
Union Station
Denver Art Museum
Coors Field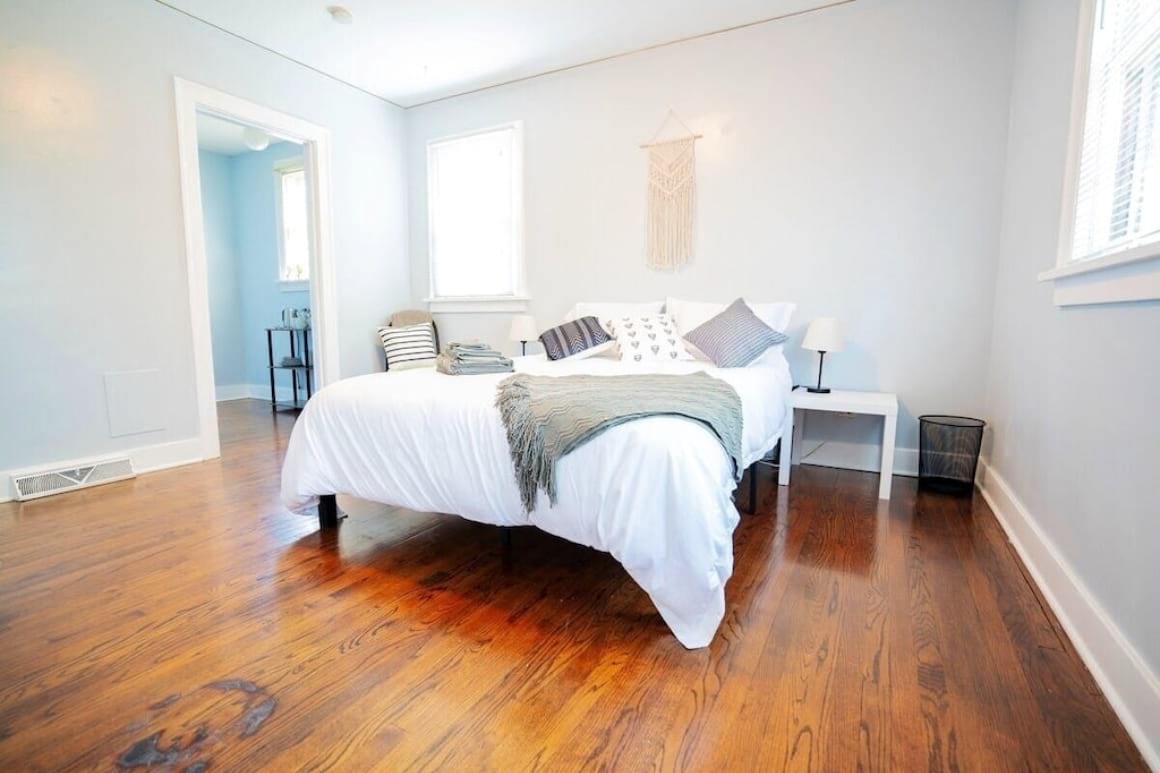 2 Guests
Spacious and bright
A perfect budget VRBO, this guest studio is bright and airy with a light color scheme and lovely wooden floors. Its minimalist decor and design really open up the space which is ideal for couples. The location is great! It is only a few blocks from some amazing restaurants and bars. Plus, the Denver Zoo and Botanical Gardens are nearby. There is a little kitchenette where you can prepare meals at home and keep your money on more important things, like craft beer! Don't skip on this spot budget travelers!
$
Hot tub and rooftop saltwater pool access
It doesn't get any more "hip" than this condo in the middle of downtown right across from Union Station. Wait, hold on, there's literally a Wholefoods on the first floor. I take it back, peak hipness has now been reached!
This is the perfect base for solo travelers (or couples) who want to be close to all the action. The minimalist-meets-boho decor is super inviting, and the place has a full kitchen and living area (ka-ching!) The floor-to-ceiling sliding doors onto the balcony flood the place with natural light, giving the illusion of a ton of space. 
Is This the Best Travel Pack EVER???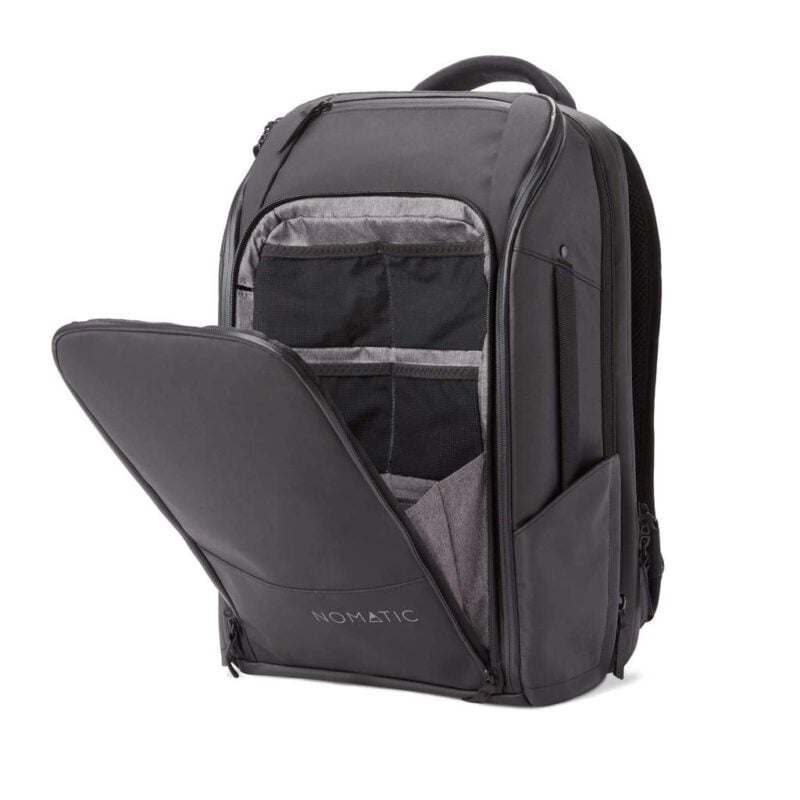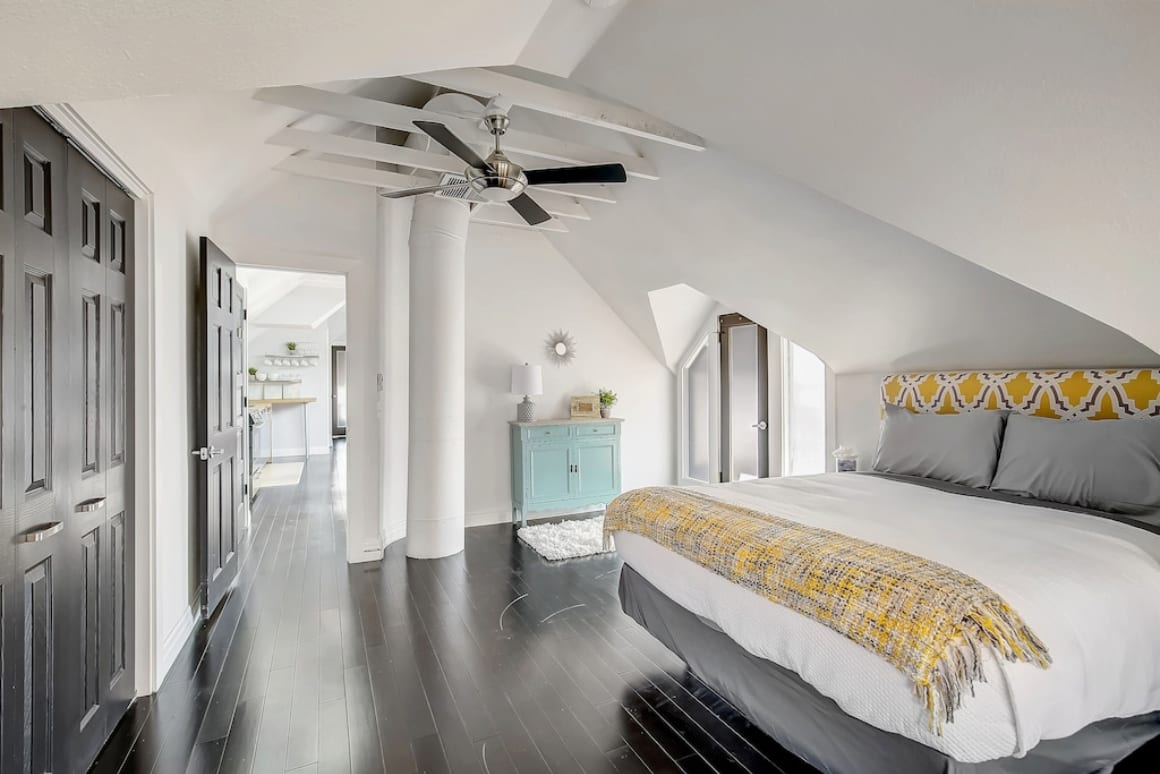 2 Guests
Unique vaulted ceilings with skylights
Stop the press, we have found the best VRBO in Denver for your next romantic getaway! This unique, uptown condo is within walking distance of fantastic local restaurants, cafes, bars, and art galleries. The space is large with attractive decor and furnishings, but what makes this place so special is the interesting slanted ceiling complete with skylights! The little outdoor balcony/nook is super cute and the perfect place to enjoy your morning coffee.
$$
Kids bedroom with play tent
10 Guests
Backyard with seatings
This beautiful, modern home is a fantastic choice for families, especially those with young children. It is within easy driving distance of all of Denver's main attractions, and close to the Cherry Creek trails. The cherry on top, however, is the children's bedroom which comes with a play tent, so the little ones will be happy!
For the adults, there is a lovely backyard with seating where you can enjoy a much-needed glass of wine after a long day of keeping everyone entertained. Oh, and there's a movie screen too. In case you thought this place couldn't get more epic!
16 Guests
Incredible decor
Okay, here's your chance to book out an entire boutique hotel for your friends, coworkers, or family! This place is super awesome with well-thought-out decor and details that give it that little something extra. There's an outdoor balcony with seating for when you want some fresh air, but let's face it, when you've got living areas like these, who's going to go outside anyway?
The real winner is that it's right in the middle of the city! You'll love the leather couches, ranch-style wall art, and tile fireplaces.
6 Guests
180-degree city views
We have found you one of the best VRBOs in Denver – an incredible central downtown apartment with stunning city views! Great for a group of friends or a family with teens, this place is in the middle of it all just a couple of blocks from Union Station.
The huge living room windows keep the space bright. Plus, you'll be able to admire the twinkly city lights once the sun goes down. The apartment is huge, so you can enjoy a separate living area and a full dining table next to the kitchen.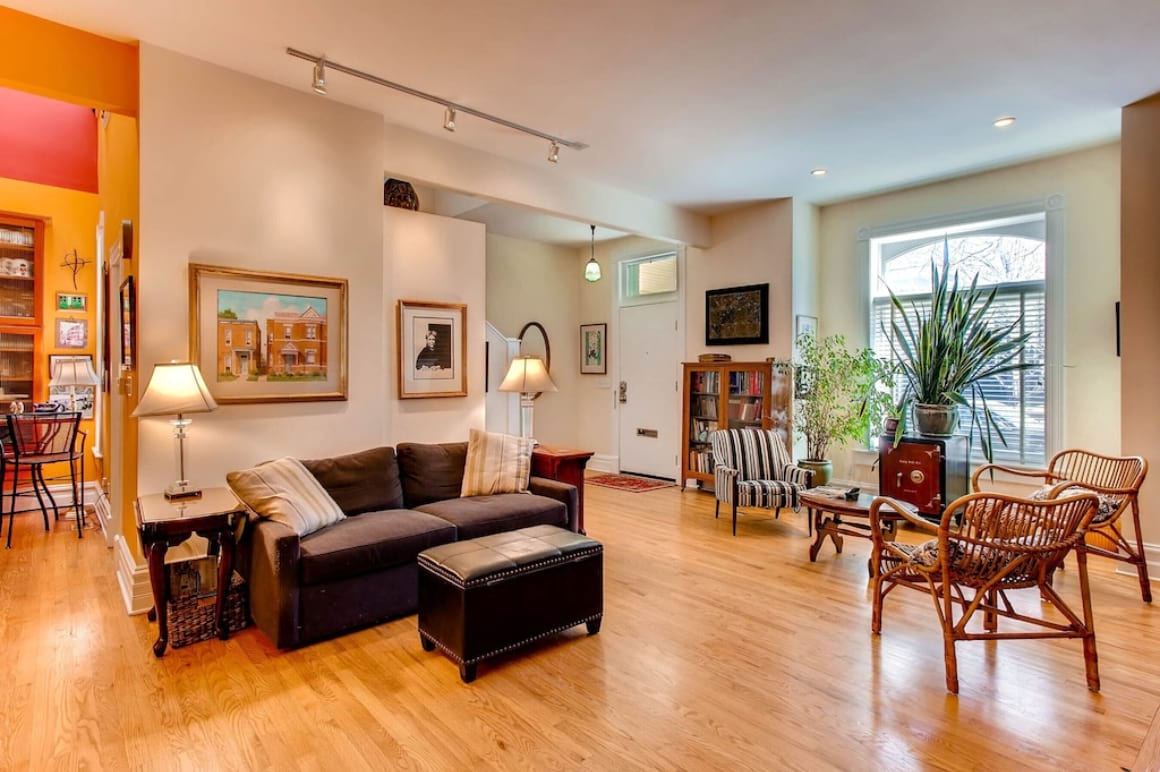 6 Guests
Exposed brickwork and cool decor
If you're looking for a hip townhouse in central Denver then look no further! This place is off the cuff with mismatched furniture, individual art pieces, and amazing exposed brickwork that pays tribute to the building's history. Try to imagine the house of your cool aunt who spent her 20s traveling and now teaches acro-yoga for a living (AKA my future), then you've pretty much got the idea. Perfect for a group, you can walk downtown easily, or hang out in the backyard and fire up the grill.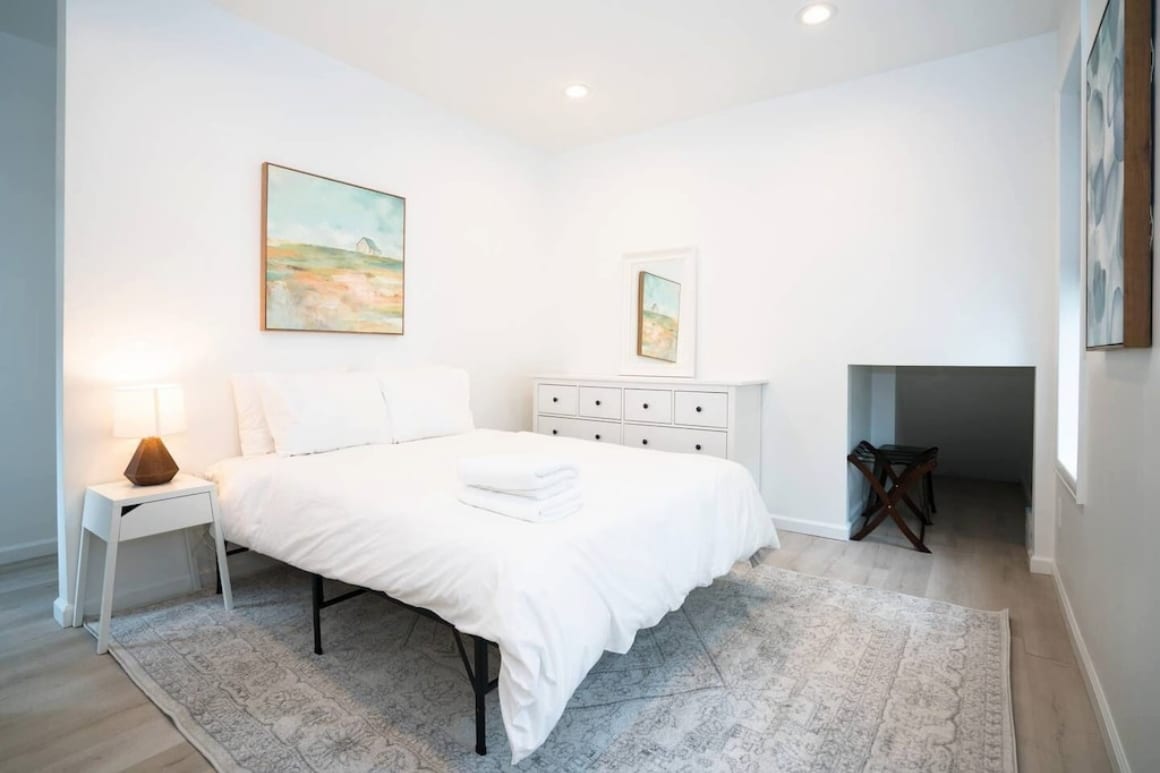 $$
Open plan kitchen/living/dining
4 Guests
Tons of natural light
This modern house in the River North Art district seriously belongs in an interior design magazine. The clean, minimalistic furnishings and decor really open up the space. That, coupled with all the natural light pouring in the windows makes it an absolute dream! It is within walking distance of brewpubs, food trucks, and art galleries, so you and your friends will find a load of things to keep you entertained right in the neighborhood!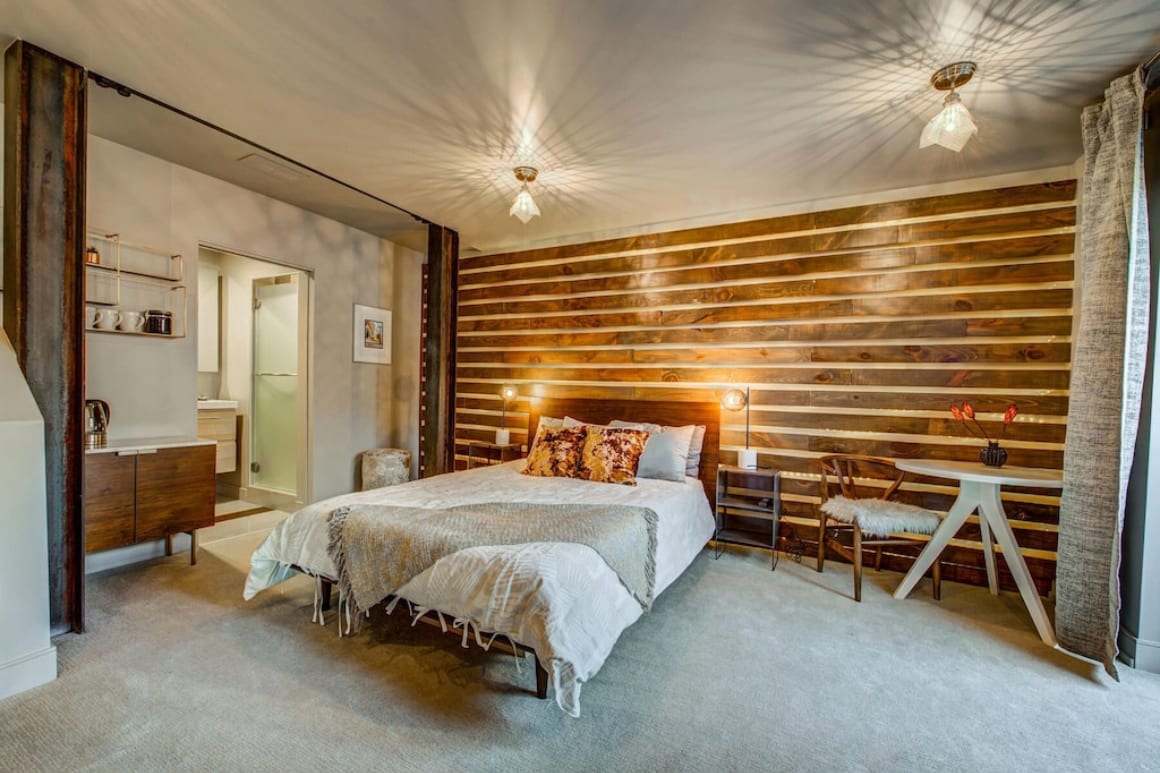 Planning a weekend away in Denver and need somewhere comfortable, stylish, and centrally located to stay? We got you. This studio is within walking distance from Coors Field, Denver Central Market, Union Station, restaurants, bars, and more! It is extremely stylish with horizontal wood accents, modern furniture, and trendy lighting. We recommend this place for a couple or two friends who want to be close to all the Denver attractions.
3 Guests
Amazing location right across from Union Station
Yes, lower downtown or "LoDo" is the place to be in Denver, but Union Station is the place to be in LoDo! This studio apartment feels spacious with big windows and a step-out balcony. It is the perfect place for a couple or a trio of besties who don't mind getting up close and personal with each other. We like the minimalist style that makes the apartment seem bigger than it is. Plus, there's a spacious bathroom with tub and fully equipped kitchen. Did I mention it's right across from Union Station?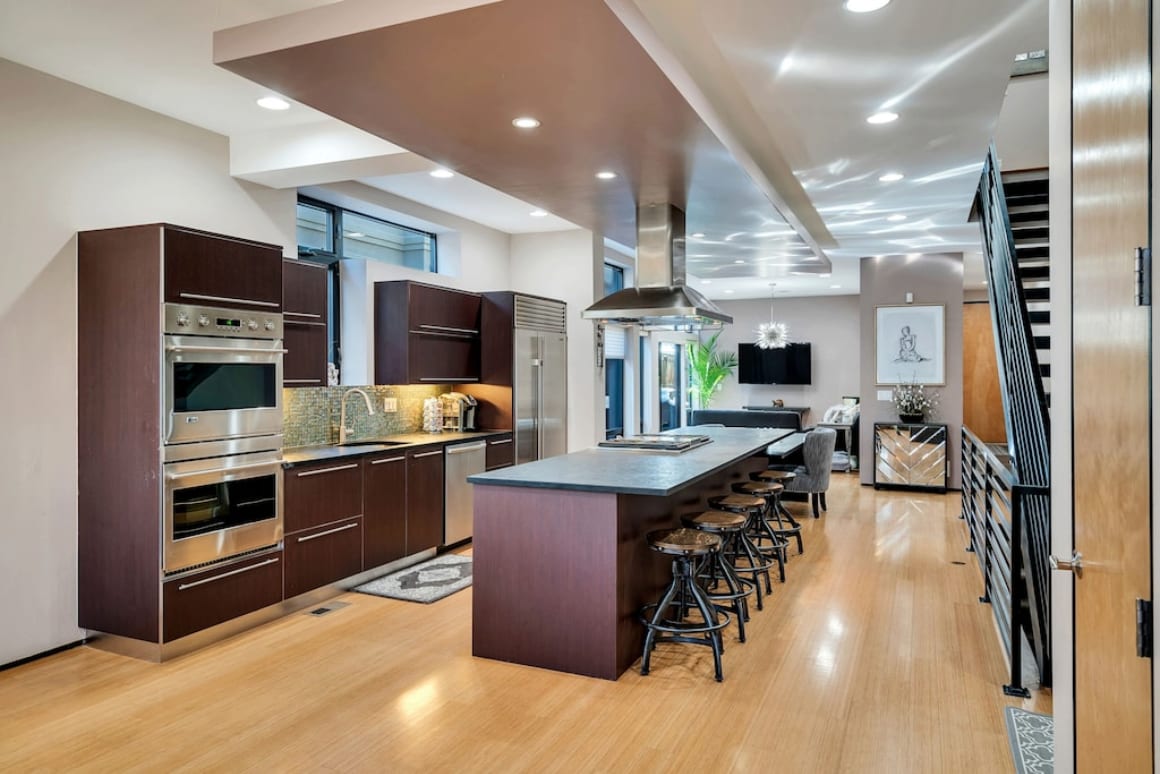 This has got to be one of the best VRBOs in Denver! This townhouse in Cherry Creek is uber-modern, not just in design, but tech-wise too. There is a huge TV, Bose PA system, and Google Home. Even a games room that is complete with comfy sofas, a ping pong table, and a Nintendo Switch – time to see who's the reigning Mario Kart champ! The whole fam or group will love this place, and it's only a short drive downtown.
Best VRBO in Denver or a Group of Friends | Modern Townhouse
8 Guests
Urban southwest style
Is Urban-southwest style even a thing? If so then this place has got it!
This modern townhouse is good for large groups who want to be within walking distance of restaurants, bars, and nightlife, but still stay somewhere nice enough you'd want to spend the evening at home. This is where the rooftop deck comes in. Soak up the sun and admire the mountain views with a cocktail in hand, then fire up the grill for a delicious barbecue dinner. The decor is a mix of modern furniture, leather and faux fur accents, and the occasional bull horn art piece. 
$
A short walk to bars and restaurants!
4 Guests
Outdoor patio with seating
This Denver VRBO is the one if you're looking to hit up the city for its vibrant nightlife! It is a remodeled carriage house featuring exposed brickwork, a cool murphy bed, and a cozy kitchen. Of course, what you really want to know is just how close exactly is it to the nightlife. Close enough to stumble back at 3 in the morning? You bet! There are even loads of great restaurants and eateries within walking distance for the dreaded morning after. Stay here solo, as a couple, or with friends. 
Stunning Condo for Honeymooners in Denver – Downtown Condo
3 Guests
King bed with memory foam mattress
This one is for all you honeymooners out there!
We think this modern, spacious, and bright condo in the heart of downtown will make your first vacation as a married/legally recognized couple a memorable one. The perks of staying in this Denver VRBO includes access to all the building's facilities such as the seasonal pool, rooftop lounge, and 24-hour fitness suite. It's like resort living but in your very own private condo.
Last but not least, there is a very comfortable, king-sized bed with a memory foam mattress for a long night of (not) sleeping.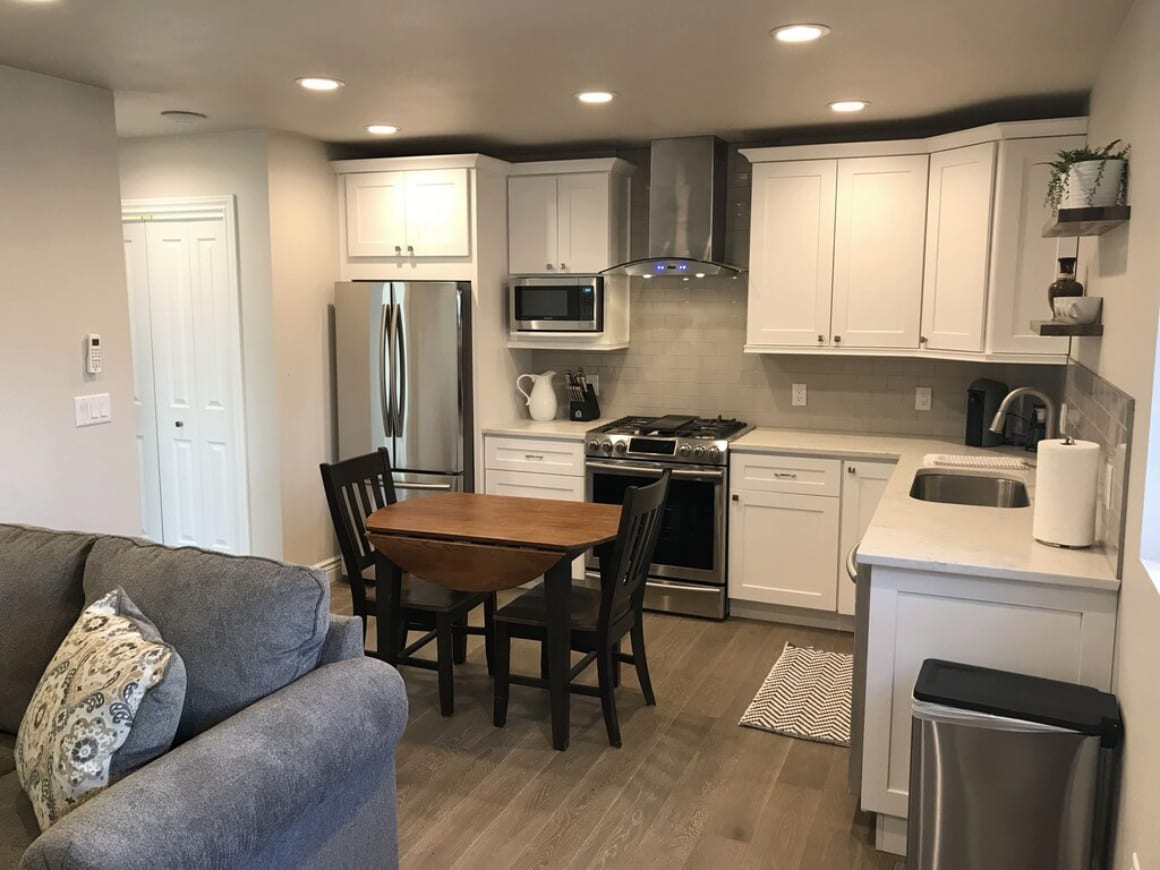 We have found a fantastic short-term rental for those of you who want to spend a long vacation in Denver. This modern, one-bedroom apartment is complete with a full kitchen, dining table, and living area. It is great for couples or solo travelers and has everything you would need for a comfortable stay. Best of all, it is steps away from Denver City Park. There's a grocery store just two blocks away so you can easily cook at home.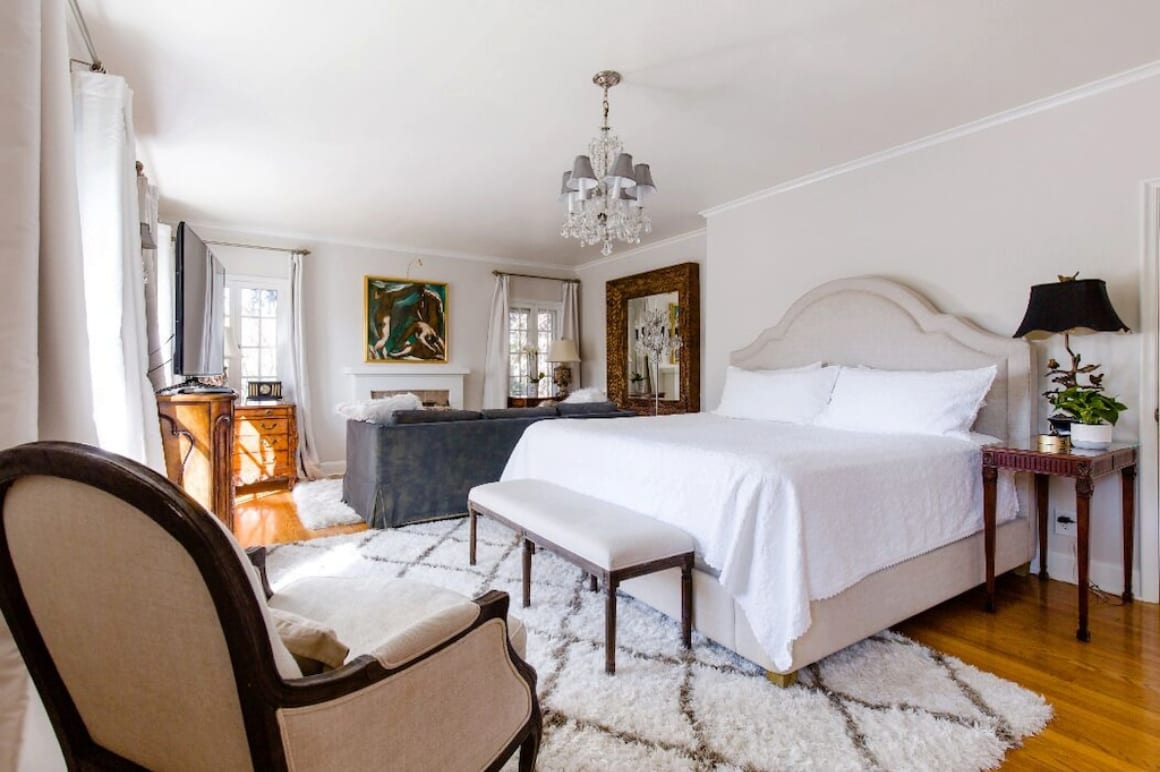 $$$
Outdoor patio with seating
4 Guests
Lavish decor and furnishings
This VRBO in Denver is so beautiful, *swoon. It is a Georgian revival home filled to the brim with breathtaking antique furniture, crystal chandeliers, and Venetian marble. The main living area even has a grand piano, as if it wasn't fancy enough!
We recommend staying here if you're in a couple, or a couple of couples, as this lovely home speaks to romance. Denver's top restaurants, museums, and parks are just a short stroll away, or you can opt to stay at home and enjoy the wonderful patio which is nestled in the manicured gardens.
Boy oh boy, is this one of the best Denver VRBOs! This 1885 home has been fully restored and embraces its Victorian heritage in the best possible way. You will find Edison bulb chandeliers, vintage bicycle wall art, antique furniture, and so much more! But don't fret – it is also fully kitted out with modern appliances, high-speed Wi-Fi, and a smart TV. Close to downtown, you and your friends are sure to love this place and its vintage charm!
14 Guests
Outdoor patio with fire pit
We are so ready to head on out to Denver and throw an absolute rager in this amazing house! Get all the gang together (plus a few extras) for the ultimate weekend of partying. This place has an awesome outdoor space with a patio featuring a stone fire pit complete with wrap-around seating. You've also got a grill, seating, and a hot tub, all lit up by some beautiful garden lights. The inside is comfortable, with a fully equipped kitchen and plenty of lounging space for the morning after. It's also just a short drive from downtown.
$$
Backdoor entrance without steps
This lovely home is only a short drive to downtown and Coors Field. It has a spacious interior with plenty of room for manoeuvrability. The backdoor entrance is at ground level so wheelchair access won't be a problem. This is great for a couple or a couple with young kids. It comes equipped with a full kitchen, dining area, and cozy couch, so your stay will be comfortable.
Don't Forget Your Denver Travel Insurance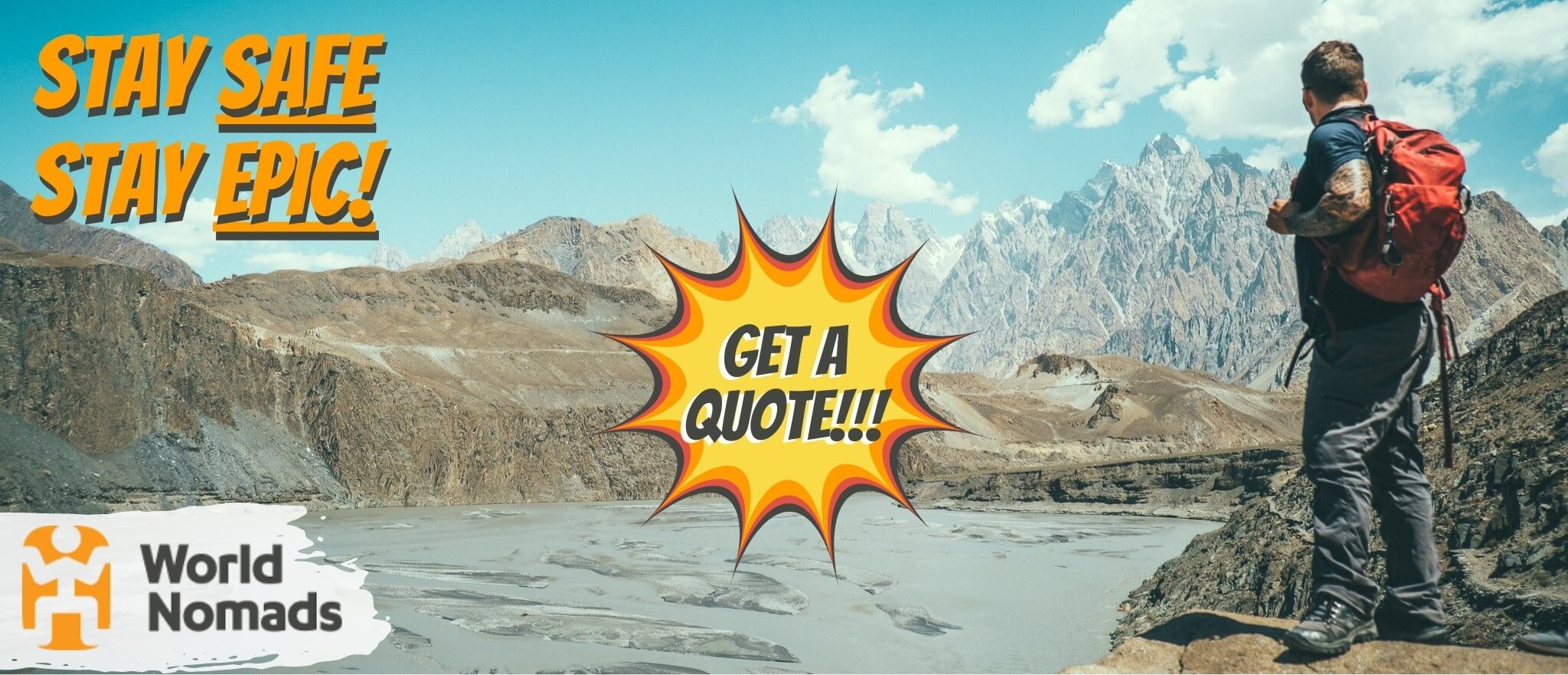 It's good to get lost sometimes, but it's also good not to get too lost. There are people that want you home in one piece.
There's one travel insurance provider The Broke Backpacker trusts for all his wildest shenanigans… World Nomads!
Click the button below to get a quote on your insurance or read our in-depth review of World Nomads' coverage. And then… let the shenanigans begin. 😉
Final Thoughts on Denver VRBOs
What do we love about Denver VRBOs? It has got to be the mixture of the modern, low-key yet stylish, and off the charts unique properties. Wherever you stay, you'll find yourself within an easy distance of downtown and attractions like Union Station or Coors field. But best of all, each local neighborhood or district also has a lot going on in terms of cafes, bars, and restaurants!
---
Bye for now, but not forever!
If you want MORE top-tier Broke Backpacker content like this, then sign up for our weekly newsletter below to get the latest and greatest!
And for transparency's sake, please know that some of the links in our content are affiliate links. That means that if you book your accommodation, buy your gear, or sort your insurance through our link, we earn a small commission (at no extra cost to you). That said, we only link to the gear we trust and never recommend services we don't believe are up to scratch. Again, thank you!