If you're after a dream, tropical island vacation, then the Florida Keys has got to be on your list! Think powdery white sand, turquoise waters, palm tree-lined beaches, and you've pretty much got the idea. We love it here because it suits both the laid-back "you'll find me on the beach, cocktail in hand" traveler, and the "meet me at 6 AM sharp for a full day of ocean adventure" type. This is a great family-friendly destination too! There are plenty of activities to keep the kid entertained as well as trendy bars and restaurants for the adults. Check and check!
Head to the infamous Key West, known as an incredible LGBTQ+ destination, and walk the same streets as the likes of Ernest Hemingway, Judy Blume, and Jimmy Buffet. Clearly, they saw something special in the Florida Keys, and you will too! Snorkel, scuba-dive, and kayak over pristine reefs, then head back to your place for some R&R.
VRBOs in the Florida Keys have definitely got that special something. If you want cute coastal cottages, magnificent beachfront homes, or ocean view condos, this is your dream destination. We've made you a list of the best rentals in the Keys so you can save yourself the hassle of finding the perfect property. Keep reading!
Quick Answer: These are the Top 5 VRBOs in Florida Keys
Overall Best Value VRBO in Florida Keys
Overall Best Value VRBO in Florida Keys
Spacious Rental in Marathon by Canal
> $
> 2 Guests
> 2 bicycles included
> Tiki hut gazebo
Best Budget VRBO in Florida Keys
Best Budget VRBO in Florida Keys
Stylish Mobile Home next to Canal
> $
> 4 Guests
> Canal views
> Walking distance to restaurants and grocery stores
Best VRBO for Couples in Florida Keys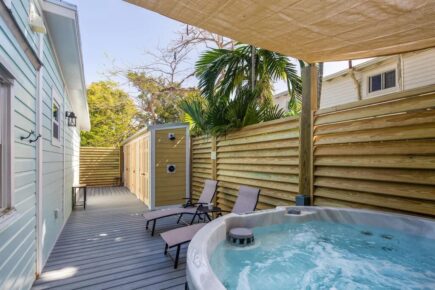 Best VRBO for Couples in Florida Keys
Renovated Cottage with Hot Tub
> $$$
> 2 Guests
> Master bedroom mood lighting
> Hot tub!!
Best VRBO for Families in Florida Keys
Best VRBO for Families in Florida Keys
Duplex with Private Dock onto Canal
> $$
> 5 Guests
> Free kayak use
> Included Cabana Club access
Over-the-Top Luxury VRBO in Florida Keys
Over-the-Top Luxury VRBO in Florida Keys
Beachfront Mansion
> $$$$
> 16 Guests
> Paddleboards, Kayaks, and clear bottomed Kayaks
> Beachfront
What to Expect from VRBOs in The Florida Keys
Florida Key VRBOs are so awesome! They embody everything the Keys are all about with tropical/coastal decor, a big focus around water sports and activities (don't be surprised to find kayaks included with your rental) and breathtaking views of the ocean or water. The rentals here have a local feeling. We especially love the quirkier properties that are available, and quite honestly, anything with Tommy Bahama furnishings and decor to amp up those island vibes. 
You will find quaint cottages, ocean-front villas and houses, condos, and even a private island or two (pinch me, I'm dreaming). Most properties are found in and around the towns and villages, especially the popular ones like Key Largo, Key West, Islamorada, and Marathon.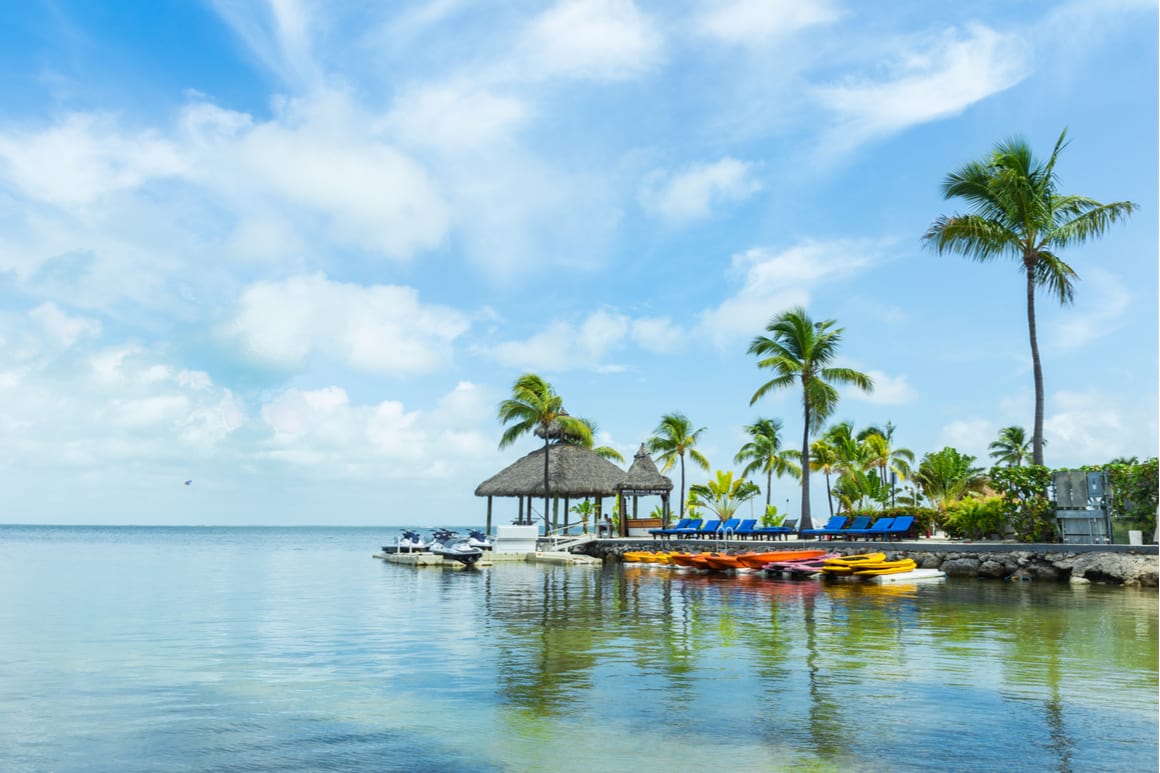 Condos/Apartments
Condos and apartments are great options for your VRBO in the Florida Keys! These tend to be close to restaurants, bars, and shops, and are spacious inside with an open plan kitchen, living, and dining room. Unlike in big cities, condos and apartments here are often in two-story buildings or are simply ground floor units, otherwise, you will find them in moderately sized ocean complexes! 
They are perfect rentals for couples or small families and will have either a full kitchen or kitchenette for you to cook your meals in if you don't feel like venturing out. If you manage to score one with a little balcony, then you're in for a treat as the ocean views will be spectacular.
Cottages
Cottages in the Florida Keys are the ultimate getaway for couples. These cute little rentals are full of charm, Florida Key spirit, and most importantly have everything required for a smooth stay. You can find them on the water, by the canals, or smack bang in one of the towns. If you're looking for seclusion and romance or a more upbeat stay closer to the action, there is a cottage for you! 
Most cottages here have a very local feel with wooden cladding, bright colors, and coastal decor. Often there is also a little porch where you can sit with your coffee and take in the beautiful Florida sunshine! Larger cottages are also available, so if you are in a group, don't fret as you can still stay in one of these lovely rentals.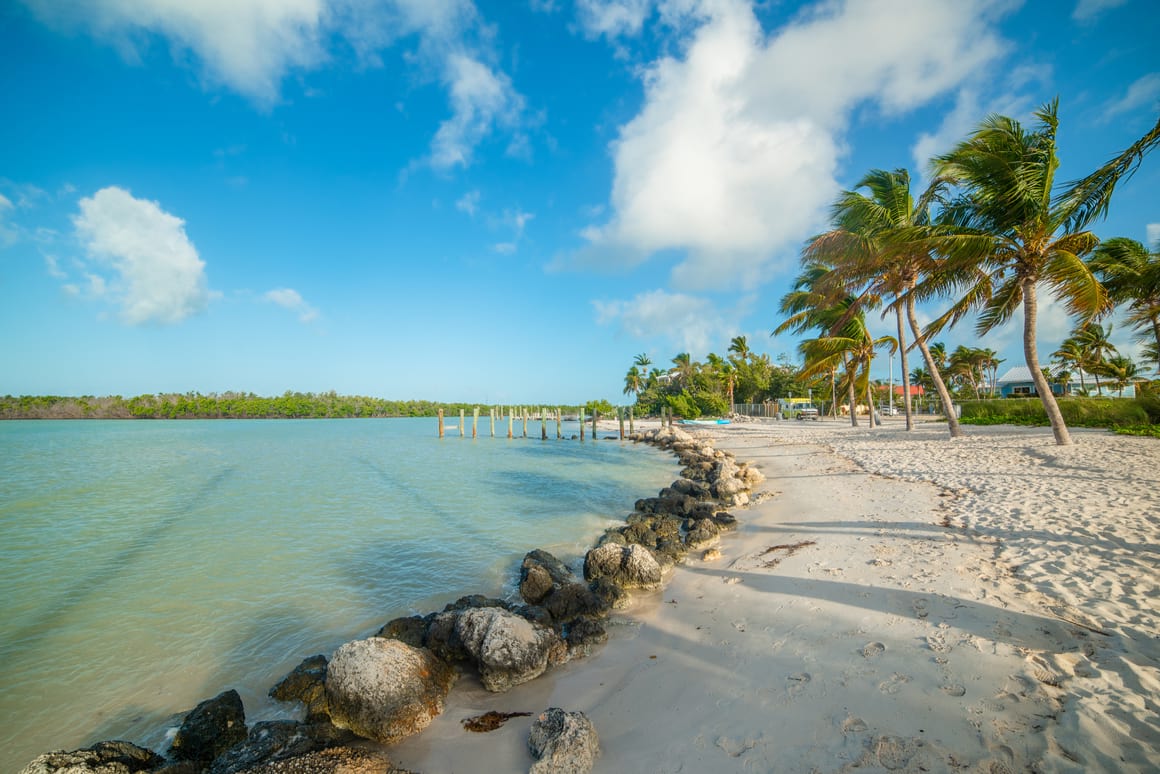 Houses/Villas
Houses and villas can also be found beachfront, canal front, or more centrally in the towns. These are great options for a group of friends or a family, with some fantastic family-friendly options that include kayaks, bikes, and board games. We are obsessed with the outdoor living spaces in some of these properties. I'm already fantasizing about al-fresco dining or having a barbeque under the gazebo!
Like most of the Florida Key VRBOs, houses and villas have a local feel to them. Even the places that look more professionally done have tasteful decor that reflects the tropical location. Many of these properties have shared or private pools which is a winner in our books!
Why Stay in a VRBO?
There are so many reasons why staying in a VRBO is a fantastic choice. Here are some of the main benefits:
Local Experience – Wanna know where the best snorkel spots are? Or which bar is the busiest on a Friday night? When you book through VRBO you'll get a local host who has all the insider tips you need!
Unique Properties – Stay in a place that really reflects the history and culture of the Florida Keys. 
Affordability – On VRBO, you can find the best properties but at super affordable prices! Booking on VRBO often comes out cheaper than staying in a hotel (and it's much more stylish too).
Last-minute Booking – Did you rock up to your destination but forgot to book anywhere? Not to worry, on VRBO hosts can set the cutoff time for booking for the same day, so you won't find yourself in a sticky situation!
The 20 Top VRBOs in The Florida Keys
And finally, what you've all been waiting for, our top 20 Florida Keys VRBOs! Get your credit cards at the ready, because you'll be raring to jet off to the Keys very very soon!
This amazing Florida Keys VRBO is located on the second floor of a duplex. It is right by the canal, and best of all, it has a tiki hut gazebo for some tropical-style, al fresco dining. The place is cheerful and colorful, with plenty of room, a full kitchen, and a comfy king-sized bed. Use the free bikes to explore Marathon and ride to the nearby beaches.  
Sombrero beach
The Turtle Hospital
Florida Keys Country Club
4 Guests
Walking distance to restaurants and grocery stores
Yes, this is a mobile home, not that you could ever tell!
This affordable and spacious VRBO in the Florida Keys is a savvy traveler's dream. Stay here in comfort, in a central location without having to count your pennies. The private dock is the perfect place to sit and people watch on the canal. You'll be dying to rest your head on the huge bed after a long day of snorkeling nearby. 
$$
Close to bars, restaurants, and shopping centers
1-2 Guests
2 bicycles included
If you're planning a solo trip to the Florida Keys we've got you covered.
This island-style bungalow is a great choice for every lone wolf traveler as it is super close to all the happenings in town but far enough away for some peace and quiet during the day. The small space is well thought out with uber-cool sliding barn doors separating the sleeping and living areas. Cook your meals in the fully equipped kitchen, or cruise into town on the provided bikes for a bite to eat.
Is This the Best Travel Pack EVER???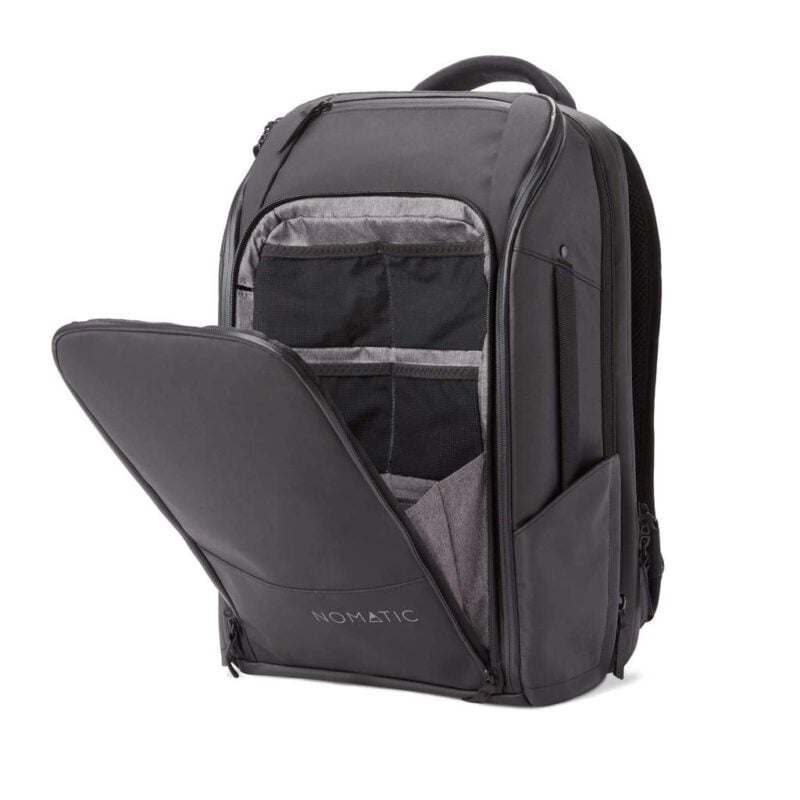 $$$
Master bedroom mood lighting
This one is for all you couples out there looking for a romantic tropical getaway. This super cute cottage has everything you need for your stay, including a modern kitchen and bathroom, living area, outdoor deck, and (does a mini victory dance) a hot tub! The master bedroom even has special lighting to set the mood for a great holiday – you are welcome.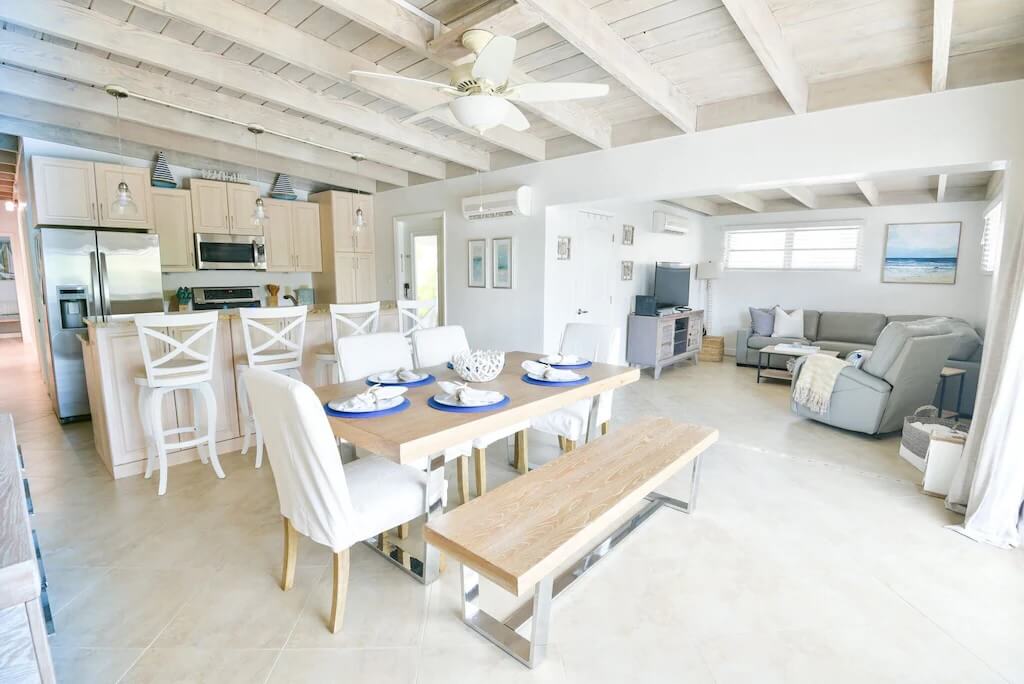 5 Guests
Included Cabana Club access
Wow, the kids are going to absolutely love this place!
Staying here gives you free access to the Cabana Club where you can use their outdoor pool. The house comes with bikes (including kid-sized ones), so the whole family can cruise around town together. There is even a two-person kayak you can launch into the canal from your own personal dock.
We dig the coastal decor and huge open plan living area so the whole fam can gather in the same place for some quality time. 
Over-the-Top Luxury VRBO in the Florida Keys | Beachfront Mansion
$$$$
Paddleboards, kayaks, and clear bottomed kayaks
Wow, just wow. This VRBO in the Florida Keys has surely earned the title for the best over-the-top luxury rental. There are numerous chandeliers, lavish island-style furniture, and a gourmet kitchen. The property has a tennis court, water sports equipment, and a private dock. If you want to go the extra mile, take out your very own fishing boat (captain optional).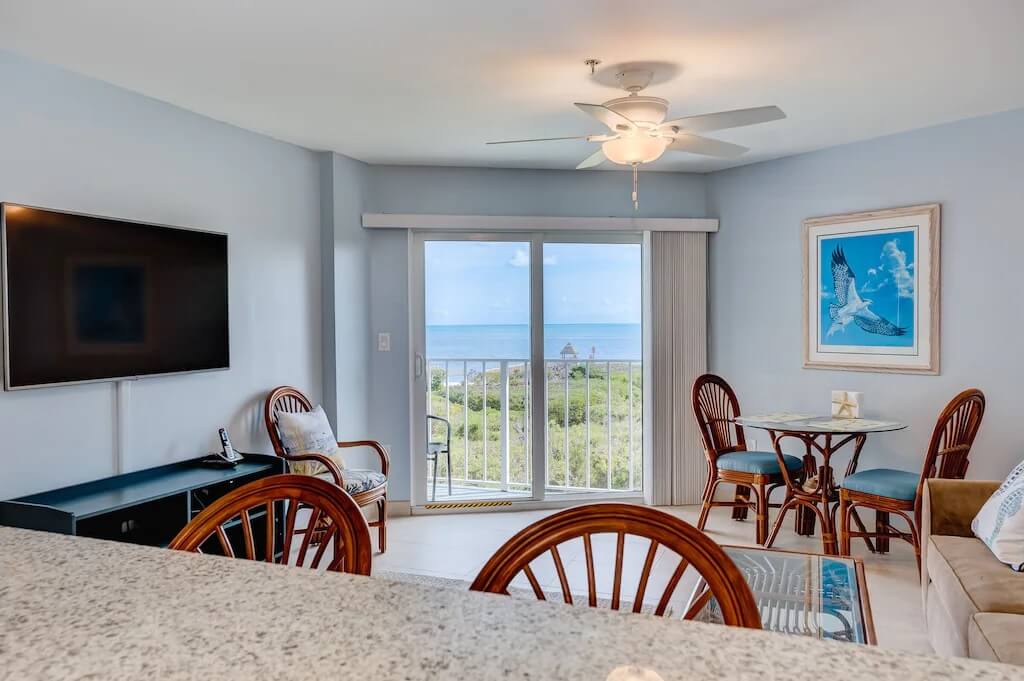 4 Guests
10 minutes to restaurants, bars, and activities
This condo has incredible views of the Atlantic Ocean right from the balcony. It has a laid-back coastal style with tropical rattan furniture and a full kitchen. The space is a perfect base for all the fun activities the Florida Keys has to offer, like fishing, snorkeling, and scuba diving, which are only a short drive away!
$$
In a private residential community
6 Guests
Waterfront with covered balcony
One of the best VRBOs in the Florida Keys, we think this cottage is amazing! What we find so awesome is that it is in a private community so you have access to all of their facilities like the heated pool and Jacuzzi, tennis courts, and recreation center. It is right on the water too! You can admire the canal and ocean views right from your very own covered porch. If you happen to have your own boat, you can also pull right up to the front door!
$$
Indoor and outdoor kitchen
The ultimate Florida Keys VRBO, this house is right on the water and brings new meaning to the term outdoor living. There is a large ocean view balcony that has an outdoor living and dining area, an outdoor kitchen with a grill, and even a plunge pool for cooling off! The inside is extremely stylish with a laid-back coastal feel.  
6 Guests
Central Key Largo Location
A beautiful condo in the heart of Key Largo, this place has lots of natural light and is right on the water. You will have beautiful views from the bedroom and living room balconies of the water below, and be within easy reach of the town's restaurants and attractions. There is a shared pool on the property as well as the use of kayaks. The modern kitchen and comfortable living room make this place a great base for your Key Largo adventures. 
12 Guests
Indoor and outdoor living
I think I have died and gone to VRBO heaven. This house is so beautiful and is without a doubt one of the best Florida Key VRBOs! Only a short walk to the famed Duval Street, this home takes outdoor living to another level. There is a fantastic poolside living and dining area, plus a huge second-floor balcony with another dining and seating area. The garden is lush, the decor is gorgeous, what more could you want?
$
Walkable to Duval Street and beaches
Headed to the Florida Keys for a weekend? Then check out this incredible Florida Keys VRBO! It is the perfect base for your vacation since it is walkable to nightlife, galleries, beaches, and restaurants. The quaint island cottage decor is super cute, and there's a fantastic little plunge pool to cool off in after a day of fun ocean activities!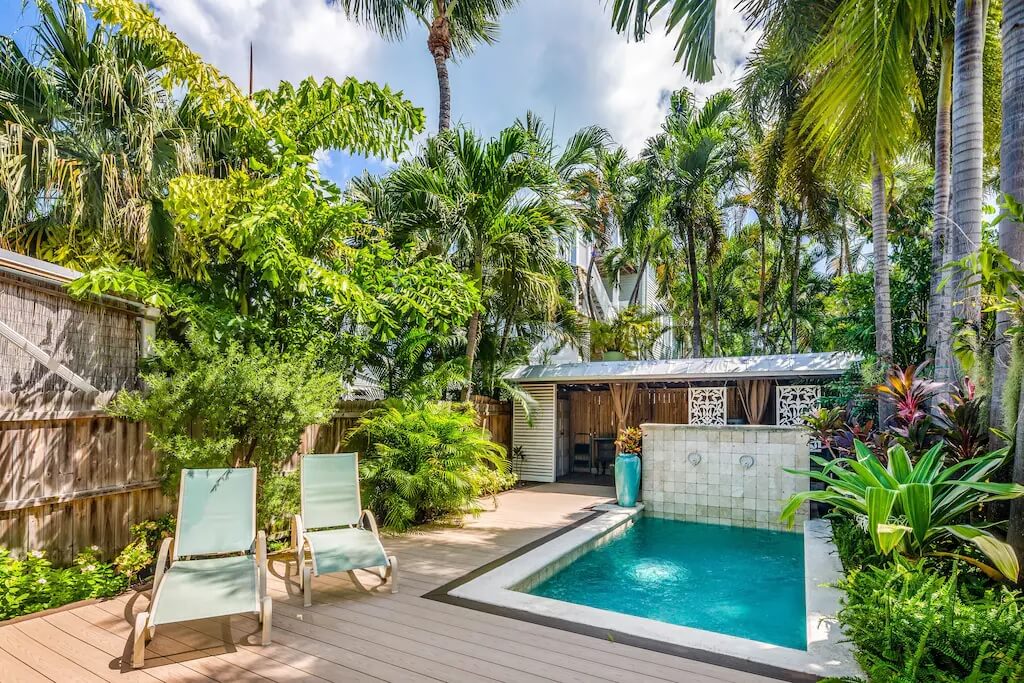 $
Walking distance to Duval Street
One of the best Florida Keys VRBOs, this place was made for honeymooners! There is a gorgeous outdoor pool set inside a tropical garden overlooked by a covered deck. The condo is steps away from lively Duval Street where you will find restaurants, bars, and shops.
Do yourself a massive favor and book this fantastic house for your next group holiday (you'll be the hero of the friendship group, trust me). One of the best VRBOs in the Florida Keys, it is right on the water, which means powdery white sand, palm trees, and turquoise blue waters await you. The house has an amazing outdoor deck with a tiki gazebo and barbecue facilities. Plus there's a private dock that goes straight into the water – ideal for your "jumping into the ocean" shot on Instagram.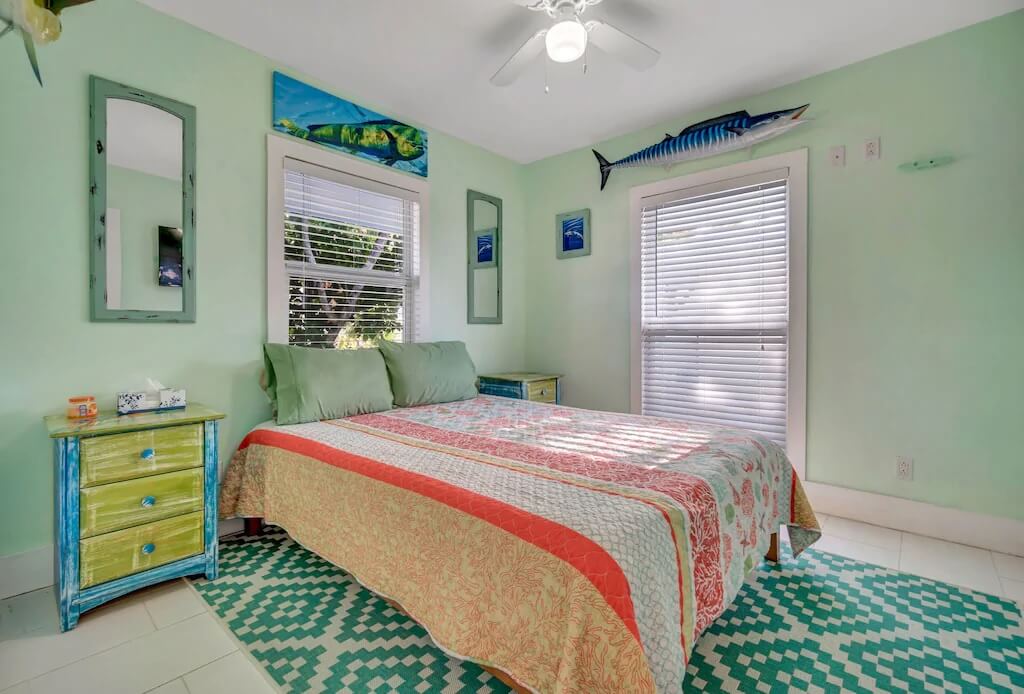 This lovely villa in Islamorada is full of charm. We love the quirky decor that really gives us that coastal Florida vibe, and as a bonus, there is access to a shared pool! The whole villa is kitted out with anything you could require to make sure your long-term stay is as memorable as possible (fish decor and all).
Most Unique VRBO in the Florida Keys | Private Island
$$$$
Free use of boat and kayaks
8 Guests
It's a private island!
Okay okay, I said it before, but this time I mean it – this is hands down the best VRBO in the Florida Keys!
It's a private island, after all. Not only that, it's a beautiful one too, covered in greenery. You'll be staying in this awesome wooden, jungle house, and have use of kayaks and a boat to reach all the best snorkeling spots. If you're really going the whole hog you can even hire a private chef, bartender, and yoga instructor. Oh and if this wasn't already the best place in the entire world, it's also eco-friendly with solar panels and rainwater collection. 
This house wins the most beautiful VRBO in the Florida Keys not only for its stellar location (give me a beachfront property every damn day) but because it looks like it belongs on the cover of a magazine! The modern coastal decor has me drooling, I want to live on the gigantic L-shaped couch. Don't even get me started on the free-standing tub in the master bedroom. The front of the house has balconies on both levels, so the rooms have the most amazing sea views right from the bed.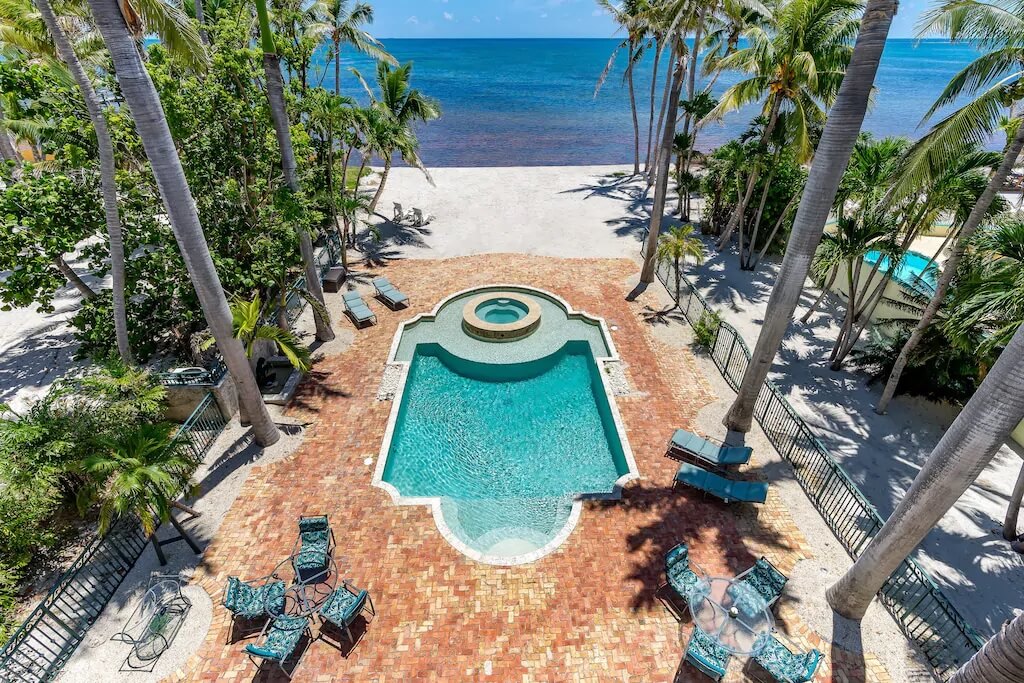 10 Guests
Saltwater pool and spa whirlpool
Is this the best pool in the Florida Keys? We sure think so.
This amazing saltwater pool is steps away from the shore and has a spa whirlpool too! There's even underwater lighting, so you can go for a late-night dip or keep the pool party going until the sun comes up the next day. The house is just as gorgeous as the pool too, with stylish decor and modern fixtures.
This large house by the water would be the most amazing destination for your next party! Pull up some deck chairs and take in the stellar ocean views with a couple of cold beers in hand. There is a huge gazebo equipped with a grill and seating for everyone to take shelter from the sun. The inside is spacious with plenty of places to sit for when you want to move the festivities inside.
Super Accessible VRBO in the Florida Keys | Island-style Home
$$
Tommy Bahama furnishings and decor
Nothing speaks the tropics more than island-style decor and furniture, which is exactly what you will have here in this elegant island-style home! There is ample room here to move around, and the house is located on a resort, so you will have access to all the resort facilities! Cha-ching!
Don't Forget Your Florida Key Travel Insurance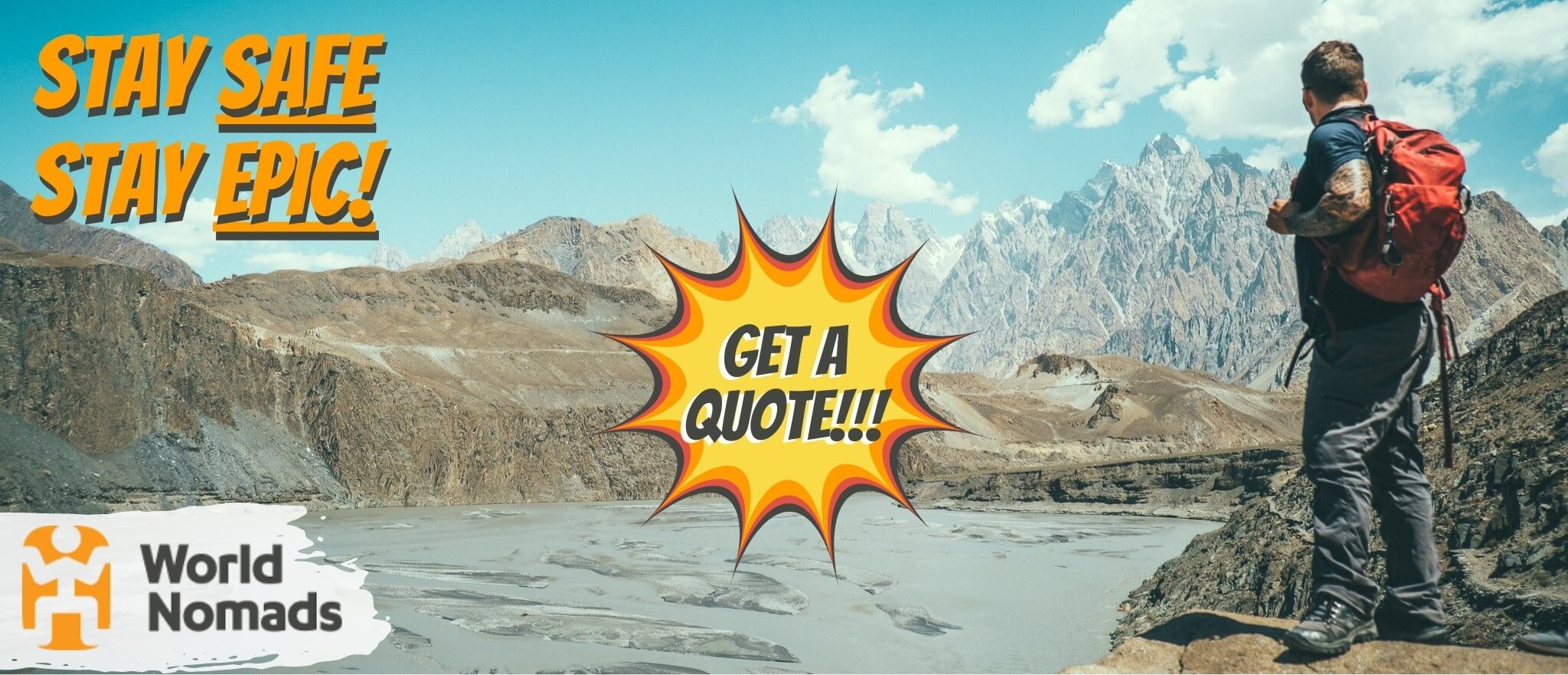 World Nomads' mission is to support and encourage travellers to explore their boundaries. They offer simple & flexible travel insurance, and safety advice to help you travel confidently.
They've been doing it since 2002 – protecting, connecting, and inspiring independent travellers just like you.
Get a quote below or read our in-depth review!
Final Thoughts on The Florida Key VRBOs
Florida Key VRBOs are fantastic, and we are digging them so hard! The fact that you can find properties right on the water where you can step out the door and feel the sand between your toes makes us want to hop on a plane right away. The range of properties means that whether you're a family, couple, or friendship group, you will always find what they're looking for, and the quality of the facilities means you will be sure to spend your stay in comfort.  
Now you're convinced that booking a VRBO in the Florida Keys is the way to go, grab your sunscreen, pool floaties, and swimwear and get ready for a holiday you'll never forget. Just bear in mind that travel insurance is your absolute best friend and should always be considered whenever you're embarking on a new adventure, especially for those traveling abroad. 
---
Bye for now, but not forever!
If you want MORE top-tier Broke Backpacker content like this, then sign up for our weekly newsletter below to get the latest and greatest!
And for transparency's sake, please know that some of the links in our content are affiliate links. That means that if you book your accommodation, buy your gear, or sort your insurance through our link, we earn a small commission (at no extra cost to you). That said, we only link to the gear we trust and never recommend services we don't believe are up to scratch. Again, thank you!