Situated in the Mojave Desert in Nevada, Las Vegas is famous for fun!
Casinos are often the first things that spring to mind, but the city offers much, much more. World-class concerts, high-end shows, fine dining, and pumping nightclubs are just a few of the activities you can enjoy, while attractions range from the quirky to the absolute extraordinary!
Unique museums, shooting ranges, amusement parks, vibrant aquariums, and conservation areas are a little of what Vegas offers. Plus, a day trip to the Grand Canyon is a must! There's a good reason Las Vegas is known as "The Entertainment Capital of the World"!
Las Vegas is packed with opulent hotels, even a short stay can quickly rack up a large bill. There's no denying the hotels in Vegas are pretty special—but, as they are home to shopping malls, epic restaurants and clubs, you'll likely visit many of the major hotels anyway, without needing to foot the cost of actually sleeping there.
VRBOs in Las Vegas offer a different way to stay in the city, typically with terrific facilities and amenities, without the huge costs. The great thing about vacation rentals in Las Vegas is that you can find (relative) peace and quiet away from the crowds. Or not, if you prefer!
If you want to stay in an accessible location, without being surrounded by scores of other tourists, we've got it. If you want to stay right in the frenetic heart of the action in Downtown Las Vegas, no problem!
Read on to learn all about all the incredible VRBOs in Las Vegas. We'll fill you in on all the types of vacation rentals available, what you can expect from your stay in a VRBO, and, we give you our list of the best VRBOs in Las Vegas for different types of travellers!
Quick Answer: These are the Top 5 VRBOs in Las Vegas
Overall Best Value VRBO in Las Vegas
Overall Best Value VRBO in Las Vegas
Very Modern Décor
> $
> Five guests
> Private patio
> Walking distance from The Strip
Best Budget VRBO in Las Vegas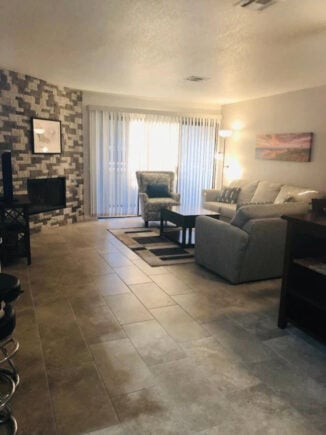 Best Budget VRBO in Las Vegas
Newly Remodelled Condo
> $
> Two Guests
> Large private balcony
> Parking
Best VRBO for Couples in Las Vegas
Best VRBO for Couples in Las Vegas
Contemporary Suite
> $$
> Two guests
> Wraparound balcony
> Open plan
Best VRBO for Families in Las Vegas
Best VRBO for Families in Las Vegas
Lots of Games
> $$$$
> Twenty people
> Private pool
> Huge garden with many outside games
Over-the-Top Luxury VRBO in Las Vegas
Over-the-Top Luxury VRBO in Las Vegas
Two Bowling Lane
> $$$$
> Thirty visitors
> Indoor AND outdoor basketball courts
> Games room with two-lane bowling!

Unlock Our GREATEST Travel Secrets!
Sign up for our newsletter and get the best travel tips delivered right to your inbox.
What to Expect from VRBOs in Las Vegas
There is so much diversity with Las Vegas's VRBOs. Some keep with the local theme of glitz, glam, and luxury galore, while others offer a homier and more laid-back vibe. They are a great alternative to other accommodation types if you're looking for a different kind of vacay, or even if you're backpacking around the USA and are looking for a few home comforts for a few days.
You'll find places right on the buzzing Las Vegas strip, places in quiet residential areas, and places everywhere in between. Groups of travellers, like families and friends, may prefer to stay in a fully-equipped house or apartment.
Deluxe villas, modern condos, and cosy mobile homes are other appealing options, while solo travellers and couples are sure to find the perfect studio, condo, apartment or small house to exceed their expectations. Many Las Vegas vacation rentals have resort amenities with added privacy in an awesome location, what's not to love?!
Other choices include cute tiny homes, bed and breakfasts, and (often the most budget-friendly option) private rooms in somebody's home. Amenities vary too, with rentals that offer things like a formal dining room, private pools, games rooms, wet bars, gardens, private parking, and other awesome features for a super stay. Personally, we love those with lush gardens full of fruit and palm trees and a covered patio for a bit of shade.
From your dream Las Vegas accommodation, you can head out to visit all the must-see spots of the city including places like Red Rock Canyon and the Las Vegas strip.
Apartments
There are many apartments on VRBO in Las Vegas, with properties available in every shape and size. Perfect for you and your partner, a couple of mates or solo thrill-seekers, one-bedroom apartments are an ideal private escape. Larger apartments with multiple bedrooms are great for a large family or group of friends that want things like a formal dining room and a family room.
Apartments also include studios and condos. Some of these spots are in buildings with communal facilities, like gyms and pools. Some of the best vacation rentals are apartment buildings as they tend to offer the best compromise of amenities, location and budget.
You'll find apartments spread across Las Vegas, in both touristy and local areas. Stay near to the lively Las Vegas strip, close to downtown, in nature or on the fringes of the desert – there is something for everyone.
Houses
If you filter Las Vegas VRBOs to show listings for houses, you'll probably be surprised by the number of properties available. Houses are probably the best vacation rentals for families and larger groups wanting a laid-back trip.
Regular townhouses or detached homes are the norm, typically with between two and four bedrooms – many offer additional sofa beds if needed. You can find cool themed houses if you want something a bit quirkier and with more character. You will also come across intimate casitas and tiny houses!
Most houses have an outdoor space, whether a driveway, covered patio, garden, or yard, and some even have their own pool. If you're looking for awesome vacation rentals in Las Vegas that give you all the same amenities you're used to at home with a more relaxing vibe, a house is a perfect choice.
Spread across the city and its suburbs, houses usually appeal to holiday-makers who want a home-away-from-home vibe, privacy, and a greater feeling of independence while on vacation.
Villas
Often offering a more luxurious stay, private villas in Las Vegas are for those with a bigger budget, or larger number of guests. It's common for Vegas' villas on VRBO to have high-end furnishings and décor, and a number of surprising features that go beyond the everyday essentials (luxurious bedding, fancy cooking equipment, games rooms, home cinemas, hot tubs, or Jacuzzis).
Villas that are cared for by companies sometimes provide free transfers to the Strip, meaning that you can stay a little farther away from the hub of activity yet still have easy access when you want.
Ideal for groups of friends and family who want to splash out and take their Las Vegas stay to the next level, a villa is a lavish way to enjoy Las Vegas.
Why Stay in a VRBO
There are so many reasons to stay in a VRBO in Las Vegas.
Affordability: Quality VRBOs are often cheaper than quality hotels, helping you to save without sacrificing comfort or amenities.
Local Experience: You can have more of a personal stay with a local host to give you insider tips and recommendations. Plus, you may choose to stay in a VRBO in a mainly residential area to really experience the local way of life.
Convenience: Lots of VRBOs have self-check-in options, meaning less time waiting around and more time to get out and about having fun.
Size: With VRBO you are able to hand-pick the size of your accommodation, meaning you and your family or friends aren't limited to separate hotel rooms. There can be a greater sense of togetherness.
Staying Long Term: Hosts on VRBO are able to set up discounts for guests who choose to stay for longer periods.
Last-Minute Bookings: If you're rolling into town late at night or suddenly need to change plans, VRBO will inform you of places that are still available for that night.
VRBO Experiences: Do more with your time with the great range of VRBO Experiences—more details below.
The Top 20 VRBOs in Las Vegas
Whether you're looking for a great Las Vegas VRBO for families, romantic accommodation for a couple, a cool pad to crash with your mates, or the best VRBO for a solo traveller, we've got you covered. With so many things to do in Las Vegas and the surrounding areas, you'll want to set yourself up with the perfect base for exploring.
Here are our ultimate favourite VRBOs in Last Vegas!
Overall Best Value VRBO in Las Vegas | Very Modern Décor
Five guests
Walking distance from The Strip
Within easy walking distance of the famous Strip, this one-bedroom, five-person apartment is a great choice for families and friends who are looking for a bargain stay.
You'll find everything you need to feel at home, including a full kitchen, washer/dryer, a lovely living room, a modern bathroom with a tub, and a cute Strip-facing balcony with a relaxing swing chair. If you're driving to Vegas the free parking is very handy.
This homey studio is the best VRBO in Las Vegas for budget travellers who don't want to stay in a soulless hotel room. Comfortable and characterful, the main room is spacious with a sofa and four-person dining table in addition to the beds. You can stretch your funds even further by preparing some of your own meals in the fully-equipped kitchen.
There's no skimping on outdoor space here with a large balcony and comfy outdoor seating as well as access to a shared pool, tennis court and hot tub.
Perfect VRBO for Solo Travellers | Viva Las Vegas!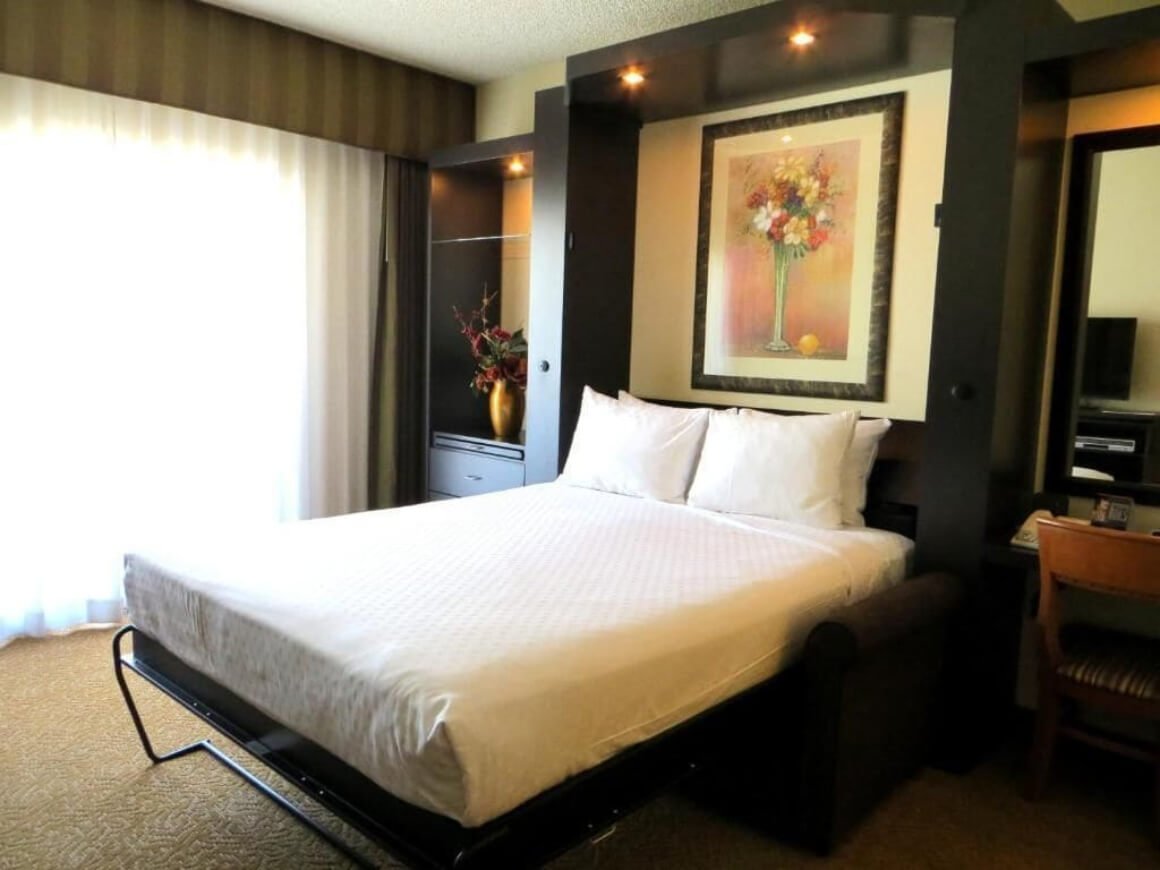 $
In the heart of the action
One or two visitors
Shared pool
This modern condo is in an excellent location for enjoying The Strip, while having a peaceful place to return to, with all the conveniences of home.
The separate bedroom, small kitchen, dining table, and cosy living area provide a comfortable base from which to explore. If you don't feel like venturing too far, the building has an array of great shared facilities you can use, including a pool, gym, sauna, and video library.
Is This the Best Travel Pack EVER???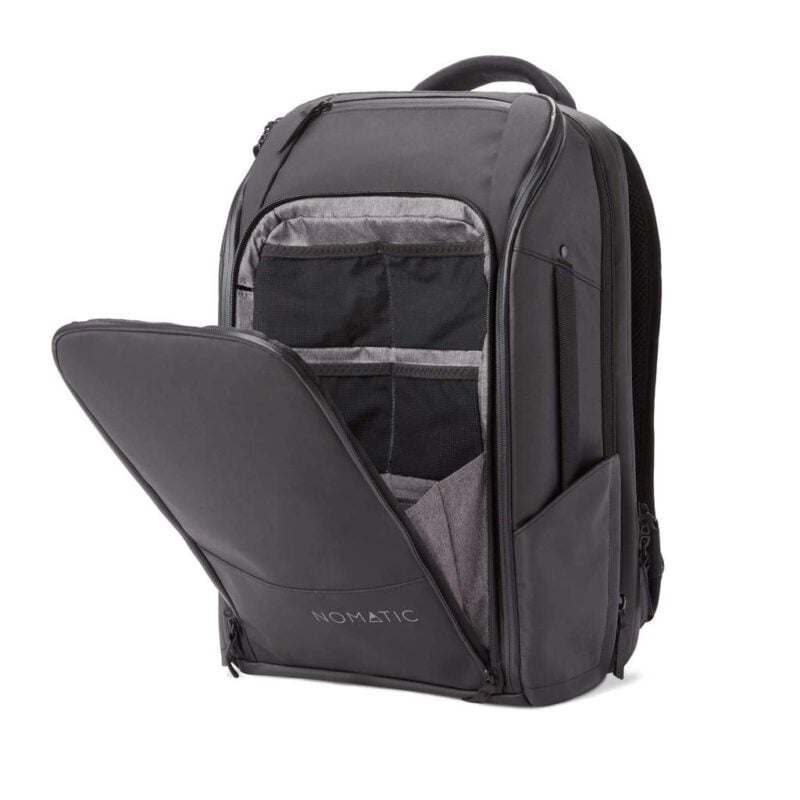 This swanky 29th-floor condo is our choice for the best VRBO in Las Vegas for couples, whether you've just had a Vegas wedding or not! You can enjoy the views from the wraparound balcony that overlooks both The Strip and the mountains together with your loved one.
The colour scheme inside is seductive and modern, with black and white tones contrasting against pastel cushions and the silver floor.
One of the most intimate aspects of this condo is the open design … even the bathroom is open to the bedroom, with a tub taking centre stage! Don't worry—the toilet is private!
Best VRBO in Las Vegas for Families | Lots of Games
Twenty people
Huge garden with many outside games
A fabulous Las Vegas VRBO for a large family seeking fun in the sun, this eight-bedroom, five-bathroom house has anything you could want for a vacation that's full of laughter. The garden is huge, with a large seating area, BBQ, hot tub, and a beautiful outdoor pool surrounded by fruit and palm trees. It's got to be one of the most stunning Las Vegas vacation rentals available and it's only 6 miles from the Las Vegas strip!
You're sure to be blown away by the basketball court, small putting green, ping pong table, and poker table. There are many games to play, including bocce ball and a ladder toss. The good times keep going indoors too with ten TVs, a pool table, a relaxing lounge, and a modern kitchen where you can cook up a feast. There's a family room, a breakfast bar and there's a king-size bed for everyone, no need for a pull-out couch bed here!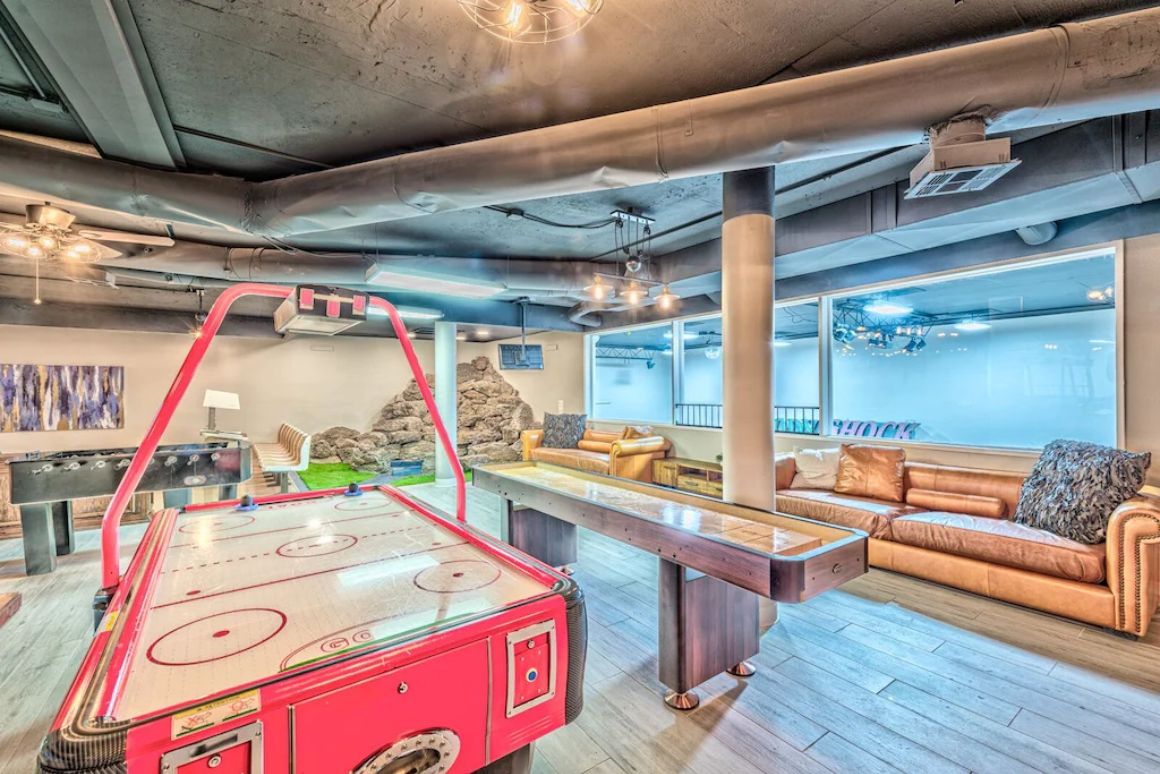 $$$$
Indoor AND outdoor basketball courts
Thirty visitors
Games room with two-lane bowling!
Call up your mates … and get them to call up their mates … to book a fun stay in this AMAZING Las Vegas VRBO. Brimming with amenities, it's wild how much this place offers. The entertainment basement has foosball, air hockey, shuffleboard, indoor basketball, a hot tub, and two electronic bowling lanes.
Outside, there's a beautiful outdoor pool, two further hot tubs (yes, three in total!), another basketball court, and tons of games like bocce ball and cornhole. There are 11 spacious and luxurious bedrooms (half of which has a king-size bed), 11 modern bathrooms, a chef-standard kitchen, a wet bar, several living areas, and 12+ TVs. You will never want to leave this epic vacation rental.
$
Full kitchen and laundry
Four travellers
Communal pool and Jacuzzi
We've chosen this one-bedroom ground-floor vacation rental as the best apartment VRBO in Las Vegas because of its great facilities, central location, shared amenities, and affordable price.
Within easy reach of both Chinatown and The Strip, it features a full kitchen and washing/drying facilities, as well as a separate bedroom with a king-sized bed and a roomy living area. It has all the added extras you'd expect in a hotel (Wi-Fi, hairdryer, TV, iron, etc.) and you can access the building's communal pool, hot tub, and gym.
14 visitors
Foosball and pool table
Combining terrific features, affordability, and comfort in a residential area with easy access to both downtown and The Strip, this is our winner for the overall best house on VRBO in Las Vegas.
Ideal for families and friends, the two-story house has five bedrooms with king and queen-sized beds, along with a room with bunk beds. Airbeds can accommodate another four people if needed (so 14 guests in total).
Take a dip in the pool, and chill on the shaded patio or in the walled-in garden. You can have a night of games on the pool table, challenging your loved ones to a tournament. Thanks to the full, modern kitchen and BBQ, you can enjoy a fully self-catered stay.
Best Villa on VRBO in Las Vegas | Luxurious Villa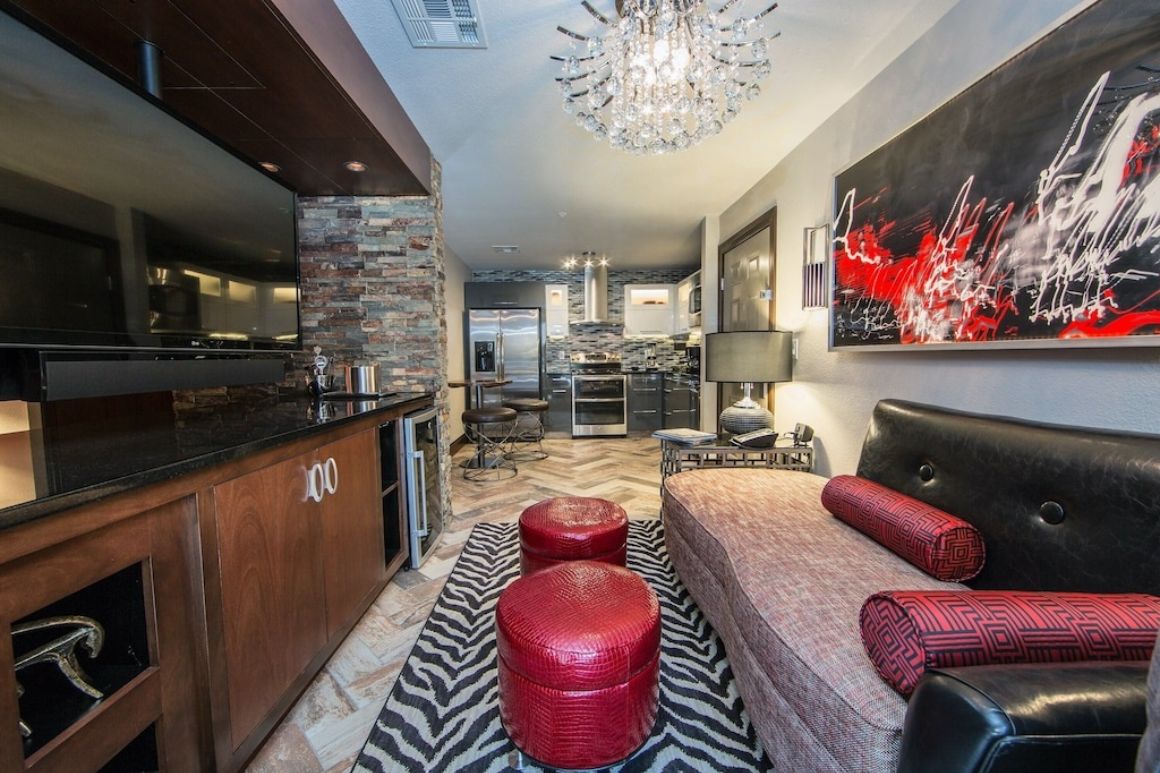 $$
Free shuttle to The Strip
Two people
Awesome communal facilities
This beautifully decorated villa for two is a top Las Vegas VRBO for couples. It's affordable and in a peaceful setting, but with free shuttles to the energetic Strip. The grand living room has a comfy sofa in front of a large TV and an amazing gaming system. You'll just fall in love with this awesome vacation rental.
Prepare tasty meals in the kitchen, complete with fridge, oven, hob, and dishwasher, or head to the onsite restaurant for a bite to eat. After a long day of exploring, you can unwind with a glass of wine on your private balcony, and take advantage of the shared pool with a waterfall feature, hot tubs, and gym before retiring to your king-size bed.
Best VRBO in Las Vegas for a Group of Friends | Phoenix House
$$$
Large garden with private pool
12 adults
Chic modern style
This spacious detached house can sleep up to 12 adults in its six bedrooms, with a combination of king-sized beds and single bunk beds. This epic vacation rental has three full bathrooms and another separate WC—making mornings a breeze.
A major plus of this villa is the large private garden with a big pool, ideal for hot sunny days. If anyone needs to keep on top of their work during your stay, one of the bedrooms doubles as an office, with a printer and speedy Wi-Fi. With a roomy kitchen, you can take the time to prepare group dinners and dine together around the table.
Ten over-night visitors (more to attend events)
Hot tub with incredible views
If you really want to go all out and host a party you'll never forget, this stunning Las Vegas VRBO is just perfect. A sleek and swish house with enough space to sleep 14 guests, you can quickly feel at home in the lavish setting.
Featuring an opulent living area, the house has everything you need to make your party go off with a bang.
The large corner sofa is great for chilling in front of the big screen, and if you fancy preparing a posh dinner, you're all set—there's a full chef-standard kitchen and a large dining table.
The awesome games room is likely to be at the hub of your event, where you'll find a bar, sports screens, a pool table, a card table, and several arcade machines. You've got a massive backyard with a hot tub and cornhole too!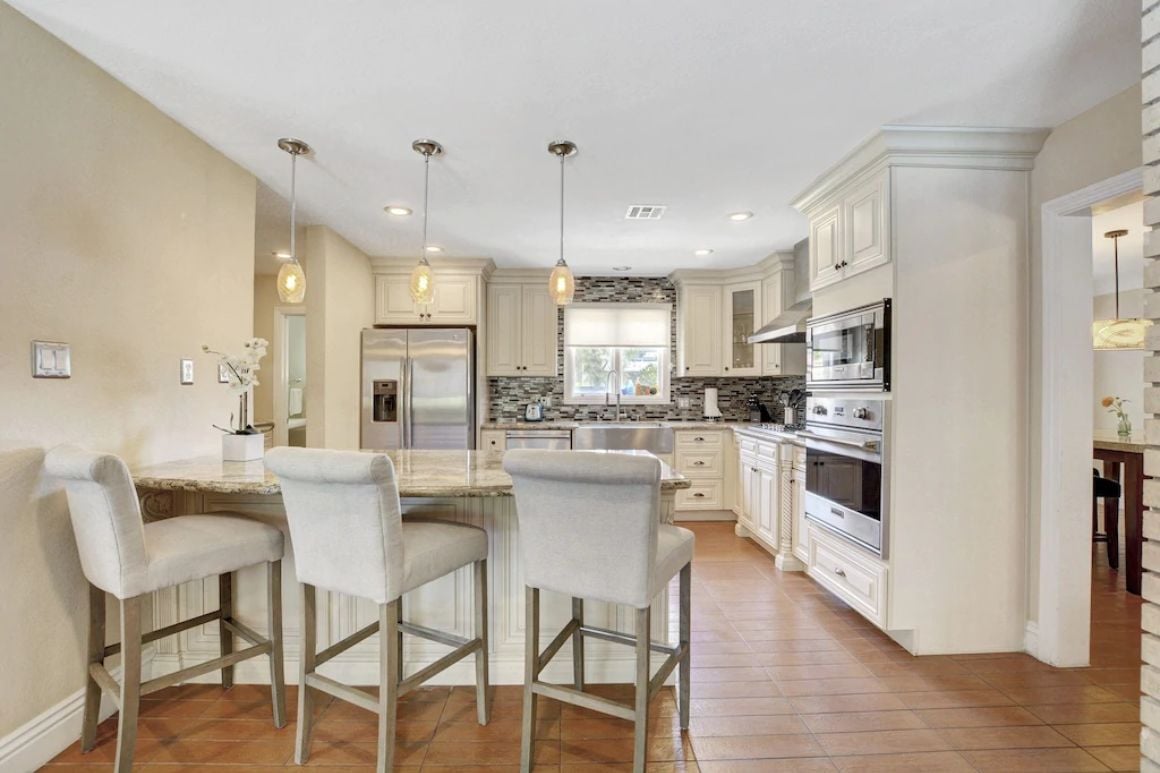 $$$
Fashionable residential area
Eight visitors
Private pool and hot tub
Our favourite option for a longer-stay vacation rental in Las Vegas, this elegant house has plenty of space to work, rest, and play. Located in a stylish residential area, the bright and airy home is within easy reach of many of Vegas' famous attractions.
There are several living and dining areas throughout the one-level house, and it features a foosball table, gaming machine, and large TVs that provide great entertainment for everyone.
The kitchen has everything you need to prepare delicious home-cooked meals. With its own secluded garden, big inviting swimming pool, covered patio, and lawn, spend hot summer days soaking in the sun and enjoying quality time with your loved ones.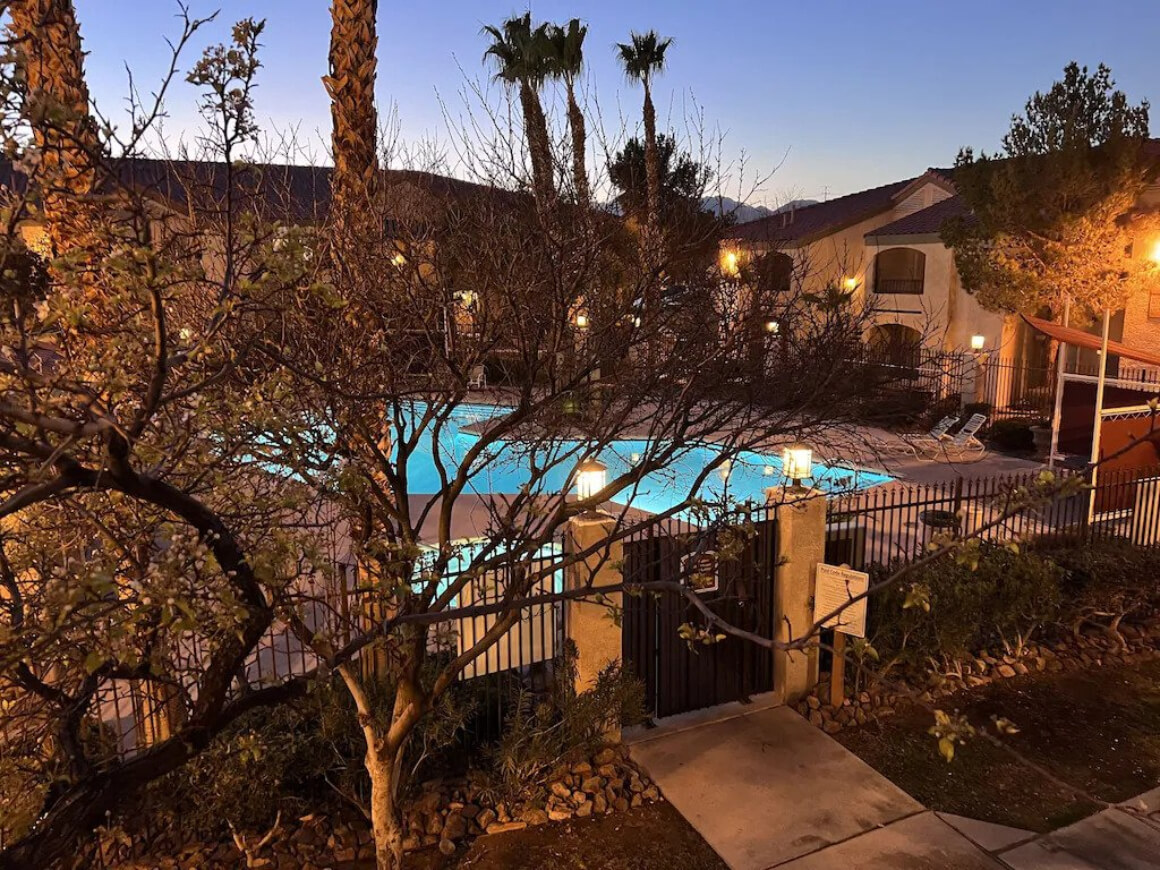 Chinatown in Las Vegas is a vibrant area close to the Strip. A great place to find top-class accommodations for lower prices, this gorgeous designer-inspired apartment ticks all the boxes for a great VRBO in Las Vegas. Top-notch facilities, good location, and reasonable price.
You're sure to feel right at home in the open-plan living area thanks to the comfortable sofa, well-equipped kitchen, and dining table. There are two separate bedrooms with comfy beds and plump pillows for a good night's sleep. Other plus points include free parking, washing/drying facilities, two bathrooms, a balcony, and a communal pool.
Two travellers
Modern conveniences
Close to the University District, this modern studio is nearby to affordable dining and shopping, and just 5 minutes to the Strip. Natural light floods in through the large windows onto the desk, and fast Wi-Fi helps you get down to work.
You don't need to break your flow and go out to eat, just cook up something simple in the modern kitchen. With amazing onsite facilities for relaxation such as a pool, the perfect place to chill out after a day on the laptop!
20 people
Huge property and grounds
There's definitely nothing ordinary about this stunning Las Vegas VRBO. With 11 bedrooms, nine bathrooms (some with shared bathtubs), several cosy living areas, and a fully-equipped kitchen, you're guaranteed a comfortable stay.
But it's the amenities and huge space that make this home a knockout. If a private pool, hot tub, basketball court, pool table, and games room weren't enough, how about your own private golf course?! The mini par-three course has a number of bunkers and obstacles in addition to the green, all in the mansion's 2.5 acres of land.
Best VRBO in Las Vegas's Historic District | New Home Remodel
$$
Inviting outdoor space (with pool)
If you want an attractive and homey place to stay in the heart of cities charming historic area, this Las Vegas vacation rental is perfect.
Recently remodelled, all three bedrooms are colourful and cosy with soft beds. There's a large living room with a fireplace and TV, as well as a separate games room with a foosball table and another television. The fully equipped kitchen boasts granite countertops and travertine tiles where you can prepare your favourite homemade meals.
However, it's the outdoor area that truly makes this house stand out. The fenced-in garden is perfect for kids and pets, and a safe gate separates the intimate covered terrace from the pool area. As well as a shimmering pool, the garden has a cabana with a shower and loungers, while the terrace has a large brick-built grill.
Stunning VRBO for Honeymooners in Las Vegas | City Centre Penthouse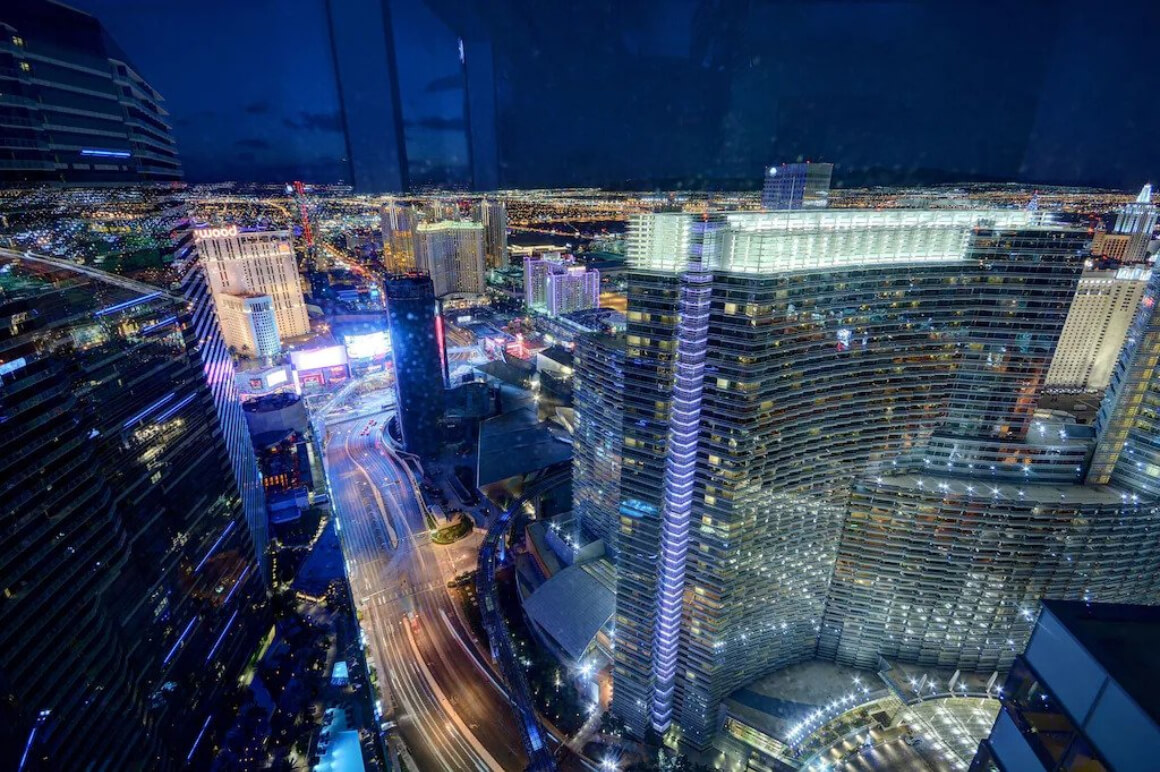 Two people
Stunning views over Vegas
Everything about this spectacular VRBO in Las Vegas screams romance, seduction, style, and decadence. The lavish living space is highlighted by the huge floor-to-celing windows where you can take in a 270-degree view of the city from above!
Snuggle on the sofa in front of the large TV, curl up together in the luxurious king-sized bed, impress one another with your culinary skills in the high-tech kitchen, soak in the hot tub, and enjoy the vistas from your private wraparound balcony.
If you can bear to leave your love nest, you can take a dip in the shared swimming pool and gym.
Best VRBO for a Weekend in Las Vegas | Las Vegas Elegance
Six travellers
Private pool
The incredible central location between the Strip and downtown is what makes this one of the best VRBOs for a weekend in Las Vegas. It's within easy reach of many famous attractions, and there are a plethora of activities almost on your doorstep. It's the ideal spot for a weekend in Las Vegas!
Although you'll probably be out and about for much of your stay, you can still squeeze in some time for a swim in your own private pool. Recharge with a game of billiard, and sink into a deep slumber thanks to the plush mattresses and high-class linens in the three separate bedrooms.
Best VRBO in Las Vegas with Olde-Worlde Vibes | Vintage House
Twelve visitors
Retro ambience
If the chaos and noise are all a bit too much, recharge your batteries with a stay in this charming vintage home. Located in a quiet area (but still within easy reach of the action), it offers an attractive home-from-home retreat with lots of character and cool quirks.
Everything is in keeping with the olde-worlde theme, from the tiled floors, overstuffed sofas, and patterned textiles to the wooden furnishings, old-fashioned lamps, and ornamental plates that decorate the walls.
There are no sacrificing modern conveniences though—the house has satellite TV, Wi-Fi, and a well-equipped kitchen, and you'll also find a terrific private pool in the yard.
Eight guests
Desert landscapes close by
When you stay in the heart of bustling Las Vegas, it can be easy to forget that you're surrounded by the desert. Get out of town and experience desert living in this funky eight-person home with super relaxed vibes. Steps from great shopping and dining, the home is right in the middle of the desert.
The lovely house has lots of character and is filled with arty touches. Comfort and convenience are enhanced by the two bathrooms, pleasant terrace, washing machine, and selection of fun games.
Don't Forget Your Las Vegas Travel Insurance
Yo, yo, yo!! Hold up there partner before ya'll go getting ahead of yourself. Unfortunately what happens in Vegas doesn't alway stay in Vegas when it comes to unpaid medical bills! Listen, Vegas can get wild, so you've got to cover yourself with some good quality travel insurance before you jump in head first and fall down Red Rock Canyon after a heavy night at the casino!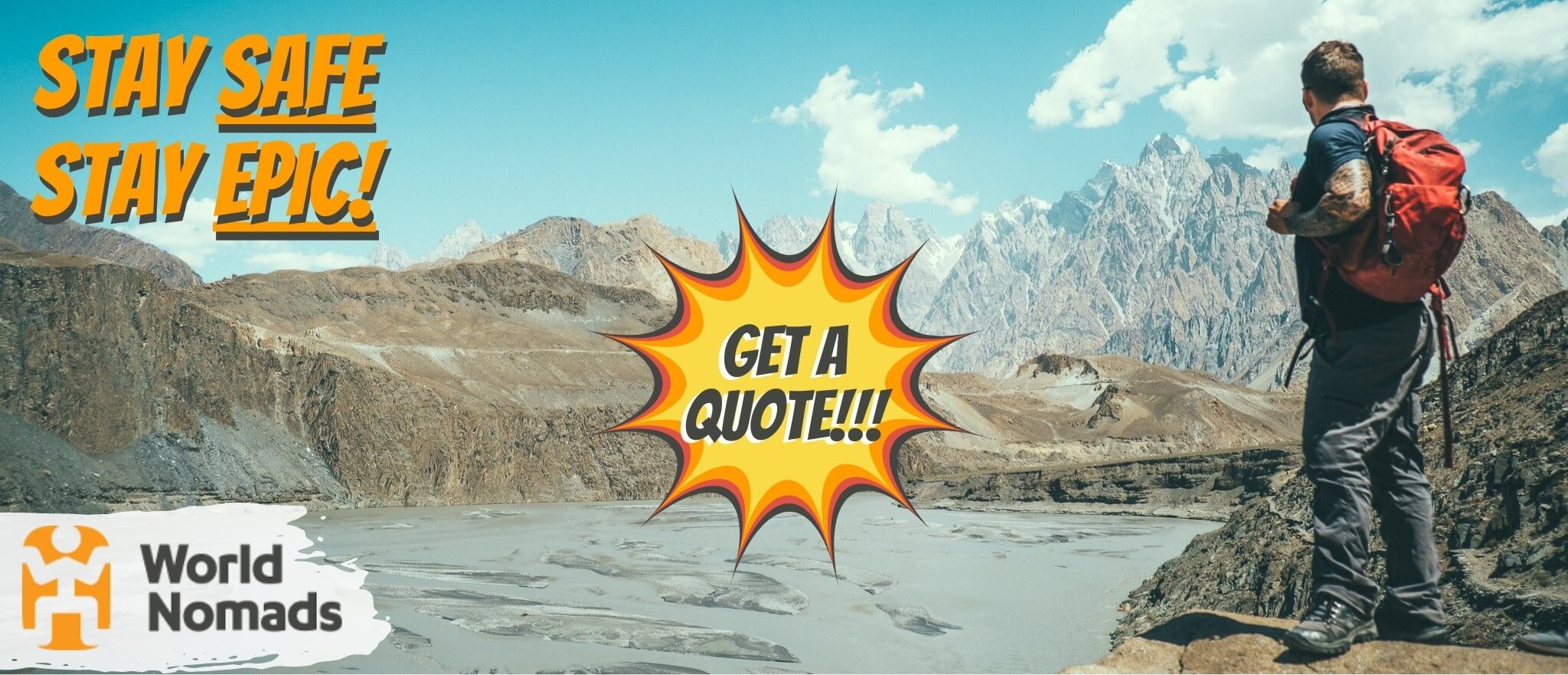 World Nomads' mission is to support and encourage travellers to explore their boundaries. They offer simple & flexible travel insurance, and safety advice to help you travel confidently.
They've been doing it since 2002 – protecting, connecting, and inspiring independent travellers just like you.
Get a quote below or read our in-depth review!
World Nomads provides travel insurance for travelers in over 100 countries. As an affiliate, we receive a fee when you get a quote from World Nomads using this link. We do not represent World Nomads. This is information only and not a recommendation to buy travel insurance.
Final Thoughts on Las Vegas VRBOs
There's no end to fabulous vacation rentals in Las Vegas, with many cool features and stunning amenities for a fantastic stay.
From private pools, games rooms, and hot tubs to the more unique facilities, like private golf courses, bowling alleys, and basketball courts; we're sure you'll agree that there are many awesome options on our list of the best VRBOs in Las Vegas!
Whether you're planning a getaway with friends and loved ones, a couple's escapade, or a solo adventure, check into a top Las Vegas VRBO for a terrific time in The Entertainment Capital of the World.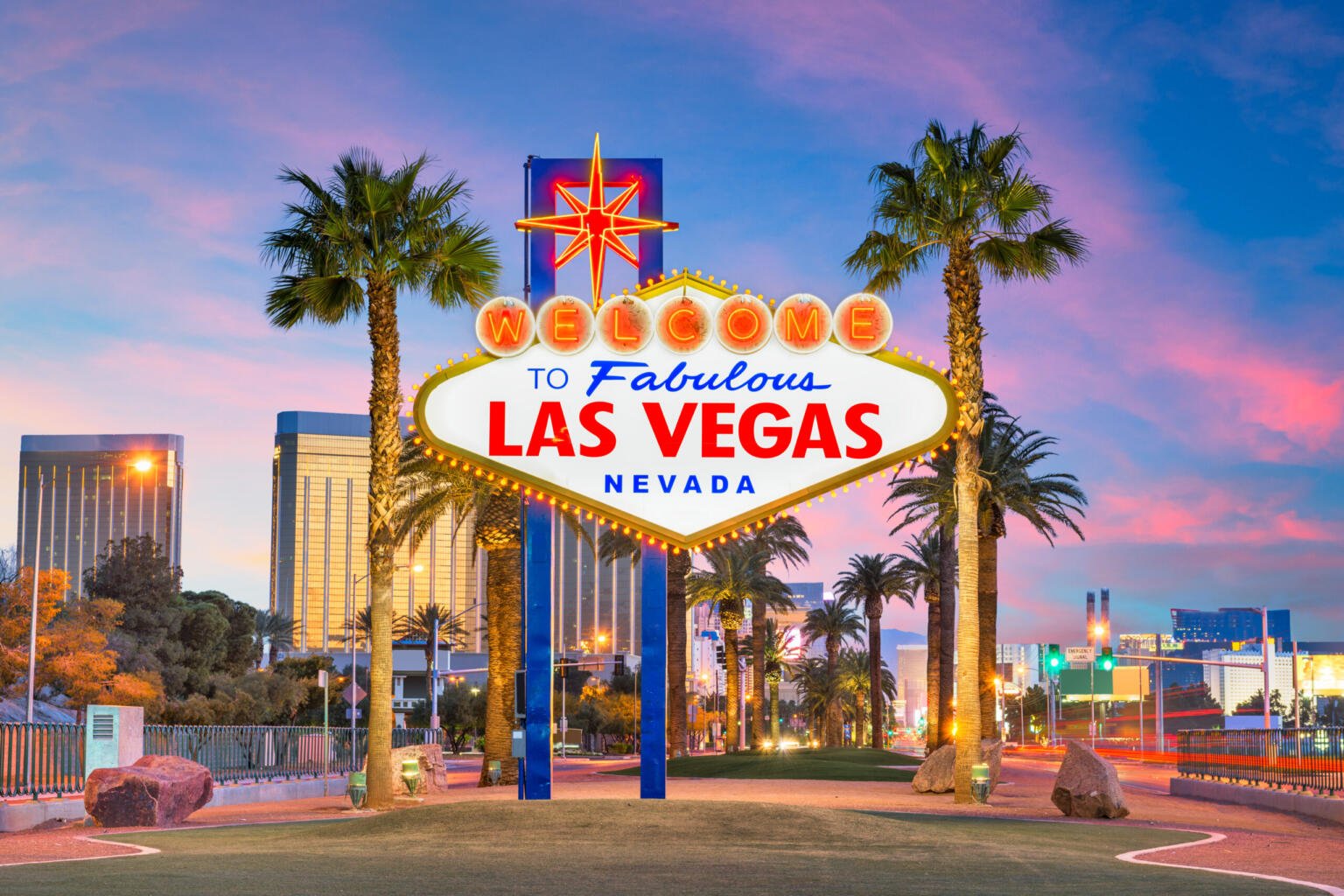 ---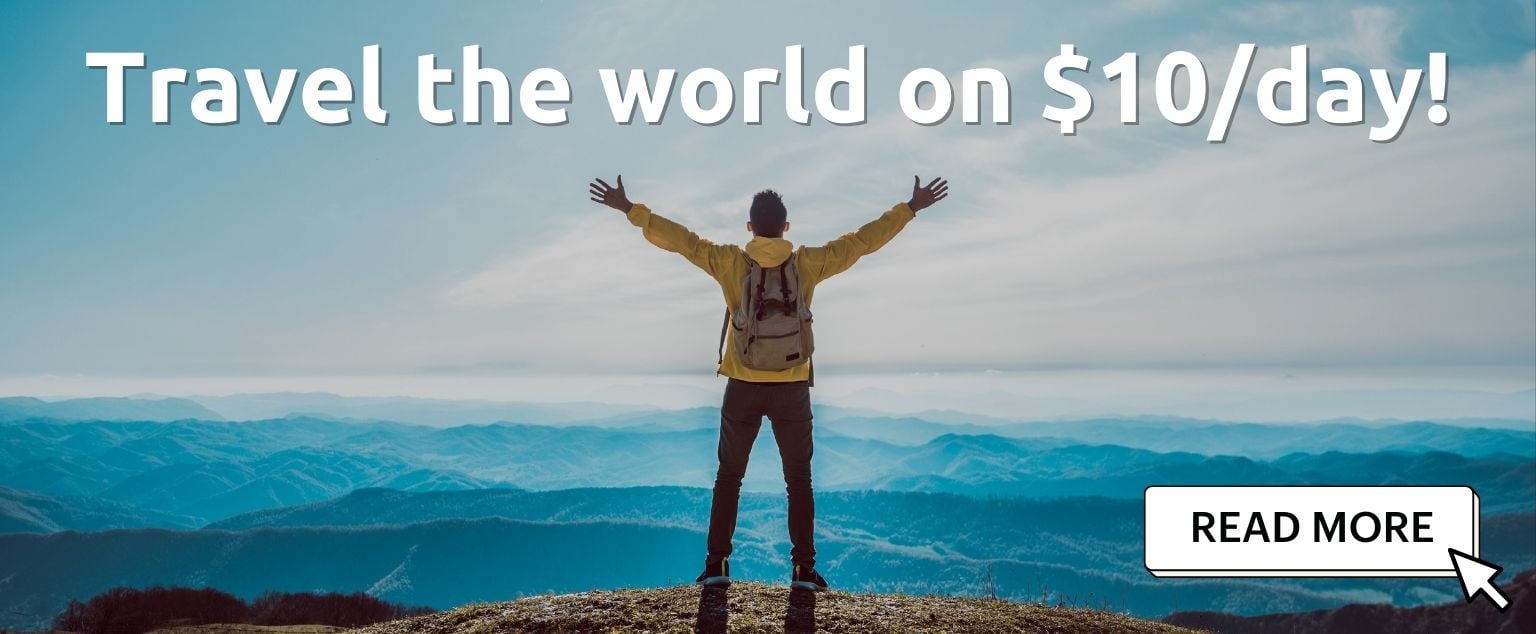 And for transparency's sake, please know that some of the links in our content are affiliate links. That means that if you book your accommodation, buy your gear, or sort your insurance through our link, we earn a small commission (at no extra cost to you). That said, we only link to the gear we trust and never recommend services we don't believe are up to scratch. Again, thank you!