Outer Banks has got to be the ultimate coastal vacation. Steeped in history, not only is this place where the famed pirate Blackbeard fought his last battle (yes, Blackbeard was real), there are also over 3,000 shipwrecks where you can snorkel, scuba dive, and maybe pick up some loot! Let's not forget about surfing and windsurfing either; the swell here is ideal for catching some waves whether you're a beginner, intermediate, or experienced surfer!
If you're after a relaxing holiday, then you'll go wild over the sandy beaches, wildlife watching activities, and scenic lighthouses. Plus you'll find all the cute shops and coastal cafes you could dream of!
Outer Banks VRBOs are the embodiment of a coastal vacation. Whatever type of place you're staying in, you can expect a laid-back, seaside vibe and of course be close to the water! Keep reading to discover our fave rentals in the Outer Banks.
Quick Answer: These are the Top 5 VRBOs in Outer Banks
Overall Best Value VRBO in Outer Banks
Overall Best Value VRBO in Outer Banks
Beachy Home in Kill Devil Hills
> $
> 6 Guests
> 2 beach cruiser bikes
> Coastal style
Best Budget VRBO in Outer Banks
Best Budget VRBO in Outer Banks
Condo with Pool Access
> $
> 4 Guests
> Pool Access
> Covered deck with sea view
Best VRBO for Couples in Outer Banks
Best VRBO for Couples in Outer Banks
Colorful Oceanfront Cabin
> $
> 2 Guests
> Upper and lower deck
> Colorful interior
Best VRBO for Families in Outer Banks
Best VRBO for Families in Outer Banks
Coastal Cottage with Hot Tub
> $$
> 10 Guests
> Games and children's books
> Outdoor living area
Over-the-Top Luxury VRBO in Outer Banks
Over-the-Top Luxury VRBO in Outer Banks
Incredible Waterfront House with Private Dock
> $$$$
> 28 Guests
> Oceanview fitness suite
> Poolside outdoor kitchen

Unlock Our GREATEST Travel Secrets!
Sign up for our newsletter and get the best travel tips delivered right to your inbox.
What to Expect from VRBOs in Outer Banks
The Outer Banks VRBOs are exactly what you'd expect from a laid-back group of islands. Rentals range from beachfront condos to coastal vibe houses and cottages! And no matter how they're decorated, they always seem to embrace the beach life.
Most rentals here have fully equipped kitchens (a great option if you're on a budget and want to cook from home), an outdoor deck or balcony, and a living/dining space. Best of all, wherever you stay, you can be sure that you're only a short drive or walk away from the sound or a sandy beach! Quite a few options also come with outdoor showers which are great for hosing off all that sand before going inside.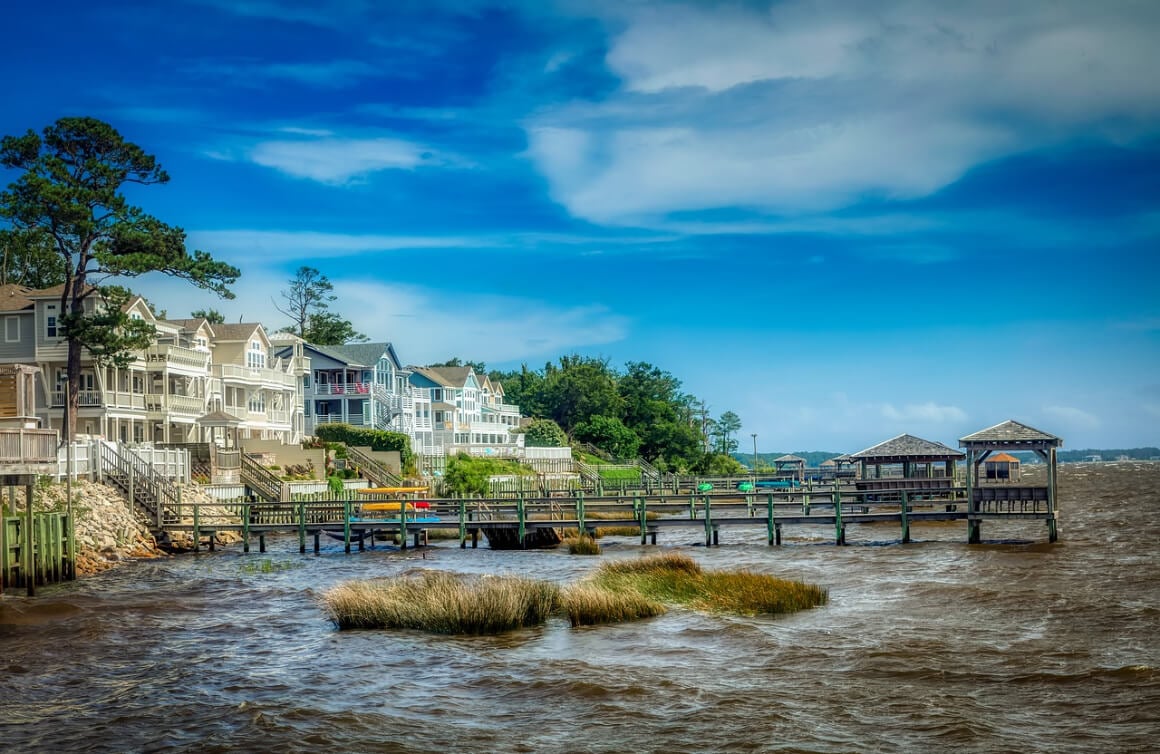 Houses
Houses are our number one option for large families or groups. You'll have plenty of space and be sure to have all the creature comforts you're used to at home! Lots of houses have open decks or balconies so you can soak in the amazing views, and they always have a decent-sized kitchen, dining table, and living area. 
Many homes are on the beachfront, and a few properties even have their own docks going right into the water! You'll find houses in all of the main Outer Banks towns, so whether you're looking for a lively stay in Nags Head or a quiet retreat on Hatteras Island, there's somewhere for you!
Condos
We think condos are fantastic for couples, small families, and small groups of friends. You can find them in all of the main towns and they are normally close to restaurants and shops. Quite often condos are right on the beachfront and will have a little balcony with seating so you can enjoy the ocean views! Many of them have pool access too, which is great for little swimmers.
Condos can have a local feel or look more professional, but either way, expect them to have charm and a certain "beachy" look to them. 
Cottages
For those looking for a super-romantic getaway, cottages are definitely the way to go. These rentals are intimate and just full to the brim with coastal charm! There are also options with more space for families and large groups too. Most cottages have a kitchen or kitchenette, a living space, a dining area, and either an open deck or screened porch. You will find some colourful and quirky local feel options as well as more colour-coordinated, professional-looking properties. 
Like houses and condos, these rentals can always be found in the main towns, but there are also more secluded choices for those looking for some peace and quiet.
Why Stay in a VRBO?
So why should you stay in a VRBO I hear you asking? Well let me give you just a few reasons why the VRBO platform is going to be your new best friend:
Local Experience: When you stay in a VRBO, you'll get a super friendly host who will be happy to share with you all the best tips and tricks to get the most out of your vacation!
Unique Properties: We all know that boring, un-original hotel rooms are so last year. With VRBO you can stay in unique and interesting properties that really reflect the area you're staying in.
Affordability: Not only are VRBOs easy on the eyes, they're kind to your wallet, too! Quality VRBOs often work out cheaper than your run-of-the-mill hotel room, plus you can find them in the most desirable neighbourhoods/towns.
Last-Minute Booking: So you're a go with the flow kinda person, you've rocked up to Outer Banks and need to find somewhere to stay ASAP. VRBO has you covered. Hosts can set their availability for that same day, so you won't find yourself camping out on the beach!
The 20 Top VRBOs in Outer Banks
Yes, you've made it this far, and now we are going to reward you with some of the most drool-worthy VRBOS in Outer Banks!
This wonderful coastal home is in the popular neighbourhood of Kill Devil Hills and is only a short walk to the beach! Perfect for couples, friends, and families, its bright and airy interior coupled with the laid-back beachy decor make it an ideal base for your Outer Banks vacation. We love the big deck out front where you can sip your morning coffee and feel the sea breeze on your face. There's a full kitchen, dining table, and living area, plus carport parking!
4 Guests
Covered deck with sea view
Travelling the USA on a budget? Don't worry, because we've found you the most amazing Outer Banks VRBO that will make sure you have the best stay without breaking the bank! This condo is great for couples, friends, and small families. It has a little bit of a coastal boho vibe with rattan accent pieces and a cool blue colour scheme. There's a full kitchen and a supermarket within walking distance, so cooking at home to save extra pennies is totally doable. Best of all, there's pool access and a private pier that goes right to the beach. Ka-ching!
If you've decided to head to Outer Banks alone, don't sweat it, we've got you covered. This tiny cottage is just across from the beach and centrally located in Nags Head, so you are just a short stroll away from grocery stores, restaurants, and Jennette's Pier. We are totally digging the cabin vibes of this place thanks to the interior wooden cladding, and there's a cute little kitchenette, a comfy bed, and a modern bathroom. What more could you want?
Is This the Best Travel Pack EVER???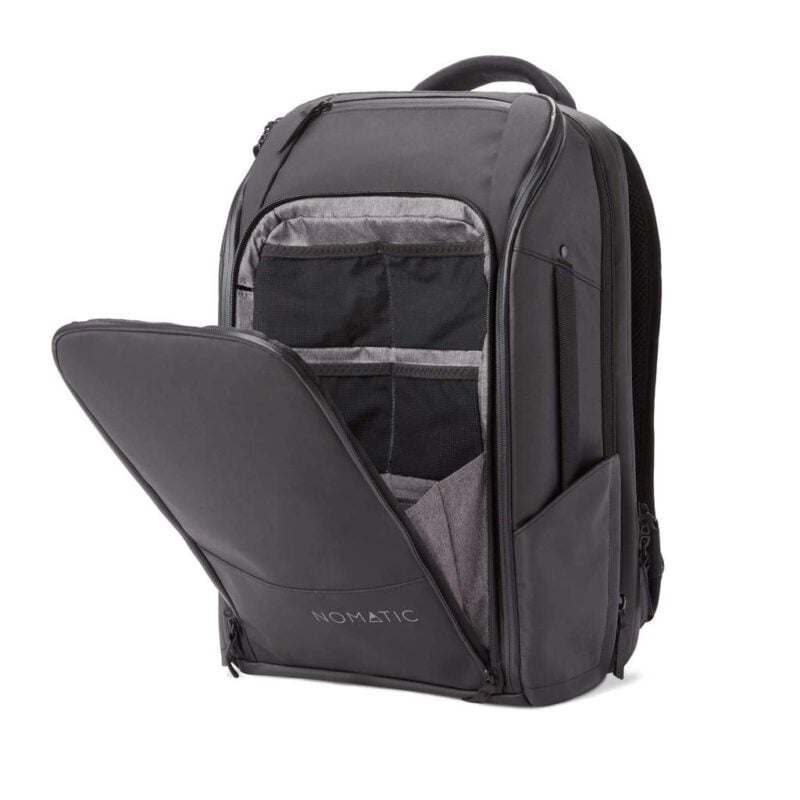 2 Guests
Colourful interior
Yes, this place is super colourful, but that's what we love about it! It's got character, and after all, that's what VRBO is all about. This cosy cabin is ideal for a couples retreat. It sits on Hatteras Island which is a quieter area of the Outer Banks – the number one place to disconnect with your SO and take those long walks on the beach together (it's a cliche for a reason, right?). There's a lower deck for some al-fresco dining and an upper deck for some, wait for it, stargazing! Could it be any more romantic?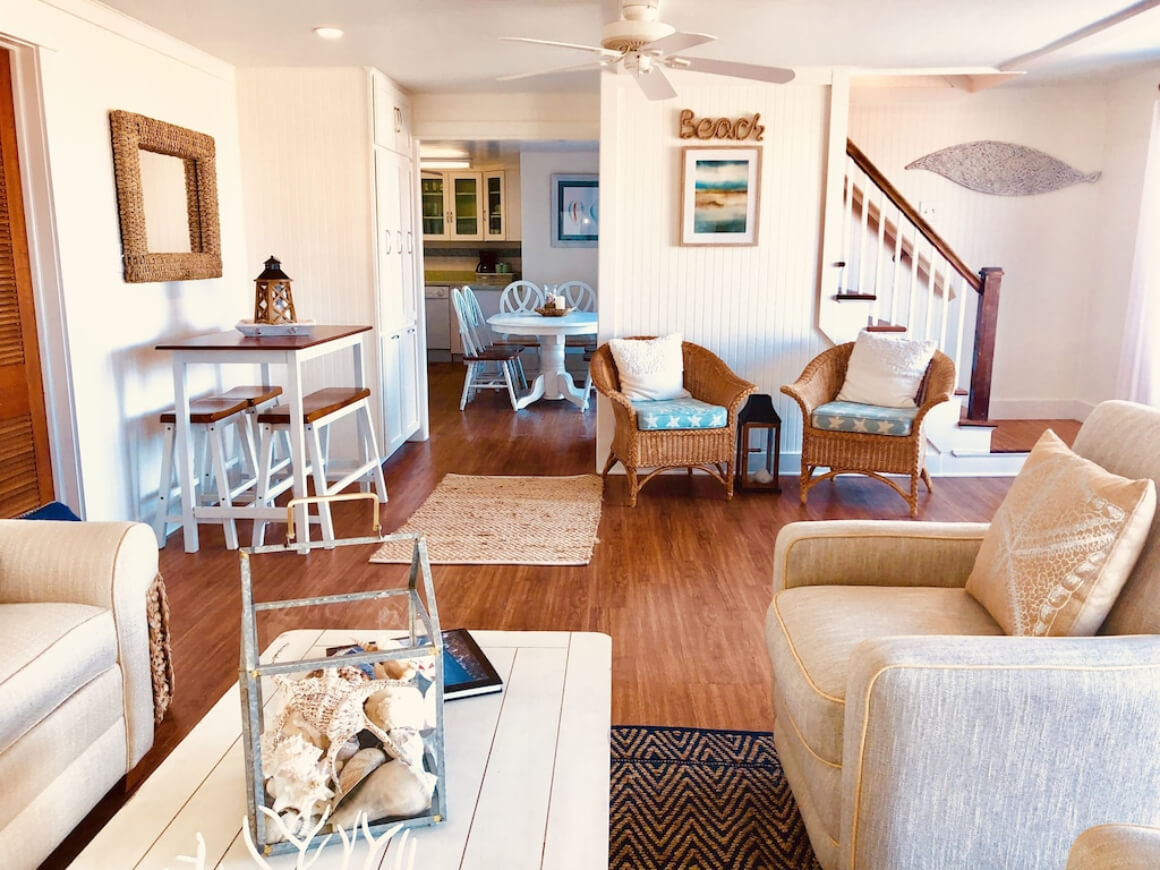 $$
Games and children's books
10 Guests
Outdoor living area
Where better to spend a memorable family vacation than the Outer Banks? And where better to stay than in this 10/10 cottage we've found for you! The kids are going to love this one, you've got the ocean just a short walk away, a load of board games, bunk beds, and even kiddie-sized beach chairs (cute). For the parents, you've got a fantastic hot tub for some alone time once the kids have passed out from a hard day's boogie boarding (boogie boards provided!).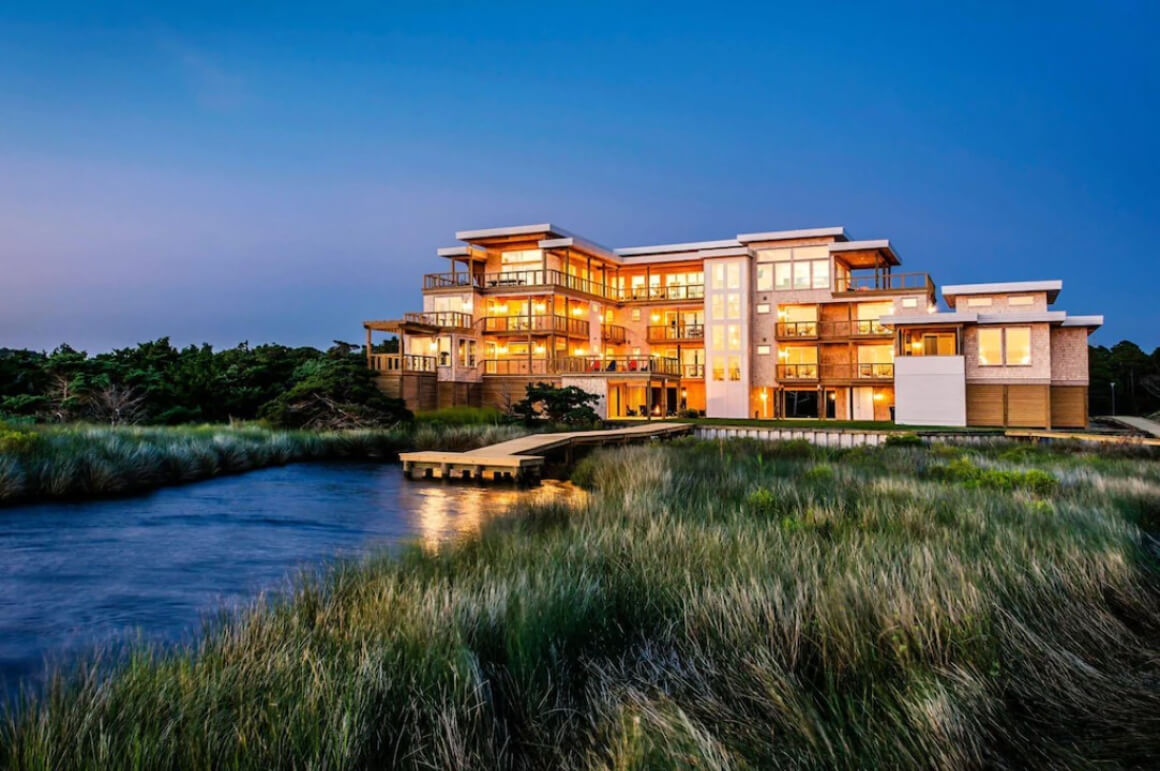 $$$$
Oceanview fitness suite
28 Guests
Poolside outdoor kitchen
This house is the bomb diggity. If you've got a load of cash to spare, I highly suggest staying here on your Outer Banks vacation. You won't regret it. This bad boy rental has got a pool, jacuzzi, fitness suite, yoga studio, and even a private dock into the sound! If those aren't the definition of a bougie lifestyle, I don't know what is. The inside is modern with huge feature windows to soak up the world-class views, and there are decks and balconies galore! The kids (and bigger kids) will go nuts over the foosball and ping pong table, and there's even a poolside kitchen for easy access beer refills.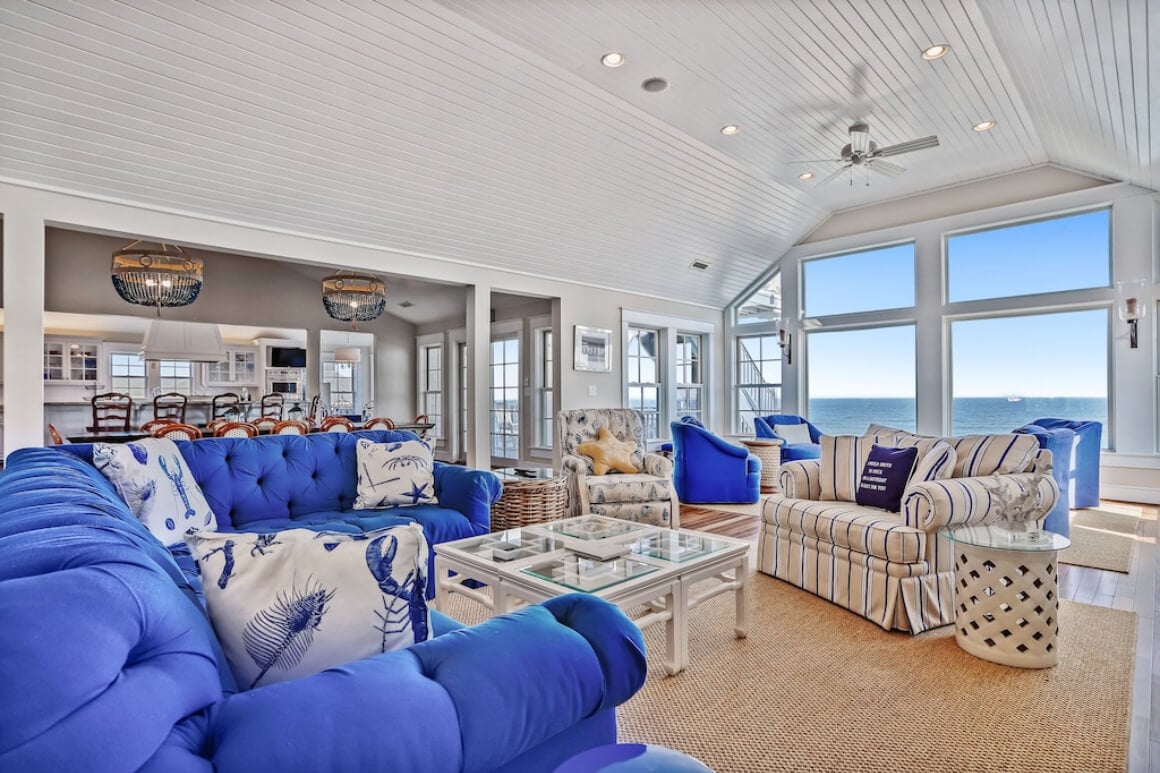 18 Guests
Vintage beach style
This amazing house has got to be one of the best VRBOs in Outer Banks! If you're looking for some beachfront luxury, this place is the one. The inside has got a shabby chic meets nautical meets rattan vibe, and I've got to say, it works! The front side decks and balconies are a winner, plus there's an outdoor pool. If you're still not convinced, check out the rec room which has a pool table, a foosball table, and a kitchen/bar. Oh, and there's a home theatre, too.
This lovely cottage is in South Nags Head and is great for families, friends, and couples! It is so close to the beach you'll have no excuse not to spend every waking moment in the surf. No need to worry about traipsing sand back into the house either (sand gets everywhere we know), because there's a handy outdoor shower to wash off! The place has all the essentials, a full kitchen, dining area, and living space, plus there's a cheery, beach cottage feel to the place. 
Look, I love a coastal theme as much as the next person, but this modern VRBO in Outer Banks is a breath of fresh air in a sea of shell prints and seafoam paint. Sleek, edgy, minimal – we love, love, love! Perfect for couples, this place is close to the beach and is in the popular town of Kitty Hawk, so there are plenty of things to do and places to eat. When you don't wanna leave the condo, there's a kitchenette to prepare some light meals and a smart TV where you can binge-watch a certain Netflix show about a group of gold-hunting surfers in the Outer Banks.
We think this Outer Banks VRBO is the best choice for your weekend away! Absolutely perfect for couples, this place is centrally located in Kill Devil Hills and is right next to the sound. There are plenty of restaurants close, by but if you don't feel like going out, there's a mini-fridge where you can keep some supplies. There's a private dock and a kayak available so you can just launch yourself right into the water! If water sports aren't your thing, then the dock is also a prime sunset spot.
Stunning VRBO for Honeymooners in Outer Banks | Waterfront Cottage
Forget the wedding, this incredible cottage is going to be the highlight of your celebration and will start off your married life with a bang! This place is right on the sound and even has a private dock to lounge on. If you're looking to heat things up (ooh la la) grab a bottle of bubbly and spend the evening in the hot tub toasting the rest of your lives together. The inside is bright with natural light and has a cosy lounge space, kitchenette, and most importantly, a king-sized bed (wink).
Best House in Outer Banks for a Group of Friends | House with Private Pool
We have found you the best VRBO in Outer Banks for that epic friend-cation you've been planning. Not only does this house have a hot tub and private pool (make sure you pack that inflatable donut) there's also a rec room with a foosball table and a wet bar so you guys can party it up! The main room is massive, so even if you're in a big group there is plenty of space for everyone to hang out together. There are multiple decks that have an ocean view, and the beach is just across the street.
This beautiful cottage gives us total jungle cabin vibes. We are obsessed with the interior and exterior wooden cladding which makes us feel like we're in a Costa Rican jungle, never mind the Outer Banks! The cottage has a ton of cleverly placed windows which fills it with natural light and makes the space feel bright and airy. The screened porch will be your new favourite spot to hang out where you can munch down those freshly grilled burgers you cycled to the nearby grocery store to get. Laid-back island life at its finest. 
It wouldn't be right to make a list of the best Outer Banks VRBOs and not include a boat, right? This vintage yacht is the perfect rental for couples looking to push the boat out a little bit (pun absolutely intended). It is, of course, right on the water, but don't let that fool you into thinking you will be anything less than comfortable. There's a kitchen, a full-size bed, smart TV, and Wi-Fi. You'll love spending time up on the flying bridge and admiring the view from up top, so all aboard folks! 
So you've decided it's time for a long vacation in Outer Banks, and we agree 100%! Outer Banks is dope, and man, have we found you the most amazing home to cosy up in. Stay here as a group of friends or a big family as there's plenty of room to spare and admire the ocean view or take the short walk to the harbour. You can launch your kayak right into the water from the nearby dock and know that you've got an amazing home to relax in after a long day! There's an open plan kitchen/living/dining, ocean-view balconies, and loads of space in the bedrooms. 
Best Pet-Friendly House in Outer Banks | Beachfront House
8 Guests
Beach chairs and umbrellas
This house definitely rates as one of the best VRBOs in Outer Banks! If you're bringing Fido along for the trip then don't fret as this place is dog friendly! The location is unbeatable as it is right on the beach and only a short drive to the village of Duck. You've got the most glorious beachfront deck plus a deck out front for some serious sunset views. No need to worry about your furry pal shaking off half the beach inside either, as there's an outdoor shower great for hosing off the sand! 
This Outer Banks VRBO is the one. If you're looking for a picturesque seaside cottage vibe, you've found it! It's an easy walk from beaches, restaurants, and shops, but there's also parking if you'd prefer to drive. The beautiful interior adds to my rattan furniture obsession, there's no such thing as too much rattan, right? The cool blue colour scheme says coastal without being too in your face nautical (eek!), and I guarantee you the sunroom is going to be your fave place in the cottage! It has a tonne of natural light and seating to curl up and enjoy a good book.
Best VRBO in Kill Devil Hills | Central Cottage
8 Guests
Vintage coastal feel
This Outer Banks VRBO is a great option for a family or group of friends looking to spend some time in Kill Devil Hills. It is super close to the beach and a short walk to the Wright Brothers Memorial. We love the vintage coastal vibe this place is giving off with its hardwood floors, antique furniture, and stunning decor. The cottage has a comfortable living/dining/kitchen room, but it also has a screened porch for some added space. Best of all, you'll also get little extras like the use of beach chairs, bikes, and boogie boards!
8 Guests
Family-friendly location
A seriously great option for families or large groups of friends, this home in Kitty Hawk is right across from family activities like go-karting and mini-golf, but is also really close to the beach! It has an amazing open-plan main room that extends out onto a balcony with some comfortable seating. This place is seriously stunning and looks straight out of a magazine with its neutral colour scheme and coastal decor. 
Best VRBO For Catching Waves in Outer Banks | Oceanview Condo
So you've come to the Outer Banks to catch some gnarly waves? Well, this condo is going to be the absolute perfect base for your stay. It is only a 15-minute walk to Duck village and all its restaurants, shops, and grocery stores. The interior is comfortable and stylish and has an ocean view deck for relaxing on. The beach is right out front so you can grab your board and catch some waves, or head to Duck Pier nearby which is a popular surfing spot with the locals!
Don't Forget Your Outer Banks Travel Insurance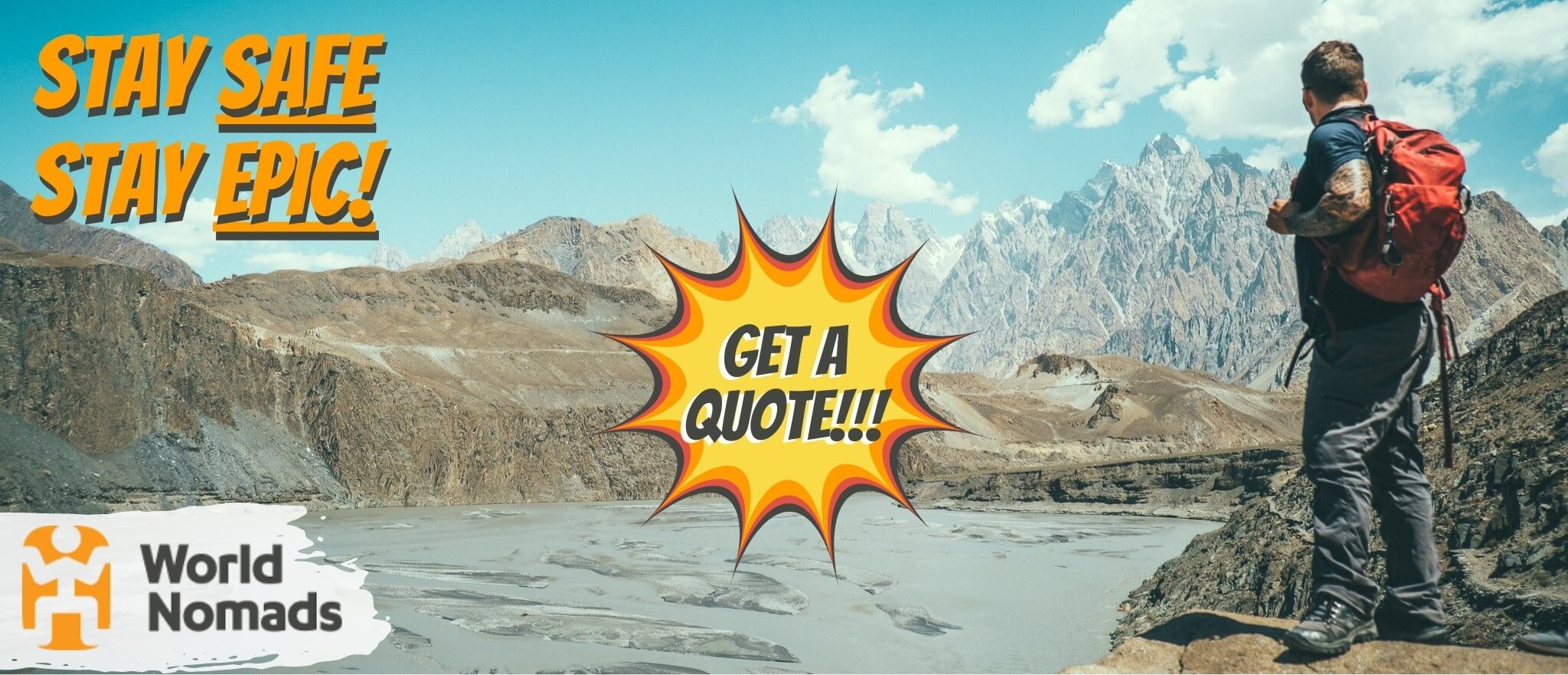 World Nomads' mission is to support and encourage travellers to explore their boundaries. They offer simple & flexible travel insurance, and safety advice to help you travel confidently.
They've been doing it since 2002 – protecting, connecting, and inspiring independent travellers just like you.
Get a quote below or read our in-depth review!
Final Thoughts on Outer Banks VRBOs
We are all about the Outer Banks VRBOs. We love that these rentals are not only comfortable and affordable but that they fully embrace the coastal vibe (in a non-tacky way). Wherever you decide to stay, the VRBOs in Outer Banks are always close to the water, which is awesome, because after all if you're coming to a group of islands, you must be an ocean lover!
Just remember that wherever you go on a trip, especially abroad, it is always wise to consider getting travel insurance. The USA is safe to visit, but we highly recommend protecting your investment in case things don't go to plan.
---
Bye for now, but not forever!
If you want MORE top-tier Broke Backpacker content like this, then sign up for our weekly newsletter below to get the latest and greatest!
And for transparency's sake, please know that some of the links in our content are affiliate links. That means that if you book your accommodation, buy your gear, or sort your insurance through our link, we earn a small commission (at no extra cost to you). That said, we only link to the gear we trust and never recommend services we don't believe are up to scratch. Again, thank you!