Phoenix is a top destination for folks outrunning the winter. Where better than "The Valley of The Sun" to soak up all 300 days of the glorious Sonoran desert sunshine! Aside from top weather, this city is making a name for itself for high-end shopping, resort life, and an up-and-coming food scene. Sonoran Mexican food is king here, and a must-try!
The city is surrounded by amazing desert landscapes, so hiking is a popular activity. If getting super sweaty and out of breath isn't your thing, you can always admire the view from the tranquility of the skies in your very own hot air balloon – the choice seems pretty obvious…
Phoenix VRBOs are insanely cool and incredibly varied! You'll find unique casitas, luxury homes, and modern condos all within a few km of each other, and of thriving downtown. If you want to know our top rentals in Phoenix, then keep on reading..
Quick Answer: These are the Top 5 VRBOs in Phoenix
Overall Best Value VRBO in Phoenix
Overall Best Value VRBO in Phoenix
Downtown Condo
> $
> 2 Guests
> Pool access
> Balcony
Best Budget VRBO in Phoenix
Best Budget VRBO in Phoenix
Spanish Revival Duplex
> $
> 2 Guests
> High-speed wifi plus Netflix
> Outdoor patio with grill
Best VRBO for Couples in Phoenix
Best VRBO for Couples in Phoenix
Boho Casita
> $
> 2 Guests
> Pool and hot tub access
> Private patio
Best VRBO for Families in Phoenix
Best VRBO for Families in Phoenix
House with Pool
> $$
> 6 Guests
> Private pool
> Open plan kitchen/living/dining
Over-the-Top Luxury VRBO in Phoenix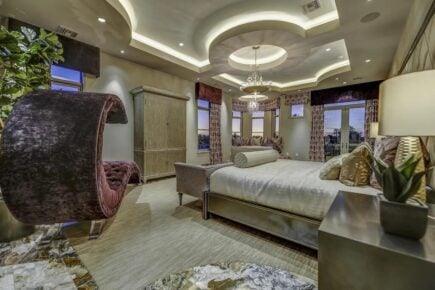 Over-the-Top Luxury VRBO in Phoenix
Remodeled Brownstone House
> $$$$
> 6 Guests
> Home movie theatre
> Game room with Dance Dance Revolution!!!!

Unlock Our GREATEST Travel Secrets!
Sign up for our newsletter and get the best travel tips delivered right to your inbox.
What to Expect from VRBOs in Phoenix
VRBOs in Phoenix are so diverse, it's incredible. The most popular types of rentals here are houses, condos/apartments/studios, and casitas. Expect to find professionally managed places, as well as super "local feel" rentals with a ton of options in and around the downtown area.
Given the phenomenal Phoenix weather, a lot of places have outdoor spaces. Whether it's a shared courtyard, private garden, or at the least a little balcony, you'll find somewhere to work on your tan. Most, if not all, rentals have a kitchen or kitchenette, a dining space, and a living area. Some of the larger homes and condos in large apartment blocks have private pools or pool access, so bring your floaties!
Houses
Houses are a popular pick for families or large groups of friends. You will have loads of space so you won't be on top of each other (no arguments this year, please!) but can still convene in the communal areas when you want to. Emphasis on the want. 
These rentals will provide you with all the comforts you are used to at home, and usually have a large, fully equipped kitchen, so cooking a family meal is easy peasy. You'll find them pretty much everywhere, including the much-coveted Roosevelt Row (RoRo) art district and the surrounding areas. 
Casita/Bungalow
A great fit for couples, casitas/bungalows are usually smaller rentals, so have a more intimate feel but with all the comforts of a home. Casitas are often fully private guest houses but may share a communal space or yard. These rental types range from local feel places with antique furniture and interesting artwork to more professional-looking properties. But make no mistake, all of these interiors feel incredibly curated and well thought out.  
You'll find casitas and bungalows in the same area and neighborhoods as houses!
Condos/Studios
Condos, studios, lofts, whatever you want to call them, are another great option for a couple or a small group. These rental types can range from single-story buildings to your traditional high-rise condo. Many of them have a professional feel and often come with pool access and a balcony or private patio area. 
There are great options all over downtown, including around Arizona State University, near RoRo, and a little further away from the center. 
Why Stay in a VRBO?
So before I give you some serious VRBO eye candy… let me tell you why this platform is our new go-to and why it should be yours too:
Local Experience. I mean who doesn't want insider knowledge about where you're going? When you stay in a VRBO you'll get a friendly local host who will gladly spill the beans on all the best Phoenix bars, restaurants, and more!
Unique Properties. It doesn't take a genius to work out that VRBOs are obviously more varied than hotels, just take a look at some of the properties below and you'll see. If you're looking for a rental with that something extra, then this is definitely the place to book!
Affordability. Not only are VRBOs waaaay more interesting and fun than hotels, they're also amazingly priced. You can stay in a beautiful place in the best neighborhoods and still have some extra change for that second (or fourth) margarita…
The 20 Top VRBOs in Phoenix
It is time. We have searched far and wide to give you the ULTIMATE list of VRBOs in Phoenix (you can thank us later).
Overall Best Value VRBO in Phoenix | Downtown Condo
This incredible Phoenix VRBO is the perfect place to base yourself for your stay in the city. It's got that mid-century modern style that is easy on the eyes and a location to die for!
Just a few steps from the apartment you'll find great bars, restaurants, and cafes, plus you're only a short walk from Roosevelt Row, the trendiest spot in all of downtown. The studio has all the necessities, a kitchen, TV, Wi-Fi, and if all that wasn't enough, you'll have pool access, a private balcony, and parking too. When we say the best value, we really mean it! You are welcome. 
Chase Field
Phoenix Art Museum
Phoenix Convention Center
$
Outdoor patio with grill
2 Guests
High-speed wifi plus Netflix
Someone call up Bargain Hunters because boy have we got a deal for you budget travelers! This duplex is insane and has got to be one of the best VRBOs in Phoenix. Not only is it in a super cool Spanish revival building (who doesn't love staying somewhere with a bit of history?), it is also just blocks away from museums, the Light Rail system, and Roosevelt Row.
The inside is filled with vintage touches and unique artwork that give the place loads of character, and as an added bonus there's a large outdoor space with covered seating and a grill. Great for couples or solo travelers!
Perfect VRBO for Solo Travelers | Modern Studio
Solo travelers, this one's for you. This modern studio has everything you need for a great stay, including a full kitchen, comfy bed, and a smart TV. Just in case the lone wolf life isn't 100% for you, there's also an incredible shared courtyard with a fire pit, grill, and tons of seating so you can meet other people.
Not only is this place super affordable (we love a bargain over here), it's also super central to all of Phoenix's sights!
Is This the Best Travel Pack EVER???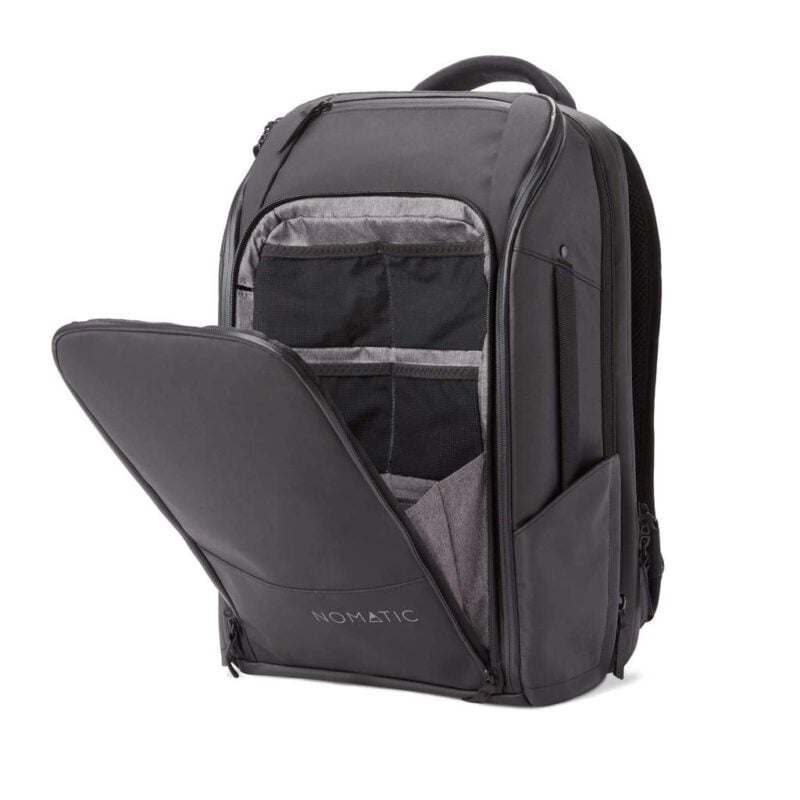 Most Romantic VRBO for Couples | Boho Casita
2 Guests
Pool and hot tub access
You and your boo will definitely feel the love staying in this charming little casita! We are obsessed with the laid-back boho vibes, rattan furniture, cool blue color scheme, and exposed brick walls. There's a modern kitchen for whipping up some breakfast in bed or a romantic al-fresco dinner outside on your private patio.
There's a shared hot tub and pool so you can cool off after the day's hiking or museum hopping. If you're the kind of couple who likes to party together, this place is only a short distance from the city's best bars and nightlife.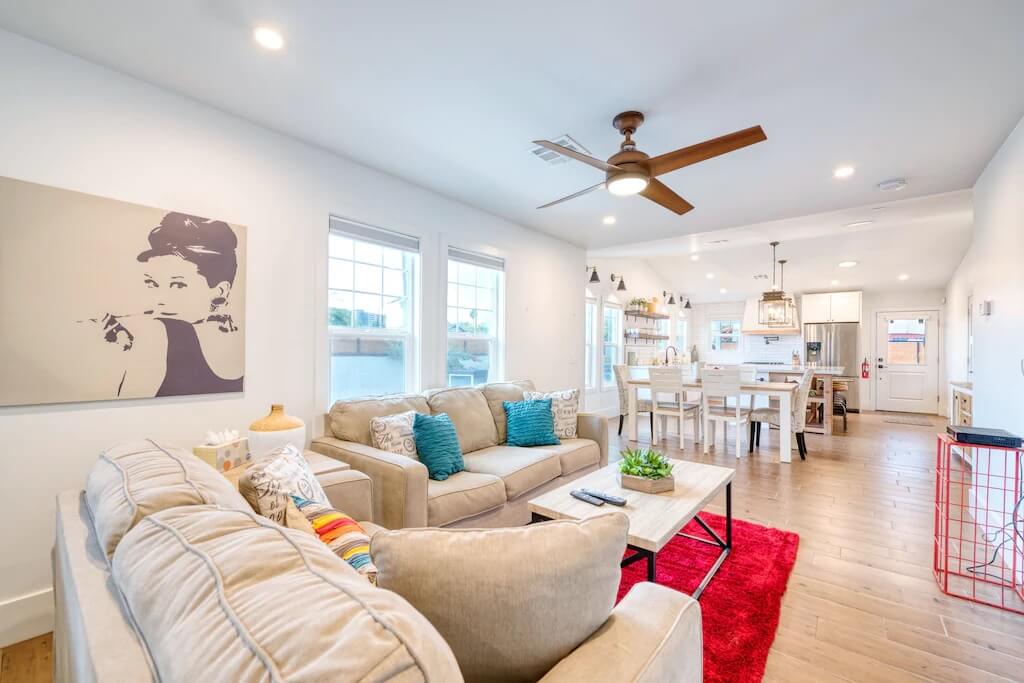 $$
Open plan kitchen/living/dining
So why have we picked this house as the best VRBO in Phoenix for families? Yes, it is beautifully decorated, yes, it has a killer private pool, and yes, it is spacious and bright… But we are totally digging all the insane communal spaces! You came here for some quality family time, am I right?
The main room is a HUGE open living kitchen, living, and dining area, so everyone can be together while meals are being prepared, the kids are playing board games, or someones watching a movie. Plus, there's a living and dining area poolside, too! 
$$$$
Game room with Dance Dance Revolution!
6 Guests
Home movie theatre
Okay, this house is amazing, but we wouldn't expect anything less from our over-the-top luxury pick! I'm getting some serious modern Moroccan luxury vibes (say that three times fast) from the plush pillows, decorative tile work, and chandeliers.
The most next-level thing though has got to be the game room. There's air hockey, a pinball machine, and even Dance Dance Revolution for Pete's sake. And, if you wanna pull an all-night dance marathon, it has its own kitchen and dining area so you can refuel in between all the popping and locking.
The home theatre has reclining velvet chairs, the rooftop deck has city views and an outdoor kitchen, the list goes on and on! Dream home for sure.
$$
Antique furniture and decor
6 Guests
Spacious backyard
Fantastic for a group of friends or a couple, this historical home is super close to all the happening areas of downtown Phoenix. The house has kept its vintage charm through beautifully selected furniture and artwork but thankfully has all the conveniences of the modern day like Wi-Fi, a TV, and an updated bathroom.
The big backyard has a dining area for some afternoon grilling and a couple of deckchairs for working on that golden glow. 
Best Studio/Condo VRBO in Phoenix | Minimalist Loft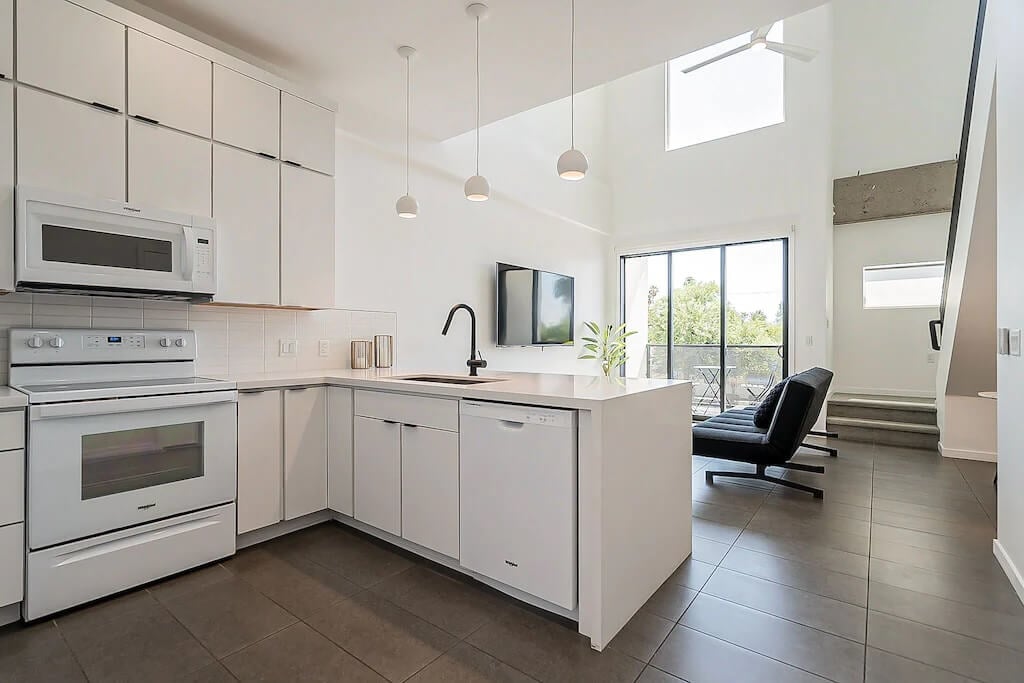 This loft brings minimalism to a new level, and to be honest, I'm all for it. A great space for couples or two friends, this place has clean lines, modern furniture, and a white, black, and grey color scheme. But don't think minimalist living leaves you without your creature comforts, oh no!
There's a huge flatscreen, high-speed Wi-Fi, a fully stocked kitchen, and all the other essentials you can think of, they're just neatly tucked away behind closed cupboard doors to not disrupt the oh-so-pleasing aesthetic!
3 Guests
Minimalist Nordic design
This truly insta-worthy bungalow will get you all up on that tiny house hype! It was custom designed by a local designer and will fuel your growing obsession with minimalism (thank you Marie Condo). Perfect for couples, friends, or those flying solo, everything in this home has been carefully thought out to maximize space in the most appealing way possible!
The outdoor shower is really a top feature, as is the reading loft/sleeping space that makes this a top Phoenix VRBO! Does this place spark joy? Yes, yes it does.
Gone are the days when staying in an RV meant ugly plaid linens and outdated wooden trim… This fully remodeled airstream is bright, light, and stylish AF! Yes, it's a squeeze but you and your SO will love the coziness and intimacy of staying in close quarters.
The modern kitchenette has butcher's block countertops, the shower room has hexagonal tiles, and the bathroom has a vessel sink, all key elements in creating the ultimate Pinterest-worthy rental. The cherry on top is that the Airstream is in the RoRo area so you're just a short walk to bars, galleries, and more. Is this one of the best VRBOs in Phoenix? We think so!
Most Beautiful House in Phoenix | Downtown Home
10 Guests
Front porch with seating
Okay, okay, so beauty can be subjective, but this place is pink and flowery and is what I can only describe as a modern-day Barbie dream house. I love it!! This insane home is smack bang in the middle of downtown and an easy walk to all the best bars, restaurants, and more.
As well as the beautiful pink color scheme (obsessed), the home is luxurious with plush furnishings, a clawfoot tub in the master bath, and a totally glam kitchen. The covered porch has seating and the most adorable swing bench decorated with flower garlands. Definitely the location for your next insta-shoot!
Stunning VRBO for Honeymooners in Phoenix | Remodeled Casita
Time to start your life as newlyweds with a bang! This remodeled casita is perfect for honeymooners, in central Phoenix, close to restaurants, galleries, and yoga studios (time to try out couples yoga?). The inside is modern and spacious with a full kitchen, dining area, and living space.
What we love the most is the steamy walk-in shower, complete with beautiful tile work and a rain showerhead. Give me a rain showerhead any day of the week! 
2 Guests
A short walk to the light rail
This Phoenix VRBO could not be any more perfect for your weekend away. The charming little casita is centrally located and walkable to the trendy RoRo area, plus, it's only a short walk to the nearest light rail stop making the rest of the city a breeze to get to.
Ideal for couples or a couple of besties, the inside has a modern feel with some vintage touches. It is cozy but with plenty of outdoor space to enjoy!
4 Guests
Pool and gym access
If I could choose anywhere to spend a long vacation in Phoenix, it would be this place. Hands down one of the best VRBOs in Phoenix, this luxury condo is penthouse living at its finest. It has 360-degree city and mountain views, private balconies, yes, balconies, plural!
Plus, a killer master bathroom with a jetted tub (definitely call dibs on that one). Although the guest bath walk-in shower is pretty nice too… The condo is in the city center and steps away from bars, restaurants, and shops. ANYONE – couples, friends, or small families will love staying here!
$$
Spanish-style architecture
I can't think of anywhere better to stay downtown than in the super hip and walkable RoRo district. And folks, that's exactly where this incredible historical home is!
A great base for a group of friends, the Spanish-style architecture shines through not just outside but inside too, in the exposed brickwork, funky master bath tiles, and beautiful fireplaces. The kitchen space is huge and is a part of an open-plan living area so everyone can hang out together.
Yay – we have found a 10/10 place for you and your four-legged bestie! This modern casita has a fully fenced backyard so your dog can roam around to his or her heart's content. We are digging the urban feel of the place with its exposed brickwork, ventilation pipes, and uber-stylish black kitchen.
The casita is super close to downtown and walkable to restaurants, bars, many of which are dog-friendly too!
Best VRBO in Phoenix near Nightlife | Downtown Studio
So I'm pretty sure we have all established that RoRo is where it's AT in downtown in terms of restaurants, galleries, and nightlife. Well, this modern studio is within walking distance of RoRo so is the perfect base for a wild night out in Phoenix!
The place has everything you'll need for a seamless stay, a kitchen, TV, wifi, and a comfy bed. What's more, it is right across from Margaret Hance Park, so if you're the type that needs fresh air to cure a hangover, you'll be right as rain in no time!
2 Guests
Covered patio with firepit
This lovely guest house is in a fantastic location downtown, close to restaurants, bars, museums, and galleries. It comes with heated pool access and has a covered patio with comfortable seating and a firepit!
The bathroom is luxurious with gorgeous tile work in the walk-in shower that has a rain showerhead plus a traditional showerhead. There is a full kitchen, TV, and comfortable bed, a great place for couples.
Is it time for another friend-cation yet? We think it is, and so will the whole gang once you show them this incredible Phoenix VRBO! This house has an off-the-charts cool outdoor space, with a hot tub, bocce ball court, and two cornhole sets.
All you need is to walk to the nearest grocery for some supplies to host the ultimate summer barbecue. The inside has modern furnishings coupled with a rustic vibe which shines through in the wooden clad ceilings and exposed brickwork. Trust me, you guys will dig it. 
6 Guests
Fiber gigabit wifi
Digital nomads, we have found you the ideal Phoenix VRBO. This bungalow will fulfill all of your online working needs. It has fiber gigabit wifi (translate to super duper fast!), a desk aka your new office, and a smart TV.
Other than that, the house has a fantastic outdoor area with a BBQ, firepit, and cozy seating. When you wanna take your work on the go, just head on out the door to one of the many surrounding cafes or restaurants.
Don't Forget Your Phoenix Travel Insurance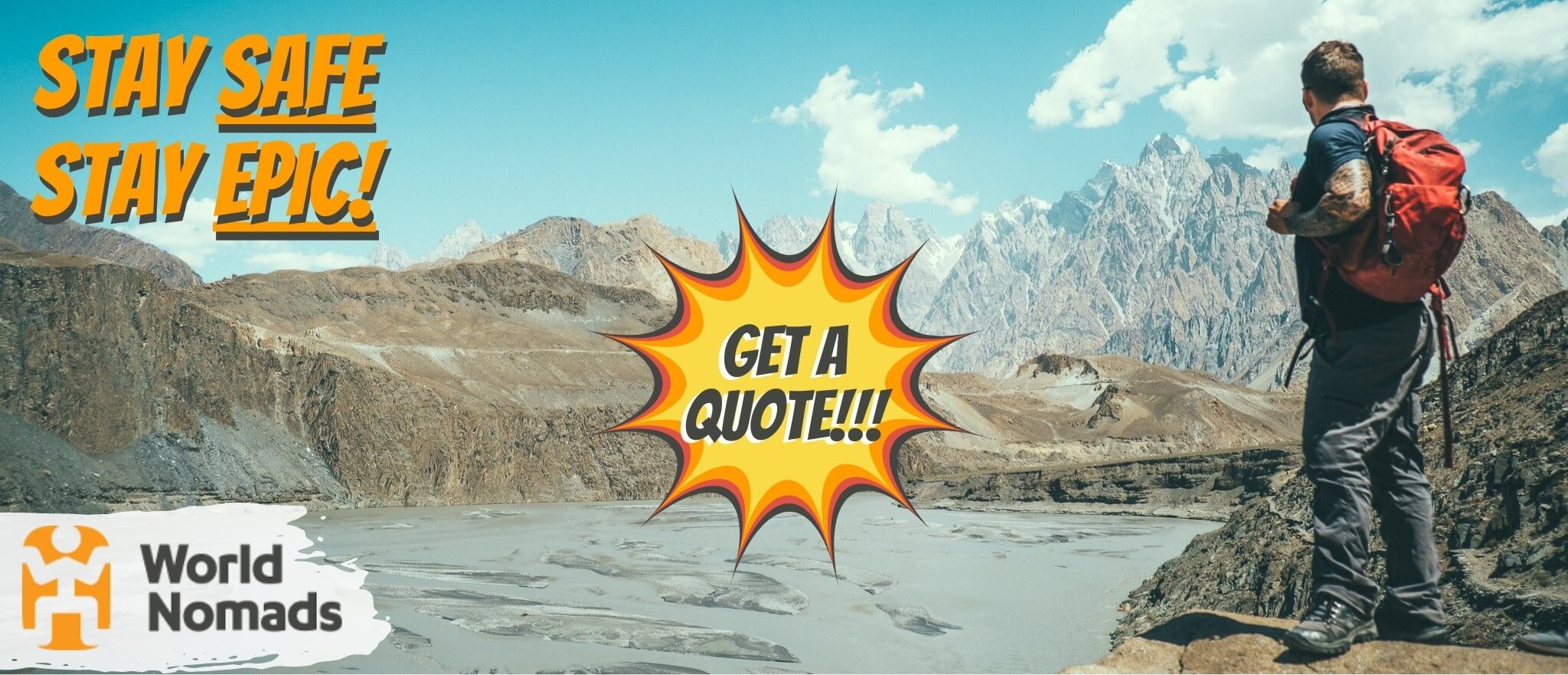 World Nomads' mission is to support and encourage travellers to explore their boundaries. They offer simple & flexible travel insurance, and safety advice to help you travel confidently.
They've been doing it since 2002 – protecting, connecting, and inspiring independent travellers just like you.
Get a quote below or read our in-depth review!
Final Thoughts on Phoenix VRBOs
These Phoenix VRBOs have us shook. There is such a range of amazing properties to choose from, all with their own unique appeal and charm, that we don't know how anyone can pick. If you want a family-friendly place, you've got it, or a super romantic casita, check!
Not to mention that VRBOs in Phoenix are super close to downtown or some sort of urban hub so you're never too far away from the action. If you are planning a trip *high five* we always recommend having a think about travel insurance, especially if you're traveling overseas.
---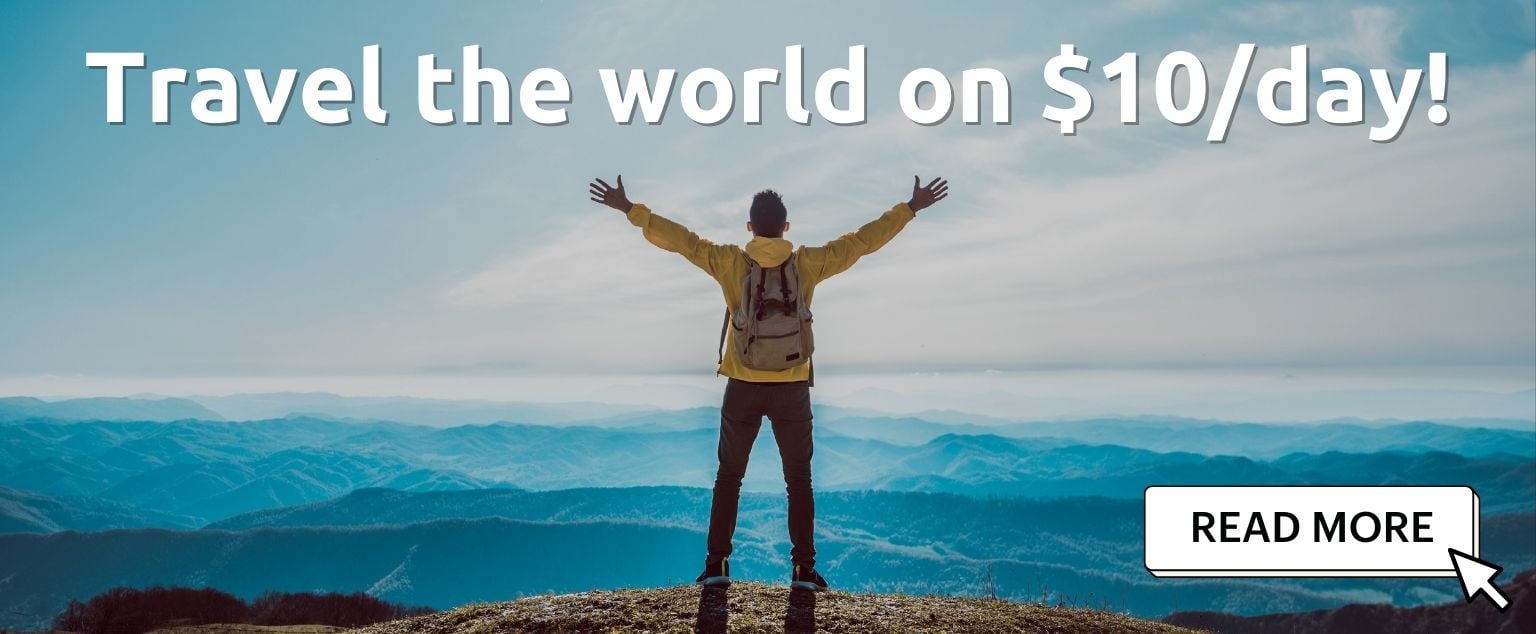 And for transparency's sake, please know that some of the links in our content are affiliate links. That means that if you book your accommodation, buy your gear, or sort your insurance through our link, we earn a small commission (at no extra cost to you). That said, we only link to the gear we trust and never recommend services we don't believe are up to scratch. Again, thank you!