Welcome to Rome, where the la dolce vita (the sweet life) will greet you with open arms. The capital of Italy, the Eternal City, it is a place where history is woven into every nook and cranny.
The hallowed streets are lined with homes belonging to one of the longest continuous civilizations on Earth. Here you will find such sites as the Colosseum, St Peter's Basilica, Trevi Fountain, and of course the Vatican.
One of the best ways to weave yourself into the colorful tapestry of Rome, is to step away from the usual budget hotel or hostel and match the heartbeat of the city by staying in one of the cities top vacation rentals. When you stay at a VRBO in Rome, you not only get to experience the authenticity of a true Italian home, but you get all the modern amenities from home.
Whether you want to walk out onto a cobblestone street and into the heart of the city, have a rooftop terrace to yourself, or simply want more space for you and your friends—there is a VRBO here for everyone!
The beauty of a VRBO is the access to prime locations. Yet, in a city packed with options, the tricky part can be the search for a good one. That is where I come in!
Below you will find 20 of the best VRBOs in Rome, for different budgets, styles and desires. So when you're ready, let's get started!
Quick Answer: These are the Top 5 VRBOs in Rome
Overall Best Value VRBO in Rome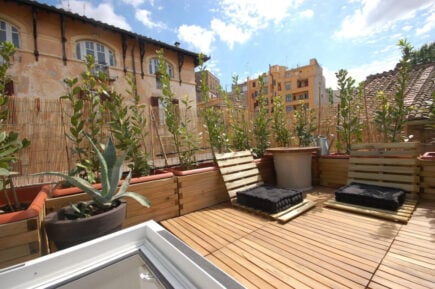 Overall Best Value VRBO in Rome
Loft and Roof Terrace in Trastevere!
> $$
> 2 Guests
> Cozy and Modern
> Near Historic Rome
Best Budget VRBO in Rome
Best Budget VRBO in Rome
Private Room with a Balcony
> $
> 2 Guests
> Balcony Views
> Easy Access to Downtown
Best VRBO for Couples in Rome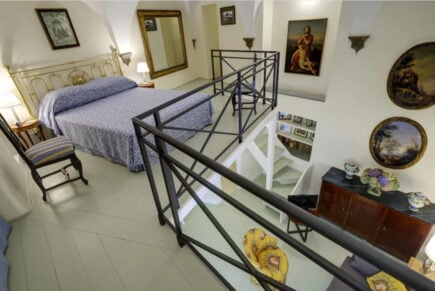 Best VRBO for Couples in Rome
A Romantic 'Palazzo'
> $$
> 2 Guests
> Private Apartment
> Historic Building
Best VRBO for Families in Rome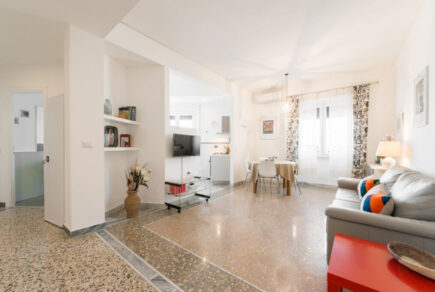 Best VRBO for Families in Rome
Tempora Holiday Home
> $$
> 6 Guests
> Large Dining and Living Areas
> Local Parks and Cinemas
Over-the-Top Luxury VRBO in Rome
Over-the-Top Luxury VRBO in Rome
Luxury at the Spanish Steps
> $$$$
> Up to 12 Guests
> Incredible Rooftop
> Within Piazza di Spagna

Unlock Our GREATEST Travel Secrets!
Sign up for our newsletter and get the best travel tips delivered right to your inbox.
What to Expect from VRBOs in Rome, Italy
VRBOs in Rome come in all shapes and sizes—from extravagant villas to shared vacation rentals to affordable local homestays that put you in the heart of the action.
Rome is all about history, culture, and cuisine, and the best VRBOs in Rome will make sure you get to experience it all.
Whether you are travelling for the weekend, or it's the next step on your European adventure, there is something special to be found on any budget.
Beautiful Renaissance-style rooftop terraces are common, as are studios that are tucked into quiet laneways.
Such is the number of available vacation rentals, that you will rarely be forced out of the city limits. This keeps you close to the best sights, restaurants, and museums.
Studios
Studios are great for any budget, whether you are travelling alone or as a pair.
If you are after a quick getaway to the city or are slowly moving across Europe, studios provide easy access to Rome's attractions without having to deal with hostel roomies or crowded hotels.
Studios provide all the basics, with a simple kitchen, a place to sleep, and room to store your luggage. If you're lucky, you might also get a washing machine to do some laundry – perfect for those looking to stay long-term.
If you go the studio route, you will find yourself with an excellent launching point to explore the centre of the city as many of these studios are in Trastevere.
If you have a strict budget, take a look at this Backpacking Rome Guide for some more information on tips and tricks.
Homestays
If you want to dive into Roman culture and learn more about the Eternal City, a homestay might be the best option for you.
Homestays are common within the city's limits, with many locals opening up their doors to travellers.
Inside the homes, you will be presented with a cozy layout. Along with your own room, you will often find communal spaces to spend time with your hosts.
Homestays are an excellent balance between the social aspect of hostels and the cleanliness and privacy of your own apartment.
A lot of homestays can be found around the Vatican, which gives you great access to the unique independent state. There is also a vast public transport system close by to cross the River Tiber and arrive in Downtown Rome.
Roman Villas
Depending on the size of your travelling group, a Roman villa can be a lavish getaway in the heart of the city, and a smart way to split the costs between family and friends.
The term villa has grown to encompass many different types of accommodation over the years. But the original-style Roman villa is a common type of VRBO accommodation.
The vast array of villas in Rome will give you an opportunity to relax in luxury when you aren't out exploring.
Many villas come with rooftop terraces that provide views across the historic skyline. Some may even have a direct view of iconic structures like the Colosseum!
Why Stay in a VRBO?
There are so many reasons to book and enjoy a Roman experience in a VRBO!
Here are 5:
A Local Experience: By opening yourself up to locally-run accommodation you are placing yourself at the heart of a city's culture.
Privacy: If a dorm room locker is usually your only source of privacy, you will enjoy having an entire room, entire apartments or home to yourself.
Affordability: The strength of VRBOs platform is tailoring accommodation to your budget. Instead of paying for individual beds, you can split the costs and book group accommodation.
Long Term Stays: Many VRBOs are open to long term stays, so you may also be able to find weekly and monthly discounts.
Last-Minute Bookings: A lot of VRBO properties are turnkey ready. Simply find what is available on the website and be booked in minutes. Check-ins are often contactless so you won't have to wait for your host to arrive.
The 20 Top VRBOs in Rome
Now that you know a little bit about the city and some of the pros of VRBOs, let's get stuck in. Below you will find my carefully tailored list of the best VRBOs in the city of Rome.
2 Guests
Near the Historic District
For lovers of art, town squares as old as time, and beautiful Renaissance architecture, this apartment in Trastevere provides you with all you'll need.
The recently renovated loft, has a modern design and colours that are enhanced by the natural light.
The loft has a small terrace that will have you feeling on top of Rome as you look down on the ancient civilisation.
With impressive amenities, nearby attractions and great pricing, overall this is the best VRBO in Rome.
2 Guests
Easy Access to Downtown
Cheaper than many of the hostels in Rome, grab yourself a double bed or two single beds just a stones' throw away from the historic centre.
This quaint apartment building has a private room along with a balcony. The balcony is the perfect spot to begin the day, or sip a glass of wine under the setting sun.
Prepare some Italian cuisine in the kitchen, and enjoy the large dining and lounge area which is great for mingling with other guests. If you're after some local tips the host is a treasure trove of local information.
1 or 2 Guests
Outdoor Spaces
After a big day of adventures, it is nice to be able to retreat to a quiet location and unwind.
This private apartment is located on a road blocked to traffic, meaning it's the ultimate spot for peace and quiet in the heart of the city. This rarity is complemented by a private garden, excellent for reading or communing with other guests.
The strong WiFi allows you to keep up with work, or have a video call with friends and family back home.
Just a short walk from Porta Metronia, Basilica Di Santo, and the Colosseum, you can easily explore on foot. The apartment is also close by to public transport for those days when you want to go further afield.
Is This the Best Backpack EVER???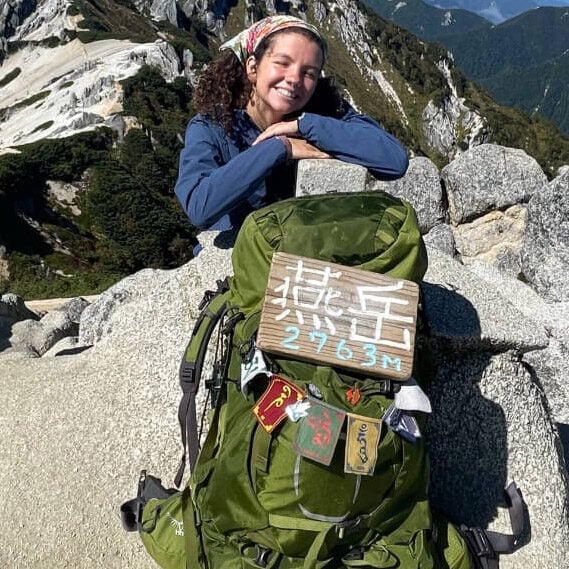 Most Romantic VRBO for Couples in Rome | A Romantic 'Palazzo'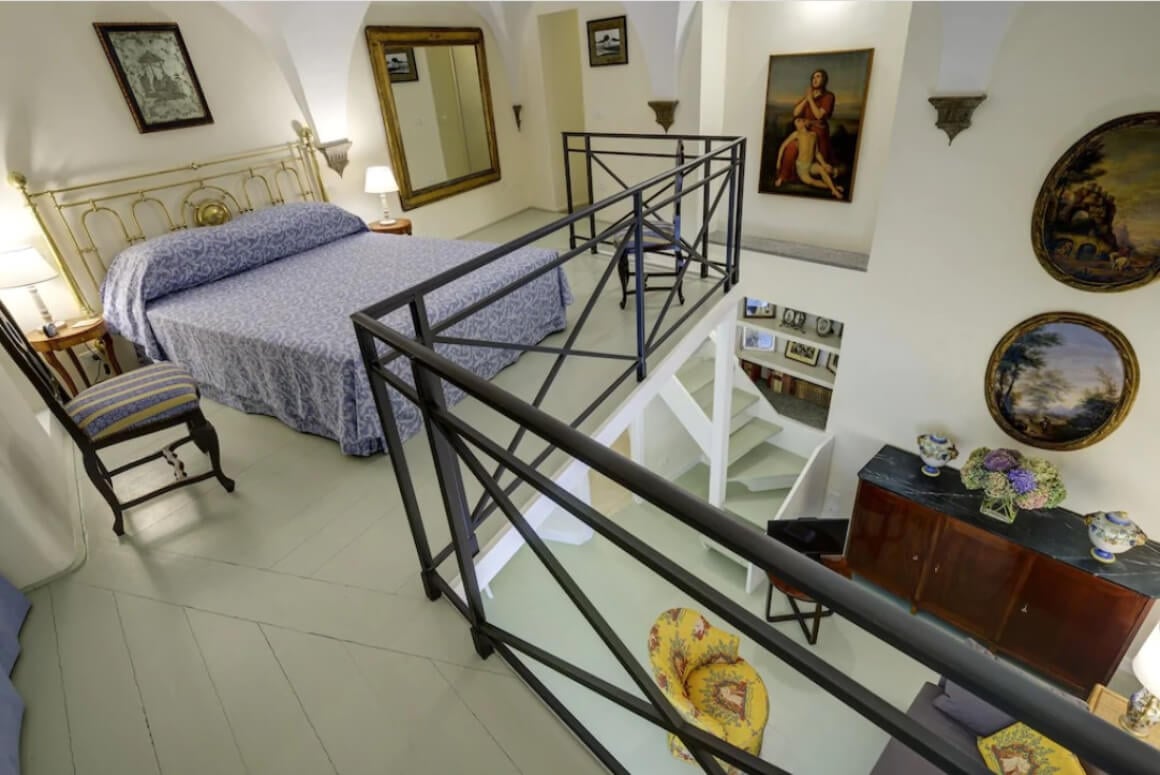 2 Guests
Historic Building
Your romantic getaway begins as you walk through the huge antique wooden door to the Palazzo, and your VRBO in Rome.
The stunning building was built in the 15th century during the Italian Renaissance showcasing the beauty of 'old Rome'. The exterior of the building gives way to modern interiors, fit for a romantic escape.
The bedroom is located on the second floor of the Palazzo, while the living areas are on the first level with beautiful paintings, antiques, and contemporary furniture. Even though it has historic features, it also has some modern amenities including air conditioning.
When you are ready to explore, you will find some wonderful trattorias and wine bars in hidden spots that evoke the romantic atmosphere of Ancient Rome. The apartment is just a short walk from Piazza Navona, The Pantheon and Trastevere.
$$
Large Dining and Living Areas
6 Guests
Local Parks and Cinemas
There are some great family-friendly VRBOs in Rome. This one is in the heart of the Furio Camillo district.
Tempora Holiday Home sits right alongside Roma Tuscolana, a railroad that connects to Fiumicino Airport.
Along with easy access to the best places to visit in Rome, the spacious apartment has 3 large bedrooms, ample dining, and living space; even concierge services!
The surrounding area has local restaurants, parks, and a cinema for the kids, even a supermarket where you can buy fresh groceries to cook up a feast at home without the hassle of leaving the apartment.
$$$
Stylish and modern interiors
Up to 16 Guests
5 minutes walk to The Vatican
A life of luxury awaits as you and 16 guests at this gorgeous contemporary apartment close to Vatican City. From here, it is within walking distance to some of the top attractions in the city including the iconic Pantheon and Trevi Fountain.
With 6 bedrooms that sleep up to 16 guests plus three bathrooms, you will have plenty of room to share the lavishness of this 7th floor apartment.
Filled with natural sunlight, you can bask in the exquisite contemporary beauty of the apartment featuring modern furniture and top-of-the-range amenities.
To take it to the next level, the host can arrange for daily breakfast and daily cleaning without any additional costs
For a quick and easy, yet wonderful escape to the Eternal City this is the ultimate VRBO in Rome for a weekend getaway.
The house is in the famous Via di Monserrato district, and is surrounded by amazing history.
You have access to multiple outdoor spaces including an interior and exterior cooking area.
The spacious terrace can fit up to 10 guests, ideal for lazy days eating and lounging at home.
For a short trip, the home's location is perfect with the vast majority of the city's iconic places being less than two kilometres away.
Check out my suggested 3-Day Rome Tour Itinerary to hit all the best spots.
Modern Interior
Rooftop Jacuzzi
If you are after an awesome VRBO in Rome with a Jacuzzi, well my friends, your prayers have been answered.
This amazing penthouse apartment, just minutes from St Peter's Basilica, comes with a spacious interior full of natural light.
In total the apartment can sleep 7 people, which is the perfect group size for enjoying the rooftop.
From the bubbling Jacuzzi, sip on an ice cold Nastra Azzuro and soak up the incredible views as far as you can see.
2 Guests
Heart of Trastevere
The 3 flights of stairs up to this apartment will be worth it as you take in the best rooftop view in the city.
While there are many great views on this list, the location of this spot really stands out. In the beautiful Trastevere district, the colorful views are more akin to those seen under the Tuscan sun. Oranges and browns paint the landscape as the blue skies shine from above.
The large terrace has ample room to relax with friends and family. Windows surround the kitchen which means the views don't die when you head inside.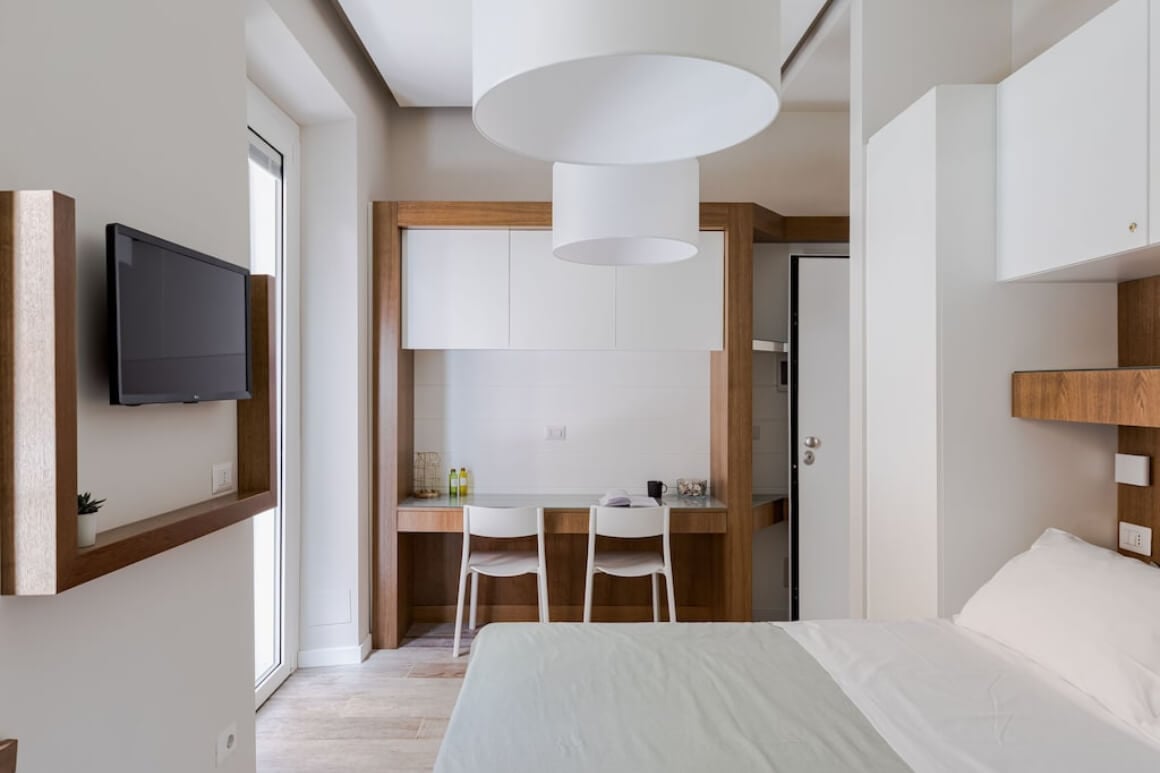 The growing digital economy is allowing more and more people to work from home, and the lucky ones have been able to leverage that into a life of full-time travel.
If you are a digital nomad looking for a VRBO in Rome to set up shop, you can't go wrong with this apartment. The accommodation has strong, free WiFi along with a simple and clean work space.
In a quiet place with little distraction, this is as good a spot as any to open the laptop and get stuff done.
When you have completed the tasks of the day, you are right on the doorstep of the city's main transport terminal. As well as being walking distance to the Colosseum, and other sites.
2 Guests
Close to Attractions
If there was a part of this city that encapsulates the aura and history of Rome, it is Trastevere.
A stay at the La Torre Suite gives you the perfect base for exploring the medieval district, that will have your camera working overtime.
The home itself is cozy and charming and will immediately feel like home. Built in the 14th Century, it still has its original roof beams while being filled with the comfort of modern furniture.
When you head out to explore the town, you will find yourself at the end of a quiet cobblestone laneway. Suddenly, you are transported into the old world as you wander by ancient buildings and alleyways.
Your base isn't more than a 30 minute walk from major sights.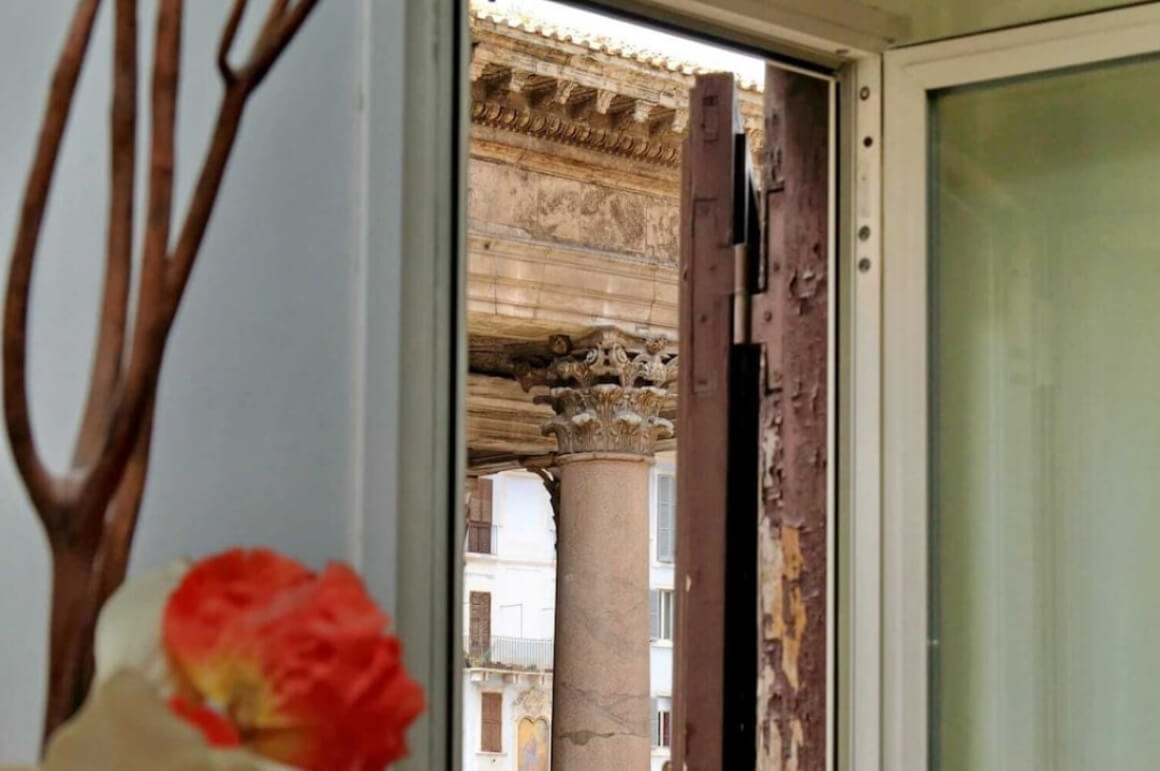 If you're looking at staying near the famous Pantheon, it just doesn't get any better than this.
On a list full of terrace views, this apartment offers something slightly different and is one of the coolest vacation rentals in Rome. Whether you're dining, watching TV or sleeping, a simple look out of the window is all you need to see the Pantheon. It is so close you can almost touch it.
The interior is sleek, and the huge windows can open up to let the atmosphere and fresh air envelope the apartment.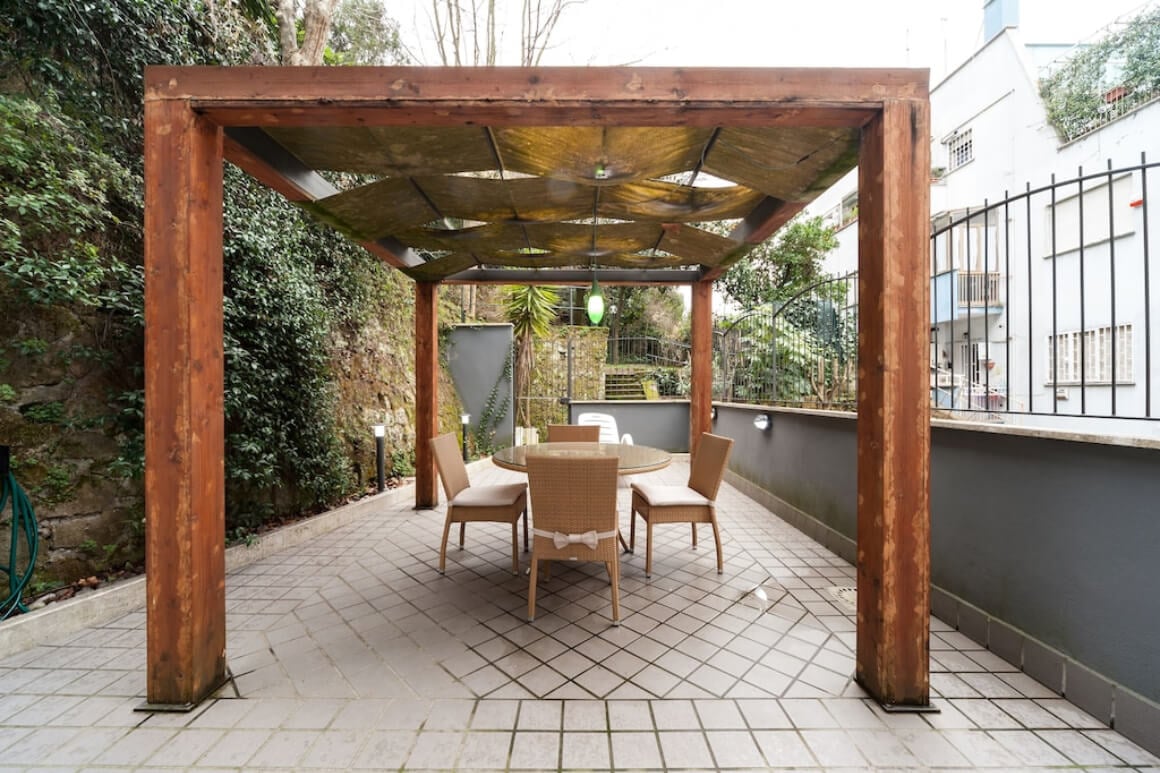 Four Guests
Huge Living Space
The Vatican is often high on the bucket list for those travelling to the Eternal City, and this cozy apartment is just minutes away.
The apartment has all your modern luxuries to enjoy a comfortable stay. There is a large living space which is the best spot for hanging out with friends and family. At night, retreat to the terrace for some vino under the moon.
Just a quick walk away from the Vatican Museums, the surrounding streets are just as interesting as Vatican City itself.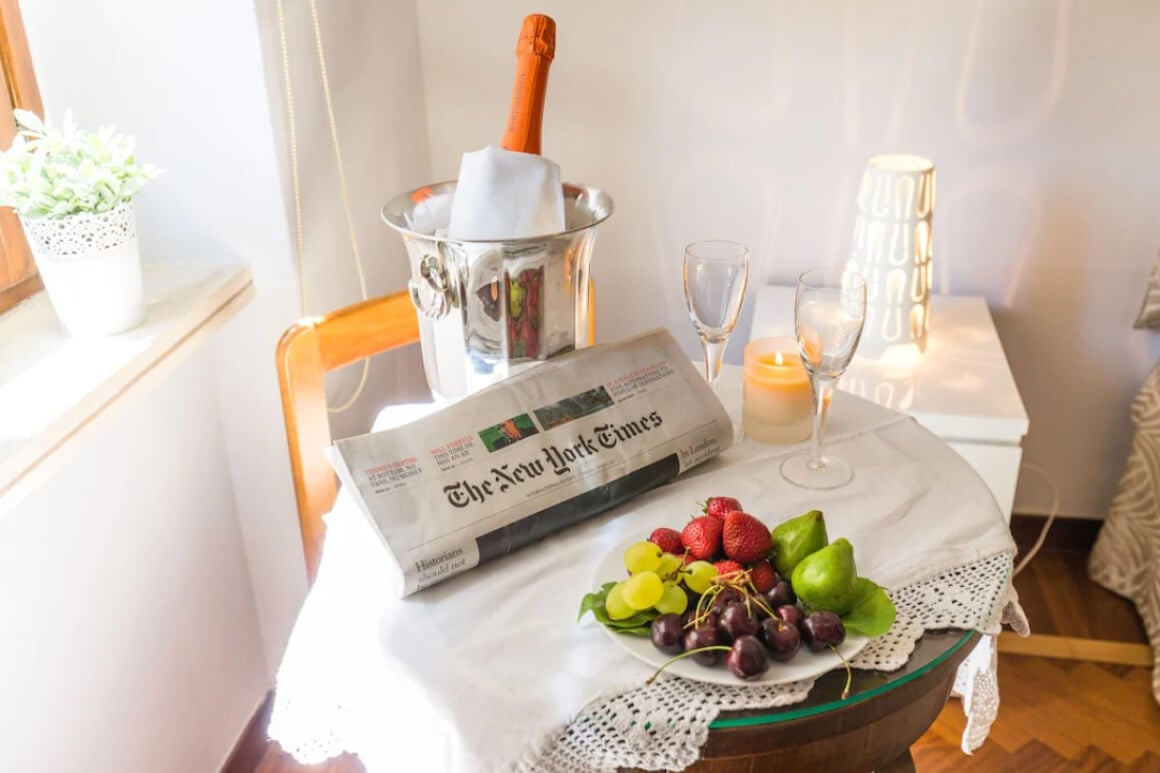 If you are planning a longer stay after falling in love with the city, there are some great VRBOs in Rome for long term stays.
This apartment is the best of them with 2 bedrooms and ample living space, you won't feel cramped as the weeks go by.
Most importantly, you are in the perfect spot to take your time and explore the city. The apartment is just 200 metres away from the Spanish Steps!
As you can see, the VRBOs in Rome are top shelf, but this one takes the cake.
Located atop the famous Palazzo Costaguti, you will be able to bask in the marvellous panoramic views from the apartment's 2 terraces. Perfect for some late-night drinks with friends and family while soaking up the atmosphere from below, the views will have you in awe day-round.
From every window, you will be able to look down at the Turtle Fountain, with glimpses of many iconic Roman buildings.
The interior retains much of the Renaissance charm that has made the Palazzo so well-known. However, it still boasts modern amenities including air conditioning and a top-of-the-range kitchen. It is the most beautiful VRBO in Rome.
Stunning VRBO for Honeymooners in Rome | St Peter's in Love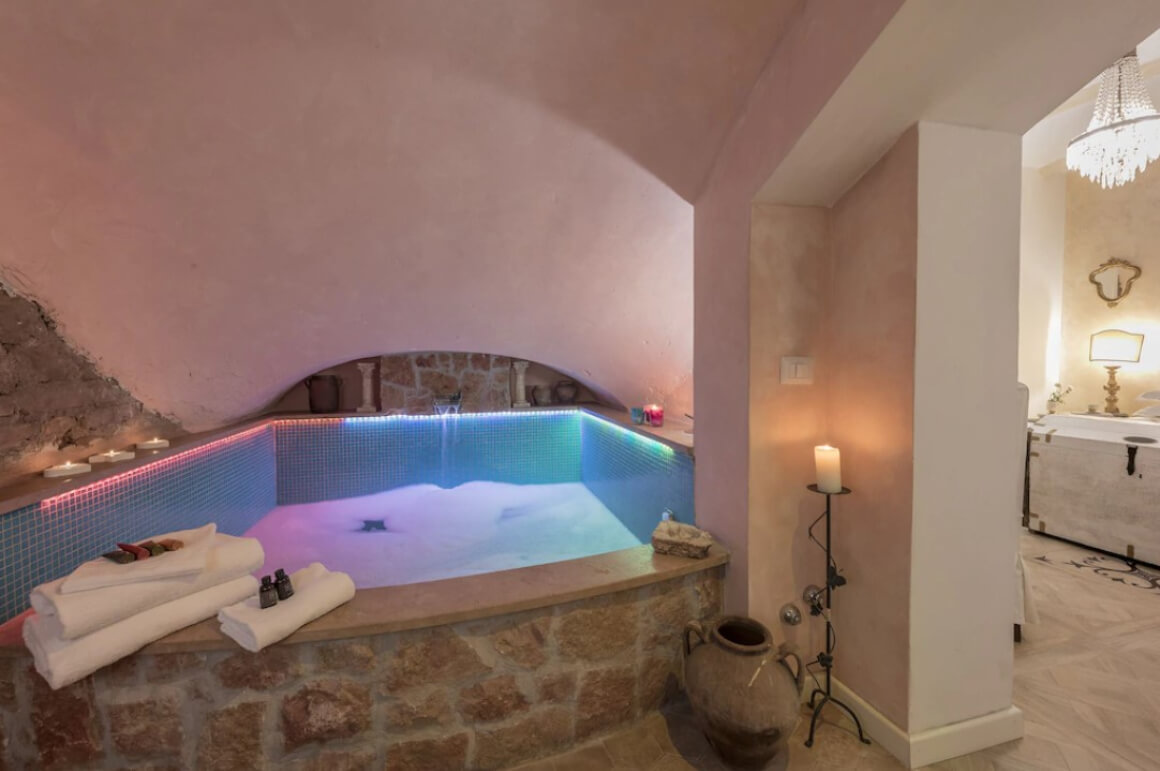 Time in this serene honeymoon suite will keep the romance bubbling away. St Peter's in Love is a cozy space that comes with its own private spa, Renaissance furniture and cobblestone walls. It is the ultimate romantic getaway for honeymooners while in Rome.
The place feels a world away from the hustle and bustle of the big city and is nothing short of charming.
When you're not relaxing in the spa by candlelight, you are just a short walk away from the Vatican and St Peter's Basilica.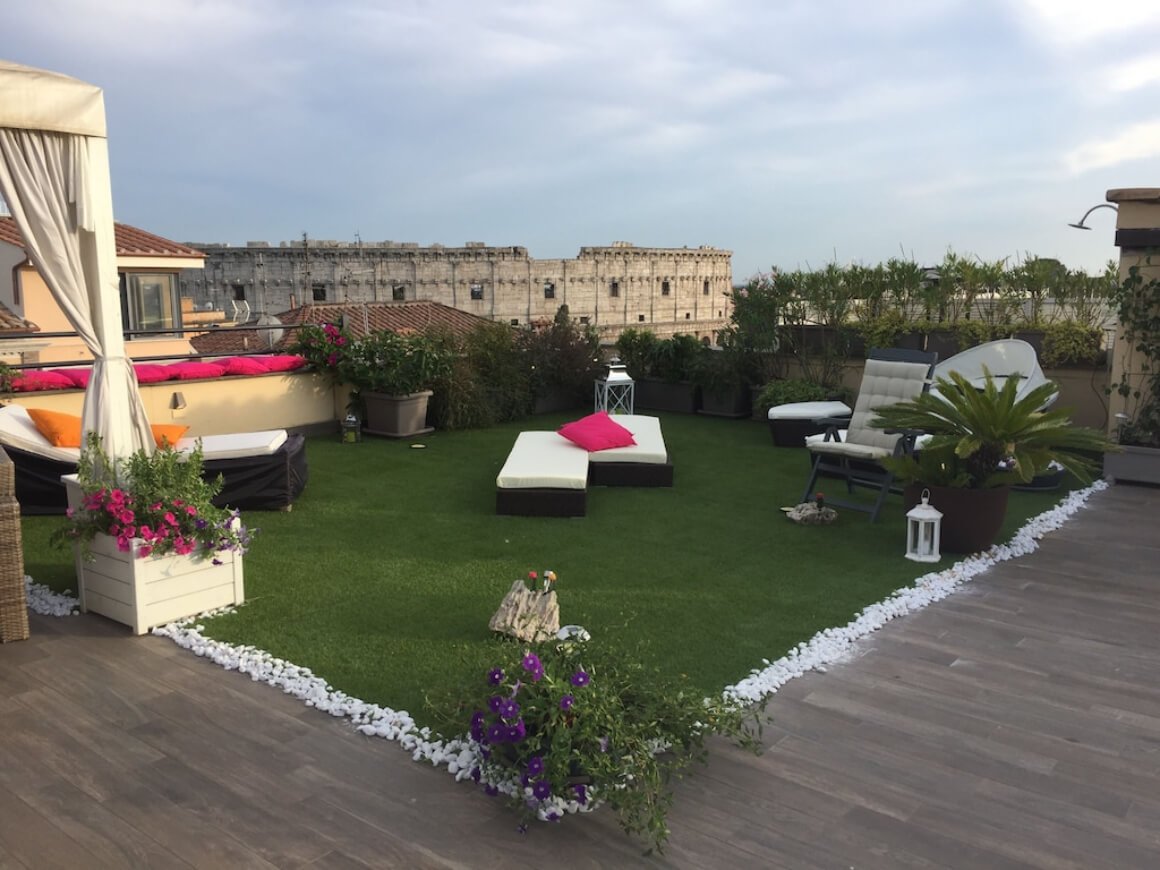 If you are travelling with a group of friends, the ultimate accommodation in Rome is right here.
The apartment is located atop a six floor building and has 3 spacious bedrooms, a newly renovated living space, and an epic roof terrace.
In the warmer months, when you aren't wandering around the city you'll be hanging out with your best buds on the rooftop patio.
The Colosseum is so close, you wanna reach out and touch it.
At the Navona Queen Boutique you will find an entire 10 room hotel on the same floor.
If you're planning a big bash while in Rome, this is the place to do it. All 10 rooms can be booked together, which not only splits up costs but makes it the ultimate party spot.
The rooms are fronted by a spacious rooftop area which has amazing views of the Clock Tower and Oratorio Dei Filippini, both built in 1600.
Along with the outdoor Jacuzzi and breakfast spreads, you simply can't beat this.
Getting around the city is best done in these two ways, on foot and by public transport. This makes the Domus Domas Boutique such a handy VRBO in Rome.
You are just 10 metres away from the local metro station, and a five minute walk from the major train terminal, the centre of the city's network. This means it's easy to head out on one of the amazing day trips from Rome on offer.
Situated in the old Campo de Fiori is a two story structure built over six centuries ago.
This historic Rome VRBO is waiting for you to come and see the old wooden beams which have managed to survive through the ages.
The colourful bedroom backdrop represents historic Rome when it was nothing but a flowery meadow.
Outside the apartment you'll find a vibrant neighbourhood with flourishing markets, trendy restaurants, and bars.
Don't Forget Your Rome Travel Insurance
ALWAYS sort out your backpacker insurance before your trip. There's plenty to choose from in that department, but a good place to start is Safety Wing.
They offer month-to-month payments, no lock-in contracts, and require absolutely no itineraries: that's the exact kind of insurance long-term travellers and digital nomads need.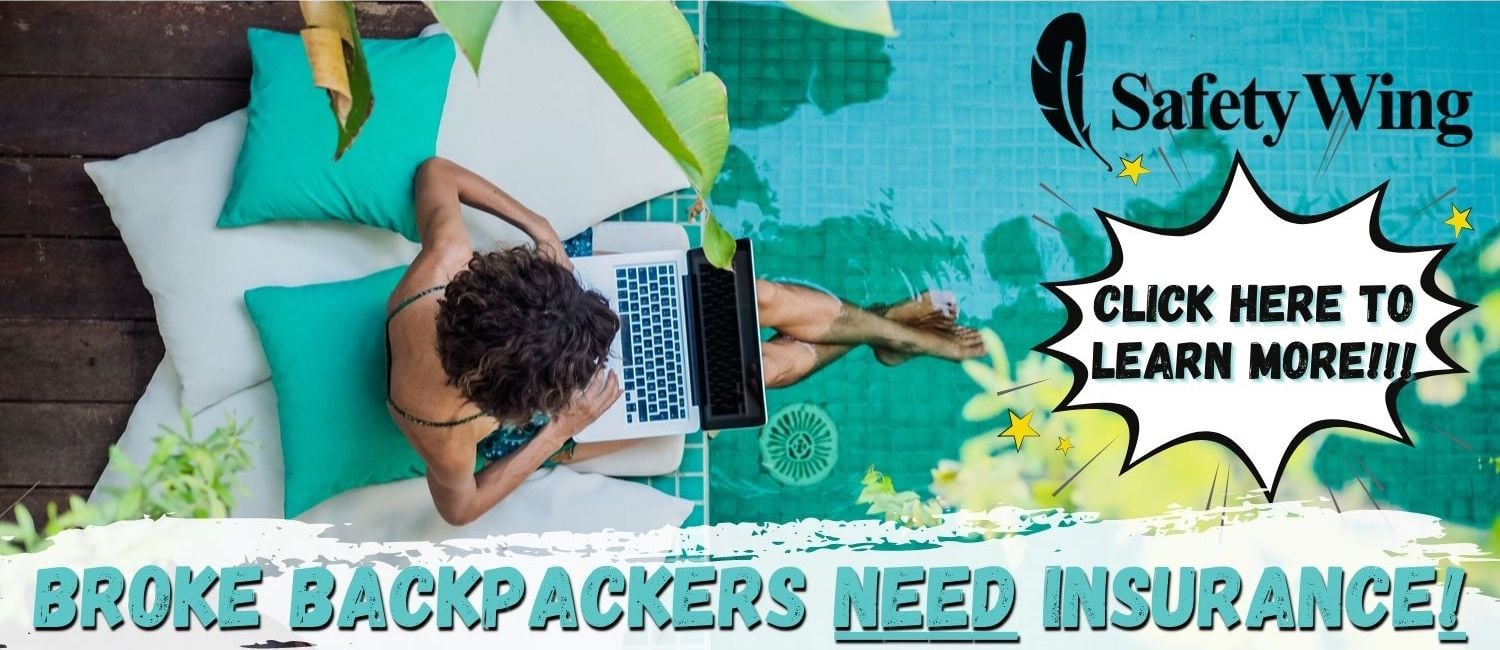 SafetyWing is cheap, easy, and admin-free: just sign up lickety-split so you can get back to it!
Click the button below to learn more about SafetyWing's setup or read our insider review for the full tasty scoop.
Final Thoughts on VRBOs in Rome
VRBOs in Rome come in all shapes and sizes. They are bound to delight those that seek the city's historic culture, architecture, and trattorias.
As you have seen, there are an abundance of studios, homestays and apartments that come with amazing views, and rooftop terraces and patios that provide the ultimate sunny day experience.
But, the big selling point for travellers is the location of these top VRBOs in Rome, whether budget friendly or luxurious. They are never far from the action and always surrounded by ancient monuments or Renaissance buildings—if they aren't one themselves.
So close to major sites like the Colosseum, the Pantheon and the Vatican, your walking shoes will no doubt get a work out.
---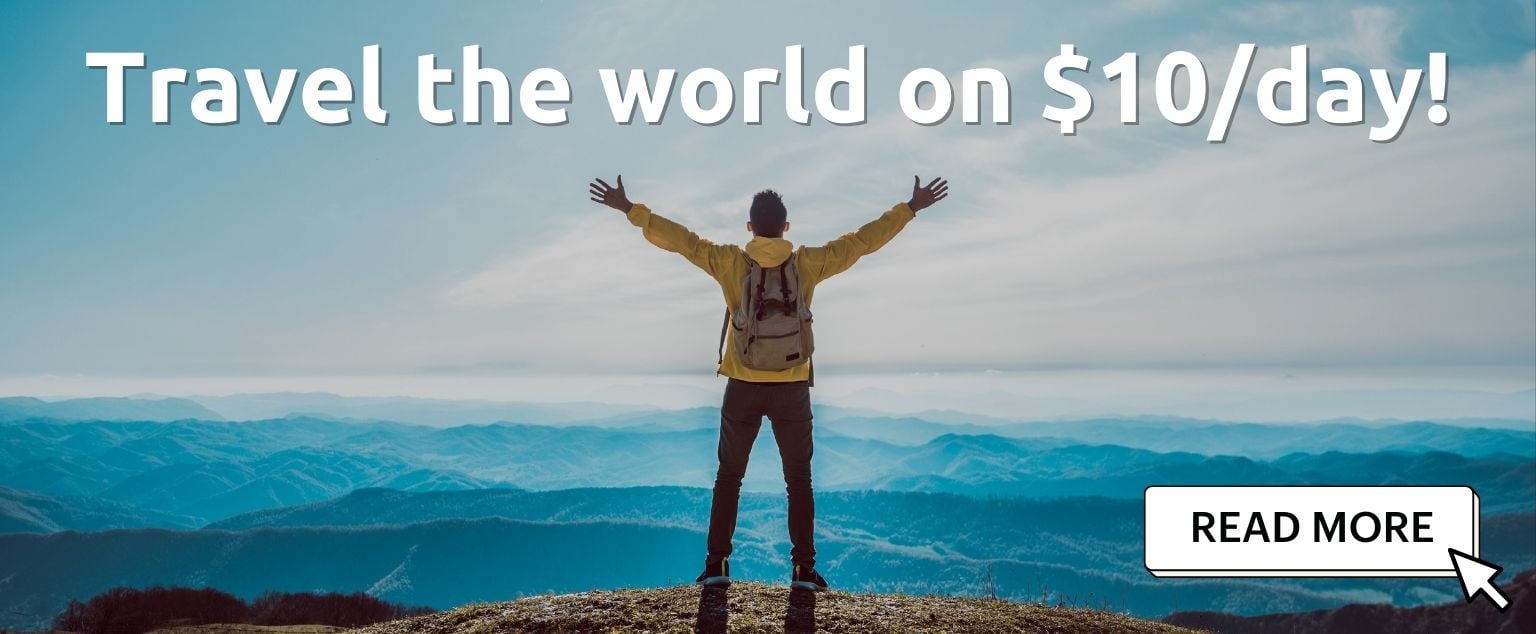 And for transparency's sake, please know that some of the links in our content are affiliate links. That means that if you book your accommodation, buy your gear, or sort your insurance through our link, we earn a small commission (at no extra cost to you). That said, we only link to the gear we trust and never recommend services we don't believe are up to scratch. Again, thank you!