Forget the Grand Canyon, we're all about those red rock formations in Sedona. You know what they say? "God created the Grand Canyon, but he lives in Sedona" – yes, people actually say this, and if that's not enough to convince you that this place is the bomb diggity then I don't know what else will. Folks from all over the world flock here to experience the mystical energy said to emanate from the red rocks and to search for vortexes (places where the earth feels alive and are rumored to recharge and uplift your spirit).
So what if all this isn't your cup of tea and you're not down for a next-level, trippy adventure? What other reasons should you visit Sedona?
Well firstly, this place is insanely beautiful and there are over 100 hiking trails that are perfect for some outdoor exploration. Secondly, the spas. Sedona is centered on wellness, and you will find healers, spirit guides, and some out-of-this-world spa treatments that use traditional, Native American techniques. Thirdly? It's gotta be the wine. The Sedona climate provides the optimum growing conditions, so add some winery tours to your to-do list!
Best of all, the VRBOs in Sedona are a 10/10. If you want stellar views, a hot tub, or a central location, the rentals in Sedona will deliver! Wanna know our top picks? Then read on!
Quick Answer: These are the Top 5 VRBOs in Sedona
Overall Best Value VRBO in Sedona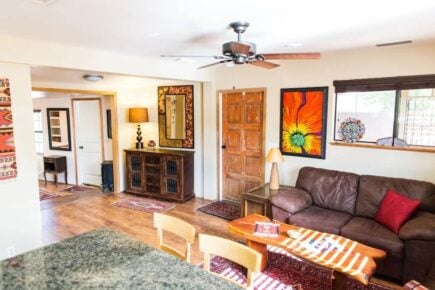 Overall Best Value VRBO in Sedona
Cottage in West Sedona
> $$
> 2 Guests
> Outdoor deck
> Quirky decor
Best Budget VRBO in Sedona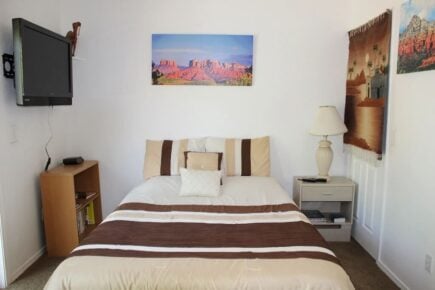 Best Budget VRBO in Sedona
Cottage with Hot Tub
> $
> 2 Guests
> Close to restaurants, grocery stores, and hikes
> Hot tub
Best VRBO for Couples in Sedona
Best VRBO for Couples in Sedona
Villa with Stunning Mountain Views
> $$
> 2 Guests
> Luxurious bathtub
> Panoramic mountain views
Best VRBO for Families in Sedona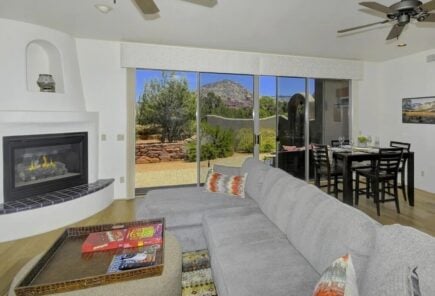 Best VRBO for Families in Sedona
Mountain View House with Pool
> $$$
> 6 Guests
> Large open plan living area
> Fenced off garden with pool
Over-the-Top Luxury VRBO in Sedona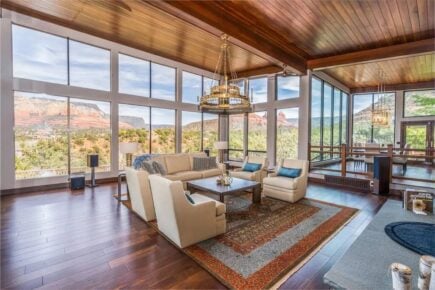 Over-the-Top Luxury VRBO in Sedona
Modern Hillside Home with Mountain Views
> $$$$
> 8 Guests
> Pool
> Floor to ceiling windows

Unlock Our GREATEST Travel Secrets!
Sign up for our newsletter and get the best travel tips delivered right to your inbox.
What to Expect from VRBOs in Sedona
Places to stay here are spacious, and many of them have fantastic views of the surrounding rock formations. There are wonderful homes available, as well as numerous cottages, cabins, and apartments. VRBOs here have a lovely local feel that reflects the surroundings and laid-back Arizona desert culture.
Lots of the houses, cottages, and cabins have swimming pools or hot tubs, great for cooling off during the day or warming up at night under the stars. You will find places to stay within walking distance of restaurants, shops, and galleries, or farther away in more secluded and scenic areas of Sedona.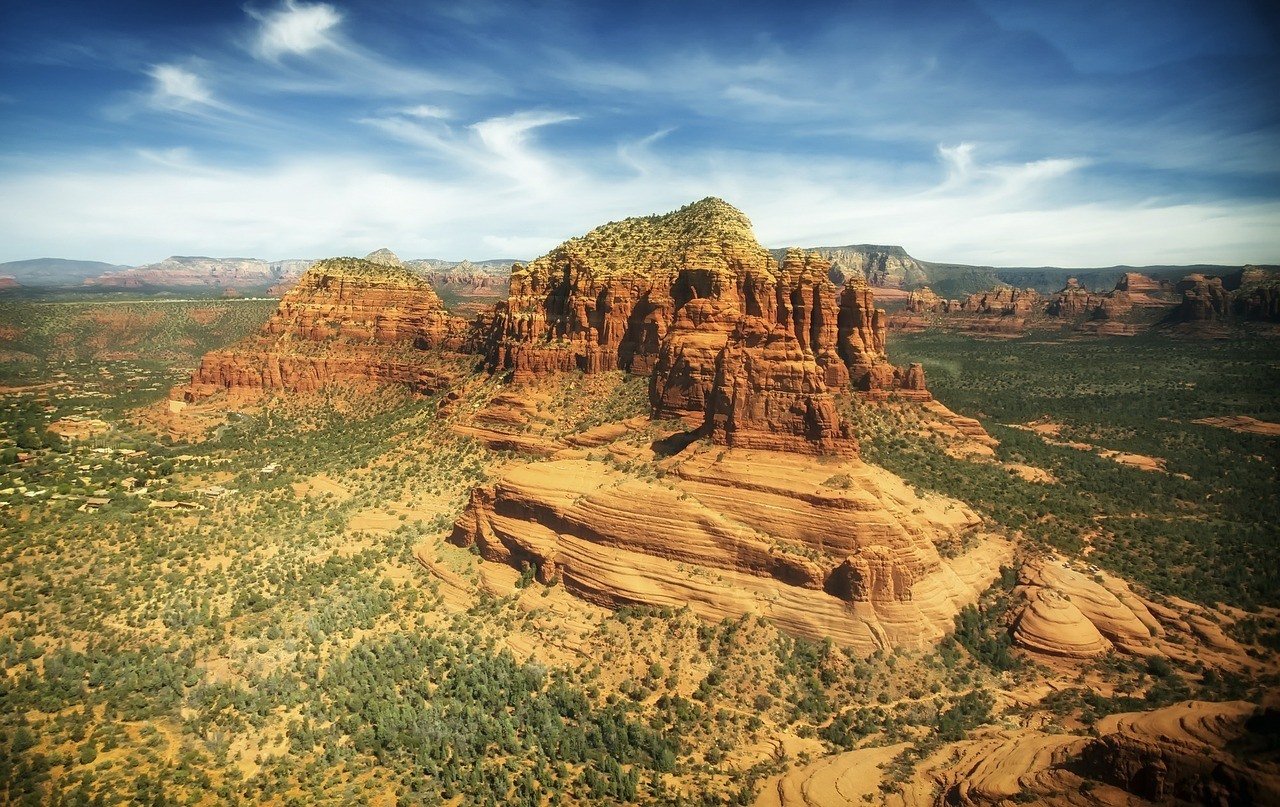 Condos/Apartments
Condos, apartments, and studios are great choices for your stay in Sedona. If you're looking for a central Uptown or West Sedona location within walkable distance of restaurants, bars, shops, and galleries then this could be what you need! We recommend them for couples, small groups, or small families as the larger condos are harder to find, but they are still available.
These rentals will either have a kitchen or kitchenette, small seating area, living area, and perhaps a balcony or open deck if you've hit the jackpot. There are even some more upmarket condos available that have great views of the mountains!
Many of these places have a little southwestern flair in the decor which we very much appreciate, and if you're looking for a more secluded place to stay, you can find these too!
Cottages/Cabins
Cottages, cabins, or casitas are perfect for a romantic couples getaway. These cozy and intimate rentals are perfect for two, and a quick filtered search will show you which ones come with the much-coveted hot tub!
They have a more secluded feeling (yet are still close to the action) and some of them have a real "wooden cabin" vibe with external wood paneling, and warm, wood interiors. Expect them to have a more local feel, with ample outdoor space and seating.
You will find cottages, cabins, and casitas in the popular areas of Uptown and West Sedona, which are a convenient distance from places to eat and attractions, plus the starting point of many hiking trails. Some of these rentals also come with a fireplace for chilly nights cuddled up with your boo.
If you're leaning more towards a cabin vibe, check out our favorite cabins in Sedona post!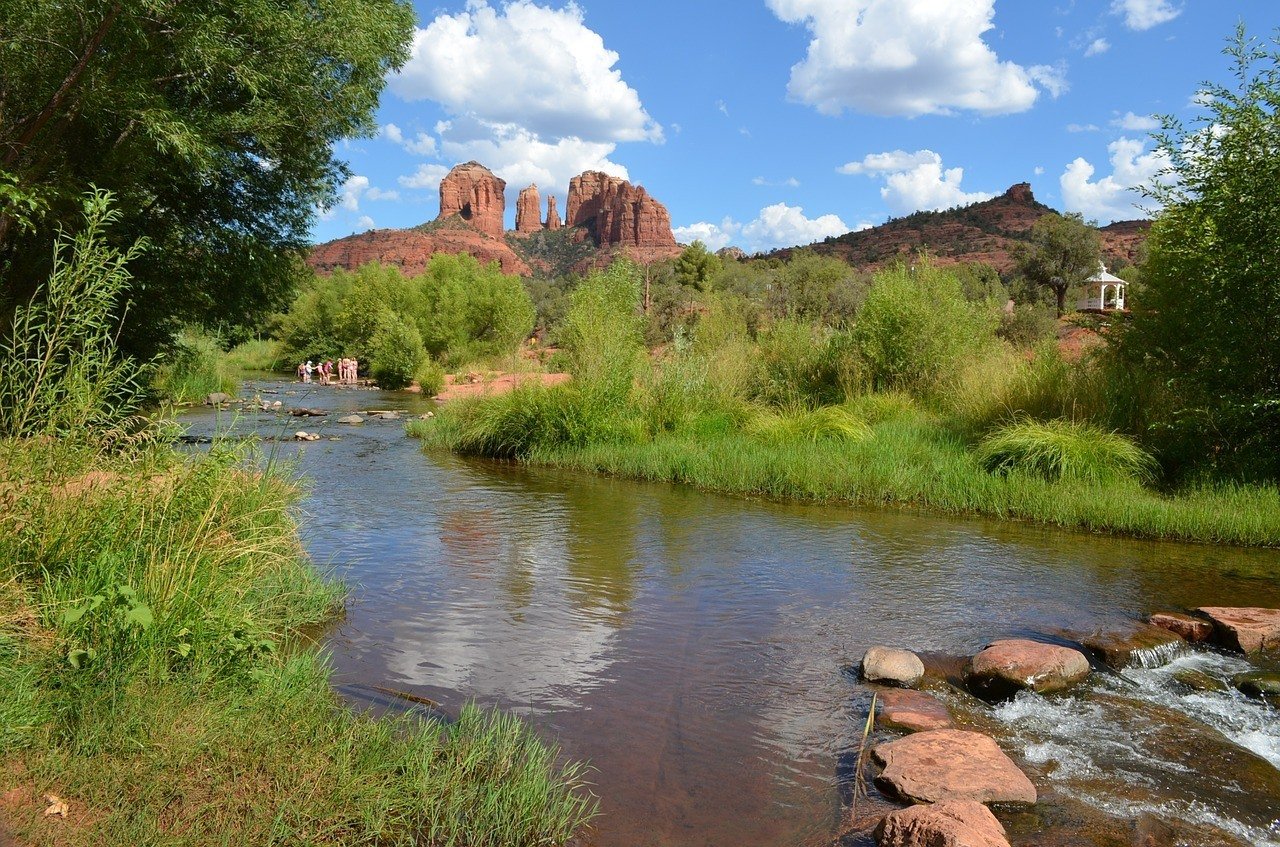 Houses
Houses are a great type of VRBO in Sedona, and make comfortable home-bases for all your adventures. We recommend them for groups of friends or a family as they are large enough so that no one steps on each other's toes and everyone has their own space. Most Sedona houses have breathtaking views of the mountains, which are often paired with feature windows for the real wow factor.
This style of rental is fantastic because you will have literally everything you need for your vacation, including a full kitchen with appliances, a large and comfortable living area, a dining table, and often either an outdoor deck or garden! It's not uncommon in Sedona for the houses to have hot tubs, pools, and a grill too, so you can take advantage of the fabulous weather.
Why Stay in a VRBO?
We think booking on VRBO is the way to go! Here are our top reasons why this platform deserves your attention:
Local Knowledge – VRBO hosts are super friendly, and when you stay at their place, they will be happy to point you in the direction of the nearest restaurants with the best food, or share where you can find the nearest vortex!
Unique Properties – Places to stay on VRBO are real homes, so the properties are unique and have character!
Affordability – We all like to save some money here and there, and lucky for you when you book through VRBO you get access to properties that are not only top quality but actually in most cases cheaper than a hotel!
Staying Long-Term – VRBOs hosts can set up long-term discounts so you'll save money if you choose to spend a long vacation finding yourself amongst the red rocks.
The 20 Top VRBOs in Sedona
Roll up, roll up, we present to you our top 20 Sedona VRBOs!
This lovely little cottage is in West Sedona and is close to hiking trails, restaurants, and grocery stores. There is a wooden deck plus a screened outdoor deck for enjoying the Arizona weather. We love the quirky decor, antique furniture, and beautiful artwork that gives the place a special charm.
Red Rock State Park
Sedona Art Center
Cathedral Rock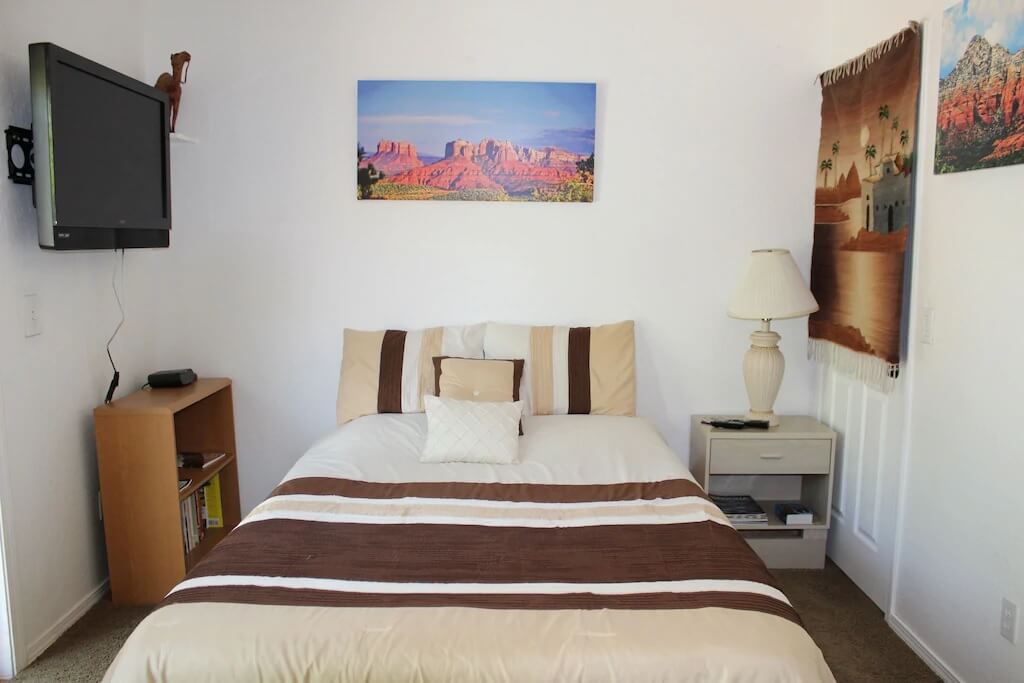 $
Close to restaurants, grocery stores, and hikes
I cannot believe that this budget Sedona VRBO is not only in a central location close to everything, but has a hot tub too! We love you VRBO.com. You will find everything you need for a pleasant stay – a comfortable bed, fridge, toaster oven, kettle, and an outdoor seating area. Who said budget traveling needs to be uncomfy?
$
Walkable to restaurants, stores, supermarkets
1-2 Guests
Outdoor terrace with seating
Solo travelers this is your DREAM rental in Sedona. Spend your mornings on the outdoor deck with a cup of fresh coffee admiring the view. Cook your meals in the little kitchenette or walk to get a bite to eat! It is only 11 minutes away by foot from places to eat, stores, and entertainment.
Is This the Best Backpack EVER???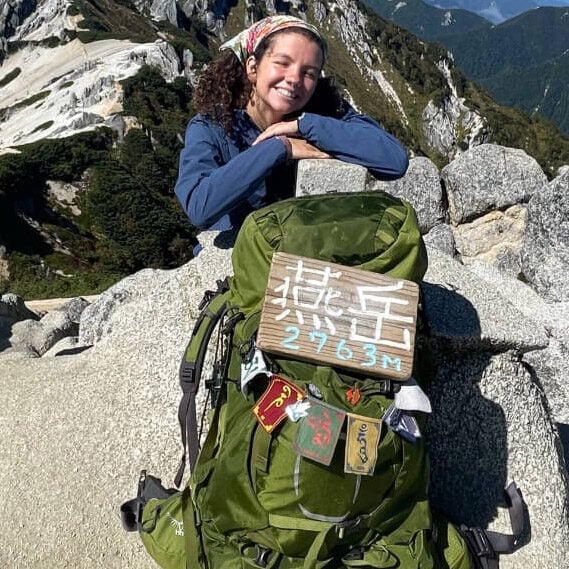 2 Guests
Panoramic mountain views
Get ready to dial up the romance in this luxury villa! This place is spacious and has a large living area with the most amazing views. Floor-to-ceiling windows in the main room look out over the red mountains with fantastic views from the bedroom too. There is also a fabulous bathtub and large balcony with seating.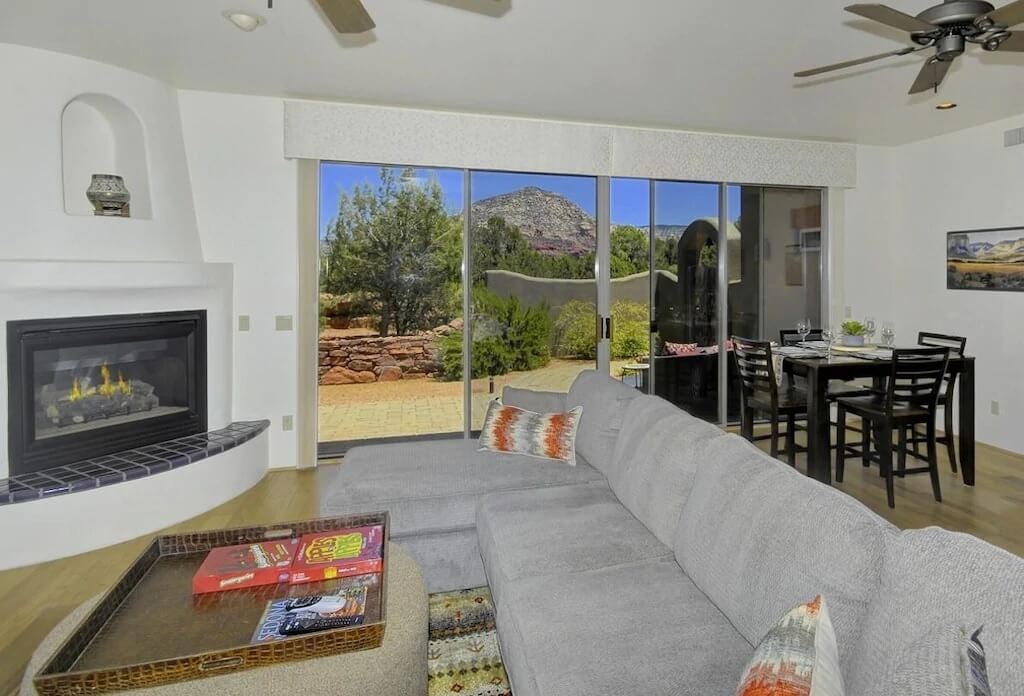 $$$
Large open plan living area
6 Guests
Fenced off garden with pool
This house has everything to make your next family vacation the best one yet! This Sedona VRBO is child-friendly with a gated garden and a child-proof lock on the sliding doors leading out to the swimming pool. The main room is large with a comfortable sectional for the whole family to lounge on. The big kitchen is great for cooking meals for a large group, and there are restaurants only a short drive away.
Check out all the best things to do with kids in Sedona, before retreating back to your own private home.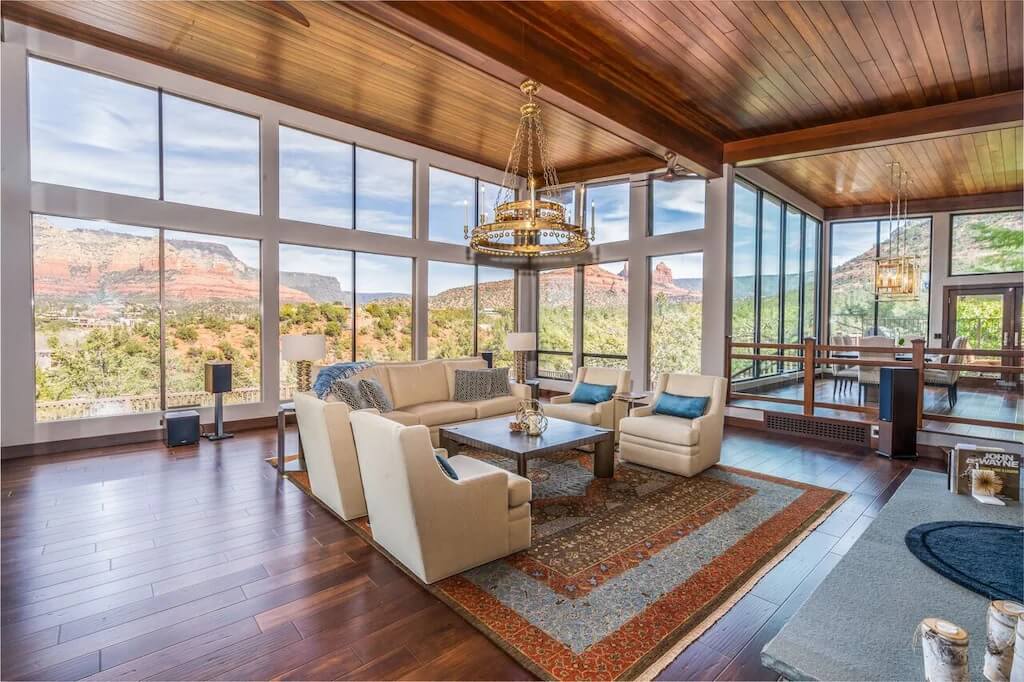 8 Guests
Floor to ceiling windows
I can't stop looking at this house… it's simply amazing. The floor-to-ceiling windows along the front give you the best view of the mountains, the decor is elegant and luxurious, and the high ceilings just scream style to me. The kitchen even has its own skylight (now that's fancy). The outdoor pool is huge and faces a jaw-dropping view, plus there are outdoor living and dining areas.
Best Condo/Apartment in Sedona | Secluded Condo
2 Guests
Beautiful stone patio with outdoor seating
This lovely condo is in a secluded location but is still super close to Uptown Sedona and places to eat. It is bright and spacious with a modern desert vibe to match its dusty hometown. There is a lovely stone patio with seating, just perfect for some al fresco dining, and the large comfortable bed will be inticing you after a long day of hiking.
2 Guests
Outdoor fireplace
We love this charming casita, it's easily one of the best VRBOs in Sedona! It feels incredibly private while being within walking distance of restaurants, hiking trails, and Whole Foods. This place is pretty romantic too, with an intimate outdoor fireplace and large soaking tub large enough for two. After a tiresome day exploring all the best things in Sedona, you can escape to your own slice of privacy with your loved one.
$$
Next-level outdoor living
This has got to be one of my favorite Sedona VRBOs. This house embodies Arizona desert style, with a quirky, colorful, ranch-esque vibe. It takes outdoor living to a totally new level with an outdoor kitchen and grill, living area, dining area, and outdoor fireplace (there's one inside too in case you were wondering). Best of all, this home is just a short walk to hiking trails, restaurants, and shops!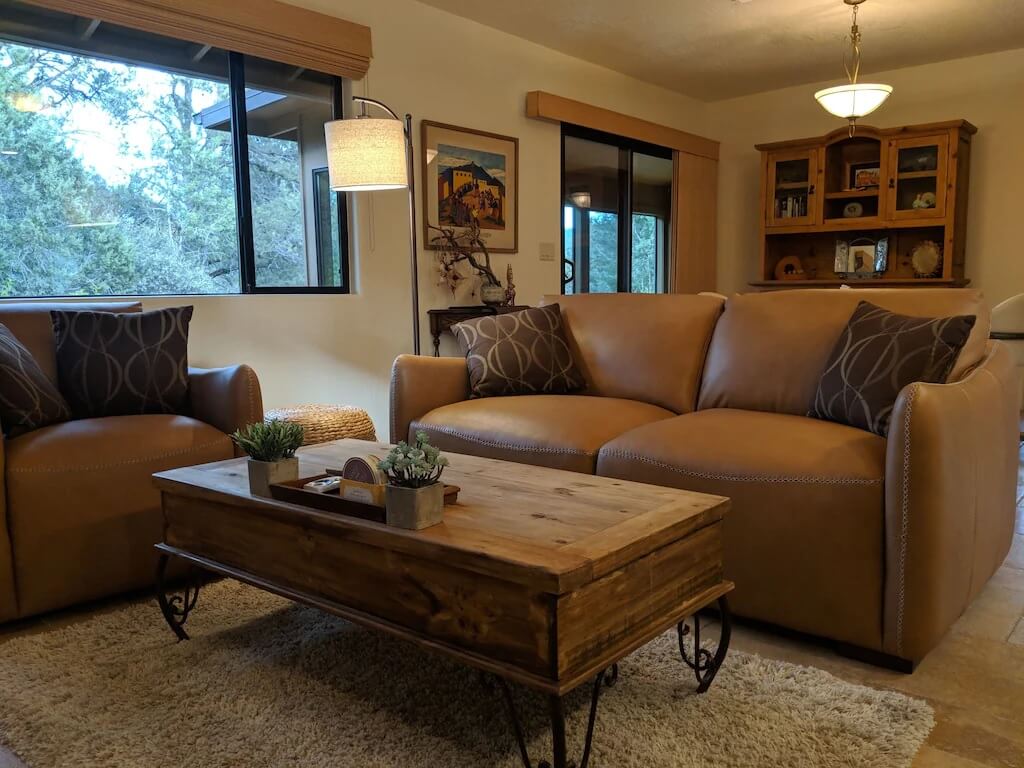 If you're considering a weekend away in Sedona, then let this awesome cottage be the deciding factor. This place has stunning mountain views, lovely outdoor spaces, and is within close reach of restaurants, shops, and trails. Hop in the hot tub with a glass (or bottle) of local wine for the perfect end to your day.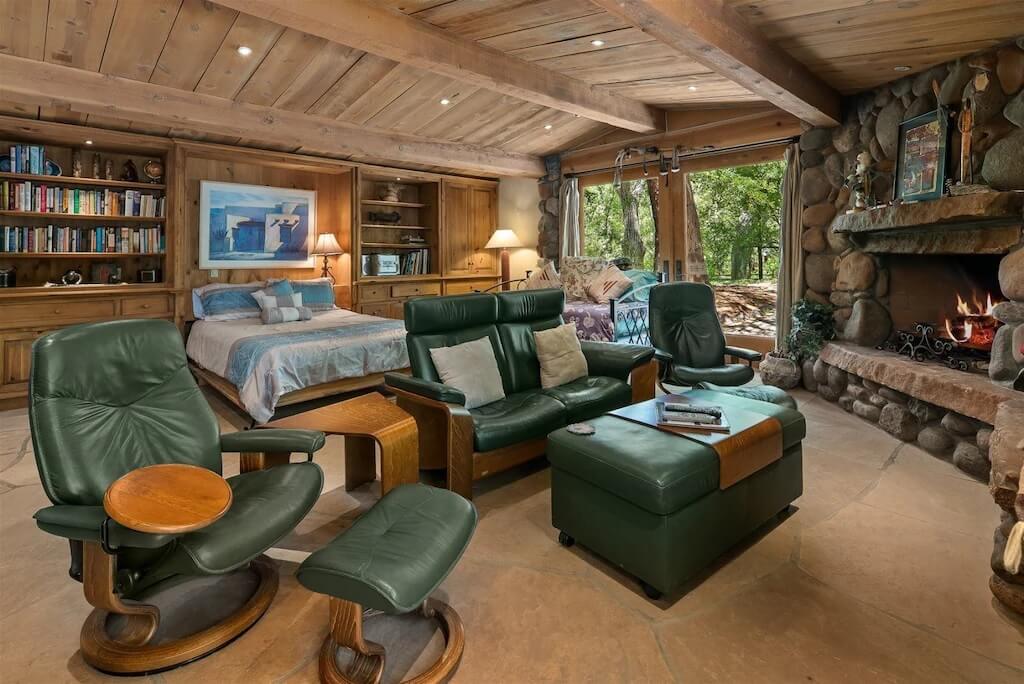 This beautiful cabin in West Sedona is surrounded by lush greenery and forest. It fits the bill as somewhere to relax, unwind, and de-stress, so is definitely recommended for those of you who are escaping to Sedona from the city. The cabin is fully equipped with everything you could want, plus it has a lovely open fire!
Best VRBO in Uptown Sedona | Uptown Condo
$$$
Outdoor dining and barbeque area
10 Guests
Amazing Red Rock views
Red Rock views from every single room? Yes, please! This condo was clearly built with the view in mind and we are not complaining. It is bright and airy with large windows that fill the space with natural light. The modern furnishings, decor, and lovely outdoor spaces are just as inviting.
Surprise surprise. Sedona VRBO delivers, once again, a condo with a private hot tub and gym/yoga studio!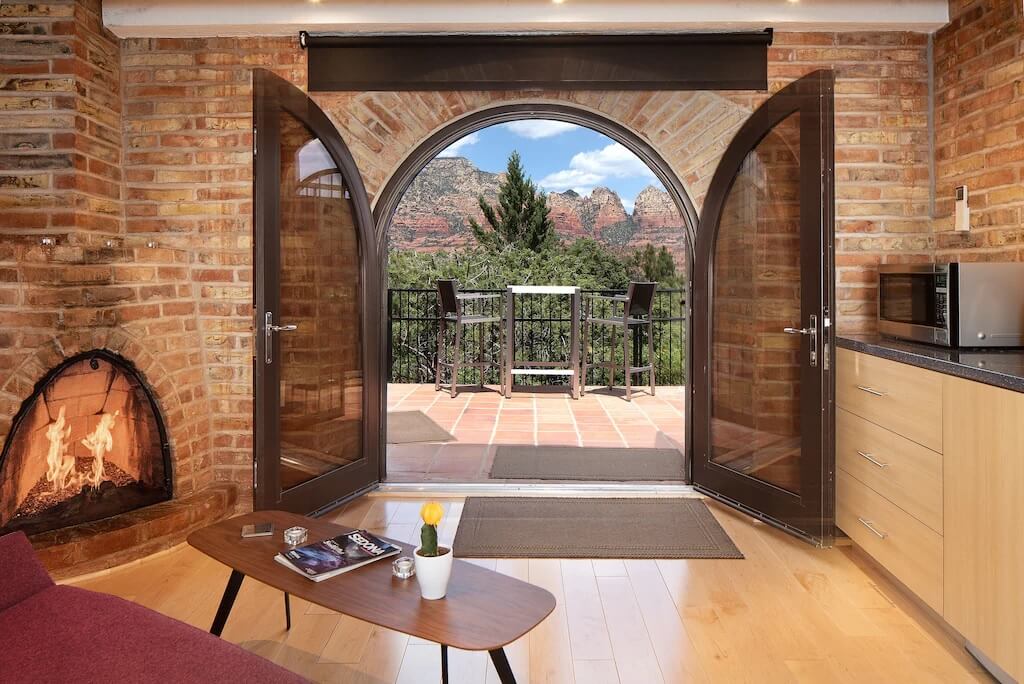 You can thank me later newlyweds, but first, get an eyeful of this super romantic studio! Set within a historical building, the exposed brickwork complements the modern interior really well, with large glass doors that open up onto your own mountain-view patio.
When you stay here you'll have access to a pool, hot tub, and steam room, so you and your new boo can get all the bliss downtime you need together before heading home to reality.
6 Guests
Large living area
Time to gather the gang together because we've got the best house for your Sedona friend-vacation! This has got to be one of the best VRBOs in Sedona! This awesome place is so comfy and stylish, but we really love that there's a large seating area with plenty of room for the whole group to chill out.
If you get bored (unlikely) there's are a whole stack of board and card games at your disposal, or you could hop into the hot tub with a couple of cold ones!
6 Guests
Outdoor deck with dining table and grill
This beautiful home is wheelchair-friendly and single-story, ideal for those searching for a VRBO with accessibility. The house has a lovely modern farmhouse interior which makes it feel spacious and welcoming. There is enough space for easy manoeuvrability and a simply fantastic open deck with lots of seating and a barbeque. The house feels secluded, yet is a short drive away from all the action.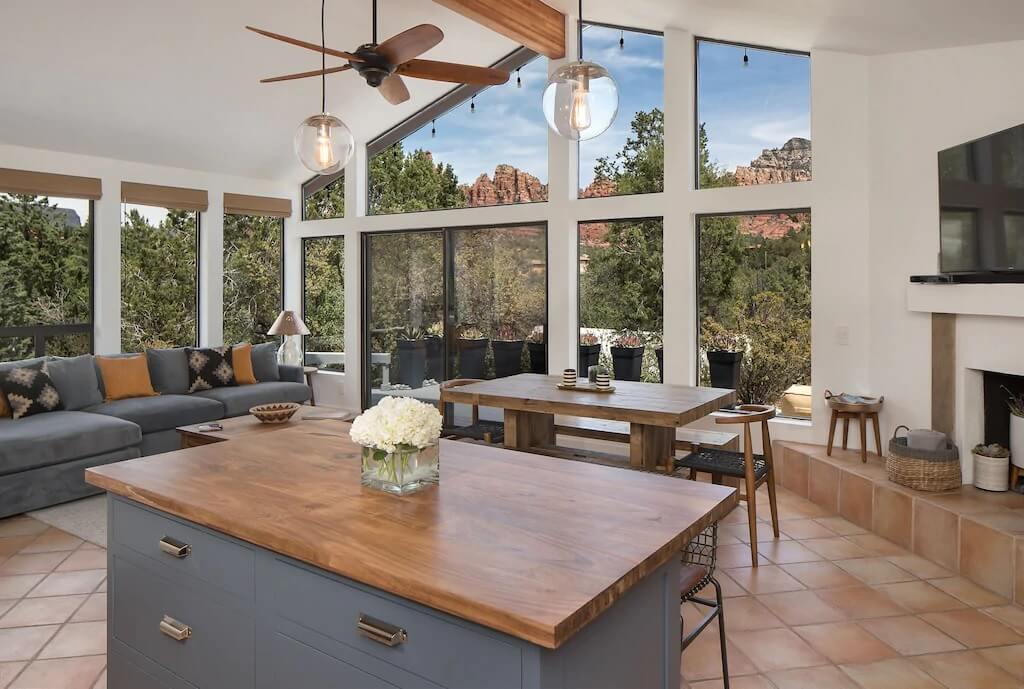 $$
Secluded feel yet only 1 mile to town
6 Guests
Breathtaking views from every room
We guarantee that if you spend a long vacation here you'll never want to leave.
This home has large feature windows in the main living area that show off the incredible mountain views, and a modern-boho vibe we just can't get enough of. The rental has everything you would need for a long and comfortable stay including a washer/dryer.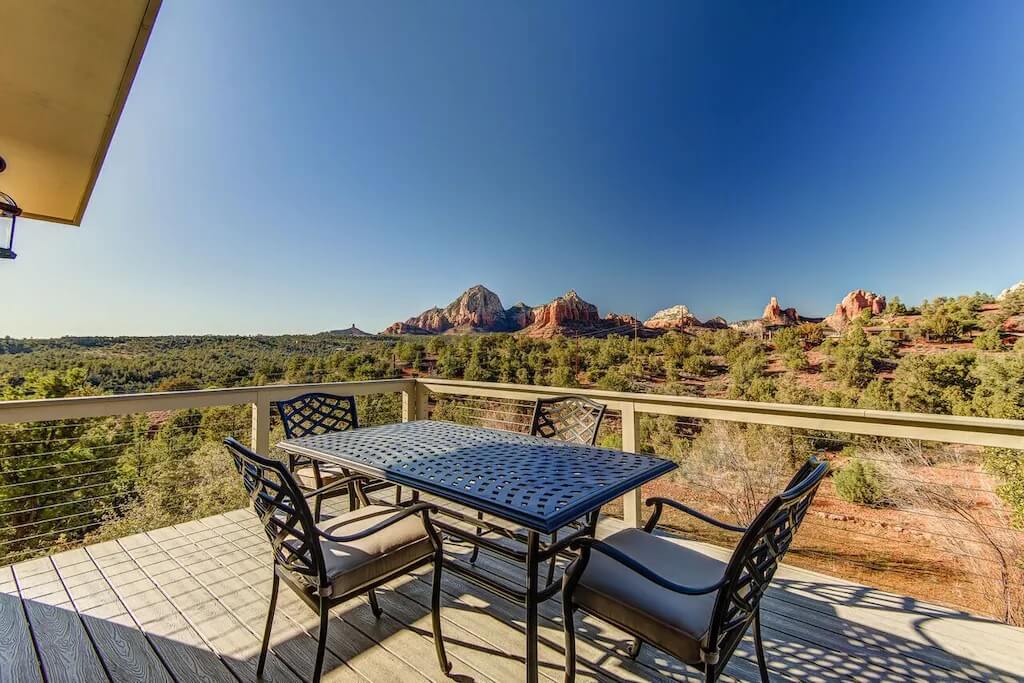 $$
Close to hiking trails, restaurants, and more!
Most VRBOs in Sedona have great views, but this one really takes the cake.
This secluded Uptown house has 10/10 mountain views and is a comfortable distance from galleries, restaurants, and cafes. The gorgeous outdoor deck is perfect for a cheeky bit of al-fresco dining, or a couple of beers at sundown. The interior is spacious and bright, with a little bit of Arizona flair.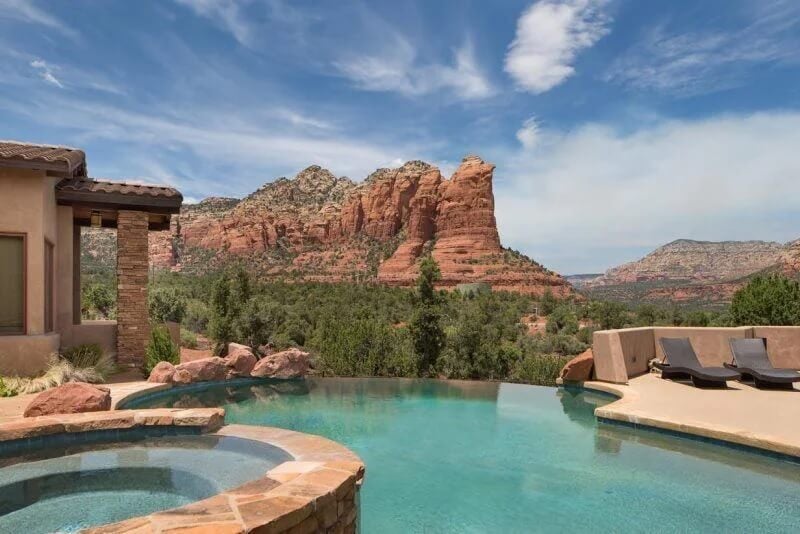 12 Guests
Mountain views straight from the infinity pool
We've done it. We have found the best VRBO in Sedona with a pool.
This incredible home has a to-die-for infinity pool that, get this, has the most amazing view of those famed red Sedona mountains! Do we wanna move in? Yes, yes we do. The house is large, with mega views from most rooms, and to top that off, it comes with a movie room equipped with a projector screen and reclining chairs. That's it, I'm packing my bags..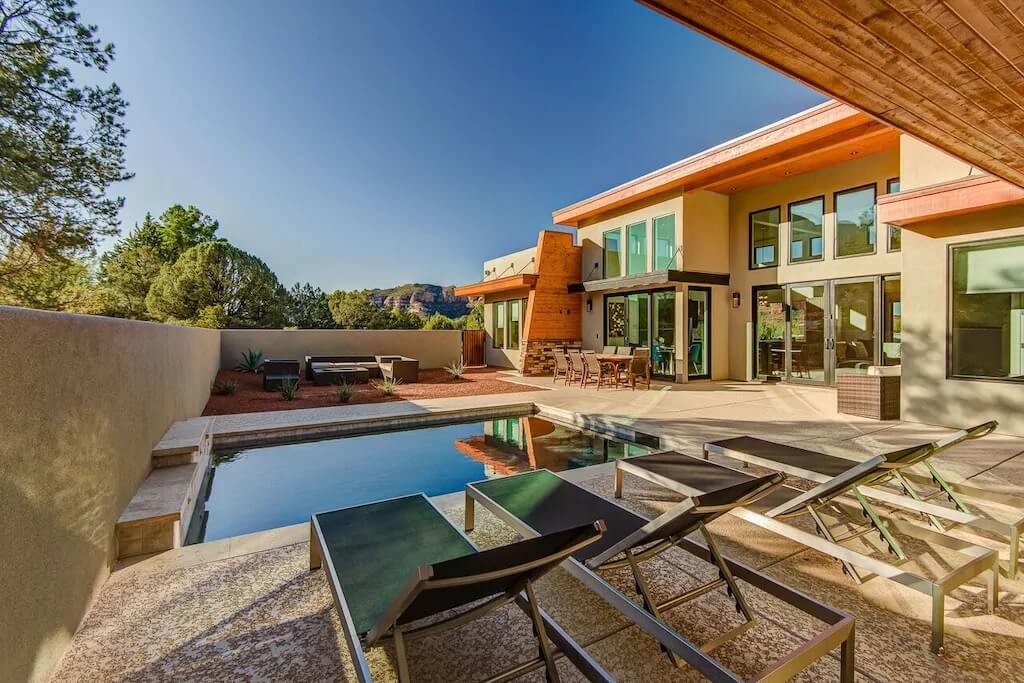 Eurgh this Sedona VRBO gives me all the feels. I mean it looks like it belongs in a magazine or at the very least on my "House Inspo" Pinterest board. The modern decor and architecture are drool-worthy, add fantastic views and a saltwater pool into the mix? Swoon! The outdoor living space has lounge seating and a dining area, whereas inside, you can chill out in front of the TV on the ridiculously comfy-looking sectional.
If you're traveling with your furry friend and are worried about finding the perfect Sedona VRBO, fear not as we have found you somewhere that ticks all the boxes!
This house is cozy, spacious, and large with a fenced-in backyard so you can let your little friend roam free. It also has great proximity to the trailheads for adventures together. Dog needs aside, there is a hot tub with Red Rock views and an outdoor seating area with a grill.
Don't Forget Your Sedona Travel Insurance
ALWAYS sort out your backpacker insurance before your trip. There's plenty to choose from in that department, but a good place to start is Safety Wing.
They offer month-to-month payments, no lock-in contracts, and require absolutely no itineraries: that's the exact kind of insurance long-term travellers and digital nomads need.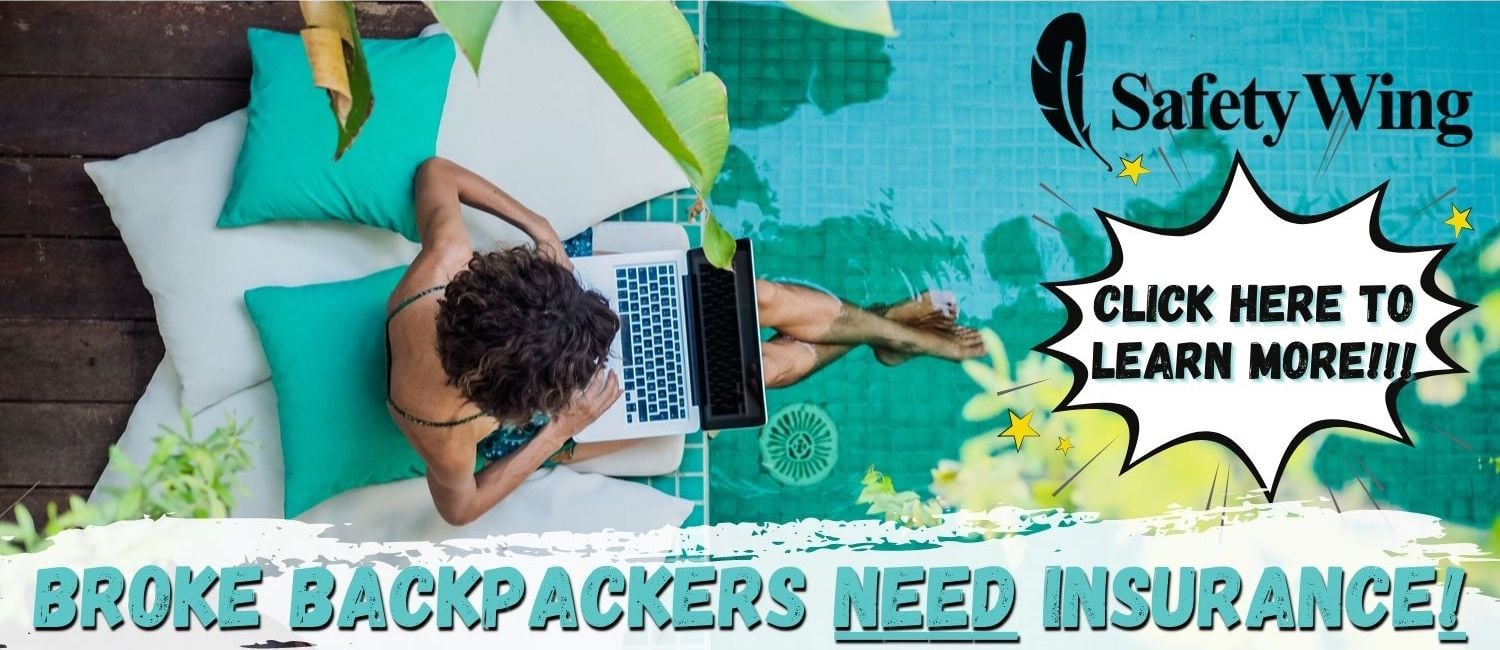 SafetyWing is cheap, easy, and admin-free: just sign up lickety-split so you can get back to it!
Click the button below to learn more about SafetyWing's setup or read our insider review for the full tasty scoop.
Final Thoughts on Sedona VRBOs
We definitely recommend renting a VRBO in Sedona. We are obsessed not only with the amazing views that these properties have to offer, but also the sheer number of hot tubs available! Who doesn't love a good hot tub? The fact that you can find incredibly private and secluded properties which are still a short drive (or walk, in some cases) to town makes Sedona VRBOs a winner in our books!
Sedona has so much to offer in terms of culture, the outdoors, and (let's not forget) wine, it should be a top choice for your next vacation! Just remind yourself to consider getting travel insurance, especially if traveling from abroad, as accidents can occur that not even the mystical vortexes can save you from!
---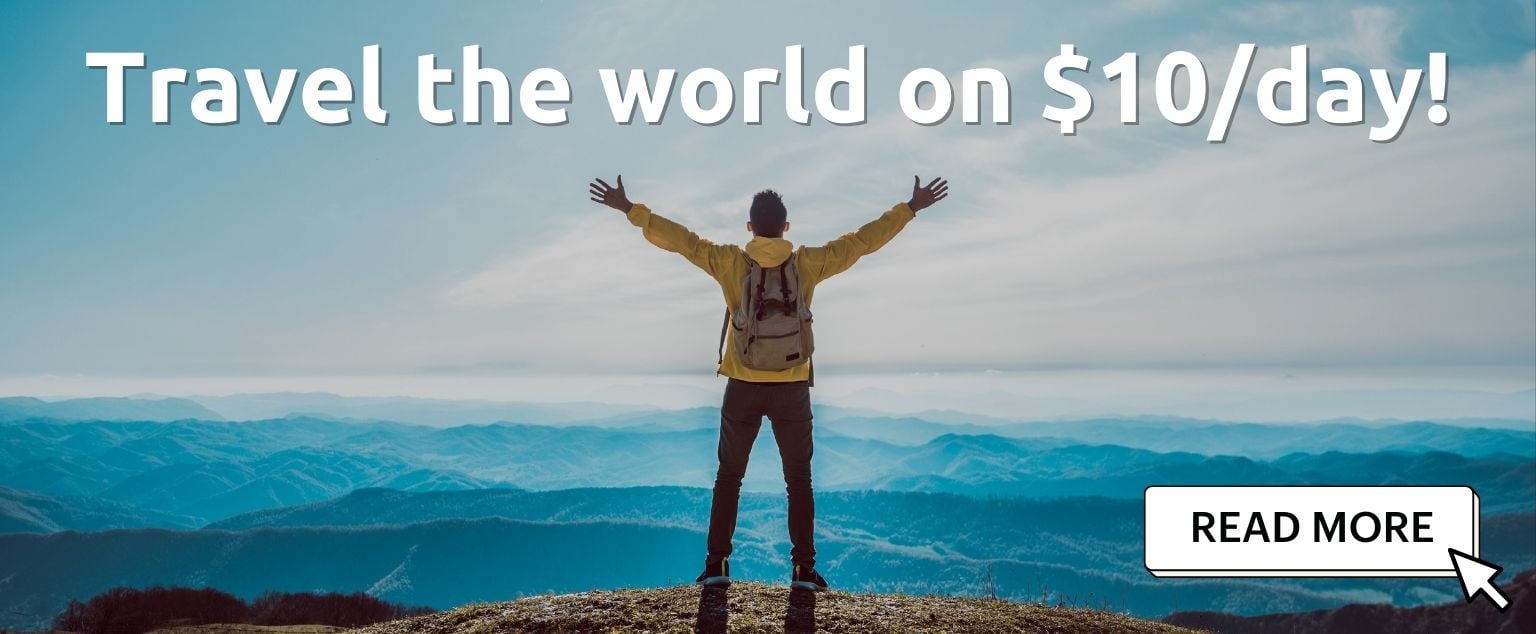 And for transparency's sake, please know that some of the links in our content are affiliate links. That means that if you book your accommodation, buy your gear, or sort your insurance through our link, we earn a small commission (at no extra cost to you). That said, we only link to the gear we trust and never recommend services we don't believe are up to scratch. Again, thank you!