Best known for its winter snow sports and summer mountain biking and hiking, Whistler is one of the most beautiful places to enjoy a mountain holiday. This resort town is ideally positioned just north of the America/Canada border, only a couple of hours from Vancouver.
As one of Northern America's most popular ski destinations, it's not hard to find beautiful accommodation in this small town, which is overflowing with luxurious cabins, up-scale hotels, and resort-style lodging.
Of course, the village has its fair share of hotels, but staying in a VRBO in Whistler offers guests the ability to spread out, make a home away from home, and have an authentic, local experience.
Whether you're visiting for the first time or are a regular to the Blackcomb mountain, in this guide, I will show you some of the best VRBOs on offer in Whistler.
So, let's get started!
Quick Answer: These are the Top 5 VRBOs in Whistler
Overall Best Value VRBO in Whistler
Overall Best Value VRBO in Whistler
Trendy 1 Bed Penthouse with Pool Access
> $$
> 3 Guests
> In the center of Whistler Village
> Balcony with views of the village
Best Budget VRBO in Whistler
Best Budget VRBO in Whistler
Fully-Kitted 2 Bed Mountainside Loft
> $
> 4 Guests
> In Whistler Creek, walking distance to the gondola
> Small yet efficient space
Best VRBO for Couples in Whistler
Best VRBO for Couples in Whistler
1 Bed Townhome with Underground Parking
> $
> 4 Guests
> In a complex in Village North
> Access to shared pool and Jacuzzi
Best VRBO for Families in Whistler
Best VRBO for Families in Whistler
3 Bed Modern Cabin with Forest Views
> $$
> 6 Guests
> North of Whistler by Green Lake
> Open-concept living space
Over-the-Top Luxury VRBO in Whistler
Over-the-Top Luxury VRBO in Whistler
Opulent 5 Bed Cabin with Jacuzzi
> $$$$
> 12 Guests
> By Niklaus North Golf Course
> Interior designer home with natural light

Unlock Our GREATEST Travel Secrets!
Sign up for our newsletter and get the best travel tips delivered right to your inbox.
What to Expect from VRBOs in Whistler
If you're visiting during winter, I can almost guarantee you're there for snow sports. The VRBOs in this town are both positioned and designed for mountain lovers. Even if you don't splurge on a slopeside ski-in/ski-out cabin, most village rentals will at the very least, boast exquisite mountain or lake views.
Before you can decide on which VRBO is right for you, it's a good idea to think about where to stay in Whistler and which neighborhood is close to the attractions you want to visit.
Whistler Village and Upper Village are the heart of the ski resort. Cobblestone streets, no cars, and tons of bars, shops, and eateries give Whistler an almost fantasy-like atmosphere. This picture-perfect neighborhood is centrally located and is packed with resort-style lodging for visiting tourists.
Creekside is another mountain base neighborhood with convenient ski-in/ski-out options. Ideal for families with young kids, Creekside is also home to many lodging options. Function Junction is an up-and-coming neighborhood where you can find trendy lofts and condos to rent. Naturally, you'll find the most luxurious cabins high-up in the mountains.
When it comes to facilities on offer in a VRBO, you're in luck. You're likely to enjoy luxurious facilities such as Jacuzzis, saunas, and gyms, whether they be private or shared with other resort-owned buildings. There's nothing better than soaking your muscles in a jacuzzi after a long day on the hill.
Aside from views and jacuzzis, VRBOs in Whistler often have great amenities such as laundry facilities, free undercover parking, and child-friendly features.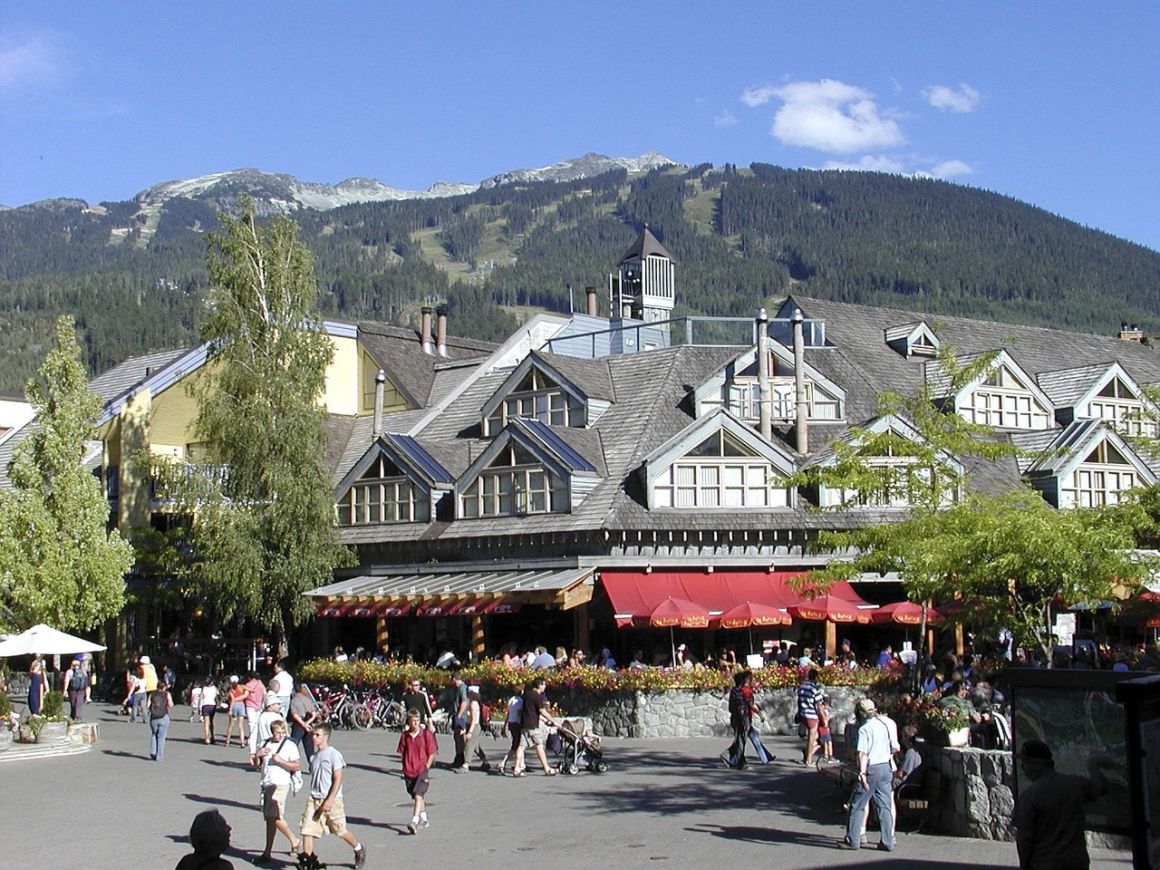 Mountain Cabins
Without a doubt the most common type of accommodation in Whistler (and all resort towns, for that matter), mountainside cabins in Whistler offer guests a unique ski-resort experience. While you could find a cabin in central Whistler, these rentals are more often found in residential neighborhoods on the outskirts of the village.
They offer a bit more privacy and seclusion when compared with resort accommodation and are typically built using lots of local timber materials. In fact, it's likely the entire cabin will be built from wood – from the floors to the walls to the ceiling to the furniture.
Cabins typically have high ceilings with large windows overlooking the mountain or snow-capped tree views, and a central living area organized around a cozy wood-burning fireplace.
Depending on the size of the cabin, you could find a spot with enough room for a couple, or for a large family. In my opinion, cabins are the ideal location for families, friends, and couples looking for a quiet space to relax after skiing.
Luxury Ski-In/Ski-Out Cabins
Known as a chalet in Europe, luxury American cabins are basically just the mother of mountain cabins. Located slopeside, with ski-in or ski-out options (or both), these rentals in Whistler are without a doubt the most desirable in the area.
You know the saying 'you get what you pay for? Well, this is completely true here, and while you'll be paying steep prices, luxury cabins won't struggle to provide the goods. In an opulent rental, you could expect designer interiors overlooking priceless views of the mountain and no visible neighbors. Not to mention, amenities including chef kitchens, heated ski-equipment rooms, game and media rooms, and of course Jacuzzis and heated pools.
These homes are designed for the rich and famous, with every detail being taken care of by the hosts. Whether you're a large family looking to splash out on a ski trip or a group of friends visiting for the apres-ski experience, your expectations will be exceeded in one of these extravagant rentals.
Resort-Owned Condos, Apartments, and Studios
Found in most American ski resorts, resort-owned lodging makes up the bulk of rentals found in central Whistler. Located above shops, restaurants, and bars in the village, you couldn't find more centrally located accommodation if you tried – that is if you're after the village life and apres-ski experience.
Choose from one-bedroom self-catering condos, four-bedroom apartments, or studios suitable for solo travelers, digital nomads, families, and couples. While these rentals are self-catering, they also offer guests some of the luxuries of a hotel, including housekeeping services, heated underground parking, laundry services, lobby spaces, concierge services, and shared amenities such as Jacuzzis, gyms, and laundry facilities.
Priced high for their convenient location and highly-rated service, resort-owned VRBOs in Whistler offer regular discounts and ski-pass packages and are a great bet for short stay visitors looking to be in the hub of the town.
Why Stay in a VRBO
Views – Whistler is known for being the best place to ski and snowboard in Cananda, as well as it's iconic mountain and lake views and hiking trails in the summer. It's not difficult to find a beautiful VRBO with panoramic views of the surrounding area.
Accessibility – Most of the village's resort-owned lodging is fitted with adequate lifts, making VRBOs an excellent bet for wheelchair users.
Lenient Cancellation Policies – If you think your plans might change for any reason, filter the cancellation policies to find properties with free cancellation for up to 14 days before check-in.
Real-life reviews – Make sure you read the real-life reviews left on each property by other guests for an authentic review of the place.
Map search – Use the VRBO map to search for properties in specific neighborhoods or choose to filter your search by popular areas.
Top 20 Vacation Rentals in Whistler
Now that you know what to expect from a VRBO in Whistler, it's time to choose from ultra-modern cabin-style homes or go for a more rustic European-style chalet in the village center.
Whistler is overflowing with vacation rentals for every type of traveler, so when you're ready, let's get started.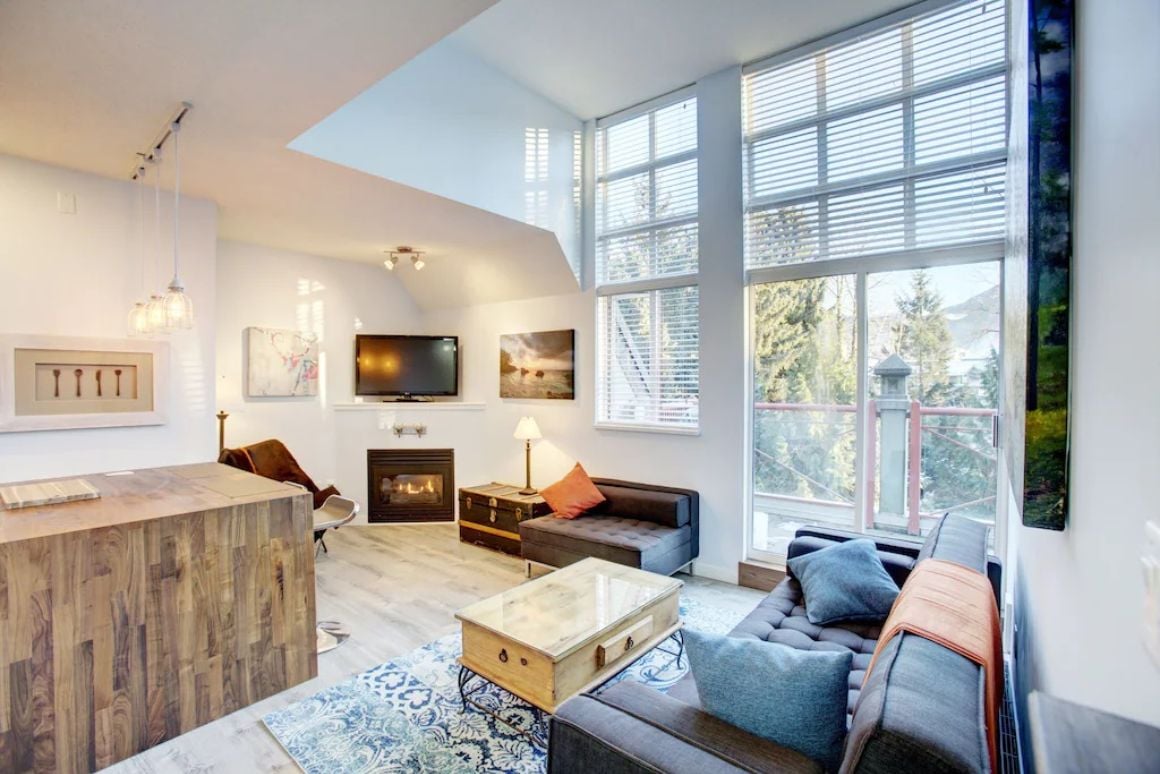 $$
In the center of Whistler Village
3 Guests
Balcony with views of the village
If you're looking to get the most bang for your buck, this spot in the heart of Whistler Village will provide the goods. It's located in a modern apartment with access to a shared pool, Jacuzzi, and free parking. The penthouse has double-height windows opening out onto a balcony with views of the mountain.
You can expect fresh fittings and contemporary furniture throughout the space. The kitchen is fully equipped and boasts a gorgeous wooden waterfall central island. Like any great rental in Whistler, this spot is only a few minutes from the lifts and the main attractions of the town center, including Whistler Museum.
If you don't feel like going out, it has a cozy lounge fitted with a fireplace – It's the perfect spot to unwind after a day of skiing.
$
In Whistler Creek, walking distance to the gondola
4 Guests
Small yet efficient space
This adorable cozy studio is located in Gondola Village in Whistler Creek. It's only a short drive from the Whistler Village and a quick walk to the gondola. It's the ideal spot for anyone looking for a more peaceful ski vacation experience, not to mention, it's on the rental market for an absolute steal of a price.
The studio is beautifully designed with wooden ceilings and walls, a spacious lounge with tons of natural light, and a fully equipped kitchen. With one private bedroom and a secluded loft bedroom space above the central living area, this spot is perfectly suited for four guests that are backpacking Canada.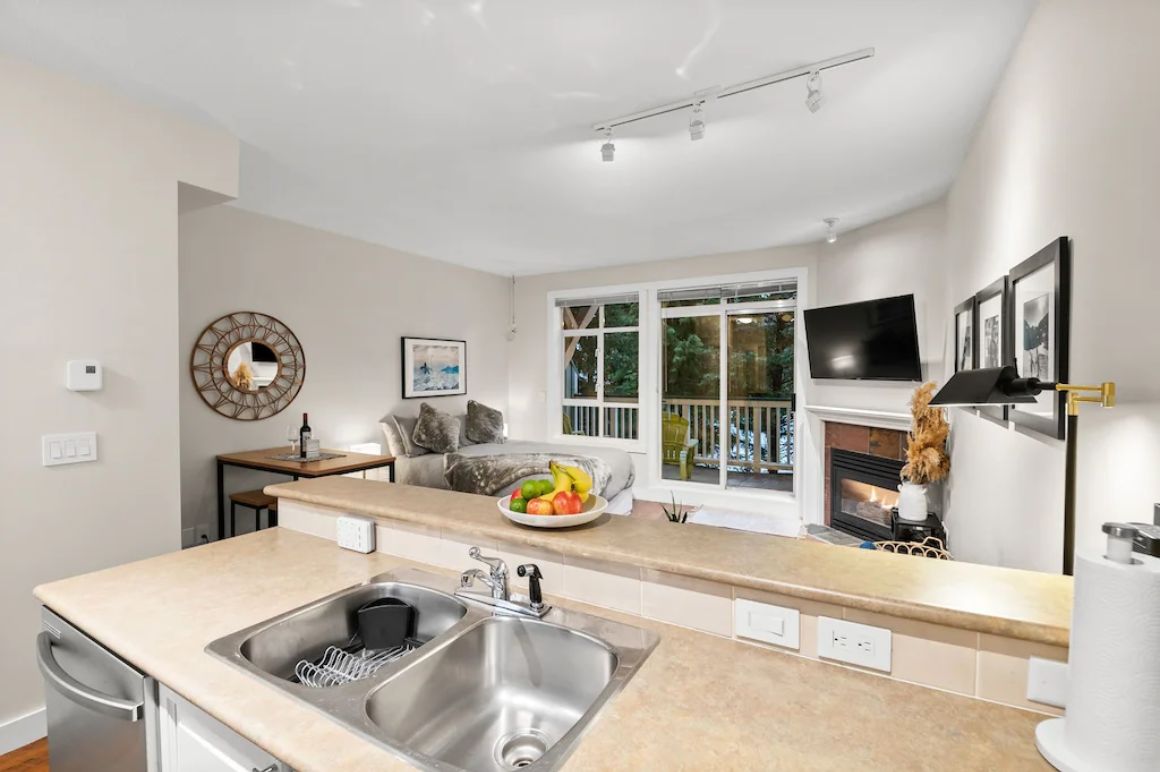 $
In the heart of the ski resort village
2 Guests
Fully-equipped kitchen
Visiting whistler on your own can get expensive, fast. This modern condo is super affordable for one guest and offers all the amenities you might need from a self-catering VRBO in Whistler. It's also centrally located in the resort village and is a short walk from all the main lifts and downtown, including the Audain Art Museum.
The condo boasts wooden floors and contemporary furniture, a fireplace, and a spacious balcony. The warm interiors create a cozy haven for guests arriving back from a day on the mountain.
Is This the Best Backpack EVER???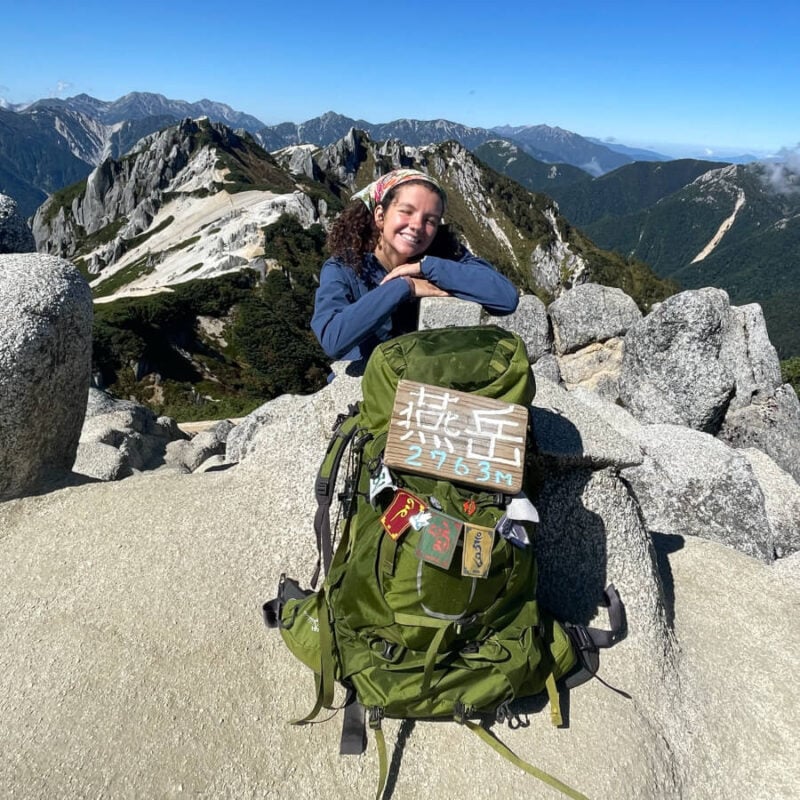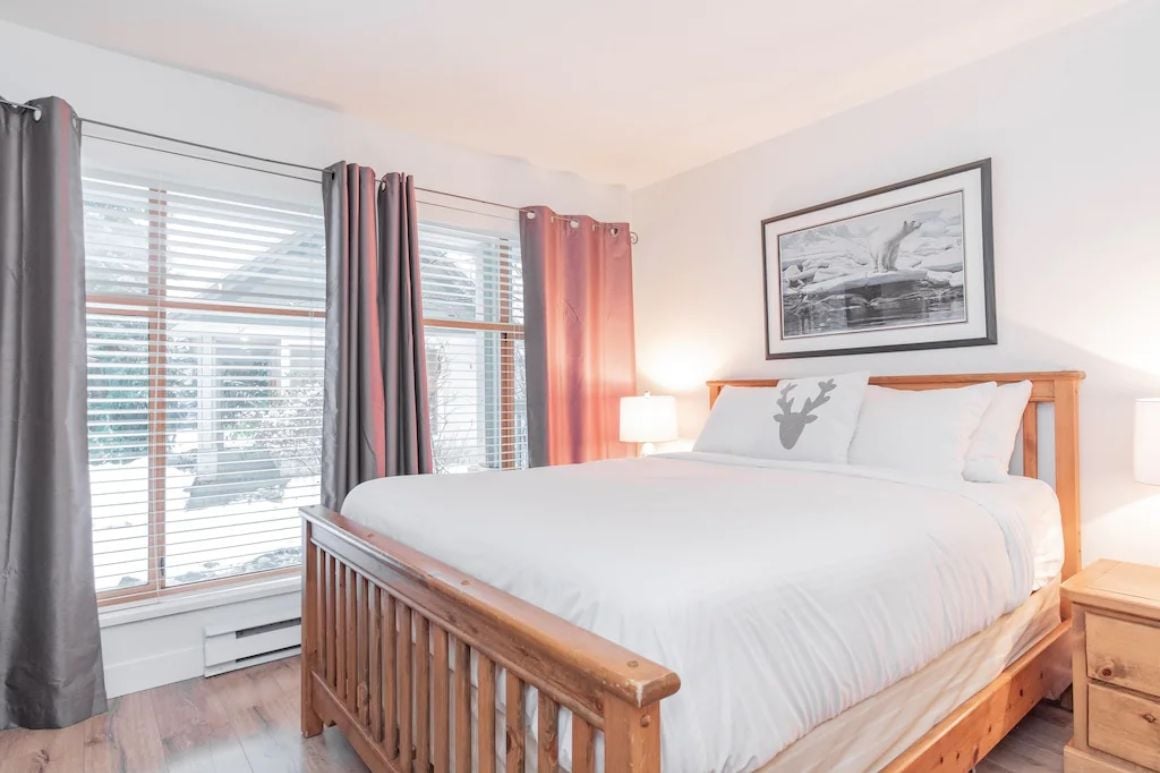 $
In a complex in Village North
4 Guests
Access to shared pool and Jacuzzi
I can't think of anything better than a cozy romantic ski vacation with a loved one in Whistler. Better yet, I think I've found the perfect rental for the occasion.
This spot is exquisitely designed using top-of-the-range fittings, wooden floors, and modern furniture. Better yet, it's super affordable and will leave you with extra cash to splurge on romantic dinners out!
The condo is super spacious, with wide hallways and the opportunity to pull out an extra bed if need be. Convenience is key when in a cold location, and this spot even has its own laundry facilities, BBQ, and a shared Jacuzzi.
$$
North of Whistler by Green Lake
6 Guests
Open-concept living space
It's no secret that Whistler is a top location for a family skiing holiday. This spot located just north of the village is quietly tucked away in the woods by Green Lake. The exterior is a post-modern marvel with lots of edgy lines and glass touches. However, it's the common living area inside which first caught my attention.
Picture double-height windows opening out onto a balcony with forest views, a contemporary yet cozy lounge area with a fireplace, and a super trendy kitchen with modern lighting.
There is even a separate TV room for the kids to enjoy. The space is so beautiful, the common area of this rental in Whistler makes it easier than ever to spend quality time with your family.
$$$$
By Niklaus North Golf Course
12 Guests
Interior designer home with natural light
Have I landed in paradise? I think so! This exquisite interior designer home sits in a prestigious golf course neighborhood near the village. It features massive glass walls overlooking the snowy forest and is designed with no detail left out. Cozy neutral colors juxtapose with bright modern art, offering a uniquely luxurious feel.
Aside from the central living area with a lounge, dining room, and kitchen, this space has a private office, two separate TV dens, and a games room. Feel free to fit up to 12 guests across five luxurious bedrooms, all of which are impeccably designed with high-quality linens and finishes.
$$$
In the prestigious Blueberry Hill neighborhood
12 Guests
Cozy traditional cabin interiors
Anyone dreaming of the full 'ski-town' package should stay in a mountain cabin. This particular space is a more upscale cabin in a well-known residential neighborhood, but there are definitely some gorgeous affordable cabins to be found.
Soak up the views of the forest by the fireplace in the comfy lounge. Traditional double-height ceilings bring in a bunch of natural sunshine, giving the place a warm feeling even in the depths of winter.
The home is designed using exposed wooden beams, floors, and window and door frames, as well as a classic double-sided stone fireplace. Wooden furniture and cozy linens complete the traditional cabin look.
$$$$
In the ski-in/ski-out Kadenwood neighborhood
21 Guests
Games room and private gym
Not only is this the best VRBO in Whistler for a ski-in/ski-out holiday, but it's also one of the most beautiful and luxurious rentals on the market. The home is impeccably designed with a mix of traditional wooden cabin interiors and modern lighting and art.
Spend some time cooking up a family-style meal in the huge open-concept kitchen before enjoying your meal at the formal dining table.
As another option, choose to BBQ outside with a winter fairy-tale backdrop. This spot also has a separate media room, an office with views that can even make work feel like a dream, and an over-the-top master bathroom with a fireplace and freestanding tub.
$$
In the heart of Village North, with forest views
2 Guests
Access to a pool, Jacuzzi, and gym
Traveling solo or trying to save on long-term accommodation? This contemporary studio space offers guests everything they need for a homey stay. Located in the heart of Village North, the studio has access to a shared pool, Jacuzzi, and laundry facilities.
The actual studio is small and cozy, fitted with a fireplace, fully-equipped kitchen, and TV. There is even a walk-in storage closet space to store your goodies and a spacious balcony with forest views. This balcony has a two-seater table and is the best spot to enjoy the morning sunshine.
$$
Ski-in / ski-out in Upper Village
3 Guests
Stylish interiors and finishes
Visiting a ski resort can be a challenge for those with limited mobility. This rental in Whistler thinks otherwise and is well equipped for wheelchair users. It's located on the ground floor of a resort-owned condo a few steps from the ski lift in Upper Village. The condo is spacious, with wide passageways and no steps.
It's designed using sleek dark tones and wooden interiors. Choose to relax with a good book by the indoor fireplace or head to the deck for a casual BBQ. Guests can even enjoy access to a shared pool and jacuzzi, as well as concierge services to help with any issues.
$$$$
On the slopes in Kadenwood
12 Guests
Ski room and wine cellar
The winning feature of this home is its exquisite views. This ski-in/ski-out home is located slopeside above the treetops. You'll feel like you're in a snow globe from every room in the house, with floor-to-ceiling windows overlooking gorgeous valley views. In my opinion, the views just get better from one bedroom to the next.
With contemporary modern interiors and trendy neutral furniture, this spot will make you feel like you're on vacation from the second you walk through the door. Perfect for die-hard skiers, this rental has a dedicated ski equipment room and a toasty Jacuzzi to unwind in when you return from a day on the slopes.
$
In Benchland, on the slopes of Blackcomb
3 Guests
Calming interiors with a fireplace
Upper Whistler is the place to be for great shops, dining, bars, and of course, skiing. This VRBO in Whistler sits between the hub of Upper Whistler and the ski slopes and is designed with all the comforts of home.
You'll likely spend the bulk of your time in the cozy living room, which is fitted with a fireplace, TV and opens out onto a balcony that's nicely protected from the wind. Cook up a storm in the fully-equipped kitchen, or walk a few minutes to one of the many delicious eateries to find a local bite to eat.
$$
In a townhouse neighborhood in Whistler Village
6 Guests
Bright and spacious interiors
Like many big ski resort towns, Whistler has a buzzing apres-ski and nightlife scene. This well-equipped townhome sits in the heart of Whistler Village, a short distance from many of the resort's best bars and nightclubs.
The townhouse is inspired by traditional cabin interiors, with lots of exposed wooden beams and modern glass walls. Of course, there's a cozy lounge fitted with a fireplace where you can admire 180-degree views of the mountains.
This spot is also equipped with a BBQ and jacuzzi deck with stunning views. Can you think of a better way to relax after a night on the town than watching the snowfall from inside a bubbling Jacuzzi?
$$$$
180-degree views of Whistler valley
12 Guests
Pool and media room with views of the ski hill
In my humble opinion, great views are absolutely essential for a rental in Whistler. The views from this spot are off the charts. The home is located on the ski hill, offering unrivaled panoramic views of the mountain, valley, lake, and forest.
As expected with a view like this, the home itself is pretty special. It's a modern cabin mansion designed with triple-height glass walls, glass skylights, and ultra-modern stone and wooden features.
The sophisticated kitchen is my favorite room in this home. It is fitted with top-of-the-range Gaggenau equipment making it a pleasure to cook in, even when you're on vacation.
$$
Walking distance to shops, eateries, and bars
8 Guests
Huge patio space and Jacuzzi
Can you think of anything better than relaxing in a bubbling Jacuzzi after a day skiing or snowboarding? Not only does this custom-built home have a Jacuzzi with beautiful mountain views, but it even has its own private sauna.
Everything about this space brings tranquility to its guests, from the neutral-toned interiors, sleek gas fireplace, and stunning mountain views.
Aside from the in-house spa facilities, this home has a stunning deck and lush garden with a firepit (best used in summer) that overlooks the mountain and forest. It's the perfect year-round vacation rental for a family or a group of friends.
$$
Walking distance to gondolas
7 Guests
Open-concept living area with tons of windows
If you have the budget, finding a ski-in or ski-out VRBO in Whistler is the best way to get the most time in on the mountain. Surprisingly, this spot isn't overpriced for everything it offers, including a central ski-in/ski-out location, a media room, a wine cooler fridge, and a private Jacuzzi and garage.
Floor-to-ceiling windows in the central living space open out across the forest, bringing a bunch of natural light into the home. Great for families or groups of friends, feel free to bundle up and have a BBQ on the deck outside or choose to warm up in the Jacuzzi after a day on the slopes.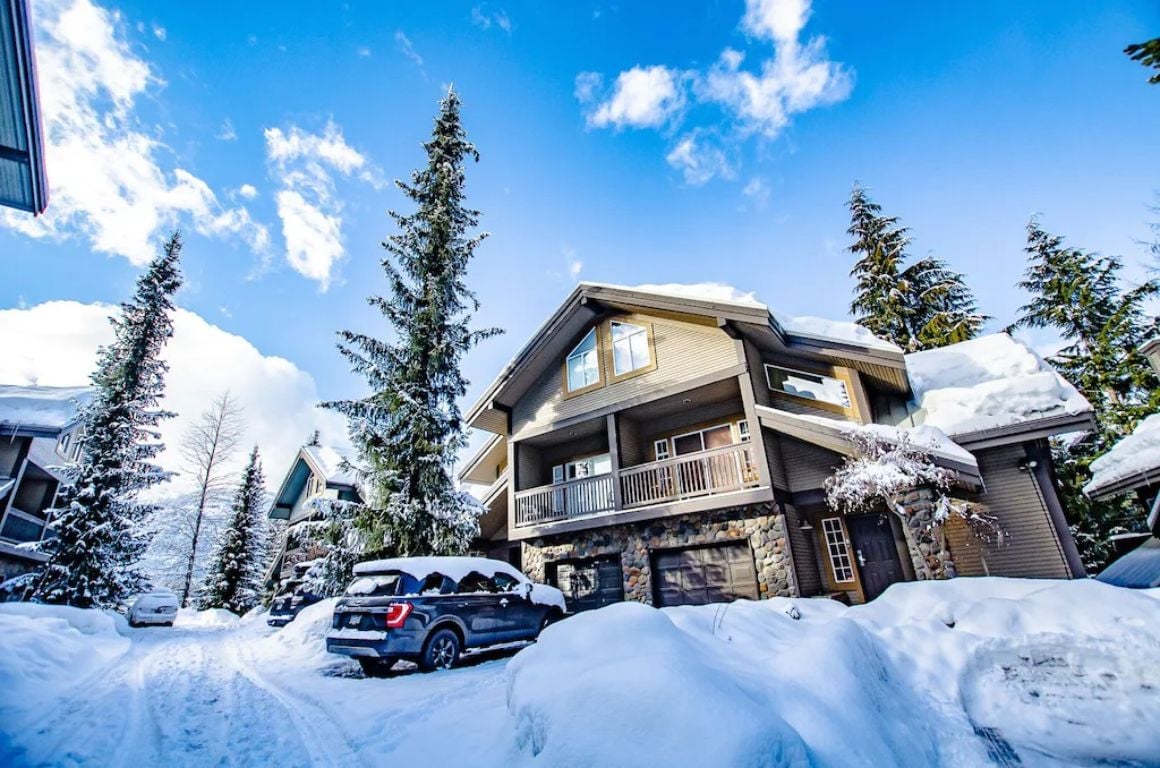 8 Guests
Ski-in/ski-out home with fireplace
If you're looking for a spot to spend an extended period of time in Whistler, I have you covered. This house is located in the heart of the Upper Village and will make you feel like you're at home from the second you walk through the front doors.
Not only does it have incredible views from the balcony and deck, but it also has an indoor jacuzzi. The fully equipped kitchen is well-stocked for you to cook your favorite home-cooked delights in-house.
However, it's also close to a bunch of the Upper Village's top eateries and bars. Equipped with a heated garage and boot dryer rack, this is the perfect ski-in/ski-out rental in Whistler for a long-term stay.
$
On the hill on Blackcomb Mountain
4 Guests
Laundry, gym, pool, and Jacuzzi access
Being so close to Vancouver, Whistler is a top spot for a quick weekend getaway. This cozy condo has been remodeled and fitted with whistler-inspired decoration and art. Experience luxurious features including heated floors, an indoor fireplace, and a heated boot rack for skiers and snowboarders.
This affordable and well-located condo also has a spacious balcony with a BBQ and chairs to relax on. Best of all, it's only a few meters from the slopes, making it easy to ski in and out of the home at your leisure. Why waste your time and money on transport when you can live so close to the mountain?!
$$$
In a residential street by Whistler Medals Plaza
26 Guests
Large indoor space and many games
You've hit your annual burnout, and you and your best friends are looking for a luxurious home to rent out together. You stumble across this VRBO in Whistler and immediately book the spot. This luxurious cabin has ten bedrooms and enough space to fit 26 of your closest friends.
It's well equipped with a huge kitchen and dining table, as well as a spacious open-concept lounge with a big-screen TV and a cozy fireplace. There's even a board game nook with scrabble, chess, and a dartboard for whiteout days. In summer, feel free to head outside to the putting green to practice some golf shots.
Another winning feature for a splash out with friends? Drop off your skis and boots in the ski room and spend some time relaxing in the private jacuzzi and sauna.
$$$$
In the quiet Sunridge neighborhood
10 Guests
Contemporary interiors with modern art
While there are tons of luxurious cabins across the Whistler area, I've never quite seen something so magnificent and modern as this one.
This massive home looks more like a hotel lobby than a private home to me. It boasts super high ceilings, irregular construction angles, and glass and wood stairs, with a bunch of modern art and sculptures bringing a level of edginess into the space.
Each of the five bedrooms is overflowing with natural light, and many even have their own fireplace. I can totally see myself lounging in the master bathroom bathtub, which is set in front of a glass wall with exquisite mountain and forest views. Talk about opulence, am I right?
Don't Forget Your Whistler Travel Insurance
ALWAYS sort out your backpacker insurance before your trip. There's plenty to choose from in that department, but a good place to start is Safety Wing.
They offer month-to-month payments, no lock-in contracts, and require absolutely no itineraries: that's the exact kind of insurance long-term travellers and digital nomads need.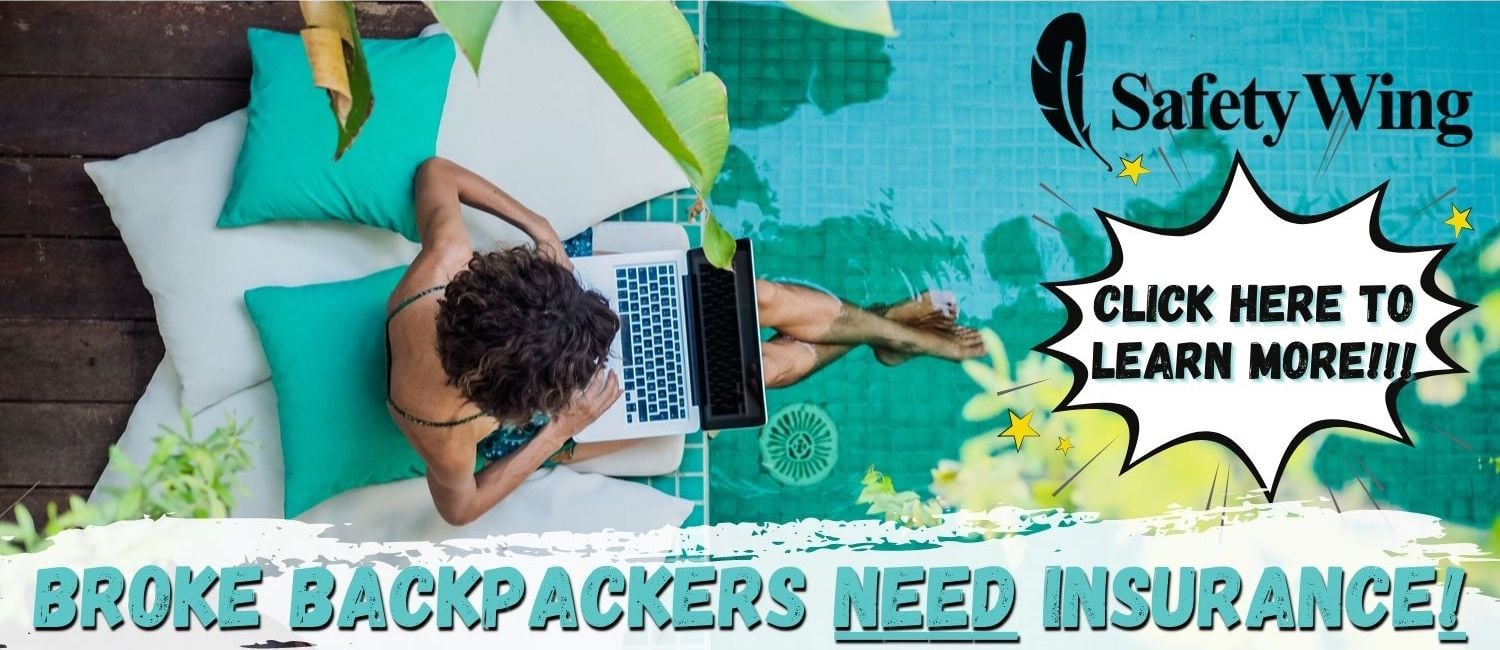 SafetyWing is cheap, easy, and admin-free: just sign up lickety-split so you can get back to it!
Click the button below to learn more about SafetyWing's setup or read our insider review for the full tasty scoop.
Final Thoughts on Whistler VRBOs
Whistler is a ski and snowboard haven adored for its exquisite mountain landscapes and heavy winter snowfall. Its perfect location near one of Canadas biggest cities makes it a popular spot for local Canadians and Americans, many of whom visit the village for short weekend stays during the winter months.
However, the area is also well known for its summer outdoor adventures, including forest walks, mountain hiking and biking, and river kayaking.
The British Columbian ski town is naturally packed with exquisite places to stay. From low-key mountain cabins to ultra-luxurious modern VRBOs in Whistler, you'll want to extend your trip from the minute you arrive in this beautiful location.
Do you have a favourite VRBO from my list? Let me know in the comments.
---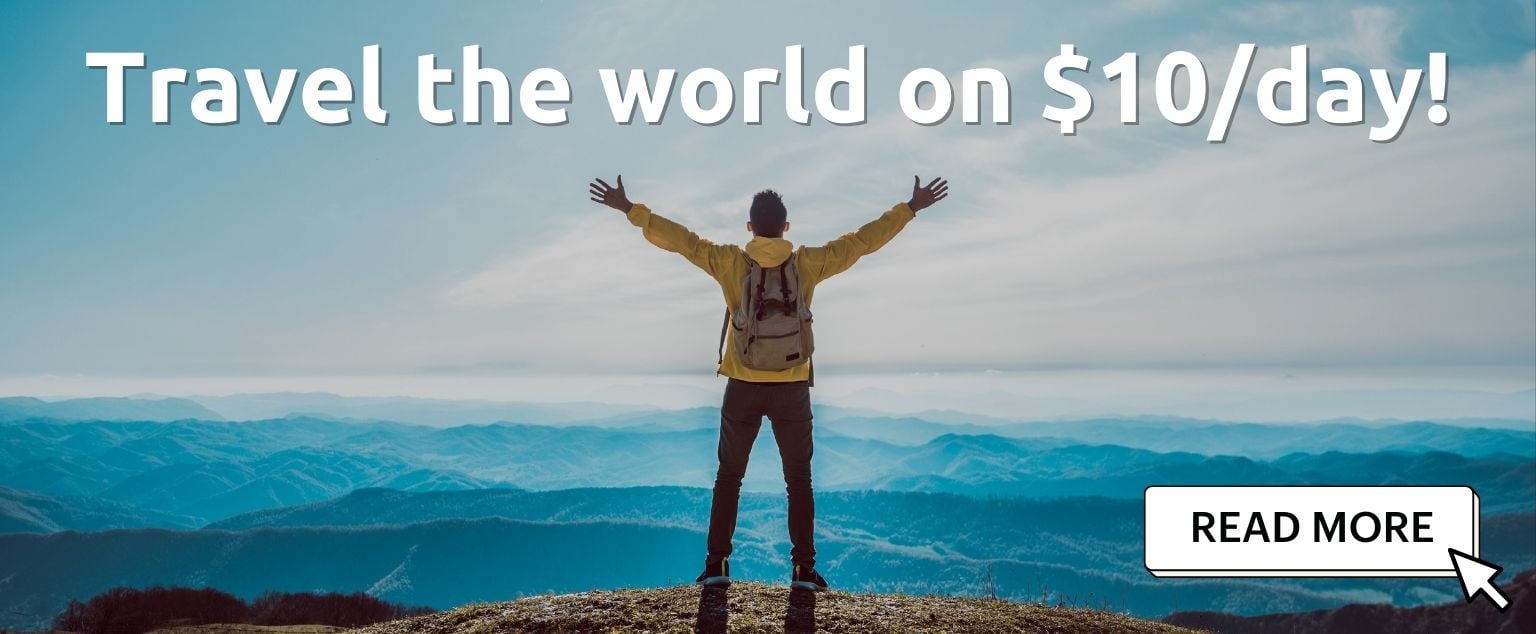 And for transparency's sake, please know that some of the links in our content are affiliate links. That means that if you book your accommodation, buy your gear, or sort your insurance through our link, we earn a small commission (at no extra cost to you). That said, we only link to the gear we trust and never recommend services we don't believe are up to scratch. Again, thank you!