India's gigantic capital Delhi is everything India has to offer all at once. It is bustling & manic, effortlessly mixing old and new. The streets throng with cows, Tuk-Tuk's and water sellers and the air is rich with the aroma of both street-foods and trash! Located in north-central India, it is a major transport hub and most visitors to India pass through at least once.
Delhi is not an easy city to love but is a quintessential Indian experience and you have to see it at least once!
If you're planning a Weekend in Delhi, we've laid out the best attractions that will make your trip one to remember. Our weekend guide is packed with plenty of options to fit whatever vacation vibe you're after!
Insider Tips for an AMAZING Weekend in Delhi
If you're spending a weekend in Delhi, the key to spending your time wisely is staying in a central location! There are several different neighbourhoods so you need to choose the one for you.
Know Where to Stay When You Travel to Delhi
Choosing accommodation is an important aspect of any trip. With a city as large as this one, it might seem a little overwhelming deciding where to stay in Delhi, but we're here to help!
We recommend staying close to Connaught Place. This area is in the heart of Delhi. It's a bustling neighborhood with restaurants, popular sites, and lots of accommodation options. It's perfect for tourists planning a quick trip and will make exploring Delhi easy and convenient!
We've listed three great options for accommodation in, or next to Connaught Place. If you're planning a quick weekend getaway, Delhi's top attractions will be right at your doorstep!
Another popular area is Paharganj. It is a backpacker hub with loads of Delhi's cheap hostels, guesthouses, restaurants, shops and travel agents. It is, however, a bit busy and the hassling can get intense.
Located in the heart of Delhi
Fast Wi-Fi and free use of computers
Free breakfast available every day
The Hostel Smyle Inn meets all of the requirements necessary for a great hostel. The location is within walking distance of popular attractions and public transportation. All rooms have air-conditioning, lockers, and ensuite bathrooms. There is also a common room where guests can socialize!
A cosy space with lots of natural light and a timeless view will help you feel situated in no time. Besides your room, you have access to a bathroom (with shower), living room and kitchen. There is also a small garden, shared with the neighbours, that you can use!
Our Favorite Budget Hotel – Hotel Ajanta
Free 24-hour airport pick-up service available
Stylish and trendy decor
Spacious rooms providing modern comforts and amenities
The Hotel Ajanta is great value-for-money. Rooms feature air-conditioning, coffee/tea makers, and private bathrooms. Breakfast is available every day for free (if included in the room rate) or can be added on for a very small fee. There is a rooftop restaurant, 24-hour room service, and a travel desk!
Beautiful historic building
Free breakfast available every day
Enclosed courtyard for relaxing or enjoying a meal
Nestled in the heart of Delhi, this lavish 5-star hotel offers many perks. The property features an on-site restaurant and bar, room service and airport shuttle service. All rooms include a flat-screen TV, tea/coffee maker, mini bar, and so much more!
Know How to Get Around in Delhi This Weekend
Before we get into all the exciting things to do in Delhi this weekend, lets talk about getting from point A to point B. Delhi is a large city, and you'll have a few options for transportation.
For travel in and around Delhi, the metro a good, solid option. There are currently six metro lines that will provide you with reliable transportation throughout the city. The metro does get seriously crowded at rush hours. There is a women only carriage which has been created as a response to the excessive groping and sexual harassment suffered by female travellers. If you are harassed, shame the culprit.
Male travellers – you will stared at on the Metro but it is unlikely anybody will harm you.
Uber and Ola are popular ride-sharing services that operate in Delhi. They're cheaper than regular taxis, and since you are able to see your driver's details before they pick you up, they're usually safer. In terms of convenience, these popular apps are another great option for transportation.
Auto rickshaws are similar to the tuk-tuks you'll find in Southeast Asian countries. They're a fun option to get around the city when traveling short distances. Be prepared to practice your bargaining skills. The first price told to tourists is guaranteed to be a lot higher than normal, but it can usually be worked down with a bit of haggling! Uber also does Tuk-Tuk's.
It is not ideal for tourists to drive when visiting Delhi. Driving laws aren't strictly enforced and this can cause confusion. There are lots of places to see around Delhi, and luckily all of these places are serviced by public transportation! Personally, I drove a Tuk-Tuk in Delhi. It was fun but also seriously stressful.
Delhi has a large and varied nightlife. Note that most bar's and clubs can be a bit Sausage heavy and some locals get way too inebriated (oh the joys of backpacking India). Still. there is fun to be had mingling with the delightful Delih-ites.
Weekend getaways in Delhi are a prime time to discover the nightlife scene. Here are the best options for going out!
Connaught Place
The party hub of Delhi offering an eclectic range of clubs, bars, lounges, and nightclubs
Delhi's top nightlife district with a young and energetic vibe
From late-night clubs to casual hookah bars, there's something for everyone!
If you're visiting Delhi this weekend and wanting to explore the city's nightlife scene, Connaught Place is the place to be! You'll find a wide range of options that are perfect for an exciting night out on the town. For dancing and a great drink selection, head to My Bar Headquarters. This happening bar is very popular with tourists and locals alike!
Shahpur Jat
An urban village with a trendy bohemian vibe
Filled with chic restaurants, quirky shops, and casual nightlife options
Perfect for a low-key and relaxed night out
Shahpur Jat is a modern area of Delhi, full of cozy cafes, boutique stores, and a great craft cocktail scene. For a casual night out, head to the Tabula Beach Cafe. This open-aired beach-style bar hosts regular live music and offers a nice selection of cocktails and other drinks. It's one of the most popular bars in Delhi!
Hauz Khas Village
A pedestrian neighborhood next to the beautiful and scenic Deer Park and Deer Lake
A posh area of town with trendy bars, lounges, clubs, and hip restaurants
Prices to suit all budgets – inexpensive to high-end
Hauz Khas Village is another great area of Delhi for a casual night out. Hauz Khas Social is a highly rated bar with an outside seating area overlooking Deer Park Lake. My Bar Grill also offers outdoor seating. This bar has an artistic ambiance, it's a spacious venue with a great cocktail selection.
What is the One Item Every Traveller NEEDS???
There is one item every traveller NEEDS. Some travellers don't even know they need it, but those travellers need it more than anyone.
What is this forgotten essential of the backpacker-life? SPOILERS! Guess you'll just have to click the button to find out. 😉
Find Out What It Is!
Indian food is the best on earth and Delhi has some of the best examples. From street stalls, to dhaba's, to fancy restaurants, there is something for everybody here. The city boasts a unique and eclectic range of restaurants. Here are the best places to visit around Delhi for foodies! Any self respecting Delhi Itinerary should include some serious eating.
The Best Street Food – Chandni Chowk
A great way to sample the local culinary flavors of India
Famous for its Indian street food as well as spices, teas, and dried fruit
The market is open from Monday to Saturday from 9:30 am to 8:30 pm, and is closed on Sundays
If you're looking for exotic places in Delhi to grab a bite to eat, Chandni Chowk is the place to go! This high-energy market is filled with narrow streets and plenty of iconic street food vendors. You'll find more than just savory curries and naan bread, the market is packed with Indian delicacies, including sweets!
For a Traditional Dining Experience – 21 Gun Salute
An elegant and retro ambiance, with royal antique items, including vintage cars on display
The restaurant specializes in Indian and Nepali dishes, with a few western menu options
Vegetarian and vegan options are also available
21 Gun Salute serves cuisine from India's royal past. You'll feel like you've stepped back in time to a more traditional India. Every little detail is taken into consideration, from the food presentation to the lavishly decorated interior. Enjoy authentic Indian food in a calm and peaceful environment. Even better, the restaurant provides a fine-dining experience at an affordable price!
For a Social Dining Experience – The G.T. Road
Buffet-only restaurant, open for lunch and dinner
The restaurant has an elegant and modern atmosphere
Open every day from 12:00 pm – 4:30 pm for lunch and 7:00 pm – 12:00 am for dinner
G.T. Road is an ancient marquee route in Asia that crosses four nations: Bangladesh, India, Pakistan, and Afghanistan. The food served at this buffet restaurant represents the cuisines of these diverse countries. Guests can choose between several buffet options depending on their taste preferences and appetites. The plates of food are delivered to the table, so you can stay seated and enjoy a social dining experience!
If you're spending a weekend in Delhi, there are plenty of activities geared towards sports fans. Here are some of the best options to enjoy during your weekend away!
Nehru Park, Delhi
A great place to get some exercise and fun for all ages
A quiet escape from the city, perfect for nature lovers
A well-maintained park with picnic spots and walking/running trails
Nehru Park is located close to the center of Delhi. It's spread over an area of 80 acres and offers a quiet escape from the hustle and bustle of the busy city. Stretch your legs and enjoy a walk or jog on the concrete running trails in the park. There are also two open-air gyms, a children's play area, and ample open green space.
Arun Jaitley Stadium
Large cricket stadium in New Delhi, with a capacity of over 40,000!
Food and drinks are available for purchase inside the stadium
Immerse yourself in the local sports culture, this activity is perfect for sports enthusiasts
Arun Jaitley Stadium is the second oldest functioning cricket stadium in India; it was established in 1883! Cricket is an insanely popular sport in India and brings the nation together like nothing else can. If your weekend in Delhi aligns with game day, experience the electric energy of watching a match! Cricket is a social sport and very easy to follow.
Indian Mountaineering Foundation
A very affordable activity, you'll pay just USD $3.00 to rock climb for one session (4 hours)
Professional and friendly instructors to provide you with a fun and safe experience
Open every day (except Monday) for two sessions: 8:00 am – 12:00 pm and 4:00 pm – 8:00 pm
If you're looking for a fun activity, try a go at rock climbing! The facility provides climbing walls with varying levels of difficulty, so all skill levels can enjoy this activity. They encourage both experienced and first-time visitors to come for a climb! All of the equipment provided is modern, and the safety harnesses will keep you safe!
Small Pack Problems? 😉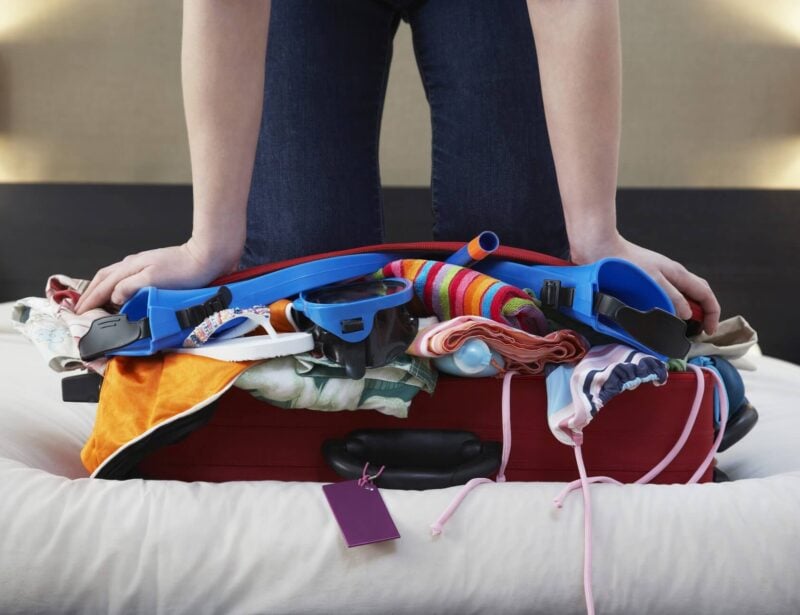 My missus travels with all her clothes in ziplock bags: don't be like my missus. UP YOUR PACKING GAME!
Packing cubes for the globetrotters and compression sacks for the real adventurers – these babies are a traveller's best kept secret. They organise yo' packing and minimise its volume too so you can pack MORE.
Or, y'know… you can stick to ziplock bags.
View Our Fave Cubes
Or Check Out the Sacks!
Delhi weekend getaways are the perfect time to experience the city's lively performing arts culture. India specializes in colorful and high-energy entertainment; you don't want to miss a chance to see a unique performance!
Kingdom of Dreams
Performing arts and leisure venue with live Bollywood-style performances
Enjoy an evening of entertainment; see a show, have a meal and wander the craft stalls
Open every day except for Mondays until 12:00 am
The Kingdom of Dreams brings together India's art, culture, heritage, and cuisine. This large venue is spread over 6 acres. There are two theaters as well as a cultural and cuisine area. Before or after your show, have a meal at one of the themed restaurants or food stalls!
Kamani Auditorium
High-quality theater with great lighting, sound infrastructure, and amazing acoustics
Offers a variety of options ranging from theater and music to dance performances
Small canteen on the first floor where basic snacks and drinks are sold during performances
Complete your exciting Delhi weekend by seeing a show! The Kamani Auditorium is a large theater with a great range of performances. The seating capacity of the auditorium is 632, and all seats offer sweeping views of the stage down below. From the costumes to the lighting and props, everything about the performances put on at this theater is magical!
The Junkyard Cafe
Located in Connaught Place
Open every day from 12:00 pm – 1:00 am
Enjoy live Bollywood and English music
The Junkyard Cafe is known for its unique ambiance and live music scene. The name of the venue goes with the setup; it's decorated with scraps and junk materials that give it a quirky character. Make sure to check their website before you visit for their full list of performances!
Travel with peace of mind. Travel WITH a security belt.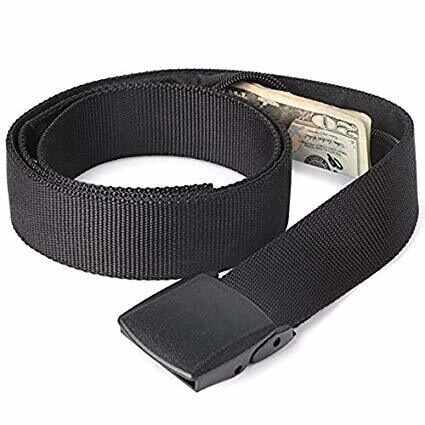 Get your cash stashed with this awesome Pacsafe money belt. It will keep your valuables safe no matter where you go.
It looks exactly like a normal belt except for a SECRET interior pocket perfectly designed to hide a wad of cash or a passport copy. Never get caught with your pants down again! (Unless you want to.)
View on REI!
10 Other Awesome Things to do in Delhi this Weekend
If you're looking for more awesome places around Delhi to check out, here are ten more great options!
#1 – Explore the History of the Red Fort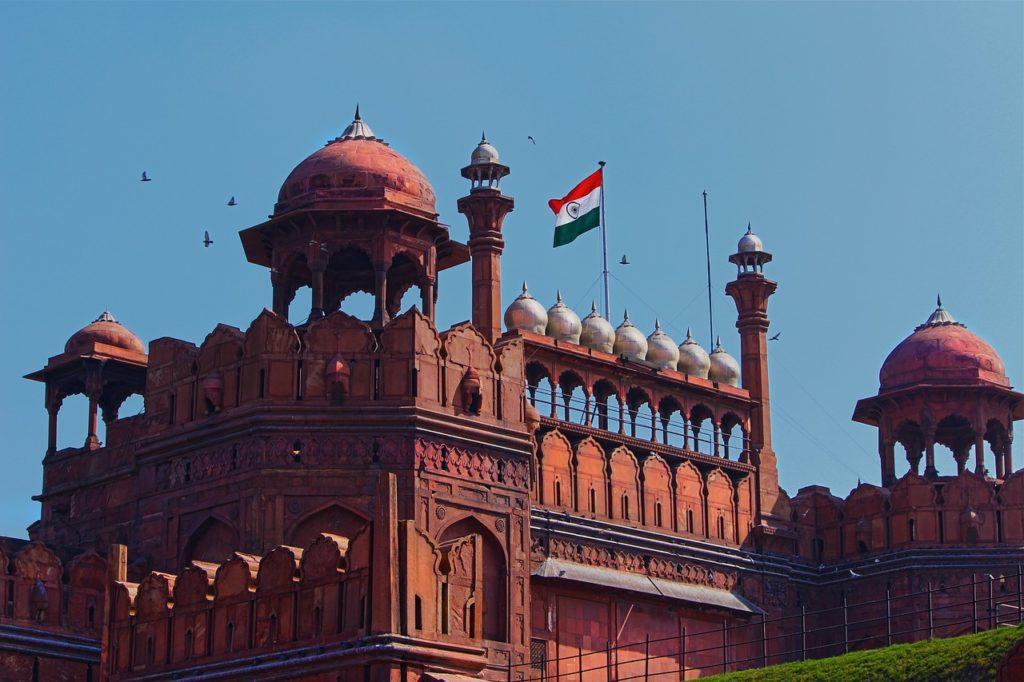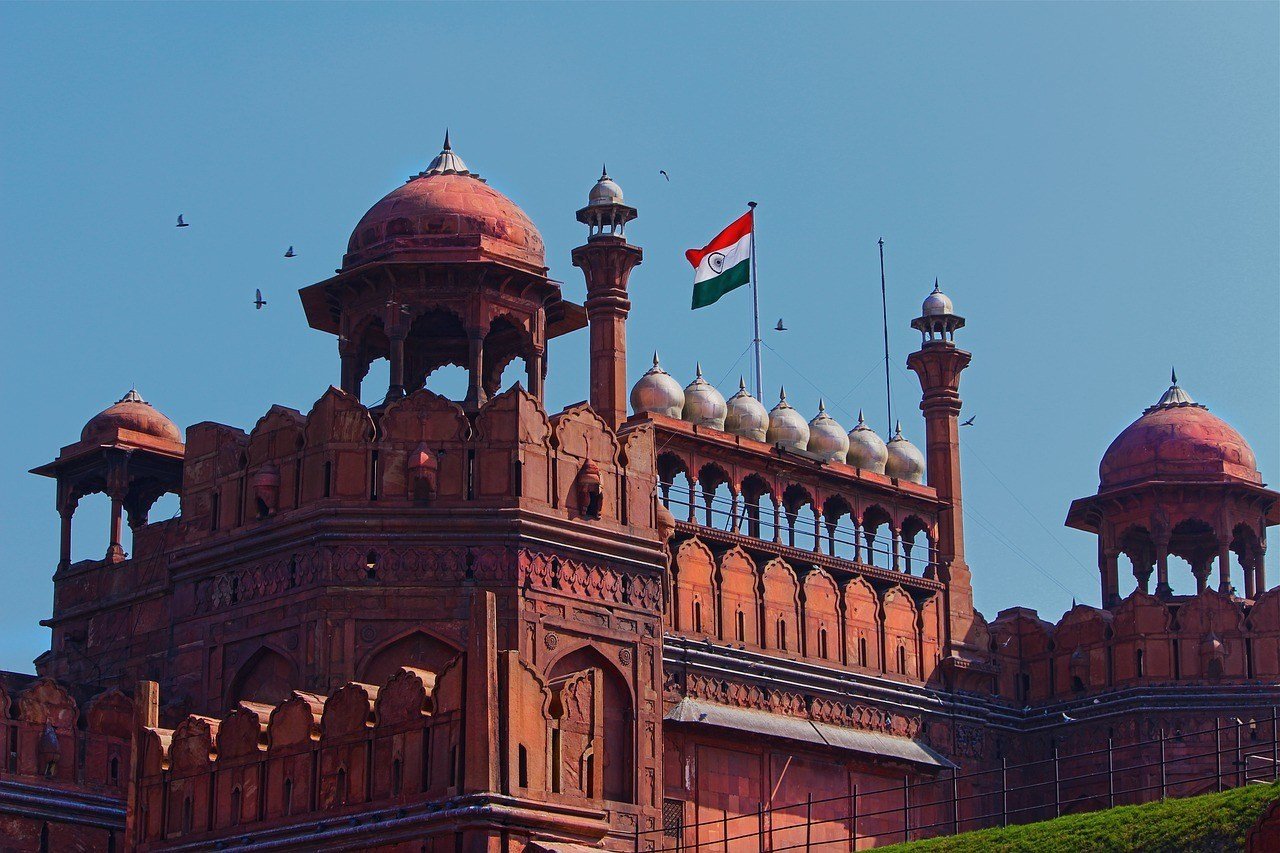 The Red Fort or Lal Quila, is a historic fortification located in the center of Delhi. The name of this majestic piece of architecture comes from its red sandstone walls. It was constructed in 1639 to accommodate the emperors and their households.
Today, this monument is home to a collection of museums showcasing various historic parts of the past. See an assortment of valuable artifacts on display, from uniforms to spears.
Another attraction that brings tourists to the fort is the Red Fort Light and Sound Show. Every evening (except for Mondays) there is a one-hour show that acts out the history of Delhi.
#2 – See the Majestic Qutub Minar
The Qutub Minar is a historic 240-foot high tower. Construction of the monument started in 1192, and a further three stories were added in 1220.
It's the highest tower in India. The first three stories are made of red sandstone and the last two are made of sandstone and marble. Visitors are not allowed to enter the tower, but it makes for great photographs! Most visitors compare it to the Leaning Tower of Pisa in Italy.
The origins of the tower are debated. Most historians believe it was built to celebrate the defeat of Delhi's last Hindu ruler, and the start of Muslim rule in India. The Qutub Minar is one of the most popular Delhi tourist spots!
#3 – Spend Some Time at the India Gate
The India Gate is a war memorial in New Delhi. It stands as a monument to the soldiers of the British Indian Army. The names of 13,300 servicemen are inscribed on the sides of the gate.
The foundation stone for the gate was laid in 1921. Ten years later, in 1931, the memorial was inaugurated. The architectural style is similar to the Arc de Triomphe in Paris. If you're looking for historic locations in Delhi, make sure to add this attraction to your list!
It's an iconic structure and a popular place to visit. It's also surrounded by gardens and green spaces to relax on.
#4 – See the Lavish Humayun's Tomb
Humayun's Tomb is a large and historic architectural masterpiece. Although it is a tomb, it looks more like a lavish palace drawing direct comparisons with the Taj Mahal! It reflects the brilliance of Mughal architecture, an exceptionally symmetrical and decorative style.
Construction for the tomb began in 1565 and was completed in 1572. The structures in the tomb are very well preserved and great for photographs. The area is surrounded by lush green lawns and plenty of areas to sit and rest. Plan to spend at least 2-3 hours exploring this large property!
FIRST TIME IN DELHI
Karol Bagh
This neighbourhood has long been a destination for first-time travellers to Delhi, due to its easy transport and amazing shopping. It's also super close to Paharganj, Connaught Place and Old Delhi, so you can weave your way in and out of the different areas like a local!
Places to visit:
Check out the electronics on Gaffar Street.
Browse the used books on Arya Samaj Street and find a new or old favourite!
Try the tandoori momos (dumplings) at Art of Spices.
#5 – Take in the Local Culture at Dilli Haat
Dilli Haat is a 6-acre open-air food court and craft bazaar. The market has a village-like atmosphere, with small thatched-roof cottages. There are both permanent and changing shops that sell a great selection of local handicraft items. It's a very large market and you could spend hours exploring all the different areas!
If you're hungry, there is a food court inside where you'll find authentic food from almost every state of India. If you're looking for tourist places around Delhi with a local vibe, make sure to check out Dilli Haat.
The market is open every day from 10:30 am – 10:00 pm. There is a small admission fee of USD $1.00 to enter.
#6 – Relax and Recharge at the Sri Bangla Sahib Gurudwara
Sri Bangla Sahib Gurudwara is a place of assembly and worship for Sikh people. However, as with all gurdwaras, people from all faiths are welcomed and encouraged to visit.
What makes this Gurdwara so special is that it is said to have healing water. During the smallpox and cholera epidemic in 1664, the water from the tanks was said to have healing properties that cured the local residents. That water tank still exists today and is believed to still possess medicinal properties.
The Gurudwara premises includes a main prayer hall, a water tank, library, museum, hospital, a school, and an art gallery. This property is free to visit and open 24/7!
#7 – Enjoy Some Quiet Time at the Lotus Temple
The Lotus Temple is a Bahá'í house of worship. The temple is especially notable for its flowerlike shape, which resembles a large lotus flower.
The temple is open to all guests, regardless of religion, faith, or beliefs. It provides a very peaceful and welcoming atmosphere and offers a quiet place to contemplate, meditate, or pray. Escape the hustle and bustle of Delhi and enjoy a quiet reprieve. The temple is open every day except Mondays and is free to enter.
#8 – Dive into the Past at the Museum, New Delhi
The National Museum in New Delhi is one of the largest museums in India. It houses roughly 200,000 works of art, from the prehistoric era to contemporary, spanning 5,000 years.
There are 16 different departments you can check out when you visit; from paintings and decorative art to prehistoric archeology and anthropology. See rare artifacts, sculptures, and paintings.
Explore the culture and heritage of India on your Delhi weekend getaway! This museum is an absolute must for art and history lovers!
#9 – Marvel at the Monuments Inside a Historic Observatory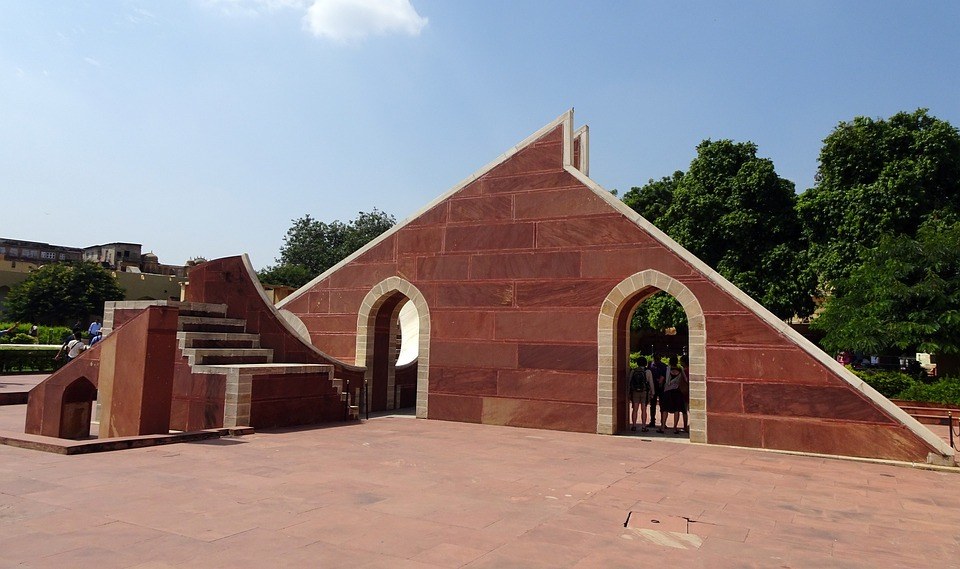 Jantar Mantar is a site that contains 13 architectural astronomy instruments that were built in 1724. The purpose of the observatory and instruments was to compile information on the sun, moon, and planet's movements. Although the site is no longer in use for astronomical purposes, it's a popular and unique tourist destination!
Children and adults will love exploring the large instruments and seeing the fusion of science and architecture. There is also a nice green space where visitors can relax when they visit.
This astronomical marvel is situated right in the heart of Delhi and is open every day!
#10 – Shop at the Khan Market
The Khan Market is located in central Delhi. It has a wide variety of stores, including many well-known brands. Shop jewelry, books, clothing items, electronics, and so much more! The market is well maintained and offers a more up-scale shopping experience.
There are plenty of places to eat in the market as well. Enjoy a meal at a sit-down restaurant, swing by a pub for a cold drink or grab a kebab to go! The market is open every day from 10:00 am – 12:00 am.
Is This the Best Daypack EVER???
Now that we've covered the best attractions to enjoy during your weekend in Delhi, we thought we'd add in a few more details about this exciting city. We've also included some answers to questions you might be asking yourself!
Here are some of the most frequently asked questions.
Don't Forget Your Delhi Travel Insurance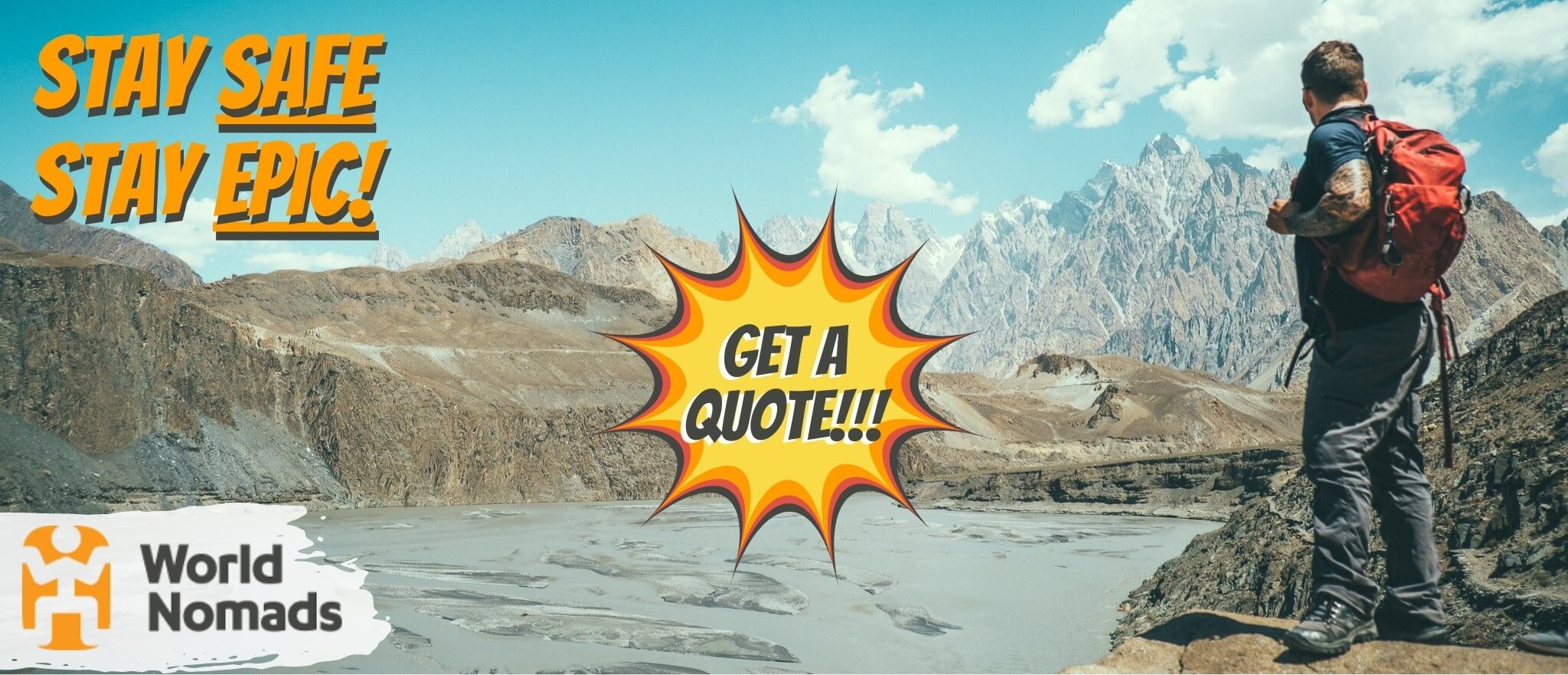 It's good to get lost sometimes, but it's also good not to get too lost. There are people that want you home in one piece.
There's one travel insurance provider The Broke Backpacker trusts for all his wildest shenanigans… World Nomads!
Click the button below to get a quote on your insurance or read our in-depth review of World Nomads' coverage. And then… let the shenanigans begin. 😉
Final Thoughts on a Great Weekend in Delhi
We hope you enjoyed our weekend in Delhi guide, and that you're able to discover the uniqueness and charm of this fascinating city for yourself!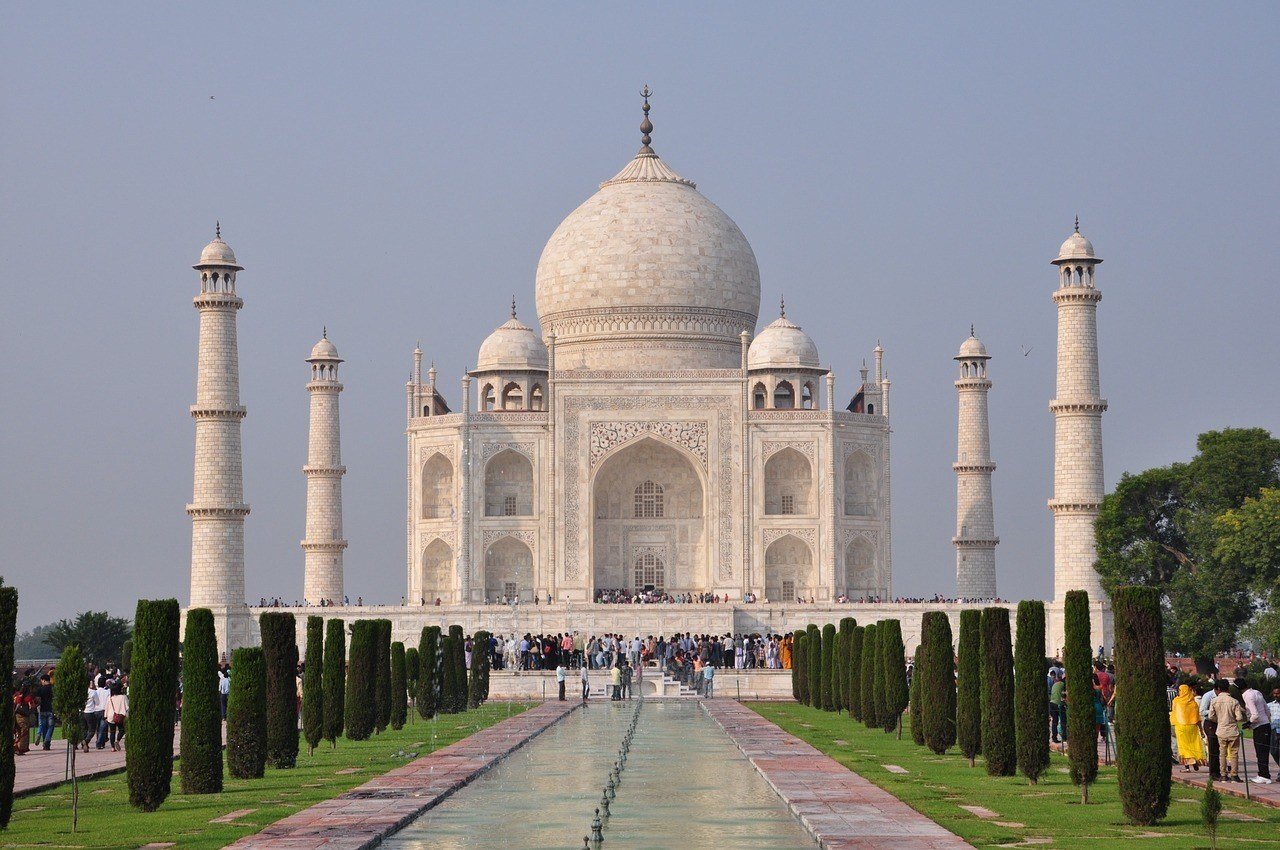 Whether you're spending two days in Delhi, or two weeks, this guide will provide you with plenty of information and insight. It will fill your trip with excitement and help you explore all the popular and unique areas of the city!
Delhi has a beautiful chaos and energy that attracts countless visitors each year. It's one of the most exciting and attractive travel destinations in the world! From crowded markets to crumbling ruins and quiet temples, Delhi has it all!
---
Thanks for reading – that was fun! 😀
We bring you epic FREE content!
Find out how YOU can help support us.
We're a big site with a big team and this job isn't always easy. But we do it because we love it – we love providing epic and free content. We love the knowledge that our content keeps you adventuring. We don't ask for money, but if you'd like to find out how you can help the site in more organic ways, click the button below.
Thank you for your support 🙂
---
Bye for now, but not forever!
If you want MORE top-tier Broke Backpacker content like this, then sign up for our weekly newsletter below to get the latest and greatest!
And for transparency's sake, please know that some of the links in our content are affiliate links. That means that if you book your accommodation, buy your gear, or sort your insurance through our link, we earn a small commission (at no extra cost to you). That said, we only link to the gear we trust and never recommend services we don't believe are up to scratch. Again, thank you!