My dad was pretty shocked we were still together after backpacking Southeast Asia. "3 months? In Asia? With you? And you are still Together?" Thanks for the support, dad.
More commonly, people ask "How did you survive traveling together?"
Well, it's hard because you never know how things will pan out until they actually happen. You can pick your best friend, your college your roommate, your boyfriend/girlfriend, sister or brother and still end up hating them by the end of the trip. Sure you have hung out before and had a blast, but have you ever been with them 24/7 and seen each other at their worst? I'm talking food poisoning, cranky and sunburnt, always being late, or started noticing their incredibly annoying habits?
Traveling with the right person is essential to the success of your trip. You don't know the real person until you have traveled with them—it can bring out the best memories together or the worst qualities out of anyone. What once seemed like an endearing and cute quality can now be a motive for murder. Seriously.
Finding that perfect travel companion is hard and even with the perfect one, there will be constant fights, bickers, and disagreements along the travels. But worry not! We have some great tips on how to travel with your partner, enjoy your time and not strangle them!
Hang out with other friends– Your travel partner may be getting on your last nerve so let go a bit by hanging out with other people. We meet new people all the time while traveling and they are awesome so we try to cut the tension by hanging with others. You no longer have to listen to their nagging voice as much!
Tune them out with headphones – My grandpa is deaf in one ear and can turn his hearing aid it on and off to tune out my grandma (aka every persons dream). However, we have been blessed with technology and can use noise-cancelling headphones to tune out your partner. They speak too much, they snore loudly, he grinds his teeth can now all be cancelled with some great tunes and a good pair of headphones.
Remind yourself of the good times– Things will start to annoy you—the way they do that thing with their hands, or the weird way they announce their "T's", or the sound they make when they chew gum. But don't forget of all the positives that have happened. Remember the good times- that one time they made you face your fears or that time you stayed up all night laughing or when you got so lost but found a hidden gem. Remembering the good times will make you remember why you chose to travel with them in the first place. The good times will overwhelm those annoying bits.
Learn to compromise – Local or western food, Fly or boat, hostel or hotel. Mastering the art of compromise is a great skill to have. You will survive most of your bickers and arguments if you learn how to compromise. Try to meet each other half way that way you both get a piece of the happiness.
Treat yourself– You and your travel buddy may have different interests so it's ok to treat yourself. Get a manicure or get a beer with boys. Do something that makes you happy and it doesn't always have to involve your travel partner. I would go shopping while Jack went to get his haircut. Just disappear in small doses and take some time to do something you really want.
If you fight, sleep on it– I can't tell you how often Jack and I fought about nothing. Where will we eat tonight? Should we stay at this hostel? We can't do that, it's too expensive! Because once you spend so much time with your travel partner, you will fight mostly about nothing ALL THE TIME. The fight is usually about something little so just sleep on it. When you wake up the next morning, the choice for dinner that you argued over will no longer matter.
Budget together– Arguments about money while traveling is rough. You won't always be on the same page as the person you are traveling with, especially when it comes to budgets. Trips cost money and we all save and spend differently. If you make a budget together (and include some wiggle room), you will avoid arguments over money and spending too much when traveling.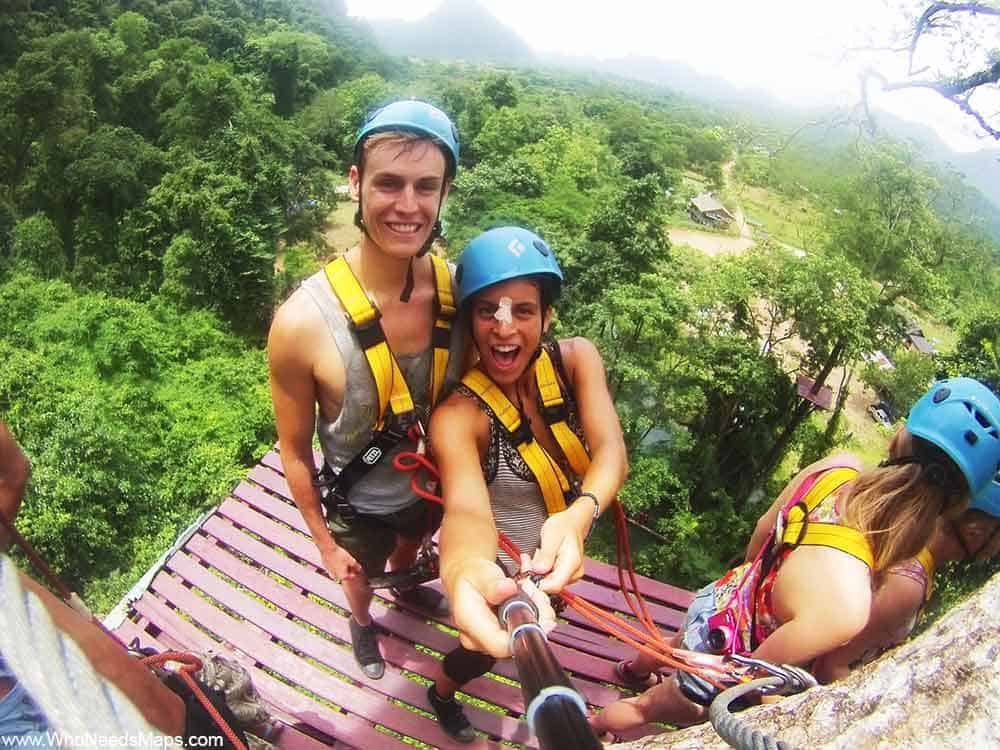 Take yourself on a date– You don't always have to eat and go out with your travel partner.In fact, sometimes it is nice to just wine and dine yourself and take a breather. You deserve to be treated so take the night off and enjoy being in your own company.
Get twin beds sometimes– "Ugh, she must have not shaved in a while" "his legs are so sweaty" "why is their body so hot and sticky". This usually helps when you are traveling with your girlfriend/boyfriend—space is much needed and really truly appreciated. After a while, your own bed to completely starfish feels FANTASTIC! It doesn't make you a horrible person to offer a twin bed, it makes you an excellent travel partner. Try it, you'll see the difference it will make while traveling!
Get laid– Whether you are with your partner or a friend, sex helps unstress even the angriest person. There is nothing a good lay can't fix. Sleep with your boyfriend/girlfriend, or wingman for your friends and find them a (safe) partner for the night. You will see that after a fun night out, things will get better. Everyone is always a little happier and more bearable after good sex.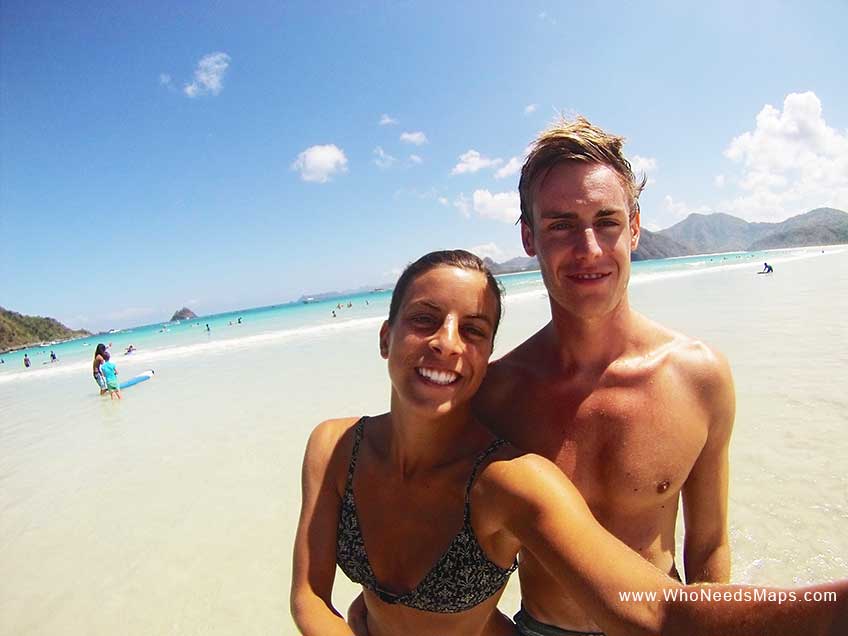 We are Jack and Jenn from Who Needs Maps- a long distance couple from America and Australia. So we are slowly working our way on traveling this big world together! We are thrill seekers, food lovers, wine drinkers, world travellers, adventure finders, misadventure attracters, music festival goers and a fun loving couple who just wants to explore the world. We hope to inspire, inform and entertain people through our experiences and stories. Embrace the fun, enjoy the craziness, and let's take on the world together! Happy travels 🙂 Follow us on Facebook, Twitter, Instagram, and Pinterest!
Do you have any tips to not kill your partner while traveling?
---
Thanks for reading – that was fun! 😀
We bring you epic FREE content!
Find out how YOU can help support us.
We're a big site with a big team and this job isn't always easy. But we do it because we love it – we love providing epic and free content. We love the knowledge that our content keeps you adventuring. We don't ask for money, but if you'd like to find out how you can help the site in more organic ways, click the button below.
Thank you for your support 🙂
---
Bye for now, but not forever!
If you want MORE top-tier Broke Backpacker content like this, then sign up for our weekly newsletter below to get the latest and greatest!
And for transparency's sake, please know that some of the links in our content are affiliate links. That means that if you book your accommodation, buy your gear, or sort your insurance through our link, we earn a small commission (at no extra cost to you). That said, we only link to the gear we trust and never recommend services we don't believe are up to scratch. Again, thank you!