Have you used of Kiwi.com to book a flight? Well, in this Kiwi.com review, I'm going to explain why this site is one of my new favorite search engines for booking flights.
Kiwi.com takes the flexibility of metasearch engine site, but with incredibly useful features and real customer service. (Metasearch sites show you a list of prices and dates for various airline routes and then send you to book at a partner site.)
Plus, everything – from the first search to final purchase – is end-to-end on Kiwi's site, so there is no need to have a dozen tabs open!
While there are many things to love about the Kiwi booking tool, there are also things you should know before you book a flight, and this Kiwi.com review will cover it all!
I'll cover the best features on Kiwi as well as walk you through my step by step process of finding the best Kiwi flights possible. Let's dig in!
Disclaimer! No, this Kiwi.com review is NOT sponsored by Kiwi – we just like this tool and really like cheap travel!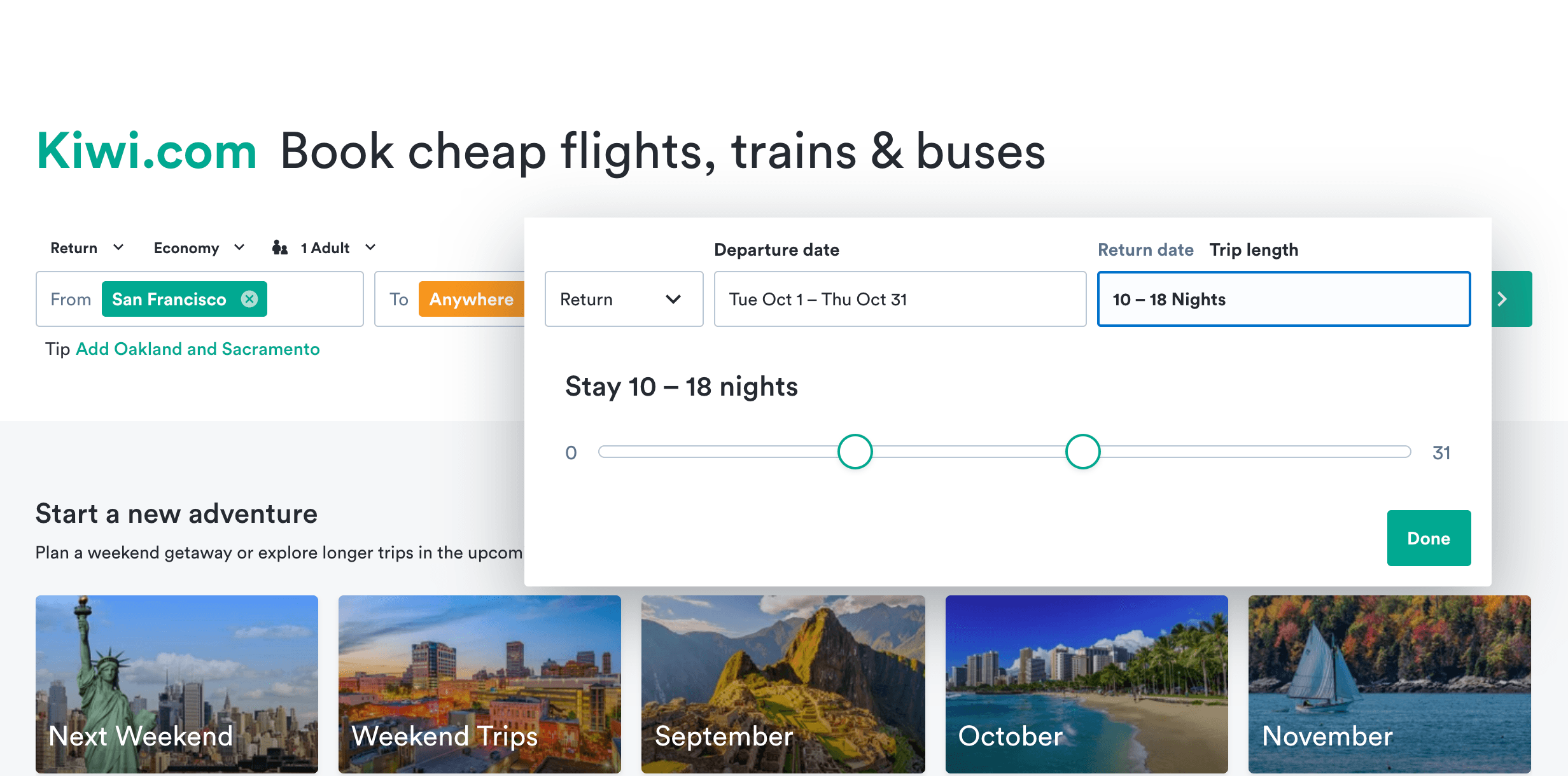 Quick Answers for the Kiwi.com Review
This Kiwi.com review will walk you through the site's best features and how they found me a flight to my cousin's wedding for $100 less than the competition. Score!
1. Kiwi.com Guarantee
Essentially, the Kiwi booking site promises you will catch your connection. The guarantee protects you from:
Flight delays
Flight cancellations
Schedule changes
If any of these events happen and they are outside your jurisdiction, then Kiwi guarantees an alternative flight or to refund the price for the unused ticket. They even offer to help with transportation, accommodation, and food costs, depending on the situation.
To make this happen, you must do the following:
Inform Kiwi as soon as you are aware of any of the situations above (delay, cancellation, schedule changes)
Respond within 24 hours to all Kiwi offers
Don't make any flight changes without their approval
If Kiwi agrees that you should buy a flight that's not available online, they need to receive your email with proof of payment within 14 days
Check out their full guarantee here.
Again, we cannot stress this enough, but you must reach out to Kiwi as soon as possible before you sort out your flight independently. This is how you can end up getting screwed!
Bear in mind that there is ALWAYS a risk when booking sites, especially if you are booking different airlines or different airports, but Kiwi.com does their best to help you out. I've seen some pretty bad reviews regarding the guarantee, but honestly, you also need to exercise a bit of common sense when booking a flight.
Just because that 30-minute international lay-over is cheaper, does that mean you want to risk it? Be smart about your flight route and use the guarantee a back-up!
2. The Kiwi.com Algorithm Finds You the CHEAPEST Flights, Period.
For a long time, Skyscanner was my go-to, and while this is still a good tool, it has been going quite a bit downhill, in my opinion. Enter in Kiwi cheap flights!
Basically, the Kiwi booking tool does flight hacking for you. They search all the airlines whether they are budget airlines or larger ones and then they combine them for the cheapest route.
I used to do this on my own, but it took a lot more time. The Kiwi flight booking tool does the dirty work for you and their algorithm was written to help out the traveler, not the airlines. They do not create routes based on which airlines have codeshares together, which is what most airlines search.
Kiwi will look at all of the cheapest possibilities, even if it means putting you on two separate flights (where you have to check in again during your layover) or sending you to a random airport totally off route. This means you might have to re-check your luggage. This isn't ideal if you are looking for the most convenient flight, but it's perfect for backpackers who have nothing but time and a lot less money!
3. Flexible Dates
The best way to score a cheap flight is to be flexible with your dates. We know this isn't always possible if you are traveling for a specific engagement or only have a certain amount of days off work, but weekdays tend to be cheaper than weekends if you can swing it!
Kiwi.com has a date range feature that allows you to choose a specific date range, a general date range (i.e. the month of October), and an anytime feature if you just want to find the cheapest rates possible!
The best flight booking sites will have this feature, but kiwi.com flights take it to another level.
You can also select the time you want to be there (10-14 days, for example) based on the cheapest flights. This will help you determine when to fly and if staying an extra couple of days is worth it or not.

For example, you can search for your flights like this: "I'd like to go somewhere in October for 5-13 nights. Where can I go cheaply? Boom."
4. Inspiration to Fly Anywhere
So, you need some inspiration on where to travel next!? Kiwi.com is one of the best booking sites to find a cheap flight ANYWHERE as I did in the photo above! Simply, type in your departure airport and keep the destination at "anywhere".
This is a fantastic way to help you narrow where you want to go next! If traveling to Japan is $500 cheaper than South Korea, then my choice just became a whole lot simpler! The options for Kiwi airlines and carriers is pretty vast as well. They don't incorporate every airline though.
5. Combine Your Trip with Multi-cities
This is another excellent site feature you will find on Kiwi.com that works especially well if you are going for a longer trip to multiple places i.e. an epic backpacking trip in Europe, multiple cities in the United States, or a trip around the world!
With the multiple city feature, you can combine different airlines and schedules as well. Usually, this could be a bit risky BUT with Kiwi.com's guarantee, you don't have to worry about missing a connection or messing up your flight!
As you can see below, I found a flight plan in 30 seconds from LAX to Bangkok and then to Bali for $435. This feature would help me start a South East Asia Backpacking trip without having to have every single flight or my return figured out.
Another reason I like this feature is that it helps me figure out an itinerary. For example, the multi-city feature will help me figure out if it makes sense to fly from Berlin to London or just go straight to Spain.
6. Combining Multiple Airlines for One Trip
Sometimes I book my flight directly with an airline (if it is a direct flight with predetermined dates), but one of the best features Kiwi.com offers is the ability to book with multiple airlines to find a better deal and time for you!
This would be risky to do on your own in case you missed a connection, but Kiwi.com's guarantee makes booking multiple airlines a lot less risky! This feature allows you to look for the cheapest flight combinations!
That said, Kiwi doesn't include a lot of local budget airlines, so you may need to use other booking sites like Google and Skyscanner for that!
7. The Nomad Tool
Instead of checking different dates or changing the order of your trip manually, Kiwi.com does it FOR you. Honestly, I used to pride myself on these hacks, but they take a lot of time. Now, you can find the cheapest flights for your next multi-city trip in a lot less time.
8. Cheap Price Alert
I'll be honest, I haven't taken advantage of the cheap price alert as much as I should, mostly because I am always hesitant to hand out my information… but their cheap price alert is pretty awesome as it allows you to input a maximum price. Kiwi will then let you know when the price is right via an email or pop-up message!
This way you don't need to waste your time constantly checking on flights.
This feature is especially useful when you have a fixed time window but you're not sure WHERE to go! Simply set up your destination as "anywhere" and they'll let you know when you should book a cheap flight! This feature is especially great when you have a fixed time window to travel.
9. Search Radius
This feature is amazing! You can create a circle around an area you want to fly into to find the cheapest flights. I love using this tool because I live near such a small airport, and it's nice to be able to widen my search to some of the other airports within 2 hours.
This tool is also helpful if you know the general region you want to visit (i.e. backpack South East Asia) but you don't care where you start!
You can draw a radius around your departure too, so you can fly from say, anywhere in California versus just SFO, or one part of California versus just one airport.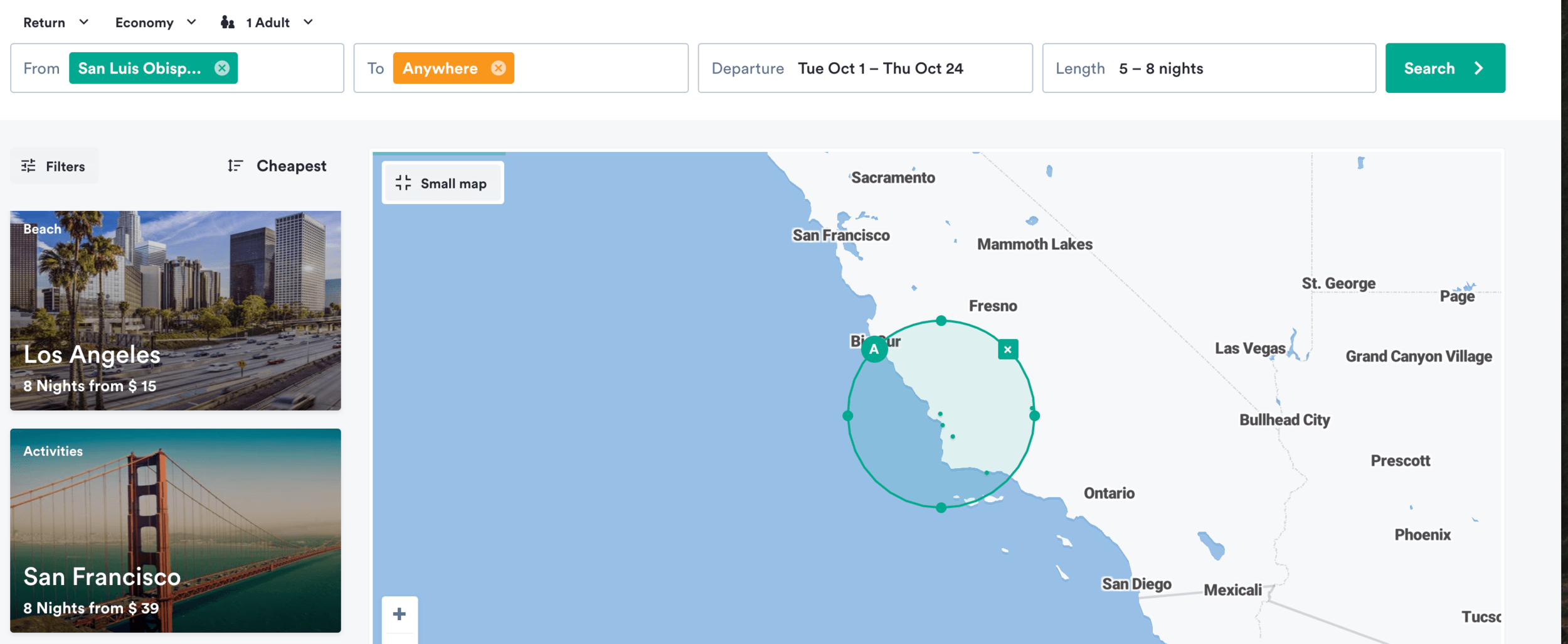 Here's how you set up the search radius:
Type in your destination
Click the drop-down, which will show your destination + 250km
Choose this option
Now you have a circle above your desired destination
Zoom in and adjust the radius and make it bigger and smaller
This feature takes researching flights to new heights, no pun intended. With the search radius, you can find the cheapest airfare in destinations around your circle. For example, if you're planning a trip to Thailand, it may end up being cheaper to fly into Chiang Mai versus Bangkok!
Kiwi.com has quickly become my go-to tool for finding cheap flights and exciting routes.
Keep in mind, that Kiwi.com is an Online Travel Agency (OTA), which essentially means that bookings are finalized on their website. This also means they offer customer service.
Skyscanner or Google Flights, on the other hand, are meta-search sites. They gather data and then redirect you to the partner website.
Another Kiwi.com pro is that it has a phone app, which is way more convenient for finding flights when you are already traveling. Skyscanner and other search engines are glitchy on phones.
First, I nail down my dates and destination using the calendar feature
Use the Calendar to find the cheapest dates to fly
If I'm not sure where I'm going, I also use the "Anywhere" destination
When I am looking for cheap flights, I first try to nail down the dates I want to leave. If you have flexible dates, Kiwi.com, Skyscanner, and Google can help you figure out the cheapest days to fly.
I love booking kiwi flights with their calendar feature because you can look at departure and arrival dates over a very specific timeframe, like the entire month of November or from November 10th-13th.
Sometimes, one day's difference can save you over $100! Keep in mind, the cheapest flights are normally on weekdays (especially on Tuesdays and Wednesdays) and outside of holiday times. Flying around Christmas and New Years is bound to be more expensive.
Nailing down the destination (or at least your fly in and fly out cities) is just as important! I use Kiwi.com to find a good deal on a destination I may not be planning to go to, With the inspiration and calendar features, you can find pretty amazing deals to far off places.
Determine the Airline
Next, I want to figure out which airlines fly to the destination and if I can get a direct flight. Once I understand which airlines fly when and where I'll check out their direct sites in case there is a deal.
I'll fly directly if I can as it is way more convenient, but sometimes using multiple airlines can save you hundreds of dollars. Luckily, Kiwi.com helps you find these deals!
Next, I determine my price
Kiwi.com helps you figure out the cheapest price (so I know when to act on crazy deals!) as well as the average price for any given flight route. This way you know when to wait and when to jump on a deal.
Whether I have a very particular date and destination in mind, or I am traveling pretty flexible, Kiwi.com has some great features to find the best deals. I still use other metasearch sites and airlines to compare rates and make sure I am getting the best deal.
Finally, I create a Kiwi booking alert on my phone
This is a feature I just started to take advantage of, and it's awesome. Do these three things:
Set a maximum price
Set your dates
Stop searching and spend your valuable time doing other things while Kiwi does the work for you.

Now that I've covered how to use Kiwi.com, here are a few important things to know about Kiwi.
You Must Book Extra Luggage with Kiwi
If you need to add extra checked luggage after booking your flight, you still have to go through Kiwi instead of the airline. Kiwi directly contacts the airlines to get the latest prices for checked luggage and base the price from your fare type and booking class. The price might be higher or lower depending on that.
Be aware of different airports, visas, and customs
The Kiwi flight booking tool helps you find the cheapest route, but this might mean you go through customs to check in again during a layover.
Your Kiwi ticket will state if you have to collect your luggage and check-in again during a layover. Check to see if you need a visa for whatever country you'll be going through customs in! Even if it's not your final destination, there are some cases where they won't let you through!
Cons of Using Kiwi
We've already listed the pros of using Kiwi.com, but it isn't perfect! Here is our list of ways Kiwi can improve.
Not all local airlines are covered
This is the biggest con for using Kiwi.com. Smaller airlines are not always listed. That being said, a lot of metasearch engines do not list all of the local airlines. Google is a prime example.
Bad Reviews for the Guarantee
The Kiwi guarantee is not perfect, and there are some pretty bad reviews to back that up. That said, I think you should book a flight with the same common sense as you would on any other booking site that doesn't have a guarantee. Just because Kiwi flight booking tool has an algorithm that is supposed to prevent missed connections, doesn't mean you should book a flight with a lay-over under one hour… ESPECIALLY when you are flying internationally.
Rule of thumb: Always allow 3 hours for an international connection. You can never predict how long immigration lines will be!
Loading can be slow
This isn't a big deal, but the lag time is slower than other engines. I like to think it's because it is gathering more data and options than other engines.
Booking Process – Is Kiwi.com cheaper?
The short answer is that it depends. Because Kiwi.com doesn't list all of the possible airlines, it's not always the best option, but generally, it is one of the best ways to find cheap flights. If you have flexible dates and/or a flexible destination, Kiwi.com is the cheapest way to find a great flight!
Final Thoughts on this Kiwi.com Review
When people talk about how expensive it is to travel, they often don't know about amazing tools to help you fly cheaper, like kiwi cheap flights! With this booking site, you can find your next flight with ease.
Kiwi.com is the ultimate flight hacking tool. While it's not perfect, it's pretty damn close. They do the hard work for travelers, so you can spend less time at your computer and more time traveling! I also really like how intuitive Kiwi's system is.
---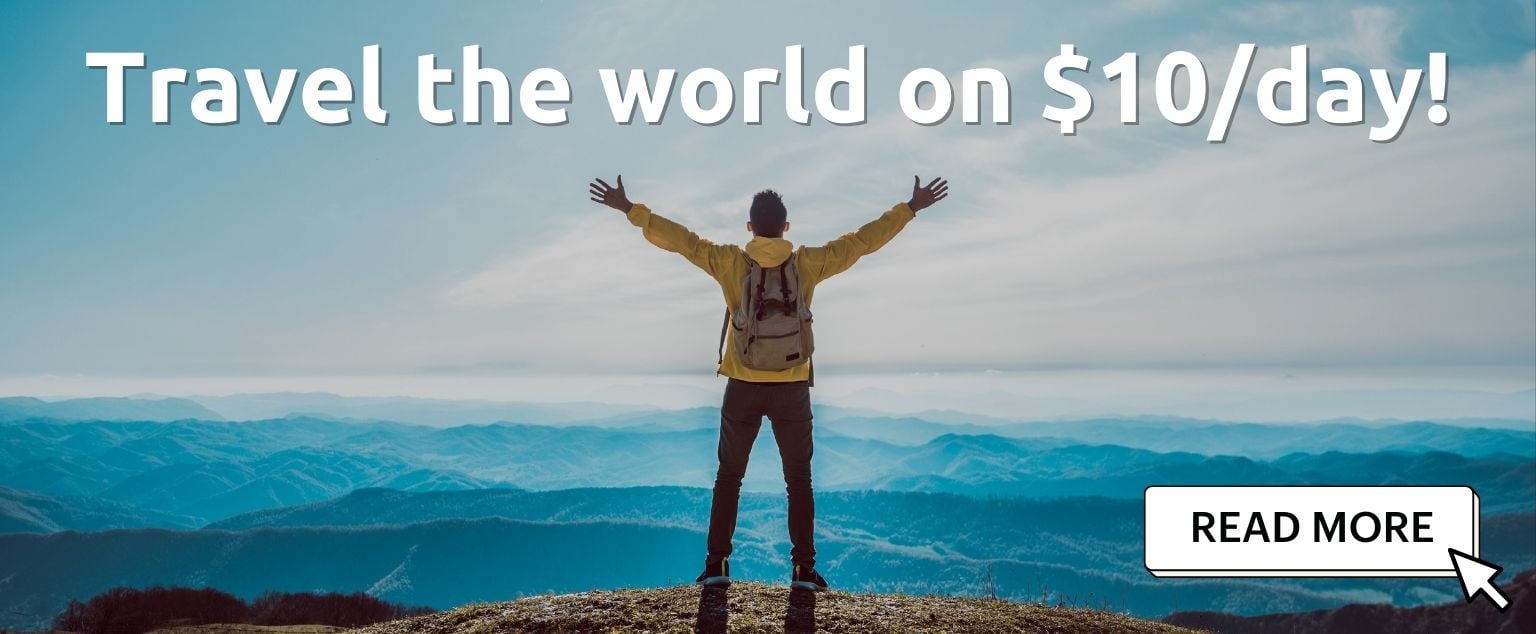 And for transparency's sake, please know that some of the links in our content are affiliate links. That means that if you book your accommodation, buy your gear, or sort your insurance through our link, we earn a small commission (at no extra cost to you). That said, we only link to the gear we trust and never recommend services we don't believe are up to scratch. Again, thank you!