The South American continent is one of my favorite places on earth. As a younger man, my trip backpacking South America was my first major solo journey. In South America, I learned the art of budget travel, fell in love, and had a multitude of life-changing experiences along the way.
So you are getting ready to travel to South America too eh? Great call! Backpacking through South America is like riding a bike for the first time after the training wheels have been removed. There is just the right amount of danger and curveballs present to keep you alert, focused and totally stoked on life.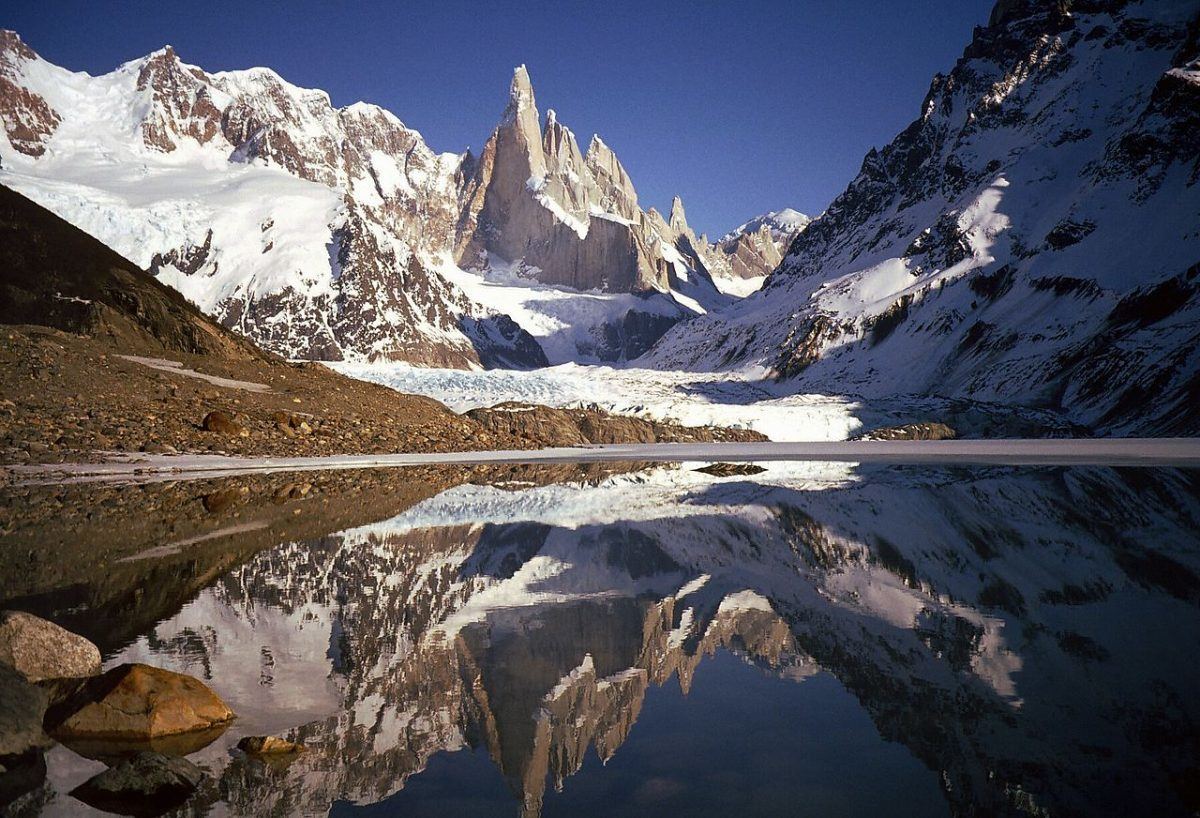 With the exception of a handful of backpacker hotspots, South America is the wild west frontier of backpacking on many levels. This is the land of crazy parties, epic surfing, sprawling cities, and wild landscapes including the Andes and the Amazon jungle.
South America attracts an older, more experience, backpacker crowd than the Southeast Asia backpacking circuit, if you want to get off the beaten track whilst still having the option to meet plenty of other backpackers, South America is the place to level up your backpacking game and head on a real adventure…
Above all else South America is stunningly beautiful, challenging to navigate at times, budget backpacker-friendly, diverse, relatively safe, and overall one hell of a travel experience…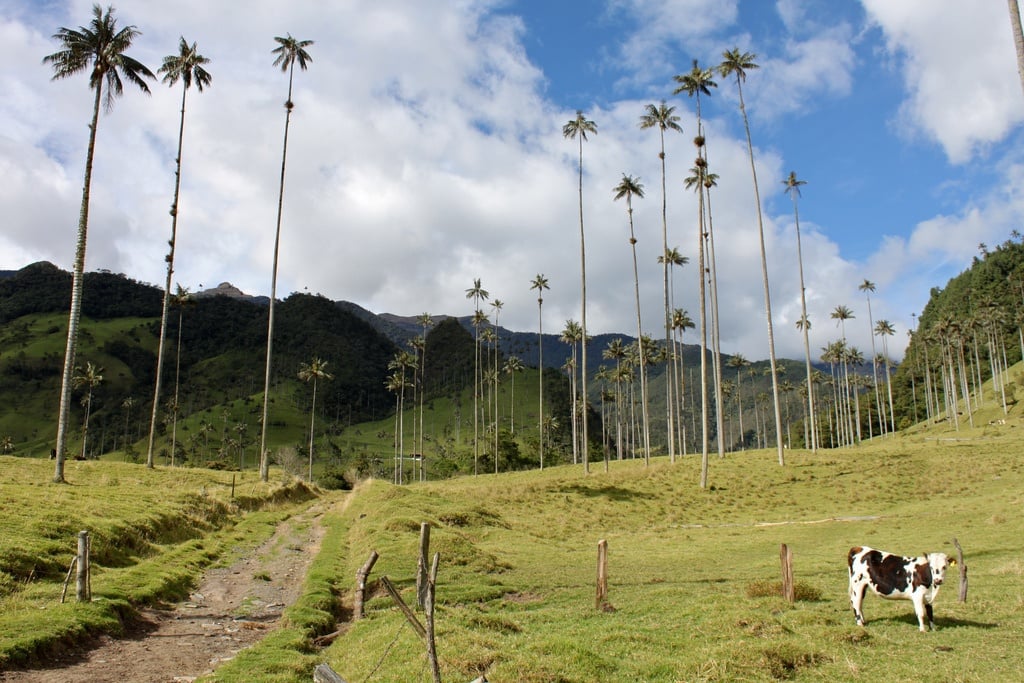 South America is MASSIVE. Deciding where to go and how to plan a backpacking trip can be a mind-boggling task. That is where I come in my friends. This South America travel guide will provide you with EVERYTHING you need to know to prepare for your trip backpacking through South America.
We'll give you the low-down of where to go in South America, travel itineraries and backpacking routes, tips and tricks for South America budget travel, country profiles, and much more.
Lace up your bootstraps and prepare to have your travel inspiration sky rocket: This is the ultimate South America travel guide for 2020…
Where to go Backpacking in South America
South America is arguably one of the most diverse continents on earth. It is home to the worlds second-highest mountain range in the Andes, world-class surf beaches, the Amazon basin, the worlds driest desert, huge plains of lush grassland, glaciers, and unique wildlife not found anywhere else on earth.
Each country you visit whilst backpacking South America offers up the opportunity to experience the incredible natural and cultural forces unique to that region.
Explore the epic snow-capped peaks of Patagonia in Argentina and Chile. Soak in the surf on the stunning beaches in Ecuador. Party with the beautiful people at the famous Carnival in Brazil. Trek to the Lost City in Colombia. Get off the beaten path in Venezuela. Experience the sun-drenched deserts of Bolivia and the colourful Rainbow Mountains of Peru. Backpacking through South America truly is a life-changing journey through one of the planet's most fascinating landmasses.
Backpacking South America is generally a cheap endeavor although it's not as cheap as Southeast Asia or India. There are some fairly expensive corners of South America that you should avoid if you're traveling on a broke backpacker budget. This South America travel guide will arm you with all of the important information you need to in order to have a truly awesome experience without breaking the bank.
You will fall in love with South America (and maybe a person or two along the way). Let's dive in and take a look at a few South America travel itineraries and backpacking routes to get you pumped for your trip.
Best Travel Itineraries for Backpacking South America
Finding the best South America backpacking route for yourself depends on a number of things. How much time do you have? 2 weeks? 3 weeks? 1 month? 3 months? 6 months? An eternity?
How much money do you have to spend backpacking South America? Are you going to South America on a shoestring or do you identify more as a flashpacker?
What do you like to do whilst backpacking? Surfing? Trekking? Diving? Drinking? Once you begin to answer some of those questions, most importantly your timeframe, then you can choose a South America backpacking itinerary that will work for you.
In South America, travel distances can be huge, internal flights expensive, and sometimes you end up getting stuck in a place far longer than you have previously anticipated. South America is full of what I like to call backpacker fishing hooks. Meaning you get hooked and fall in love with a place and you end up staying there far longer than anticipated. They snag you when you're least expecting it, and any travel plans you might have had for the future go sailing up the river without you.
Point being: you shouldn't try to plan your trip from A-Z without room for being spontaneous. The spontaneous backpacker is a happy backpacker. That said, it is a good idea to have a general South America backpacking itinerary in mind, let's look at some of my favourite travel itineraries for South America…
#1 South America Itinerary 2 Weeks – 1 Month: A Taste of South America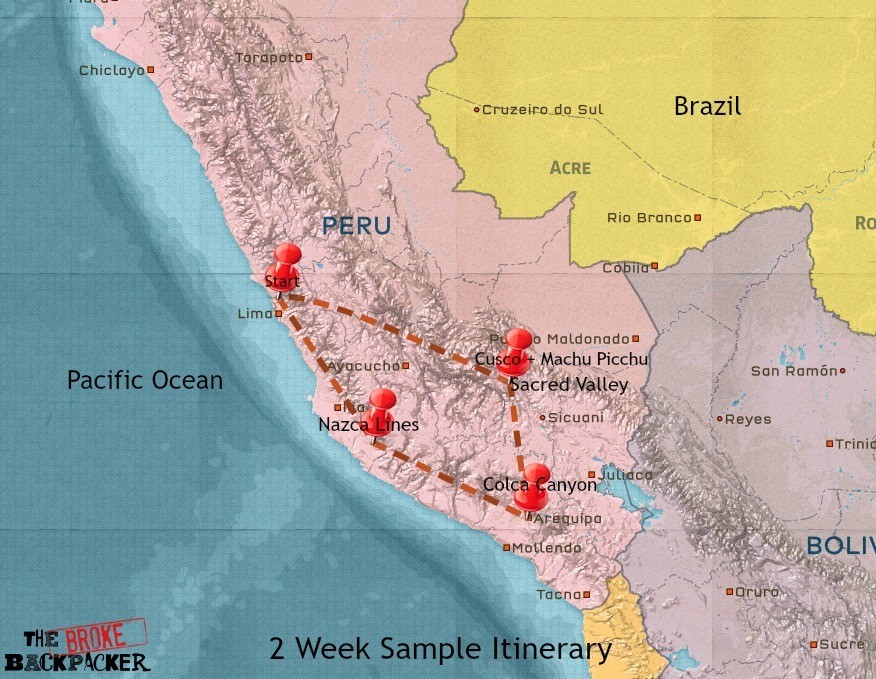 South America Itinerary 2 Weeks
If you have flown halfway across the world to go backpacking for two weeks in South America, then you should have a pretty good idea of what you want to get into before you arrive. If you have visions of seeing multiple countries in a two week period, you should forget about that. Maybe you could see a bit of Bolivia around Lake Titicaca whilst visiting Peru, though just a peek. My advice is to pick a country you are interested in and devote all of your energy to exploring that one place properly.
2 Week Itinerary Ideas
You could spend five days or so surfing, partying, and chilling out on the beach before heading to the mountains or jungle for a trek in several countries.
Perhaps the most rewarding two-week journey would be to start off in Lima, Peru. Explore the city for a day or two before heading to the Nazca Lines, Arequipa, and Colca Canyon. Then head to Cusco in the Andes. Take a few days getting used to the altitude before setting off on a multi-day trek like the Inka trail or Salkantay Trail to Macchu Picchu.
You'll have to keep moving to make this itinerary happen, but I believe in you! If you really want time in the Andes you could head directly to Cuzco and explore the Sacred Valley by motorbike before hiking to Machu Picchu.
Alternatively, you could start in Buenos Aires before heading south to do some trekking in Patagonia in southern Argentina and Chile or do the world-famous Torres del Paine circuit. A trek there would be cutting it close for time though but if you hustle you could pull it off.
It is certainly doable to go to either Venezuela, Colombia, Ecuador, or Bolivia and get a good taste of the country in two weeks but with only two weeks (don't miss the Salt Flats), I recommend sticking to the backpacker favourite introduction country of Peru.
For Colombia start your trip in Cartagena, perhaps fresh off the boat from Panama? After a few days, head to Santa Marta, the jump-off point for Minca – a charming mountain town – and Tayrona National Park.
Get a bit off the beaten path, and head east to Cabo de la Vela (where the desert meets the sea) and Punta Galinas, where you can feast on fresh seafood amongst the Caribbean and sand dunes.
Doubling back to Cartagena, head to nearby Playa Blanca and Tolú (mangrove) before heading to Islas de San Bernardo (white-sanded islands).
Have an extra week? You can catch a flight to the Caribbean Islands of Providencia and San Andrés for epic scuba diving.
South America Itinerary 3 weeks
With three weeks you have more flexibility and can travel further distances. I still recommend sticking to one country but you could swing a second if you are efficient and plan logically. Having three weeks makes it entirely possible for you to explore a few cool cities, chill out in the mountains, and go for an extended trek, including travel time on either end of the hike. Also, you could experience the three climatical highlights of South America: the coast, the mountains, and the jungle.
Brazil is a good choice for a three-week itinerary as well since on account of its size you wouldn't want to attempt the whole country anyway. Within this timeframe, I firmly believe you can see the highlights of one country without having to rush. Remember, you are on a backpacking trip, not an official deadline.
It is important not to try and cram in too much, whilst still making the most of your time backpacking South America. It is a sweet, sweet balance amigos!
3 week Itinerary Ideas
For three weeks in Ecuador, fly into Guayaquil. Grab a bed at one of our favorite hostels to rest up before heading to Montanita. In Montanita you can party and surf until your heart is content. Head North towards Bahia de Caraquez and Canoa for surf towns that are more off the beaten path.
Next head to the mountains stopping first in either Quito or Banos. There are some excellent treks to be had in the Ecuadorian Andes. If you have time, definitely hit up the Volcano Loop trail on the outskirts of Cotopaxi National Park. A trip to the jungle around Puyo is recommended as well.
Brazil: The southeast of Brazil is home to some of Brazil's most famous attractions! This 3-4 week itinerary will give you a taste of the big ones. There's a lot to see, so if you can extend your Brazil backpacking trip, that'll make your experience even better.
This backpacking route through Brazil begins in glorious Rio de Janeiro. Enjoy the city beaches, and have a good time out in Lapa. Leaving Rio, you'll travel along the coast and experience the Mata Atlântica. Cariaco getaways, like Paraty and Ilha Grande, are hidden in this forest.
The next stop is sprawling São Paulo. Stare in awe at the vastness of the concrete jungle, and then party in the Pinheiros district.
You'll probably be feeling a little haggard after all those long nights out in São Paulo and Rio. How about some more beach time? Head to Florianopolis in Santa Catarina for a little R&R. Stop by Curitiba on the way there to see the gardens, and really decompress.
Once you've gotten your fill of Florianopolis, head back to Curitiba and catch the first bus to Iguaçu Falls. It's a long ride, but it'll be worth it. You'll sleep in Foz de Iguacu, and visit the park from there. Feel the power of the world's widest waterfall!
Finally, we head straight to Mato Grosso do Sul and the Pantanal. Stay in Bonito and take day trips out to the wetlands. You're sure to see plenty of wildlife there!
South America Itinerary 1 month
Depending on where you begin your journey, a month really gives you some time to work with. You can focus all of your energy on one country or you could split your time between several. For example, two weeks of surfing in Ecuador followed by two weeks of trekking and motorcycling in Venezuela or Colombia. Or alternatively, two weeks in Argentina followed by two weeks of hiking in Chilean Patagonia.
You can really explore a good chunk of Brazil in a month as well. Again it is all about your interests! If you are a dedicated surf bum, you could easily spend a month heading beach to beach from Southern Peru all the way to Colombia. Be sure to refer to my individual country guides for more detailed South America backpacking itineraries.
Something to keep in mind: If it were me, I would save the larger countries like Argentina, Chile, and Brazil for a trip when I had more time than a month (and a camper van!). I must emphasize that you can see a whole hell of a lot in one month, though you will spend much of that time riding buses instead of exploring. Whatever you choose, there are some epic South America backpacking routes you can blast through with 1 month to play with.
1 Month Itinerary Ideas
With a month to spare the shorter itineraries listed above can be expanded upon in greater detail. Let's take a look at a lesser-known 1-month itinerary…
Venezuela: After spending some (careful) days in Caracas, head to Merida. The student capital of Venezuela and a real party town, Merida is a great place to spend a few weeks if you have the time. It is extremely cheap here too!
No backpacking trip to Venezuela is complete without a trip to Los Llanos. Known as the Serengeti of South America; any wildlife lover will be in their element here. It takes pretty much a whole day to get to Los Llanos and most folks stay for two days.
One of the most incredible moments whilst backpacking Venezuela was getting to witness the Catatumbo lightning<, also called the "Lighthouse of Maracaibo". In the delta of Catatumbo River, for 140 – 160 days/nights a year there is a continuous powerful lightning storm but eerily no sound of thunder. Santa Elena is probably the most horrible town in all of Venezuela but nonetheless an important destination; this is the place to book treks to Roraima or the Gran Sabana or to cross into Brazil.
Last but not least Hike Mount Roraima. At 2,810 meters, climbing Mount Roraima (the highest tabletop mountain in the world) is an epic hike. Mount Roraima stands on the border of Venezuela, Guyana and Brazil but to climb this tabletop, you have to be on the Venezuelan side.
#2 South America Itinerary 3 Months: The Great South America Circuit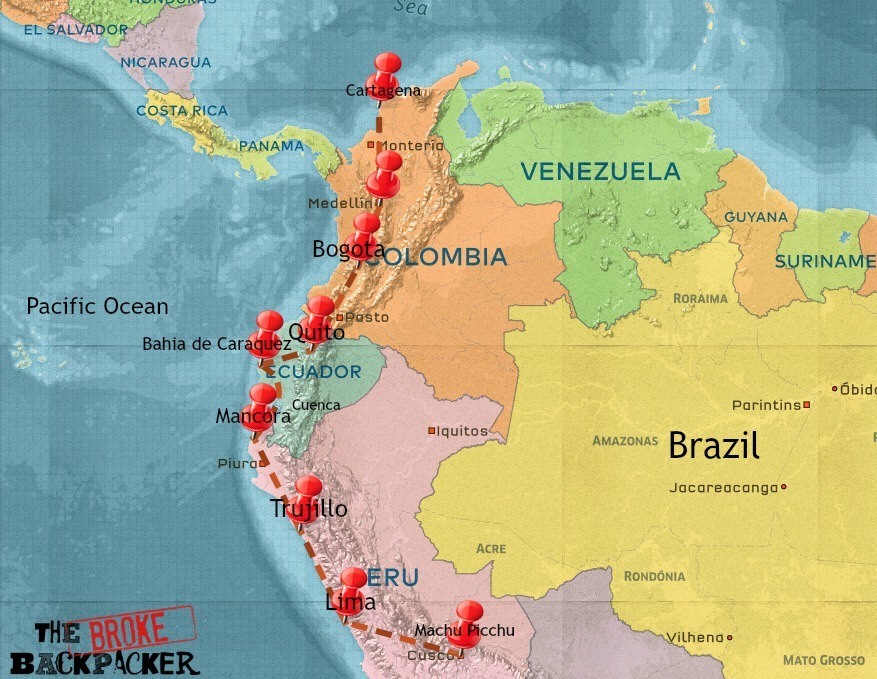 3 months: Backpacking South America Ultimate Highlights
3 months backpacking South America eh? Hell yes. I recommend flying into Lima, Peru unless you know you want to start in the north (Venezuela, Brazil or Colombia) or further south (Argentina or Chile). Explore Lima and the coast before heading to the Andes. There Machu Picchu awaits in all of its glory.
Definitely, do a trek to the famous Inca city! (More on hiking in South America later in the post). From here, you can either drop down on the other side of the Andes and explore the Amazon basin or you can head south to Bolivia and eventually Argentina and Patagonia.
Alternatively, you can slowly start making your way north via the Coast. You could spend a month (or more) in Ecuador, Colombia, Venezuela, or Brazil respectively.
Personally, I started in Buenos Aires, went all the way to the southern tip of Patagonia and made my way north en route to Ecuador and Colombia from there. The distances were truly massive. I'm talking 30-hour bus rides (on comfortable buses I must say). Traveling in South America is never a quick affair, so plan your itinerary accordingly.
#3 South America Itinerary 6 Months: The Whole Damn Thing! (Almost)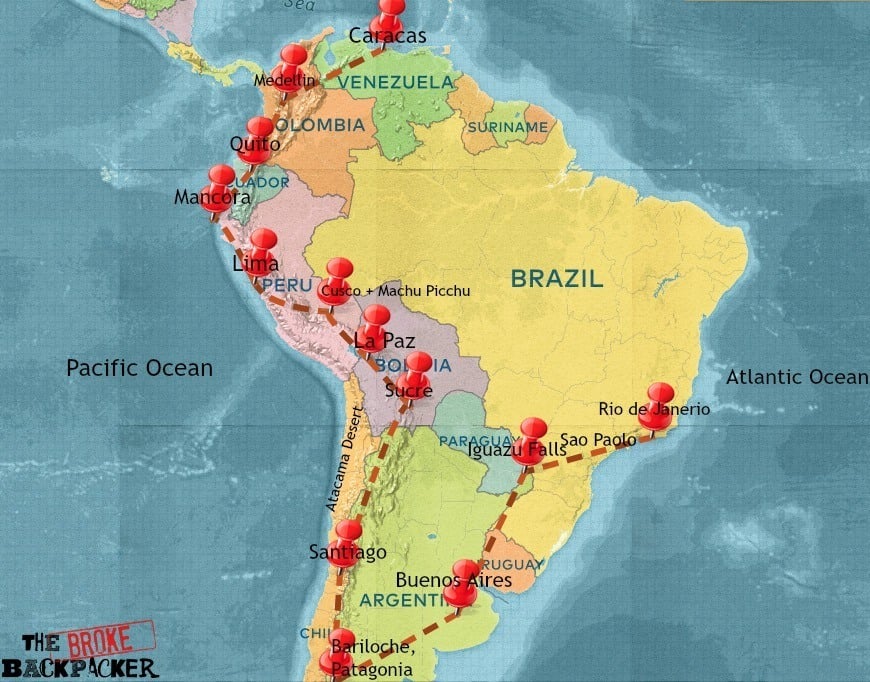 6 Months +: Long-Term South America Backpacking
Life has brought you to the fortunate crossroads of having a six-month South American odyssey eh? Good on you! With six months you have the luxury of really being able to take your damn time. If you know you want to see multiple countries, it is an easy and practical choice to begin your journey either in the north or the south to avoid backtracking.
With a six month itinerary, you can certainly dedicate your backpacking faculties to exploring multiple countries in depth. I'll be honest with you, the itinerary shown on the map above is really fucking ambitious. You might need more like nine months to complete the whole route though it depends on the kind of traveler you are. Hopefully, it gives you some ideas of where to start and what a potential trans-continental tour would look like.
Starting your journey in Venezuela or Rio de Janerio might be a bit of a rough landing, though you will be a primed bad-ass by the time it comes to move on to another country. Another option is to begin with Argentina and Chile in the south, go on a wine-tasting and trekking rampage for a month or two before forging north.
The distances in South America are lengthy though not so much so that you can't move about with a degree of efficiency. You can easily be surfing it up on the coast of Ecuador one day, and be in the mountains of Peru several days (and many bus rides) later. I advise taking a chunk of your time to really explore and get off the beaten path destinations like Venezuela, Brazil, and Bolivia.
Having six months or more to go backpacking truly means you have a total blank slate to work with. So get ready to write your own beautiful backpacking destiny!
Editor's note: Map out your travels in Sudamérica on Travellers Point. Sign up to create a personal travel blog with maps, photos from your trip and a forum to discuss your plans with other travelers who have the insider scoop on places you've yet to visit.
South America Travel Guide: Country Breakdowns
Each country in South America has something unique and profoundly exciting for backpackers. The common themes between countries are that they are Spanish speaking (Portuguese in Brazil), offer up stunning natural beauty, and some of the nicest people you will ever meet whilst traveling. Finding the best places to backpack in South America has a lot to do with your own interests.
Wherever your journey backpacking in South America takes you, you can be sure that it will be some of the most fun you will have in your life.
South America is a continent on the move. The number of people traveling to South America is increasing every year. Whilst the cost of living in South America remains quite low, each country requires a different budget for travelers.
Once you begin to discover a few of the South American countries for yourself, you can be sure that you will be entranced by the jaw-dropping landscapes, fascinating history, vibrant culture, and awesome food. Feeling excited yet? Good! Let us take a look at the countries that make backpacking in South America so damn special.
Backpacking Brazil
Brazil is hands downs one of South America's most dynamic and backpack-worthy countries. It covers nearly half (47%) of South America's land-mass! That gives you an idea of just how big it is. Backpacking in Brazil offers up the chance to experience killer surf beaches, fun-loving locals, parties like you've never seen, as well as landscapes that would make even the most seasoned traveler say "damn, for real?".
Brazil is a country packed with exciting things to do around every corner. Attend the legendary Carnival event in Rio de Janiero. Get your mind blown at Iguaçu Falls. Go to a football match. Visit the Amazon. Drink a Caipirinha on the beach! Explore Brazil's up and coming big cities.
Trekking probably isn't the first thing that pops into one's mind when they plan on backpacking through Brazil. It's a shame because Brazil has some truly gorgeous trails spread throughout the country. The best hiking opportunities are usually to be found in the parques nacionais (national parks). Brazil has over seventy national parks, so you should have plenty of options to get out and explore its natural wonders!
Backpacking Venezuela
Venezuela is a truly incredible country. With towering mountains, steaming forests, endless beaches and just enough danger to keep you on your toes; this is a country which should be on every budding adventurer's list. Backpacking Venezuela has a truly terrible reputation, perhaps unjustly so.
Don't get me wrong, backpacking Venezuela can be dangerous. This is a country where you need to keep both eyes on your gear, watch who you're with and be on the lookout for iffy situations before they get the chance to rear their ugly head. If you are careful and lucky, you should be able to travel to Venezuela without much risk. Saying that it really helps to have friends on the ground who can help you change money.
Backpacking in Venezuela is, in my opinion, one of the last great adventures out there and it's probably the cheapest country to explore in the whole world.
Venezuela is a mysterious country, attracting adventurers looking for a raw adventure into its lands. It's a country yet to be polluted by heavy tourism, incredible landscapes of mountains, forest, lakes, and caves; attracting adventurers and extreme sports lovers alike.
If you are looking to really, get into the wild and feel like the old explorers, then backpacking Venezuela will not disappoint you but I hasten to add; this is veteran explorer country, unless you are an experienced traveler, don't start with Venezuela.
Backpacking Colombia
Colombia is just one of those countries that has been stuck in our imaginations ever since we heard the name Pablo Escobar. Whilst it is true that the guy had a major impact on Colombia and the South American continent in general, his reign of terror is over. Modern-day Colombia couldn't be more different from the days when narco-traffickers ruled the country.
We're not going to lie, Colombia is a backpackers paradise. South America has many countries that I consider to have "the full package". This means you have epic surf, great parties, wild jungle, fun cities, and towering mountains all rolled into a relatively small country. Cali, Cartagena, Bogota, and Medellin are a few cities in Colombia where you can really let loose, learn how to dance salsa (you cant go backpacking Latin America and not try salsa) and meet some locals keen to tell you about life in Colombia.
Is Colombia safe? Perhaps your mum would love to know. Hell yes it is! Times have changed and the reality is that since the fall of the countries major drug lords has greatly improved the security situation. If you love outdoor activities you can find them all and more here in Colombia.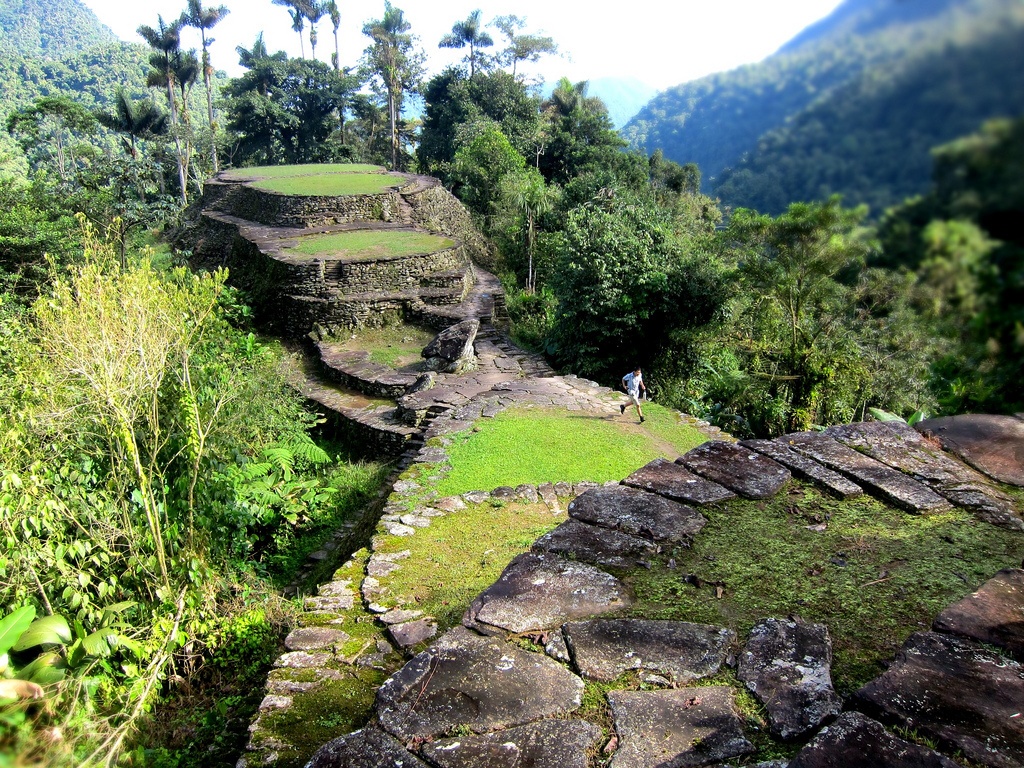 Ecuador might be small but it certainly isn't lacking in diversity or awesome things to do. I spent nearly three months backpacking in Ecuador and absolutely loved it. If you are traveling south from Colombia then a trip to the Andes in Ecuador might be your first encounter with Andean Highland culture.
The people who live in the Andes have a distinct and ancient culture rooted in mountain life. They even speak another language called Quechua. In addition to colonial cities like Quito, Ecuador's natural landscape are the biggest draw. In addition to volcanoes, waterfalls, and massive snow-capped mountains, and the related trekking opportunities, Ecuador has a stunning coastline.
Surfing reigns supreme on the Ecuadorian coast, and if you are a beginner it is a great place to learn how to surf. Towns like Montañita and Canoa are famous surf beaches and party hotspots.
You can spend weeks or months exploring the coast before heading to the mountains and vice versa. If you have some extra cash in your budget, you can head to The Galápagos Islands for some diving. This is not a cheap endeavor so prepare yourself to shell out some cash! If you're looking for the best Galapagos tour, check our guide here.
Then there is the Amazon Basin of Ecuador. The Amazon region is what helps make Ecuador one of the most biologically diverse places on earth. The Amazon is best explored by boat and with a local guide and is bound to be the adventure of a lifetime!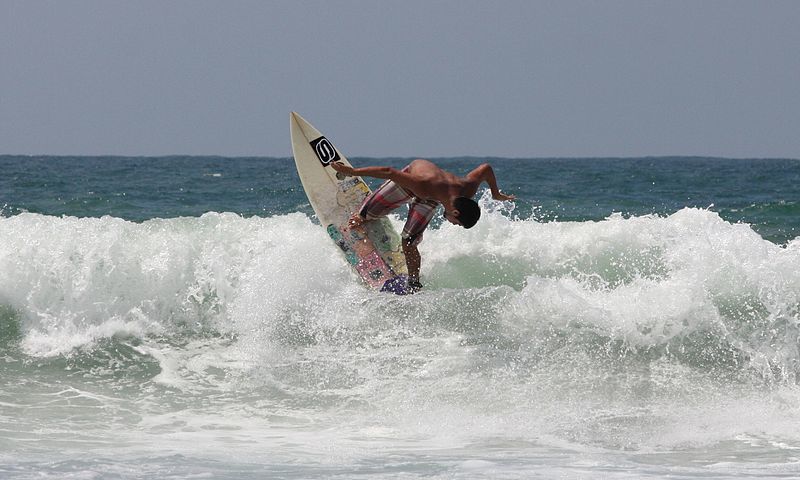 Backpacking Peru
Ah Peru. Backpacking Peru is the essence of traveling in South America. Though tourism has spiked in Peru in recent years, there is still plenty of magic to be found here. The cost of travel in Peru is a little higher than you might expect. Expect to pay between $30-40 USD a day whilst traveling here. More about South America backpacking costs later in the post.
Peru has a super long coastline dotted with prime surf beaches and scuba diving sites. In the Andes lies a whole other form of beauty. Perhaps all you have previously heard of Peru is about Machu Picchu. There is much much more to the Peruvian Andes than Machu Picchu, however, you should absolutely go there! I recommend doing to 5-day Salkantay trek to Machu Picchu.
It is far less trafficked than the Inca Trail and in my opinion is more beautiful. Peru has some truly fascinating colonial cities as well including Cuenca and Cuzco, which is the gateway city to Machu Picchu. The off the beaten path potential in Peru is enormous. Check out the Rainbow Mountains for a look at nature at its most colorful. Hike the majestic Cordillera Huayhuash. Explore Colca Canyon and sleep out under the stars.
Wherever you decide to travel in Peru, be sure that it will be a highlight of your South America backpacking adventure.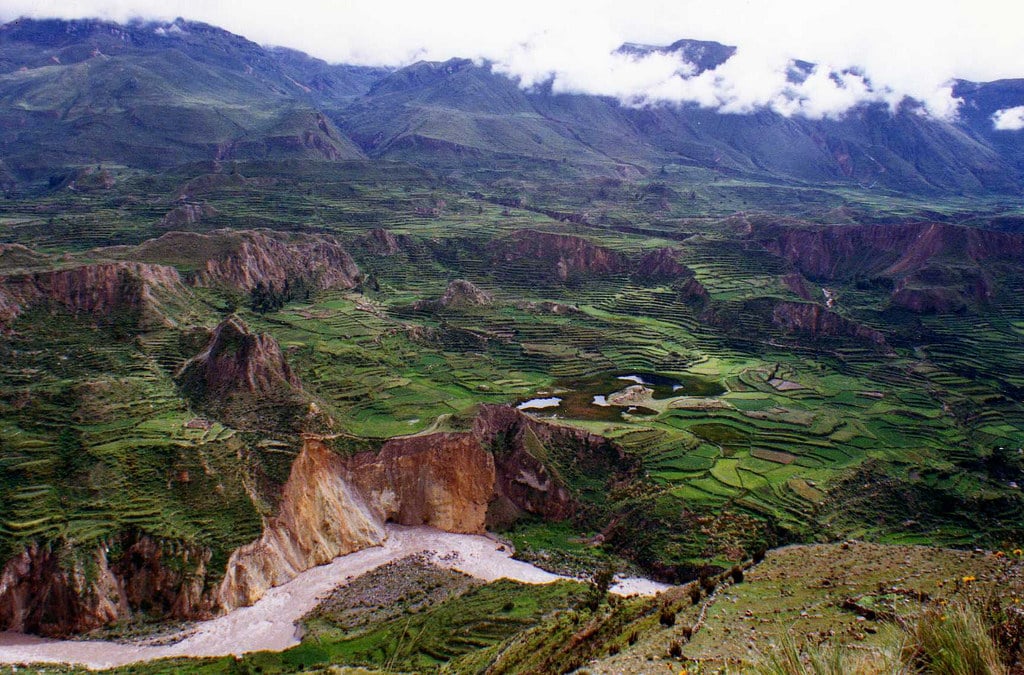 Backpacking Bolivia
Backpacking in Bolivia offers up a glimpse of what much of South America was like 30 years ago. Bolivia appears to be a country looking to the future in many ways whilst still having one foot firmly rooted in the tradition of the past. Expect super friendly locals, dramatic desert and mountain landscapes, and low prices. In fact, Bolivia might just be the cheapest country in South America for backpackers except of course for Venezuela.
One could easily get by on $20-25 a day here and even less if you are roughing it a bit. Bolivia is home to plenty of adrenaline-pumping activities including the Road of Death, which in essence is a road down through the mountains in which people ride bicycles to the bottom at top speed.
The ride goes on for at least 30 kilometers and it is straight down and thus aptly named. World class trekking is abundant in the Bolivian Andes if you love to hike. Bring along a good sleeping bag as temperatures can plummet at night.
La Paz is a cool city to base yourself in. Lake Titicaca is breathtaking, however, it has become far too touristy, which is a shame. I don't blame the locals as they need to make a living too, just the way it has been done is unfortunate. The Salt Flats are also cool AF. I believe it is still worth a visit, though don't expect a super authentic experience there.
Backpacking Argentina
Viva Argentina! Backpacking through Argentina will be one for the ages. Welcome to the land of wine, barbeque, cowboys, tango dancing, and South America's final frontier: Patagonia. Argentina is a big country with lots to see and do in each of its regions. Buenos Aires is arguably the cultural capital of all of South America. You can find great restaurants, interesting museums, tango shows, and all-night parties and concerts.
Further south lies Patagonia: one of my favourite places on earth. Patagonia is a truly expansive desolate wilderness area where the weather is harsh and civilization is far a few between. If you are trekking in the mountains or sea kayaking around a glacier, you could go days without seeing many (if any) backpackers.
Staying at an Argentine mountain hut (refugios) is a wonderful experience not to be missed. Few who travel to Argentina manage to make it as far as Tierra del Fuego (the Land of Fire). Visit one of the most dramatic places in Argentina with its long summer days and epic Antarctic landscapes.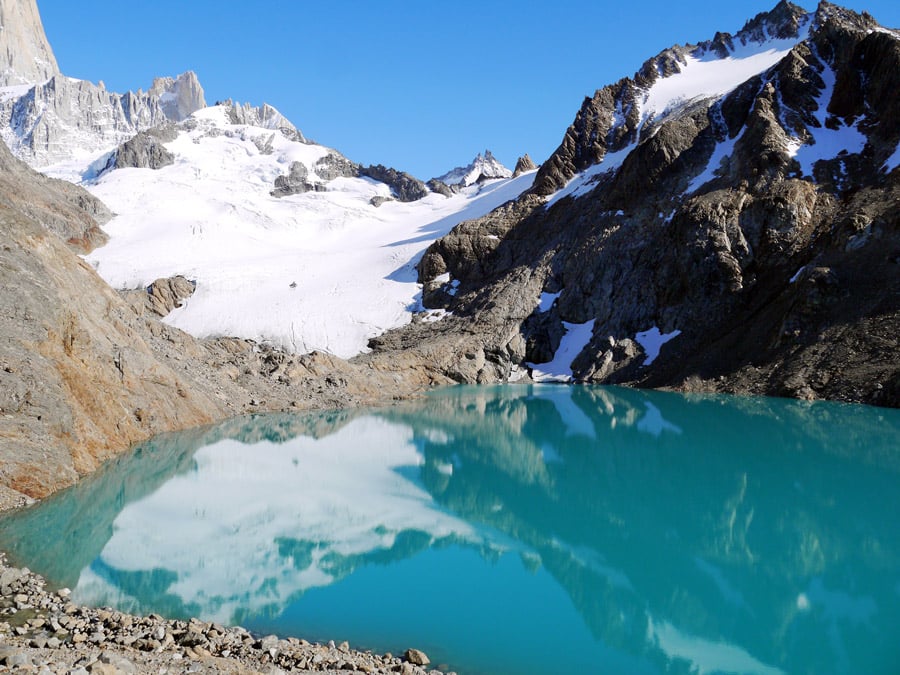 Backpacking Chile
Backpacking Chile is all about the extremes. From trekking through gorgeous glacial national parks in the south to explore the martian bone-dry Atacama desert in the north, it is one fantastic country to travel. There are 36 National Parks in Chile, all of them beautiful and unique in their own way. Chile is also home to Easter Island, one of the most mysterious places on the planet.
Like Argentina, Chilean Patagonia is fucking paradise for trekker and adventure types. It does take some effort to reach the places you will want to go trekking it. That said the journey will be well worth it. Experiencing some of the planets last truly wild places is an indescribable feeling that one can feel only by getting out and doing it.
Most backpackers will start their journey backpacking Chile in Santiago unless one is coming to Chile from one of its borders in the South (as I did).
Oh yeah one more thing. Chilean wine is cheap and it is damn good.
Backpacker Accommodation -Where to stay in South America
South America has a wide range of budget accommodation options for backpackers. When you are not passing the night from the comfort of your tent in the Andes or Couchsurfing, you'll need to book a hostel.
Whether you just need a place to lay your head or a spot to meet fellow backpackers like yourself, hostels are clearly where it's at…
In fact, we at the Broke Backpacker love South American hostels so much we have created a whole series of guides breaking down the best hostels to be found in cities across Central America. They make it very easy to pick the right hostel for yourself in any given place!
Check out these super-detailed South American hostel guides by city:
Top Things To Do in South America
Festivals to catch in South America
South America is famous worldwide for being party central. In addition to some great music festivals, South America is home to many important cultural and religious events as well. Try to catch a few during your travels!
Cosquín Folk Festival, Argentina (January) – Argentina's largest celebration of traditional and folk music. Takes place in the village of Cosquín near to Córdoba.
Carnaval, Brazil, Colombia, Ecuador (February/March) – The best party on the planet! Everyone is having as much fun as possible before abstaining for Lent. Rio, Salvador, and Recife host the most famous parties.The Carnival celebration in Brazil is without a doubt the wildest.
Inti Raymi, Peru (June) – Inti Raymi, the ancient Inca Festival of the Sun, is one of the most traditional Peruvian festivals.
Festival de las Flores, Colombia (August) - The festival takes places in Medellin, Antioquía. This festival happens every year during the first two weeks of August and lasts around 10 days. If you love having your mind blown by botanical wonders, this fest is for you.
Rock al Parque, Colombia (August) - A firm fixture on the Bogota live music calendar, Rock al Parque is an annual festival dedicated to – you guessed it – rock music, which has taken place in Simon Bolivar Park every year since 1995.
Mistura Culinary Festival, Peru (September) – If you like Peruvian good, street meats, and food carts, this Lima festival is for you.
Rock in Rio, Brazil (September) – The biggest music festival in South America. Every single genre represented.
Oktoberfest, Argentina (October) – Argentina's own version of the great German beer festival. Takes place in Villa General Belgrano outside of Córdoba.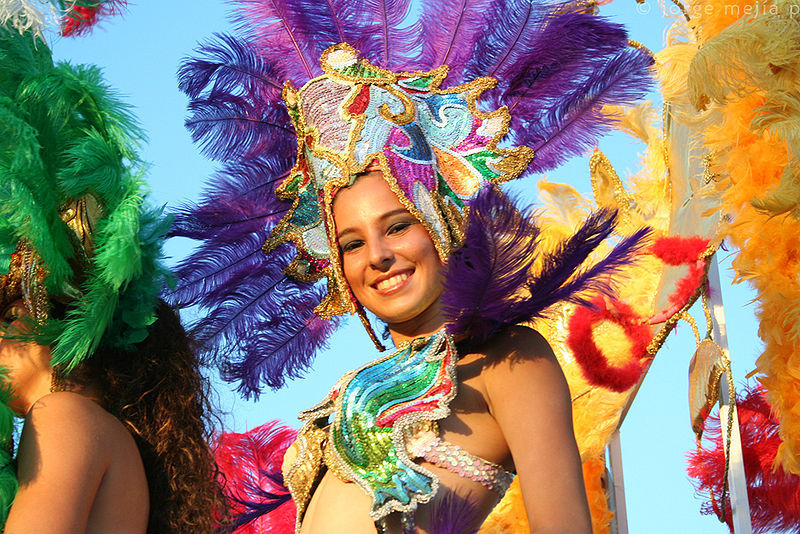 Off the Beaten Path Adventures in South America
South America is totally full of wild places, tiny villages, far-flung settlements, lonesome valleys, sparsely inhabited jungle etc... Point being, there are many places to go where other travelers do not. With a little motivation, you may well find yourself cutting your own path and writing your own backpacking destiny one off the beaten path adventure at a time.
Explore South America's national park systems as much as you can. Investigate the little interesting looking food stalls where all the locals are queuing up. Don't rely on a guidebook for every decision about where to go and what to do. In South America, all the makings of an epic adventure are there for taking. All you have to do is go and get it.
Best Hikes in South America
Take my advice: invest in a quality backpack because by the end of your trip you'll be wearing it so much that it'll become an extension of your own body. You want the best.
I suggest the new Osprey Aether AG 70 backpack, which you can read about here, and don't forget to consider a daypack as well. A good daypack will be just as useful during your day-to-day activities and should slide nicely into your larger backpack.
Lost City Hike, Colombia: This hike through the Colombian jungle will certainly be a highlight of your backpacking trip.
Sierra Nevada de Cocuy, Colombia: Snow in Colombia? Here you can find peaks are as high as 5,330 metres above sea level. You have you your own gear and a good sleeping bag, you can probably do the hike without a guide.
Iliniza-Norte, Ecuador. This is a fantastic 2-day trek that does not require any special gear or equipment. If you are planning to tackle Cotopaxi this is a great warm up. A solid challenge for the dedicated hiker!
The Salkantay trek, Peru: Hike to Machu Picchu over four days and experience the true beauty of the Andes along the way. One of my favorite South America treks for sure.
The Cordillera Huayhuash, Peru: Truly one of the most stunning areas in Peru. A solid challenge for the dedicated hiker!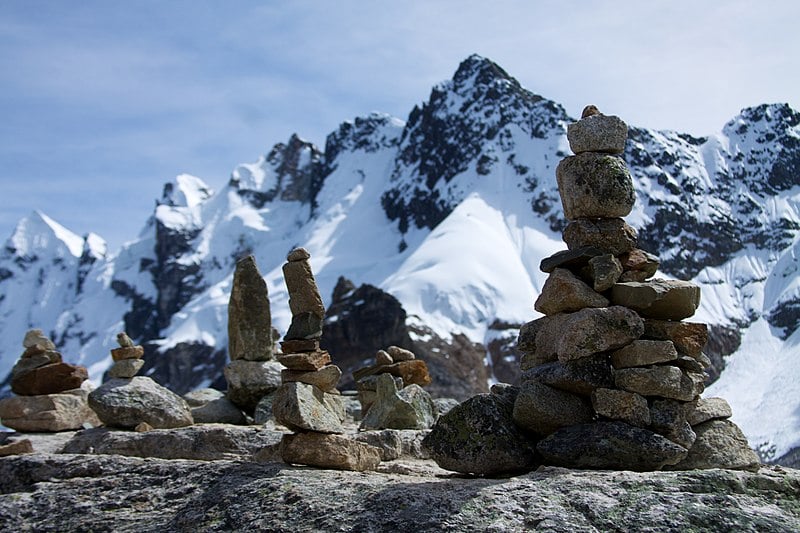 Hikes in Patagonia
Hut-to-Hut in Bariloche, Argentina: Spectacular hike that affords some of the best views of NahuelHuapi National Park and its lakes. Tents are optional since backpackers can stay exclusively in the refugios.
Villa O'Higgins to El Chaltén, Chile/Argentina: One of the greatest ways to experience Patagonia. Walk from Villa O'Higgins in Chile to El Chaltén in Argentina. You'll see some superlative mountain, forest, and lake scenery along the way.
Torres Del Paine Circuit, Chile: The hike of all hikes in South America. This epic walk takes 9-11 days and passes through some of the most dramatic landscapes one can fathom. A must if you've got the time and hiking spirt!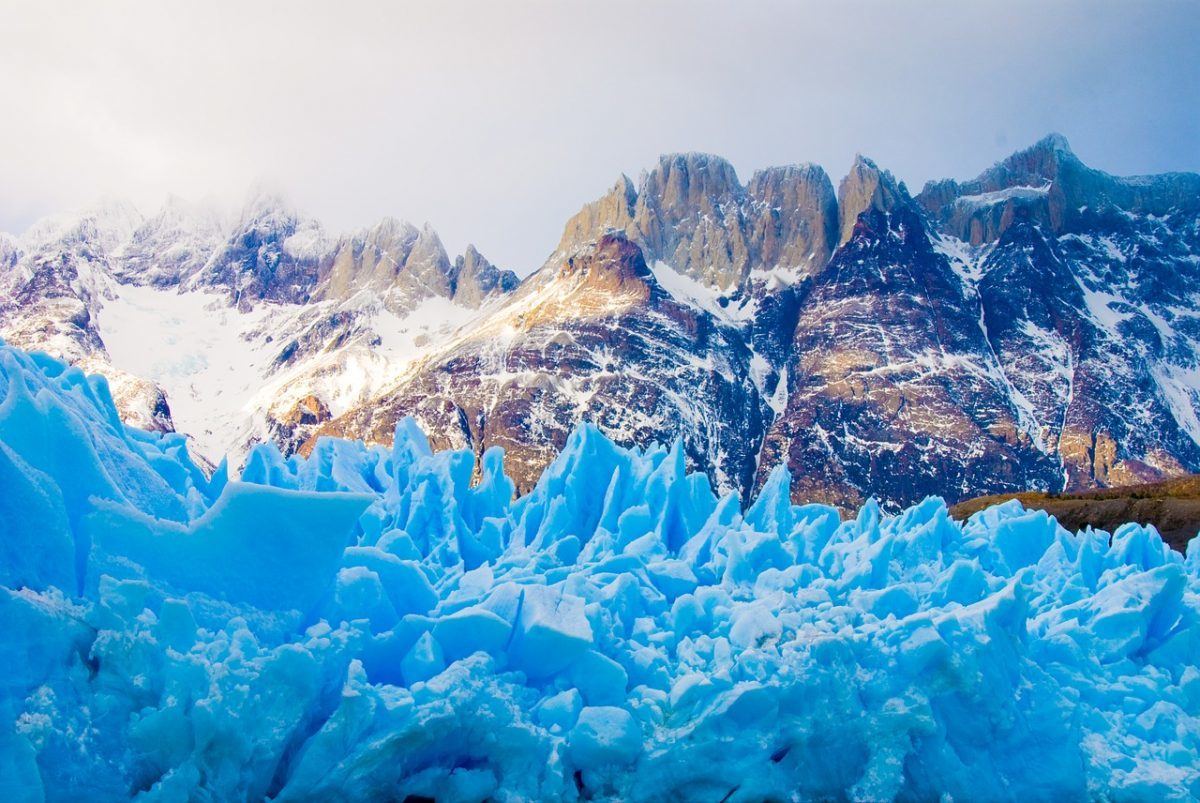 Scuba Diving in South America
Scuba diving options abound in South America. Colombia is probably the cheapest and best place to dive and get certified in South America. There is some fantastic diving around the Galapagos Islands, but it will cost you a fortune to arrive there and go diving.
Peru and Ecuador both have some decent diving right off their coasts. In general Scuba Diving is pricier in South America than it is in other parts of the world. If it something that you really want to do, I say go for it! The diving is worth it. Money well spent in my opinion.
In Colombia, you have Providencia and Santa Catalina, a smaller island to the north, which is home to the third largest coral reef barrier on earth and includes over 40 dive sites.
If Providencia is the accessible best of Colombian diving, Malpelo is the harder to reach version: a jagged rock in the Colombian Pacific, it can only be reached by boat, and divers can only visit here as part of an organized trip on a dive boat. It's worth the time and money for sure; Malpelo is one of the best places in the world to dive with sharks, including hammerheads, whale, and the rare sun ray shark. People have reported schools of up to 500 sharks around Malpelo. That's right. 500.
Scuba Dive South America on a Liveaboard Trip
If you truly want to have the scuba diving adventure of a lifetime, I highly recommend joining a Liveaboard trip if you can swing it.
Liveaboard trips are great because they really take you to off the beaten path remote scuba diving sites. Plus you get to wake up on a boat every morning, take in epic sunsets every evening, and eat like a king along the way.
The Liveaboard option should be considered as well if you are planning to visit the Galapagos Islands, where the diving is world class awesome.
For more country-specific Liveaboard opportunities in South America check out these options: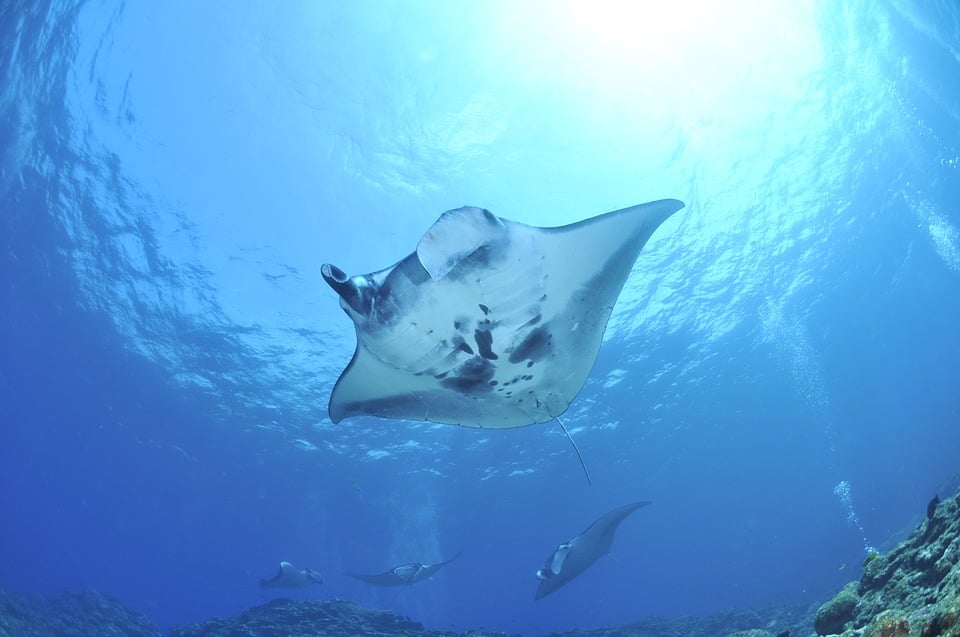 Surfing in South America
Surfing is the number one sport on South America's coast. From Peru to Brazil, backpackers and locals are coming together and shredding the surf. Peru is home to the longest left-breaking way in the world. You can literally ride a wave for five minutes!
The Pacific Coast is dotted with funky surf towns, where the main activities revolve around the waves and the nightlife. There are a plethora of surf schools in every country where surfing is popular. Often these surf schools offer Spanish classes as well if you are wanting to double down (which I highly suggest!).
It is easy to fall in love with the surfing lifestyle. be careful, you might just fall in love with the whole scene. I wouldn't blame you for a second.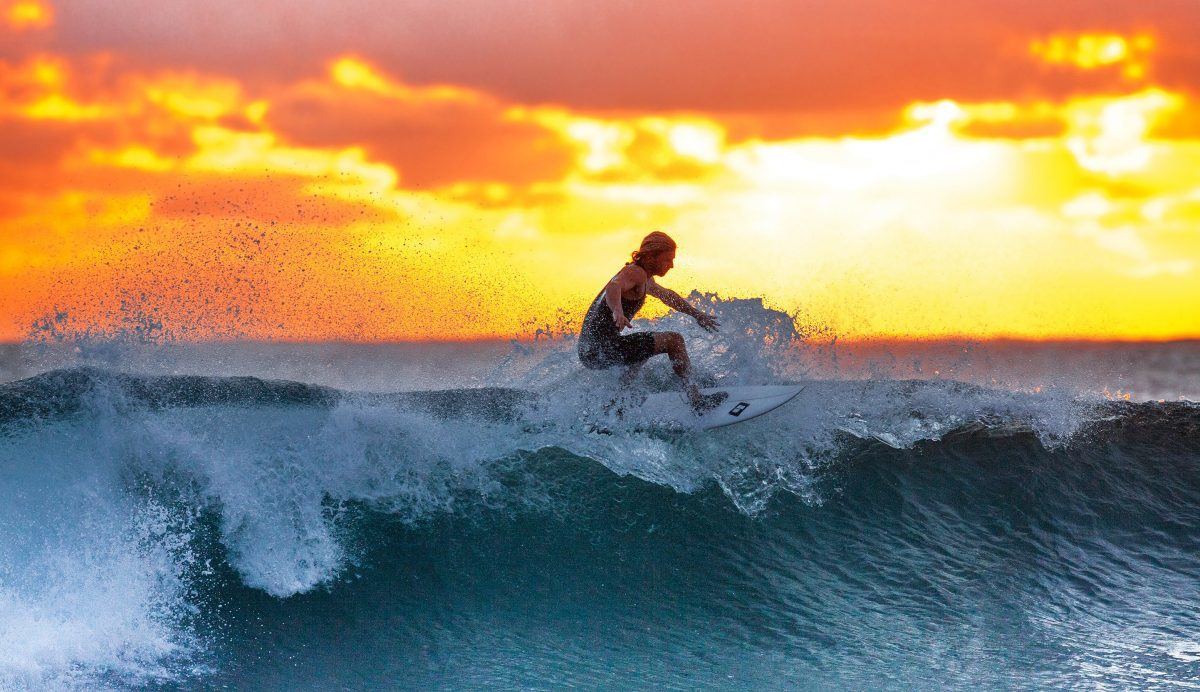 Backpacking South America Travel Tips
Need to know exactly how to backpack South America? Well these top tips will see you right.
Books to Read While Backpacking South America
These are some of my favorite travel reads and books set in South America which you should consider picking up before you begin your South America trip…
The Backpacker Bible – Get it for free! Learn how to ditch your desk and travel the world on just $10 a day whilst building a life of long-term travel with an online income. To inspire and help the next generation of Broke Backpackers, you can now grab 'How to Travel the World on $10 a Day' for free! Get your copy here.
Open Veins of Latin America – One of my favorite books about Latin America. Truly a must-read for anyone interested in the history of the South American continent. The book really helps to put things in perspective. A really great book to read whilst backpacking Ecuador and any other Latin American country really.
The Alchemist – One of the ultimate travel novels! The author, Paulo Coelho, is one of Brazil's most famous artists. Follows a Spanish boy's spiritual journey through Northern Africa.
The Cloud Garden — The epic tale of Two British explorers who end up getting kidnapped by guerrillas in the Darien Gap area of Colombia. Written with humor and suspense, this is a vivid account of their nine-month ordeal.
The Sound of Things Falling– This book tells the story about a hippo that had escaped from a derelict zoo once owned by legendary Colombian drug kingpin Pablo Escobar. It takes you back to the war between Escobar's Medellín cartel and government forces played out violently in Colombia's streets.
One Hundred Years of Solitude– This novel tells the story of the Buendia family, and chronicles the irreconcilable conflict between the desire for solitude and the need for love—in rich, imaginative prose that has come to define an entire genre known as "magical realism."
Lonely Planet South America: It is always handy to have a Lonely Planet on hand. This book is full of useful and practical travel information for traveling South America.
What to Pack for South America
Traveling through South America is a lot easier if you have the right gear. On every adventure, there are six things I never go traveling without:
1. Security Belt with Hidden Pocket: I never hit the road without my security belt. This is a regular looking belt with a concealed pocket on the inside – you can hide up to twenty notes inside and wear it through airport scanners without it setting them off. This is hands down the best way to hide your cash.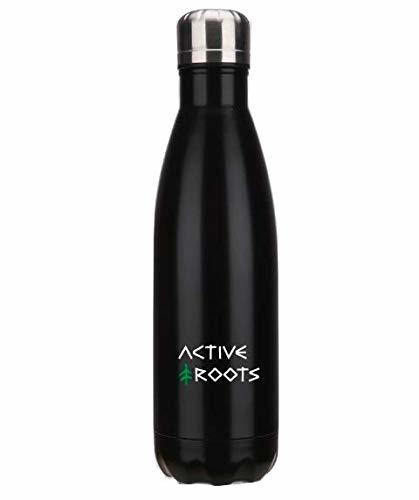 2.Travel Water Bottle: Always travel with a water bottle – it'll save you money and reduce your plastic footprint on our planet. AR bottle are tough, lightweight and maintain the temperature of your beverage – so you can enjoy a cold red bull, or a hot coffee, no matter where you are. For every AR bottle sold, we donate 10% to PlasticOceans.org – an initiative to reduce plastic in our oceans!
3. Microfibre Towel: It's always worth packing a proper towel. Hostel towels are scummy and take forever to dry. Microfibre towels dry quickly, are compact, lightweight and can be used as a blanket or yoga mat if need be.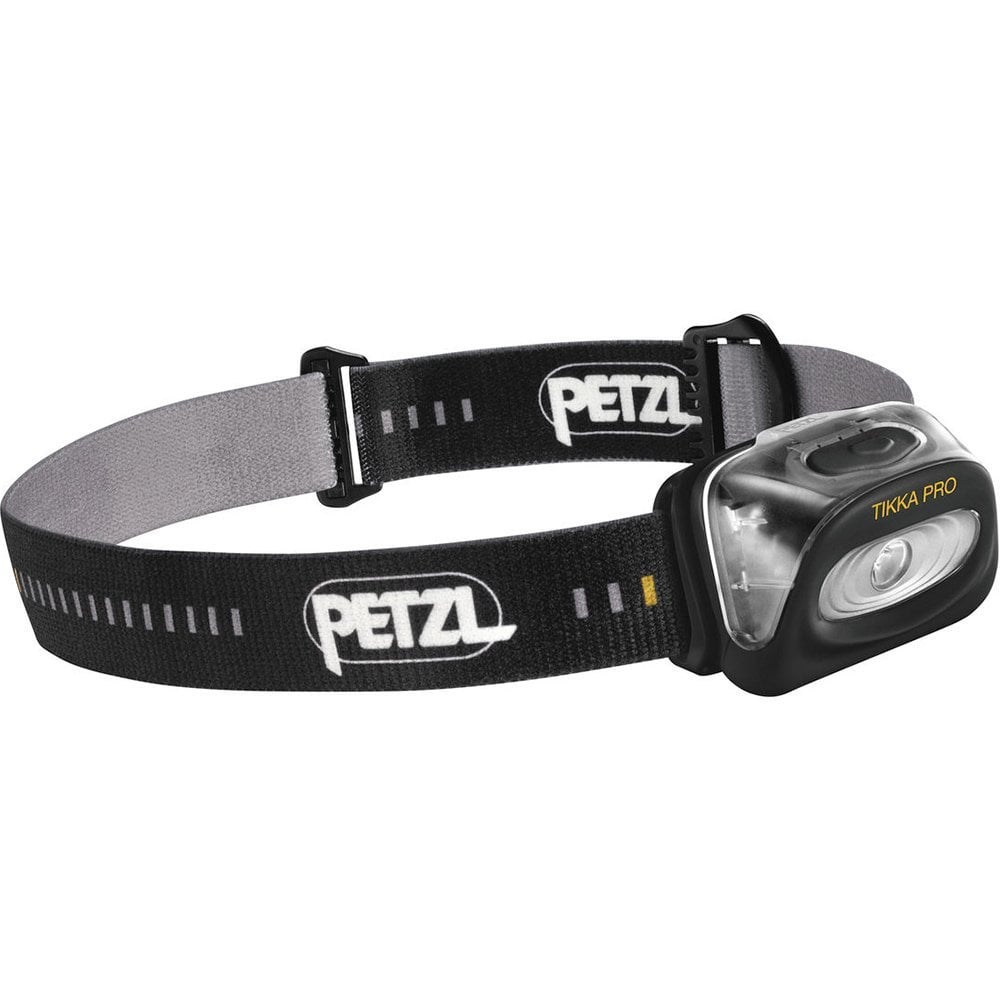 4. Headtorch: I would never travel without a headtorch. Even if you only end up using it once, a decent head torch could save your life. If you want to explore caves, unlit temples or simply find your way to the bathroom during a blackout, a headtorch is a must. Currently, I'm using the Petzl LED headlamp with red light (which insects can't see).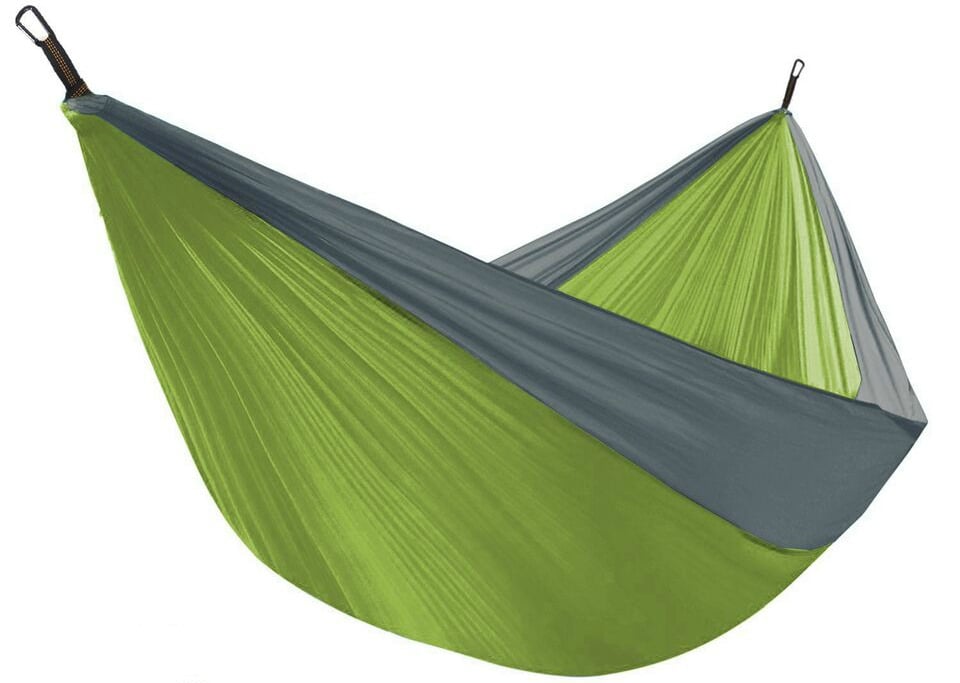 5.Hammock: Taking a tent backpacking is not always practical but hammocks are lightweight, cheap, strong, sexy (chicks dig hammocks) and allow you to pitch up for the night pretty much anywhere. Right now, I'm rocking an Active Roots parachute hammock – it's light, colourful and tough.
6. Toiletry Bag: I always travel with a hanging toiletry bag as it's a super efficient way to organise your bathroom stuff. Well worth having, whether you are hanging it from a tree whilst camping, or a hook in a wall, it helps to have quick access to all your stuff.
For plenty more inspiration on what to pack, check out my full backpacking packing list.
Best Time to Visit South America
You know by now that we are talking about an enormous amount of land with regards to the South American continent. Countries near the equator do not experience distinct seasons. As you start to get further south you will find the seasons to be the opposite of what they are in the Northern Hemisphere ie winter in June.
Patagonia experiences bitterly cold and windy winters. I do not advise travel there during the winter unless you are a serious mountaineer and have all the right gear.
Dry season depends on the country. Generally the cooler months from June- September is the driest in the coastal areas. In the Amazon, given that it is the world's biggest rainforest is wet pretty much all year. The Andes are the driest from April- November.
High season for all countries is without a doubt from December-February. This is due to many holidays occurring over that time, and it is also the time when many gringos and locals alike take their holidays. Backpacking in the low or shoulder seasons will definitely make for a cheaper trip, especially with regards to accommodation.
Where to Start Traveling in South America
Where you will start your trip will be determined by what backpacking route you have chosen. Obviously, if you plan to tackle a specific country, starting in the capital city of that country is the logical option.
I have noticed that in recent years it keeps getting cheaper to fly into South America, and it remains expensive to fly within it. Unless you are coming by boat to Colombia Via the San Blas Islands, then you will certainly be arriving by plane.
Lima, Buenos Aires, Santiago, and Rio de Janeiro are all major hubs for South America. Compare the prices between these destinations, and based on your South America travel itinerary you can go from there.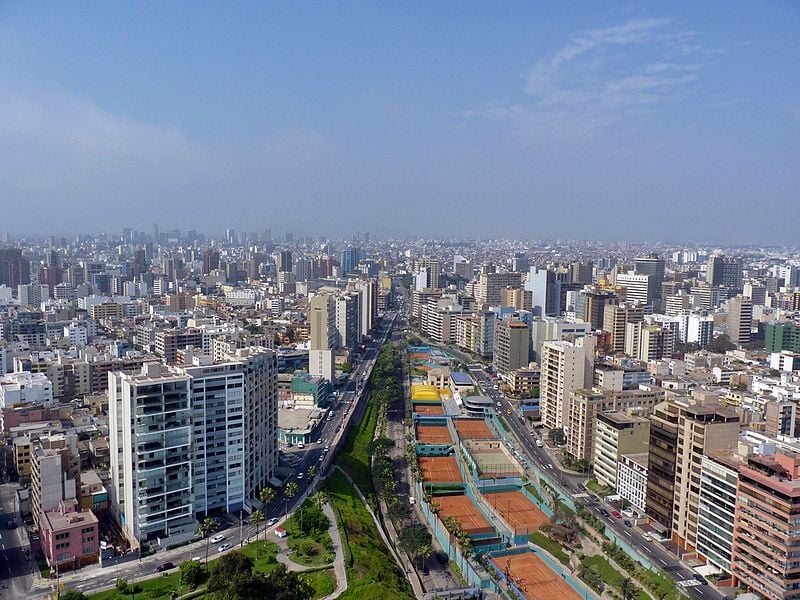 How to Travel Through South America
City Bus. Local Bus. Long-distance bus. Sleeper bus. Buses! That's right. Buses are the most economical way of getting around South America with ease. Every major capital has buses going to the far reaches of the country. Local buses are typically super cheap. Taxis are an option within cities though often they are unnecessary. If you do opt for a taxi ride, always make sure to set the price beforehand and haggle the shit out of the driver without going over the line of being rude.
As I mentioned before, internal flights within South America can be really expensive. I would avoid taking a flight that is not your flight home at all costs. As a general rule when backpacking cheap travel is slow travel. Buses can be slow but as you will be taking many if you are backpacking South America long term, you want to go for the cheapest option.
If you want to go full Che Guevara style you can obtain a motorbike pretty easily (and cheaply) in most places in South America. I recommend that you at least have some experience driving motorbikes before you even think about sauntering into a South American capital city or down a winding road in the Andes. If you do go the motorcycle route you can be sure that it will be the fucking ride of your life and upon completion, you will have officially obtained the life-long title of backpacking badass.
Hitchhiking in South America
Hitchhiking is always an option. Your hitchhiking success will greatly depend on the area and the country. I would never try to hitchhike within a major city or at night.
For example, hitchhiking in Colombia isn't that common, mainly due to paranoia about the security situation in the country. Not everyone here is a drug lord that wants to kidnap you for ransom money. You can hitchhike throughout Colombia; it's such an awesome experience!
Rural areas of South America are especially impacted by high rates of poverty. Expecting free rides from folks with limited means might not make you feel so good. That said, even if you offer the driver a few bucks, it could very well end up being cheaper (and more rewarding) than taking the bus.
I would never assume that the ride is free initially. Always ask to avoid having an awkward scenario in which the driver who picked you up is demanding an unexpected fee.
Top Tips for Broke Backpackers in South America
To keep your spending to an absolute minimum whilst traveling in South America I recommend sticking to these basic rules of budget adventuring….
Camp: With plenty of gorgeous natural places to camp, the South American continent is an excellent place to take a tent. Check out this post for a breakdown of the best tents to take backpacking.
Cook your own food: I took a small gas cooker with me to South America and cooked a lot of my own meals whilst hitching and camping, I saved a fortune – check out this post for info on the best backpacking stoves.
Haggle: Haggle as much as you can. You can always get a better price for things especially while in local markets.
Pack your bible: Learn how to travel the world on $10 a day whilst you get your shit sorted, discover the secrets to longterm travel and build an online income. Check it out here.
Pack a travel water bottle and save money every day!
Onwards Travel From South America
Your only options for leaving the continent are by boat or by plane. Most likely you will fly out of the country where you are finishing your trip if it makes sense and is the cheapest option. Try to book your flights in advance in order to get the best deal.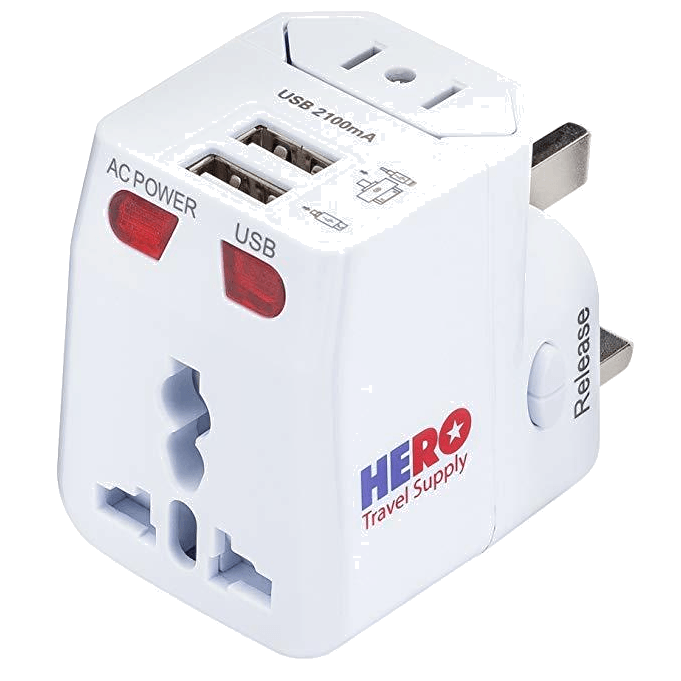 One of the best investments you can make is a
worldwide travel adapter
that will work anywhere! The one featured here is tough, reliable and a solid buy - Don't leave home without one.
GET IT HERE
It is technically possible to cross the Darien Gap to Panama overland. Rumour has it that you can hire a guide for quite a bit of money and cross the Darien on foot. In the past, this was impossible though due to narco-terrorist/ guerrilla activity. At the time of writing FARC is active in Colombia and the Darien Gap still presents many dangers to travelers.
May the Gods of Backpackistan be with you if you attempt the journey on your own without a guide.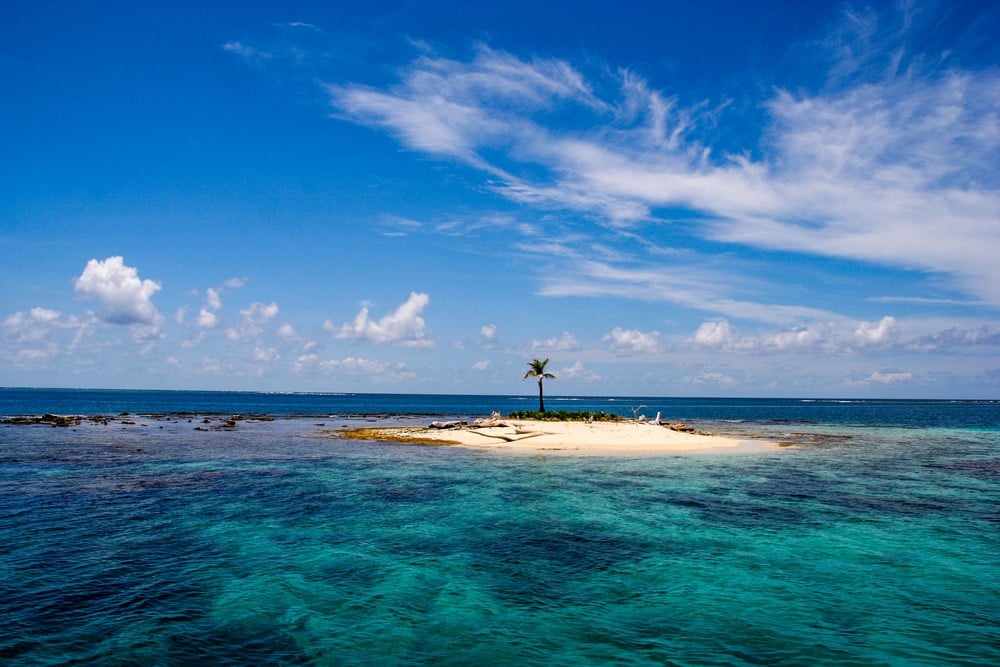 Staying Safe in South America
In general South America is a very safe place to go backpacking. I say that even though I was robbed at gunpoint in Ecuador. I stand by it. Robberies are rare and could happen to anyone in any country. Sometimes people in desperate circumstances are forced to do bad things. They see a foreigner and they see a chance to score some quick cash that can temporarily relieve the stress of their situation. I accept that.
South America is currently much safer for foreigners than it has been in recent decades although political wobbles never seem too far away. Due to the political situation in Venezuela right now, I would take extra care of my things and myself whilst backpacking there. It is still very likely that you could go there and experience nothing but a smooth trip, however, the situation is what it is and it is the most dangerous country in Latin America by far.
Yes, South America can be dangerous, but it's nowhere near as bad as how the media portrays it. In recent years we've seen a big increase in the level of security & falling crime rates. To stay safe, every backpacker should follow the common-sense rules of backpacking.
In general being out late, drunk, and alone is a recipe for trouble anywhere in the world. There have been reports of backpackers getting held up on remote sections of a beach or late at night in big cities. Odds are you should be just fine. If ever you run into a hold-up situation give them what they want and don't resist. Your iPhone and wallet are never worth dying over, ever!
Travel Insurance for South America
A wise man once said that if you can't afford travel insurance, you can't really afford to travel – so do consider backpacker insurance sorted before you head off on an adventure! Traveling without insurance would be risky. I highly recommend World Nomads.
I have been using World Nomads for some time now and made a few claims over the years. They're easy to use, offer the widest coverage, and are affordable. Also, this is the only company I know of that lets you buy travel insurance after leaving on a trip.
If there's one insurance company I trust, it's World Nomads. Find out why I recommend World Nomads, check out my World Nomads Insurance review.
Getting an estimate from World Nomads is simple - just click the button or image below, fill out the necessary info, and you're on your way!

Top Safety Travel Tips
Pick yourself up a backpacker security belt to keep your cash safe on the road. Check out this post for plenty of ideas on ingenious ways to hide your money when traveling.
I strongly recommend traveling with a headlamp whilst in South America (or anywhere really – every backpacker should have a good headtorch!) – check out my post for a breakdown of the best value headlamps to take backpacking.
South America Backpacking Costs
It is the common belief that backpacking in South America is dirt cheap. Whilst this is true for some things, South America is NOT as cheap as backpacking in India or Southeast Asia. That said, it is easy to travel South America on a budget.
Due to the nature of Patagonia being one of the remote regions on earth, expect to pay double if not more what you would throughout the rest of South America. Brazil is notorious as well for jacking up accommodation prices during the high season. As a country dealing with a major tourism influx, Peru also takes some navigating in order to travel as cheap as possible.
With a few travel hacks up your sleeve, you will save a ton of money and have the time of your life. Be sure to up your haggle game whilst backpacking through Latin America to ensure you get the best possible price for things, including accommodation.
Staying in hostels every single night, buying beer and drugs, taking long-distance buses, paying entrance fees to National Parks... these things add up fast. Sometimes you don't have a choice and will have to shell out the dough in order to do the things you want. Remember to always leave a little extra wiggle room in your budget so you can go scuba diving or go on a trek that you have been dreaming about!
Here is a breakdown of what you can expect to pay on a daily basis whilst backpacking South America...
South America Daily Budget

| Country | Dorm Bed | Local Meal | Bus Ride (Depending on Distance) | Average Daily Cost |
| --- | --- | --- | --- | --- |
| Argentina | $10-15 | $5-10 | $20-50+ | $40 – $70+ |
| Bolivia | $7-10 | $2-5 | $2-5 | $20 – $40 |
| Brazil | $10-15 | $4-9 | $20-50+ | $40-50+ |
| Chile | $12-15 | $4-9 | $10-40+ | $35 – $65+ |
| Colombia | $8-10 | $1-12 | $5-30 | $35 – $60 |
| Ecuador | $8-10 | $2-5 | $2-8 | $25 – $50 |
| Peru | $8-15 | $2-8 | $5-45 | $30 – $60 |
| Venezuela | $1-2 | $.50-1 | $1-2 | $10-20 |
South America Budget Travel Hacks
Camp: With plenty of untouched beaches, forest, stunning countryside, and far-flung jungle, South America can be a great place to pitch a tent for the night. Camping saves you money and can help you get off of the beaten path. Check out this post for a breakdown of the best tents to take backpacking.
If you're feeling really adventurous and want to save some cash, consider picking up a backpacking hammock.
South America has plenty of palm trees and hammock ready beaches. A hammock is perfect for those kinds of dreamy beach scenes. If you want to bring a hammock on your adventure, this beauty is your best bet and 10% of all sales go towards the elephant conservation centre in Laos.
Cook your own food: Travel with a portable backpacking stove and cook your own food to save some serious cash whilst backpacking across South America. If you plan to do some overnight hiking trips or camping on the beach, having a backpacking stove will be a great asset.
Couchsurf: South American locals are awesome. Get to know some! Check out Couchsurfing to make some real friendships and see a country from the perspective of locals. When using Couchsurfing, be sure to send personalized messages to your potential host. A generic copy and paste message are much more likely to get turned down. Make yourself stand out.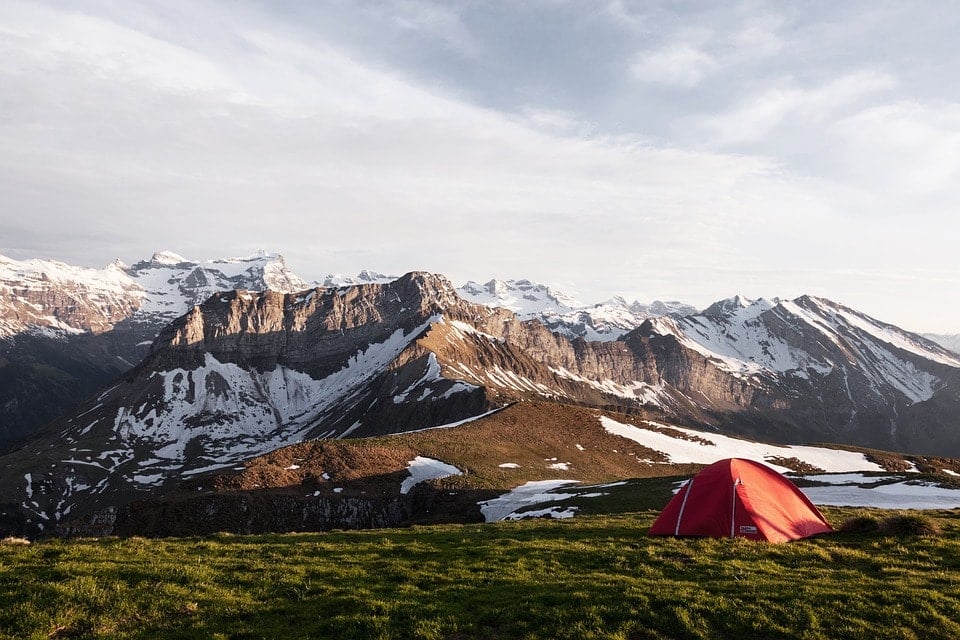 Joining an Organized Tour in South America
For most countries, South America included, solo travel is the name of the game. That said, if you are short on time, energy, or just want to be part of an awesome group of travelers you can opt to join an organized tour. Joining a tour is a great way to see a majority of the country quickly and without the effort that goes into planning a backpacking trip. However—not all tour operators are created equal—that is for sure.
G Adventures is a solid down-to-earth tour company catering to backpackers just like you, and their prices and itineraries reflect the interests of the backpacker crowd. You can score some pretty sweet deals on epic trips in South America for a fraction of the price of what other tour operators charge.
Check out some of their awesome G Adventures itineraries for South America here…
Volunteering in South America
Long term travel is awesome. Giving back is awesome too. For backpackers looking to travel long-term on a budget in South America whilst making a real impact on local communities, look no further than World Packers. World Packers is an excellent platform connecting travelers with meaningful volunteer positions throughout the world.
In exchange for a few hours of work each day, your room and board are covered.
Backpackers can spend long periods of time volunteering in an awesome place without spending any money. Meaningful life and travel experiences are rooted in stepping out of your comfort zone and into the world of a purposeful project.
Worldpackers opens the doors for work opportunities in hostels, homestays, NGOs, and eco-projects around the world. We've tried and approved them ourselves - check out our Worldpackers in-depth review here.
If you're ready to create a life-changing travel experience and give back to the community, join the Worldpacker community now. As a Broke Backpacker reader, you'll get a special discount of $20. Just use the discount code BROKEBACKPACKER and your membership is discounted from $49 a year to only $29.
I spent several months volunteering for the Planet Drum Foundation in Bahía de Caráquez, Ecuador—and it was an amazing experience. I met some fantastic locals as well as other travelers. Volunteering is a great way to build community and make an impact in a place where you have just arrived.
Perhaps one of the best options for backpackers wanting to explore South America long-term and experience living in this truly incredible country is to get an English teaching certificate by taking a course online. TEFL courses open up a huge range of opportunities and you can find teaching work all over the world. To find out more about TEFL courses and how you can teach English around the world, read this in-depth report on teaching English abroad.
Broke Backpacker readers get a 35% discount on TEFL courses with MyTEFL (simply enter the code BACKPKR), to find out more, please read my in-depth report on teaching English abroad.
The Best Travel Backpack?!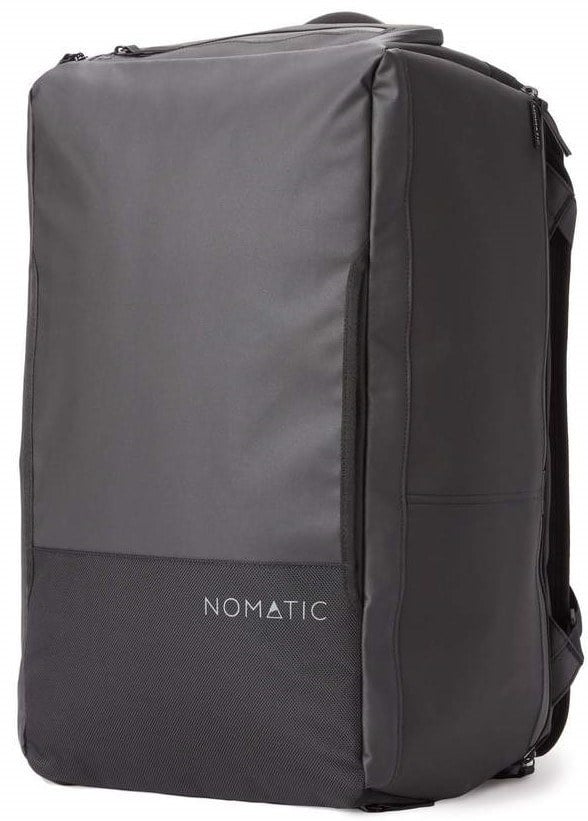 Pssssst! Not picked the perfect travel backpack yet? The Broke Backpacker team has tried out over thirty backpacks this year! Our favourite carry on backpack is the Nomatic Travel Bag.
Read our full review!
Make Money Online Whilst Backpacking South America
Traveling in South America long-term? Keen to make some cash when you are not exploring?
Teaching English online is a great way to earn a consistent income—from anywhere in the world with a good internet connection. Depending on your qualifications (or your motivation to obtain qualifications like a TEFL certificate) you can teach English remotely from your laptop, save some cash for your next adventure, and make a positive impact on the world by improving another person's language skills! It's a win-win! Check out this detailed article for everything you need to know to start teaching English online.
Being a responsible backpacker in South America
Reduce your plastic footprint: Perhaps the best thing you can do for our planet is to make sure you do NOT add to the plastic problem all over the world. Don't buy one-use water bottles, the plastic ends up in landfill or in the ocean. Instead, pack a tough travel water bottle.
Go and watch A Plastic Ocean on Netflix – it'll change how you view the plastic problem in the world; you need to understand what we are up against. If you think it doesn't matter, get off my fucking site.
Don't pick up single use plastic bags, you're a backpacker – take your daypack if you need to go to the shop or run errands.
Bear in mind, that many animal products in countries you travel through will not be ethically farmed and won't be of the highest quality. I'm a carnivore but when I'm on the road, I only eat chicken. Mass-farming of cows etc leads to the rainforest being cut down – which is obviously a huge problem.
Recently, my gear-venture, Active Roots has started to sell water bottles. For every Active Roots water bottle sold, we donate 10% to PlasticOceans.org – an awesome initiative aimed at educating people on the risk of single use plastic and helping to clean up our oceans. Help save the planet, whether you take an Active Roots bottle or not – TAKE RESPONSIBILITY for your plastic footprint, don't be a dick.
Need more guidance? – Check out our post on how to be a responsible backpacker.
Backpacking South America can be one hell of a party at times. Take it from me, it can be easy to get carried away. It is important to keep in mind that you are an ambassador for your country, which is awesome. We can make a positive impact on people when we travel and get rid of any ugly stereotypes that may be associated with your country.
If you visit indigenous villages or small communities in the highlands always ask before taking photos. The people who live in these villages are not exhibits in a museum. They are normal folks just living their lives. Always show them the complete respect that they deserve.
When buying a local craft, do not haggle so low that the price is unfair to the person who spent countless hours crafting it. Pay people what they are worth and contribute to the local economies as much as possible.
Avoid eating at fancy gringo-owned restaurants. I don't care how badly you want that lasagne and red wine. You make a choice with every dollar you spend. Try to spend your money in places where the experience is mutually rewarding.
I know it can be hard, but do your best to use the least amount of plastic water bottles that you can. Refill the ones that you do buy! Use a Grayl Geopress. Refill at your hostel! There are plenty of ways to reduce plastic!!!
Backpacking South America or any region for that matter often illuminates some of the great socio-economic inequalities of the world. Never take it for granted that you are healthy and financially able to go traveling. Show the world around you some gratitude and help to make a positive impact on it. Most of all have the time of your life and spread the love!
Final Thoughts on Backpacking South America
How was our backpackers guide to South America?! Well amigos the time has come for me to send you on your travelin' way. I hope this guide has given you some invaluable budget travel knowledge in addition to getting you pumped for your South America backpacking trip. I wish you the best possible journey. Have the time of your life and have a few cold ones on me eh?
Yay for transparency! Some of the links in this post are affiliate links. This means that if you book your accommodation through the site, The Broke Backpacker will earn a small commission at no extra cost to you. Your support helps me keep the site going.
---
Need More Inspiration?
Like this Post? PIN ME!!