Peru is a place most people keep high on their bucket lists. Not only is it home to one of the worlds wonders, (Machu Picchu) but it is also is home to an array of cultural and natural attractions. Backpacking Peru offers up the unique opportunity to explore all of the  richness this truly fascinating country in south America holds.
Traveling Peru means experiencing world-class surf beaches on the coast and witnessing the desolation and raw beauty of the Nazca desert. You can trek amongst towering snow-capped peaks in the Andes before descending down into the Amazon jungle.
For me, It was a truly life-changing experience. It was my first international backpacking trip and i left Peru feeling inspired to see the whole world. I've put together a Peru travel guide including my favorite spots,  what to do and where to stay.
Lets get into it!
Why Go on a Peru Backpacking Trip?
Before visiting Peru for the first time, I wasn't sure what to expect. Beyond Machu Picchu, I didn't know much about the country. After spending a few months backpacking Peru I fell in love with it. Backpacking in Peru remains one of the greatest highlights while traveling to South America.
This backpacker's guide to Peru will help unpack the mysteries of traveling in this truly spectacular country and will teach you everything you need to know to have the adventure of a lifetime.
Got your attention? Vamos!
If you know you are short on time, I recommend picking a region and focusing on exploring that particular place. Peru is a large country and the travel can be slow going at times. Deciding where to stay in Peru can be a struggle too. To travel to Peru cheaply, travel slowly and absorb the country. Attempting to dart around in a mad rush won't allow you to experience a place in any kind of rewarding way.
Best Travel Itineraries for Backpacking in Peru
Below I have listed several routes and backpacking itineraries for Peru! There are Peru backpacking trips for everybody here. If you have a month or more and the budget for Peru, it's easy to combine a couple of these itineraries.
2 Week Itinerary: South Peruvian Coast and Desert
For this itinerary, we will start in Peru's capital, Lima. I recommend 2-3 days here. Quickly head over to Arequipa, a cute little colonial town in Peru. Backpackers usually use it as a pitstop to get to one of the world's deepest canyons- the Colca Canyon, one of the deepest places on Earth!
Then head to Huacachina, a natural lake called the "Oasis of America". You can do some awesome dune bashing in the desert on these Mad Max-like beasts. Tour operators can also take you sandboarding down the dunes if you need an adrenaline boost.
The next stop is the Nazca Lines, a series of large ancient geoglyphs in the Nazca Desert, in southern Peru. A majority of the lines are simple geometrical shapes while some resemble plants and animals. The only way you can see the lines is by flying in a (rather expensive) helicopter over them as they are massive and only make sense when looked at from an aerial perspective.
3 Week Itinerary: The Peruvian Andes and the Sacred Valley
This 3 weeks itinerary for Peru brings you to the heart of the Peruvian Andes. The cool fresh air will be a welcomed change from the desert or the coast! Once you arrive in Cusco, the vibrant Quechua culture is immediately apparent.
Cusco is your gateway to the Andes and all of the treasures to be found there. The Peruvian Andes are home to many interesting preserved Incan ruins and of course, the famous Machu Picchu. This wonder of the world is a likely tourist spot in Peru for most backpackers. During high season, however, you may have to book far in advance, so do your research before you travel to Peru and scout out which treks you're interested in doing.
Be sure to spend some quality time in the Sacred Valley which is at the foothills of the magnificent Andes mountains. It is home to a handful of small towns and weaving villages that are still inhabited by traditional families. The best way to explore the Sacred Valley is by bike or motorbike. The towns of Pisac, Yucay, Urubamba, Ollantaytambo, and Chinchero are all worth a visit.
Next would be the time to make it to Vinicunca, also called Montaña de Siete Colores. Montaña de Colores or Rainbow Mountain is a mountain in Peru with an altitude of 5,200 meters above sea level.
Now would be a good time to head back to Lima, or onwards to Puno to get to Bolivia. If you have an extra week or two, first head for Iquitos and the Peruvian Amazon because they're spectacular! Keep in mind you must fly into Iquitos and it is connected by domestic flights to Cusco and Lima.
Peru Backpacking Trip 10-Day Itinerary #3: Surf and the Beaches
So far I have covered the best places to go in the Peruvian Andes and desert whilst on your budget backpacking Peru adventure. For you beach bums and surf fanatics out there, fear not! I haven't forgotten you!
For this itinerary, I dive into a few of my favorite places in Peru to soak up some sun and catch some world-class waves. Peru's beaches are some of the best places on earth to surf. Its 1,000km coastline receives consistent Pacific swell and is nicely situated away from the grey sea fog that shrouds the south coast for most of the year.
Peru's north coast bathes in near-endless desert sun, so pack your sunscreen!
First up, Trujillo, a small beach town near some notable ruins and on the edge of a vast desert. Then head up to Huanchaco a sleepy fishing village. Next, head to Playa Chicama, which is internationally recognized for the longest left-breaking wave with perfectly shaped waves and barrels. Chicama is a popular surf destination for professional and novice surfers alike.
Finally, head to Mancora for a few days. The beaches in Mancora are bloody fantastic. If you are going to pick one place to surf in all of Peru, this will probably be it.
Best Places to Visit in Peru
Now that I've covered the itineraries, let's talk about where to travel in Peru in greater detail. There are a lot of gorgeous places to visit in Peru and it'd be a shame to rush them.
Remember! Nice and slow.
Backpacking Lima
Lima is the super busy capital city of Peru. I wouldn't recommend more than 2-3 days in Lima while traveling around Peru as anything more may send you loopy. If you are wondering where to stay in Lima head over to Miraflores which is the most happening part of Lima.
I then recommend staying at the Ancestral Hostel Barranco in Miraflores if you decide to explore the city for a few days!
An interesting thing to do in Lima is visiting the Catacumbas which are the underground burial sites that were designed to avoid the spread of diseases from decomposing bodies back in the 16th century.
If you are interested in museums, you could visit the San Inquisición Museum which has old torture chambers. There is a pretty dark vibe and it has mannequins that have been placed in torture machines to show how painful it must've been for those who defied the church. History is so uplifting at times eh?
You can also do a bit of paragliding in Lima over Costa Verde, a road that follows the Pacific coast atop Lima's cliffs and gives you a great aerial view of the city. It also has some of the BEST ceviche shops where you can try some of the tastiest ceviche in the world.
Backpacking Arequipa
Arequipa is a cute little colonial town in Peru and a connection in the route to one of the world's deepest canyons – the Colca Canyon.
If you are interested in the colonial history of Peru and its museums, you will find Arequipa interesting. Try and visit the Arequipa Cathedral or the Santa Catalina Monastery. Make sure to check out the restaurants at the town square. It looks especially gorgeous at night!
As for accommodation, there are some amazing hostels in Arequipa.

If you are up for a big party night, stay at Hotel Casona Solar in Arequipa. The cool thing about Wild Rover's is that it is in every major city in Peru and you can get a free night's stay. They usually have great deals going on for anyone who stays in 3 or more of their properties while backpacking around Peru. This one is located in one of Arequipa's coolest neighborhoods.
Backpacking Colca Canyon
The Colca Canyon is located at the north of the city of Arequipa and is one of the deepest places on this planet. A hike to the canyon should not be missed!
Ideally, you should keep about 2-3 days to do the hike comfortably. There are many tour operators in the area offering trips at a steep price. If you have your camping gear, you can easily do this trek with no guide. Having some solid backpacking gear suitable for camping in Peru will open up many doors for you to explore on your own.
Killawasi Lodge makes for a good base to explore the area.
Backpacking the Huacachina Desert
Built around a small natural lake sometimes referred to as the "Oasis of America", Huacachina Desert is a playground for some excellent sand adventures! Sandboarding, rolling down dunes getting sand in your undies, probably building a sand castle: it's all good!
Camping in the Huacachina desert with your mates is also bound to be an amazing experience. The stars only get better out there.
If you're interested in photography, you'll love this place! The milky way is crystal clear and the dunes below make for some insane photo ops! Huacachina town is pretty small but there are a few Huacachina hostels offering accommodation – I especially love the eco-friendly Upcycled Hostel.
Backpacking Ballestas Island
Ballestas Islands are an island chain that shares some species of animals with the Galapagos Islands.
You can take a speed boat tour from the little town of Paracas around the islands and spot penguins, sea lions, pelicans, and dolphins. If you are not planning on doing the Nazca Lines coming to Ballestas is a good substitute.
Make sure you bring good quality sunglasses, a hat, and a jacket as the winds and the sun can get pretty harsh during the trip.
Backpacking the Nazca Lines
The mysterious Nazca Lines are a series of large ancient geoglyphs in the Nazca Desert, in southern Peru. A majority of the lines are simple geometrical shapes while some resemble plants and animals. The only way you can see the lines is by taking a rather expensive helicopter flight over them as they are massive and only make sense when looked at from an aerial perspective.
Spread out across several hundred kilometers of the Peruvian desert, these drawings have been remarkably preserved over hundreds of years. In any other climate, these drawings would have been obliterated in months. Since the Nazca Desert is one of the driest regions on earth, the environment has helped to preserve these ancient and mysterious treasures.
I recommend staying at the Nanasqa Hostel if you plan on coming to check out the Nazca Lines.
Backpacking Cusco
Cusco is, hands down, the most fascinating city in Peru. There are not many other places in the world where ancient Inca walls stand side by side with Spanish architecture.
The ruins at Sacsayhuaman are worth a look. More easily remembered by the English pronunciation 'sexy woman', the name Sacsayhuaman means 'satisfied falcon' in Quechua, the language of the Incas. Cusco hostels range from the sublime to the terrible so choose wisely.
I stayed at the Wild Rover Cusco which is great if you're up for a rowdy time, Cusco is an excellent place to meet up with fellow backpackers in Peru.
In Cusco, you can get yourself sorted with a trekking company if you want to hike the Inca Trail or the Salkantay Trek. It is possible to do the hike to Machu Picchu on your own if you have your gear.
Want to live like a local? Then find out where the best places to stay in Cusco are!
Backpacking Machu Picchu
Ready for the big mama? Machu Picchu is one of those amazing places in the collective backpacker imagination. This UNESCO world heritage site is famous the world over and for a damn good reason. No Peru backpacking itinerary is truly complete without a little bit of MP.
How you choose to arrive at Machu Picchu is up to you. Arguably the best experience I had during my trip to Peru was my 5-day hike to Machu Picchu via the Salkantay Trek. The trek itself was better than the few hours I spent exploring Machu Picchu. Backpacking in the Andes is a once-in-a-lifetime experience.
If you are going to spend money on any experiences in Peru, I believe you should put it towards a trek of your choosing. These days hiking to Machu Picchu is accessible to anybody with a strong set of calf muscles and some intrepid families even tackle the hike together. For that reason, it's worth considering skipping Machi Picchu, and the throngs of tourists, and instead checking out some of the other Inca sites around the Sacred Valley.
Apart from the Salkantay Trek, which I recommend, is the equally beautiful classic Inca Trail. Again, be warned, it gets busy at the wrong time of year.
Backpacking the Sacred Valley
The Sacred Valley is at the foothills of the magnificent Andes mountains and is home to a handful of small towns and weaving villages that are still inhabited by traditional families. The best way to explore the Sacred Valley is by bike or motorbike. The towns of Pisac, Yucay, Urubamba, Moray, Ollantaytambo, and Chinchero are all excellent adventures in their own right and awesome alternatives to Machu Picchu… or just see them all!
The Sacred Valley is brimming with pre-Hispanic archaeological ruins that were built by the Incas and used as citadels or resting places. The small villages of the Sacred Valley are ideal places to buy beautiful local handicrafts. There are also a ton of exciting trekking routes that are deservedly gaining popularity.
High-adrenaline activities in the Valley range from rafting to rock climbing. Most activities can be organized in Cusco or at some hotels in Urubamba if you are looking to go down that road. Booking a hotel in Urubamba is highly recommended if you are looking for a solid base in the area.
Backpacking Pisac
Apart from the much revered Machu Picchu and Sacsayhuaman, Peru is full of interesting ruins like the ones in Pisac, Moray, Ollantaytambo, and Vilcabamba. Each of the ruins offers something unique to enjoy.
I enjoyed visiting the village of Pisac. I camped out near one of the Shamanic retreat centers for a few bucks a night. After spending nearly two weeks in Pisac, I felt quite connected to the land and the local people.
The people and culture of the Highlands are something truly special. I highly recommend taking the time to get to know a village in the Sacred Valley and experiencing all it has to offer.
If you are keen just to visit Pisac for the day, however, you can always sleep at a hostel in Cusco for the night.
Backpacking the Rainbow Mountains
Vinicunca, also called Montaña de Siete Colores, Montaña de Colores, or Rainbow Mountain is a mountain in Peru with an altitude of 5,200 meters above sea level.
There is no doubt that the Rainbow Mountains are stunningly beautiful. However, as it turns out, hordes of tourists agree and the place has turned into a full-on gringo trap. In my humble opinion, the large percentage of the people coming here, only do so to take a fucking Instagram photo. That doesn't sit too well with me.
If you have expectations of the Rainbow Mountains being a place where you can find solitude and enjoy the high mountains, don't kid yourself.
Note that altitude sickness kicks in above 3500 feet. Allow yourself time to adjust and drink plenty of water.
If you do decide to make the journey to the Rainbow Mountains, do so as early as humanly possible to avoid witnessing this beautiful landscape turn into the dreaded sea of selfie sticks it becomes every afternoon. You can also stay in Cusco to make your visit a day trip.
Backpacking Puno
Puno is a small town in Peru that people use as a stopover point en route to Lake Titicaca or to La Paz in Bolivia. It has a regal plaza, concrete block buildings, and a range of great restaurants with local and international food that blend into the hills surrounding it. It's kind of an 'old charm meets new' vibe.
A highlight of my visit to Puno was my homestay experience at Amantani. Amantani is one of the islands in Lake Titicaca where families make money by hosting backpackers. They are actual homestays with families that cook for you and take you for a super fun traditional dance night later in the evening. So book your hostel in Puno and get your homestay sorted from there.
Backpacking Iquitos
If you plan to explore beyond the Andes and into the Amazon basin, then certainly make the journey to Iquitos.
Linked to the outside world by air and by river, Iquitos is the world's largest city that cannot be reached by road. If you want to get to Iquitos, you need to fly in either from Lima or one of the other cities in Peru. You could also get here by boat from Ecuador or Colombia.
This is becoming more and more of a backpacker destination every year, but it's more popular as a base for exploring the Amazon. It's a great adventure to stay in a lodge in or around the city.
This town overlooks the dense Amazon rainforest and has a crazy nightlife, interesting cuisines to try, and fascinating markets. Iquitos interestingly is also called the "Capital of Ayahuasca" with a fast-growing number of Ayahuasca and yoga retreats surrounding the city area. Be very careful of touts though. Make sure you do your research and go through a proper shaman if you wish to try it.
Backpacking Amazonia
If exploring deeper into the Amazon interests you, then Iquitos is the place to hunt for a guide to help you fulfill that dream.
Whilst exploring the Amazon of Peru, you will require a guide at times. The jungle is one fierce place to be lost or sick, so if you plan to come here be prepared to pay for the pleasure. Make sure you take a local guide, not some hack from Lima who is only interested in the jungle because you want to pay him.
All of life's worthy adventures require a fair bit of effort, and the Amazon is no different. Treat it with respect and you are sure to leave with the memories of a lifetime. This is what backpacking Peru is all about!
Backpacking Trujillo
The small beach town of Trujillo has grown up in recent years. Trujillo is located on the seaward edge of the vast desert plain at the mouth of the Moche Valley. Its attraction lies mainly in its nearby ruins – notably Chan Chan and the huge, sacred pyramids of the Huaca del Sol and Huaca de la Luna – but also partly in the city itself. The excellent laidback beach communities are a nice bonus too.
Trujillo makes for a good stopping point if you are headed up the north coast from Lima. I met a few travelers who had been living in Trujillo long term, which I thought was pretty cool, because, at the time, the place was not so well-tread on the backpacking circuit.
Yaqta Hostel is the place to stay if want a nice little laid-back hostel with a good location.
Backpacking Huanchaco
The next sexy little beach town on the list is Huanchaco, just north of Trujillo. The vibe in Huanchaco is that of the days of old. Fishing and surfing are the main activities here.
If you are keen to head out for some deep-sea fishing, I am sure some of the locals would be happy to take you out for a few bucks. Ask around and see what you can find. Certainly don't pay a fortune to go fishing, but expect the day to not be dirt cheap either.
Still, waiting to get your hands on a surfboard? Time to get in the water and give it a go if you haven't already! Huanchaco is a fabulous place for surfing in Peru!
ATMA Hostel & Yoga makes for a good place to get a well-earned sleep. If you catch a fish or two, you can cook them up here when the fishing day is complete! Fish tacos anyone?
Backpacking Playa Chicama
Playa Chicama is internationally recognized as the longest, left-breaking wave in the world, known for its perfectly-shaped waves and nice barrels. Chicama is a popular surf destination in Peru for professional and novice surfers alike. Located in the northern coastal desert of Peru, about 20 miles north of Trujillo, the weather is mostly sunny and dry all year with an average temperature of 75°F.
If you can believe it, a ride on a wave here can last for a mind-boggling 2:30 minutes! You almost have time to have a cup of coffee while you ride this wave! Surfing is the main draw here (clearly), but of course, the beaches are quite nice too if you just want to kick back with a book and read. Though, to be fair, you could probably read while riding that wave.
For a good place to lay your head, I recommend staying at Hospedaje Restaurante El Hombre. The hostel is located right on the beach and a dorm bed will run you back about $10.
Backpacking Mancora
Oh, Mancora… When you arrive in Mancora, your initial impression is of a beat-up town with the Pan-American highway running directly through the center of it. Over the last ten years, development here has risen and Mancora has subsequently become the defacto backpackers capital of Peru's north coast.
If a backpacking trip in Peru has brought you this far north, then you should check out Mancora for a few days at least. The beaches in Mancora are bloody fantastic. If you are going to pick one place to surf in all of Peru, this will probably be it.
From the center of Mancora town, you'll need to take a cheap tuk-tuk (5-minute ride) to one of the many backpacking hostels, which are located on the beach, away from the town center.
If you looking to party hard after working your ass off in the waves, look no further then The Point Hostel. Normally I would not directly recommend big party hostels, but The Point Hostel is something special for sure. I ended up getting stuck here way longer than I should of, but I made some great friends and memories along the way. It's all part of the Peru journey!
From Mancora, it is possible to catch a direct bus to Guayaquil in Ecuador if you are heading north. The middle of the night border crossing into Ecuador was a positive experience!
Getting Off the Beaten Path in Peru
Peru is lucky enough to have some of the wildest places on earth within its borders.
Certainly, adventure travel in Peru provides numerous opportunities to explore away from the tourist crowds. The Amazon basin is just about as wild as it is possible to go. Civilization is far and few between and you can go days, or even weeks, without seeing any other foreigners.
I recommend seeking out a good guide with at least one of your travel mates. That way you can split the cost and keep your Peru backpacking budget tight and seamless.
The mountainous terrain of the Andes is a whole other ball game. The highlands in the Andes are home to world-class trekking and mountaineering. The majority of people traveling in Peru will not leave the comfort of their shitty tour group bus or the relevant lookout points. All it takes is a little preparation and a little investment in good adventure gear, and you can be off exploring the wilds of Peru in a unique and personal way.
Top Things to Do in Peru
Many of the main tourist attractions in Peru get a lot of attention and many for good reason. That said, there is a seemingly unending variety of activities in Peru to keep you busy on your backpacking adventure. Let us take a look at some of the top things to do in Peru!
1. Hike to Colca Canyon
A backpacking trip to this fascinating landscape will be one of the most rewarding journeys in Peru. Camping out in the canyon, under the silent night and bright stars is truly a priceless experience. Bonus points for you if you book a guide to show you the best spots!
2. Surf in Peru
With over 1,000 km of coastline, you won't be able to say you never had the opportunity to surf in Peru Peru. From party central beach hostels to quiet fishing villages, Peru's surf culture is thriving in a variety of settings across the country. Renting a surfboard costs next to nothing and Peru's beaches offer waves for all skill levels.
Don't be disheartened when the 10-year-old Peruvian girl carves wave after wave right in front of you. She has been surfing longer than you have.
3. Couchsurf in Lima
There is nothing like getting to know a city with some quality locals. Couchsurfing is that beautiful bridge between backpackers and willing hosts. Experience what life is like for Peruvians in this massive sprawling city.
Shout out to Franco! Thanks for the hospitality, amigo!
4. Visit Machu Picchu
Machu Picchu is one of the most iconic and visited places in Peru (not to mention on the planet). A staggering one million people A YEAR visit these beautiful Incan ruins. Well, I can say I know why people visit: Machu Picchu is truly phenomenal.
As much as I want to tell you not to go there, go there with a local! MP truly is too stunning to miss. However, the sensitive archeological site that makes up the Machu Picchu complex is put under enormous pressure from visitors each year. Be extremely respectful to all the sensitive ruins, and for god's sweet sake, don't draw on anything!
There is talk that the Peruvian government will stop allowing people to access the site directly. Honestly, I don't see this happening; MP brings in too much money. Better go sooner than later though just in case I am wrong.
5. Hike the Salkantay Trek
The Inca Trail seems to get all the attention. My opinion: the footpath traffic jams combined with the overworked porters and animals, as well as the damage to the environment, sounds more frustrating and sad than pleasurable. If you are looking for a budget-friendly and ethical alternative hike to Machu Picchu, then the Salkantay Trail is for you.
My time hiking the Salkantay was probably my favorite part of my backpacking Peru experience. The track shows you what the Andes are made of. Properly adjust to the altitude before setting off on the Salkantay Trek – altitude sickness can be deadly up on the mountain peaks.
6. Learn Spanish in Peru
Want to jump-start your Spanish language skills? In Cusco, there are many affordable Spanish schools offering classes at a reasonable rate. Shop around and compare the prices before you settle on one. If you want to spend a few weeks studying Spanish, Cusco is a fantastic city to do it in.
If you are serious about learning Spanish, a language school is the way to go! Vamos pues!
7. Hike the Cordillera Huayhuash, Huaraz
A truly epic and stunningly beautiful trek in Peru can be found in the Cordillera Huayhuash. Hikers bound for the trekking mecca of Huaraz invariably dream of tackling this nine-day, 115 km., circular route, factoring in all the most beguiling aspects of these mountains.
The Cordillera Huayhuash is normally less traipsed than the Cordillera Blanca, due to its distance from Huaraz and its incredible difficulty (it ranks among the most demanding hikes in the Americas). This is the kind of no fucking around sort of hike. If you are properly prepared for a hike, get ready for the trek of a lifetime!
8. Mountain Bike From the Andes to the Jungle
It is entirely possible to rent a bike in Cusco for a few days. Head out of Cuzco to the lush, thick jungle of Manu National Park many thousands of feet below. And, unlike the tourist hordes, you'll get acquainted with a side of Peru very few people do – by visiting remote villages virtually unchanged since Inca times and staying in locally-owned lodges… or wild camping!
This takes a little logistical planning of course, but if you do this trip on your own or with a mate, you'll save lots of cash.
9. Motorcycle Through the Sacred Valley
If you prefer motorcycles to bicycles, fair enough. Motorbikes are funnnn. The Sacred Valley outside of Cusco is one of the cultural and natural gems of Peru. For someone who loves motorbikes, it will be a match made it heaven.
Exploring the valley by motorbike allows you total freedom. When backpacking in Peru – or anywhere else – having your wheels for a few days (or longer) makes you feel like a kid who has been cut loose in a candy shop. So friends, enjoy your candy shop: an epic motorcycle ride through the Sacred Valley.
Have a fucking blast and stay safe!
10. Explore the Amazon Rainforest by Boat
The primary means of transport within the Amazon River system is of course by boat. Hire a guide in Iquitos and set off to explore the jungles of your wildest imagination. Just don't fall in the river!
Treat your guide fairly and with respect; your life depends on it, mate.
Backpacker Accommodation in Peru
Luckily, there is a huge network of hostels in Peru, which range from chill and cozy to the insanely hedonistic party house variety. Booking in advance isn't always necessary, but sometimes if you want to score the best deal for yourself, booking ahead will save you a lot of money.
Otherwise, CouchSurfing is the cheapest way to go and a great way to meet other travelers. I recommend Couchsurfing as much as possible! Alternatively, camp and camp hard. Free is the best word in the budget backpackers' lexicon.
The Best Places To Stay in Peru
Peru Backpacking Costs
Is Peru cheap? It can be. My experience backpacking in Peru was spread out over 2 months on two different trips. During that time I spent, on average, about $700 a month. My biggest cost was joining a guided trek; the Salkantay Trek cost me about $200 (entry into Machu Picchu included) and was worth every goddamned penny. I did the Salkantay Trek back in 2012 during my second visit to Peru, so naturally, the costs may be a bit higher now.
For most treks and other activities in Peru, you do NOT need to book them in advance. You will get a much better price negotiating with local operators once you have boots on the ground.
I was doing a lot of camping in the Andes and used my tent often to avoid booking at Peru's hostels every night. A free night's sleep goes a long way.
Food in Peru can be wonderfully cheap and delicious. Avoid the touristy restaurants and you will save big time! Eat what locals eat, not just because it's cheap, but because it's fucking delicious! Public transport is also very conducive to backpacking Peru on a budget.
Peru will take on more travel costs if you are staying at fancier hostels/hotels, traveling by plane, eating out for every single meal, or purchasing a tour package, but I would say that it is entirely realistic to backpack Peru for as little as $20-45 a day…
A Daily Budget in
Peru
Money in Peru
Peru's currency is the sol. At the time of writing (September 2023) the conversion is $1 USD: $3.82 sol.
ATMs in Peru are widely available throughout the country but take out enough cash when you head into the mountains or jungle.
Travel Tips – Peru on a Budget
Backpacking Peru on a budget is not too difficult but there is always a nuance to these things, I recommend sticking to the basic rules of budget adventuring:
Camp – There are plenty of gorgeous natural places to camp in Peru and you can often camp out in the open when trekking. For this, you're going to want the right camping gear: a backpacking tent, a choice sleeping bag, and a backpacking sleeping pad too (the Andes are beautiful but neither warm nor soft).
Eat local food – You can get yummy street food for real cheap. If you're on a really tight budget; it's worth taking a portable stove too – check out this post for info on the best backpacking stoves.
Hitch hike – In Peru, it is relatively easy to thumb a ride. Hitchhiking is an ace way to keep your transport costs down. Some Peruvians might expect you to contribute to fuel costs, but if you make your intentions clear you should be okay.
Stay at Hostels– Staying at a hostel can lower your costs significantly! With average prices in Peru ranging from as low as $5 per night to a maximum of $20 per night.
Try using Public transportation– By using public transportation you can reduce your travel costs significantly. I took buses often and found them to be a reliable way to get around in Peru!
Try Volunteering– By using platforms like Worldpackers, you can enjoy cost savings on accommodation and meals by offering your help to your host. It's a fantastic way to make your travel budget stretch further!
Why You Should Travel to Peru with a Water Bottle?
Plastic washes up on even the most pristine beaches… so do your part and keep the Big Blue Beautiful
You aren't going to save the world overnight, but you might as well be part of the solution and not the problem. When you travel to some of the world's most remote places, you come to realize the full extent of the plastic problem. And I hope you become more inspired to continue being a responsible traveller.
Plus, now you won't be buying overpriced bottles of water from the supermarkets either! Travel with a filtered water bottle instead and never waste a cent or a turtle's life again.
Best Time to Travel to Peru
The Peruvian winter, which is from May to September is generally the driest season and therefore the best time of year to visit Peru, especially if you are planning to visit the Cusco area. This is the best time to visit Machu Picchu and to do some hiking in the Andes.
The summer which starts in December and ends in March is the wettest season, with frequent heavy showers, depending on where you go in Peru. The coastal region receives less rainfall than the mountains during these months and this time is considered the best time to visit Lima and Mancora.
What To Pack For Peru
Festivals in Peru
Peruvians like to party. There are plenty of awesome festivals happening throughout the year.
The Festival de Marinera (January)– A massive party in Trujillo that features dance competitions, parades, and even exhibitions of the Peruvian Paso, a breed of horse also recognized as part of the cultural patrimony of the Trujillo region.
Fiesta de la Candelaria (February) – The Fiesta de la Candelaria is not only the largest and most famous festival in Peru, but also one of the largest in South America as a whole. In fact, throughout the continent, it's only dwarfed by the world-famous Carnival in Rio de Janeiro and the Carnaval de Ouro in Bolivia.
Festival Internacional de la Vendimia (March) – Peru is famous for several things, the Nazca Lines and the desert oasis of La Huacachina among them, but those in the know also recognize it as the finest wine-producing region in the country. This role has been celebrated annually in March since the 1950s during the Festival Internacional de la Vendimia, or the International Harvest Festival, in which a queen is famously chosen to ceremoniously stomp the first grapes of the season.
Festividad del Señor del los Temblores del Cusco (April) – El Señor de los Temblores, or the Lord of the Earthquakes, is the patron saint of Cusco and the celebratory focus of this major Holy Week celebration.
Inti Raymi (June) – Inti Raymi, the ancient Inca Festival of the Sun, is one of the most traditional Peruvian festivals.
Día de Santa Rosa de Lima (August) – Santa Rosa de Lima was the first native-born American saint canonized by the Catholic Church, and her legacy is celebrated throughout the world.
Mistura Culinary Festival (September) – If you like Peruvian food, street meats, and food carts, this Lima festival is for you.
Puno Week (November) – Legend has it Manco Cápac was the first Inca. Puno Week is dedicated to celebrating his birth as much as it is just an excuse to party hard for a week!
Staying Safe in Peru
Whilst Peru can be dangerous, most visits end trouble-free. As always, practice common sense when traveling in Peru i.e. don't walk into dodgy neighborhoods or walk about alone at night.
Carry as little money as possible and do not flash jewelry or electronics. Be wary of petty crime and keep your valuables locked up and safe.
I strongly recommend traveling with a headlamp whilst in Peru… or anywhere really – every backpacker should have a good headlamp!
Sex, Drugs, and Rock 'n' Roll in Peru
Yep, of course! It's all there. You're going to South America: you're guaranteed to find sex drugs and rock 'n' roll.
Party hostels in Peru are bountiful and as debauched as you'd expect with the smoke and drink flowing in delicious quantities. As always, check the beaches. Backpackers love slowly killing themselves on beautiful beaches; it's part of our culture.
Looking for more parties in Peru with an alternative vibe? Head to Pisac. Pisac has long been something of a congregating point for hippies and psychonauts.
Ayahuasca in Peru
Peru is known for its shamanistic practices worldwide and regularly attracts hundreds of travelers wanting to try Ayahuasca or Wachuma to have life-changing experiences. Some important things to note:
Find yourself a trustworthy shaman – Go with someone who has been recommended to you by someone. A shaman can make or break your trip. Make sure you feel comfortable around him.
Follow the shaman's recommendations – Understand that Peruvians consider Ayahuasca and Wachuma as medicines and use them for healing purposes so please respect that and follow the dietary restrictions that they suggest.
Understand Ayhuasca's Uses – Shamans or 'medicine men' take Ayahuasca to communicate with nature or to see what is causing a patient's illness on a spiritual level. This isn't ecstasy in Europe; this isn't even in the same dimensional realm.
Find the right place to do Ayahuasca – If you want to do Ayahuasca, do it in the Amazon as the plant is endemic to that area, and do Wachuma in the Andes as that's where the San Pedro cactus grows.
Respect! – Respect the drug and your shaman. I can't stress this enough!
Be open to its effects – If you're doing it purely for recreational purposes fine, but if you are doing it to heal psychological problems like addiction, spend some time with your shaman discussing the effects and do it only if you are completely open to the experience.
Find an actual shaman – There are tons of shamans all over Peru so make sure you are not conned by the fake ones.
Tree Frog Medicine
Another medicine that is fast becoming popular in Peru is the poison from a tree frog. Deep in the Peruvian Amazon lives a giant tree frog that is in high demand for its natural toxins which people are using to poison themselves in a ceremony that has become the latest super-cleanse trend.
The person first burns a small area of skin and then applies the frog toxins, called kambo or sapo, to the burned spot so they're quickly absorbed into the bloodstream. Much like Ayahuasca, at first, the person feels a few moments of serenity, but within seconds, that feeling turns to suffering and can force the person to vomit. The effect shortly fades away, and practitioners say it's worth it, claiming the process can cure depression, drug dependency, heart problems, high blood pressure, and gastrointestinal issues.
I have a lot of friends who have done it and swear to its benefits but, as with anything, there is no one-size-fits-all. The secret of any healing service is responsible, safe, and authentic care. Do your research, be safe, and open yourself to the experience.
Dating in Peru
On the coast and in major cities, it seems the rules of the dating game are not so different from what you would expect in a Western country. Though conservative catholic culture still hovers over relationships at times, for the most part, I think that will be gone within a generation.
Indigenous cultures in the Andes tend to be far more conservative in both dress as well as behavior. You might get some big smiles from some of the young ladies in the hills but don't take it as a come on, mostly they are just curious about you.
Peru, like most of Latin America, is dominated by machismo culture. At many levels of the society, women occupy a more traditional role as stay-at-home moms. Sadly, sometimes Peruvian dudes just straight up act like women are inferior and they are God's gift to them.
In the big cities, however, this generally is not the case. The balance seems to be going the way of equality regarding the status of men and women. This is a positive step for Peru and for all of Latin America in general found that Peruvian people like to have a good time. If you are interested in meeting someone from the opposite (or same) sex, it shouldn't be too difficult if you just put yourself out there. I have heard positive reports for the use of social apps like Tinder, especially in places like Lima and Cusco.
Travel Insurance for Peru
ALWAYS sort out your backpacker insurance before your trip. There's plenty to choose from in that department, but a good place to start is Safety Wing.
They offer month-to-month payments, no lock-in contracts, and require absolutely no itineraries: that's the exact kind of insurance long-term travellers and digital nomads need.
SafetyWing is cheap, easy, and admin-free: just sign up lickety-split so you can get back to it!
Click the button below to learn more about SafetyWing's setup or read our insider review for the full tasty scoop.
How To Get Into Peru
First up, arriving in Peru! Let's assume, for the sake of simplicity, you land at the international airport in Lima. We'll get to Peru's borders in a minute.
Entry Requirements for Peru
Tourists from most countries around the world can enter Peru without a visa for visits of up to 183 days. Tourists from some countries like Russia get up to 90 days. If you belong to a country that needs a Peruvian Visa but have a 10-year US visa, you can enter Peru for free up to a maximum of 183 days. You can check for more info on Peru visas here.
Rumor has it that the overstay fine is only $1 US per day, so if you stay an extra 30 days beyond your visa limit it will cost you $30. Many broke backpackers concerned with the trip cost in Peru prefer to do this since it's much cheaper than leaving the country and returning.
How To Get Around Peru
Buses in Peru are frequent and they are cheap. You can typically get to where you need to go by bus.
Avoid flying unless necessary. Slow travel is cheap travel. Whilst backpacking Peru, embrace this philosophy and you will save a lot of cash.
Traveling in Peru by Motorbike
Motorcycles and scooters are a big part of the culture for young males in Peru. They are abundant in just about every place you go and you can find some pretty good deals if you are looking to score a bike. Always use your best judgment when going through the process of buying a motorcycle. Don't buy a piece of shit that will leave you stranded in the middle of the Andes.
It is possible to rent motorbikes in Peru in some places where tourism is a bit more developed, for example in Cusco. The prices vary but, typically, aren't crazy expensive.
Having your wheels is a fantastic way to explore places that buses in Peru can't take you. It is generally a good idea to have some degree of familiarity with motorcycles before you set off down some mountain road in the Andes. As always be safe and always wear a helmet!
Onwards Travel From Peru
When you're backpacking in South America, you have a lot of beautiful countries bordering each other and a lot of options for onward travel between. Lima is home to a major international airport if you are looking to fly to another destination in South America or beyond. Or, you can cross a border because you're a badass adventurer and that's what badass adventurers do!
If you're planning on traveling to Peru, you can either fly into the airport in Lima or take a bus from one of these countries. Airlines like Latam offer cheap flights into Peru but buses, though taking longer, are the much cheaper option.
There are three important border posts connecting Peru and Ecuador.
Huaquillas – This crossing, south of Machala, gets most of the international traffic between the two countries. Buses to Huaquillas don't stop at this border post, though international buses (Ecuador–Peru) do stop there and wait for everyone to complete the formalities.
Macará – is increasingly popular because it's more relaxed than the Huaquillas crossing, and the journey from Loja to the southern highlands is beautiful. Direct buses run between Loja and Piura, Peru (eight hours) via Macará, and wait for you at the border while you take care of formalities; it's easy.
La Balsa at Zumba – South of Vilcabamba, this little-used crossing is remote and interesting and gets little traffic. People often hang out in Vilcabamba for a few days before heading to Zumba and Peru.
Bus From Bolivia to Peru
Copacabana- There are two main points for crossing the Peru-Bolivian border by land. Most travelers opt to take a bus to Puno, on the Peruvian side of Lake Titicaca, from Copacabana, on the Bolivian side of Lake Titicaca.
It's also quite easy to find long-distance international buses departing La Paz for Lima. These buses are very long, but this is the cheapest and easiest option if you are keen to get from city to city.
By River from Colombia to Peru
This option is by far the most time-consuming but arguably the most rewarding.
From Leticia, Colombia you will take a boat to Iquitos. I have heard this journey can take 3 days.
| Country | Crossings | Most Popular Crossings |
| --- | --- | --- |
| Brasil | 2 | Assis Brasil/Inapari and Tabatinga/Iquitos. First is a land crossing. Second is a river crossing. Both take forever. |
| Bolivia | 2 | Puno- Copacabana. Most travelers opt to take a bus from Puno, on the Peruvian side of Lake Titicaca, to Copacabana, on the Bolivian side. |
| Chile | 1 | Tacna-Arica. The distance between the two frontiers is large, but you can manage the trip without changing buses. |
| Colombia | 1 | Leticia/Iquitos. This is the same border crossing area as the Brasil border, hence the name Tres Fronteras. I have heard the journey after crossing into Colombia is beautiful, but can be very time consuming. |
| Ecuador | 3 | Huaquillas-Machala. This is the busiest border crossing between the two countries. International buses stop and wait for the passengers to get their passports stamped. |
Working in Peru
There are opportunities for work in Peru particularly in and around Lima working in mining, export, or as an English teacher. You will need to speak Spanish pretty well. Note that the standard work week is 48 hours (if you work 40 you are lucky) and the average salary is $300 per month.
Work Visas in Peru
The work visa situation does seem to fluctuate quite a bit. If you wish to work and live in Peru you should enter on a 90-day business visa and then apply to extend it.
If you plan to work online in Peru then the easiest way is to enter on a tourist visa.
Teaching English in Peru
Are you a native English speaker looking to earn cash whilst traveling the world? Well, have you tried teaching English!? We've taught English in Peru before (Cusco actually) and have given you everything you need to know in this handy guide to basically everything about ESL in Peru.
Teaching English online is another great way to earn a consistent income—from anywhere in the world with a good internet connection. Depending on your qualifications (or your motivation to obtain qualifications like a TEFL certificate) you can teach English remotely from your laptop, save some cash for your next adventure, and make a positive impact on the world by improving another person's language skills!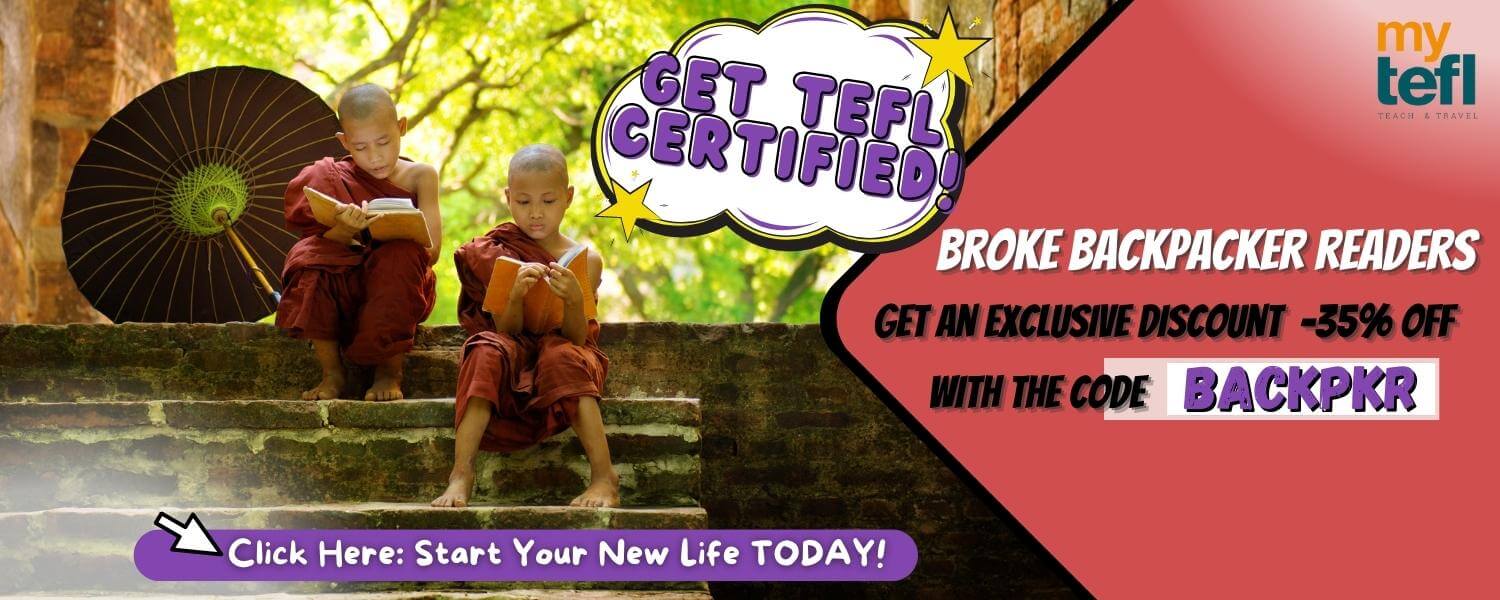 Volunteering in Peru
Volunteering abroad is an amazing way to experience a culture whilst giving something back. There are loads of different volunteer projects in Peru ranging from teaching to animal care to agriculture to pretty much everything!
Peru is full of volunteer opportunities for travelers, whether you're staying near bigger cities or in remote villages. Skills in farming, English teaching, and social work are often in high demand. Other opportunities include decorating, administration, and web development/marketing. Peru doesn't offer a volunteer visa, but your tourist visa should suffice as long as you're not getting paid. Regulations tend to change frequently though, so it's always best to double-check!
Worldpackers
If you want to find volunteering opportunities in Peru, then we recommend that you Sign up for Worldpackers – a volunteer platform that connects local hosts directly with traveling volunteers. As a Broke Backpacker reader, you'll also get a special discount of $10 when you sign up. Just use the discount code BROKEBACKPACKER and your membership is discounted from $49 a year to only $39.
Volunteer programs run through reputable work exchange programs like Worldpackers are usually very well-managed and reputable. However, whenever you are volunteering, do stay vigilant especially when working with animals or children.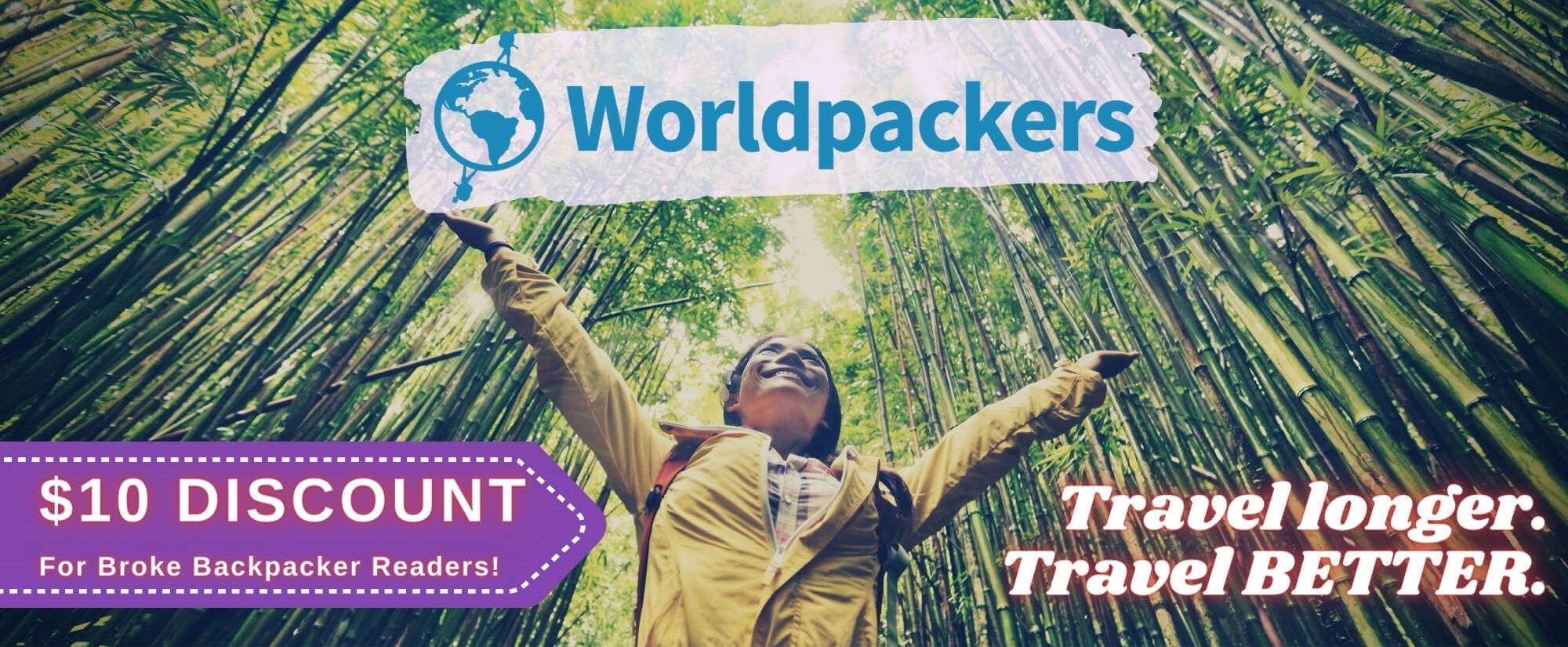 Worldpackers: connecting travellers with meaningful travel experiences.
Global Work and Travel
Last, but certainly not least, Global Work and Travel is another viable option for finding volunteer opportunities in Peru. What sets Global Work and Travel apart from other volunteering platforms is the amount of assistance they give, from a 24/7 global helpline, help with VISA processing to airport transfers, and continued support once you are in Peru. It may be a smaller platform, but the projects you'll find are high quality and immaculately organized. There are new programs and opportunities listed constantly as Global Work and Travel continues to grow its reach.
For those interested in volunteer work in Peru, Global Work and Travel offers a fantastic Amazon shelter project for those wishing to place themselves in the heart of the rainforest. You'll be helping conserve and improve the existing biodiversity present in the Amazon and eating tasty Peruvian cuisine while you do it! There are options to stay anywhere from 2 to 12 weeks with weekends off. As with all volunteer abroad programs, there's a cost, but you'll be able to pay it off in interest-free installments. Don't forget to bring your camera and make sure you are between the ages of 18-85 to qualify!
Peruvian Culture
I feel Peruvians are some of the best people I have ever met on my travels. They are honest, kind, and so easy to get along with. While most Peruvians speak Spanish, highlanders and indigenous communities speak Quechua, the language of the Incas.
You'll find a lot of indigenous people dressed in traditional clothes and still living simple lives as farmers and weavers. If you want to experience the true Peru, go off the beaten track a bit and into the Andes, live with a family in a homestay, and see the Peruvian way of life for yourself.
The things you'll learn about the beautiful Incan tradition will blow your mind. Don't be afraid to ask questions. They are super proud of their history and love talking about it. The people are what make Peru so goddamn special!
Useful Travel Phrases For Peru
I cannot stress how important a basic knowledge of Spanish is while backpacking in Peru. It saves you time, energy, and money. If you know basic Spanish, you get much more out of your experience backpacking in Peru.
Here are a few useful phrases in Spanish for your backpacking Peru adventure:
A Brief History of Peru
In the South Americas, the area now known as Peru was deeply affected by the imperial nature of colonialism because the targeted people and resources became the pawns of the Spanish monarch during the early 15th century.
The Spanish first arrived on Peruvian soil in 1531, led by Francisco Pizarro, a Spanish conquistador who also led the invasion against the Inca Empire. Tupac Amaru was the last official emperor of the Inca. The Spanish invasion was a genocidal bloodbath and initiated the total collapse of the mighty Inca empire.
The Spanish colonization and persecution of Peru's indigenous communities lasted around 300 years before Peru gained its independence from Spain on July 28, 1821.
Post-Colonial Peru
At the beginning of the 20th century, Lima the capital city of Peru enjoyed an era of affluence and riches. The most iconic buildings in Lima were built during this era, mostly in a grandiose neoclassical design that copied the early colonial era. Big boulevards were also built to link the coastal dwellings such as Barranco and Miraflores.
By the middle of the 20th century, Peru was entangled in economic and political turmoil with interchanging episodes of democratic administrations and military tyrannies. The military regime was led by General Juan Velasco who nationalized the media and oil and made reforms in agriculture.
The country, however, sank into a serious economic catastrophe with very high levels of inflation. At the same time, two terrorist groups surfaced and brought a lot of violence to Peru.
Modern Day Peru
By the year 2000, Peru had successive democratic regimes having been led by Alejandro Toledo, Alan García, and presently Ollanta Humala Tasso. By 2015, the country's population was estimated at 31.2 million. About 30% of this population lives in Lima, the capital city.
Peru also presently enjoys high growth in its economy and has reached growth levels that the country has never experienced before, and has risen above the catastrophe of the past years.
Indigenous Peoples Rights In Peru
In recent years, large advances have been attained regarding the rights and protections of Peru's indigenous peoples. This is an extremely positive victory for indigenous people in Peru and throughout the world for that matter.
The Constitution recognizes Peru as a multi-ethnic and multi-cultural country (Art. 2.19) in which 47 different languages are spoken and about 55 indigenous peoples (approximately 4 million people or 14% of the population) live.
In Peru, ILO Convention 169 entered into force in 1995, and the United Nations Declaration on the Rights of Indigenous Peoples (DNUPI) in 2007. Both constitute the most important international framework in the guarantee of Indigenous Peoples' collective rights.
22 years after the ratification of Convention 169 and 10 years after the signing of the DNUPI, Peru shows various advances and challenges in its policy of promoting and protecting the rights of Indigenous Peoples.
Some Unique Experiences in Peru
It can't all be selfies on majestic mountaintops! The people are gorgeous, the food is delicious, and the hardcore shamanic brews are excellent – soak it up!
Trekking in Peru
Peru is one of the top destinations in the world for trekking owing to its incredibly diverse landscapes. It is adorned by the incredible Andes and has one of the world's deepest canyons, as well as the dense Amazon rainforest, all of which offer a variety of trekking experiences and varied degrees of difficulty.
The most popular treks are the ones leading to Machu Picchu which are the Inca Trail, the Salkantay Trek, the Jungle Trek, and the Lares Trek. Depending on your trekking tastes you can choose the kind of trail you want to attempt.
The Inca trail is very rewarding but is also the most popular.
The Salkantay trek is very beautiful as it takes you through some incredible Andean landscapes.
The Jungle Trek is a hair-raising, adrenaline-pumping adventure that includes mountain biking and zip lining before taking you to Machu Picchu.
The Lares trek starts at the tiny town of Lares, home to a famous hot spring, and passes through several villages and gives you a glimpse into the lives of traditional Peruvian families.
Laguna 69 is often referred to as the bluest lake in all of the Andes, check out this post to find out more about hiking to Laguna 69.
Apart from the treks to Machu Picchu, the other exciting treks include the Ausangate trek that takes you through the multiple lagunas (lagoons) in the Andes, the Colca Canyon trek that takes you down one of the world's deepest canyons, and the Huaraz trek, a difficult but rewarding hike.
Trekking in the Andes is just too much-goddamned fun.
Joining an Organised Tour in Peru
For most countries, Peru included, solo travel is the name of the game. That said, if you are short on time, and energy, or just want to be part of an awesome group of travelers you can opt to join an organized tour. Joining a tour is a great way to see a majority of the country quickly and without the effort that goes into planning a backpacking trip. However—not all tour operators are created equal—that is for sure.
If you're interested in Peru backpacking tours then G Adventures is a solid down-to-earth tour company catering to backpackers just like you, and their prices and itineraries reflect the interests of the backpacker crowd. You can score some pretty sweet deals on epic trips in Peru for a fraction of the price of what other tour operators charge.
FAQ's About Backpacking Peru
A few of the most commonly asked questions about backpacking in Peru…
Final Advice Before Visiting Peru
So there it is friends! The ultimate travel guide to backpacking Peru on a budget! What can I say? Well… that Peru is mega spectacularly gorgeous!
From the peaks of the Andes to its deepest canyons, Peru is a true wonder to explore. From its yummy ceviche to its most mind-bending shamanic brews, something will touch your heart.
I can't tell you what to do; I can only tell you of my experience. I can only tell you what Peru is like. I can only tell you of the joy and majesty scouring through its rises and falls learning from its people.
So, no, I can't tell you what to do. But, let's say, hypothetically, you asked me if I thought you should go to Peru, then, yes, the answer would be simple.
Fuck. Yes.
Updated November 2023
---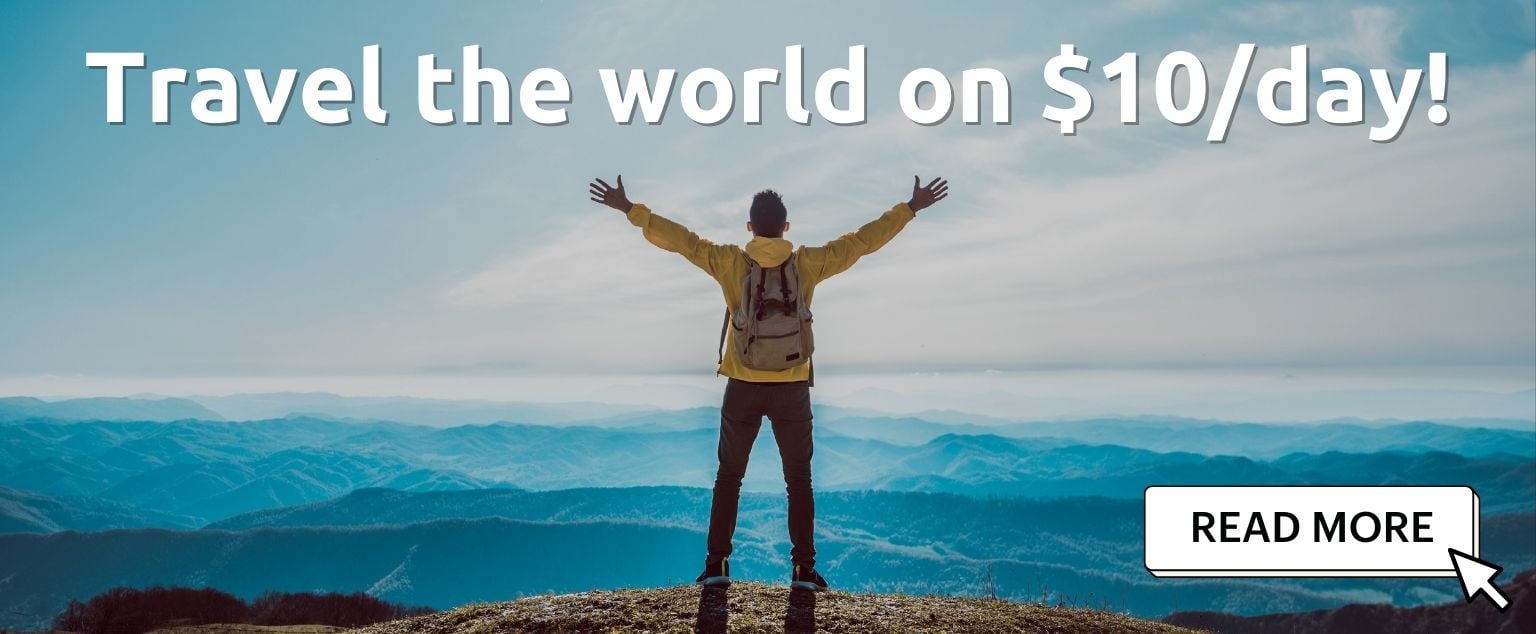 And for transparency's sake, please know that some of the links in our content are affiliate links. That means that if you book your accommodation, buy your gear, or sort your insurance through our link, we earn a small commission (at no extra cost to you). That said, we only link to the gear we trust and never recommend services we don't believe are up to scratch. Again, thank you!