If you've been backpacking for a while now, the idea of scoring free accommodation in exchange for work has surely crossed your mind at one point or another.
Sure, bumming your way through South America for 6 months does sound great, but you know that eventually it'll burn you out — either physically, financially, or in some other kind of more esoteric realm.
Work exchange is a great way to save cash, but also to embrace slow travel a little more, fostering deeper and more meaningful connections with the people and the places you cross paths with.
And that's where volunteering at a hostel comes in.
If you're new to volunteering, making the move can seem rather daunting. But I can assure you it's a beautiful thing — and hey, I'm here to walk you through it, holding your hand (in a very consensual way, of course).
Today, I'll give you the tools so you can make the most of it, sharing my personal experience, what I've learned from it, and key tips on how you can land your first volunteering gig.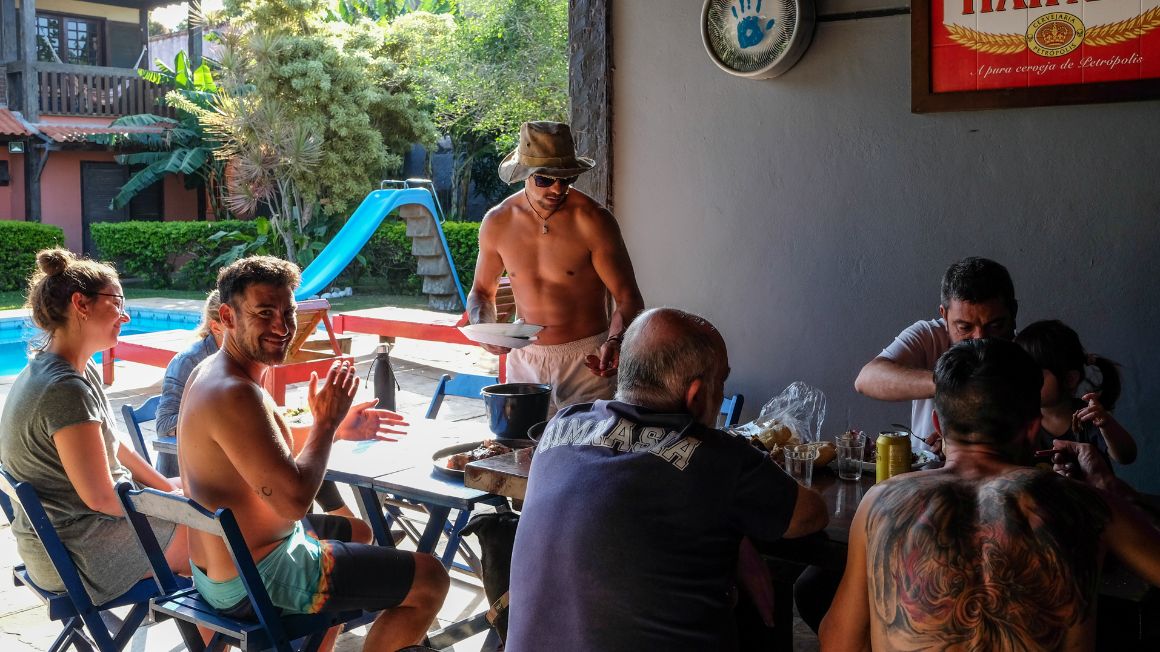 Volunteering at a Hostel:
The Good, The Bad and The Ugly
For many of us, hostel life is the best life — saving money while meeting other awesome, like-minded travellers is really a no-brainer when you're trying to experience the world on the cheap.
But the level-up from experiencing life in a hostel is actually living IN it. And the easiest way to achieve that is by exchanging a few hours of your time for a free stay.
Some will call it a work exchange, others a volunteering experience. Fancy names aside, one thing is for sure: it is one of the greatest tools you can have in your broke backpacker belt.

Unlock Our GREATEST Travel Secrets!
Sign up for our newsletter and get the best travel tips delivered right to your inbox.
Understanding the Process: Tasks, Expectations, and Responsibilities
Many hostels are small businesses that rely on the help of volunteers to keep their doors open, and there are a couple of different ways you can become one of them.
You can keep it organic, asking the people you meet for recommendations or reaching out directly to hostels (either online or in-person when you're there), but the easiest and safest though is still through vetted platforms such as Worldpackers and the like.
We'll go over that in a bit, but first a quick overview.
What type of work will I do?
Mostly shift work, checking guests in at the reception, general cleaning and/or making beds, bartending, preparing breakfast…
Some hostels are also open to different kinds of exchanges. If you know your way around social media, photography or videography, there might be opportunities for you. I've met people that scored free stays in exchange for painting a mural or hosting music gigs as well — be creative!
How many hours do I have to work?
4-5 hours a day with 2 days off is usually the standard while volunteering at a hostel. Some might manage it differently and do longer shifts with more days off.
How long do I have to volunteer for?
Be prepared to commit to at least a couple of weeks. You might be lucky and find something for a week, but most hostels prefer volunteers who stick around a tad bit longer.
And let's be real, the longer you stay, the more you'll get to know the place and the people. You'll gain more knowledge on the local scene, and you'll be able to help lost travellers with some proper insider tips and tricks. Everybody wins!
What do I get in exchange?
The basic standard is a bed in a dorm, but some hostels might offer a private or a twin room.
Breakfast is usually included, and some hostels go above and beyond by providing other meals, free tours, or language classes. Never assume, though, double-check each listing carefully to see what kind of perks you'll be getting.
Do I need a visa?
More often than not, you won't need a visa to get started, but please keep in mind that in some countries, it is illegal to work without the proper papers.
Always get informed before you make a move, and know that hostels might not be dicks if they don't take you in — they just don't wanna get in trouble.
How to find Hostel Work
Working at a hostel might be one of the easiest travel jobs you can get, and there are a couple of different ways you can go about landing your next gig.
Sure, googling "hostel jobs near me" could help, but it might not lead you exactly where you wanna go. Finding hostel work can go one of two ways.
1. The Easy Way: Applying through dedicated sites.
Using work exchange platforms is perhaps the easiest way to land a volunteering position at a hostel.
If you do a bit of research, you'll quickly understand there are quite a few alternatives available. If you're just getting started, my #1 piece of advice is to find one you like and stick with it.
The Broke Backpacker stands strong by Worldpackers because not only are they easy and intuitive to use, but they also take safety pretty seriously. Hosts go through a thorough approval process and everything is covered with insurance.
Plus, dear readers like you get a cheeky $10 off their subscription with code BROKEBACKPACKER.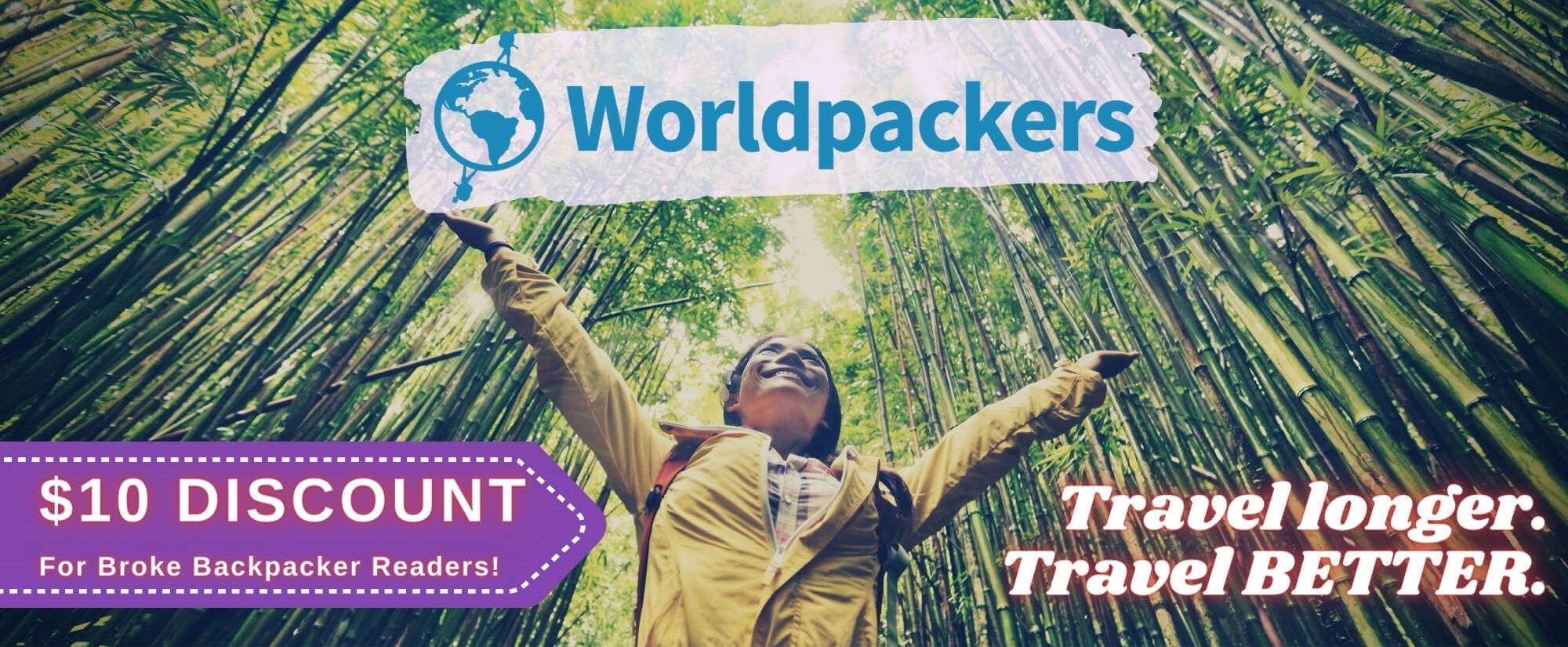 Worldpackers: connecting travellers with meaningful travel experiences.
2. The Fun Way: Finding them yourself.
The first time I volunteered in a hostel, I barely had to try. It was naturally offered to me during a stay at Laughing Leopard, in Sri Lanka.
Tired from running around the country with a friend visiting on limited time (and a lot of expectations), I found myself drained, barely leaving the place.
Important takeaway: before you find a travel buddy, you need to make sure you'll manage to sync your different rhythms and needs.
Anywhoosies, there I was! Chilling harder than ever before. The hostel was great, and so were the staff & guests. I took my time.
After some days, the staff approached me: don't you wanna help with check-ins for a few days in exchange for a bed? Since you're always here.
I laugh, I accept. Boom, successful first experience.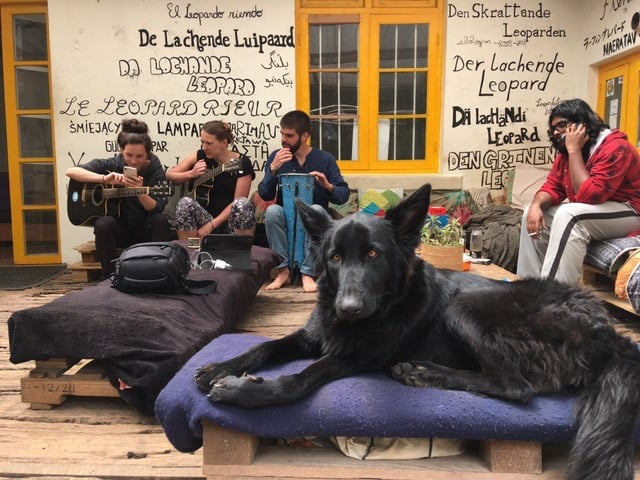 The second time happened while backpacking Brazil. I found a great hostel down south near Rio, and from the first day, I got along really well with the volunteering team.
I spent most of my time with them so, at some point, I thought to myself: why not become one?
I noticed their Instagram page did a terrible job of displaying what the place really felt like, so doing a bit of photography myself, I decided to approach the owner with an exchange proposal.
"I'll take some nice photos of the place, and in the end, you decide how much they're worth to you and subtract it from my bill."
I kept it light, as I love taking photos anyways. And still, I managed to get 5 free nights for what was essentially 2 days' work.
Pros and Cons of Volunteering at a Hostel
As one would imagine, working in a hostel is not all sunshine and rainbows. It does come with its own set of pros and cons… Let's go over them quickly:
The Advantages
A one-of-a-kind adventure: Globetrotting on a dime, meeting fellow wanderers from around the globe, and experiencing all kinds of unique work environments? Yeah, it's as epic as it sounds.
Cultural exchange: Get a taste of the local scene – the customs, lingo, and community vibes – while spreading the love for your own roots. It's a full-on cultural mash-up.
Levelling up: Up your skill set, forge unbreakable bonds with your fellow hostel heroes and locals, and see the world through fresh eyes – all while lending a helping hand.
The Disadvantages
Long hours and little sleep: Brace yourself for the occasional long haul, a pinch of sleep deprivation, and non-stop chit-chat. It's a wild ride, but hey, that's the backpacker life!
Loss of personal time: Even off the clock, you might find yourself giving out tips or lending a hand to hostel guests. Remember to set some downtime to explore your surroundings and recharge your batteries.
Money talks: Hostel work is not a goldmine, so set realistic expectations about what you'll get out of the deal. As with other volunteering programs, you gotta make sure it's worth your while.
Hostels are the beating heart of the backpacker community, and signing up as a long-term volunteer is your ticket to living and breathing that atmosphere. Remember, you're not just trading work for a free stay – you're pouring your heart and soul into something truly special.
Before You Get Started With Hostel Volunteering
Alrighty, you're almost there! All you need now are some final tips to prepare you for a successful volunteer experience.
Creating a Winning Profile
Share what makes you happy, why travelling is your thing, and any life lessons you've picked up along the way. Keep it interesting, but brief, as the hosts will probably have a lot of profiles to go through.
Ensure that your profile stands out in your own special way. Make it engaging, make it fun. Worldpackers has some pretty good tips on how to create a winning profile.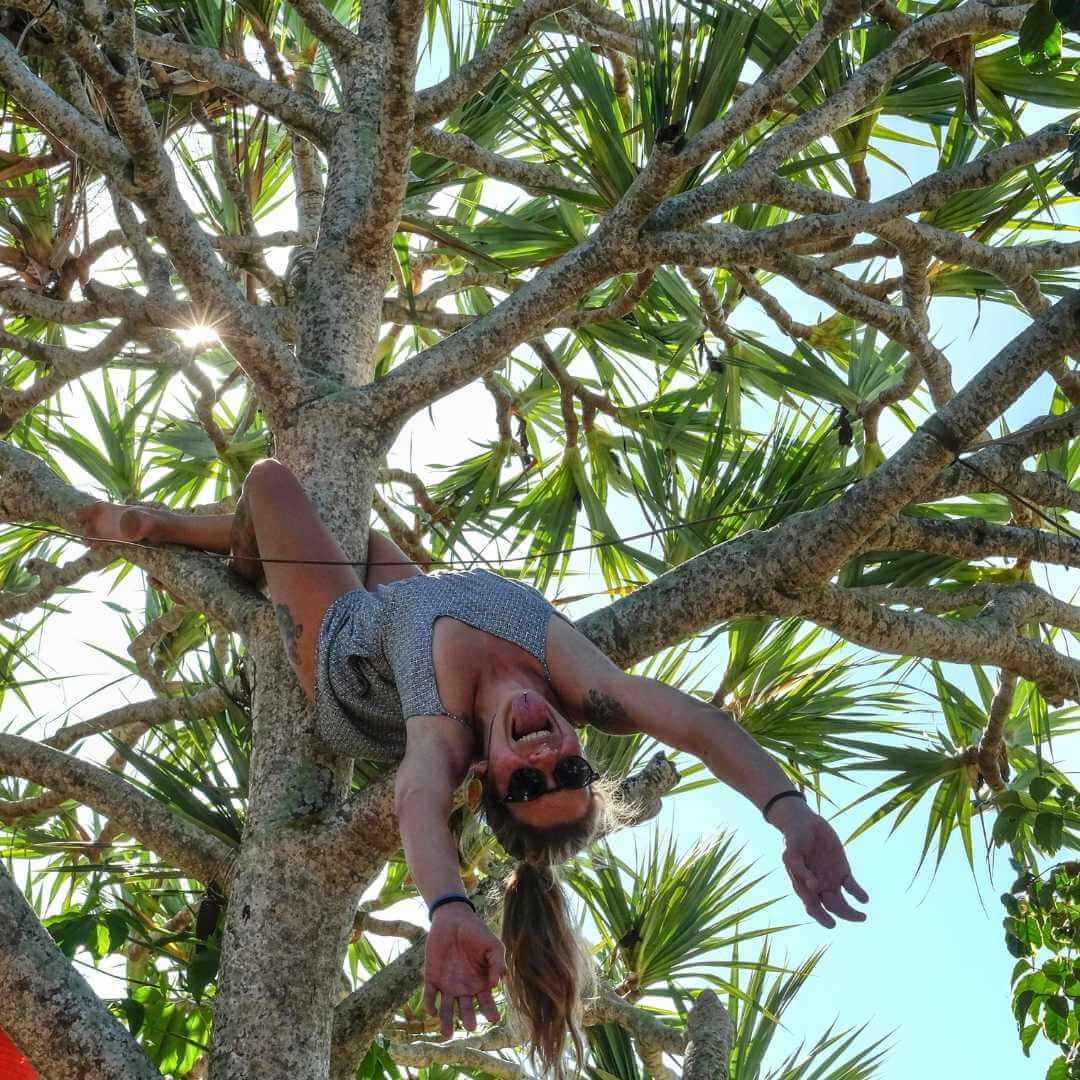 Writing a Compelling Message
The key thing to remember here is: make it personal, no copy-pasting!
Take your time to go through the host's description and photos, review any requirements, and double-check if their availability lines up with yours.
Give some thought to how you fit their needs and, when you reach out, emphasize what you bring to the table.
And, of course, stay true to yourself and be upfront about your skills – authenticity goes a long way. In most cases, you don't need to be an expert. That's the whole point.
Preparing for Departure
Once your eyes light up with a confirmation message from your next host, the last thing you need to do is to book your transportation & travel insurance.
Confirm how long you're staying, how exactly are you reaching the hostel (some of them could be a little remote), and make sure you insure your ass! Here's a helpful headstart:
Save $$$ • Save the Planet • Save Your Stomach!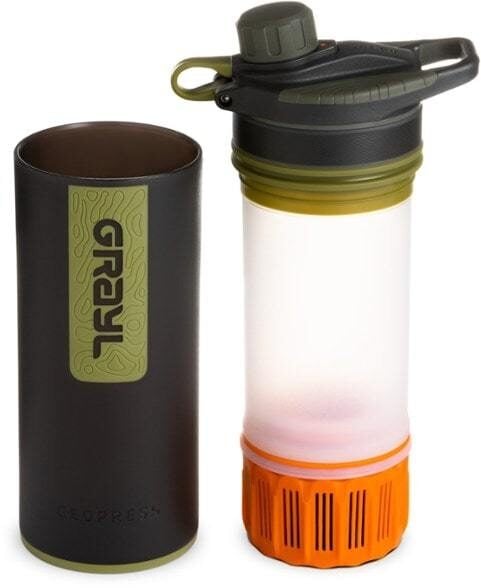 Drink water from ANYWHERE. The Grayl Geopress is the market's leading filtered water bottle protecting your tum from all the waterborne nasties. PLUS, you save money and the environment!
Single-use plastic bottles are a MASSIVE threat to marine life. Be a part of the solution and travel with a filter water bottle.
We've tested the Geopress rigorously from the icy heights of Pakistan to the tropical jungles of Cuba, and the results are in: it WORKS. Buy a Geopress: it's the last water bottle you'll ever buy.
Buy a Geopress!
Read the Review
FAQs on Volunteering at a Hostel
Final Words of Wisdom
Be reliable, be helpful, and be open to new experiences.
Give in to the benefits of opening yourself up to the New, of accepting everything, provided it lies within reasonable boundaries.
We may not realize it at first, but simply allowing oneself to take on different tasks that deviate from our own universe can do wonders for our soul.
I truly believe there is great power in letting yourself go, and travelling is one of the best opportunities we have to do so. To grow.
Because whether we like it or not, we will always be more constrained in the places we come from, with all our greatest comforts and all our ties & knots.
Go and get it, the world is yours to grab.
---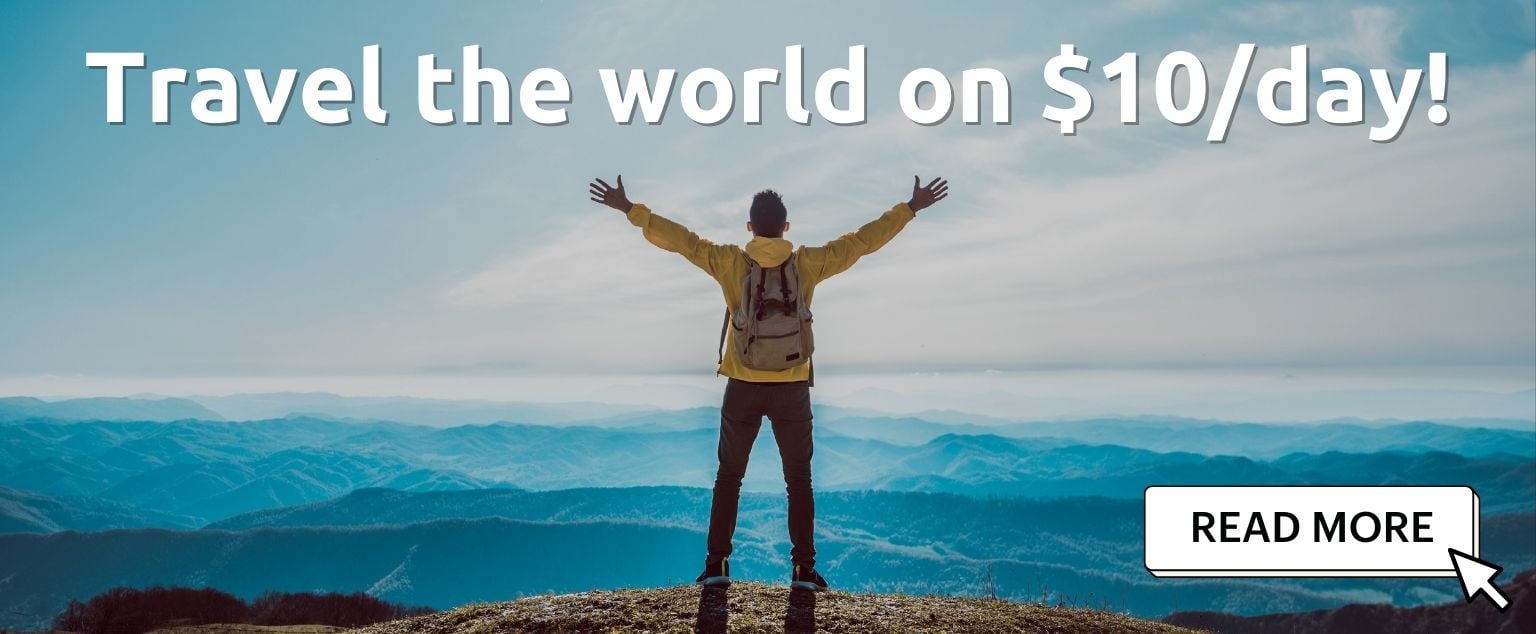 And for transparency's sake, please know that some of the links in our content are affiliate links. That means that if you book your accommodation, buy your gear, or sort your insurance through our link, we earn a small commission (at no extra cost to you). That said, we only link to the gear we trust and never recommend services we don't believe are up to scratch. Again, thank you!