Backpacking Europe has no equal. There is no region on earth with such a diverse range of landscapes, cultures and languages contained within such a small(ish) space. Everywhere else is frankly boring when pitted against the technicoloured dream coat of Europe.
From alcoholic Bavarian breakfasts, ancient ruins and train rides so pretty they could briefly render a local politician speechless, the breadth and scope of Europe is enormous. Not forgetting we can make a mess in Eastern Europe and Scandinavia too, you're basically screwed unless you have about a year.
For many people, backpacking Europe is about ticking off a list of the famous and well-known cities. Let me tell you now. GET THIS SILLY IDEA OUT OF YOUR HEAD. You're not hitchhiking with the Jehovah's Witnesses or conquering Triglav, Olympus or Korab from a Starbucks/Costa/Pret a Manger are ya?!?
Find the balance. Visit some awesome cities, but make time to head out into the sticks and see the side of Europe you didn't expect. There is an impeccable backpacking vibe in Europe, and you are bound to take some truly questionable stories home with you…
…If only you knew where to look… 😉
How to Tackle Europe Like a Pro
Right children, as a native European with more travel experience than Leonardo di Caprio's wandering eyes, I have some juicy advice for you. First things first: Europe is expensive. Learn how to mooch through Europe on a budget!
Staying at a hostel in a well-known city (e.g. London, Rome, Paris, Barcelona) can set you back around $70. If you're trying to make your trip last, it is worth knowing which are the cheap countries, and how to get some sleep in the ones that aren't.
It's also worth remembering which countries aren't in the Schengen zone. Not only might you need to make additional travel adjustments, but it is worth knowing if you want to extend your stay in Europe. Basically, this is just the UK, a large swathe of Eastern Europe, and Turkey. Good for long stays!
You may want to grab an interrailing ticket if you're travelling far and wide. These can work out much cheaper than paying for each individual train, which is another great boost for the budget. Taking a tent can also save you some serious bank whilst backpacking Europe.
Europe is fucking huge and it packs a punch too. This means that even on a (hypothetical) lifetime Europe backpacking trip, just accept it: you're never going to see it all.
Backpacking Europe is best when you can travel it slowly. But don't stress it because there's plenty of ground you can cover even on a shorter trip to Western Europe.
If you only have a week or so, I recommend that you focus your Europe trip on either A) just one country or B) a few close-together cities. Luckily, the travel infrastructure is really good: train travel is a dream and buses are frequent. Plus, thanks to the European Union and its open borders, once you're in one country, you can basically keep crossing borders as often as you'd like.
Here are a few ideas for an awesome backpacking trip to Europe.
2-Week Travel Itinerary for Europe – The Big Bois of Backpacking Europe
Start your travels from Berlin. Germany's capital is like its own little islet – nothing like the rest of the country. Explore its history and party at world-famous clubs before heading out to Hamburg – you know, to get a taste of "normal Germany". I highly recommend staying in St. Pauli which is the coolest area in Hamburg!
From Germany, cross over to Holland's boozy, breezy, fun capital Amsterdam. From there, it's easy to take a train or a bus to Brussels, in Belgium. (You could also stay in Ghent which is much prettier. Do take a day trip to Bruges, though!)
The next stop is dazzling Paris, undoubtedly the capital of romance in Europe. From Paris, take the Eurostar train to visit London.
This is the last stop in your itinerary. Wherever you're headed next, London is one of the biggest transportation hubs in Europe.
1-Month Travel Itinerary for Europe: Southern Europe Gems
One month is the ideal Europe backpacking trip for first-timers. You'll have time to explore a few countries and stay an extra few days in the places you fall in love with. In this itinerary, we're diving into Southern Europe.
Start your trip in Lisbon, Portugal's capital and one of the liveliest cities in Europe. Take trips to Sintra and Porto. Sintra can be done as a day trip whereas visiting Porto warrants at least a night's stay.
Next, cross the border to Spain to explore Madrid. From the Spanish capital, finding onwards transportation to Barcelona is super easy. (Barcelona is also a long-time backpacker favourite!)
From Barcelona, cross over to France and spend a couple of days on the French Riviera. You could also do a lil' side trip to Monaco to gawk at the rich&richer. But just a warning – this area is expensive as hell!
Next up, we head to Italy where you'll spend the rest of your trip. First, explore Milan; the fashion capital.
Then head to the floating city Venice, then the ultra-beautiful Florence. Lastly, end your trip in a highlight with a stay in Rome.
3-Month Travel Itinerary for Europe: Holy Shit, It's the Grand Tour of Europe
Having 3 months or more for backpacking through Europe is an awesome experience. Make the most of the 90-day Schengen Zone liberty (plus the UK). You can move at your own pace and take the time to enjoy the places you love.
Still – need I remind you? – Europe is fucking massive. 3 months is a great trip but you'll still struggle to cover everything possible. Sometimes it might even be the best option's better to take a cheap plane ride between destinations rather than waste a day on a bus.
Stop first in Greece. Athens is a really epic city and a great gateway to the famous Greek Islands. (Mamma Mia, anyone?)
Next up – Italy. Explore Naples for the origins of that pizza in Naples. See the remnants of a super-influential ancient culture in Rome, and hike along the coast in Cinque Terre.
From Italy, visit Switzerland, AKA 'the pit of doom' when it comes to backpacking Europe on a budget. However, the Swiss Alps are some of the most beautiful parts of Europe so it's worth a splurge.
Continue on to Vienna, Austria. It may look fancy but it has a punk rock heart.
Then, we move on to Germany. Munich is your gateway to experiences in Southern Germany and it has great connections to other awesome cities in Germany: Nuremberg, Frankfurt, Cologne, Dresden, and eventually, Berlin.
Travel through the Netherlands and Belgium to Paris, France. From there, you can easily get to London and further explore the UK. I highly recommend making a stop in Edinburgh to get a taste of Scottish life.
From the UK, you can fly down to Barcelona and conclude your trip by adventuring around Spain and Portugal.
If you are going to be spending a whole month in Europe bouncing between different countries, then we recommend downloading the HolaFly Europe eSim package before your trip begins. Packages start at just $1.20 per day and can offer data access and internet connectivity all over Europe for the entire duration of your trip.
Wherever you decide to go on your Euro backpacking trip, the magic will surely blow your mind. Each country in Europe is unique, full of surprises, and requires its own individual approach and strategy with regard to your travel budget in Europe.
Uh, just one thing: Europe, as a whole, has dozens of countries. (44 or 51, depending on what kind of geographical allowances we're making…)
As I'm writing a blog and not a book, this Europe travel guide is focused on Western and Southern Europe. Meaning I'm only covering 11 countries and a bit today. Boo.
But don't despair! There's plenty more to explore in Europe.
Backpacking Italy
Italy has been a popular vacation destination for a looooonggg time. Tourists have been coming here for years to see the likes of the Colosseum, drink wine in Tuscany, tour the canals of Venice – all that touristy stuff.
Consequently, few people stray far from the main backpacking route in Italy and, unsurprisingly, many say that tourism here has become a bit calcified. Some might say that Italy can offer nothing else besides the same postcard views and disgruntled baristas.
But there's a lot more to see in Italy besides the usual attractions because, let's be honest, everything in Italy is beautiful. Pound for pound, Italy might be one of the most beautiful countries in the world and you'd be hard-pressed to find a single ugly stone here.
The beaches of Puglia and Sardinia are among the most brilliant in Europe (they don't compare the former to "The Maldives" for no reason). The Dolomites are truly one of a kind and few other mountains can really compete.
Rome… Rome is amazing. Where else can you find masterpieces from almost every era of western civilization?
Italian food, which has received a similar treatment, should be explored with equal enthusiasm. Sicily with its miles of coastline produces some of the finest seafood in the country, not to mention amazing desserts. The tagliere (deli meats) of Toscana are the best you'll find.
So give Italy a chance! Don't let the jaded, bitter tourists tell you there's nothing new to see or do here; you just need to get off the beaten path a bit. Visit Florence, see the Almafi Coast but set aside some time for exploring the lesser-visited regions, like Marche, Umbria, Calabria, and so on.
But also – what's wrong with seeing the same stuff as everyone else? There's a reason Rome is popular. A gorgeous reason…
Backpacking Europe can never be completed without dipping a toe into Italy.
What to Know Before Visiting Italy
Don't miss out on… staying in Bologna. It evades most people's radar even though it's arguably the coolest city in Italy. Amazing food, beautiful architecture, and a nightlife that doesn't quit.
You know what's overrated… the Leaning Tower of Pisa. Soooo many horrible selfies and awkward poses. Take a moment to actually appreciate the nearby duomo and baptistry guys.
The coolest hostel is… The RomeHello Hostel. Offering some top tier communal spaces, yoga, and live music. Positive vibes.
The best food is found… everywhere! Really – you're in Italy – you can't go wrong here. Genoa, Bologna, Naples, and Sicily all take top honors.
Backpacking France
France might just be one of the most diverse countries you'll set your foot in whilst backpacking through Europe. In addition to two coasts and two mountain ranges, France has a wide variety of cultures, landscapes, and food packed into one country.
Paris is amazing and seriously one of the most exciting cities in the world. It's a city of romance, famous art, morbid history, and grand architecture. But don't stop your exploration at the capital!
The Mediterranean coast, so-called French Riviera, is something straight out of your dreams. Trekking or skiing in the Alps is an unforgettable experience.
Bordeaux is one of the coolest cities I've ever visited, and Marseille and Lyon are just as pretty. Let alone all the tiny little towns that are straight out of a postcard…
There are so many places to stay in France. Wherever you turn, you will find different kinds of wine, cheese, and even variations of the French language. If you love food, culture, and outdoor playgrounds, a stopover in France is an obvious choice for backpacking Europe.
Forget about the old stereotypes about the French being rude and uptight. The French can be like soft-boiled eggs: they have a shell on the outside but with it removed they are softies at heart. France is full of lovely soft-boiled eggs, uhm I mean humans…
Since France is quite a large country in European terms, there are so many hidden gems that I have lost track. From stunning medieval castles to picturesque villages and cities, backpacking in France is truly an unforgettable experience.
What to Know Before Visiting France
Don't miss out on… Staying a night at a mountain refuge in the Alps. Le Refuge de la Charpoua is particularly epic.
You know what's overrated… paying to go up the Eiffel Tower. Paris is expensive. Save money and see it from below.
The coolest hostel is… Beau M. Knocking things out the park in Paris, this awesome hostel will smooth your Paris travels out nicely…
The best food is found in…Can't go wrong with a bit of Brie and a bottle of Bourdeaux. But that's just the beginning; as they say there, is a different wine and cheese to try every day of the year…
Backpacking Portugal
Portugal is a grand paradise of sorts. The pace is slower than other European countries (and compared to other offenders on this list, cheaper, too).
The country is packed with friendly locals, charming villages, fun parties, and one of the most chill vibes you will come across anywhere on earth. You can also find some of the best surf in the Northern Hemisphere off Portugal's many beaches.
Backpacking in Portugal is very easy. Ultimately it's a great place to begin your international adventure.
Spot the famous blue tiles in Porto. Feel like a royal at the castles in Sintra.
Eat seafood in Lisbon. Drink ice-cold beer and smile like a fool whilst taking in an epic sunset over the ocean in Algarve.
Most backpackers start their trip in Lisbon as it appeals to just about everyone. There's amazing food, good weather, great parties in Bairo Alto, and lots of places to see nearby. Definitely don't skip Sintra; the epic village full of fairytale castles is one the top places to see in Portugal.
The south of Portugal, also known as the Algarve, is the more Mediterranean part of the country. It resembles more southern Spain not only in the scenery but in vibes.
Expect a lot of tourists and more than a few drunken, wandering Aussies. But hey – the coastline is gorgeous and stays warm all year round.
In Northern Portugal, Porto is a popular student city. It's also bustling, busy, fun, and beautiful. Some backpackers even prefer it to Lisbon!
Portugal also has two semi-autonomous island regions: the Azores and Madeira. Both are very different from the mainland and absolutely magical.
Hiking in Madeira is uniquely epic! But visiting Azores is like backpacking a mini-New Zealand.
What to Know Before Visiting Portugal
Don't miss out on… Porto. Backpackers love Lisbon, but its northern neighbour is just as cool. Keep an eye out for its famous blue tiles.
Keep an eye out for… drunken backpackers in Lagos. It's not widely advertised but this place is a SHITSHOW at night. If you'd like to be one of them, stay in one of the party hostels.
The coolest hostel is… Home Lisbon Hostel – The people's favourite: mama's cooked dinner, free walking tours, and a super homey feeling. You feel so welcome here.
The best food is found in… the Mercado da Ribeira in Lisbon. This is the Mecca of all food markets, the cream of the crop.
Backpacking Spain
Many backpackers claim Spain as their favourite country. Are they right?
I think so. You do not have to look too far to see why this country, in addition to producing some lovely human beings, is a magical land for backpackers.
Like to sleep? You came to the wrong country. The Spanish have breakfast at 10, lunch at 4, and dinner at midnight.
Spain is a country that truly never sleeps. It's in the culture to practice sleep deprivation in style. Maybe all those midday siestas help?
Spain just has a certain charm to it. Small plates of delicious tapas, cool, cold wine served with sweet orange and melon…
Is it those fine beaches? Old olive groves running through tiny villages? Or the church in Barcelona that is a perpetual construction project?
My suspicion is that my love of Spain is deeply rooted in all of the little nuances you experience daily whilst travelling here. Many backpackers just roll through Barcelona and maybe go visit Madrid. Whilst those cities are not to be missed, backpacking through Spain without exploring its other regions is a mistake.
In the north, you can hike majestic mountains in Asturias and eat awesome seafood in San Sebastian. Track down the origins of paella in Valencia.
Explore Andalucia in the south with its Islamic architecture, free tapas, and the cheapest prices in Spain. (Seriously – Granada, Seville, and Cordoba are AWESOME.) Go to a football game. Find some flamenco.
Doesn't that sound like fun? This is Spain.
What to Know Before Visiting Spain
Don't miss out on… the Basque region. It's like a completely different country, with epic landscapes and an extremely fascinating history. San Sebastian is the best place to stay.
You know what's overrated… bull fights. The Spanish hardly go to them – it's cruelty set up for tourists's entertainment. Opt for a flamenco show or tapas tour instead.
The coolest hostel is… Hostel One Catedral – Free dinner and tours, rooftop bar, and central location!
The best food is found in… Granada. Andalucia has some of the only totally free tapas in Spain, and Granada has the best tapas restos. Asian fusion or Moroccan tapas? You'll find it here.
Backpacking Switzerland
If you are planning on spending time in the Alps, a hiking trip to Switzerland is an obvious choice. Switzerland is a land full of the Alps, quaint villages, and hip cities.
Heard of the Matterhorn mountain? (That's the Toblerone mountain.) It lives in Switzerland.
In addition to its powdery peaks, Switzerland is also home to gorgeous alpine lakes. Take in some of the ancient castle fortifications lakeside by day and sip the legendary Swiss hot chocolate by night.
Zurich may be the financial heart of Europe but it's still surprisingly cool. Lausanne is small but gorgeous, and the capital Bern is equally so. Don't skip Luzerne since it just might be the most beautiful city in Switzerland. But these are just a few ideas of where to stay in Switzerland – numerous hidden gems await.
You do have to pay for the pleasure in Switzerland. For better or worse, the Swiss people have this whole thriving economy thing down to a T.
As a country long resistant to changing over to the Euro, the Swiss Franc is as strong as ever before. For backpackers, this translates into a scenario of high cost, high reward.
That said, Switzerland will certainly do anything but disappoint. It's worth the splurge even if you are backpacking Europe on a budget.
What to Know Before Visiting Switzerland
Don't miss out on…the Bernese Oberland. This region features probably the most famous and stunning hikes in Switzerland. Check out the trails around Eiger and the Lauterbrunnen Valley.
Keep an eye out for…the prices; the pure, unadulterated, merciless, eye-gouging, seemingly unreal prices. You'll need to employ every trick in the book to keep costs down.
The coolest hostel is… Backpackers Villa Sonnenhof Interlaken. It offers a ton of freebies!
The best food is found in…the grocery stores. Swiss food is just ok; certainly not worth the prices at the restaurants!
Backpacking Germany
After gaining a (justified) terrible reputation on the world stage in the first half of the 20th century, Germany has emerged over the last 50 years as an economic powerhouse and centre of culture in Europe. Modern-day Germany is an awesome place to go backpacking through Europe – and a fan favourite among many gap year kids and older travellers alike. You won't be hard-pressed to find a great hostel in Germany.
As a lover of cool cities and good beer, I am totally enamored with Germany. While famous for its fast cars and pretzels, there is so much more to see whilst backpacking Germany: historic towns, medieval monasteries and fantastical castles, culture-filled cities, fairy-tale forests, and majestic mountains.
To top it off, Germany has one of the strongest economies in the EU, yet traveling here is surprisingly affordable in comparison to the rest of Western Europe. (Pro tip: Eastern Germany is even cheaper than Western Germany.) Backpacking Germany is a great addition to any European travel itinerary!
Most backpackers gravitate towards Berlin, and for good reason: its nightlife is unbeatable and there is a wealth of culture to keep people interested. But the capital is its own thing – it doesn't resemble the rest of Germany at all. For European backpackers, there are tons more awesome spots to uncover.
Dresden, beaten to shit during WWII, has been wonderfully restored. Hamburg is one of the coolest cities in the country, at least if you're staying in the St Pauli neighbourhood.
Bavaria in the South is known for the Black Forest area (one of Germany's National Parks), an unintelligible dialect of German, and beautiful scenery. Finally, Regensburg may be the prettiest town in the country. But there are SO MANY others – some completely micro-sized.
What to Know Before Visiting Germany
Don't miss out on… visiting a beer hall. No one can drink like the Germans and by that, I mean with such control and enjoyment at the same time.
You know what's overrated… Munich. The city itself, whilst pretty, doesn't offer a lot in the way of attractions. The locals can be pretty arrogant too.
The coolest hostel is… Pfefferbett Hostel Berlin – Located in an old renovated brewery. Yes, they kept the bar, and it's open 24 hours a day.
The best food is found in… Berlin. The gastronomic scene is incredibly diverse, unlike many other German cities where food tends to be homogenous. Vegetarianism is alive and thriving here!
Backpacking The Netherlands
Coffee. Canals. Cannabis. Windmills. Those are some of the things that come to mind when thinking about The Netherlands.
Visiting Amsterdam has long been a favourite backpacker haunt and is well worthy of exploration. It is THE place in Europe to (legally) rock into a coffeeshop, order a joint, and sit down to smoke it.
If you like riding bicycles long-distance, The Netherlands is a perfect country in which to feed that urge: The Netherlands is almost entirely flat. If you have had long challenging days trekking or biking in the Alps, the flatness here will be a welcomed change.
You will find that Dutch people often speak perfect English which is impressive as Dutch sounds nor looks anything like English. Because the country is relatively small, you can travel around here with ease whilst taking in a majority of it.
Most backpackers make a stop in Amsterdam and leave the rest of the country be. Don't get stuck in the capital city – at least take a day trip from Amsterdam.
What to Know Before Visiting The Netherlands
Don't miss out on… partaking in some magic mushrooms while visiting Amsterdam. Seriously, those Van Gogh paintings are mental when you're frying.
You know what's overrated… staying in the HEART of Amsterdam – it's overly expensive and crowded. One could stay outside the city, save a bundle, and then take the train in. I suggest finding a hostel in Utrecht instead.
The coolest hostel is… Rebel Rebel Hostel Groningen. A "sweet" hostel built from old containers in an old sugar factory lot. No more puns, swear.
The best food is found… while staying in Amsterdam, only because of the stroopwafels! These are one of the greatest treats ever.
Backpacking Belgium
Let's be honest: Belgium doesn't offer much in way of stand-out attractions. There is no Colosseum, no Montmartre, no legalized drugs, or raging Berghains. Just a lot of charming houses, calories, and dreary weather.
And for these reasons, I LOVE Belgium. How amazing is it that Belgium places beer in such high and hallowed regard? Bless the Belgians who seem to have no problem smothering their fried potatoes in aioli and mussels with heavy cream. I love that you can go backpacking in Belgium with zero expectations and still be impressed.
It's almost as if Belgium is a guilty pleasure of sorts. The whole country is just one big bar where you can eat and drink to your heart's content and no one gives a shit.
If you're traveling between France and the Netherlands, it is absolutely worth stopping over in Belgium for a little while. Antwerp would be the best place to base yourself although Ghent and Bruges are worth seeing. Bruges gets absolutely zombified with tourists, though – prepare yourself.
And you shouldn't skip the nation's capital Brussels. It's also the capital of the European Union but in addition to stiff people in suits, there are also many cool things to see in Brussels.
If you wanted a really enjoyable backpacking Europe experience, consider sleeping at a brewery for a few days! Most have guesthouses attached. In particular, Het Anker is great. Otherwise, Brussels' hostels are the best place to stay on a budget.
What to Know Before Visiting Belgium
Don't miss out on… staying in Ghent, the prettiest medieval town in Belgium. It's mostly known for its canal houses and local mustard. Gruut, a precursor to today's beer, is also made in Ghent.
Keep an eye out… when you're in Brussels. Whilst certainly "edgier" than most European cities, Brussels can be a little too rough at times.
The coolest hostel is… Hostel Uppelink Ghent. Though the building may be a bit old, the location is unbeatable. It's literally next to the city's famous Sint-Michielsbrug bridge.
The best food is found in… the "brown bars", where they serve the fried potatoes and mussels in excess.
Backpacking the UK
The UK is just one of those places that I have fallen in love with over the years. If you are in the mood for a wonderful campervan and trekking adventure, backpacking in the UK is the journey you have been waiting for.
Note to my geographically challenged friends – the UK is a country comprised of 4 countries: England, Wales, Scotland, and Northern Ireland. And the Brits WILL get mad at you if you refer to the whole area as "England" (Ed: Sounds about right).
England and Wales have large sections of coast that are far off the beaten path and offer up excellent hiking/camping possibilities. The Highlands in Scotland have some of the last true wilderness areas in Western Europe. The Scottish Islands look like something out of a fairytale book.
Along with stunning natural landscapes, the UK is home to major centres of culture in Europe. In England, the ineffable London is an icon for obvious reasons. I also highly suggest chasing down ghosts in Canterbury, getting smart in Oxford, and basking on the beach in Brighton. And the Lake District in Northern England is incredible!
Scotland is a world of its own. The Scottish capital city of Edinburgh is full of awesome things to do. This region has landscapes so green that the hills seem to have been spray-painted in every sense of the word.
It has remote islands dotted with whiskey distilleries, lochs, and cascades. One could easily spend all their time backpacking in Scotland and could totally forget about "the south".
The hiking trails and huts in the Highlands offer up an endless supply of hiking opportunities in a breathtaking environment. Throw in the vast cultural richness of the big cities and small villages and you have yourself one great place to go traveling.
Backpackers don't go to Wales as often but for no good reason. It also offers awesome hiking opportunities, and Cardiff is a small-ish but cool, cultural city.
What to Know Before Visiting the UK
Don't miss out on… going off the beaten path in the Scottish Highlands. If you really want a unique experience, try island hopping in the Hebrides.
You know what's overrated… Buckingham Palace. Just skip it.
The coolest hostel is… Hostel One Notting Hill. This award-winning hostel is one of the best locations in the capital. It's perfect for solo travellers to make friends for life.
The best food is found in… The Indian food in the North (Manchester and Yorkshire). For that matter, the vegan scene nationwide is thriving and varied.
Backpacking Ireland
The lush, green, enchanted, and enchanting island of Ireland perches serenely at the furthest boundary of Europe. Beyond it, there is nothing but the Atlantic until it reaches the New World.
Somehow, Ireland's location and geography are encapsulated in its culture. It is European but only just; civilized, yet it's wild and rugged. It rains a lot but remains perpetually pleasant and inviting.
Sometimes crudely dismissed as the UK's little cousin, backpacking Ireland offers visitors the chance to explore the most plucky nation in the world and get a glimpse of a simpler world that has sadly vanished forever elsewhere. That is not to patronize though, Dublin is every bit the cosmopolitan (and expensive) EU capital, and the once-troubled Belfast wears its gritty history with pride.
But head out to the Burren, or the lanes of Cork, and you will find warm taverns ringing with the sound of the fiddle and a way of life where time still takes its own time.
The headline draw in Ireland is the capital Dublin where you can visit Kilmainham Gaol and pull a pint at the Guinness brewery. But not to be missed are the Cliffs of Moher, the ancient streets of Galway, and the colored houses of Cork in the capital of "authentic Ireland".
For the edgier side of the Emerald Isle, cross the (porous & invisible) border to the North and check out the murals of Belfast. From here you can easily visit Game of Thrones locations or check out the geologically wondrous Giants Causeway.
What to Know Before Visiting Ireland
Don't miss out on… Watching an Irish sport (hurling or Gaelic football) game in a pub.
You know what's overrated… kissing the Blarney Stone. You'll wait sometimes hours in line just to share spit with other people over a hole in the wall. Yes, it's as unnecessary as it sounds.
The coolest hostel is… Jacobs Inn. Offering a super cool bar area and rooftop terrace, the pod sleepers will make sure your ready for a top day tomorrow.
The best food is found… at the Galway Seafood Festival. If you happen to be staying in Galway in September and October, don't miss out on this.
Backpacking Greece
Getting to know Greece is one of the most rewarding backpacking trips to be had in Europe. Those blue and white houses and perfect Mediterranean landscapes you have seen on postcards live up to their hype in real life.
Greece is a charming, laid-back country. Backpacking the Greek Islands has been one of my favourite travel experiences. This is due not just to the beautiful views, but to the food, beaches, wonderful people, and plethora of history.
Island hop the Cyclades. Pop over to Crete. Experience life with no cars on Hydra. Whatever you get up to in the Greek islands, a Europe backpacking trip that makes it here is hell of a good time.
But wait! Greece may be best known for its islands but there is a whole mainland of INCREDIBLE stuff to explore, too! (Also, it's way cheaper than the tourist-crowded islands.)
Visit Athens, the capital full of ancient history and cool graffiti. I know the city gets a bad rap but it's actually pretty cool. For one thing, the nightlife here is fantastic – rebellious, wild, and absolute fun. Another draw is the Acropolis.
Close to Athens, you'll find Delphi, an adorable little town with the ruins of a once-famed oracle's home. Meteora is known for its unique monasteries built on top of stone pillars. Thessaloniki, Greece's second city, is full of good vibes and great food.
If you're a history and/or mythology geek, backpacking Greece is gonna get your socks spinning out of excitement.
What to Know Before Visiting Greece
Don't miss out on… the Ionian Islands. This part of Greek islands receives a fraction of tourists yet hosts some of the most beautiful places in the country. Zakynthos has good places to stay.
You know what's overrated… Santorini. It's overcrowded, expensive, and on the verge of being spoiled.
The coolest hostel is… Athens Quinta. Travelling is all about finding those magic places that make you feel at home. This hostel takes that idea and runs with it. Including, free breakfast!
The best food is found in… Crete. It's well-known for its culinary culture. It's far enough away from the mainland that the food is quite different as well.
Off the Beaten Path Adventures in Europe
Europe gets BUSY. Hundreds of millions of people, both from Europe and elsewhere, travel around it every year.
And you know what? 80% of those people do one of two things. Either they just visit a few cities or they go on cookie-cutter tours where they are shuffled around from one famous attraction to another, plowing through a sea of baguettes, gelato, and, tapas along the way.
(Actually – that doesn't sound half bad…)
It's easy to get off the beaten path by visiting anything that's not on the top sights. In the Netherlands, go anywhere that's not Amsterdam; in the UK, anywhere that's not London (Ed: not quite sure about that, but close).
But there are also a few countries that have not been included in this guide yet, and I'd like to give them a little shout-out. They are not traditionally on the backpacker trail but they are awesome, plus they're right on your route so it's very easy to visit them!
For starters, Vienna in Austria is easily amongst the most beautiful cities in Europe. While visiting Vienna, everywhere you look there is some regal remnant of the Hapsburgs: a palace here, a monument there, and plenty of museums to go along with them.
Checking out Luxembourg can also be nice since it's easy to get to and fro from the Netherlands or Germany. It's expensive as fuck and the eponymous city doesn't offer much to see but there are some awesome castles in the countryside.
Check out some of the micro-nations, too. Vatican City is super easy to include since it's literally smack-bang in the middle of Rome – the world's smallest country measures less than a square kilometre. Visiting Monaco is an easy day trip from the French Riviera, and San Marino from Bologna, Italy.
Andorra, on the border between Spain and France, is gorgeous in the autumn. Liechtenstein is one of the weirdest places in Europe. Full of cool stuff, most tourists visit the town Vaduz for a day but the Liechtensteinian Alps are worth a couple of days of hiking!
Other than that, explore small villages. Go on multi-day treks. Climb the mountains that aren't the Alps (though they are stunning). You could also just fuck off to Georgia for a bit to extend your stay (who cares if it is actually in Europe or not).
Couchsurf with locals. Spend a few extra days getting to know a popular city. Do things that aren't on the "must-see sights" in backpacking Europe travel blogs.
Well, with dozens of countries and countless cities in Europe to visit, it's a bit hard to pinpoint the BEST things to do in Europe.
But you gotta start from somewhere. So here are some of the top things to do whilst backpacking Europe on a budget.
1. Go to a one-of-a-kind festival
Europe loves to celebrate every little occasion they can, be it the death of a saint, a harvest, or even just a long weekend. Between the cultural holidays – of which there are MANY – the seasonal festivals, and the more modern musical festivals, you'll have many opportunities to just let loose. And let loose is what you should do.
You could check out the Carnival at Venice, get wasted in Dublin on St. Patrick's Day, and get tomatoe'd at La Tomatina in Valencia. Let alone some of the world's best music festivals like Boom Festival (psytrance), Glastonbury (pop-adjacent), and Roskilde (also pop-adjacent).
2. Go island hopping in Greece
Greece is composed of over 227 islands – which means there are over 227 places to go on an adventure. Live out your mythical fantasies on the islands of Ithaca or Crete, escape the hecticness of life on Sikinos, or join the hordes of partiers on Ios and Mykonos. Your choice.
2. Eat all the tapas in Spain
In Spain, tapas are not just a plate of food; they're a way of life. They require time, attention, company, and most of all, love, to truly appreciate.
When visiting Spain, it is absolutely mandatory to sit down to a tapas meal with friends and to converse over them, preferably for an entire night. The best tapas are found in Andalucia, especially in Granada.
3. Hike in the Alps
Of all the great mountain chains in the world, the Alps are probably the most accessible. Over the years, it has been tamed and crisscrossed with so many trails that just about anyone can visit here. Tours around the 3 highest mountains in the range, Mont Blanc, Monte Rosa, and the Grand Combin, as well as the otherworldly Dolomites, are all exhilarating experiences and among the best hikes in the world.
5. Get cultured in Italy
The most historically significant and consequently most popular cities to visit in Italy are Rome, Venice, and Florence. These "museum cities" deemed culturally significant by the government are preserved as best as possible.
They are like interactive history lessons that you can walk amongst or even get lost in for days at a time. I highly recommend you make time for the Colosseum, the work of Di Vinci, and the Vatican museums.
6. Dance like no one's watching
The party cities in Europe are on a different scale than the rest of the world. I'm talking about Berlin, Amsterdam, and Manchester. The stories from the clubs are the stuff of legends.
The level of freedom and debauchery is enough to make even the most open-minded do a double-take. Even if you aren't able to get into the infamous Berghain, you can take your nights (or days) whichever way you please.
7. Change your plans
It's always good to have an idea of itineraries while you're backpacking Europe. But there's nothing more heartbreaking than falling in love with a place (or person? ) and having to leave for your next destination. So leave a bit of wiggle room in your route for surprises.
Extend your stay at the cheap hostel with the cute bartender. Buy the last-minute plane ticket to meet that travel buddy again. Let the universe take control a bit too.
8. Take the scenic route
Europe has one of the most developed train travel networks in the world. You can get just about everywhere by rail, which is fantastic news when Backpacking through Europe!
These insane views and comfy carriages make some of the best train journeys in the world. It's a classic; characters in The Murder on the Orient Express and Dracula have traversed the same rails. It's damn romantic too, so settle down.
Granted, it's more expensive than the bus so it's not the best way to save money. But with high-speed trains, you can really make the most of your time on a Euro backpacking trip. So sometimes it's worth the extra Euro.
9. Get High in Amsterdam
Would this really be The Broke Backpacker if I didn't encourage you to sample some grade-A Dutch weed? The Dutch are very progressive when it comes to mind-altering substances so if you're looking for a place to do some drugs safely and legally, Amsterdam might be to your tastes!
Just be respectful about it – residents of Amsterdam are not big fans of the hordes of drug tourists wandering the streets of the city.
10. Deep dive into London
London is one of those amazing cities that you could spend a lifetime exploring. It has a reputation for being expensive – and there's good reason for that.
But there are so many museums and attractions to visit – many of which are absolutely free! With cheap flights, free walking tours, and a London Pass, it can actually be a surprisingly budget-friendly destination. The British Museum, Buckingham Palace, and the London Eye are all worth putting on your Europe itinerary.
Hostels are the most affordable accommodation option for backpacking Europe on a budget. Well, aside from dreamy mountain huts, your awesome tent, and a stranger's couch. Lucky for you, Europe is THE place for living da hostel life in all its glory.
This continent might hide some of the best hostels in the world – but arguably also the worst…
These incredible hostels in Europe come in all shapes and sizes. But remember, a cheap hostel isn't necessarily a perfect hostel. In fact, it rarely is (but, yes, you can occasionally hit the jackpot).
But not all of them are dedicated to parties. You'll also find loads of boutique hostels for flashbackers, quiet rooms for families, and even some female-only hostels for solo female travellers.
Well, back to the good stuff. When you're backpacking Europe, you find accommodation is generally very safe, clean, and fun. Pub crawls and get-togethers are a staple in almost any hostel.
But if you're wanting to plan a trip to Europe on a budget… well, you'll have to make do with sharing the bigger dorms. Even hostels can sometimes be a bit pricey in Europe, especially in France or Switzerland. Still, they're way cheaper than Airbnbs or hotels.
Airbnb is a great option if you want some space away from travellers and a more authentic experience. Though they're not always the cheapest way. If you're in a group, the prices can be more reasonable.
Backpacking Europe does not have a reputation as a budget-friendly place for travellers. The prices in the popular tourist destinations have sky-rocketed in recent years, and it doesn't look like they're slowing down any time soon.
It's pretty cunning actually. The cheap flights entice you in and BOOM: you're stuck paying the price for it – literally.
For most travellers, booking hostels is your cheapest option. Cheap hostels range from around $25 – $50+ a night for a bed. If you're in a group, Airbnbs can (but not always) be cheaper.
Though, where there's a will, there's a way. There is, and always have been, savvy travellers making their way around Europe with clever tricks to save money.
I recommend both of these options over hotels mainly because you usually get a kitchen to prepare your own food. Doing this can bring your food bill down to around $10 – $15 a day. You could easily spend more than this on one meal of you eat out. You can find street food for around $6 but it's not always the best quality.
Booking flights, trains, and buses in advance is the best way to save money. That way, flights go for as little as $20 and buses $10. The same goes for accommodation: the sooner you book, the better deal you will get.
If you want to let loose a bit, drinks in bars are generally quite expensive which can be up to around $10 in some places! So most people in Europe pre-drink (buy cheap drinks from the supermarket to drink a home before they go out). Hostel bars usually have the most reasonable prices.
One budget-saving tip for first-time backpackers is to sort out your travel banking. Currency conversions and ATM fees stack up.
Get a travel card like Wise (formerly Transferwise). With this, you can easily combat extra charges. Especially if you're backpacking trip through Europe has many countries, this will make things much cheaper.
A Daily Budget For Europe
I have broken down the average daily travel costs in Europe you can expect in order to help you get to grips with your own Europe backpacking budget.
Travel Tips – Europe on a Budget
Okay, so now that you got an idea of the average costs for backpacking in Europe… What if I told you that you could save even MORE? Here are some of the best money saving tips for travelling Europe on a shoestring budget.
Camp: With plenty of awesome beaches, forests, stunning countryside, and far-flung mountains, camping whilst backpacking Europe on a budget is a great option. Grabbing a solid backpacking tent is never a bad idea! Just be aware that wild camping is illegal in most of Western Europe. So if you want to do it, you gotta be a little sneaky about it.
Cook your own food: Travel with a portable backpacking stove and cook your own food to save some serious cash whilst backpacking across Europe. If you are on a tight budget, cooking grocery store food is your best option to save. With a stove in tow, you can do this even without a kitchen.
Hitchhike: Hitchhiking is a 100% free and adventurous way to get around. In Europe, it's pretty safe and easy although some countries are tougher than others.
Couchsurf: The Portuguese, Greeks, Spanish, Germans — they are all awesome folks. Get to know some! Check out Couchsurfing to make some real friendships and see a country from the perspective of locals.
Dive some dumpsters: Dumpster diving helps if you're a little broke for a store-bought meal, too. There's an art to it but you can soon get the hang of it.
Why Should You Travel to Europe with a Water Bottle?
Plastic washes up on even the most pristine beaches… So do your part and keep the Big Blue beautiful!
You aren't going to save the world overnight, but you might as well be part of the solution and not the problem. I hope you become more inspired to continue being a responsible traveller.
Plus, now you won't be buying overpriced bottles of water from the supermarkets either! Travel with a filtered water bottle instead and never waste a cent nor a turtle's life again.
So precisely when is the best time to visit Europe on a budget?!
Western Europe is a total madhouse in the summer; millions upon millions of tourists descend on the continent. Cruise ships fill the harbours, tour buses clog the road, and flight prices increase.
Whilst the middle of the summer can be a very beautiful time to visit, the summertime is the most crowded season and it is also the hottest. Portugal, Spain, France, Italy, and Greece can be so hot in July and August that all you want to do is switch places with that white wine bottle sitting in the bucket of ice.
Europe is also very prone to seasonal pricing. Prices rise with the temperatures in the summer.
Point being, come in the summer if you must, but I don't recommend it. The spring and the fall seasons are the best time to visit Europe on a budget. The temperatures are mild, and a majority of the people who were here on summer holiday have now sulked back to their offices and suburban hells.
Springtime in Paris and other European cities is as romantic as it sounds. Flowers are blooming and the birds are out. You can go in a t-shirt during the day without having the sun cook you alive.
You will find the lowest prices in most regions in the winter. Southern Europe – Algarve in Portugal, Andalucia in Spain, and Greek islands – is still pretty warm in the wintertime.
If you love winter sports, a winter visit is an obvious choice to explore the French, Swiss, or Italian Alps. Just note that pricing in ski destinations goes heads-up in the winter. The snow season is hugely more expensive than the summer.
Also, note on common European holidays: Europeans get around on their own continent a LOT during peak school holidays. This doesn't necessarily mean higher prices but it DOES mean impenetrable crowds. Times to avoid outside of the peak summer season are usually mid-September, mid-February, Easter, and New years/Christmas.
What to Pack for Europe
When you're backpacking Europe, depending on where you're going and WHEN you're going will change your packing list. Spain in the summer looks very different from Germany in the winter. But on every adventure, there are some things that are an excellent addition to your backpacking packing list that will really help your Europe backpacking trip.
On every adventure, there are 6 things that are an excellent addition to your backpacking packing list. They will greatly enhance your Europe backpacking trip too.
In order to get the most of your backpacking trip around Europe, you want to ensure that you get your phone plugged in and connected to a local network as soon as possible. That way you can use map apps to save yourself hours of being lost in city streets, get on Tinder to find yourself some company, and order in food on those days when you just can't be bothered to go outside.
Note that if already have an EU sim then it will work seamlessly in all over EU member states. However it will stop working when you leave the EU (such as when you cross from Eire to Northern Ireland or Montenegro to Serbia). Likewise if you are visiting Europe from the US or Australia, you may find yourself having to change sims multiple times during your trip…unless…
Our recommendation is to get yourself the HolaFly e-Sim Europe package. It works in 32 different European countries and offers unlimited data. There are a number of different packages available and the 30 day one costs $64 USD. What we particularly love about e-Sim is that you don't need to remove your native sim, and can download your e-Sim package before you even leave home!
We have previously written a full HolaFly eSim review which you can check out or else you can just hit the button below and check out the European Packages.
So how safe is Europe? Very, very safe, actually.
There's very little violent crime in Europe, traffic is mostly organised, and there are few natural disasters… The possibility of something bad happening to you on your journey backpacking Europe is slim, to say the least.
Your biggest concern is probably pickpockets and thieves. They particularly target crowded markets and train stations. Always be alert when moving about in big cities especially if you have all of your gear with you.
And those operating in big European cities are true pros – it's not always enough to just keep your wallet in a purse instead of a back pocket. Keep a keen eye out, especially in Paris, Barcelona, and Rome.
The most popular European tourist sites are also teeming with scammers. With a little research on the most common tourist scams in Europe, it's not hard to avoid them at all.
It is never a good idea to be out shit-faced drunk, alone, and loaded with cash – especially not at 3 am. Be smart, make good choices and it shouldn't be too difficult to guard yourself and your belongings.
A few years back, Europe faced a string of terrorist attacks. Nothing new has arisen in the past few years so travellers shouldn't feel worried about terrorism… And besides, unfortunately, we now know that these kinds of attacks are not only happening in Europe.
These events were rare but they did receive a lot of attention and negative press. That led to a lot of pro-nationalist anti-Muslim rhetoric across Europe even though plenty of other groups were also committing acts of violence.
And as diverse as a lot of cities in Europe are, Europeans, in general, are pretty damn white, and everyday racism is still well and alive. This doesn't necessarily make Europe unsafe, it just means that it's not impossible that ethnically diverse travellers might hear some snide commentary.
However, there are some happy news for other possibly-vulnerable backpackers: solo female travellers and LGBTQ+ travellers can thrive in Europe since Western Europe is generally safe for them.
Sex, Drugs, and Rock n' Roll in Europe
Europe likes to party, a lot.
And not just one kind of partying, but all kinds of European Backpacking trip debauchery. There are your squats in Paris, beach clubs in Ibiza, warehouse raves in Berlin, music festivals in the Netherlands, all of that, and then some. You can't beat chilling on some church steps at 3 am sipping negronis with friends either.
When it comes to partying, each culture has its own way of doing things. The Italians like the slow burn, starting with a spritz at aperitivo, then a nice dinner with wine, a cocktail at a local bar, before finally moving on to shots at the bar.
The Spanish are similar except they start all of this at 9 pm and go until 4 am. The Dutch appear to be hydrating all the time, but don't be so sure; they're big fans of the molly water.
You get the gist though. If you're going to tour the party cities in Europe, you need to choose your parties well.
There are a couple of parties that shouldn't be missed:
Staying at one of the legendary party hostels.
Going to a nightclub in Berlin. (Berghain is overrated – there are multiple that stay open 24/7!)
Drinking in the piazzas of Rome.
Dipping into a baggy in Amsterdam.
A night in the Delirium Brewery in Brussels.
Also, be aware that not all European cultures take kindly to drunkenness. The Mediterranean cultures tend to frown upon people who can't handle their shit. The further north you go, the less people care about your state of mind.
Getting Insured BEFORE Visiting Europe
Europe is a safe place to travel but that doesn't mean you're completely invulnerable. Sometimes you fall down the stairs in a club in Athens… or get your iPhone nicked on the Paris metro…
Going anywhere without travel insurance is too risky – so do consider getting good backpacker insurance sorted before you head off on an adventure. The best kind of travel insurance will cover both your material stuff as well as your physical self. Backpacking Europe can be a dangerous occupation.
World Nomads' mission is to support and encourage travellers to explore their boundaries. They offer simple & flexible travel insurance, and safety advice to help you travel confidently.
They've been doing it since 2002 – protecting, connecting, and inspiring independent travellers just like you.
Get a quote below or read our in-depth review!
World Nomads provides travel insurance for travelers in over 100 countries. As an affiliate, we receive a fee when you get a quote from World Nomads using this link. We do not represent World Nomads. This is information only and not a recommendation to buy travel insurance.
Of course, there is no one answer to this question. Where do you want to go backpacking?!
Once you dial in where you plan to go, it is only natural to start your backpacking Europe trip in the country first on your list. Easy!
Whilst looking for cheap airfare to your destination, I advise that you look at multiple cities and find cheap flights – even if that city isn't in your targeted country. You can easily fly between capitals in Europe on the cheap, or take a super-cheap bus.
For example, if you want to begin your backpacking Europe adventure in Spain but the tickets to Paris are going for $200 less, odds are you can score a budget flight to Madrid or Barcelona from Paris for less than you would have paid flying directly to Spain.
Be wary that the Schengen zone is threatening to introduce a nice new piece of red tape for anyone outside of the EU for 2024. Keep up to date on the ETIAS website, where the EU are concocting new ways of making it hard to travel.
Entry Requirements For Europe
If you want to travel long-term in Europe, then you may need a Visa. Entry and Visa requirements vary between different European countries although many of them do follow broadly similar criteria.
For travel in EU countries, a Schengen Visa is required (unless you are from another EU country in which case all you need is your passport/ID). Note that some EU countries are not part of the Schengen agreements and separate visas are required for visiting. Thanks to almost borderlessness of the EU though, travelling between EU/Schengen countries is usually super easy.
The ETIAS system will begin working in 2024, so make sure you stay prepared for that!
Out of the countries covered in this guide, countries that are not part of the EU are the UK, Ireland, Switzerland, and Liechtenstein.
Citizens of the US, Canada, Australia, New Zealand, and Singapore can usually obtain visas for most European countries on arrival. It can be significantly harder for everybody else. Overstaying visas is not recommended.
It is very wise to work out which countries you wish to visit and check their individual entry requirements before you set off. Regarding overland travel, note that even if you are only passing through a country en route to another, entry requirements will still apply.
There are many great ways to get around Europe – and it's super easy! Western Europe has excellent transportation networks and usually booking tickets online is hassle-free.
The cost of travelling around Europe CAN lighten your wallet though, especially if you travel a lot. To be able to travel Europe cheaply, you have to know the tricks to do it.
Here's a quick breakdown of the best ways to travel Europe.
Long-distance buses are probably the cheapest option, though they tend to be the most time consuming as well. A 9-hour journey with a company like Flixbus is likely to cost you between 25-50 Euros depending on when you book.
I like Flixbus because, if plans change, you can cancel for a small fee and re-book when you're ready. You can score long-distance buses for as little as 10 Euros if you're really on it.
Many Western European countries might also have their own national budget bus lines.
Train travel is an awesome way to backpack Europe. Many backpackers specifically build their backpacking Europe itineraries around travelling on a train – this is called interrailing.
They're really easy to use and there are all different kinds. Smaller domestic trains connect all corners of the countries.
High-speed trains and sleeper trains connect countries. The central train stations are usually right in the middle of the major European cities, often making it more convenient than flights.
If you plan on hitting up multiple countries in Europe, the Eurorail Pass is a great option. You can buy a rail pass for one country or for all of Europe. Buying train tickets individually adds up fast, so buying a pass is a great trick to travel Europe on a budget.
Renting a car is surprisingly affordable in Europe and will give you unrestricted freedom to go and do what you want. And finding a car rental is no trouble at all.
Booking in advance is the best way to ensure you score the lowest price and your choice of vehicle. Often, you can find the best car rental prices when you pick up the rental from the airport. You can easily rent a car from any major city in Europe.
Driving in Europe is also pretty easy with lots of well-maintained highways and clear signage ahead!
You don't feel like driving yourself? BlaBlaCar is a great website for connecting drivers with people interested in carpooling. You do have to pay for the ride. However, it's usually cheaper than a train, faster than a bus, and more fun than travelling alone!
Travelling by campervan is the most classic, most awesome option. You have unparalleled freedom and access to places you would not otherwise have. You also eliminate the need to pay for accommodation every night.
If you're travelling long term, it can be a great way to travel Europe on a budget if you buy your own campervan. For shorter term travellers, renting a campervan is easy to do all across Europe. Then you get complete freedom within the contient.
Those long, long highways of Europe are just begging for someone to get on them on two wheels… Europe is an excellent destination for long-distance motorbikers and bicyclists.
For motorbiking, France and Germany are particularly popular. For bikepackers, the Netherlands is pleasantly flat to cycle around.
Europe is one of the best places in the world to hitchhike, even long distances. I recommend studying a map before sticking your thumb out there.
Try to get an idea of which roads you need to take to get to your destination. Europe is full of tiny, winding backroads that splinter off in all directions.
It goes without saying that you should not try hitchhiking in major cities. While hitchhiking in Europe is safe generally, it is important to be on your guard and use good judgement when accepting rides.
From personal experience, hitching rides in Western Europe can be tricky. Finding rides along major highways – that Western Europe is full of – can be hard as there aren't good places for cars to stop (looking at you, Germany and Northern Greece).
In other places, like Spain, I struggled to find rides because lots of people (falsely) seemed to think that hitchhiking was illegal. Plus, Western Europeans's got places to be and might not be receptive to picking up a stranger.
The best hitching luck I had was in Switzerland, Austria, and France. I highly recommend trying it everywhere though!
Onwards Travel from Europe
Europe is home to many major global travel hubs and international airports. This means you can get anywhere in the world – often with a direct flight – depending on where you're going. If you are on a grand European or world tour, heading to Eastern Europe and making your way into Turkey and beyond is a straightforward affair.
In fact, you can fly from London or Paris to Istanbul for as little as 20 Euros with some forethought (although rare). Plus, you'll find lots of train options going to Istanbul from all over Europe.
Keep in mind as well that countries in North Africa are sometimes just an hour or two flight away. Backpacking Morocco and Tunisia are great options after travelling Europe on a budget. There are also daily boats from Southern Spain to Morocco for about $40 USD – not too pricey at all!
Boats run to North Africa from Sicily too, so if you fancy marauding in Tunisia, you can easily hop over from Italy. I would strongly advocate for this, because backpacking Europe is not complete without a little Africa.
Want to spend more time in Europe? No problemo!
While the cost of living in most Western European countries is quite high and work visas can be tricky to navigate, there are lots of options available for industrious backpackers. (Though you DO need a work visa pretty much everywhere.)
The UK and Ireland are especially popular for native English speakers; there are tons of Aussies living in London.
EU nationals don't usually need visas to work in other EU countries so things are easier for them.
And you didn't hear this from me… but there might be a chance for backpackers to do a bit of work under the table as well. Get chatting with locals, stay open, and keep your ears perked. There are lots of backpackers earning a bit of extra cash from helping out in bars, farms, and festivals, especially in the summer travel season.
The Digital Nomad Scene in Europe
Despite certain weather challenges, Europe is HUGE for digital nomads. Sure, most countries in Western Europe are real expensive to live in. That doesn't mean they wouldn't attract digital nomads.
London, Berlin and Amsterdam all have massive digital nomad communities. However, these nomads may not stay in the city all year. They are also usually more high-earning nomads.
Those just starting to learn how to be a nomad prefer to head to eastern Europe – Bulgaria, Ukraine, Romania, and Hungary are all top destinations for broke nomads.
Portugal is hands down the best country for digital nomads in Europe. It's one of the more affordable countries (although getting more and more expensive), extremely nomad-friendly both in terms of community and locals's attitudes towards nomads, and super fun. The weather also isn't half bad! In the Algarve, you can get +30 Celsius temperatures even in the winter.
If Lisbon and Porto are not your speed, definitely check out Madeira. The Portuguese island is rapidly becoming one of the top destinations in the world for digital nomads.
Other cool places for nomads are Greece (especially Athens) and the Canary Islands in Spain. Both are affordable on Western European standards.
Internet is pretty much a non-issue in Europe. Most of the major cities have high-speed fiberoptic cables lain and the more remote villages have decent coverage. Whilst hiking the Dolomites, I even got 4G using my local SIM card. I could've worked in a local rifugio for a few days!
Is this the best digital nomad-friendly hostel in the world?
Come visit Tribal Bali – Bali's first specially designed, custom-built co-living hostel…
Bali's most special backpacker hostel is finally open…. Tribal Bali is a custom-designed, purpose-built co-living hostel – a place to work, rest, play and stay. A place to find your tribe and hands down the best place in Bali to hustle hard and make new friends…
Volunteer in Europe
Volunteering abroad is an amazing way to experience a culture whilst helping your host community. There are plenty of different volunteer projects in Europe including teaching, construction, agriculture, and pretty much anything.
The list of volunteering opportunities in Europe is pretty much endless. Will you run pub crawls at a hostel in Spain? Help herd sheep in the French Alps? Give hand to a music festival in the UK? The sky's the limit.
Short-term volunteers usually won't need a permit, but anyone from outside the EU will need a Schengen Visa to volunteer in Europe for over 90 days.
There are many ways to find volunteer opportunities but the best way is to start online. Check out some of the best work exchange websites to get started. The team at The Broke Backpacker LOVES Worldpackers. They're not only committed to providing awesome, responsible volunteering opportunities, they are also actively building a real community.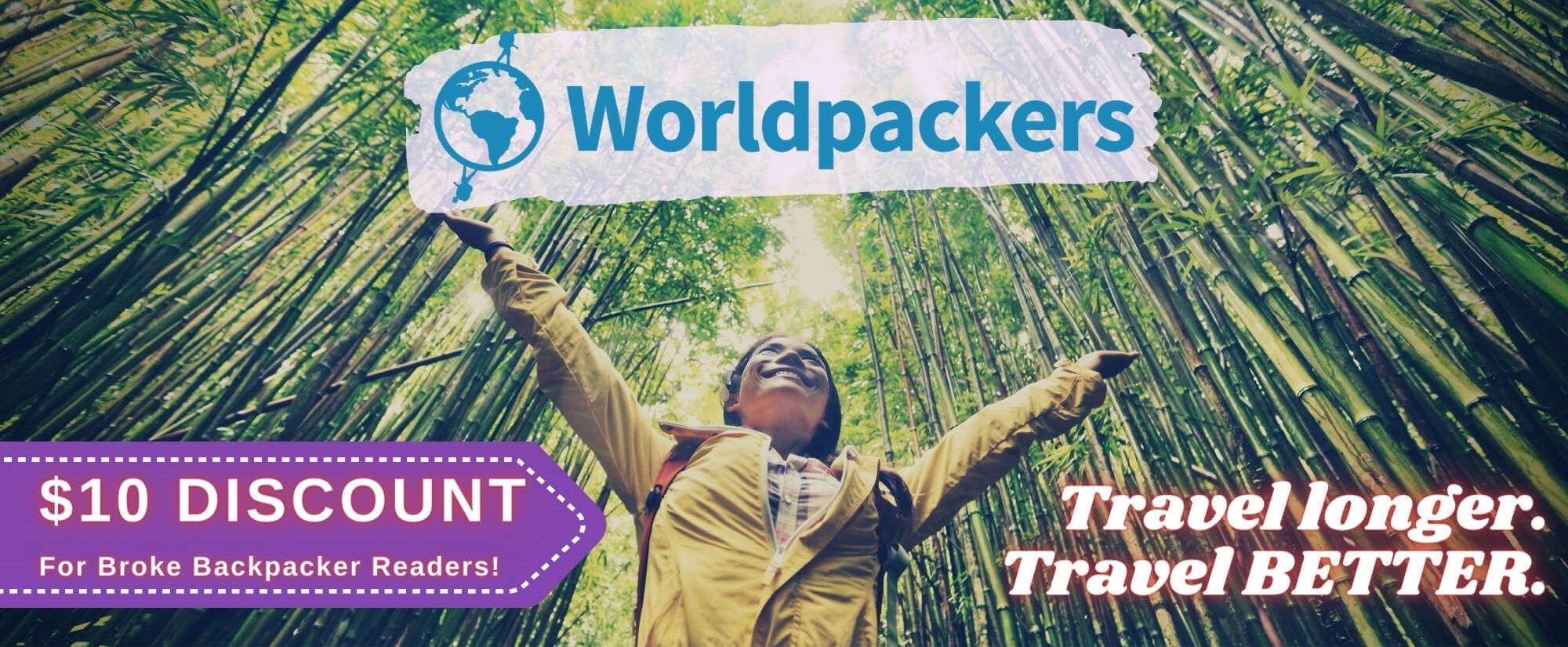 Worldpackers: connecting travellers with meaningful travel experiences.
A heap of the European cultural identity is built on its history. Italy and Greece are home to some of the most brilliant ancient cultures; France is considered the origin of enlightenment; Portugal has a strong (although complicated) history in seafaring and exploration.
It's no coincidence that Europe has more UNESCO World Heritage sites than any other continent. When it comes to art, heritage, sports, and music, Europe is considered by many to be the heart and origin of Western culture.
The first and absolutely most important thing that you need to know about culture in Europe is that people are not "just European". In fact, using "European" as a blanket term for everyone who lives on the continent is pretty ridiculous since it doesn't really begin to describe anything.
According to Britannica, there are over 160 distinct cultures in Europe, though if we're being honest this number could be higher. Within each of these cultures are sub-sections and divisions with their own national, religious, and historical identities.
There are over 160 distinct cultures in Europe, though if we're being honest this number could be higher. Within each of these cultures are sub-sections and divisions with their own national, religious, and historical identities.
What this means is that many people are very proud of their cultural identities and can be mildly offended if you try to paint everyone in the same colour. For example, the Scots are very proudly Scottish, and you definitely shouldn't try to call them English.
At best, culture in Europe shows in celebration. At worst, rising tensions related to immigration have given wind to some ultra-right nationalist ideals. (Yikes.)
Europe is also, overall, very modern. Expecting "traditional" stereotypes is a bit silly. People mostly don't dress in national costumes; at Oktoberfest, the people wearing the fake lederhosen and dirndl are tourists. Not everyone knows flamenco in Spain – in fact, it's a dance that originated from the Romani community especially in Southern Spain.
Football fans are crazy everywhere though, that much is true.
What to Eat in Europe
The food in Europe is so varied that my mind reels just trying to think about it. Where do I even begin?
First off, people are extremely proud of their culture's cooking. Italians sing praise about the quality of ingredients and the simplicity of their style. The French boast about their prowess in the kitchen and complex techniques. The Spanish of course love to talk about their tapas culture.
Secondly, though European culinary traditions have very long histories, most changed completely in the last few centuries. The introduction of new ingredients from the new world was nothing short of revolutionary. The Italians received the all-important tomatoes, the English imported curry, and the Germans got the Turkish kebab.
Most European culinary traditions have very multicultural pasts. North African traders and immigrants have had a profound effect on the Mediterranean diets and cultures as distant as China have purportedly influenced the creation of pasta.
All I can say is that a backpacking trip through Europe will be like a tour of heaven for your stomach. There are so many different kinds of food to try and a staggering amount of diversity. My best advice: try the usual suspects but be sure to experiment a bit.
Must-Try Dishes in Europe
Here are some of the best foods you have to try while backpacking in Europe:
Europe's super-varied landscape and wealth of cultures mean that there are heaps of cool new experiences to have. Go beyond your regular pub crawls and walking tours and check out some unique experiences you can only have in Europe.
Hiking in Europe
Europe is a land blessed of incredible hiking opportunities with trails both for expert trekkers and beginner hikers. Each country has a wide range of day hikes and multi-day treks on offer. Trekking is a great way to get to know any country by experiencing its wild side.
In addition to well-maintained trail systems, many regions in Europe have a network of mountain huts. For a fee, you can enjoy these super comfortable and unique fixtures of the European mountains.
Here are a few of the best hikes in Europe to get you psyched for an outdoor adventure of your own.
Mt. Etna Trek, Sicily, Italy: Climbing an active Volcano in Sicily is as much fun as it sounds.
Walkers Haute Route, France-Switzerland (Chamonix to Zermatt): A famous high route from Chamonix to Zermatt. The trek features absolutely classic alpine scenery, snowy peaks, glaciers, high meadows and deep valleys, and close-up views of such icons as Mont Blanc and the Matterhorn.
Tour Du Mont Blanc, France: The unforgettable circuit around the Mont Blanc massif. Outstanding views up to Mont Blanc, Western Europe's highest at 4,810m, and out across the dramatic peaks, glaciers, and deep green valleys of the high Alps. If you have the time, this might just be the most scenic (and most trafficked) hike in Western Europe.
El Camino de Santiago, France – Spain: Perhaps the most popular long-distance trek in the world, El Camino is an important trek in the hearts of religious pilgrims and outdoor enthusiasts alike. The Camino is actually multiple trails leading to Santiago de Compostela and eventually Finisterre, "the end of the world".
Mount Olympus, Greece: The fabled mountain where the ancient Greek Gods were supposed to have lived is very climbable in just one day.
Surfing in Europe
Many backpackers are unaware that there is some killer surf to be found all across Europe. Portugal is certainly famous for having massive waves and the associated surf competitions.
That said, if you are keen on surfing at some point as you're backpacking through Europe, you do have some options. Below I have provided a shortlist of surfing hotspots in Europe.
Biarritz, France: One of the oldest known surf meccas of Europe. The surfing here is great for beginners as well as seasoned rippers.
Newgale, Wales: Surfing on this beautiful stretch of coast facing out towards the Irish Sea; the waves here are powerful and the views are epic.
Belhaven Bay, Scotland: This surf spot is only an hours drive from Edinburgh! Make sure you have a good wetsuit. Not the warmest water in the world, but the waves are good at times.
San Sebastian, Spain: When not eating and drinking, it is easy to hit the beach and catch a few waves before resuming the former.
Lagos, Portugal: Probably the unofficial capital of surfing in Portugal. There are many surf schools across Lagos that will help you tune up your surfing game in no time.
Museums in Europe
Europe is the world's best continent to tour museums, both art and history adjacent. (That might have something to do with plundering other countries' national treasures and refusing to return them… But uh, let's not focus on that.)
Europe's best museum city is London. Most of London's museums are free to visit, and they have some of the best collections of art and historical relics from everywhere in the world. (Again, for certain reasons…) My favourite museums in London are The National Gallery, The Natural History Museum, The British Museum, and Victoria and Albert Museum.
Paris is strong in the museum game too. Definitely visit the Louvre and its most iconic resident Mona Lisa. Don't grumble about it being small, it's still awesome. For more morbid explorers, the Paris Catacombs offer a cool glimpse into the city's history.
More honourable mentions to go Reina Sofia in Madrid, Rijksmuseum and Anne Frank House in Amsterdam, and Dachau concentration camp in Germany (it counts).
Bring your ID – some places, like the Louvre, have free admission to students and people under 25.
Got questions about backpacking Western Europe? I've got the answers!
Congratulations! You made it to the end of my Europe travel guide!
I hope the information I have provided will help you navigate the exciting European journey you have decided to embark on. Backpacking in Europe will be one of the most fun experiences of your life, I have no doubts about that.
Europe can be one hell of a place to let loose and have a good time. Between the party-hearty music festivals, discotheques, rave scenes, pub crawls, and other venues of hedonistic tendency, there is ample opportunity for backpackers to get down.
Have fun on your Europe backpacking journey – but like my mum would say, not too much fun! Partying every day is one of the most common backpacker traps that travellers fall into.
When visiting historic sights or religious monuments, be respectful. Certainly do not climb on old ruins or touch priceless paintings. Europe is full of historical treasures. Don't be that dickhead that contributes to their demise and destruction.
When you can, make an effort to learn at least a few words of the local language of the country you are backpacking in. It's a challenge as every country has a different language, but a little effort goes a long way. The world need not revolve around us native English speakers!
Do your best to support local artisans, organic farmers, and craftspeople while travelling around Europe. Keep your dollars local, especially in small villages or towns.
Never take it for granted that you are healthy and financially able to go travelling. Show the world around you some gratitude and help to make a positive impact on it.
Most of all, have the time of your life and spread the love!
Updated May 2023 by Abe Lea
---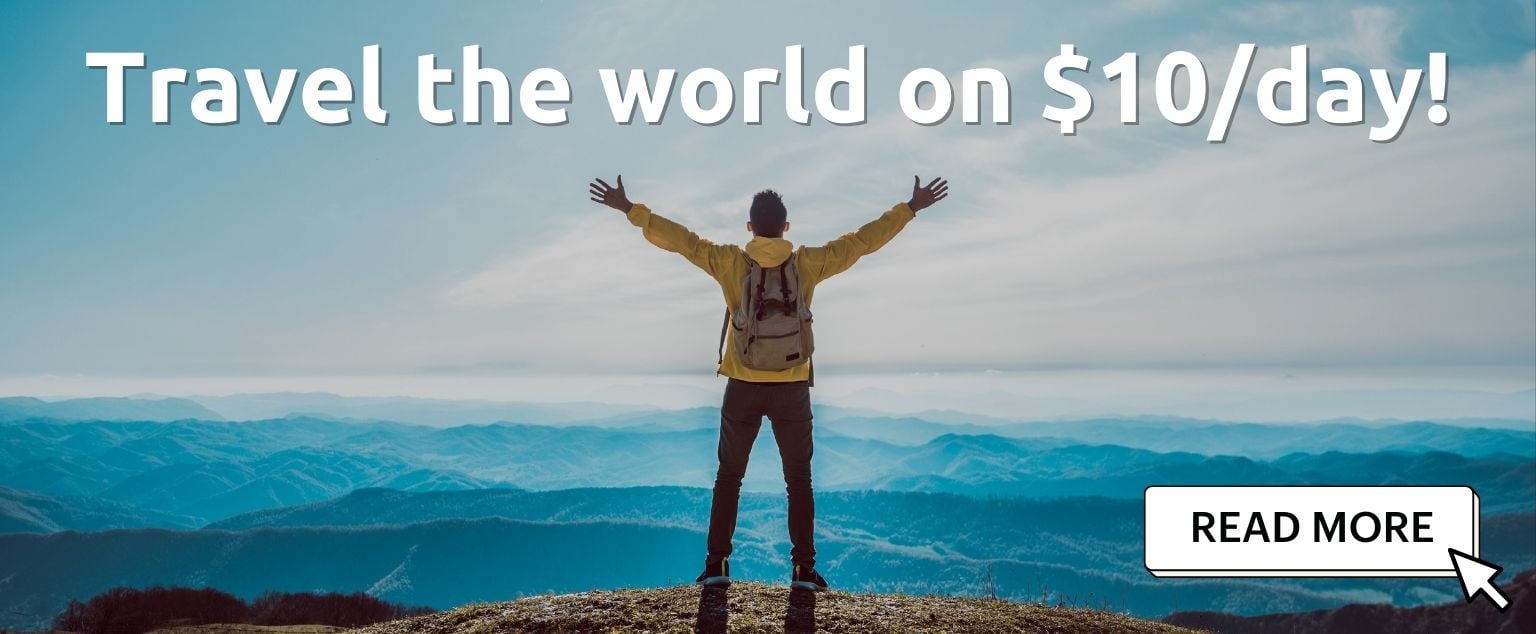 And for transparency's sake, please know that some of the links in our content are affiliate links. That means that if you book your accommodation, buy your gear, or sort your insurance through our link, we earn a small commission (at no extra cost to you). That said, we only link to the gear we trust and never recommend services we don't believe are up to scratch. Again, thank you!