So you've decided to start hiking? Nice! This could be the start of a new lifelong passion to keep you healthy, make some new friends, and even take you around the world. 
Or maybe you're just thinking about going hiking, but you have some questions. Maybe you're not sure if it's worth it, or maybe you don't know if you're fit enough, or if you have the right gear. Perhaps you want to go hiking, but simply just don't know how?
Whatever stage you're at, you've come to the right place! I've got all the advice, information, inspiration and insider knowledge you need to get off the couch and into the great outdoors.
Who am I, then? Oh, just some girl who decided to start hiking one day without any clue what the hell she was doing. I could've used one of these guides when I first started. So now, thousands of kilometres, multiple countries, and half a dozen poorly pairs of hiking boots later, I've come to dole out my wisdom.
I can guarantee that after reading this beginners' guide to hiking, you'll be a more well-prepped to take your first shaky steps out the door!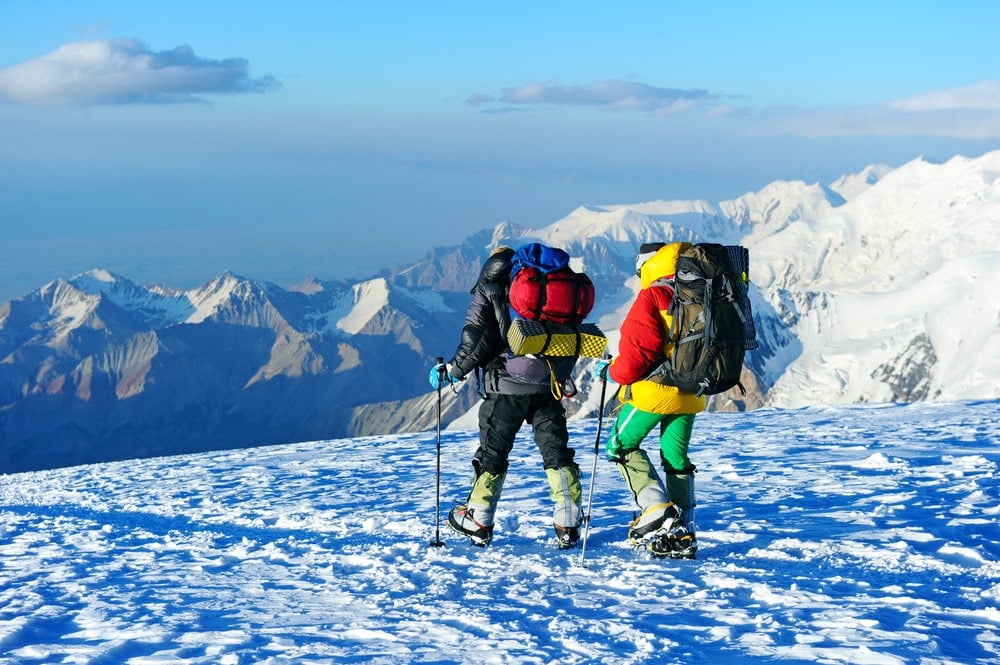 What even is hiking?
Hiking, in its most basic form is just this: a nice walk in the nature.
Hiking can be many a wonderful thing – a thirty-minute downhill path to see a waterfall, or a vigorous week-long cross-country effort.
Since you're reading this, I'm assuming you're probably a hiking rookie. This just means that you should probably be looking into day hikes, AKA hikes that you can do in one day.
Contrary to maybe-popular belief, hiking doesn't need to involve mountains. There are also completely flat beginner hiking trails, hikes through meadows, and even urban hikes in cities.
(Although, IMHO, mountain hiking is the best form of hiking!)

Unlock Our GREATEST Travel Secrets!
Sign up for our newsletter and get the best travel tips delivered right to your inbox.
Who Is Hiking for?
Short and sweet: hiking is for EVERYONE.
Anyone can go hiking. Literally. Your gender, age, ethnicity, fitness level, body type, none of that shit matters in nature. You can go hiking with your sister's kids or with your grandparents. Go solo hiking or in a group of 30.
You can even go hiking if you're in a wheelchair! There's a guy who literally climbed Mount Everest with no legs. Anyone can hike.
Even packing for a day hike can sound intimidating. But whatever hiking gear you do or don't have, there is a hike for it. I guarantee that somewhere there – more likely closer than you think – is one you can do.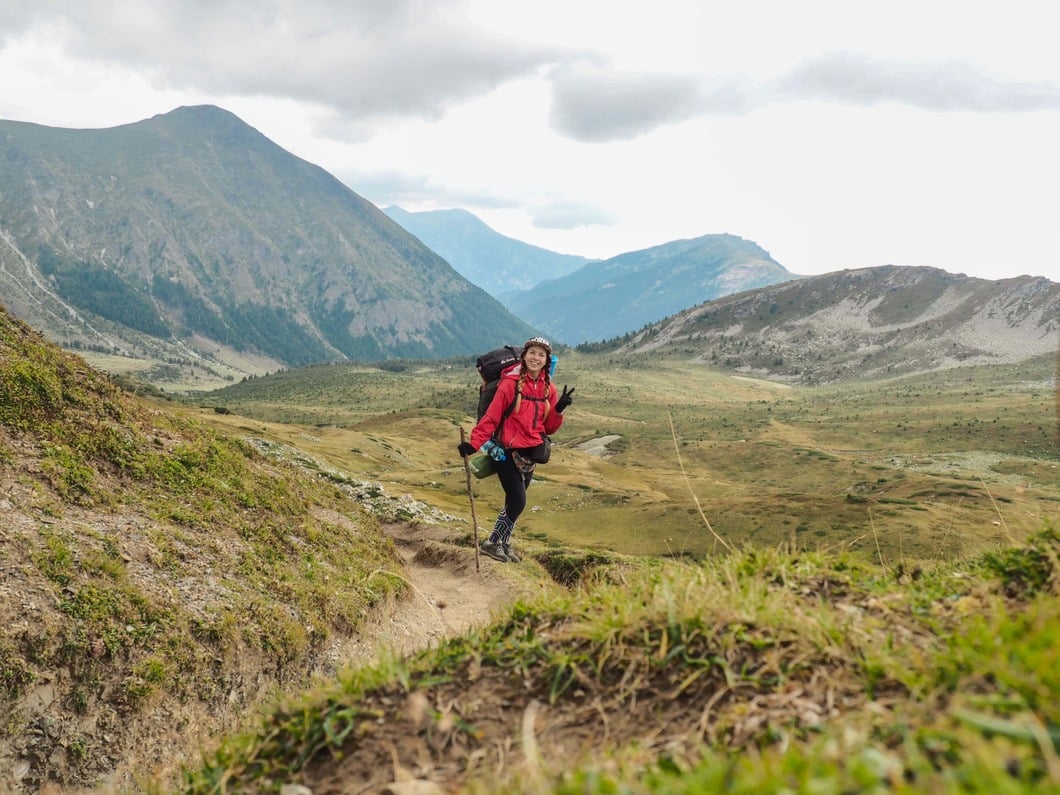 The reason I want to REALLY emphasise this point from the get-go is because adventure travel has, for years, been a very straight-white-male-centric world. Because anyone who doesn't fit the traditional mould of an explorer faces a lot of scrutiny, worry, and even discrimination about their hiking hobby.
But there is no such thing as "too old, too inexperienced, too weak, too big" – you're "too" nothing. With a solid pair of walking boots, you can climb mountains!
I mostly hike alone, and even in our precious year 2021, people still have the gall to get surprised that me, A GIRL, could survive the wilderness alone.
From one habitual solo female traveller to everyone else: as long as you're interested in it, hiking is for YOU.
The Benefits of Hiking
Why go hiking? Yes – why?
First off, hiking is obviously great exercise. It's good for the heart, good for developing and strengthening muscles, good for your bones, your blood sugar, and your cholesterol. It reduces your risk of cancer and heart disease and improves your sleep.
And like even Plato said, the improvement of mind and body go hand in hand. One of the benefits of hiking is that it's a natural mood enhancer; exercise puts endorphins zooming through your system. It helps to relieve stress, gets you out of your daily routine, and helps you treat travellers' burnout. It's pretty much a form of meditation.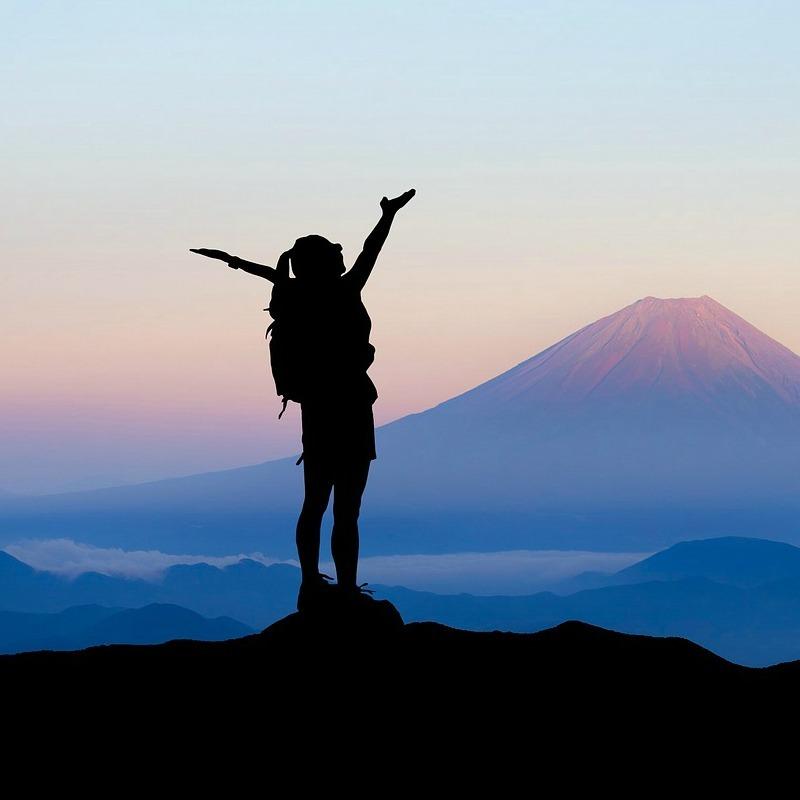 It's also really great for creativity as it clears your mind of day-to-day distractions and lets your subconscious, playful mind run free. Charles Dickens used to walk for hours every night and that's when the ideas for his novels came to him.
For me, hiking is also really empowering. It's something I accidentally discovered I was good at, and if all else is going to shit, I know I can always escape to the mountains to find peace of mind (and myself).
Hiking has massively improved my relationship with my body. It's hard to stay mad at your little body for not looking the way you want it to when it has literally carried you up and down mountains. I mean, that's a pretty badass accomplishment.
And lastly, hiking truly makes you appreciate what a marvellous, beautiful world we live in. This newly-found love will make you more environmentally conscious. Within a week you will be preaching sustainable tourism, and within a month, you will have spouted matted dreadlocks and joined Extinction Rebellion.
What's a good place to start hiking for beginners? What should I know about planning a hike? What are the best hiking tips for beginners and what does preparation for hiking include?
Listen, one of the best hiking tips I have for ya is to just DO IT. Just stop asking questions and start hiking!
But my number #2 hiking tip is to read through these few sections to get an idea of how to pick and plan your first hike. And very soon you'll be ready to take on the best hikes in the world!
Choosing A Hiking Trail
Technically, there isn't any law saying exactly where you should start. I've always been a great believer in "if you can think it, you can do it". Maybe that's why my first solo hiking experience was a 3-week, 250 km trail that was definitely way above my skill level. But hey, did I die?
Do as I say, not as I do though. Instead, I suggest you start small and local and build up to a longer hike.
Even if you live in a big city, there is probably some kind of a hike in the peripheries. Even mega metropolises have mountainside hikes right in the midst of the mayhem.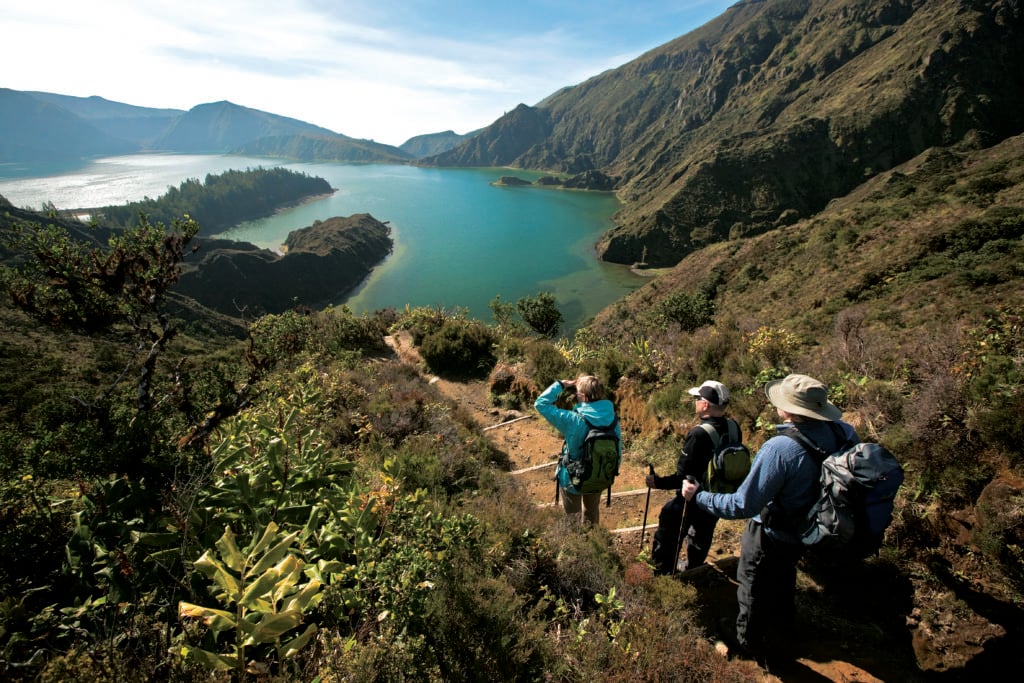 Almost anybody can complete a non-technical, half-day hike. But there are a few things you should take into account:
Trail descriptions usually come with a rating: Easy, Moderate, Challenging. This refers to the terrain. Trail conditions on an easy hike are mostly flat and not super rocky. If you're fit, you can definitely do a moderate trail as well.
Be honest – how many miles can you hike in a day? Distance can be deceptive; in difficult terrain or on the mountains, you can't keep up your usual pace. Remember to count in necessary breaks!
An ideal beginner hiking trail is 3-6 hours long.
On top of terrain, elevation gain is another good indicator of how much you can actually hike in one day. Basically, it means how steeply the trail goes uphill or downhill – the more elevation gain in a short distance, the steeper and harder the trail.
One-way means that you need to take the same trail back. Loop means that you end up where you started from. Thru-hiking means starting from one point and ending in another.
How to Find Hiking Trails
How to find the right hiking trail for you, then? I suggest you start by googling "Day hikes near me" or "Short hikes in x" (Note – x is your hometown. It's not a sex club in Berlin and it's not the place where the pirate treasure is buried). The best place for an adventure could be right on your doorstep.
If you're travelling, google "best hikes in *country*".
Alternatively, you can pop into your local outdoors shop and ask one of the staff as they are, usually, all mega-outdoor enthusiasts and will know your area intimately. They may even be able to sell you a local trail map.
Other options to find hiking trails are asking on Reddit, looking for a Facebook group, or joining a local hiking group – in which case, they will probably choose the hiking route for you. Yay for finding new friends AND not having to make decisions!
Planning a Hike – What Do You Need to Know Beforehand?
Before launching off to adventures, you need to figure out when you're gonna go, and if you need to buy a hiking permit beforehand. If you are planning a hike abroad then this takes a little more thinking.
First, pick a day. I'd say check the weather forecast, but forecasts can be unreliable especially on the mountains. It can give you some idea of what to expect though. Try to avoid rainy days, and definitely steer clear of thunderstorms.
Secondly, figure out if you need a permit. Some national parks sell per-day tickets to make sure the mountain doesn't get overcrowded. Some parks might also have entrance fees or require a hiking permit. Usually, you can buy this on the spot (so bring cash!) but you might also be required to book your entrance beforehand.
Planning Transportation: Getting There and Back
So where does your hike actually start? If it starts on your front doorstep, great. But it probably doesn't, you need to figure out how to get there and back.
If the trail starts and ends in the same place then you can drive there. If the endpoint is different – but you're hiking with buddies – you can leave one car at the endpoint and one at the start point.
However, maybe you are travelling. Maybe you don't have a car, or whatever. Then you should check public transport options.
Popular day hiking destinations probably have a bus route going between there and town. But in general, public transport and hiking routes don't mix too well.
If there isn't a bus, then there's always taxis. It can be expensive but if you have a buddy or a group you can split the costs. Also, bear in mind that the hike itself is free, so maybe spending $10 on a cab isn't a bad investment?
The best way I've found to get to and from obscure hiking destinations is hitchhiking. It may not be completely without risks, but usually, people are lovely and don't mind picking up a stranded hiker.
I will admit, I have done quite a few hikes in my time without knowing how I will get back and it has worked out fine. But I definitely don't recommend it. Don't take any chances, especially if you don't know the area. So take the time to plan your way home!
How to Get Fit for a Hike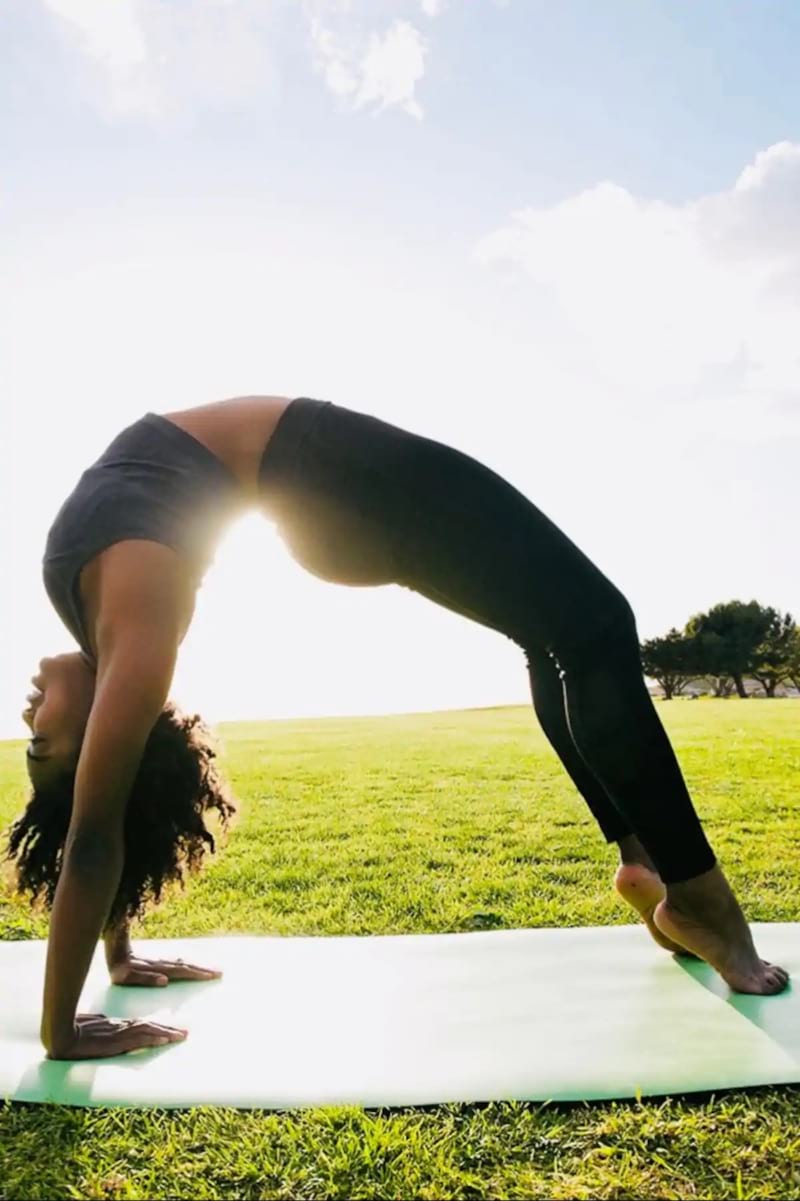 Lemme just start this section by saying that you don't need to do anything specific to get fit for a hike. I mean, hiking is the exercise!
Like I've already said, there are hikes for people of all sizes and fitness levels. The great outdoors might seem like a daunting place when all you see are fit Instagram models posing in front of mountaintops – but trust me, there's a place for you, too.
However, I wanted to include a few tips that can help you if you're starting your exercise journey from zero, or you've been on the road for a bit and have been slacking off with your travel fitness routine. Hiking might also be a type of exercise that your body is not used to. Plus, if you're planning a hike that's demanding or takes multiple days, then these exercises definitely come in handy.
I would focus on exercises that strengthen your legs, include cardio, and improve your balance. I don't know about you but I'm clumsy – and I'm not trying to yeet myself headfirst into a mountain river after I've slipped off a stepping stone.
Some good moves to include in your fitness routine are squats (especially jump squats), mountain climbers, step-ups, and – everyone's favourite – burpees. Even if you focus on your legs, don't abandon the core; you'll still need those abs for hiking.
But more than your muscles, train your brain. There are many mountains out there that I've climbed with the power of pure spite more than fitness.
Panting and breathless? Sure. But I made it because I decided I could.
How To Find a Hiking Buddy (Or Not)
By now you hopefully have your trail in your sights. The next question is, should you go solo hiking or should you go hiking with a friend?
I personally love solo hiking. It's the ultimate ME time. I zone out and daydream about grand loves, riding dragons, and really good cheese platters. Sometimes I like to listen to true crime podcasts and chuckle when the hosts say things like, "don't go into the forest, man'. Above all, solo hiking is great meditation, and surviving a hike is a good way to improve your self-esteem.
I get it though that normal people – these "extroverts" I keep hearing about – prefer doing things in groups. Nothing wrong with that, either. Hiking is an awesome shared experience that can bring you closer to your buddies and even lead to some properly deep conversations.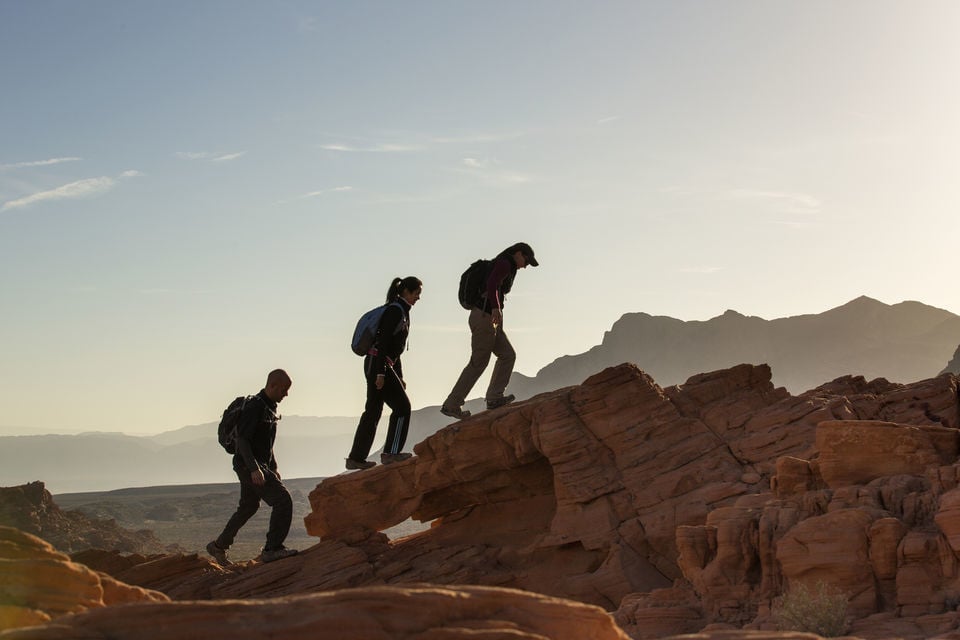 There is also obviously a safety benefit to going with someone else. You have each other's backs in case anything goes wrong and have less chance of getting lost.
How to find a hiking buddy though? When everyone you ask to come with you reacts like you've just asked them to go streaking nude through town?
If you ask enough of your friends, relatives, co-workers, or Tinder matches, one of them will eventually say yes. Especially if you forward them the above list of the health & well-being benefits of hiking. 🙂
You can also join a local hiking group! You'll find fellow hikers in almost every town. Find hiking groups for beginners on Facebook, Couchsurfing, or Meetup app, or ask local outdoors stores if they know of any.
Even if you're wondering how to start hiking alone, other hikers are a super valuable resource. Hikers are nice people! Before the hike or even on the trail, you'll always find a fellow hiker to give you advice, directions, or a bite of their lunch.
DON'T DIE OUT THERE! …Please 🙂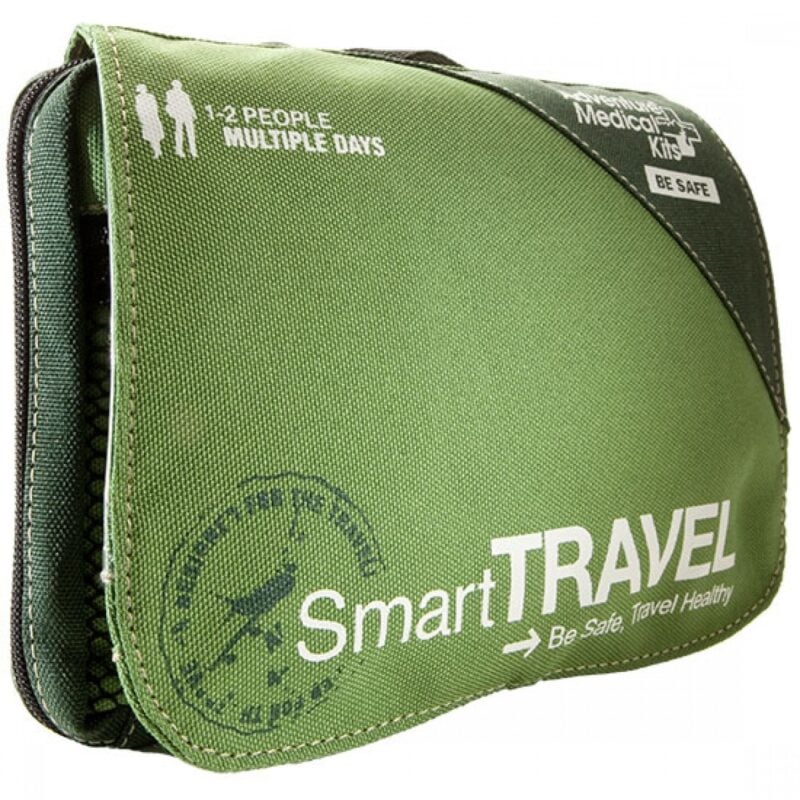 Things go wrong on the road ALL THE TIME. Be prepared for what life throws at you.
Buy an AMK Travel Medical Kit before you head out on your next adventure – don't be daft!
Buy on REI
Packing for a Hike: Hiking Gear and What to Pack for Hiking
Let me start out by saying that you don't NECESSARILY need anything fancy to start hiking. Hiking gear for beginners usually just means donning the stuff you already have in your closet.
Especially if you're just starting hiking or plan to not go too often, it doesn't make much sense to splurge all your money on smart jackets and hi-tech socks.
Having said that, you shouldn't go out into the hills equipped with just flip-flops and good intentions. Here are the hiking essentials for beginners that you should take in some shape or form.
5 Essential Pieces of Hiking Gear for Beginners
Like with any new hobby, you will probably need to buy something before you can start hiking. Also, like with any new hobby, how much stuff you need and how much you spend on it depends very much on you.
1. Hiking Boots
Do you need actual good hiking boots in order to go hiking? Umm, actually, not really. I've done many a hike in just sneakers.
Boots are bulky, and if you're on a budget backpacking stint, you want to make sure your pack is packed as lightweight as possible. Plus, hiking boots are optimally worse for other types of sports. Sneakers work better if you like to go jogging in the morning or tour cities in comfy shoes.
What you shouldn't wear, though, are flip-flops, sandals (unless they're hiking sandals), or Converse/Keds type stuff. They're pretty bad for your feet on hikes, and open shoes won't protect you from underbrush or snakes.
However, hiking boots are absolutely BETTER than sports shoes. My Keen Targhee II have carried me to places I could only dream of before. If bulk is not a problem then absolutely get some boots.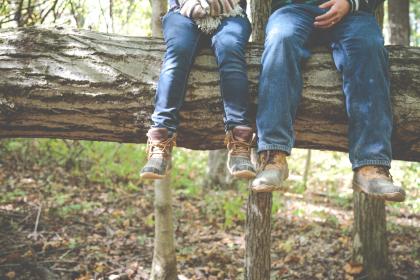 There's heaps of benefits to having proper hiking boots:
They're better suited to rocky and uneven terrain.
Waterproof boots protect your feetsies in mud or water.
They have thicker soles than regular sneakers so if you're carrying any more weight than just a hiking daypack, you'll get a footache and ruin your shoes if you're wearing sneakers (a tragic true story).
If you buy boots with ankle support, you're less likely to roll your ankle.
In general, boots offer MUCH more comfort, grip, and support than normal shoes.
Just make sure you break them in before the hike! Wearing them straight out on a hike is not a good idea and you will be punished with raging blisters.
Aiden, AKA Freeborn Aiden, one of us hiking crazies at The Broke Backpacker, has a little adage:
"No great deed has ever been committed by anybody wearing bad shoes".
2. Hiking Backpack
You ABSOLUTELY need a backpack for hiking. Packing for a hike is everyone's personal responsibility – don't be that person that makes their friend carry their snacks! Do not dream of bringing a satchel, side-bag, or a tote – you'll look like the leaning tower of Pisa by the end of the day.
In terms of size, the best backpack for day hiking is 20-30 litres; think school backpack size. You do not necessarily need a proper, outdoors hiking backpack. Any old backpack can do for now.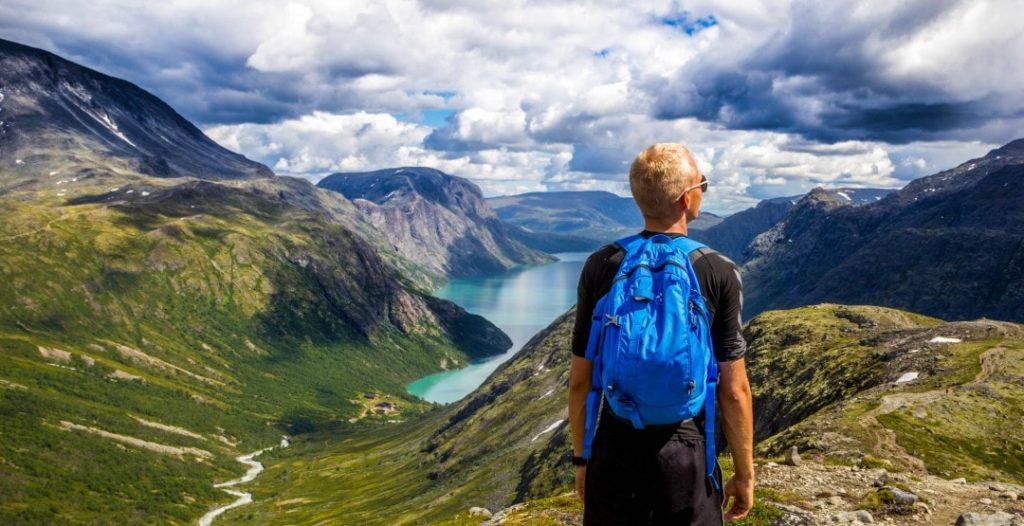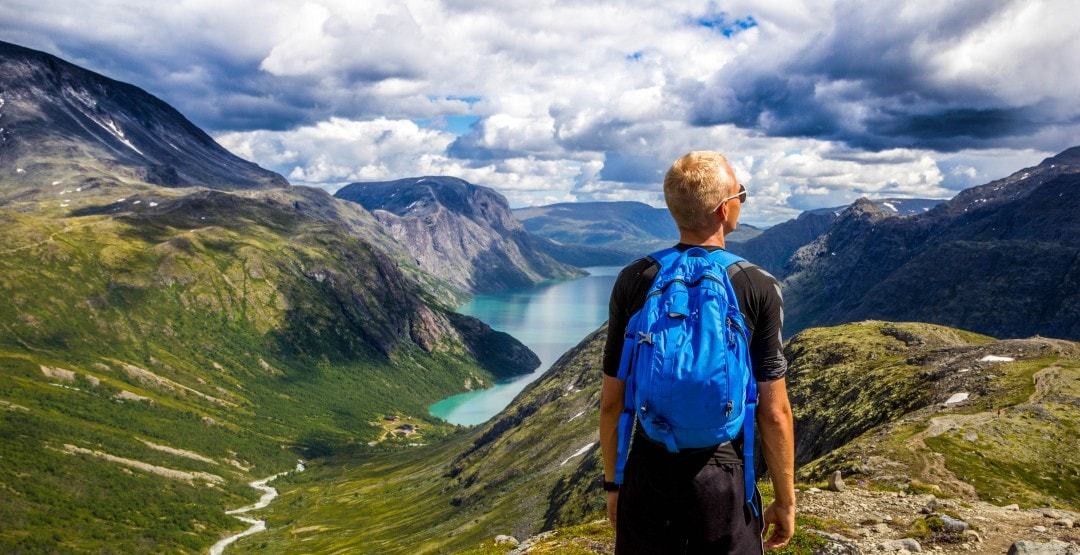 However, if you're planning anything more ambitious than a day hike, you should absolutely invest in a proper hiking backpack. A good hiking backpack has adjustable, padded hip and shoulder straps which help distribute the weight of the backpack better. I learned the important lesson of padded straps only after a very painful couple of hundred kilometres through backpacking the Balkans.
It should also have lots of pockets on the inside, and a pocket on the outside where you can keep your water bottle at a hand's reach.
I've been a big fan of Osprey for years now. (And I know the rest of the team would agree with me!)
For a hiking daypack, Osprey Quasar 28 is a great option. It is waterproof, washable, breathable, has waist support, adjustable straps and lots of handy pockets. It also works as a general backpack for going to the gym, food shopping and walking around in cities, so it's well worth the investment.
There are many more options for you to find your favourite daypack!
Is This the Best Daypack EVER???
3. Headlamp
It doesn't matter if you're only going on a little day hike. It doesn't matter if your trek takes place completely within daylight hours. A headtorch is not only essential hiking gear for beginner hikers: every backpacker needs a reliable headtorch – because you only wish you had one when you REALLY need one.
A headtorch comes in handy if you get lost and your hike extends longer than you expected. It's great if you need to cross tunnels, or you're hiking in thick forest on a gloomy day. It's a great helper for finding your trail mix in the depths of your backpack. AND it really adds to the ambience when you tell scary stories around the campfire at night.
Let alone the fact that even non-hikers need headlamps. Get a headlamp! Get two! Get five! You'll always need it.
4. Water Bottle
Even if you're bringing nothing with you, even if you're streaking round the trails barefooted and stark naked, BRING WATER. It is, quite literally, one thing that helps you stay alive more than anything else.
And here's a little request for you: you could always buy a plastic water bottle at the store before the hike and be done with it. But that's gonna make sea turtles cry. And you don't want to make turtles sad, right???
I highly, highly recommend getting a reusable water bottle. It's environmentally friendly, way more durable than one-use plastic, and something you'll end up using every day – even outside the trails. (Currently sipping from mine as I'm writing this very sentence.)
If you're serious about hiking, consider investing in a good filter bottle. This means you'll be able to drink water out of pretty much anything. I recommend the Grayl Geopress – made by hikers for hikers!
Save $$$ • Save the Planet • Save Your Stomach!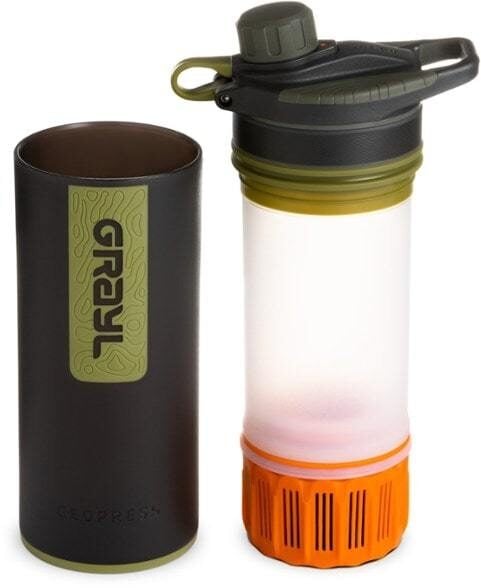 Drink water from ANYWHERE. The Grayl Geopress is the market's leading filtered water bottle protecting your tum from all the waterborne nasties. PLUS, you save money and the environment!
Single-use plastic bottles are a MASSIVE threat to marine life. Be a part of the solution and travel with a filter water bottle.
We've tested the Geopress rigorously from the icy heights of Pakistan to the tropical jungles of Cuba, and the results are in: it WORKS. Buy a Geopress: it's the last water bottle you'll ever buy.
Buy a Geopress!
Read the Review
5. Hiking Clothing
You can use almost anything you already have as long as it's breathable and quick-dry!
Good quality hiking clothing isn't too warm. If you sweat too much, you easily get cold when you stop to rest. A good idea is to start hiking a little cold – you'll start to get warmer while you walk.
My go-to hiking outfit is long but lightweight stuff: hiking trousers, and a t-shirt under a polyester long-sleeve shirt.
Stray away from cotton: polyester and nylon work well. Merino wool is highly hyped but it's also expensive as balls.
You'll always need a decent hiking jacket. On the mountains, weather changes quickly. And when the thunderbolts roll in, you'll be happy to have a windproof, hooded, waterproof jacket.
For trousers, I prefer ones meant for trekking, but I wore yoga pants on trails for years. Shorts are also ok if you're pretty sure the day's gonna stay warm. I still prefer longer layers even in the summer – one lost battle against dwarf pines showed me that long layers protect you from bruises and scratches.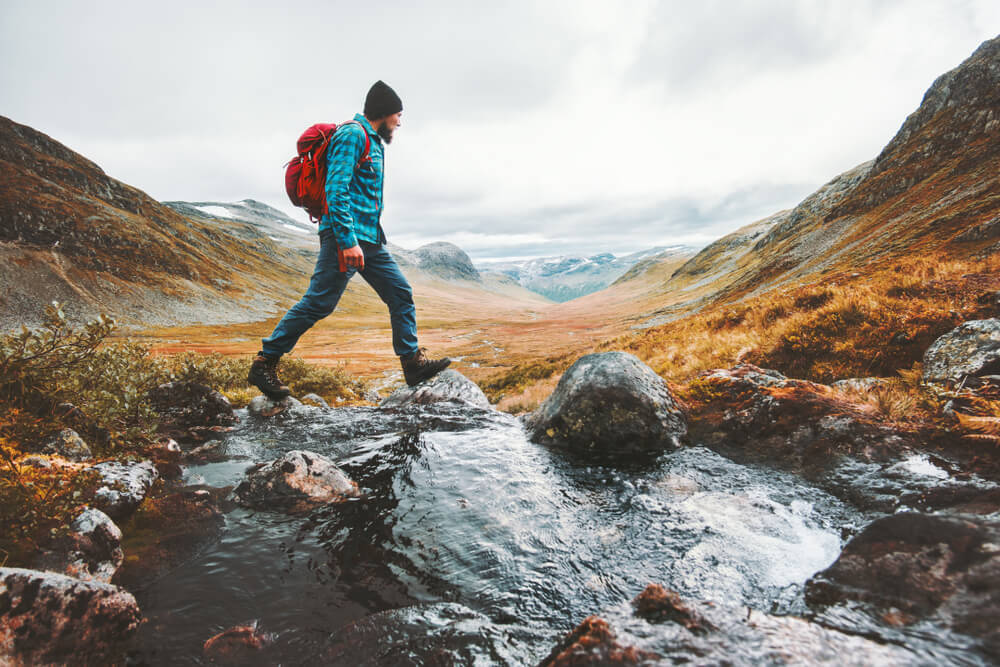 Specific shirts are not a hiking essential for beginners. But note that wearing your tight-fitting cotton tops is defo not a good idea. A comfy moisture-wicking T-shirt works best, but an oversized, baggy T-shirt or a soccer shirt will do.
Hiking socks are absolutely a thing. And they can be useful for extra support if you have any foot problems.
And then, my favourite thing: hiking poles. My friends do laugh at me for hiking with a pole and looking like an old geezer – I don't care. Hiking poles are THE BEST.
Trekking poles help you spread out your bodyweight, set a pace, and keep balance. They help in uphills AND downhills. (They also come in handy for fighting off bears.)
Sleeping over? Check our recommendations on the best overnight gear!
What to Pack for Hiking
OK, now you know what to wear on your very first hike. But that's not quite enough – there's a few more things you should always be packing for a hike, regardless of if you're adventuring for a day or a week.
Water – You need water. I much you actually need depends on the hike, the conditions, and you. Just make sure you have enough.
Phone – You probably always have your phone with you all the time anyway. But they are really useful on hikes to take pictures, check Map apps, listen to music, and of course, call for help if your break your ankle. Charge it before you leave and make sure you have data and minutes.
Power bank– I strongly recommend a power bank in case your phone or camera dies. Get a small, light one and charge it before you leave.
Plasters – Plasters are great for any blisters or scratches.
Spare socks – Spare socks are always handy. If you get wet feet, then they are lifesaver. If your hike finishes in a nice bar or pub, then you will feel better drinking in fresh socks rather than sweaty ones – trust me on that.
Food – Bring a sandwich, fruit, and maybe a chocolate or cereal bar (or three). Trail mix AKA nuts and raisins, is also highly recommended!
Knife – A pocket knife is useful for cutting plasters, opening snack packages, and carving little wooden figurines when you get lonely.
Camera – The outdoors is beautiful and so it's a good idea to carry a travel camera. Your phone also suffices if you don't want to carry the extra weight.
Sun protection – Sunscreen is essential. Easy to forget but please don't. We've all learned the hard way with this one.
Bug spray – You need this during the summer to keep the midges and mozzies away.
Beer – Sometimes, I love to climb a hill, open a beer, and take in the view. It's not always be cold by the time you get there but still satisfying. Don't overdo it though; alcohol goes straight to your head after doing exercise. Don't drink and hike!
Hat – Packing a warm hat is not a bad shout.
Wet wipes – At the end of the hike you will feel grimy as hell.
Small Pack Problems? 😉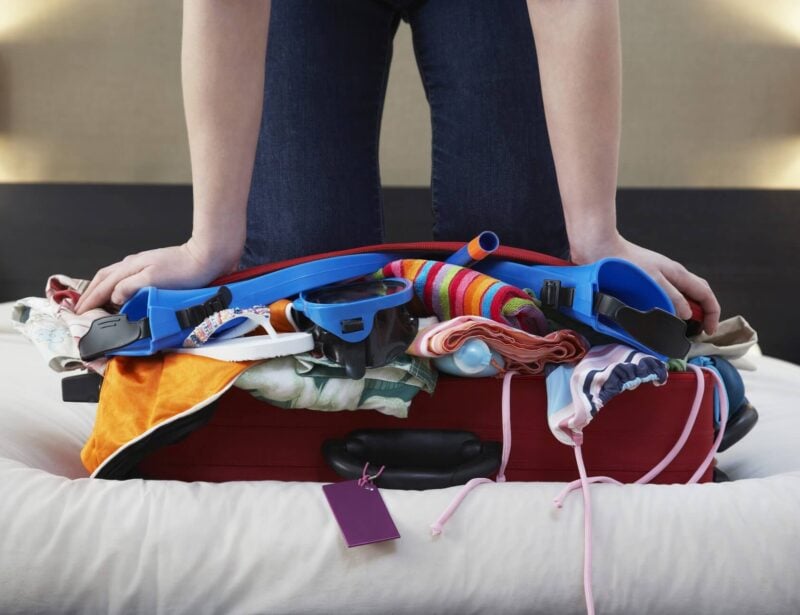 My missus travels with all her clothes in ziplock bags: don't be like my missus. UP YOUR PACKING GAME!
Packing cubes for the globetrotters and compression sacks for the real adventurers – these babies are a traveller's best kept secret. They organise yo' packing and minimise its volume too so you can pack MORE.
Or, y'know… you can stick to ziplock bags.
View Our Fave Cubes
Or Check Out the Sacks!
How to Not Get Lost: Advice on Maps
One VERY CRUCIAL thing to take into account when packing for a hike is this: how are you gonna make sure you won't get lost?
And before I manage to worry your little head, fear not. If you pick your trail right, getting lost hiking is almost impossible.
The most beginner-friendly hikes are marked, well-maintained trails, and pretty populated. This means you can simply follow trail markers from start to finish. And if you get into any trouble, there should be plenty of other hikers around to lend you a hand.
Still, it's only smart to actually figure out how to navigate yourself. It's also the first step from leaving rookie territory towards mastering the art of hiking!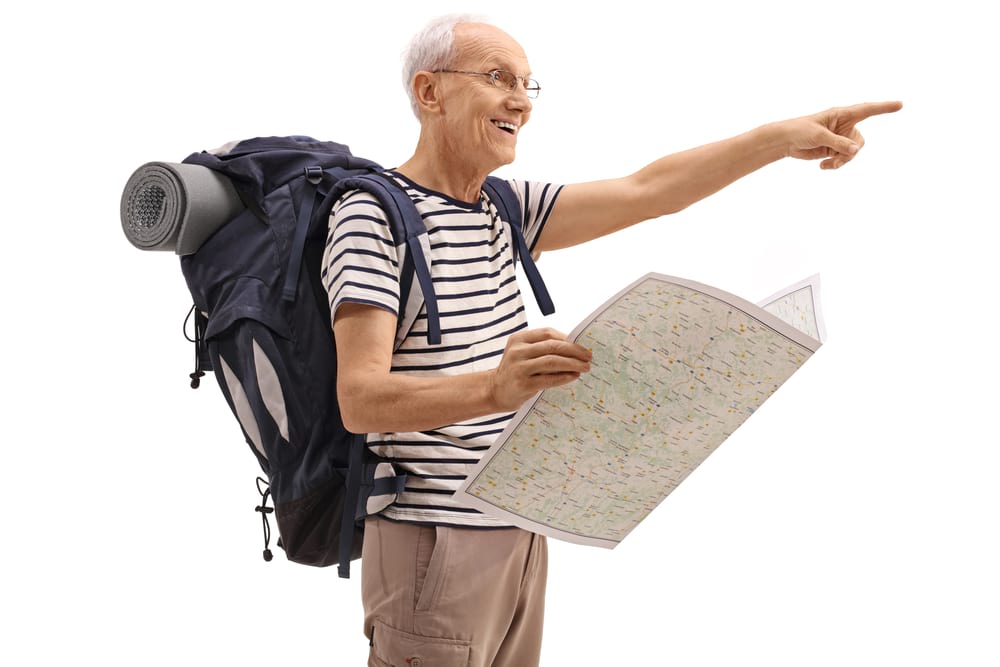 It's good to learn how to read a compass and a paper trail map. But I have a confession: I've hiked for thousands of kilometres, and I only have a rudimentary understanding of how their sorcery works.
In the digital world, this is not really a problem. Paper maps cost money and are hard to come by anyway.
Map apps are one of the best travel apps to have to help you navigate. Just download it before you set off. The absolute top dog is Maps.me. It allows you to download offline maps and has such important things marked on it as water points and hikers' huts.
For more challenging orientation, you might need a handheld GPS. However, since you're still a beginner, you probably shouldn't be going to trails that are that tough quite yet anyway.
Now, let's not freak out… The dangers of hiking are actually very few. Well, unless you consider having a good time and getting a few twigs stuck in your hair dangerous.
But you're still spending time outdoors: the realm of twisting roots, capricious weather, and blood-thirsty mother sparrows. Take heed of these hiking safety tips before hitting the trail.
Number 1 Hiking Safety Tip: Get Insurance
The absolute most important thing (after your passport) that you need on your travels is a good travel insurance policy. ESPECIALLY if you're a hiker. Getting airlifted out of a ravine is expensive as hell.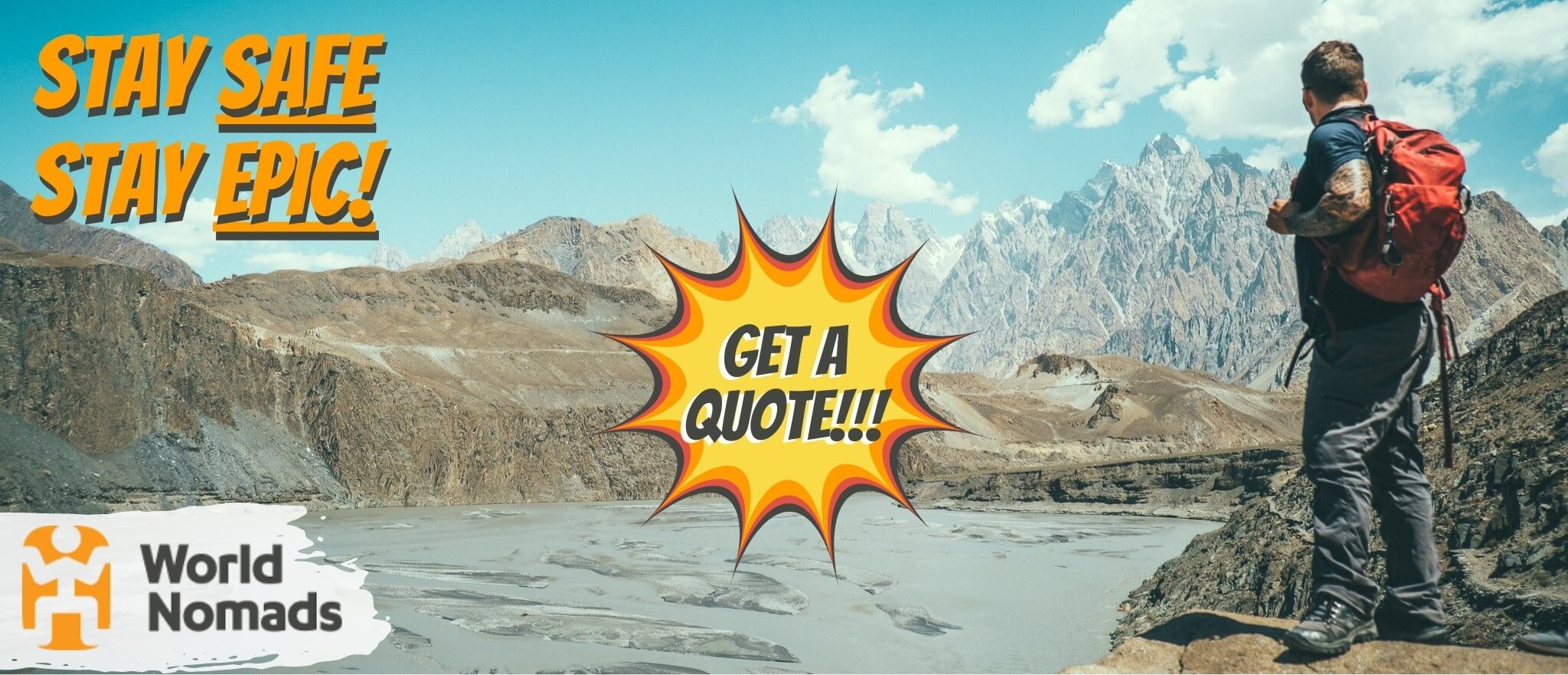 World Nomads' mission is to support and encourage travellers to explore their boundaries. They offer simple & flexible travel insurance, and safety advice to help you travel confidently.
They've been doing it since 2002 – protecting, connecting, and inspiring independent travellers just like you.
Get a quote below or read our in-depth review!
World Nomads provides travel insurance for travelers in over 100 countries. As an affiliate, we receive a fee when you get a quote from World Nomads using this link. We do not represent World Nomads. This is information only and not a recommendation to buy travel insurance.
Drink Water – and Don't Forget to Eat
Hiking is sweaty work, especially on hot days. Drink lots of water before you go and bring lots with you.
Water is kind of heavy to carry, but it is possibly the single biggest hiking essential for beginners and pros alike. So please, bring enough.
There might be fill-up points along the way, and if there are natural springs, it's probably possible to drink from them.
Don't drink still water or from streams where (farm) animals could have passed through. Because, you know, poop. Get a water bottle with a filter and you're all dandy!
Oh, and even if your hike is just a few hours long, bring something to munch on. Snickers is a great semi-healthy, energy-boosting snack, and so are cereal bars, fruit and trail mix.
Don't Get Lost
Getting lost whilst out on a hike can be moderately annoying or potentially fatal if you run out of water or conditions are harsh.
Assuming that you have carefully chosen a suitable beginner hike, then getting lost is unlikely. It is usually something that happens on more ambitious expeditions into the wilderness.
That said, make sure you have some kind of map, plenty of water, and make sure somebody knows where you are going and when you expect to be back.
Dress for the Worst Case Weather
Number one rule of hiking: preparation for hiking always includes planning for rain and cold wind.
Even if it's completely sunny. Just… expect rain. This means bringing a waterproof jacket (not an umbrella…) and a rain cover for your backpack.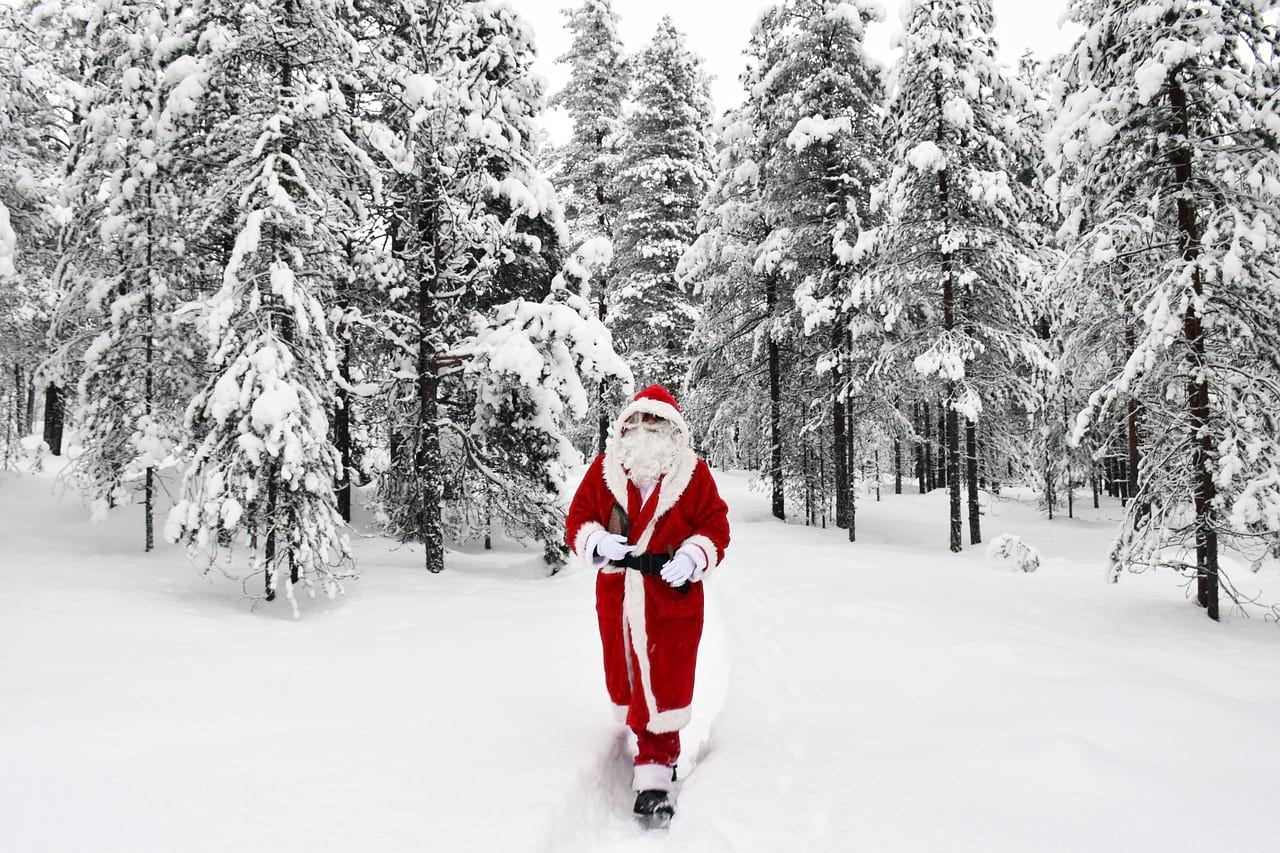 If you're headed out in winter, get a winter hiking jacket, wrap up, and bring some extra layers. If you get hit by a snowstorm or even a cold snap, hypothermia can set in fast.
Checking the weather forecast before you go is a good idea and it may be worth postponing the hike if any extreme weather fronts are moving in. However, forecasts are not always accurate, especially if you're headed to the mountains.
Avoid Accidents – Duh
The biggest risk hikers face is tripping or falling. Result? Minor scratches, major scrapes, sprained ankles, and occasionally death (but don't worry, that one's a one-off thing). Another good reason why you might want to choose an easy, flat trail, with minimal climbing as your first trail.
Look where you're going and wear hiking boots with ankle support. Hiking poles are also great for helping you keep your balance!
Carry a small first aid kit even on day hikes and take at least some plasters, antiseptic wipes, antihistamines, and rehydration tablets.
Watch Out for Animals
In most places, you don't have to worry about much except for angry sheep and deranged squirrels. However, that is not the case everywhere.
Find out about possible wildlife encounters, and what is the biggest, baddest animal that could headbutt you into the afterlife. Often wildlife is more scared of you than you are of it. But on less populated trails, you have more chance of running into shy but bloodthirsty critters.
In Europe, big predators are not really a problem. However, in North America, you should probably carry bear spray and bear canisters if you plan on camping overnight. In bear lands, you can scare away animals by hiking with a bell on your backpack or singing. (This might also scare off other hikers if you prefer to have the trail to yourself)
Stay especially alert at dusk and dawn when most woodland critters are most active, and in the spring since that's baby season.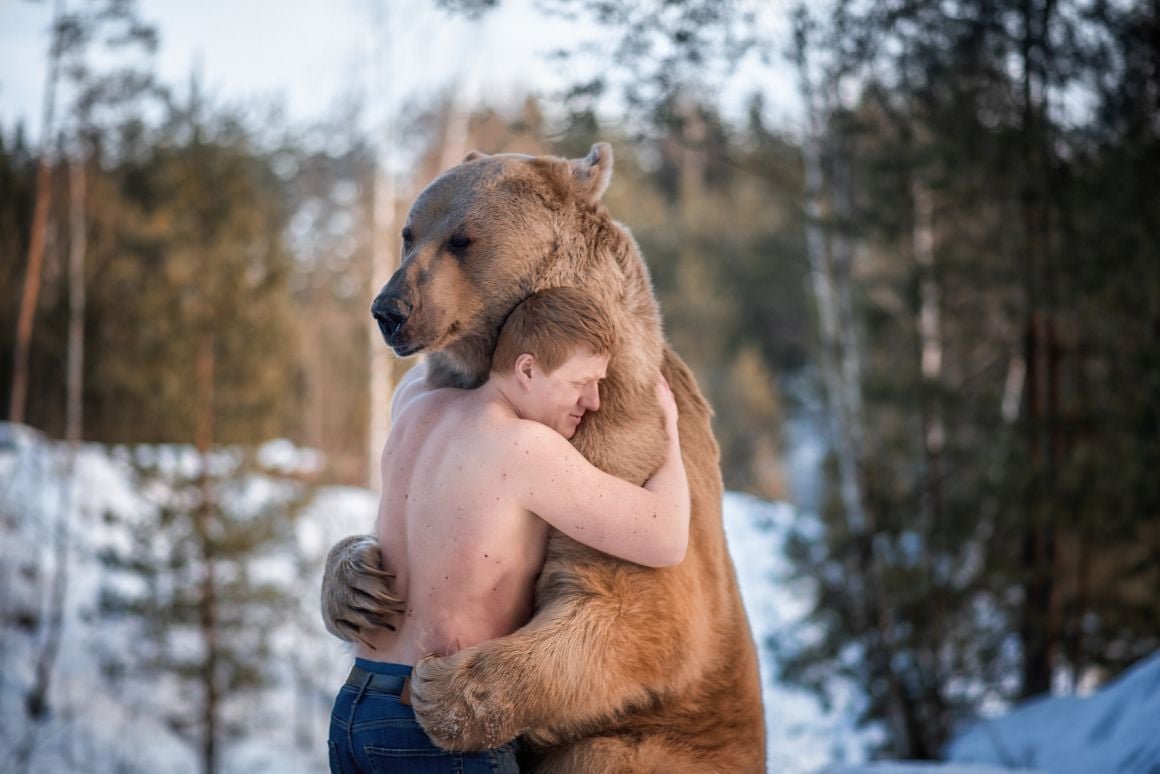 And just cause it doesn't claw, doesn't mean it doesn't bite. Protect yourself from mosquitoes, especially in areas where malaria is a problem.
Another annoyance is ticks. Wearing long trousers reduces the risk of them jumping onto you, and an old wives remedy is to put tea tree oil in your clothes. Check yourself for them regularly. If you see that one has bitten you, remove it by twisting it counterclockwise & steadily pulling using the tweezers on your Swiss Army knife.
Long trousers also protect you from leeches which don't usually carry infections or anything, they're just really gross.
Tell Someone Where You're Going
Out in the boonies, it might be almost impossible to phone someone for help. That's why you always keep your nearest and dearest up-to-date on where you're headed, what your route is, and when they should expect to hear back from you.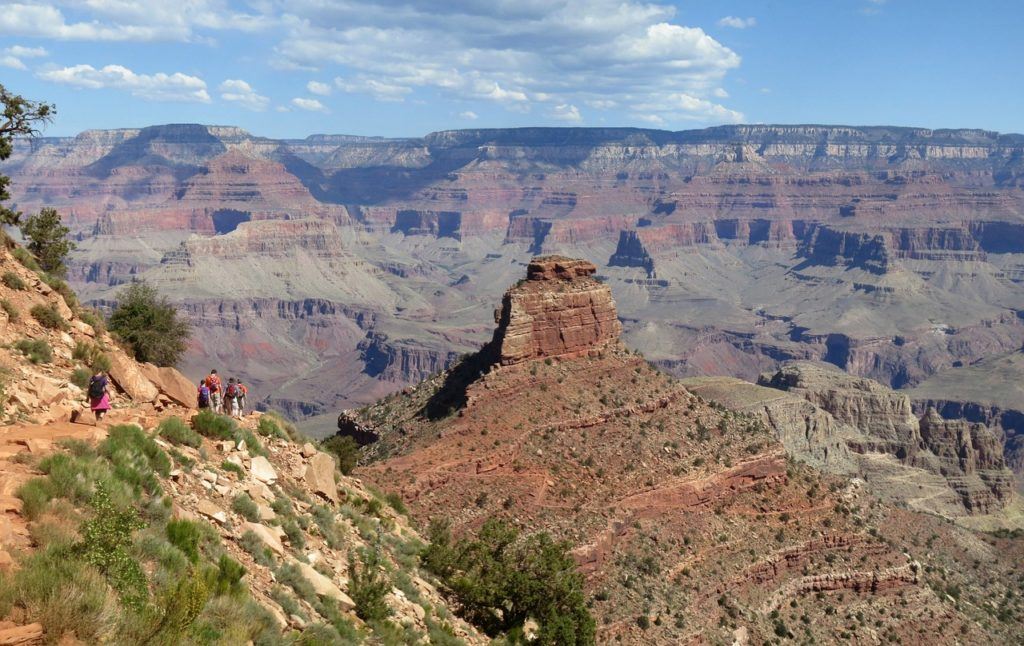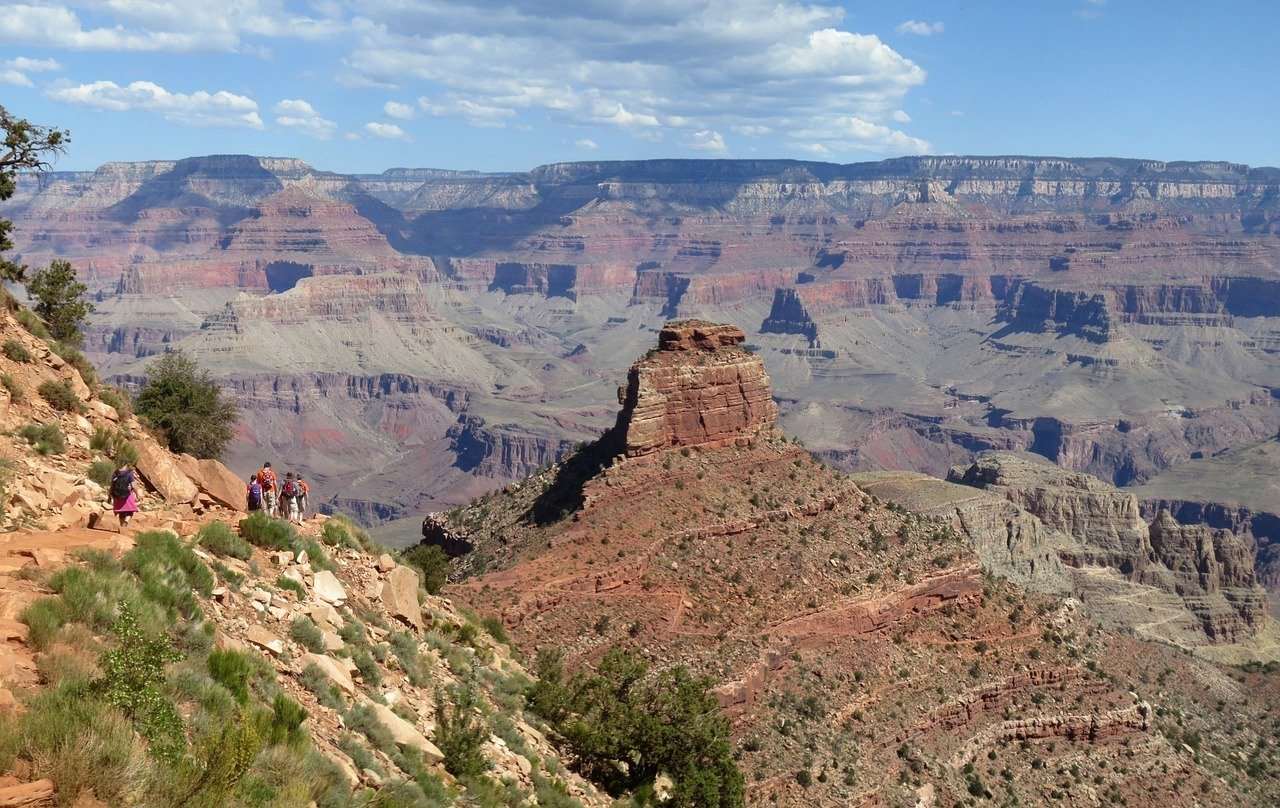 This is also why you should keep your electronics recharged. Phones are great for calling for help and navigating, and sometimes the mountain rangers might contact you if there's extreme weather ahead or they suspect you've got lost.
Don't be like that millennial-minded hiker in Colorado who didn't pick up the calls coming from an unknown number – which ended up being the mountain rescue patrol, looking for the hiker since their family had reported them missing.
Spending time outdoors and nature conservation are linked as tightly as peanut butter and jelly. I feel like hiking is actually one of the best ways to turn you from a city slicker to a true tree hugger: once you get out there and realise how fucking beautiful this world is, you want to do everything you can to protect it. In a word, you become an environmentally conscious traveller.
It might come as a surprise that the nature around us is pretty fragile. And I'm not only talking about climate change here! I mean yeah, nature HAS been there for billions of years, but a flower is still gonna snap in half if you step on it.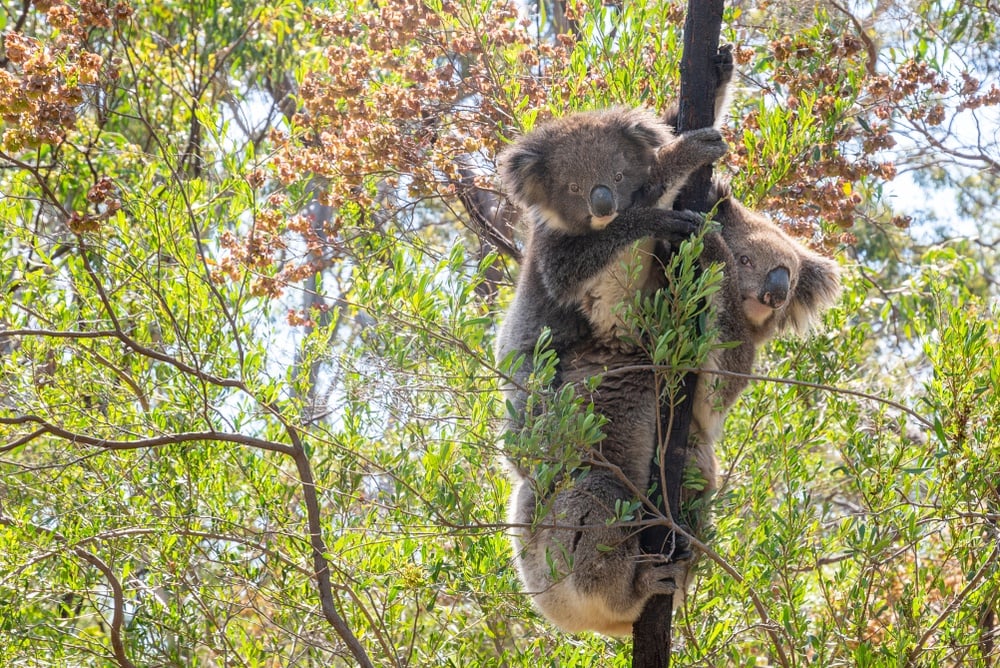 Here are some things for newbie hikers to keep in mind while hiking!
Don't pick up plants, animal parts (like antlers), or rocks. Yep, even rock placement contributes to the great ecosystem.
Stay on trail. Hiking trails are built on sturdier ground whereas the terrain outside of them is softer. So if you deviate from the path, you might end up messing up sensitive soils or disturbing nesting animals. So stay on the trail unless off-trailing is allowed.
Don't swim if it's prohibited. An innocent dip in the lake, right? Nope! If it's prohibited, the lake probably has a sensitive ecosystem that would get ruined if all the hikers hopped in.
Take your trash with you. Always hike with your own trash bag and bring out all your rubbish. It's recommended to do this even if the hiking spot has trash bins!
Respect sacred sites. There are tons of sites around the world that are important to someone, usually native people, who don't want people traipsing all over. Don't go pokin' around these parts.
Be super duper careful with fire. Wildfires, anyone? Always check what the firemaking regulations currently are.
Don't be a dick! A great rule for all of life, really. This means follow the hiking trail etiquette, be nice, and help out other hikers if you can. And don't scream or play loud music. People come to nature because its peaceful.
Sharing is Caring – or is it?
When it comes to sharing off-the-beaten path spots and favourite trails, the hikers' camp is divided. Some hikers like to keep the awesome trails they've found a secret, especially if they're not very popular. 
It's a social media world, and we're all just living in it. That's why you have to be mindful how and what you post. If you're someone with a bit of reach, posting from someplace cool might cause a gold rush of people heading to that same spot. Overcrowding is never good for nature – remember the poor California poppy fields?
On the other hand, nature belongs to everyone, and I don't think the outdoors should be gatekept.
If you're in doubt, just follow the advice I got from a one-time friend: if you find a cool, undiscovered spot, you can't tell anyone about it – but you can show it to them.
FAQS About Hiking for Beginners
Hiking for Beginners – Not So Scary
The best part about hiking is that it is so damn easy to get started.
Seriously. All you need is a bit of greenery and some comfy shoes – and you're on your way, literally, to becoming a fantastic hobbyist hiker.
The great thing about hiking is that it caters to all levels of enthusiasts. You don't have to summit the highest peaks and trudge across country borders for thousands of miles to be a serious hiker – you can make this new, wonderful hobby of yours as easy or as difficult as you want.
Hiking is not competitive. Okay, you can make anything competitive if you try, but in essence, hiking is not that. The emphasis is on the benefits of hiking: peace and quiet of nature, exercise, just getting out for the day and enjoying the heck out of your surroundings.
And sure, hiking is tougher than just staying at home. People love to joke that hiking is the worst thing they can think of, and listen, many hikers would willingly agree. Me included – until you've been halfway up an almost-vertical rocky cliff with a 20 kg backpack you don't really get what hikers mean when they say they hate hiking. Because lemme tell you – sometimes it's the worst.
But then the endorphins start to flow. And the climbing gets a little easier. And then – and this the secret – even the steepest climbs end eventually, and you're rewarded with the most amazing views.
Because that's the thing: even if you're a little scared or worried to start hiking, even if you kinda hate it a little bit while you're doing it, the rewards you reap at the end are so worth it. You'll feel refreshed, strong, happy – and I guarantee that your evening shower has never felt sweeter.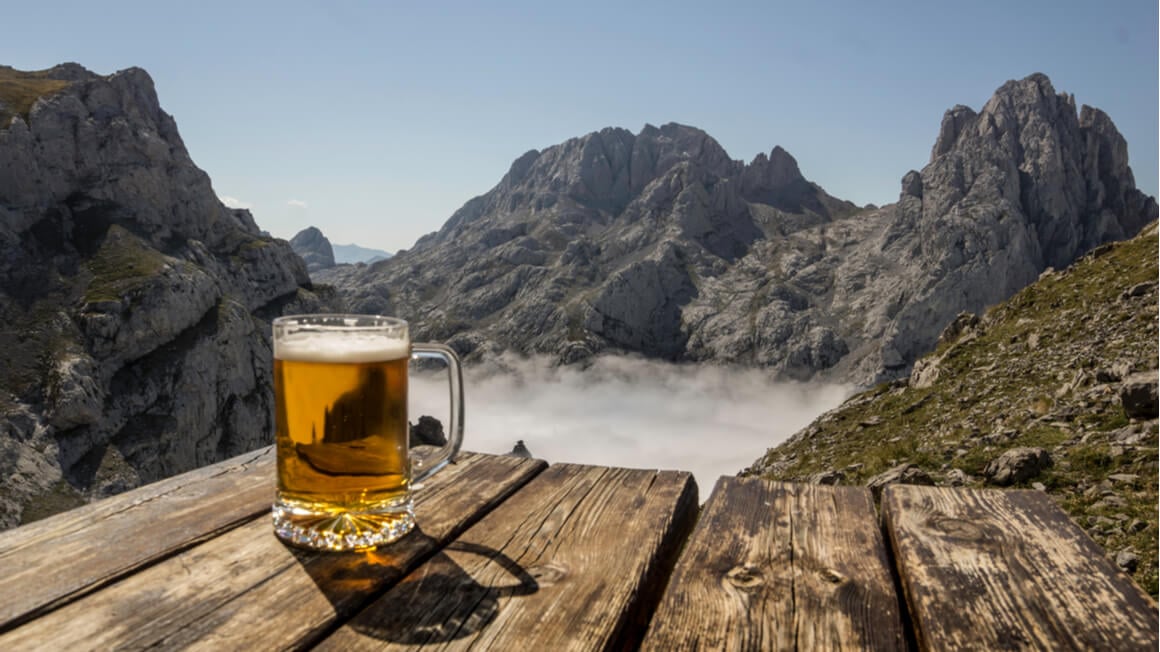 ---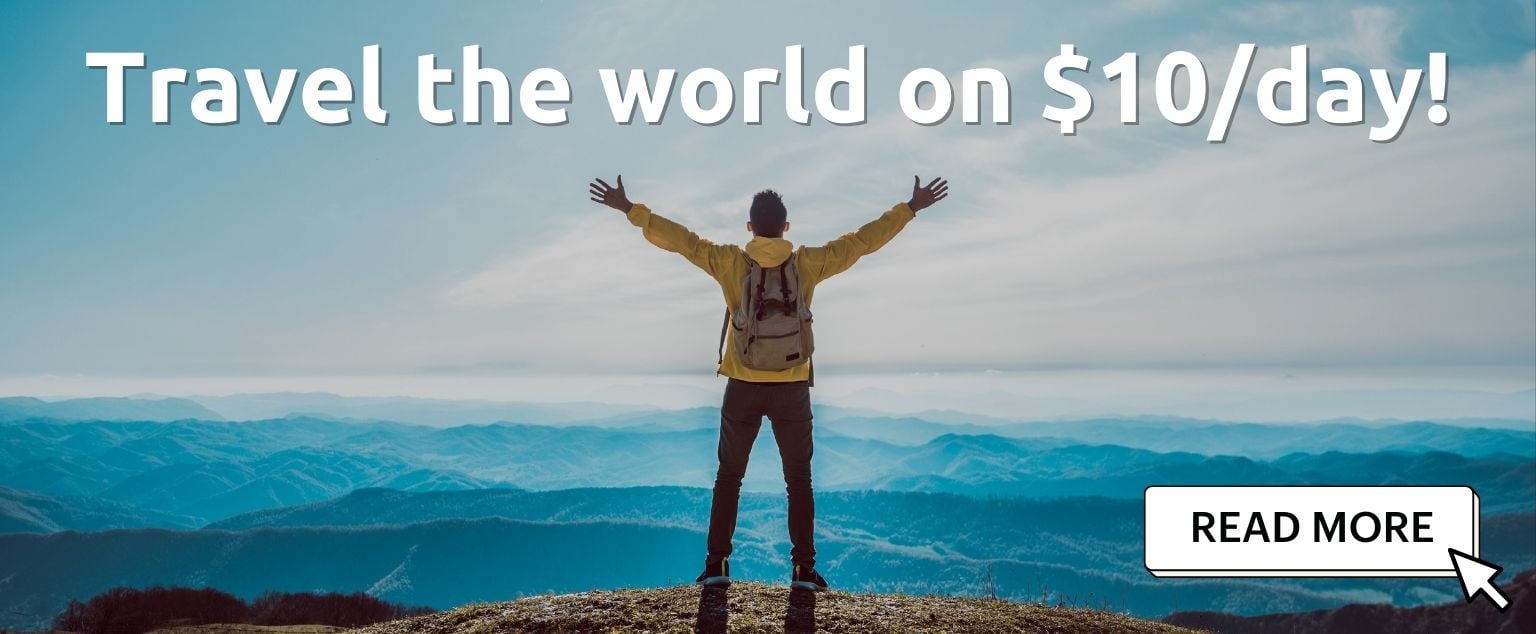 And for transparency's sake, please know that some of the links in our content are affiliate links. That means that if you book your accommodation, buy your gear, or sort your insurance through our link, we earn a small commission (at no extra cost to you). That said, we only link to the gear we trust and never recommend services we don't believe are up to scratch. Again, thank you!