Hiking has become a favorite pastime for us humans – a species that use to refer to "hiking" as just another part of the daily routine or commute to a neighboring village or hunting ground.
Point being, hiking is quite literally engraved into our DNA and there are few things in life that make you feel as good as a good ol' hike in nature. Whether you are heading out on an ambitious solo mission or a casual day hike with friends or family – one thing is certain: you want to be prepared.
This article is not going to overload you with useless crap or gadgets you don't need. The content and advice found below have been developed by myself and colleagues over many years from the perspective and experience of a former Appalachian Trail thru-hiker and current mountain guide.
I will examine some key factors and planning techniques that will come to feel like second nature once you have put them into practice a few times.
Before I go into what to bring hiking, let's start by examining the planning phase of even a simple, casual day hike – which can be applied also to mega-mile days in deep wilderness areas as well.
The majority of this advice is tailored to the latter: day hiking in remote areas of backcountry.
Gain knowledge, feel confident, be prepared; that is what we are about here at The Broke Backpacker.
How to Plan a Day Hike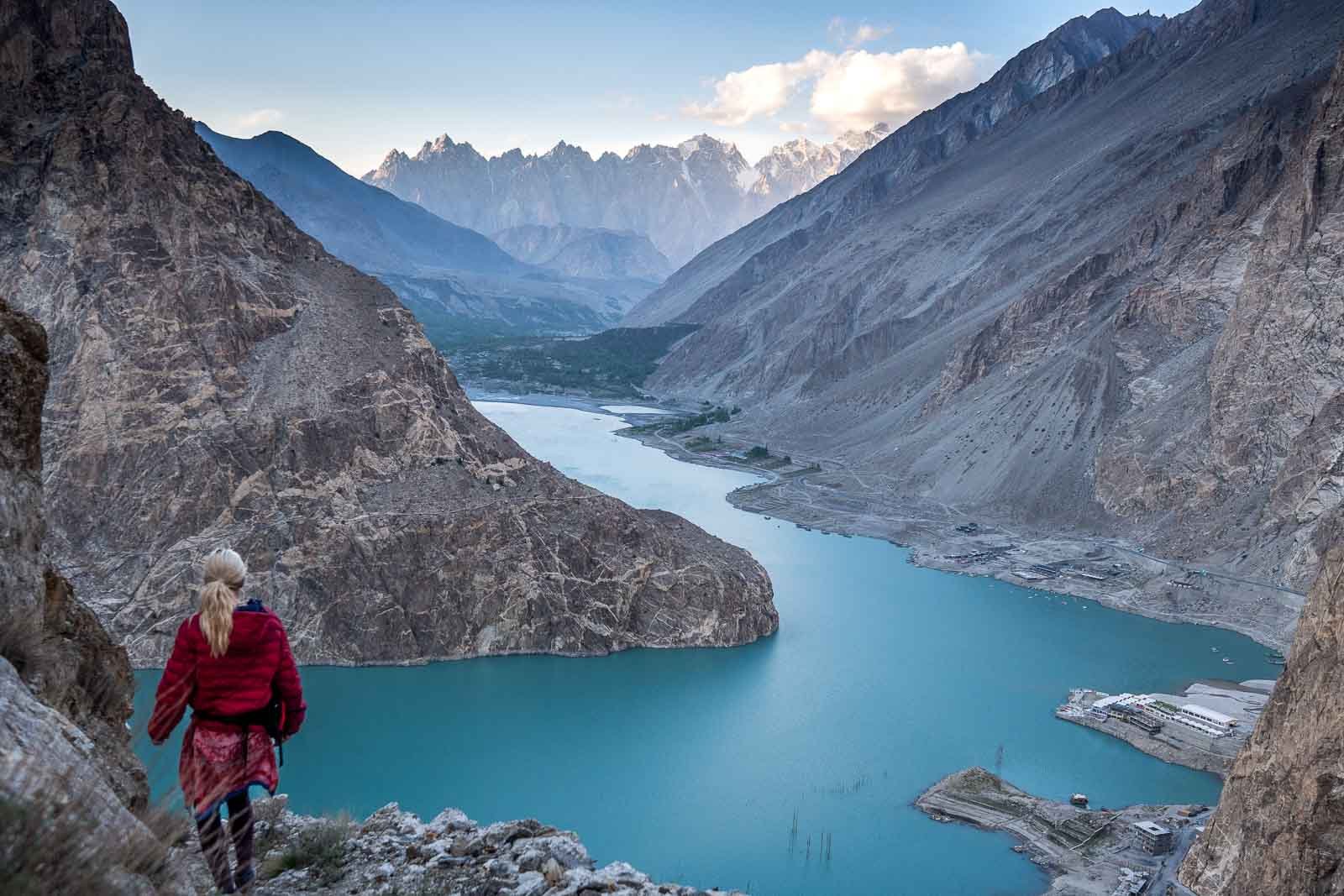 These are the big questions that I ask myself before going on any day hike:
What is the weather forecast?
Do I have enough food?
What are the water sources like where I am going?
Do I need to purify the water I will need to drink?
What sort of layers will I need?
How remote is the place I am going hiking?
Do I have the minimum supplies for a worst-case scenario?
Is there cell signal where I am going?
Granted, if you are just going to the local park in your city, then you probably only have to ask yourself half of these questions.
But if you are planning on going out for a few hours into a natural area away from the city lights and services – all of the above questions should start to become second nature to you from this moment on.
The way this guide is set up, we will go into what to bring hiking as it pertains to each question in detail by section.
Below is a quick reference guide for the must-bring essentials.
10 Day Hiking Essentials Checklist: What to Bring on a Hike
Daypack
Proper Hiking Boots or Footwear
Rain Jacket (conditions warranted)
Layers (for appropriate weather)
Head Lamp and Matches/Lighter
First Aid Kit and Small knife
Water Purifier Bottle / Grayl Geopress
Trekking Poles
Satellite Communication Device (conditions warranted)
BONUS: Emergency Shelter (optional)
Multi Tool
Keeping Things Organized: The Best Day Backpack to Take Hiking
Perhaps the most important piece of kit that will accompany you on countless adventures is the all- mighty day pack.
Generally speaking, you want to go with a backpack that is comfortable, versatile, and capable of carrying a decent amount of gear on occasion, while also being small and light enough to not be a burden even when it is packed to 50% capacity.
My favorite day backpacks tend to be in the 30-35 liter range though some people might find this to be too much (I typically carry camera equipment with me).
Here are my top picks by size:
Best Small Day Hiking Backpack
Best Small Day Hiking Backpack
Osprey Daylite Plus
Liters > 20
Frame Style > Framless
Hydration Reservoir Compatible > Yes
Best Medium Day Hiking Backpack
Best Medium Day Hiking Backpack
Osprey Stratos 24
Liters > 24
Frame Style > Frameless
Hydration Reservoir Compatible > Yes
Best Large Day Hiking Backpack
Best Large Day Hiking Backpack
Deuter Trail Pro 36
Liters > 36
Frame Style > Internal Frame
Hydration Reservoir Compatible > Yes
Learn More: Best Day Hiking Backpacks
When Planning What to Bring Hiking: Consider the Weather
The number one way to get turned off from ever hiking again and to possibly put yourself in real danger is misjudging what weather conditions will be like in the area you plan to go hiking.
In terms of weather, our ancestors had to read the signs given to them by nature and sort of manage things on the fly but you my friend have the luxury of the modern internet and access to fairly accurate multi-day weather forecasts.
Whether you are planning a hiking trip abroad, or from your backyard, you should always check the weather forecast and pack accordingly.
Depending on where you live or where you are visiting, your clothing staples might differ, but they will serve the same general purpose: keeping you comfortable. Note that some walking boots are NOT really cut out for heavy rain or snow so prepare accordingly.
The Best Rain Jacket to Take Hiking: Arc'teryx Beta AR
If you check the weather forcast and it tells you that blue skies for days are on the horizon – then you probably don't need to worry abut packing a rain jacket if there is literally zero chance of rain for the next 10 days.
If you live in the UK, Pacific Northwest, East Coast USA, New Zealand, or some other place where rains can be frequent at any time of year – then brining a rain jacket is a must-have essential.
I have been using Arc'teryx products for years and the Beta AR is a fine choice for an ultra-quality rain layer.
Learn More: Arc'teryx Beta AR Review
Ladies & Gents, It's Time to Step Your GEAR Game Up. 😉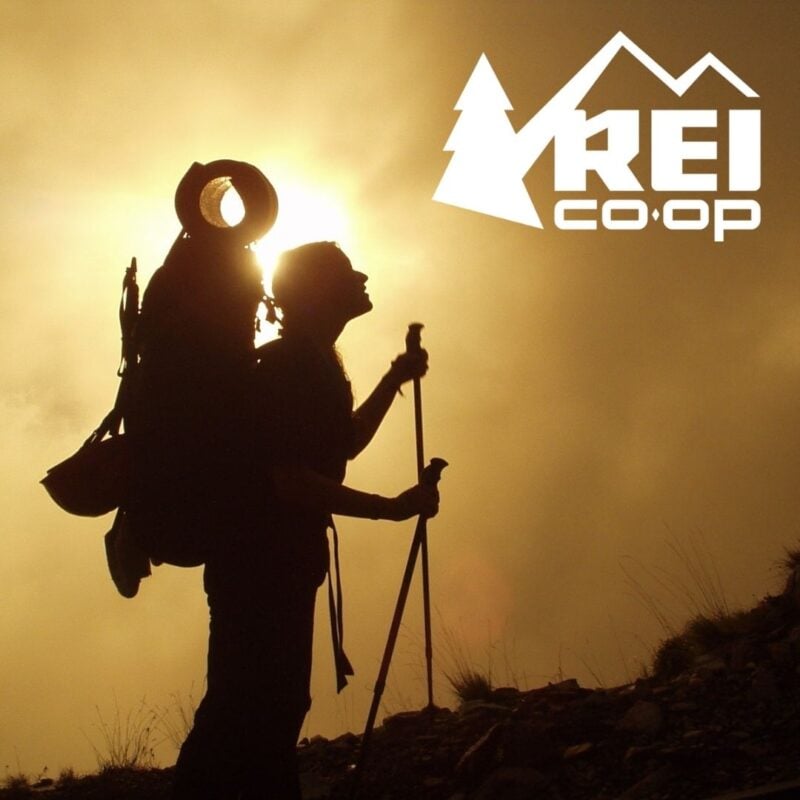 REI is one of America's biggest and most-loved outdoor gear retailers.
Now, for just $30, get a lifetime membership that entitles you to 10% OFF on most items, access to their trade-in scheme and discount rentals.
Join REI Today!
Sun Protection: Hat and Buff
Whilst we all love the sun and need to be exposed to its light for a variety fo reasons – but like all good things – you need to take in sun light with moderation.
Dehydration, sun stroke, and sun burn are all far more likely if you go out for a day hike wearing zero sun protection.
Keep a hat and/or a Buff with you on every hike for when high noon rolls around and the sun starts to really beat down.
Packing sunscreen and lip balm is also key to keep sensitive areas like your face, ears, and neck from getting unnecessarily sunburned or dried out.
Water Management 101: How to Always Have Clean Drinking Water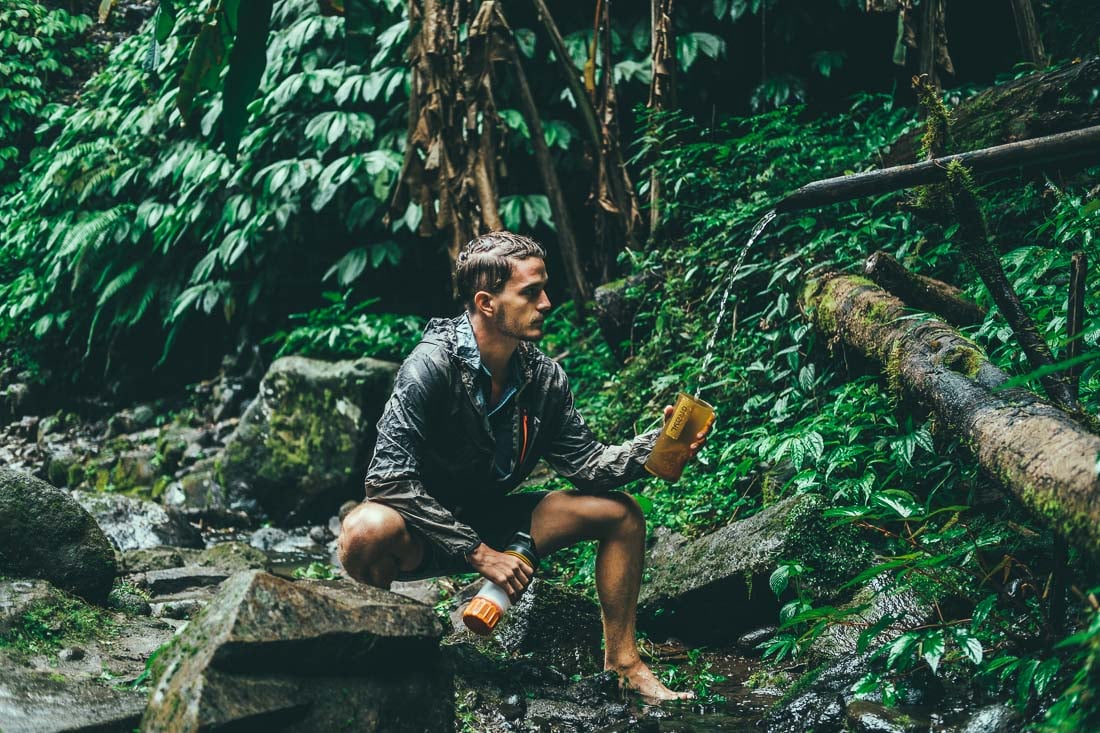 Ever find yourself a few hours into a hike with an empty water bottle? It is no fun, especially when you still have a few hours to go on the hike.
Knowing where and how to get clean water is a very important skill set – but one that you don't nessessarily need to master as a casual day hiker.
The solution? Pack a Grayl Geopress.
The Geopress can purify water anywhere – which means as long as you can find a water source in an area you can be sure to always have access to safe drinking water.
In most scenarios, over the course of a few hour day hike there will be some sort of water source along the way. In case there is not or you know you are hiking in the desert, you may need to bring extra water with you – which is not ideal – but dehydration can be deadly so pick your battle.
How does one know if the trail/hiking area in question will have a water source? Most hiking guide books, government state/national park websites will provide some info on water sources. If you have access to such information, be sure to check the details regarding water so you can plan accordingly.
Having a Grayl in your kit is a 100% must whether you do a lot of hiking or not. The Geopress totally changed the game for hikers and how we can easily and safely manage clean water sources in the backcountry.
Also, remember to look at the top CamelBak gear too for more on-the-go hydration solutions.
Learn More: Grayl Geopress Review
What Layers to Bring Hiking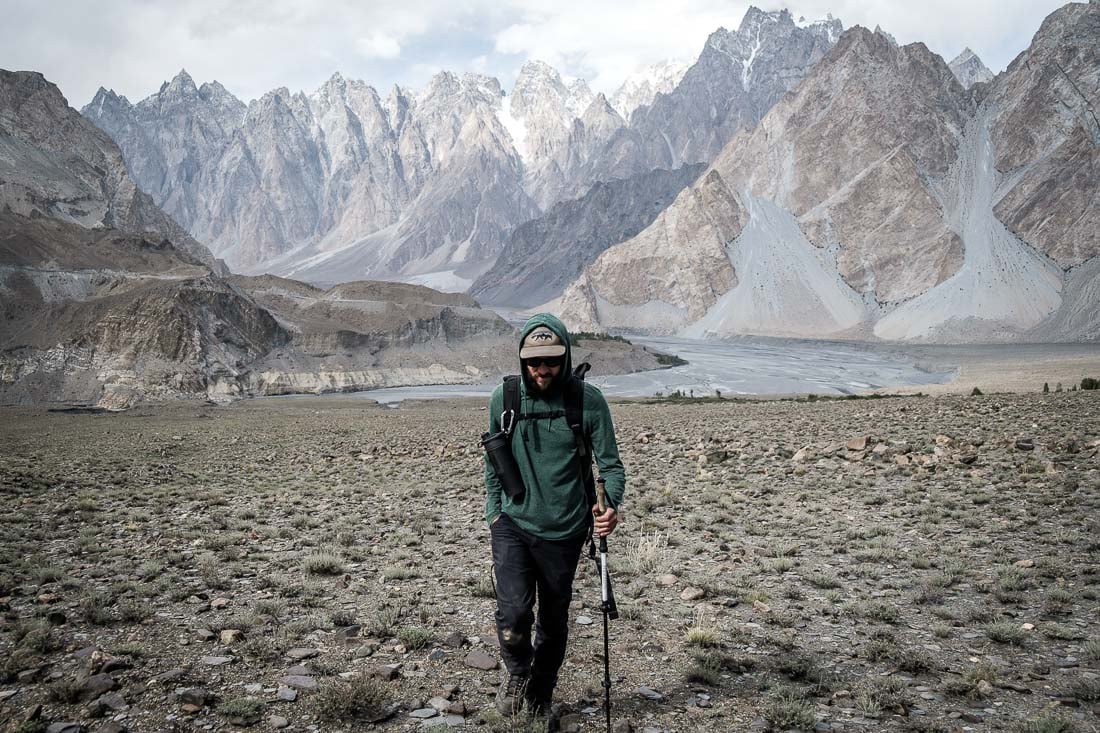 The layering question circles back to the weather question. What are the expected weather conditions?
In the summer when temperatures are consistently warm and pleasant – one does not need to go all out with a full-on layering system.
That said, when hiking in the mountains anywhere on earth – the weather can shift in the blink of an eye – and you want to be prepared for if and when it does.
Always packing a lightweight base layer is a hiking essential. Even in warm conditions, base layers provide protection from the sun and wind and actually help keep you cooler by keeping your skin from being exposed to prolonged sunlight.
If hiking in non-summer months, I suggest always bringing a down jacket as well. You might think that between the rain jacket, base layer, and the down jacket that your small daypack is starting to feel full – but when the cold weather rolls in from the opposite valley you'll be happy you have your proper kit.
Learn More: Best Base Layers for Hiking
Navigation and Orientation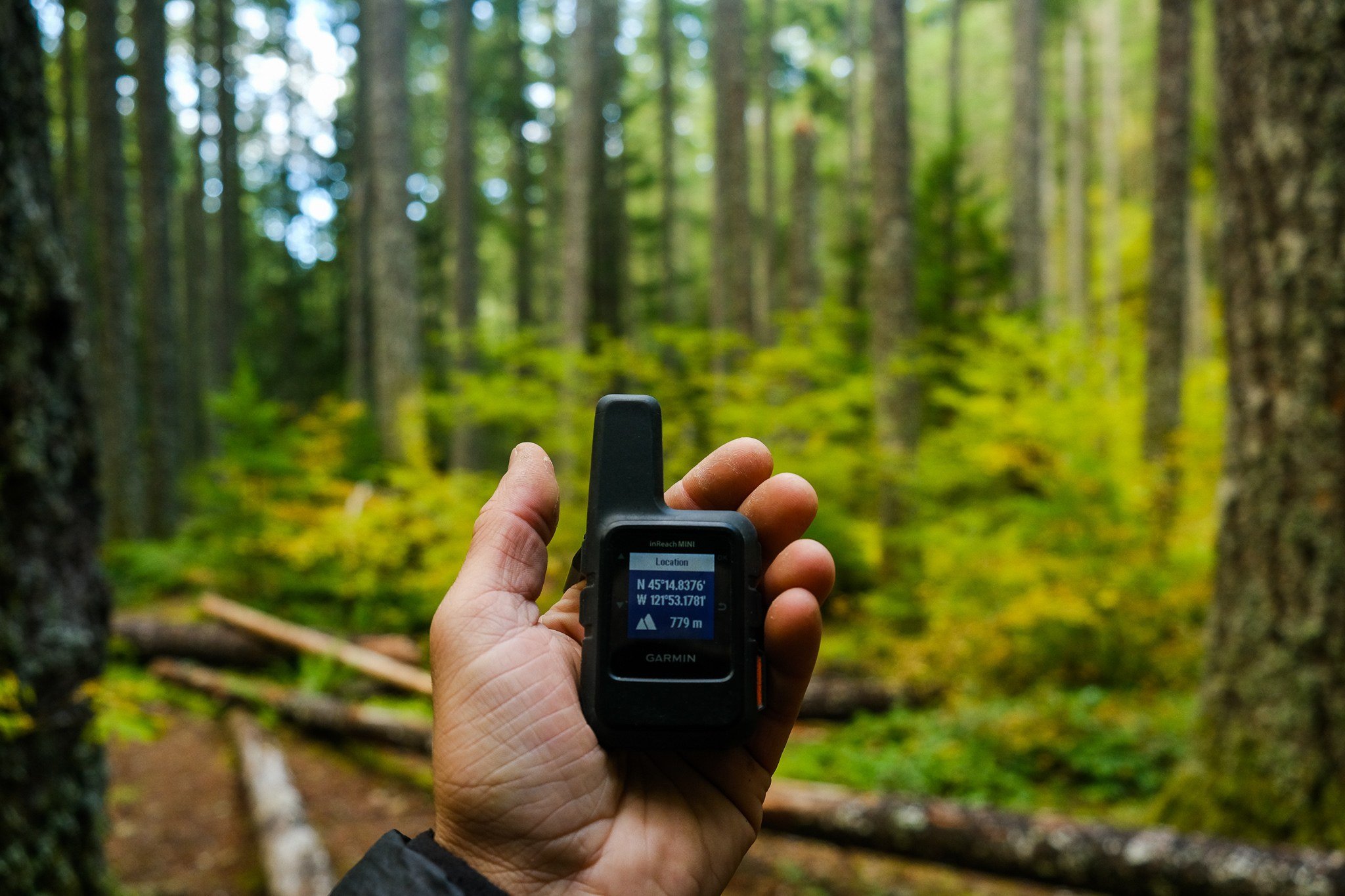 For your average day hike you don't need to worry about bringing a compass, GPS, or other navigating instruments. Again, the question you will have to ask yourself is how remote is the place you are going and how well marked are the trails?
In general, established hiking trails typically have some sort of marking at intervals (though this is not always true). The more remote you are, the less likely you are to find such markings and signage.
As a rule, if you are going to a place with zero cell signal it is a good idea to carry a compact satellite messenger device. These little units require a bit of investment up front, but from a safety and peace of mind perspective they are very useful.
Additionally, I personally use a Suunto Barometric watch which helps me track distances and keep tabs on the current altitude.
It never hurts to always have a small compass in your day backpack also. Compasses weigh next to nothing and knowing how to use them is an important skill. Here you can learn more about the basics of compass use.
I recommend using the Garmin In-Reach Mini for all of your off-grid satellite communication needs.
Learn More: Garmin Inreach Mini review.
What First Aid to Take Hiking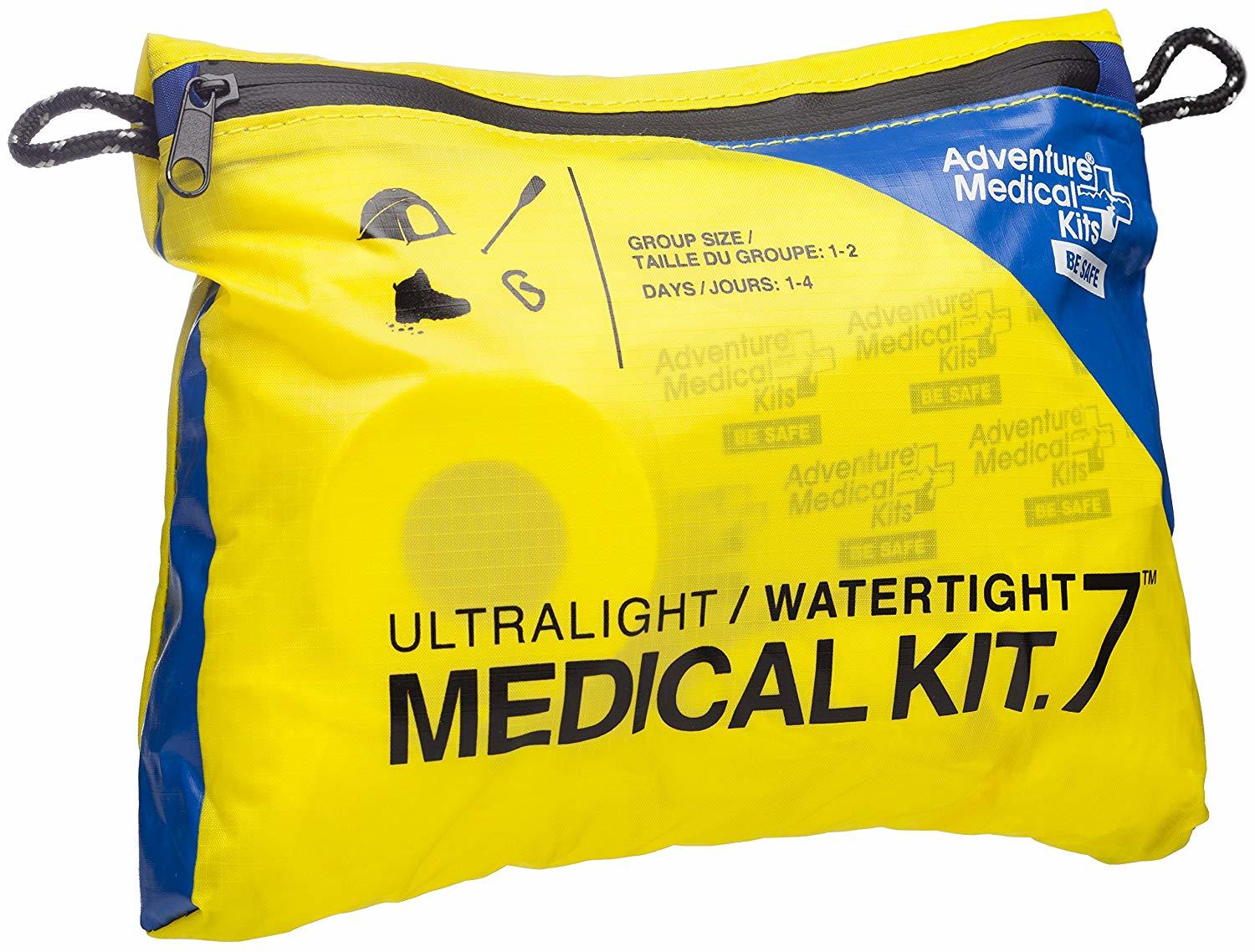 Having a compact first aid kit is a no brainer and something you should always have stashed in the depths of your daypack.
Like most of my recommendations in this article you don't need to overdo it – don't pack an entire pharmacy with you – but it is important to have enough supplies to see you through in case of emergency.
The name of the game here is weight to value ratio. If you want to keep your first aid kit under 1 pound (or less) then you need to pack your first aid kit thoughtfully.
I have several ultralight first aid kits in various sizes. Every time I get a new first aid kit, I take everything out and examine the contests carefully. I want to know exactly what I have. After getting to know the contents, I make custom additions based on my hiking destination.
I don't do this kit customization everytime I go hiking – I just have a few well throughout kits to choose from and select which one I will pack based on my needs.
Here are 10 things you should always carry with you in a first aid kit:
Small bandaids or plasters
Anti-biotic cream
Alcohol wipes
A few cotton swabs for cleaning wounds
Moleskin blister patches
Waterproof matches, a lighter, or a small flint
Pain meds (Ibuprofen, Asprin, etc)
Small roll of gauze
Needle and thread
Small roll of medical tape
Product Recommendation: Adventure Medical Kits Mountain Series Guide Medical Kit
Learn More: Best Travel First Aid Kits
What Food to Take Hiking
Alright. Now it is time to talk about the important stuff: snacks and meals!
The food you bring hiking is crucial for many reasons. The experience for yourself and the people hiking with you will in part be defined by the calories you pack and eat whilst out on a hike.
You can easily withstand a torrential rain storm, a lung-shattering steep mountain, or a mosquito-infested forest, but only if your belly is full. I am pretty sure some famous old sage said that.
In general, you want to bring food that delivers the best caloric bang to weight ratio. And it is always better to pack a bit too many snacks than to not have enough – which is especially true for long-distance time-consuming day hikes.
Here are some of my favorite day hiking trail foods:
Chocolate
Nuts
A few sandwiches
Dried fruit
Fresh fruit (to be eaten first to save on weight)
Jerky
Bliss balls
Granola or energy bars
Electrolyte tabs
Cheese/flat bread
Emergency Hiking Essentials
I have two schools of thought on emergency gear. 1. You don't need to always carry emergency gear. 2. You probably need to carry emergency gear more often then you think.
Emergencies – by their very nature – happen unexpectedly. Nobody can plan on when exactly an emergency will occur. That said, you can take steps to prepare yourself in case of worse case scenarios.
Emergency supplies should be packed if you are heading out into a remote backcountry area – whether you are hiking solo or not.
For day hikes on your neighborhood forest trail or to a populated path not far from the road – packing a whole emergency kit is overkill.
Packing emergency gear requires you to make a judgement call. Common sense will usually tell you if packing emergency gear is a good idea or not.
Are you planning a ten hour hike in a remote area of Rocky Mountain National Park? Are you trying to bag several peaks in a single day? Might your total milage for the day be in the 30-40 mile range? For all of those situations – YES! – you need to pack emergency supplies. Listen to your intuition. If your intuition is telling you that your planned hike faces some inherent risks, long distances, dangerous terrain, or weather/navigational challenges then you want to be prepared to deal with conditions should something happen.
Suggested Ultralight Emergency Gear:
Extra food
Extra headlamp batteries
Any personal medications
Bring A Head Lamp When You Go Hiking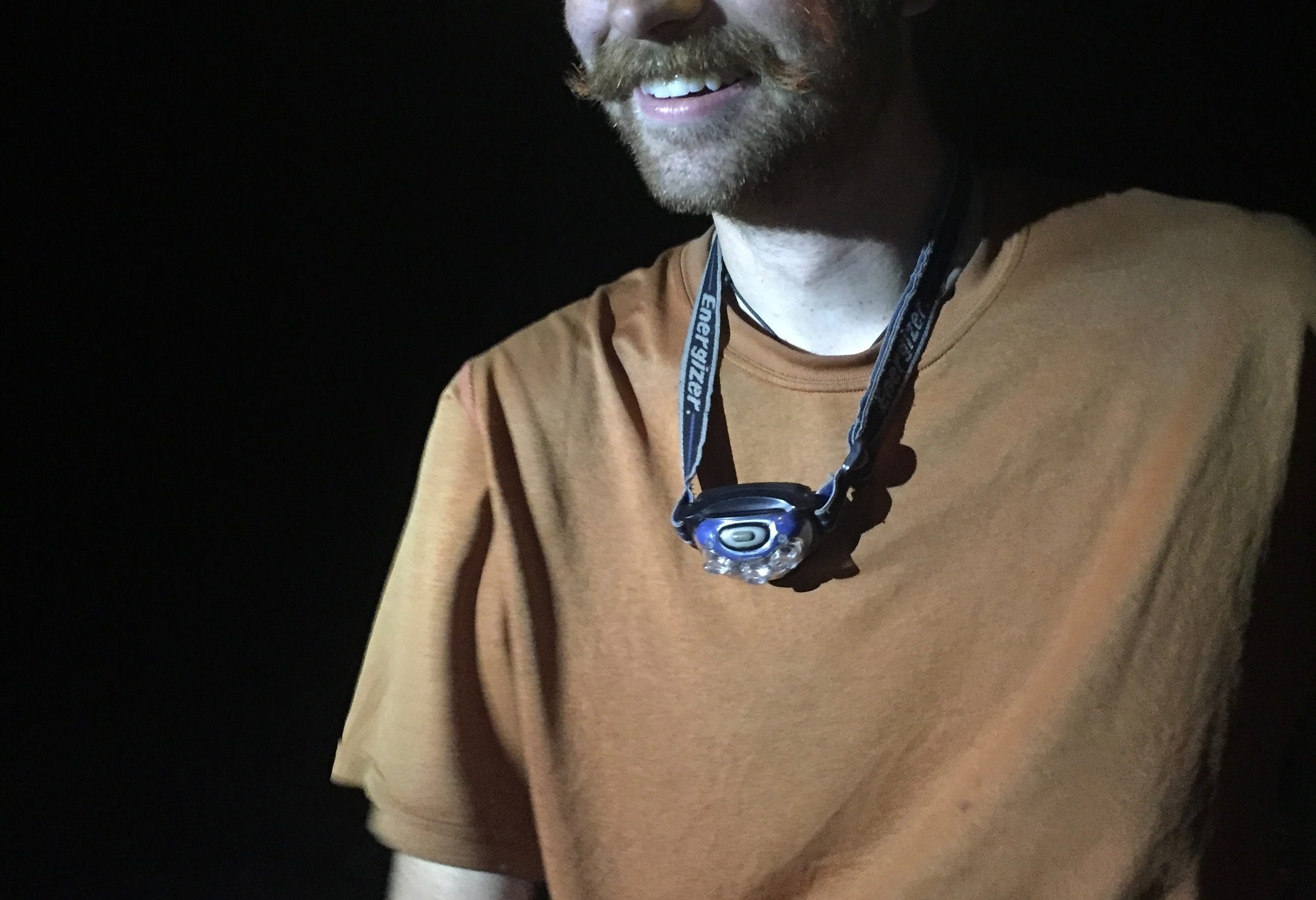 I have been on countless hikes in my life that ended up going on longer than planned. I also ended up hiking in the dark more times then I care to admit. Lesson learned: pack a head lamp!
Don't be that person stumbling down a mountain by the light of your phone.
Bring a good headlamp and this problem is sorted.
The best headlamps for hiking in my opinion are rechargeable. Reduce your consumption of polluting single use batteries, and save money at the same time. It is a win-win.
My go-to headlamp is the Petzl Actik Core. It's tough, lightweight, bright, and rechargeable. Need I say more?
I bought a second battery (that weighs next to nothing) so I can always be sure to have a back-up light source and so should you. Charged backup batteries are very important indeed.
From pre-dawn sunrise summits to finishing the day at twilight, there are countless scenarios that make having a headlamp an essential piece of hiking kit.
Learn More: Best Headlamps for Hiking
Why You Should Bring Trekking Poles Hiking
Trekking poles rank among the most under rated hiking gear.
Ask any veteran hiker and they will almost certainly tell you they use hiking poles. Why? They improve balance, save your knees on punishing descents, and overall help to lessen the strain on your back and shoulders whilst hiking.
Once you have used trekking poles for a while there is no going back. Do yourself a favor and purchase some trekking poles before you do any more hiking. Sure, they don't offer many cool or style points – but some experts suggest if you use them regularly when hiking – you might just add years of longevity to your knees.
Learn More: Best Trekking Poles review | Montem Ultra Strong Trekking Poles review.
FAQ about What to Take Hiking
Still have some questions? No problem! We've listed and answered the most commonly asked questions below. Here's what people usually want to know:
Final Thoughts on What to Take Hiking
Hiking is one of the best things you can do for your physical and mental health. We all need time in nature. Preparing for something as simple as a walk in your favorite forest or up your local mountain does not need to be overly complicated.
One you get into the habit and rhythm of approaching any hiking adventure the same way, you will find that your experiences out in wild places will be that much more rewarding as you feel (and are) more prepared.
Taking the steps to properly prepare yourself for an epic hiking adventure will give you the true freedom to feel confident while you roam. Cheers to many awesome (and safe) adventures out in our planet's beautiful wild spaces.
---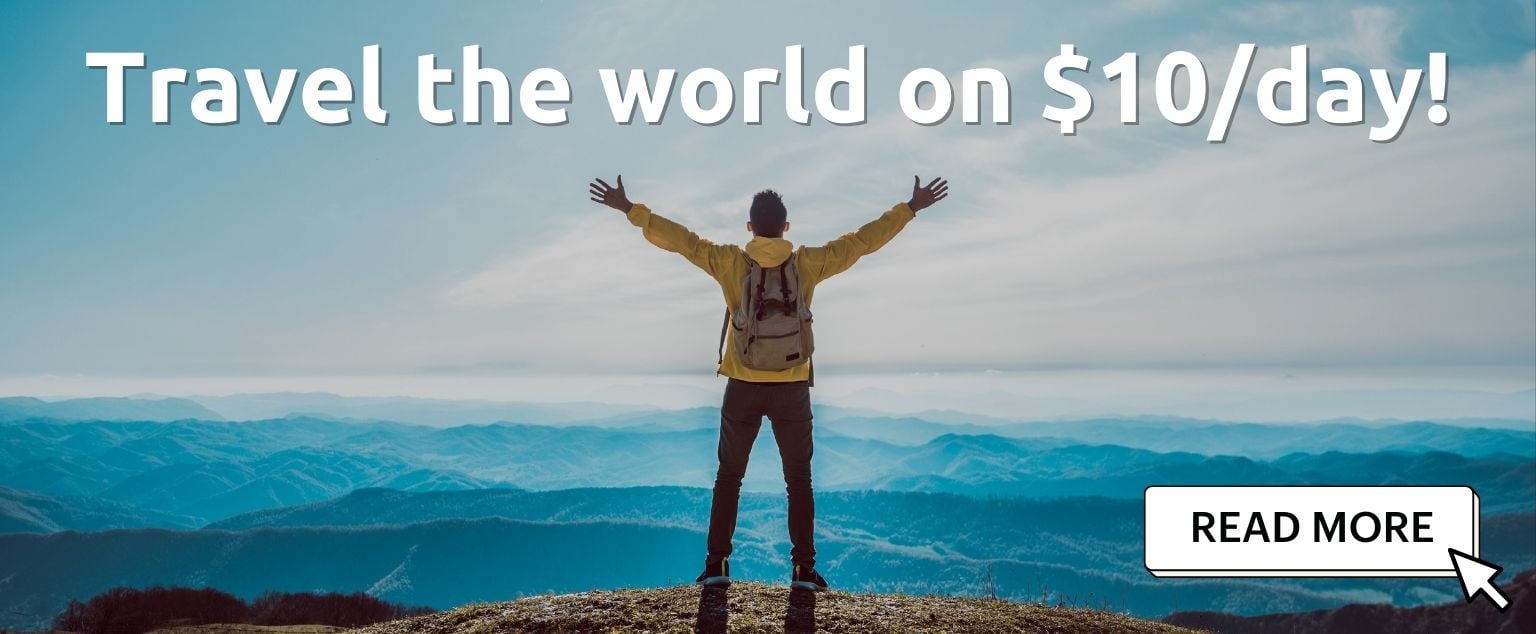 And for transparency's sake, please know that some of the links in our content are affiliate links. That means that if you book your accommodation, buy your gear, or sort your insurance through our link, we earn a small commission (at no extra cost to you). That said, we only link to the gear we trust and never recommend services we don't believe are up to scratch. Again, thank you!