From the moment I used my first pair of trekking poles, I was quickly hooked. Any hiker with experience using them will tell you the same thing: trekking poles are amazing.  
From that day I realised it was my destiny to write the worlds best walking poles review!
But I quickly realized something else too… Not all poles are created equal. In fact, some of them suck.
Which is the exact reason I put together this epic guide for finding the perfect pair of hiking poles for backpackers and hikers.
Over the last few years I have tested every trekking pole I could get my hands on, and I bring everything I've learnt into this epic review. With the help of this bargain guide, you'll easily be able to find out which trekking pole is best for you (and your knees!).
Whether you're looking for our collapsible hiking poles reviews or the best women's trekking poles, you'll find it here!
Let's dive right into the definitive guide to the best hiking poles in 2021/2022.
Quick Answer: These are the Best Trekking Poles of 2023
Best Poles for Backpacking and Hiking: Top Picks and Performance Breakdown
This review of the best hiking poles of 2023 offers up my top trekking pole tips and picks, a comparison table for easy cross-referencing, advice for first-time buyers, what to look for in quality trekking poles, thoughts of the best budget poles, best poles for women, advantages of using poles, and much more.
Here is the list:
BEST OVERALL POLES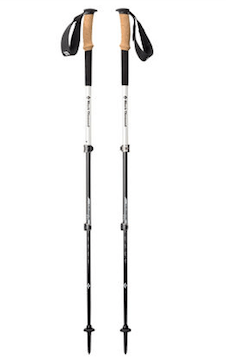 BEST OVERALL POLES
Black Diamond Alpine Carbon Cork
Price > $$$
Weight > 17 oz.
Grip > Cork
OPTIMAL POLES FOR WOMEN
OPTIMAL POLES FOR WOMEN
Black Diamond Women's Trail Pro Shock
Price > $$
Weight > 20 oz.
Grip > Foam
OPTIMAL POLES FOR WOMEN

OPTIMAL POLES FOR WOMEN
Montem Ultra Strong
Price > $
Weight > 19.2 oz.
Grip > Foam
BEST MULTI-SEASON TREKKING POLES

BEST MULTI-SEASON TREKKING POLES
Leki Makalu Lite Cor-Tec Trekking Poles
Price > $$
Weight > 1lb. 1 oz.
Grip > Cork
MOST DURABLE HIKING POLES

MOST DURABLE HIKING POLES
Black Diamond Trail Back
Price > $
Weight > 21 oz.
Grip > Rubber
BEST COLLAPSIBLE POLES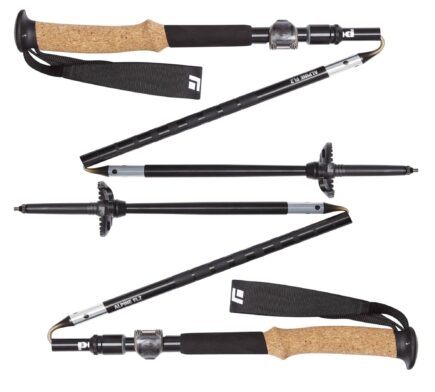 BEST COLLAPSIBLE POLES
Black Diamond Alpine FLZ
Price > $$$
Weight > 18 oz.
Grip > Cork
BEST COLLAPSIBLE HIKING POLES RUNNERUP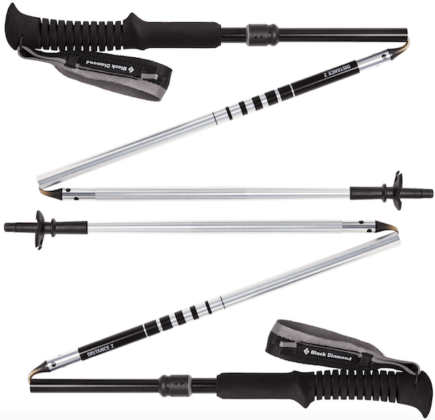 BEST COLLAPSIBLE HIKING POLES RUNNERUP
Black Diamond Distance Z
Price > $
Weight > 12 oz.
Grip > Foam
BEST MULTI-SPORT TREKKING POLES

BEST MULTI-SPORT TREKKING POLES
Black Diamond Trail Ergo Cork Trekking Poles
Price > $$
Weight > 1 lbs. 2 oz
Grip > Cork
BEST ANTI-SHOCK POLES

BEST ANTI-SHOCK POLES
Leki Legacy Lite Cor-Tec Trekking Poles
Price > $$
Weight > 1 lbs. 2 oz.
Grip > Cork/Rubber
BEST ULTRALIGHT POLES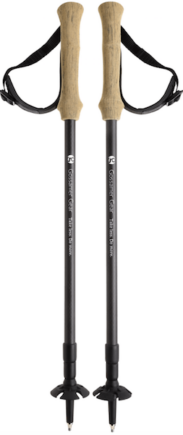 BEST ULTRALIGHT POLES
Gossamer Gear LT5
Price > $$$
Weight > 10.6 oz.
Grip > Foam
Best Overall Poles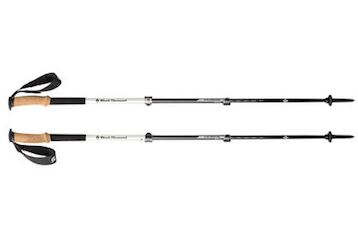 Specs
Price: $169.95
Weight per pair: 17 oz.
Type: Telescoping (lever lock)
Shaft Material: Carbon
Grip: Cork
Gender: Unisex
Black Diamond trekking poles are industry leaders in terms of producing the highest quality and performance. The Alpine Carbon Cork trekking poles are a reflection of that – which is why we picked it as one of the best poles for backpacking.
Weighing in at roughly 8.5 ounces each, they are not the lightest trekking poles on the market. That said, they are pretty damn light, and whilst they might not be ultra-light, the solid design construction means that they can really take a beating.
Personally, I look for a more durable product over lightness. By design, trekking poles are light. A few ounces here and there don't make a huge difference. Ultralight fanatics may have another opinion. Each of the three sections of the shaft is made from strong carbon fiber, providing you with a sweet balance of weight vs strength.
Furthermore, the Flicklock mechanism works like a charm. You can have full confidence that your trekking poles will stay locked when you need them to most. I love the cork grips of the Alpine Carbon Cork poles. They are moisture wicking, which is important because your hands will sweat a lot.
The fit in your hands is excellent and comfortable, even after hours on the trail. Replaceable trekking and snow baskets ensure that you can utilize these poles in all 4 seasons.
The price is a little high, but as far as high-end trekking poles go, you get what you pay for. These are the best Black Diamond poles for the money. In my opinion, you can't go wrong with the Alpine Carbon Cork.
Our team felt these earned their title as the best-rated trekking pole. One of the common comments we got back was that they just "felt right" in their hands. The cork material is comfortable and hard-wearing, the poles are light but super strong and overall they confidence for our team when hiking, especially those with bad knees.
Pros
Durable carbon shaft
Black Diamond warranty included
Packable
Cons
Not an ultralight trekking pole
Expensive
Ladies & Gents, It's Time to Step Your GEAR Game Up. 😉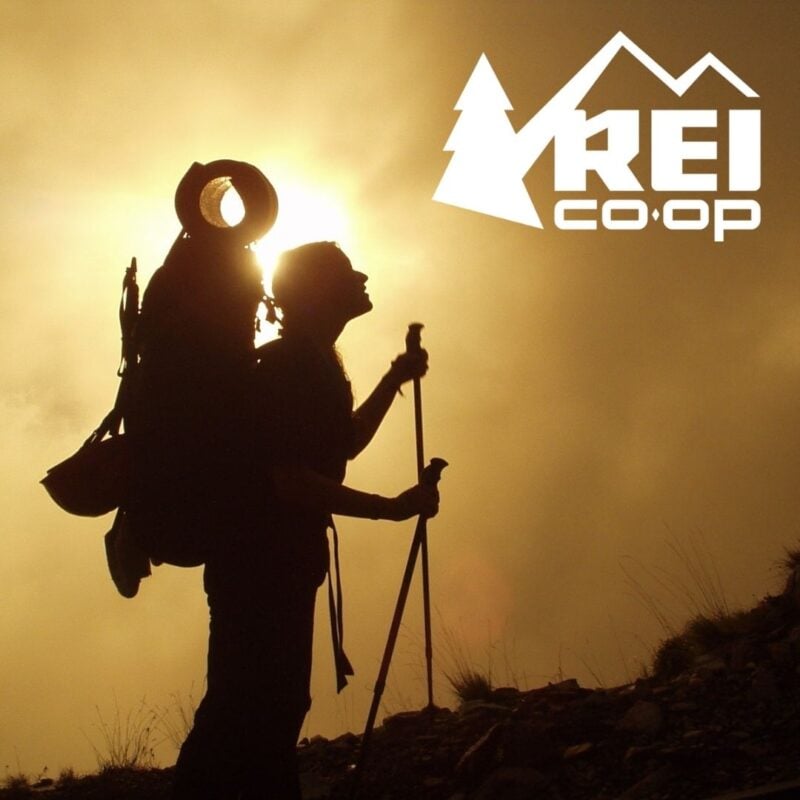 REI is one of America's biggest and most-loved outdoor gear retailers.
Now, for just $30, get a lifetime membership that entitles you to 10% OFF on most items, access to their trade-in scheme and discount rentals.
Join REI Today!
Optimal Poles for Women
Specs
Price: $139.95

Weight per pair: 20 oz.

Type: Telescoping (lever lock)

Shaft Material: Aluminium

Grip: Foam

Gender: Women
Black Diamond poles will continue to come up on my list so you will become familiar with them. Most trekking poles are in essence unisex. If you are a lady, you don't necessarily need women's poles. That said, Black Diamond has designed the Trail Pro Shock for use by women in the toughest backcountry environments, making it one of the best women's trekking poles.
My favorite part about these sticks is the shock-absorbing technology they feature. While trekking poles equipped with shock-absorbers tend to be heavier, the performance they deliver is amazing.
A strong rebound control has been built in the handle to avoid any disturbance in the anti-shock poles, making sure you have a safe trekking experience throughout.
Especially if you have knees prone to pain, the Trail Pro Shock trekking poles will be a great asset in helping to protect your knees from punishing downhill descents.
The benefits that made FlickLock the best pole-locking mechanism on the market remain: it's secure, fast and easy to use. Adjusting your poles is super easy, really.
In terms of comfort, the dual-density grip and padded wrist strap are sized specifically for women and provide secure, comfortable handling.
Basically, these are the best poles for women on the market for the reason stated. If you spend a lot of time on the trail and want the trekking poles that can keep up with your demands, the Trail Shock Pro trekking poles are for you.
Whilst our team were a little unsure about what exactly made these pole specific for Women beyond marketing, they did love their functionality! There are a couple of members of the team that have suffered knee injuries in the past and find descending hikes uncomfortable. They felt the shock absorbers and comfortable handles really made a huge difference to their pain levels.
The REI Co-op Traverse Power Lock Cork women's trekking poles featured below are also an excellent option.
Pros
Shock absorbers included in design
Flick lock telescope design
Cons
Heavier than other models.
Pricey
Best Budget Hiking Poles

Specs
Price: $50
Weight per pair: 19.2 oz.
Type: Telescoping (lever lock)
Shaft Material: Aluminum
Grip: Foam
Gender: Unisex
Meet the new guy in the room. Montem is new to the trekking pole scene, but one thing can be said for them: they are making some high-quality trekking poles for at a reasonable price point.
The Ultra Strong model features comfy foam grips, lever locks, and a relatively sturdy aluminum shaft design. If you are looking to buy trekking poles for the very first time, the Montem Ultra Strong make a great set of trekking poles without a big investment.
I still think the REI Traverse Power Lock poles mentioned below are of superior quality, but then again they are double the price.
Customers have stated in reviews how much they enjoy the choke-up adjustment design in the hand grips for steep ascents.
These wouldn't be my top pick for the best sticks to take on a thru-hike or into a really rugged area, but generally speaking, the Ultra Strong trekking poles function like any good set of poles should.
Our team felt these were the best trekking poles under $100 for several reasons, the first being just how bloody strong they are for the price. Our team were able to take these on some pretty challenging hikes and they really stood up to a good thrashing.
Note: After testing the Montem Ultra Strong trekking poles, I am really pleased with their quality. Check out my full review!
Cons
Questionable 'toughness' of design
Not suitable for super abusive hikes.
Best Multi-Season Trekking Poles
Specs
Price: $119.95

Weight per pair: 1 lb. 1 oz. (.5 kg)

Type: Telescoping (lever lock)

Shaft Material: Aluminium

Grip: Cork

Gender: Unisex
If you're like me then you're purchase trekking poles with the intention of using them year round. Backpacking trips in the summer and skiing in the winter. So trekking poles don't have to be used just for hiking? Definitely not.
If you're a tried and true backpacker, then anti-shock trekking poles are a win. However, if you plan to use your poles for more than backpacking then its worth sacrificing the anti-shock and making other considerations. That's where the Leki Makalu Lite Cor-Tec comes into play.
Oftentimes simplicity is the key to brilliance. That's what many folks like about the Leki Makalu Lite Cor-Tec poles, their simplicity. With all the standard features, you have lightweight, compact and versatile poles that are ideal for year round use and abuse.
Our team loved that these poles were great year-round, they felt that this made them much better value for money. They felt they performed well on a variety of different terrains whilst remaining comfortable and sturdy. They also remarked how light they felt when strapped to their packs.
Pros
Ideal for year round use
Highly packable
Durable
Cons
Heavier than ot trekking poles
No shock absorber may be a deal breaker for some backpackers
Most Durable Hiking Poles
Specs
Price: $71.96
Weight per pair: 21 oz.
Type: Telescoping (lever lock)
Shaft Material: Aluminium
Grip: Rubber
Gender: Unisex
Looking for an awesome pair of sticks that won't cost you a pile of money? The Black Diamond Trail Back poles have got you covered.
You do lose some of the construction benefits seen in the higher end Black Diamond trekking poles, though if saving money is more important to you than saving weight, the differences are subtle. The Trail Backs might not be ideal if you are a lock distance backpacker.
For one, the Fliplock mechanism for adjusting and locking the poles is the same.
Major differences are in the shaft material (aluminum not carbon fiber) and the grips (rubber not cork).
Some hikers might argue that the rubber grips simply are not as comfortable as the cork grips. For me personally, I don't notice much of a difference, though if I had to decide, I'd say cork grips are certainly more comfy.
As you are getting used to the feel of trekking poles you are more likely to experience chaffing and irritation from rubber grips.
As far as toughness and quality, Black Diamond Trail Back poles are solid and can certainly take abuse. If you are a casual hiker or planning to go on a longterm backpacking trip say to South East Asia, the Trail Back trekking poles are the best budget trekking poles I have come across.
Our team were big fans of these poles and felt they offered some of the best value on the market. They felt the difference in materials didn't really affect them too much in practice and they were still light enough to carry around on longer trips. They also liked that they came in a few funky colours too.
Pros
Competitive price
Black Diamond warranty included
Cons
Quite Heavy
Rubber grips can be uncomfortable for some people

Do You Want to Travel FOREVER??
Pop your email in below to get a FREE copy of 'How to Travel the World on $10 a Day!'.
Best Collapsible Poles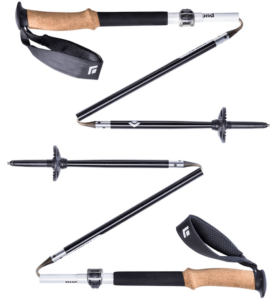 Specs
Price: $159.00
Weight per pair: 18 oz.
Type: Folding
Shaft Material: Aluminum
Grip: Cork
Gender: Unisex
Looking for the best collapsible walking sticks for hiking? We've got them here ya'll!
The Black Diamond Alpine FLZ poles are both excellent ultralight trekking poles in addition to being my top pick for the best collapsible trekking poles out there.
After weeks of hard use in the Pakistani Karakoram/Himalaya range, the Black Diamond Alpine FLZ model blew me away in terms of performance. I appreciated how easily and quickly they packed down when I was traveling, and vice versa when I needed to break them out at a moment's notice. For backpackers on the go, the packability is truly a godsend!
The Alpine FLZ poles feature natural cork grip handles with dual-density tops and breathable, moisture-wicking straps. I love the feel of the Black Diamond cork grips.
One of the greatest benefits I experienced while traveling with the Black Diamond Alpine FLZ poles is that they collapse down small enough to fit into my 18-liter daypack! They can go from being stowed away in my bag to in my hands on the trail in less than 1 minute. I am a big fan of that.
Let's be honest: we are not trekking 100% of the time on any given backpacking trip. When you are living out of a backpack, the ability to stash quality, collapsible trekking poles and hit the road makes a world of difference.
The Alpine FLZ poles were designed to bear heavy loads in the mountains. If you are on an extended multi-day backpacking trip and carrying all of the associated gear, these offer a sturdy support system, so that your knees and hips do not feel the full load. Awesome and essential.
When it comes to collapsible trekking pole reviews, our team felt these came out on top. They liked that the mechanism for folding was quicker than unscrewing and it meant fewer breakable parts too. They also felt they still offered a great level of stability and strength, especially when one of our team rolled their ankle and had to use them almost as crutches!
Note: Check out my super in-depth Black Diamond Alpine FLZ trekking poles review here.
Pros
Folding poles have superior packability
Black Diamond warranty included
Cons
Expensive
Cork grips started to wear out after limited use.
Best Collapsible Hiking Poles Runnerup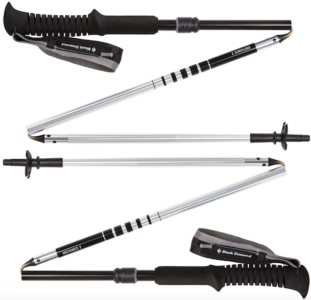 Specs
Price: $99.95
Weight per pair: 12 oz.
Type: Folding
Shaft Material: Aluminum
Grip: Foam
Gender: Unisex
The Black Diamond Distance Z design is very similar indeed to its carbon cousin listed above. There are some differences though.
The shaft is made out of aluminum, not carbon so that it is just a few ounces heavier. That is hardly noticed. You have to ask yourself is saving 3 ounces worth $60? Some would say no.
If you are looking for the best value collapsible trekking pole, well, you have found it. For traveling convenience, the Distance Z model ranks high on my list of the best sticks to take traveling.
Remember that the Distance Z is also non-adjustable.
Both the Distance Z and the Distance Carbon trekking poles do go on sale from time to time at REI. If you are in the market for trekking poles at the right moment, you might get lucky and pay far less than they normally sell for. No promises here, but something to keep in mind anyway.
Our team felt these poles were a great compromise if you're looking for collapsable poles but don't want to fork out for the Black Diamond Alpine FLZ above. They offer very similar functionality and comfort while compromising only in certain areas like using foam rather than cork on the handle. But for occasional use, they felt for the savings this was a decent compromise.
Pros
Foldable poles have superior packability
Black Diamond warranty included
Best Multi-Sport Trekking Poles

Specs
Price: $129.95

Weight per pair: 1 lb. 2 oz. (.5 kg)

Type: Telescoping (lever lock)

Shaft Material: Aluminum

Grip: Cork

Gender: Unisex
As the summer winds down, it becomes time to pack away all the backpacking and summer camping gear. Once the summer gear is stored, time to bust out winter gear! One thing you can leave aside while transitioning your gear closet is the Black Diamond Trail Ergo Cork Trekking Poles.
Black Diamond engineers always go for versatility. Why own a pair of trekking poles AND ski poles? Ridiculous right? Durable, lightweight and compact make this a great option for all the multi-sport backcountry adventurers out there.
Ever pole planted your way through a steep ski line or descended a steep trail down a pass? After a while you can actually feel the discomfort in your wrist. The Black Diamond Trail Ergo Cork Trekking Poles have a 15 degree corrective angle that delivers an optimal position for your wrist.
In addition, the natural cork wicks moisture and sweat while the soft rubber grip extensions are ideal for short term steep upward hikes. So you don't have to adjust your pole length to compensate for a change in terrain angles.
Our team were a little sceptical as to how these would actually fare when used for both hiking as well as in the snow. But they were pleasantly surprised and love the addition of the snow baskets for deep snowfall and so felt they performed well across the seasons. They did think they were a little heavier than some others on the market but that this also added a feeling of extra security and stability when in use.
Pros
Versatile for the multi-sport backcountry athlete
Articulated 15 degree corrective angle for support
Black Diamond warranty included
Cons
Heavier than other similar products
Best Anti-Shock Poles
Specs
Price: $119.95
Weight per pair: 1 lb. 2 oz. (.5 kg)
Type: Telescoping (lever lock)
Shaft Material: Aluminium
Grip: Cork/Rubber
Gender: Unisex
Have you ever carried an 80+ pound pack over a pass, gotten to the top then look down at the descent only to see a steep scree field partially covered in snow and receting ice. You think to yourself "How the hell am I going to pull this off?". The honest answer is not very easily, at that point you have no choice but to trust yourself and your gear.
Heavy weight, steep angles and uneven ound are the ideal terrain conditions for any shock absorbing pole, especially the Leki Legacy Lite Cor-Tec trekking pole.
Some backpackers think shock absorbtion is a load of crap. I don't agree with those backpackers. Having shock absorbtion is proven to reduce wear and tear on your ligaments and joints. Proven? Like in a science experiement? Kinda, I carried a heavy pack through diverse and varying terrain without proper equipment once. Then I learned my lesson the hard way and upgraded my gear before the next expedition which made a noticable difference. So take that science!
The Leki Legacy Lite Cor-Tec trekking pole are the go-to poles for backpackers that want to get way out there.
Our team loved these and felt they were the best anti-shock trekking poles on the market by far. They not only offer awesome support for those of us with bad knees, but one of the stand-out features was just how rugged and hard-wearing they found them to be.
Pros
Competitive price
Dynamic suspension system (anti-shock)
Cons
Heavy compared to similar types of trekking poles
The best present of all… is CONVENIENCE!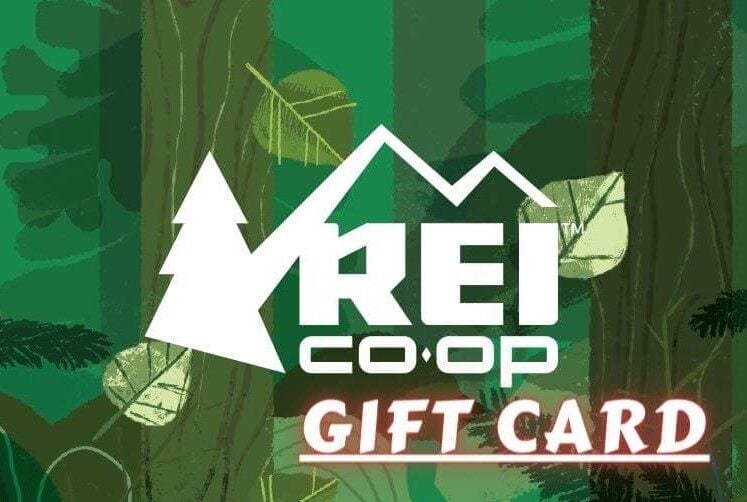 Now, you could spend a fat chunk of $$$ on the WRONG present for someone. Wrong size hiking boots, wrong fit backpack, wrong shape sleeping bag… As any adventurer will tell you, gear is a personal choice.
So give the adventurer in your life the gift of convenience: buy them an REI Co-op gift card! REI is The Broke Backpacker's retailer of choice for ALL things outdoors, and an REI gift card is the perfect present you can buy from them. And then you won't have to keep the receipt. 😉
Buy on REI!
Best Ultralight Poles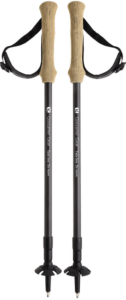 Specs
Price: $195.00

Weight per pair: 10.6 oz.

Type: Telescoping (twist lock)

Shaft Material: Carbon Fiber

Grip: Foam

Gender: Unisex
Don't worry ultralight backpackers! I am here for you!
The Gossamer Gear LT5′s are the best ultralight trekking poles on the market hands down.
They are constructed from ultralight carbon fiber and feature comfortable foam handle grips. The brilliance of these trekking poles is in the simplicity of the design. Simple is sometimes best because there are fewer pieces you can potentially break.
To adjust these poles there are two easy-to-use twist lock mechanisms. Simply adjust the poles to the desired length and twist them into locking position. Done.
If you are looking to tackle a big thru-hike or just cut down on your overall base weight, the Gossamer Gear LT5 trekking poles weight significantly less then the competition.
The question of durability and toughness often comes up when considering ultralight trekking poles. The Gossamer Gear LT5s have received consistently excellent reviews in that department. You will certainly be able to get a long life out of them even in the most punishing backcountry circumstances.
As you'll most likely be aware if you're a regular follower, our team just loves packing light! So when it came to trekking poles they were excited to see what was offered on the market. Our team were super impressed by how strong, secure and stable these poles were given how light they are. They took them out on some pretty rigorous adventures and they stood up to the task with vigour!
Pros
Ultralight
Simplistic design
Cons
Expensive
Questionable long-term durablity
best trekking poles

| Name | Weight | Grip | Price |
| --- | --- | --- | --- |
| Black Diamond Alpine Carbon Cork | 17 oz. | Cork | $169.95 |
| Black Diamond Women's Trail Pro Shock | 20 oz. | Foam | $139.95 |
| Montem Ultra Strong | 19.2 oz. | Foam | $50 |
| Leki Makalu Lite Cor-Tec Trekking Poles | 1 lb. 1 oz. (.5 kg) | Cork | $119.95 |
| Black Diamond Trail Back | 21 oz. | Rubber | $71.96 |
| Black Diamond Alpine FLZ | 18 oz. | Cork | $159 |
| Black Diamond Distance Z | 12 oz. | Foam | $99.95 |
| Black Diamond Trail Ergo Cork Trekking Poles | 1 lb. 2 oz. (.5 kg) | Cork | $129.95 |
| Leki Legacy Lite Cor-Tec Trekking Poles | 1 lb. 2 oz. (.5 kg) | Cork/Rubber | $119.95 |
| Gossamer Gear LT5 | 10.6 oz. | Foam | $195 |
Below I cover what to consider and what to look for when thinking about buying trekking poles…
Wait… Why Do I even need poles?
The simple answer? Because they are awesome.
Trekking poles greatly reduce the harsh impacts of hiking on your body. They provide balance, help establish rhythm, and take the load off of your vulnerable ankles, knees, and hips.
Every backpacker is different. Weight, price, style, and durability all go into the decision of what makes a potential pair right for any given person.
Let's look at some of the most important things you need to take into consideration when buying trekking poles for yourself.
Trekking Pole Durability
How long would you like your trekking poles to last (within reason)?
You'll have to ask yourself this question when the time comes to buy your own set. The more lightweight the shaft material is, the more likely it is to crack, break, or bend over time.
So, do you really need a tough-as-nails design? Is an ultralight trekking pole for you? This depends entirely on your intended use.
I have put my poles through every sort of difficult terrain over the years including an Appalachian Trail thru-hike attempt, and I never had a one straight up break on me. For my thru-hike I was using the REI Co-op Traverse Power Lock Cork and I never had an issue with them.
There are certainly lighter options available for long-distance hikes like the Black Diamond Alpine FLZ trekking poles for example.
If you go the ultralight route don't expect them to last forever, but also expect a very enjoyable user experience for the time you do have them.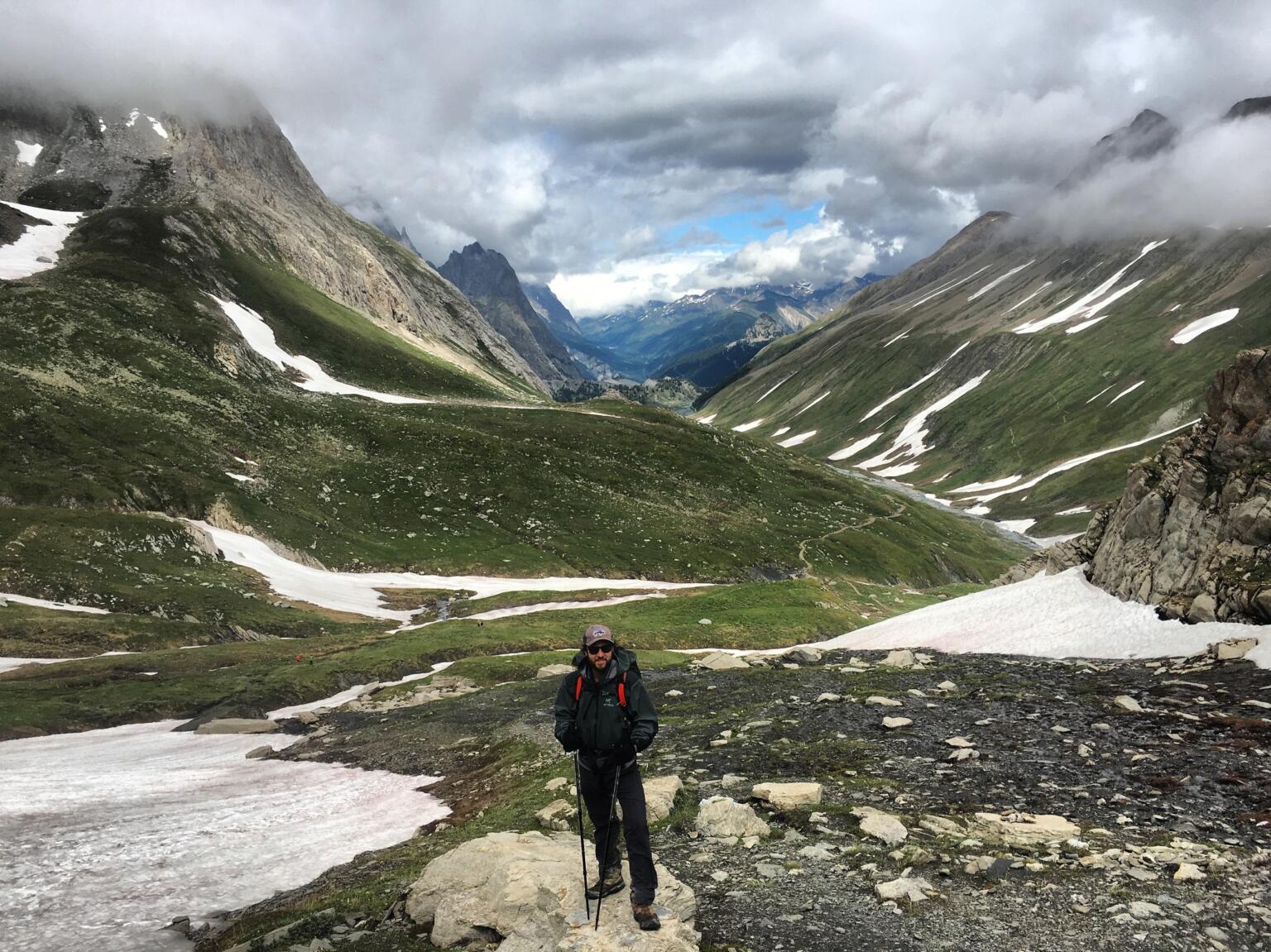 Weight
Talking about weight is a good transition from talking about trekking pole durability because they are related.
If you go with carbon fiber trekking poles they will be lighter. There is no denying that. Some hikers swear by them, especially thru-hikers. If you are on the trail day in and day out, your arms will notice if you are carrying heavier poles. Certainly,bythe end of the day your arms and shoulders will be beat.
That's not to say that buying carbon fiber poles will eliminate fatigue completely. But the fewer ounces you are working with, the less tired your arms should feel pure an simple.
If you are a weekend hiker or just want to go on a few backpacking trips with your mates, I'd say going ultralight isn't necessary.
For a good balance of reasonably light, yet plenty durable, consider the Leki Corklite DSS Antishock trekking poles.
Shaft Materials
Higher-end trekking poles tend to almost always be constructed out of carbon fiber. Some companies are pushing the very limits of ultralight by making trekking poles smaller and smaller in diameter (at the expense of (toughness).
Many hikers opt for aluminum trekking poles for the simple fact that they last longer, cost less, and can survive a dent or two.
It is now possible to find carbon-aluminum hybrid trekking poles as well. I'd say if you are keen to give carbon fiber trekking poles ago but don't want to spend the money, go with something like the Cascade Mountain Tech Carbon Fiber poles. They will only set you back $45.00 and they will give you a taste of the carbon fiber experience.
In the world of outdoor gear you get what you pay for. So you should have a realistic expectation of how $45 trekking poles will perform long-term.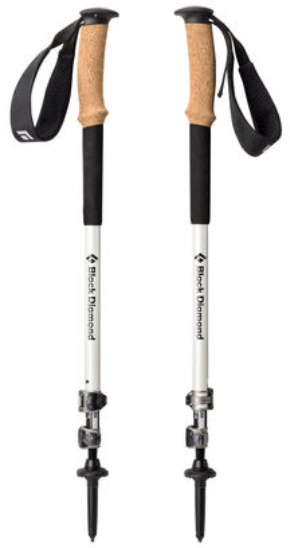 Locking Mechanisms
Choosing a trekking pole with a reliable, confidence-inspiring locking system is very important indeed. The last thing you want is your trekking poles to collapse on you when you are depending on them for balance. Sometimes your life literally depends on your trekking poles staying locked.
Basically there are two main types of locking mechanisms (with the ultralight folding poles in their own category). These two options are the lever lock and the twist lock.
For years, twist lock trekking poles were standard. I myself have owned several pairs. For the most part, twist locks work great. They are, however, prone to issues as many a seasoned hiker can attest.
There are many potential issues one can have with twist lock trekking poles indeed. The twist can be so tight that the lock seizes up and is stuck in place unless it is rescued by a pair of vice grips (this has happened to me). Likewise, if you under tighten the twist lock, the trekking poles will collapse.
Personally, I have never had major issues operating twist lock trekking poles. Point being though, they are kind of going out of style.
Nowadays it is all about the lever locking system. Most hikers find opening and collapsing trekking poles with lever locks a breeze. Lever locking trekking poles certainly do inspire more confidence as they rarely will let you down when you really need them (which I guess is always) for support.
Lever locking trekking poles are not without their own small issues as well. Occasionally you will have to tighten the lever mechanism with a tool to ensure you get a firm lock. Such is life sometimes.
Trekking Pole Grip Material: Cork, Foam, Rubber and Plastic
Possibly the second biggest consideration when buying trekking poles concerns the hand grips.
As the trekking poles are going to be spending hours on end in your hands, you want them to feel comfortable. I have had the most experience using foam hand grips. More or less, I have always found foam grips to be comfy.
It is undeniable that cork grips are very comfortable too. If you are prone to sweaty palms as well, cork is great at wicking away moisture. That said, cork material tends to hold smell more as well. Get ready for the dreaded stink mitts!
Most high-end trekking poles will come with cork grips. This is not always the case though as sometimes they come with foam grips as well.
Foam grips are also great at wicking moisture and can take a bit of the impact from your hands as well. As I said, I am a fan of foam and my ego is unaffected if my poles are not equipped with cork grips, which has in effect become the trademark look of the trekking pole enthusiast.
Rubber and plastic grips are found on budget trekking poles. Rubber grips are ok, though many hikers have reported chaffing as the result of using them. A benefit of having rubber grip poles is that they can easily be cleaned and sanitized when they get filthy (wash off the stink mitt smell).
Plastic grips are typically found on the shit quality trekking poles costing $25-35.
The Black Diamond Alpine Carbon Cork are pretty damn comfortable cork grip trekking poles.
Anti-Shock Poles
For me, I really tend to go for trekking poles that feature anti-shock technology. The performance on a step or challenging hike is obvious. The more impact you can transfer from your knees and hips to the trekking poles the better.
Having rigid trekking poles comes with the benefit of less weight. If you are an ultralight nut than anti-shock trekking poles simply won't cut it generally. If you move fast and cover big miles you are likely interested in hauling the least amount of weight possible.
That said, preserving my knees for the long haul is my top priority. I plan on trekking into my ripe old age, and my long term plan to make that happen includes always using anti-shock trekking poles.
As a wise older man once told me: (he is a triple crown thru-hiker having made successful bids of the AT, PCT, and CDT, 10,000 miles+) "Good shock absorbing trekking poles will add 20 years to your knees."
I am all about that.
I suggest you try both types of trekking poles (rigid and shock-absorbing) and see which style works for you. Every hiker is different, but yeah, anti-shock trekking poles kick ass in my opinion.
Winter and 4-Season Trekking Poles
In an ideal world, you will purchase one set of trekking poles that will cover all your bases.
If you plan on trekking in winter and/or snow, you are going to need tough, durable trekking poles that offer up a solid amount of support and balance.
Most mid-range and above (even some budget options) should come with the associated interchangeable baskets that attach to the bottom of your trekking poles for winter use.
If you have the budget and the space in your garage, you might find yourself with two pairs of trekking poles to be used during different times of the year.
If you are after one solid pair of trekking poles to cover all of your bases, I recommend going with the Leki Micro Vario Carbon DSS trekking poles. They are lightweight, yet durable enough to be a solid 4-season trekking pole option.
Best Hiking Poles for Women
Most hiking poles out there are unisex. Though if you look at the average anatomy of women vs men, women tend to be shorter and also tend to have smaller hands. Solution?
Companies like REI and Black Diamond make trekking poles designed specifically for women's bodies. They can be adjusted to shorter lengths, so one can achieve the perfect fit, even if you are only standing five feet tall. Plus women's trekking poles often come in many awesome colors that men's poles do not.
Women's trekking poles also feature narrower hand grips to better accommodate smaller hands and fingers.
I'd say most women will find that using unisex trekking poles works just fine for them. Though, if you are a lady who finds yourself dissatisfied with a trekking pole fit (hand grips too large, poles too long) you might want to look into buying one of the best women's trekking poles.
The REI Co-op Traverse Power Lock Cork women's trekking poles are very well reviewed and seem to be the go to mid-range option for lady trekkers.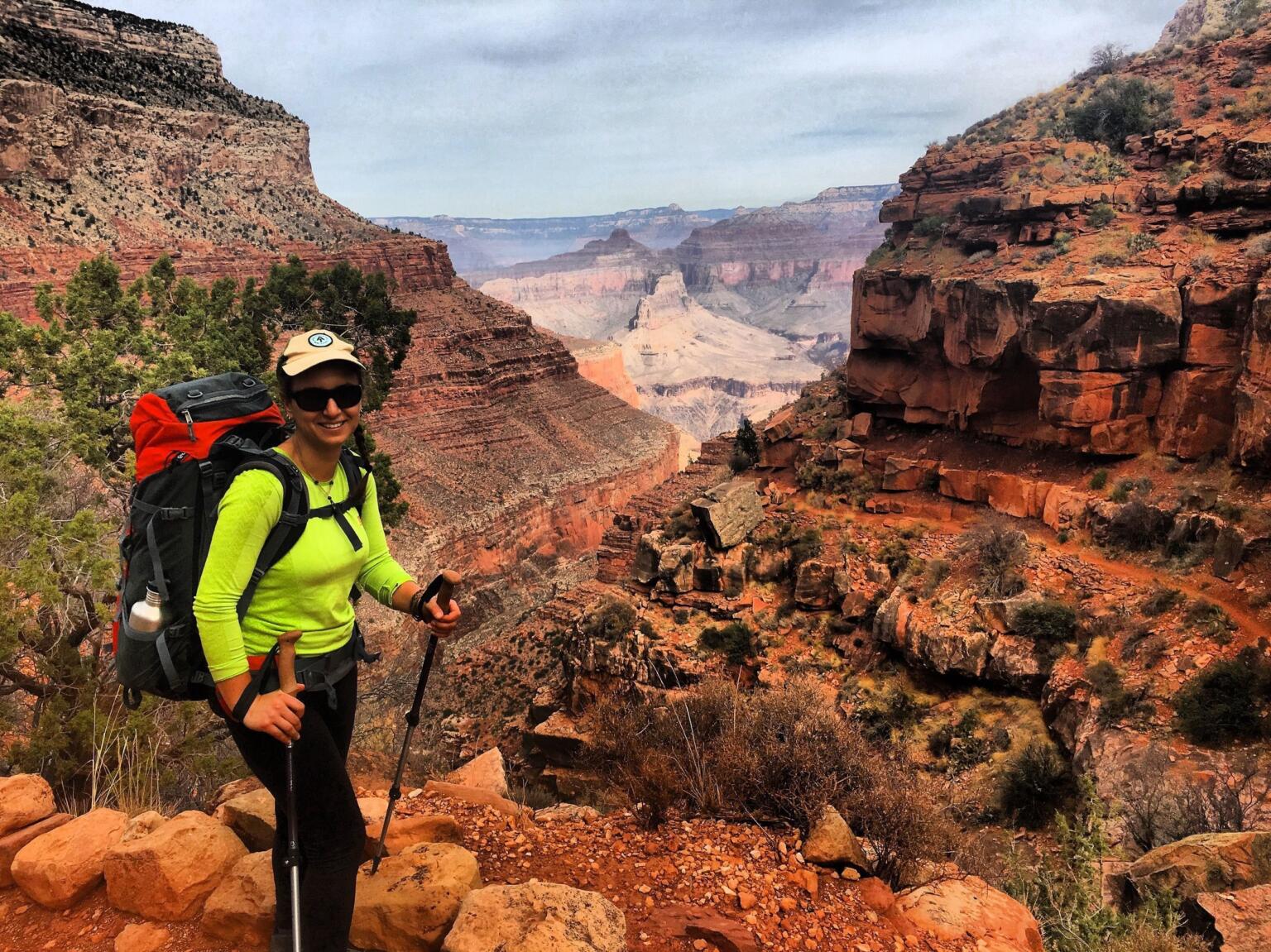 Budget Poles
Budget trekking poles are great for people new to the world of trekking pole use. For a little bit of money you can dip your toes into the sea of a better hiking experience. There is a huge variation in quality across the board depending on the company however.
You can find some budget trekking poles for around $20! If you go down that road you can expect the associated performance. Though I must admit I have owned some super cheap trekking poles before and they actually worked very well (they were heavy).
If you are the kind of person that just can't have nice things (you always seem to destroy nice things) then you should consider going with budget poles, at least at first.
That way you can abuse them conscience-free.
As I have said, budget trekking poles are often bulky, heavy, and can feature uncomfortable plastic or rubber grips. If cheap, shit sticks are all you have known than you will probably continue to be happy with them.
If you are (somehow) unsure whether or not poles are for you, pick up some budget trekking poles and see how they feel. You can always upgrade later on down the line.
The Montem Ultra Strong trekking poles are good budget candidates.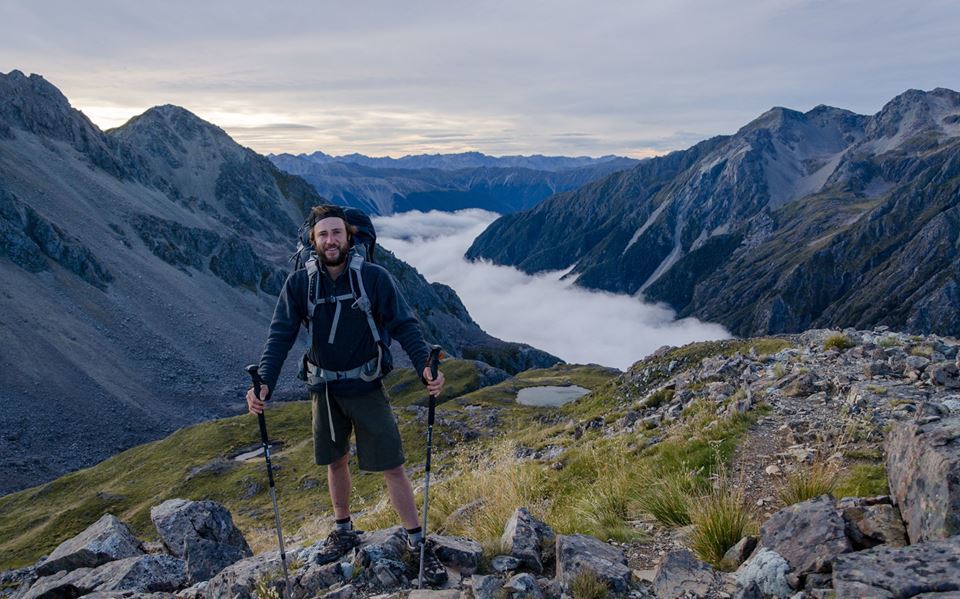 Health Benefits of Using Poles
If you don't know by now that trekking poles offer up huge health benefits you haven't been paying attention. Trekking poles with seriously reduce the wear and tear on your body over time, period.
Hiking and trekking in the mountains takes its toll on you. You want to have every advantage when you are spending time in the world's harshest environments.
The sooner you get on the train the better. With enough abuse, your knees, ankles, feet, hips, and back will eventually wear out. I honestly believe that trekking poles will add decades of life to those body parts.
I have hiked well over 4,000 miles in the mountains with trekkingpoles and at this point there is no going back. They are a mandatory staple in my hiking kit. I feel unnatural when I don't have them (which is almost never).
The difference you feel using vs not using trekking poles is huge.
Some words from a physiotherapy and wellness organization regarding trekking pole use and benefits:
you incorporate 90% use of body muscles (only 40% while walking without poles)
increases your cardiovascular workout
increases of up to 46% higher calorie expenditure
there is reduced stress on your hips and knees through the support of the poles
you improve your posture and balance
perceived as less workout than the actual true physical exertion
upper body activity using the poles improves upper body mobility
upper body activity using the poles reduces upper back, neck and shoulder pains
suitable for people of all ages and fitness levels
Convinced yet?
How We Tested This Gear
There is no perfect or exact science when it comes to testing out travel and outdoor gear. But we've got enough experience here at The Broke Backpacker that we think we can do a pretty kick-ass job at it!
Whenever we test a piece of gear, we get at least one of our members to give each item a test run out in the field. There are a few things we pay a bit more attention to when testing. Firstly, how well each one performs its primary task. Then we look at things like weight, build quality, durability, packability and for these walking pole reviews, grip and sturdiness too.
one of our team takes it out for a spin and puts it through its paces. In all cases, we pay close attention to how well-made a piece of gear is, how heavy or light it is, how packable it is and of course, how well it fulfils its primary purpose.
Finally, we also take into account the price of each item. When it came to finalising our walking poles reviews, we were harsher with more expensive products, expecting a higher level of performance. At the same time, cheaper poles were given a bit more leeway.
FAQ about the Best Trekking Poles
Still have some questions? No problem! We've listed and answered the most commonly asked questions below. Here's what people usually want to know:

Our GREATEST Travel Secrets…
Pop your email here & get the original Broke Backpacker Bible for FREE.
Final Thoughts
There you have my fellow trekking friends. You have made it to the end of my review.
I know just how hard it can be to choose a pair of hiking pole for yourself. After reading this review you are now armed with all of the important information you need regarding the best poles on the market. You can now make an informed decision based on your own needs, budget, and trekking style.
For an all-around awesome trekking pole experience go with my top pick: the Black Diamond Alpine Carbon Cork.
For you hiking ladies out there I recommend the Black Diamond Women's Trail Pro Shock.
Finally, for all of you backpackers that want to pick up a decent pair of budget poles, the obvious choice is the Cascade Mountain Tech Carbon Fiber poles.
I can guarantee you that you will feel the difference after using a quality set of trekking poles. Pick up a pair of badass sticks and start reaping the benefits immediately.
See you on the trail amigos.
*Author's note: This was not a sponsored post. I did not receive any free gear from any companies to write this review. Thus, I had no agenda or particular bias whilst crafting this article. All thoughts expressed within are indeed my own opinion based on my own experiences. Cheers!
---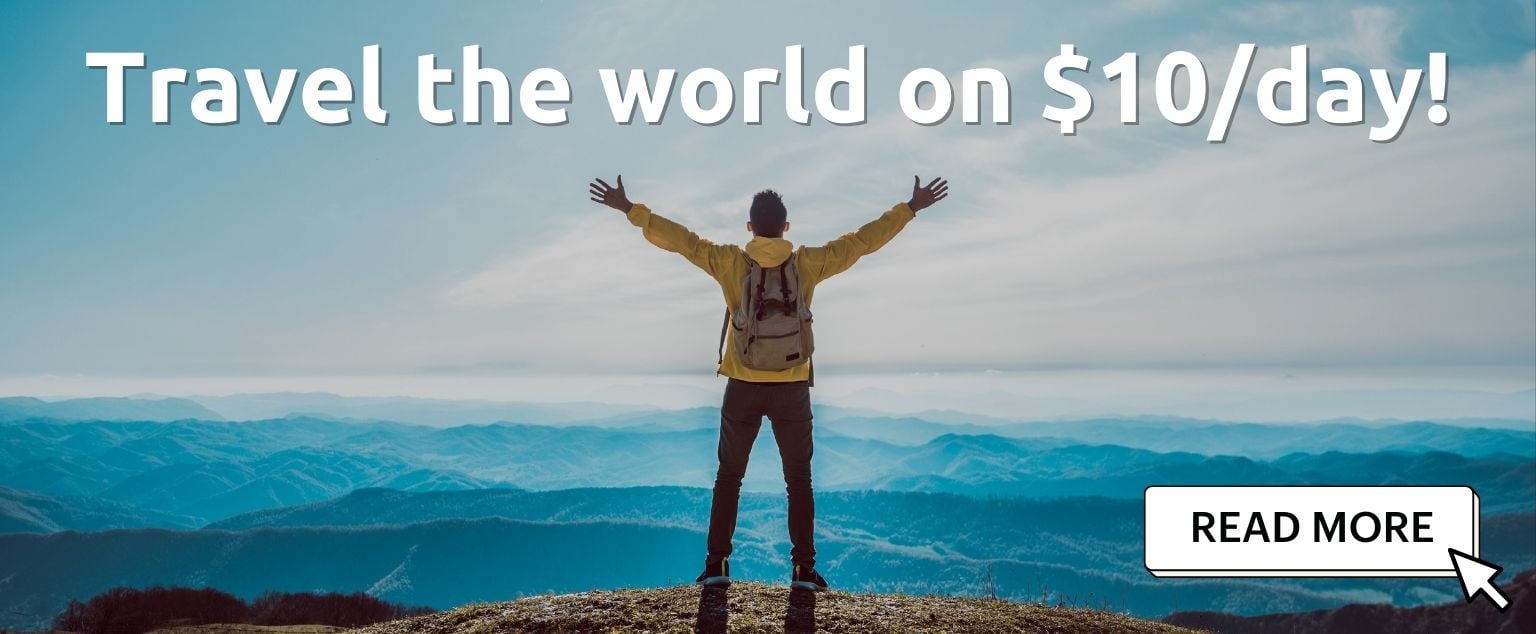 And for transparency's sake, please know that some of the links in our content are affiliate links. That means that if you book your accommodation, buy your gear, or sort your insurance through our link, we earn a small commission (at no extra cost to you). That said, we only link to the gear we trust and never recommend services we don't believe are up to scratch. Again, thank you!