Trekking poles are vital pieces of gear for hiking, but for many backpackers, the price tag can be immediately off-putting and sent them running into the hills empty-handed. It's true; quality trekking poles can be expensive, which is a shame since trekking poles offer endless benefits.
Fortunately, there are alternatives for budget travellers who seek trekking poles within their budget. Unfortunately, many "budget" trekking poles are poor quality, to say the least, and not worth a dollar.
For that reason, I searched for a quality pair of hiking poles at a reasonable price point… and what did I find? The Montem Ultra Strong trekking poles!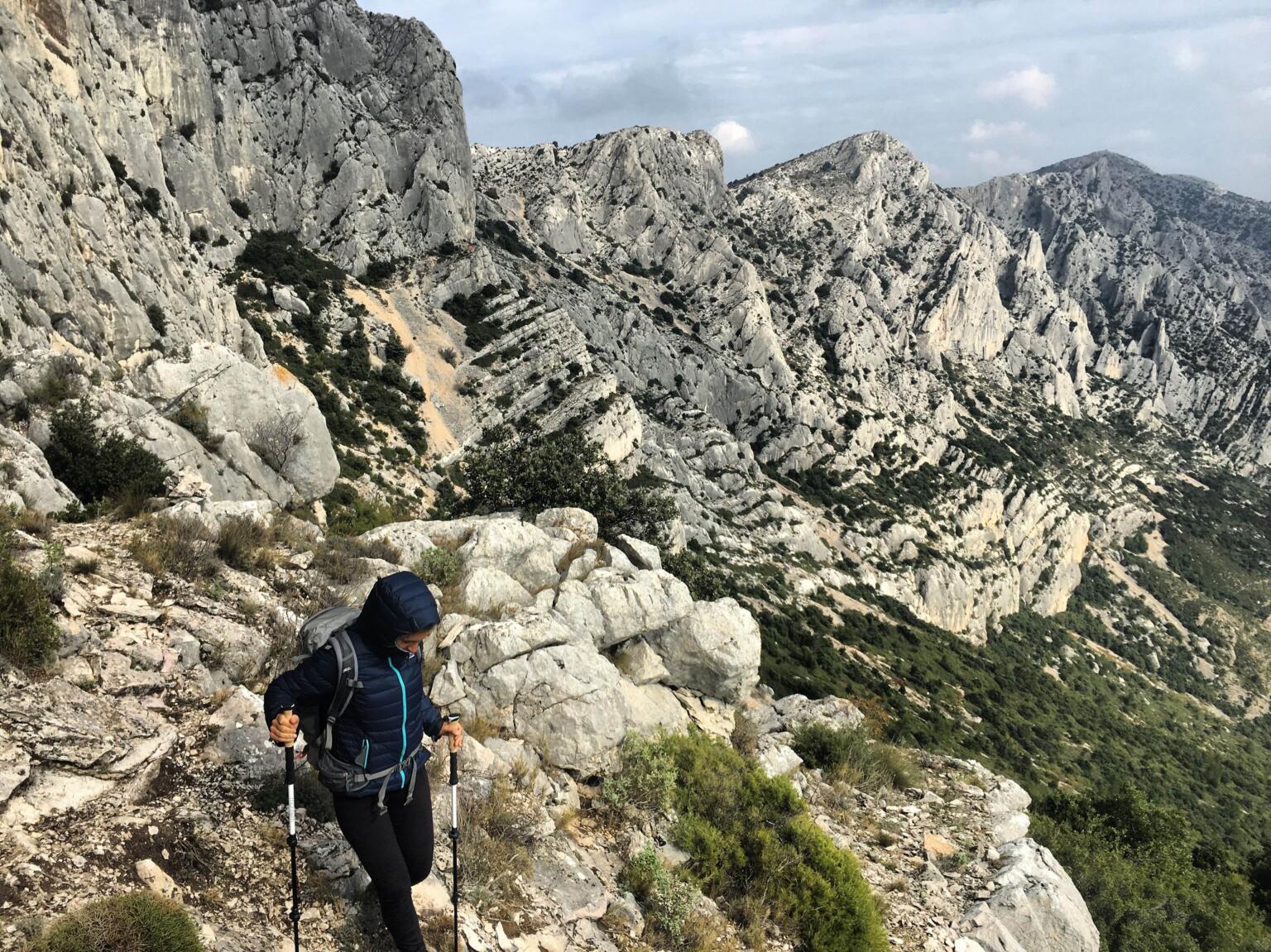 Montem has been producing the highest quality gear since 2016 with a mission more outdoor gear companies should put into practice: to produce badass gear at a reasonable price… and their hiking poles are no exception.
This in-depth review examines the Montem Ultra Strong trekking poles from top to bottom. I'll cover crucial aspects like specs, weight, packability, durability, best uses, materials, models, competitor comparison, and much more.
By the end of this Montem trekking pole odyssey, you will possess the knowledge needed to make an informed decision on whether the Montem Ultra Strong trekking poles are right for you and your next adventure.
Let's get right to it…
Price: $59.99
Weight: 19.2 ounces per pair
Adjustable Pole: Yes
Grip Material: EVA Foam/Cork
Shaft: Aluminum
Gender: Unisex
Other Features: Wrist straps
Winter is coming… WARM UP!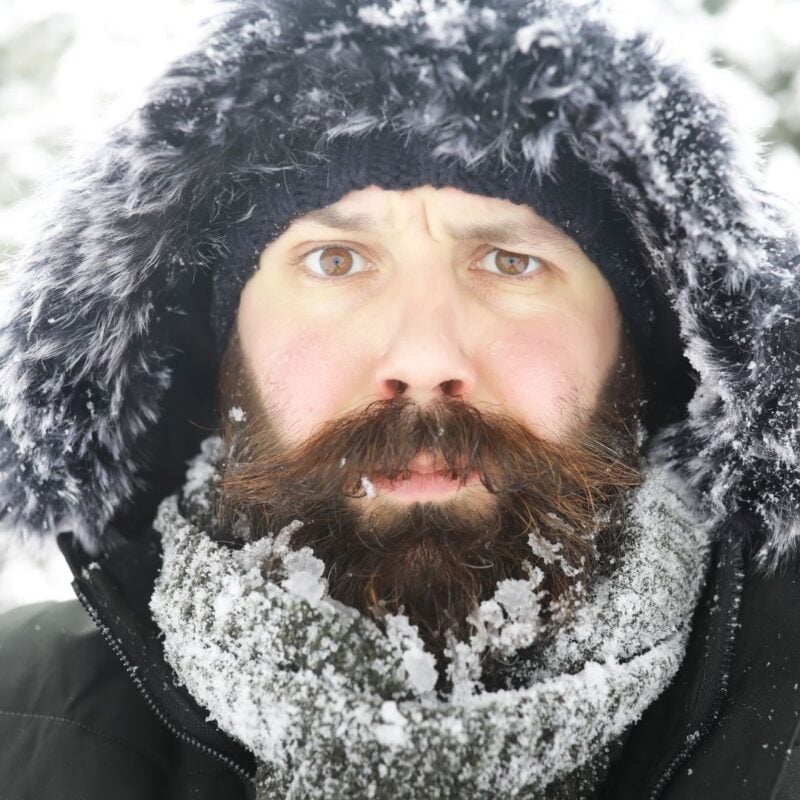 Get up to 50% OFF when shopping gear for the winter on REI.
Warm up for the holidays and SAVE on outdoor gifts all the way through Dec 18!
View on REI
Over the last few months, I have put the Montem Ultra Strong hiking poles to the test in the mountains. Certainly, I am always sceptical of gear that is sold cheaper than I think it should be. Most of the time, gear with a cheap price tag is equally as cheap when tested in the field.
As committed outdoor enthusiasts can attest, cheap gear in the mountains is never a good idea and in the end, you usually suffer as a result! There's certain things like hiking boots and a good waterproof jacket that you just have to stretch to and buy top quality? But is are hiking poles one of them?
The Montem Ultra Strong trekking poles far exceeded my expectations in terms of performance. I have tested many pairs of trekking poles over the years. Until I tested the Montem Ultra Strong poles, I was certain that quality budget trekking poles simply did not exist. Whilst that may have been true at one time, it certainly is not anymore and these are an example of excellent value.
The Montem Ultra Strong trekking poles did excellent in steep, alpine terrain, rocky scree, mud, and packed away in seconds when I needed my hands free to scramble a boulder or two. These are good poles for just about any situation you can throw at them.
I tend to put my hiking poles through hell and back on the trails, so I require a quality set of trekking poles to be tough, durable and give me more energy for my hike, which is exactly what I found in the Ultra Strong model.
Now, let's take a look at the Montem Ultra Strong trekking poles, and why they are the best value trekking poles on the market…
Montem Ultra Strong: Weight
At 19.2 ounces, The Ultra Strong model tends to be pretty average in terms of weight. Certainly, there are ultralight trekking poles out there that weigh far less that are designed primarily for the ultra-light traveller. That said, they will probably cost you 3x as much.
When it comes to the difference in weight in trekking pole models, we are usually talking about ounces. Unless you are an ultralight maniac, you will hardly notice a few ounces here and there.
Hiking all day in the mountains with trekking poles requires some effort from your arms. Bulky trekking poles on the heavy end of the weight spectrum can take a toll on your arms after hours of use.
After 8 hours of using the Montem Ultra Strong hiking poles in steep, mountainous conditions, my arms were still feeling good at day's end. My arms will certainly feel fatigued if I carry exceptionally weighted trekking poles, but I did not experience any arm weariness with the Ultra Strong poles. Arm fatigue is totally avoidable, and any decent pair of trekking poles should not tire your arms out!
For those counting ounces, Montem also makes the Ultra Light Carbon Fiber Poles model. They weigh just under 3 ounces less per pole than the Ultra Strong trekking poles, but if you are prone to arm fatigue, carbon fibre is always going to be lighter than aluminum poles and leave you with more energy. If you are not used to hiking with trekking poles, it is also possible that you will feel the three-ounce difference.
For most backpackers, hiking with the aluminium Ultra Strong trekking poles will be a balanced lightweight trekking pole experience.
In the next section, we'll take a closer look at the shaft material used in the Montem Ultra Strong trekking poles…
Montem Ultra Strong Shaft Material: How Tough Are They??
Talking about weight makes a good transition into looking at the shaft construction design and the materials used.
The Ultra Strong shaft material is made using Aluminum 7075, which is fancy talk for lightweight, durable material ideally suited for hiker abuse. It means these compact style telescoping poles are not only light but take up hardly any room either.
I am a big fan of aluminium trekking poles over carbon fibre. Why? Because aluminium trekking poles can survive unintended impacts without breaking. Aluminium tends to dent rather than snapping or breaking and stands up to just about any situation you can chuck at it.
While carbon fibre trekking poles are lighter, without a doubt, they tend to be less tough and are not as durable in the long run (in my opinion).
Typically, there is a huge gap in price when it comes to aluminium vs. carbon fibre trekking poles. I appreciate that Montem's price difference is only about $20, which is totally unheard of and another example of great value!
The Montem Ultra Strong trekking pole shafts are telescoping poles which are comprised of three sections, two of which are adjustable. The sturdy construction design earns my confidence in a wide variety of terrain whilst bearing the brunt of my full weight at times.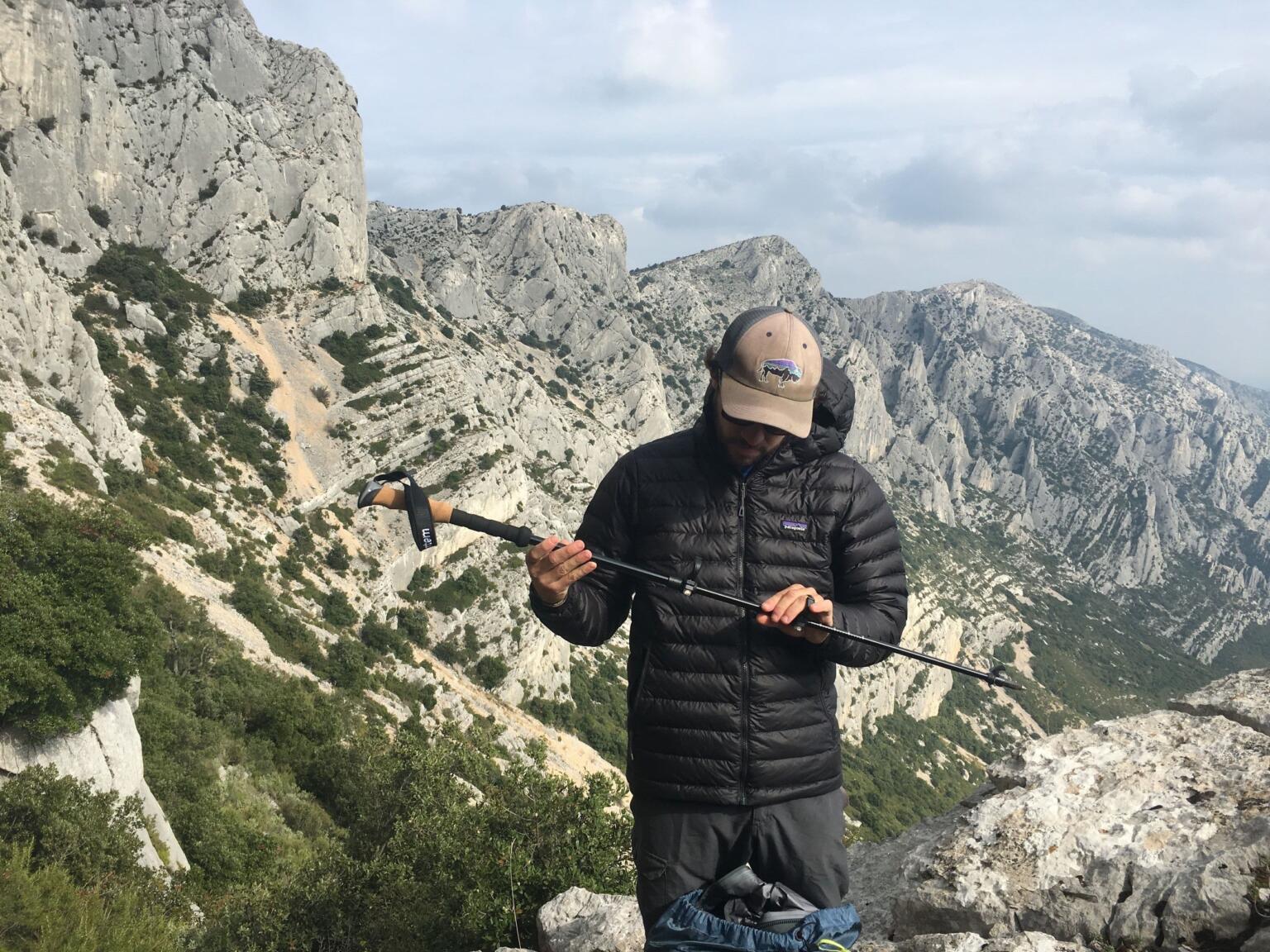 Adjusting the Montem Ultra Strong Trekking Poles: The Ease of Lever Locks
Thankfully, twist-lock trekking poles are (mostly) a thing of the past!
The Montem Ultra Strong trekking poles operate on a lever lock system. In a matter of seconds, you can deploy your trekking poles to the desired length and hit the trail.
One of the hikes I tested Montem Ultra Strong Trekking poles on required a lot of hands-free climbing, as it was a Via Ferrata style trek. I was constantly lengthening, shortening, and stashing my poles as needed.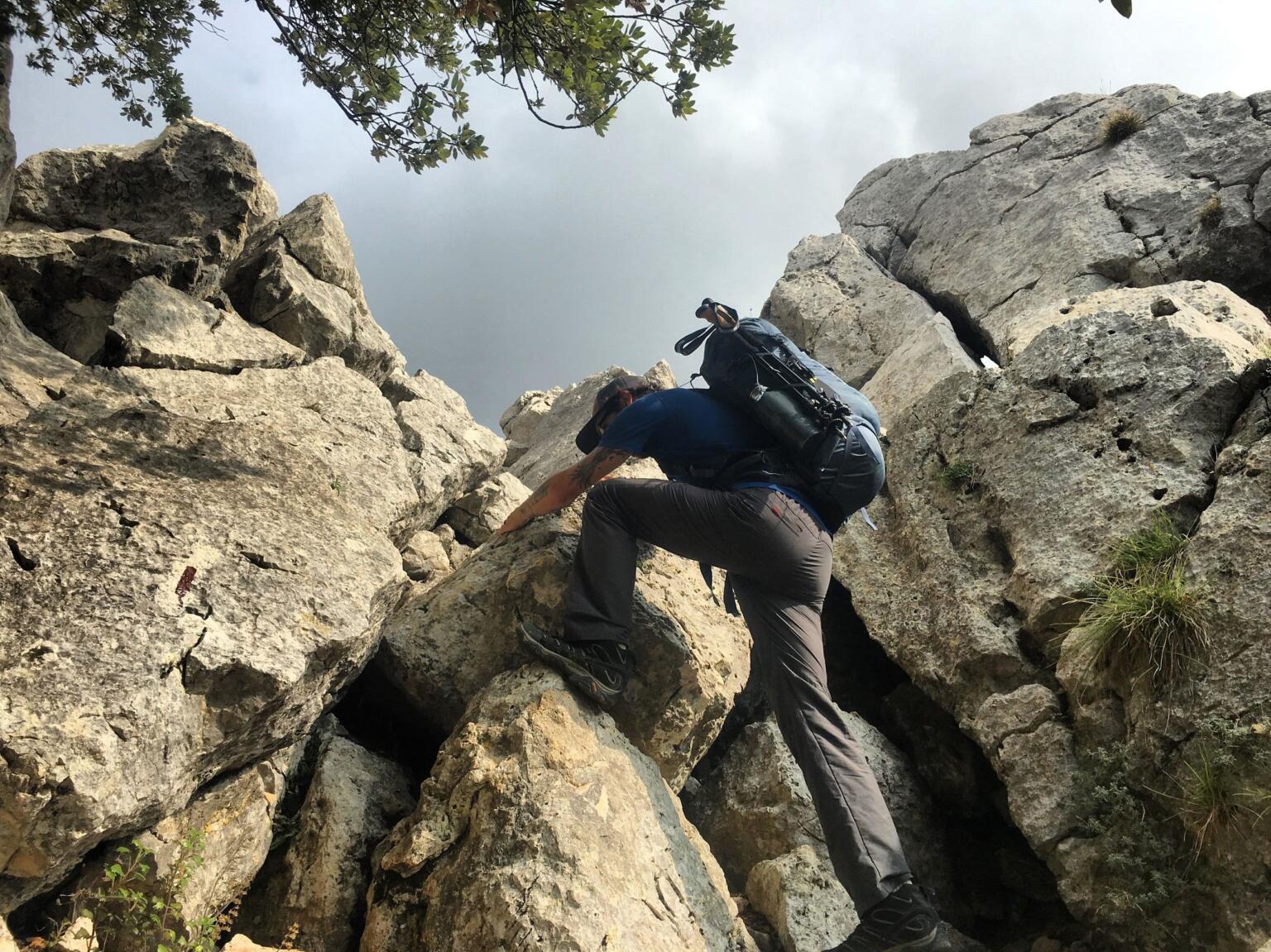 The lever lock system made it easy to adjust and pack away my poles. I was able to collapse my poles and strap them to the outside of my backpack in under a minute.
When the process was repeated in reverse, I had my Ultra Strong poles ready to go and on the trail in under 30 seconds. Adjusting the Ultra Strong trekking poles is super easy and simple.
There are two sets of numbers on each of the adjustable shafts, and all you have to do is line up the two lengths on each shaft. For example, if your desired length is 120 cm, then you line up "120 cm" on each shaft, twist the little white plastic screw knob to the correct tension, and lock the lever into place… done.
Montem Ultra Strong: Packability
For day hikers carrying a 20-30-litre backpack, the easiest way to store the Ultra Strong trekking poles is to strap them to the exterior of the pack. A backpack under 30 litres is probably a bit small to fit the Ultra Strong poles inside.
If you do decide to put the trekking poles inside your backpack, be sure to use the rubber tip protectors, as the exposed carbide tips are sharp and can create holes in your backpack if you're not careful.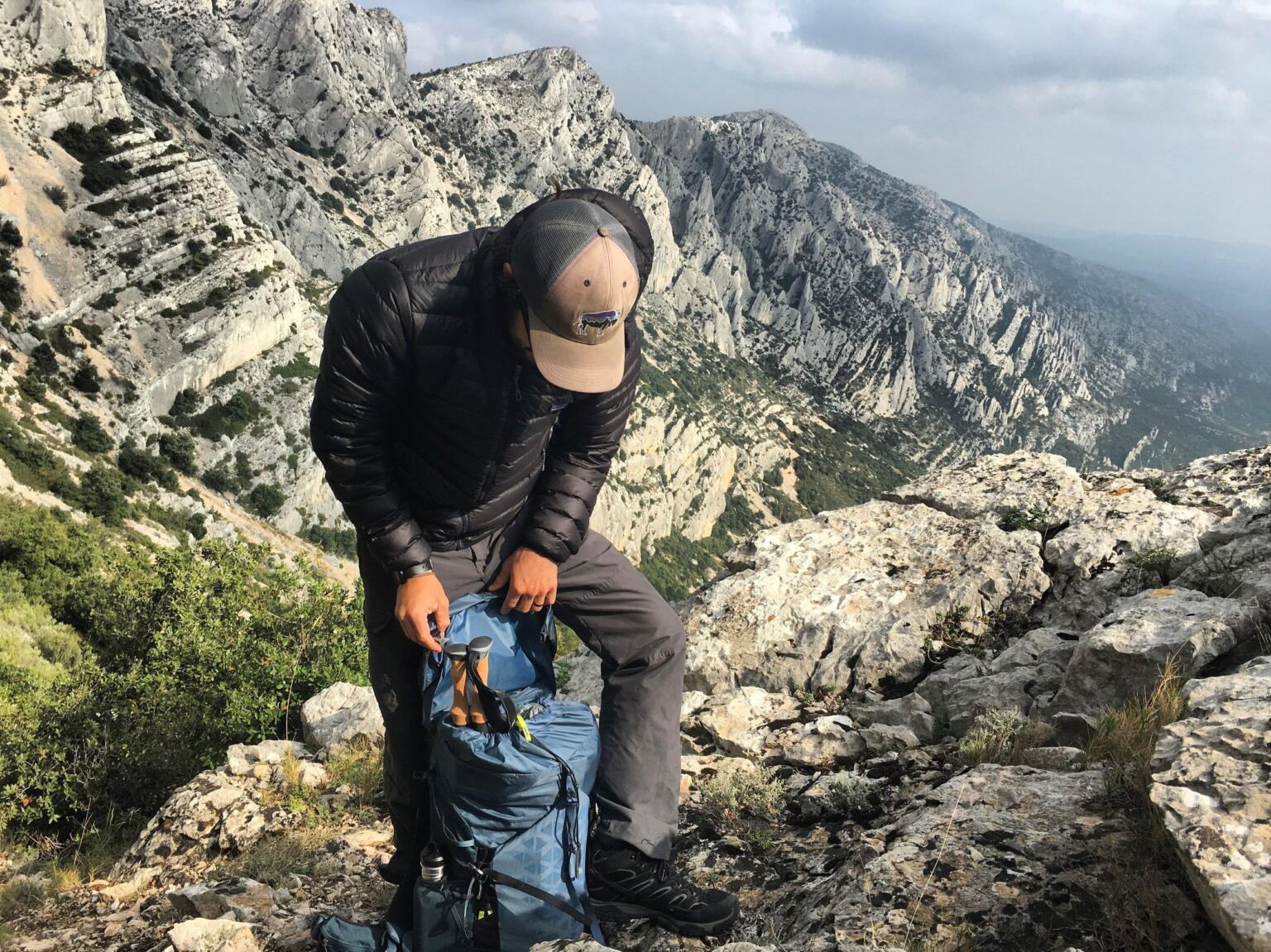 I always strap my trekking poles to the outside of my pack (whether I'm hiking or travelling unless I am flying). If you are travelling or hiking with a backpack over 40 litres, you should have no problem fitting the Ultra Strong poles inside of your backpack. The minimum length of the collapsed poles is 61 cm (24 inches).
Remember, you cannot take trekking poles on aeroplanes (because they are so dangerous, WTF???).
For a trek that includes scrambling, boulder hopping, and cliff climbing, strapping the poles (firmly) to the outside of the backpack is the most practical way to go, but make sure to secure them well!
Montem Ultra Strong: Grip Materials
The Montem Ultra Strong trekking poles come in a few different models. The standard Montem Ultra Strong trekking poles feature an EVA foam grip for your hands.
For cork grips, you are going to have to go with the Montem Ultra Strong Cork Anti-Shock trekking poles ($79.99) or the Montem Ultra Strong Cork trekking poles ($69.99).
Using a foam grip has its advantages and disadvantages. Whilst cork grips are typically the gold standard for trekking pole handles, they do tend to deteriorate faster than a foam grip.
Foam grips tend to be tough, soft, and moisture-wicking. I'd say that cork has all of those same attributes, plus they might be even softer to the touch.
What you don't want to buy are cheap plastic trekking pole grips; those can give you blisters and irritate the skin.
I tested Montem trekking poles featuring both foam and cork grips. If I had to choose, I would choose the cork grips over the foam, for nothing other than personal preference.
That said, the foam handle grips work wonderfully, and certainly never irritate my skin; for long-term durability, foam grips are definitely the better option on a hiking pole. If you want cork grips, they're $10 more. Not a bad deal.
The grips also feature wrist straps which is super handy for making sure you don't lose the buggers on the trail!
Montem Ultra Strong: Anti-Shock vs Rigid
For some reason, anti-shock trekking poles are becoming less and less popular within the trekking community. I have always been a big fan of anti-shock trekking poles; I even used a pair during my 2015 Appalachian Trail thru-hike.
That said, anti-shock vs rigid trekking poles come down to personal preference.
When carrying a moderate load on a steep descent, I love the way the Montem Anti-Shock Cork trekking poles relieved my knees of any major impacts. I mean, this is what you want from a hiking pole right!?
If you are used to trekking with anti-shock poles, rigid poles feel super weird at first. You may ask yourself if "these trekking poles even doing anything?" They are, though the impact of rigid trekking poles on your body is more subtle.
While I prefer to hike with anti-shock poles, I see the value in rigid poles as well. Anti-shock trekking poles have a reputation of malfunctioning, jamming, and generally wearing out over time. They're less durable, which makes sense since there are more moving parts that can break within the suspension system.
If you have past knee injuries or you're more prone to knee problems as an older hiker, I recommend going with the Montem Ultra Strong Cork Anti-Shock trekking poles because they relieve your body from more shock than rigid poles do.
At the same time, if this is your first trekking pole purchase, I recommend choosing the standard Montem Ultra Strong poles. Montem takes pride in their Ultra Strong model, which they say is "made for nearly everyone," and I have to agree with them. Most hikers can't go wrong with the standard model.
Montem Ultra Strong: Best Uses
The Montem Ultra Strong trekking poles are 3-season poles, not intended for use in heavy snow. All Montem trekking poles come with plastic mud baskets that thread onto the base of the pole shafts.
You do have the option to buy snow baskets ($10) if you plan to trek in the snow. The snow baskets are wider and help to compact the snow if it is deep underfoot making these good poles for just about any situation.
Note: the mud baskets on the Ultra Strong poles were probably the most disappointing element I encountered while testing the poles.
On my first hike with the Montem Ultra Strong poles, one of the mud baskets hooked under a rock whilst I was in stride. The basket broke into a couple of pieces and is now useless. It was probably my fault if I am honest. Clearly, rubber baskets work better for me, personally.
The point is, the mud baskets are made from cheap plastic and are not flexible. When applied with a bit of pressure, they break rather easily.
On the plus side, the mud baskets can be removed in a couple of seconds when you don't need them.
Other than the mud basket issue, the Ultra Strong poles kick ass in a variety of terrain.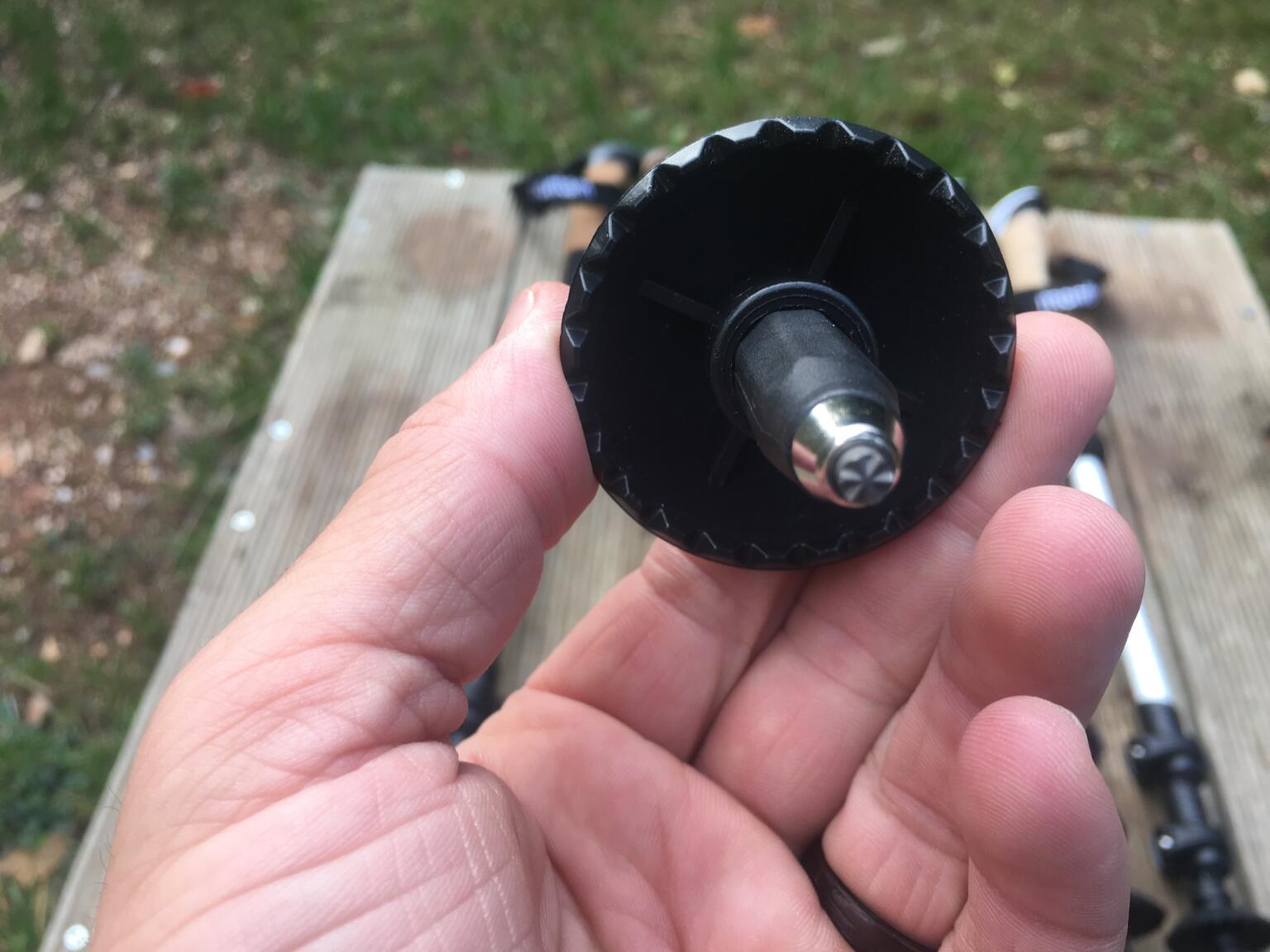 Montem Ultra Strong: Price
Quick Answer: $59.99
Normally, this is the part where I have to give a spiel about why quality outdoor gear is overpriced. Luckily, Montem has spared us of that discussion because these are of great value.
As you should know by now, Montem is making the best budget trekking poles on the market.
For $59.99, the Montem Ultra Strong trekking poles are a steal. They cost about 1/3 less than their competition.
Whether you are a day hiker, multi-day backcountry trekker, or world traveller, the Ultra Strong poles require little investment for such versatile gear that can adapt to your next adventure.
Here are the prices for the other two Ultra Strong models:
Montem Ultra Strong Cork: $69.99
Montem Ultra Strong Cork Anti-Shock: $79.99
Montem Ultra Strong vs the World: Competitor Comparison
When it comes down to it, every backpacker is different. Not all trekking poles are created equal and each has its own qualities (hopefully). You'll need to consider a few questions before you buy a pair of trekking poles.
Which specs are important to you? What type of terrain will you hike on most? Is cost a factor? Does weight matter? Should I pick aluminium poles or carbon fibre?
As a backpacker, be on the lookout for a pair of trekking poles that are versatile, durable, kick-ass in multiple climates and terrains i.e. the mountains/jungle/desert, and travel easily. All of these considerations matter… and tbf, these Montem poles cover a lot of bases!
Let's see how the Montem Ultra Strong trekking poles stack up against the competition.
Looking for other options? Check out the Black Diamond Alpine FLZ Trekking Poles instead.

Our GREATEST Travel Secrets…
Pop your email here & get the original Broke Backpacker Bible for FREE.
Final Thoughts on the Montem Ultra Strong Trekking Poles
Well, there you have it, my fellow mountain dwellers, and committed outdoor enthusiasts. We have made it to the end of my Montem poles review. You are now armed to the teeth with everything you need to know regarding the Montem Ultra Strong trekking poles.
In the world of budget outdoor gear, quality can be few and far between. I mean, who hasn't snapped a cheap hiking pole!? Montem is awesome because they make top-notch products that function well for backpackers. This company helps people get into the mountains without robbing them of their entire budget (which happens all too often in the outdoor industry).
With the Ultra Strong trekking poles, I have the best of both worlds: an affordable and solid pair of trekking poles designed for tough mountainous terrain.
Whether your next adventure takes you into the Himalayas, the Alps, or Patagonia, the Montem Ultra Strong trekking poles are a perfect companion for budget travellers and hikers who want to spend more time on the trails and less money to get there.
What is our final score for the Montem Ultra Strong Trekking Poles? We give it a rating of 4 out of 5 stars!

---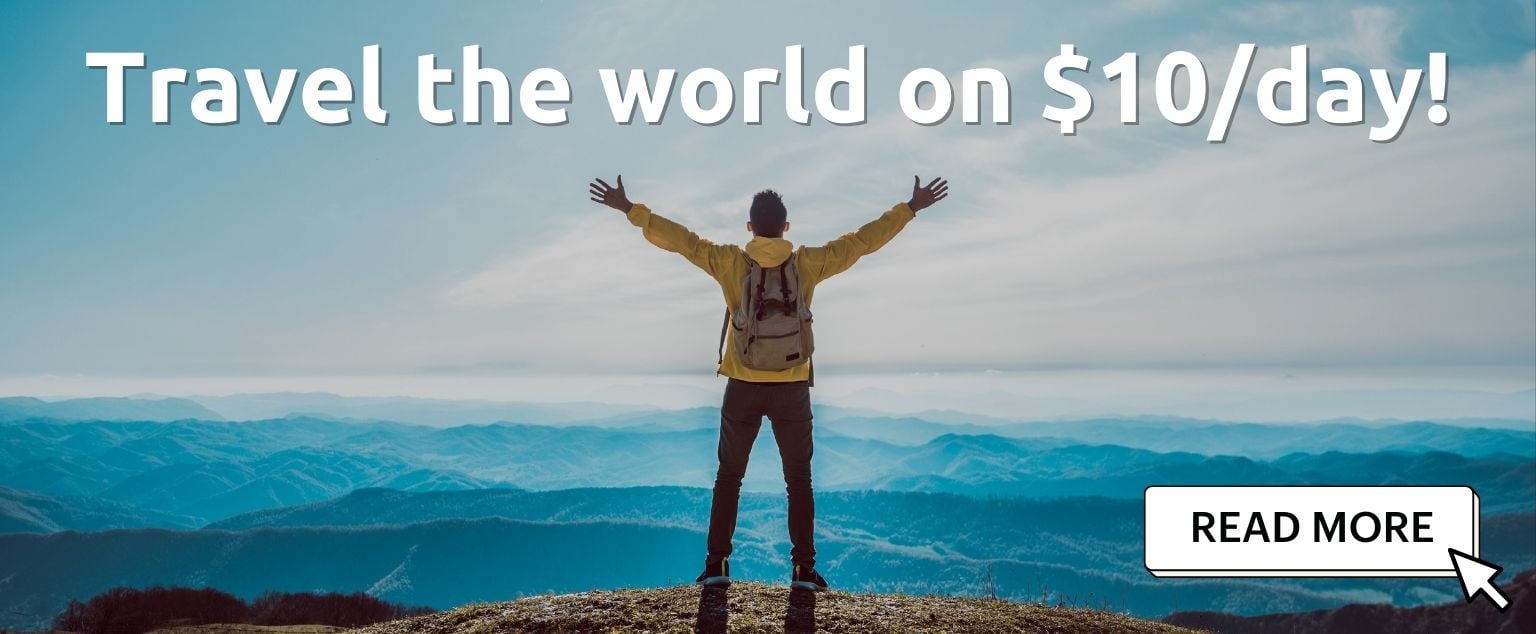 And for transparency's sake, please know that some of the links in our content are affiliate links. That means that if you book your accommodation, buy your gear, or sort your insurance through our link, we earn a small commission (at no extra cost to you). That said, we only link to the gear we trust and never recommend services we don't believe are up to scratch. Again, thank you!