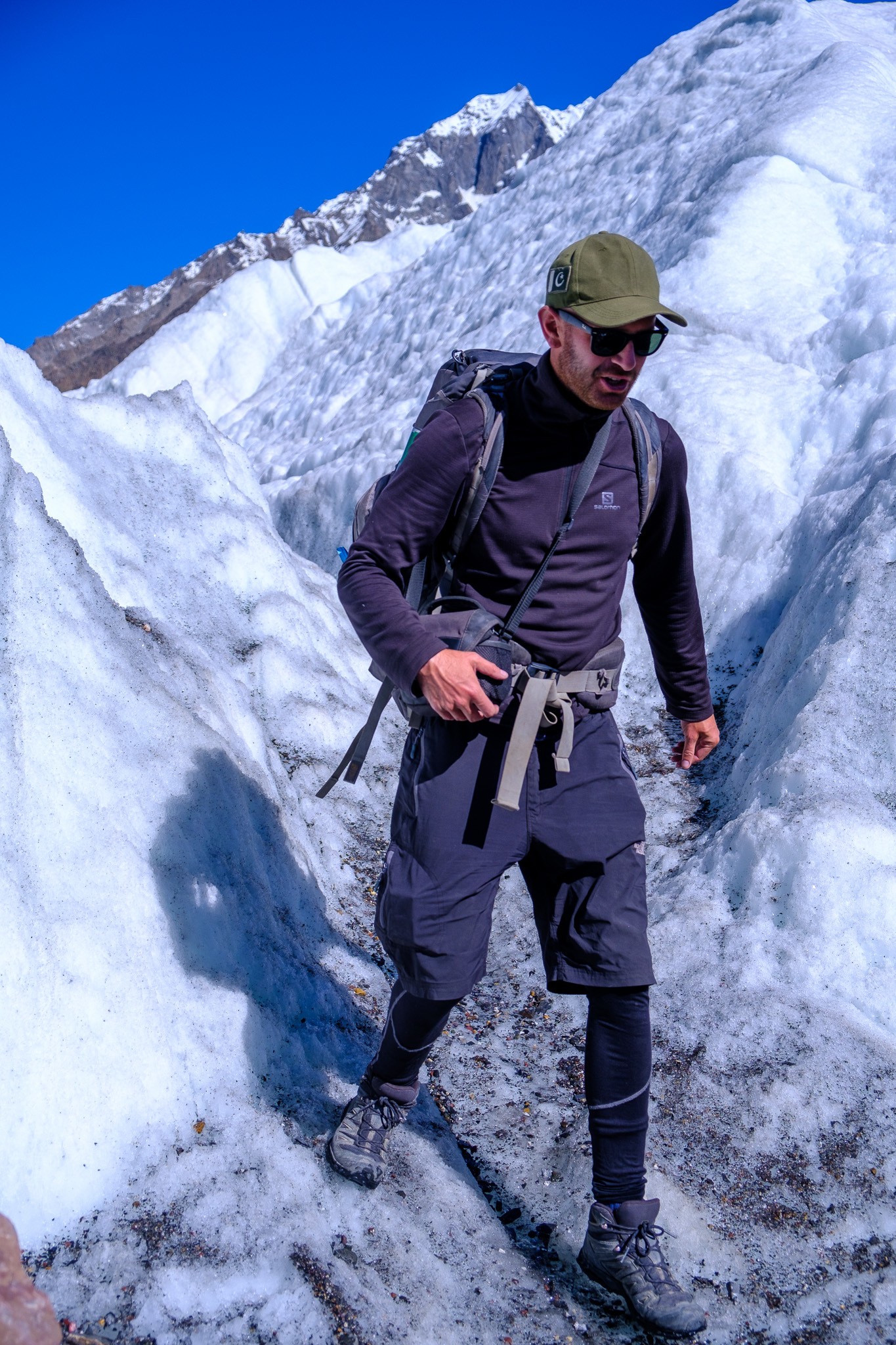 There's no such thing as bad weather – only unsuitable clothing.
For outdoor lovers, this is undoubtedly true. Having the proper clothes to keep you warm – or lack thereof – will easily make or break a cold-weather trip or adventure.
There's so much to see and do in chilly conditions. From countless activities – like skiing and hiking – to the incredible colder-climate destinations there are to discover – like Scandinavia and Patagonia; you can enjoy them all by simply having the right thermal wear for top comfort and performance.
Luckily for us adventurers, there are a TON of quality options out there to cover all of your bases.
So, I've gathered all of my top recommendations for the best base layers out there to help point you in the right direction. There is a lot to choose from, but hopefully, you'll find these base layer reviews helpful.
So, let's talk base layers!
Quick Answer: Best Base Layers for Men and Women
Best Base Layer Overall (tops)
Specs
Best use: Snowsports
Fabric: Merino wool
UPF rating: 20
Underwear weight: Medium
This base layer is so warm and comfy; I've been using this one for years and love it. I've never had to deal with chafing because it's functionally designed with flat stitching and offset shoulder seams.
The Oasis is made of merino wool, and when it comes to warmth, you can't beat a merino wool base layer. It's soft with no itchy feeling at all. It's awesome at wicking away moisture and keeping your body temperature regulated. The best part is that wool is naturally odor-resistant. I work up quite a sweat on the slopes, and I'm always impressed at how dry – and not stinky- I am every time.
Although it's on the pricier side, it's been worth every penny. It's lasted a long time and has never failed me – definitely worthy of my top pick as the best base layer overall.
Pros
Insulating and comfortable
Sun protective with no stink
Check Men's on REI     Check Women's on REI     Check on Amazon
Best Base Layer Overall for Women (tops)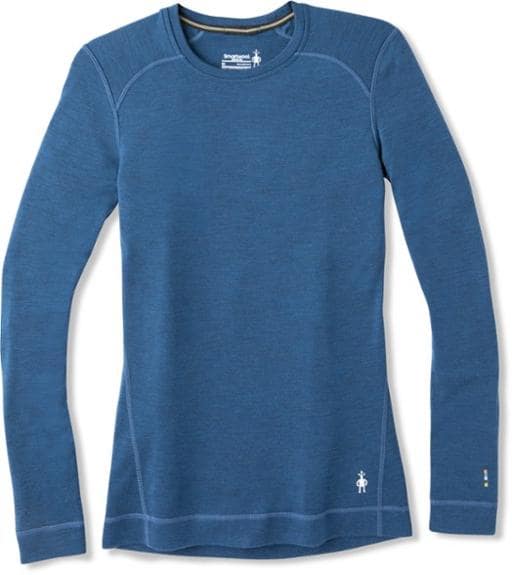 Specs
Best use: Multisports
Fabric: Merino wool
UPF rating: 50
Underwear weight: Medium
With sculpted sides for enhanced fit, the Smartwool base layer was designed specifically for women and delivers on every front. It's super comfortable and feels soft and warm against even the most sensitive skin.
It's the best base layer for women because it's also versatile; it can easily be used as thermal underwear for extra warmth or on its own as comfy, practical performance gear. Smartwool Merino fabric adjusts to your body temperature, so you don't have to worry about overheating either.
And ladies, you'll love that you can wear this thing multiple times without needing to wash it. The wool fabric makes this base layer odor resistant and stink-free. What more could you ask for?
Pros
Made with versatile, itch-free merino wool for a variety of uses
Provides 50+ UPF protection
Longer waist that won't ride up
Check Men's on REI     Check Women's on REI     Check on Amazon
Best Base Layer Bottoms (Men)
Specs
Best use: Multisport
Fabric: Merino wool
UPF rating: 30
Underwear weight: Medium
Pair these leggings with the Oasis base layer crew top, and you've got yourself one awesome set of top-notch long johns. Not only will these keep you warm, but you can count on no-itch, breathable comfort every time.
I love the slim fit and how lightweight they are. There's no restriction in movement, and they give you the perfect amount of snugness – so comfy. They feel great under shell ski pants, softshell pants, or even regular clothing.
If you're looking for the best thermal underwear for a variety of activities and temperatures, this is it. The wool fabric regulates your body temperature, so there's no overheating or clammy feeling. Definitely the best baselayer bottoms out there.
Pros
Quick-drying and moisture-wicking for all-day comfort
Suitable for a range of applications from snow sports to everyday use
Cons
May run short for taller men
Pricey
Check Men's on REI     Check Women's on REI     Check on Amazon
Best Base Layer Bottoms (Women)
Specs
Best use: Multisport
Fabric: 53% wool/45% polyester/2% elastane
Underwear weight: Medium
If comfort, fit, and warmth are what you're after, the Smartwool Intraknit are the best baselayer bottoms for you. The knit structure moves with your body and gives your legs the perfect warm hug, whether you're outside skiing or out and about on a cold day.
You'll stay nice and dry with appropriately-placed mesh ventilation. The Merino sports yarn is fantastic because it combines the best of merino wool and polyester for a winning set of thermal underwear that's both durable and quick-drying.
Oh, and they look cool too. Even if you wear them mostly underneath an outer layer, the geometric mesh design makes for a nice-looking pair of tights. Long underwear that's both functional and fashionable? Yep, you heard right.
Pros
Intranet design for a sportier feel
Breathable for comfort even on warmer days
Versatile use for everyday activities or snow sports
Cons
May run small for taller women
No UPF protection
Best Base Layer for Travel
Specs
Best use: Multisport
Fabric: Recycled polyester
Underwear weight: Medium
When you're packing for any sort of trip, the more multi-functional your items are, the better. That's why Patagonia's Capilene top is the best base layer for travel. It's got all the features you need to make it a great option as top thermal wear for extra warmth or by itself for everyday use.
It's quick-drying and moisture-wicking, so you don't have to worry about feeling clammy when layered underneath other clothing or feeling sticky in humid weather if you're wearing it on its own. It will hold up for pretty much any type of activity you decide to tackle on your travels.
We all know what a pain it can be to do laundry while traveling, so you'll appreciate the Capilene base layer's HeiQ fresh odor control. So basically, less washing with no added stench. It's a win-win.
Pros
Breathable and quick-drying for comfortable travel daily wear
Odor control for less washing while on the road
Inexpensive
Check Men's on REI     Check Women's on REI
Best Base Layer for Extreme Cold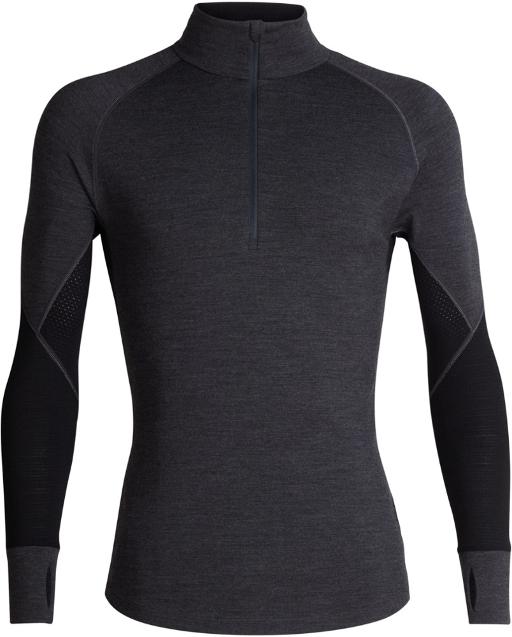 Specs
Best use: Snowsports, Multisport
Fabric: 97% merino wool/3% spandex body and 78% merino wool/22% polyester panels
UPF rating: 20
Underwear weight: Heavy
If you're no stranger to snow, ice, and extremely cold weather conditions, you'll want to gear up against the elements with the Icebreaker 260 Zone half-zip base layer. This thing is really warm with a heavyweight layer, but is built with stretchy fabric and mesh panels that make it breathable and easy to move in.
The half-zip collar is great to have for quick release of extra heat and built-in thumbholes help keep your hands toasty.  Even in the coldest conditions, rigorous activity can really make you sweat, but the moisture-wicking material keeps you warm and dry.
Speaking of sweat, this heavyweight base layer is amazing at keeping you odor-free. You can go days without washing it and still have a fresh base layer to put on as often as needed. It's a clear winner.
Pros
Half-zip front for added temperature regulation
Lighter panels under the arms and back for quick drying during intense activity
Can be used on its own for cold weather running or other sports
Cons
No XS small option for smaller builds
Expensive
Check Men's on REI     Check Women's on REI     Check on Amazon
Best Everyday Layer
Specs
Best use: Snowsports, Multisport
Fabric: 87% merino wool/13% nylon
Underwear weight: Light
If you want to have just one go-to, year-round base layer, then the Smartwool Merino 150 is the way to go. It's lightweight with the temperature control versatility of merino wool, making it ideal for the not-so-extreme cold – like for spring skiing.
The Merino 150 will keep you warm and comfy, but – thanks to its lightweight and moisture-wicking material – it can also be worn in warm weather to give your arms extra protection. For outdoor cycling, trekking through brush, or on mosquito-heavy days, having arm coverage can be really helpful.
You'll find this base layer to be a reliable, multi-use article of clothing that you'll be happy to have in your wardrobe. For its quality, it's great value for the money.
Pros
Lightweight and versatile for all-season use
Doesn't need to be washed often and stays fresh with no stink
Available in a variety of colors
Check Men's on REI     Check on Amazon
Best Base Layer for Thru-Hikers
Specs
Best use: Multisport
Fabric: silk
Underwear weight: Ultralight
Silk is a favorable alternative material to a merino wool base layer. For thru-hikers looking for a breathable, ultralight, yet warm base layer – that won't break the bank – consider choosing this one. This REI brand long underwear shirt is lightweight, cheap, and will do the job.
The best thing about silk is how smooth and comfortable it is. You'll love how soft the silk feels on your skin! And despite its weight, you'll be surprised how warm it keeps you. It can easily be worn underneath sports clothing, thicker layers, or everyday streetwear for an extra toasty feel.
For anyone who's averse to wool – whether due to personal taste or budgetary reasons – silk is a good way to go. You'll probably find yourself using it more than you thought.
Pros
Ultra-lightweight for a variety of activities, including everyday use
Silk feels supple and comfortable for all-day wear
Inexpensive
Cons
Too sheer to be worn on its own
Delicate fabric requires extra care when washing
Best Merino Base Layer Under $90
Specs
Best use: Multisport
Fabric: Merino wool
Underwear weight: Midweight
I personally am a big fan of merino wool for base layers. Nothing can beat it when it comes to performance for cold-weather activities. But, let's face it, it's pricey. Luckily, there's an incredible 100% merino wool half-zip top option for under $90. That's quite a bargain!
This baselayer top is super warm, isn't at all scratchy, and is naturally moisture-wicking and odor-resistant. You can sweat as much as you want, and there's no need to worry about a wet shirt that feels cold and damp against your skin – or stinky. If you happen to need a little extra ventilation to cool down, just pull down the front half-zipper and let some air in.
It works great as a base for very cold conditions or on its own for milder climates. For a basic, go-to base layer at an affordable price, you can't go wrong with this REI Merino midweight top.
Pros
Half-zip allows for extra ventilation when needed
Wool fabric naturally wicks away sweat and resists odors
Inexpensive
Cons
Only available in two colors
Delicate fabric requires extra care when washing
Check Men's on REI     Check Women's on REI
Best of the Rest: More of the Best Base Layers (Tops)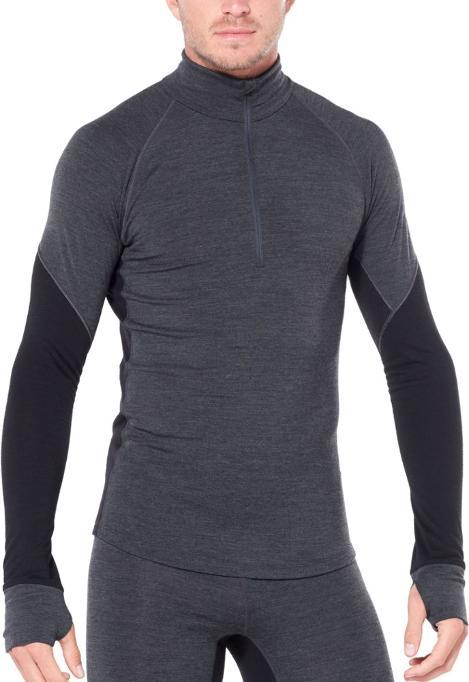 If you need a heavyweight base layer for skiing or other extreme-cold activities, this is one warm and sleek-looking top. Icebreaker products provide superior performance with their BodyfitZONE™ construction that includes stretchy jersey material with merino mesh panels in all the right places. It's snug, comfortable, and warm!
The long front half-zipper is a bonus too. If you like being able to ventilate a bit to cool down, the zipper option is key. And like all merino wool products, you can wear this shirt for days in a row without washing and it will still feel fresh and odor-free.
Check Men's on REI     Check Women's on REI     Check on Amazon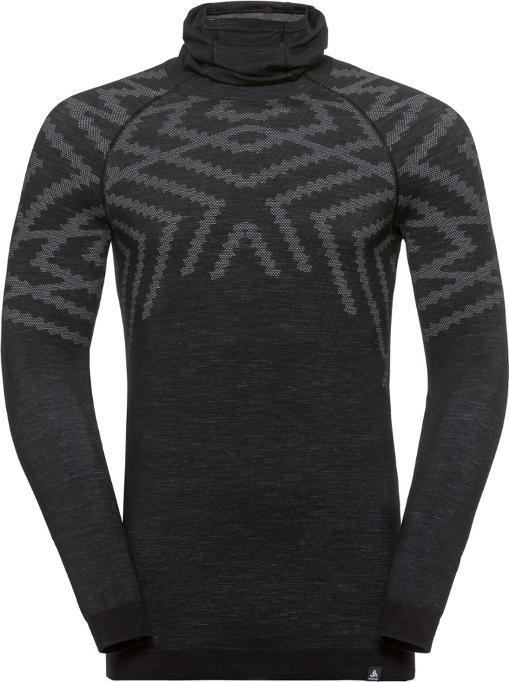 This is an awesome option if you're looking for a base layer with an integrated face mask. Not only will you keep your torso extra warm with its 50% wool content, but you'll have easy access to protect your head against the frosty elements as well.
When you have no need for the face mask, the base layer top looks like a sleek turtleneck. It's versatile and hugs the body in all the right places. Overall, a solid choice.
Some of us really enjoy having integrated head coverage that provides instant access to extra warmth – making the hoodie a perfect choice. As far as a cool-looking, high-quality, and thermally-superb base layer, you can't do better than this Smartwool hoodie.
Plus, it's made of 100% Merino wool, giving it all this fabric's benefits – breathable, moisture-wicking, and odor-resistant. If you're the hoodie type, this one's for you.
Check Men's on REI     Check on Amazon
Best of the Rest: More of the Best Base Layers (Bottoms)
If you prefer a base layer with more compression, these Under Armour bottoms do the trick. They're warm, inexpensive, and super comfortable – especially for running – but work great for any other type of workout or sport.
The compression feels snug but also lightweight enough to give your legs just the right amount of energy for increased performance. They're made of 82% polyester/18% elastane and are treated with an antimicrobial, so you don't have to deal with excessive odor, which is a definite plus.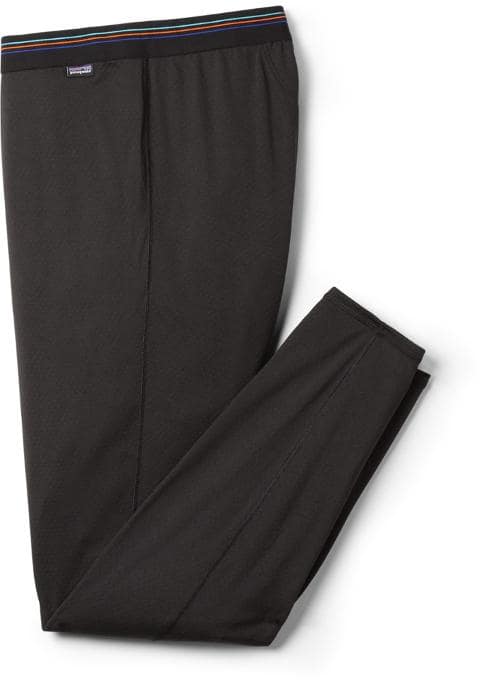 This base layer is another solid choice for keeping your legs warm in colder conditions – whether for layering underneath a shell for hitting the slopes all day or wearing on its own on a cold winter's day.
You'll stay dry and comfortable with the soft fabric that stretches with your body and yarn construction that maximizes wicking performance. At an affordable price, these Patagonia midweight base layer bottoms are a smart way to go.
A women's version is also available.
Check Men's on REI     Check Women's on REI
How to Choose the Best Base Layers – Buyers Guide 2020
Base Layer Materials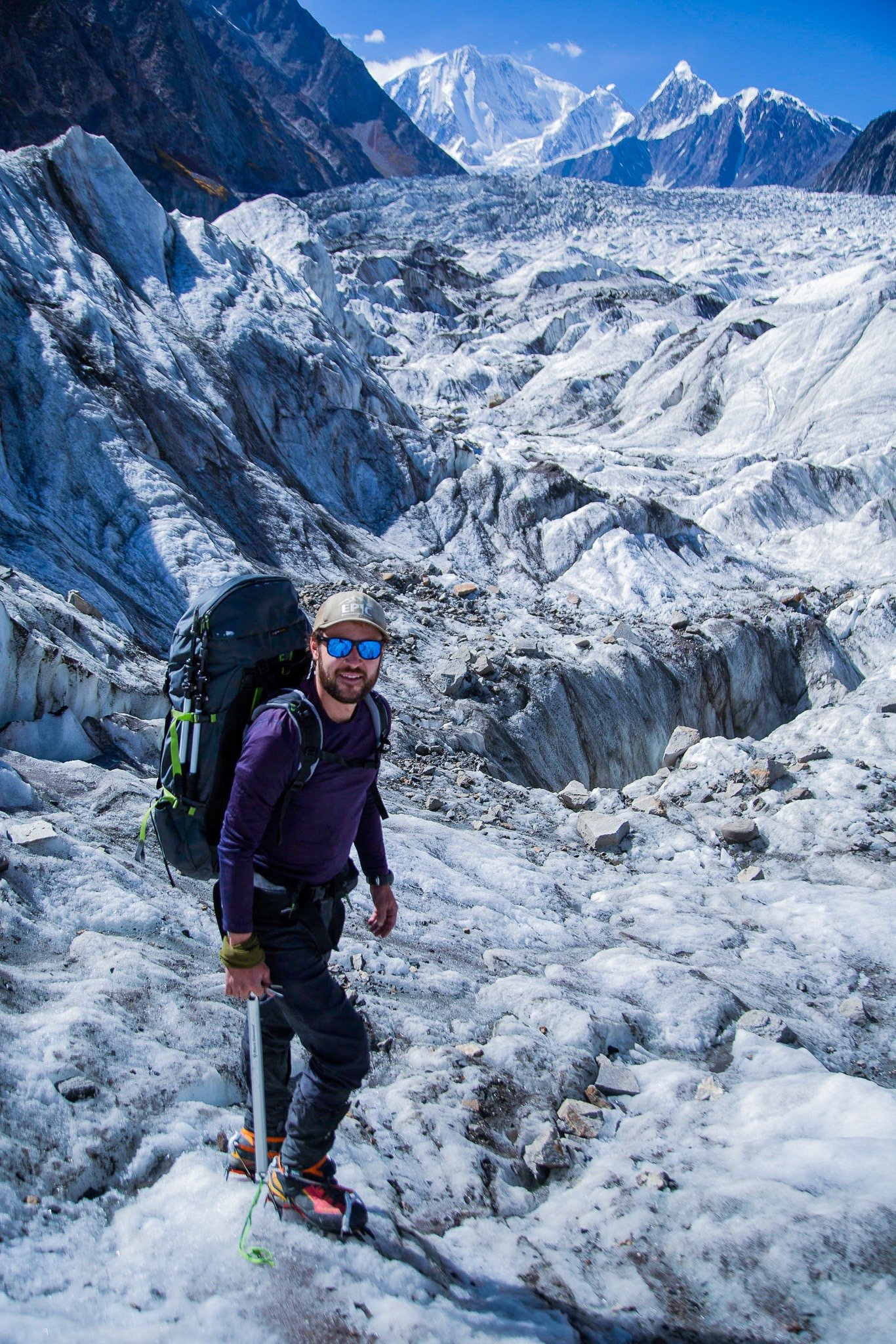 There are a variety of different materials available when it comes to base layers. The most common are synthetic fabrics – like
polyester and nylon – and natural materials like Merino wool and silk.
Certain fabrics are better at some things than others. The main characteristics you want to look for when shopping for the right base layer for you are moisture-wicking, quick-drying, breathability, and odor resistance.
Let's take a look at each fabric and see how they fare.
Synthetics:
In the synthetic fabric category, it's most common to see base layers made of polyester and nylon. There is also rayon, polypropylene, and blends. Synthetics' greatest strengths are their quick-drying and wicking properties that give you the driest feeling of all the material options. They're also the winner in the durability category.
On the flip side, nylon and polyester's weakness is odor resistance. Some synthetic garments are treated with an antimicrobial finish to limit the growth of odor-causing bacteria, but otherwise, they require frequent washing to eliminate the stink.
Merino Wool:
The strength of Merino wool is that it's very soft and non-itchy against the skin. It offers excellent moisture wicking and warmth, yet also provides cooling in warm weather. The big plus about wool is that it's naturally resistant to the bacteria that cause odor, so you can go days without washing it and still feel fresh.
Merino wool's weakness is in the cost. Long underwear made of pure Merino wool is usually quite expensive. It's not as durable as a synthetic material, so you must find the value in its comfort, temperature regulation, and odor-resistance to make your investment worthwhile.
Silk:
Silk is a great all-natural alternative for less sweat-inducing activities. Silk's greatest strength is how soft it feels as a second skin layer. It's extremely lightweight, which makes it comfortable and easy to layer.
The weaknesses of silk are its moderate ability to wick away sweat and keep you dry. It's also not odor resistant, so a silk base layer will require frequent, delicate washing.
Durability
When weighing out the pros and cons of each type of material, don't forget to consider durability. When investing in a base layer, it's good to manage your expectations of how long the garment will last.
Merino wool is exceptional in many areas, but one of its weaker points is durability. As an all-natural fabric, it will inevitably wear out with time and extensive use. Paying attention to proper care will certainly help, but it won't last as long as synthetic material.
More durable materials include polyester and nylon. You won't get the odor-resistance and warmth of wool with synthetic materials like polyester and nylon, but they will last the longest with the most amount of use.
Warmth
Depending on what conditions you need your base layers for, you'll want to pick long underwear with the proper weight and
thickness. The numbers – i.e., 150, 200, 250 – are associated with this rating. Basically, the higher the number, the heavier and thicker the garment.
For hiking to the summit of Mount Kilimanjaro, a 150 won't give you enough warmth. Whereas for moderately chilly autumn morning runs, a 250 would be overkill.
For hiking it hot conditions at lower elevations, my Smartwool Merino 150 Crew is my go-to. When I am camping above 4,000 meters and need something to keep me insulated from the morning/evening cold – it is a 250 layer all the way.
Insulation and Weight
Which underwear weight you need will depend mostly on your typical level of activity, the conditions you'll be in, and your metabolism. If you tend to run cold, a heavier weight will work better for you.
There are three main weight options for base layers:
Lightweight: best for warm to cool moderate temperatures
Midweight: best for cold temperatures
Heavyweight: best for below-freezing temperatures
Crew Neck vs. Quarter or Half Zips and Fit
Typically, you'll find most base layer options in crew neck style, as they're meant to serve as your next-to-skin layer with other layers added on top. But a quarter or half-zip style base top may be a favorable option for you if you intend to use it on its own – or if you tend to heat up quickly during intense activity and need a quick cool-down method.
Speaking of next-to-skin, a snug fit next to your skin is also super important. The main purpose of a base layer is to wick away moisture and keep you dry, which the top can't do as efficiently with a loose fit. Make sure that the base layer top you choose feels like a comfortable second skin in order for it to do its job.
Layering Systems: Base, Mid, and Outer Layers
In order to do layering properly, first, you need to understand the layering system and know what the function of each layer is.
Base layer: this is your underwear layer that's meant for wicking sweat off your skin
Middle layer: this is the insulating layer that's meant to trap your body's heat to keep you warm in cold conditions
Outer layer: this is your shell layer that's meant for rain and wind protection
Every layer serves it own purpose – so if you skimp on one layer – the whole concept of successfully insulating yourself from the elements can go out of the window. The art of layering is very important skill to master, but it is not rocket science. Invest in quality layers and you will continue to enjoy harsh-weather environments. It is that simple.
Final Thoughts
Layering is a tried and true art that has stood the test of time – and that's because it works! Top performance in cold weather that can reach sub-zero temps requires having the right layers and knowing how to use them – the first being your base layer.
As you've seen, there are lots of options when it comes to finding the best base layer, and there are probably more things to consider than you thought. I hope my top picks have helped you narrow down your list and provided good pointers.
If in any doubt, go with my favorite base layer: the Icebreaker 200 Oasis Crew Top. I have been rocking this one for years and it is still going strong (just a little sun faded now!).
Stay warm and dry, my friends!
Yay for transparency! Some of the links in this post are affiliate links. This means that if you buy some gear through the site, The Broke Backpacker will earn a small commission at no extra cost to you. Your support helps keep the site going.
---
Need More Inspiration?