The winter months are a great time to get outside. If you can look past the freezing temperatures, you'll see stunning landscapes and plenty of opportunities for epic adventures. However, it's not just a case of grinning and bearing the cold! Nah, forget that, you just need the right jacket for your adventure and you'll forget about the temperatures and be out there exploring in no time!
No one likes the cold breaking through and ruining all the fun! Getting caught on the slopes without the right equipment can force you to spend the afternoon in the lodge, and lacklustre coats at home will make any errand feel like a nightmare.
Even the most intrepid winter warriors wouldn't have gotten far without the best winter jacket out there, so why should you accept any less? Having a great jacket really does wonders for breaking down those barriers to outdoor exploration in the cooler months.
The easiest way to stay outside longer is by investing in the right protection, and Patagonia's gear checks off all the right boxes to serve as your winter jacket. Equally capable of protecting adventures deep into blizzards and around the corner through mushy winter streets, these ski jackets and parkas are rockstars.
Feeling warm and fuzzy has never been easier. At the core, every one of these winter jackets is made with the best materials both for your adventures and for the planet. So they're a real win-win.
The result is a thing of beauty. Patagonia's varying lines provide a winter coat for every scenario, all designed and shipped with unparalleled quality and sustainability.
When the weather turns south you can stay inside or zip up your coat and wander through the world in a different light. Check out the best in Patagonia's jacket line and find your perfect protector.
About Patagonia
You've probably noticed the purple mountain majesties on the left chest of avid outdoors fans and stylish collectors alike, but what makes Patagonia a world leader in outdoor equipment?
It started with a couple of mountain climbers who needed better equipment in search of higher peaks. Selling gear out of the back of his van and surfing his way down to the Patagonia mountains, company founders created a line of equipment dedicated to getting people outside.
To this day, the company policy dictates: Let My People Go Surfing! Surfing through workdays at this powerhouse is not only allowed, but encouraged.
This is just one of a million stories you could grab from the desks of Patagonia that illustrate this company's pursuit of creating an outdoor equipment dynasty without sacrificing its values. Their business is dedicated to protecting nature, not cutting corners.
With that knowledge behind the logo, the higher price point starts to make sense. But of course, Patagonia didn't become a world-leading outdoor brand with good vibes only. Part of their sustainability experts revolve around using only the best materials in their outerwear to guarantee it can last for decades.
Plus, every single one of their coats has water resistance and is finished off with durable water repellent materials – even their city slickers. Every jacket on our list is also made out of recycled materials. Just another reason Patagonia are one of the best jacket brands out there.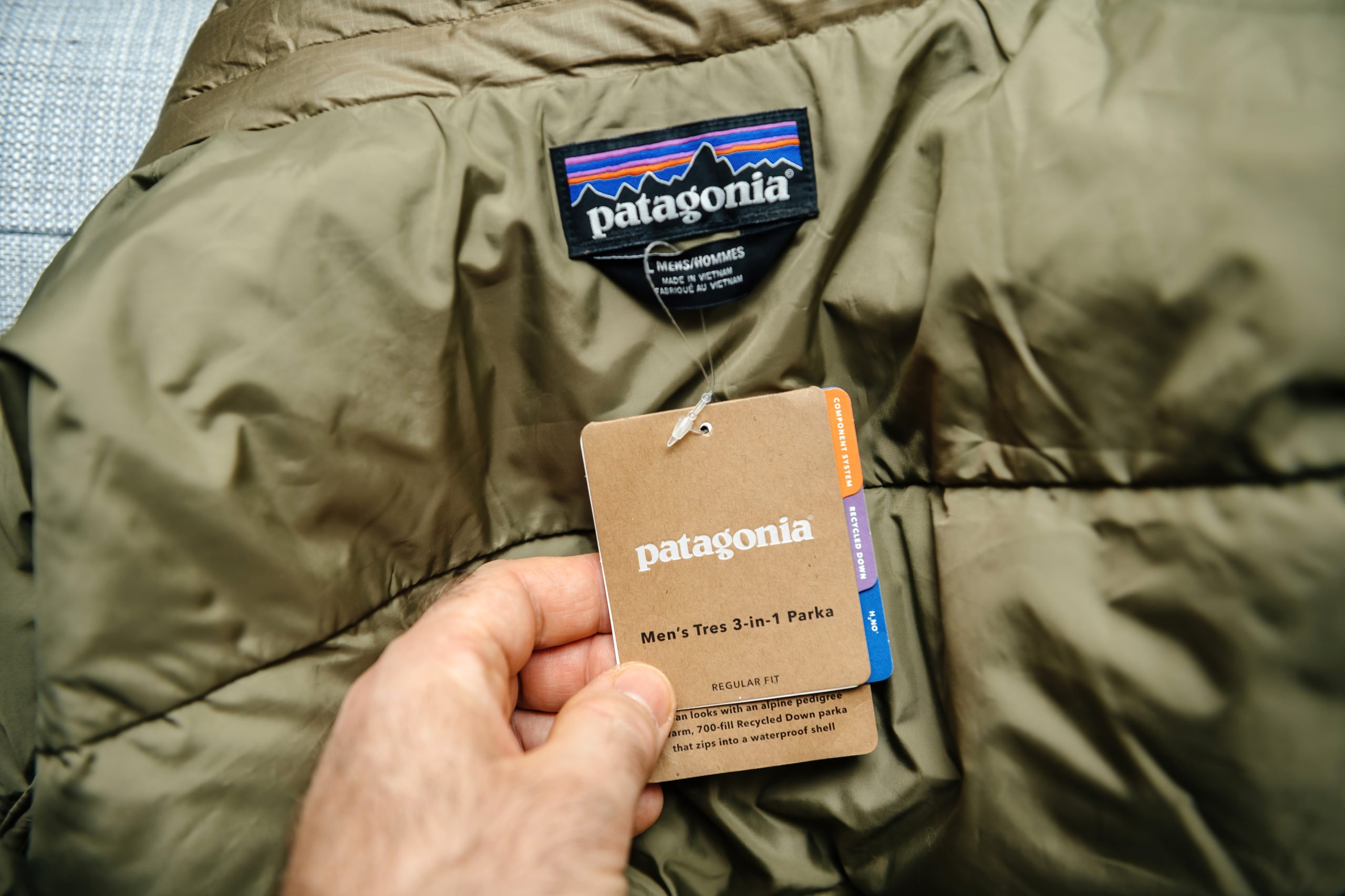 Quick Answers – What are the Best Patagonia Winter Jackets?
Best Overall
Best Overall
Insulated Powder Bowl
> $$
> Waterproof and breathable winter protection
> Powder Bowl's 150-denier shell
Best for Ski Touring
Best for Ski Touring
Snow Drifter
> $$
> Three layers of dexterous warmth
> Teams up with a matching set of bib pants
Best Lightweight Winter Jacket
Best Lightweight Winter Jacket
Upstride Jacket
> $$
> Sweat-proof winter coat
> Two large chest pockets
Down Sweater Hoody
> $$
> Thick 800 fill insulation layer
> Water-resistant and breathable
Best For Winter Rain Storms
Best For Winter Rain Storms
Torrentshell
> $
> Oversized fit and pit zips
> Lightweight and packable
Downdrift Jacket
> $$
> Removable hood
> Durable water repellent coating and recycled polyester
Best Middle Layer
Best Middle Layer
Alplight Down
> $$
> 7-D nylon finish
> Windproof outer layer
Best Base Layer Jacket By Patagonia
Best Patagonia Fleece For Winter
Best Patagonia Fleece For Winter
Better Sweater Jacket
> $
> Zippered chest pocket
> Fits into every crowd
Stay Warm With The Best Ski Jackets From Patagonia
A proper winter coat fits every outfit, provides wind and water protection, fits loose enough to serve as an outer shell and packs enough warmth to serve as the last line of defence between you and winter storms. Combine with one of Patagonia's best base layers and you can take on anything!
There is a reason Patagonia's jackets are consistently ranked as some of the best ski jackets on the market, and it's not just due to name recognition. They consider these variables and hundreds of more to consistently reinvent what your outer layer is capable of.
Read on and find out what this passionate outdoor superstar has been cooking up lately.
Looking for more than just Patagonia? Check out our list of the best winter jackets for some different options.
Winter is coming… WARM UP!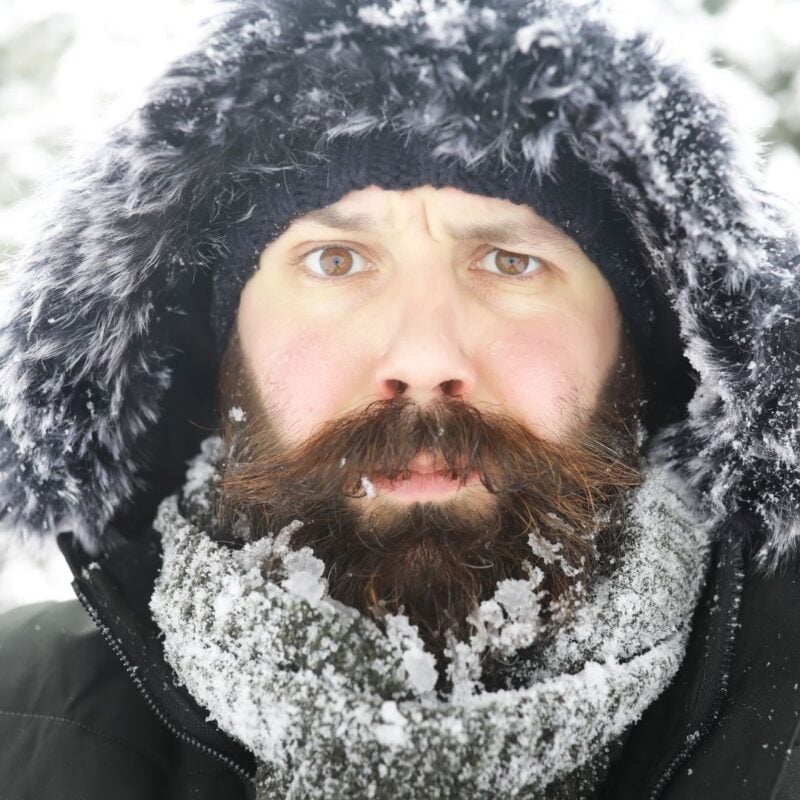 Get up to 50% OFF when shopping gear for the winter on REI.
Warm up for the holidays and SAVE on outdoor gifts all the way through Dec 18!
View on REI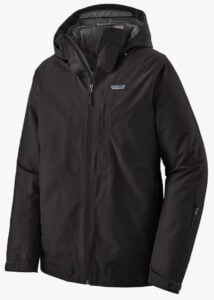 Insulated Powder Bowl is our top pick for best overall
Specs
Weight (KG): 1.03
Available For: Men/Women
Best Use: Splitboarding
Price (USD): 479
Don't mess around with winter. This do-it-all outer layer will keep you protected deep into February snowdrifts and farmers' markets. The Powder Bowl fits oversized, ready to cover up a fleece mid-layer or provide enough insulation to keep the body's natural heat firing away. This beast ranks as one of our favourite outdoor jackets for a reason!
There are perks scattered across this jacket that provide waterproof and breathable winter protection. Its thickness and windproofing work to stay warm on the lift ride up and keep cool while pumping through fresh powder.
The Powder Bowl's 150-denier shell is more durable than some tent flooring and Patagonia rounded out the edges with two powder skirts to make winter's favourite jacket.
Looking for something similar? Check out the Patagonia Triolet jacket instead.
#2 Best for Ski Touring – Snow Drifter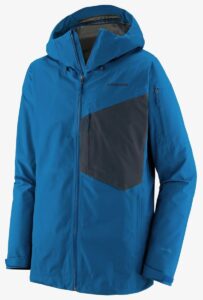 Meet the best for ski touring: Snow Drifter
Specs
Weight (KG): .58
Available For: Men/Women
Best Use: Thigh deep in fresh powder
Price (USD): 399
Patagonia has declared this jacket storm-ready thanks to the three layers of dexterous warmth. You can feel equally unencumbered through the backcountry and stylish in Telluride with this next-level winter jacket finished off your kit. The taped zipper scrolls all the way up past the cheekbones and folds comfortably with a helmet-ready hood that keeps exposure down, perfect for your next ski trip.
The Snow Drifter teams up with a matching set of bib pants to provide a powder-fit ski touring kit. As the upper half of the ensemble, the jacket stays stretchy and loose uphill while keeping plenty of space for layering.
Patagonia's three-way stretch is no joke – this technology can bend and flex like a pair of boardshorts while keeping you warm in subzero conditions. No matter the wind chill, the snow drifter and a few layers will have you enjoying the winter.
#3 Best Lightweight Winter Jacket – Upstride Jacket
For best lightweight winter jacket, checkout Upstride Jacket
Specs
Weight (KG): .403
Available For: Men/Women
Best Use: Sunny March Powder days
Price (USD): 299
This is a jacket for good days. The Upstride isn't a blizzard-proof bomb shelter, and may not be the best choice for the darkest days of winter. Instead, this jacket loves tackling quick ascents and sunny days where you need a sweat-proof winter coat. These sorts of jackets are a great piece of travel clothing as they're versatile and pack down pretty small.
The Upstride keeps just enough to keep you nice and toasty while you warm up, with two large chest pockets that double as vents. The jacket favoured weight over going fully waterproof, but it can still power through a few flurries.
On sunny days, the backcountry can really get your body heat churning out. If you plan on ascension this winter, the Upstride will prevent you from heating up on the climb and protect you from the roaring winds at the top.
Looking for something even more lightweight? Check out the Patagonia Houdini Jacket.
Silent Down Long Parka is one of the best for city winters
Specs
Weight (KG): .986
Available For: Women
Best Use: Deep Winter
Price (USD): 399
Real G's move in silence like lasagna! This three-quarter length blends in and protects your core through the heart of winter. This parka doesn't mind a few rough and tumble streets and is just a pair of waterproof pants and boots away from marching through winter snowstorms.
It's a bonafide blanket with sleeves that comes with a durable water repellent finish. The specs on this comfortable outer layer jump off the page. What other parka on the market can handle snowfalls and stay less than a kilo?
Well, I do know of a few. The Silent parka line has a variety of different styles, including long, short, hybrid, and jackets, all offering fantastic lightweight protection.
Long puffy coats just aren't supposed to be this stowable, formidable and stylish. Patagonia has finally offered a way to stay warm through the blizzards of winter without feeling like the abominable snowman.
Specs
Weight (KG): .428
Available For: Men/Women
Best Use: Late Autumn game day/belay
Price (USD): 279
Patagonia has just about perfected the mid-layer time and time again. This down sweater takes things up a notch by including a solid hoodie and a thick 800 fill insulation layer. These additional reinforcements make the down sweater a capable outer layer well into December.
Once the weather gets really hectic, you don't have to leave this down at home. The lightweight jacket is water-resistant and breathable to make a great shell while chopping firewood or setting up camp.
Winter warriors can take this jacket with them on pre-dawn missions and night patrol. As long as you keep moving, this down jacket will keep your body heat all the way through the helmet-compatible hood.
Looking for a down jacket and want more options? Check out our list of the best down jackets to see what works best for you! Or, check out a Patagonia fleece for a handy mid layer.

Do You Want to Travel FOREVER??
Pop your email in below to get a FREE copy of 'How to Travel the World on $10 a Day!'.
#6 Best For Winter Rain Storms – Torrentshell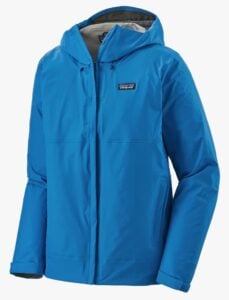 Our top pick for best for winter rain storms is Torrentshell
Specs
Weight (KG): .368
Available For: Men/Women
Best Use: 33 degrees and wet
Price (USD): 149
A soft inner lining turns the Torrentshell from a raincoat into a lightweight winter stud. Four-season outside runners and anyone looking to stay comfortable moving through the cold can bundle up and cool down in a hurry.
The Torrentshell lacks the insulation to keep you warm through blizzards on its own, but it's a very capable outer layer that works well in a team. The oversized fit and pit zips help you gain quick access throughout your kit.
This jacket is a step above your typical raincoat while staying incredibly lightweight and packable. Its loose look means you can throw it over any ensemble and stay a step ahead of any surprise weather.
On the lookout for a rain jacket? Check out our list of the best waterproof jackets for some more options, if you're a Patagonia fanboy/girl then check out the best Patagonia rain jackets too.
Specs
Weight (KG): 1.01
Available For: Men/Women
Best Use: Winter night's out
Price (USD): 299
Built for keeping the drip down, this comfortable jacket is rugged and hot as hell. You'll look good, and you'll feel good too with 600-fill recycled down between you and subzero temperatures.
Clip on the removable hood and huddle up to keep the wind out of your ears while too large pockets make your hands windproof. At barely over a kilo, this jacket is surprisingly easy to pack and carry for a heavy coat.
This sleek jacket isn't quite as waterproof as Patagonia's more technical options, but a durable water repellent coating and recycled polyester work together to help you glide through snow flurries and surprise showers.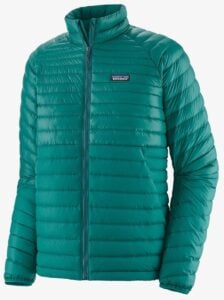 For best middle layer, checkout Alplight Down
Specs
Weight (KG): .27
Available For: Unisex
Best Use: Winter mid-layer
Price (USD): 299
Patagonia turned the most iconic mid-layer of all time into a science experiment and came up with some of the most packable warmth on the planet. This jacket is a technically advanced version of the insulated micro puff coat that changed the world. The newest model takes 800-fill down and makes it more flexible than ever before.
It all starts with the exterior, a 7-D nylon finish that keeps your feathers inside. All this protection is accomplished by recycled fishing lines and finished off with hand pockets that have access to that same warmth. Patagonia's bestseller just got even better. This Jacket foregoes a hood in favour of packability making it a great piece of jacket for travelling.
For maximum effectiveness, it's best used underneath a water and windproof outer layer, with a baselayer or while in motion. In the right situation, it will help you finally conquer the weather.
Looking for something similar but a bit more lightweight? Check out the Patagonia Nano Puff Hoody as another option.
Thermal Weight Zip Neck is our top pick for the best base layer jacket by patagonia
Specs
Weight (KG): .139
Available For: Men/Women
Best Use: Underneath it all
Price (USD): 99
What matters most is what's underneath. Starting off your warmth with the right base layer will keep the most important parts of your body feeling toasty through foul conditions. This thermal base layer is a great place to start.
Patagonia worked with Polartec to get underneath the surface and make real changes. They took their power grid and moisture-wicking warmth to help you control your body temperature. Hang it up to dry over the radiator after a day on the slopes and your core will be dry by first lines.
It's cosy enough to be worn in bed, breathable enough for exercise in the cold, and stylish enough to be worn for most occasions. Its steady effort make this base layer an essential part of any winter kit.
Looking for mid-layer jackets? The Patagonia R1 Air Zip is another option worth considering.
Meet the best patagonia fleece for winter: Better Sweater Jacket
Specs
Weight (KG): .505
Available For: Men/Women
Best Use: Everyday cosy
Price (USD): 139
There is no other sweater on the market more synonymous with the coming of winter. College campuses and hiking trails see the leaves changing on the tree, and all the colours of Patagonia's Better Sweater line bouncing across the pathways.
The coat has taken on so many looks and special designs over the years you're bound to find a jacket that says exactly what you want it to, all while keeping you toasty through low temperatures. The one zippered chest pocket may seem like it's all for show, but you'll surprise yourself with all sorts of new stowage.
Don't mess around with your warmth through winter. This Better Sweater fits into every crowd and outwards the competition to serve as the industry standard for mid-layer success.
Looking for a fleece? Check out our guide to the best fleece jackets if you want some more options.
The best present of all… is CONVENIENCE!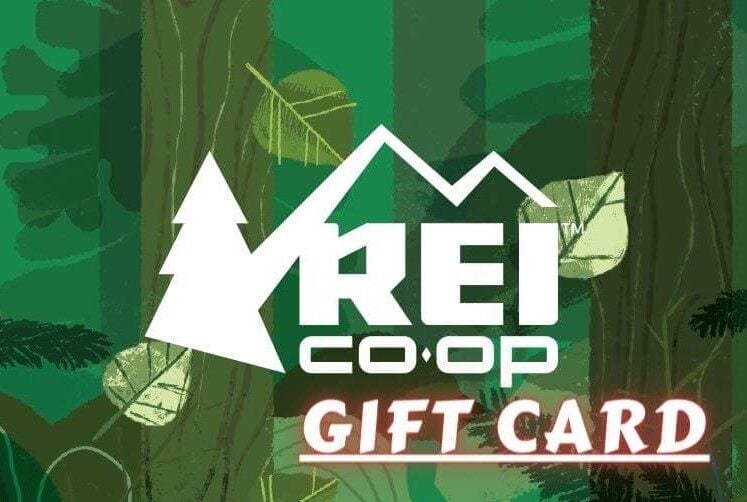 Now, you could spend a fat chunk of $$$ on the WRONG present for someone. Wrong size hiking boots, wrong fit backpack, wrong shape sleeping bag… As any adventurer will tell you, gear is a personal choice.
So give the adventurer in your life the gift of convenience: buy them an REI Co-op gift card! REI is The Broke Backpacker's retailer of choice for ALL things outdoors, and an REI gift card is the perfect present you can buy from them. And then you won't have to keep the receipt. 😉
Buy on REI!
Best Patagonia Winter Jackets

| Name | Weight (KG) | Warmth Rating (1 -5) | Main Material | Waterproof (Y/N) |
| --- | --- | --- | --- | --- |
| Insulated Powder Bowl | 1.03 | 5 | 150-denier recycled polyester | Y |
| Snow Drifter | .58 | – | 75-denier recycled polyester | Y |
| Upstride Jacket | .403 | – | Recycled polyester | N |
| Silent Down Long Parka | .986 | – | Polyester taffeta | N |
| Down Sweater Hoody | .428 | 3 | 30-denier recycled ripstop polyester | Y |
| Torrentshell | .368 | – | Recycled ripstop nylon | Y |
| Downdrift Jacket | 1.01 | 5 | 4-ply NetPlus postconsumer recycled nylon faille | N |
| Alplight Down | .27 | 3 | NetPlus postconsumer recycled ripstop nylon | N |
| Thermal Weight Zip Neck | .139 | – | 92% recycled polyester/8% spandex | – |
| Better Sweater Jacket | .505 | 3 | Recycled polyester knit fleece | – |

Our GREATEST Travel Secrets…
Pop your email here & get the original Broke Backpacker Bible for FREE.
Final Thoughts on The Best Patagonia Ski Jackets
From snow flurries to powder day madness, these winter jackets are some of the safest choices in the industry. Any good winter coat will set you back a few hundred bucks, so you have to make sure you're getting your money's worth. Many companies can promise the world but Patagonia has 60 plus years of evidence backing up its claim to the throne.
They are a unicorn corporation that has managed to reach the top without burying a few bodies along the way, and their sustainability efforts are even stronger now than the company's humble beginnings.
This ain't Patagonia's first rodeo. These jackets have been protecting mountain climbers and soccer moms for decades. Over the years they have expanded their arsenal to work in cities, suburbs, and the backcountry. So whether you're trekking to mountainside huts in the alps, or nipping to the shops in a blizzard… they've got you covered!
Looking for more options? Check out our rundown of the best Patagonia jackets for some more ideas!
Need something even warmer? Check out the range of Ororo heated jackets for something even cosier!
---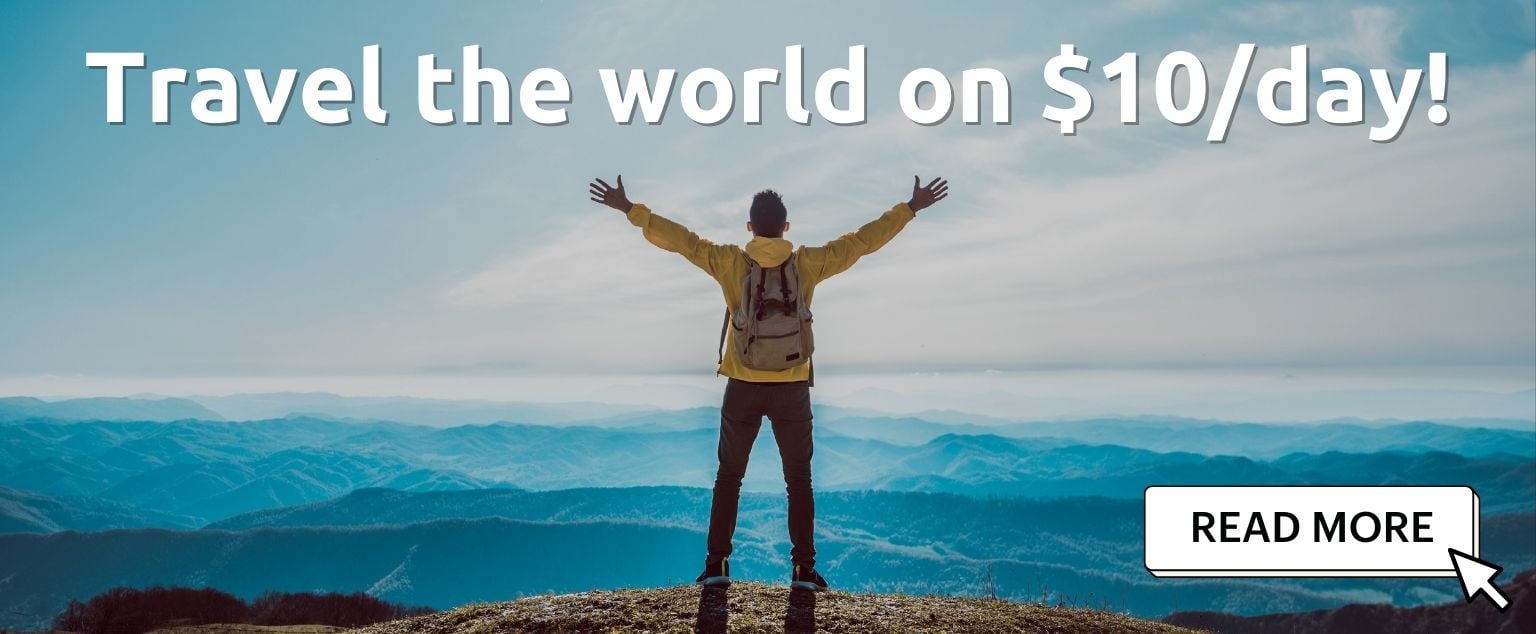 And for transparency's sake, please know that some of the links in our content are affiliate links. That means that if you book your accommodation, buy your gear, or sort your insurance through our link, we earn a small commission (at no extra cost to you). That said, we only link to the gear we trust and never recommend services we don't believe are up to scratch. Again, thank you!