Icy wind, freezing rain, mountain climates, coastal evenings, chilly deserts, winter travel, pub crawls… there are a million scenarios when having a great travel jacket is awesome.
But which one jacket is the best travel jacket?
Every backpacker, regardless of where they plan to go traveling, should always bring along an awesome jacket. It's just one of those things you need as a traveler.
I can't tell you how many times my own jackets have saved my life (literally) in the mountains. Having a good jacket is as important as having shoes that fit or a backpack with two shoulder straps. A travel jacket is a staple piece of equipment that should always be tucked down somewhere in the depths of your backpack.
That's exactly why I wrote this epic guide of the 'Best Travel Jackets in 2023!'
I have scoured the far reaches of the outdoor gear world to bring you several of my top picks for best travel jackets of the year. By the end of this guide, you'll have everything you need to know – cost, performance, weight, and all of the factors that go into making an awesome jacket to take traveling.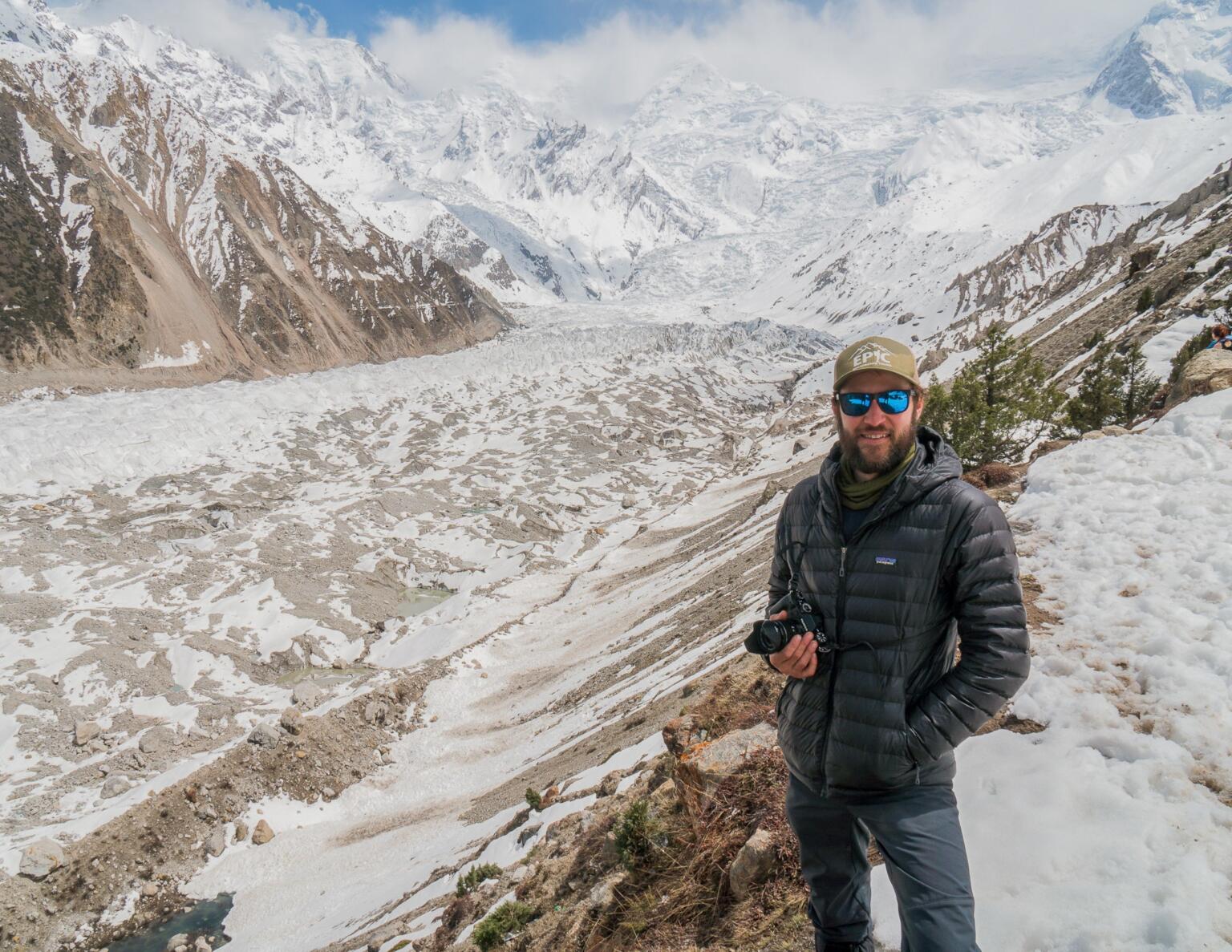 Quick Answer: Best Travel Jackets Roundup 2023
BEST OVERALL TRAVEL JACKET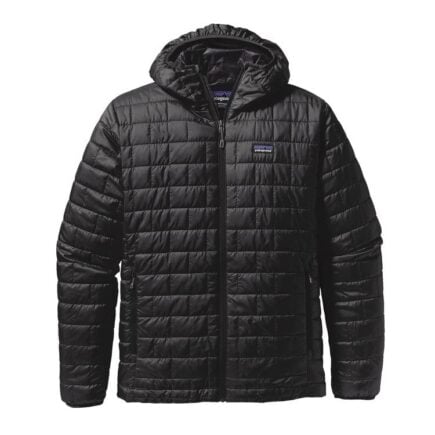 BEST OVERALL TRAVEL JACKET
Patagonia Nano Puff Hoodie
Cost > $$$
Best Use > Hiking, traveling, climbing, daily use.
Waterproof > No
Hood > Yes
BEST TRAVEL JACKET FOR BACKPACKERS
BEST RAIN JACKET TO TAKE TRAVELING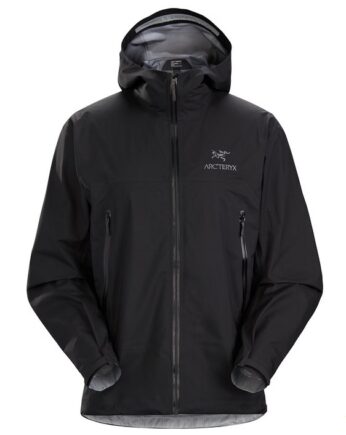 BEST RAIN JACKET TO TAKE TRAVELING
Arc'teryx Beta AR
Cost > $$$$
Best Use > Trekking, mountain sports, camping, traveling.
Waterproof > Yes
Hood > Yes
BEST WINTER JACKET FOR TRAVELERS
BEST WINTER JACKET FOR TRAVELERS
Ravean Down X Heated Jacket
Cost > $$$
Best Use > Winter travel, everyday use, cold day hikes, urban lifestyle
Waterproof > No
Hood > Yes
BEST TRAVEL JACKET FOR HIKERS
BEST TRAVEL JACKET FOR HIKERS
Arc'teryx Thorium Down Hoodie
Cost > $$$
Best Use > Outdoor sports, hiking, urban lifestyle, travel.
Waterproof > No
Hood > Yes
BEST TRAVEL JACKET FOR WOMEN
BEST TRAVEL JACKET FOR WOMEN
Patagonia Nano Puff
Cost > $$$
Best Use > Traveling, outdoor sports, hiking, camping.
Waterproof > No
Hood > Yes
BEST SNOWBOARD/SKI JACKET
BEST SNOWBOARD/SKI JACKET
Burton GORE-TEX Pillowline Insulated Jacket
Cost > $$$$
Best Use > Winter sports
Waterproof > Yes
Hood > Yes
BEST BUDGET TRAVEL JACKET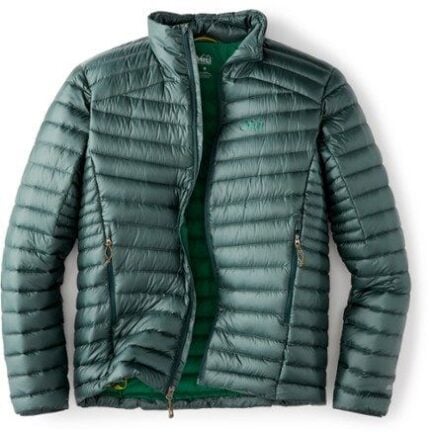 BEST BUDGET TRAVEL JACKET
REI 650 Down Jacket
Cost > $$
Best Use > Traveling, outdoor sports, hiking, camping.
Waterproof > No
Hood > No
MOST STYLISH TRAVEL JACKET
MOST STYLISH TRAVEL JACKET
Mountain Hardware Ghost Whisper 2
Cost > $$
Best Use > Urban lifestyle, traveling, hiking
Waterproof > Yes
Hood > No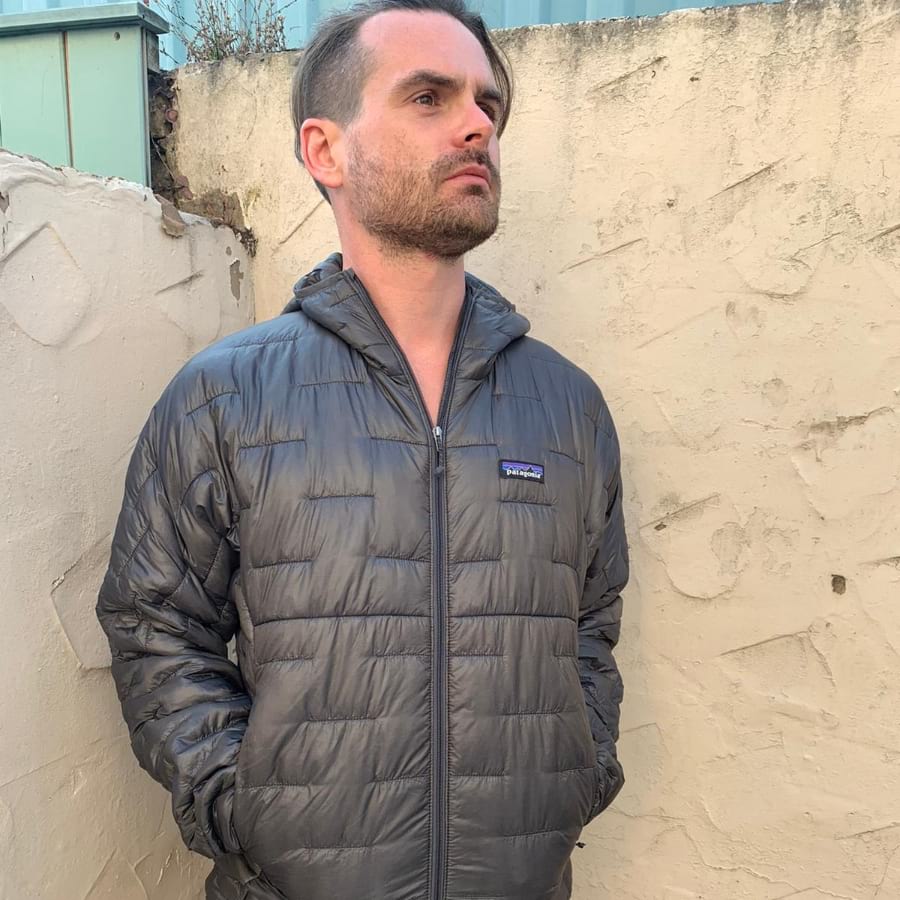 The Patagonia Nano Puff Hoodie takes the prize of best overall travel jacket for a variety of reasons. I have traveled with this jacket in my backpack for the last seven years. It has been with me to over 20 countries and at least 3,000 trail miles and counting. It is the best all around jacket and the most versatile travel jacket on this list.
The Nano Puff hoodie is made out of synthetic down, so it is a bit water-resistant, unlike natural down. It is lightweight and very packable at 12.8 ounces making it perhaps the best jacket ever!!!!
A good down (or synthetic down in this case) is an absolute must for most backpacking trips. Even in warm, tropical countries, I have ended up using my Nano Puff every day as a pillow on buses and whilst camping.
At $249.00 USD this Patagonia travel jacket is priced in the mid-range in terms of its competitors. It is not necessarily the best travel jacket ever but is very high quality, versatile and priced in the mid-range making it affordable. It also feels absolutely lovely to wear – its soft, light, warm and is kind of like being hugged by kittens!
Though My Nano Puff has seen a ton of abuse, it is still going strong after all this time. When the zipper on my Nano Puff died, Patagonia replaced it for free. Apart from the zipper I have had zero issues.
In addition to their excellent warranty, Patagonia is a great company to support in general. Each Nano Puff Hoodie is made from 55% post-consumer recycled content. You can feel good about supporting a company that actually gives a shit about the earth and their own impact on it. This isn't the last time you will be hearing about the Patagonia Brand in the best travel jackets review!
Want to read more about this jacket? Check out our dedicated review of the Patagonia Nano Puff jacket.
Winter is coming… WARM UP!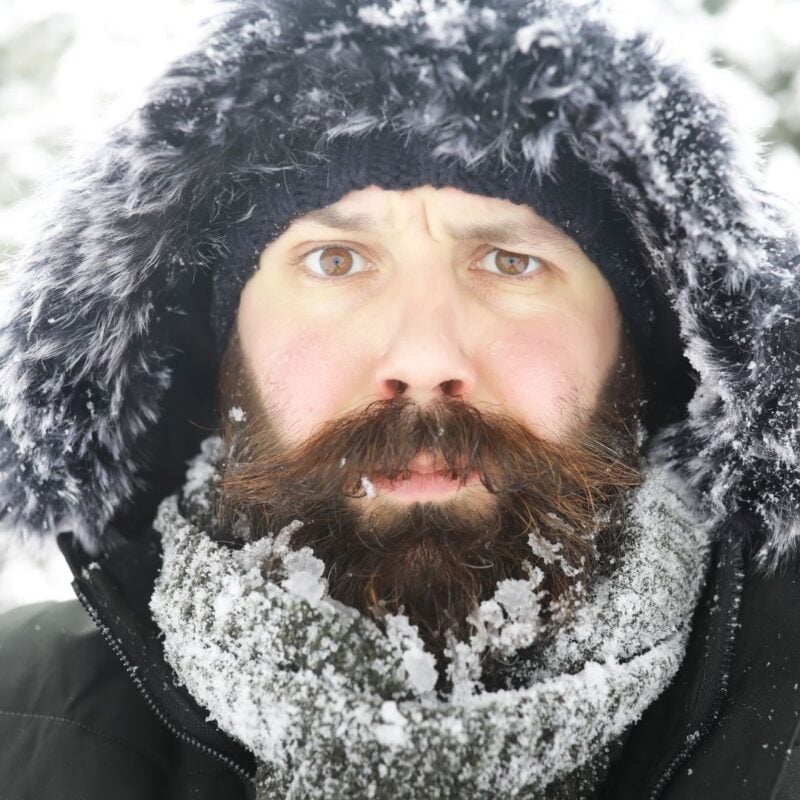 Get up to 50% OFF when shopping gear for the winter on REI.
Warm up for the holidays and SAVE on outdoor gifts all the way through Dec 18!
View on REI
Best Rain Jacket to Take Traveling – Arc'teryx Beta AR
Arc'teryx is famous the world over for making some of the best quality gear for adventures. I have had several rain jackets in the past that claimed to be waterproof. There is nothing more frustrating (and potentially dangerous) than being out on a backpacking trip in the mountains and having your rain jacket fail you. Arc'teryx make some of the best traveling jackets out there though so that won't happen with any of their gear.
After being a rain-soaked-hiker one too many times, I bit the bullet and bought an Arc'teryx Beta AR rain jacket. I have never once looked back.
My hiking trips have never been the same and my happiness levels have stayed consistently high since that day, for me, it's the best travel anorak on the market bar none.
You feel like you are wearing an invisible suit of waterproof armor. It's Gore-Tex Pro Shell three-layer laminate fabric is waterproof, snow-shedding, windproof, breathable, lightweight and durable. If you're going somewhere very rainy, like a Sri Lankan adventure, be sure to bring a jacket as waterproof as this one. (Or this one).
The Beta AR features taped seams like a tent so you are guaranteed to stay dry even in the most heinous of storms. It also features zipping watertight pockets for stashing your snacks (very important) or phone (meh).
At just over 1 pound, it might just be the most useful piece of clothing you will pack for your adventure by weight. In fact, if you're looking for the best outdoor jacket on the market, this might just be it!
The major drawback. For many backpackers, the Arc'teryx Beta AR is cost prohibitive. And for good reason. Who wants to spend $600 on a jacket?!
I admit it was really tough for me to fork out that kind of dough for a jacket. But hey, serious adventures call for serious, quality gear. Arc'teryx Beta AR is the definition of quality and serious.
Unfortunately, $600 USD is the price you will have to pay if you want the luxury of never being wet and cold again. Look at it as a lifelong investment in backpacking comfort.
Once you have this jacket on your body in a rainstorm you will know what I am talking about and you will thank me. When they say waterproof, your $600 guarantees that not a single fucking rain drop will be felt inside the jacket!
We also love the Arc'teryx Beta SL Rain Shell and the Arc'teryx Zeta SL for women, so check out those full reviews too!
Want more options? Check out our list of the best Patagonia rain jackets to see if one fits the bill for your trip.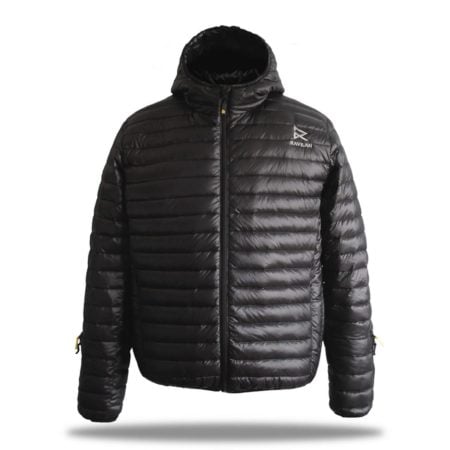 Ever thought to yourself "yeah this down jacket is warm, but I wish they could make one with a heater built in." When I have been walking around a city freezing my butt off, the thought has certainly crossed my mind.
Well my friends, that is exactly what Ravean has done here with their ultra-toasty Down X Heated Jacket (they make both male/female versions).
The jacket is heated using a rechargeable battery system (that is also able to charge your phone), allowing you to manually regulate the heating element so you can stay comfortable in temperature ranges from -10° F to 55° F.
When we first heard about this jacket we thought the concept sounded gimmicky and that the jacket wouldn't be attractive. How wrong we were. Oh and ladies: we wrote a whole post on the best women's heated jackets too if you want to check out some more options.
For the perfect winter travel jacket that will keep you warm in a range of temps AND looks good too, the Ravean Down X Heated Jacket is hard to beat. We highly recommend this one for your winter travels or just as an awesome everyday jacket during the cold months.
Check out our full Ravean Down X Heated Jacket review.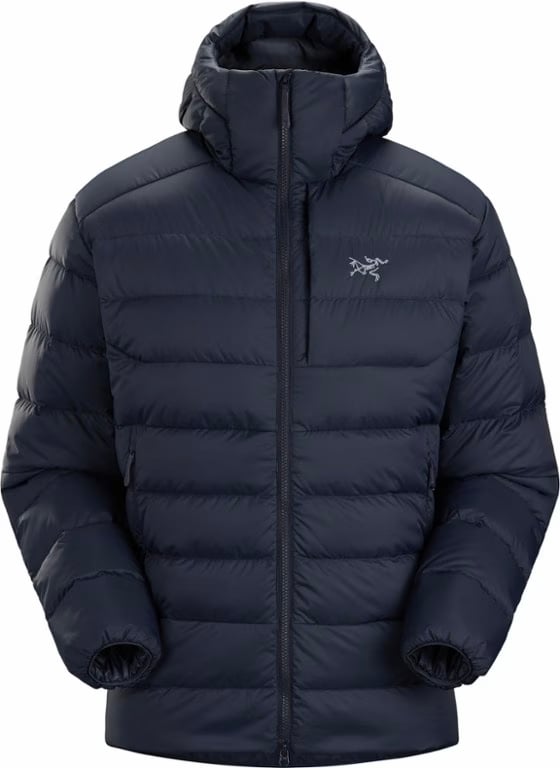 Alas, Arc'teryx has made the best travel jacket list again. This time for the Thorium Down Hoodie.
If you're a keen hiker looking to stay warm and pack light whilst racking up big miles this is the jacket for you.
750-fill-power RDS grey goose down is the magic formula that keeps you cozy in cold weather. Weight only 1 lb. 2.2 oz, the Thorium Down Hoodie packs down to next to nothing.
Stylish, tough as hell, and warm enough to battle the mountain elements, The Thorium Down Hoodie is one beautiful piece of gear to behold.
An interesting new feature is that Arc'teryx added Coreloft synthetic insulation in the areas likely to become damp and wet. This means the previously vulnerable down has been replaced with a synthetic that holds up much better against moisture.
At $450.00 it isn't the cheapest hiking jacket out there, but it might well be the best. Broke Backpacker tip: sometimes you can find them on Amazon for under $400.

Do You Want to Travel FOREVER??
Pop your email in below to get a FREE copy of 'How to Travel the World on $10 a Day!'.
This one is a great lightweight warm jacket for travel, hiking, or for casual city use. Offering maximum amount warmth compressed into a tiny package, the Feathered Friends EOS jacket apart from the rest.
Feathered Friends have been producing some great travel down jackets and sleeping bags for years. The EOS is yet another fine addition to their down layering arsenal. It's a packable travel jacket which is great for popping inside your backpack.
We tested this jacket in the Pakistani mountains on several long treks and found the EOS to offer the perfect blend of warmth, lightweight, and packability. To put it bluntly, the EOS kicked ass and felt great to trek in when the temperatures dipped on the glacier.
What's cool is that this jacket isn't just a one-trick pony. It's a solid choice for your Autumn adventures, regarding its weight, comfort, and packability.
The FF EOS jacket has a fitted cut so it hugs the body whilst maximizing warmth. At just under $340, the EOS is not the cheapest jacket out there, but in our opinion, well worth the investment. Unlike true ultralight jackets, the Flinders can take a fair bit of abuse as the fabric is not paper thin. Plus, you would be hard pressed to find another jacket with Ethically-sourced 900+ fill power goose down power with the same warmth to weight ratio.
The Mountain Hardwear Ghost Whisperer for example, while an excellent ultralight option, simply can't take the punishment other down jackets can. That's not to say that it is poor quality though. If you don't do lots of climbing or bush-bashing anyway, this shouldn't be an issue for you if you want to really go ultralight.
Cons:
Can feel restrictive if you are a muscular person.
Expensive.
Patagonia joins our best travel jacket list again with the women's version of the Nano Puff (sans the hood).
This is the jacket merges the comfort of down with the warmth of a lightweight jacket. Whether you are hitting the town, the slopes, or tackling a summit bid in the summer, the Nano Puff has got you covered.
The Nano Puff was technically designed for rock climbers and thru-hikers. As is the case with most of Patagonia's gear, the Nano Puff is certainly a multi-purpose unit. If you are a lady looking to score the perfect travel jacket, your search is over.
Ana, contributing writer and editor at the Broke Backpacker had this to say about the women's Patagonia Nano Puff jacket: "The Nano Puff is amazing. I have used it all over, in multiple countries and it has held up great. It is super warm and a good insulator jacket. Because it is not down it can get wet and dry a little faster than a down would. I highly recommend checking them out."
For $199, you will be investing in a fantastic jacket that can handle all of the wear and tear of a seasoned traveler. In case you haven't gathered it by now, Patagonia makes excellent products, and their line of ladies gear is no different. This one is made specifically to fit a ladies frame but there are loads of similar mens waterproof travel jackets out there so don't feel excluded guys! The Nano Air is maybe the best travel jacket women can buy!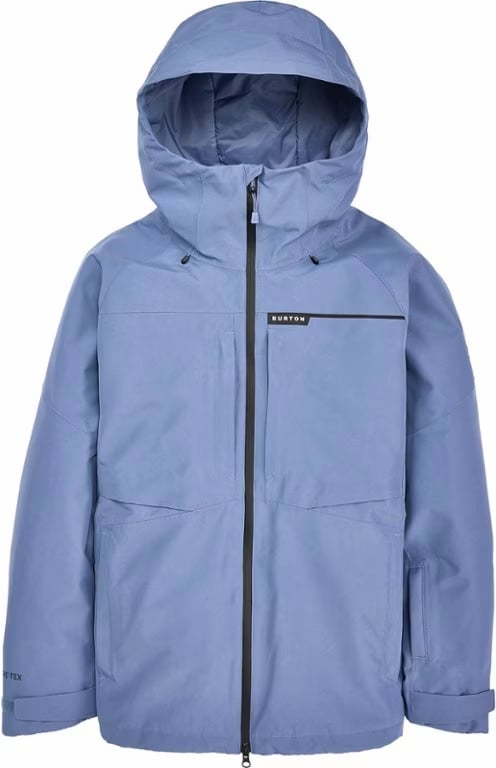 Burton's first appearance on my list is for the Pillowline Insulated Jacket. This jacket is a fantastic cold weather/ snow sports layer. It combines the warmth of a down jacket with the elemental protection of a Goretex rain jacket.
This truly luxurious, ultra-warm jacket packs a big punch with its sleek design and brilliant construction.
Strategic placement of each insulation material ensures user comfort and prolonged jacket life. Down Composite Mapping places synthetic materials, which retains warmth when wet, along the hood, hem and underarms; areas prone to contact with moisture. lightweight 80 g ThermacoreECO insulation lines the core and sleeves where warmth is most needed.
The hood comfortably fits over any ski or mountaineering helmet so you can cover up with losing your head protection.
The Burton Pillowline jacket also offers up a solid ventilation design, allowing you to cool down while you are working hard on the slopes. Airflow and moderate sweat management for medium-intensity activities; mesh-lined, no-snag underarm vents enhance breathability and allow heat to escape because deep snow is a workout.
I have said it before and I'll say it again. Burton makes some of the best gear money can buy, and whilst their stuff can be outrageously expensive, you can be sure you are buying the best possible product on the market.
If like me, you value having quality gear, the reality is you have to fork over the cash sometimes. As is with most things in life, you get what you pay for and the Burton GORE-TEX Pillowline Insulated Jacket doesn't everything but disappoint. It is great for alpine and winter conditions but if you are after a lightweight travel jacket then this one is NOT for you.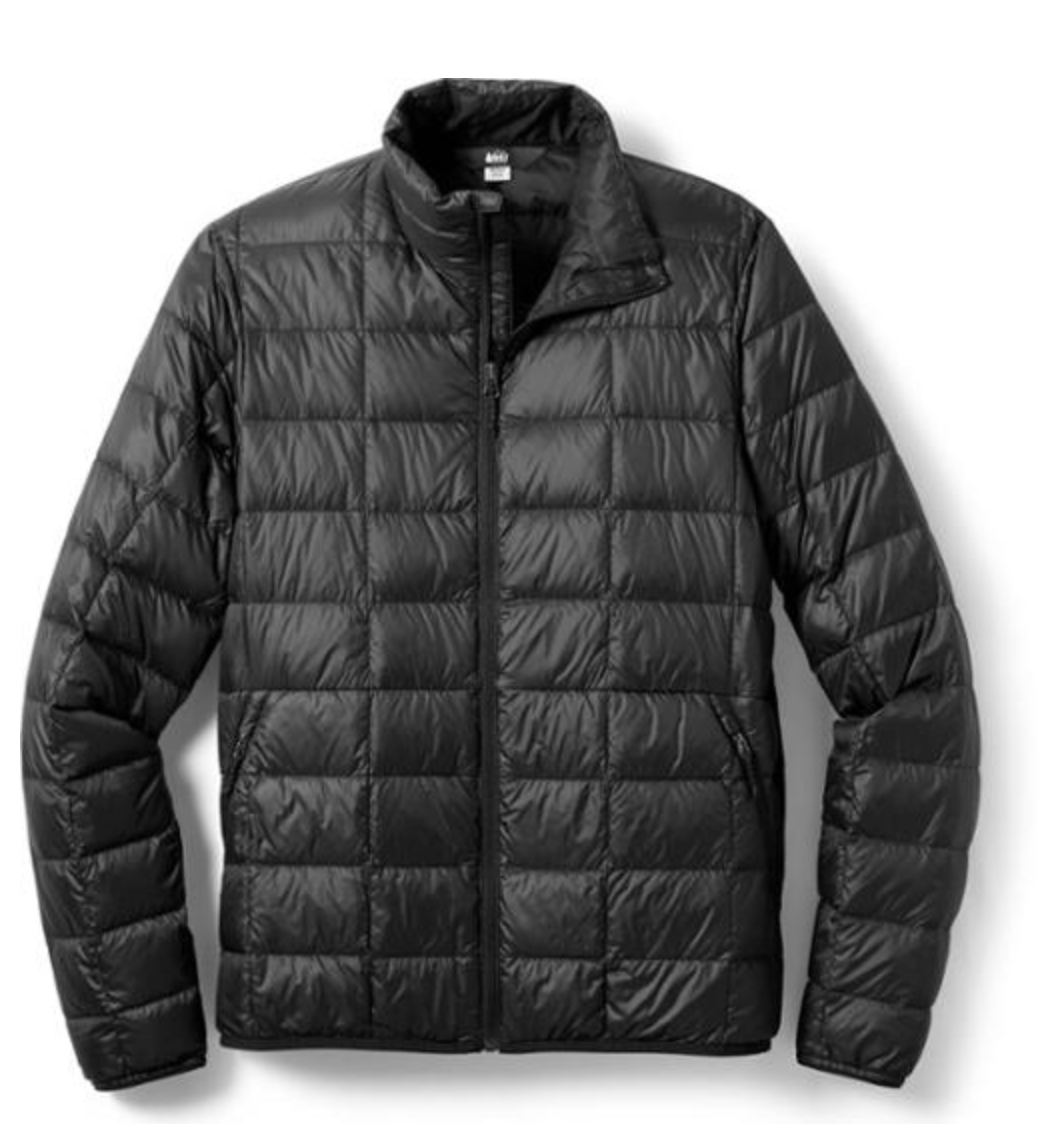 After surviving my above list of amazing and expensive travel jackets, you deserve a quality budget option! Look no further than the REI 650 Down Jacket.
As the name suggests, its 650 goose down insulation provides a high warmth-to-weight ratio and compacts so easily you can pack the jacket into its own left-hand pocket for storage.
This jacket is super warm and is the perfect jacket for everyday use whether you are traveling or not. Sometimes us travelers simply don't have the cash to spend on big-ticket items. Fear not! The 650 down jacket is very affordable for everyone! At $75 USD (current sale price) you'd be hard-pressed to find another high-performance jacket at this price.
If you have never owned a down jacket before the REI 650 is a good place to start. Every backpacker needs a great jacket to take along on every adventure. This is the jacket for those looking for a solid piece of gear without the gouging price tag.
REI also makes the same exact jacket in women's sizes and colors.
The best present of all… is CONVENIENCE!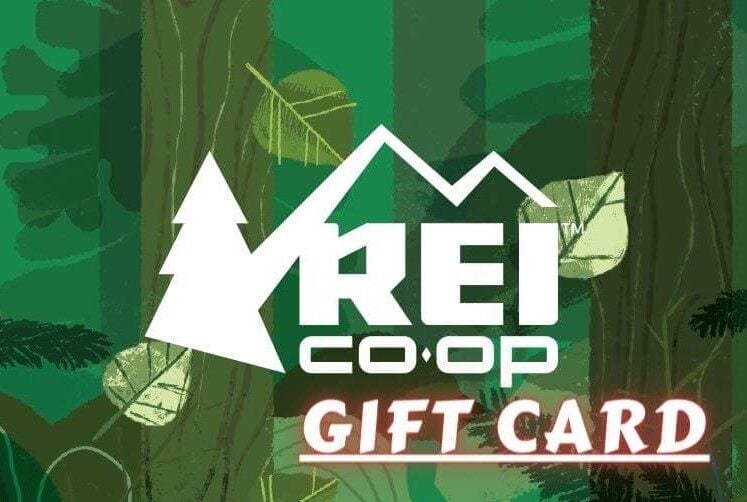 Now, you could spend a fat chunk of $$$ on the WRONG present for someone. Wrong size hiking boots, wrong fit backpack, wrong shape sleeping bag… As any adventurer will tell you, gear is a personal choice.
So give the adventurer in your life the gift of convenience: buy them an REI Co-op gift card! REI is The Broke Backpacker's retailer of choice for ALL things outdoors, and an REI gift card is the perfect present you can buy from them. And then you won't have to keep the receipt. 😉
Buy on REI!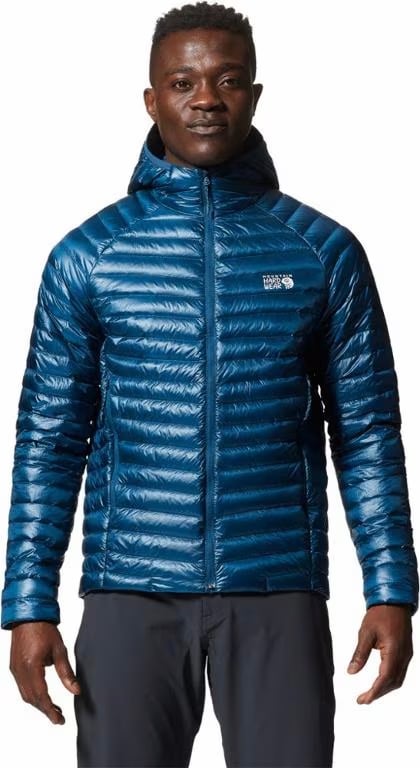 I agree that in addition to keeping me warm, I want my jacket to look somewhat nice. The outdoor industry is notorious for producing some of this least visually appearing garments in the history of western fashion.
Who the fuck wants a neon yellow puffer jacket with lime green zippers?
In recent years, the industry as a whole has become more style conscious. In order to win my most stylish jacket rank, the jacket must look good, but also be a badass piece of gear in the field.
That is where the Mountain Hardware Ghost Whisperer 2 comes in.
This was a hard choice as now there are many stylish, well-performing jackets out there.
The Ghost Whisperer 2 really has it all. It is super lightweight, warm, looks great in a city and performs in the backcountry. At only 8.8 ounces, the Ghost Whisperer is one of the lightest multi-sport jackets around. It even performs well in semi-damp conditions. Its "QShield" Down resists moisture and retains maximum loft even when wet!
I gave Patagonia and Arc-teryx a lot of attention in this review, but Mountain Hardware's Ghost Whisperer is a jacket not to be overlooked.
If you want a jacket that looks cool and will keep you warm in freezing temperatures, the Ghost Whisperer has your name on it.
Best Travel Jacket

| Name | Best Use | Waterproof (Y/N) | Weight (KG) | Main Material |
| --- | --- | --- | --- | --- |
| Patagonia Nano Puff Hoodie | Hiking, traveling, climbing, daily use. | N | 0.36 | Recycled polyester |
| Arc'teryx Beta AR | Backcountry Skiing, Downhill Skiing, Mountaineering | Y | 0.46 | 3-layer GORE-TEX Pro |
| Ravean Down X Heated Jacket | Winter travel, everyday use, cold day hikes, urban lifestyle | N | 0.15 | 100% Nylon with DWR finish |
| Arc'teryx Thorium Down Hoodie | Outdoor sports, hiking, urban lifestyle, travel. | N | 0.31 | Nylon |
| Feathered Friends EOS | Travel, hiking, or for casual city use | – | 0.31 | Pertex® Quantum® brushed nylon with DWR |
| Patagonia Nano Puff | Traveling, outdoor sports, hiking, camping. | N | 0.28 | Recycled polyester |
| Burton GORE-TEX Pillowline Insulated Jacket | Winter sports | Y | 1 | Breathable GORE-TEX |
| REI 650 Down Jacket | Traveling, outdoor sports, hiking, camping. | N | 0.31 | Recycled nylon taffeta |
| Mountain Hardwear Ghost Whisperer 2 Hooded | Urban lifestyle, traveling, hiking | Y | 0.24 | Ripstop nylon |
FAQ about the Best Travel Jacket
Still have some questions? No problem! We've listed and answered the most commonly asked questions below. Here's what people usually want to know:

Our GREATEST Travel Secrets…
Pop your email here & get the original Broke Backpacker Bible for FREE.
Final Thoughts on the Best Travel Jackets of 2023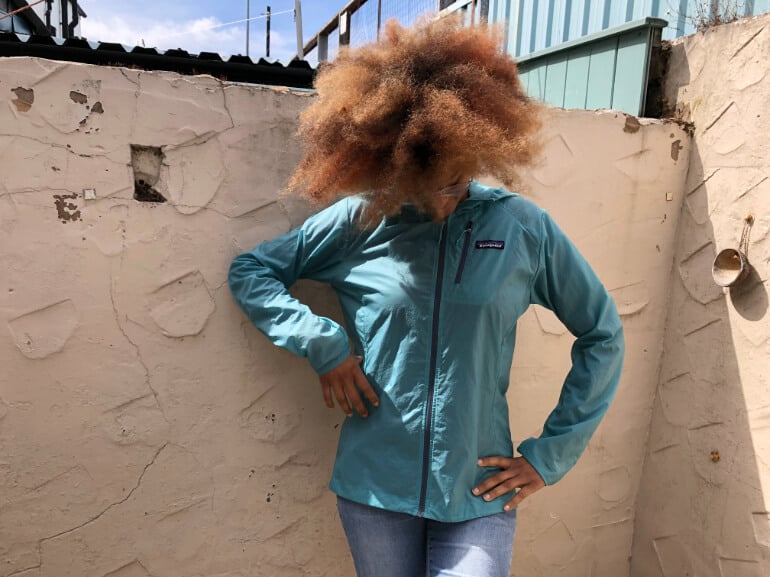 Well there you have it: the ultimate review of best travel jackets of the year! I hope you found this review to be helpful!
Choosing travel coats and jackets can be bloody well tough but hopefully you are now ready to choose the right jacket for all of your traveling needs.
Whether you are new to traveling or a seasoned adventure you know how important it is to have a great all purpose jacket ready at all times. Having an awesome jacket to take traveling is a great feeling. It gives you confidence and keeps you comfortable when the weather turns chilly (or worse).
Any way you swing it, investing in a quality jacket of your choice is one of the best things you can do to prepare for your epic adventure.
Looking for something same same but different? Check out the Thermarest Honcho Poncho instead!
Stay warm my friends!
What are your thoughts? Did this best travel jackets review help you? Anything I didn't answer? Let me know in the comments below – thanks guys!
---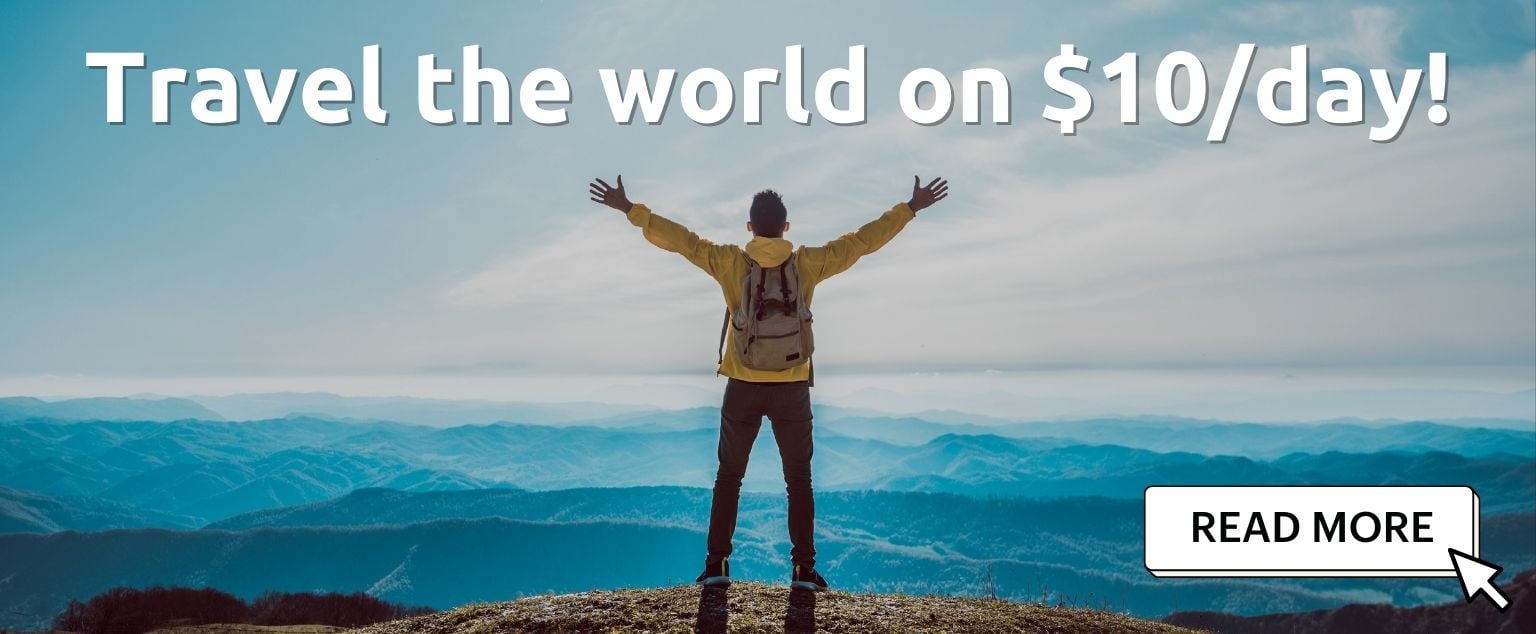 And for transparency's sake, please know that some of the links in our content are affiliate links. That means that if you book your accommodation, buy your gear, or sort your insurance through our link, we earn a small commission (at no extra cost to you). That said, we only link to the gear we trust and never recommend services we don't believe are up to scratch. Again, thank you!