Sri Lanka is a sheet of bubble wrap.
"Ziggy… what the hell are you talking about?"
It's bubble wrap, man. That's the analogy for the backpacking Sri Lanka experience that's been brewing in my brain for the past month. It just bubbled over right this instant (as I was staring at a super-dope mountain).
Sri Lanka is a land of bubbles and all the spaces between. It's a small island. Travelling Sri Lanka is a breeze and dotted around the island you have the "places to go": the tourist bubbles. Everything in-between is Sri Lanka.
But wait, because I'm about to turn this around! What's something pretty much universally agreed on about bubble wrap?
That it's fucking awesome!
How many hours have you spent red-eye blazed and playing with bubble wrap? (I could have written a baroque opera about smoking joints during that time.)
There are no shortages of truly beautiful places in Sri Lanka, and there are more than enough things to do (provided you like the beach). A long, vibrant, (and violent) history exists in Sri Lanka and backpacking through it retains the small island, 'everyone knows everyone' feeling.
This is a travel guide to Sri Lanka so, of course, I'm going to cover the typical backpacking itinerary: where to stay and what to do. I'm also going to cover some cool shit: the more uncommon places to visit in Sri Lanka's backpacking trail. Places the fruit-shirt clad men dare not tread.
Mostly though, I'll just be honest. I hope that sounds like what you're looking for: an honest travel guide for backpacking Sri Lanka. If you're looking for a guide on the most Instagrammable spots in Sri Lanka, maybe look elsewhere…
Because what's the best part of bubble wrap?
Bursting the bubble.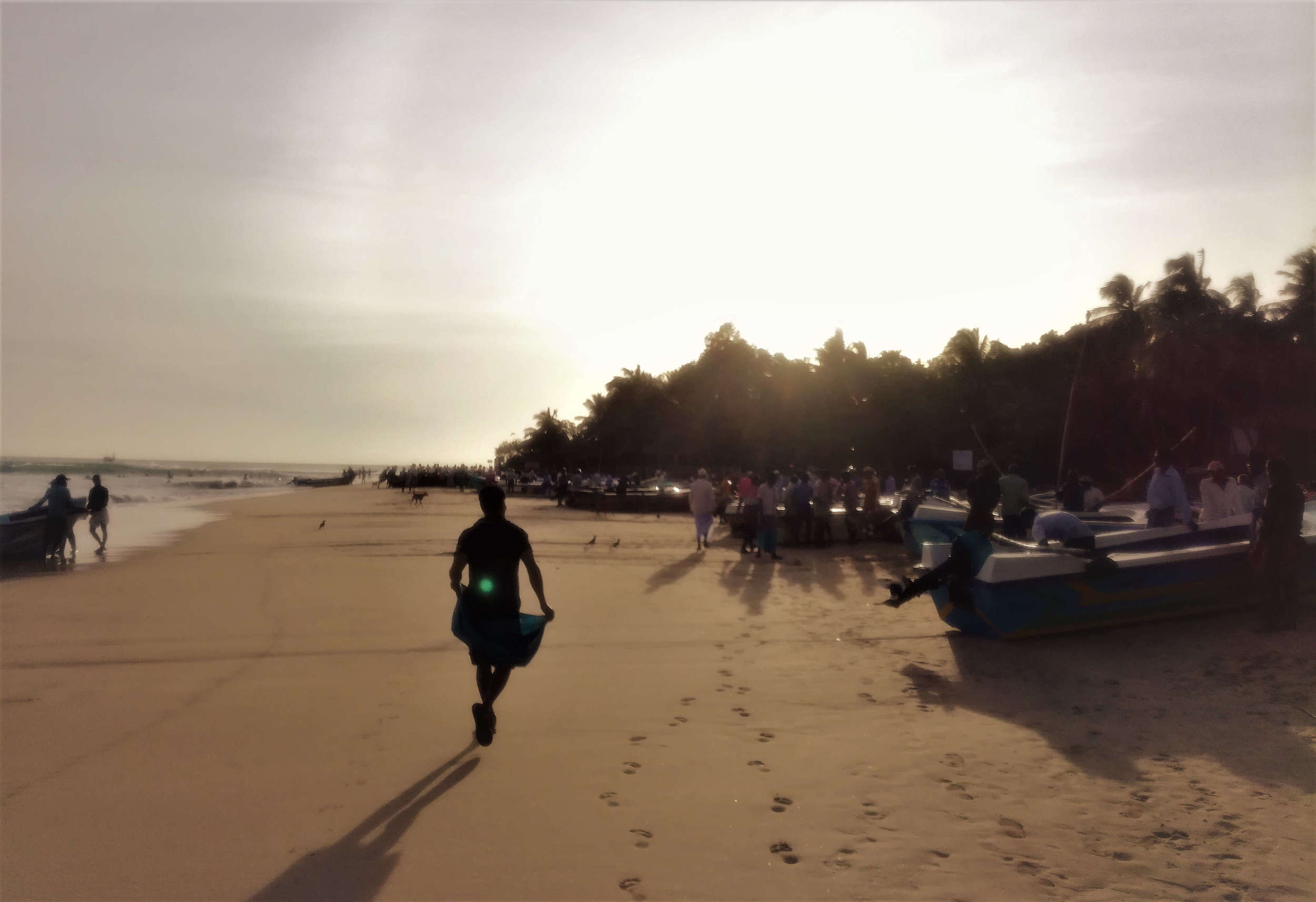 Where to Go Backpacking in Sri Lanka
It's pretty easy to divide Sri Lanka's backpacking route into four areas: the south coast, the east coast, Sri Lanka's hill country and 'Cultural Triangle'.
Starting with the south coast, you're seeing some of the most tourist-accommodated areas and an extremely easy section of the country to travel… and beaches! Expect me to talk about Sri Lanka's beaches a lot. Parts of the south coast get good swell nearly all-year-round so it's the right direction to head if you're purely seeking waves.
The east coast presents a similar vibe but with considerably fewer destinations (really just Arugam Bay and Trincomalee). The key difference is that Sri Lanka's east coast doesn't get year-round surf so once the season is over, it's dead (well… comatose).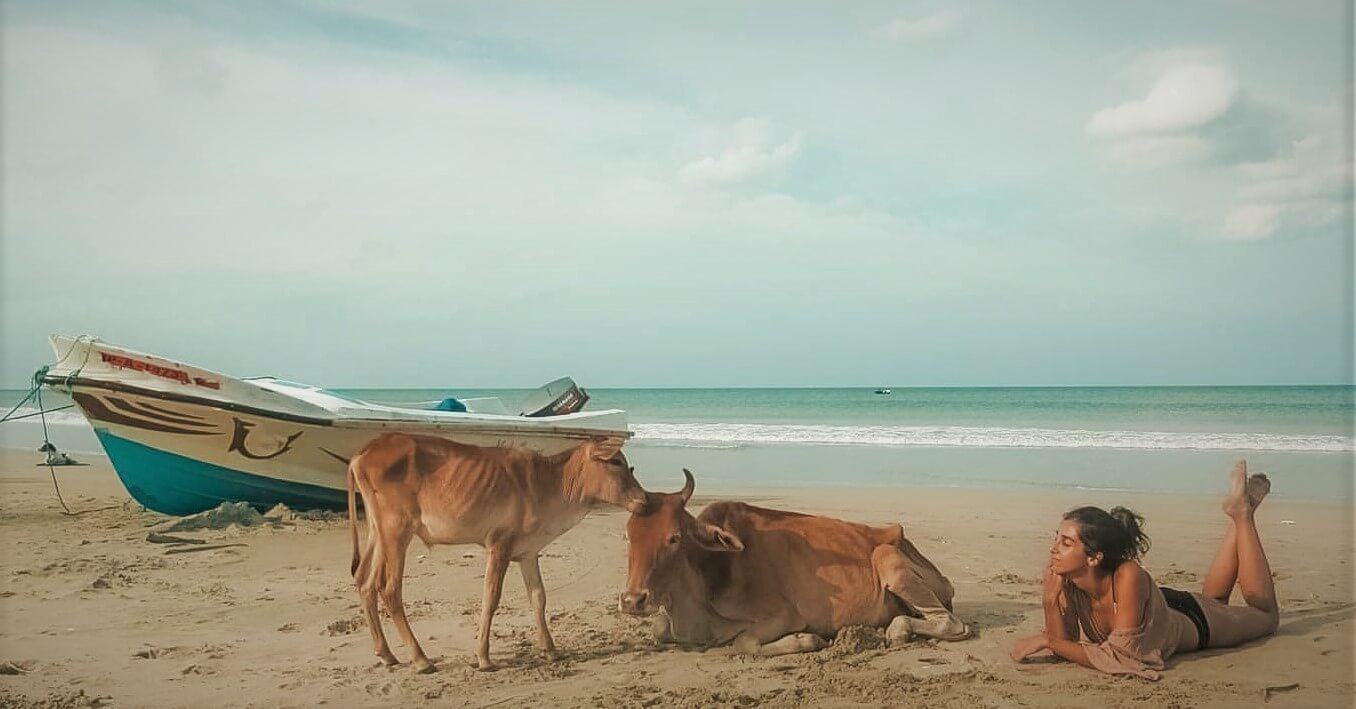 Sri Lanka's hill country and Cultural Triangle (in the island's central area) present a very different (and my much-preferred) side of the country. The Cultural Triangle – as the name implies – is for the cultural goodies: ruins, temples, monuments… Asia stuff! They're sacred places for the locals as much as a smoothie bowl and yoga beach shack is for the tourists, so the vibes are different.
And the hill country? Yum – I believe in mountains. (Title of my upcoming EP release available early next spring.)
What about the lesser-travelled 'North'? (I capitalised that to make it sound mysterious). Yeah, yeah, hold your horses; we'll get there. Let's lay out some travel itineraries for Sri Lanka first!
Best Travel Itineraries for Backpacking Sri Lanka
Ok, this is usually the part where I whinge about itineraries and 'ticking boxes' and tell you to go slow and never go home (na, you should go home sometimes; nothing beats Mum's salad sandwiches). I mean, you should still go slow – we're running on Sri Lanka time here, but I understand the need for a travel itinerary for backpacking Sri Lanka.
Most of the people I meet backpacking around Sri Lanka tend to only be travelling short-term and I meet very few who extend past the initial one month (30 days) visa. So, as they always say, quantity over quality! Give the people what they want!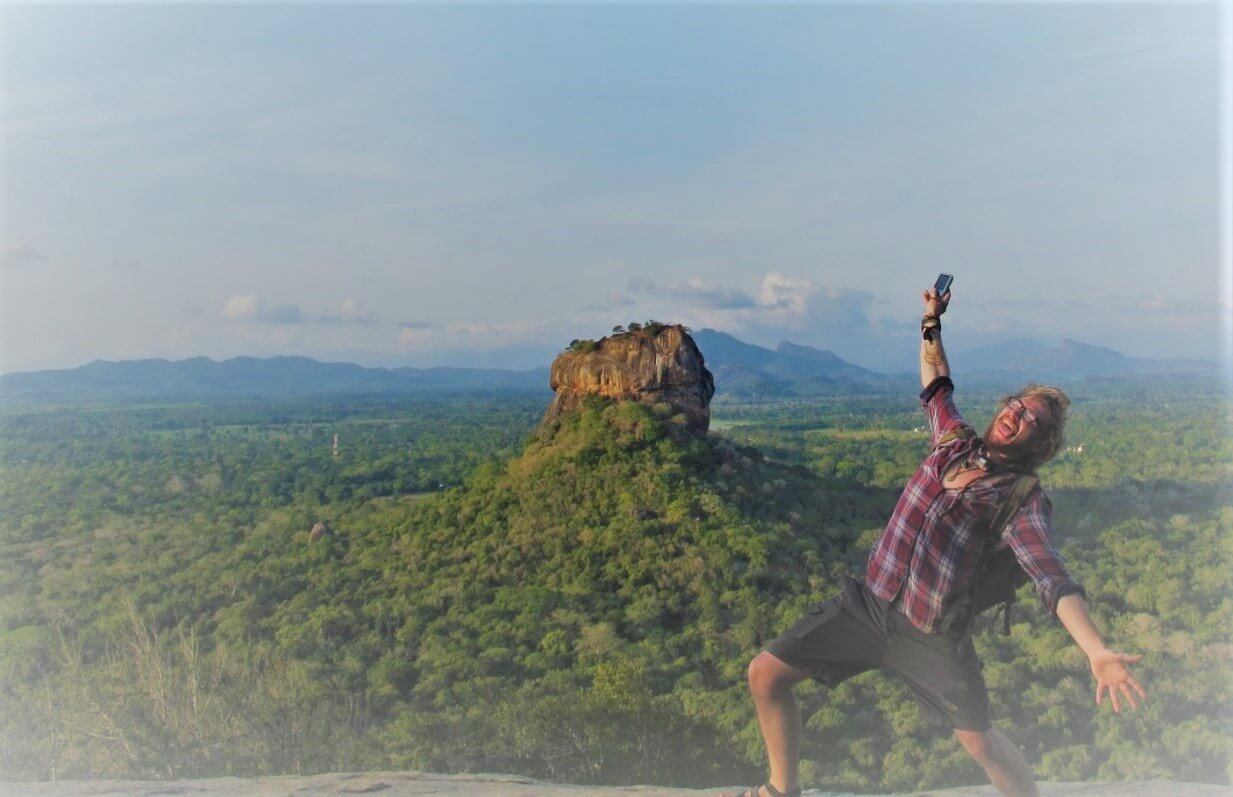 Let's be honest though, that's probably not my forthcoming EP release so instead, I present to you some masterfully-crafted backpacking itineraries for Sri Lanka!
#1 Sri Lanka Itinerary – 2-3 Weeks: The Maha Monsoon and the South Coast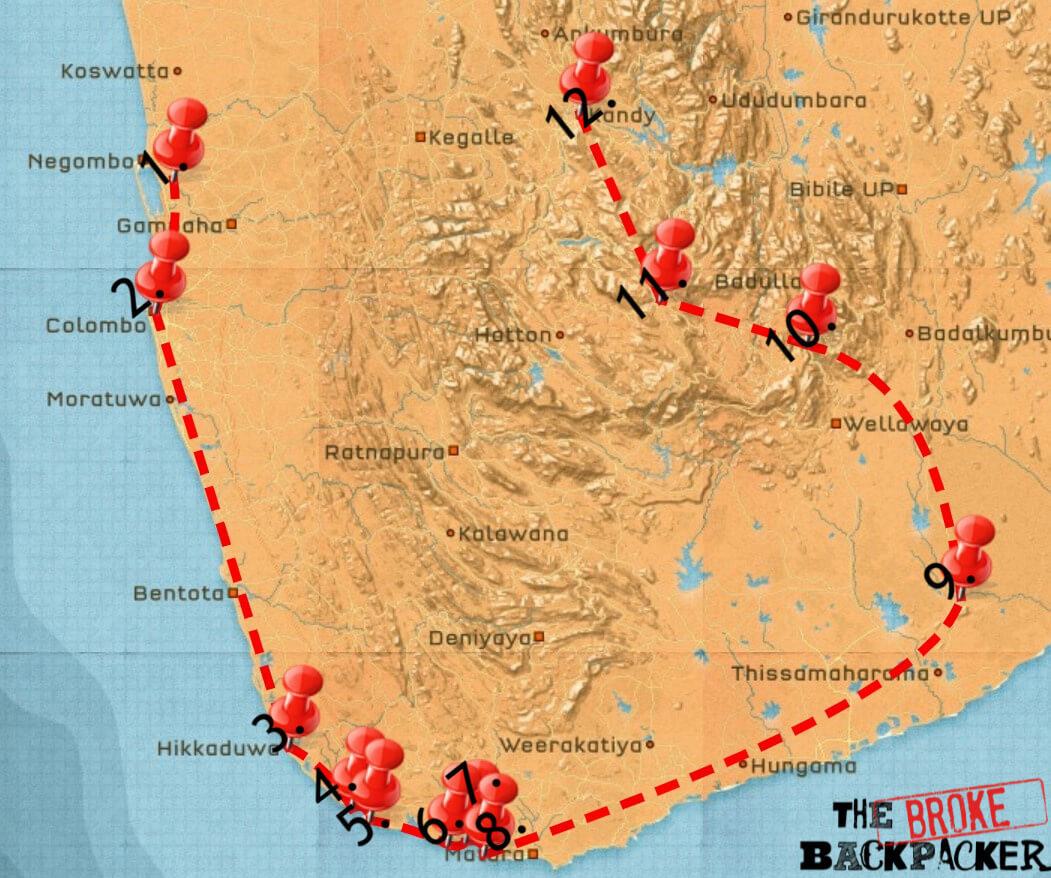 You can check the 'Best Time to Visit Sri Lanka' section for more deetz but, suffice to say, there are two distinct monsoon seasons in Sri Lanka and they create two distinct tour itineraries. When the Maha Monsoon is in full swing, you're heading south.
Considering the average length of most travellers' trip to Sri Lanka, I'm spacing this as 2 – 3 weeks. Be warned though, the easy living of the beaches tends to slow people down.
2 – 3 Weeks in Sri Lanka: Beaches, Beaches, and More Beaches
It's a ridiculously easy route to follow courtesy of Sri Lanka's grungy yet more-than-capable public transport. From Bandaranaike International Airport head to Colombo (yes, unfortunately). You don't need to stick around; you're only coming here for the train or bus.
Catch either south to Hikkaduwa and this officially marks the start of your adventure on Sri Lanka's south coast. From here I'll outline anything standout but, hey, listen: we're talking touristy beach towns. You know what's up.
The next stop along from Hikkaduwa – and a very unique point of interest in Sri Lanka – is Galle. It's an old-timey city with colonial-era architecture and a fusion of cultures. This one isn't for beach parties.
Following the coast, there are a series of smaller beachside stops all catering to different levels of surfing and all offering different breaks. In order, there's Unawatuna, Midigama, and Weligama.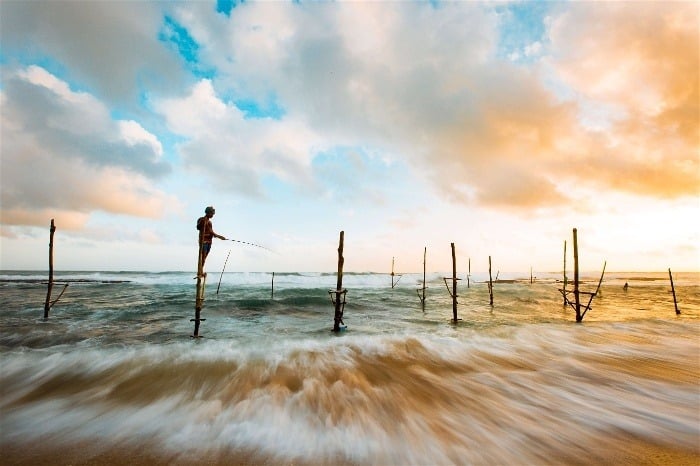 And then there's Mirissa, the next major attraction of Sri Lanka's south coast. More beaches, more surfing, more coconuts: get on it!
Wait, what's that? We're leaving the beach now? Yep, we're going to find the mountains.
The next big stop (and one of my personal highlights of Sri Lanka) is Ella. If, however, a safari is on your list of boxes-to-be-ticked, make a stop at Yala National Park for cute beastie spotting.
And then you're arriving in Ella and the hill country. I saved here for last because, if you're anything like me, mountains help you decompress after all those beaches. Also, because it's a good send-off to Sri Lanka.
From Ella, you can catch the famous Kandy to Ella train (making a stopover in Nuwara Eliya to break up the ride if there's time). Maybe you won't love Kandy but after witnessing Colombo, I think you'll appreciate it more.
#2 Sri Lanka Itinerary – 2-3 Weeks: The Yala Monsoon, the East Coast, and the Middle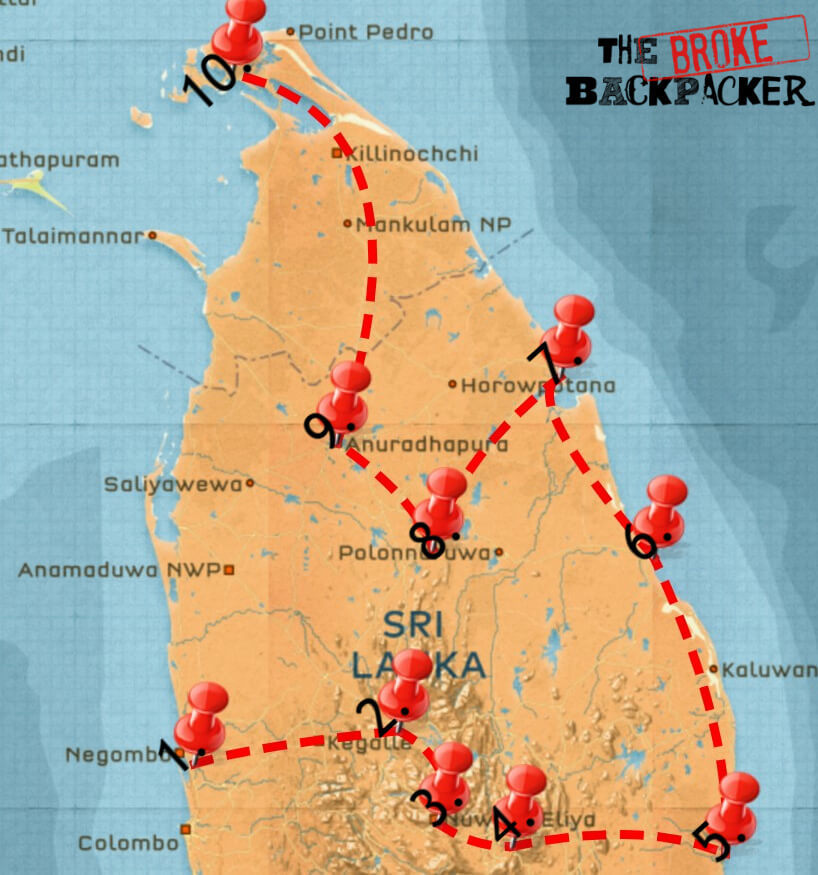 Same deal: 2-3 weeks in Sri Lanka seems to be the standard itinerary length. Only this time, the Yala monsoon is ruining peoples' tanning opportunities in the south. That sends you east and north.
2 – 3 Weeks in Sri Lanka: Temples, Ruins, and Sticky Places
This obviously depends on several factors, but I'd strongly recommend skipping Colombo when you land at Bandaranaike International Airport and cutting straight to Kandy. Kandy isn't mindblowing but it's a helluva lot nicer than the capital, and it's exactly the direction you gotta go.
You've probably already guessed what comes next: the train to Ella. Well done, you're learning! Again, Nuwara Eliya makes a good stop on the way.
Ella is one of the coolest places to stay in Sri Lanka. Well, not in Ella – a bit outside. But no peeking! We'll get there.
From Ella, you're going to Arugam Bay. If you came to Sri Lanka for the beaches and surfing, give yourself enough time to get stuck here for a bit – just in case. Joints, parties, surfing, and food sums up Arugam pretty well.
Heading north up the coast you won't find much until Trincomalee. Arguably Pasikuda, but I didn't find anything to hold me there. Trinco is chill but the food is a bit pricier and there's no surf.
From here you're heading into Sri Lanka's Cultural Triangle and away from the beach (you'll still find joints though). Specifically, Sigiriya – home of the simply magnificent Lion's Rock.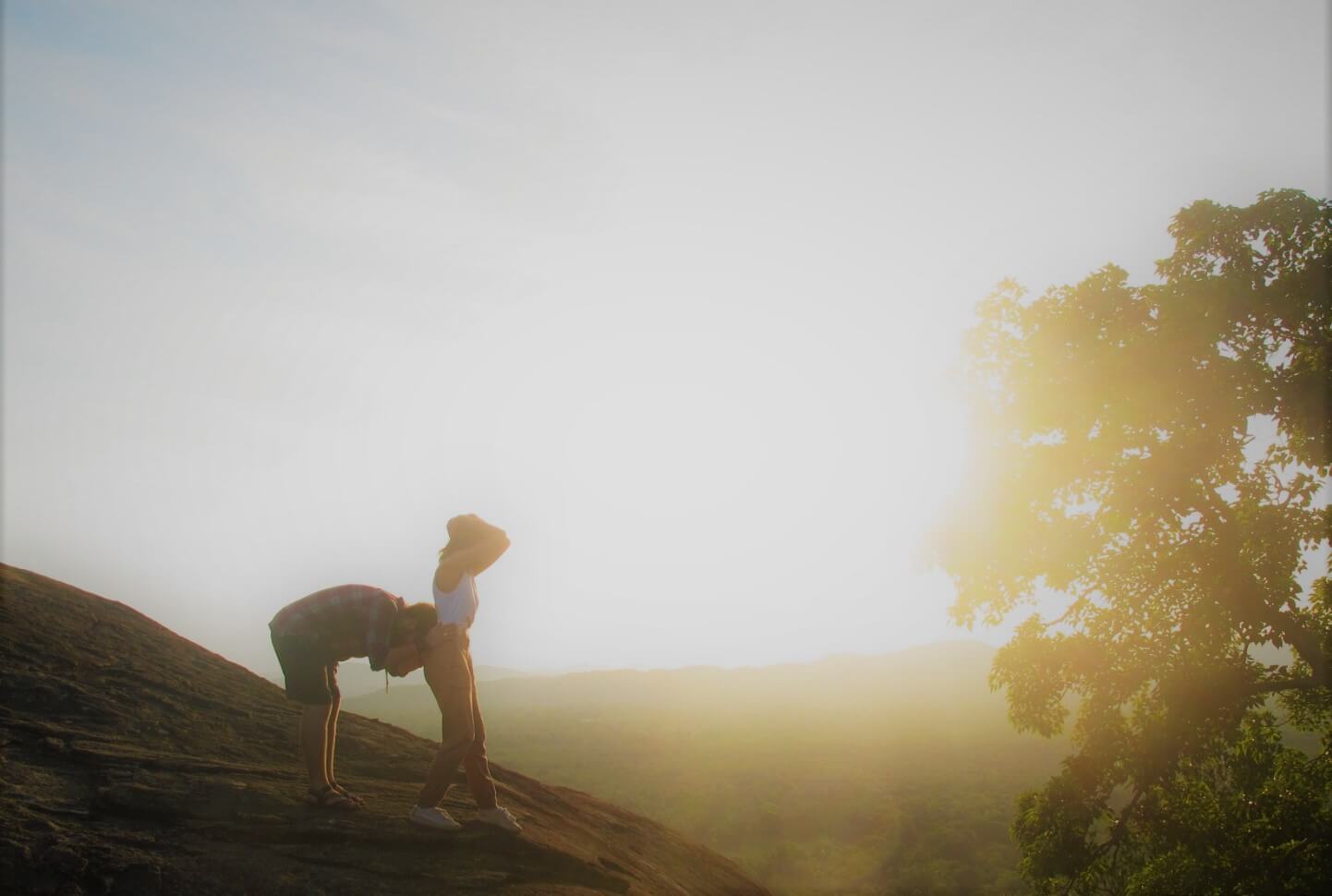 And now we're heading north. 'The North'? (Sounds so mysterious, right?) Almost…
The next stop on your itinerary for Sri Lanka is Anuradhapura, home of the sacred Bo tree where Buddha received enlightenment. It's kinda important.
You're going here because it's another of Sri Lanka's famous travel places and also because the train runs north from Anuradhapura to Jaffna: now we're in The North.
Up here you'll find a different side of Sri Lanka and a deeper insight into Sri Lanka's history. And when it's time to call it quits, the train runs all the way back to (near) the airport.
#3 Sri Lanka Itinerary – 1 Month: I Don't Give Shit About the Weather
Got a month and zero fucks to give about the rain? Now we're talking! You're my kind of traveller.
Lemme give you one last itinerary for Sri Lanka. Something a bit jackfruit-ier to sink your teeth into.
1 Month in Sri Lanka: I Eat Monsoons for Breakfast
Combine the two previous suggested itineraries for a full circuit. If you want a clean circuit, you'll need to skip some places, but I have a better idea.
Go south first from Bandaranaike Airport. Follow the previously outlined south coast itinerary taking as much time as you want cause that's your style! Tangalle is a nice extra bonus stop (with quieter beaches) and is en route to Yala if you're heading that way.
Next, is up to Ella. Hang around if you like or move on because we'll be coming back. You may also be able to work Sigiriya Dambulla into this if you have a couple o'days spare burning a hole in your time-space continue narrative.
Head east, as if following the Sri Lanka Itinerary #2: Arugam Bay, Trinco, inland to the Cultural Triangle, and then up to Jaffna. Afterwards, you're catching the train to Kandy and here's where things differ.
Close to Kandy is the Knuckles Mountain Range, and, oh boy, it's a goodun. If you're after hiking in Sri Lanka, it's the place to go.
Even if hiking isn't your thing, there's a place you should go to in the Knuckles Range. A place to really burst the bubble: Meemure village.
An adventure to Meemure is a whole other thing. It's one of Sri Lanka's hidden places well off the backpacking route; Sri Lanka's most remote village. If I'm giving you that tingling feeling of a journey approaching (you know the one), then you'll have to go find it.
And when Meemure is all said and done. it's time to catch the train: Kandy to Ella. Back to Ella.
Go to the palace-on-the-mountain called Tomorrowland and watch the mountains until it's time to leave. Yes, there is a direct bus to Colombo from right outside.
Places to Visit in Sri Lanka
Alright, so at this point, you've got a pretty good overview of what to expect from visiting Sri Lanka, but what specifically are you going to find?
Sri Lanka's tourism sector is fairly set and the stops on the typical tour of Sri Lanka are pretty well-tread: they're well-developed and already come with expectations of what a tourist wants. The end result is that visiting Sri Lanka's typical travel guide "places to visit" feels, well, like being in a bubble. A shelter from the big, scary South Asia outside.
And the Sri Lankan-brand South Asian yumminess between the bubbles? It's delicious! Despite a different religious heritage, the feeling is similar to backpacking in India… but pulled back. Nothing feels so hectic, nothing feels so chaotic, and it's considerably cleaner too. It's like the backpacking New Zealand experience of the Indian sub-continent: little, beautiful, and comparatively chill.
All that said, it's still South Asia. Many people I meet backpacking in Sri Lanka who are fresher to the game can still find it overwhelming. Expect some uncomfortable stares, moments of utter confusion, and personal boundaries occasionally being crossed.
Travelling between the bubbles is easy as kottu! The many places in Sri Lanka to visit are accompanied by numerous public and private transport options and the setup is pretty straightforward:
North for many of the cultural things to do in Sri Lanka.
East for the backpacker beaches.
South takes you to… well… more beaches (but the next step-up from the east).
And in the middle, there are the mountains.
Backpacking Colombo
Jokes! It's a shithole; don't even bother.
Seriously, in case you do want a somewhere to stay as soon as you leave the airport, just go to Negombo instead. It's more chill, less sucky, and the beaches are nice. If you do get stuck in Colombo, well… At least the hostels in Colombo are nice, and there's UberEats!
Backpacking Kandy
I enjoyed my trip(s) to Kandy! I feel it's a much nicer alternative than staying in Colombo. If you have the spoons after landing, I'd suggest booking a hostel in Kandy and travelling straight from the airport.
You're probably going to visit Kandy. It's the starting point of the ultra-famous and mega-pretty train ride – considered one of Sri Lanka's wonders – and is also most people's main reason for travelling to Kandy. The train runs through some of the most beautiful places in Sri Lanka with some majestic sweeps of the hill country.
Most backpackers I talk to aren't particularly enamoured with their visit to Kandy, and I can see their reasoning. There's not so much to do in Kandy and what there to see is isn't strictly impressive. There's no nightlife in Kandy and the typical places to go kind of top out at "Oh, yah, that's cool."
All the same, I like Kandy. Sometimes you just like a place, ya know?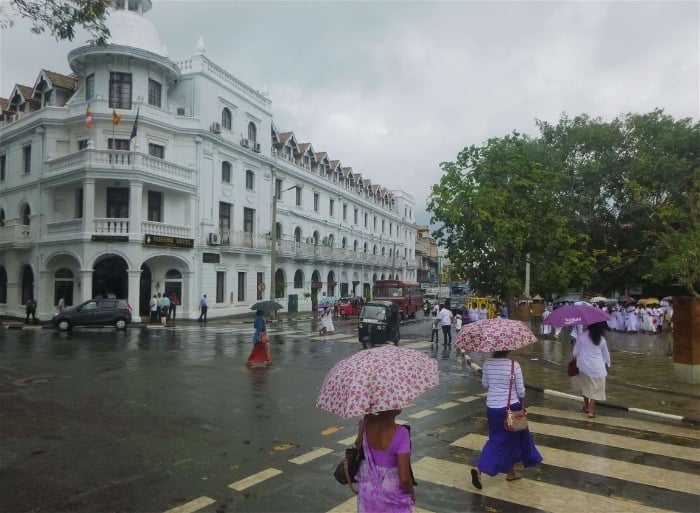 I like how it builds down from the mountains to Kandy Lake in the centre. Or how the people living there still seem to not hate life. I like how, at twilight, thousands of bats cross the sky in a chequered blanket.
There's cool stuff to see in Kandy.
Backpacking Ella and the Hill Country
The other end of the Kandy to Ella train. Also, one of the best places in Sri Lanka… sort off.
Sri Lanka's hill country is a special place. There's a sleepy little magic there that I adore. Ella is a bit crap though.
It's a one-street town, purely touristic, and noisy from the traffic. That's ok though because there are plenty of places to stay just outside Ella. In fact, that's where the coolest place to stay in Sri Lanka is (TBA – it's coming, I promise).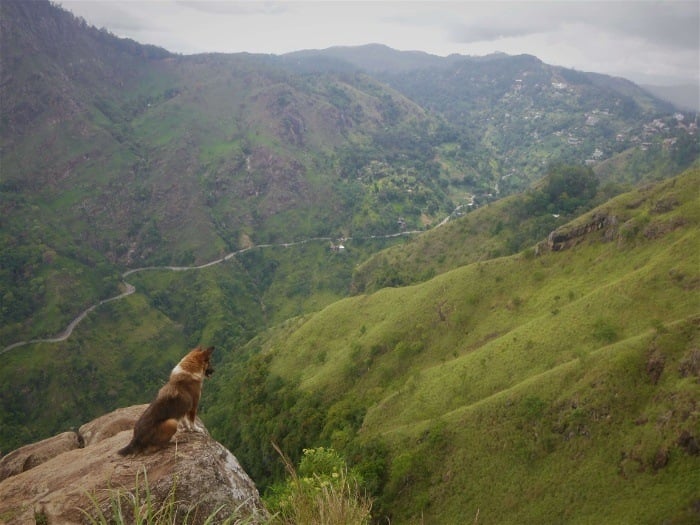 Most of the things to do in Sri Lanka's hill country and Ella revolve around nature: tea plantations, hikes, stunning panoramas, and waterfalls. To me, it's Sri Lanka's most beautiful place and shows a truly unique side of the island that you won't find along the beaches.
Again, see the guide to see me really unpack this area.
Places to Visit in Sri Lanka's Hill Country
So, other than Ella, what other places are there to go in Sri Lanka's hill country?
Nuwara Eliya – A Sri Lankan highland city in colonial English form. The architecture and style of the place make it one of the more unique places in Sri Lanka to visit.
Nuwara Eliya is the other extremely popular place to go in Sri Lanka's hill country. It's home to some really interesting sightseeing plus some gorgeous nature to boot. Just a heads up, it is one of the coldest and highest places in Sri Lanka (though, that's not saying much).
Adam's Peak/Sri Pada – Plus a whole host of other names. Adam's Peak is well-known for the sri pada (sacred footprint) rock formation at the top and, depending on who you ask, it's either the footprint of Buddha, Hanuman, Shiva, Adam, or St. Thomas (God, I love Sri Lanka).  The Adam's Peak climbing season runs from December to May and is easily accessed from the town of Hatton (which is also on the train line).
Haputale – Another gorgeous town in Sri Lanka's mountains. There are some really beautiful vistas in this area including Lipton's Seat (yes, as in that Lipton) overlooking the plantations. On a clear day, you can even see all the way to Sri Lanka's south coast from Haputale.
Book Your Nuwara Eliya Hostel Here
Backpacking Arugam Bay
Ahh, Arugam Bay: the number one destination on everyone's east coast Sri Lanka itinerary. Some people take a holiday in Sri Lanka just to spend an entire surf season in Arugam Bay.
How can I say this… it's a lot of peoples' sticky place, but it's not mine. I'll describe the vibe, you decide the rest.
Things to do in Arugam Bay: surfing!
Things to do in Arugam Bay if you're not surfing: fuck-all! And then the occasional party to break up the fuck-all.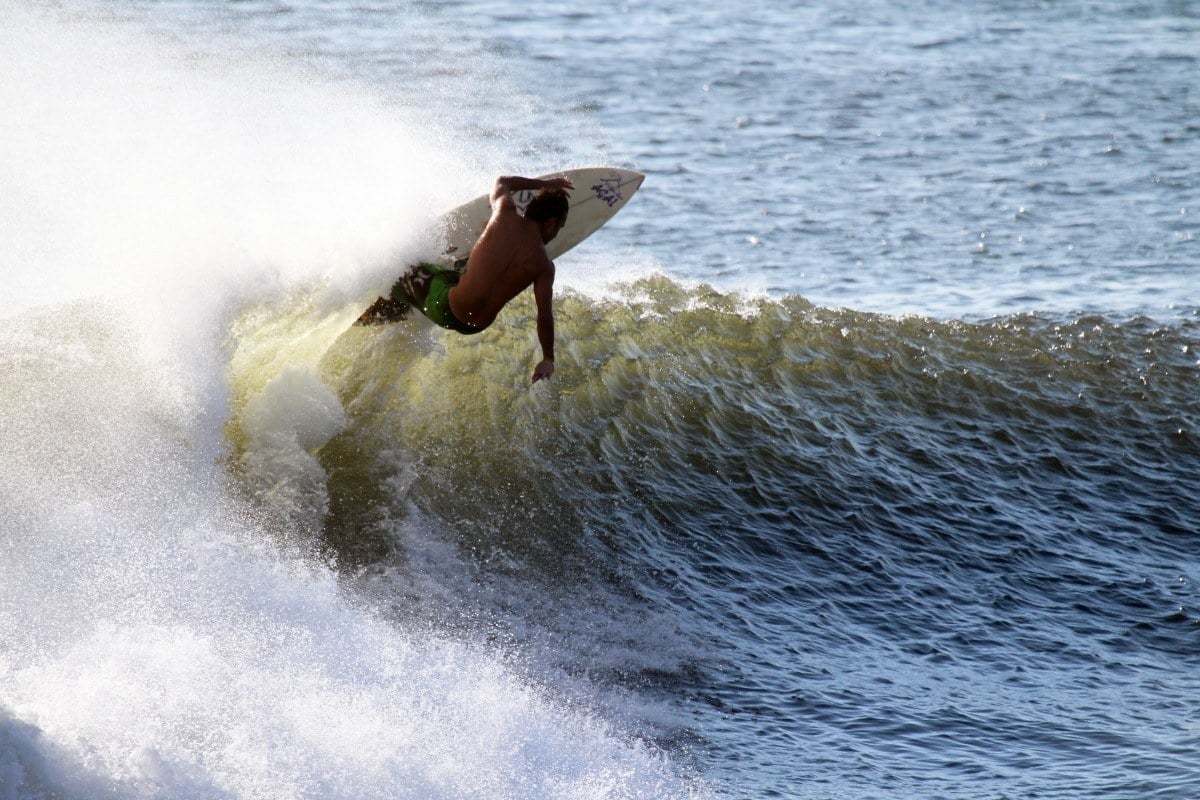 There's heaps of dope food around and local food at cheap bubble-prices. It's damn good too!
You'll find pretty much any drug you want and the parties feel more like a means than an end. The end being to get loose and a lay if you're lucky.
It's a beach town for travellers: it's pretty straightforward, man. Days consist of surfing, food, a joint, a nap, more surfing, more joints, probably a kottu (ok, definitely a kottu).
Am I complaining? Hell no! This is paradise for most people. When you visit Arugam Bay, plan to do a whole lotta nothing!
Book Your Arugam Bay Hostel Here
Places to Eat in Arugam Bay
Well, you already know what to do in Arugam Bay, so instead, I'm going to tell you about my real favourite part… the munchies! Because that's what I did do a lot of in Arugam: spliffs and food comas.
Thatha's Tea Shop – It's cheap, it's yummy, and it's near the beach. Moderate servings that are good for a light breakfast, or at least light for someone that likes to eat two breakfasts.
Shab's Corner – Run by a ridiculously friendly man. It's a shack at the very south edge of town and it's got good local food at good prices.
The Blue Van/Truck – There's actually like three of these in a row on the south side of town and they're all cracking. It's the closest thing you'll get to street food in Arugam Bay.
The first one specialises in hoppers, the next blue truck has my favourite kottu in town, and then the blue cargo container after has the best ready-made roti and pancakes. Catch them hot!
Mama's Restaurant – Two buffets a day keeps the doctor away! I can't recommend Mama's enough. For 400 rups (lunch and dinner) you get all-you-can-eat rice and curry (6 types of curry) with the best eggplant curry I had in Sri Lanka. Remember: it's a dishonour to the buffet gods to not get a second plate.
Bites – Go to bites and get a brookie. It's a brownie-cookie. That's all I'm saying.
Hello Burger – Ok, one recommendation for Western food. Hello Burger does hella good burgers but they're hella expensive.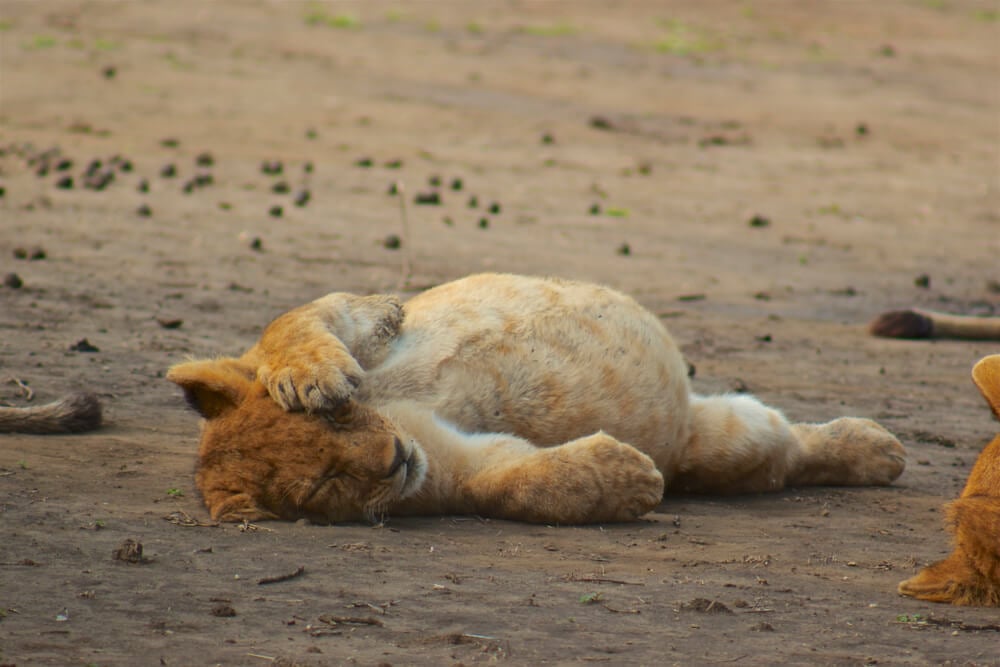 Backpacking Trincomalee
A much, much quieter alternative to Arugam Bay to see some of Sri Lanka's best beaches. I don't know if it's always that quiet; I was there in peak season but this year has been an extremely weird year for tourism in Sri Lanka.
There's no surfing in Trincomalee but there is snorkelling, diving, and long sandy beaches. Also, they have volleyball nets on the beach which is great fun! I didn't even realise I liked volleyball until visiting Trincomalee!
This is the other beach stop on Sri Lanka's east coast. There's not much else except, arguably, Pasikuda, but that's more local-touristy (it's actually a premier Sri Lankan honeymoon destination). It's very quiet, pretty, and a good choice for backpacking in Sri Lanka alone by the beach.
But Trinco, yeah. For where to stay in Trincomalee, there are two good options with very different vibes. Uppuveli is your typical tourist hub featuring Trincomalee's hostels, restaurants, and beach bars. Nilaveli is a lot quieter and a lot more local; there are resorts and rooms by the beach and then the rest is Sri Lanka.
Snorkelling, diving, beach-beers, and local goodness outside the bubble. That about sums up Trinco!
Book Your Trincomalee Hostel Here
Backpacking Jaffna
Ok, so now you're leaving Sri Lanka's backpacking route. Nowhere is too far off the beaten track in Sri Lanka but Jaffna is off the typical itinerary. Make the trip to Jaffna and the northern islands to see some Sri Lankan temples, architecture, and food in a much different stream: the vibe is much closer to South Indian (and predominantly Tamil-Hindu).
Up in the north, you're in the area most affected by Sri Lanka's civil war (see 'Sri Lanka in Modern Times'). The city of Jaffna is primarily inhabited by Tamils and you're going to find a different perspective up there. The aftermath of the war still shows.
So, is Jaffna worth visiting? That depends on what you're after. Travelling to Jaffna isn't for backpacking: it's for culture and history. It's different people, a different feeling, and a place to travel to in Sri Lanka if the feeling of the backpacking tour is wearing thin.
Backpacking the Cultural Triangle
The Cultural Triangle in Central Sri Lanka. The three points are Kandy, Anuradhapura, and Polonnaruwa with Dambulla and Sigiriya in the middle. So, if your trivia knowledge on Sri Lanka's points of interest is low, that's a lot of weird names I just dropped on you. Don't worry though, I'm gonna break this thang down in just a few seconds here, so shake it like a polaroid picture.
Located in the central plains of Sri Lanka ("Rajarata" or King's Land), it's also the dry zone. You'll get spurts of rain but for the most part, it's humid and hot and the mosquitoes love it. It's good for both an east and south coast itinerary for Sri Lanka (depending on how you handle the mosquitoes).
This are is for more Sri Lankan cultural goodness. Temples, rock fortresses, UNESCO World Heritage Sites: it's far from necessary but booking a tour for these Sri Lankan wonders is going to give you a much deeper insight.
Book Your Sigiriya Hostel Here
Places to Visit in Sri Lanka's Cultural Triangle of Sri Lanka
Now don't have me break this thang down for nothin':
Anuradhapura – The ancient capital of Buddhism within Sri Lanka and arguably its most sacred city. A lot of ruins, a lot of monuments, and, at the centre, you'll find Sri Maha Bodhi, home of the sacred Bo tree: the tree where Buddha received enlightenment (and the oldest human-planted tree in the world).
Polonnaruwa – One of the old capitals of Sri Lanka, Polonnaruwa is an extensive area of ancient temples, rock fortresses, and all manners cheeky Buddha grins. The area is pretty big so hiring a tuk-tuk driver, a bicycle, or a scooter for the day is the go-to.
Dambulla – More temples… Look, there's only so many flourishing words I can use to describe temples, ok? This one is in a cave… woo.
Sigiriya – Ahhhh, Sigiriya; I like Sigiriya. It's still a fairly unique place to visit in Sri Lanka despite being in the top 5 on most backpacking itineraries. It also has the highest density of slacklines by area that I found in Sri Lanka. The main attraction (and what a goddamn attraction it is) is Lion's Rock with Sigiriya Fortress perched atop. Now, you can pay 4500 rupees ($25 – eek) to walk up the stairs to the busy rock… Orr, you could pay 500 rupees to climb the adjacent Pidurangala Rock and see the sunset catch Lion's Rock. The choice is yours (although I kinda loaded the question).
Shenadi Restaurant in Sigiriya town does dope local food and Rastarant has bangin' juices and a slackline!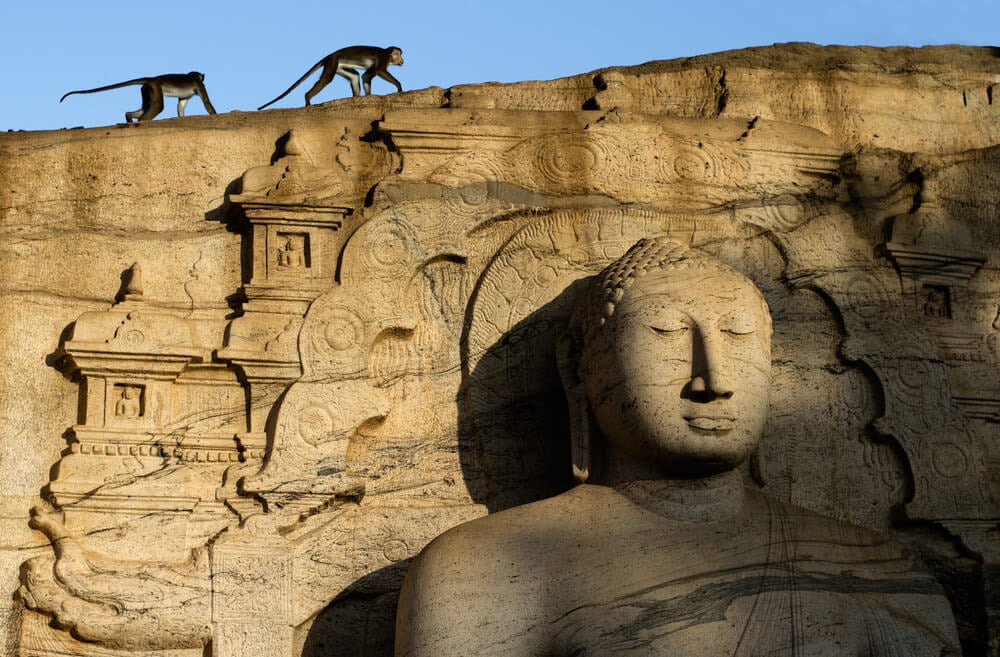 Backpacking Galle
Moving south now but before we start talking about the beaches, let's cover Galle.
Galle is a small city and it's a cool city! Much like Nuwara Eliya, it's an example of the fusion flavours of Sri Lanka only this time it's Portuguese and Dutch! You've got Galle Fort (old town) which is a prime example of Sri Lankan old-money at its finest and then outside the Fort you have… well… Galle.
Galle (Fort) is interesting to me; not interesting enough to keep me there for more than a night but interesting all the same. The architecture is beautiful (it really feels like a European village that's been invaded by the tuk-tuk mafia) and it's not just touristy but also wealthy – like, really wealthy.
Sri Lankans go jogging in the morning in full track gear, finding a local feed is a mission in-of-itself, and it's the only time in Asia I've ever been refused buying a single cigarette (I'm still feeling salty about that one).
Galle's old city is delightful to stroll through for what it is and another of Sri Lanka's very beautiful places. I'd say it's still worth visiting Galle (Fort) but move on quick unless you came to Sri Lanka to sit in Western cafes drinking European coffee and eating chocolate cheesecake. I want my goddamn kottu!
Backpacking Sri Lanka's South Coast
And now we're moving south, back to Sri Lanka's beaches. Same as I got bored of describing temples, expect me to get bored of describing beaches. There's sand, water, and good butts to look at: all you need in life!
The south coast presents more of Sri Lanka's top travel places as well of more of its party spots. It's all the things to do on Sri Lankan beaches that you'd expect: surfing, snorkelling, diving, and Russians. Things to do… Russians… wait, that came out wrong!
There are plenty of Yoga Retreats/Teacher Training Centres in this area too. That's worth a mention.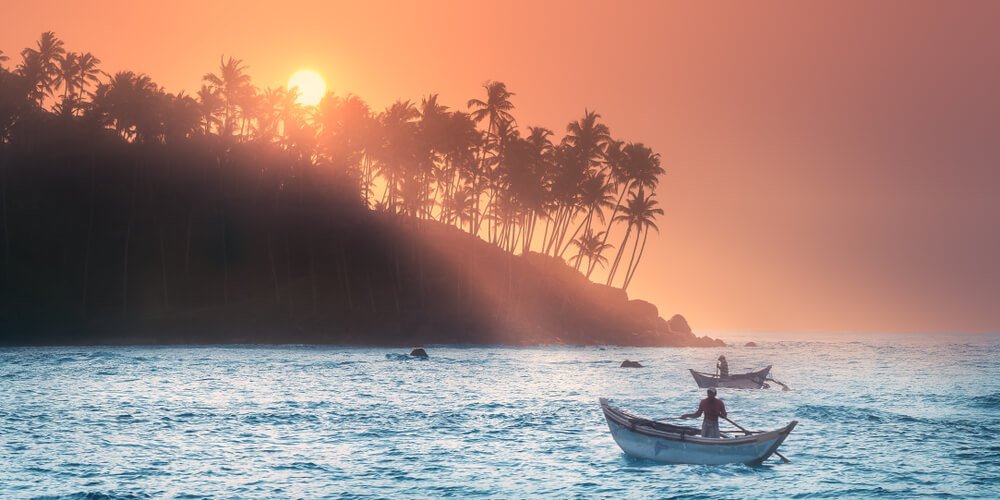 Otherwise, you're looking at more of Sri Lanka's best beaches along with some of its best beach hotels. The south coast is noticeably more developed than the east in regards to its touristic aspects. Tuk-tuk drivers and touts are more lethal and the tourist bubble prices will kick you around more.
But here's the deal: brevity is the soul of wit (and not my strong suit), so content gets cut. If you want a full-scope of the beaches (and towns) on Sri Lanka's south coast (Mirissa and Hikkaduwa being particularly noticeable absentees), you'll need to read my surfing in Sri Lanka guide. Instead, down below, I've quickly broken down the best beaches in a sexy table format.
Because Google likes brevity and tables.
The Best Beaches on Sri Lanka's South Coast
This is probably why you came here: Sri Lanka's world-famous beaches! Long stretches of sand decorated by delicious summer bods and stray pooches. Ok, maybe you weren't expecting stray pooches, but this is beachside-fun South Asia style! Show them some TLC: they need it.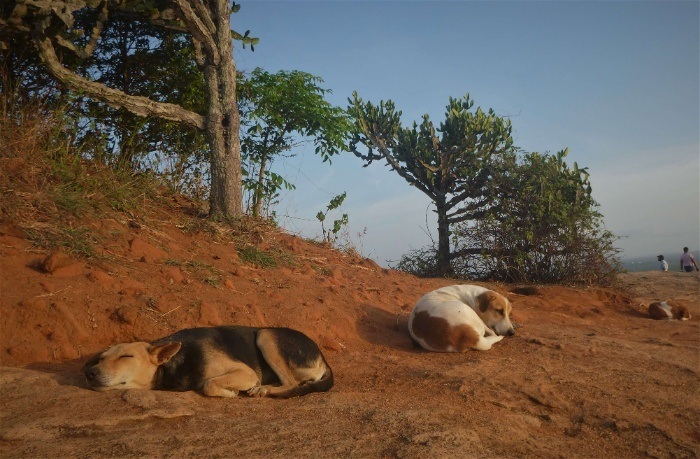 What are the best and most beautiful beaches on Sri Lanka's south coast? Here's a sexy table to match that sexy core you've been toning in preparation:
Beach
What's it for?
Deetz
Hikkaduwa
-Surfing
-Snorkelling and diving
-Nightlife
Used to be one of the few hippie places in Sri Lanka. Now it's mega-developed and Russian territory.
Unawatuna
-Surfing
-Snorkelling and diving
-Turtles!
You could make Unawatuna a day trip from Galle (or vice-versa). Expensive beach-front restaurants, a lotta families, older holidayers, and Russians.
Midigama
-Surfing
-Bit more local
The surf is more geared more towards intermediates and it's a bit quieter on the tourist side of things.
Weligama
-Surfing
-The famous Sri Lankan stilt fishermen!
All-year-round surf good for beginners and intermediates. Check out Fisherman's Bay to see some fancy stilt fishermen moves!
Mirissa
-Sufing
-Yoga
-Backpacker vibes
Biggest backpacker draw on the south coast: surfing, yoga, parties... you know what's up.
Hireketiya
-More surfing!
-Yoga
-Smoothie bowls
Cheaper board rentals (since Hiriketiya is a bit out of the way). Used to be sleepy but now it's more... umm... wanky.
Tangalle
-Big beaches
-Sunsets
-Chills
Tangalle starts the transition to the southeastern beaches: wider, longer, and quiter.
Book Your Hikkaduwa Hostel Here    Book Your Unawatuna Homestay Here     Book Your Midigama Hostel Here    Book Your Weligama Hostel Here    Book Your Mirissa Hostel Here
Backpacking Yala National Park
Right, so away from the beaches and onto the jungles!
First, a quick word on Sri Lanka's national parks: they're a bit shit. Not the parks themselves – they're crazy beautiful! But the rules around them are a bit shit: expensive permits and only for "observing flora and fauna"… i.e. safaris.
Here's a fun fact that a German ex-pat told me: 75% of tourists who visit the national parks are disappointed. I dunno how true that is – he was also trying to sell me on a tuk-tuk safari – but he said it in a very matter-of-fact German manner.
Anyway, now that I've shit on the national parks, let me tell you about Yala National Park.
It's the most famous in Sri Lanka and occupies a rather sizable chunk of the southeast of the island. It's also one of the best places where you can see leopards in Sri Lanka.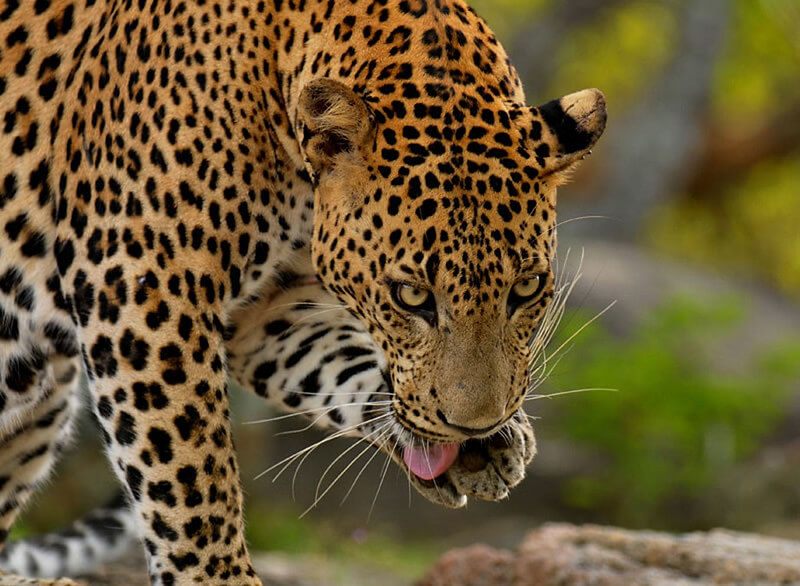 As you've probably gathered, you'll need to get a permit and to book a safari for this. German statistics aside, most backpackers I've spoken to here were pretty stoked on their safari, so go nuts! There are a lot of wonderful creatures roaming the island.
Oh, and for more leopard hunting (not hunting – you know what I mean), Wilpattu National Park is another choice spot.
Getting Off the Beaten Track in Sri Lanka
Can you get off the beaten track while backpacking Sri Lanka? Yeah, but you can everywhere, surely.
I'll reiterate what I've already approached: Sri Lanka is bubble wrap. Sri Lanka a small island and there aren't too many hidden places remaining around it. But there are places off its expected itinerary.
The north and Jaffna is a good start. People still visit Jaffna for sure, but it's not like many of the other points of interest in Sri Lanka. It's a historical city with only a handful of travellers.
Heading down the west coast, Mannar Island grabs my interest (though I missed out on visiting it). It's the location of Adam's Bridge or Rama Setu (depending on who you ask) which is either a chain of shoals or the remains of a bridge built across the Indian Ocean by an ancient Hindu god (depending on who you ask).
If you're looking for beaches that are off Sri Lanka's backpacking route, the southeast between Tangalle and Yala are where things start to open up: wide, expansive, and much quieter.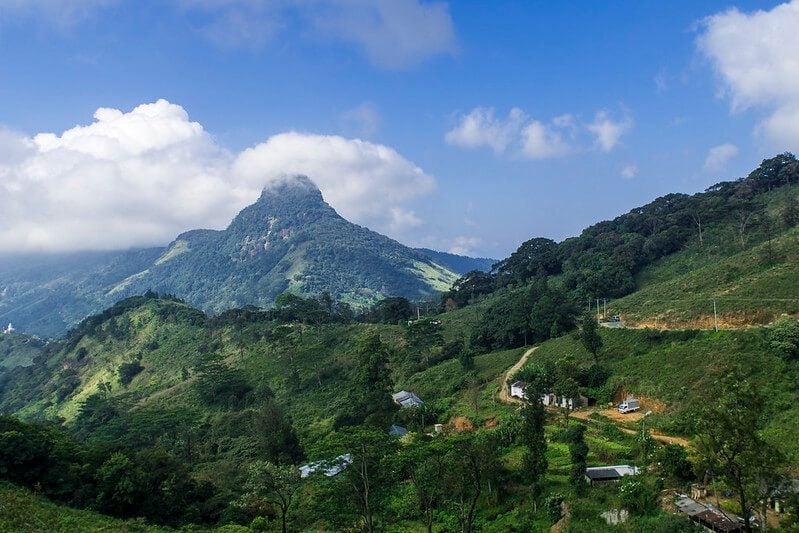 Other than that, the most untracked area I've found in Sri Lanka is the Knuckles Mountain Range and Meemure; it's the only place I travelled to in Sri Lanka that really gave me those sweet-sweet-tingly stomach butterflies. There are still areas of this gorgeous spot that remain untouched, and it's- easily- the best hiking place in Sri Lanka. It's not to be trifled with though: check out my guide on Meemure and the Knuckles to have your own juicy jungle journey in Sri Lanka.
Want to save the world? Single-use plastic bottles are a huge threat to Marine Life - Be a part of the solution and travel with a
filter water bottle
.
The GRAYL GEOPRESS water bottle is the ONLY all-in-one filter water bottle setup you'll need. Whether you need to purify the water from a hostel sink in Kathmandu or a stream trickle in the Andes, the Geopress has got you covered.
Backpacker Accommodation in Sri Lanka
Continuing the trend of being well-accommodated for both the frugal adventurer and the looser-pocketed holidayer alike, Sri Lanka's cheap accommodation options are plentiful and numerous. Prices aren't quite as low as other places across Asia, but there are some really cool places to stay around Sri Lanka – a few choices of Sri Lankas coolest hostels in particular – with a little bit of a grungier vibe; the good type of grungy!
Hostels and guest houses in Sri Lanka are pretty much anywhere that the whiteys go and usually range from the $5-9 price range. You'll nearly always find a social vibe too.
For travelling duos (or trios, you saucy minx) there are plenty of cheap rooms in Sri Lanka too. A decent room costing $14-19 split two ways (or three-ways, wink-wink) will usually net you something better than a dorm room for roughly the same price.
Hotels are a thing in Sri Lanka too and they come in many flavours. Sri Lanka's cheap hotels offer some light luxury at a good price ($27-44) while the best hotels… Well, let's just say Sri Lanka's best hotels go wayyy outside my budget and area of expertise.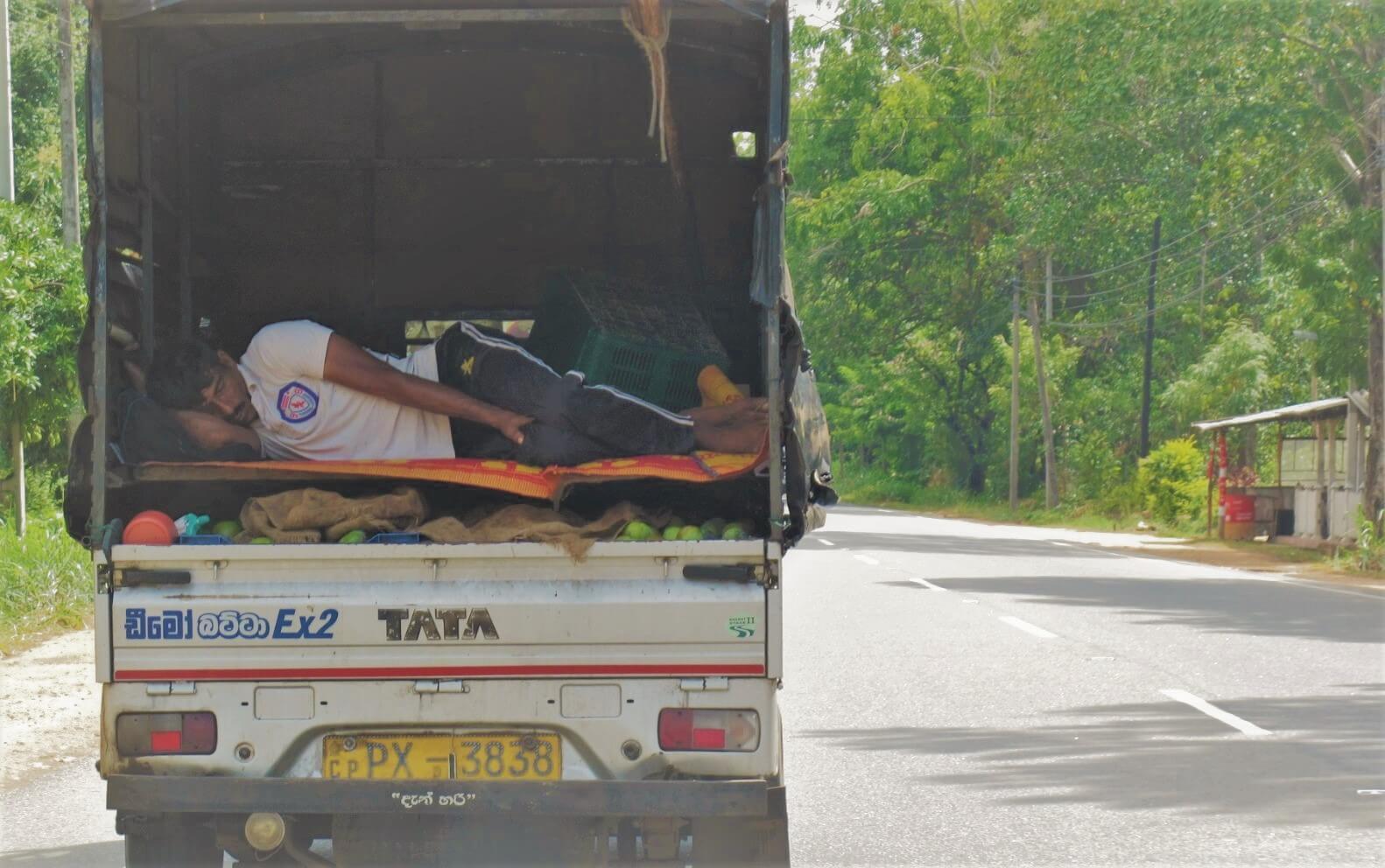 Travelling by Couchsurfing is also definitely a thing here, and it's an excellent way to both get a local's view and save some rups in the process! Also, considering the size and connectivity of Sri Lanka, Couchsurfing at one local's house starts the chain of being hooked up across the island.
Finally, Airbnb in Sri Lanka is another sweet option and there are some sweet pads around: treehouses, bungalows, and rooms-with-a-view. Prices vary depending on the level of dope-ness, but there are some cheap choices too.
The Airbnbs in Sri Lanka offer a nice respite if the constant flow of people is growing a bit tiresome, but it's never quite as fun as sitting around the common area in the hostel beating cute Israeli girls in shesh-besh.
Where to Stay in Sri Lanka
All my favourite places to stay in Sri Lanka from all the backpacking destinations I mentioned. I really am making it too easy for you!
| Where | Accommodation | Deetz |
| --- | --- | --- |
| Colombo | Groove House Hostel | These dudes have a PS4, a Rasta-Banana (the real top attraction in Colombo), and air-con in the dorms! Also, the lokkā makes a mean avo-egg toast. |
| Kandy | Hipsters Hideout Lounge | My usual base whenever I'm in Kandy. It's cheap, I like the vibes, and it's close to the city centre. |
| Ella | Tomorrowland Hostel | My favourite place to stay in both Ella and Sri Lanka as a whole. It may just be the best hostel in Sri Lanka. A hippy palace on the mountain ruled by the queen, Beauty - the best dog in the world. |
| Nuwara Eliya | Laughing Leopard Hostel | The guy who runs this place is loose! Expect to drink. |
| Arugam Bay | The Long Hostel | Ok, this recommendation is a hit-and-miss for some people. I'd say if the Arugam Bay experience I described earlier is exactly what you're looking for, go here. And get the iced coffee - trust me. |
| Trincomalee | Wanderers Hostel | Air-con in the dorms, private rooms for people in loveless relationships, and free tea and coffee. Oh, and the WiFi is inexplicably excellent! |
| Jaffna | Yaarl Hostel | It's close to the markets and some bangin' food joints plus it's got a kitchen and kickass gym! |
| Sigiriya | Jungle Vista | Run by a wonderful family (plus an eccentric Scotsman) and bringing the family dinners. Free breakfast, outdoor beds, and a slackline! It's a bit out of town though. |
| Hikkaduwa | Whispering Palms | It's far from the best hostel in Sri Lanka (they subscribe to the 'white walls' theory of interior design) but it is cheap! |
| Galle | Curry Leaf Hostel | A cheap hostel right in the thick of Galle Fort here with all the prettiness that entails. |
| Unawatuna | White House | Cheap private rooms with a wonderful family that cook amazing Sri Lankan spreads. Perfect if you want something simple, local, and next-door to the beach. |
| Midigama | Surfing Wombats | The name says it all really. Close to the beach but off the main road and the vibe is laid back - the people are mainly there to be surfing wombats. |
| Weligama | Beatroot Hostel | Smashing puns aside, this is another of Sri Lanka's sweet beach accommodations. Expect dope tunes, surfing, and some mid-level partying. |
| Mirissa | Colours Hostel | Close to everything you need in Mirissa with an awesome atmosphere. Generally draws in some good people. |
An Unfortunate Disclaimer and Update
I have sad news. My absolute favourite hostel in Sri Lanka (and one of the most wonderful, homey, hippy-dirtbag sticky places I've ever found in my travels),
Tomorrowland Hostel
, has changed management following some really disgusting and shady behaviour by the new management.
Unfortunately, the beautiful human that made that place a home has moved on and the person running the show now does not embody the spirit of Tomorrowland in the slightest. That's as much as I'm saying.
If you still choose to stay at Tomorrowland while travelling Sri Lanka, you'll probably still have an awesome time. Beauty is still the best dog I've ever met, the kittens are the bestest, and the hostel still attracts good travellers. But it isn't what it once was and it's no longer one of my sticky places - that breaks my heart.
I'm leaving it recommended in all the Sri Lanka content I wrote as a testament to its memory and as an honest reflection of the journey I had in Sri Lanka; truly, it was special. So thank you to Menno for the space he created, thank you to the boys there that made it a home, and thank you to everyone I met in my time there. Tomorrowland Hostel did a lot of good for a lot of people.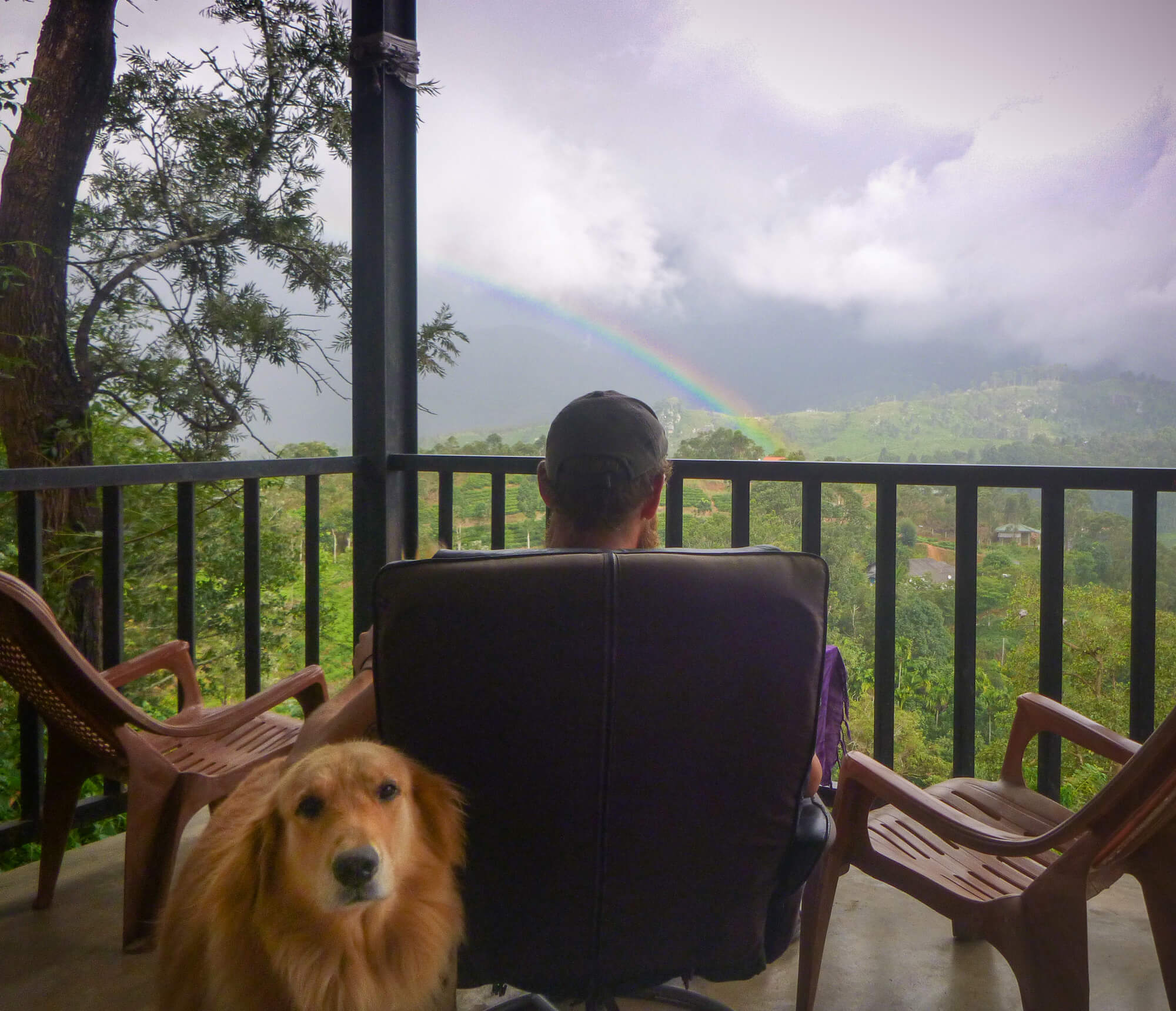 Top Things to Do in Sri Lanka
Because travelling to a far and distant land simply isn't enough, we need some goddamn things to do!
1. Epic Waves and Lotsa Kooks: Go Surfing in Sri Lanka
C'mon, as if this was going to be anywhere but number 1 on the list of things to do in Sri Lanka. Sri Lanka's beautiful beaches draw in surfers of beginner, intermediate, and veteran status. Surfing in Sri Lanka is easily the biggest tourist activity on the island. Andwith good reason; the locals love it too!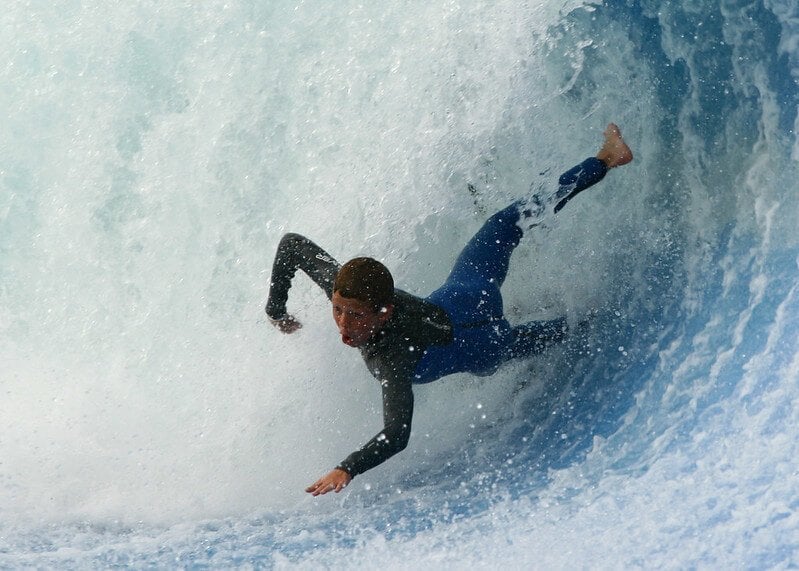 2. Ride the Kandy to Ella Train, South Asian Express
Yep, it's mega-famous and mega-pretty and you're almost definitely gonna catch it because the trains in Sri Lanka are excellent Asia-brand fun. Luckily for you, the complete Kandy to Ella Train Travel Guide is right here!
I still recommend catching the train unreserved for the local goodness, but if you'd like to guarantee a seat, you can book using Bookaway.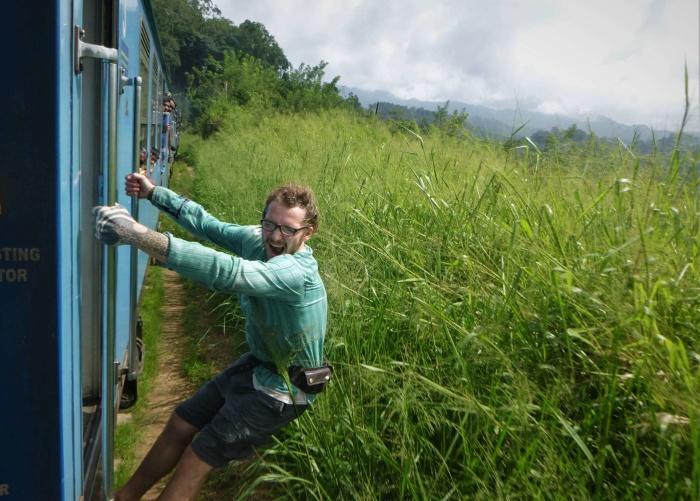 3. Rent a Tuk Tuk in Sri Lanka Because Fuck Yeah!
So, this was totally accidental but I lucked into being a German couple's (love you guys) 3rd-wheel in their 3-wheel rental. We travelled Sri Lanka together by tuk tuk for a solid 3 weeks and I can say, without a doubt, that I now know way too much about their sex life… Also, that it's fun as hell! Check out the section on renting a tuk tuk in Sri Lanka for price and logistic deetz cause I got the scoop and a little something extra for ya too.
4. Eat Kottu Everyday
Ok, not every day – I wouldn't exactly call it good for you. Kottu is a greasy, fried, hot mess of chopped roti and vegetables and it's the best. It's basically the fish and chips of Sri Lanka! If you happen to get into a week-long stoner-munchies bubble and eat kottu every day at the beach, I wouldn't blame you.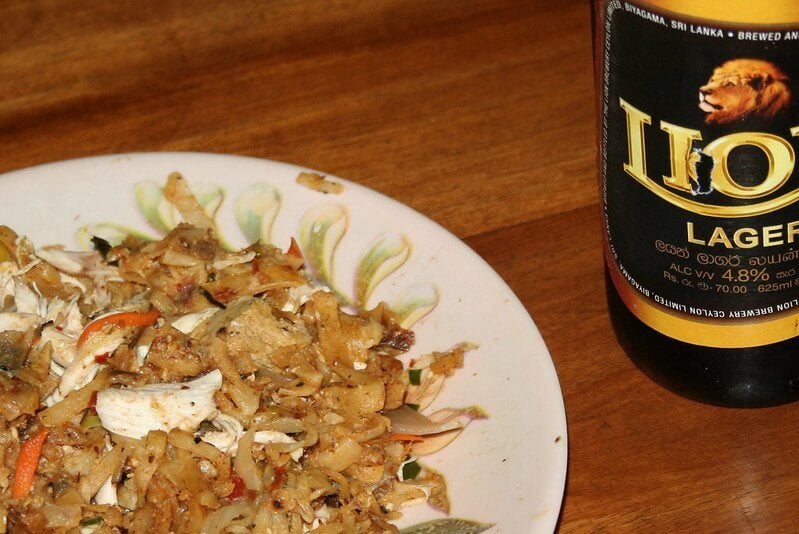 5. Hunt Down Some of Sri Lanka's Waterfalls
Fun fact: Sri Lanka has the highest density of waterfalls by area of all the countries of the world. Now, I dunno if that's actually true but a Sri Lankan dude told me that and he seemed pretty stoked about it! Regardless, what I do know is that there is a shitton of spectacular waterfall wonders in Sri Lanka so get out there and, most definitely, go chasing waterfalls!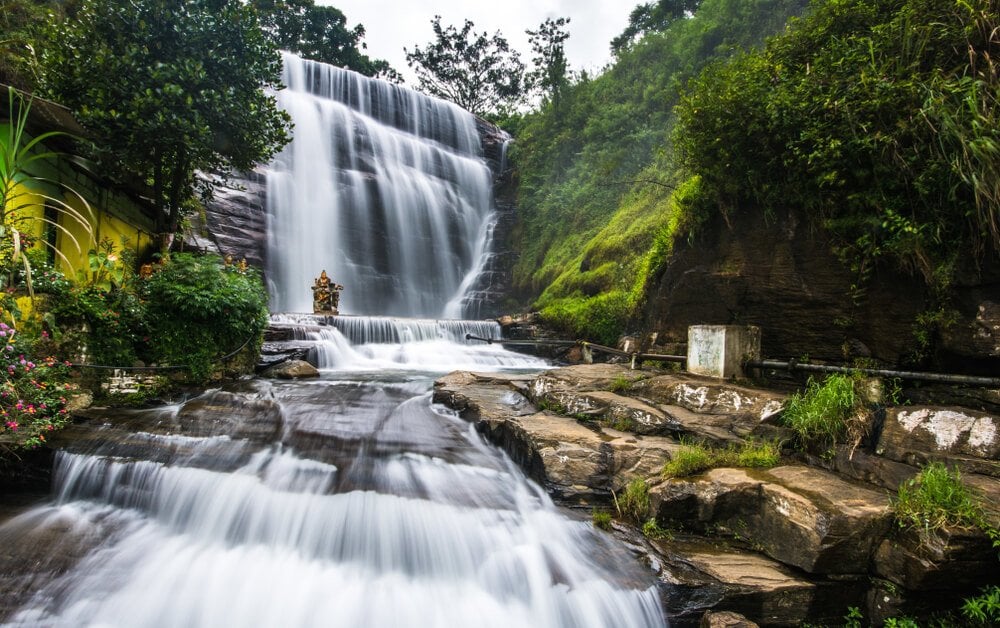 6. Party Down, Hook Up, and Get High
In the right spots, there is a party scene in Sri Lanka for sure. What's the vibe like? What delicious treats can I put in my body? Check out the appropriate section to examine my well-collected "research" (wink-wink-wink-wink).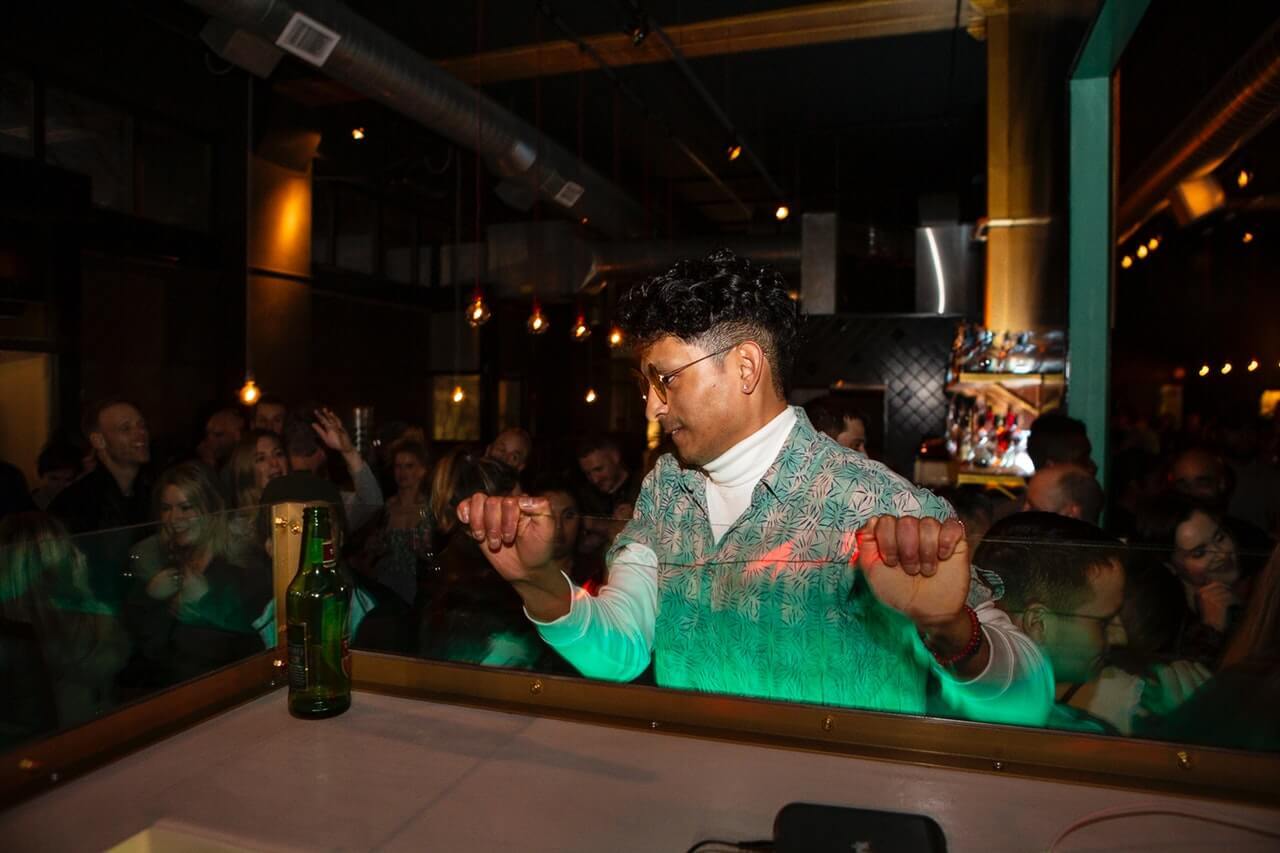 7. Little Hikes and Big Hikes in Sri Lanka
Many of the natural attractions in Sri Lanka require something of a small hike to reach. It's never really anything too strenuous – one to two hours on average – and it usually results in a pretty badass view or waterfall. For more serious hiking places in Sri Lanka, you're going to want to check out that sexy, sexy Knuckles Mountain Range.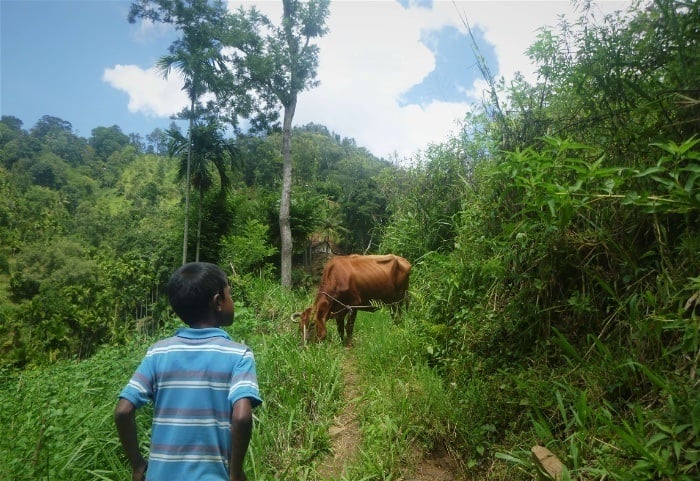 8. Meditate on the Spiritual Consciousness after the Party Comedown
Sri Lanka is primarily a Buddhist country and Buddhism and meditation go together like kottu and my mouth. There are places you can pay out the ass for meditation retreats or monasteries hidden on mountaintops that will adopt wayward travellers. There are also vipassana retreats in Sri Lanka for when you're ready to get really hardcore about your suffering and impermanence.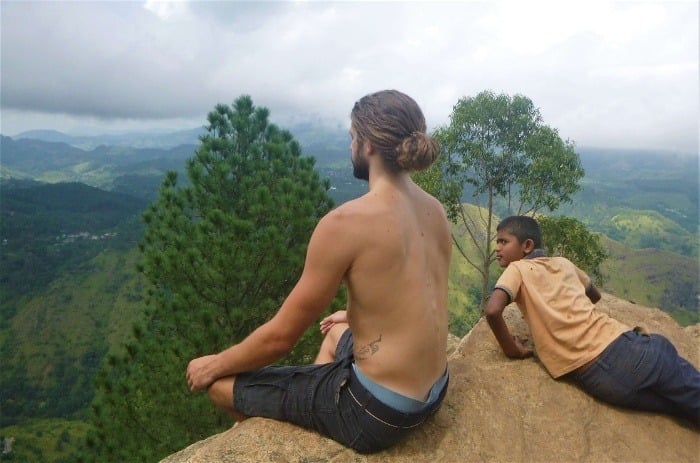 9. Play Carom
Maybe you've seen carom before depending on where your travels have taken you; it's extremely popular around South Asia. To sum it up in a nutshell, it's basically finger-pool. There's a board at most of the hostels in Sri Lanka that I've recommended, so find a teacher, roll up, and git gud!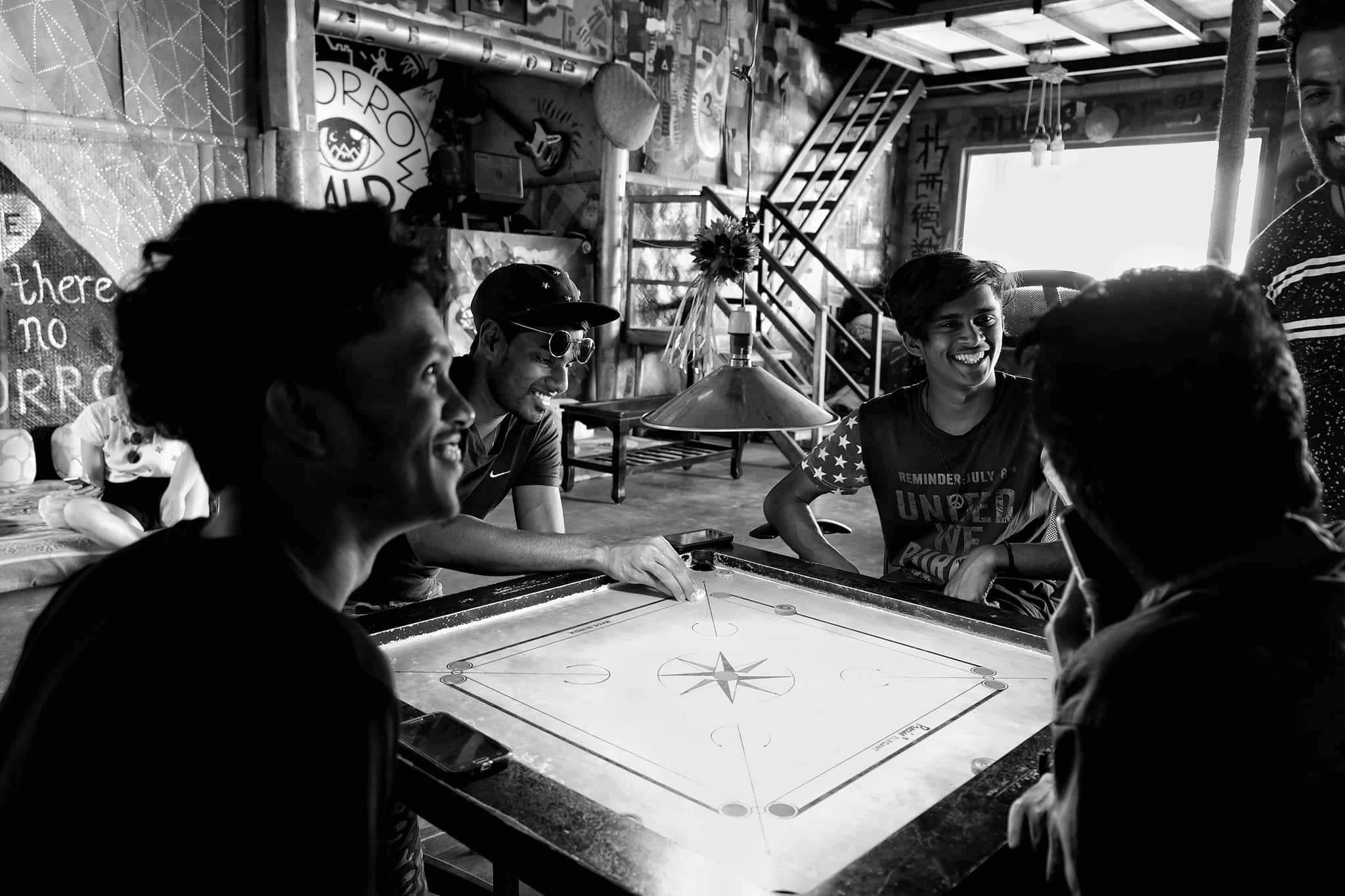 10. See Some Beasties at Millennium Elephant Foundation
AND NOT on a safari. The safaris in Sri Lanka are dumb: highly questionable ethics, notorious for endangering the native wildlife, and just an all-round general shitshow. Instead, go to a respectable animal sanctuary.
At Millennium Elephant Foundation, you can get up-close-and-personal with some of the most majestic beasts in Sri Lanka and not even feel a drop of moral anxiety about it! Millennium Elephant Foundation is an ethical means of experiencing Sri Lanka's wildlife, and they're so damn upstanding that even the boss-man Mr. Hatton is willing to get behind them.
These guys don't even let you ride the elephants. They used to let you ride them bareback, but now they've exchanged that program for their much more whimsical and respectable Elephant Walk Experience. It's kinda like a first date: you get to hang out, go for a romantic stroll with your partner elephant, and even help them bathe at the end if you're lucky. 😉
Was the first date divine? Then it's time to commit because the Elephant Foundation accepts volunteers too! Not only will you get to hang out, care for, and bathe with the lovelies, but you'll help out around the property too with farming, veterinary work, and teaching!
Honestly, there's zero reason not to drop the cash you were going to spend on booking a safari on this instead. It's 1000 times more of an authentic experience, 1000 times less morally reprehensible, and 100,000 times better than sitting in a jeep staring slackjawed at wild animals that really just wish you'd piss off…
CHECK THEM OUT, AND GET INVOLVED!
Sri Lanka Travel Tips
Hey, mate, got any tips?
Yeah, I got a tip… buy your own tips! Na, I'm just kidding; tips are for everyone. Roll that sucker up.
Have some Sri Lanka backpacking tips in your travel guide! But just the tip. Aww… maybe a little bit more.
Best Time to Travel Sri Lanka
Right, strap yourself in because I'm about to tell you about the weather in Sri Lanka! Is it complicated? Na – only a bit – but it's complicated enough to warrant saying "strap yourself in".
As I mentioned, there are two distinct monsoon seasons in Sri Lanka. That leaves the question of when to go to Sri Lanka a bit more open-ended… like a choose-your-own-adventure book!
The northeast monsoon (which shuts down Arugam and Trinco and soaks the hills as well) hangs about from November to March. This means that the peak season for Sri Lanka's south coast is in the winter and it gets busy.
The southwest monsoon – with the heaviest rainfall of Sri Lanka's weather – hits the south coast from April to September. This makes summer and the surrounding months the time to visit Sri Lanka's east coast and the hill country. During this time… holy shit, dude, it's so hot. A humid inescapable heat; wherever you are, you want to be near water.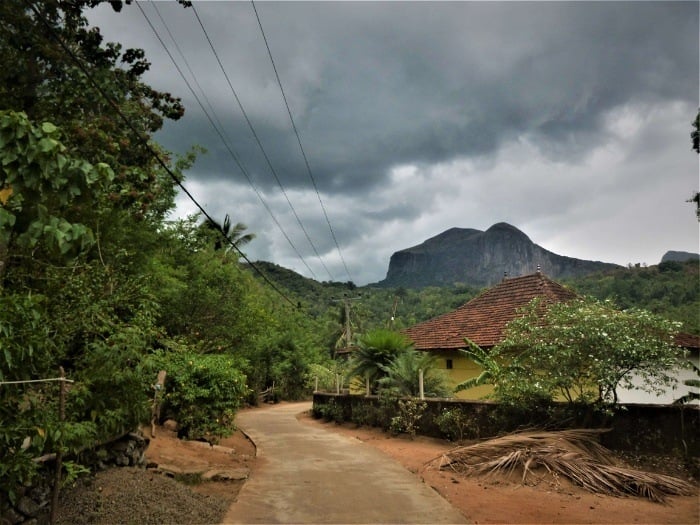 October and November are the slowest months for Sri Lanka. Pretty much everywhere gets hit by rainfall regularly and thunderstorms scatter across the island.
The rain is the main thing you're going to tussle with during your travels within Sri Lanka. Past that, temperatures are consistent. At higher elevations it gets colder but, otherwise, Sri Lanka is humid and it's hot and there are no other real surprises.
What to Pack for Sri Lanka
The six things no adventure is truly complete without. Don't forget to pack them while backpacking Sri Lanka:
1. Security Belt with Hidden Pocket: The sneakiest money belt around! This is a regular looking belt with a concealed pocket on the inside – you can hide cash inside and keep it snug on your waste. This is hands-down the best way to hide your cash while backpacking around Sri Lanka.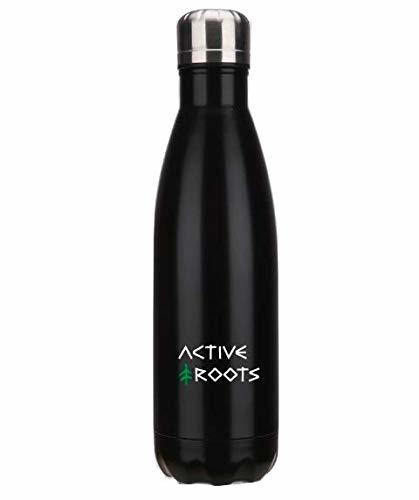 2.Travel Water Bottle: Always travel with a water bottle and reduce your plastic footprint on our planet. AR bottles are tough, lightweight and maintain the temperature of your beverage so you can enjoy a cold coffee, hot coffee, or lukewarm coffee no matter where you go! For every AR bottle sold, we donate 10% to PlasticOceans.org – an initiative to reduce plastic in our oceans!
3. Microfibre Towel: I literally never hit the road without a microfibre towel – I adore these things. Microfibre towels dry quickly, are compact, lightweight, and just plain sick.

4. Headtorch: Every backpacker should have a head torch! A decent head torch could save your life. If you want to explore caves, unlit temples, or simply find your way to the bathroom during a blackout, a headtorch is a must. Currently, I'm using the Petzl Actik Core rechargeable headlamp – an awesome piece of kit! Because it's USB chargeable I never have to buy earth polluting batteries.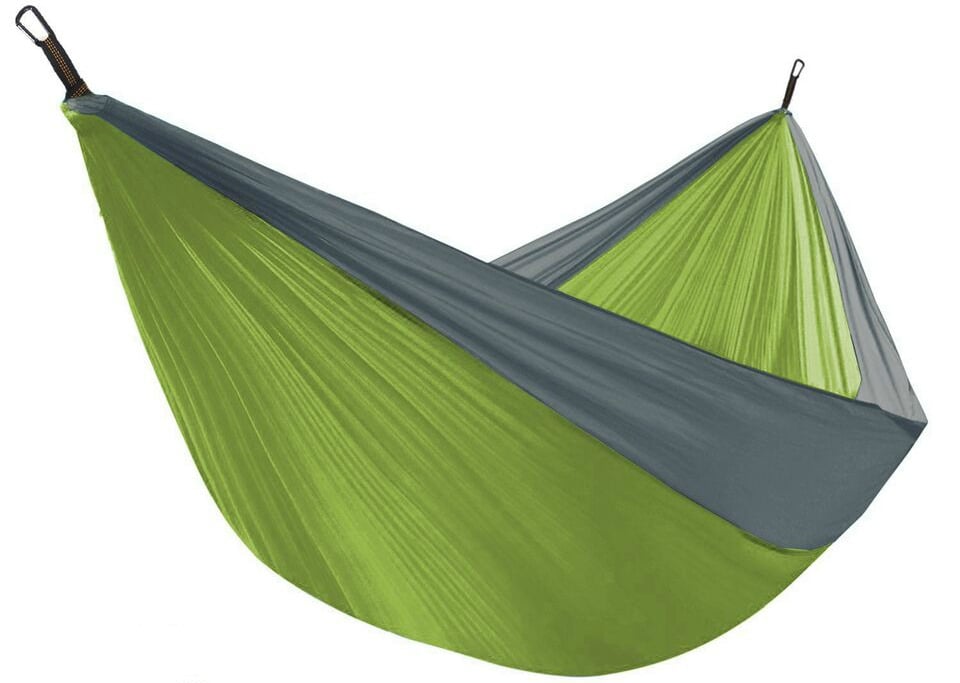 5. Hammock: Taking a tent backpacking is not always practical but hammocks are lightweight, cheap, strong, sexy and allow you to pitch up for the night pretty much anywhere. Can you bang in it? I dunno, but you can fucking try! There are plenty of beautiful beaches in Sri Lanka where you can vibe out with a killer view!
 6. Toiletry Bag: A hanging toiletry bag… why not? It's a super-efficient way to organise your bathroom stuff. Hang it from a tree whilst camping or hook it to a dorm bed; it helps to have quick access to all your stuff.
For plenty more inspiration on what to pack, check out the full backpacking packing list!
Look Awesome, Do Awesome!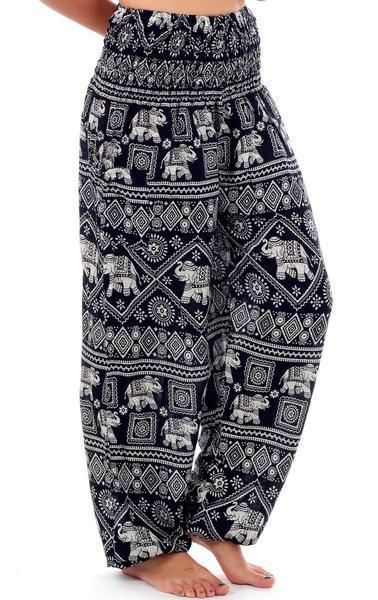 Want to embrace the hippy backpacker style? Active Roots hippy trousers are chic, comfortable and perfect for travellers. Help us support the elephant conservation centre in Laos! 10% of your purchase goes towards saving the Asian elephant population so you can look awesome, feel awesome, and do awesome all at once. Pretty fucking awesome right? Use the code ' TBB10 ' for 10% off your order.
Books to Read about Sri Lanka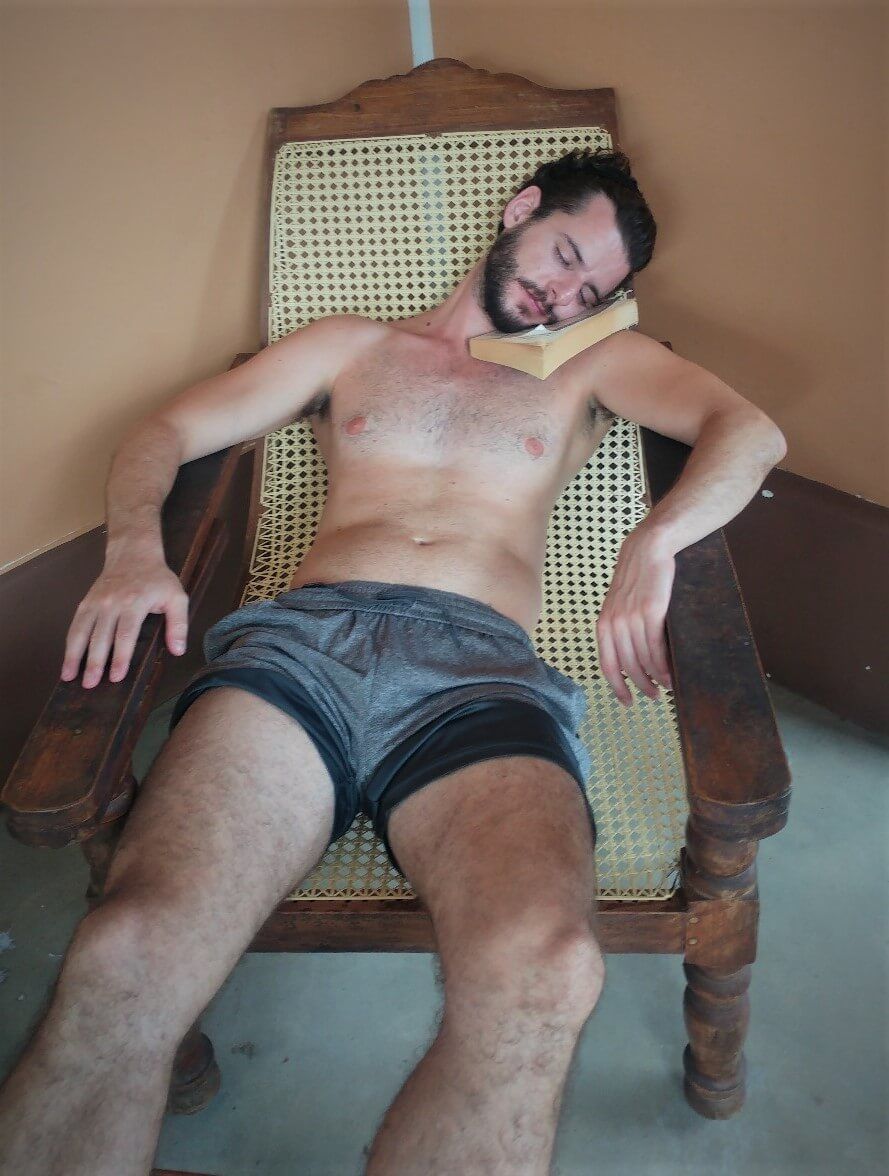 "Today I'm going to stay in the hostel and read." Six hours and three joints later, two pages were read. All the same, here are some books about Sri Lanka to read when you find the time…
The Backpacker Bible – Get it for free! Learn how to ditch your desk and travel the world on just $10 a day whilst building a life of long-term travel with an online income. Penned by The OG Broke Backpacker to inspire the next generation of Broke Backpackers, grab a copy for free today!
Trainspotting – This is in no way a book about Sri Lanka whatsoever, but it's the book I was reading while backpacking around the island and it's damn good! Junkies in Scotland glassing each other and injecting skag into their Willy Wonkas. What's not to love?
Elephant Complex: Travels in Sri Lanka – A travelogue written by a traveller – like us! Elephant Complex documents John Gimlettes journey and all the people he met along the way. This dude didn't backpack through Sri Lanka; he travelled it.
Chinaman: The Legend of Pradeep Mathew – Yeah, it's backdropped against cricket but don't tune out yet! Chinaman follows one alcoholic sports-journalist attempts to uncover the truth of Sri Lanka's lost legend of the field and in doing so presents a humourous yet a sobering journey through the turmoil of Sri Lanka's politics. You had me at alcoholic sports-journalist.
This Divided Island: Stories from the Sri Lankan War – Something concerning the topic of Sri Lanka's violent and troubled history. The Divided Island is not a straight historical recount of the war but rather a collected oral history through the eyes and experiences of many Sri Lankans from many walks of life. A very good read on the civil war.
The Language in Sri Lanka
So, I'll admit I haven't put as much effort into the language here as previous places I've visited. I still, however, have picked up some phrases and a minimal understanding of the grammar of Sinhala (Sinhalese). Not enough to discuss the metaphysical quandaries of the universe or the Israeli-Palestinian conflict, mind you, but enough to make a Sri Lankan grin appropriately.
The grammar is typical of many Asian countries: sentences ending with verbs and unnecessary exposition is often omitted contingent on context. Friends are generally casual with each other and even strangers prefer a subtle movement of the head than the word for 'thank you'.
Learning to talk with your hands and head-wobbles while backpacking Sri Lanka will go almost as far as learning the language itself. It's no different to mastering your slight-bow and affirmative 'un'  for those backpacking Japan.
It's worth noting that there are two major languages here: Sinhala is the most widely spread (spoken by the Sinhalese people) with Tamil spoken by the Tamils. Minimal-to-competent English is also common in the cities and most of the top travel places in Sri Lanka but the further out in the sticks you head, the less you'll find.
Useful Travel Phrases in Sri Lanka
If speaking conversational Sinhala is the goal, I wish you luck. They talk hard and they talk fast.
After hanging out smoking with Sri Lankan dudes, I can tell you they like to talk a lot of shit and all at the same time. It reminds me of the boys back home. Cultural differences aside, people really ain't so different.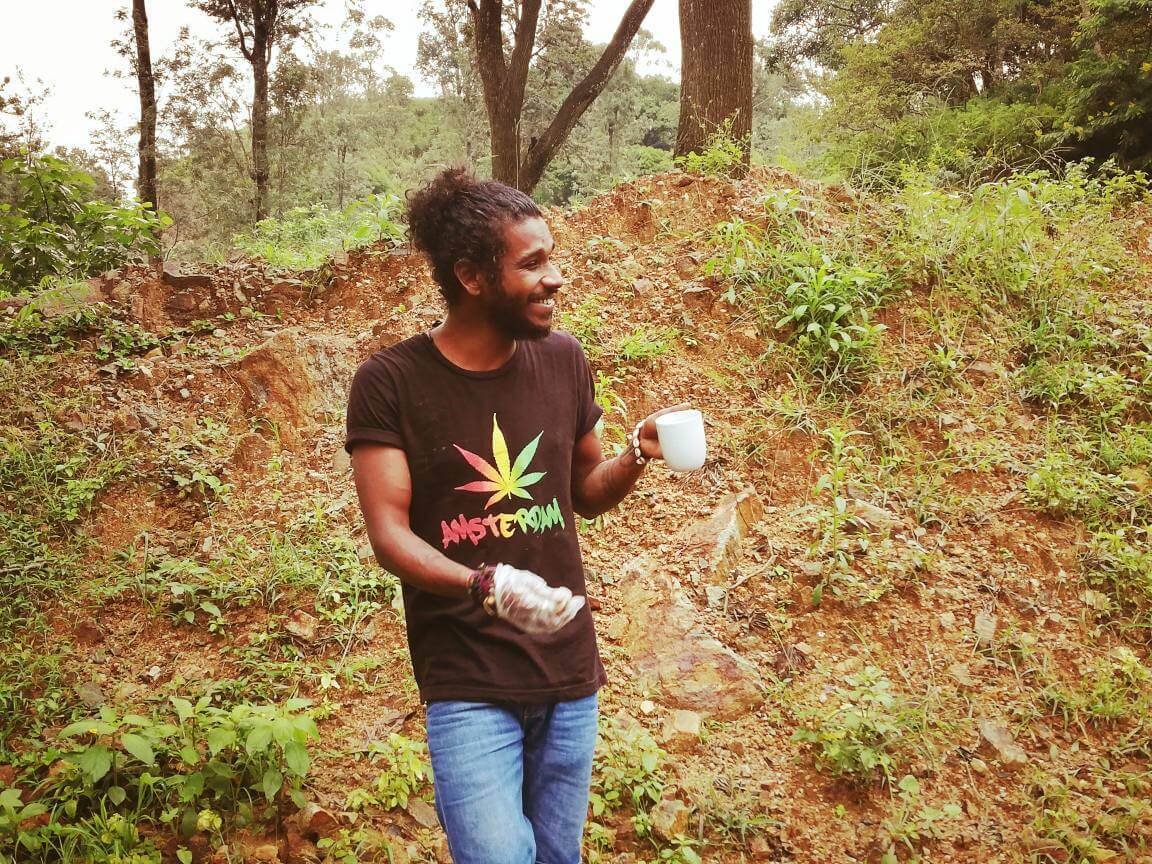 I've got a few practical phrases I've picked up that may net you a lower price if you use them right. Otherwise, just a few words to use when you make some mates:
Hello – Hallo (is most common)
Thank You – Isthutee (ee-stoo-tee) / Nandri (in Tamil)
Bye – Bye (is most common)
Yes/No – Ou/Nehe (oh/neh)
Excuse me/Sorry – Samavenna (sah-mah-vehn-nah)
How are you? – Kohoma-dha
Good – Hondai
Ok ok, no problem. – Hari hari, owoo lak nehe
Enough, enough – Heti heti
Brother – Machan/Bhang
How much? - Keeya-dha
It's too expensive. - Ga nang vedi
I want ___ - Mata ___ one (o-neh)
Water - Vathura (Vah-too-rah)
I'm hungry. - Mata badagini (bah-dah-gee-nee)
I want to go to (the) ___ - Mata ___ yanna one
Smoke one joint. - Joint ekkak gahomuu
Respect phrase when passed the joint - Boom bhole/Boom Shiva (bhom bo-lay)
Awesome - Vassi
Let's go! - Yamu!
Pronunciation is tough and has those airy voiced-sounds of Sanskrit/Brahmi-based languages (that's only for the language nerds; if you don't know/care what I mean, don't worry).
'Nehe' is good for saying something does not exist (eg Vathura nehe – No water) and also for seeking agreement (Hondai, nehe? – Good, no?)
Apps to Download Before Backpacking Sri Lanka
…
Hah! Gotcha! Had ya goin' for a sec there, didn't I? Ok, let's get real: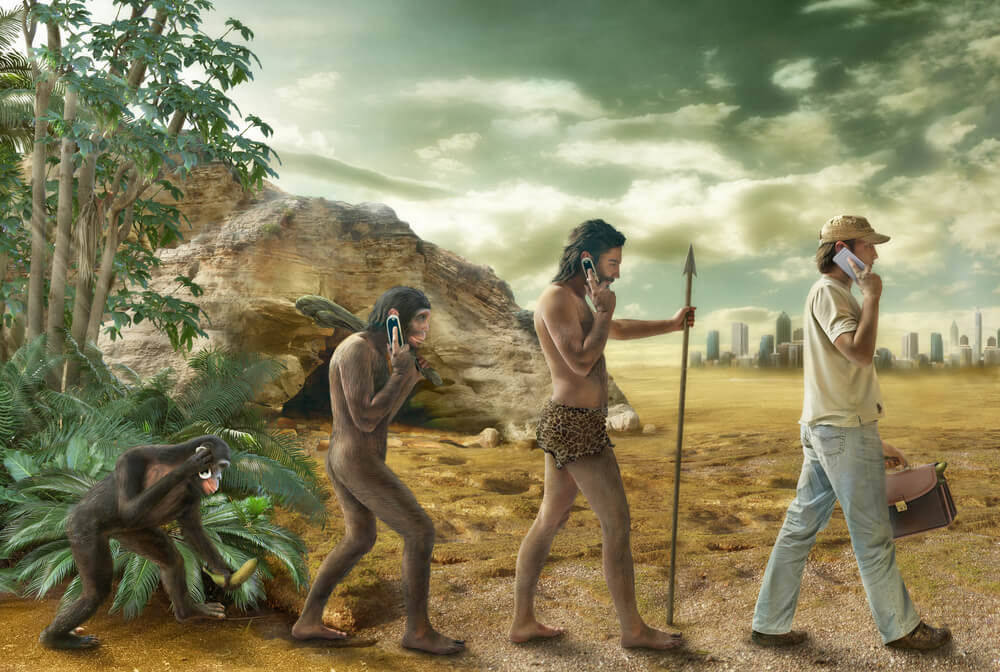 Staying Safe in Sri Lanka
Ok, so this is an important section to get right considering its chaotic history (and especially the terrorist attacks back in April which changed much of the official safety and travel advice for Sri Lanka). Despite a history of internal violence, Sri Lanka is a safe country to travel.
There's still some levels of unrest here and the wounds of the past have not yet fully healed but there are no currently ongoing conflicts. That stuff generally stays away from the tourist bubbles and, as a whole, the Sri Lankan people just want to move forward. Forward and away from old divisions and away from a still exceedingly corrupt government.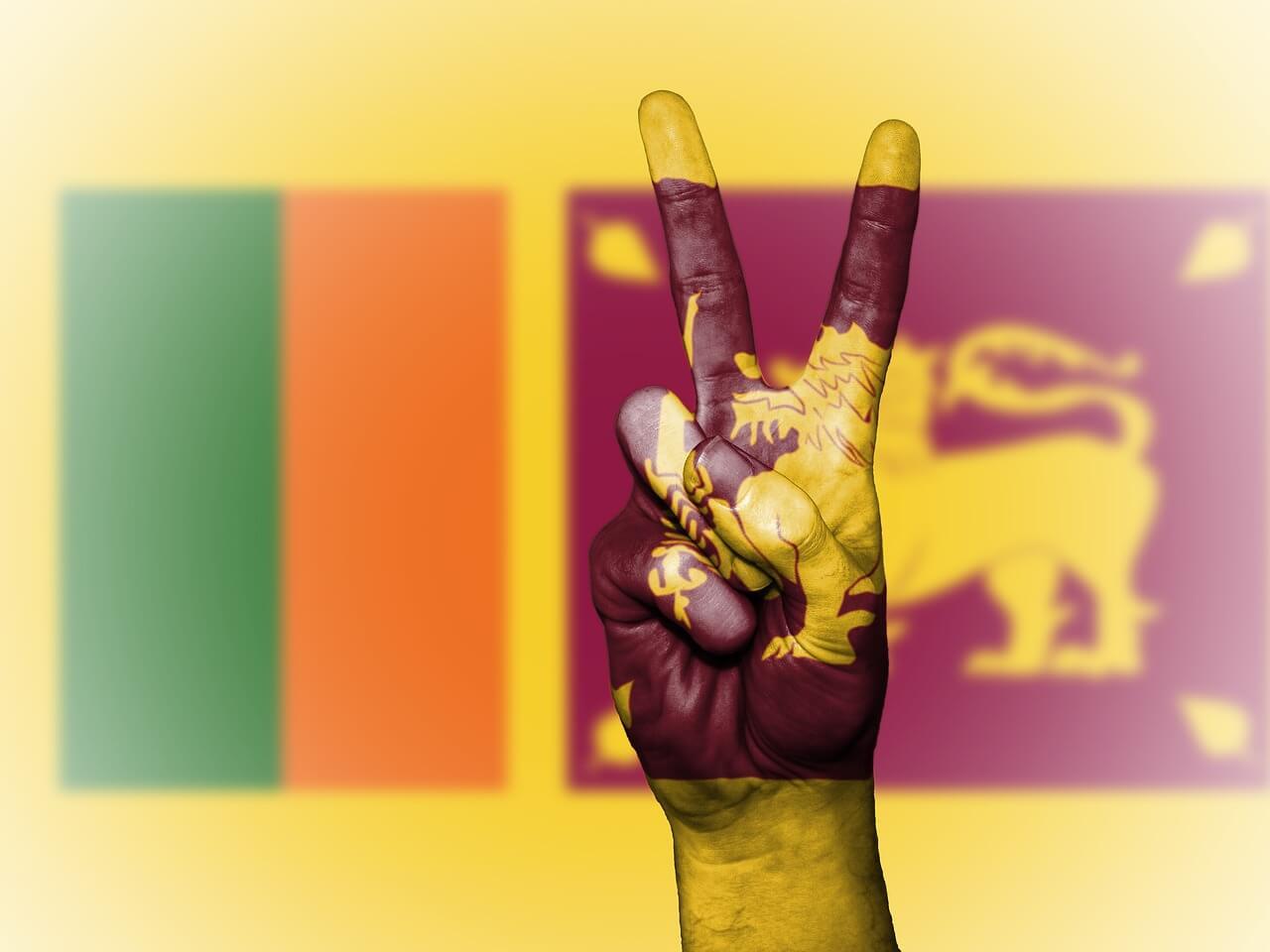 So what do you need to look out for:
Stick to metered tuk-tuks only in Colombo (or better yet Uber/Pick Me) and generally just keep a healthy level of distrust with tuk-tuk drivers. Make sure that they're driving in the right direction.
Watch out for the typical scams if you're shopping around Sri Lanka. Sapphires, in particular, are sketchy to buy.
Some of the stilt fishermen down south aren't so much fishing as sitting. Snap a photo and you'll be accosted for cash. I've seen tea pickers try and pull the same trick.
Watch your pockets in touristy areas and your stuff at the beaches.
Avoid being coerced into taking a guide when around Sri Lanka's tourist attractions. Pre-organise that shit.
If you see a wild elephant or leopard, lucky you but keep your distance, yeah?
Overall, this is run-of-the-mill stuff. Jerks are everywhere. Most locals I've met aren't out to screw you over; just to rip you off a bit.
Oh, and it's sad that I have to mention this, but don't ride the chained elephants. That's fucking despicable.
Sex, Drugs, and Rock 'n' Roll in Sri Lanka
Alright, now we get to talk about the good stuff! Why stay safe when you can get fucked up?
How's the meaningless sex scene in Sri Lanka? Alive and kicking, same as anywhere! The beachside party spots in Sri Lanka are as rife with drunken one-night-stands as anywhere and – outside of poor decisions made under impaired cognitive functions – Tinder appears to be the gold standard with travellers these days (I feel so old).
I experimented with swiping (briefly) and I can tell you that I matched with way more locals than white chicks mostly centred in Colombo. I can also tell you that if it was a choice between getting laid in Colombo or not being in Colombo, I would choose the latter every time.
Summary of findings: Tinder still eats farts for breakfast.
Right, now for the good stuff: the things you're putting inside your body! (There was a spectacularly inappropriate segue there too but my editor said it had to go…)
Starting at the bottom, booze is easily available and fairly cheap though, as always, the real killer for anyone backpacking Sri Lanka on a budget.
Lion is your go-to beer and the Lion Strongs are gonna give you the most bang for your buck (if getting royally shitfaced is the goal). Arrack is the local distilled option and the cheap shit tastes fairly close to rum.
How much is a beer in Sri Lanka? Usually around the $1.50 mark, a bit more at your hostel, and pricey at the tourist traps. Outside of beer and arrack, booze is expensive.
It also bears mentioning that cigarettes are expensive (which is very weird for Asia). A pack of cigarettes costs the same as in Germany ($7ish) and rolling tobacco is damn hard to find (though possible).
What about the real goodies? Teehee.
The Party Scene In Sri Lanka
Drugs first because some would say that's my area of expertise (sorry, Mum).
I can confirm that you can get pretty much anything your heart desires (mushrooms being a notable absence). The prices are a lot higher than India or Nepal (honestly, some stuff approaches Australia levels) and the quality isn't as high (pharmaceuticals notwithstanding) but they definitely do the job.
Now, on the topic of smoke, you have weed and you have hash. Ganja is cheaper, but it gets messed with – chemicals and the like. The locals call it KG (Kerala Gold but my hairy ass it's Kerala Gold) and most local stoners won't touch it except on the odd occasion.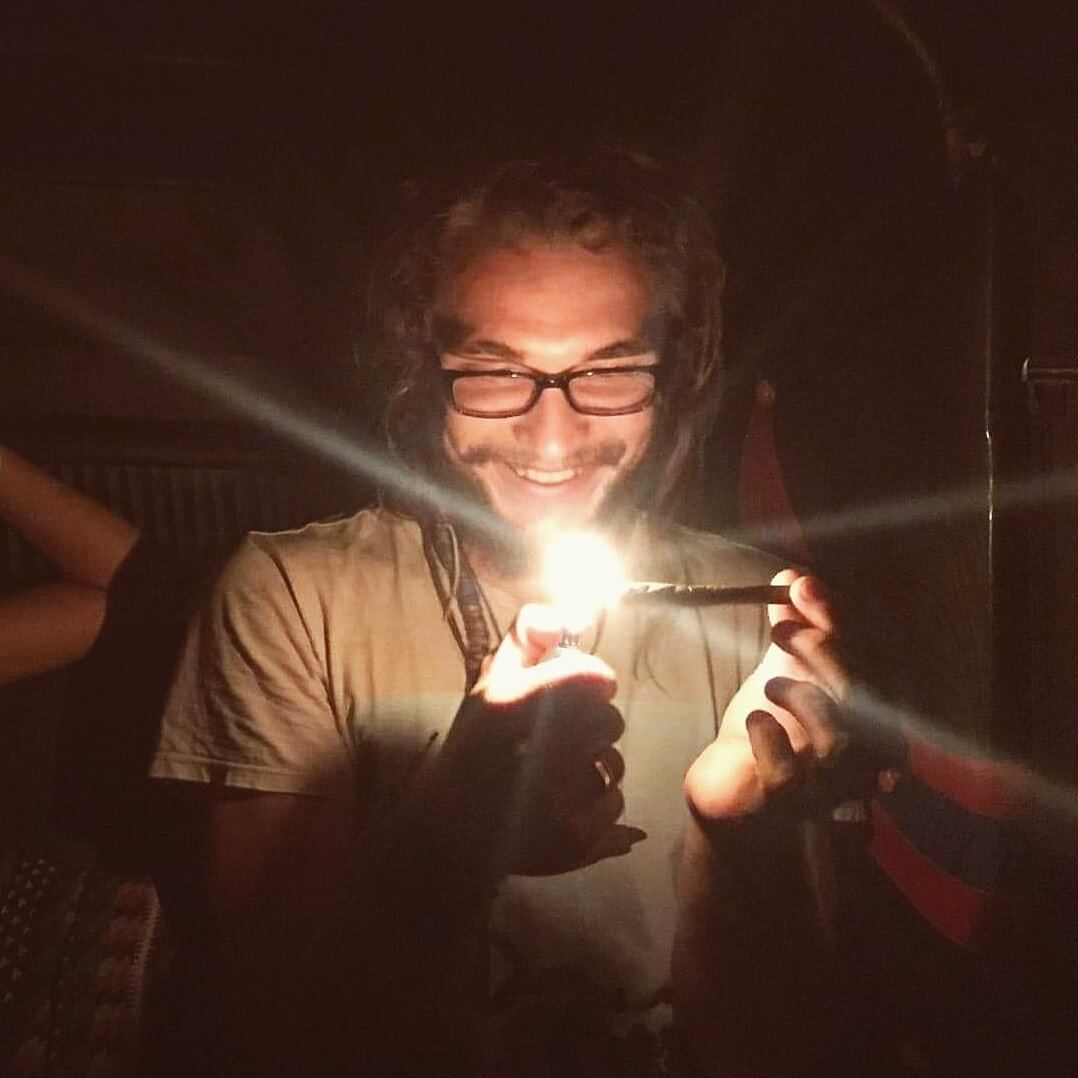 Hash is yummy but pricey. You can get crap hash and you can get good hash; that depends on you. Also, expensive or not, this is still South Asia so get used to rolling big spliffs and sharing them around. Forget your puff-puff-pass bullshit; sharing is caring.
As for the party scene in Sri Lanka? Sri Lanka's nightlife is not my vibe, but you'll find lotsa parties at the beach towns (Arugam Bay, Mirissa, and Hikkaduwa in particular). Think Thailand party vibes with more head wobbles: house and techno, dudes in fruit-print shirts, and hostel hookups navigating shared dorm spaces. (The dude I saw in Arugam that got out of bed and waited outside while his mate got a root is an absolute legend of time and space.)
Are there any good parties in Sri Lanka? You know the ones I'm talking about; with the good drugs and the weirdos. There aren't many hippie places in Sri Lanka and disappointingly you're not going to find the psy-hippy scene of (old) Goa but Tomorrowland in Ella is a very good start and also happens to be my absolute favourite place to stay in Sri Lanka. You'll find some normal people there.
More Sri Lanka Safety Tips
If you've been around, then by this point you've probably got a good head on your shoulders and feeling in your gut. All the same, it never hurts to brush up on your safety!
You can also get a refresher course on our tips for travelling safely.
Also, this is South Asia and (generally) many of the locals have a less-than-stellar reputation with foreign women. I've heard recounts of bad experiences (however, nothing past that point as of yet). I can't attest to the experience of a solo travelling female (courtesy of what's between my legs) but I can point you to our guide on staying street smart as well a girl who wanders.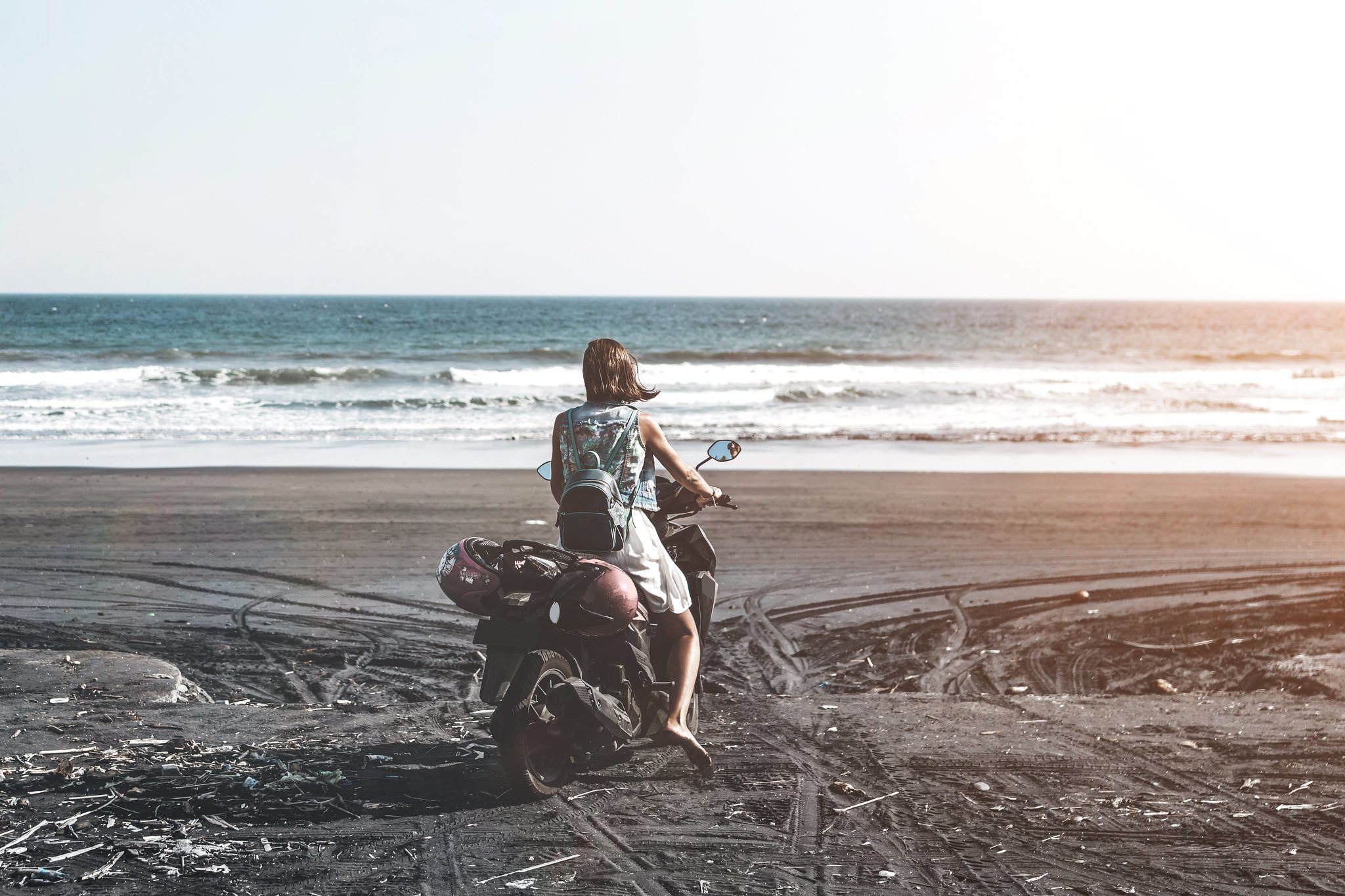 To deal with those pesky pocket-riflers, nothing quite works as well as a money belt. You can keep it tucked under your clothes and then I'm hoping you'll notice if a lithe Sri Lankan feller is feeling you up beneath your shirt.
I haven't encountered any blood-sucking, invertebrate cops like in India; usually, they're just curious and over-protective. Still, if worse-comes-to-worse, remember to play the "Call my embassy!" card.
Oh, and don't drink the water. That's what filtered water bottles are for.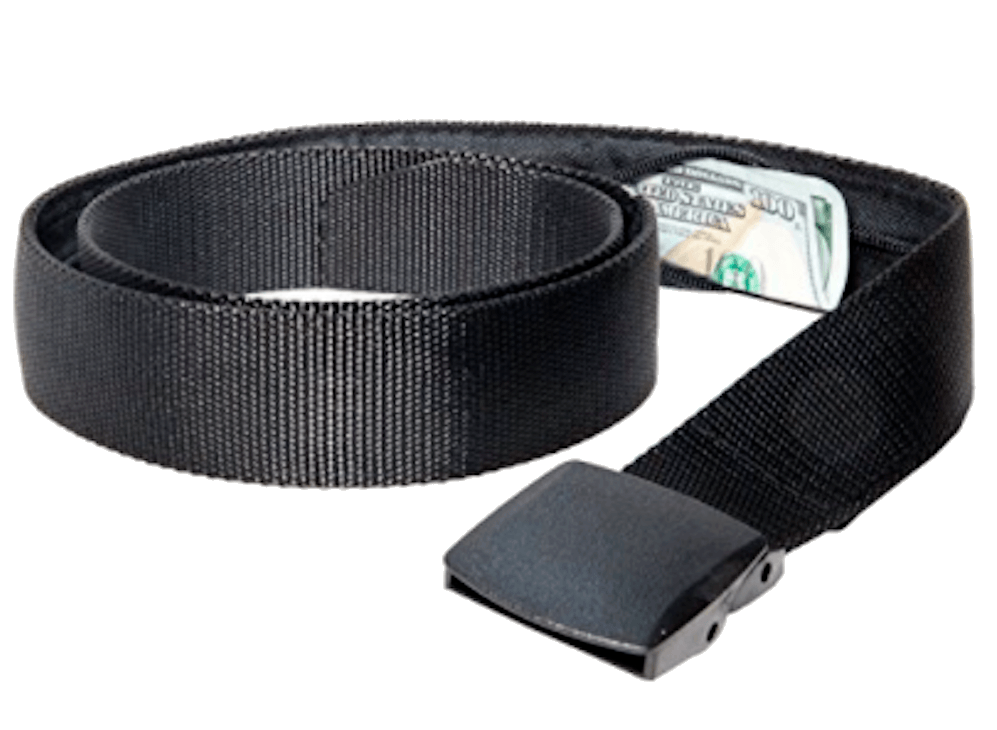 You should always have emergency cash hidden on you - pick up this awesome security belt with its hidden pocket before you travel. It's perfect for hiding money or a passport photocopy.
Travel Insurance for Sri Lanka
A wise man once said that if you can't afford travel insurance, you can't really afford to travel – so do consider backpacker insurance sorted before you head off on an adventure! Traveling without insurance would be risky. I highly recommend World Nomads.
I have been using World Nomads for some time now and made a few claims over the years. They're easy to use, offer the widest coverage, and are affordable. Also, this is the only company I know of that lets you buy travel insurance after leaving on a trip.
If there's one insurance company I trust, it's World Nomads. Find out why I recommend World Nomads, check out my World Nomads Insurance review.
Getting an estimate from World Nomads is simple – just click the button or image below, fill out the necessary info, and you're on your way!

Sri Lanka Travel Guide – Getting In and Around
Well, it wouldn't be much of a travel guide for Sri Lanka if I didn't tell you how to travel it! How you're getting in, how you're getting around Sri Lanka, and, then, how you're getting out again.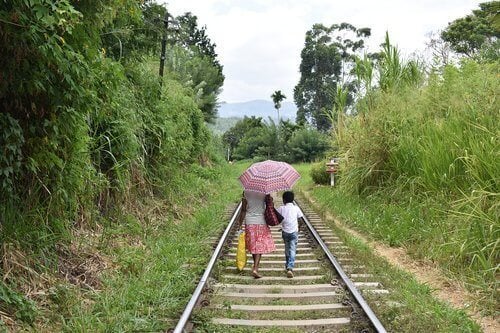 Some might say that's incredibly crucial information. At the very least, I'd be shit at my job if I didn't tell you.
Entry Requirements for Sri Lanka
Ok, this is a weird one. Right now, there are none (for the typically expected countries). It still pays to check if you're from somewhere weird (sorry, that was borderline offensive; you know what I mean).
The government is trialling a 1-month-free visa-on-arrival for Sri Lanka and it's stupidly easy to get. Show up with that stunning smile you've been perfecting, acquire the appropriate stamp, and then go receive your first "Tuk-tuk?" from the tuk-tuk mafia.
The trial period for the zero requirements Sri Lanka visa ends on the 31st of January 2020. After that, your guess is as good as mine as to what they'll do. I'm going to try and remember to update this article after that date, but sometimes I forget my own age so don't trust me too much.
I'm linking the official site for Sri Lanka visas here so you can check everything yourself. If you are from somewhere that isn't blessed with free entry, you'll need to apply online before arriving or get a visa-on-arrival at the airport. It should be $35 for a visa online or $40 for a visa-on-arrival.
For the record, I had no onward ticket but that's obviously very case-by-case. I haven't needed one in my travels yet; it must be that winning smile!
Sri Lanka Visa Extension
Extensions on your Sri Lankan visa are easy too! They're also considerably more excruciating! The classic red-tape bureaucracy flavour with a South Asian twist!
Option one is to go to Sri Lanka's Department of Immigration and Emigration in Colombo. Things to do in Colombo #1: Get your visa extended. Things to do in Colombo #2: Leave.
The process is pretty painful, not gonna lie, although that may have been courtesy of the ear infection I had at the time. Expect to be waiting a minimum of 4 hours among several different waiting areas so bring a Rubik's Cube or something.
The fees for a Sri Lanka visa extension are cheap too. I paid $30 USD (as an Australian) for two extra months (3 months total) and a further 3-month renewal on your Sri Lanka visa is possible (for another $30). The process is convoluted but easy and there's a useful guide to follow here if you're confused.
Option two means you won't have to visit Colombo and that's a pretty damn good option! Not many people know this but you can renew a visa from anywhere in Sri Lanka via courier (and, yeah, that means giving the courier your passport). I've got this on good standing from an ex-pat living in Sri Lanka who's used the service multiple times.
Get the ball rolling by emailing [email protected] and start the process by correspondence. It's easy but it means you'll miss out on the joys of Sri Lankan bureaucracy.
How to Travel in Sri Lanka: Trains and Buses
Well, the good news is that it's ridiculously easy: it's almost too easy! The public transport in Sri Lanka is distinctly South Asian but also extremely capable. It helps that it's a small island.
The trains in Sri Lanka are tight! They run to a number of major points across the island and Sri Lanka Railway's ticket prices are cheap. The rides are bumpy, slow, and teeming with local goodness. I'm also including a convenient little link to a map of Sri Lanka's trains to make it even easier for you.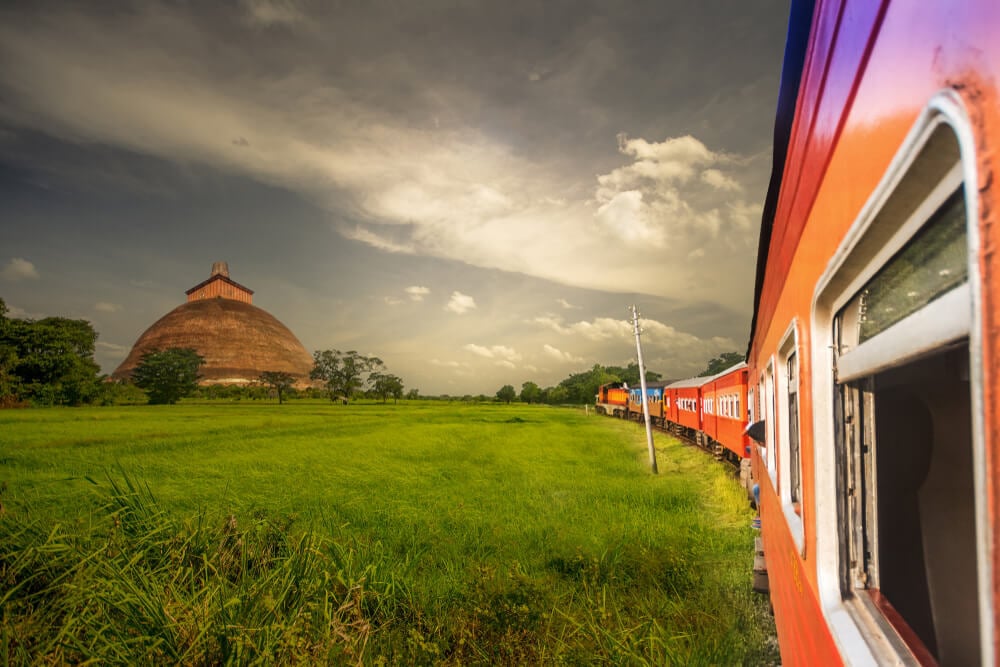 The buses in Sri Lanka are also ridiculously cheap! Will you get a seat? I dunno, guess you'll just have to show up to find out!
Bus ticket prices in Sri Lanka are based on the grade/type of the bus and that topic is a shit-hot mess. Let's just summarise it as cheap, local, unreserved buses vs. expensive, AC, reserved ones  Again you're looking at bumpy rides and the local buses tend to play loud music so settle in with some headphones and watch the sky.
How to Travel in Sri Lanka: Tourist Transport Services and Booking
If you're happy to pay more, the going only gets easier. Tuk-tuks, share taxis, vans, probably hot-air balloons: there's plenty of tourist transport services in Sri Lanka. Sri Lanka has magic tuk-tuks; they just always seem to appear.
Booking is as easy as going into town (in the bubbles) and haggling a good price. Option two is to just ask through your accommodation but probs-defs at a higher price than your devilish silver tongue can acquire.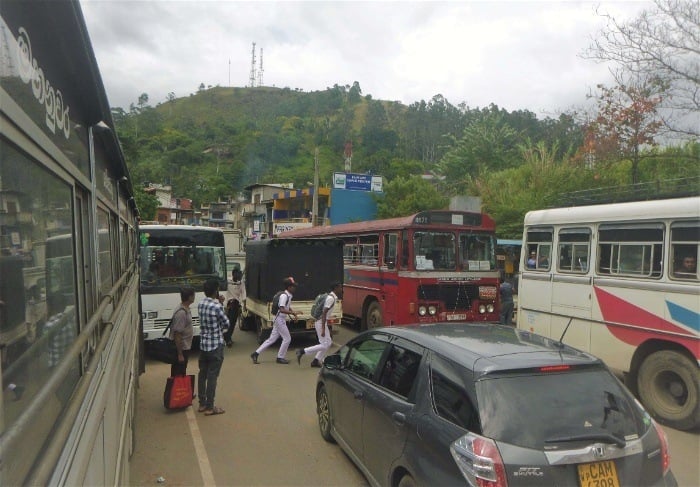 Honestly, dude, getting around Sri Lanka is a piece of cake. Even at the bottom-rung of dirtbag style, it's easy. Uncomfortable and unpredictable at times but still the best I've seen this side of Myanmar.
In terms of buying tickets for the trains and buses in Sri Lanka, it's a matter of showing up and saying the name of your destination (perhaps with that dazzling grin again). That's for the el cheapo unreserved seating. The fancier classes require more pre-thought.
In terms of booking the fancy-pants classes, go to the station, talk to your appointed legal guardian at your hostel, or, option three, book online. Check out 12Go.asia for booking trains and buses in Sri Lanka because Sri Lanka is in Asia. Couldn't be simpler!
Need to travel around Sri Lanka on the cheap? Use 12go to find the best deals on bus, plane, train, and ferry tickets. It's easy to use and saves you time and money. Once you've arrived, why not use what you've saved to treat yourself to a nice kottu?
Book your transport on 12Go now to guarantee your seat and for the right price.
Tuk Tuk Rental in Sri Lanka
How about the best way to travel Sri Lanka? Well, that's probably still a motorbike (sorry guys, I still love you). The runner-up is definitely a tuk tuk though… unless you find that hot-air balloon.
Ok, so I promised I'd spill the deetz on what a tuk tuk rental in Sri Lanka is like. First things first, it's more expensive than public transport, no doubt. Between fuel costs and rental prices (20 bucks a day), it's not even a competition. So why is it the second best way to travel Sri Lanka?
You're paying a premium to drive a goddamn tuk tuk in Sri Lanka! Think about it: this (wonderful) couple rolls into the most – potentially only – hippie place in Sri Lanka – and recruited yours truly… They basically paid to travel with me!
And what an adventure! There were joints and middle-of-nowhere-rotis. There were wrong turns and elephants. There was actually driving to the dealer's house – instead of waiting – and smoking up with him beneath the watchful benevolence of a giant Buddha! It was dope (heh).
Have I piqued your curiosity? Good, then check out tuktukrental.com. These guys run a real tight ship on the whole operation.
They'll figure out your Sri Lankan driver's licence (it's a lot easier than you may have heard), sort out your insurance, and give you a jam-packed instruction booklet on… well… everything! That thing is stacked – discounts and all!
So, what do you do? You follow the link, scope out if renting a tuk tuk in Sri Lanka is for you, and then enter the code brokebackpacker at the checkout for a discount. And remember:
Drive shanti; we're running on Sri Lanka time. Also, those buses will fuck you up.
Hitchhiking in Sri Lanka
Well, this is the cheapest way to get around Sri Lanka provided you don't accidentally hail an unmarked taxi. Locals will tell you it's "not possible" but it is. The best part is you'll definitely end up in some of Sri Lanka's more uncommon places to visit!
There's no 'Hitching Sri Lanka Guidebook' (although we do have this sweet Hitchhiking 101 Guide) but here are a few tips specific on grabbing a ride in this part of the world:
Wave your hand, signal the direction you're going, wobble your head (seriously, try it): a thumb may still work but it's not a universal symbol here.
Get someone to write you a sign in Sinhalese and Tamil if possible. It'll grab attention at the very least.
If the communication levels are there, remember to explain you only need to go in the direction of 'X' place.
In smaller towns and areas (Ella comes to mind), you can grab local hitches pretty easily. Truck drivers are super chill about you just sitting in the trailer.
Even with the dirt-cheap public transport, hitchhiking will bring your cost of travel for Sri Lanka down quite nicely. It does, however, come with the caveats of hitching in South Asia.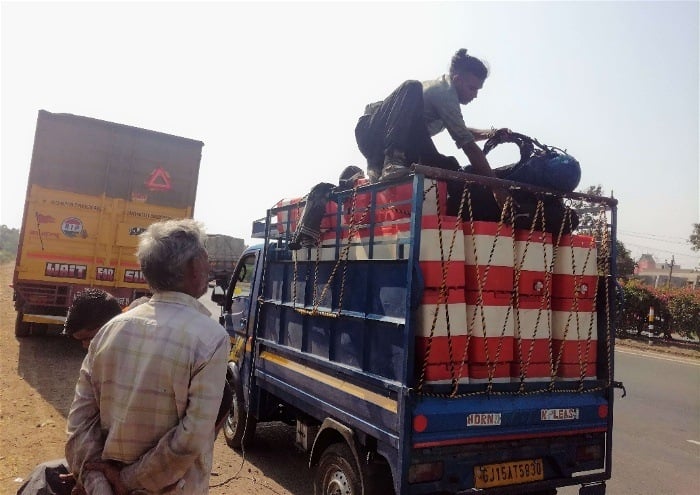 It's just, like… exhausting, man. Tuk-tuk drivers stop and linger thirstily, locals constantly question you and argue the feasibility of what you're doing, and deciphering potential rides from unmarked taxis takes a developed hitcher's second-sight. If you do get a ride, more times than not you'll be asked for money at the end (giving a tip is alright but there's a line).
For the challenge and adventure, yeah it's definitely worth it! Otherwise, considering the stupidly cheap transport, it's not. I'll just tell you what I always tell people about my long-distance hitch across India.
"I'm so fucking glad I did it and I'd never do it again."
Onwards Travel from Sri Lanka
Sri Lanka is an island so unless you happen to be a polar bear, you're catching a plane. There's no ferry from Sri Lanka to India (which pains my overlander's heart). There is, however, an underwater bridge built by ancient gods, but I've heard it's kinda hard to find.
Actually, I'm going to be serious for a second. Considering most travellers I meet here are either short-term, relatively fresh, or travelling from Southeast Asia, I'm giving some sincere, genuine advice (as opposed to all that false advice I give you to maliciously mislead you… muahahahah).
If you haven't yet explored South Asia, fly to Nepal. Go see the giants, roll some joints with them, and then, when you're feeling appropriately levelled-up, cross the border to Mama India. That's a nice progression.
Hell, if you still got some spoons after that, head travel west to Pakistan – now we're cooking with crazy! I even know a dope adventure tour in Pakistan run by some rather rad dudes!
All I'm saying is up the ante after your trip to Sri Lanka (if it's calling you). Major airports in Asia are relatively cheap to reach (Bangkok, Kuala Lumpur, Incheon, etc.) but you've come this far. May as well go earn your Shiva Stripes!
The Best Travel Backpack?!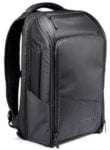 Pssssst! Not picked the perfect travel backpack yet? The Broke Backpacker team has tried out over thirty backpacks this year! Our favourite carry on backpack is the Nomatic Travel Backpack.
Check out this post to read our full review!
Sri Lanka Backpacking Costs
I literally calculated my travel costs for the last 6 weeks in Sri Lanka a few days ago (to see if more smoke was in the budget), so I'm well-equipped to answer this.
Backpacking in Sri Lanka is not too cheap but not too expensive. It's one of the more expensive places to travel in cheap Asia – let's say falling between India and Thailand. Budget travel in Sri Lanka also depends on what type of travel you're after.
Sri Lanka is well-used to tourism: not as ferocious as the Thais but they still know what they can charge more for. Prices go up once you're in the bubble (as always) and proper tourist activities in Sri Lanka (safaris, snorkelling, major attractions, etc.) are priced accordingly. There are definitely cheaper places in the world you can do them.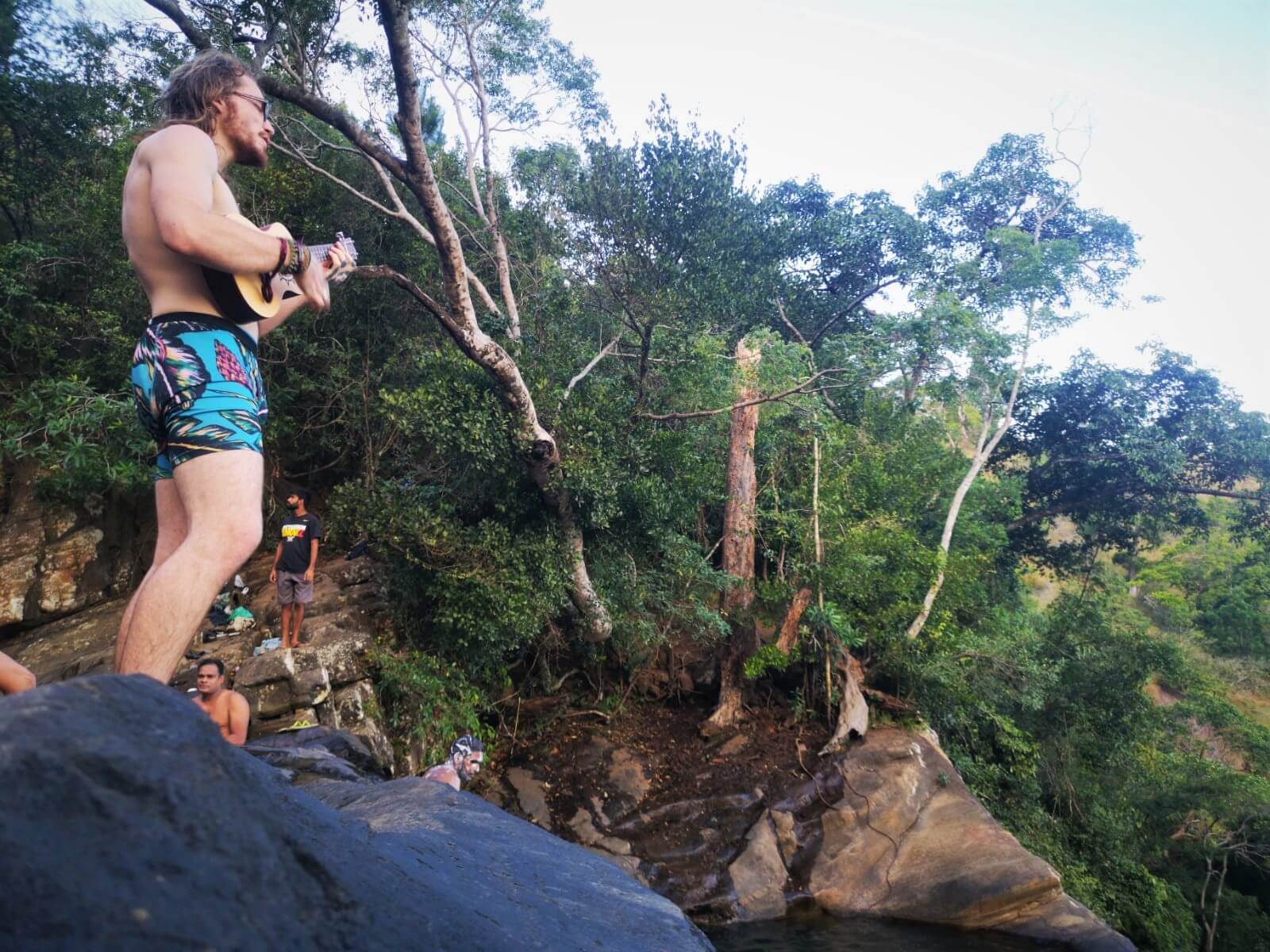 Before I give you my daily spending I'll give you a rundown of how I backpacked through Sri Lanka:
Initially, I followed a pretty typical backpacking route and itinerary in Sri Lanka.
I tend to pass on expensive touristic things like safaris and snorkelling unless they really pique my curiosity.
There were a couple of parties, but it's not why I travel.
I pretty much always sleep cheap and eat local in the bubbles.
This wasn't nearly as rough as my previous journeys; I only slept out once and I lucked into that tuk-tuk rental.
I don't drink.
I don't really buy cigarettes.
Clearly, I smoke.
Ok, now that you have a point of comparison, the final total for my backpacking Sri Lanka budget: $20 a day (rounded up). You could take it lower and I'd say, on average, most travellers here spend in excess of that.
A Daily Budget in Sri Lanka
| Expense | Broke-Ass Backpacker | Frugal Traveller | Creature of Comfort |
| --- | --- | --- | --- |
| Accommodation | $5-$9 | $10-$15 | $20+ |
| Transport | $2-$4 | $5-$10 | $15+ |
| Food | $5-$9 | $10-$20 | $25+ |
| Nightlife Delights | $5-$10 | $10-$20 | $25+ |
| Activities | $0-$10 | $15-$25 | $35+ |
| Total per day: | $17-$42 | $50-$90 | $120+ |
Money in Sri Lanka
The currency of Sri Lanka is the Sri Lankan rupee (LKR) and they have pretty birds and pictures on them. No closeups of some old dude looking unsettlingly at you. Currently, 1 USD = 181 LKR so I've just been mathing it out as 2:1 for the sake of efficiency.
ATMs in Sri Lanka are frequent and aplenty and most (pretty much all) are going to charge you a fee. I haven't encountered any issues using them though I do remember one local woman having her card eaten.
Most accommodation and hostels in Sri Lanka take card as do restaurants in the touristy places (or just if they're fancy). Outside of that, I'd stick to cash, especially for local areas.
Sri Lanka is also haggling country, so brush up on your bartering skills. I never tried at a hostel but tuk-tuks, private rooms, souvenir shopping… test your might!
Top Tips for Visiting Sri Lanka on a Budget
Sri Lanka is not so expensive but it ain't strictly cheap either. After my backpacking route, I've quite comfortably settled into a routine of less than $10 a day. That covers my bed, an all-you-can-eat breakfast, and an all-you-can-eat dinner. Jai buffets!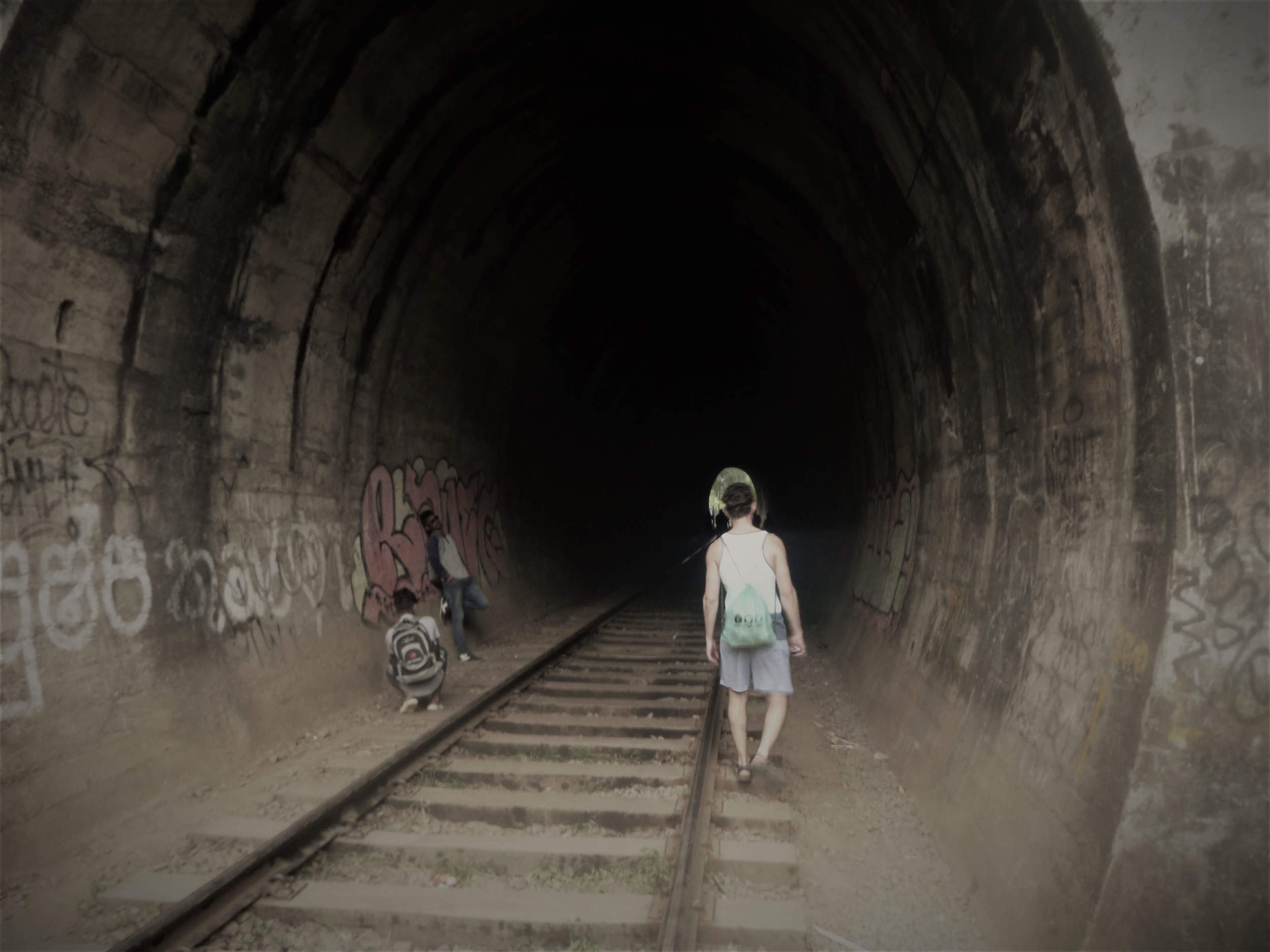 But as I mentioned, I haven't taken my travels here quite as rough as I have in the past. If you want to keep your budget for backpacking Sri Lanka at the real cheap-ass level, there's a few standard budget backpacking tips and Sri-Lanka specific tricks you can utilise:
Camp in Sri Lanka – The big one that's really gonna save you some swagaliscious-casharoonies. It's not common in Sri Lanka but it's still Asia; as long as your not on someone's porch, no one is gonna chase you off. Of course, for this, you're going to need the right backpacking gear…
Haggle – And do it like a goddamn warrior!
Overeat – Rice and curry buffets are numerous and a dirtbag's best friend. Space those meals wisely!
Leave the tourist bubble – Once you take a stroll out of the dedicated one-or-two tourist streets, you'll start finding things closer to the local prices. Also, generally, the shopkeepers are pretty stoked to see you.
MRRP – Maximum retail rupee price: it's nearly always printed on supermarket goods in Sri Lanka's shops. Keep an eye on it and calculate your bill because it's not uncommon (especially in the tourist areas) for the shopkeepers to charge a little extra tea money. Count your change too.
Volunteering in Sri Lanka
Long term travel is awesome and so is giving back! For backpackers looking to travel long-term on a budget in Sri Lanka whilst feeling like they're contributing to the world, look no further than Worldpackers.
Worldpackers is an excellent platform connecting travellers with meaningful volunteer positions throughout the world. In exchange for a few hours of work each day, your room and board are covered.
In my experience, I've found volunteering to be the absolute best way to minimise spending and feeling like I've truly engaged with the culture.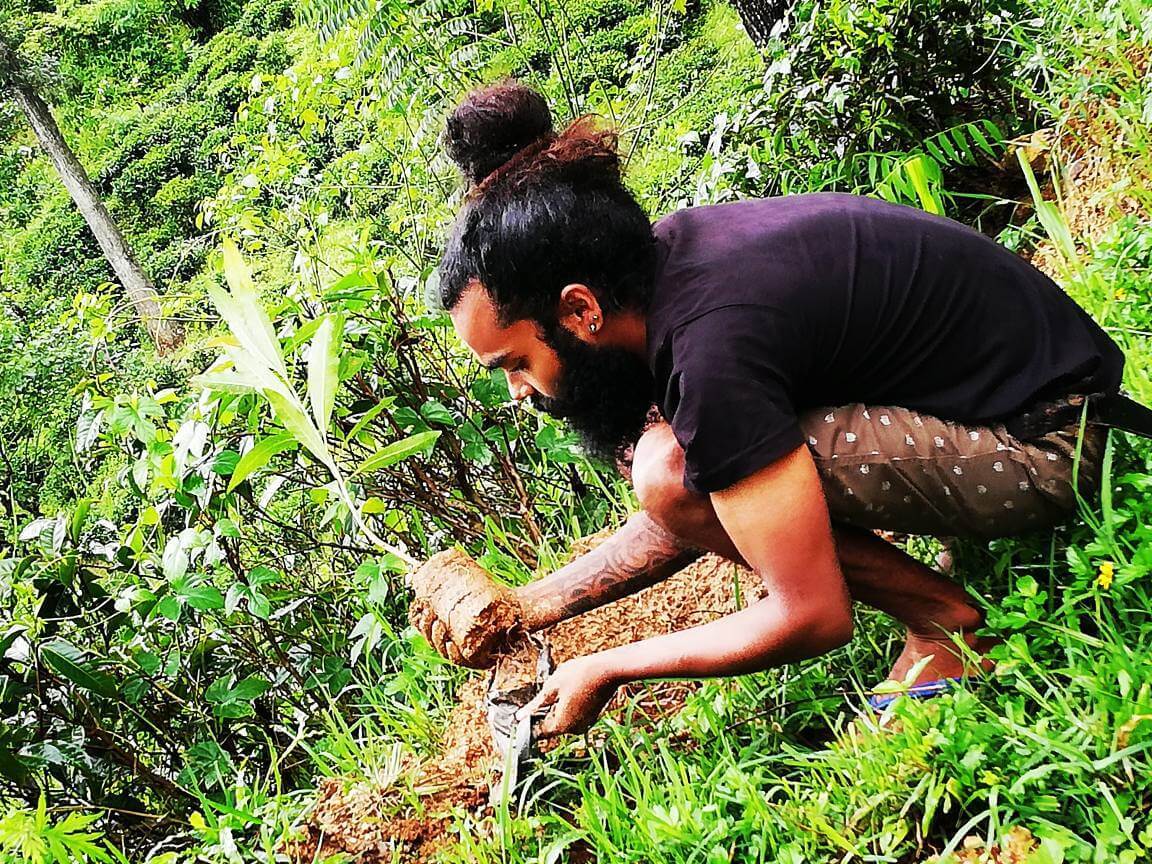 Worldpackers opens the doors for work opportunities in hostels, homestays, NGOs, and eco-projects around the world. Broke Backpacker readers get a special discount of $20 on the year-long member  – just use the discount code BROKEBACKPACKER.
Check out our Worldpackers review.
Teaching English in Sri Lanka
Speaking English is a highly-valued skill in both Sri Lanka and South Asia. For locals, it opens up whole new worlds of employment opportunities and travel. As such, it's a highly sought after skill.
Perhaps one of the best options for backpackers wanting to explore Sri Lanka long-term and experience living in this truly incredible country is to get a Teaching English as a Foreign Language course online.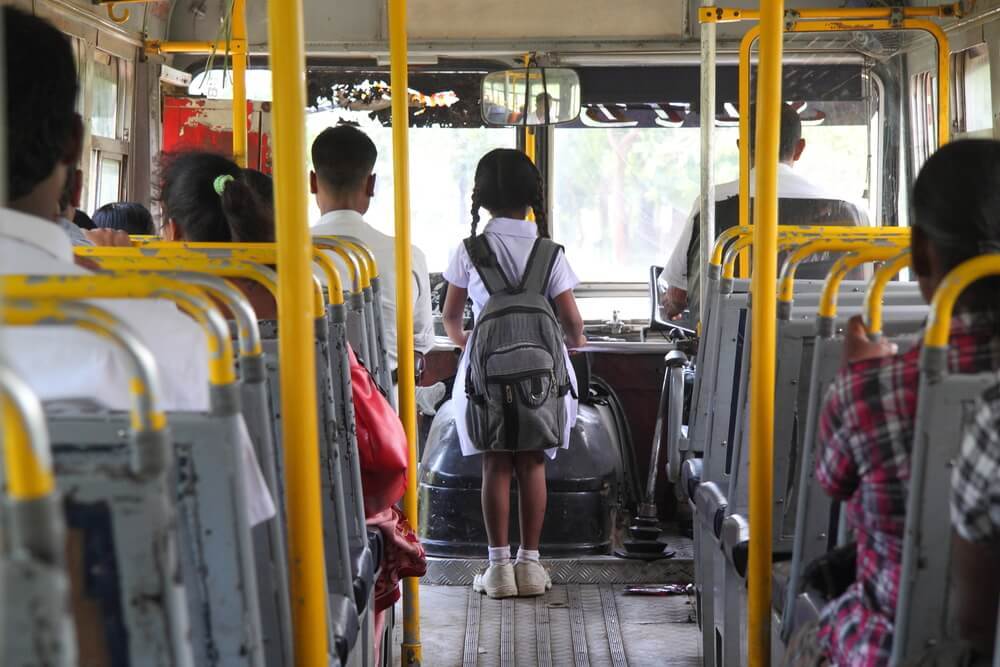 TEFL courses open up a huge range of opportunities and you can find teaching work all over the world.  Broke Backpacker readers get a 35% discount on TEFL courses with MyTEFL (simply enter the code BACKPKR).
To find out more about TEFL courses and how you can teach English around the world, read our in-depth report on teaching English abroad.
Make Money Online Whilst Backpacking Sri Lanka
Keen to live the digital nomad dream while travelling the world? Damn right you are!
Teaching English online is a great way to earn a consistent income from anywhere in the world with a good internet connection. Depending on your qualifications (or your motivation to obtain qualifications like a TEFL certificate), you can teach English remotely from your laptop, save some cash for your next adventure, and make a positive impact on the world by improving another person's language skills! It's a win-win!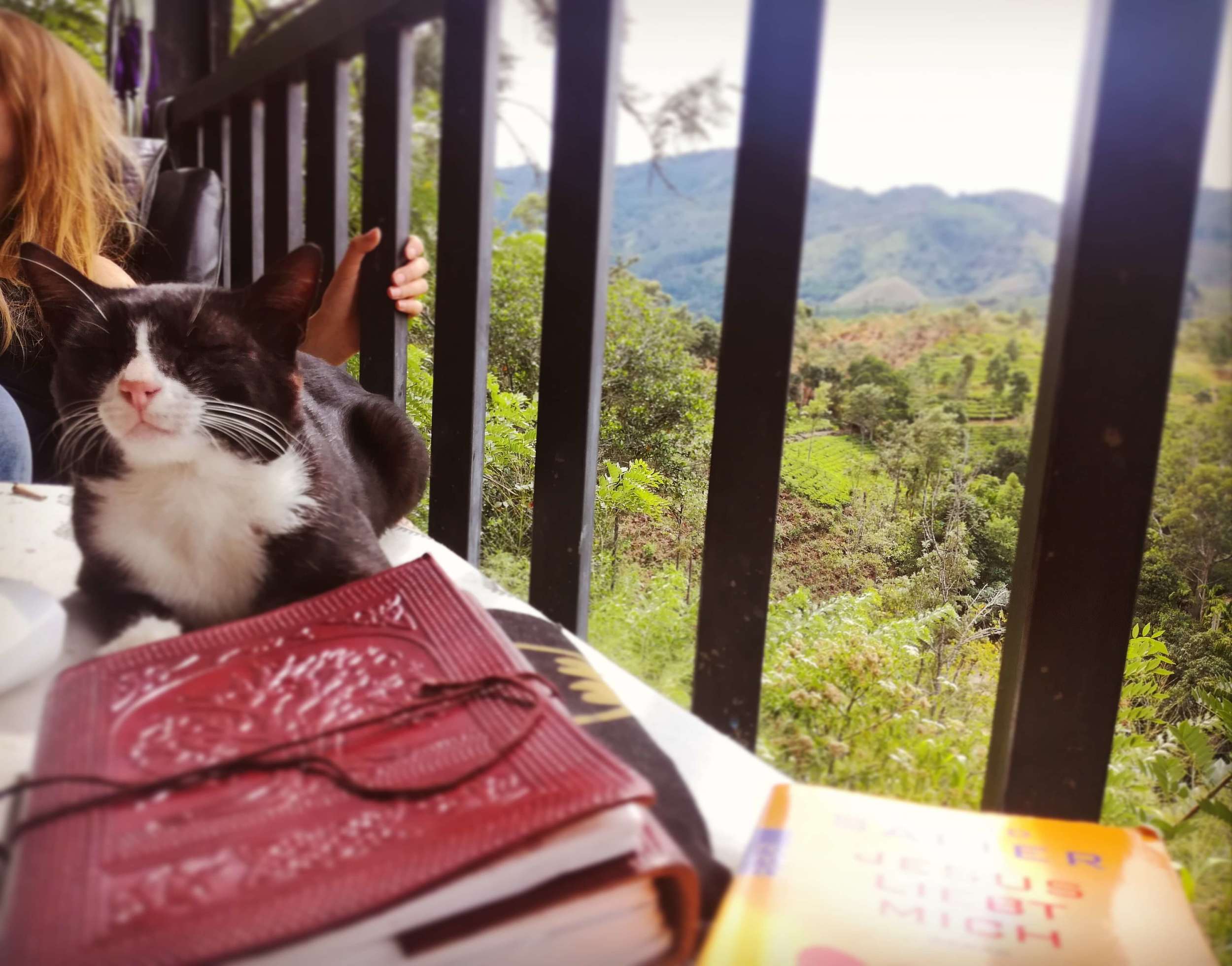 Check out this detailed article for everything you need to know to start teaching English online.
Whether you are keen to teach English online or in a foreign country, a TEFL certificate is absolutely a step in the right direction.
Internet in Sri Lanka
Expect jungle WiFi. I never stayed anywhere without WiFi – even among the cheap hostels across Sri Lanka – but it also wasn't often that it was really cracking and streaming is very hit-and-miss.
You can buy a local SIM card in Sri Lanka, however, and they are super handy. Cheap, easy to get, and have provided me more than enough internet for working, procrastinating, and swiping on Tinder while pooping.
You can buy a SIM as soon as you step off the plane at Bandaranaike airport but they offer the "tourist" packages. Wait until you're in the city and go to the official shop. I'm recommending Dialog purely because they're the company I've used with zero issues.
Take your passport, specify that you want data only (unless you do want credit), and top it up without any SIM purchasing fees. I got enough to last me nearly a month at medium-ish usage for $3.
Oh, and they split your data between a daytime and nighttime pool which is a rort. Nighttime is considered 12 A.M. to 8 A.M. which is when I do most of my sleeping.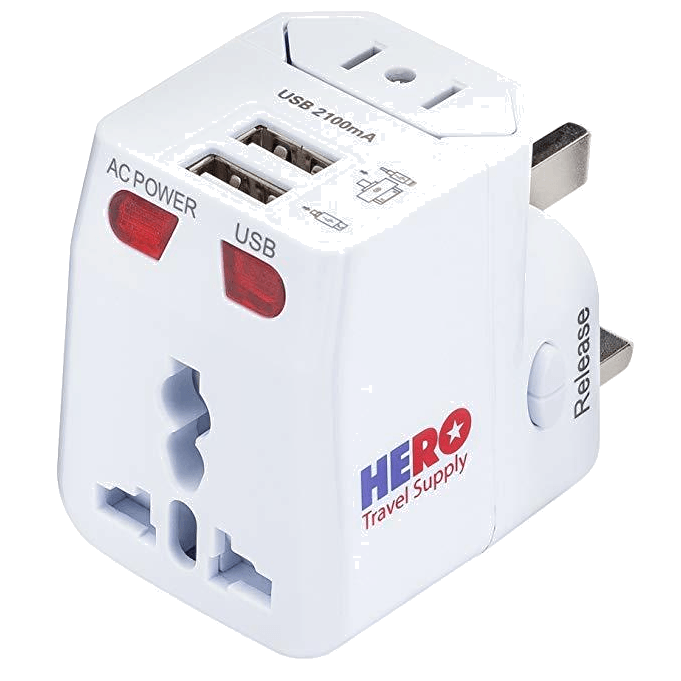 One of the best investments you can make is a
worldwide travel adapter
that will work anywhere! The one featured here is tough, reliable, and a solid buy - Don't leave home without one.
GET IT HERE
Must-Try Experiences in Sri Lanka
It's a whole new land of entirely different experiences. People are the same everywhere but, man, they're also so different. Life is beautiful!
Forget the top 5 things to do and places to visit in Sri Lanka for a minute and go actually experience Sri Lanka! Eat the spiciest sambols, smoke with the locals, let them cream your ass in Carom (poor choice of words)… Let go of your silly Western ideals of personal space and boundaries!
And remember to go slow; there ain't no schedule on the island.
Meet the People in Sri Lanka
This is the part where I attempt to respectfully generalise a group of 20+ million people… fun!
As much as Sri Lankans hate the comparison, lines can be drawn to Indians – South India in particular – but with the unique Indian intensity considerably turned down. The head wobbles and rapid hand gestures are still in full force but the flow feels slower.
There are some key differences that I've felt while visiting Sri Lanka and remember that this a very broad brush. It's also worth mentioning that this is the experience of a white man backpacking around Sri Lanka (and, yes, that sadly makes a very big difference):
Sri Lankans smile a lot more and more often smile first.
They've still got the classic South Asia soul-burning stare but, generally, they come across as a bit shier.
The vibes are just… friendlier.
I don't feel well-equipped enough to make pointed comparisons between the Sinhalese and the Tamils but, as a whole, the people are very inquisitive, friendly, and happy to help a traveller in need (even, sometimes, the tuk-tuk drivers).
Less-traditional Sri Lankans also tend to be super-chill with good vibes. Once you've got a crew, get used to sharing. Everything is passed around from cups of tea to cigarettes and the feeling of brotherhood runs very strong between friends here.
It is worth noting, however, that this is the experience of a traveller accustomed to this part of the world. Many greener travellers that I've met (usually just on a short trip to Sri Lanka) still struggle with connecting with the local people.
On a final note, I've heard traveller-reports that Sri Lankans aren't nearly as concerned with squeezing your cash from you as in Indians. I can't say I agree. White person tax is still in full effect here, and I've met no shortage of people who almost have Scrooge McDuck dollar signs explode in their eyes when they see a foreigner approach. As always, that stuff depends on the person; not on their race.
What to Eat in Sri Lanka
Kottu!
…
Oh, you want more. Fine… Here's the best-the best Sri Lankan food! (Sri Lankan food is dope).
Rice and Curry – Naturally; what were you expecting? Rice and curry is a breakfast, lunch, and dinner food. It's also a way of life!
Curries come in a variety of types: eggplant, dahl (obviously), beans, jackfruit (the most surreal meat substitute after facon)… Sometimes, you get six curries; sometimes you get three. Probably, you'll get papadams and maybe it's a buffet (do not underestimate the sway a buffet has over me).
The point is, get used to rice and curry. Definitely get used to rice.
Coconuts – I'm not sure how many coconuts I've seen in my life but I think after Sri Lanka it may have broken seven digits. Roadside coconuts are everywhere for drinking, they're in the curries, and they're used for both sweet and savoury Sri Lankan dishes.
Sri Lanka's Street Food – Including the pre-cooked bites you see in shop windows. Roti's stuffed with vegetables or egg, samosas, dosa… once I found a bag of lightly fried and seasoned chickpeas and that was so damn good!
Sri Lankan Tea – As described by a Dutch ex-pat as "Not a lot of tea with a lot of milk and sugar!" He's spot on and I wouldn't have it any other way.
Hoppers – Specifically, egg hoppers. A hopper is a bowl-shaped pancake served with sambol on the side. An egg hopper has a freshly-steamed egg sitting in the middle so it's a direct upgrade.
Ice-Cream – At any old shop that has an ice-cream freezer you can buy an ice-cream for 25-50 cents. That's not exactly Sri Lankan food but it is cheap ice-cream!
A Few Final Tips of the Sri Lanka Backpacking Travel Guide
Consider this section your little guide book for Sri Lanka. A few miscellaneous tips I wanted to mention to keep you operating smoothly when you're on the island.
For fuck's sake, do not ride the elephants. If you do, I'll come find you, put chains on your feet, and ride you through town. No, no, no. Just no.
Similarly, animal abuse in the tourism industry and outside it is a sad cultural truth in this part of the world. You're gonna see a lot of unloved and diseased pooches and you're probably going to see them struck. I really, truly do hate saying this but keep your cool: you're not the Mighty Whitey for Asian canines.
Although demonisation of LGBTQ locals is common, reports from LGBTQ travellers is quite positive. The foreigner card trumps your sexuality here.
It's customary (and respectful) to exchange money (or anything for that matter) with the right hand only. Nobody wants your left hand; we all know what you've been doing with it.
When sharing drinks from bottles, it's also customary to air-sip.
Respect for Buddha is taken seriously in Sri Lanka; people have been deported for displaying tattoos of Buddha. Similarly, keep your knees and shoulders covered at temples and don't take selfies with Buddha statues or turn your back to them.
One of the best lines I've seen was written by a hostel in Sri Lanka (about themselves) and I feel it summarises South Asia perfectly:
We know we are not perfect. Sometimes things work and sometimes they don't.
Expect confusion and when it's not going right, understand that there's probably a reason for it even if you don't know it. If your laundry doesn't arrive "on schedule" take a chill pill and remember that you paid the same price as a large cappuccino for it.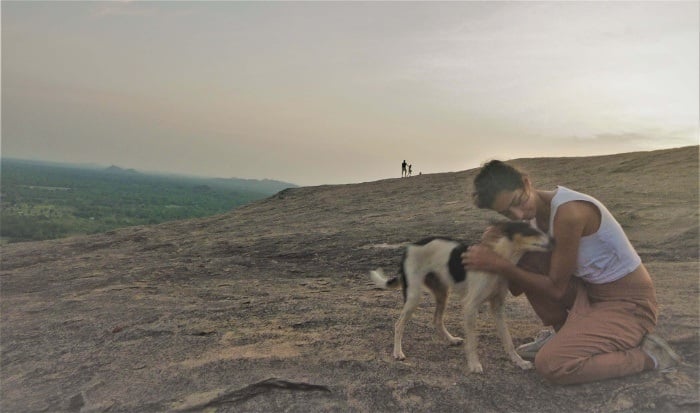 A Brief History of Sri Lanka
Right, I'm about to attempt to summarise the entire history of Sri Lanka in 600-words-or-less… Yamu!
The division between the Sinhala and Tamil people only becomes more apparent once you start examing the ancient history of Sri Lanka. Every sacred site, village, and piece of history carries a different story and name attached to it.
Even the great epic of Ramayana carries two versions. The fable tells of the Hindu god Rama building a bridge of rocks (Adam's Bridge) from across the Indian Ocean from Deep South India to Sri Lanka to rescue his beloved Sita from the clutches of Ravana. Ask the Sinhala people and they'll tell you that Ravana was a real upstanding dude; ask the Tamils and they'll tell you he was a dick.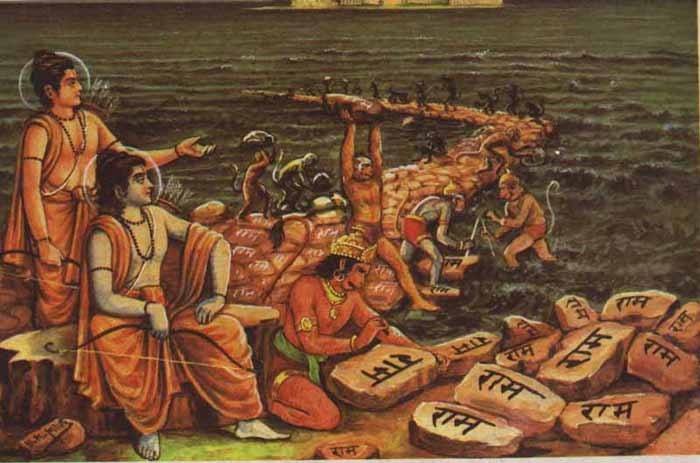 In truth, the Tamils and Sinhala may not be so different after all. Sri Lanka has long-standing historical evidence of immigration from South India, Southeast and East Asia, and the Middle-East. In time, the people have intermarried and assimilated.
Regardless of this, ethnic division became a mainstay of Sri Lanka. As South Indian Tamil kingdoms solidified power in the northern region of Jaffna and below, Sinhala and Buddhist power increased further south initially in the capital of Anuradhapura before moving to Polonnaruwa and then later heading further southwest.
Centuries past and the separation of the Sinhala people and the Tamils only increased. A large buffer zone through the jungles of central Sri Lanka further divided the two people and the two kingdoms developed relatively isolated from each other.
And then the white man came.
Sri Lanka in Modern Times
We're fast-tracking through the colonialism stuff. Suffice to say, first, the Portuguese did their damage followed by the Dutch and ending with the British. The advent of colonialism in Sri Lanka upset the natural divides of the country. By the time Ceylon (Sri Lanka's name at the time) achieved independence, Jaffna had lost it's considerable power and Tamils had spread throughout all of the island.
That set the stage for what happened next.
In the wake of the British, a corrupt – and now independent – government (it's usually the way) repeatedly enforced legislation that served to bolster the Sinhala and subjugate the Tamil people. The government of mid-20th-century Sri Lanka crafted an assault of fear-mongering against the Tamils.
Twenty-six years: that's how long the civil war lasted, and it was bloody. The mid-70s saw the rise of the Liberation Tigers of Tamil Eelam (LTTE or colloquially the 'Tamil Tigers'); terrorists or revolutionaries depending on who you talk to. In 1983, the Tigers ambushed and killed 13 Sinhala soldiers and hell broke loose.
'Black July', the event of the Tamil massacres in Colombo; 400 to 3000 Tamils were murdered and brutalised – beaten, clubbed, burned, raped, shot, hacked apart… The resulting flood of Tamil war refugees migrating to other countries caused the world to start taking notice of the events occurring in Sri Lanka.
The following 20+ years were marked by bloodshed. At a civilian level, the people just wanted peace but extremists from both sides and a petulant government perpetuated the conflict. Despite (half-hearted) calls from the global community to cease the violence, they didn't…
Until April 2009 when the Sri Lankan military confined remaining LTTE fighters and tens of thousands of Tamil civilians to a single beach in northeastern Sri Lanka. What ensued was a massacre. LTTE fighters shot Tamil citizens attempting to flee, government officials murdered and raped many who surrendered, and what is truth and fiction remains impossible to separate.
What I do feel comfortable saying is that the world failed Sri Lanka. Throughout the war, countless Sinhala and Tamil people needlessly died while the world watched apathetically.
Despite the recent bomb attacks, Sri Lanka is now a peaceful country. The government still sucks (big surprise) and assholes still exist (even bigger surprise), but that is not representative of the people. The people just want peace.
Here's a relevant quote I found from a Sri Lankan:
"Everyone agrees they'd rather die than live through the war again."
Closing Thoughts
And we are done! Man, oh man, that is a hella full power travel guide for Sri Lanka! We had some twists, we had some turns, we got too political at points, and now we're bringing it full circle.
Yeah, at times I was jaded; I grew up in a tourist bubble, so I've got a chip on my shoulder for the bubble wrap. But what's the universal truth of bubble wrap?
It's downright sick! Absolutely vassi, man. So, just, be good to it.
Being a Responsible Backpacker in Sri Lanka
Reduce your plastic footprint: Perhaps the best thing you can do for our planet is to make sure you do NOT add to the plastic problem all over the world. Don't buy one-use water bottles; the plastic ends up in a landfill or the ocean. Instead, pack a travel water bottle.
Go and watch A Plastic Ocean on Netflix – it'll change how you view the plastic problem in the world. If you think it doesn't matter, get the fuck off this site. It's you; not me. It's not gonna work.
Don't pick up single-use plastic bags, you're a backpacker – take your daypack if you need to go to the shop or run errands.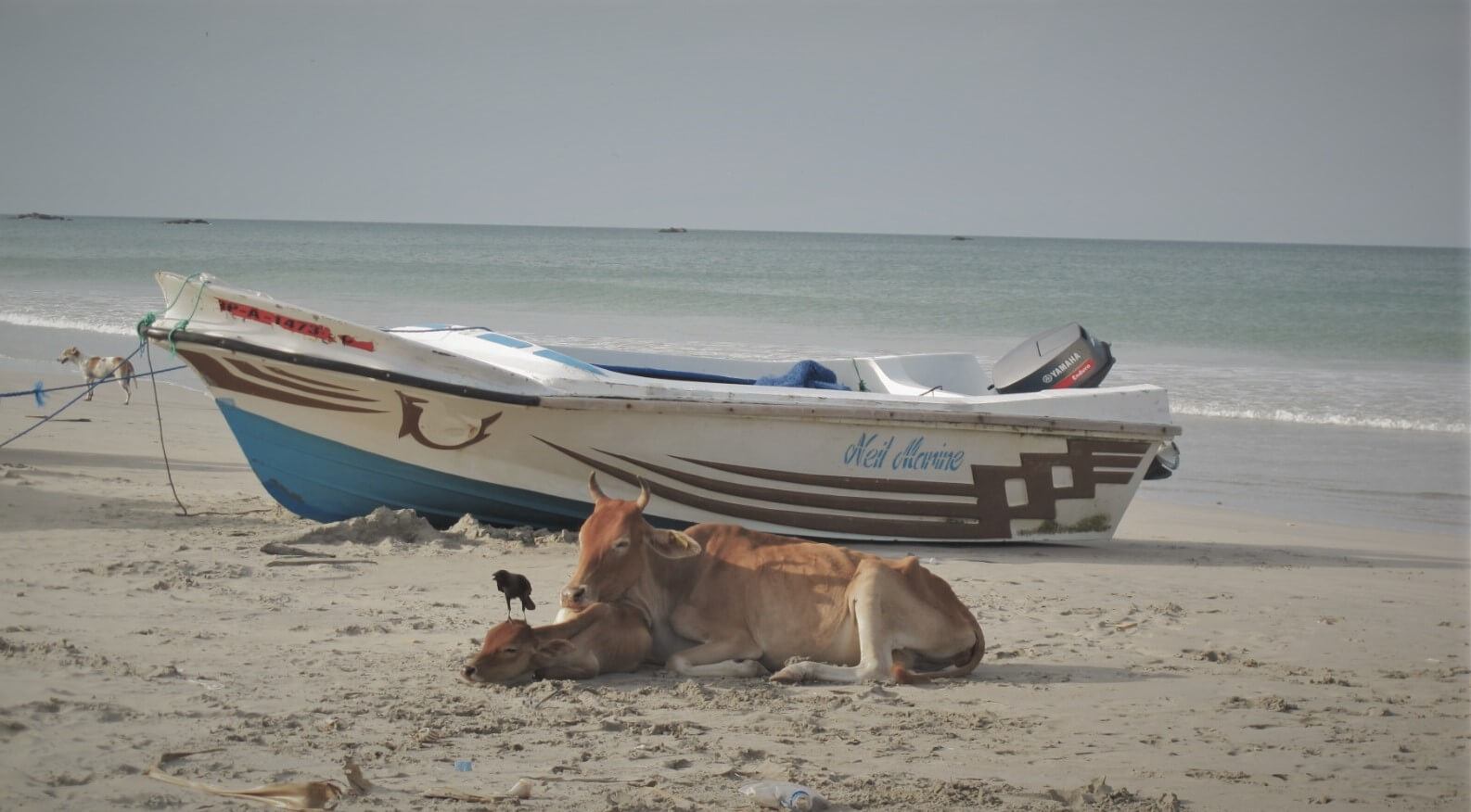 Recently, Broke Backpacker's gear venture, Active Roots, has started to sell water bottles. For every Active Roots water bottle sold, we donate 10% to PlasticOceans.org – an awesome initiative aimed at educating people on the risk of single-use plastic and helping to clean up our oceans.
Help save the planet, whether you take an Active Roots bottle or not – TAKE RESPONSIBILITY for your plastic footprint: don't be a dick.
Need more guidance? Check out our post on how to be a responsible backpacker.
Be Good to Yourself and Sri Lanka
Be good: nothing summarises it better. I'll tell you what a wizard in New Zealand told me.
"A traveller is a visitor and a visitor shows respect."
Have fun on your backpacking trip to Sri Lanka. Drink the Lions, smoke the fineries, gorge on Sri Lanka's street food: let loose! Just don't lose yourself.
I'm not gonna lie: sometimes travelling over this way is fucking infuriating. Try being stranded in a leech-infested jungle in a storm, tripping, without shoes, and still being asked for money by a local to be guided out. Take a breath and remember that one shitbag is not representative of the whole; blame will be the cause of World War III.
He didn't represent the local people and you don't represent the tourists. That wall will always be there no matter what you do. You represent yourself.
Don't be a holidayer and don't be an 'influencer'.
Be a traveller. Be a visitor. Be respectful and be good.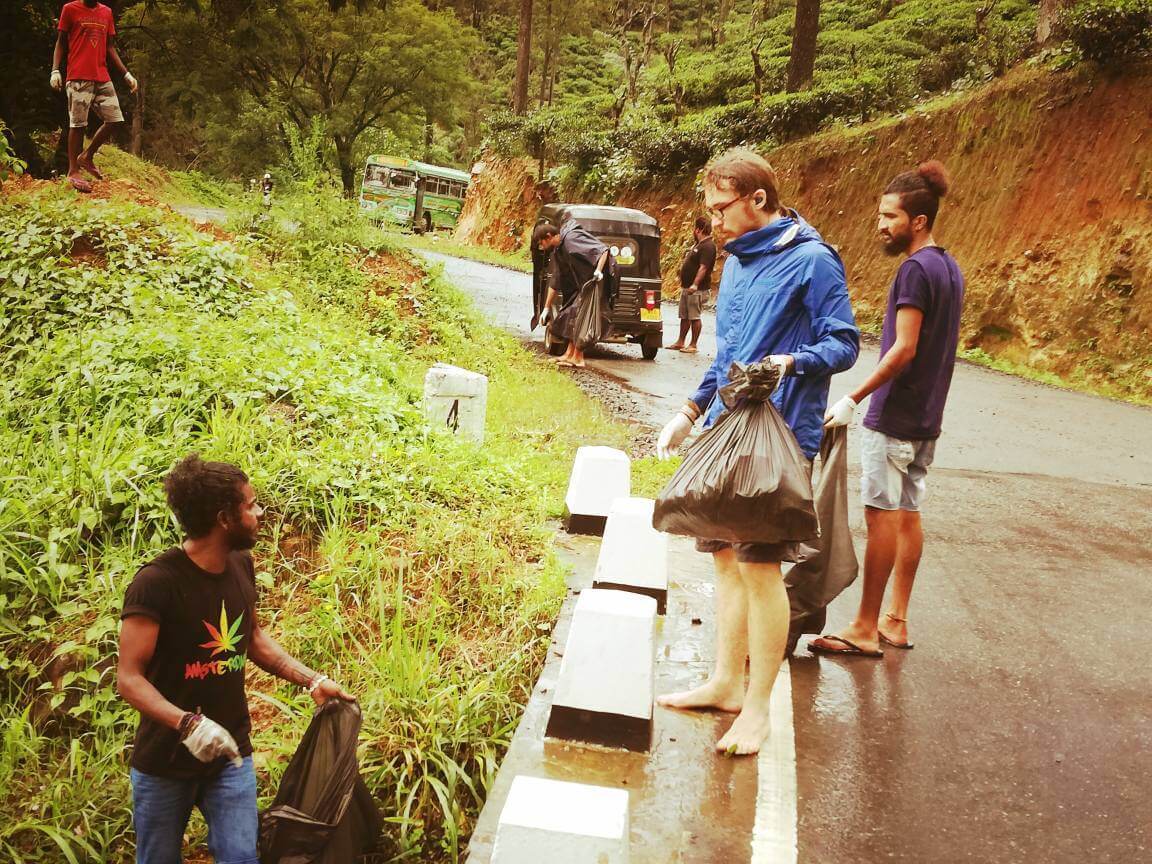 If I have to explain to you how to not be a jerk, it's probably time to drop a tab of acid, go back to the drawing board, and figure out what the hell went wrong. I will say, however, I don't think it's just about being polite.
It's about showing an interest and a willingness to partake: a sincere desire to learn about the culture you're in. To walk the land and be amongst the people you've chosen to enter the home of.
Don't let Sri Lanka be the means to an end; the end being your no-filter-needed beach-holiday bender. You're there for Sri Lanka. Be a damn traveller.
And remember to smile.
It's Time to Go to Sri Lanka
Sri Lanka has something for most people. Not everyone, mind you, but most people.
It's not a hard country to travel and that suits a lot of people just fine. It's also considered a step above the 'easy' Asian countries in the backpacker hierarchy. Consider it your warm-up.
As you may have cottoned on to, backpacking Sri Lanka's typical route somewhat burnt me out. It left me with a sour taste in my mouth over the vibe of the travellers here.
And then I stopped somewhere and I planted my feet; I travelled the way that I like to travel. I spent time somewhere and truly began to know the people that surrounded me. And through them, I started to see the nuances of the culture.
Not the old temples, and famous rocks, and pretty beaches. The people; the real people. The people that call Sri Lanka their home. I found my boys to boogie with, and I started to see the little bit of magic flowing through the wonders of Sri Lanka. I saw it reflected in the smiles of my friends.
Should you travel here? I dunno, I just wrote a mammoth travel guide for backpacking Sri Lanka; read it and make up your own damn mind! I'll tell you it's damn dope though.
And, if nothing else, they have these chairs: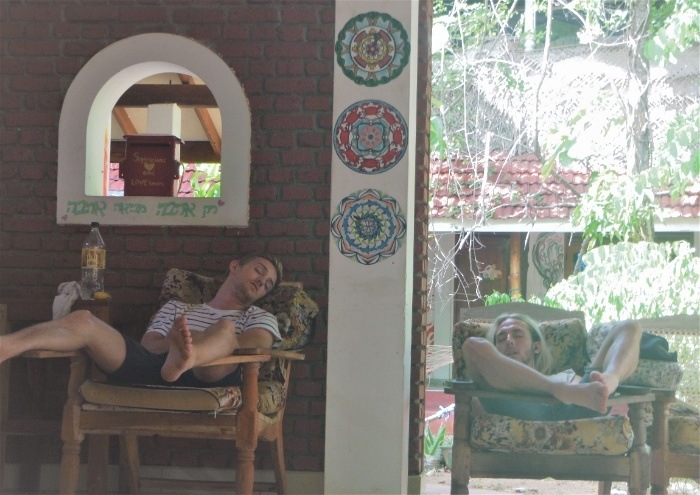 "Yay for transparency! Some of the links in this post are affiliate links. This means that if you book your accommodation, buy a book or sort your insurance, we'll earn a small commission at no extra cost to you. We only link to stuff We've actually used and never endorse crap. Your support helps keep the site going… and us employed… thank you!"
---
Need more inspiration?
Like this post? PIN ME!!!