Places to visit in Sri Lanka… now that's a big topic! It's not a big island, but it is a full one. There are a lot of magical wonders in Sri Lanka to visit.
Let's get the obvious out of the way first. The beaches are the main draw for most backpackers and the top of nearly everyone's itinerary for Sri Lanka. That's fair; the beaches are super pretty.
I'll be covering some of the beach towns but only the really famous ones. Sorry, but not even Sri Lanka's best beaches really do it for me. I'm from the east coast of Australia; I've had my fill of pearly sands.
That's okay! I'm about to let you in on the big secret of Sri Lanka's best places to visit: they're not the beaches. There are some truly beautiful hidden places in Sri Lanka both on – and especially off – its typical backpacking route.
So, it's time we took a little journey around the island of paradise – 'The Pearl of the Indian Ocean'. The 16 best places to visit in Sri Lanka (featuring only two beach towns). It's time we suited up, hoisted our packs, filled our bellies with rice and curry, and hit the road. Yamu!
The best places to travel to in Sri Lanka covering a massive breadth of what 'The Resplendent Isle' has to offer. (Some) beaches, mountains, Sri Lanka's party scene, ancient kingdoms, and villages hidden in jungle mists: a proverbial paradise with a South Asian twist!
I covered the scope of the island so you don't have to! Wait, no, that's wrong… So you can too! Yeah, that's better.
#1 – Tomorrowland Hostel – Wait, what the shit, dude?
Yeah, I've made no secret of my affection for this place. I plugged the hell outta them in my 'Backpacking Sri Lanka Travel Guide' and pretty much anywhere else I could.
So, you can look at this as one of two ways: either they're secretly paying me off with hashish under the table, or I really just love this place that much. I'm of the opinion that travellers need a home more than anyone.
Why it's awesome: Take your pick: the view is jaw-droppingly stunning, they serve up the best feeds I've found in Sri Lanka, and the tunes are always tight! Tomorrowland (no affiliation with the trashy festival) is not a party hostel but it attracts good people. There's a reason why in 3 months of travelling Sri Lanka, I spent 6-7 weeks collectively there. The boys behind the scenes are simply some of the best.
What to do there: Slow down, man. Watch the clouds and the sky, read a book, spin some poi, meditate on your inevitable and untimely demise: it's all good! Tomorrowland is outta Ella but is still a stones throw away from some real highlights of Sri Lanka and, at the end of the day, when you just feel like resting somewhere that feels like home, you've got one to go back to.
And spend some time with Beauty. She is the queen of the palace after all.
An Unfortunate Disclaimer and Update
#2 – The Kandy to Ella Train – I suppose this is more of a 'thing to do' in Sri Lanka…
To be honest, I'm assuming you've already heard of the Kandy to Ella train purely for how famous it is. It's definitely a must-do for anyone visiting Sri Lanka and it's definitely-definitely something to be experienced for anyone who is unused to the public transport in this little pocket of the globe.
Why it's awesome: There are no damn rules! You feel like walking on the train tracks… Why not? Want to hang out the door? That's definitely ok-ok!
The snack-men keep on coming which means you're basically sampling Sri Lanka's scrumptious street food while travelling in serious style. The views of Sri Lanka's hill country are simply legendary and, chances are, you'll make some friends along the way.
What to do there: I mean, let's be honest, most people have obtaining the perfect snapshot for their 'gram on the mind when they board. But, really, it's one of the wonders of Sri Lanka. Feel the breeze and the fresh mountain air on your face as you watch the swell of tea plantations drift by.
Why, you're right! I did write a Kandy to Ella train travel guide, so I'd definitely suggest having a read if you're wondering how to catch Sri Lanka's finest train ride. Option two is to book through Bookaway; they'll nab you a reserved seat. They're a great choice for booking public transport in Sri Lanka however, ultimately, I'm always gonna tell you to ride local.
It's where the best adventures are.
#3 – Arugam Bay – The place to visit in Sri Lanka for backpacker beach vibes.
This is numero uno of the beach towns we're talking about, and it's also number one on most people's east coast Sri Lanka itinerary. The traveller vibe is very… Southeast Asia. I'll say that and leave it at that; I've run my mouth off enough about the backpacker culture in Sri Lanka.
Why it's awesome: If the vibe you're seeking is messy parties (house and techno, friends), cute butts, and an endless supply of fruit-print shirts and substances, then Arugam Bay is one of the top places to go in Sri Lanka. Yeah, look, I'm not gonna pretend it's my vibe, but I am happy to report that the food is goddamn incredible! Cheap prices for being in the bubble and heaps of local joints (heh). Mama's Restaurant still stands as one of my favourite places to eat in Sri Lanka.
What to do there: Surfing, joints, parties, and then sleeping off the surfing, joints, and parties in hammocks. That about sums it up. The beaches aren't as pretty as on Sri Lanka's south coast but there are so many different breaks around that it's rare to have a day without finding some good waves.
And, hey, listen! I wrote you a surfing in Sri Lanka guide (yes you, just you – because your butt is still my favourite butt). That's where I've done most of my breaking down of Sri Lanka's beaches with a special focus on Arugam because… well, mainly because of the food. Not gonna lie; it was mainly the munchies that kept me there.
#4 – Sigiriya – One of my top 5 places to visit in Sri Lanka.
Sigiriya is a super-popular destination in Sri Lanka and with good cause – there's a giant rock that domineers the skyline over the town and it's bloody magnificent! This is one of the top attractions on Sri Lanka's tourist trail but it's also crazy popular with the locals given it's status as an extremely sacred site. It reminds me of a lot of the tourist spots in India in that regard: a lovely mix of local and traveller vibes.
Why it's awesome: I mean, again, did I mention the rock? Lion's Rock with the ancient rock fortress, Sigiriya, standing guard at the top. It really is an architectural marvel and even if the historical shizz-bizz isn't your thang-dang, it's still gonna leave you saying "That's one sexy-ass rock".
If the historical shizzle-nizzle is your thing, Polonnaruwa and Dambulla are an easy day trip from Sigirya. They're two more cultural travel places to visit in Sri Lanka.
What to do there: There's two options for experiencing Lion's Rock:
Number one is climbing Lion's Rock itself but it's pricey – 4500 rups ($25ish). The upshot is that you'll see the fortress but the downside is that it's busy and the climb is less of a 'hike in Sri Lanka' and more of a 'long flight of stairs' in Sri Lanka.
Option number two is to climb the nearby Pidurangala Rock for 500 rups. That way, you'll actually be able to see Lion's Rock: sunrise is nice, sunset is very nice, and the walk, though short, actually feels like a walk.
Whatever you choose, when all is said and done, you can go to Rastarant in town for a fresh juice and to walk the slackline!
#5 – Rent a Tuk Tuk in Sri Lanka – The best way to travel in Sri Lanka.
Again, this is more of a 'thing to do' in Sri Lanka but… well… you're driving a goddamn tuk tuk in Sri Lanka! If you can't see the relevance here, then I pity the foo'! I hooked up with a couple (not like that, you weirdo) who had rented one and, my God, it was a spectacular journey.
Why it's awesome: Dude, think of the adventure! Is there a cool rock on the horizon? Drive to the rock! Is someone hitchhiking? Pick that sucker up ("500 rupees – local price, machan").
Between your rental fees and the fuel costs it's definitely gonna run you more than Sri Lanka's public transport. If you're travelling Sri Lanka on a budget, this may not be the best choice for you. For everyone else… you're driving a goddamn tuk tuk in Sri Lanka!
What to do there: Anything you damn well please: you've got a three-wheeled warhorse at your disposal! Use your new companion to travel to any of these places to visit in Sri Lanka or go find your own when you're out between the bubbles.
Here's the link for the tuk tuk rental company that my companions (love you, guys) used. They're legends and run the whole operation real tight. Scope the site out and, if it's your cup of Sri Lankan milk tea, use the code brokebackpacker at the check out for a sexy-tight discount!
#6 – Mannar Island – Definitely an uncommon place to visit in Sri Lanka.
Well, now you have a sweet ride, so why not go somewhere off Sri Lanka's backpacking route? No one bloody-well goes to Mannar Island – seriously! In 3 months of being in Sri Lanka, I didn't meet a single backpacker who'd been there and very, very few who knew of it.
Did I go there? Nope! I dicked it up. I didn't have enough time; life of a working traveller, I suppose.
That's why I reckon you should go there… if the old legends of Sri Lanka tingle your dingles.
Why it's awesome: Mannar Island is the home of Adam's Bridge (or Rama Setu) and also one of the oldest legends – and possibly most important – in Sri Lanka. The legend comes from the major Sanskrit epic of ancient India, Ramayana, and tells the tale of Rama (a chill dude who kicks ass and chews bubblegum) who builds a bridge of rocks to Sri Lanka with the aid of an army of monkey-men.
Man, look, the Sanskrit legends are sick. They're basically the OG Dragon Ball Z!
What to do there: You can hit the beach or check out the local vibe (it's cool heading out this far) but you're mainly going to see Adam's Bridge. It's the remaining natural structure of what was once potentially a land-bridge to India. Scientists can't seem to agree on what formed it but, generally, they do concur that it wasn't due to the unionisation of an army of monkey-men.
#7 – Ella (Area) – One of the most beautiful places in Sri Lanka.
Yeah, so I already told you about my favourite place to stay in Ella but I didn't actually tell you about Ella. It's so gorgeous, man. Sri Lankan mountains have good vibes and so do the mountain-folk.
The town of Ella itself is a bit crap – an over-capacity little tourist bubble – but everything around it is so, so yum. That's why I say to stay outside of Ella. I already mentioned Tomorrowland but there are plenty of other hostels and guest houses in Ella. There are some other fancier accommodations too if you're one of those cute travelling couples that like to bang it out in hotels before heading out for the day.
Why it's awesome: It's all about that natural splendour. Shades of green rise and fall between the hills all the while the magical (and truly unique) clouds play amongst the plantations. There's good smoke around too!
What to do there: There are some hikes though nothing truly murderous (for the proper hiking places in Sri Lanka, see the next section). There are some fine examples of the delicious waterfalls in Sri Lanka including it's second-highest (which is also free unlike the highest). Honestly, I'd take a mountain over a beach any day and this place to visit in Sri Lanka (and live) gives me nothing but contentment. If you're the same, you'll find your people.
Once again, check out the Kandy to Ella travel guide to see me go more in-depth.
#8 – The Knuckles Mountain Range – One of the true wonders of Sri Lanka.
Oh boy, oh yum. The Knuckles Range is easily one of the best places to travel to in Sri Lanka.
You'll find remote villages, misty peaks wrangled by jungles, waterfalls (duh), and some of the still hidden places in Sri Lanka. The thing about the mountains in Sri Lanka is that they're not the kind I want to climb (ok, maybe a bit). They're the kind I want to sit beneath and gaze at.
That's special.
Why it's awesome: Dude, the mountains! Go see some seriously pretty skies, eat with the locals, and escape the electric world for a bit.
What to do there: Without a doubt, hiking is easily the main draw there and you'll be meeting more local tourists than foreign ones. Otherwise, it's a place to go in Sri Lanka for those sweet tingly-dingly adventure vibes.
There are hikes in the Knuckles Mountain Range you can do sans-guide and many I wouldn't recommend doing without one. Scope out your own guide or go see Sura at Hipsters Hideout Lounge in Kandy (a good base for the Knuckles). He's a mate and sorts out tour packages – easy!
Nestled deep in a valley of the Knuckles Range lies Meemure village. It's a peaceful place. It is still, without a doubt, a village (not like those bloody Japan "villages").
If you're truly seeking to burst the bubble, it's the best place to visit in Sri Lanka. Meemure is still mighty popular with local tourists (avoid the weekends), but you're far out of the smoothie bowl territory here.
Why it's awesome: A tranquil village (outside of morning and evening prayer sessions) nestled deep in the mists of the jungle. There's not much else to say really; either this is shaggin' your wagon or it's not.
What to do there: If you're there with some communication capabilities – either through a guide or because you actually learned Sinhala (you absolute legend) – then you'll have the opportunity to learn some truly interesting stuff about old Sri Lankan life and world-view. Otherwise, you're looking at hiking to see some truly beautiful places in Sri Lanka to pleasure your eyeballs: softly and lovingly.
Unlike Mannar Island, this is an adventure I did make the time for. I even wrote an eyeball-pleasuring guide for getting to Meemure vilage and exploring the Knuckles Mountain Range.
#10 – Mirissa and the South Beaches – Sri Lanka's best beaches but perhaps not the best places to visit.
Yep, that about sums it up.
Pathological sarcastic tendencies used to protect my hidden vulnerability issues aside… they're extremely pretty beaches! Cleaner and nicer than the ones on Sri Lanka's east coast.
I get mixed reports from travellers on the south coast and, based on my own experience, it's highly dependent on where you go. I didn't like it: it was too touristy. The touts and tuk-tuk drivers were just more relentless and stoney Russian-holidayer eyes wig me out wayyy harder than the trademark South Asia stare.
Mirissa is your main hub for backpacker life. The further east you go, the quieter and more local the beaches become, and the further west you head, the more Russian they become.
It's also worth noting that you're visiting one of Sri Lanka's top holiday destinations. It's not predominantly backpackers like the east coast; expect families, children, and higher prices.
Why it's awesome: The dope thing about the south coast of Sri Lanka is that there are sections that get good surf nearly all-year-round (yep, the south coast is in the surfing guide too). If the goal is surfing in Sri Lanka, it's definitely the place to head any time of year. Even during the monsoon, provided you don't care about the rain.
Which, if you're chasing proper swell, you proabably don't.
You eat monsoons for breakfast.
What to do there: Beach shit, man. Surfing, chilling, surfing, talking about how you should do some yoga, more chilling, and then some more surfing! You'll also find more of Sri Lanka's party scene down that way.
#11 – Galle and the Fort – A cool place to stay in Sri Lanka for a night.
Yeah, just a night. That's all I was feeling. For the record, I stayed in Galle Fort – the old town.
Originally a Portuguese and then Dutch fortification, being in the old town feels very much like being in a Sri Lankan variant of a European village. It's a good place to go if you're missing cafe culture and the rice and curry ain't doing it for you anymore. (What's wrong with you!) However, I felt ready to move on pretty quick: the prices are high and the feeling of both the tourists and the locals is very wealthy. (Not that that's a bad thing. It's just not my scene.)
Why it's awesome: It is mega-pretty. Like, it's just a cool place to visit and stroll around on a trip to Sri Lanka. I'd suggest waking up early and going for a wander in the dawning sun before the tuk-tuk mafia have begun their day's hustle.
What to do there: Other than stroll around, not a whole heap. Check out the lighthouse and the old-school Volkswagens, get a fancy-pants meal if that's your jam, and move on when you're ready. If you're missing the feeling of being in Sri Lanka, take a few steps outside the fort and you'll find the chaos of the city again.
#12 – Sri Maha Bodhi – Another cultural highlight in Sri Lanka.
So, how does the oldest living human-planted tree in the world sound? Who planted it? One of the motherfucking tree-hugging ancient kings of Sri Lanka himself! Sri Maha Bodhi was planted from a cutting of the tree that Buddha gained enlightenment under.
The final level-up. Dude… that's sick.
Why it's awesome: Did you miss the part about the ancient god-tree where sages smash the final boss of our suffering and impermanence? You're in the heart of Anuradhapura now surrounded by some of Sri Lanka's oldest temples so this is definitely a place to visit in Sri Lanka for those who are all about that cultural shizz-bizz.
What to do there: Meditate…? Yeah, you can't actually go right up to the tree (what I would give to hug that sucker) but you can go close!
Or, if you prefer your meditation sessions without being stared at by throngs of Sinhalese devotees, you can go find a quieter spot. You're in the heart of the temple complex so you'll be able to find a lot of the old-world points of interest in Sri Lanka. Maha Viharaya, Jetavana, and Abhayagiri are the three big ones to hit up.
#13 – Jaffna – An uncommon place to visit in Sri Lanka off most backpacking itineraries.
There's no way I can sum up Sri Lanka's history here but it's definitely worth learning about. That shit is super important.
Suffice to say, though Sri Lanka is predominantly home to Buddhist Sinhalese people with the other sub-group being the Tamils (who are mostly Hindu and Muslim). There are a helluva lot less Tamil people since the war, but Jaffna is home to one of the largest Tamil populations still on the island. It's also a stark reminder of Sri Lanka's darkness: it hasn't always been tech-house and elephant tattoos.
Why it's awesome: The vibe is much closer to South Indian than Sri Lankan. South Indian spices in your rice and curry, red-ochre temples reminiscent of Hampi, and a bit less smiley (but the head wobbles just keep on coming). As you've gathered, it's more cultural and historical points of interest in Sri Lanka, but the beautiful beaches stretch up this far too.
What to do there: There are islands worth visiting in Jaffna just off the peninsula; Nainvatu Island has Nagadeepa Purana Vihara – another of Sri Lanka's beautiful temples. For other good day trips from Jaffna, you can check out Kankesanthurai Beach and Keerimalai Pond – and old-style natural swimming pool – for some swimming with local vibes.
#14 – Yala National Park – For where to see leopards in Sri Lanka… maybe.
Ahhh, here's the deal. This isn't a 'go out and explore' variant of a national park. It's a 'pay a lot to enter the park and then pay more for a safari' thing, and honestly, I just can't get behind safaris.
I know this falls in a more ambiguous area than riding the elephants (don't) and throngs of tourists posing with the turtles (please don't) but my gut just doesn't feel it. Maybe elsewhere in the world it's different, but I don't trust the safaris in Sri Lanka. I've observed enough of the culture and tourism in Sri Lanka regarding animals that I don't back it. Gotta trust your gut.
But, putting aside cognitive dissonance, free will in a deterministic universe, and "maybe we're all just stuck in a cave anyway" yum-jum, I still got a job to do.
Why it's awesome: The park is a beautiful place to visit in Sri Lanka, indeed, and different to many I've seen. Grassy plains and scrubby lowland lagoons roamed by elephants, crocodiles, buffaloes, and monkeys. Yep, it's a place to see leopards in Sri Lanka, but they're still crazy rare.
What to do there: There are places to stay in Yala and some boutique hotels too. You can go on a safari, but exploring is a no-go. There are tonnes of safaris and traffic is busy… see what I mean?
Right, below I'm leaving a link to book a safari in Sri Lanka. I considered not dropping it from an ethical standpoint but I also believe people get to choose their own actions in an inconsequential universe. Ooph, there's that cognitive dissonance again.
Plus, if you wanna go, you're gonna go. You do you, man – still my ultimate creed.
However, keep in mind that the ethics of the wildlife tourism industry is a quagmire littered with abuse and cruelty. Just think about it.
#15 – Kandy – A place to visit in Sri Lanka with a disclaimer.
Here's the disclaimer: most backpackers I've talked to were pretty disinterested in this destination in Sri Lanka. It's kind of a place you have to travel to in Sri Lanka because for the famous train ride (yep, Kandy is in the guide too), and most reports range from "na…" to "meh…".
But I like Kandy so fuck ya!
Why it's awesome: I just like it! There's lots of cheap local food around – it's a bubble-less city. I like the hills that surround the town and the way houses and temples jut above the treeline. (Staying up in Kandy's hills is super nice). Honestly, it's kind of a weird comparison, but it kinda feels like an Asian Wellington… architecturally speaking.
What to do there: Well, there's definitely things to do in Kandy but nothing so spectacular that it feels worth a mention. Ooh, I know. Go get a burger (or wrap) from Licenced to Grill. They aren't the best burgers I had in Sri Lanka, but they were the cheapest!
Ultimately, I still think it's a much nicer alternative to staying Colombo. Did you notice how it's not on this list?
#16 – Adam's Peak – Arguably Sri Lanka's holiest place to visit.
I like ending lists on sexy mountains and this one is a real stunner! This is a day hike in Sri Lanka to properly test your mettle if only because you'll be scaling 5,500 steps. And the view at the top? Oh sweet darling mountains, you do me wonders.
Adam's Peak's climbing season starts on the full moon in December and runs through until May. That said, climbing it outside of season is golden; the shoulder before December is the sweet spot. During peak season, the climb represents gridlock in Colombo.
Why it's awesome: Once you're at the top, you'll understand; it's a truly unique place to visit in Sri Lanka. The clouds in Sri Lanka's hill country really possess a breath of their own and, at the summit of Adams peak, you're above them.
What to do there: …Climb it? Outside pilgrim's season you won't be able to enter the temple and see the foot print but who cares… Take your shoes off and make your own!
Outside peak season, the lanterns won't be lit so you'll need a headlamp for climbing the peak for sunrise or sunset (which is definitely the time to climb). Luckily, there are shops along the way that sell them! (But you really should be travelling with one in your gear setup regardless.) That's it: the 16 best places to visit in Sri Lanka. Go climb a glorious mountain and watch the sky!
Get insured before hitting up all the places to visit in Sri Lanka!
World Nomads' mission is to support and encourage travellers to explore their boundaries. They offer simple & flexible travel insurance, and safety advice to help you travel confidently.
They've been doing it since 2002 – protecting, connecting, and inspiring independent travellers just like you.
Get a quote below or read our in-depth review!
World Nomads provides travel insurance for travelers in over 100 countries. As an affiliate, we receive a fee when you get a quote from World Nomads using this link. We do not represent World Nomads. This is information only and not a recommendation to buy travel insurance.
I met a dude that messed up his leg sticking it out the door of the train. I met a dude that messed his face up doing I-don't-remember-what (something dumb). There was even this chick that choked on her kottu!
That last one was a hideous lie. Kottu is the best and would never harm a soul. All in all, Sri Lanka is pretty damn safe but, all the same, you really should consider getting insured!
Find out what people want to know about the best places to visit in Sri Lanka
Oath! That's it: all my best places to visit in Sri Lanka. Carefully collected over the course of 3 months! Let me tell you, a couple months ago this list would have looked lot different… except Tomorrowland. That was always number one: it's the only hippie place I've found in Sri Lanka.
Dude, I love Sri Lanka! It took a while for the real click to come but now it has and I can say: it's a graceful little island. Grace done South Asia style, of course.
I dig the food, I dig the people, I don't dig the price of smoke, but I do dig the smoke. Give me a spicy kottu and ultra-sweet, ultra-milky tea any day and I'll give you a doofy-ass grin.
If you're reading this, you're probably considering travelling to all the places in Sri Lanka to visit… or at least some of them. Maybe you're crafting your ultimate itinerary for Sri Lanka. It doesn't matter; whatever you're doing – do it! Sri Lanka is dope!
What can I say? It wallops my scallops.
---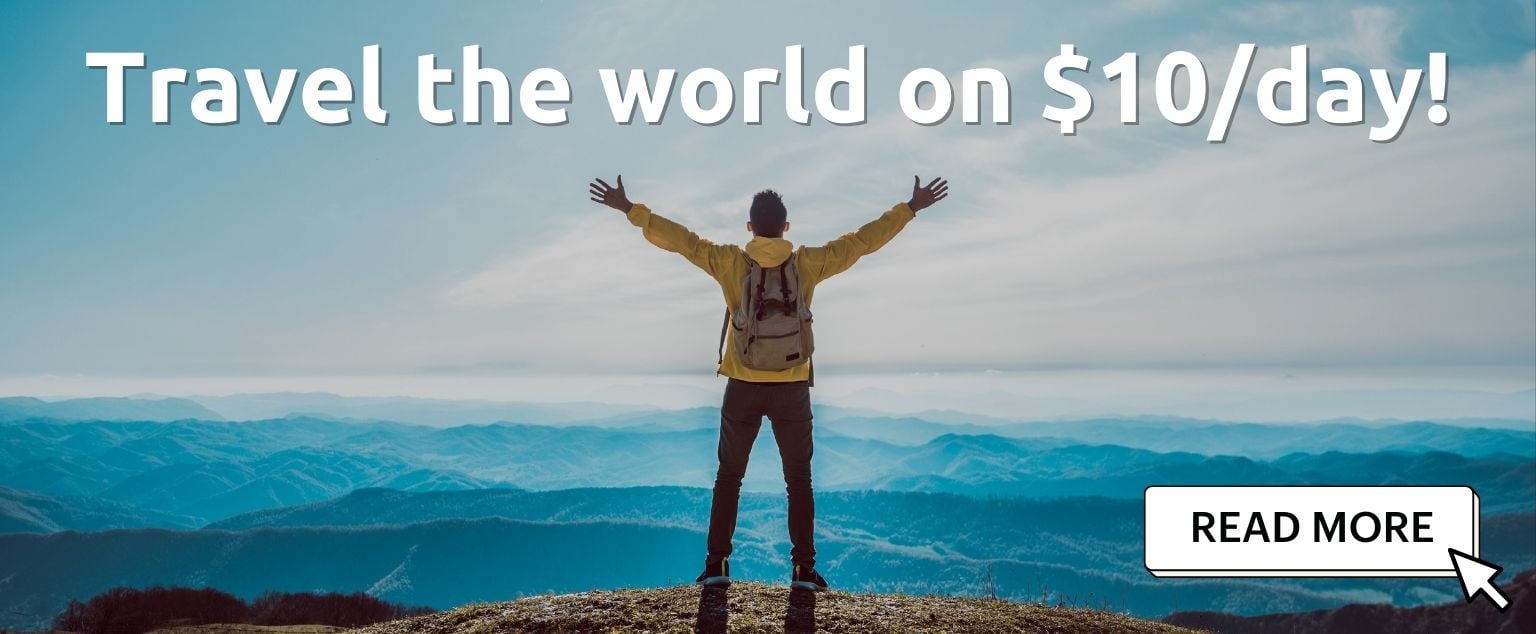 And for transparency's sake, please know that some of the links in our content are affiliate links. That means that if you book your accommodation, buy your gear, or sort your insurance through our link, we earn a small commission (at no extra cost to you). That said, we only link to the gear we trust and never recommend services we don't believe are up to scratch. Again, thank you!