Meemure village, Sri Lanka's ancient community veiled within the jungle… A step outside the bubble.
Here's the deal: travelling Sri Lanka is not hard. It's a small island of well-accommodated tourist bubbles. Between the bubbles, you'll find extremely capable transport with a splash of that unique Asia-brand chaos. It's South Asia but on easy mode.
It's hard to find uncommon places to visit in Sri Lanka. I mean, it's not so hard in that if you start walking (or hitching) in any direction you'll pretty quickly be back in the land of incredulous stares. But to actually find, plan, and execute a journey to one of Sri Lanka's hidden places – to leave the bubble – obstacles arise.
Most travellers don't know of the truly unique places in Sri Lanka and not all locals tell you for the expectation that it's "not possible." There are rules: white people go to Ella, Arugam Bay, or Mirrissa and for everything else, you'll need a guide and tour package combo.
But where's the fun in that?
This is a guide on how to make the trip to Meemure village, the little place that Sri Lanka's backpacking trail forgot. Far from the beaches and the yoga pose sunset shots and the tech-house parties with accompanying fruit-print shirts, there's a little village that doesn't even know what a smoothie bowl is. Hiding in the misted valleys of Sri Lanka's highland jungles is an adventure.
An adventure to Meemure.
Why, what an extremely appropriate question – gold star! Meemure is a village nestled in a jungled valley of the (absolutely downright spectacular) Knuckles Mountain Range. It's a small village (population of 400), it's isolated (considered Sri Lanka's most remote village), and it's far from the reach of Western tourism (3 white visitors in the last 9 months as of writing this… two of which were me and my travel buddy).
This is a chance to see some of the most gorgeous and untouched land in Sri Lanka. The Knuckles Ranges have a surreal quality; a shifting storm of Sri Lanka's climates. Different landscapes weave together like a tapestry.
And then, in the valley, under the benevolent ferocity of Lakegala, is Meemure village.
I'm not going to describe what Meemure looks like. I'm going to describe what it sounds like.
Mornings start at 5 A.M. with the caterwauling of the Buddhist Temple (I didn't say it was all good). Once the morning festivities draw to a close, it isn't quiet: Meemure has woken up. The sounds of the village come to life… gently. We're still running on Island Time.
The clangs of water buckets and the soft sounds of brooms moving dirt echo through the village whilst the birds, bugs, and lizards draw awake under the rising sun. Kids run, laugh, and bounce through the streets as the adults begin setting to their daily tasks. Layered behind it all is the forests and peaks of the Knuckles Mountains.
It's really nice that places like this still exist.
How remote is Meemure village?
Another excellent question! Yeah ok, now that I'm done with painting the scene with my poetic prose (you're welcome) – let's get technical! I'll be honest… it's not that remote.
Meemure is remote by the standards of Sri Lanka: a small island where all the stoners inexplicably seem to know each other (or be related). But backpacking in Sri Lanka is still South Asia on easy mode.
You can get from Kandy to Meemure within a day, no sweat. The road into Meemure village, however, itself will leave your ass a bit tender (from the drive, you perv)! It's a one-road-in, one-road-out scenario and it's a shitty road but mad props to the van for being such a warhorse (and the driver for knowing exactly which stretches he can suddenly gun it on).
I was told there was no electricity in Meemure, so I'm sure you can imagine my dismay when we arrived at a pseudo-homestay in Meemure only to find the daughter watching some variation of Sri Lanka's Under-12s Got Talent on the television. There is, however, no phone coverage. Once you're in Meemure, you're there and you're also probably the only white person around for up to 100 km in any direction.
There's very little English spoken but just enough to get by with the common words and hand signals ('room', 'toilet', 'which country'). With a little luck, you may bump into a Sri Lankan tourist too with a little more English.
Which is my last point: Meemure is off Sri Lanka's backpacking trail. It's still extremely popular with local tourists; it is, after all, known as one of the most remote and beautiful places in Sri Lanka. It's something of a mecca for Sri Lankan travellers.
Avoid the weekends and the main camping sites in Meemure to steer clear of the noise. The locals are mainly there for a spot of trekking in the Knuckles Ranges and getting high by the river.
I guess we're not so different after all.
What things are there to do in Meemure village?
Man, what kinda dumbass question is that? Getting to Meemure is the thing to do!
You won't find many tourist activities in Meemure – it's not set up for that. And it is admittedly difficult to truly uncover Meemure's secrets on a short trip with language barriers.
So, what things are there to do in Meemure? Well… go exploring! Find something not many other people have ever seen. Maybe you'll find something no one has ever has…
Lakegala – It's impossible not to talk about this beauty considering she's visible from most places in Meemure village. Also, I love her. You have no idea how many photos I took of her.
Hiking to Lakegala (Lahk-ay-ahlah) and exploring the surrounding area is super doable. Hiking up Lakegala is another story and I definitely wouldn't do it without some level of the appropriate equipment and experience. Whether you want to hire a local guide as well is your choice but, fair warning, there have been accidents at Lakegala and people have died.
Rivers and Waterfalls – Of course, there are waterfalls; this is Sri Lanka! There are a couple of key rivers that run through Meemure and exploring them means finding some of the cleanest water in Sri Lanka. Plus, you know, waterfalls, caves, maybe some ancient artifacts too… the good stuff!
Knuckles Range Hikes – Go get lost… but not too lost! Stay safe in Sri Lanka, alright? You'll want to check out the appropriate section for more info on this.
Scope Out Meemure Village – I mean, you came all this way didn't you? Might as well go have a gander at the ancient, isolated, Sri Lankan jungle village.
Do a cooking class! – Na, gotcha. There's no cooking class. But if you find one, that's fucking sick and you should definitely do it!
Ok, so now you're on board, yeah? We're going on a little hobbit's journey! Nothing too strenuous just over the mountains and back again.
We're going on an adventure to Meemure, one of Sri Lanka's hidden places… How we gettin' there, lokka?
You could get a Meemure village package tour…
Wait, ok, hear me out! Before you make me turn in my Broke Backpacker membership card (we get discounts on veg kottus at select stores across the island) I do want to make mention of this.
I've done this unknown journey to an isolated village a few times now and I've never enlisted the help of a guide or tour. This is mainly because of the cost involved (hence the Broke Backpacker membership card). Also, it's because I'm immensely stubborn (and cheap) and like finding my own way (because I'm cheap).
Sometimes, I blessedly make a local friend along the way. Usually, I just figure it out. What I find do mostly, however, is I always come away feeling like I only scratched the surface.
These hidden places have so much history and so so many stories. Without access to that it's like seeing, hearing, and smelling your food without ever tasting it. And what is life without tasting discount veg kottus?
So yeah, if you do want to organise a guide, tour, or package for Meemure, go see Sura at the Hipster's Hideout Lounge hostel in Kandy. Honestly, this is no way a plug. Sura runs his own tours hiking the Knuckles Range but not Meemure village specifically.
He's just a mate, a good dude, and will get you connected to the right people. Alternatively, you could just become highly proficient in Sinhala.
You can organise your own transport from Kandy to Meemure village…
Ok, this is the option I will give you shit for. If you're not getting a tour package for Meemure, why the hell aren't you catching the public transport? That's half the fun!
You could most definitely get a tuk-tuk from Kandy to Meemure (Sri Lanka has magic tuk-tuks). It'll be pricey, however – at least 5000 rups ($25) but probably more depending on how you play the haggling game.
You can also rent a tuk-tuk. Renting a tuk-tuk in Sri Lanka is excellent fun! Good luck on that road though…
(Hint-hint: use the code brokebackpacker at the checkout for a sweet discount. Aren't our membership cards grand?)
You could also catch the bus (see the deetz below) to Hunnasgiriya and then find a tuk-tuk to Meemure. I got offered a ride for 2000 rups (without haggling).
Jeeps are also available and exist but where and how I couldn't tell you. We're well outside my broke backpacker expertise now.
All in all, you have transport options for getting from Kandy to Meemure, but its a stark contrast to the 430 rups ($2.40) I put towards my transport costs…
Buses and Vans: A Sri Lankan Themed Broke Backpacker Adventure to Meemure Village
Right, so we're starting from Kandy! That's because for anything Knuckles Range or Meemure related, Kandy is your best base of operations.
Step 1: Bus to Hunnasgiriya – The road to Meemure village starts from Hunnasgiriya (Hoo-nnahs-gih-rih-yah) so that's where you've got to go. The local bus cost me 80 rups and runs from the bus stop near the railway station. Walk the road from Kandy Clock Tower to the train station and at the Y-junction take the right prong.
You're looking for the bus to Mahiyanganaya (Mah-hee-yahn-gah-nai-ya – good luck with these names, by the way). That bus stops at Hunnasgiriya.
Step 2: Find the Meemure Van – The bus doesn't actually set down at the van stop (there's no 'van stop' – it's just the side of the road – but I'm calling it that anyway). You can either tell the conductor that you're going to the "Meemure van station", get a tuk-tuk from the bus station in Hunnasgiriya (it cost us 100 rups), or walk the road back towards Kandy (about a kilometre) asking along the way. Get used to asking for directions and always ask multiple people.
Step 3: It's a Van Over the Mountains – Once you've found the van stop – naturally, with a stop at the eatery next-door for a cheap, local feed – the rest is easy! Van shows up, you get in, it arrives in the centre of Meemure – easy-peasy!
The van costs 200 rups, should show up around 1.30 P.M. – leaving around 2 P.M. – and arrive in Meemure sometime between 5 and 6 P.M. It's not a long drive but the view is spectacular (try to get the right-hand side) and you can expect a sharp decline in the quality of the road somewhere around the halfway mark. My balls kinda hurt by the end.
Step 4: Remember to Smile – It's an adventure!
That's it – you're there. You've made it! It was a tiring journey but at least the views took your breath away! So, now that you're in one of the most uncommon places to visit in Sri Lanka, what the hell are you doing?
Have no fear: I've been, I've seen, and I've returned. I got all the hot tips for your Sri Lankan adventure to Meemure village!
Ok, maybe not all the tips. Gotta leave a little something to the imagination.
Where to Stay: Are there rooms in Meemure?
Oh, the burning question! It's a fair question; it would be a shame if you journeyed all the way to Meemure only to get eaten by a leopard while sleeping in the jungle.
So, to answer the burning question: yes, there are rooms in Meemure. In Meemure there are "hotels", "resorts", and "lodges". Perhaps you noticed that I bolded those quotation marks. I think you can guess why.
You won't find hotels and resorts in Meemure village (despite what the signs say); you'll find rooms. Maybe you'll have a bed base or maybe it'll be a mattress on the floor. Maybe you'll have a connected toilet but you probably won't. One way or another, you'll find a room.
In all likelihood, you'll probably be staying in a villager's home in Meemure – an unofficial homestay. That's pretty dope though!
As to where we stayed specifically?
We stayed in the house of a man named Anande (Ah-nahn-deh) and his family; he's not hard to find. Once you step off the van in Meemure's centre, Anande's house is on the hill opposite the closest shop. The woman at the shop can point you in the right direction.
We showed up very unexpectedly (as vagrants often do) and he was bemused but unfazed (as Sri Lankans often are). The room was little more than a couple of mattresses on the floor with crappy linen and the first words out of his mouth upon showing us were a sheepish "Not clean." I like honesty.
Anande charged us 1000 rupees each per night with breakfast and dinner included… and then he went ahead and fed us lunch, tea, and biscuits anyway because this is South Asia and YOU WILL NOT GO HUNGRY! He and his wife are spectacular cooks and no, I don't have a contact number for him in Meemure sadly. I didn't really feel I could effectively explain my occupation and receive an appropriate level of informed consent via hand-charades.
What about camping in Meemure?
Yes, yes, and definitely yes! Camping in Meemure is definitely a grand idea! It's how most of the Sri Lankan tourists do it and there are a few ways you can go about it:
Bring your own gear – Because, duh. Sleep wherever you damn well please! You don't have to stay at a camping site in Meemure either. I scoped out some of the surrounding jungle and there are plenty of sweet places to pitch.
For this option, you'll need a tent, the right sleeping gear, and a backpacker stove (and food to cook). Oooh, or a hammock! Not travelling with any of that shit? Man, get your head in the game – we're broke backpackers!
Camp in Meemure – I'm not sure about the costs but there are campsites scattered in and around Meemure (especially by the river). Or pay someone to let you camp outside their home and feed you while they're at it! You can find tents of the cheap-and-nasty variety for 2000-4000 rups in Kandy.
Find a tent once you're out there – I'm not recommending this choice. One man offered to supply us with a tent hire for 5000 rups. This was the same guy that charged us an extra 50 rupee 'white person tax' on the van ride in. Sadly, most hidden gems in this world still require scouring through the shit to reach.
Pre-organise – It's possible to pre-organise a tent lodging in Meemure village before going and have it ready and waiting for you when you arrive. I've honestly got no clue how though. Talk to Sura or I've also been informed (by the third white person to go to Meemure in the last nine months) that the manager of Kandy Backpackers knows how to organise a Meemure camping package.
The Weather in Meemure and the Knuckles Mountain Range
The weather in the Knuckles Range is its own beast. The Knuckles region is so incredibly diverse with its varying climates that it will either keep you on your toes or flat on your ass.
Cold in some areas; "My gooch is sweating" humid in others. Some places are wet and some places are extremely wet. If you're going trekking in the Knuckles Mountain Range, it pays not to fuck around.
Meemure village's weather is more consistent (still wet though). It's extremely rare for the temperature to exit the 20-30° range (Celsius, you Fahrenheit weirdos) and if the sun is coming in hot, it's wise to start your hikes early.
Rain is also common in Meemure, even in it's – ahem – dry season. The weather in Meemure (and the Knuckles) is best in summer (June-August) with September also having relatively low rainfall.
For the record, we made the trip to Meemure in mid-September and it was hot… and then humid. Following that, it rained briefly in the afternoon with some flashes of thunder before getting a wee bit fresh come late twilight. And then the night was humid.
See what I'm saying? The weather is synonymous with that ex that kept your iPod after she dumped you. Unpredictable and just kind of a bitch.
A Few Extra Pointers on Meemure Village
I'm tying up Meemure with a few pointers to get you by. They won't save you from wild leopards but, hey! At least if you get horribly murdered you can put "Was eaten by a wild leopard in Sri Lanka's most remote village" on your gravestone. Hell, have your widow send in a photo of it and I'll put it in this guide!
It's worth practising all these pronunciations I'm giving you. Oh yeah… and it's pronounced Mee-moo-reh. Practice that one too.
I remember Anande had some toilet paper but I can't recall if the shop did too. Unless you've levelled up to South Asia final form (right hand for eating; left for cleaning your Mr Poopy Butthole), I'd suggest taking a roll. Two if you shit a lot.
Maps.Me – as always – is the best map app for journeys like this. In lieu of a guide or hiking map of Meemure and the Knuckles Mountain Range, it's the next best thing.
Physically and mentally prepare for leeches, in particular after the rains. Tuck your trousers into your socks. Sure, the look will leave you almost completely unbangable but if I had the choice between being covered in leeches and a wild night of animalistic sex in Sri Lanka's most remote village I'd… actually the sex… I'd take the sex.
There's an excellent source of information for hiking in Sri Lanka and especially the Knuckles area right here. It's written in English by a local (or locals) and, although a bit janky, it's one of the best sources for information that you'll find on the topic.
I figured since I love them and want them to have my babies, it would be a bit silly not to talk about the Knuckles Mountains a bit more in-depth. Nothing too full power; I'd just like to outline a few details on this majestic area.
As I've said, the Knuckles Range is home to an absolutely awe-invoking level of biodiversity. Wikipedia actually tells me that all of Sri Lanka's climates are featured in this microcosm, but I'm not so sure. I didn't see any beaches with white people being bad at surfing while I was there.
Can you also go hiking in the Knuckles Mountain Range solo? Of course! You can also go bungy jumping without a rope but that doesn't make it a good idea.
The weather is extremely unpredictable at its very best. If you don't take the Knuckles seriously, they'll knuckle you upside the face… and then you'll die. Probably from a leopard.
Hiking in the Knuckles Range means having gear, experience, and a map. Do you need a guide? Potentially not but it may result in a much better experience overall with one.
However, I am strongly advising that you don't go alone. Unless you're one of those people who are totally ok with dying young in a blaze of glory. In that case, hell yeah! Charge it, you legend.
Knuckles Mountain Range Treks
I was gonna make a list of the best treks for you but then I decided to make a table because tables are sexy, the Knuckles Mountains are sexy, and you're sexy. Three peas in a pod!
Hiking Lakegala: Addendum
So, because I'm dumb and maybe a bit bad at my job, I failed to see that we – here at The Broke Backpacker – already have an article on climbing Lakegala. Oops, that would have been a helpful thing to see before I adventured out to Meemure!
You can read it if you like but to summarise it: it's not so much a guide as an adventure-guest-blogger-post… thing. It will neither get you to or up Lakegala. It does, however, demonstrate three points:
A guide from the village is nearly essential (the local tourists also find a guide).
You can climb it without any gear but man, that's a seriously hectic climb.
It's fucking dangerous.
Do it solo, sans guide, wearing your pants on your head – I don't care! You know your limits and you know how'd like to go out (I personally would like to finish the race naked and stoned in a ball pit filled with marshmallows). But now I feel like I've properly informed you; the rest is up to you!
Maybe Get Insured Before Your Adventure to Meemure Village and the Knuckles Mountain Range
Sure, I said it's South Asia on easy mode but I also said there were leopards. It would be a shame if a leopard ate your legs and arms and then you were left as a limbless, insurance-less stump with exorbitantly high medical fees.
Consider getting insured before you go into Sri Lanka's most untouched landscape (it's a bit of a 'duh'). Who's gonna cover you for disembodiment-by-leopard? World Nomads!
ALWAYS sort out your backpacker insurance before your trip. There's plenty to choose from in that department, but a good place to start is Safety Wing.
They offer month-to-month payments, no lock-in contracts, and require absolutely no itineraries: that's the exact kind of insurance long-term travellers and digital nomads need.
SafetyWing is cheap, easy, and admin-free: just sign up lickety-split so you can get back to it!
Click the button below to learn more about SafetyWing's setup or read our insider review for the full tasty scoop.
Right, there's your guide! I don't think I can prepare you any more for the adventure to Meemure village. There's one last point I'd like to touch on, however.
I've written this guide with two types of people in mind:
Those in Sri Lanka who want to have an adventure – that want to burst the bubble.
Those who haven't considered it.
I write with the latter specifically in mind because I've met a lot of them in my time in Sri Lanka. Fresh or short-term (often both) travellers who haven't yet seemed to have learnt that some of the most magical places in this world take effort to reach.
So, this is a push. Sri Lanka is really not so hard and neither is this journey. But it's definitely a journey!
The mountains in Sri Lanka are so special and Meemure village is a worthy goal. Everything that happens to you to and from Meemure: that's your adventure.
How you do it is up to you but it's your journey. And the only way you're going to level up – to get power – is to just charge it.
When it's all-said-and-done, you get to go back to your favourite bubble, light a tasty doob, and smash a veg kottu!
---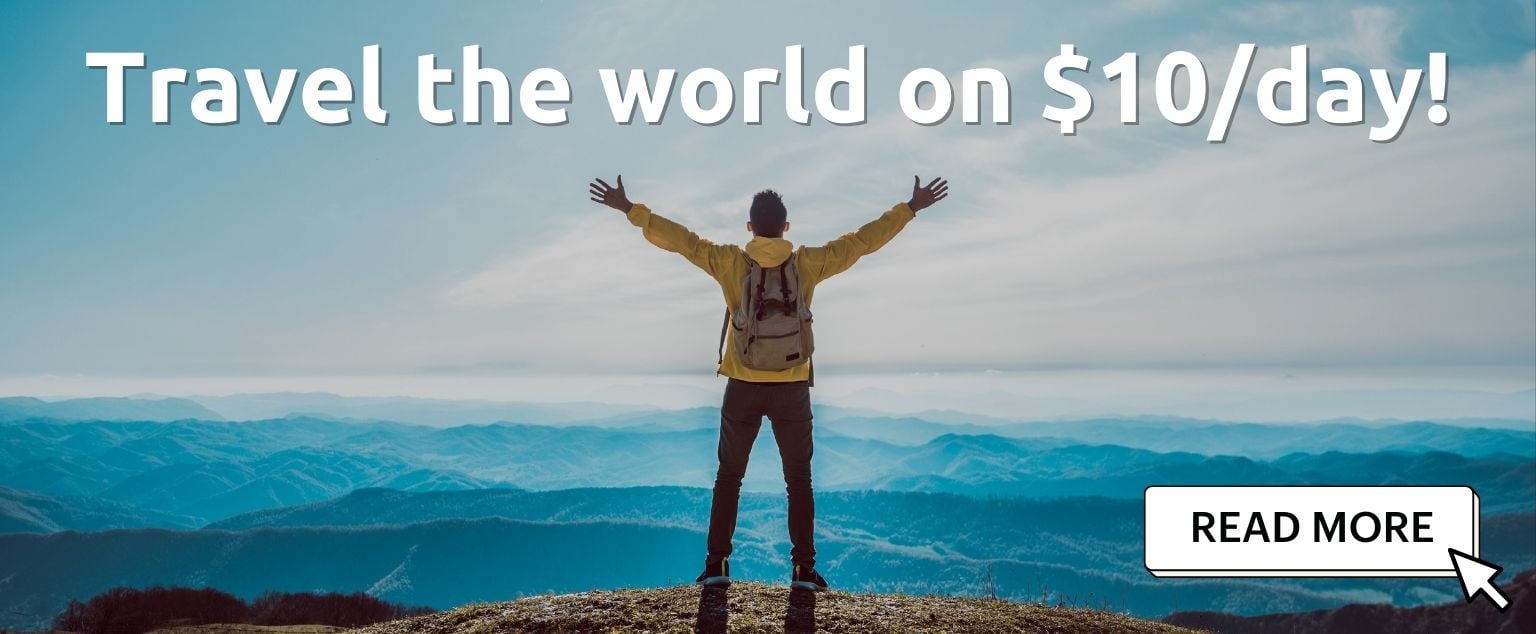 And for transparency's sake, please know that some of the links in our content are affiliate links. That means that if you book your accommodation, buy your gear, or sort your insurance through our link, we earn a small commission (at no extra cost to you). That said, we only link to the gear we trust and never recommend services we don't believe are up to scratch. Again, thank you!