One of the best parts of any backpacking trip is sleeping under a blanket of sparkling stars and waking up in a truly fantastic location. Sunrise in the Southern Alps in New Zealand? Starting the day to the sound of waves on a beach in Costa Rica? Experiencing the quiet of the Dead Sea in Israel?
When you camp around the world, your adventure begins with one thing: your tent.
That moment when you unzip your tent fly and peel back the door to reveal an awe-inspiring landscape is the essence of why I go backpacking. Throw in a steaming cup of coffee and I think you have just stumbled across the meaning of life my friends…
If you want to travel the world on a broke backpacker budget, then you MUST take a tent with you on every backpacking adventure. 
There is simply no better way to experience the beauty or the power of planet earth.
Having your own shelter in the form of an awesome tent is an ESSENTIAL tool of the trade for any budget backpacking trip. Traveling with a great tent is very important for a variety of reasons.
Most importantly your tent is your ticket to supercharging your backpacking adventures and saving money along the way.
Without a tent you feel just like a turtle who has lost its shell. There is a reason turtles don't often lose their shells. Your tent is your dry safe space, your bedroom, and your sacred refuge. In addition to your tent giving you the independence and freedom on your backpacking journey, it's also the means to see the world without having to pay for accommodation EVERY night.
This is my manifesto on why you should take a tent backpacking: Learn about the symbiotic relationship between tents and budget backpacking, how to camp around the world, tent recommendations for 2018, tent safety 101, and much more!
Quick Answer: Always Pack A Tent!
This article will explore:
Why take a tent backpacking?
How traveling with a tent will save you a ton of $.
How to camp around the world
Best tents to take backpacking
How to choose a good campsite
Tent and Camping Safety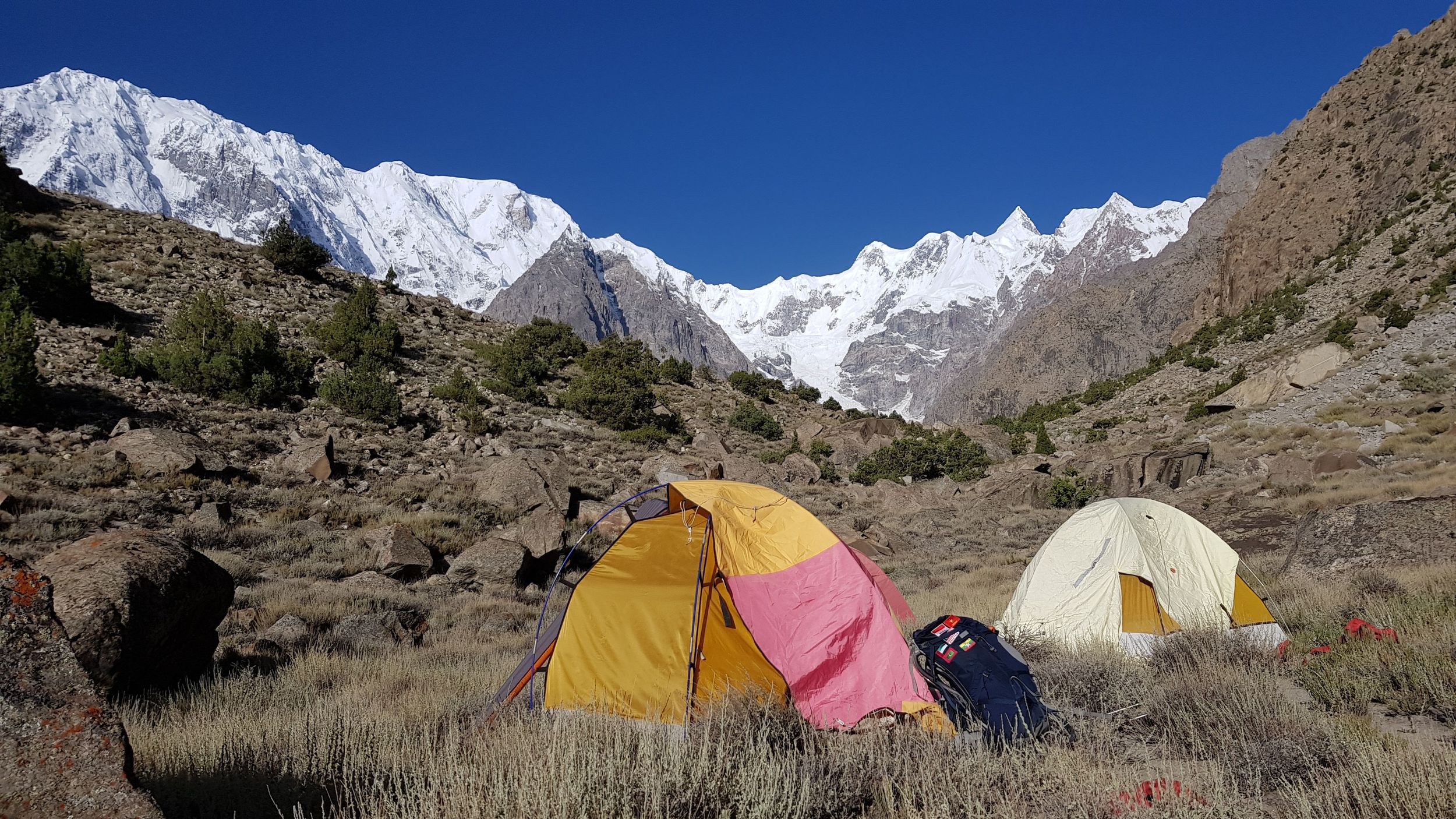 Why Take a Tent Backpacking?
You might ask yourself, "Why the hell should I take a tent backpacking?". You are not alone in this query. Many backpackers are on the fence with regards to packing a tent for a backpacking trip. Once you begin to look at some of the bigger questions surrounding a successful backpacking adventure, the benefits of having a tent along with you are obvious.
I'll start by saying that not every backpacker or trip requires bringing along a tent. If you are going for a ten-day trip around European cities for example, a tent is not very useful or practical. If you're backpacking during the winter in a very cold country, sleeping in a tent when it is -20 C is out of the question for the average backpacker, myself included.
However, if you are planning on a several month multi-country backpacking odyssey, having a tent is as important as having a good pair of shoes or your toothbrush.
You don't have to be a totally experienced trekker or outdoor enthusiast to take a tent traveling. In most countries on earth, there are beautiful places to camp out that don't require huge amounts of effort to reach. Having a tent is the only way that you can truly experience these special places on your own time and pace.
Visiting a place for a day-trip, snapping a few photos, and then returning to civilization in one thing. There is a time and place for that scenario, sure. That said, camping out and sleeping under the stars is bound to be far more rewarding.
Save Money on Accommodation: Camp Around the World!
Traveling with a tent will save you money. I must emphasize that whilst traveling in the more expensive regions of the world, like Europe, America, and New Zealand, having a tent is a complete necessity. A tent is your lifeline to being able to AFFORD to travel long-term.
Accommodation is by far the highest cumulative cost of any backpacking trip (unless you are taking heaps of flights). This is especially true is developed countries. Who can afford to pay $30 for a dorm bed every night for three months? Even in South America or Southeast Asia, having a tent offers up the potential to save on accommodation that is already cheap.
I found that hostels in Malaysia, Costa Rica, Nicaragua, Peru, Ecuador, and Argentina, to name a few, would allow me to pitch my tent for about half the price of a dorm bed. You still have access to all the hostel facilities and the social scene without having to cough up the cash everyone else is paying.
When there are no hostel facilities to be found, camping might be the ONLY option. Whether you are wild camping, crashing in a farmer's field, or paying a few bucks to stay at an established campground, your tent is essential to all three scenarios.
If you are the kind of backpacker that loves getting off the beaten track, a tent will be your best friend.
Then there is the obvious application of using your tent whilst on hiking trips…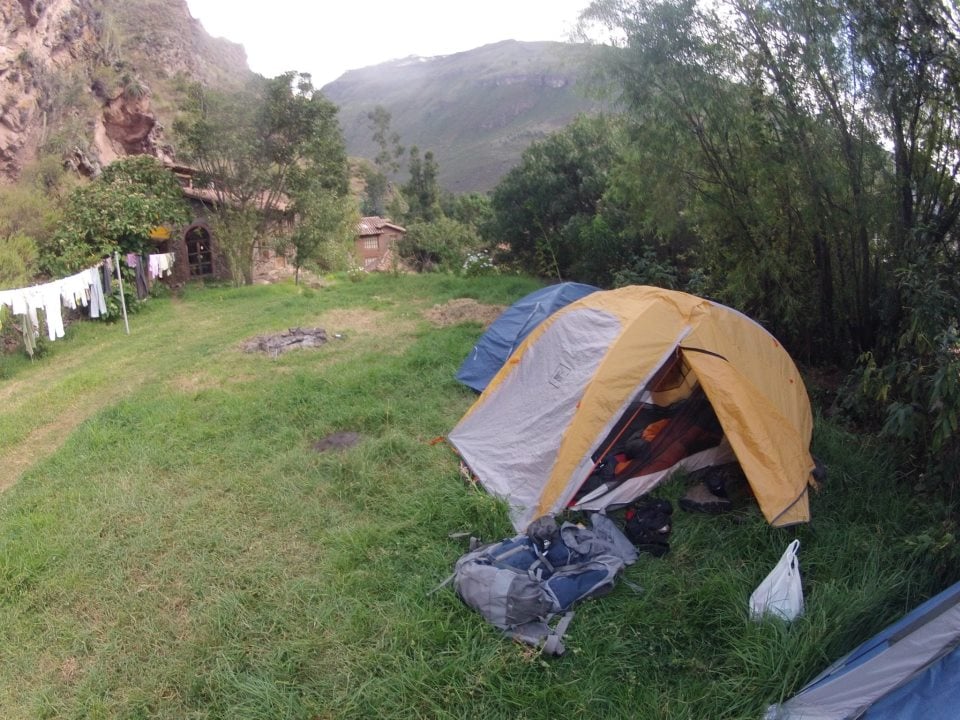 Trekking and Camping: How to Really Experience a Country
One of my favorites parts about traveling is getting the opportunity to explore new wild landscapes. I live for experiences made in the mountains, jungles, and deserts of the earth. If you plan on doing any trekking whilst on your backpacking trip, having a tent opens many doors.
Many countries in the world where trekking infrastructure is developed, mountain huts are an option. I love staying in mountain huts. From New Zealand to Europe to Patagonia, mountain huts are a part of the hiking culture.
Mountain huts do come with their own drawbacks. First of all they can be expensive. Second, they can be overcrowded. People snore. Other hikers may not respect the space as well as they should. When I was a hut warden in New Zealand, I was constantly after people to clean up after themselves!
Having a tent allows you to be a self-contained mountain conquering machine.
Point being: Where ever your adventure takes you, a solid tent is a must if you want to explore the outdoors with any seriousness.
I encourage all backpackers to pack a tent if only to be used on a few multi-day trekking adventures. Saving money and having independence is an added bonus in my opinion. Trekking in beautiful regions of the world, unplugging from technology, and camping out with only the sounds of nature is an experience I wish for everyone, not just travelers.
In this crazy time we live in we all need more stunning nature in our lives. Having a tent is your own personal technology detox sanctuary. See the planet. Camp around the world. Have the time of your life. Pitch a tent as you go.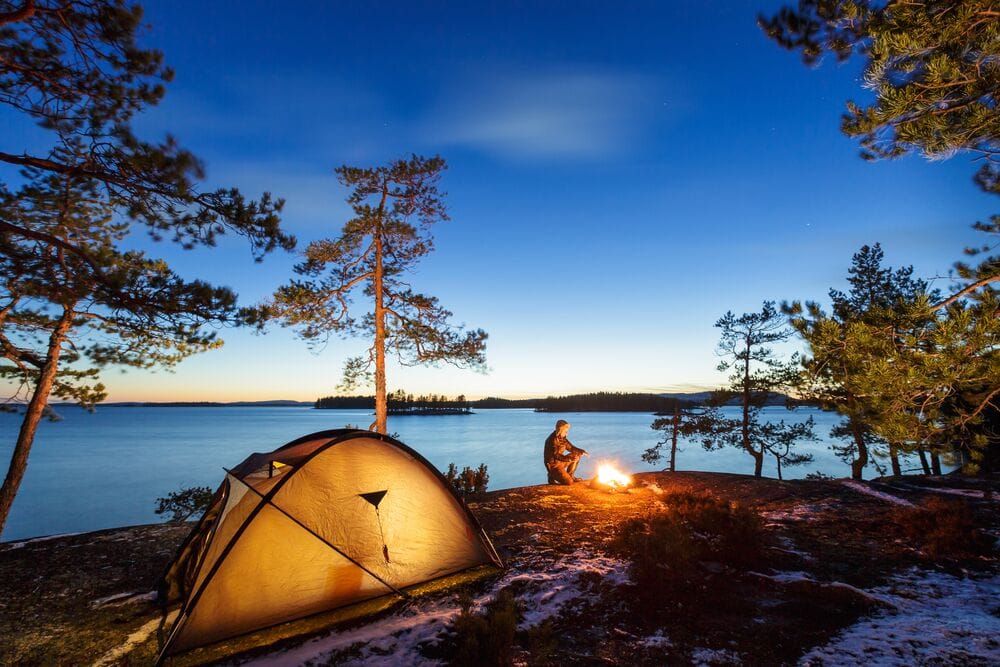 Why a Tent is the Backpackers Secret Weapon
As I mentioned before, accommodation costs can really eat into your budget. I get that sometimes one needs to book a hostel. In fact, when I am dirty and it is pissing freezing rain outside, a hostel is money well spent.
The simple fact of the matter is that us budget travelers cannot pay for hostels every night. It is the antithesis of a sustainable backpacking philosophy. Hostels can be great, but love them or hate them, they do get kind of old after a while.
So what happens when an opportunity presents itself to camp out and you don't have a tent? You guessed it! Camping out isn't possible. You'll have to shell out more money for another dorm bed. Sorry matey.
There have been times when I have spent all day hitchhiking and haven't made it too far. Six rides into a journey and I was still hours away from where I was trying to reach. The thought "What will I do if I am stuck here? I'm screwed." never even crossed my mind. Why? I was surrounded by farms and forests for miles: prime tent real estate.
Conclusion? Make sure you have a quality backpacking tent.
Be Self-Reliant: Everything you need is in your backpack
Having a tent means that you are never stranded. You are never homeless. You always have options and solutions to problems commonly found on the road. In fact, having a tent gives you the confidence to see your full adventurer potential through.
It is like having a secret weapon in your backpack. It certainly makes you appreciate the aforementioned turtles who — throughout their evolution — have firmly grasped this concept.
I've camped out in all sorts of odd places. On the sides of highways along the Appalachian Trail. In deep lonely canyons near the water source. On the front lawn of the town mayor's office. Directly on the beach in Ecuador. Deep in the Malaysian Jungle and on and on…
Point being: If you want to see this planet on the cheap you are going to have to camp around the world as you go. To be honest there is no better way to experience the globe than from the confines of your own comfy tent.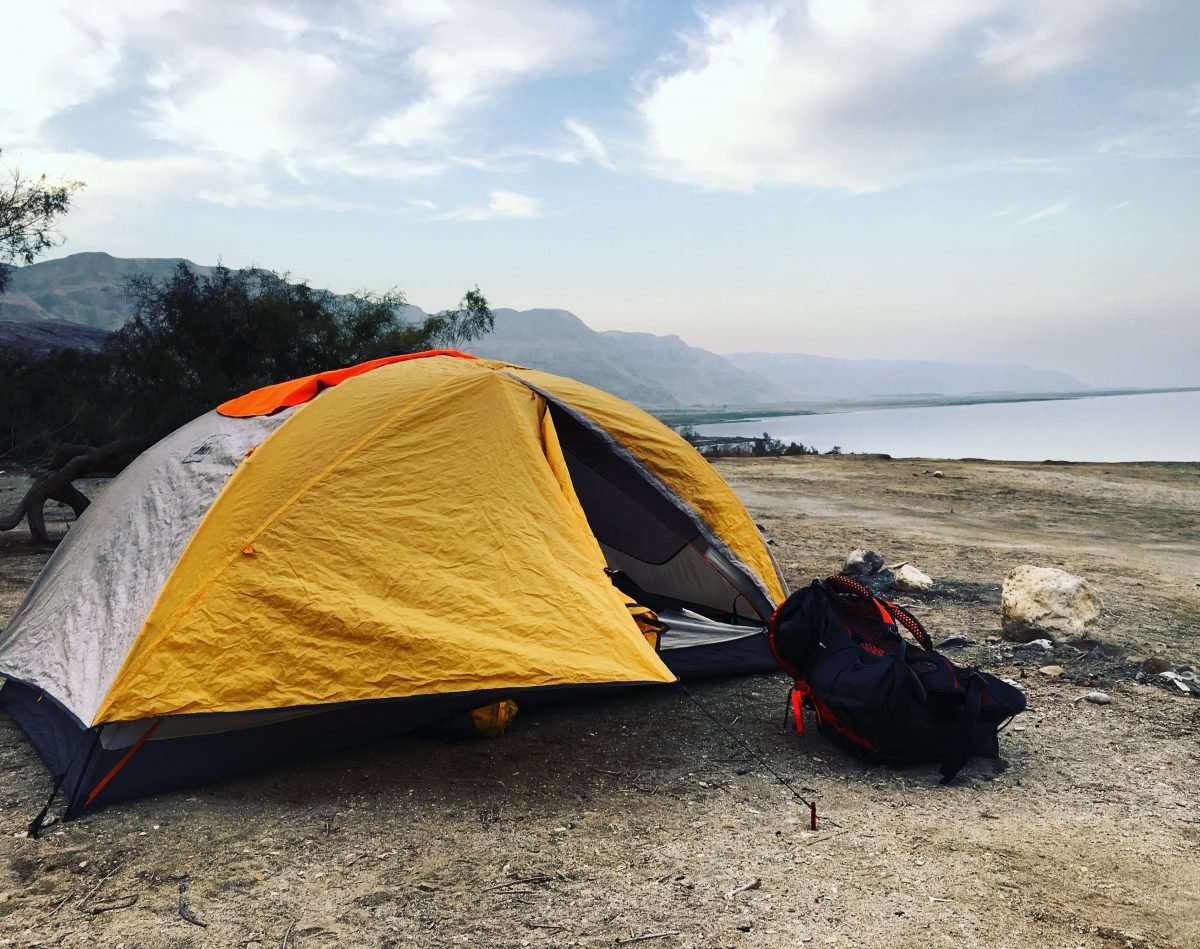 How to Camp Around the World
Certainly finding the right spot to pitch your tent is important. Let's be clear: you can't put your tent just anywhere. You have to be reasonably thoughtful in deciding where to camp. A bit of common sense goes a long way when making this decision.
Depending on the country, camping in national parks is generally allowed. There are usually rules on where you can camp. Some areas are off-limits, such as a section where they are rehabilitating a habitat. Other parks have rules stating that you can only camp at designated campgrounds, some of which are free or very cheap.
At the same time, many national parks throughout the world have no or limited rules regarding camping. In countries like Oman you can wild camp wherever the hell you want! Do your homework and figure out what is allowed and what is not before you strike out.
Cities and their outskirts should be avoided. Urban camping can be dangerous and in all likely hood is illegal. Ever been to Lima or New Dehli or Kathmandu? No way in hell you want to camp out there.
Rural Camping while Traveling
Rural camping when you are not trekking is up to your discretion. You can assume that land that has been fenced off from the road is private. Sometimes you can get away with simply hopping the fence and pitching camp. However, whenever possible it is best to ask the owner.
When times are tough sometimes you just need a place to crash. If you arrive in the dark and leave at first light, camping on private property should be fine. Remember to always keep your campsite clean and practice Leave No Trace Principles. More about LNT later in the post.
Wild camping on beaches can be truly fantastic. It is always a good idea to ask locally about any rules or safety concerns regarding beach camping. Of course, never camp so close to the sea that when the tide changes you get soaked by the surf.
If you are keen to camp at a hostel, always ask if you can pitch your tent if they have a yard or green space. Try to haggle and certainly do not pay the same price as the dorm beds cost.
As you might have gathered it doesn't take too much extra effort to camp your way around the world.
Best Tents to Take Backpacking
The MSR Hubba Hubba ticks all the boxes. The one major drawback: price. At $549.95 it is not the cheapest investment, however, it is just that: an investment! The Hubba Hubba is tough, durable, and built to live a long happy tent life.
This tent has excellent livability. The interior is spacious enough for two people to have plenty of personal space. The vestibules provide prime dry gear storage for two full-sized backpacks. That way you and your gear stay dry even when the skies open up to offer a particularly violent deluge of rain.
By definition, the Hubba Hubba is a lightweight 3-season backpacking tent. It weighs only three pounds seven ounces. Certainly, you could find a tent lighter than that, though it will not be as comfortable.
If you are looking for the best overall tent to take backpacking look no further than the MSR Hubba Hubba. Whether you are a solo traveler/trekker or you are traveling as a couple, the MSR will meet all you expectations and more.
Check out my in-depth review of the MSR Hubba Hubba 2-person backpacking tent here.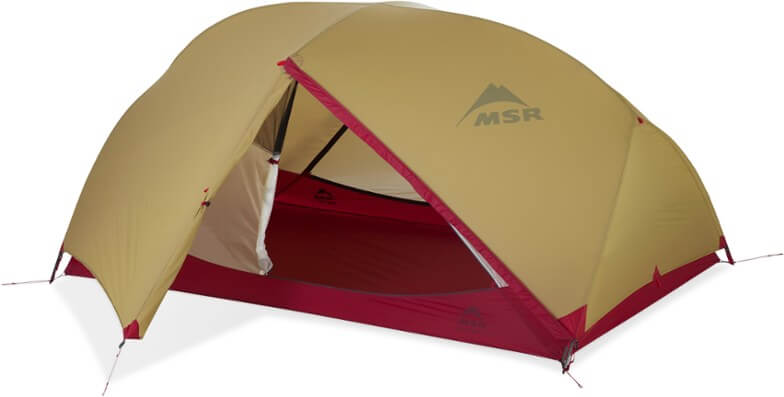 If you are looking to score a quality tent for your solo backpacking adventure, then the Fly Creek UL1 by Big Agnes is where it's at. Weighing in at just 27 ounces, this tent packs a powerful combination of quality and lightweight materials.
I recommend this tent especially to those backpackers counting ounces for a multi-day or long distance hike. Ultralight is not to be confused with ultraweak or ultrashit. No matter how the weather turns out, the Fly Creek UL1 can handle it. Okay, it won't survive hurricane winds but very few tents (if any) can do that. You get the idea: the Fly Creek is the badass 1 person tent of the backpacking world.
The Fly Creek UL1 costs $330. It might sound expensive, sure. Welcome to the world of ultralight backpacking gear. The Fly Creek is actually on the lower end of the price spectrum when it comes to the ultralight category.
Solo backpackers: this tent was made for YOU.
Check out our in-depth review of the Big Agnes Fly Creek UL1 Here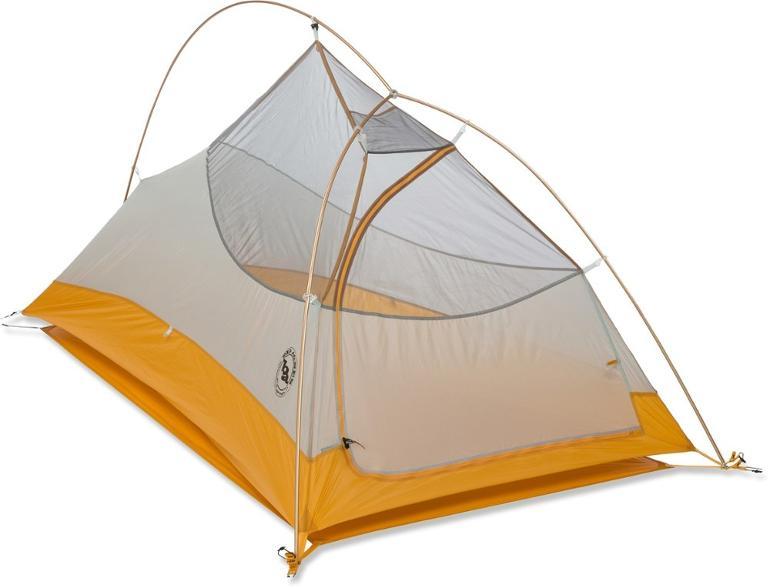 Ladies & Gents, It's Time to Step Your GEAR Game Up. 😉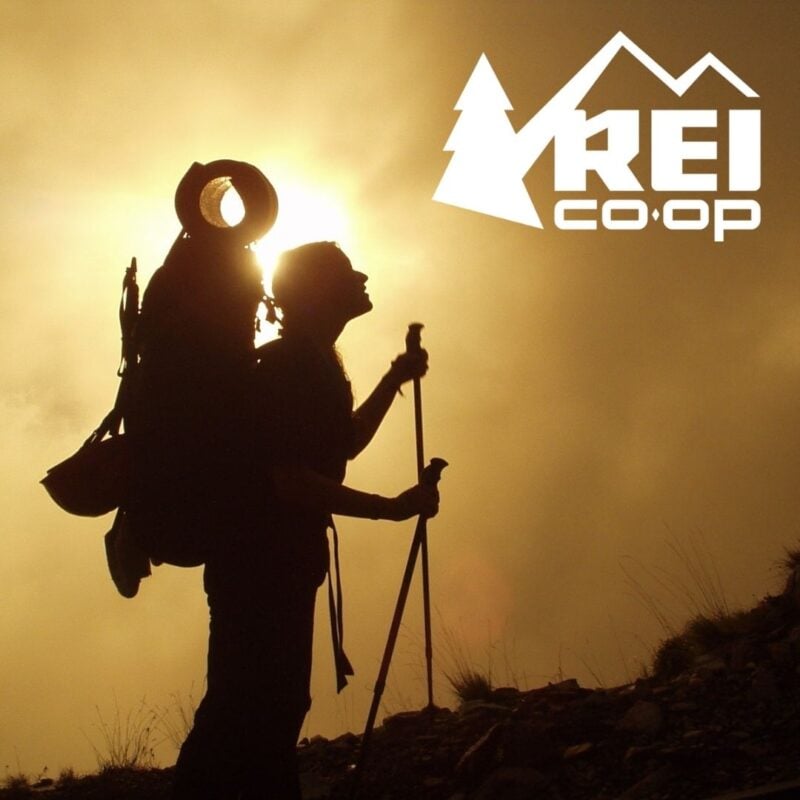 REI is one of America's biggest and most-loved outdoor gear retailers.
Now, for just $30, get a lifetime membership that entitles you to 10% OFF on most items, access to their trade-in scheme and discount rentals.
Join REI Today!
For those of you not looking to shell out big bucks on a tent the Vango Banshee 300 should be your go to.
The Banshee 300 is not the lightest option. It weighs just a hair over 6 pounds. That said, the price and the quality can't be beat. For just over $120, the Banshee 300 will satisfy your camping needs the world over.
If you are new to backpacking and/or camping the Banshee is a good tent to start with. Likewise, if you are traveling with another person, you can split the materials between you so that no one person carries all the weight or the bulk.
After you have got some trail miles and a few passport stamps under your belt, I recommend upgrading to an Big Agnes or MSR tent of your choosing. If you are planning on tackling a long-distance hike, then the Banshee is not for you.
Honestly, this tent is perfect for everyday applications including over-night hikes. That said, if you aren't packing heaps of other gear, you probably won't notice the extra weight of the Banshee 300.
Want to learn even more about the best tents to take backpacking? Check out our full post breaking down how to choose the best budget tent in 2023.
Not a Tent Person? — Travel with a Hammock
I personally am a tent person. That said, on many occasions I have packed a camping hammock in addition to my tent. Maybe you are the kind of person who is just interested in packing a hammock. To those of you to whom this applies, I acknowledge you! You exist!
Hammocks can be a great alternative to packing a tent. They weigh far less, take up less space, and can be set up just about anywhere with trees.
Check out this article for a complete run-down of the best hammocks to take backpacking.
Tent Safety 101: A Parable of Poor Camping Choices
Staying safe as you camp around the world should be your top priority. Generally speaking, sleeping in a tent is just as safe as sleeping in a hostel. That said, there are some inherent risks that come with sleeping outdoors.
A few years ago, I was camping out along a riverbed in New Zealand that was home to a rather large hippie/traveler population. Basically, the river (Takaka) was the hotspot where hordes of backpackers gathered. Two things happened worth mentioning here.
First, a dude was drunk and fell asleep with a lit candle inside his tent. It doesn't take a genius to guess what happened next. He woke up to his tent ablaze and he barely escaped with his life. He had some pretty epic burns on his arms, legs, and especially the feet. The next night I saw him bandaged like an Egyptian mummy, putting back a few beers again.
Tent Tip # 1:
NEVER cook or light fucking candles inside of your tent! Tents might claim to be fire retardant, but in fact they seem to burn with startling efficiency…
The second thing that happened a few days later was equally alarming. Despite numerous warnings from the locals, including the police that a rainstorm was likely to make the river jump its banks, the backpackers stayed put.
That night, the river jumped its banks. It was freezing and suddenly peoples' tents were completely flooded if not washed away altogether.
It was a hypothermic dreadlocked backpacker shit show. Total chaos. The whole time it was still pissing buckets. Many folks lost their possessions down the river in the event. Everyone was freaked out. In the end, a majority of the backpackers spent the night in the local school gymnasium and waited for the rain to stop.
Tent Tip #2:
Pay attention to the weather and never sleep so close to a river or the ocean that you are in personal danger from the water.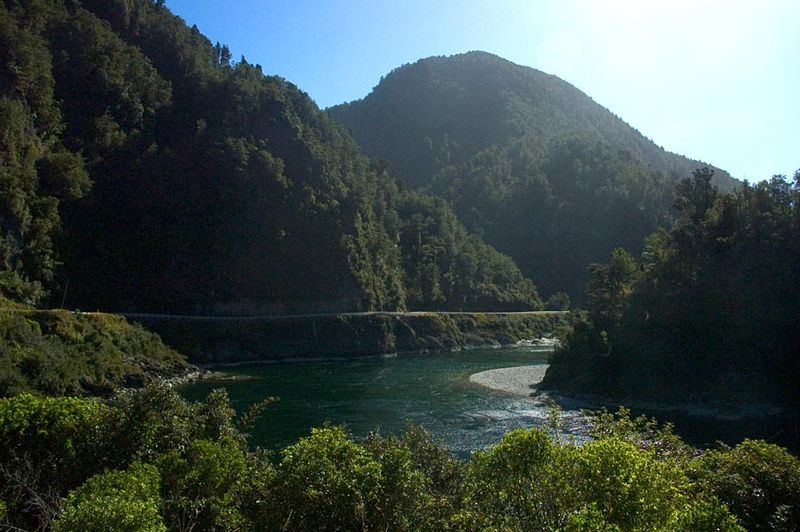 Camping and Tent Safety Basics
If you camp in an area frequented by bears or other animals, hang your food high from a tree!
Never sleep with food inside your tent! And look into camping coolers if you're planning a feast.
Check above where you plan to pitch your tent for dead tree limbs. People die from falling dead trees!
If it is windy, stake your tent very well and use the guy lines. Try to find natural windbreaks — and look into camping canopies.
Never camp near a river when heavy rain is forecasted.
Don't fucking cook inside your tent!
Don't leave your valuables inside your tent if you go for a day hike.
Make sure you have sufficient gear to keep you warm, including an awesome sleeping bag if it is cold.
Never camp in an avalanche path!
Leave No Trace Principles
When you are camping out it is your responsibility to leave the campsite in perfect condition. The idea is to reduce the human footprint as much as possible. Here are the seven internationally recognized Leave No Trace principles:
Plan Ahead and Prepare
Travel and Camp on Durable Surfaces
Dispose of Waste Properly
Leave what you find
Minimize Campfire impact
Respect Wildlife
Be considerate of other visitors
FAQ about Camp Around the World
Still have some questions? No problem! We've listed and answered the most commonly asked questions below. Here's what people usually want to know:
Final Thoughts on the Importance of Tent Travel
At this point I have probably spent years of my life sleeping inside of tents. Between hiking a large section of the Appalachian Trail in America and trekking on four other continents, I can say that I feel at home in my tent.
I hope after reading my article that you are now more pumped than ever before to always rock a good backpacking tent whilst you are traveling. Once you travel with a tent in your backpack there is simply no having it any other way.
One thing will be certain: take a good tent along for the ride and you will find yourself in places you have always dreamed of going.
Looking for something a bit bigger for your family trip, check out the best 8 person tents instead.
---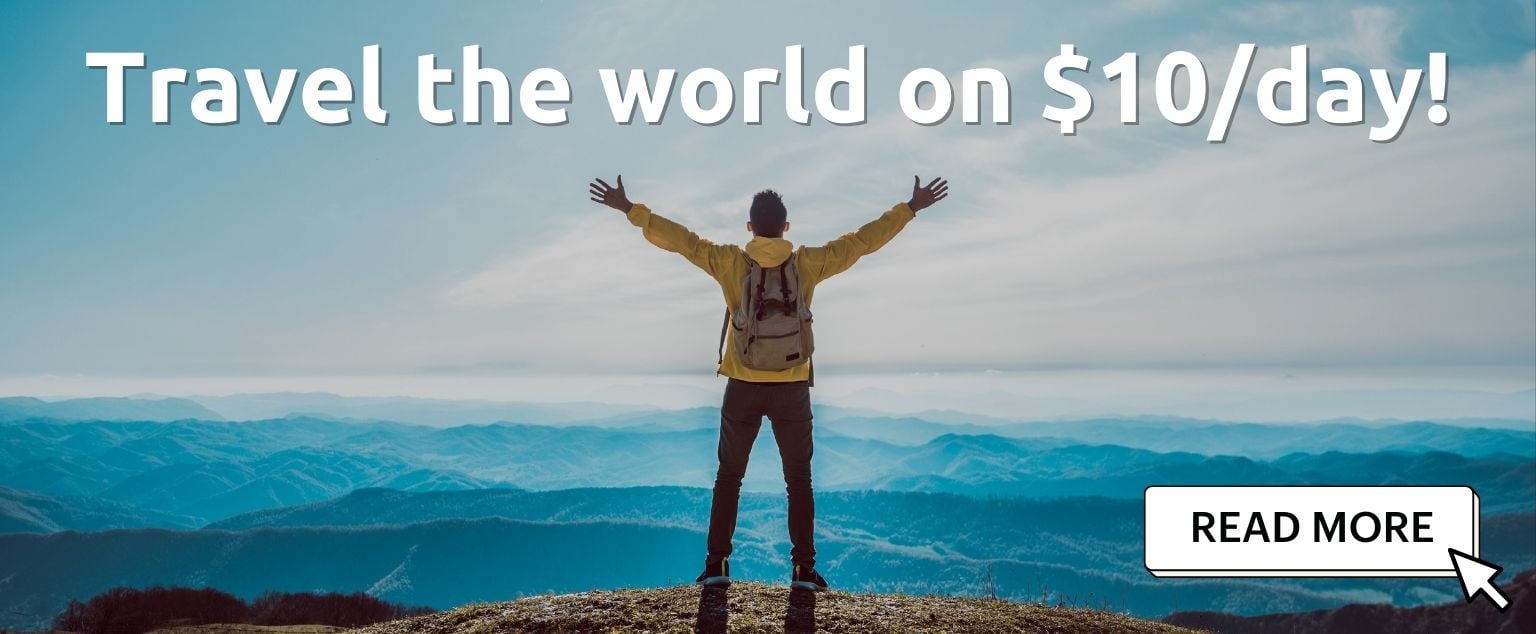 And for transparency's sake, please know that some of the links in our content are affiliate links. That means that if you book your accommodation, buy your gear, or sort your insurance through our link, we earn a small commission (at no extra cost to you). That said, we only link to the gear we trust and never recommend services we don't believe are up to scratch. Again, thank you!