Group camping trips are one of the most rewarding activities under sun (or stars) There really is nothing like hitting the road with a bunch of your friends or family for a weekend getaway by a lake or at a woodland campground!
However  true camaraderie  doesn't quite work so well if everyone brings and pitches their own little one-man tent. Besides that, it's hard to find enough good ground to pitch them all in.
Enter, 8-person tents; the larger than life solution for friends and families hoping to spend some quality time in the great outdoors together. By investing in an 8 person tent, you save needing two or three tents for everyone to have a place to sleep.
In this post we're going to take a look at and road test some of the leading tents on the market.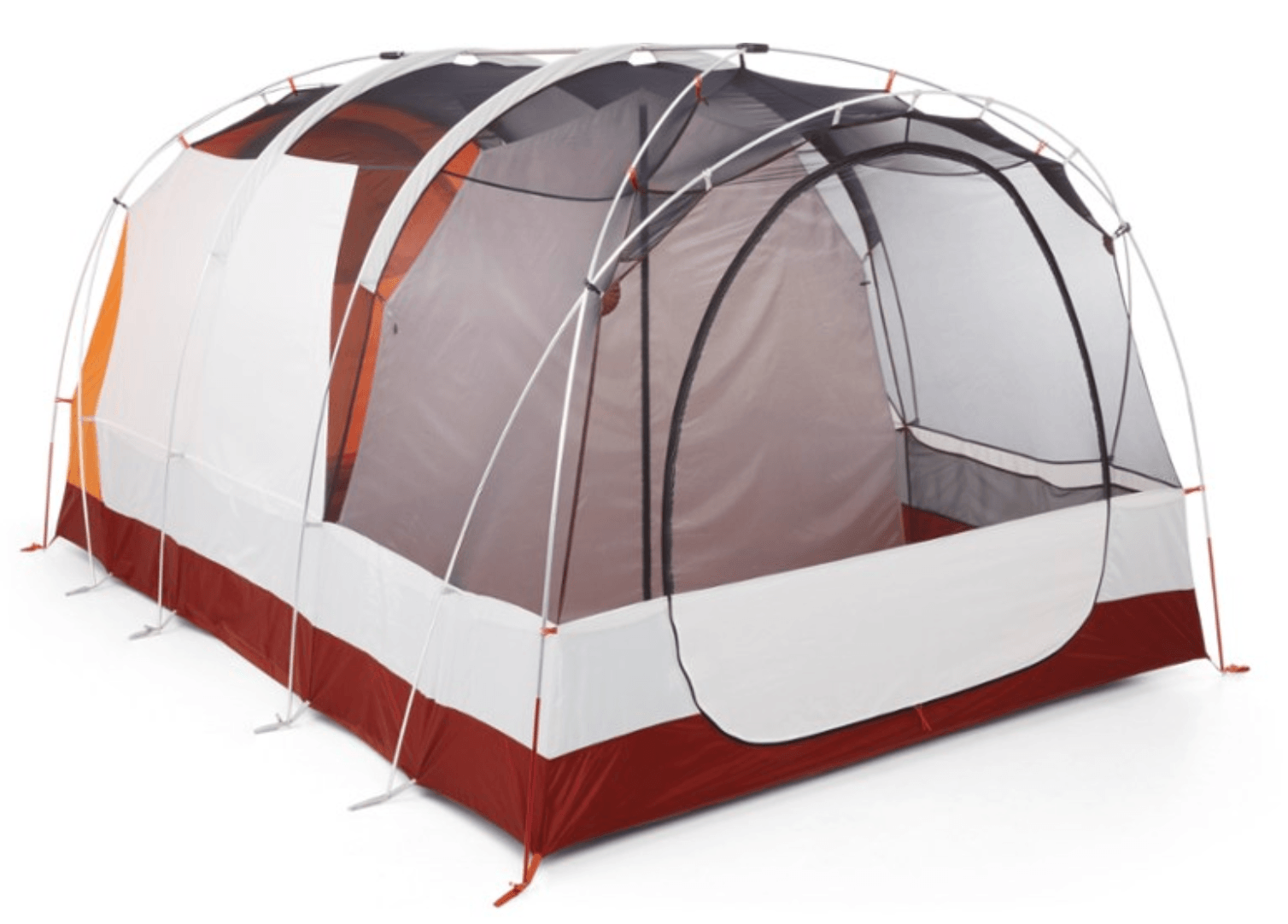 Whatever the drive may be to get an 8-person camping tent, we've done a bit of research ourselves to check out what the best 8 person tents on the market are. Surpassing all other models, our top pick for the best 8 person tent goes to the REI Co-op Kingdom 8 Tent, an all-around top choice for many group adventures.
Firstly, we'll take you step by step through what makes the REI Co-op Kingdom 8 Tent such an excellent model. From there, we're going to take a gander at some of the leading competitors in the arena for the best 8 man tents around.
Winter is coming… WARM UP!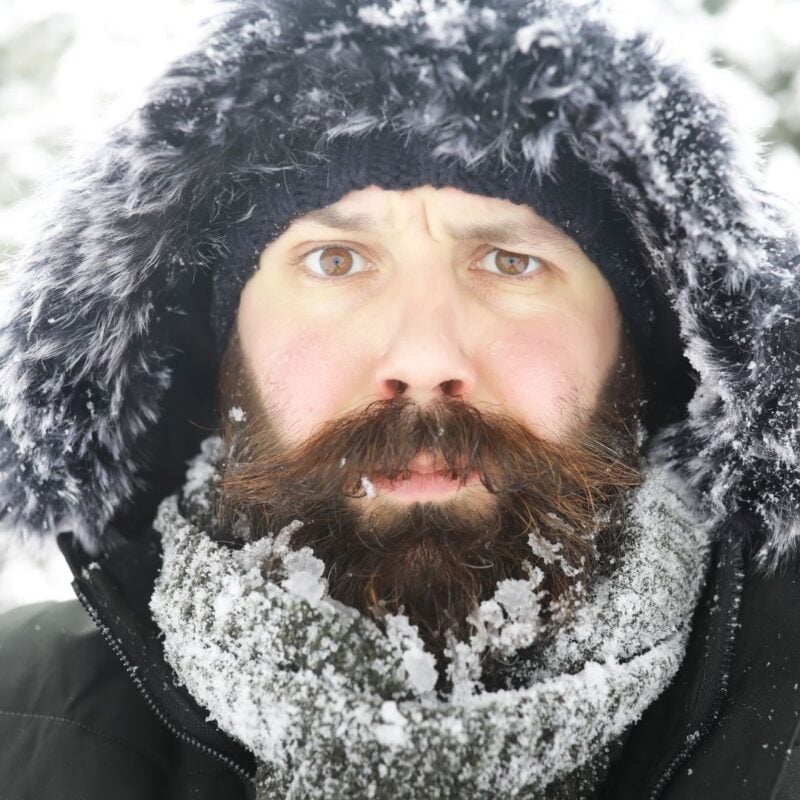 Get up to 50% OFF when shopping gear for the winter on REI.
Warm up for the holidays and SAVE on outdoor gifts all the way through Dec 18!
View on REI
The Overall Best 8 Person Tent
REI Co-op Kingdom 8 Tent is our top pick for overall best 8 person tent
Specs
Price-$579.00
Height-75 inches
Floor space-12ft 6in x 8ft x4in
Packed Size-25.5 x 9.5 x 20.5 inches
Weight-25 pounds 4 ounces
Set-up time-about 20 minutes
From its lightweight design to the excellent rain protection, there's a lot going for the REI Co-op Kingdom 8 tent. Most importantly, it's a camping tent you can rely on in a variety of situations, whether you're heading out for a weekend festival or doing some warm weather camping in the woods for a few nights.
Check out the complete rei kingdom 8 review.
Comfort and Livability
The Kingdom 8 tent is full of cool features we love which make it a great camping home and tent for the entire family. First, we want to point out the excellent mesh dome tent design which allows for maximum ventilation, not to mention a great view of the stars.
Another awesome feature is the two doors, one on either end of the tent. Not only does this give people a bit more privacy, but also easier to get back to your allocated sleeping place if you need to get up in the middle of the night!
There's also a central divider within the tent to make two large rooms, which is a great option for couples going camping together or if kids want a separate space for the family camping trip. Both sides have interior pockets to keep all your gear organised.
For even more storage space, you can also purchase separate vestibule additions to camping gear, boots, or other equipment that you don't want to get the interior of the tent dirty.
Just How Tough is It?
In short, pretty tough. Just because a camping tent is bigger, doesn't necessarily make it stronger, in fact, the opposite is often the case.
Companies try too hard to make a large tent a lightweight backpacking tent, which inevitably produces a flimsy and poorly constructed tent that's more like a giant wind-sail than a shelter. One little gust of wind and the entire tent blows away!
This isn't the case with the Kingdom 8 tent. It's surprisingly lightweight for its sturdy construction, coming in at just over 25 pounds. It comes down to the design that allows the Kingdom 8 to hold up to a variety of weather conditions.
The Kingdom 8 has a free-standing pitch with aluminium poles and a 150-denier coated polyester floor and a 75-denier nylon taffeta canopy. Some reviews have commented that the floor could be sturdier, but if that's a priority for you it's easy to buy a tent footprint or tarp to put down for extra protection.
REI Kingdom 8 vs the Weather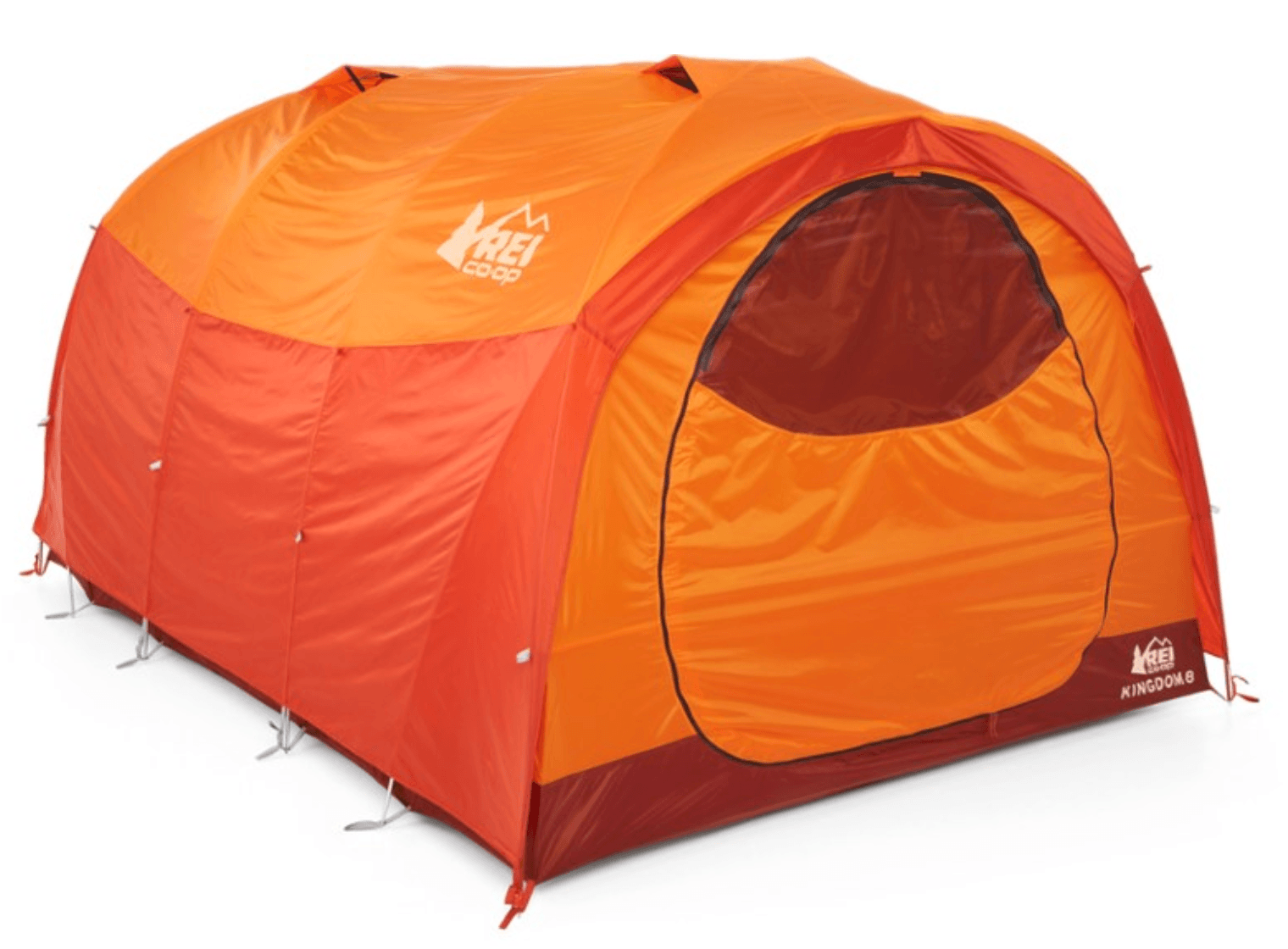 In order for a camping tent to be of any use, it needs to keep you dry during heavy rains. Everyone has that supposed-to-be-prefect camping trip that gets ruined by a huge thunderstorm.
There are some reviews that comment about the rain-proof standards of Kingdom 8 since it does have small open-ventilation pockets to keep the air flowing. However, from our estimation, it would have to be VERY windy in order for any rain to get into these areas.
When you're setting up the tent, make sure you use the Velcro strips to hold the rainfly in place; this will make a huge difference in terms of staying dry, but the overall design of the tent is very effective in having any rainwater run down the sides of the tent and not collect or pool up in unwanted areas.
Besides rain, the other poor weather condition you should be worried about is wind. In this regard, the Kingdom 8 doesn't hold up so well, simply because it's a larger tent. This has nothing to do with poor design, just the fact that a larger tent has a larger surface area to catch gusts of wind.
It is worth mentioning that the Kingdom 8 is the 3 season camping tent, so it's not going to hold up to snow or ice! Most camping trips are in the summer anyway, so this isn't much of an issue for the standard camper.
Ventilation & Breathability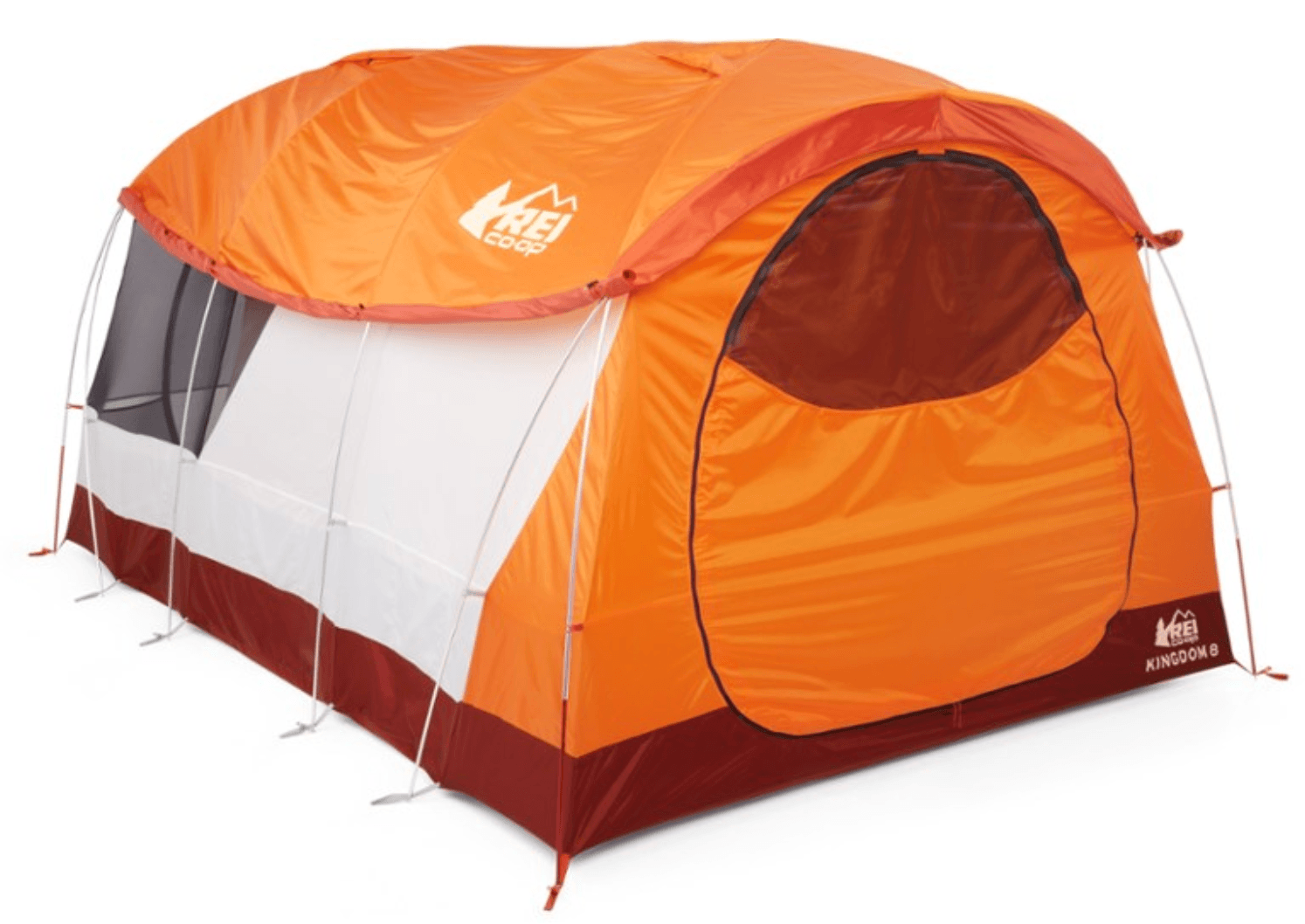 There's a fine line between making a tent durable and warm for cold nights, yet not turn into a stuffy greenhouse in the heat of summer. We're quite impressed with how the Kingdom 8 has tackled this problem, particularly considering the size of the tent!
One of the first things you'll notice is a large surface area of the tent walls are made of mesh instead of nylon. One, this gives you a great view of your camping area and the night sky on clear nights, but it also serves to keep the air flowing through the interior of the tent.
Showers aren't usually regular activities when camping, and keeping your tent fresh and aired out makes a huge difference in terms of the overall comfort of your camping gang. Putting several sweaty people and maybe a wet dog in a small enclosed space is not a pleasant experience.
But what if it rains? Well, good question and the Kingdom 8 has you covered here as well (literally as well as figuratively!). First, the Kingdom 8 has little ventilation gaps in the rainfly to keep air moving even when it's pouring. We touch on these gaps in the weatherability section above, but overall it's better to have them than not the only time they might let in rain is during severe wind, when it's not a good idea to be camping with the Kingdom 8 anyway.
Another option to keep the tent aired out during light rain is to create an awning from the rainfly above the front door. This keeps the interior of the tent protected from water but still allows air to circulate through the tent thanks to the mesh covering the front portion of the tent.
What's the Set Up?
With a tent that has a 104 square foot floor area, it would be too much to ask for a 3 minute set-up like some backpacking tents. However, in terms of the best 8 person tents, the Kingdom 8 does very well in terms of ease of set-up.
It is possible for one person to set the tent up, although this might take a good 20 minutes to half an hour depending on how familiar you are with tents and design. It's much easier with two (or three) people to help with stability and making sure all the poles are in the right place.
Once you have the floor spread out, you set up the two hub-pole sets; the largest poles make up the "backbone" of the tent, and the others arch across to form the body.
After you connect the "y" hubbed poles, secure each corner pole in with its matching tent corner (hint-they're all colour matched!), then gently raise the tent to a standing position before securing the cross-body poles.
Once you have the body set up, it's just a matter of staking it down and putting up the rainfly! Remember to use the interior Velcro straps to keep the rainfly in place, which helps immensely in terms of keeping the tent dry and protected from the elements.
All this may sound a bit confusing on paper, but once you put it to practice, things fall into place. Don't be discouraged if the first few times setting up the Kingdom 8 are difficult; it's a big tent, and takes some getting used to! If you're planning on taking the Kingdom 8 out in the woods, it's a good idea to practice setting it up a few times in your backyard.
What's Included in the Kingdom 8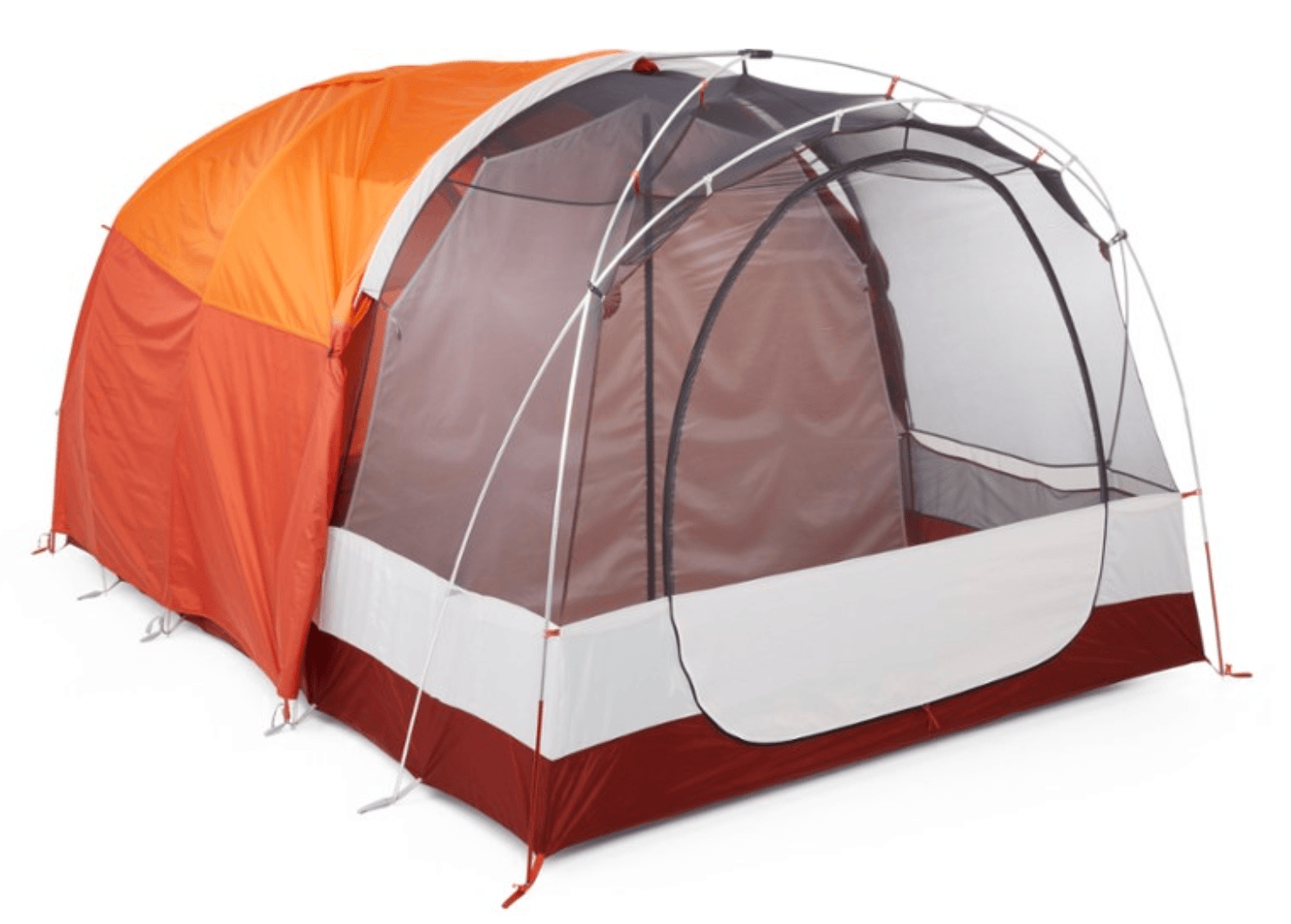 There's nothing more frustrating than making a big purchase only to realize you missed the fine print of "not included" parts. You don't have to worry about this too much with the best tents on the market, but just to make sure you know what you're purchasing, here's what's included.
The tent, obviously, comes with the poles and 15 stakes for securing it in place. There's also a pole repair tube, which can seriously come in handy, 8 guy lines with tighteners, and a backpack-carry bag for all the gear. Not bad at all!
One thing that's not included that we wish was the tent footprint. It's becoming increasingly difficult to find tents that include the footprint with the price, so we won't totally hold this against the Kingdom 8.
Depending on how much you plan on using the Kingdom 8 and in what weather conditions, 8 guy lines may be plenty, or you might need to buy more.
The other addition commonly seen with this tent that you need to purchase separately is the Kingdom Mud Room, which adds about 8×6 feet of additional vestibule space on the front of the tent which is perfect for muddy shoes or sheltered areas for the family dog!
Weight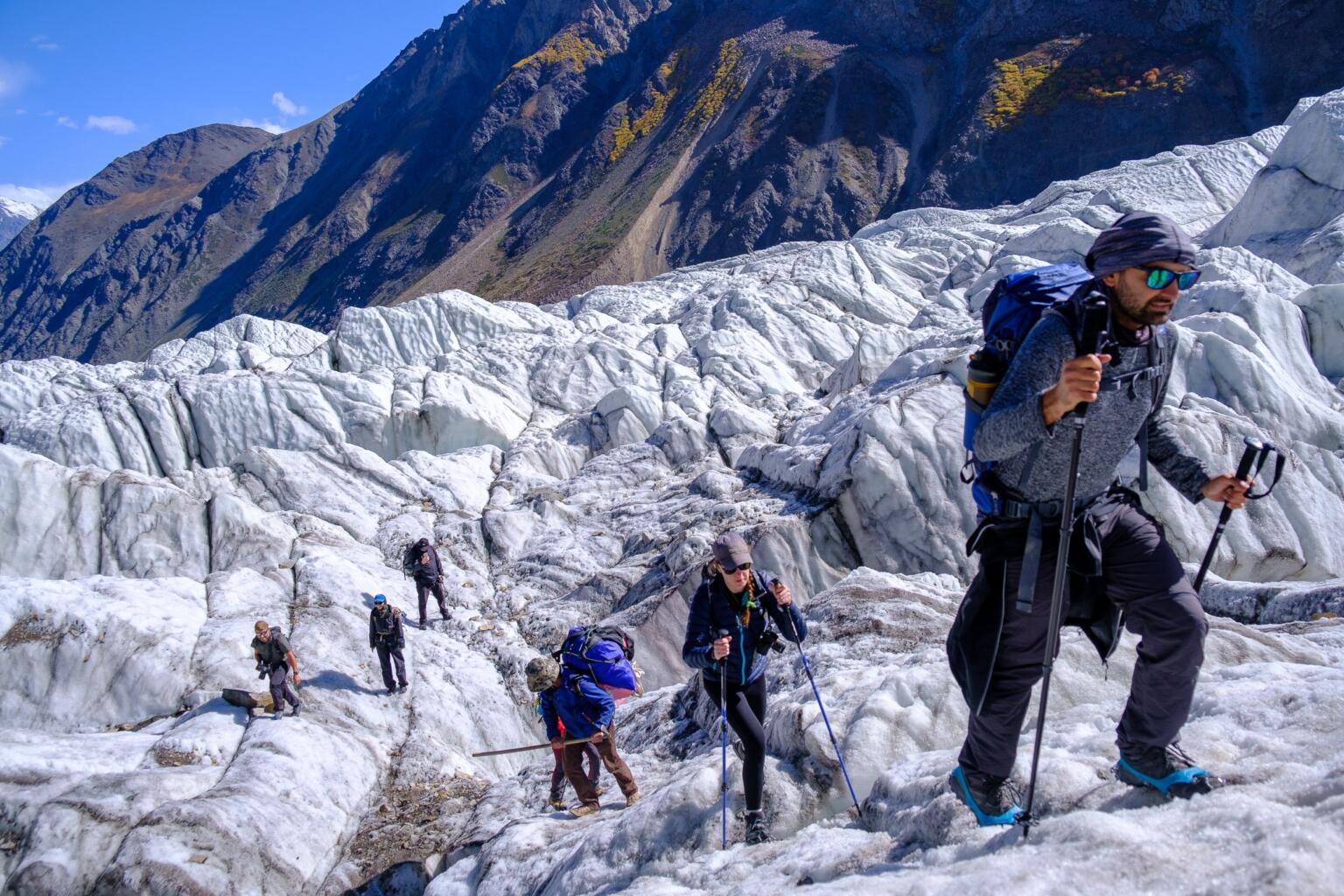 The Kingdom 8 is no light backpacking tent, but it's also quite a reasonable weight considering the size. Tent technology has come a long way from the time of heavy canvas tents which were a drag to haul around! These days even a massive 8 person tent can be a perfectly carriable hiking tent.
The packed weight is 25 pounds 4 ounces, which is about as much as what three 1 gallon jugs of water weight when full. To help with ease of transport, the Kingdom 8 does come with a carry bag which was pockets for the poles and stakes to keep things organized.
25 pounds isn't too much to be carrying around in your car or RV, but if your final destination isn't a drive-in spot, then you'll need to do some planning about how to get the tent to the camping site. Chances are, if you have the Kingdom 8 you'll be travelling in a group, so it's always an option to trade on and off carrying the tent.
Another choice is to use one hiking backpack solely for the transport of the tent. This isn't an ideal option, and you'll need to make sure that the backpack dimensions fit the packed size of the Kingdom 8, but this will make it much easier (and make your back and shoulders happier) to carry the Kingdom 8 longer distances.
If you're planning on getting add-ons to the tent-like additional vestibule space, make sure you factor this weight into your final calculations. Gear can add up quite quickly once a few collapsible chairs and a camping stove are included; it's a good idea to double-check your storage space and room in your car before making a big purchase!
Interior Space
Okay, this is no secret, but we wanted to touch on just how big the Kingdom 8 is. After all, it does fit 8 people, so this isn't exactly a tent you want to go backpacking with!
The Kingdom 8 is a little over 25 pounds, which isn't bad considering the size. Once packed, the tent is about 26x10x21 inches, so although it's big, it's still very manageable to fit in the trunk of a car or on a basement storage shelf.
When it's set up, you'll have a 12x6x8 feet space inside the tent, plus the tent has internal dividers and two doors (one on each end) to create more privacy. At the highest point, the Kingdom 8 is over 6 feet tall, so unless you're really tall, you can even stand up inside!
Keep in mind that 8 person tent refers to the fact that 8 standard-sized camping pads can fit lined up side by side inside the tent. This doesn't take backpacks, coolers, boots, or other gear into account which you may want to store inside.
6 people will fit very comfortably, or if there are several young children, then 8 might not be a problem. If you feel like you're in need of even more space, then the Kingdom Mud Room vestibule is a great addition to consider purchasing!
Cons to the Kingdom 8
No tent is made perfectly, and the Kingdom 8 isn't an exception. There are some things that could definitely be better, but, hey, maybe you'll see some of these improvements made in future models!
First, we need to point out that the lifespan of your tent has a direct correlation to how you treat it; proper storage and handling go a long way! Never put the tent away wet FYI!
In terms of sturdiness, sure there might be room for improvement, but it's also just the fact that the tent is bigger, and therefore has a lot more space where accidents can happen. Some users report a lack of sturdiness in high winds which makes sense given the available surface area that the wind picks up on. Successfully creating a dome tent that can sleep 8 people and stay upright in a rainstorm is already a big accomplishment.
The roof vents are also a bit of a concern for rain entering, but again, we didn't find a significant cause for alarm. Unless you're in strong wind conditions (and we don't recommend having this huge tent in hard wind), there's little risk for any rain getting inside, if we are operating under the assumption that you set the tent up correctly of course.
Alternate (and Excellent!) 8 Person Tents
Okay, it's no secret that we prefer the Kingdom 8 tent, but that doesn't mean that there aren't other good choices on the market. Depending on your budget or specific camping conditions here are some other options for great 8 man tents. When choosing the right tent there's lots to consider before jumping in!
Comparing 8 Person Tents
Choosing which of these tents is the right one for you ultimately comes down to your individual needs. Whilst they each meet the fundamental requirement of accommodating 8 people, beyond that they do differ greatly.
We have listed the pros and cons for each of these below which should help you compare them and decide which one is the best for you. Of course, in some cases the price factor may also be the decisive one – just remember, that buying cheap can mean buying twice. So, here's our rundown of the best tents for 8 people.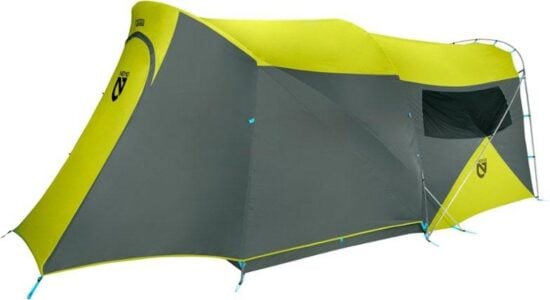 Specs
Packed weight-30 lbs 8 oz
Packed size-13 x 28 inches
Peak height-80 inches
Floor dimensions-180 x 100 inches
Number of doors-2 door
The NEMO Wagontop 8 is definitely a great choice for an 8 person tent, but it's more expensive than the Kingdom 8 for basically the same product. There's lots of space, separate rooms, you can easily stand up inside, and there's a great vestibule area that is built into the rainfly design.
The first downside we noticed in comparison to the Kingdom 8 is that the NEMO Wagontop only has 1 door, whereas the Kingdom 8 has 2. Set-up is similar to the Kingdom 8 and takes about the same amount of time as well. The mesh windows are also pretty big and offer some ventilation. For the size, there aren't any separate rooms apart from the vestibule which might not be ideal for some groups who want to split the entire tent into sections.
One addition to the NEMO dome tent which is worth pointing out is that you can purchase a separate additional garage under which you can park a car. This can make a huge difference in terms of privacy and access to your vehicle, particularly if you're camping at a festival or event!
Pros
Good screens and ventilation
Lots of interior pockets
Standing height inside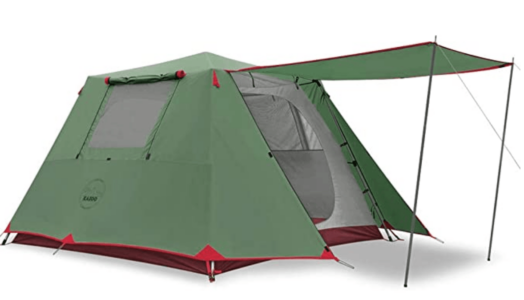 Specs
Packed weight-17.85 lbs
Packed size-48 x 8 x 7.8 inches
Peak height-73 inches
Floor dimensions-110 x 118 inches
Number of doors-2 doors
Technically this is considered a 6 person dome tent but can fit 8 people if a few of them are small, making it a great tent for large families with little kids. And, like the Kingdom 8, this one has 2 doors for easy access so no one is tripping over each other in the middle of the night!
The other big selling point of the KAZOO Family Tent is the "instant" set-up design. However, unlike other pop-up style tents, the KAZOO is actually made of fairly weatherproof and durable material; it's not going to withstand the same tests as the Kingdom 8, but it will keep you dry. The mesh windows are also great for ventilation and preventing condensation.
In comparison with some of the other best 8 man tents, the KAZOO is much lighter weight. This lends itself to being more manageable for carrying in a backpack, but on the downside, it is even more kite-like in windy conditions compared to other tents.
When the rainfly is off, the KAZOO also has great windows and mesh panels on the inner tent allowing for maximum ventilation. The rainfly can also extend to give you a bit more protection and vestibule space if desired.
Pros
Quick set up
Light weight
Mesh ceiling
Cons
Poor ventilation with rainfly on
Susceptible to being blown around

Do You Want to Travel FOREVER??
Pop your email in below to get a FREE copy of 'How to Travel the World on $10 a Day!'.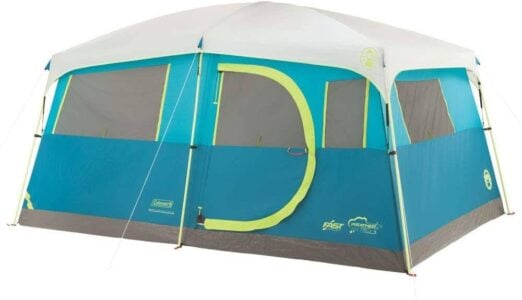 Specs
Packed weight-33 lbs
Packed size-34.5 x 13 x 11.5 inches
Peak height-6 feet 8 inches
Floor dimensions-13 x 9 feet
Number of doors-1 doors
Fast-pitch and hitting all the marks for comfort, the Tenaya Lake Cabin tent certainly isn't built for roughing it in the woods, but cabin tents are a great budget option when you're looking for an 8 man tent.
The interior space is a roomy 13×9 feet and nearly 7 feet tall at centre height. There's also a built-in closet inside the cabin style tent to keep your gear and belongings organised. If you're close to an electricity source, you can even use the E-Port to get power for lights and devices inside the tent! Perfect for family camping when you need to keep those tablets charged!
It's also to easy to see that the Tenaya Lake Cabin tent isn't meant to withstand any heavy rains; the simple rainfly and lightweight tent fabric will do its job in very light showers and prevent morning mist from making the tent damp, but if it really starts to pour, you'll probably want to head to the cabin to stay dry or check out some other tents instead.
Pros
Easy set up
Convenient storage areas
Hinged door
Cons
Poor rainfly
Large packed size

Specs
Packed weight-22.3 lbs
Packed size-27 x 8.5 x 8.5 inches
Peak height-6 feet 2 inches
Floor dimensions-192 x 24 inches
Number of doors-2 doors
Coleman has a fairly good reputation for making decent tents at an affordable price, and the Elite Montana definitely fits this description. This Coleman tent is a much more budget-friendly option if you still want a good 8 person tent for the family camping trip but don't have tons of cash to spare.
This affordable tent is not going to hold up the same way in a rainstorm that the Kingdom 8 will, but in light rain, it will keep you dry. However, the material is water-resistant, not waterproof, so this is not the best option if you want something that's going to withstand serious weather conditions.
A bonus is that the Elite Montana Coleman tent has a much easier set-up and usually takes less than 15 minutes to get upright, plus the ceiling is around 6 feet at most parts giving you space to move around. Only one door on this tent though, and there's not really an opportunity for additional vestibule space unless you want to get really creative with tarps.
Pros
Hinged door
E port for electronic devices
Included carry bag
Cons
Water resistant not water proof
Average ventilation
Only 2 storage pockets
Only one door
Specs
Packed weight-37.5 lbs
Packed size-52 x 13 x 12 inches
Peak height-6 feet 7 inches
Floor dimensions-14 x 10 feet
Number of doors-2 doors
As the name suggests, the Coleman Instant Family Tent is built for easy set-up for the family camping trip. The other great benefit is the huge mesh windows, which allow for easy ventilation and great views without letting in any mosquitoes or other insect visitors thanks to the fine mesh.
The WeatherTec system of the dome tent features inverted seams to keep out water, but unfortunately, the tent doesn't come with a proper rainfly. If you're just planning on having the Coleman for kids to play in at the cabin, you can probably do without purchasing the rainfly, but if you're hoping to do some more serious camping, then we definitely recommend it.
In comparison to the Kingdom 8, the Coleman is much heavier and bulkier when packed up, so you'll need to plan for having adequate room in your car or trailer. However, for a great budget 8 person tent, the Coleman still gets a high all-around score considering the ease of set-up, comfort, and design.
Pros
Quick set up
Lots of windows
Interior storage pockets
Cons
Rainfly not included
Weaker tent pole material
Easily blown around by wind
The best present of all… is CONVENIENCE!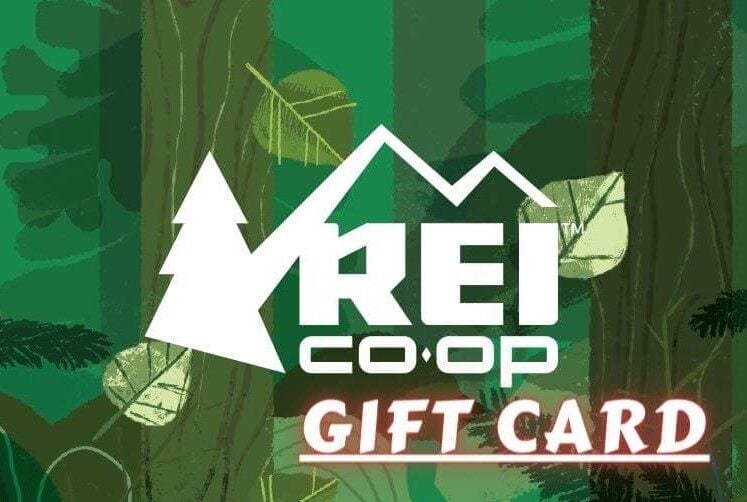 Now, you could spend a fat chunk of $$$ on the WRONG present for someone. Wrong size hiking boots, wrong fit backpack, wrong shape sleeping bag… As any adventurer will tell you, gear is a personal choice.
So give the adventurer in your life the gift of convenience: buy them an REI Co-op gift card! REI is The Broke Backpacker's retailer of choice for ALL things outdoors, and an REI gift card is the perfect present you can buy from them. And then you won't have to keep the receipt. 😉
Buy on REI!
Best 8 Person Tents

| Name | Capacity (person) | Floor Space (inches) | Weight (lbs) | Price (USD) |
| --- | --- | --- | --- | --- |
| REI Co-op Kingdom 8 Tent | 8+ | 14976 | 25 lbs 4 oz | 579 |
| NEMO Wagontop 8 | 8+ | 17985.6 | 30 lbs 3 oz | 639.96 |
| KAZOO Family Camping Tent | 6 | – | 17.85 | 229.90 |
| Coleman Tenaya Lake Cabin 8-Person Tent | 8 | – | 33 | 299 |
| Coleman Elite Montana 8 Person Tent | 8 | – | 22.3 | 229.99 |
| Coleman 8-Person Instant Family Tent | 8 | 20160 | 37.5 | 195.56 |

Our GREATEST Travel Secrets…
Pop your email here & get the original Broke Backpacker Bible for FREE.
Final Thoughts on the Best 8 Person Tents
Alright! Ready for fun camping excursions with the entire family? For nights under the stars with your friends? Well, after looking through these options for great 8 person tents, hopefully, you have some super cool ideas for all the adventures in store!
After our thorough review of the REI Kingdom 8, you can understand why it's our number one pick for the best 8 person tent around. However, if you're in search of a more budget-friendly option or just looking for something for when you're at the cabin, perhaps one of the other selections might fit your situation better.
Thankfully, the new and improved technology of tents has made big family or group camping trips a simpler and more realistic venture. Having a great 8-person tent like the Kingdom 8 is the first step to making many camping memories!
---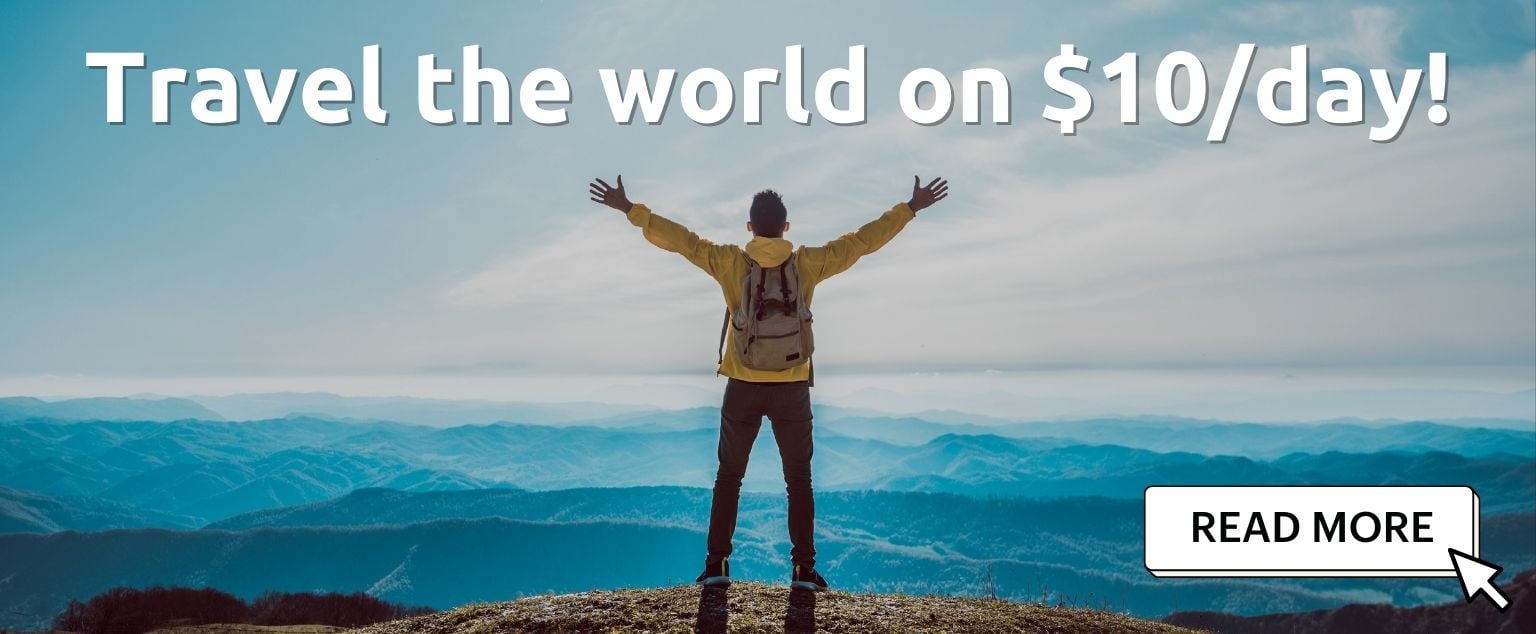 And for transparency's sake, please know that some of the links in our content are affiliate links. That means that if you book your accommodation, buy your gear, or sort your insurance through our link, we earn a small commission (at no extra cost to you). That said, we only link to the gear we trust and never recommend services we don't believe are up to scratch. Again, thank you!