You might not mind sleeping under the stars, but it's not as easy to make sure the whole family is having a good time. To spread your love for the great outdoors down to the next generation, we've got to meet the kids halfway by giving them a great place to rest their heads after a night of campfires and sing-a-longs.
Don't rely on any old tent to provide your family with nights of dry comfort and safety in the wilderness.
Tents built for the whole family have more variables to consider than some typical backpacking or solo camping options. While one and two-person tents may be solely looking to be as light and spacious as possible, family tents look at a bigger picture.
The best family tents will include storage space, extended rain flies that protect your gear, and even sitting areas that provide shade or rain protection when it's time for breakfast.
Each year, tents get lighter and more spacious than ever giving your family more ways to enjoy their time away from it all.
If you're hoping to take the kids into the great outdoors for the first time, the tent you choose will have a big impact on whether they beg for a second trip or beg to head home early. Don't entrust any old big box store tent option to your family's next vacation.
Every salesman will swear that their tent is the best in the business, but the truth is, there is no tent perfect for everyone. Each option on our list does something better than any other tent on the market, and each one sacrifices performance in another category to make that happen.
Whether you're heading into the boonies or hoping to set up an outdoor space to watch the goonies, we've got a list jam-packed full of family tents made for backpacking, car camping, or just spending the night in the backyard.
So, lets get into it and find out what the best family tents for 2022 and beyond are!
Quick Answer: These are the Best Family Tents of 2022
#1 – Best Overall Family Tent – MSR Habitude 6
#2 – Best Tent for Big Families – Nemo Wagontop 8
#6 – Best Exterior Space Family Tent – North Face Wawona 6
What To Look For in a Family Tent
No matter where you plan on setting it up, your family's tent is bound to take some bumps and bruises. Your tent will have to be durable enough to survive inclement weather and children, lightweight and easy enough to install to get out there and spacious enough for everyone to find a good night's sleep.
Choosing the perfect tent for your family will largely depend on your camping style. Luckily, manufacturers have focused on different areas to ensure there is something on the market for everyone.
Unfortunately, it can be hard to sort through all the options and find your match with all those choices. That's where we step in.
Before we show you the best-in-class family tents out there in 2022, let's take a look at what makes a tent better than the competition so you can decide which tent is worthy of your next vacation.
We examined different tents construction, materials, design, and efficiency and used our years of experience sleeping in the great outdoors to determine what to look for in a family tent.
The factors below will affect every trip no matter the ambition, and don't forget!
When looking for a tent, don't just shop for your next weekend – shop for the tent that will keep your family comfortable and happy for years to come.
Weatherproof
You may have seen your fair share of foul weather, but your family might not be so calm in a thunderstorm. The weatherproof ability of your family tent may make or break your kid's opinion on the great outdoors. How often do you think kids whose first night in the outdoors was spent getting dripped on ask to go back into the woods? Trust us, it pays to get a good waterproof tent.
If you plan on planning loads of camping trips no matter the weather, make sure that your tent packs in a proper rainfly, footprint, wind resistance, and exterior protection to keep your family and your gear dry through the night.
Tents that provide lots of interior standing space will have to sacrifice wind resistance to do so and can easily be blown over by strong gusts. The best family tents on the market delicately tow the line between protection and comfort.
Weatherproofing doesn't stop at being water-resistant. Camping on hot nights necessitates a tent with plenty of mesh breathability that will keep the air flowing and prevent humidity from building up inside the tent, especially if you've got six people snoring inside.
Tents built for warm weather will have two wide mesh protected doors that keep the bugs out while letting as much fresh air flow through as possible.
Our favorite weather-resistant tent: MSR Habitude 6
Space
Not all "six-person" tents are built equally. While technically, six adults can sleep in any tent rated for six people, we wouldn't recommend it. Some six-person tents are closer to two adults, three kids, and a dog, while others could probably squeeze a friend or two in there. If you have a particularly large family then maybe even consider getting an 8 person tent. Oh, if you have very young, small children, then you can actually put 2 of them into a one-person tent tent so another option is perhaps to take a 2-person plus a 1-person tent.
That's why in our list of the best family tents, we left out any tent rated for less than six because, in reality, we wouldn't recommend squeezing a family of four into a tent rated for four people once the kids have started to grow up.
This is the same no matter what rating your tent carries. Make sure you go beyond reading the capacity and understand the interior space provided by your tent, and if you are shopping for seven, go ahead and get a tent for eight.
Although tents are geared for sleeping, inclement weather could have your family spending some quality time with each other under the rainfly all day long. These scenarios are where subtle space differences between similar capacity tents become even more apparent.
Some tents, like many cabin tents, will split up the living spaces and offer two separate rooms, a veranda, porch, or other areas outside of the main compartment. These spaces can be used for storage or for a bit more movement and privacy while together on vacation.
Decide what kind of space your family needs, and how comfortable everyone is sharing one room, to help choose the best tent build for your family.
The most spacious six-person tent on our list: REI Coop Kingdom 6
Ease of Construction
Big tents are not always easy to put up, and the last thing you need is to consult a manual while the kids are getting impatient. Some of my favorite family tents fall victim to complicated, color-coded pole designs that look great in photos but are a pain in the ass when it's time to get to camping.
Anything with an extended veranda, rain-fly shade, or dual room system will require a few extra steps of construction.
Families planning on longer camping trips may not mind a few extra steps for comfort's sake, but if you're trying to set up shop in the backyard or quickly car camp, make sure you don't spend half the night dealing with ropes.
Our favorite quick constructing tent: Marmot Limestone 6
If you plan on spending some serious time backpacking with your family, tack on additional emphasis on the weight of your tent. Any tent that fits the whole family won't break any ultralight records, but every pound makes a difference a few miles in, and the kids aren't always too keen on helping carry the load.
Unfortunately, campers and backpackers alike are willing to pay top dollar to shave off a few pounds which has resulted in an insane price difference between an average tent and an ultralight tent. Only pay extra for a lightweight tent if you're planning on hiking a few miles before setting up camp – if you deport need a tent for hiking, then dont waste money on ultralight tech.
Best Overall Family Tent
Best Overall Family Tent
MSR Habitude 6
> $$
> Space to stand
> Ultra-weather resistant
Best Tent for Big Families
Best Tent for Big Families
Nemo Wagontop 8
> $$$
> Splits into three rooms
> Tunnel-style tent
Best Value Family Tent
Best Value Family Tent
Big Agnes Dog House 6
> $$
> Top-quality brand, affordable price
> Designed for maximum interior height
Best Childproof Family Tent
Best Childproof Family Tent
Marmot Limestone 6
> $$
> Plenty of pockets and space
> Durable
Roomiest Family Tent
Roomiest Family Tent
REI Coop Kingdom 6
> $$
> Bugproof mesh ventilation
> Plenty of interior space
Best Exterior Space Family Tent
Best Exterior Space Family Tent
North Face Wawona 6
> $$
> Huge front porch area
> Carry case and color-coded tent poles
Best Family Tent for Backyard Camping
Check Out The Best Family Tents
From three-room deconstructable chalets to affordable and straightforward style, these tents have provided a great space to end the day for countless getaways and family vacations.
Ladies & Gents, It's Time to Step Your GEAR Game Up. 😉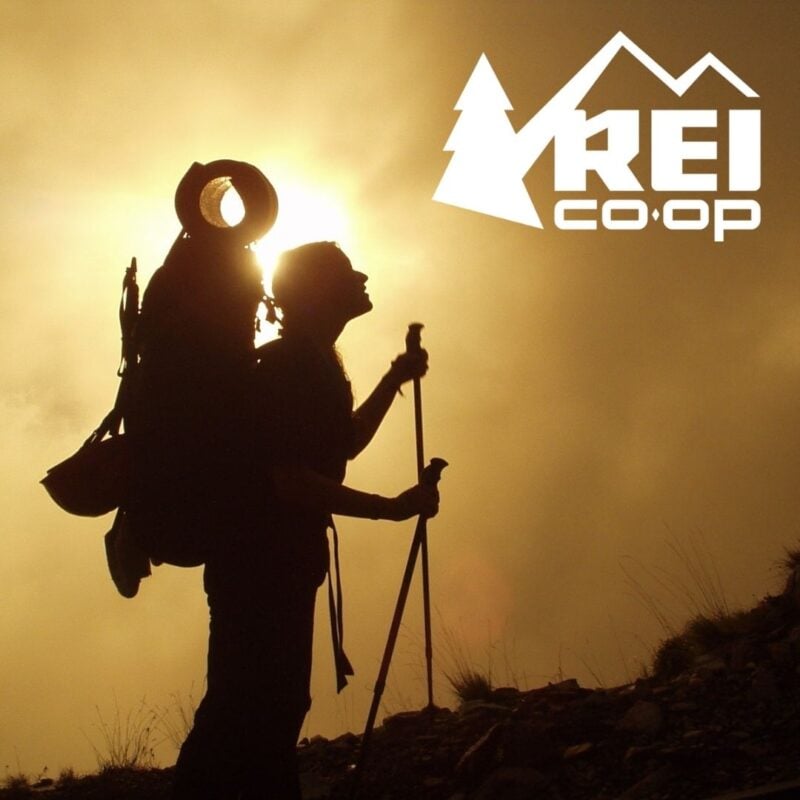 REI is one of America's biggest and most-loved outdoor gear retailers.
Now, for just $30, get a lifetime membership that entitles you to 10% OFF on most items, access to their trade-in scheme and discount rentals.
Join REI Today!
#1 – Best Overall Family Tent – MSR Habitude 6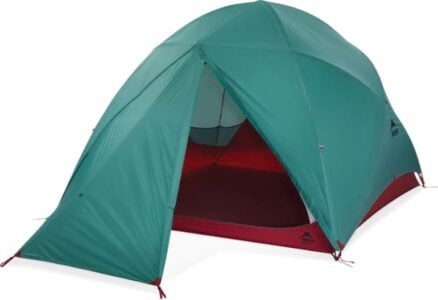 MSR Habitude 6 is our top pick for best overall family tent
Specs
Capacity: 6
Weight (kg): 6.35
Price: 600
High-performance
Space to stand
Ultra-weather resistant
If money is no object, you won't find any better way to house six people in the woods comfortably. MSR doesn't mess around with any of their high-tech backpacking products, and they took that mindset into family-style camping with this offering.
The tent reaches almost two meters at its highest point, allowing you to stand up inside fully. Fitting in six may be a bit of a squeeze, but the interior provides plenty of sleep space, which can pack up into a surprisingly small carrying package. This compartmentalizing sounds like it yields a complicated construction, but the entire system only hinges on two poles making it easy to set up in the rain.
MSR is an ultralight backpacking company first, but they understand family tents require a bit more durability. The polyurethane fly is reinforced with tougher materials than their backpacking line to make sure the tent can hold up to sleeping bag wars and general roughhousing.
This tent may be a little more high-tech than you would need for a couple of nights of car camping, but any serious camping family can count on this tent to stay warm and sleep cozy for four seasons.
Our team felt this was one of the coolest family tents on the market because of how spacious and roomy it felt once set up, like shockingly big inside! They felt it could easily fit 6 people inside with room to spare and even better, they loved that you could stand up inside it too even if you were pushing 6ft. They also relayed back just how easy it was to set up and pull back down.
#2 – Best Tent for Big Families – Nemo Wagontop 8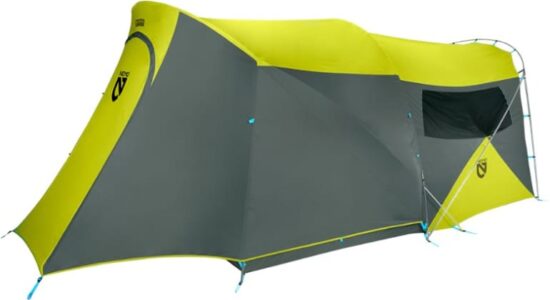 Our pick for best tent for big families is Nemo Wagontop 8
Specs
Capacity: 8
Weight (kg): 13.6
Price: 750
Most luxurious family tent on the market
More square footage than a sprinter van
Splits into three rooms
Big enough to invite the neighbors, this behemoth is built for camping in style. The tent splits into three parts with two separate sleeping areas and a large screened front porch area, and plenty of space to keep things dry. You can roll up the fly on sunny days and get a breeze flowing through all angles of this tent and easily lock down the space when foul weather rolls in.
Both ends of this tent have large doors to make sure you can wake up and get the coffee going without waking up the family. There is plenty of room for standing inside, and unless you've got a future NBA player in the mix, everyone will be able to stand up straight.
With all this space, the tent can't handle enough wind to be defined as a four-season offering, but unless the wind really starts whipping, your whole family will be comfortable and warm in this portable safehouse.
The Wagontop is a tunnel-style tent, meaning it's a lot longer than it is wide. Nemo has various attachments that allow you to add on living and dining areas to the ends of these tents, and you can easily pair this tent with a few add-ons to have more floor space than a New York Studio apartment.
All this luxury ain't light, so we don't recommend this tent for longer backpacking trips, but the tent bag and poles can be split between a few packs to save some back strength.
There is no tent on the market that offers more convenience, high-quality materials, and space making this our favorite tent for larger families.
Our team really loved the two-pod design of this tent with the massive vestibule section which can be completed closed in making it great for storing gear, as a living area or even as an overflow sleeping section where you can easily stand up. They also loved the massive ventilation window system which provides a well-needed flow of air to avoid the condensation that 8 people can create!
Big Agnes Dog House 6 is one of the best value family tent
Specs
Capacity: 6
Weight (kg): 6.12
Price: 349
Loaded up with multifunctional features
Top-quality brand, affordable price
Designed for maximum interior height
The reputable tent maker, Big Agnes has offered a uniquely shaped tent that takes on a square shape to provide plenty of headroom for the whole family. The poles on this tent shoot straight up and bend at the last possible moment to keep the headroom up all the way through to the rainfly. Those crooked poles are why they call it a dome tent.
This additional height is just the tip of the handy features that Big Agnes put onto this three-season tent. Designers took advantage of all this extra wall space to throw in pockets for every camper and plenty of mesh to catch a breeze.
The Dog House doesn't worry about holding up through cold weather and wind, instead opting for comfort at every corner. The front rainfly of this tent converts to a porch space when the weather's clear, and a welcome mat offers up a great spot for muddy boots.
Although it's best for base camps and car camping, Big Agnes made sure everything is still compatible, so you can easily squeeze this tent down into a handy carrying case that can be worn as a backpack. This is great for young kids who can't handle a full pack yet, as they can still help out by easily slinging your home through the two shoulder straps.
Our team felt this tent was pretty simple but effective for the money. It might not offer heaps of different features but they felt instead the cost reflected a simple but high-quality tent on a budget. One of our team got caught in an overnight thunderstorm and the tent stood up to it impressively without even a hint of a leak!
Meet the best childproof family tent: Marmot Limestone 6
Specs
Capacity: 6
Weight (kg): 8
Price: 545
Great sky view without rainfly
Optional divider gives you space for a second room
Built-in veranda
Marmot uniquely understands that camping with the family brings with it an extra splash of chaos. Whether it's a game of tag gone wrong, a dog without grace, or a stumble in the dark, tents built for the family take on more abuse.
The Limestone 6 protects itself against your family and protects your family against the elements incredibly well. The rain fly extends all the way to the ground, which helps against flooding on particularly fierce rainstorms and lowers trip hazards. Extra zippers in every door let you comfortably control airflow and easily find your way to the bathroom at night.
Beyond these durability features, Marmot elected against pimping out this family tent. It packs a simple interior with plenty of pockets and space to ensure the tent can be constructed fast. Two people can have the tent up in less than 10 minutes once they get the hang of maneuvering the two poles.
While six adults may be packed in like sardines in the Limestone, it's got great value in its durability and weather protection for a family of four. You'll head out in confidence with this tent tucked into your trunk.
Our team were mostly impressed by the sheer speed at which they could put this thing up. The simplicity of the design meant it was a breeze even on a rainy and windy evening with kids screaming in the background! They also loved that the dome shape of the tent meant that it handled high winds and storms with ease and our team felt warm and protected even in terrible weather.

Do You Want to Travel FOREVER??
Pop your email in below to get a FREE copy of 'How to Travel the World on $10 a Day!'.
Our top pick for roomiest family tent is REI Coop Kingdom 6
Specs
Capacity: 6
Weight (kg): 9.6
Price: 499
Bugproof mesh ventilation
Plenty of interior space
Best return policy on earth
The brand REI is not just an outdoor superstore; they also have a line of high quality, affordable prices across the camping spectrum. Unlike grocery stores, REI's house line doesn't skimp on the features, and their family tent is no different.
This tent offers up top-of-the-line spaciousness. Just because a tent can sleep six doesn't mean everyone will be comfortable inside, but the Kingdom has made sure there is space for the whole family to stretch out in the mornings.
While some tents give up loads of precious floor space to doormats, porches, and extended rain flies, the Kingdom 6 elected to spread its hardcore polyester floor to the edge of every pole to maximize sleepable floor space.
The two massive doors quickly open up in the summer months and allow the tent to air out quickly. The front and back of this bad boy can unzip almost entirely so you can soak in panoramic views of the sunrise and sunset.
The extended interior and breathable walls establish the tent more for car-camping than all-weather backpacking. The Kingdom won't have the weather protection to be used in rainstorms or across four seasons, but most families won't have the patience to camp in a gale storm anyways.
Our team loved how fun this tent was for camping with the family and felt it was the perfect accompaniment to a car camping trip to give everyone a little extra room in fair weather or for providing shade for days at the beach. A great feature they love is that it can be used without the rainfly in hot weather but also that the rainfly can be switched into different configurations depending on how you want to use the tent.
#6 – Best Exterior Space Family Tent – North Face Wawona 6
North Face Wawona 6 is our top pick for best exterior space family tent
Specs
Capacity: 6
Weight (kg): 9.5
Price: 450
Huge front porch area
Works on hot summer nights and cold windy mornings
North Face is known for durability
For years, the Wawona has been unlike any other tent on the market. The North Face has put time and effort into building a complex tent that offers up places to sit, eat, and play as well as sleep.
The extraordinary amount of usable space is primarily due to the two-door massive veranda that makes up the front half of this tent. It's almost like having a garage built into your tent, and it establishes the tent as a gold standard in family tent versatility.
North Face didn't allow this tent to settle on just being different. The main living space of this tent has plenty of height and floor space, all protected by a rainfly that can handle itself in wind gusts 50 mph or lower. When the weather is a bit balmier, the top vents in the living space keep the air flowing.
While there is slightly less sleeping area than some other six-person tents, the amount of storage offered by the large vestibule will keep your sleeping area organized and open. The only drawback to this technologically advanced setup is the construction.
This tent is far from the easiest option on our list to set up. North Face made things a bit easier by offering a carry case and color-coded tent poles, but installation won't be easy in a rainstorm.
Once you've got the roomy tent constructed, you'll find panoramic views, a sunshade, and plenty of space for sleeping and eating which make this family tent great for longer trips.
The team just loved the configuration of this tent with the massive vestibule area that could be used as a living room, storage or for things like bikes. The way either side of the vestibule could be opened to allow a through breeze made it great for providing shade during the warmer months as well as a safe area to cook in during wet weather.
Coleman Skydome 6 Person Tent is one of the best family tent for backyard camping
Specs
Capacity: 6
Weight (kg): 8.6
Price: 129
Sets up in under 5 minutes
Fits two queen-sized beds
Cheapest tent on our list (by far!)
If you're just looking for a backyard camping experience or only plan on car camping a few warm nights a year, you don't need a top-of-the-line tent. That's where this Coleman skydome excels.
While it's not breaking performance records, this lightweight tent is incredibly easy to set up and take down and works towards giving the kids a unique experience. An e-port allows you to run an extension cord and provide electricity to your night under the stars, and the poles of this tent are permanently attached to the polyester shell which makes construction a breeze.
These built-in poles are a double-edged sword. They have been known not to hold up well to roughhousing kids, and because they are built into the shell, you'll have to replace the whole tent if one pole gives out.
This is a three-season tent that won't protect the family from a cold downpour, but its weather resistance is certainly not non-existent. Coleman reinforced the seams and corners of this tent for better leak protection, and the frame will stay strong in gusts of up to 35 mph.
Shoppers looking for the newest in camping technology may find this tent a bit more bulky and clunky to store and carry in a backpack, but casual campers will spend less time setting up their home and more time trying to start a fire with this beaut.
Our team felt this was the best lightweight family tent on the market due to its many features including the large opening door, the ability to stand up inside as well as the gear loft and corner stash pockets. They also felt it was super easy to put up due to the pre-attached poles which means it's great for getting the kids involved in pitching it.
The best present of all… is CONVENIENCE!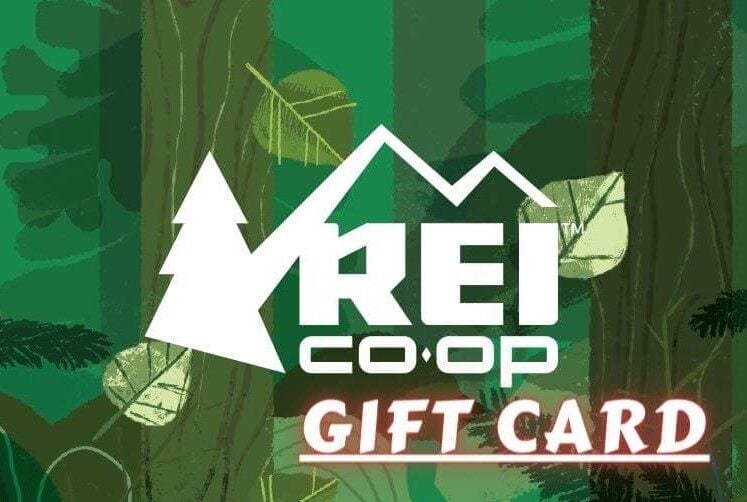 Now, you could spend a fat chunk of $$$ on the WRONG present for someone. Wrong size hiking boots, wrong fit backpack, wrong shape sleeping bag… As any adventurer will tell you, gear is a personal choice.
So give the adventurer in your life the gift of convenience: buy them an REI Co-op gift card! REI is The Broke Backpacker's retailer of choice for ALL things outdoors, and an REI gift card is the perfect present you can buy from them. And then you won't have to keep the receipt. 😉
Buy on REI!
Best Family Tent

| Name | Capacity (People) | Weight (KG) | Price (USD) |
| --- | --- | --- | --- |
| MSR Habitude 6 | 6 | 6.35 | 600 |
| Nemo Wagontop 8 | 8 | 13.6 | 750 |
| Big Agnes Dog House 6 | 6 | 6.12 | 349 |
| Marmot Limestone 6 | 6 | 8 | 545 |
| REI Coop Kingdom 6 | 6 | 9.6 | 499 |
| North Face Wawona 6 | 6 | 9.5 | 450 |
| Coleman Skydome 6 Person Tent | 6 | 8.6 | 129 |

Our GREATEST Travel Secrets…
Pop your email here & get the original Broke Backpacker Bible for FREE.
How and Where We Tested To Find The Best Family Tents
Let's be honest, the only way to really test out a tent is to actually spend a night in it and actually feel what it's like. So that is exactly what we did, we sent various members of our team out with these tents in different climates, locations and weather conditions.
In order to consistently and fairly assess and compare them to one another, our testers applied the following metrics when putting together this list of the best-rated family tents.
Packed Weight
It's one thing to go online and look at the weight of a tent as just numbers on a screen, but it's another thing to feel that weight on your back when you're 4 hrs deep into a strenuous hike!
Family tents do tend to be heavier given their larger size. However, good family tents can still be found in superlight-weight versions, and when you've got to carry it, the lighter the tent the better!
Packability (Packing and Unpacking!)
No two tents are the same, especially when it comes to pitching and un-pitching. Some feel like they require an engineering degree whilst others pretty much put themselves up (literally!)
A good family backpacking tent will be easy to pack and unpack and won't have everyone waiting around in inclement weather whilst you wrestle with tarp and guy lines!
Warmth, Waterproof and Ventilation
When you spend a night sleeping in a tent, you really get to know it. Those temperature numbers really come into focus at 4 am when you've been shivering for hours and the night feels like it's never gonna end! Equally, without proper ventilation tossing and turning in a sweatbox of a tent isn't conducive to a good night's sleep either!
Obviously, when assessing the warmth and ventilation capabilities of a tent our testers took into account the weather and the sleeping bag they were using at the time.
In terms of testing out the waterproofing, if our team didn't experience a rainstorm during their testing, they instead proceeded to get old school on its ass … and poured a bucket o' water over the tents! Any leaks and the tents were swiftly removed from our best family backpacking tent list.
Spaciousness and Comfort
Tents are not exactly designed for throwing parties (ok, some are) but still, ideally you want a tent to have enough space to sit up right? When it comes to a top family tent, the needs are a little greater than your standard backpacking tent. You'll need enough room for multiple people and all your baggage!
Again, this is something you only really get a feel for after spending a night inside a tent which is precisely what we did.
Build Quality and Durability
All of our testers were instructed to subject tent poles to a good bit of good-natured roughing around, inspect the seam sewing and feel the thickness of the fly sheets. When it came to selecting the best family tent, our team took into consideration the wear and tear these things go through, especially with kids!
Note that ultralight tents are not as durable as heavier ones so there is always a tradeoff between packed weight and longevity when it comes to tents.
Final Thoughts on the Best Family Tent
Now that you know more about the best family tents on the market, you're one step closer to giving the kids a weekend they'll never forget. Our tents fit budgets, lifestyles, and families of all shapes and sizes, so finding your perfect tent is as easy as deciding what you want your tent to do for you.
Any of the tents on our list should last for years, so make sure you buy a tent that can grow as your family gets more comfortable outside.
If you already head a household full of seasoned outdoorsmen and women, this MSR Habitude 6 checks off all the boxes while staying lightweight to provide a great family camping experience at sea level or a few thousand feet up.
For campers who don't plan on much more than a few fair-weather car camps, the Big Agnes Dog House 6 provides excellent value, comfort, and protection to keep the kids excited between trips.
As always, give us a shout after your first few nights in your tent and share your experiences, or let us know if we missed any of your favorite family tents in the comments below.
Did you find the best family tent for 2022 and beyond on this list for your next trip? Let us know.
Looking for something bigger? Check out the best 8 person tents instead.
---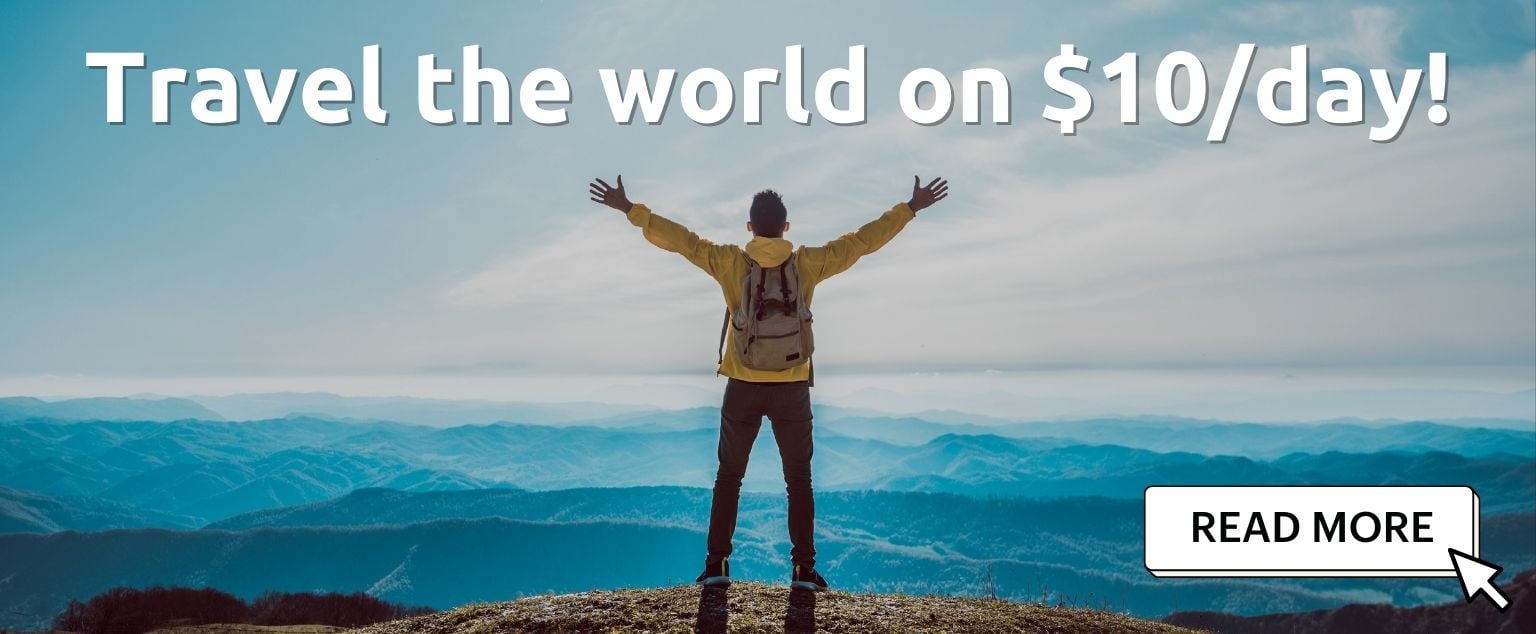 And for transparency's sake, please know that some of the links in our content are affiliate links. That means that if you book your accommodation, buy your gear, or sort your insurance through our link, we earn a small commission (at no extra cost to you). That said, we only link to the gear we trust and never recommend services we don't believe are up to scratch. Again, thank you!