Every one-man band needs a place to sleep at night. Camping alone means you get to map out your days exactly how you want, and no crawling over anyone in the middle of the night to catch the stars. Whether you're thru-hiking, bikepacking, or packing heat, solo tents are all about getting you further out there.
The ultimate solo tents pack in performance, space to roll over, and quick set-up into an incredibly small size. Some of the one-man tents you'll read about below will take up less space in your pack than your Nalgene.
Not every 1p tent is looking to check the same boxes. There are loads of niches within the one-man market, and each category has a different tent at the top of the charts. Whether you want to shed weight at all costs, set up in a hurry, or find room to relax on a rainy morning, there's a tent out there perfect for your next trip.
Chances are, that tent is on our list. We covered one person tents suitable for queens and 1p tents weaponised for speed. This buying guide will look across the entire market to highlight the best solo tents for adventures of all sizes.
Read on and imagine where you want your next shelter to take you to find the best one-man tents for the next time you're ready to sleep outside.
Quick Answers – The Best One Man Tents
One Man And His Tent
At The Broke Backpacker, we take great pride in our gear reviews. This list is the culmination of years of wandering and hundreds of nights spent outside. We love exploring with the right tent, and we want to share our stoke with as many people as possible.
Unfortunately, that means sometimes succumbing to our robot search overlords. We want to use more gender-inclusive language (like the term "one person tents"), as these tents are suitable for everyone (though not at the same time) but are using the term one-man tent for search engine purposes.
Solo travellers across the spectrum will find refuge in these dynamic one-person tents.
The term 'man' may be meaningless, but the quantity is non-negotiable. A designation as a one-person tent is no joke. You won't fit two people into any of these tents comfortably, and some may not even provide enough interior space for big bags and gear storage.
Not all one person tents are the same size, so it's important to work out how much gear you want to bring and remember that worst-case scenario, you will be stuck in your tent for the entirety of a rainy day. You'll want to know you've got ample gear storage inside the inner tent for all your stuff!
Camping and backpacking gear is all about trying to be more lightweight (also check out Ultralight tents if this is what you're after), but make sure you think of the big picture before you commit to spending the weekend in a bivy.
Dedicated backpacking tents on the other hand tend to offer an ample gear storage area whilst still being lightweight.
Best Overall One Man Tent
Best Overall One Man Tent
MSR Access 1 Tent
> $$
> Strongest poles in the business
> Freestanding
Best Ultralight One Man Tent
Best Ultralight One Man Tent
MSR Hubba Hubba
> $$
> Crossroads of lightweight and spacious
> Sturdy floor even without a footprint
Best Budget One Man Tent
Best Budget One Man Tent
Marmot Tungsten
> $
> Great middle-class tent
> Footprint included
Most Reliable One Man Tent
Best All Rounder 1 Man Tent
Best One Man Zip Hammock
Best One Man Zip Hammock
Hennesy Hammock Expedition
> $
> Rainfly built specifically for this hammock
> Materials built to last decades
Best One Man Bikepacking Tent
Best One Man Bikepacking Tent
REI Coop Flash Air
> $$
> The Interior tent body stays dry even if you set it up in the rain
> Use a trekking pole as the vertical pole
These Are The BEST One Man Tents
Ladies & Gents, It's Time to Step Your GEAR Game Up. 😉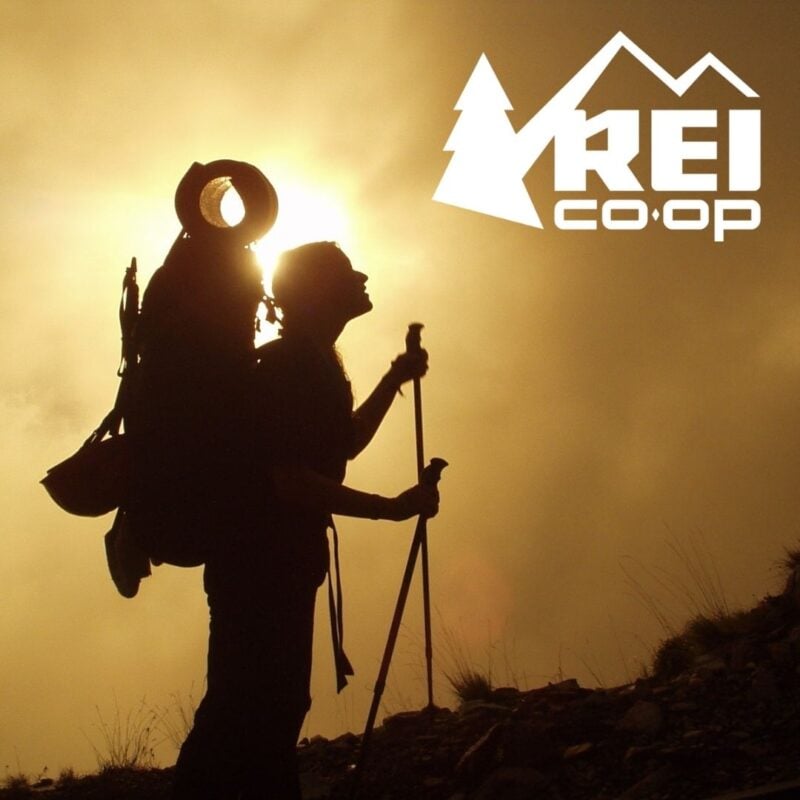 REI is one of America's biggest and most-loved outdoor gear retailers.
Now, for just $30, get a lifetime membership that entitles you to 10% OFF on most items, access to their trade-in scheme and discount rentals.
Join REI Today!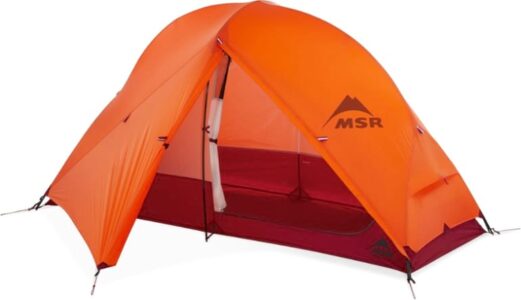 MSR Access 1 Tent is our top pick for best overall one man tent
Specs
Packed Weight (kg): 1.6
Dimensions (cm): 213 x 84
Price (usd): 499
The best overall tent provides a plush living space, snow or shine. This double-wall tent was born for easy access to backcountry skiing and split borders, so it's light enough to carry through a workout and weather-resistant enough to hold firm through flurries. If you're looking for a durable tent with a decent amount of gear storage then this has you covered… literally!
MSR may have designed this tent initially for the snow, but they were careful to make sure it works as a hybrid with several mountaineering and lightweight features working together. It's much lighter than most 4-season tents but can still withstand the hard winds and snow that would blow through most other 3-season tent fabric.
With plenty of places for your guy lines and ventilation that prevents tent condensation, this one-person tent is a top-quality option. It blows other tents out of the water but you do pay that little bit extra!
We love a tent that can go anywhere, and if you're planning trips year-round, this could be the only solo tent you need to keep in your closet. On the other hand, it might be overkill for a backpacking tent if you're not heading anywhere too wild.
+Pros
Strongest tent poles in the business
4-season tent
Freestanding one person tent
-Cons
Not built to go above the tree line
Need to pack two tent poles
Heavy for an ultralight tent, light for a winter tent
#2 – Best Ultralight One Man Tent – MSR Hubba Hubba
Our pick for best ultralight one man tent is MSR Hubba Hubba
Specs
Packed Weight (kg): 1.3
Dimensions (cm): 216 x 76
Price (usd): 379
If you know me, you know I think the MSR Hubba series is suitable for almost any adventure. They take what other tents do and well, do it better!
Why? Because It's an ultralight tent that takes space into account whilst still managing to be a super waterproof tent!
No list of the best tents out there is complete without this double-wall tent built for efficiency at every corner, and the Hubba solo continues that legacy.
Vestibule space like this is a real luxury in a tent this tiny. You won't have to snuggle up to smelly boots, thanks to two covered entrances that provide ample gear storage. All this room only comes with one carbon fibre pole, which unfortunately means the tent is longer than it is wide.
There is still plenty of interior space to stretch out on the interior, even while waiting out afternoon showers. It's a great option for those looking for a top-quality backpacking tent.
If you're searching for good quality lightweight tents with decent gear storage, this one ticks all the boxes. The Xtreme Shield waterproof coating on the tent wall keeps everything dry, however, it is prone to some tent condensation.
+Pros
Enough porch space to cook in the rain
Crossroads of lightweight and spacious
Sturdy floor even without a footprint
-Cons
Prone to condensation on warm nights
Ten pegs set up
Mesh inner gets cold in October
#3 – Best Budget One Man Tent – Marmot Tungsten
For the best budget one man tent, check out Marmot Tungsten
Specs
Packed Weight (kg): 1.7
Dimensions (cm): 213 x 91
Price (usd): 193
Hunker down with the solid cocoon provided by the Tungstens all-encompassing rain fly. The tungsten series is a budget tent option for hikers who still want a tent that can perform under pressure.
Set up your roomy interior right the first time with the classic X-shaped two-pole system. Three hundred sixty degrees of no-see-um mesh fills out the tent body, which provides great ventilation on starry nights. Drape the rain fly all the way down to the included footprint on rainy nights to stay safe, warm, and dry in 3-seasons of weather.
This double-wall tent isn't the most technically advanced option out there, but the solid set of poles and reinforced seams allow it to protect well above its weight. There's plenty of gear storage inside the inner tent for the money. It makes for a great backpacking tent that won't cost the earth.
+Pros
Great middle-class tent
Footprint included
Set-up is a breeze
-Cons
Packs down a bit large for a backpacking tent
Doesn't hold well against strong winds
One, small door
Big Agnes Tiger Wall is one of the most reliable one man tent
Specs
Packed Weight (kg): .96
Dimensions (cm): 218 x 97
Price (usd): 359
Whether you're headed 3 miles or 30, tired hikers can set this durable tent up in a hurry. The Tiger Wall is as close as you can find to a unicorn in the tent world. It packs plenty of high-end specs and is ultralightweight at an affordable price.
Big Agnes tents are great – they took care of all the details, providing plenty of ventilation options and oversized doors that make midnight trips to the loo easier.
The 2021 Tiger Wall has responded to calls for environmental action by using a new fabric that drastically reduces energy consumption and water required to make the tent. When it comes to backpacking tents, we're always on the lookout for a product that will reduce the carbon footprint of our trip.
That makes this double-wall tent a no-brainer. not only is it reliable for your next adventure, but also for the natural world your tent will help you explore. If you're searching through the endless list of lightweight tents on the market then this one's a clear winner!
+Pros
Oversized doors
Environmentally conscious construction
One DAC featherlite pole
-Cons
Fragile without a footprint
Low vestibule space
No floor-level pockets

Do You Want to Travel FOREVER??
Pop your email in below to get a FREE copy of 'How to Travel the World on $10 a Day!'.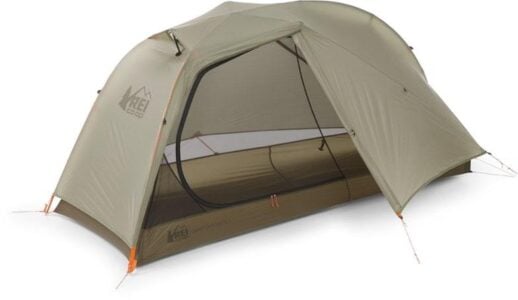 Meet the best all rounder one man tent: REI Coop Quarter Dome
Specs
Packed Weight (kg): 1.08
Dimensions (cm): 224 x 89
Price (usd): 299
The Quarter Dome throws in a set of roof poles that create roomy vertical sidewalls, just enough space inside the inner tent to stretch out at the end of a long hike. I can roll my feet around the end of this tent and comfortably sit up straight while staying dry.
You can bring a splash of luxury to your next backcountry trip with space for a wide sleeping pad inside these mesh walls. There is even space to leave larger bags outside under the well-designed vestibules of this double-wall tent.
An all-arounder has to be affordable for all budgets, and this tent sneaks in just under 300$. While that's not the cheapest backpacking tent on our list, the ultra-low weight and plethora of protections provided by this tent make that price a bargain.
+Pros
Two-way zipper
Easy to change clothes inside
D-shaped door maximizes space
-Cons
Often out of stock
15D floor
Requires seven stakes
Our top pick for best one man zip hammock is Hennesy Hammock Expedition
Specs
Packed Weight (kg): 1.3
Dimensions (cm): 254 x 122
Price (usd): 159
Really get your feet off the ground at the end of a long day. This zip hammock is built for sleeping on the go and packs plenty of features into an asymmetric design. The design scheme of this hammock allows you to sleep comfortably diagonally and straight, all protected under the included rain fly.
This is not the typically portable hammock you may have seen strewn through trees in quads across the country. Instead, this bad boy is a great partner for single-track living. It has a slightly complicated setup process, but once secured, the included bug mesh and rainfly are sure to keep you warm and dry.
Forget backpacking tents, bed down in a hammock instead for the ultimate in lightweight travel!
The Hennesy comes loaded with durable fabrics that protect at a low price. If you're looking to shave off a few more ounces, there is a Hennesy asym ultralight model that won't hold as well in foul weather but packs 280 grams lighter. Hammock-camping is maybe not for everybody but is a unique, minimal way to travel.
+Pros
Rainfly built specifically for this hammock
Ships with everything you need to sleep in your hammock this weekend
Materials built to last decades
-Cons
Not a great hammock for sitting
Bug net is permanently attached
Diamond shape rainfly is affected by heavy winds
#7 – Best One Man Bikepacking Tent – REI Coop Flash Air
REI Coop Flash Air is our top pick for best one man bikepacking tent
Specs
Packed Weight (kg): .75
Dimensions (cm): 224 x 89
Price (usd): 249
Ride through the sunset, and tuck into this single-walled tent for a good night's sleep. Light and compact, you can easily pack this whether you're travelling with two wheels or two feet.
REI used guylines instead of frame poles to reduce weight, and you can take that effort a step further by swapping out the main vertical pole on this tent with a trekking pole. Not only is it perfect for bikepacking, but it's also one of the best backpacking tents with its compact design.
This incredibly compact tent still reaches a height of 106 centimetres, which is just enough to sit up and greet the day from inside your tent.
The interior isn't luxurious, and the single wall is prone to condensation, but trekkers looking for the lightest possible structures designed to fit bike panniers easily will wake up happy in the flash air.
Oh, and make sure you have a good bike packing bike to go with that tent…
Looking for a Motorcycle tent instead? We've got a post for that too!
+Pros
The Interior tent body stays dry even if you set it up in the rain
Use a trekking pole as the vertical pole
Minimum trail weight of .56 kg
-Cons
Poor ventilation
Just enough vestibule space to protect a backpack
Not much more interior space than a Bivy
For best bivvy bag, check out REI Co Op All Season Bivvy
Specs
Packed Weight (kg): .79
Dimensions (cm): 221 x 68
Price (usd): 150
The minimalist travel special, this all-season raincoat for your sleeping bag gives you a quick and warm place to sleep no matter what's going on outside. This tent style is only recommended for mountaineering or campers looking to shed weight at all costs.
You won't be able to sit up inside this bivy, and you'll be lucky to find the arm space to read inside the inner tent. With that being said, if you're ready to commit to the next level of minimalism and embrace bivvy-living, this bivy won't let you down.
An extra pole and zippered visor in the headspace allow you to open up your bag without getting a face full of snow, and you'll find a surprising amount of ventilation on warmer nights. a bivvy might be a bit extreme when it comes to backpacking tents but they're great for packing light and using just when needed.
We did an entire round up of the best Bivvy bags if you want to see some more!
+Pros
Waterproof and breathable
Packs down to the size of a water bottle
Has net and rain doors
-Cons
Enough space for one human and a bag if you're lucky
Cannot sit up inside
It will leak if not set up properly
The best present of all… is CONVENIENCE!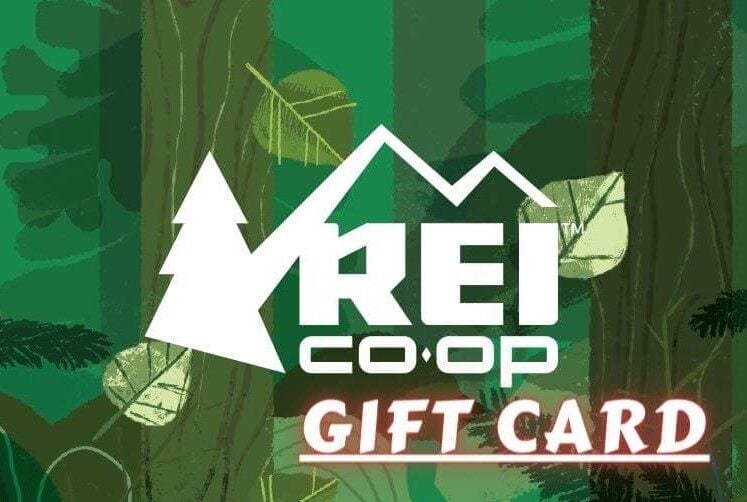 Now, you could spend a fat chunk of $$$ on the WRONG present for someone. Wrong size hiking boots, wrong fit backpack, wrong shape sleeping bag… As any adventurer will tell you, gear is a personal choice.
So give the adventurer in your life the gift of convenience: buy them an REI Co-op gift card! REI is The Broke Backpacker's retailer of choice for ALL things outdoors, and an REI gift card is the perfect present you can buy from them. And then you won't have to keep the receipt. 😉
Buy on REI!
Best One Man Tent

| Name | Capacity (Person) | Floor Space (inches) | Weight (lbs) | Price (USD) |
| --- | --- | --- | --- | --- |
| MSR Access 1 Tent | 1 | 2736 | 3.52 | 559.95 |
| MSR Hubba Hubba | 1 | 2592 | 2.87 | 469.95 |
| Marmot Tungsten | 1 | 2793 | 3.75 | 219 |
| Big Agnes Tiger Wall | 1 | 2736 | 2.12 | 399.95 |
| REI Coop Quarter Dome | 1 | 2721 | 2.38 | 229.93 |
| Hennesy Hammock Expedition | 1 | – | 2.87 | 169.95 |
| REI Coop Flash Air | 1 | 3067 | 1.65 | 194.93 |
| REI Co Op All Season Bivvy | 1 | – | 1.74 | 150 |

Our GREATEST Travel Secrets…
Pop your email here & get the original Broke Backpacker Bible for FREE.
Final Thoughts on The Best One Man Tents
From Bivy sacks to roomy chalets, we've seen today what modern one-person tents are capable of providing. Technology is constantly improving to our benefit, and solo adventures have more choices than ever when deciding which gear is good enough to rest our heads under.
You may be surprised to see a lack of budget options on our list. I may be a broke backpacker, but I certainly wouldn't head out towards the mountain top with nothing but a cheap piece of nylon between me and a surprise rainstorm.
While cheap tents may get you through a weekend of car camping, I haven't found anything under 100$ that allows me to push my limits, and that's what a great tent should do.
Just because you aren't planning anything epic at the moment doesn't mean you shouldn't invest in a tent prepared for anything. The right tent will let you grow for years while still providing a safe interior, while a lacklustre tent will have you shopping for tents again this time next year.
That's why the MSR Access 1 Tent hit the top of our leaderboards. For trips this winter and five summers down the line, this tent will be ready when it's time to set camp.
Looking for something a bit bigger? Check out the best 3 person tents or how about the North Face Storm Break 2, one of the best 2-man backpacking tents.
---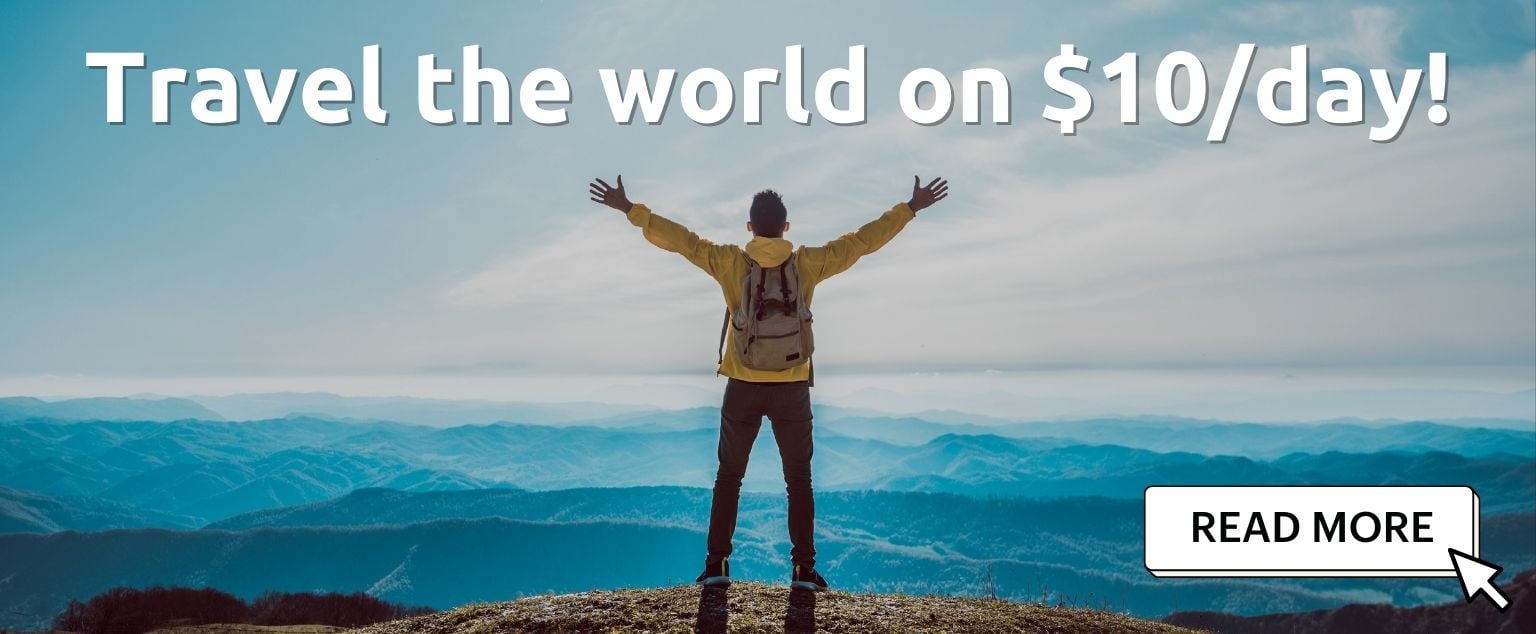 And for transparency's sake, please know that some of the links in our content are affiliate links. That means that if you book your accommodation, buy your gear, or sort your insurance through our link, we earn a small commission (at no extra cost to you). That said, we only link to the gear we trust and never recommend services we don't believe are up to scratch. Again, thank you!