Some of the world's best adventures are done by motorbike!
From the Pacific Coast Highway through California, to The Great Ocean Road in Australia, there are many incredible stretches of roads that are best explored by motorbike. I've been lucky enough to hit the road on several motorcycle adventures and was bought up by a die-hard motorbike enthusiast.
When I was a teen, me and my pop would hit the road on two-week long adventures through Europe, camping out under the stars with our trusty bikes kept safe in a motorcycle tent.
Being gear nerds, we tested out a few backpacking tents, stoves and motorcycle camping tents and bivvys on our journeys, keen to keep our gear and motorcycles in tip-top condition but also trying to pack light. We then quickly realised that normal backpacking tents weren't going to cut it and we needed a specialist motorcycle camping tent instead…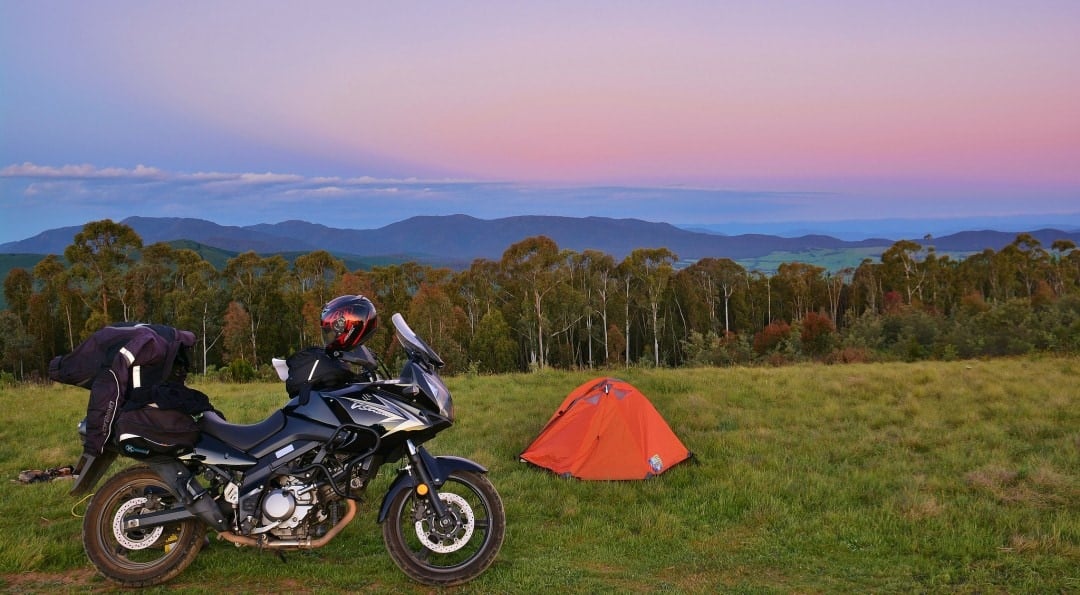 There's something about driving a motorbike that screams ADVENTURE! The first time I hit the road on a motorcycle, a battered 350cc Honda, I felt liberated being in charge of my own destiny, direction and destination! I also felt pretty damn bad-ass, driving down the highway passing through small villages and towns, soaking in the sun and the local culture while motorcycling across Vietnam.
You will probably get lost and may run into some motorbike dramas along the way. But hey, it's all part of the adventure, something I wouldn't change for the world.
Quick Answer: The Best Motorcycle Camping Tent
If my phone didn't die, I wouldn't have taken the wrong turn down a little dirt road leading me deep into the Yen Bai mountain range in Northern Vietnam. The dirt, rocky road was slowly deteriorating the further I endeavoured into the foothills of the mountains but I was mesmerised by the phenomenal scenery of cascading rice terraces, small hill tribe communities, wearing their ethnic clothing and postcard-picture views.
While the sun was setting I hit a big rock, which knocked off my motorcycle exhaust. Quickly, I was joined by some locals who came out laughing at me and began hysterically laughing when I pointed and asked "Sapa"? There were no hostels, hotels, homestays or guesthouses and I wished that I had a motorcycle tent with me to camp out with and keep my motorbike out of sight. Luckily a sweet family took me in for the night, fed me dinner, charged my phone and helped me find my way back.
Personally, I think travelling by motorcycle is one of the best ways to explore a place or country. You can venture off the beaten path and discover your own secret, hidden gems. Get lost, find your own adventure and experience a new place at your own pace. At the end of your journey, you'll have your own unbelievably crazy stories to share. But maybe wait till you're finished, before telling mum and dad.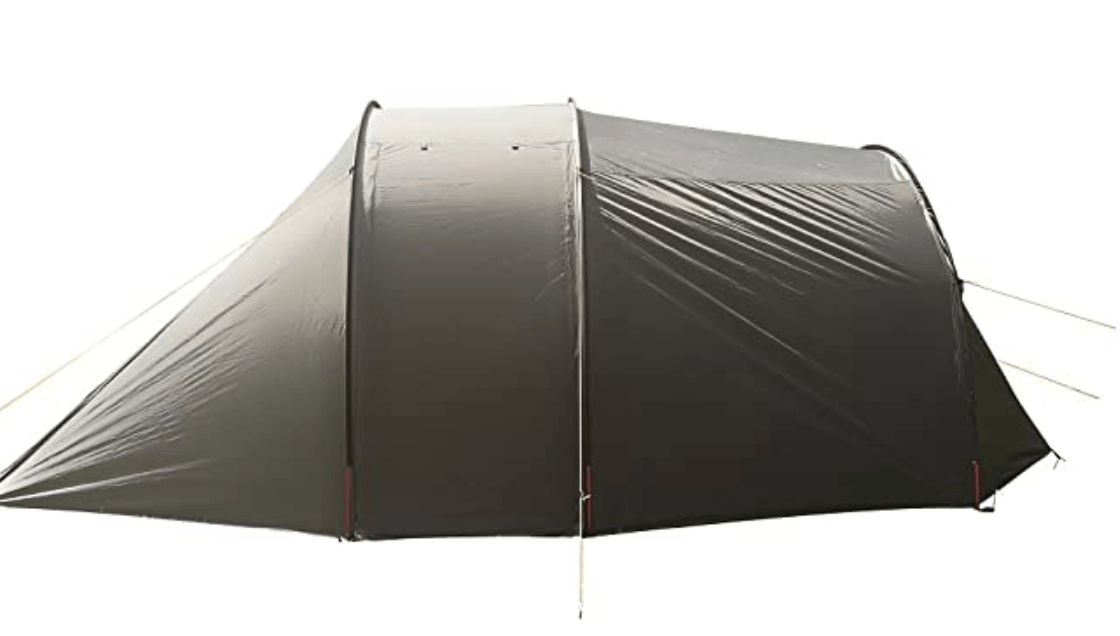 Adventure is everywhere, but it's a hell of a lot easier to discover on a motorbike and if you are hitting the road for any real length of time, or with an expensive bike, it makes sense to protect your transport, and give yourself somewhere chill to sleep, with a motorcycle camping tent.
Motorcycle camping will sort you out when you're travelling by Motorbike. It's far more convenient than finding a hostel or hotel and checking in plus it means you can drive as far as you want and then simply camp out. If you're anything like me, you are always in search of remote stretches of roads with incredible views. Coincidentally, these roads often lead to awesome places to camp, whether it be by the beach, or up in the mountain amongst the clouds. So you may as well pack a motorcycle tent next time you zoom off on your next adventure. Alright, I hear ya, you're not 100% sure if you even need a motorcycle camping tent, won't a normal tent do the job? Let me run you through it…
The main concern when choosing the best motorcycle tent for your adventure is finding one that fits your needs and onto your motorbike. You need something big enough to protect your bike and still provide you with plenty of space to crash out in. Boom! We've done the hard work for you and found the best motorbike camping tent of 2023, check out the details below for a full breakdown…
BEST OVERALL MOTORCYCLE CAMPING TENT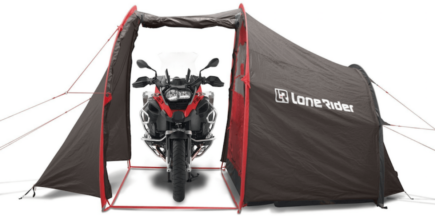 BEST OVERALL MOTORCYCLE CAMPING TENT
Lone Rider MotoTent
Capacity: > 2 people
Weight: > 5.44 kg
Type: > Tunnel
Fabric: > 210T Polyester
BEST VALUE FOR MONEY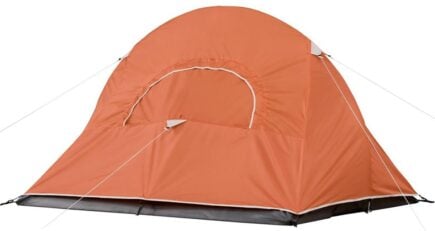 BEST VALUE FOR MONEY
Coleman Hooligan
Capacity: > 2 people
Weight: > 3.5kg
Type: > Dome
Fabric: > Polyester
BEST LIGHTWEIGHT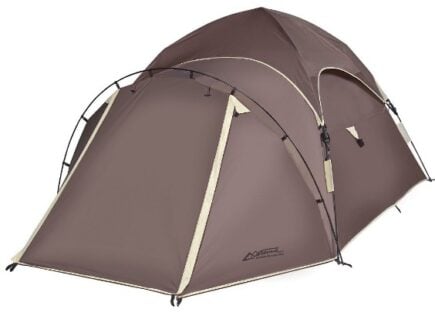 BEST LIGHTWEIGHT
Catoma
Capacity: > 2 people
Weight: > 4.54kg
Type: > Speed Dome
Fabric: > Polyurethane
BEST MID-RANGE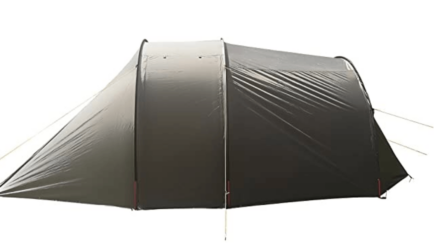 BEST MID-RANGE
Wolf Walker Waterproof Motorcycle Tent
Capacity: > 2-3 people
Weight: > 6.7kg
Type: > Dome
Fabric: > Polyester
BEST ONE PERSON MOTORCYCLE TENT
BEST ONE PERSON MOTORCYCLE TENT
ALPS Mountaineering Compact Tent
Capacity: > 1 person
Weight: > 1.56kg
Type: > Free Standing
Fabric: > Polyester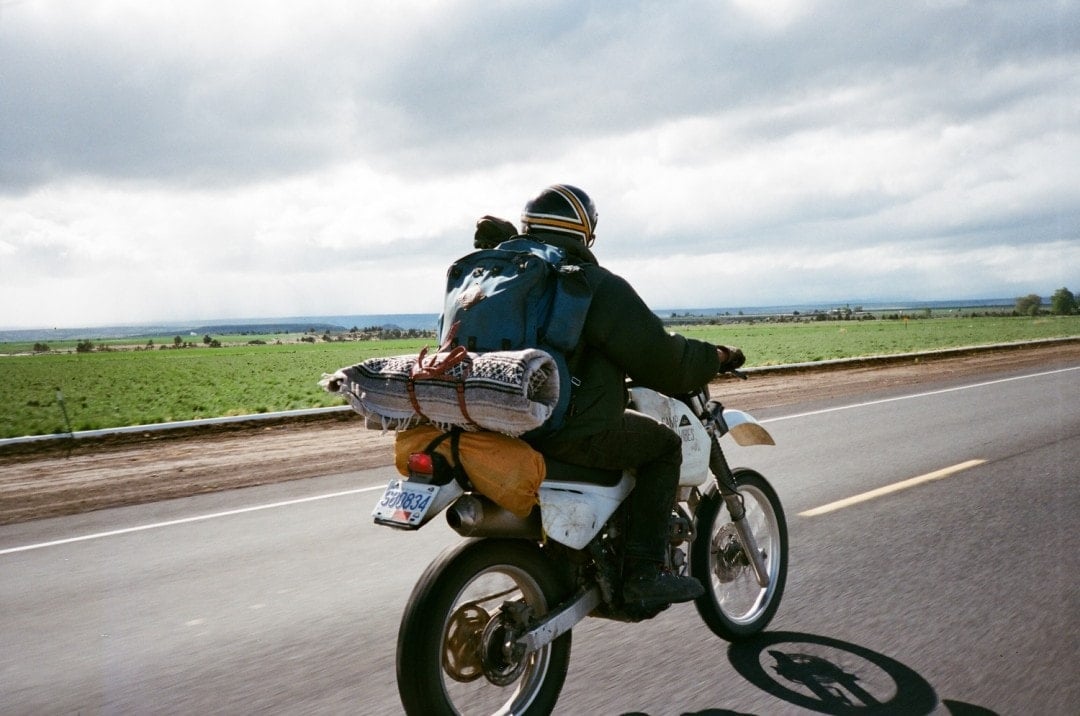 6 Best Motorcycle Camping Tents
Ladies & Gents, It's Time to Step Your GEAR Game Up. 😉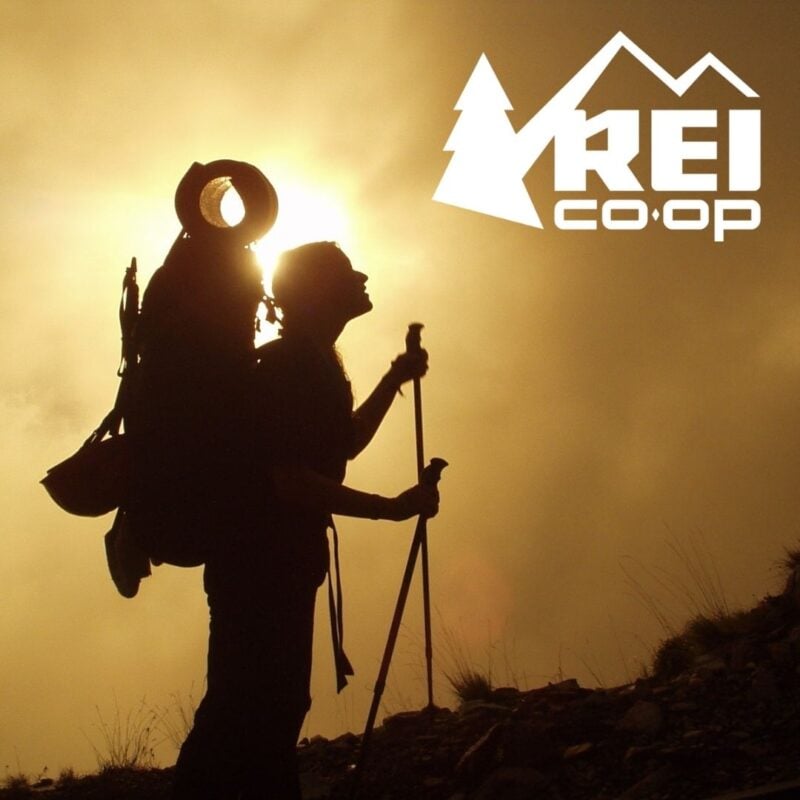 REI is one of America's biggest and most-loved outdoor gear retailers.
Now, for just $30, get a lifetime membership that entitles you to 10% OFF on most items, access to their trade-in scheme and discount rentals.
Join REI Today!
1. Lone Rider Mototent – Best Overall Motorcycle Camping Tent
If you ask any Biker who has hit the road with a Lone Rider Mototent, the responses are universally the same across the board. This motorcycle camping tent is the cream of the crop.
The Lone Rider Mototent features a large sleeping area where weary travelers can rest comfortably with all of the gear inside as well. The roomy vestibule area is perfect for keeping your bike safe and away from prying eyes. When the bike is kept outside, two adults can comfortably use the vestibule as a seating area.
The fabric of the tent is made from tough, waterproof material that will keep you dry day after day. A groundsheet is included for extra protection. This entire tent was built with the motorcyclist in mind; from the reflective bands on the carrying bag to the small and portable dimensions of the tent.
When it comes to the best motorcycle camping tent on the market, the jury is out. The Lone Rider Mototent is the perfect companion for any serious motorcyclist hitting the road for an extended journey.
Our team loved this tent with a motorcycle garage because it just ticks all the boxes when it comes to what you want when you're touring with a tent. They loved the super spacious garage section and how easily it fits in even some pretty big touring bikes. Another neat feature of the garage area is that if you decide not to put your bike in there then it's a great area to hang out in whilst keeping your sleeping area separate as you can stand up in this area.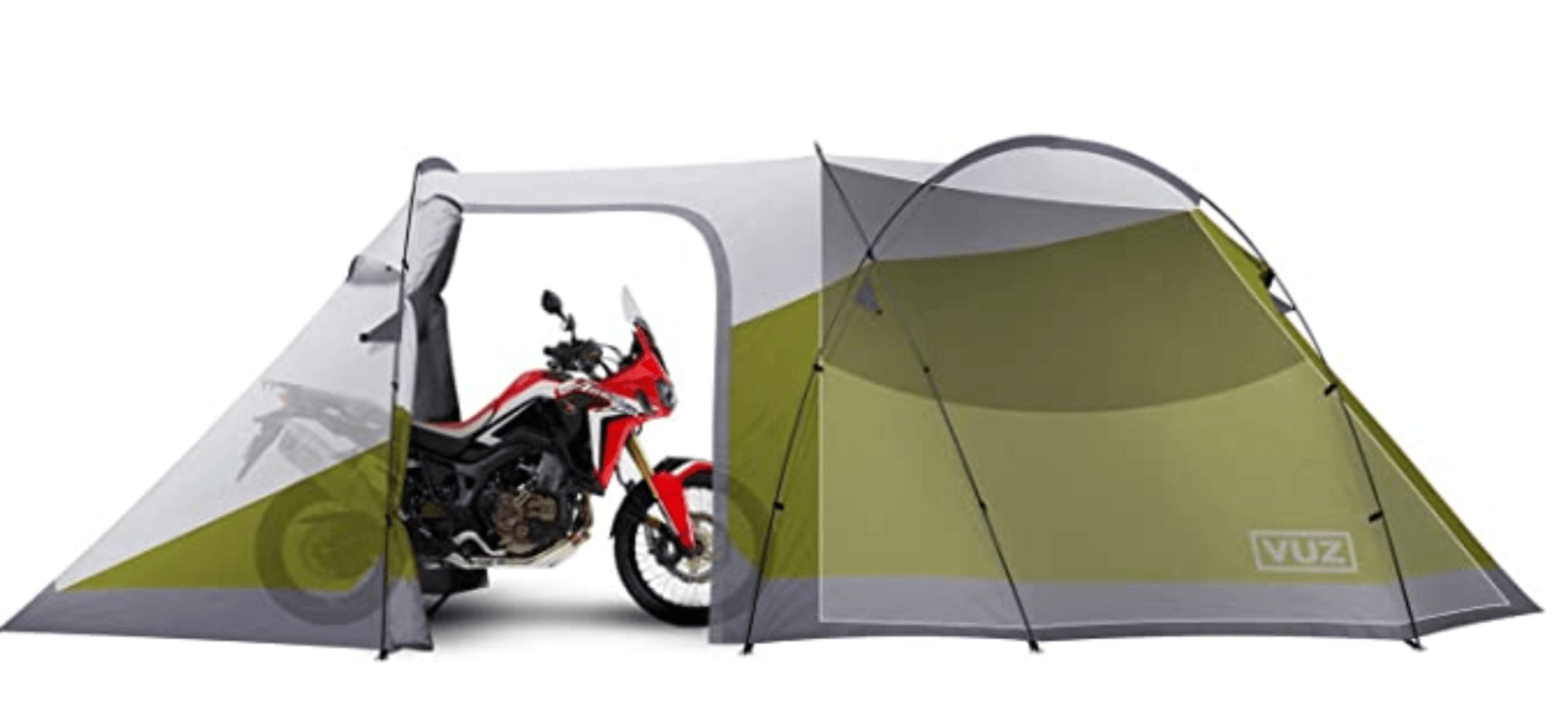 If you are looking for something a bit more spacious than the top pick listed above, then check out the AYAMAYA Waterproof Motorcycle Tent. This tent has 4 openings so getting in and out is never a problem. In fact, it's one of the best motorcycle camping tents out there if you're looking for something with a bit more room.
The vestibule is also considerably bigger on the AYAMAYA tent than the above-mentioned Lone Rider MotoTent. Our biggest qualm with most moto tents tends to center around lack of space for the bike AND your other gear. When the weather gets bad, having decent dry-storage space is a must.
Our team might have rated this their second-best moto camping tent, but it was a narrow loss and they still loved this beast. They just loved how spacious this thing was, like, it was borderline too big for some of the team. However, for those travelling as a couple with a decent amount of gear it was perfect.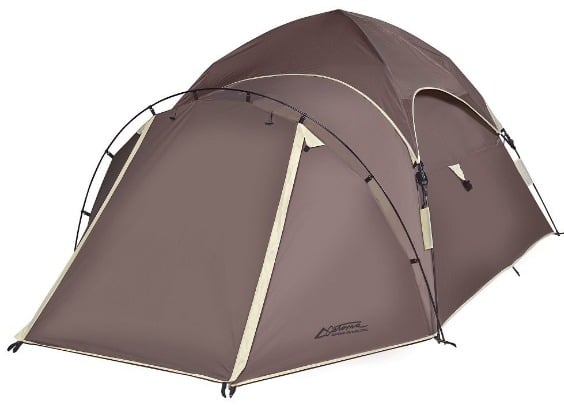 The Catoma Switchback Motorcycle Tent is the best lightweight two-person motorcycle tent, weighing only 454g! It performs well in all seasons, with mesh ventilation for the hot summer months, bathtub flooring and waterproof fabric coating to keep out any water. It's a perfect motorcycle tent to take on the road as it sets up in less than sixty seconds, thanks to its speed dome integrated frame. There's a small vestibule area but it is too small to store and protect your motorbike while you're out on the open road. For a minimalist this is a great option.
Our team felt this was the best tent for motorcycle camping if weight is an issue, for example, if you're on a smaller bike like when we toured Vietnam. Most of the team felt not being able to put their bikes inside the tent wasn't a deal breaker if they were travelling with minimal baggage they could easily remove from their bike.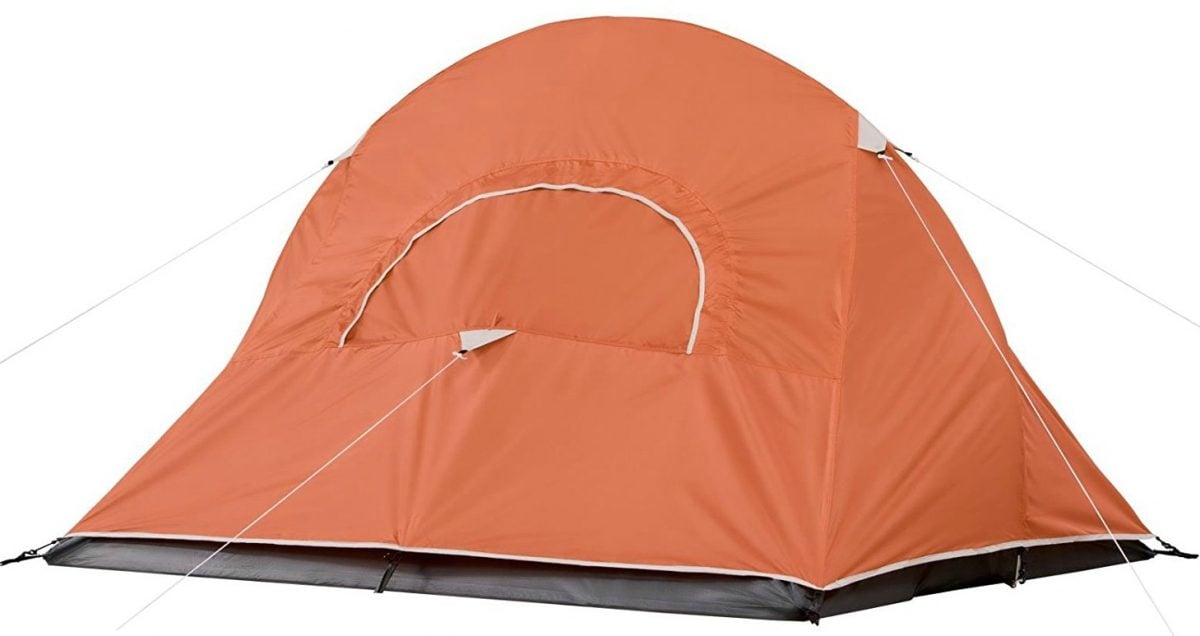 The Coleman Hooligan 2 person motorcycle tent is the best choice if you are on a budget. It's not only the cheapest option but is also produced by Coleman and most of their stuff is pretty good.
This motorcycle tent can endure and protect you from the harshest weather. There's a small front vestibule for you to store your bike, which comes in handy when it's raining. Its floor is made from polythene and wraps up the sides like a bathtub, for extreme weather protection.
If the weather's great and you feel like stargazing, just pull off the waterproof layer to reveal the night sky, without getting eaten alive by mosquitoes. The Coleman's motorcycle tent is great with ventilation, so you won't feel like you're being cooked in the oven when it's hot.
Best of all, the Coleman motorcycle tent is very lightweight and will only add 3.5kg onto your load, which is nothing! It's quick and easy to set up this motorcycle tent and take it down. Included in the price is a one year warranty, so you're guaranteed to get a good durable product for $74.99. Overall it has everything you could need for most types of motorcycle adventures. Hand's down, this is the best value for money motorcycle tent we tested but it is bulky AF and if money isn't an issue, there are better motorcycle tent options on the market.
Our team felt this was the best tent for a motorcycle trip if you're on a budget for a few reasons. Firstly they felt it offered a superb amount of space for the price and actually they found it super easy to put up and pack back down which is often a big issue with cheaper tents.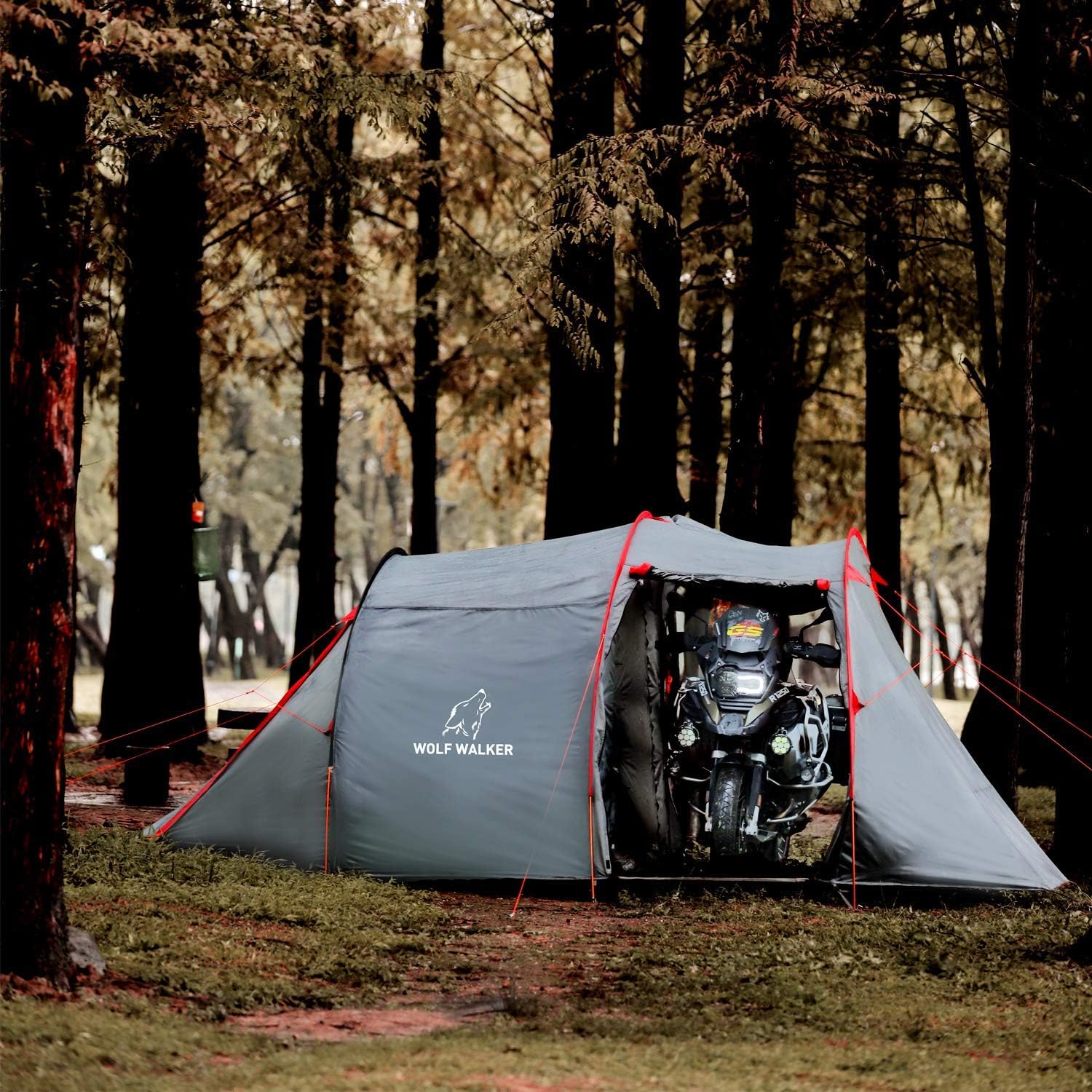 For a step up from the Coleman, the Wolf Walker motorcycle tent is a solid choice. It's a spacious tent built with bikers in mind so there's plenty of room for you to crash and for you to store your motorcycle.
This tent is made from durable, long-lasting material. Ensuring your protection from the weather, rain, hail or shine. Wolf Walker clearly put a lot of thought into the design to make it as functional and comfortable as possible. This is not the lightest tent on our list by any means (14 pounds), but it is one of the best value buys of any motorcyle tent I have seen.
This particular tent is compact and portable if you have a large bike, but can fit two people in here, plus a bike within the "garage" section It's super easy to set up and use, likewise when packing it down. This motorcycle camping tent is the perfect balance of affordability, comfort and usability.
Our team loved the set up for the bike garage section of the tent which allowed an extra area for storing things like leathers, helmets, boots and other bulky/ dirty items you might want to keep out of your main sleeping area. Another feature they loved what that you could enter the tent from the back as well so your bike isn't in the way when you need a pee at 2am!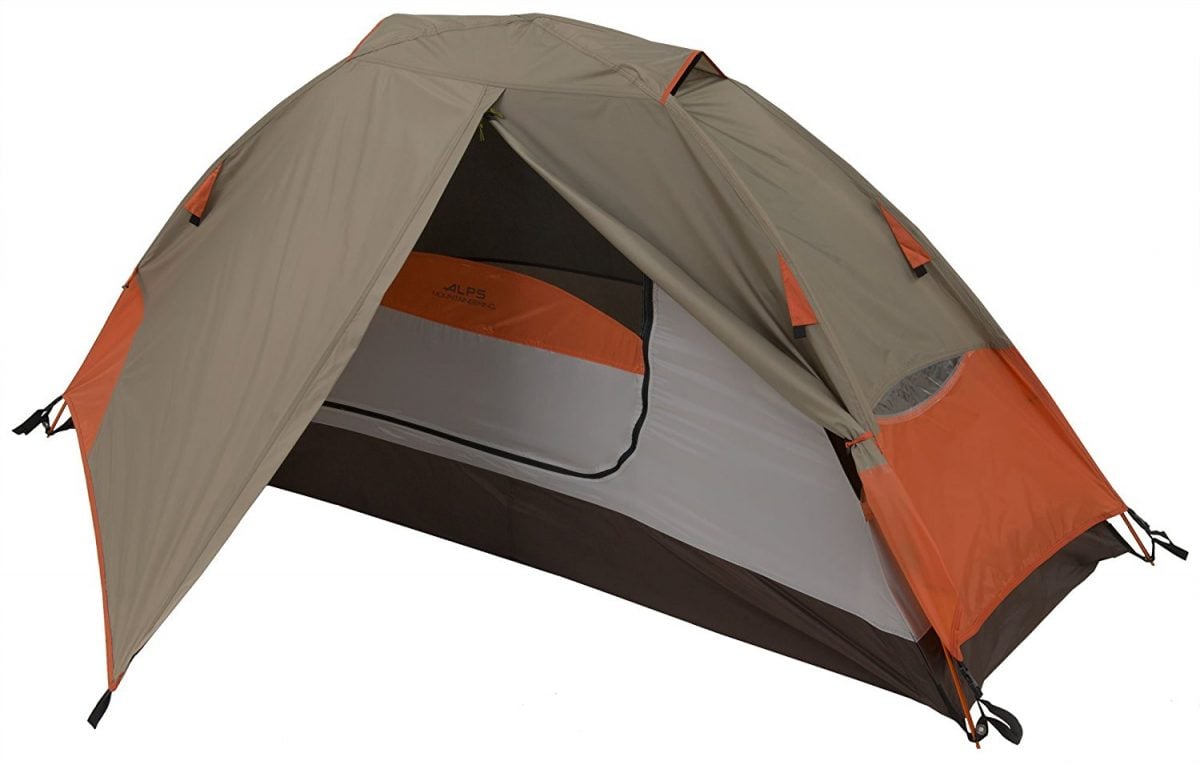 The Lynx 1 is a high value one person tent which can withstand even the toughest conditions. We tested this tent out on a recent trip across Europe and were impressed – it's quick to set up and the mostly mesh walls greatly increase ventilation meaning it was pretty comfortable to sleep in. One man tents are often pretty compact but this is one of the more spacious options that I myself have had a chance to take for a spin. Although this model doesn't include a vestibule area to store your motorbike, just pair it with a motorbike tarp and you're sorted!
Our minimalist team members loved this tent for backpacking motorcycle trips. There are plenty of people who like to bring along a tent to use more occasionally on their trip alongside staying in hostels and guest houses. With this tent taking up hardly any space at all it's easy to throw on your bike and bring along. It also doubles as a great backpacking tent even if you're not on a motorcycle trip.

Do You Want to Travel FOREVER??
Pop your email in below to get a FREE copy of 'How to Travel the World on $10 a Day!'.
6. HIKERBRO – Sexiest Motorcycle Camping Tent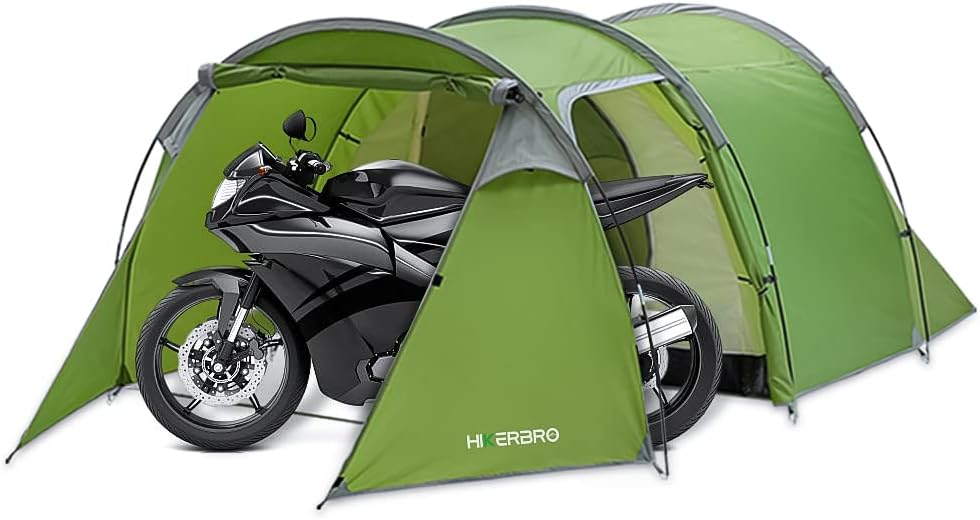 This HIKERBRO model is the perfect motorcycle camping tent for a small group travelling on two bikes, as it sleeps up to four people and provides protection for your Harley. It's breathable in the heat with mesh roof panels and protects you from rough weather with its inside zipper storm flaps and rain fly. Unlike most other tents, the HIKERBRO was specifically designed to store your motorcycle and fits snugly on the back of your bike. You'll be the envy of the campsite with this sexy-looking motorcycle camping tent!
Our team just loved how this thing looked, I mean, you're already the coolest cat on the campsite if you're rolling out from the HIKERBRO in the morning! Looks aside they loved how well even big bikes fit in! They found it was perfect for mates or partners with a bike each and offered great storage for heaps of gear too.
More Worthy Motorcycle Tents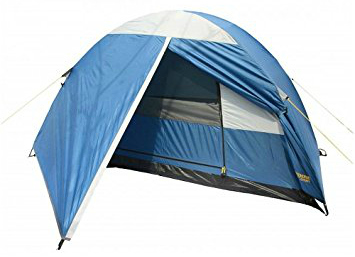 Mesh ventilation
CHEAP
Water and wind resistant
Ultra lightweight
Bathtub floor
Set up in 3 minutes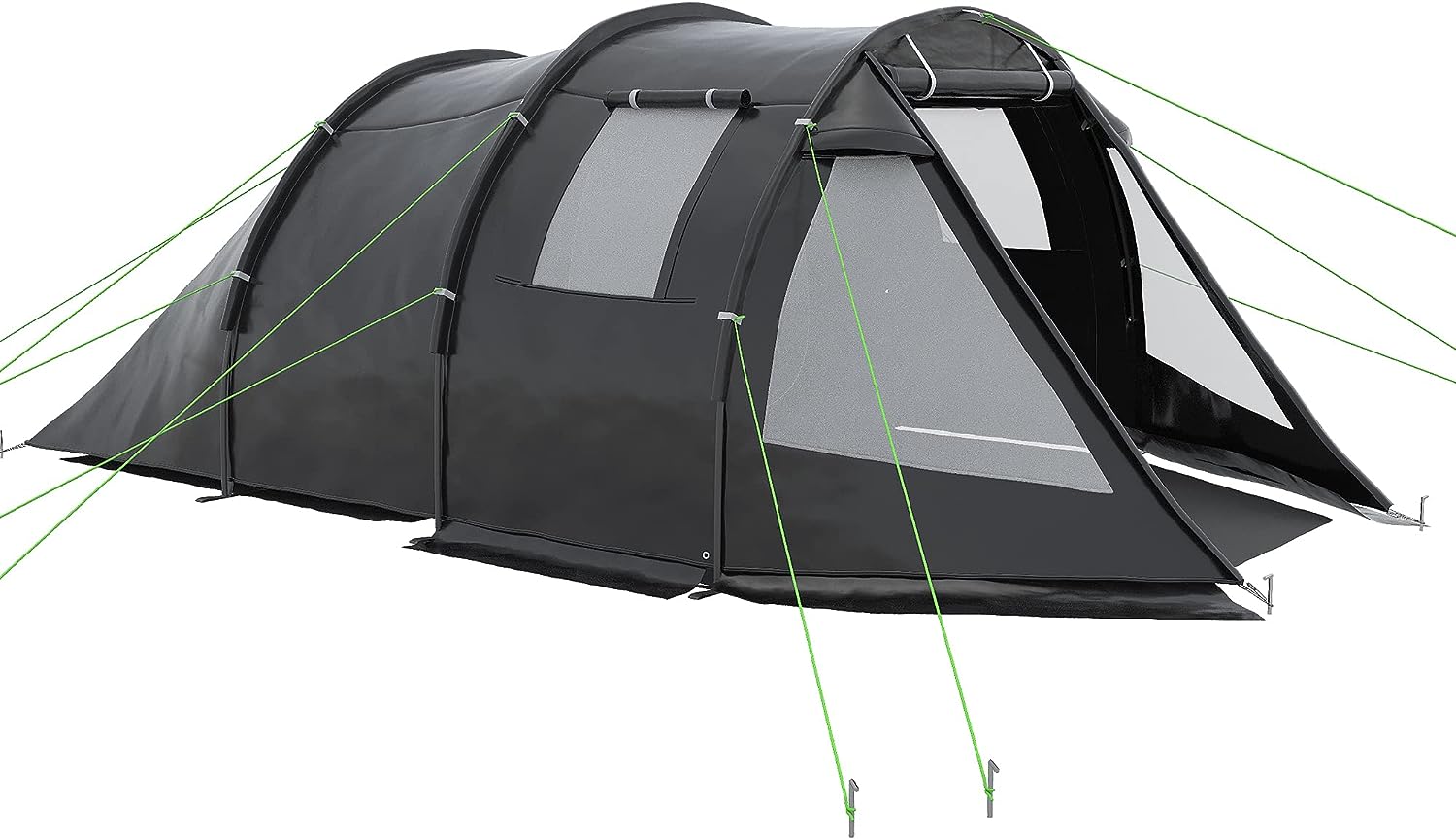 Double separate sleeping area
Large vestibule area for potentially two motorbikes
Water resistant ground sheet & cover
Sleeps 4 people
Limited ventilation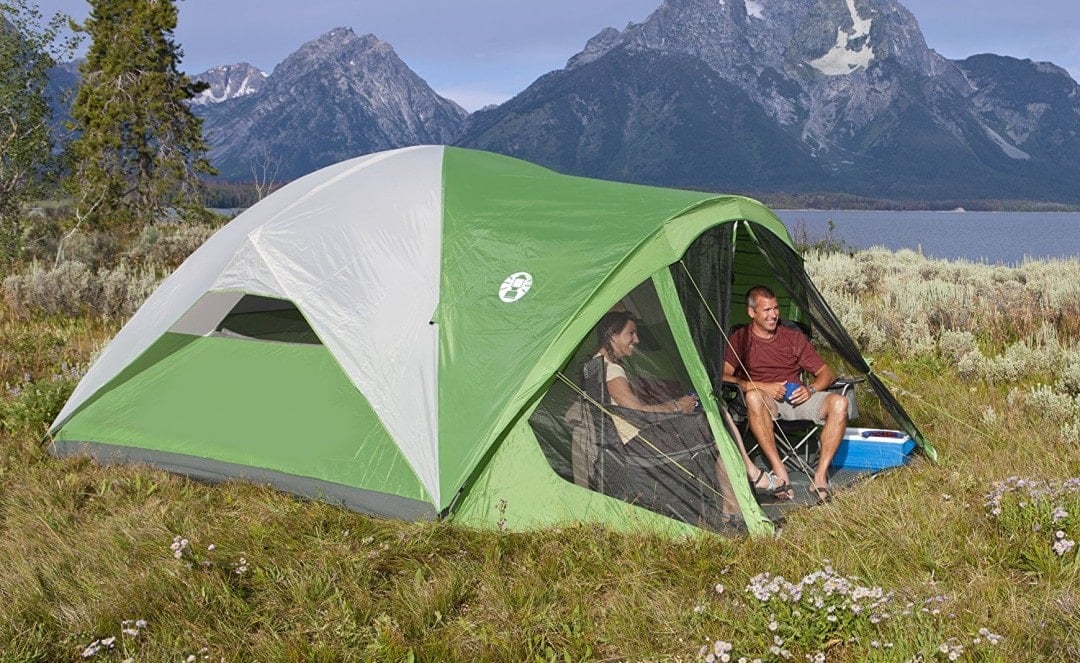 Sleeps 6 people
Front vestibule area to store small motorbike but limited protection from the rain.
Vestibule floor has holes to drain water
4 large windows allowing for maximum ventilation
Wind and water resistant
Vestibule floor has holes to drain water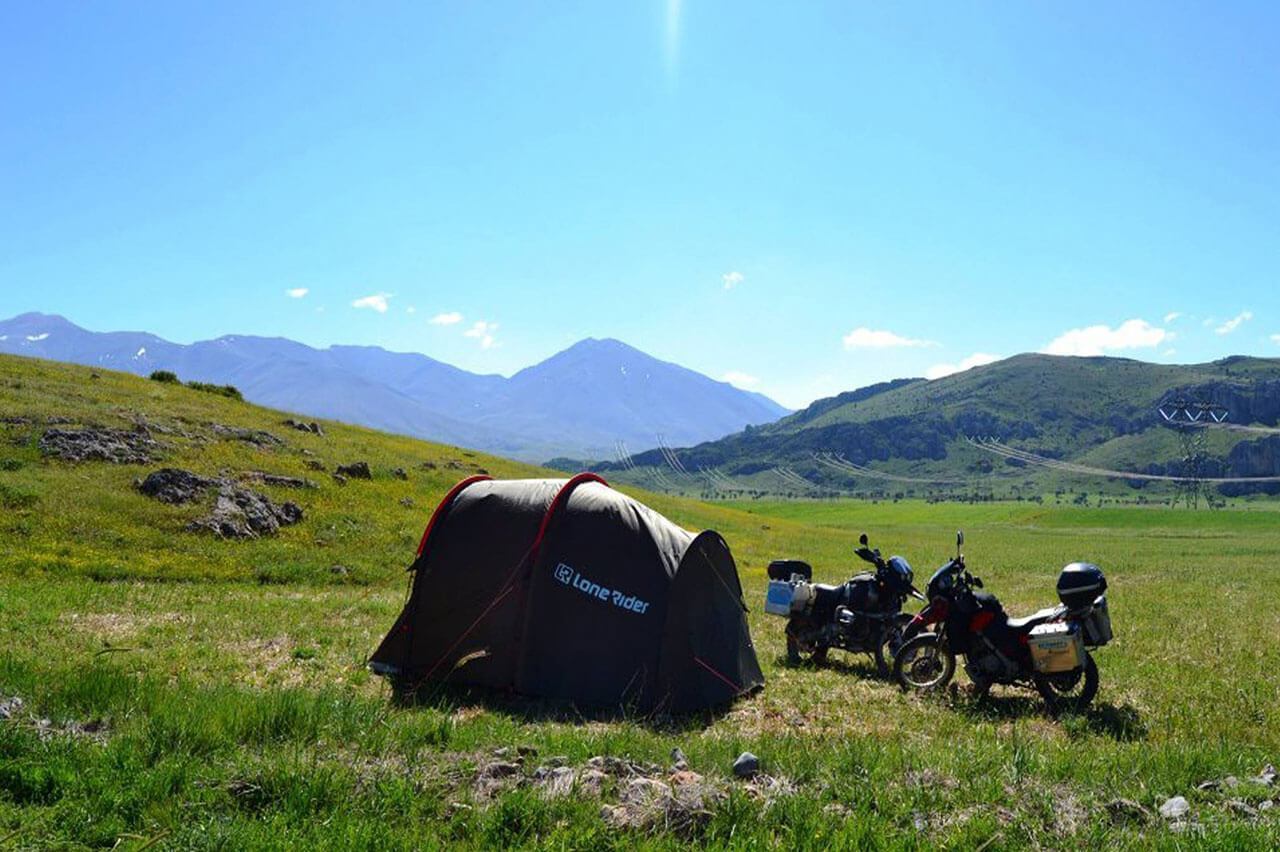 Sleeps 1-2 riders
Separate chambers for riders and bikes
Extra vestibule for cooking, hanging gear, etc
Built from flame-retardent materials
Protective canopy
12 lbs/1.9 meters high
7-minute setup time
Inner tent may be removed to increase space
The best present of all… is CONVENIENCE!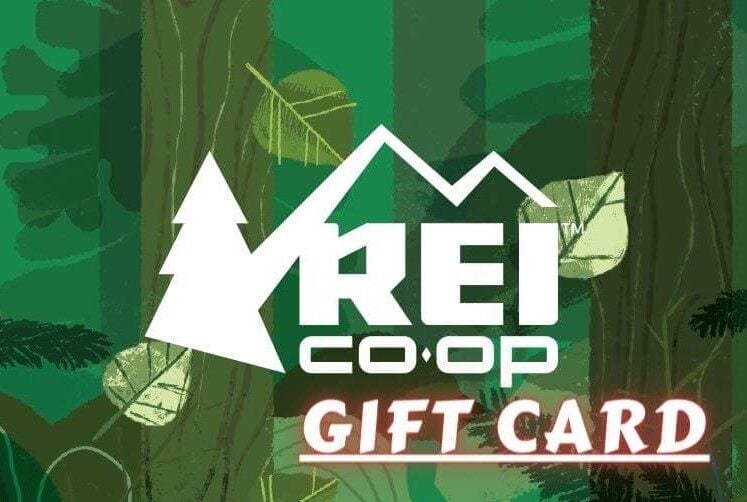 Now, you could spend a fat chunk of $$$ on the WRONG present for someone. Wrong size hiking boots, wrong fit backpack, wrong shape sleeping bag… As any adventurer will tell you, gear is a personal choice.
So give the adventurer in your life the gift of convenience: buy them an REI Co-op gift card! REI is The Broke Backpacker's retailer of choice for ALL things outdoors, and an REI gift card is the perfect present you can buy from them. And then you won't have to keep the receipt. 😉
Buy on REI!
What to consider when purchasing a motorcycle tent?
Things to consider…
Size
Storage Space
Sleeping Arrangements
Price
Weight & Size
Water & Wind Resistance
Ventilation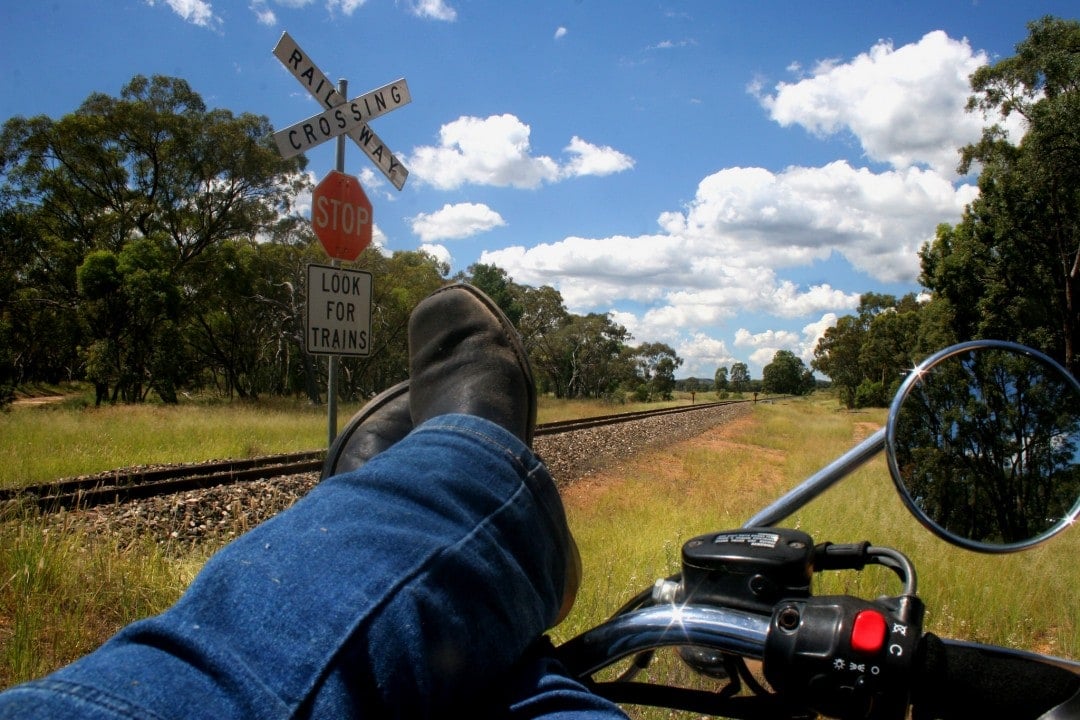 Size
The required size of your motorcycle tent depends on a few things:
Motorbike size: To protect your motorbike from damage, store it in the vestibule area. You need to compare the dimensions of your motorbike with the vestibule area in your motorcycle tent, to ensure that it will fit.
Storage space: Take into consideration how much storage space you will need for your belongings inside the motorcycle tent. You can always opt to keep your stuff stored on your bike or on the ground between the two wheels.
Sleeping arrangements: Even though your motorcycle tent claims that it sleeps 4, it's probably not true unless you like to sleep packed like sardines in a can. Based on experience, I'd say that a 4-person tent, sleeps two people comfortably with a little wiggle room.
Price
The best motorcycle tent is one that's good value for money, especially if you're on a backpacker budget! But don't compromise price for quality, you need to find the perfect balance between quality and price when it comes to purchasing a motorcycle tent.
Weight & Size
Since you'll be carrying your motorcycle tent on your bike, you'll want one that's not too heavy or bulky. Less than 8kg is an ideal weight for your motorcycle tent and it's possible to get something much much lighter if you spend a bit more. Check your motorcycles estimated available load and weigh your gear, to ensure that you don't overload the bike with your motorcycle camping equipment. If you do intend on packing a lot of stuff, consider investing in some panniers to evenly distribute the load.
Water and Wind Resistance
To prevent waking up in a puddle of water, ensure that your tent is water resistant. Most motorcycle tents are waterproof, but if you're worried test it out first. The weather can be unpredictable, with storms appearing out of nowhere. That's why it's good to have a motorcycle tent with wind protection as the wind chill is what can make you seriously uncomfortable.
Ventilation
Ventilation is important to have in a motorcycle tent, especially in a hot climate. There is nothing worse than waking up dripping in your own sweat and gasping for fresh air. A mesh body and vents are great for ventilation and stargazing on nights when the weather is clear.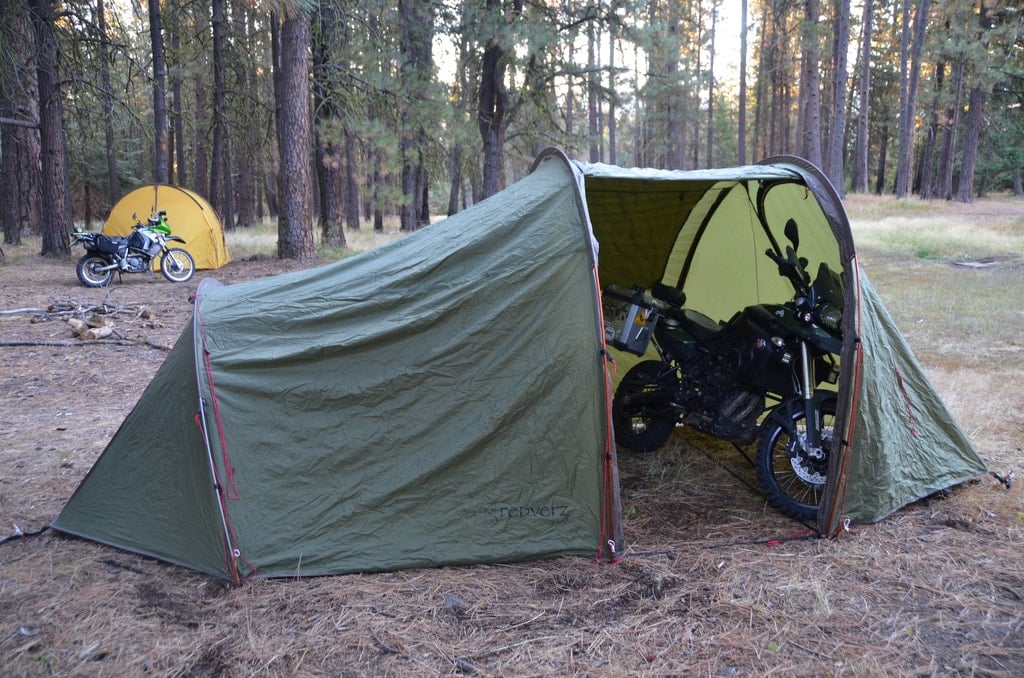 Best Motorcycle Camping Tent

| Name | Capacity (People) | Weight (KG) | Type (ie, Dome) | Fabric (ie polyester) |
| --- | --- | --- | --- | --- |
| Lone Rider MotoTent | 2 | 5.44 | Tunnel | 210T Polyester |
| Coleman Hooligan | 2 | 3.5 | Dome | Polyester |
| Catoma | 2 | 4.54 | Speed Dome | Polyurethane |
| Wolf Walker Waterproof Motorcycle Tent | 2-3 | 6.7 | Dome | Polyester |
| ALPS Mountaineering Compact Tent | 1 | 1.56 | Free Standing | Polyester |
| AYAMAYA Motorcycle Tent | 3-4 | 5.3 | – | Polyester |
| HIKERBRO Family Tent | 3-4 | 3.9 | Dome | Polyester, Polyurethane |
| High Peak Outdoors Motorcycle Tent | 1 | 2.3 | – | Mesh |
| Bellamore Motorcycle Tent | 4 | 8.5 | – | – |
| Coleman Evanston Motorcycle Tent | 6 | 9.5 | Dome | Polyester Taffeta 75D |
How and Where We Tested To Find The best motorcycle camping tent
The only way to really test a tent out is to take it out camping for a few nights and so that is exactly what we did. In this case, we did a bit more than that and made sure to test out how these tents specifically held up to the challenges of motorbike camping.
In order to fairly and consistently assess and compare them to one another, our testers looked specifically at the following areas:
Packed Weight
When it comes to packed weight it's important to know how much you'll be loading on to the back of your bike. Whilst having an ultralight tent isn't as important when motorcycle camping as when you're on foot, it's still a consideration.
A lighter tent means a more manoeuvrable bike and also means you can easily carry it if needs be.
Packability (Packing and Unpacking!)
No two tents are the same. Some are nice and easy to pitch and un-pitch, and others pretty much require a degree in engineering. So, in order for a tent to be considered one of the best tents for motorcycle camping it had to be easy to put up and pack away too.
Our testers awarded a tent points for being easy to pack and unpack and deducted points for being difficult. Fair enough right?
Warmth, Waterproof and Ventilation
When you spend a night sleeping in a tent, you really get to know it. No one wants to spend the night freezing their ass off, especially when you've got a long day of riding ahead of you. Equally, spending the night in a sweatbox of a tent isn't conducive to a comfortable night's sleep either!
Obviously, when assessing the warmth and ventilation capabilities of a tent our testers took into account the weather alongside the sleeping bag they were using inside each tent.
When it comes to testing out the waterproofing of each tent, we went old school and poured a bucket of water over each one if we were lucky enough to avoid wet weather whilst out in the field.
Spaciousness and Comfort
Tents are not exactly designed for throwing parties (ok, some are) but still, when it comes to motorcycle tents, we were keen to see how well they handled all our gear as well as those designed for storing our bikes.
Again, this is something you only really get a feel for after spending a night inside a tent and actually trying to get your bike inside it!
Build Quality and Durability
All of our testers were instructed to subject each tent to a good bit of "rigorous" testing! This meant zipping and unzipping, putting some pressure on the tent poles, and analysing the seam sewing as well as the thickness of the fly sheets and the general durability of the materials. A bikers tent goes through some abuse so it's got to be durable!
FAQ about the Best Motorcycle Tent
Still have some questions about the best motorcycle tents? No problem! We've listed and answered the most commonly asked questions below. Here's what people usually want to know:

Our GREATEST Travel Secrets…
Pop your email here & get the original Broke Backpacker Bible for FREE.
Conclusion
Motorcycle tents are well worth packing if you're serious about your motorcycling adventures. Traveling with a tent, in general, comes in handy in so many situations and it's worth splashing out a few extra bucks to protect your motorbike at night.
If you want to travel with the lowest weight possible, I recommend simply packing a tarp and bivvy style tent. Make sure you consider the size of your motorcycle camping tent, storage space, sleeping arrangements, weight and size, ventilation and water/wind resistance when determining what is the best motorcycle tent for you – but I'll give you a hint, it's the Lone Rider if you want the best of the best. Check out the Coleman Hooligan if you are on a budget.
Either way, we hope you found this post useful and found the best motorcycling tent for your needs.
---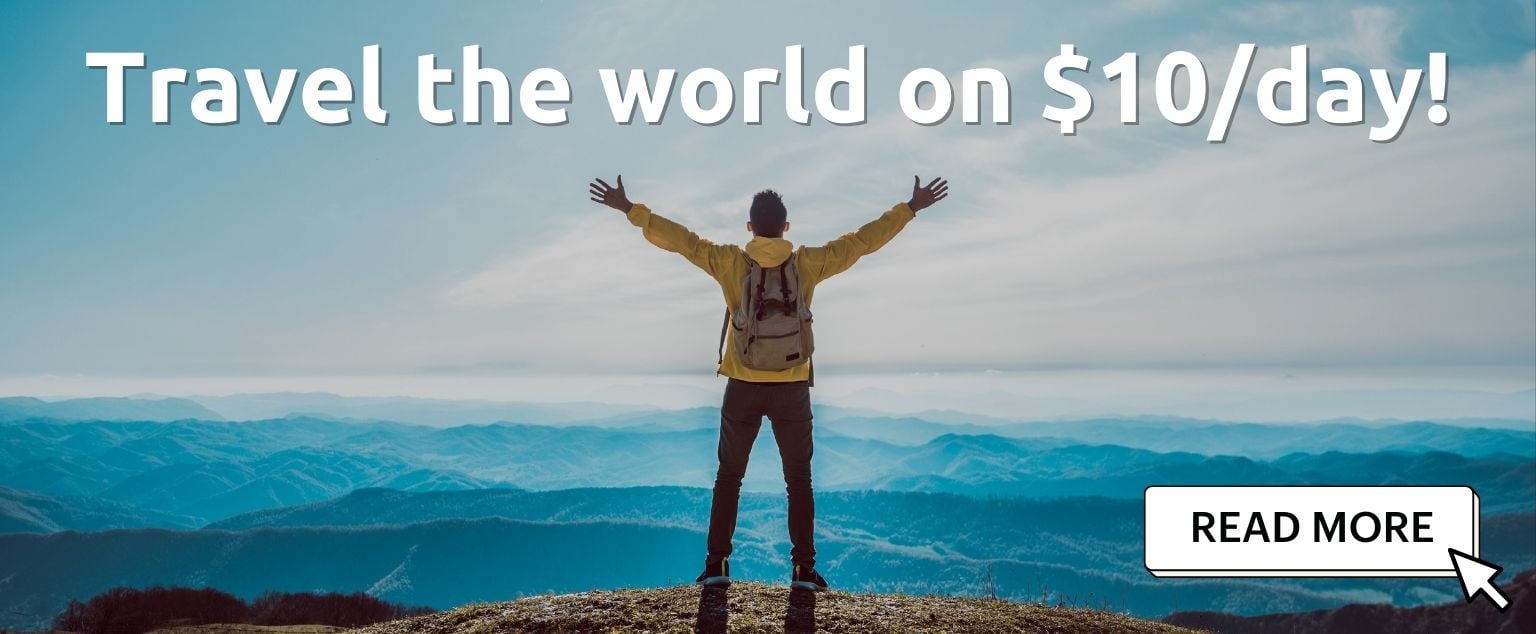 And for transparency's sake, please know that some of the links in our content are affiliate links. That means that if you book your accommodation, buy your gear, or sort your insurance through our link, we earn a small commission (at no extra cost to you). That said, we only link to the gear we trust and never recommend services we don't believe are up to scratch. Again, thank you!