Do you need to buy a travel tent? With an abundance of hostels, airbnbs and trains to sleep on, you may well be wondering if modern backpackers need to burden themselves by hauling a tent around with them.
But a backpacking tent offers you a home. Anywhere you go, be it parks in the urban sprawl or glorious remote vistas in the wilderness, you'll have your home with you!
Camping out in the woods, on the beach, or at the foot of some mighty mountain is a truly amazing way to reconnect with nature. I love to camp and have been lucky enough to camp out in over fifty different countries across five continents. I saved a lotta dough on accommodation costs in the process too…
But how do you pick the best backpacking tent for hiking and camping adventures?
In this in-depth post, we'll review the best tents for backpacking for all budgets and styles of travel – cheap tents, light tents, hiking tents, travel tents. It's a goddamn tent city and we're finding you a sweet crib!
Quick Answer: Best Backpacking Tents for 2022
BEST OVERALL TENT FOR BACKPACKING
BEST OVERALL TENT FOR BACKPACKING
MSR Hubba Hubba NX 2P
Price > $$$$
Weight > 3.7 lbs.
Capacity > 2 Person
Free Standing > Yes
BEST ONE PERSON TENT
BEST ONE PERSON TENT
REI Co-op Passage 1
Price > $
Weight > 3.1 lbs.
Capacity > 1 Person
Free Standing > No
BEST ULTRA LIGHT BACKPACKING TENT
BEST ULTRA LIGHT BACKPACKING TENT
Nemo Hornet
Price > $$$
Weight > 2.5 lbs.
Capacity > 1 Person
Free Standing > No
The 5 Best Backpacking Tents of 2022

Do You Want to Travel FOREVER??
Pop your email in below to get a FREE copy of 'How to Travel the World on $10 a Day!'.
Specs
Price: $449.95
Weight: 3 lb. 7 oz
Dimensions: 84 x 50 x 39 inches
Size when packed: 6 x 18 inches
Wow! $400…. shit. Never fear amigo, there are some cheaper options on here but I had to start with the MSR Hubba Hubba as this is hands down the best backpacking tent that money can buy. It's one of the best lightweight tents for backpacking, designed for stormy conditions and is one of the most waterproof backpacking tents around… I've waited out many storms inside this tent.
The MSR Hubba Hubba is great for two people and is really quite spacious for a two-person tent; it is shaped to allow you to sit up throughout most of the tent. I've traveled with both the two-person and the three-person MSR Hubba Hubba and loved them both dearly. The two-person is one of the best couples backpacking tents – there's room to roll around.
MSR is one of the most respected brands in the backpacking tent and gear industry and they have seriously decent customer support – when you buy an MSR tent it comes with a lifetime warranty so you can see it as an investment, it'll be the last tent you ever have to buy!
MSR Hubba Hubba comes in three sizes…
I have not personally tested the MSR Hubba NX one person tent but I do have extensive experience with the NX 2 and NX 3 and they have both performed absolutely fantastically.
The only real drawback is that MSR gear is pricey, so if you don't think you'll be using your tent very often it probably isn't worth the money. However, if you are planning on camping out a lot then I would recommend making the investment as this will be the last tent you ever need to buy.
I tore a whole in my NX 3 (was totally my fault) and sent it back to MSR, they quickly repaired and returned it – free of charge. I am a big fan of MSR and now tend to always recommend them for tents and camping stoves, the two things that they make really, really well.
Pros
Ultra Light Weight
Great weight to space ratio
Leading material in technology
Lifetime warranty
Cons
Expensive (but the lifetime warranty makes it worth it!)
Specs
Price: $329.95
Weight: 3lbs 7 oz
Dimensions: 86 x 52 x 40 in
Size when packed: 7 x 18 inches
Check out our epic full review of the Nemo Hornet here!
The award-winning Nemo Hornet is the best lightweight backpacking tent on the market; not only is it ultralight, leading in material technology and design for quick set up, but it is also acclaimed as one of the best waterproof backpacking tents available.
However, there have been reports of the external section not being optimized for protection of your stuff against the elements and some have even said that the materials are so thin that they are easily pierced by twigs.
These two problems make it very hard to justify such a high price tag, but do note that these could be quite isolated issues. I have tried the Nemo Hornet out whilst hiking in Turkey and if you are on a long multi-day hike, the exceptionally low weight makes the Nemo Hornet stand out as the best ultralight tent.
Check out another great tent comparable to the Nemo Hornet 2 in this North Face Storm Break 2 review.
Pros
Ultralight
Well designed
Two doors
Cons
Waterproofing has mixed reviews
So does it's strength
No lifetime warranty
#3 Best One Man Tent
Specs
Price: $139
Weight: 4 pounds 10 ounces
Dimensions: 88 x 28 x 36 inches
Size when packed: 7.5 x 17 inches
The REI Co-Op is one of the best budget one man tents on the market. If you're on a solo adventure, then this is a solid entry level choice The steak design, coupled with decent fabrics makes it hard to beat in terms of efficiency.
If you're looking for a tent with an easy set up, and an overall versatile tent, this one might be for you. The free-standing build makes it easy to pitch almost anywhere. Of course you do get what you pay. This is a GREAT tent for the price but perhaps not hardy enough to withstand years of abuse or weather extremities.
Need more options? Check out our list of the best one-man tents for some more ideas.
Pros
Lightweight
Pretty durable
Low Price
Cons
Center seam can tear
Entry level
The best present of all… is CONVENIENCE!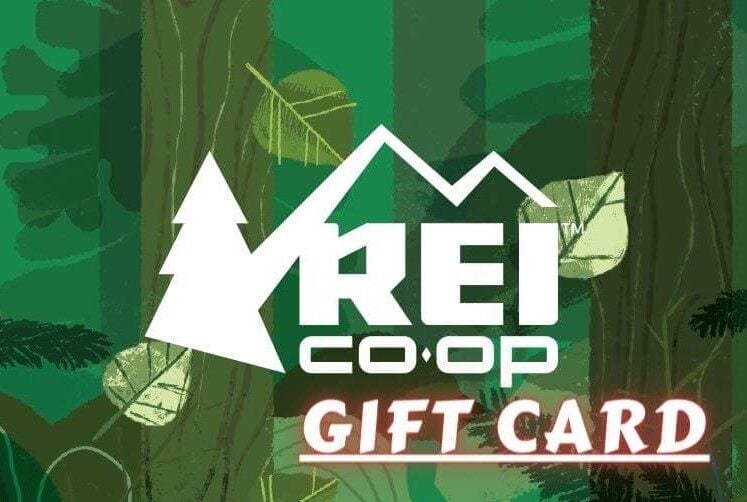 Now, you could spend a fat chunk of $$$ on the WRONG present for someone. Wrong size hiking boots, wrong fit backpack, wrong shape sleeping bag… As any adventurer will tell you, gear is a personal choice.
So give the adventurer in your life the gift of convenience: buy them an REI Co-op gift card! REI is The Broke Backpacker's retailer of choice for ALL things outdoors, and an REI gift card is the perfect present you can buy from them. And then you won't have to keep the receipt. 😉
Buy on REI!
 #4 Best Camping Hammock Tent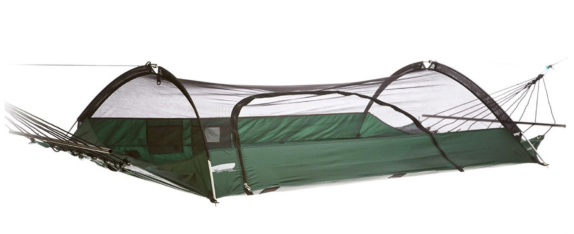 Specs
Price: $199
Weight: 4.25 pounds
Dimensions: 90 x 42 inches
Size when packed: 6 x 22 inches
Hammock camping tents are awesome… These bad boys are designed to be suspended taught so that they provide you with a flat surface to sleep on, rather than you sinking deep into a caccoon as you tend to do with traditional hammock designs
Hammock tents are super versatile, well made and can be set up like a normal tent on the ground if needs be – this offers the best of both worlds.
If you are looking for a quality one man tent for backpacking but also want to hang out on the beach in a hammock during the day, the Lawson Hammock Tent offers incredible versatility and best of all these bad boys are tough and you can put them through hell.
This particular hammock tent comes with an integrated mosquito net to keep bugs out and a waterproof ripstop nylon rain fly to keep you dry.
Pros
Super lightweight
Best of two worlds
Seriously cool
Cons
Not cheap for a hammock
Not everyone likes hammocks
Backpacking sleeping bags

| Name | Weight | Temperature Rating | Price |
| --- | --- | --- | --- |
| Feathered Friends Swift 20 YF | 1 lb 15 oz (Just under 1 kg) | 20 F (-6.7 C) | $479 |
| Sea to Summit Spark Quilt | 12 oz (.5 kg) | 54 F | $399 |
| REI Magma 15 | 1 lb 14 oz (Just under 1 kg) | 16 F (-7 C) | $389 |
| Marmot Trestles 20 | 3 lbs 1 oz (1.4 kg) | 30 F (0 C) | $179 |
| Sea to Summit Trek TKII | 2 lbs 6 oz (Just over 1kg) | 18 F (-8 C) | $319 |
| Kammok Thylacine 20 | 1 lb 15 oz (Less than 1kg) | 15 F (-9.4 C) with liner | $349 |
| REI Co-op Joule 21 Sleeping Bag – Women's | 2 lbs 3 oz (1kg) | 21 F (-6 C) | $320 |
| Marmot Never Summer Sleeping Bag | 3 lbs 3 oz | 0 F | $301 |
| Nemo Disco 15 | 2 lbs 3 oz (1kg) | 15 F (-9.4 C) | $319.95 |
| Feathered Friends Hummindbird UL 20/30 | 24 oz | 20 F (-6.7 C) | $539 |
| Nemo Forte 35 Sleeping Bag | 2 lbs 2 oz | 35 F | $159.95 |
| Exped MegaSleep Duo 25/40 | 5 lbs | 25 F | $239 |
| REI Co-op Magma Trail Quilt 30 | 1 lb 4 oz | 30 F (-1 C) | $299 |
| Feathered Friends Swallow YF 20/30 | 28.7 oz | 20 F (-6.7ºC) | $469 |
Ten years ago, I hit the road with almost no money in my pocket, a battered tent and an old camping stove. I hitchhiked my way across Europe, thriving on a shoestring budget and having an incredible adventure. Since then, I've personally tried and tested dozens of backpacking tents in my travels.
If you're a long-distance hiker, your needs will be pretty different to a backpacker traveling around the world. Weight is arguably the most important factor to look at when choosing both a travel or hiking tent and personally I would never carry a tent for that weighs more than 5 pounds – it's just too heavy.
Personally, I opt to go for a light and compact tent which I can pitch quickly. All of the tents that I'm reviewing weigh under 5 pounds and are quick to set up but some of them are lighter, or faster to set up, than others.
Price is obviously an important factor and if you're on a budget, your choices are plentiful! Once upon a time, cheap backpacking tents were dogshit, falling apart and breaking before long. These days, however, many kickass companies have stepped up to the plate and offer some seriously good cheap tents; so much so that we have a roundup of the best budget backpacking tents!
Think carefully about what you need your personal tent for and how many people you envision sleeping in it. Most of the time, three-man backpacking tents only weigh a little bit more than two-man tents so if you will be camping with a buddy, it's well worth picking a three-manner and taking the extra sleeping space.
Two-man backpacking tents can be pretty cramped, especially if you want to roll around a lot. 😉
Considerations to make about your backpacking tent.
When choosing the best backpacking tent for yourself, here's what you should consider…
Size when packed
Size when open
Price
Weight
Pitching time
Season
Functionality
Durability and strength
Having a backpacking tent with you opens up a whole new world of possibilities – you can save a ton of money by camping and if you're hitchhiking you really MUST have a tent as there is no way of knowing where you'll end up sleeping!
If you are on a long-term budget adventure, having a tent for camping really is a necessity as it will save you so much cash and gives you so many more options. A backpacking tent not only saves you money in the long run but frees you up to stay in a place you otherwise could never have stayed in. Some of my most memorable travel experiences were only possible because I was camping.
Check out the comparison table and detailed tent reviews below so that you can choose the best backpacking tent for your needs.
Thoughts on Camping Hammocks  
If you just don't want to take a tent, at least take a hammock! Camping hammocks are compact, light and give you a ton of freedom.
If you're travelling solo then I would suggest getting a hammock rather than a tent (depending on where you are travelling) or even getting both as a hammock opens up a whole new world of outdoor sleeping… Check out The 10 Best Camping Hammocks to find the best backpacking hammock tent for you or, if you're feeling lazy – buy this one; it's the best value camping hammock around (but it can't be pitched on the ground like the Lawson Blue Ridge).
Also, if you ever want to step up your camping game to another level, check out our epic review of the best roof top tents.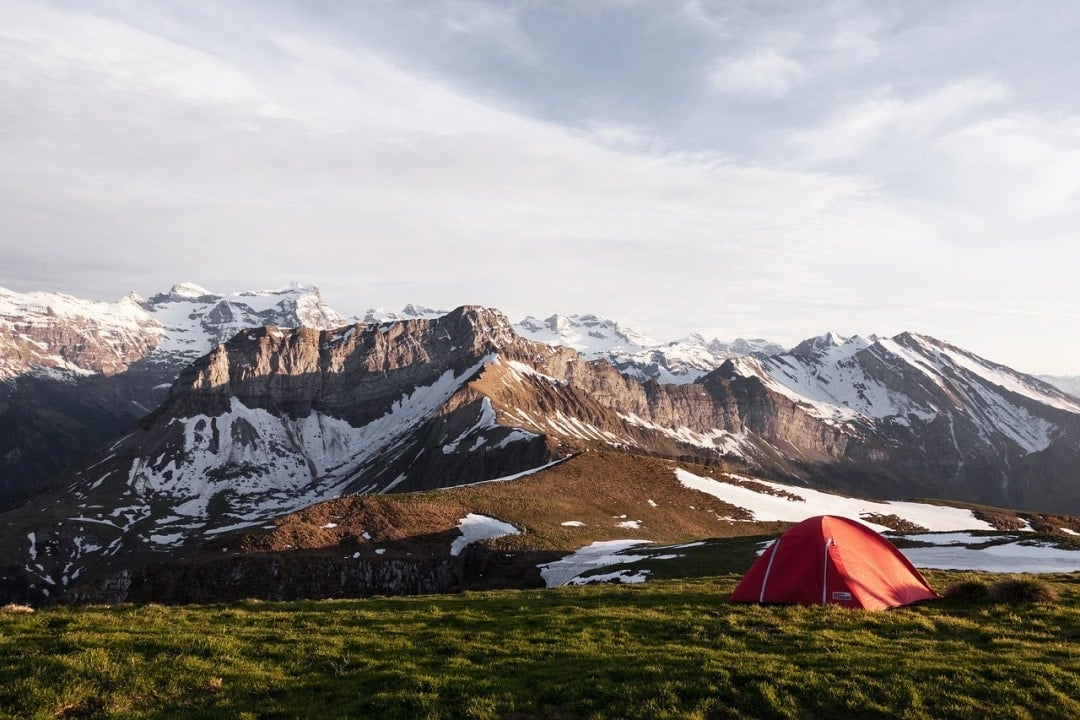 FAQ about the Best Backpacking Tent
Still have some questions? No problem! We've listed and answered the most commonly asked questions below. Here's what people usually want to know:

Unlock the The Broke Backpacker's GREATEST Travel Secrets!
You pop your email here, and we promise to send you only travel content that's actually relevant — sounds like a pretty good deal to us!
So, what is the best tent for backpacking?
I decided to break down all the information you really need to pick the best tent for backpacking so hopefully you have found this post useful and can now pick out the best tent for your needs.
If I had to pick one overall epic tent for backpacking I would say go for the MSR Hubba Hubba.
But, this is The Broke Backpacker, and I get that this tent is expensive – the best budget tent on the market is hand's down the Vango banshee and this is what I travelled with for years.
So pick up the best budget solo backpacking tent and head out there! Happy camping amigos!
Found the right tent? Now check out the best backpacking sleeping bags to put inside!
---
Thanks for reading – that was fun! 😀
We bring you epic FREE content!
Find out how YOU can help support us.
We're a big site with a big team and this job isn't always easy. But we do it because we love it – we love providing epic and free content. We love the knowledge that our content keeps you adventuring. We don't ask for money, but if you'd like to find out how you can help the site in more organic ways, click the button below.
Thank you for your support 🙂
---
Bye for now, but not forever!
If you want MORE top-tier Broke Backpacker content like this, then sign up for our weekly newsletter below to get the latest and greatest!
And for transparency's sake, please know that some of the links in our content are affiliate links. That means that if you book your accommodation, buy your gear, or sort your insurance through our link, we earn a small commission (at no extra cost to you). That said, we only link to the gear we trust and never recommend services we don't believe are up to scratch. Again, thank you!