Welcome to our EPIC rundown of the best 3 Person Tents for Backpackers specially updated for 2023!
Tents are basically camping 101 and you really cannot do camping without one. A tent is your home in the wilderness and is sometimes the only think between you and some pretty miserable conditions and so choosing and buying the right tent is massively important.
So if this is your first time buying a 3 person tent, you may well find it all a bit overwhelming. I mean the sheer amount of options and considerations can staggering and took me a while to get to grips with it all. Firstly, note that it's not a one-size fits all job – rather there is a tent for every occasion and no one single tent is perfect for everything so you made the right call coming here where me and the broke backpacker team will share our considerable expertise and help you find the perfect 3 person tent.
Whether you're looking to sleep 3 people or just want to sleep 2 without that snuggly shoulder-to-shoulder feeling, this guide narrows down the Best 3 Person Tents for backpacking, camping, and ultralight trekking.
By the end of this review, you'll be able to pick out exactly what you need, whether it's a lightweight 3 man tent for a multi-week thru-hike or the most comfortable 3 person tent for car camping.
If you're ready, let's get pitching!
Pro Tip on Tent Buying – Whenever you buy a tent (or any outdoor gear for that) it always pays to purchase it from either the manufacturer directly, or from an outdoor specialist.
This is firstly because they need the sale much more than certain online market places do – not to mention that they behave more ethically.
Furthermore buying from a specialist also offers YOU more protection in the unlikely scenario that something goes with the tent after the initial statutory consumer rights period is up.
Quick Answer: These are the Best 3 Person Tents
Best 3 Person Tents: Breakdown of Top Products and Buyer's Guide
This guide to the top 3 man tents will show you my best picks for 3 person tents for backpacking, camping, road trips, festivals and more.
I'll explain what to look for in a quality tent and how to pick one that fits your budget. We'll consider durability, waterproofing, ventilation, 4-season use, comfort, and packability.
I've included a comparison table for easy cross-referencing, product descriptions, and tips for selecting your perfect 3 person tent.
List of Best 3 Person Tents
BEST OVERALL 3-PERSON TENT
BEST OVERALL 3-PERSON TENT
MSR Mutha Hubba NX 3
Price > $549.95
Weight > 2.18 kg (4 lbs 13 oz)
Floor Area > 3.62 sqm (39 sqft)
Vestibule Area > 0.65 + 0.65 sqm (7 + 7 sqft)
BEST 3-PERSON TENT FOR BACKPACKING (RUNNER UP)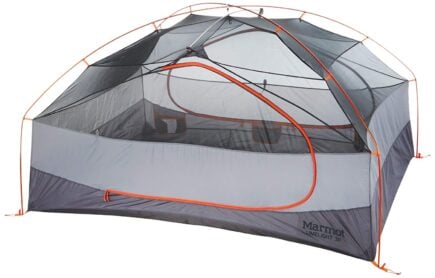 BEST 3-PERSON TENT FOR BACKPACKING (RUNNER UP)
Marmot Limelight 3P
Price > $299
Weight > 3.03 kg (6 lbs 11 oz)
Floor Area > 3.95 sqm (42.5 sqft)
Vestibule Area > 1.05 + 0.7 sqm (11.3 + 7.5 sqft)
BEST 3-PERSON TENT FOR CAMPING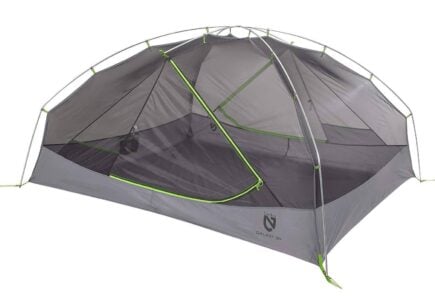 BEST 3-PERSON TENT FOR CAMPING
NEMO Galaxi
Price > $249.95
Weight > 3.66 kg (8 lbs 1 oz)
Floor Area > 4.74 sqm (51 sqft)
Vestibule Area > 1.02 + 1.02 sqm (11 + 11 sqft)
BEST 3-MAN TENT UNDER $200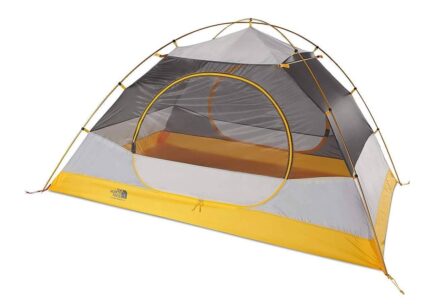 BEST 3-MAN TENT UNDER $200
TNF Stormbreak
Price > $199
Weight > 3.01 kg (6 lbs 10 oz)
Floor Area > 3.69 sqm (39.72 sqft)
Vestibule Area > 1.01 + 1.01 sqm (10.83 + 10.83 sqft)
BEST 4-SEASON 3-PERSON TENT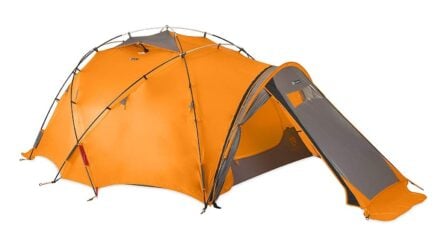 BEST 4-SEASON 3-PERSON TENT
NEMO Chogori
Price > $849.95
Weight > 3.83 kg (8 lbs 7 oz)
Floor Area > 4.61 sqm (49.6 sqft)
Vestibule Area > 1.29 + 0.50 sqm (13.9 + 5.4 sqft)
BEST 4-SEASON 3-PERSON TENT (RUNNER UP)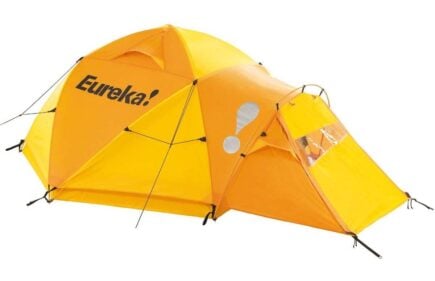 BEST 4-SEASON 3-PERSON TENT (RUNNER UP)
Eureka! K-2 XT
Price > $549.95
Weight > 5.16 kg (11 lbs 6 oz)
Floor Area > 4.83 sqm (52 sqft)
Vestibule Area > 1.11 + 0.60 sqm (12 + 6.5 sqft)
BEST LIGHTWEIGHT 3-MAN TENT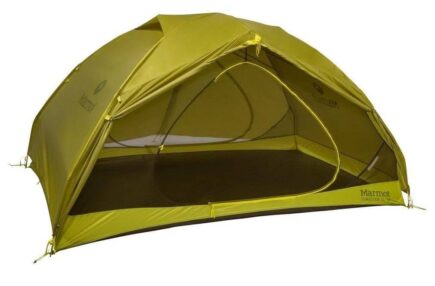 BEST LIGHTWEIGHT 3-MAN TENT
Marmot Tungsten UL
Price > $399
Weight > 1.97 kg (4 lbs 5.5 oz)
Floor Area > 3.86 sqm (41.5 sqft)
Vestibule Area > 0.98 + 0.72 sqm (10.6 + 7.8 sqft)
BEST ULTRALIGHT 3-MAN TENT
BEST ULTRALIGHT 3-MAN TENT
MSR Thru-Hiker 100 Wing Shelter
Price > $189.95
Weight > 0.57 kg (1 lb 4 oz)
Floor Area > n/a
Vestibule Area > none
BEST BUDGET 3-PERSON TENT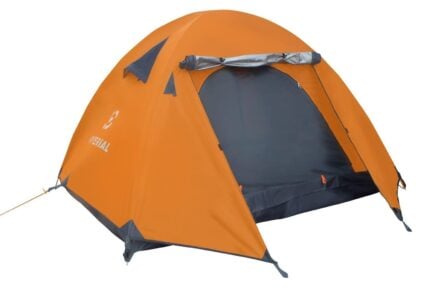 BEST BUDGET 3-PERSON TENT
Winterial 3-Person Tent
Price > $104.99
Weight > 2.41 kg (5 lbs 5 oz)
Floor Area > 3.35 sqm (36 sqft)
Vestibule Area > 0.65 + 0.65 sqm (7 + 7 sqft)
BEST 3-PERSON TENT FOR MUSIC FESTIVALS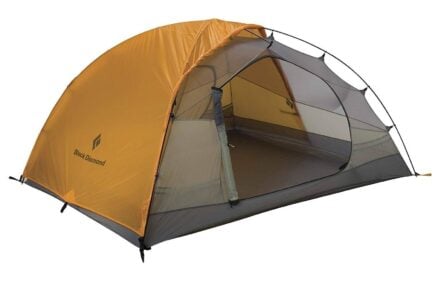 BEST 3-PERSON TENT FOR MUSIC FESTIVALS
Black Diamond Vista 3
Price > $449.95
Weight > 2.95 kg (6 lbs 8 oz)
Floor Area > 4.7 sqm (50.7 sqft)
Vestibule Area > 0.84 + 0.84 sqm (9 + 9 sqft)
BEST ROOFTOP 3-MAN TENT
BEST ROOFTOP 3-MAN TENT
Tepui Autana Sky 3
Price > $1,895
Weight > 68.04 kg (150 lbs)
Floor Area > 3.47 sqm (37.4 sqft)
Vestibule Area > 5.20 sqm (56 sqft)
BEST SUSPENDED 3-PERSON TENT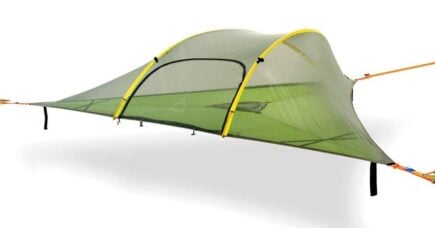 BEST SUSPENDED 3-PERSON TENT
Tentsile Stingray
Price > $650
Weight > 8.61 kg (19 lbs)
Floor Area > 6.97 sqm (75 sqft)
Vestibule Area > none
Specs
Price: $549.95
Weight: 2.18 kg
Floor Space: 3.62
Vestibule Space: 0.65 (front) + 0.65 (back)
Our list starts off strong with my absolute tip-top Pick for the Best 3 Person Tent. You may as well skip reading this bit if you're already planning to read my full MSR Mutha Hubba NX Review, which I recommend.
But here's a summary in case you are in a hurry: I tried out the new MSR Mutha Hubba NX extensively and can only sing its praises.
As you can tell from the low packed weight, this tent loves to travel and wont hold you back. The whole rig packs up to 4 lbs 13 oz, just over ultralight standards. The included stuff sack helps you bring it down to an easily packable size too.
The basic kit includes all the necessities, but nothing extra. You'll get the body, rain fly, poles, stakes, and guy lines. The one thing notably missing is the matching MSR Mutha Hubba NX footprint, which you can buy separately for between $40 and $60 (or a tarp from Amazon or WalMart for around $10).
Learn More: MSR Mutha Hubba NX review
Pros
Built to be extremely durable
Appealing design
Lightweight backpacking tent
Cons
Big price tag
Doesn't include the MSR Mutha Hubba NX footprint
Ladies & Gents, It's Time to Step Your GEAR Game Up. 😉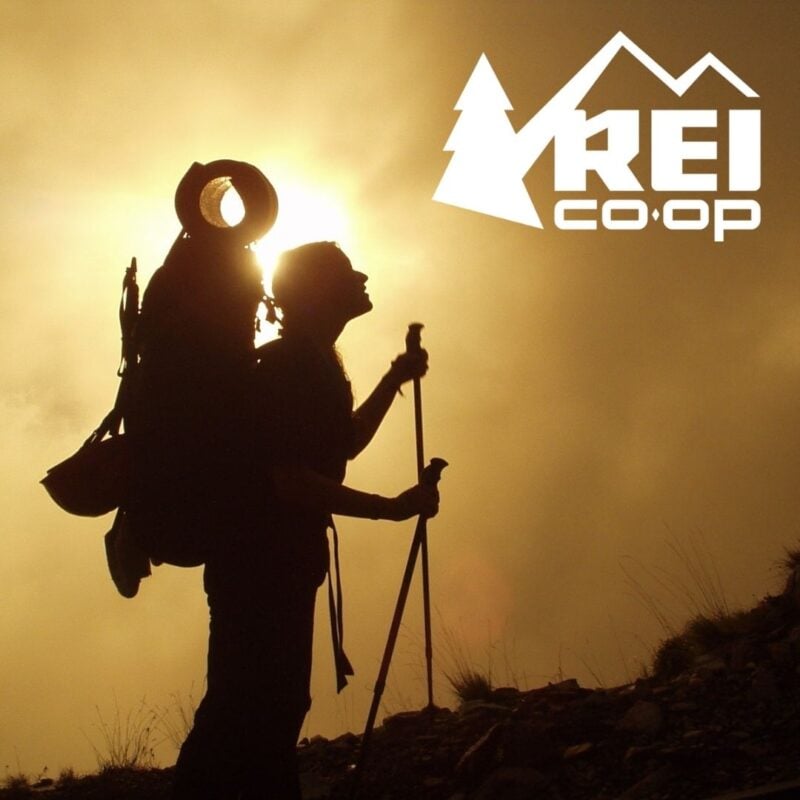 REI is one of America's biggest and most-loved outdoor gear retailers.
Now, for just $30, get a lifetime membership that entitles you to 10% OFF on most items, access to their trade-in scheme and discount rentals.
Join REI Today!
Specs
Price: $549.95
Weight: 2.18 kg
Floor Space: 3.62
Vestibule Space: 0.65 (front) + 0.65 (back)
I know I just told you about this tent, and no, it's not a mistake. I promise I'll refrain from putting it as the #1 for every category. I would be lying, however, if I told you I believed there was any tent better than the Mutha Hubba for backpacking.
Because of this tent, I'm able to live the Good Life in the backcountry. The interior is remarkably roomy. It's comfortable for 3 people and luxurious for 2 people, with room enough to sit up and change clothes and well-placed doors so no one needs to climb over their tent mates for a midnight run.
For comfort in the back country, you can't do better than the Mutha Hubba. Even the name conjures feelings of protection and cosiness!
I'm a sympathetic guy, so below I've given you a runner-up option so you can feel comfortable without forking over quite as much cash.
Pros
Built to be extremely durable
Appealing design
Lightweight
Cons
Big price tag
Doesn't include the MSR Mutha Hubba NX footprint
#3 – Best 3 Person Tent for Backpacking (runner up)
Specs
Price: $299
Weight: 3.03 kg
Floor Space: 3.95 sqm
Vestibule Space: 1.05 sqm (front) & 0.7 sqm (back)
I present to you the Marmot Limelight 3 Person tent as the best backpacking 3 man tent runner up.
Featuring 2 doors leading to some of the most spacious vestibules in the field, there's no reason any of your gear should get wet or that you should have to smell your hiking buddy's sturdy but smelly hiking boots.
Marmot's Limelight 3P has one more thing on the illustrious MSR Mutha Hubba NX — its price tag. The Limelight comes in at $299. That's $250 less than the Mutha Hubba! And that INCLUDES the fitted footprint!!!
The Marmot Limelight will take you out into the woods comfortably and securely in 3 seasons without making you open up a GoFundMe.
It's slightly heavier than the Mutha Hubba but that's partially due to including the footprint. Plus its doorway is a fine place to sit and have a tasty camp coffee.
You won't lack basics like interior organizers and waterproof rainfly. Honestly, it's hard to figure out how Marmot was able to cut the price so low, but the equipment lives up to what the stats claim.
For a comparable tent in the 2-person category, be sure to check out our Big Agnes Copper Spur UL2 review.
Pros
Affordable and good quality backpacking tent
Included footprint
Lots of vestibule space
Cons
A bit on the heavier side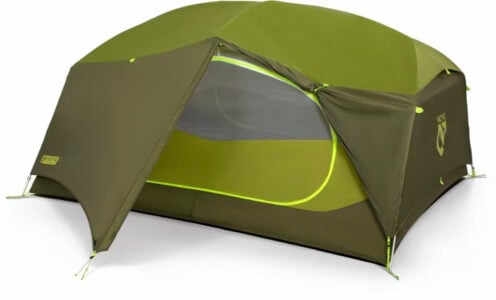 Specs
Price: $359.95
Weight: 6 lbs. 8 oz
Floor Space: 44 square feet
Vestibule Space: 1.02 sqm (front) + 1.02 sqm (back)
For my best 3 person tent for camping in 2020, I'd like to present to you the NEMO Aurora 3P Tent with Footprint.
If you're not shoving it down into a backpack and packing it in 18 kilometers, you can give a camping tent a little more lenience — hence the heavier weight and lower price tag.
And look how SPACIOUS this baby is! You won't be able to use up all that interior space, especially when you have all that beautiful, beautiful vestibule space for your gear!
Once again, this tent includes the footprint, reducing the overall amount you'll have to spend on your kit. As an extra bonus, you get a repair kit too! Don't underestimate the value of repair kits, especially if you're reluctant to slap a strip of duct tape on your gear. (It'll ruin the feng shui!)
One of my favorite features of this tent is the rollback fly, meaning you can pull back half of the rainfly for star gazing when the weather is nice! (Pro tip: any mesh tent can perform some variation of this, you just have to stake the fly differently.)
Despite being a tad bulkier, the NEMO Aurora 3P Tent with shows much of the sleekness of a backpacking tent. Worry not, you won't be sacrificing a bit of style.
Pros
Affordable and spacious
Includes footprint and repair kit
Lots of vestibule space
Stargazing rainfly
Cons
Too heavy for backpacking
#5 – Best 3 Person Tent Under $250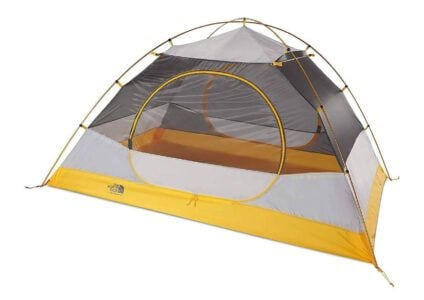 Specs
Price: $220
Weight: 6 lbs. 10 oz.
Floor Space: 39.72 square feet
Vestibule Space: 1.01 sqm (front) + 1.01 sqm (back)
The North Face Stormbreak 3 is the best tent under $250! To make this great deal better, wait for a sale on Amazon or become a member at REI to get a significant dividend pay back.
This tent is a great low-range option in general but does draw particular attention for its large vestibules. Again, I can't stress how much I love vestibule space. It'll save you so much time from arguing about whose valuables need to be protected from the morning dew and at the same time keeps you from smelling your buddy's repugnant laundry all night long.
Otherwise, the North Face Stormbreak 3 shows about average for what you want in a 3 person tent.
The Stormbreak doesn't come with a footprint so that's an extra investment you may want to make depending on your usage.
Some reviews complained about the quality of the stakes. My recommendation is to always have a good set of stakes — even if you're pitching your tent in easy, pristine conditions, you'll want to have just as much freedom to pitch on any rough, difficult ground during your next adventure.
Pros
Affordable
Large vestibules
Cons
On the heavier side
Poor quality stakes
#6 – Best 4-Season 3 Person Tent
Specs
Price: $579.95
Weight: 3 lbs. 15 oz
Floor Space: 41.2 square feet
Vestibule Space: 10 square feet
Wait wait wait, I know what you're thinking! That's an insane price tag, and nothing on this list gets even close to that!
Well, yes. It's an expensive tent. But take into consideration that you'll NEVER buy another tent again and this tent has been designed for four seasons.
Do you want to camp in the swamps of Florida? Try the NEMO Dragonfly OSMO 3P Tent! Thinking about summitting volcanoes in Guatemala? The NEMO Dragonfly OSMO 3P Tent will be just the thing for you! Need a winter camping tent for alpine treks in Peru or Nepal? This 3 person tent has you covered!
This is for the adventurers who know their adventures will keep getting bigger and they want their equipment to be able to keep up for ALL seasons and terrain.
When we're talking about weight, this is when the minimum trail weight might come in handy. Though the full kit weighs in above much of the others on the list, losing some of the cold-weather accessories can bring the weight down a bit.
It should also be mentioned that this tent boasts the nifty little feature of hooking up with another NEMO Dragonfly OSMO 3P Tent to make a larger shelter for your big mountaintop slumber parties!
Pros
The only tent you'll ever need
Superior weatherproofing
Vestibule space
Cons
High price tag
A bit techy for casual uses
More involved setup
#7 – Best 4-Season 3 Man Tent (runner up)
Specs
Price: $750.00
Weight: 10 lbs. 5 oz.
Floor Space: 48 square feet
Vestibule Space: Front: 11 sq. ft.; rear: 5 sq. ft.
Because I'm not heartless, here's a more affordable option for a 4-Season Tent.
Seriously, this is the tent for those who are ready to invest! If you already know that the backpacking and mountaineering lifestyle are for you, then you're ready to commit to the kit that will help you reach your tallest goals.
Reviewers say you'll hardly notice the outside weather because of the durability of this tent.
And remember, one of the most important features of a 4-season tent is being able to drop some of the accessories during the warmer months so that you're not roasting at night and so you don't have to lug so much weight into the woods. The North Face VE 25 Tent with Footprint gives you that versatility.
You do get what you pay for, however, and while its heaviness indicates extra toughness and durability, you do have to pay more for a winter tent that weighs less.
Pros
Less expensive (for a 4-season tent)
Built to last
Vestibule space
Cons
Still a lot of money
On the heavier side

Do You Want to Travel FOREVER??
Pop your email in below to get a FREE copy of 'How to Travel the World on $10 a Day!'.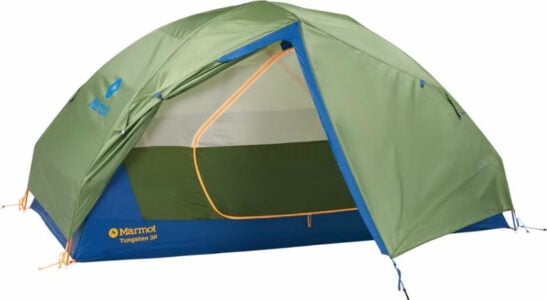 Specs
Price: $299.00
Weight: 7 lbs. 1.2 oz
Floor Space: 40.9 square feet
Vestibule Space: 18.3 square feet
Ultralight 3-person tents are for adventurers who want to move light and fast. Usually, we see 1- or 2-person tents in the ultralight category, but Marmot managed to squeeze another body into their Tungsten without adding a whole lot of weight.
Generally, I wouldn't recommend bringing an ultralight tent if there's any chance at all of encountering bad weather, but the Marmot's Tungsten 3P has proven its weather resistance while still weighing in at less than 2 kg, rainfly and all!
It's super easy to set up but be aware that with their vertical wall technology you'll have to bend the poles a lot to get them to snap into place — don't be afraid, just be firm.
The weight is surprisingly small considering the interior is nearly 4 square meters. Because of the length of 2.29 meters (7 ft 6 in) plus the vertical walls, I expect 98% of readers will have no trouble laying straight. For a smaller option, you can check out the Big Agnes Tiger Wall Platinum 3.
On rainy afternoons, the Marmot Tungsten 3 Person Tent boasts space to sit upright to read or play cards with a max height of 1.17 meters (3 ft 10 in).
The sizable dual vestibules mean plenty of gear will stay dry on a backpacking trip without using your precious tent space.
Inside, there are organizers to keep your lamps and TP, which you know when the urge hits how important it is to be able to find those without groping in the dark!
I don't like that both doors are the D-shaped style, meaning you unzip one side and they're never fully open.
This tent may not satisfy the weight requirement of the strictest ultralight backpackers but I wouldn't want to recommend you anything of lesser durability than this. That said, you can check out the three-person tent below for another ultralight option.
Pros
Weather-resistant
Great for tall people
Cons
Doesn't include footprint
D-shaped doors
# 9 – Best Ultralight 3 Man Tent (Runner up)
Specs
Price: $189.95
Weight: 0.57 kg
Floor Space —
Vestibule Space —
All right, you seasoned adventurers out there. Another lightweight tent option isn't a tent per se and it does not provide comfort. If weight is your main concern (as in lightweight is 85% priority and comfort 15%), consider getting a wing shelter.
I picked the MSR Thru-Hiker 100 Wing Shelter because of its proven record. There would be no greater horror than to be in the backwoods and have your shelter fail on you, and with a wing shelter, there are numerous ways the guy lines and eyelets can fail.
So how does the Thru-Hiker 100 Wing Shelter work? First, let me disclaim that this option is only for warmer months and ideal weather. If you need a waterproof tent, look elsewhere. The rig can be set up on your trekking poles or suspended between two trees. You stake the wings down to keep the structure taut and viola.
I've used a different wing shelter before with just a sleeping mat and bag on the ground. It was the perfect tent for a night on the beach! I've also suspended one above my camping hammock and weathered multiple storms completely dry.
If it rains while you're on the ground, however, you won't have a bit of protection from the water that runs across the ground.
Pros
You'll hardly notice the weight
Built to last
Cons
Only for ideal weather
Not a full tent
#10 – Best 3 Person Tent for Music Festivals
Specs
Price: $358.95
Weight: 6lb 11oz
Floor Space: 42.5sq ft
Vestibule Space: 11.3sq ft, 7.5sq ft
Festival season has everyone eyeing shiny new gear, and there's no piece more important than your tent. You need a comfy spot to crawl back to for sleeping or taking a tactical break from the action.
You've got a couple of great festival tents, but my favorite is Marmot Limelight Tent — and for a few reasons.
First, it's a fairly simple tent, so you won't look like the kid showing off by bringing his mountaineering rig. I know it can feel cool to have the most expensive, techy bit of kit, but no one likes that guy.
Second, it's got loads of mesh, potentially making it a comfortable hangout spot in addition to a crash pad.
It's also not a shabby tent to take on your other adventures too! In 3 seasons you won't be limited by this tent on backpacking and camping trips.
A word of advice: if you can help it, I'd recommend sticking with 2 people per 3-person tent during a festival. This depends entirely on your budget and smell tolerance, but I can assure you the extra comfort has loads of value.
Pros
Sizable vestibules
Not 'techy'
360 degree mesh
Cons
Only really suitable for weekend camping
#11 – Best Rooftop 3 Man Tent
Specs
Price: $2,799.95
Weight: 147 lbs. 9.6 oz
Floor Space: 33.6 square feet
This doesn't really fall into the realm or price range of us Broke Backpackers out there, but car tents or rooftop tents are a new force in the field that are changing our understanding of road tripping. This would certainly be the most luxurious and flexible way of doing a National Parks road trip.
Thule is leading the game for rooftop tents. Imagine the ease of driving all day long and setting up camp without having to look for and prepare a site. Reports say one person can arm the tent in just 5 minutes.
The greatest thing you get when you invest in a rooftop tent like the Thule Approach Tent is a place to call home for a while. Most tents can only fit 3 people if they're lying down or sitting uncomfortably. This means your options are extremely limited in bad weather. The Thule system effectively provides an indoor living space that you can feel comfortable hanging out in rather than just hunkering down in for sleep.
A system like the Thule Approach Tent is best for people going on an extended road trip. It not only provides accommodation but also a sort of comfort that helps make long-term travel viable.
Check out our in-depth roof top tents review post for even more awesome options.
#12 – Best Budget 3 Man Tent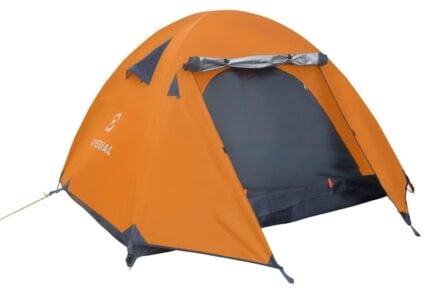 Specs
Price: $104.99
Weight: 2.41 kg
Floor Space: 3.35
Vestibule Space: Unsure
For the best budget 3-person tent, I present to you the Winterial 3-person tent. With all the looks of some of the more technical tents on this list, Winterial is a great option for those with very little to spend on their 3-person tent. Just don't expect it to last forever.
Reviews say the setup is easy but there are a few negatives to report, one being that due to the angle of the walls. Taller folk around 6 ft may have trouble lying flat. Customers have also reported the space can't actually acommodate 3 people.
Customer reviews show a few complaints about the rainfly not fitting correctly and general durability as well.
Seeing the tent, I would personally prefer more mesh to be able to get more breeze when the weather's nice. The solid walls can make the tent feel a bit stuffy.
Despite the negatives, the price tag is hard to argue with. Depending on your use, you could make do with this tent.
Pros
Works for any budget
Easy setup
Cons
Not for tall people
Doesn't hold 3 people comfortably
Issues with rainfly fitting and durability
#13 – Best Suspended 3 Person Tent
Another nontraditional option in the field is the suspended tent. Think of it as a hammock for multiple people — but those people aren't stacked one on top of the other. In fact, they don't need to touch at all!
The Tentsile Stingray has three individual hammocks, maximizing everyone's comfort and assuring that 3 people fit nicely. It boasts a fully mesh roof for fantastic ventilation.
There's quite a learning curve for setting up the Stingray and even once you've got it down it'll still take a bit longer than your 3-person ground tent.
With a suspended tent, you're of course limited to areas where you can suspend the tent from 3 trees, but the trade-off is not worrying about the uneven ground or even having clear space to set a tent down.
The webbing and ratchet system provide surprising flexibility for choosing your campsite — your trees don't have to be super close together for the Stingray to make use of them.
Word of caution! Just like when hammock camping, it's important to have a sleeping mat and sleeping bag handy for any sort of weather because it can be difficult to anticipate the warmth-sucking power of that nylon pressed against your back in even the slightest breeze. I wouldn't stay a night in the stingray even in the summer without an insulator between my body and the fabric if I wake up cold in the middle of the night.
In the end, I can't judge for you whether you'd make full use of the Stingray's versatility. This tent is very well made and if you're looking for something to switch up your outdoor game, this is your guy.
Pros
Uneven ground — no problem!
It's kinda badass
Cons
Some people can't sleep comfortably in hammocks
Need 3 trees for setup
Long setup
The best present of all… is CONVENIENCE!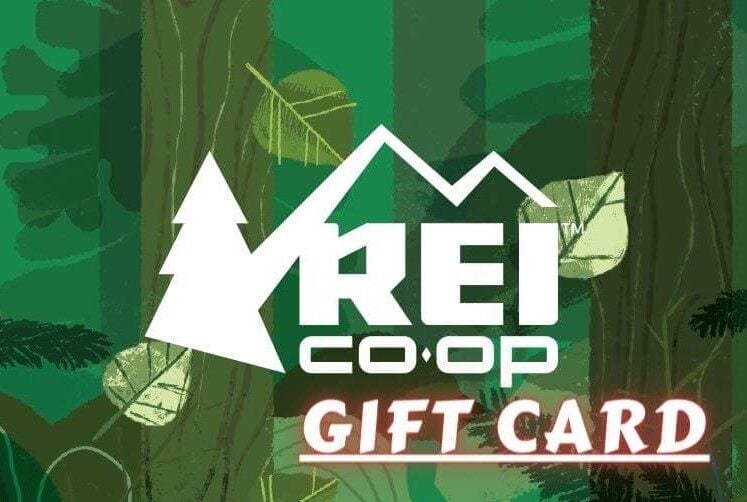 Now, you could spend a fat chunk of $$$ on the WRONG present for someone. Wrong size hiking boots, wrong fit backpack, wrong shape sleeping bag… As any adventurer will tell you, gear is a personal choice.
So give the adventurer in your life the gift of convenience: buy them an REI Co-op gift card! REI is The Broke Backpacker's retailer of choice for ALL things outdoors, and an REI gift card is the perfect present you can buy from them. And then you won't have to keep the receipt. 😉
Buy on REI!
Weatherproof
Of course, it's weatherproof! There's not a product description that would say otherwise!
Customer reviews, however, tell the truth. Read them.
Have the right tent for the weather that you'll encounter. Fortunately, tents nowadays come in multiple parts that you can put on or leave behind depending on the forecast.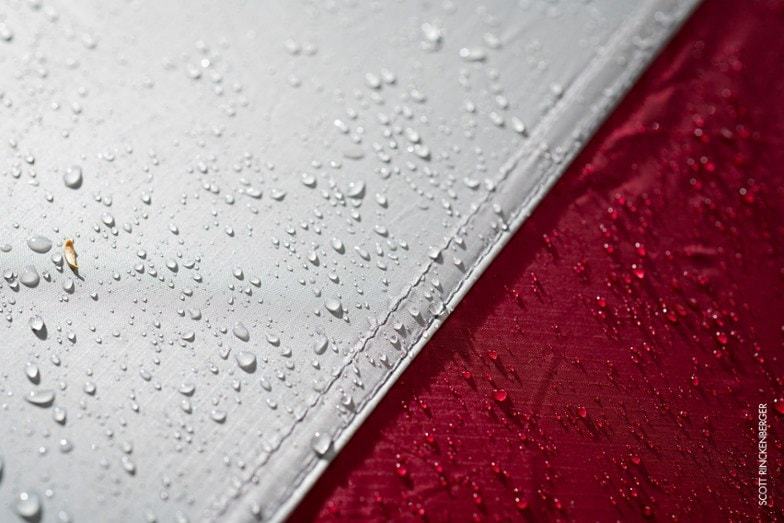 Every tent should come with the body and the rainfly. On this list, you've seen some that come with the fitted footprint included and some that you have to buy separately.
The footprint is an extra layer of protection between you and the ground and is meant to keep water on the ground from running through your tent during rain.
If your tent doesn't come with a footprint, you'll probably have to invest in one before you get into the backcountry (or buy a cheap tarp from Amazon or Walmart — it'll save you some money though it'll be a bit bulkier).
A note on ventilation: I am NOT of fan of the musty, stuffy smell tents often get. This is why I've mentioned mesh walls a few times. It's super important that you can air out your tent when the weather's nice.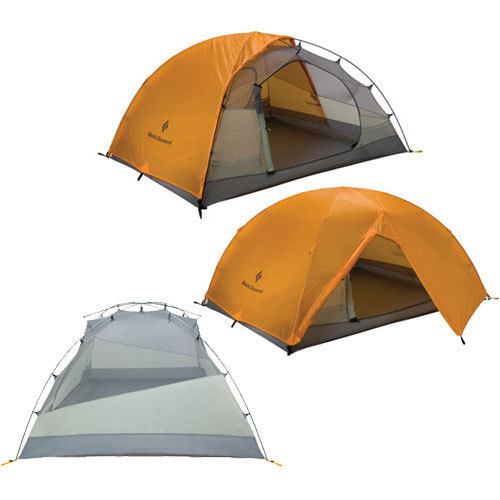 It's equally important to have decent ventilation even during a massive downpour. Designs that leave ventilation flaps on both sides of the rain fly are by far preferable to completely sealed domes.
By the way, have you ever woken up to find the interior of the tent wet and dripping but the outside completely dry? I have, and that's poor ventilation for you! That's the water you breathed out overnight. Having good ventilation will save you from getting your buddy's respired water all over you while you sleep.
Durability
It's somewhat intuitive, but well-known brands tend to put out long-lasting products. In this guide, I've highlighted some of the brands that you can trust to put the good gear in your hands.
Your tent (along with your backpack) should be the longest-lived piece of gear you have. With the price of a good tent, I expect you're saying "Hell yeah" about now.
Take product reviews seriously and be sure you know the manufacturer's warranty and exchange policies. If anything goes wrong with your tent within the first year of using it, contact the manufacturer and see if they can fix the issue or replace the tent.
Livability
We always come to appreciate the livability aspect of tent selection after near the end of the first big trip. If you run into bad weather, you're going to want a tent that you can sit upright in. Reading a book or playing cards from a lounging position can get pretty tedious after a few minutes.
The vestibule is an important space. Keeping gear outside but protected frees up space for you inside and also allows you to keep your dirty boots and gear away from where you sleep.
You also want to be sure to have comforts like interior organizers. They don't add much to the overall weight of the tent but save you a lot of trouble when the urge hits in the middle of the night and you want to know where your TP and headlamp are!
If you are looking for a tent with a much larger capcity, you should check out our epic roundup of the best 8 person tents.
Weight
So far as weight's concerned — you get it. Less weight means more comfort on the trail.
Of course, if you're not carrying the tent yourself or not very far, this isn't such a big factor.
Best 3-Person Tent Uses
Remember your purpose for buying a tent in the first place. If you're not planning to summit 16,000'ers with your own gear, you won't need the most technical of 4-season tents. If you'll only ever use your tent for car or canoe camping, you can afford to get something heavier and more comfortable because you won't be doing all the carrying yourself.
Need something smaller? Check out the best one-man tents instead.
Best 3 Person Tent

| Name | Capacity (person) | Floor Space (inches) | Weight (lbs) | Price (USD) |
| --- | --- | --- | --- | --- |
| MSR Mutha Hubba NX 3 | 3 | 5616 | 4.81 | 549.95 |
| MSR Mutha Hubba NX 3 | 3 | 5616 | 4.81 | 549.95 |
| Marmot Limelight 3P | 3 | 10224 | 6.68 | 359 |
| NEMO Galaxi 3P | 3 | 7344 | 8.07 | 249.95 |
| The North Face Stormbreak 3 | 3 | 5719.68 | 6.64 | 220 |
| Nemo Chogori 3 | 3 | 7142.4 | 8.44 | 849.95 |
| Eureka! K-2 XT | 3 | 7488 | 11.37 | 549.95 |
| Marmot Tungsten UL 3P | 3 | 7416 | 4.34 | 399 |
| MSR Thru-Hiker 100 Wing Shelter | 3 | – | 1.26 | 189.95 |
| Black Diamond Vista 3 | 3 | 7300.8 | 6.50 | 449.95 |
| Tepui Autana Sky 3 | 3 | 5371.2 | 150 | 1895 |
| Winterial 3 Person Tent | 3 | 5192.51 | 5.31 | 109.99 |
| Tentsile Stingray | 3 | 10800 | 19 | 650 |
FAQ about the Best 3 Person Tent
Still have some questions? No problem! We've listed and answered the most commonly asked questions below. Here's what people usually want to know:

Our GREATEST Travel Secrets…
Pop your email here & get the original Broke Backpacker Bible for FREE.
Final Thoughts on the Best 3-Person Tents
That wraps up my guide to the best 3-man tents review! I hope this catered list has helped you find a sturdy home base to take on your next adventures!
You have the knowledge to enter your next backpacking trip, camping trip or road trip prepared for any and all types of weather.
I want you to be comfortable and safe anywhere in this big world. No matter where your next adventure takes you (unless it's underwater or something) there's a 3-person tent on this list that can go with you wherever you want to go!
If you're STILL not sure which of these is the best fit for you, let me recommend again the wicked awesome MSR Mutha Hubba NX 3.
Have awesome 3-person tents to add to the list? Put them down in the comment section below and let me and the other readers know why they stand out!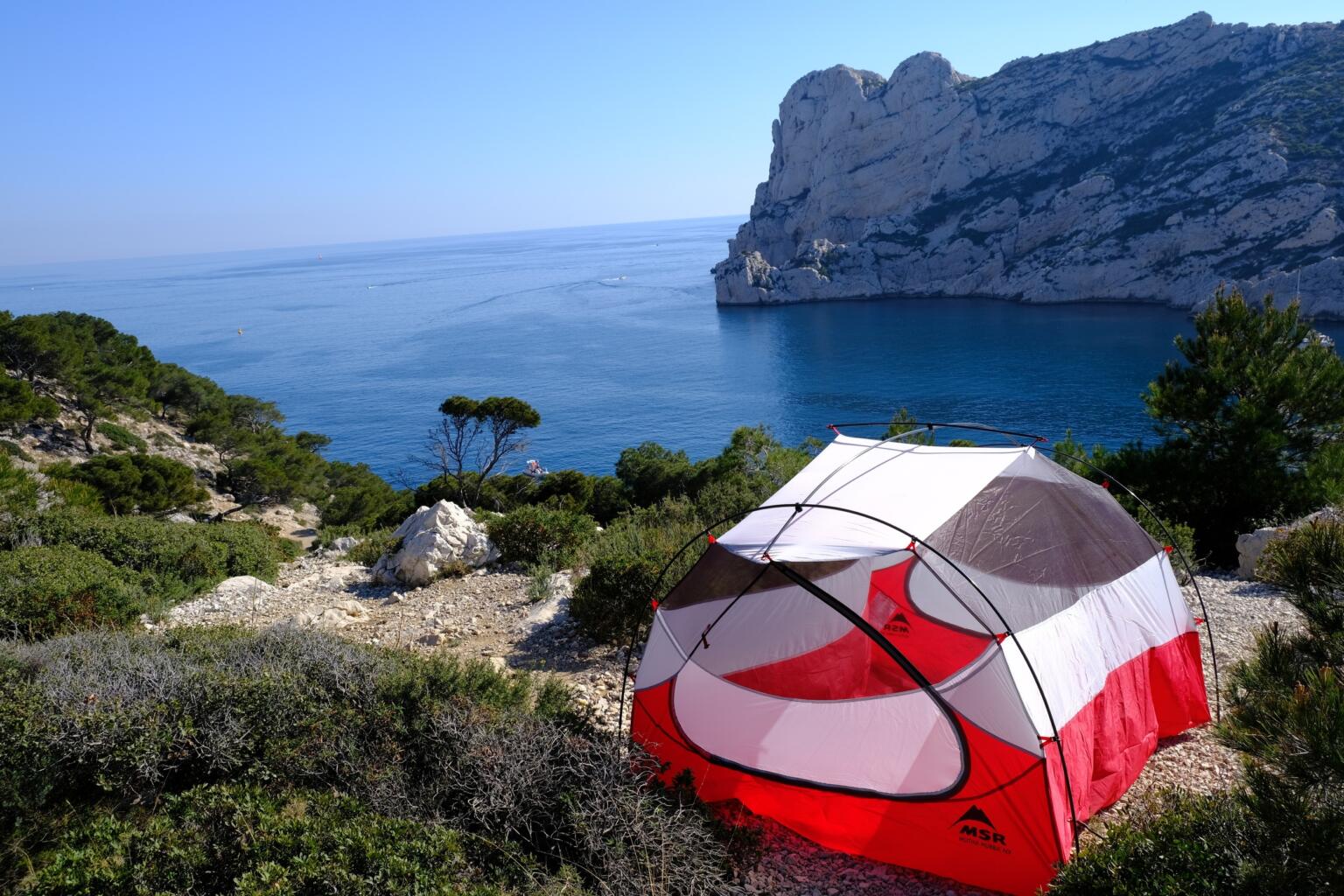 ---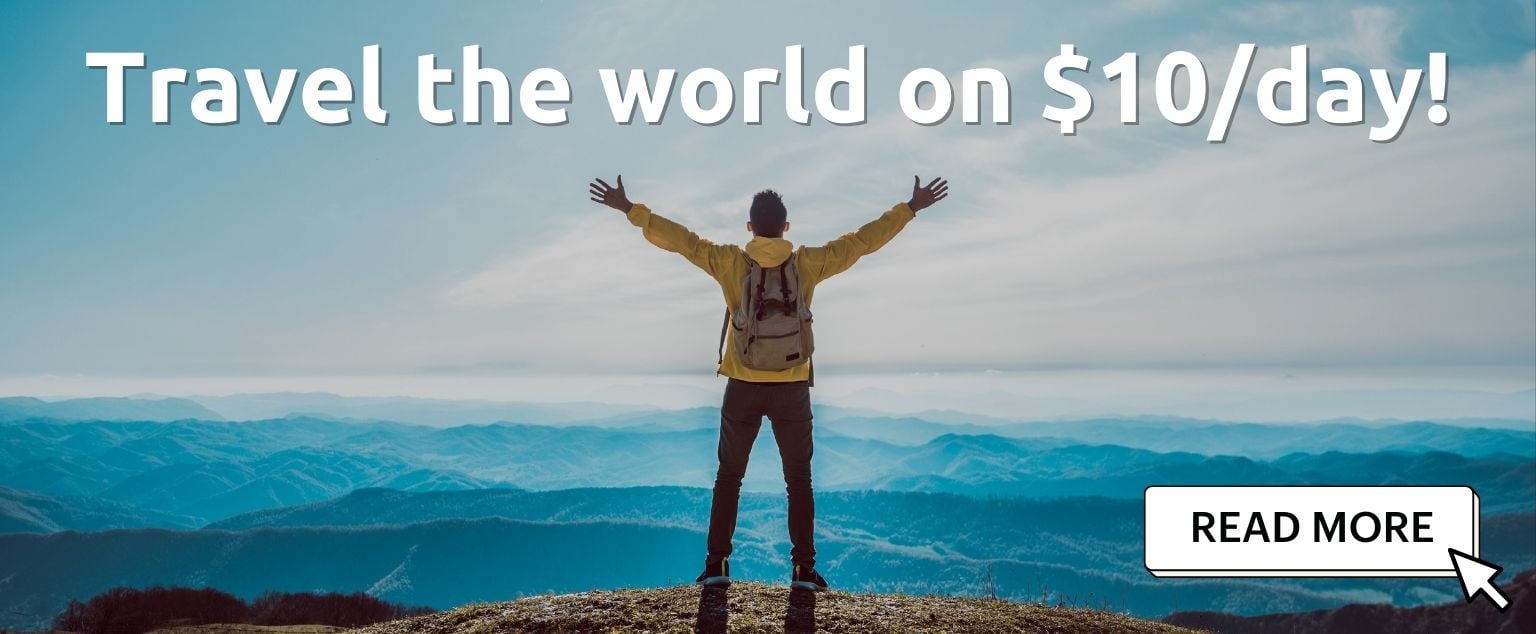 And for transparency's sake, please know that some of the links in our content are affiliate links. That means that if you book your accommodation, buy your gear, or sort your insurance through our link, we earn a small commission (at no extra cost to you). That said, we only link to the gear we trust and never recommend services we don't believe are up to scratch. Again, thank you!