Going on a Florida road trip is hands-down the best way to experience this state! With endless beaches, hidden springs, tons of food, and lots of attractions, you're going to need a flexible mode of transportation.
Having your own car or campervan is absolutely the best way to visit all of the best places in Florida as you'll be able to go wherever you want!
Florida is a big and beautiful place but, more importantly, it can also be a pricey one. Everyone who wants to visit Florida wants to lay on the beach and so you'll have to compete not only with crowds but inflated prices.
In this Florida road trip guide, we'll cover several topics concerning the Sunshine State. You'll learn to avoid overpriced hotels and how to camp like a pro, find the state's hidden gems, navigate the roads, and explore the best that Florida has to offer!
So grab ur' flip-flops, boardshorts, and a cooler full of cold beer because we're off to warm beaches and eternal sun of glorious Florida!
There are loads of road trips opportunities in the USA, some of them a bit more affordable than the other. Florida is by no means a cheap place to go on holiday. Everyone and their grandma wants to come here either to vacation or retire, and so, as a consequence, Florida can be expensive.
At The Broke Backpacker, we are never scared of inflated prices! We're constantly looking for new ways to cut travel costs and have a whole repertoire of useful tips to share with you. Even if we are unable to travel for $10/day like in our favorite countries, we can at least help you minimize expenses.
The average daily budget for a Florida road trip is between $150-$200 (ouch…) – this includes gas, a rental car, lodging, food, drink, and entry fees.
Lodging will be one of your largest expenses on your road trip. Real estate here is very expensive and hotels will take a chunk of change from your budget. Be sure to stay in hostels and camps to save money. Another great option is to stay at one of the epic Airbnbs in Florida.
Gas is relatively cheap in Florida but can still end up costing you quite a bit due to distances. It's very difficult to gauge how much gas you will actually need, so it's very important to be flexible with this expense. Try and stick to a budget by following planned road trips.
Food and drinks in Florida are, thankfully, much less intimidating. You can eat cheaply by cooking your own food and eating at food carts. If you wanted to, you could still eat and drink like a king one night and spend a small fortune in the process.
Below is a breakdown of the average costs associated with traveling to Florida.
Average Costs of Florida Road Trips
Below is a list I created of sample road trips through Florida. Varying from 4 days to 14 days in length, they cover many of Florida's top attractions. Each itinerary provides day-by-day highlights, which are meant to give you some solid Florida road trip ideas.
4 Day Florida Itinerary: Road Trip to the Florida Keys and Everglades
4 Days: Road Trip to the Florida Keys and Everglades
Day 1: Everglades
4 Days in Florida isn't a lot. So if you're expecting to see everything that the state has to offer, you'll be disappointed. However, you can fit in the most important hotspots without a problem or stress. Start your first day in Miami. Organize your rental car and head to the first destination on your road trip, the Everglades National Park. Once you've found a lodge or camping ground to stay at, check out the epic walks and hiking opportunities. These are our favorite ones:
Anhinga Trail
Shark Valley Trail
Long Pine Key Trail
Day 2: Everglades
Day 2 is going to consist of more exploration and adventures. Go on a full-day water safari with an airboat or check out the Ten Thousand Islands area. The National Park is big, so you'll have plenty of ground to explore. Once you've had enough exploring, return to your lodge or your Everglades camping site to prepare to move on tomorrow. Do make sure not to leave any waste behind!
Day 3: Florida Keys
Enough nature – we're going back to civilization! You'll head to the Florida Keys for your 3rd day. Make sure to depart early so you'll have more of the day. Enjoy the beautiful scenery on the Florida Keys Scenic Byway. These are our favorite stop-overs on the way:
Rain Barrel Sculpture Gallery
Theater of the Sea
Turtle Hospital
Ernest Hemmingway's House
If you're a passionate Scuba diver, you'll love Key Largo and Biscayne Bay. The water is crystal clear! Once you arrive in Key West, it's time to sort your lodge once again. Luckily, there are quite a few awesome Airbnbs in Florida Keys.
Day 4: Florida Keys
On the last day of your Florida road trip, you should explore Key West further. Bar hopping is especially popular and you can be sure to meet loads of nice people from all over the world. If you miss socializing, this is your go-to for the day. If you're more of an adventurer, check out the Dry Tortugas National Park (this is more like a day trip though). At the end of the day, it's time to pack your bags again for the next morning departure. And if you do decide to stay a bit longer, Islamorada is the perfect central location in the Florida Keys.
7 Day Florida Itinerary: A1A Florida Road Trip
7 Days: A1A Florida Road Trip
Day 1: Key West
Don't waste any time on your first day! Arrive in Miami, sort your rental car/campervan and head to the Florida Keys straight away. There are a couple of cool keys on the way which we covered in the 4-Day-Road-Trip above – be sure to check them out. Once you arrive in Key West, make sure to find the perfect lodge and check in. Now it's time to explore the area. If you're not exhausted from the car ride, head out to the bars for a couple of drinks.
Day 2: Fort Lauderdale
For Day 2, you'll depart early in the morning and head to Fort Lauderdale. You can stop in Biscane Bay for diving or in Miami for lunch and a bit of a beach tanning session. Once you arrive in Fort Lauderdale, check into your lodge. Now it's time for some lounging on the beach, chilling in the sun and do some people watching. To end the day right, explore Las Olas nightlife.
Day 3: Cocoa Beach
Day 3 is going to be a bit of driving but mainly surfing and relaxing. Depart from Fort Lauderdale and head North to Cocoa Beach. It's an epic place to fresh up your surf skills, learn new tricks or find you balance on a board for the first time. The beach is beautiful as well – perfect to step up your tanning game!
Day 4: St Augustine
You're going to continue the Florida road trip on A1A Northbound. On the way, check out the Kennedy Space Center and stop by Datona Beach for lunch and lounging. You'll arrive in St. Augustine, where you can explore the area if there's enough time left of the day or simply relax. St Augustine makes for a great place to stay as a rest stop.
Day 5: Jacksonville/Amelia Island
Day 5 will be an early rise. Visit Castillo de San Marcos early in the morning and enjoy the beautiful scenery. Once you feel like it, depart St. Augustine and head to Jacksonville. This is where you'll stay for the night unless you have more time on your hands – then you should head to Amelia Island.
Day 6: Vero Beach/Miami
You're going to be leaving Jacksonville (or Amelia Island) early in the morning and head back south. Make sure to stop over in the quiet Vero Beach – it's a real treat! You can also drive further (6-7 hours) to Miami, sort your accommodation (we higly recommend Miami's Airbnbs) and spend the night there.
Day 7: Miami
If you stayed in Vero Beach, it's time to depart for Miami. If you're already there – even better, you can take your time enjoying and exploring the lively city. Our favorite hotspots are:
Little Havana
Wynwood
Coral Gables
Midtown
Design District
14 Day Florida Itinerary: Ultimate Florida Road Trip
14 Days: Ultimate Florida Road Trip
Day 1-6: Florida Keys, Fort Lauderdale, Cocoa Beach, St. Augsutine, Jacksonville, Amelia Island *
For this ultimate 14-day Florida road trip, you'll spend the first 6 days like we already described in 7-day itinerary above. The only difference is that you won't head down to Miami on the last day.
Day 7: Emerald Coast
Depending on where you stayed on Day 6, you'll either depart from Jacksonville or Amerlia Island. From there, head west on I-10. You can stop over in Tallahassee for lunch (or even spend the night here). If you decide to travel further, head to the Emerald Coast and check in at your preferred lodge. If there's some time left of the day, you can spend it on the beach – you deserve a rest after all that driving!
Day 8: Emerald Coast
There are so many beaches on the Emerald Coast and they're all worth exploring. So this is exactly what you'll be doing on Day 8 of your road trip. To make sure you'll check out the absolute best, have a look at these:
Pensacola
Miramar Beach
Fort Walton
Grayton Beach
Perdido Key
Consider visiting the Forgotten Coast, which is one of the weirder Florida attractions, but definitely a cool spot to explore.
Day 9: Tampa Bay
Say goodbye to the Emerald Coast and head for Tampa via the I-10 and I-75. You can stop in Gainesville for a recharge on coffee, gas and snacks. Once you arrive in Tampa, check into your lodge and spend the afternoon exploring the city and maybe even St. Petersburg. We'd recommend visiting these cool attractions:
The Dali Museum in St Pete
Museum of Art in Tampa
The Fine Arts Museum in St Pete
Spend the night out in Ybor City or stay in St Petersburg.
Day 10: Tampa Bay
Day 10 is for exploring the beaches of Clearwater and relaxing to the absolute max. These are the best beaches:
Sand Key
Caladesi Island
Honeymoon Islands
Clearwater Beach
If you're not into relaxing, consider making the trip to Siesta Key in Sarasota, which has some of the whitest sand in the world and some amazing places to stay. There are also some incredible vacation rentals in Sarasota for an affordable price.
Day 11-12: Everglades *
These two days are for adventures and a bit of physical activity in the Everglades. Depart Tampa and check into your new lodge or set up to camp. You can spend the rest of day 11 by exploring the area. There are many famous hikes in the Everglades but these are the best:
Anhinga Trail
Shark Valley Trail
Long Pine Key Trail
On day 12, you'll explore the area in more detail. You could also go on a full day safari with an airboat. If you've got the time, explore the Ten Thousand Islands area as well. Once the day comes to an end, head back to your cap or lodge and chill out.
Day 13: Miami
Depart the Everglades and head to Miami. Depending on when you've left, you can have a look at Miami's cool neighborhoods:
Little Havana
Little Haiti
Design District
Brickell
Go out for a drink at night in Miami's best bars, pubs and clubs.
Day 14: Miami
Depending on how hungover you are, you can either spend the day chilling on the beach or go diving in Biscayne Bay – both very cool activities. You can also check out South Beach, Bal Harbor or Surfside. Since this is the last day, why not get fucked up again? You've earned it! But make sure your bags are packed.
*Indicates that this day was copied from a previous itinerary
Backpacking the USA has some amazing places to offer. And Florida hosts loads of them! Below is a list of the best Florida road trip stops. Study them well and decide which ones you like the most.
Road Trip to Miami
Ah yes, backpacking Miami! Home to beautiful people, some of the best beaches in Florida, and a nightlife that doesn't quit.
Miami is one of the richest and wealthiest cities in the USA. Its glittering city center, which hosts the tallest skyline in America, is home to many prosperous banks and institutions. Miami receives more tourists than any other American city and is undoubtedly the best city to visit in Florida.
It's also one of the most culturally unique cities in the USA thanks in part to its enormous immigrant population. More than 70% of the population is non-White Hispanic and more people speak Spanish as a first language, rather than English. For this reason, Miami is jokingly referred to as being the "Capital of South America." Some people assume that Miami is a dangerous melting pot, but we can assure you that this isn't the case, unless you're looking for trouble.
Miami's Latin residents really give the city the flair that it's known for. Walking around the interesting neighborhoods of Little Havana and Little Haiti will offer insight not only into the local cultures but also afford you chances to try their amazing cuisines. Just keep your head on a swivel as some parts of these districts are more dangerous than others, especially at night.
Being the chic destination that is though, Miami is not short of elegant, affluent districts. The Design District, Brickell, Coconut District, and Coral Gables are among the trendiest neighborhoods in town and offer visitors lots in the way of splurging.
Those looking for hipper, more downtempo areas to hang out in should check out Wynwood, Midtown, and Upper Eastside.
Of course, most people make a road trip to Miami for the beaches, which are amazing. Most are located on the separate island city of Miami Beach. Be sure to visit South Beach, Aventura, Surfside, and Bal Harbor for the best beaches in Miami. South Beach, in particular, is very famous for its art, food, and fashion scenes. If you want to step your vacation up a notch, you can rent a boat in Aventura for the day and explore the sub-tropical Floridian waters.
Road Trip to Fort Lauderdale
Just north of Miami is the notorious Fort Lauderdale, famous for once being the spring break capital of America. If you ever watched MTV in the 80s and 90s, then your impression of this city will be wasted college kids who cause utter mayhem.
These days, Fort Lauderdale is much more laidback, having done the best it could to shake the worst of the spring breakers. The city is, in fact, very beautiful and is often called the "Venice of America" due in part to the many canals that run through it.
With some of the best artificial diving in Florida just off the coast and plenty of amazing beaches, Fort Lauderdale is filled to the rim with amazing things to do.
Las Olas is the main strip in Fort Lauderdale and hosts most of the city's art galleries, museums, and shops. It's a very clean and pretty part of town, lined with boutique stores and billowing trees. If you're looking to explore a bit of Fort Lauderdale, this is the place to start.
Of course, most people visit Fort Lauderdale for the beaches, which are, expectedly, very good. The main "Strip" of beaches starts at Las Olas Blvd and ends around Sunrise Blvd. If you're wondering where to stay in Fort Lauderdale, this would be your go-to area!
Between these two streets are the most popular stretches of sand as well as the busiest cafes, restaurants, and bars in the city. You'll find loads of awesome Fort Lauderdale hotels here as well.
In reality, the beach continues much further though – all the way into Boca Raton and even beyond. Those looking for a quieter beach shouldn't have a problem.
Be sure to visit the Bonnet House and Hugh Taylor Birch State Park. The latter offers good hiking and wildlife viewing opportunities.
Road Trip to the Florida Keys
No road trip to Florida is complete without visiting the Florida Keys. Located southwest of Miami in the Caribbean Sea, these are among the most beautiful places in Florida.
More impressive though – they are connected to the mainland via Highway 1A1, which has to be one of the most stunning roads in the world.
A road trip through the Florida Keys is definitely one of the best things to do in the state! While driving on this route, you will be surrounded on all sides by the gorgeous Caribbean Sea. The views are amazing and it feels like you are gliding above the water.
Most people make a road trip to the Florida Keys while on holiday to visit the many beaches, go diving, and sample some local delicacies like key lime pie.
Though the road through the Florida Keys is long, the Keys themselves are not large by any means. Admittedly, most attractions are small here – the beaches are certainly compact – and are fairly limited actually.
There are a few things to do in the Florida Keys that are noteworthy. Strewn throughout the keys are several excellent parks that offer quintessential Caribbean scenery. Bahia Honda Beach is one of the best places to play in the ocean for sure.
Key West has a thriving nightlife as well as Ernest Hemingway's former home, which is now a museum. Diving is perhaps the most popular activity in the Keys as it's excellent here, especially near Key Largo.
The westernmost portion of the Keys is Dry Tortugas National Park. The Florida 1A1 does not go this far into the ocean – it ends at Key West – so the park is only accessible by boat.
Dry Tortugas hosts Fort Jefferson, the largest brick masonry project in the Western Hemisphere, and the Tortugas Islands. Set amongst the shoals of Caribbean coral, the fort itself is extremely impressive if not for its scope then for its gorgeous natural surroundings.
Road Trip to the Everglades
The Everglades are the most visited national park in Florida and arguably one of the most important natural sanctuaries in the USA.
Among the shallow waters, the labyrinthian cypress groves, and the towering pines are some of the most precarious wildlife species in the South, including the Florida panther, manatees, and the American crocodile, to name a few.
The Everglades are an extremely vital part of the surrounding ecosystems and provide crucial support the wildlife and humans as well. The habitability of much of Southern Florida depends on the Everglades so much so that it became a protected national park and the source of great rehabilitation.
A road trip through the Everglades will be a very enlightening if not exhilarating experience. The landscape here is powerful and exploring it is certainly one of the most unique things to do in Florida.
There is are two roads that enter the Everglades: the first is Florida 1A1 running along the eastern edge of the park, and the second is Highway 9336, which penetrates deeper into the park. Be aware there is only one gas pump at the very end of 9336. Though many of the park's attractions are accessible by vehicle, the best parts of the Everglades require a watercraft.
The Everglades are most often experienced via an airboat – those weird looking watercrafts with giant propellers. Booking a tour with one of these will grant you plenty of opportunities to see wildlife.
The Everglades also hosts a number of hiking and bike trails. The dry season is the best time to do both as the trails will be clear and the water will be low enough to spot local wildlife. Some popular trails include Anhinga, Shark Valley, and Long Pine Key Trail.
Road Trip to Tampa Bay
In a state where every city feels either like a resort or an amusement park, Tampa Bay may be the only place that actually feels like a city. Tampa Bay is one of the most important economic sectors in the state, being a crucial center for technology, shipping, research, and manufacturing.
Tampa Bay is arguably grittier if not more authentic city than Miami or Fort Lauderdale, which can feel somewhat simulated at times. That being said, Tampa Bay is still a Floridian city, which means that the sun keeps on shining (statistically more than Miami, actually) and the beaches are never too far away. For these reasons, Tampa Bay is one of the best cities to visit in Florida.
Tampa Bay is a huge metropolitan area composed of several smaller cities. The three largest cities in Tampa Bay area are Tampa, St. Petersburg, and Clearwater. Tampa is considered the hub of the three. As a whole, the Tampa Bay area is one of the best and cheapest places to visit in Florida as well.
Tampa has several districts worth visiting. The Downtown area has most of the city's cultural centers including the Museum of Art, the Henry B Plant Museum, the Aquarium, and the Children's Museum.
Most fun to visit is Ybor City, which is the historic immigrant quarter. Here you'll find theremnants of Tampa's once-prosperous cigar business, not to mention the best bars and restaurants in the city.
Across the bay is St. Petersburg, which is like a smaller version of Tampa. Like Tampa, there are several fascinating museums in St. Petersburg like the Dali Museum, Florida Holocaust Museum, and Fine Arts Museum.
St. Pete has a thriving nightlife! Be sure to go out to Central Av on the first Friday of every month for a big block party.
Finally, Clearwater has the best beaches in the area. Staying in Clearwater Beach is considered a must since it's the best city beach but local state parks like Sand Key, Caladesi Island, and Honeymoon Islands are fierce competitors.
Road Trip to Orlando
Referred to as the "Theme Park Capital of the World," Orlando hosts some of the largest and most notorious amusement parks in the entire world.
Orlando is great! Here you'll find Meccas of amusement like Disney World, Universal Resorts, and LegoLand, all of which attract more than 70 million visitors per year. These complexes are absolutely enormous and are practically self-contained cities unto themselves, complete with private lodgings, restaurants, and public transport.
While you're more than welcome to visit these places, you won't find any suggestions for the themeparks in this guide.
Outside of the amusement parks, Orlando itself is a garden-city that hosts some of the most impressive botanic gardens and parks in the state. Places like Harry P. Leu Gardens, Mead Botanical Garden, and the Historic Bok Sanctuary offer an impressive variety of flowers and flora from all over the world.
Orlando is also surrounded by countless lakes. Lake Eola, near the center of Orlando, is one of the centerpieces of the city. This lake hosts the majority of the city's public events and festivals as well.
Lake Tohopekaliga and Lake Kissimmee are also very bucolic places that offer good wildlife viewing opportunities – in particular, bald eagles are commonly spotted.
North of Orlando, there are several freshwater springs. These springs often have crystal-clear water – a phenomenon that Central Florida is famous for – and are great places for swimming.
Rock Springs, the Ocala National Forest, and Rainbow Springs are all worth checking out. In the cooler winter months, Blue Springs sometimes receives visiting manatees as well. (Rainbow Springs is a bit further west and is actually a great road trip from Tampa as well.)
Road Trip on the Atlantic Coast
We're returning to the Atlantic Coast of Florida and starting a long journey north all the way to the border of Georgia. Along the way, you'll be seeing more of the best of Florida, including some of its most famous attractions. The best surfing in Florida is also found on this part of the coast.
Directly east of Orlando on the Atlantic Coast is the Kennedy Space Center, which has been the primary launching pad for NASA's spacecrafts for the last 30 years. Rockets are still launched at Kennedy but, these days, mostly carry cargo. You can visit the Kennedy Space Center in person, and check for upcoming launches here.
On to the beaches though! South of Kennedy are the quieter coastal communities of Cocoa Beach and Vero Beach. Cocoa Beach and the nearby Sebastian's Inlet are two excellent places to go surfing in Florida.
Directly north of Kennedy is the Canaveral National Seashore, which is one of the longest stretches of undeveloped beach in Florida. Beyond this is Daytona Beach, home to the Daytona 500 Races. The beach suburbs of Flagler, Ormond, and Smyrna are where you'll find the best waves for surfing.
Moving on north we arrive in St. Augustine, which is most notable for its Spanish heritage. This anachronistic town is a relic from Spanish colonialism and is full historical architecture. The Castillo de San Marcos is the most impressive colonial site.
Finally, we arrive in the largest city on the Atlantic Coast of Florida: Jacksonville. Jacksonville is a sprawling metropolis but still slightly smaller than Miami in terms of population. The city does have a number of museums and historical landmarks, but most people visit for the beach (what else?).
There are a ton of attractions in Jacksonville, but most visit for Jacksonville Beach, a lovely city beach but pales in comparison to the nearby Amelia Island, which is one of the most desirable vacation spots in the USA.
Road Trip to the Florida Panhandle
The Panhandle is Florida's best-kept secret. Aside from hosting the state's capital, Tallahassee, this region also has some of the best beaches in Florida. Best of all, you can find some very affordable lodges here, making it one of the best cheap places to visit in Florida too.
The most developed part of the Florida Panhandle is the Emerald Coast aka the Miracle Strip aka the Redneck Riviera.
This area includes the larger coastal cities of Pensacola, Panama City, and Destin. Between these cities are some absolutely spectacular beaches that are relatively untouched compared to overrun coastline around Miami and Fort Lauderdale.
The Emerald Coast attracts families from all over the South, who want to make their own road trip to Florida. For this reason, this area receives far less international tourists, which is probably why it feels less hectic and also probably the reason why people call it the "Redneck Riviera."
Those who really want to go into the Heart of Darkness that is Florida should head to the Forgotten Coast. The local towns found here are among the least visited communities in Florida.
Though the Forgotten Coast has its fair share of beaches, it's much more rugged (in a Floridia kind of way) and has a more coastal forest. Consider going on an adventure here if the rest of the state feels boring to you.
The interior of the Florida Panhandle is where you'll find the state capital of Tallahassee. As the administrative center of the state, Tallahassee has lots of activities to offer. One of the highlights are the several historical museums that exhibit everything from colonization to WWII to natural phenomenon.
Aside from being the capital, Tallahassee is also a college town, hosting the immensely popular Florida State University, which means that this town can get pretty wild on weekends and game days.
Off the Beaten Path Florida Road Trip Destinations
Want to take a less-traveled road trip route in Florida? Then check out these off the beaten path locations for a chance to see something different!
Sarasot: An eclectic town that has some absolutely stunning beaches and cultural landmarks. Most importantly, Sarasota has the Siesta Key, which has been called the cleanest/whitest beach in the world. If we're being honest, Sarasota isn't really unknown and really isn't off the beaten path (it's a short road trip from Tampa) but, regardless, it is still worth mentioning.
Gainesville: This city hosts one of Florida's most popular higher-learning institutions – the University of Florida. The university is arguably the best and home to the most active student population in the state, though with parties happening all the time. Several freshwater springs are very close to Gainesville as well, which make for good day trips.
Naples: A very quiet town that has some of the best beaches in Florida (we heavily emphasis on the "quiet" part). Not much exciting happens in Naples, probably because most of the population is in their golden years. Visit here if you need a good place to cure a massive hangover from Miami and need some quality beach time. It's pretty close to Sanibel Island as well, which is definitely worth a visit.
Big Cypress National Preserve: This is the northern portion of the Everglades that features more swampy scenery. It is much less visited than the national park and a great alternative. Hunting, camping, and hiking are all popular here. The 1000-mile-long Florida Trail also starts in Big Cypress and runs all the way to the Gulf Islands National Seashore.
Roadside Attractions in Florida
Looking for weird Florida attractions? Nothing gets stranger than the state's roadside attractions! These odd yet iconic landmarks are often found out in the middle of nowhere and have become some of the most popular road trips in Florida.
If you need to take a break from a long drive, try stopping by one of these 5 Florida roadside attractions for a moment.
The Fountain of Youth (St. Augustine): Geriatrics may have been seeking a way to turn back time when they fled to Florida but this Fountain of Youth is, unfortunately, only a museum. Juan Ponce de Leon famously arrived here and declared the legendary fountain existed at a local spring. Nowadays, the spring water is sold to visitors, wondering if they will actually become younger from drinking it.
Weeki Wachee Mermaids (Weeki Wachee): One of the most culturally significant roadside attractions in Florida, this place features mermaids – trained performers – swimming around a freshwater pool and doing stunts for attendees. It has since become a state park.
Flamingo Gardens (Davie): A real-life Garden of Eden that features hundreds of plant and animal species. The animals are often brought to the park to be rehabilitated following an accident- some are released while others remain due to serious injury.
Goofy Golf (Panama City): One of the most extravagant and kitschy golf courses that you'll ever see. 18 holes with giant, strange, and, most of all, artistic obstacles.
Skunk Ape Research Headquarters (Ochopee): Been to Colorado and Oregon and still can't find the elusive Bigfoot? Florida has its own version of the monster, Skunk Ape, who terrorizes locals with his horrible smell. See the evidence here.
Florida Scenic Drives
Looking for more Florida road trip ideas? Check out any one of these scenic routes below, which feature some of the best places to visit on a Florida road trip.
Florida Keys (Florida 1A1): Arguably the most well-known and beautiful road in Florida, you can travel overseas via this impressive landbridge to the Florida Keys. On this route, you'll pass by the occasional atoll and mangrove forest but mostly you'll just be surrounded by the cerulean waters of the Caribbean Sea.
Big Bend (Florida 98, 329, 65): A remote road in Northwestern Florida that features lots of wetlands, old growth forest, and animal habitats. This is one of the most unique places in Florida with some of the most interesting wildlife in the state including carnivorous plants, several avians, and Florida bobcat. There is beautiful Gulf-scenery as well.
The Grade (Florida 714): A soft-used road that connects Stuart and Okeechobee Lake. Features pastoral Floridian scenery and giant trees that form a canopy over the road.
Lemon Bay/Myakka Trail (Florida 776): A very quiet and secluded part of Southern Florida that features old-Floridian settlements and hidden beaches. Great area to explore in Florida if you want to get away from the tourist masses and areinterested in history. There are good walking trails in the area as well.
Florida Black Bear National Byway (Florida 19, 40): A series of roads that wind through the Ocala National Forest, which is one of the most beautiful places in Florida. Inside the forest are sand dunes, secret glades, and a series of stunning crystalline pools. This is one of the coolest places to explore in Florida.
The Ridge (Florida 17): This route affords views of quintessential Central Florida, including citrus plantations, dusty roads, and inland lakes. Along the way is the Bok Tower, a giant structure in the middle of nowhere that "sings," which has to be one of the coolest things in Florida.
Best Diving in Florida
Being at the nexus of the gorgeous Caribbean Sea and the highly nutritious Gulf of Mexico, Florida has some of the most spectacular underwater worlds in North America! With myriads of reefs and underwater wrecks, there is no end to the diving opportunities in Florida.
Refer below for a list of some of the best diving in Florida.
Tenneco Towers – A sunken oil rig turned into the largest man-made reef in Florida. Swimming in this behemoth structure and watching the ocean life takeover is definitely one of the cooler things to do in Florida.
Blue Heron Bridge – A very convenient dive site located just north of West Palm Beach. The bridge shelters lots of amazing marine life like octopuses, seahorses, angelfish, and rays. Good for snorkelers and divers.
Biscayne National Park – Located in the Eastern Florida Keys. Good mix of wrecks and natural reefs that is more preserved thanks to the "national park" title. Popular dive sites include Elkhorn Reef, the Alicia wreck, and Ajax barrier reef.
Key Largo – Features some of the most impressive shipwrecks and artificial reefs in North America, and is one of the best areas in the Florida Keys. Spiegel Grove is the largest wreck and attracts the most attention. Bibb and Duane wrecks, as well as the Molasses Reef, are also worth seeing. Also hosts a giant underwater Jesus.
Devil's Den & Blue Grotto – The best cave diving in Florida. These grottos, located near Williston in Central Florida, have some clearest water in the state and preserve many strange objects; from fossils to the remains of a drowned man.
Crystal River – The best place to go swimming with manatees! Only snorkeling is allowed in the areas where the manatees frequent but divers will find plenty of interesting sites nearby. Non-manatee sites feature underwater springs and schools of grouper, snapper, and largemouth bass.
Florida, being the tourist behemoth that it is, has a vast array of hotels to choose from. Lodging in Florida runs the gamut from swanky resorts to charming bungalows to cheap motels. Between these many options, you're sure to find the right one for you. For a unique experience, check out these epic treehouses in Florida. You may only visit Florida once so why not make it a memorable stay!
Make no mistake though – lodging in Florida ain't cheap.
If you're on a budget road trip in Florida and need a hotel, you'll have to stick to the cheaper motels and roadhouses. These lodges can be pretty basic, sometimes offering no more than a few walls and a roof over your head. Expect to pay no less than $80 for budget hotels in Florida.
Airbnbs are sometimes more preferable to hotels as they can be cheaper and more interesting. There are some pretty wild vacation rentals in Florida – I've seen tree houses, houseboats, man caves, and even a whole private island! There are many awesome vacation rentals in Miami that make for an excellent starting point for your road trip.
If you like the homely comforts but don't fancy self-catering, consider checking out a bed and breakfast in Florida which at least provides you with a hearty breakfast before a days exploring.
There are many hostels in Florida and these are usually the most affordable lodging options, especially for solo travelers. Florida hostels offer just as good if not better quality of amenities than conventional hotels. Be aware that hostels located near vacations areas like Fort Lauderdale can be overly loud and raucous.
If you're feeling lucky you could try your hand at Couchsurfing, but the competition for hosts is quite high.
Best Budget Accommodation for a Florida Road Trip
Camping in Florida
Camping is one of the best ways to go on a budget Florida road trip! There are all kinds of campgrounds in Florida that offer a wide range of amenities and rates. Generally speaking, there are four types: private, public, dispersed, and backcountry/primitive. Below is a brief explanation of each.
Private – Larger campgrounds that offer the most amenities including communal kitchens, showers, and maybe onsite restaurants. Most appropriate for demanding campers. Most expensive as well. Payment is made through the office of the owners.
Public – More basic campgrounds that offer limited but crucial amenities. Running water, electricity, and bathrooms should be (but are not always) present. Good prices. Payment is made to a public organization either online or via a dropbox at the camp.
Dispersed – aka wild camping, primitive camping. Camping in an area that is not an official campground but is still legal. Little to no amenities. Almost always free.
Backcountry/Primitive – Camps located in the wilderness areas. Almost always require a hike to reach. Often no facilities so campers must bring food, cooking gear, camp supplies, etc. Permits are usually required and can be arranged at a nearby ranger station.
A lot of campgrounds, especially those at the national parks, can fill up very quickly. Consider booking a campground ahead of time to ensure that you have a spot.
If there are no campgrounds left at a specific place, there may be walk-up sites available, which you'll need to arrive early to claim. If you strike-out on the walk-up sites as well, there may be overflow camping nearby.
The best places to find free camping in Florida are the Water Management Areas. Similar to the West Coast's BLM, conventional campers will find camping in the FWMA very straightforward – RVs campers may have difficulty finding a larger space. For a larger compendium of free camping in Florida, refer to this website.
Traveling without insurance would be risky so do consider getting good backpacker insurance sorted before you head off on an adventure.
World Nomads' mission is to support and encourage travellers to explore their boundaries. They offer simple & flexible travel insurance, and safety advice to help you travel confidently.
They've been doing it since 2002 – protecting, connecting, and inspiring independent travellers just like you.
Get a quote below or read our in-depth review!
World Nomads provides travel insurance for travelers in over 100 countries. As an affiliate, we receive a fee when you get a quote from World Nomads using this link. We do not represent World Nomads. This is information only and not a recommendation to buy travel insurance.
Best Time to Visit Florida
Florida is subject to a semi-tropical climate. This means that Florida only has two distinct seasons – a hot, humid summer and a cool, dry winter.
The winter months (November-April) are generally considered the best months to visit Florida. Temperatures are pleasant, rain is sporadic, and the air is usually crisp.
This time of year also sees the greatest amount of tourists, which means that prices will be at their highest levels. Granted, prices shouldn't be so high as to dissuade those looking for a budget road trip in Florida but these people may want to take advantage of the campgrounds during this time.
Summers in Florida (May-October) are the rainy seasons, which means storms, high winds, and a shit ton of rain. Thankfully, rain usually falls in the late afternoons – those who want to visit the beach can still do so in the mornings. Prices are usually lower during this time.
Oddly enough, the summer does see some sporadic spikes in prices due in part to families going on vacation during the holidays. Since most families only visit certain destinations in Florida, like Disneyworld (Orlando) and the Keys, you can usually avoid the hordes with the right planning.
Hurricane season is officially from June-November and peaks between August-September. Hurricanes are not to be taken lightly as these natural disasters cause huge amounts of damage to property and lives.
Hurricanes generally do the most damage in the South of Florida in the Gulf and on Caribbean shores but have been known to travel as far north as the Atlantic coast. Be very aware of the weather alerts when on a summer road trip in Florida.
Why Visit this Part of the World
There's a reason why working Americans dream of settling in Florida and celebrities consistently visit this state. Florida has some of the best beaches, best parties, best weather, best food, best vacation spots, and a whole lot more superlatives in the entire United States.
Florida represents a lot of Americans' idea of paradise (just ask Ash from Evil Dead) and, for this reason, many retire here.
Florida is a unique state with its mixture of culture, beauty, tourism, and political charge. Nowhere else in the country will you find such a strong immigrant population, which is so prevalent, mind you, that many portions of the state don't even feel like the USA at all.
Miami is the centerpiece of the state and one of the most desirable cities in the world, right up there with San Francisco, Los Angeles, and New York City. It is a supremely glamorous place with glittering towers and shining residents who exude confidence. With some of the most beautiful city beaches ever and a host of world-class restaurants, you'd be hard-pressed to find a place more satiating to hedonistic desires.
If you get tired of Miami's exuberance and Latin culture, there's the whole other part to the state as well! You can hang out in hip Tampa Bay, eat barbecue in Jacksonville, and swim in Central Florida's turquoise pools. Better yet, there are still more and more beaches – more than you could possibly visit in a lifetime! If you really want to experience the best of Tampa Bay, you can charter your own yacht at an affordable price.
Top Tips for Broke Backpackers and Road Trippers
Below is a list of Florida road trip ideas for saving money. Try and practice these as much as possible.
Rent an economy car: Prices can be as low as $25/day depending on the time of year and how far in advance you reserve. Economy cars are also more fuel efficient so you'll save on fuel. Use apps like ViaMichelin to find cheap gas, which, seriously, always ends up being one of the most surprising and costly expenses on a road trip.
Use vehicle relocation services: These brilliant services offer huge discounts to people on the condition they get a vehicle to a certain place at a certain time. No joke, you can rent a car sometimes for as low as $1/day! Availability is very limited though, so keep a watchful eye on the sites. Check immova and Cruise America to start with.
Sleep overnight in an empty lot: Though not technically legal, people sleep in parking lots all the time. Make sure the lot is safe by asking around. Walmarts are reportedly good places to park overnight as they allow overnight parking.
Camp: Unless you want to fork out big bucks for a lodge, you have to camp. Campgrounds are way less expensive and sometimes even free. Check out this post for a breakdown of the best tents to take backpacking. If you're feeling really adventurous and want to save some cash, consider picking up a backpacking hammock.
Cook your own food: Eating out can be very expensive. Cook your own food as much as possible to save – I recommend bringing a portable backpacking stove. Otherwise, have a fancy night out at a food cart.
Do free shit: There are lots of free activities in Florida! From hiking to laying on the beach to going to the local monuments; all of these things cost you nill. Be sure to keep your ear to the ground for all things free in Florida.
Buy an America the Beautiful Pass: Seriously, if you're visiting more than two national parks, you'd be a fool not to buy this.
Pack a travel water bottle: It's good for your wallet and the environment.
Camping in Florida – Gear Checklist
Camping is a very enjoyable activity in Florida. You could sleep in your car or an RV while on a road trip to Florida but sleeping outside under the stars is way more fun. Having a good tent will keep you comfortable on those chilly nights and give you lots of flexibility when it comes to finding a place to sleep.
Packing for Florida is just as important as planning your trip. So here are the absolute essentials:
Books to Read during your Florida Road Trip
These are some of my favorite travel reads and books set in Florida. Read one or two and you may have some great road trips ideas for Florida…
To Have and To Have Not – A family man gets involved with the drug smuggling business in the Key West and ends up in a strange affair. Written by the great Ernest Hemingway.
Back to Blood – Explores one of the culturally distinct and independent cities in the USA through the eyes of Miami cop, Nestor Camacho. An exploration of the Cuban and Latin communities by the highly respected Tom Wolfe.
The Yearling – A young Florida boy living in the backwoods finds a wounded faun and nurses her back to health. He must struggle to keep it safe from predators and the harshities of life.
Their Eyes Were Watching God – One of the most important and culturally uplifting novels for the African-American community. Told through a series of flashbacks, which occur in mostly in Slave-era Florida.
Rum Punch – The crime novel that inspired Quentin Tarantino's Jackie Brown. A low-level flight attendant and secret smuggler, Jackie Burke, get caught between the law and her devious employer.
The Orchid Thief – A man becomes obsessed with acquiring an extremely rare flower and goes on an epic quest to Florida to obtain it.
Lonely Planet: Florida – It's sometimes worth traveling with a guidebook.
Make Money Online whilst Traveling in Florida
Want to stay in the USA longer? Worried that you don't have enough cash for a longer Florida road trip? One idea is to make money while traveling!
Teaching English online is a great way to earn a consistent income—from anywhere in the world with a good internet connection. Depending on your qualifications (or your motivation to obtain qualifications like a TEFL certificate) you can teach English remotely from your laptop, save some cash for your next adventure, and make a positive impact on the world by improving another person's language skills!
It's a win-win! Check out this detailed article for everything you need to know to start teaching English online.
In addition to giving you the qualifications to teach English online, TEFL courses open up a huge range of opportunities and you can find teaching work all over the world. To find out more about TEFL courses and how you can teach English around the world, read my in-depth report on teaching English abroad.
Broke Backpacker readers get a 35% discount on TEFL courses with MyTEFL (simply enter the code BACKPKR), to find out more, please read my in-depth report on teaching English abroad.
Whether you are keen to teach English online or looking to take your teaching game a step further by finding a job teaching English in a foreign country, getting your TEFL certificate is absolutely a step in the right direction.
Renting a car is the most popular way of getting around Florida. There are a myriad of car rental agencies here that offer varying deals and varying models.
To find the best rental car deal in the USA, use search engines that compare the prices from individual companies. We personally like using rentalcars.com as they've never failed to give us a great price.
Renting an RV in Florida is also a great option. Although it might come out as a bit more expensive, because of gas and higher prices at campgrounds, it allows you to not worry so much about your camping gear and makes for some pretty epic road trips!
We suggest booking a campervan with Outdoorsy as they usually have a good selection and good prices. Better yet, Broke Backpackers also get a $40 discount with Outdoorsy! Just use the coupon code "BACKPACKER" when checking out.
The roads in Florida are generally very good and a sedan or economy car should deliver you to most of the state's top destinations. Only in the most remote portions of the swamps, will the roads be so bad that you need 4×4 or at least high clearance.
Tips for Saving Money on Car Rentals in the US
We mentioned before that you can reach out to vehicle relocation services, like immova and Cruise America, as a way of saving heaps of cash on rentals. Pursue these as best you can as they can save you a lot of money. Don't get your hopes up too much though, as availability is always limited.
Car insurance isn't always mandatory in the USA but is highly encouraged. This being said, you don't necessarily have to buy car insurance from the company you're renting from. Purchase a RentalCover.com policy to cover your vehicle against any common damages such as tires, windscreens, theft, and more at a fraction of the price you would pay at the rental desk.
Many credit card companies offer free car insurance if you book the car with the proper card. Call your credit card company for more information regarding terms and conditions.
Food in Florida
Floridian food is a mix of Southern American and Caribbean cooking. In the north, you'll find more Southern fare like barbecue, fried snacks, and other comfort foods. Miami and the southern tip of Florida are definitely more influenced by the state's Caribbean communities – Cuban, Afro-Caribbean, Dominican, etc are all very common styles and are served very authentic.
Florida and its chefs benefit from a very productive agriculture sector that is active near year-round. Florida grows an amazing variety of fruits and these are featured heavily in local dishes.
Expect to see lots of citrus, mango, papaya, and even strawberries. Key lime pie, a Florida creation, is another example of fruity Florida cooking at its finest.
Fish is also a staple of the Florida diet due in part to the ocean's sheer presence. Grouper is the most common type of fish and is found on just about any menu. Shark, snapper, tarpon, and oysters are also common catches in Florida. Seafood is usually prepared fresh in the southern parts of the state – i.e. grilled or as ceviche – while the northern part tends to fry it.
You will have many opportunities to sample the local food while on a road trip through Florida.
Restaurants and diners are, of course, ubiquitous throughout the state but do tend to be expensive. You can visit a local market for fresh fruit and fish and then cook it yourself or you can take the fish to a restaurant have them cook it, often for a discounted rate.
To save the most on dining, take advantage of the local food carts and taco trucks. These mobile kitchens are staples of good American cooking and are usually very affordable. I've had the best chicken, Mexican, barbecue, hell, the best everything at food carts.
Get your Buzz On
Unless you haven't heard from the news already, shit gets weird in Florida, real quick. Florida has some of the craziest and wildest parties in the USA, and there seems to be no end to the ways you can cut loose either! If you can think of a way to have fun, Florida probably does it already.
Miami hosts the most amount of parties in Florida. Here, you can go to a local sports bar, dance at a Latin jazz bar, relax at a beachside cantina or attempt to get into a super ritzy nightclub.
Clubbing in Miami is very serious business. People invest a lot of time and money to make sure that they appear absolutely perfect in public while at the club. For this reason, going to a club in Miami requires a lot of effort.
If you want to go clubbing in Miami, you need to dress very appropriately – dresses, skirts, high heels, collars, pants, close-toed, etc – and conduct yourself properly.
You will have to stand in line for quite a while to get into the club; men, in particular, will have a hard time getting in. To maximize your chances of getting in a club in Miami, try to get on "the list" and avoid pissing off the bouncer.
Most of the younger crowds party in the college towns – Tallahassee and Gainesville – or at certain beach locations – Daytona Beach and South Beach.
If you're on a spring road trip in Florida be very aware, ney terrified, of the Spring Break crowds. They will descend onto the beaches and cause a ruckus for a week straight.
Note that a few counties in North Florida are dry i.e. do not permit the consumption of alcohol. They are Lafayette, Liberty, and Washington. If you're in one of these counties, you will not be able to buy or drink booze.
Being a Responsible Backpacker in Florida
Remember to be a respectful and responsible backpacker on your Florida road trip. Depart from the grounds at a decent hour and follow leave no trace principles.
Furthermore, don't be like the Spring Breakers and trash peoples homes and beaches.
Reduce your plastic footprint: Perhaps the best thing you can do for our planet is to make sure you do NOT add to the plastic problem all over the world. Don't buy one-use water bottles, the plastic ends up in a landfill or in the ocean.
I know it can be hard, but do your best to use the least amount of plastic water bottles that you can. Refill the ones that you do buy! Use a GRAYL GEOPRESS. Refill at your hostel/guest house! There are plenty of ways to reduce plastic!!!
---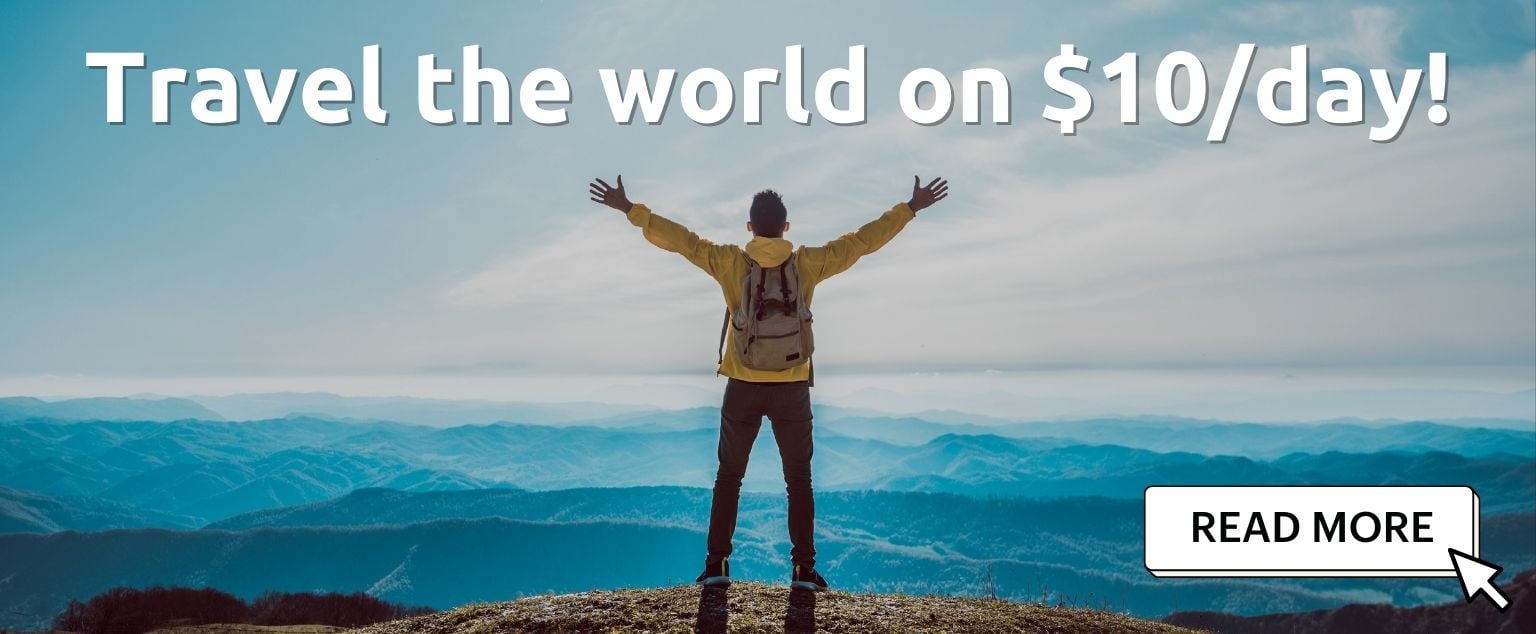 And for transparency's sake, please know that some of the links in our content are affiliate links. That means that if you book your accommodation, buy your gear, or sort your insurance through our link, we earn a small commission (at no extra cost to you). That said, we only link to the gear we trust and never recommend services we don't believe are up to scratch. Again, thank you!