Many will say that going on an epic road trip is the best and really the only way to experience America. This is the land of the open road, the roadside attraction, the roadside diner. If all roads lead to Rome, they must eventually make a detour in the United States, I say.
There is a lot that goes into planning a road trip in the USA. What to pack, what kind of car to rent, and, most importantly, where to go. There are a million routes out there and they all have their own merits and, in some cases, oddities.
I've assembled a list of some of the best and most classic road trips in the country. From East Coast to West Coast and Sea to Shining Sea, the finest stretches of good ol American-made asphalt are all found in this article. Through the desert, over the mountains, into the past, doesn't matter; we've got them all covered right here.
So which Great American road trip will you take?
Let's get down to brass tacks and start talking about the top American road trips there are! Here are twenty for you to choose from!
1. California Route 1 – Pacific Coast Highway
The road trip in the USA to take before you die
States: California
Start: San Diego
End: Mendocino
Total Distance: 656 miles
Best Part: Camping in Big Sur
What's a trip to California without visiting the coast or the beach? The beach is one of the most important aspects of California livin', after all. It is talked about during just about every other conversation in the state. Who could blame the natives for loving their coastline so much when you have superlative stops like Malibu, San Luis Obispo, and Point Reyes all there?
For the ultimate road trip in California, consider driving the entire stretch of the Pacific Route 1. This epic route, which should take at least a week (two for maximum enjoyment), seriously pulls out all the stops. Gorgeous coastline, bustling metropolises – like San Francisco and Los Angeles – and more than enough In n' Out Burger joints all combine to make the perfect road trip itinerary. This is some of the best California has to offer.
2. Route 66
The classic road trip across America
States: Illinois, Missouri, Kansas, Oklahoma, Texas, New Mexico, Arizona, California
Start: Chicago, Illinois
End: Santa Monica, California
Total Distance: 2448 miles
Best Part: The Americana
Route 66 is probably the first thing that springs to people's minds when they think "Great American road trip." Over the years, Route 66 has been practically immortalized – by Hollywood films, musicians, novels, etc – so much so that it is practically synonymous with the very idea of going on a road trip around the USA.
Since it passes through eight different states and four different regions, Route 66 offers a somewhat abridged version of American culture. You'll get to see roadside attractions, antique gas stations, and eccentric diners; all staples of American weirdness.
One of the best parts of Route 66? Watching the landscape shift from the Great Plains and Mississippi wetlands to the deserts and mountains of the West Coast's roadside landscapes. Entering Texas, New Mexico, and Arizona is a particularly surreal experience, as there is nowhere else quite like the American Southwest. If you have time, be sure to stop by Monument Valley for an iconic American backdrop.
3. Skyline Drive
The most scenic mountain road trip on the East Coast
States: Virginia
Start: Front Royal
End: Rockfish Gap
Total Distance: 105 miles
Best Part: Parking the car and going for a quick hike
It's a favorite day trip for those visiting Washington DC for a simple reason: the Skyline Drive is one of the most accessible mountain drives in the USA. In just over an hour, one could easily escape from the politics and actions of the nation's capital and be in the heart of Appalachian Country. For those who like long-winding mountain roads, this will be one of the best road trips in the USA.
The Skyline Drive traverses the entirety of Shenandoah National Park. This means that, besides offering breathtaking views, the route also affords access to many local trails. The epic and grueling AT (Appalachian Trail) runs parallel to Skyline Drive. Those who've dreamed of hiking (a section of) the thru-hike can do so at many points of the road.
For those looking for a more docile couple of days in Shenandoah, there are lots of campsites and little towns around worth visiting. Winchester has a rich Civil War history while sleepy Staunton is generally considered the prettiest town in the region.
4. Going-to-the-Sun Road
The best way to see one of the best American National Parks
States: Montana
Start: West Glacier
End: Saint Mary
Total Distance: 50 miles
Best Part: Seeing Saint Mary Lake for the first time
Glacier is one of the best national parks in the USA. It's the kind of place that, once you've visited, makes you want to pack up your bags and move to Montana. I've dreamt of doing this before and I'm sure a lot of people share this dream with me.
The main road that traverses Glacier is called the Going-to-the-Sun Road and it is, without question, one of the most beautiful roads in the US. Firstly, it passes right next to the stunning Saint Mary Lake, which is one of the highlights of the park. It also provides quick access to some very good trails in the park, like Hidden Lake Lookout. This 3-mile round-trip hike starts at Logan's Pass and offers views of the uniquely-shaped Bearhat Mountain.
It should be noted that the Going-to-the-Sun Road opens late in the season and closes early due to heavy snow. The road is closed for 7-8 months and crazy busy the rest of the year. There are quite a few hair point turns as well so remember to keep your cool out there when driving.
5. Olympic Peninsula Loop
Rainforests, glaciers, and beaches (oh my)
States: Washington
Start: Port Angeles
End: Port Angeles
Total Distance: 330 miles
Best Part: Feeling the carpet in the Hoh Rainforest
Very few places to see in the USA are as geographically unique as the Olympic Peninsula. Here, you'll find a huge diversity of landscapes, from glaciers to rainforest to rugged coastline. This is a paradise for outdoorsy types or, at least, those who can't quite decide what kind of outdoor adventure they want to go on during their road trip in the USA.
There are too many cool spots on the Olympic Peninsula to talk about. Hurricane Ridge offers the most spectacular views of the surrounding mountains and also offers solid skiing in the winter. Rialto Beach is famous for its sea stacks that resemble those found commonly in Iceland. The Enchanted Valley is a very remote portion that requires an overnight hike but rewards visitors with, supposedly, 10,000 falls.
The best part about the Olympic Peninsula is exploring the Hoh Rainforest. Thanks to constant rain, the woods of the peninsula are overgrown, towering, and constantly lush. Go for walk here and you'll see more shades of green then you previously thought possible.
6. Kancamagus Highway
For fall foliage fanatics
States: New Hampshire
Start: North Woodstock
End: Conway
Total Distance: 56 miles
Best Part: Being there in autumn
New Englanders are very proud people and there are certain things that you don't talk shit about with them. Dunkin' Donuts, lobster rolls, Tom Brady; even a whisper of ill will about any of these things is a sure way to piss of a local. Just as important to the New Englander identity as any of these though is it's most noticeable natural phenomenon: the fall foliage.
From late-September to middle-October, the Patriots become slightly less talked about (until they eventually go to the Super Bowl) in lieu of the changing colors of the trees. New Englanders go crazy for the reds, oranges, and golds of the season; some plan whole weekend excursions in search of the best colors. Admittedly, it is pretty damn cool when you travel outside Boston and are hit by all those hues.
One of the most famous fall foliage road trips in New England is the Kancamagus Highway in New Hampshire. When the time is right (early-October), a cold fire hits the hills and they explode with color. The 56-mile stretch of the Kanc is never-ending foliage and shifting colors; it's like driving through the barrel of a kaleidoscope. Just be warned: you and everyone else will be there – it gets busy in October!
7. San Juan Skyway
Colorful Colorado at it's best
States: Colorado
Start: Durango
End: Durango
Total Distance: 233 miles
Best Part: Dallas Divide Viewpoint
The San Juan Skyway is the best road trip in Colorado! Nestled in the far southwestern corner of the state, this route offers some of the finest Rocky Mountain views you could hope for. The road twists and turns through the valleys of the San Juan Mountains, arguably the prettiest part of the Colorado Rockies, and visits many historical towns and viewpoints along the way.
This itinerary begins and ends in the former mining town of Durango. There's not much to do here besides ride the old gauge railroad, which is admittedly pretty damn cool if you like old-school trains.
As you head north from Durango to Silverton, the scenery really starts to unfold. To the east, the rugged Weminuche goads avid climbers and hikers. To get the best views of the Weminuche and the nearby Grenadiers, be sure to stop at Molas Pass for a break.
Beyond Silverton is the remote resort town of Ouray and the Sneffels Wilderness. The Dallas Divide, which overlooks the Sneffels, is very popular with photographers, especially in autumn when the leaves change color.
After the Dallas Divide, it's straight onto one of the most famous mountain towns in Colorado: Telluride. If you're staying in Telluride during the summer, be sure to check for local festivals. During this time, there's one almost every weekend.
8. The Cascade Loop
The best of the "American Alps"
States: Washington
Start: Everett
End: Everett
Total Distance: 440 miles
Best Part: The North Cascades to the San Juan Islands
This is THE ULTIMATE Pacific Northwest road trip! Seriously, there are few itineraries that offer such a huge array of activities. Alpine hiking, whale watching, breweries; these are just a few of an adventurer's favorite things!
The Cascade Loop begins in Everett, which is just north of Seattle. Everett is a pretty little town although you will not want to miss out on visiting Seattle. From Everett, you'll head east over Stevens Pass before turning north along the Columbia Basin until looping back west across the Washington Pass and the astounding North Cascades. You should end your road trip through Washington by spending a few days relaxing in the idyllic San Juan Islands.
If the previous paragraph felt like an oversimplification, I'm sorry; but the Cascade Loop is too grand to fit in this section. To learn more about the route, be sure to visit the official Cascade Loop website for heaps of more information!
9. Florida A1A – Overseas Highway
340 miles, almost all beaches
States: Florida
Start: Amelia Island
End: Florida Keys
Total Distance: 340 miles
Best Part: Driving across the Caribbean Sea
Knock it all you like for its douchey spring break parties and invasive retirees, but Florida still has some of the best beaches in all of the USA. As you may have gleaned from the subtitle of this particular USA road trip, almost all of them are accessible via a single highway.
The Florida A1A runs the entire length of the Atlantic Floridian Coast AND even further into the Caribbean Sea. The portion that connects the mainland to the Florida Keys (The Florida Key Scenic Byway) is considered an engineering marvel and this is one of the highlights of the trip. Gliding across the Caribbean and into the likes of Ernest Hemingway's home on Key West is just too good.
But there is more to this Florida road trip than just the Keys. Fort Lauderdale is shedding its MTV beach party reputation (for a more laid back vibe). Cocoa Beach and Vero Beach still surf central. Plus, there's always hedonistic and culturally rich Miami to demand your attention (probably too much).
10. Lassen Scenic Byway
A "Lasser-Known" road trip in California
States: California, Oregon
Start: Lassen Volcanic National Park, California
End: Chemult, Oregon
Total Distance: 500 miles
Best Part: Ending at Crater Lake aka Heaven on Earth
The Lassen Scenic Byway is one of the most unknown and underrated road trips in America. The route can't be faulted either – it's located in the relative unknown of Northern California, which, unfortunately, only enters the news when there's a forest fire or a rebellious splinter-nation about to spring up. Yet, Northern California and Lassen are just as beautiful as anywhere else in the state.
The Lassen Scenic Byway, which takes its name from the National Park where it starts, gives a grand overview of the region. Dormant volcanoes, bubbling springs, and waterfalls are just a few of the sights you'll see along the way. Mt Shasta, which marks the beginning of the Cascade Range, is the most prominent landmark in the area. The Park boasts some of California's best camping spots; enjoy the breathtaking views at Heart Lake, or kayak around Manzanita's calm waters.
The Lassen Scenic Byway also extends across the state border into Oregon. This means you can visit one of my all-time favorite places in the USA: Crater Lake. It is an enormous body of water, perfectly serene and close to fathomless. Every time I see it, Crater Lake reminds of Thoreau and what he said about lakes in general: "(they are) the Earth's eye; looking into which the beholder measures the depth of his own nature."
11. The Oregon Coast – USA Route 101
For those who like to wear sandals and sweaters (at the same time)
States: Oregon
Start: Brookings
End: Astoria
Total Distance: 363 miles
Best Part: Southern Oregon Coast
Having spent much of my life in Portland, I've been on more than a few road trips in Oregon and there's a special place in my heart for the Oregon Coast.
When I needed to get away from the city and work, I would run away to the coast. When my girlfriend and I wanted a romantic dinner, we'd skip the restaurants and instead buy fresh oysters from the local fishermen in Netarts. To me, the coast was my playground, my church, and my home away from home.
I'm not the only person who loves the Oregon Coast though – lots of people go on vacation here to get away from the madness of their lives (including everyone's favorite Midwestern melodist, Sufjan Stevens). Apparently, the charm of old coastal towns and the particular moodiness of a cool, cloudy day is not lost on the others.
Mine romanticizing aside, the Oregon Coast is just a beautiful place to visit. The Southern portion, around Bandon, Langlois, and Samuel H. Boardman, is particularly notable as the scenery around here – rocky towers, jagged promontories, and enormous cliffs – are quintessential.
12. The High Road to Taos
The magical highway to everyone's favorite hippy town
State: New Mexico
Start: Sante Fe
End: Taos
Total Distance: 105 miles
Best Part: The old Spanish architecture
New Mexico is like the weird aunt that always drives up to the family gatherings in her converted VW bus and talks about gemstones all night long. Not that this is a bad thing: we all love them for doing this and hope they never change. After all, these conversations are far more interesting than the ones we have with that one overly conservative uncle (I'm alluding to you, North Dakota).
New Mexico loves art, culture, and the surrounding nature that, in turn, inspires art and culture. People from all over the country, whether native or tourist, are inspired by landscapes and old Indian pueblos of the state (even the esteemed George R.R. Martin has drawn inspiration from this landscape).
One of the best ways to experience the magic of New Mexico is via the High Road to Tao scenic byway. Starting from the city of Santa Fe and ending in Taos, this road trip not only connects two of the most artistic cities in the state, but it also features a lot of interesting stuff in between.
Chimayó makes for a very interesting stop thanks to its namesake church, which promises to heal the sick. The San Francisco de Asís Mission Church is one of the most iconic buildings in the American Southwest and could easily serve as a prop for Tarantino or Sergio Leone western.
13. Texas Hill Country
The "green" part of Texas
States: Texas
Start: Austin
End: Austin
Total Distance: Depends
Best Part: The natural pools
Texas isn't just desert and oil fields; there is plenty of greenery around if you know where to look. In fact, there are heaps of waterfalls and grottos to be found! Texas Hill Country is full of hidden wonders that most would've never thought could be found arid ol' Texas. If you're looking for some top-notch hiking in the States and want to try some of the tastiest BBQ in the state, then consider going on a trip here.
Texas Hill Country roughly refers to the elevated areas west of Austin. Many roads that go through this area; to visit a decent chunk of it will require you to take many different routes.
Generally speaking, the best parts of Texas Hill Country are around Highway 290. Locally beloved waterholes like Hamilton Pool, Pedernales Falls, and Jacobs Well are all within about 30 minutes detour.
There are many BBQ joints and spirit distilleries spread throughout Hill Country as well. If you want some of the most legendary BBQ in Texas, be sure to drop by Cooper's Old Time Pit in Llano.
14. Beartooth Highway
One of the most beautiful highways in America
States: Wyoming, Montana
Start: Red Lodge, Montana
End: Wyoming/Montana border via US 212
Total Distance: 69 miles
Best Part: Arriving at Beartooth Pass
For being one of the prettiest roads in America, it's amazing how few people have probably heard about the Beartooth. When talking about what to do in Wyoming, most people talk about staying in Yellowstone or the Tetons more than anything. (Rightfully so! Those places are spectacular in their own right!)
Yet, just 2 hours away from the center of Yellowstone lies this stunner of a road trip, so stunning some say that it could easily compete with the aforementioned national park. Not to be taken lightly, this road starts at 5000 ft and climbs to a maximum height of nearly 11,000 ft. By the time you reach Beartooth Pass, you'll be driving through high-alpine plateau; barren, humbling, and, most of all, awe-inspiring.
The drive is the show-stealer here but there's still lots to do outside of the car on the Beartooth Highway. Lakes for fishing, trails for hiking, and kitschy shops for souvenirs all abound. Though the drive itself only takes 2-3 hours, one could easily spend several days here. Don't just look at this as a way to connect Yellowstone and Glacier National Parks; think of this route as a park to be explored onto itself.
15. The Hana Highway
A must-do on your Hawaiian vacation
State: Hawaii
Start: Kahului
End: Haiku-Pauwela
Total Distance: 64 miles
Best Part: Playing "Spot the Waterfall"
Some people find the word "highway" in Hana Highway to be a gross exaggeration. "This isn't a highway!" they might say; "this is a crooked alley in the middle of the jungle!" Fair enough fictional angry tourist I say.
The Hana Highway is not a typical highway: it's narrow, winding, and sometimes scary to drive on. What would normally take an hour to drive will take more like two or three. The road is so small that parking on the side of the road is very difficult; sometimes it even turns into a single lane of traffic.
But the Hana Highway is worth the extra effort, of course. Waterfalls are everywhere along this road trip; during heavy rain, falls may spring up out of nowhere (be careful in this case actually). That quintessential Hawaiin lushness will be omnipresent as you coast through different areas of Maui, and you'll even the opportunity to visit the beach! Pullover at Waianapanapa State Park just before Hana to see one of the better beaches on the island.
If you end up doing this Hawaiin road trip, just be sure to leave Kahului with a full tank of gas and snacks. There isn't a whole lot in the way of food and gas stations along the way.
16. Charleston to Savannah
Southern comfort at its finest
States: South Carolina, Georgia
Start: Charleston, NC
End: Savannah, GA
Total Distance: 108 miles
Best Part: Comparing the two cities
It's a well-known fact that there's a long-standing rivalry between the cities of Charleston, SC and Savannah, GA. Both are competing against each other for the title of "most charming cities in the South" and the competition is fierce. Thanks to their close proximity, one could easily visit one on a weekend road trip!
Charleston is the smaller city; not so hectic and pretty down-to-Earth by many standards. It's mostly known for its old plantations and Southern hospitality. A lot of people – especially the locals – like to say that Charleston is much more laidback than Savannah and consequently much more hospitable. You can find plenty of great Airbnbs in Charleston too, so it's definitely a place to stop over for a bit longer.
Savannah, on the other hand, is the larger of the two cities. It was formerly and economic center of the region and, as such, expanded quite fast. The original Southern architecture is very well preserved, the best examples being the cobblestone streets themselves, the old-school neighborhoods of Savannah, and the nearby plantations. Fun fact: public drinking is also legal in Savannah, which does lead to the occasional, spontaneous block party 🙂
17. The Best of the American Southwest
Take a trip through one of the most beautiful parts of the USA
States: Nevada, Utah, Arizona
Start: Las Vegas
End: Las Vegas
Total Distance: 1200 miles
Best Part: Doing acid somewhere you love
This isn't an established route; there is no single road that you'll stay on over the course of this trip. What this is a collection of highways that together form without question one of the most phenomenal road trips around the USA.
The American Southwest is one of the most beautiful regions in the world; a dreamscape filled with surreal arches, bottomless canyons, and rocks painted by the passage of time. Hiking through the arid landscapes of Arizona or Utah is more fantasy than reality sometimes and, to me at least, a more appropriate place for Gods to inhabit than humans.
My mind reels when I think about how many wonders there are on this Southwestern road trip. The Grand Canyon, Vermillion Cliffs, Antelope Canyon, Havasupai; all of these could be considered amongst the most beautiful places in the world. Yet, I haven't even talked about the national parks of Utah either! Zion, Canyonlands, Bryce Canyon, my god – it's all too much to think about at once.
18. Route 61 – The Blues Highway
Visit some of the most significant musical sites in America
States: Louisiana, Mississippi, Tennessee, Arkansas, Missouri, Iowa, Wisconsin, Minnesota
Start: New Orleans
End: Wyoming (Minnesota)
Total Distance: 1,400 miles
Best Part: Finding out where Robert Johnson sold his soul to the devil
A good American road trip doesn't ALWAYS have to be about pleasant scenery or heritage sites. Sometimes, all a good road trip takes is an appreciation for our musical forefathers and a really good playlist to go with it.
Route 61 is called the Blues Highway because it has been a part of so many American musicians' lives. Bastions of classic American music, like Memphis, Des Moines, St. Louis, and the classic southern destination New Orleans are all connected by this road.
That means the greatest blues singers, rockers, country wailers, and more have all, at one point in their lives, driven on this road. It goes without saying that a lot of shit has probably happened here then.
Route 61 is full of interesting and sometimes strange attractions. The BB King Museum, Heartbreak Hotel, and some of the most hallowed music venues and concert halls in the country are all along this route.
The coolest place to visit on this USA road trip? The infamous "crossroads" where Robert Johnson supposedly sold his soul to the devil for fame (at the intersection of Highway 1 and 8).
For a shorter version, road trippers can instead drive from New Orleans to Memphis and experience many of the same attractions.
19. Seward Highway
A Wild Road Trip in the USA's Most Wild State
States: Alaska
Start: Anchorage
End: Seward
Total Distance: 125 miles
Best Part: The Kenai Fjords
Choosing between this and the George Parks Highway is a tough call. The option of seeing the monstrous Denali is possible with the latter, and that alone should be enough to entice people. But overall, the Seward Highway is probably the best road trip in Alaska.
Why is the Seward Highway great? Well, it's not too long, not too far away from civilization, and it offers a little bit of everything. The drive itself is remarkable as you'll be afforded views of both the Chugach Mountains and the rugged Alaskan coastline at the same time, plus a bear or two (or more) as well.
For those very adventurous folk, the Kenai Peninsula offers more than just road thrills. Kayaking in the fjords among the glaciers is available as is hiking in the Kenai Mountains. Just remember: if you do decide to go off into the wilderness, don't forget to exhibit the usual bear safety.
20. Park Loop (Acadia National Park)
Rugged New England coastline
States: Maine
Start: Hulls Cove Visitor Center
End: Hulls Cove Visitor Center
Total Distance: 27 miles
Best Part: Sunset beers at Cadillac Mountain
Maine is one of the most popular road trip destinations on the East Coast during the summer. People travel here over the weekend from as far as New York City or Philadelphia in search of some far more positive vibes. The Maine coastline, long beloved for its lighthouses and sandy beaches, for one reason or another, has long been therapeutic to these city slickers.
When it comes to coastal routes, few can compare to the Park Loop at Acadia National Park. Towering conifers, fine beaches, and that rough coastline that defines New England are all featured here; all are accessible from your car. There are several hikes around that will take you to some pretty solid viewpoints as well. The sunset at Cadillac Mountain is particularly good with friends and brews.
Because everyone wants to travel to Maine these days, it can get pretty crowded during the summer. Traffic will be bad and accommodation will either be limited or expensive. Autumn, though only slightly less busy, is a nice time to visit because of foliage. Spring is a great time though you should definitely have a coat with you. Visiting in winter should only be for the mad or photographically-inclined.
BONUS: The Ultimate USA Road Trip (According to Science)
For NIIIEERRRDDDSSS (kidding)
States: All 48 lower states
Start: New York
End: New York
Total Distance: 13,700 miles
Best Part: The end.
Does anyone remember when that viral image of the GREATEST ROAD TRIP ACROSS AMERICA EVER was making rounds on the web? How many people made plans to do the damn thing?
Admittedly, this road trip was more notable for its use of data, specifically using a genetic algorithm, which already sounds super cool. In lamens, this genetic algorithm allowed the whizzes behind this to see the greatest amount of American destinations with as little backtracking as possible.
So are you ready to tackle this bad boy? Are you really in the mood for the most epic USA road trip imaginable? Then put in that vacation time and pack the car up as much as you can. Don't skimp on the Red Bull either – there are going to be a lot of long drives here folks.
With all of those competing companies and exorbitant deposits, renting a car in the USA can seem scary. Frankly, I don't blame people if they ever felt intimidated in this country while trying to rent a car – there's a real learning curve.
But booking a rental car can be much more manageable if you know a few things beforehand. Here's what you need to know:
You need a credit card to rent a car in America – They rental company will use it to take a deposit for the car.
You have to be 18 – Even then, you'll get charged more if you're under 28. Younger drivers are seen as liabilities.
Don't book rental insurance with the rental company – Use a third party because they're cheaper and have better protection. Rentalcover is a great choice.
Do your research – Use search engines, like Rentalcars.com, to find the best prices. Sedans are usually the cheapest options. SUVs will cost much more.
Gas prices are different in every state – Use ViaMichelin to chart gas prices in each state. As a rule of thumb, gas is cheaper the closer you get to Texas and the South.
Some credit cards offer rental insurance – Be sure to check if your credit card company will cover you in the case of an accident. If they do cover you, you'll save heaps of money. You'll need to book the car with THAT card to qualify, of course.
Almost all American cars have automatic transmissions – I honestly think it might actually cost more to rent a manual…
Check to see if there is a cleaning fee – If you made a small mess, most companies won't charge you anything. Some shady ones will charge you a fortune for a gum wrapper though.
What to Pack for a Road Trip in the USA
First off: your road trip packing list is going to vary wildly depending on how long the itinerary is. If you're just going for a weekend, then your list is going to be much trimmer and less demanding. But some road trips can last weeks or even months. If you're like my friends, Kevin and Liz, you'll eventually end up living out of your car at which point it may be time to consider investing in the vanlife.
When packing for a shorter road trip, go minimal. Take the essentials, like a roadside safety kit and some form of navigation for example, and then add more as needed. If you're camping, take the appropriate gear. If you have a toddler, take a doona car seat stroller (it's a seriously cool piece of engineering). If you want to save money, take lots of snacks and pre-made meals to avoid stopping at diners. Easy peasy.
On the other hand, if you're planning a truly epic American road trip route, the likes of which would make Jack Kerouac or Alexander Supertramp jealous, then you'll need much, much more stuff. I cannot cover everything in this single section of the article but I can suggest that you check out our road trip packing checklist for more ideas and suggestions.
Aside from knowing what to pack on your road trip in the USA, you'll also need to know how to pack. If you have a lot of stuff, you will need to be conscious of how you organize everything, especially if you have a smaller, passenger-style vehicle. Get a system in place – use packing cubes and plastic bins to keep everything separated; bungee cables will be your best friends.
For more information on how to pack a car, check out this informative article at USA Today.
What to do in Case of Trouble while Road Tripping in the USA
A lot can go wrong on a road trip: tires can pop, accidents can happen, engines can stutter and stop. Getting stuck in the middle of nowhere because someone forgot to do something essential like change the oil could ruin your trip real fast.
It should go without saying that you need to be prepared for your road trip in the USA. I would like to make a friendly reminder here to do so. Prepare thyself before embarking on your asphalt odysseys by having the following, at a minimum: a roadside emergency kit and some form of insurance.
World Nomads' mission is to support and encourage travellers to explore their boundaries. They offer simple & flexible travel insurance, and safety advice to help you travel confidently.
They've been doing it since 2002 – protecting, connecting, and inspiring independent travellers just like you.
Get a quote below or read our in-depth review!
World Nomads provides travel insurance for travelers in over 100 countries. As an affiliate, we receive a fee when you get a quote from World Nomads using this link. We do not represent World Nomads. This is information only and not a recommendation to buy travel insurance.
A roadside assistance kit will contain everything that you could need to fix small problems on the road. They can't fix everything (you'll need a mechanic for that) but at least you'll be able to recharge a dead battery and arrest a bumper on the fly.
If the shit really hits the fan and your vehicle is really in trouble, that's when the insurance comes in handy. If there's a fatal problem with the car, trust me, it will be expensive, and having insurance means that you'll have a bit of financial help.
Now you could invest in two types of insurance: regular travel insurance or special rental car insurance.
Some travel insurance providers provide basic vehicular coverage and will cover you in certain circumstances. World Nomads insurance is a good example. Granted, there is at times some fine print regarding who qualifies. For example, drivers from some US states cannot qualify for vehicular assistance with World Nomads. Always be sure to double-check.
If you want total protection, go with an independent rental insurance company like Rental Cover. Most offer excellent coverage at very reasonable rates, more so than the rental car company will give you.
---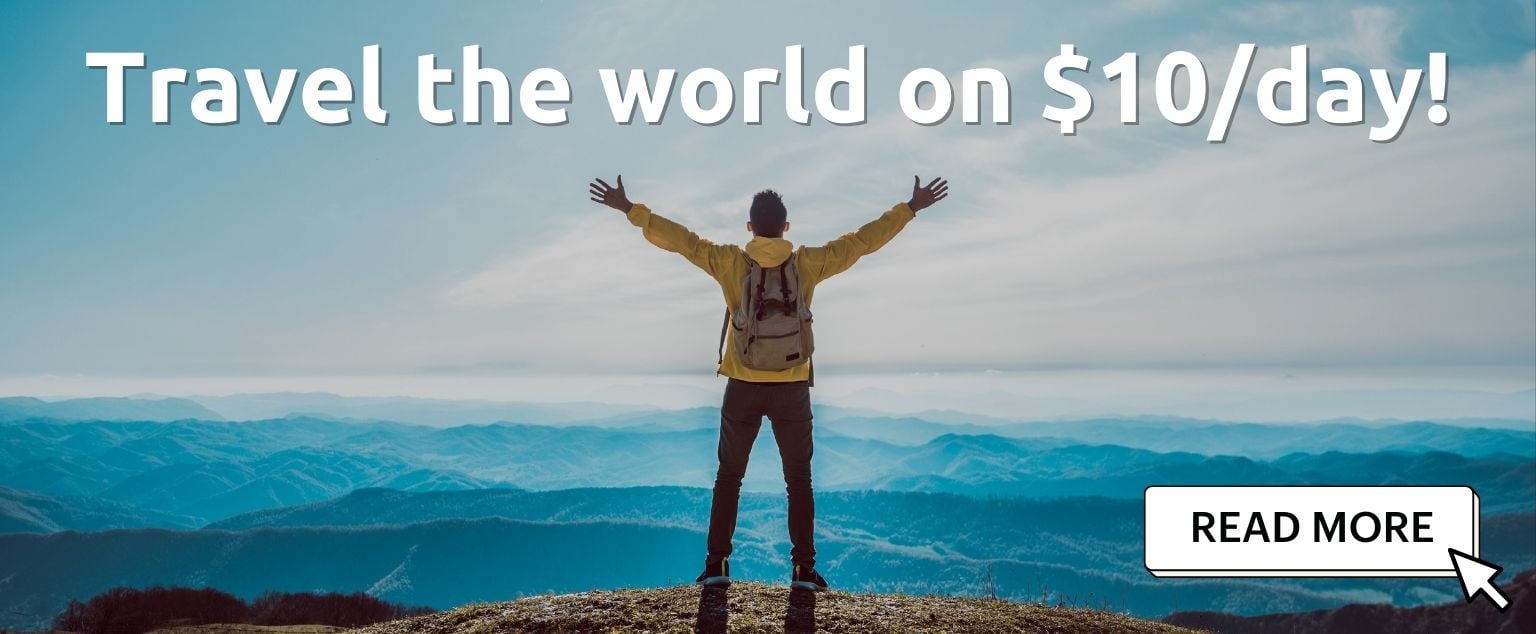 And for transparency's sake, please know that some of the links in our content are affiliate links. That means that if you book your accommodation, buy your gear, or sort your insurance through our link, we earn a small commission (at no extra cost to you). That said, we only link to the gear we trust and never recommend services we don't believe are up to scratch. Again, thank you!