What more can be said about Miami that hasn't already been covered by the blockbuster movies, the TV shows, the tabloids, and so on?
Well, actually there's a lot more to be said about this city. Miami isn't just about the beach, the clubs, the cabanas, or even the Cuban neighborhoods. In fact, Miami is much more than just a break from reality.
This Miami Travel Guide aims to present the city in a more well-rounded light. It's going to talk about activities other than blowing your money at the bars and going to the beach.
We're going to be talking about some unique things to do in Miami, some out of the way neighborhoods, and some places that you may have missed last time you were here.
Granted, we will still be covering many of Miami's most popular attractions, like South Beach, the nightclubs, and Little Havana because at the end of the day we still like these places, even if they are overrun.
So join us we go exploring for what to do and what to see in Miami. Along the way, we'll get see some amazing art, eat some truly diverse food, and, best of all, spend plenty of time in the sun.
By the end of our Miami travel guide, you'll be more than ready to experience this constantly changing and surprising city!
Miami ain't cheap, folks. This is one of the most desirable and most popular destinations in the USA. As such, it is in pretty high demand. When planning a trip to Miami, you'll have to be prepared for high prices.
That being said, Miami can be cheap so long as you have the right spending habits.
At The Broke Backpacker, we have spent years perfecting our own spendings habits and are here to share them with you now. Use our techniques wisely, young grasshoppers, and you'll find that it is possible to travel to Miami on a budget.
A lower daily budget for Miami will be around $60-$80. This will get you a dorm bed, groceries, bus tickets, and some extra spending money for beers or whatever.
Apartments and hotels in Miami are pretty expensive. Even the hostels in Miami are a bit on the pricier side. (Thankfully, they're not as bad as those California or New York, yet).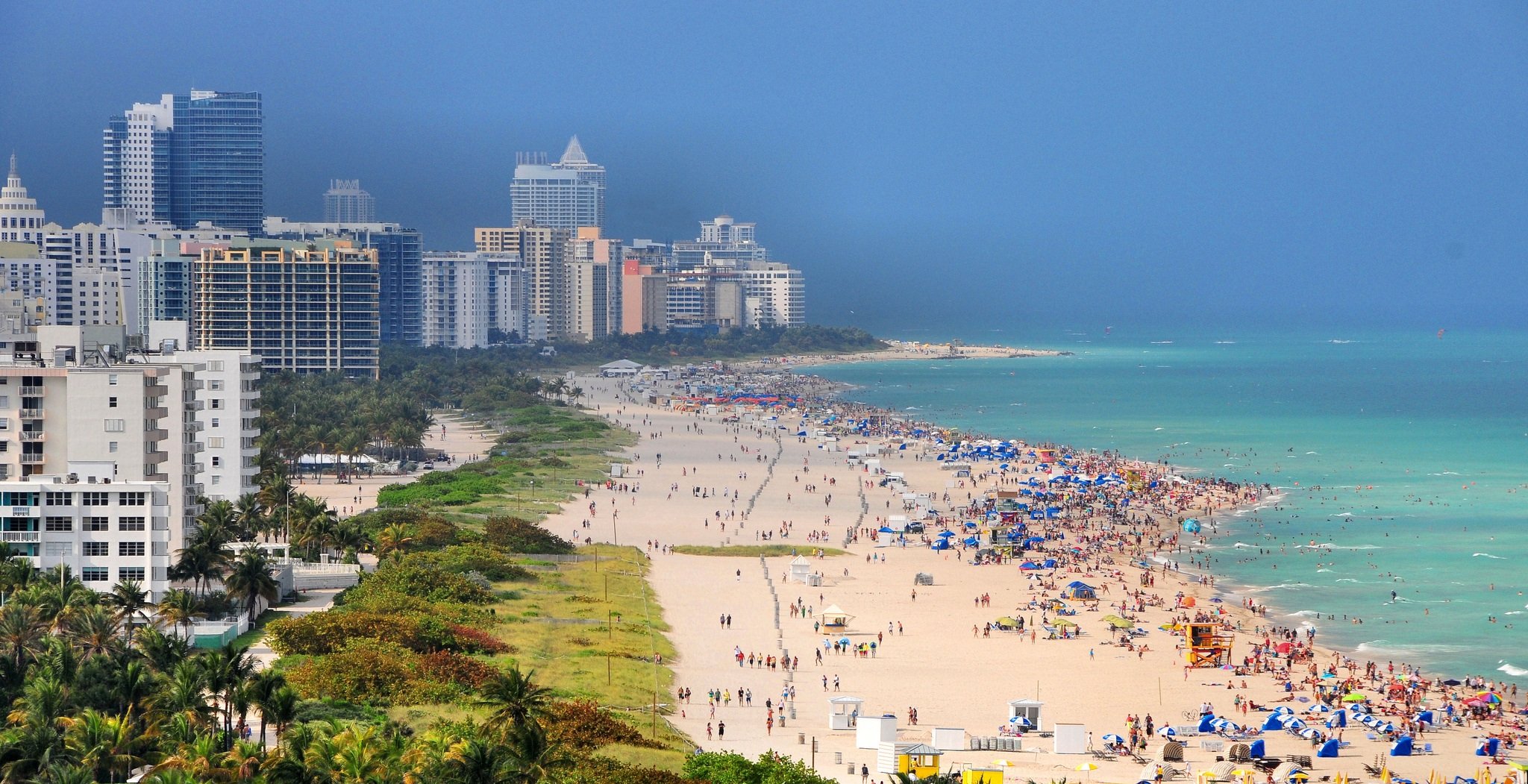 If you want to save money on accommodation, visit during the offseason or try camping out.
Food in Miami is also costly if you insist on dining out every night. In order to truly do Miami on the cheap, you'll need to cook your own food often. Go to food trucks when you need a break.
Public transport in Miami is cheap so I wouldn't worry too much about it. If you have your own car in Miami, do be mindful of parking expenses. To save money, we recommend purchasing a RentalCover.com policy to cover your vehicle against any common damages such as tires, windscreens, theft, and more at a fraction of the price you would pay at the rental desk.
Finally, drinking in Miami can be expensive; if you want to go clubbing, get ready to pay a lot for it. In my opinion, drinking at a local beach bar or Latin lounge is better. Even though they are still expensive, they're way better than mega-clubs.
Below is a breakdown of a daily budget in Miami including average costs of each expense.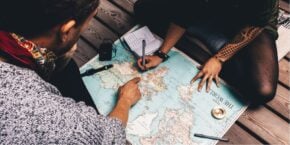 Heading Off-Grid? • Download This Guide as a PDF!
Sign up to The Broke Backpacker's EXCLUSIVE VIP AREA below and download our top backpacking guides as PDFs – go offline with peace of mind!
Miami Daily Budget Breakdown
Hostel Dormitory: $25-$40
Basic room for two: $150
Cheap AirBnB: $60-$90
Average cost of public transport: $2.25
City-Airport transfer: $2.25
Sandwich: $8-$10
Beer at a bar: $6-$8
Coffee: $3-$5
Bottle of whiskey from the market: $18
Dinner for two: $50-$75
Miami Travel Guide Budget Tips
Remember folks: Miami can be cheap but you got work at it! Try using some of these money-saving tips to make your trip here more reasonable and affordable.
Prefade before going to the club – Fancy spending $15 for a rum and coke at the club? Yeah, us neither. Do the majority of your drinking prior to going to the club and then avoid buying drinks there. Just remember your poker face with the doorman.
Take advantage of happy hour – There's always some type of food or drink special going on in Miami, whether it's the famous free tacos from the Wood Tavern or drinks from Gramps. Use deals like these whenever you can.
Get a City Pass – If you're planning on going to be spending a lot on tickets, you may want to get a special pass instead. City Passes offer free entry to many of the top points of interest in Miami and buying one could be a wise decision.
Support food trucks – It ain't easy getting by in the food industry. These guys go out every day before dawn to set up shop in order to sell you cheap, delicious food. They are among the best places to eat in Miami and deserve your support.
Do free shit – Check out our list of the best free things to do in Miami below!
Cook all of your food – Avoid eating out in Miami all the time as you'll go broke quick. Buy your own groceries and cook your own food back at the hostel to save money.
Use a water bottle – Save money by investing in a good water bottle and then drink from the tap.
Miami is a tourist hotspot with more forms of accommodation than you can imagine! The beach penthouses and opulent lofts, the kind of places you see in magazines and movies, are what Miami is most famous for. While you can certainly stay in these if you can afford them, there's still a lot more to this city.
There are plenty of hotels in Miami, although I wouldn't stay in one if given the option. No matter where I go, I find hotels to be bland, boring, and often impersonal. More often than not, I'm disappointed.
I would much rather stay in an Airbnb. Having my own apartment is awesome because I have more space, freedom, and connection with the owners. It really feels like at a home-away-from-home sometimes.
If you really wanted to visit Miami on a budget, you can try urban camping as well. You'll probably need a car to reasonably access the campground, but a rental may still be cheaper than a hotel.
Miami also has a number of international hostels. These can be fun, social, and, above all, affordable. Just make sure you do your research before booking a hostel in Miami – I've had my friends tell me that some of the shabbier ones are frequented by sketchy people.
To help in your search for the best hostels in Miami beach, I've provided my top recommendations below.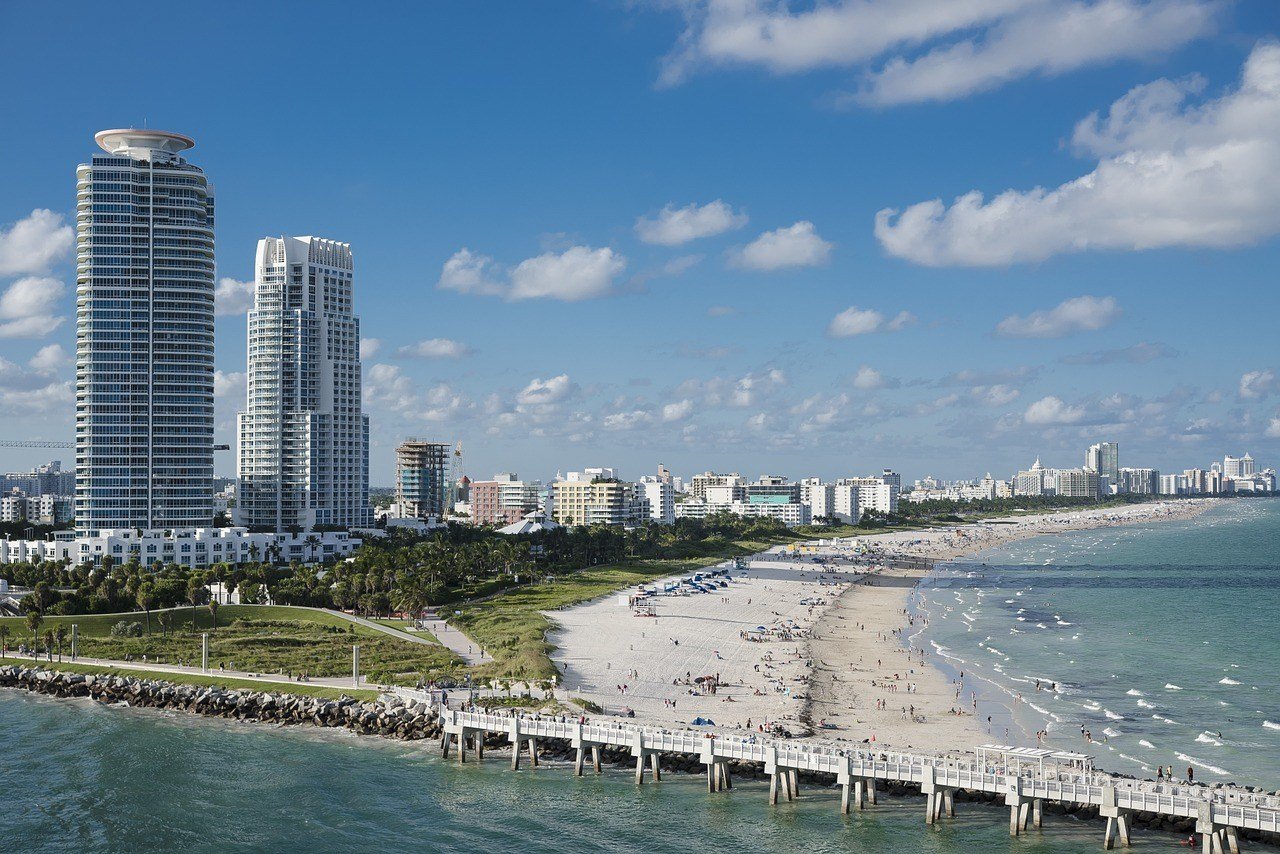 Overall Best Hostel in Miami – Rock Hostel
Rock Hostel has everything that a great hostel should – clean facilities, excellent design, cheap prices, and, of course, free breakfast! Rock is conveniently located in the Art Deco District of Miami Beach, which is a cherry on top. If you want to explore Miami further, the hostel also arranges tours for the rest of the city. All-in-all doesn't get much more complete than this.
Best Party Hostel in Miami – Bed&Drinks
True to its name, this is one of the best party hostels in Miami and is geared towards pretty much two things – sleeping and drinking. Upon checking in, you'll receive a free drink at the onsite bar, which also has a happy hour for 5 hours a day. The bar itself is known to give out free drinks at all times of the day and is, in itself, a staple of Miami nightlife. The hostel is located right next to the beach and offers free breakfast, both of which are crucial for hangover days.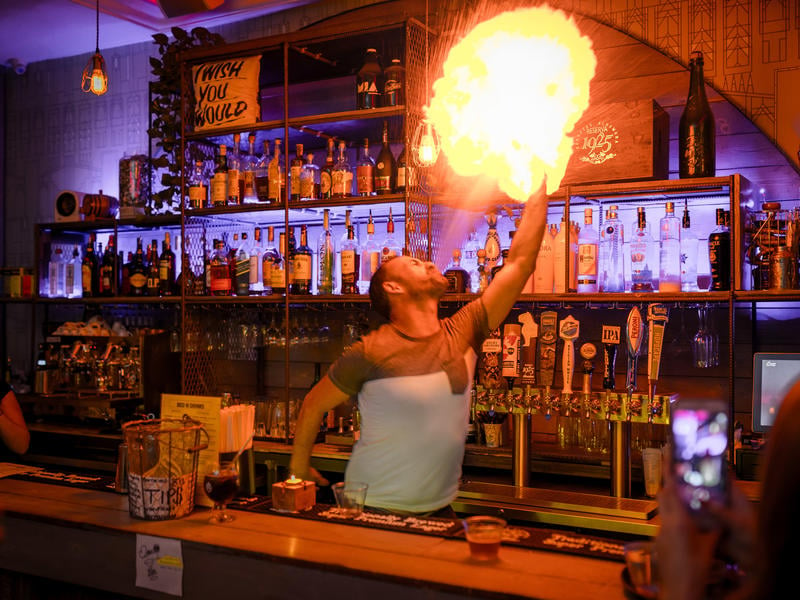 Best Cheap Hostel in Miami – Miami Hostel
Miami Hostel is chalked full of freebies: free popcorn nights, free BBQ free nachos, free bikes, all of these and more. It's located at the western edge of Miami Beach and isn't too far away from the action. Even so, the downstairs cafe turns into its own little nightclub in the evening. Among all of the freebies, breakfast is oddly not one of them.
The 950 sqft apartment has everything you need for a comfortable stay, our guests will feel to be like home. The apt has 1 45 inches flat tv in the living room and 1 flat tv in the bedroom. One king-size bed, 1 sofa and air mattress if needed.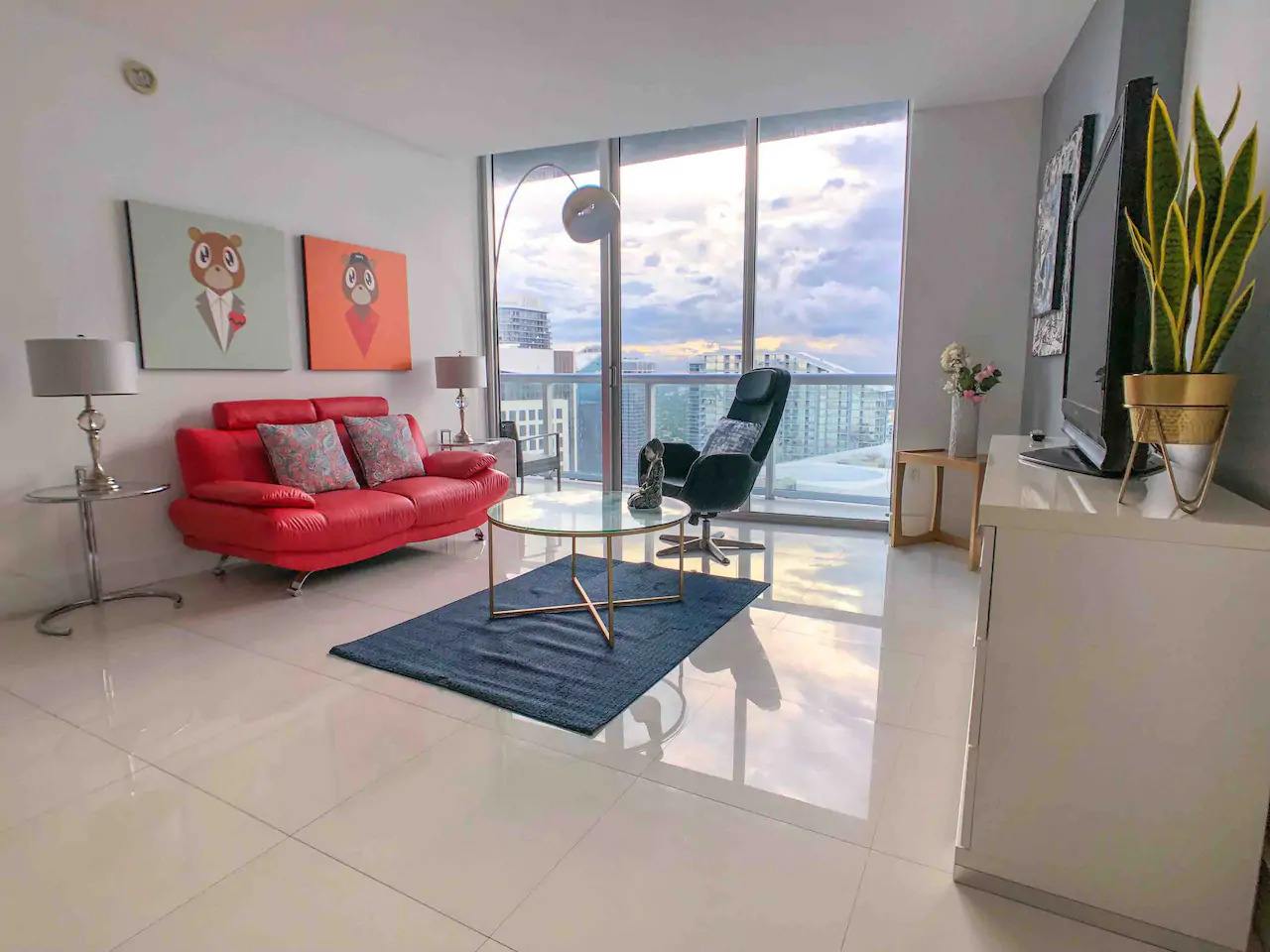 1. Have a rooftop cocktail
I'm not really into clubbing and I don't really care for fancy restaurants. But what I can admit to enjoying is a cocktail on a glamorous rooftop lounge. It's a great way to beat the heat and one of the best things to do in Miami at night after a long day.
2. Attend a festival
A lot of Miami's tourism is based upon festivals and there are a shitload of good festivals in this town! Ultra, Calle Ocho, and Carnival are some of the best parties in Miami, but there are plenty more where those came from.
3. Relax in the park
Sometimes, the best parts of Miami do not involve sand, the ocean, or nightclubs at all. Sometimes just laying out in the grass is the best thing to do in Miami. This city has a lot of great green spaces, like the Fairchild Tropical Garden, Kampong Garden, and Crandon Park.
4. Watch a game of Jai-alai
One of the most unique things to do in Miami is to watch a couple of Jai-alai matches. It's a weird looking sport, with equipment that looks straight out of an 80's sci-fi film, but it's fast and a thrill to watch.
5. Seriously, try Salsa
Miami is a city of passion, performance, and enjoyment. Few things can encapsulate the spirit of this Latin-infused place better than salsa dancing. Even if you have no idea what you're doing (like me), it's still a must do in Miami.
6. Walk down Ocean Drive
Sure, you can chill on some of the beaches in Miami at Miami Beach but that's only half the fun. Take a walk down the islands main street, Ocean Drive, and just take a gander at all the eccentric stuff around.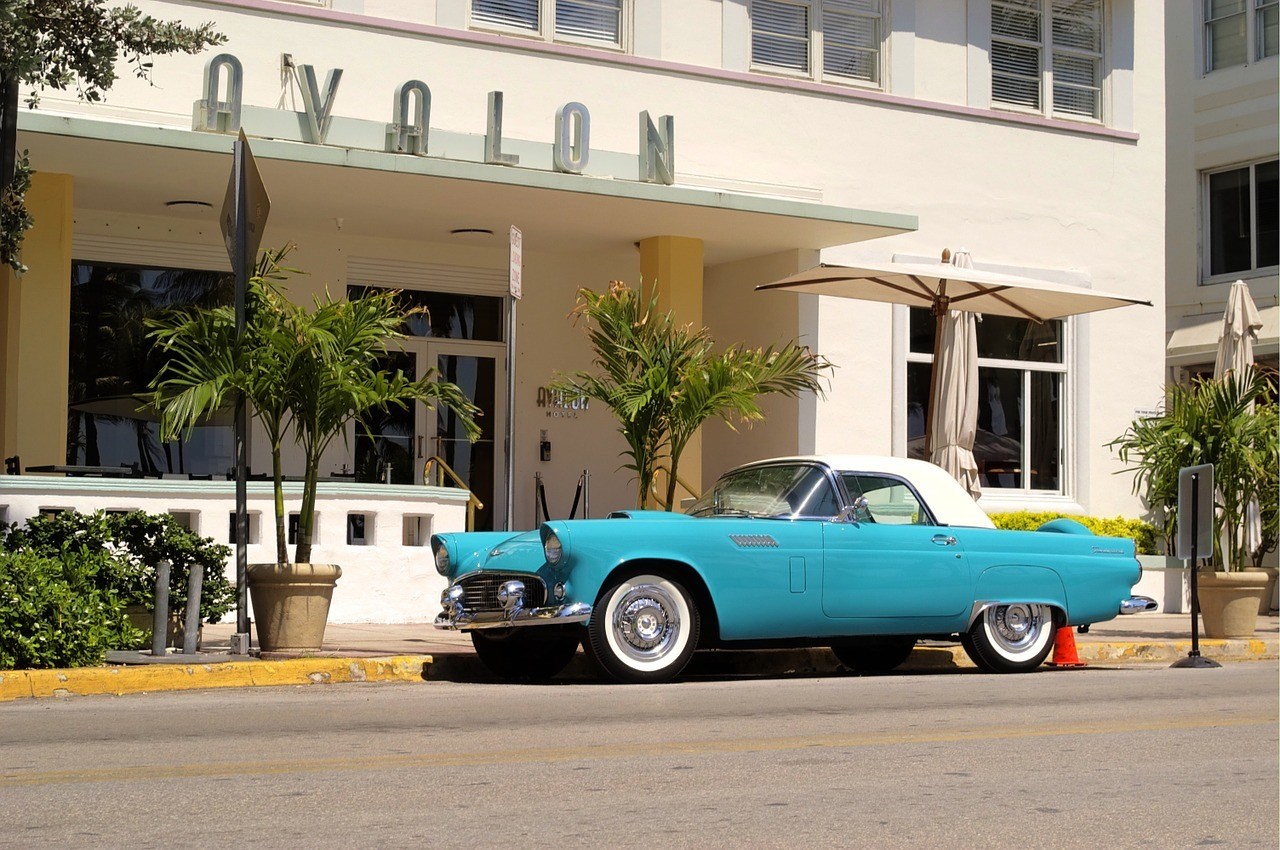 7. Find out what a Miami hipster is like
So what's a Miami hipster? That's a tough question but it can probably be answered in Wynwood. If you still can't pin down what makes a Miamite a hipster (maybe, it's the resurgence of the tiki shirt?) at least you'll still have a chance of hanging in one of the coolest neighborhoods in Miami.
8. Find the best Cuban food in Little Havana
What kind of Miami travel guide would this be if we didn't suggest visiting Little Havana for at least an afternoon? While it may be overrun with tourists these days, it still manages to impress with amazing Cuban food and cultural heritage.
9. Visit a museum
Wondering what to see in Miami? Take a break from admiring all of the beautiful people and go check out one of the many museums nearby. Miami actually has a very impressive arts scene and you may just forget about all that skin back on the beach after visiting one.
10. Get outside the city
There's a lot of cool stuff to see outside of Miami, like the Everglades, Florida Keys, Fort Lauderdale, and then some. We might suggest extending that Miami itinerary of yours if you really plan on doing this city justice.
Best Free Things to Do in Miami
Check out these free things to do in Miami while you're visiting! They'll help you stick to a budget and do Miami on the cheap.
Exercise – Miami is a good looking city, and not without hard work I might add. It seems that everyone here is either running, hitting the outdoor gyms, or doing yoga on the grass. Join one of the many free workouts around Miami while you're there!
Take a hike – Some of the best parts of Miami are seen from the trail. Head to Biscayne Key and take a walk around the island or head out of town to Big Cypress.
Free Miami museums – The Bass, MOCA, Wolfsonian, and Perez Art Museum are free on certain days of the month. The Institute of Contemporary Art and Frost Art Museum are always free!
Jazz at the MOCA – This museum also hosts a free jazz concert on the last Friday of every month.
Street parties – Miamites love a good street party and throw several throughout the year. Look for free festivals every month, like Viernes Culturales in Little Havana, Wynwood Art Walk, and Big Night in Little Haiti, among others. Each is held on a different day of the month.
SoundScape Cinema – The City of Miami Beach sponsors free film showings, which are projected on the facade of the New World Center's ExoStage. They're shown between March and May – check the schedule here.
Bookleggers – This one may be more geared towards locals but it's still really cool. Bookleggers is a traveling library that hands out free books at predefined locations. Yes, everyone gets a free book who attends! Trades are also allowed.
AED events – The Miami Arts and Entertainment District regularly hosts free and public cultural events. Check their website for more details.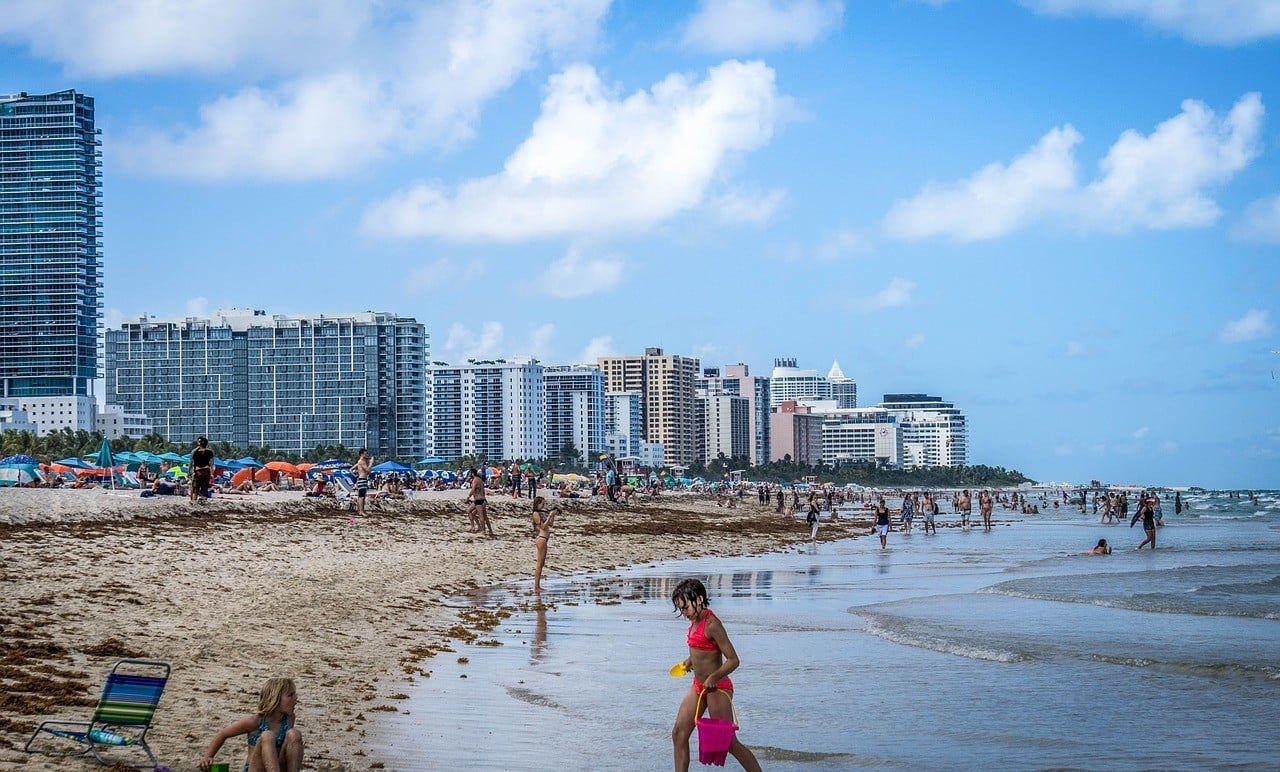 Best Day Trips from Miami
There are a lot of places near Miami worth visiting! Check out any one of these below:
Fort Lauderdale – Fort Lauderdale was once the Spring Break Capital of America – a place mostly known for its college beach parties, horrified locals, and cringe-worthy MTV specials with Carson Daly. But Fort Lauderdale has grown up a lot in recent years and has actually become a much more lowkey place. It makes for a relatively relaxing respite from Miami's glitz and glam and is definitely worth visiting.
Everglades – The Everglades – a land forgotten and left alone by civilization; a place where gigantic reptiles and legendary swamp monsters still roam. No Miami travel guide would be complete without suggesting a trip to this unique and vital ecosystem. Visit for the chance to race crocs, ride an airboat, hunt snakes, and search for the elusive Skunk Ape.
Biscayne Bay – The bay itself is located right next to the city and runs all the way down to the Florida Keys. At the beginning of the keys, you'll find Biscayne National Park, which offers, hands down, the best diving near Miami. If you're not interested in diving, you can also visit Stiltsville in the bay. You may have seen these rickety wooden huts from afar in Miami already.
Florida Keys – Visiting this chain of islands is often considered a must do in Miami. These delicate atolls and reefs are connected by a single bridge, the Overseas Highway, and it is arguably one of the finest drives in the world. Taking this route, you'll glide over the emerald waters of the Caribbean before ending at Key West. From Key West, you can then charter a boat to Dry Tortugas National Park.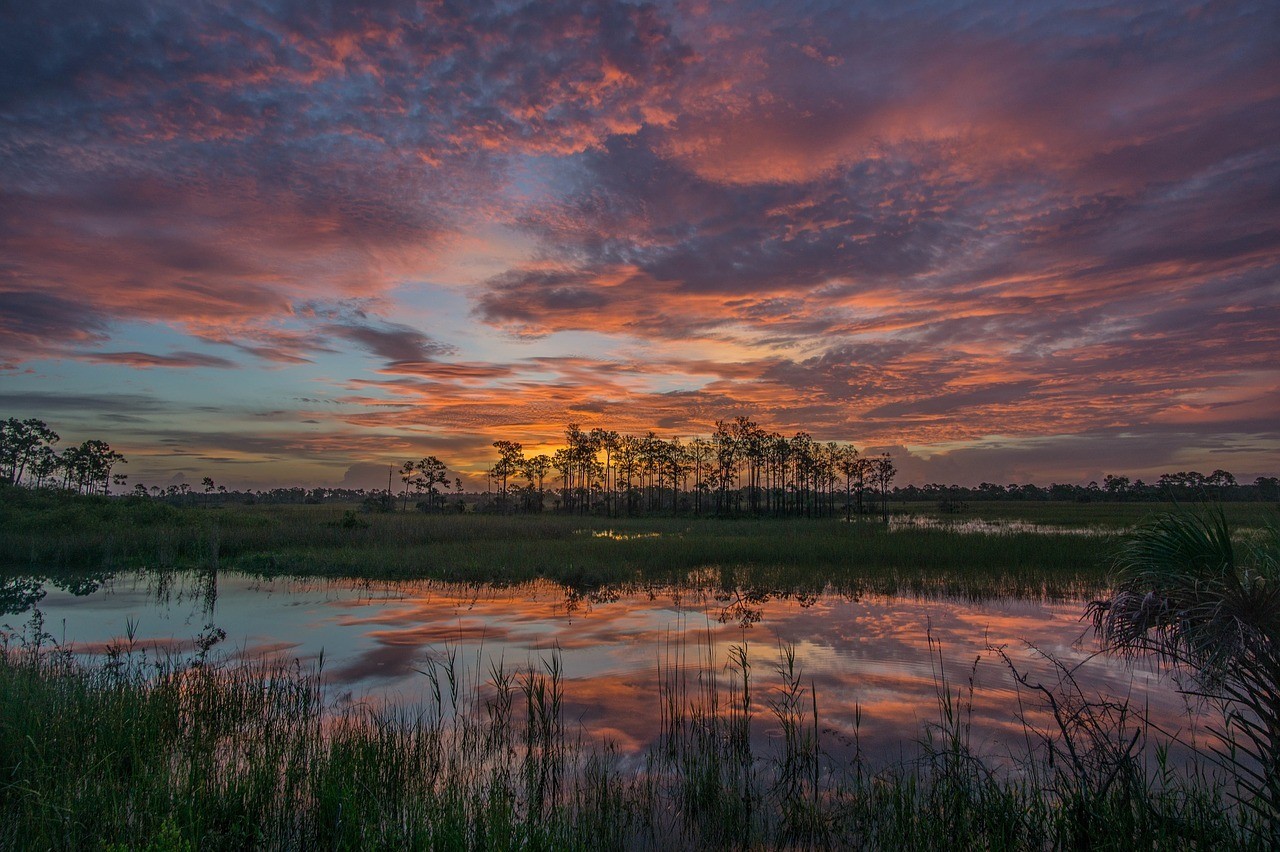 The following is a sample 3-day itinerary for a weekend in Miami. Most of the top destinations mentioned in this Miami travel guide are covered in this section.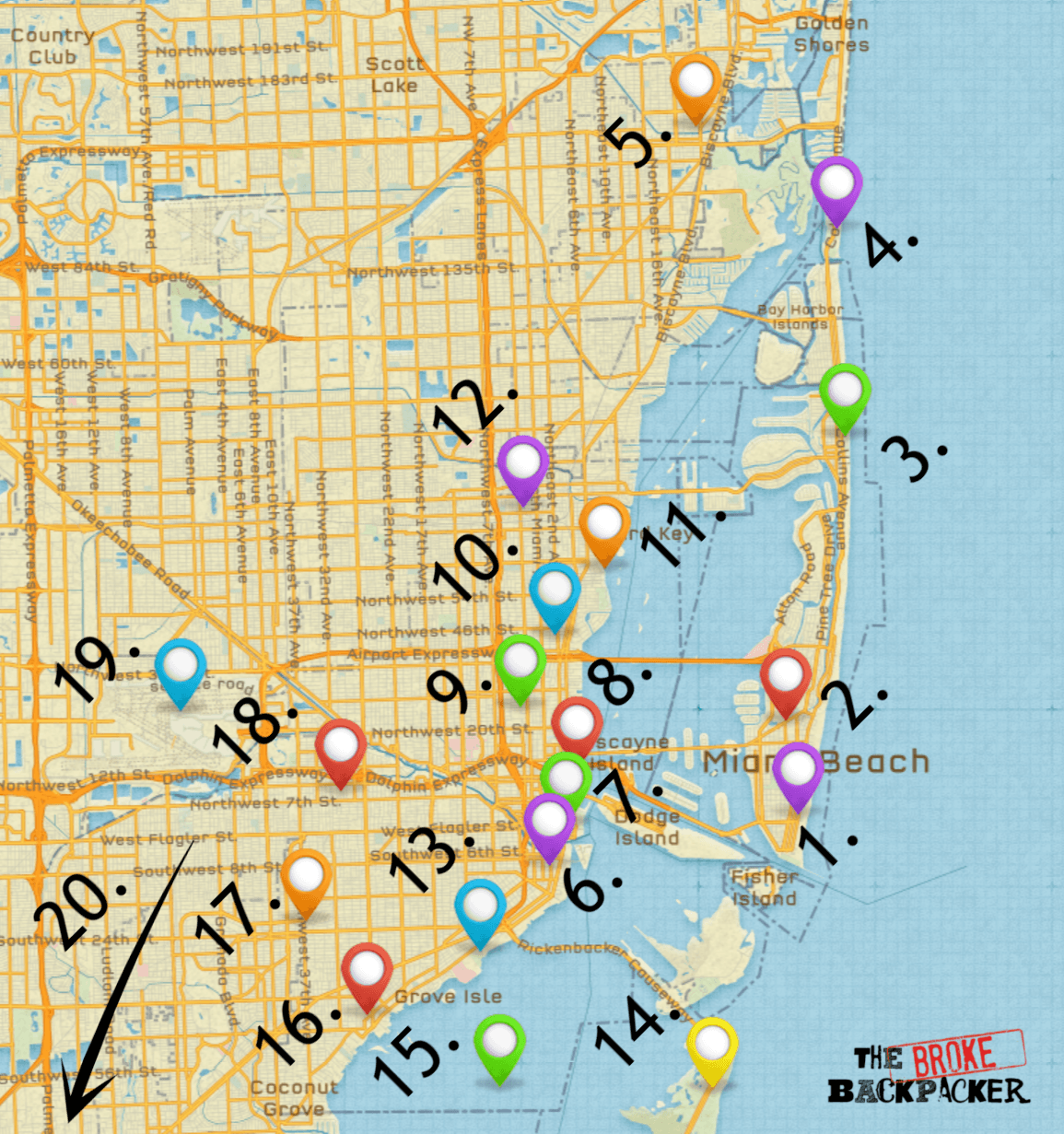 Day 1: Miami Beach
On the first day of our Miami travel guide, let's get the really touristy stuff out of the way. Today, we're hitting Miami Beach for a little fun in the sun.
South Beach is probably what everyone imagines Miami to actually be: glitzy, bustling, shores and boardwalks. This the part of town is where you'll find all of the most popular beaches, not to mention a number of famous attractions. Miami Beach is a big place though, so be ready to move!
Ocean Drive is the legendary street that runs the entire length of the Beach. It's a pretty touristy place where you will find old vintage cars and cabana hats, but it's a cool place to walk around regardless.
One of the best parts of Miami Beach is the Art Deco District. As the name implies, this where you'll find a large array of Deco architecture, a style you find more commonly in metropolises like NYC. It's an uncanny feature and not something you'd expect to see in a tropical city. Be sure to drop by the Wolfsonian Museum, which exhibits more examples of this style.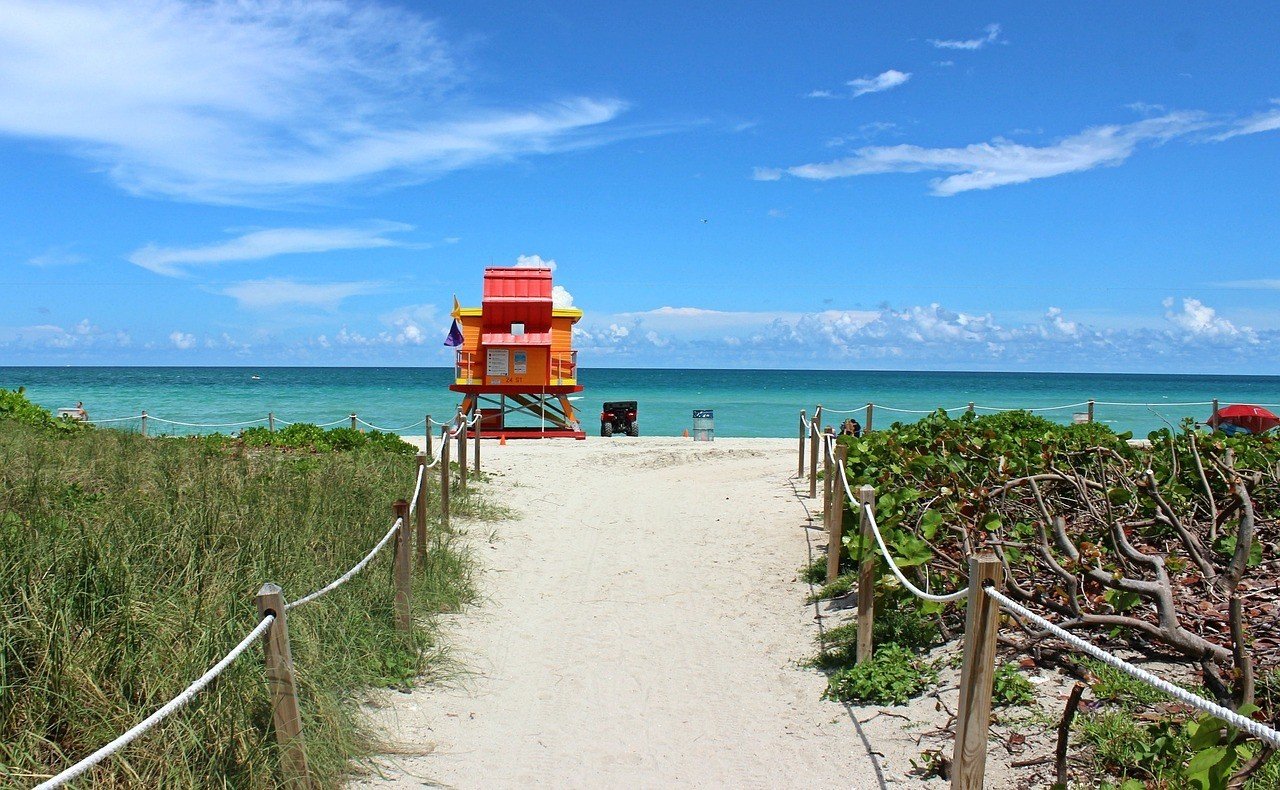 Further north is the City Center of Miami Beach. There's a really powerful monument to the Holocaust worth seeing here, specifically near the Expo Center.
North from here, the crowds thin out and the beaches get less hectic. Aventura, Surfside, and Bal Harbor are all neighborhoods with excellent strips of sand. If you start seeing free balls and topless women, then you've made it to Haulover aka the nude beach.
DO try to visit the Ancient Spanish Monastery at the very edge of North Miami Beach. It's a really interesting cultural site and a bit of a hidden gem.
If you're liking the typical Miami-Instagram vibes, why not base yourself in the area? Miami Beach offers some of the best (and most unique) Airbnbs that can make your stay into something truly special.
Day 2: New and Old Miami
The second day of this Miami travel guide is dedicated to the city proper. This includes the Downtown, Wynwood, Design District, and Little Haiti neighborhoods.
Downtown Miami feels a little bit more urban than Miami Beach, but still retains an air of chicness.
A common misconception is that this part of Miami actually has beachfront. Unfortunately, this is not the case. Even without beaches, Miami proper still looks damn pretty though, thanks to its glittering skyscrapers and canals.
The Bayfront is one of the primary points in Miami's Downtown area but is super touristy. A little bit north of Bayfront is the Frost Museum of Science and Pérez Art Museum, which are much cooler.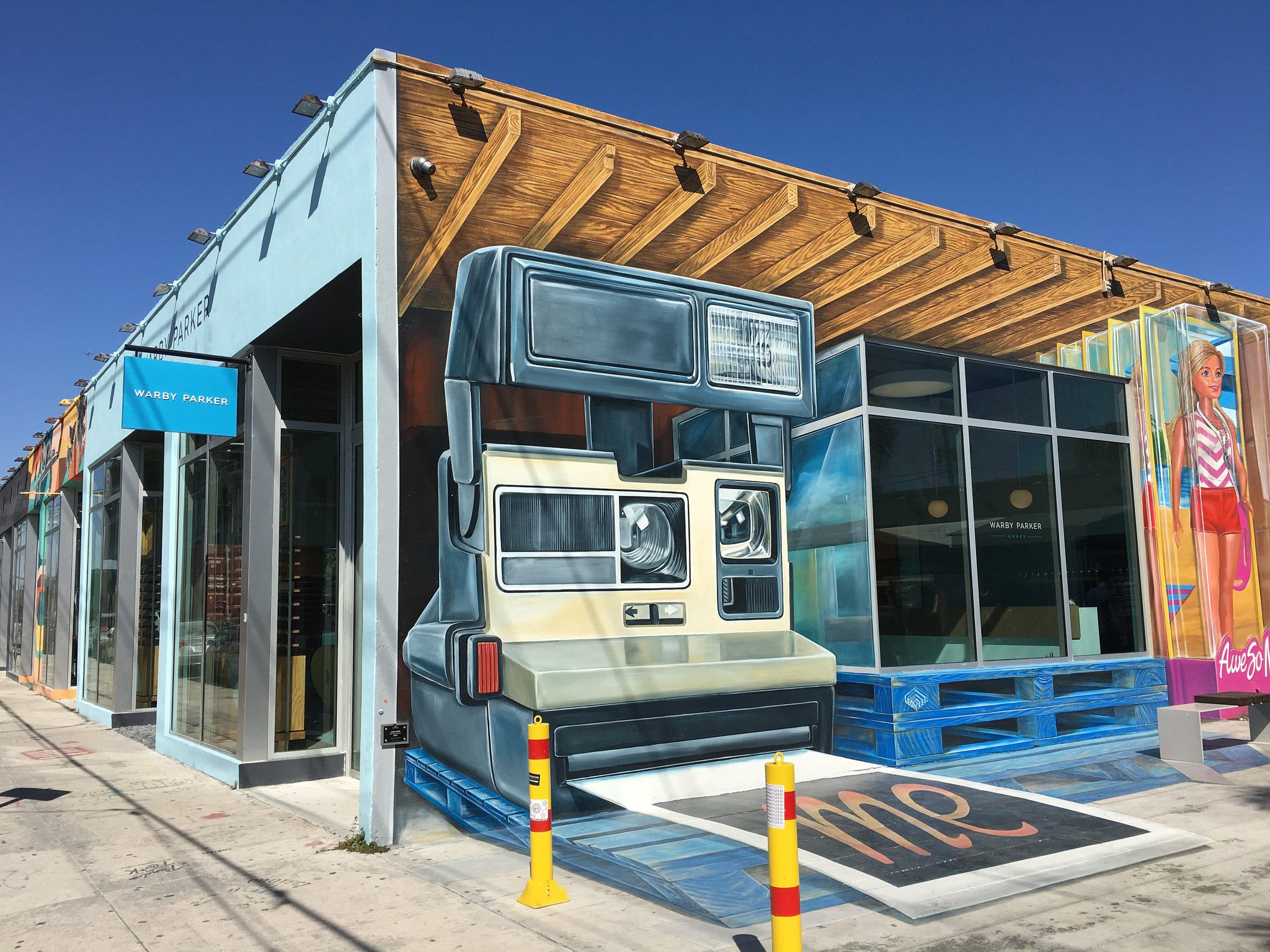 If really you want to see something more alternative, check out the archeological site at Miami Circle Park just south of Bayfront.
Next, let's move on to Wynwood, one of the coolest neighborhoods in Miami. This part of town is where you'll find all of the hipsters, street art, and breweries. It's a little slice of Brooklyn in an otherwise antithetical-Brooklyn place. Be sure to stop by the Wynwood Walls for photos (Instagramers abound) and the Margulies Collection at the WAREhOUSE.
Next to Wynwood is the Design District, which is another artsy area, albeit a bit more polished. (In other words, it's a redeveloped area akin to the Pearl in Portland or SoMa in SF.) Check out all of the abstract, futuristic architecture and, while you're at it, the Institute for Contemporary Design and de la Cruz Collection.
Beyond Wynwood and the Design is when the landscape begins to feel a bit more authentic. Little Haiti is where you'll find a hefty portion of Caribbean heritage (look for food and art) though gentrification is threatening the locals, as usual.
Day 3: Little Havana and…?
On the last day of our Miami travel itinearary, we're going to be dedicating it primarily to visiting everyone's favorite cultural enclave, Little Havana. Unless you plan on spending the entire day here, there will be time to see a couple of other things, which you will have a choice of.
Before venturing into Little Havana, let it be known that this place is a bit of a tourist trap, especially if you visited the more raw Little Haiti the day before. You'll be walking amongst crowds of tourists here, fighting over the right to take photos of old men smoking cigars and brightly colored walls.
Little Havana is still charming. The food here is admittedly amazing and probably the best you can get outside of Cuba. I highly recommend popping into Azucar Ice Cream Company to try local flavors, like key lime or avocado.
After wrapping up Little Havana, you have a couple of options:
Coconut Grove – A very popular area that is known for its gardens and parks. The impressive Vizcaya Museum is here.
Coral Gables – A mostly residential area that hosts the Venetian Pools, a local favorite.
Key Biscayne – Home to the best beaches outside Miami Beach. Also hosts the graffiti-ridden Miami Marine Stadium and the endearing Cape Florida Lighthouse.
Homestead – If you can get this far south, it would be well worth your time. The awesome Coral Castle is here, as well as a number of cool markets. Knaus Berry Farms is legendary for its cinnamon rolls and I hear this guy Robert makes a mean juice.
Miami Travel Guide and Tips
Best Time of Year to Visit Miami
If you're from any major American city, ask your grandparents what the weather in Miami is like. Either they or someone they know has retired in South Florida (probably Boca Raton) because of its fair climate. They'll probably say something like, "it's simply goooorgeous down there in the winter but unbeeeaaarable in the summer." Thanks, nana.
Miami is a semi-tropical climate after all, which means that it has mild, dry winters and hot, wet summers. In essence, there are only two distinguishable seasons in Miami – a dry one and a wet one.
Winter is when most people plan a vacation to Miami. Usually, they intend to escape whatever subarctic tundra they came from – be it Chicago or Boston – and spend a few days in the Florida sunshine.
As such, winters are generally the busiest and most expensive time of the year to visit Miami. Hotels are often completely booked up and what is left is often prohibitively expensive.
Summer is the low season due to the generally uncomfortable weather. Miami summers are hot, humid, sticky, wet, and sometimes violent. Rain falls almost every day – in short, intense downpours, like the rest of the tropics – and even hurricanes can touch down during this time.
Summers are also the cheapest time to have a vacation in Miami. Lodges will be offering discounted rates and you won't have to worry about so many tourists.
"Spring," or the end of winter, is a fun time to travel to Miami as lots of festivals happen during this time. Carnival is big here (thanks to the Latin heritage) and ULTRA, a quintessential electronic music festival, is also around this time.
Just be careful around Spring Break. College kids from up north can descend upon Miami like a swarm of beer-guzzling locusts.
To know what to pack based on the season, check out our Florida Packing List.
Getting in and out of Miami
Miami is about as far southeast as you can get in the continental United States. It's the penultimate end of the road for the epic Highway 1, which runs all the way down the East Coast from the Canadian border. A lot of people opt to enter Miami via this interstate route.
Highway 1 runs right through the heart of Miami before exiting the city and heading toward the Florida Keys. Interstate 95 runs almost perfectly parallel to the 1, albeit a little farther west and closer to the interior of the state.
Note that I-95 is actually the proper highway and will be a quicker ride. Highway 1 is more scenic, as it runs the length of the coast, but takes longer.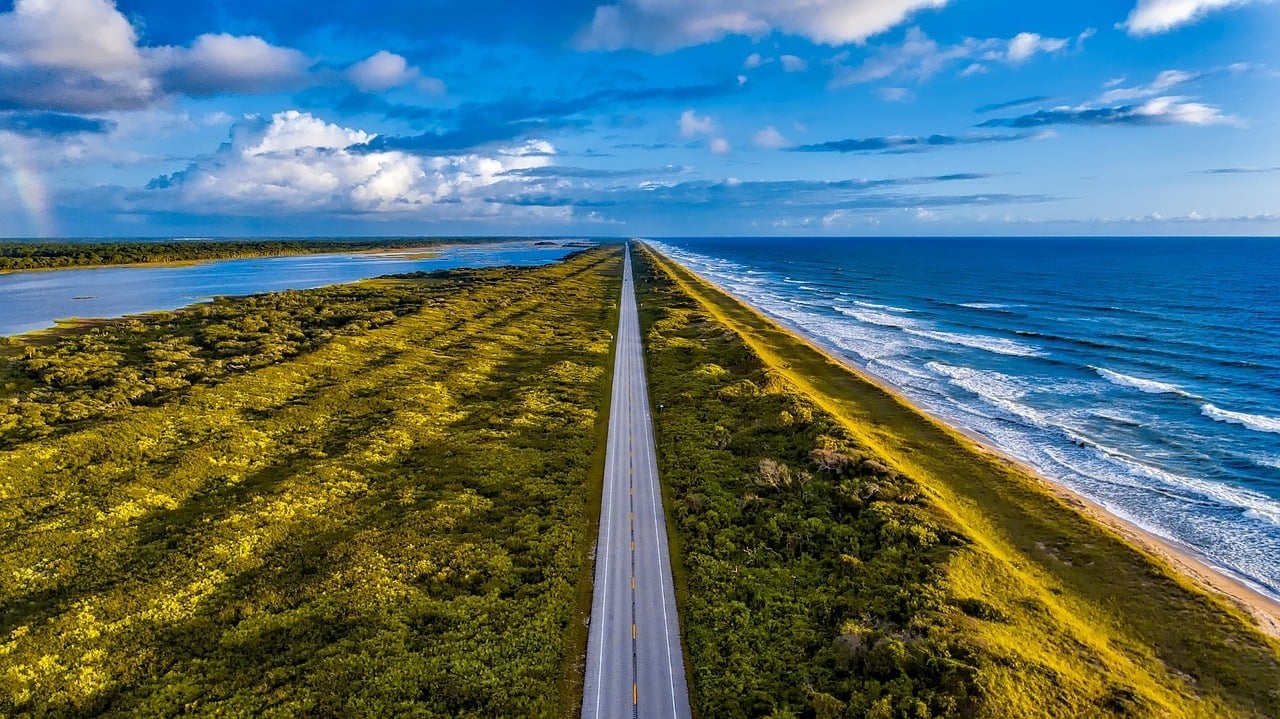 The two other overland courses into Miami are Highway 41 and Highway 27. 41 heads through the Everglades and Big Cypress before veering north along the Gulf Coast of Florida. Highway 27 makes north for Central Florida. (Perhaps you're going here in search of the elusive Florida Man?)
Long distance buses and trains, of course, ply these routes on a daily basis. You can catch an Amtrak train from most major Atlantic cities – e.g. DC, Philadelphia, etc – but expect to pay a pretty penny. Bus companies, like Greyhounds and MegaBuses, are cheaper and cover more destinations.
The other option is flying into Miami. Miami has one major international airport that is located somewhat on the edge of Little Havana.
Miami's also got water options – you can board a cruise at the terminal and it can take you to the Carribean, Central America or even to the Mediterranean. It's definitely not the option for fast travel, but if you DO end up on a boat, brush up on all the things you shouldn't do on a cruise.
There is public transport from the airport but it's a little confusing. There are multiple ways of going Downtown, some of which include an extra shuttle to a separate airport station. I suggest you ask for help at the front desk or plan your transfer using Google Maps.
How to Get Around Miami
Many people underestimate the sheer size of Miami. While the urban core is relatively small, the greater metropolitan area is enormous. In fact, Miami is one of the largest cities in the USA when you take into consideration the entire urban area.
Make no mistake, this is a BIG city. As such, getting around can either be straightforward or deceptively daunting.
Miami has a large and diverse public transportation network that runs throughout the entire city. Via a Metrobus, Metrorail, or even the touristy Metromove, you can actually travel just about anywhere in Miami, so long as you have time. Lemme place emphasis on the word time.
Outside of Miami's tourism areas, public transport gets pretty scarce. This makes it difficult to reasonably visit multiple outer-neighborhoods in a single day.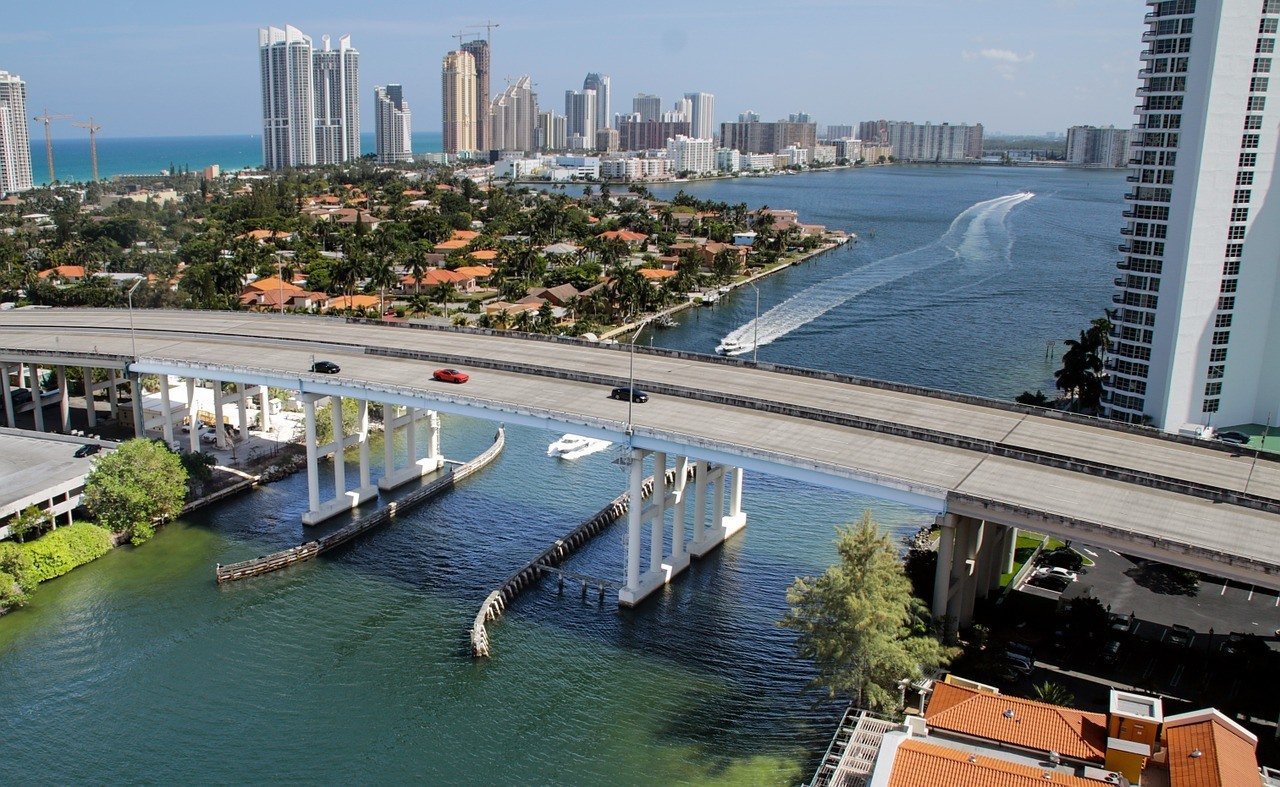 Using public transport, visiting places like the Deering Estate or Hammock will turn into all day affairs on their own. If you wanted to visit really off the beaten path attractions in Miami, like the Coral Castle, it could take hours with public transit.
So, does this mean that you need a car for Miami? Yes and no.
Having a car does make it much easier to explore Miami. With your own vehicle, you have the freedom to go where you want and when you want. If you're planning a day trip from Miami to the Everglades or Keys, a car will be even more useful.
That being said, you'll obviously have to pay more for a rental car and its expenses, like parking, insurance, and gas.
You can still experience Miami without a rental car and have a great time doing so! You'll just be limited to the more central districts around Downtown, Miami Beach, and Coconut Grove.
Safety Guide for Miami
Miami can be really strange and downright crazy sometimes, and the news loves to glom onto the most surreal stories from here. Remember that piece that came out a while back about a guy who took bath salts and started eating people like a zombie? That was in Miami.
But if everything that the media or Hollywood said about Miami was true, then the city would be filled with Caribbean drug lords, serial killers, and more good cop-bad cop duos than needed.
In truth, Miami is actually one of the safer American cities to visit, as we reveal in our Miami safety guide. As it has become more popular with tourists, Miami has clamped down hard on crime and it's not as bad as it's made out to be.
That being said, bad shit can still happen at any time, especially to those who travel foolishly. I'm talking about the people who walk the streets at night alone, who wear gold chains everywhere, who decide to leave their bag alone on the beach; these sorts could use a refresher course on how to travel safely.
There are a couple of neighborhoods that you should be wary of. Parts of Little Havana and Little Haiti can be pretty sketchy after dark.
Overtown has a really bad reputation and visiting it is often advised against. (Granted, the food here is reportedly great and the neighborhood is getting better, slowly.)
Avoid Liberty City/Model City unless you have a good reason to go and a good sense for danger.
Of course, Miami is famous for its blow but you need to be careful with it. The coke here is very pure – not like that baking soda you get in Denver or LA – and a big line could really fuck you up. Do too much, and you'll be up for days or, worse, end up in the ICU.
Travel Insurance for Miami
Traveling without insurance would be risky so do consider getting good backpacker insurance sorted before you head off on an adventure.
I have been using World Nomads for some time now and made a few claims over the years. They're easy to use, professional and relatively affordable. They may also let you buy or extend a policy once you've started your trip and are already abroad which is super handy.
If there's one insurance company I trust, it's World Nomads. To find out why I use World Nomads, check out my World Nomads Insurance review.
Getting an estimate from World Nomads is simple – just click the button or image below, fill out the necessary info, and you're on your way!

Miami Accommodation Hacks
Sometimes you need your own roof above your head – we know the feeling. Other times, you're doing everything you can save a nickel and dime.
If you're trying to cut the costs of travel to Miami, then maybe it's time to stay somewhere besides a hostel or apartment. If you need to save money, try one of these:
Couchsurf! – Couchsurfing is the best way to save on cash when it comes to accommodation since most of the time you're crashing for free. Staying with a local host is also a great chance to encounter a more authentic side of the city and to visit hidden Miami.
Problem is Couchsurfing is really popular (duh, it's free) and demand often outstrips supply. Hosts are picky as well so you'll need to impress them with an eye-catching message. Definitely, try Couchsurfing but be ready to be rejected.
Tap into your backpacker network – You never know when you have a friend in a foreign city! If you've traveled a lot, you may have met someone from Miami or know someone who knows someone.
Reach out to people! Ask to stay with people for a night or two in exchange for cooking dinner or a bottle of wine. If you don't know anyone in the city, ask your friends if they do – travelers understand the struggle and are usually more helpful than you think.
Camping – Urban camping is a growing trend in many cities. These campsites are comfortable, sociable, safe, and cheap. They are often located on the outskirts of town, which means they are quieter too. Research to see if Miami has any and be sure to bring your own tent too!
Eating in Miami
Miami is worth visiting for the food alone. The cuisines here are as hugely varied as its residents and benefit from amazing local ingredients. In Miami, you can find just about anything your stomach desires.
Being the tropics, fruit and seafood are huge parts of the local diet. Fish is often caught and served fresh the day of and is garnished with a bright array of fruits, like mango, pineapple, and papaya. Citrus is ubiquitous and is used in everything from mojitos to fresh Florida OJ to key lime pie.
As befitting a city that is dominated by Spanish and Caribbean cultures, Latin foods are obviously the overwhelming trend. International staples like Jamaican jerk, South American ceviche, and the ubiquitous fried plantain will easily be found in Miami.
Of course, Cuban food and its most exalted sandwich, the Cubano, reigns supreme.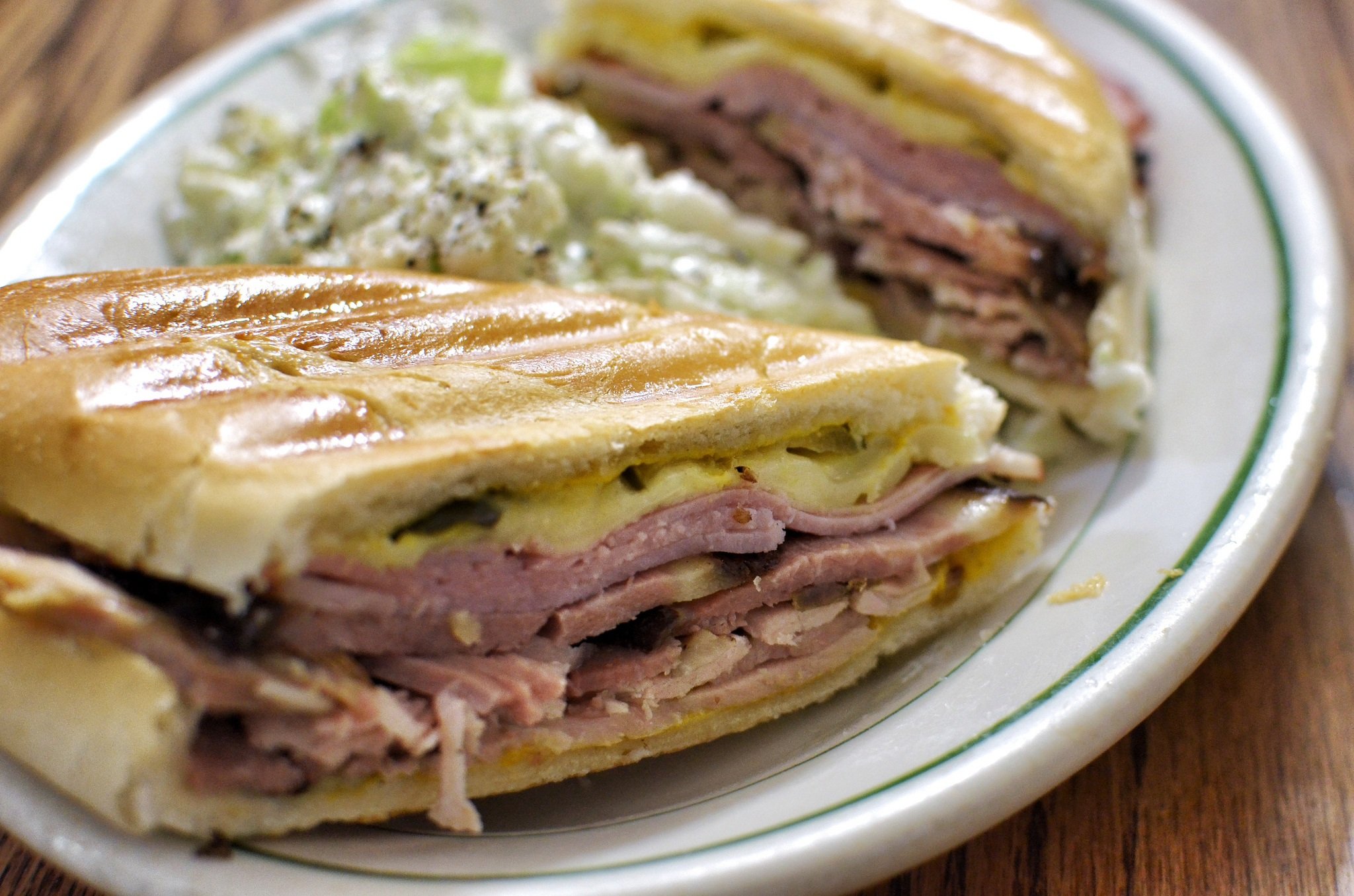 Little Havana is the place to go for Cuban food. In fact, one of the most well-known places to eat in Miami, Versailles, is here. It's touristy but the lines are worth braving if there's a cup of sweet Cuban coffee and a pastry at the end. While exploring Little Havana, be sure to keep an eye for the frita – the heavenly Cuban version of an American hamburger.
Let's not forget that Florida is still a part of the South, which means comfort food is in no short supply. There are some solid BBQ joints in the northern parts of the city. Whether or not you feel comfortable traveling to the likes of Overtown or Liberty City for the ribs is up to you.
You should definitely take advantage of Miami's food truck scene. It's been struggling in recent years but divvies up dishes that are worthy of your taste buds.
Nightlife in Miami
Miami nightlife is all about one thing and one thing only, people – clubbing. This is a city where people go to see and BE seen, at the same time.
Miami is the kind of town that attracts the most lavish and ridiculously wealthy people in the USA. Celebrities travel to Miami to spend significant amounts of cash and, as such, clubbing has become a very serious business in this town. Some of the most famous nightclubs in Miami that appeal to this clientele include: E11EVEN, LIV, and Club Space.
If you wanted to go clubbing in Miami, you'll need to look the part. No shorts, open toe shoes, cheap haircuts, or doe-eyed youngsters here – you'll be chewed up and spit out by the bouncers if you possess any of these qualities.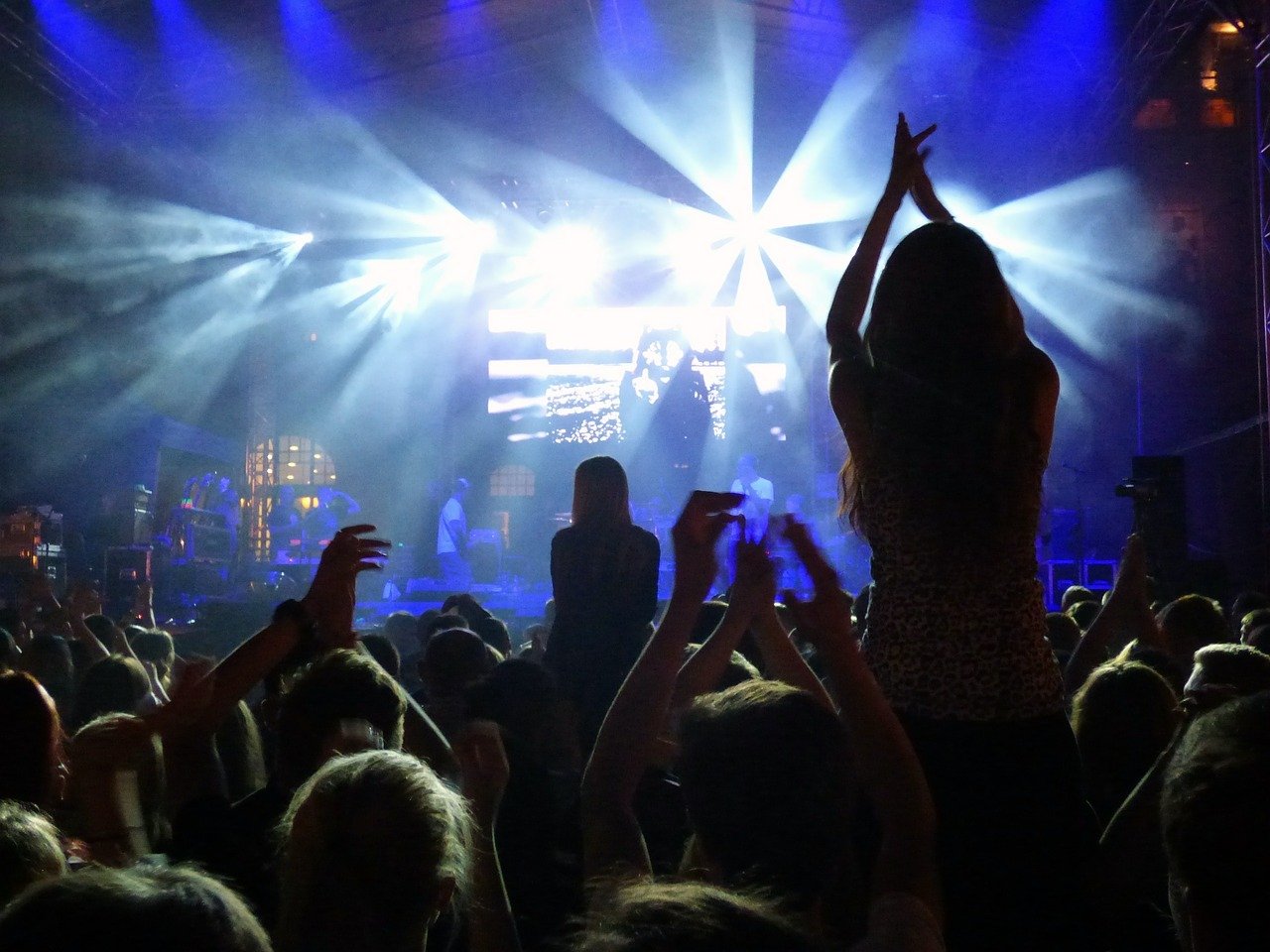 You'll need to be dressed to the nines before even considering entering a Miami club. Being a female also helps you in this endeavor. Guys will probably need a few girls with them if they hope to enter. (Offer some girls a drink to help you get in if you're alone.)
Honestly, though, I hate nightclubs. I would much rather chill in a bar and shoot the shit with friends.
Thankfully, there are plenty more laidback things to do at night in Miami!
Being the hipster hangout that it is, Wynwood has lots of fancy-dives and breweries around that are easy to hang out (check out Wynwood Brewing Company). Little Havana is where you'll find all of the Latin-themed joints (visit the iconic Ball & Chain lounge).
Finally, you can even find some cool spots in the outer neighborhoods, like Coconut Grove (see Monty's Raw Bar). If you really want to go local, check out The Wetlab on Virginia Key.
Books to Read on Miami
Check out this Miami reading list to learn more about the city! Each novel does a great job of exploring Miami. (This Miami reading list was taken from our Florida road trip guide.)
Make Money Online while Traveling Miami
Traveling in Miami long-term? Keen to make some cash when you are not exploring the city?
Teaching English online is a great way to earn a consistent income—from anywhere in the world with a good internet connection. Depending on your qualifications (or your motivation to obtain qualifications like a TEFL certificate) you can teach English remotely from your laptop, save some cash for your next adventure, and make a positive impact on the world by improving another person's language skills! It's a win-win! Check out this detailed article for everything you need to know to start teaching English online.
In addition to giving you the qualifications to teach English online, TEFL courses open up a huge range of opportunities and you can find teaching work all over the world. To find out more about TEFL courses and how you can teach English around the world, read my in-depth report on teaching English abroad.
Broke Backpacker readers get a 35% discount on TEFL courses with MyTEFL (simply enter the code BACKPKR), to find out more, please read my in-depth report on teaching English abroad.
Whether you are keen to teach English online or looking to take your teaching game a step further by finding a job teaching English in a foreign country, getting your TEFL certificate is absolutely a step in the right direction.
Being a Responsible Traveler in Miami
Visiting Miami will bring you ample opportunities to participate in debauchery, and it is very important to have fun, let loose, and get a bit wild at times. Most trips I have been on across the world have included at least a few mornings where I wake up knowing I went too far.
But there are some things that will put you in the category of a straight up jackass if you do them. Being super loud and obnoxious in a tiny hostel at 3 AM is a classic rookie mistake. Show your fellow travelers respect whilst traveling in Miami and anywhere else for that matter! Use this Miami travel guide wisely, young padawans, and don't put us to shame.
Reduce your plastic footprint: Perhaps the best thing you can do for our planet is to make sure you do NOT add to the plastic problem all over the world. Don't buy one-use water bottles, the plastic ends up in a landfill or in the ocean.
For more advice, check out our post on how to be a responsible backpacker.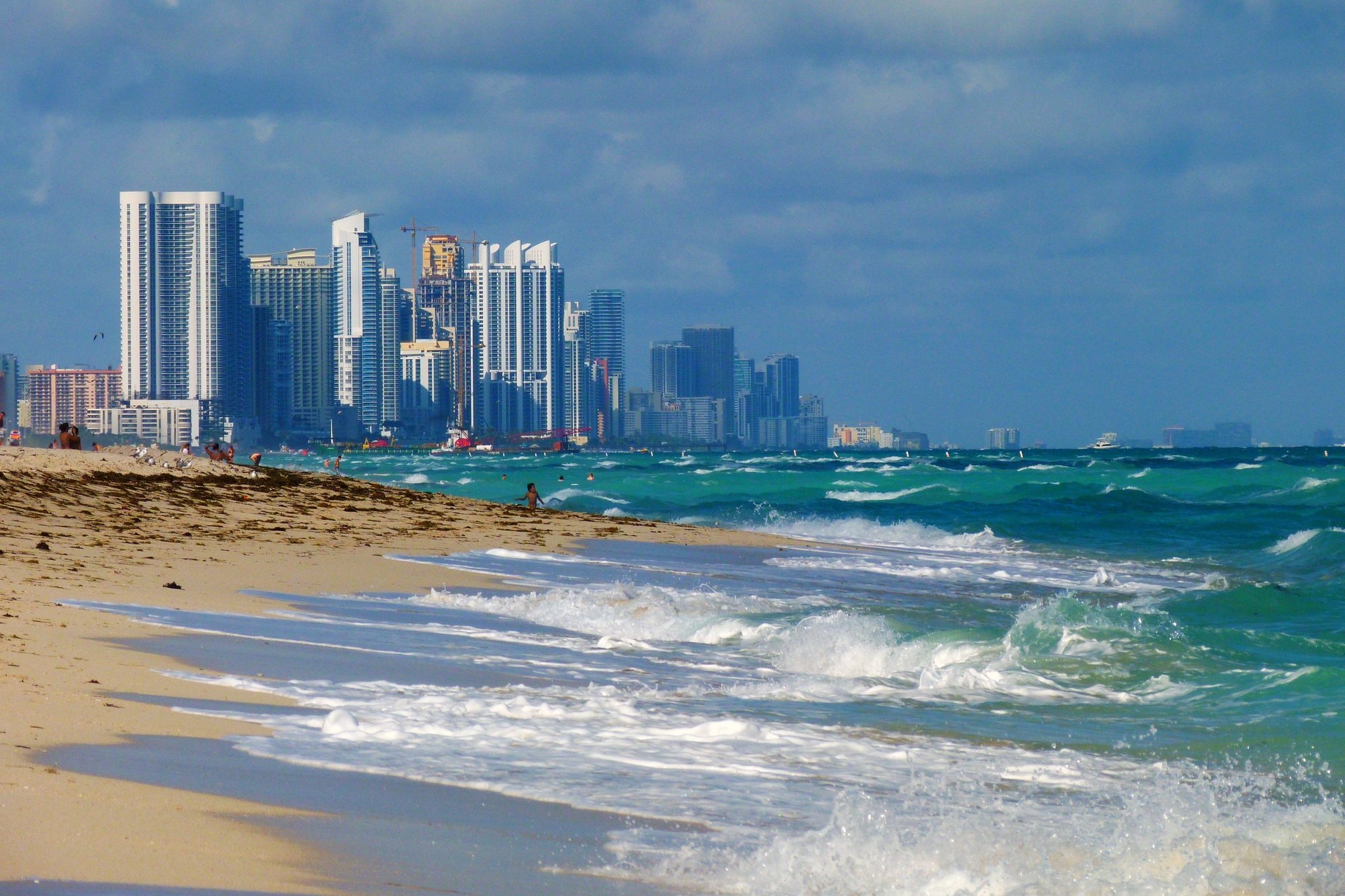 ---
Find out how YOU can support the site.
We work hard to put out the best backpacker resources on the web for free! It's all about helping out our tribe of awesome backpacker readers (that's you!). Please visit the link to find out how you can help keep the site going 🙂
For the sake of transparency, some of the links in our content are affiliate links. This means that if you book your accommodation, buy a piece of gear, or sort your insurance through our link, we earn a small commission at no extra cost to you. We only link to stuff that members of the Broke Backpacker team has actually used and never endorse products or services that are not up to scratch. Thanks for your support!