There are many different ways to cut your costs when traveling but one of the most effective is to cook your own food on a camping stove.
When I first hit the road, I took a battered tent and a nearly indestructible old backpacking stove given to me by my father. I camped out, and cooked my own meals, probably four or five days a week for nearly two years… It was an amazing experience, and it saved me a ton of money.
I'm a big believer in supporting yourself when you travel or hike. It makes you a stronger, more capable individual.
Hiking with a tent and a high-quality backpacking stove gives you a ton of freedom as it means you don't have to worry about where you're going to sleep, or how you're going to eat, in the evenings. (Did I also mention that it's a great way to save money?)
I've been camping out and cooking on lightweight backpacking stoves for nearly ten years now. I'm passionate about being outdoors and providing for myself in beautiful and truly wild places.
Over the last ten years, I've owned half a dozen different backpacking stoves and in this in-depth review, I'll compare some of the best backpacking stoves on the market. That way, you can set up the best backpacking cooking system for you based on the weight, fuel, and budget criteria you have.
From the best cheap backpacking stove to top end jetboil alternatives, we've got heaps of options for you here.
Quick Answer: The Best Backpacking Stove
Comparison of the Best Backpacking Stoves
BEST OVERALL BACKPACKING STOVE
BEST OVERALL BACKPACKING STOVE
MSR Windburner
Feature Highlights > $$$$
Weight > 15.5 oz
Dimensions > 8.3 x 4.5 x 4.5 inches
BEST WOOD BURNING BACKPACKING STOVE
BEST LIQUID FUEL BACKPACKING STOVE
BEST LIQUID FUEL BACKPACKING STOVE
MSR WhisperLite
Feature Highlights > $$$
Weight > 10.9 oz
Dimensions > 3.07" x 4.76"
BEST VALUE CANISTER BACKPACKING STOVE
BEST VALUE CANISTER BACKPACKING STOVE
MSR PocketRocket 2
Feature Highlights > $$
Weight > 2.6 oz
Dimensions > 7.25 x 5 x 4 inches
BEST BUDGET BACKPACKING STOVE
NEXT GENERATION STOVE
NEXT GENERATION STOVE
Soto Windmaster
Price > $
Weight > 3.1 oz
Dimensions > 5.7 x 3.8 x 1.3 inches
The best backpacking stoves are reliable, durable, and heat up your hot cocoa quickly. Let's be honest, a warm meal after hiking through the wilderness, and waking up to a hot cup of coffee before hitting the trail again, can be pretty damn hard to beat!
I've saved an absolute fortune over the years by cooking my own meals and traveling with a lightweight backpacking stove was a crucial part of my strategy to stay on the road long-term.
There are a ton of high-quality hiking stoves out there so really you are spoiled for choice. Read on and I'll introduce you to the different types of backpacker-friendly lightweight camping stoves on the market as well as the best backpacking stoves for newbie hikers…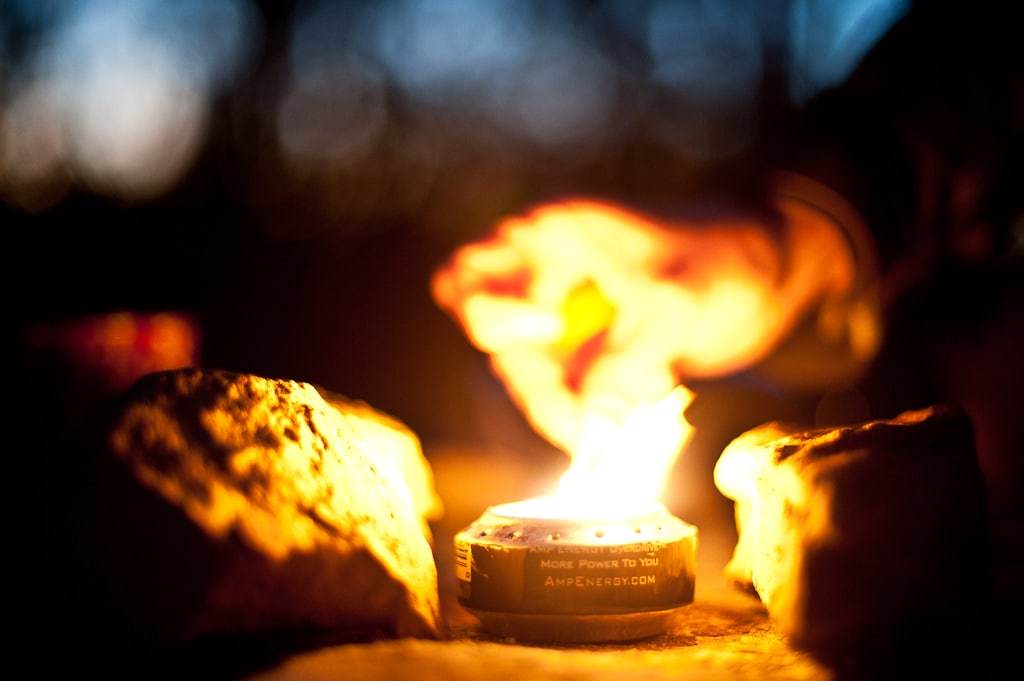 The best backpacking stoves don't add kilos to your backpack. Thankfully, over the years, outdoor companies have continued to innovate and have introduced lightweight stoves and more compact ultralight stoves.
I've used several backpacking stoves over the years and whilst my favourite is MSR Windburner – no competition – there are still lots of other great options on the market.
When determining what is the best backpacking camp stove for you, consider a number of factors before boiling down (nice) to the best option. I've compared a variety of the best backpacking stoves on the market (chosen from all of the differing stove systems available) with detailed backpacking stove reviews, to help you sift through the clutter…
Top Picks for 8 Best Backpacking Stoves in 2022
#1 MSR Windburner – Best Overall Backpacking Stove
MSR's flagship hiking stove is the MSR Windburner and this, by far, is the best quality backpacking camping stove on the market right now. The Windburner has everything you need in its all-in-one integrated stove/cookware stove system including a secure 1L lock pot, coffee press, and a personal mug. If you buy this set, you won't need anything else.
This stove runs off canister fuel and whilst it is expensive, it offers a fully integrated stove system which makes it simply awesome!
When you're camping, you need a high-quality and lightweight cooking stove that will protect against the wind, and this is exactly what makes the Windburner so great. The primary combustion and internal pressure regulator enables this hiking stove to be unaffected by the surrounding weather, which is why the boiling times are so rapid.
What We Like and Don't Like
Pros
All-in-one stove/cookware
Protects against wind
Highest quality
Cons
Expensive
No automatic lighting button
Canister sold separately
This camp stove has high profile stability, even on uneven terrain. During windy weather, the folding fuel canister stand prevents it from tipping over. The Windburner can cook up enough grub for two people and potentially more if you purchase additional accessories.
Although the MSR Windburner is easy to use, it doesn't have an automatic lighting button. Another downfall is that the fuel canister are sold separately; therefore the overall price of your backpacking stove increases when you purchase the necessary extras.
Our team just love the MSR Windburner and feels it's the best stove on the market by far. One of the real stand-out features for them is the sheer speed at which the stove heats anything inside it up, even on freezing days in windy temperatures. No more burning through heaps of fuel as you wait, shivering, for your soup! They also felt the control system was super simple too.
Is the MSR Windburner for you?
While not cheap, this is one of the highest-quality camping stoves on the market. MSR offers incredible products and the Windburner is a worthwhile investment if you'll be spending a lot of time camping out and want to be able to cook up quickly and easily. It's, without a doubt, my top recommendation.
Ladies & Gents, It's Time to Step Your GEAR Game Up. 😉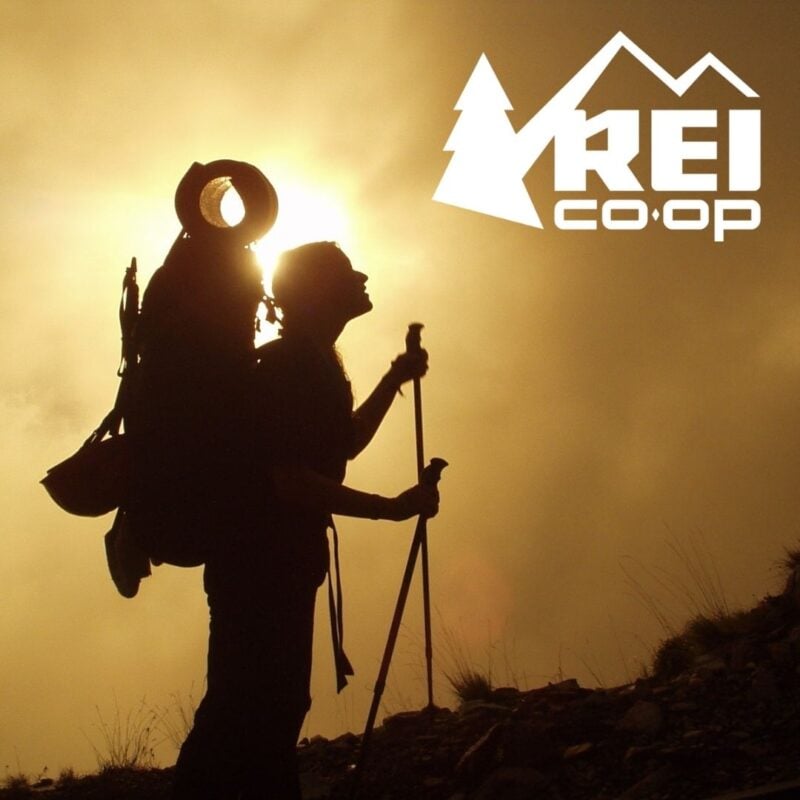 REI is one of America's biggest and most-loved outdoor gear retailers.
Now, for just $30, get a lifetime membership that entitles you to 10% OFF on most items, access to their trade-in scheme and discount rentals.
Join REI Today!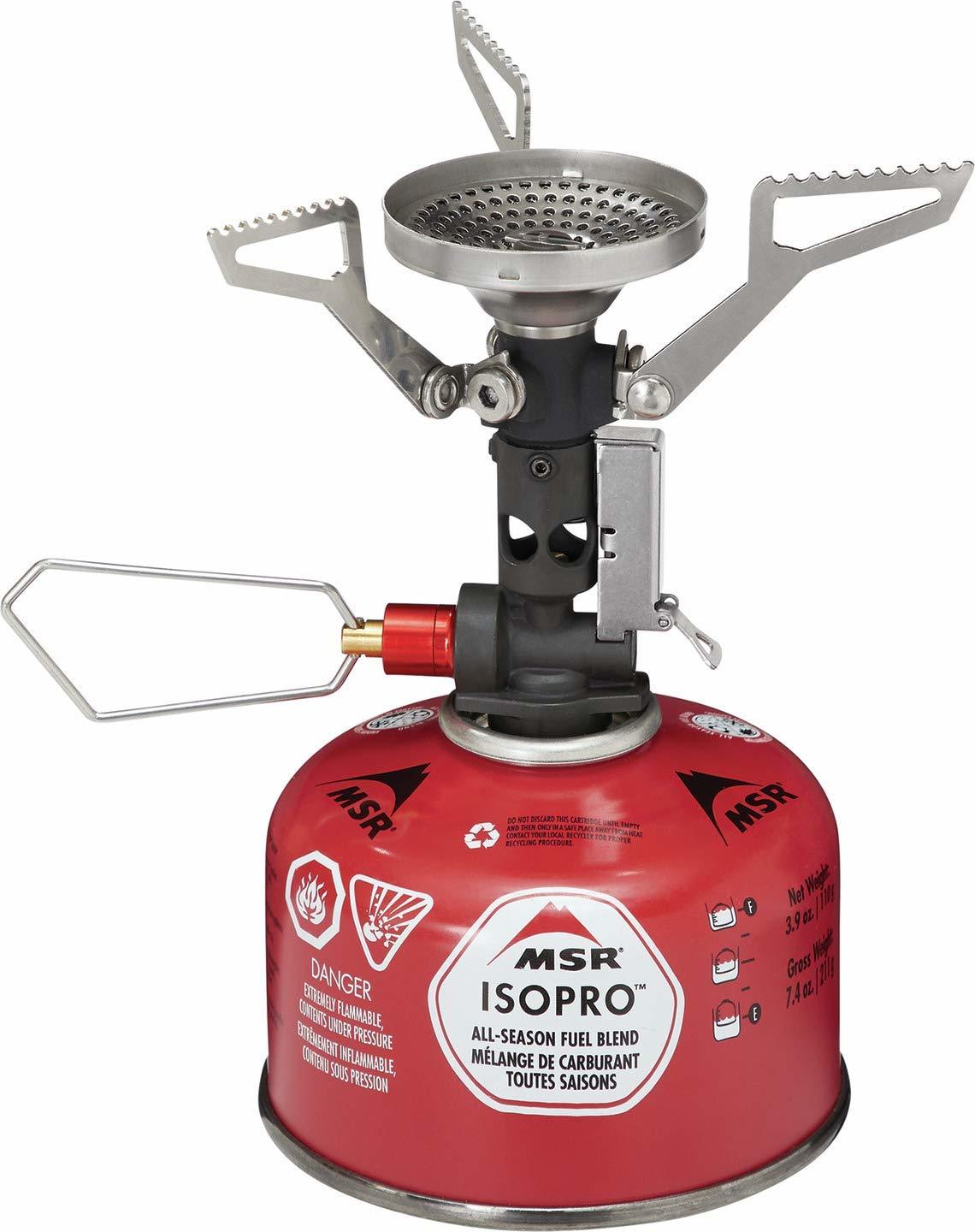 Heres a brand new exciting update The new and improved MSR PocketRocket Deluxe is out and it's the best ultralight backpacking stove on the market. This canister stove kicks ass!
Its new push-button ignition system means you don't even need a lighter to get it going and the added pressure regulator maintains the stove's fast boil times even in harsh conditions. Cold weather has historically been the Achille's heel of MSR's PocketRockets, but now the PocketRocket Deluxe can cook in below-freezing temperatures with ease.
This is a rare breed of hiking stove: ultralight yet pressure-regulated and with plenty of awesome features. MSR does it again!
At only 2.9 oz, the PocketRocket Deluxe is incredibly lightweight (the Jet Boil weighs three times as much). Although the PocketRocket 2 is even lighter AND cheaper, it doesn't have the nice-to-have features the new PocketRocket Deluxe has.
Of course, for the PocketRocket Deluxe to compliment your ultralight backpacking setup, you will also need some lightweight cookware. There are plenty of options out there, but I recommend going with the MSR Alpine Stowaway Pot. For avid tea and coffee aficionados, I'd also recommend picking up the MSR Pika Teapot too!
Our team felt this came a very close second to its older brother above. Again, they were impressed by the short amount of time it took to cook their food and how efficient it was with their fuel. Another bonus this stove has is its more compact and lightweight design which our team really loved.
Click here for a full review of the MSR PocketRocket Deluxe.
What We Like and Don't Like
Pros
Ultra lightweight and packs down small
Push-button ignition
Pressure-regulator
Cons
Pricier than the previous PocketRocket 2
Additional accessories sold separately
This is an ideal backpacking canister stove for making hot meals in the backcountry and even in below-freezing temperatures.
This camp stove is not integrated with a cooking pot like the Windburner or Jetboil, so whilst it is lightweight, you will need some additional accessories to actually cook with it.
Is the MSR PocketRocket Deluxe for you?
The MSR PocketRocket Deluxe is a compact stove and ultralightweight stove that still offers great features that make cooking in the backcountry a breeze. This is ideal for ultralight backpacking trips.
#3 MSR PocketRocket 2 -Best Value Canister Backpacking Stove
This is the lightweight camp stove that I am currently traveling with and cooking on when I camp out. The PocketRocket 2 offers incredible value for an affordable price and packs up small…. very small. This ultralight stove weighs in at 2.6 oz and folds down to 2 x 2 x 3 inches and is the best value fuel canister stove for backpacking on the market right now.
I've used a few canister fuel lightweight stoves over the years and the MSR PocketRocket is by far my favourite. You can usually pick up a fuel canister in most places around the world – I even recently found some canisters in a tiny shop whilst camping out on an island off the coast of Iran…
What We Like and Don't Like
Pros
Packs up very small
Extrememly lightweight
You get to be like me! ?
Cons
Lacks some features
Need to buy additional accessories
It is ideal for long-term use and for creating elaborate hot meals. You can adjust the flame to bring water to a boil or to simply simmer that delicious spaghetti sauce. There's also a wind clip built into the PocketRocket stove to shield the flame in breezy conditions.
Much like the PocketRocket Deluxe, this stove comes with no integrated cookware meaning you will need to purchase some additional bits.
Our team again love the MSR brand when it comes to stoves and they felt this was by far the best lightweight one out there. In typical MSR style, it heated up quickly and efficiently. They also loved the compact nature of this stove and felt it folded down super small which was perfect for backpacking and minimalist travel.
Is the MSR PocketRocket for you?
The MSR PocketRocket was voted the best lightweight backpacking stove of 2017 and is still going strong in 2018. I love this stove and intend on using it on many more adventures. This incredibly compact stove is ideal for ultralight backpacking or hiking trips and can cater up to two people. It's definitely one of the best top rated backpacking stoves out there.
#4 Jetboil Zip – Best Jetboil Backpacking Stove
The Jetboil Zip is the best camping stove for backpacking if you're a solo traveller who prefers the benefits of canister fuel.
It's great with both simmering and boiling, due to its adjustable burner. Included is an 800ml cup/bowl with a pour spout, strainer and the bottom doubles as a measuring cup.
What We Like and Don't Like
Pros
Can boil water in under 3 minutes
Lightweight
Easy to use
Cons
Sensitive gas flow
Doesn't have its own starter
If you're looking for a Jetboil for your backpacking adventure, this is the Rolls Royce of Jetboil camping stoves and whilst it isn't quite as good as the MSR Windburner, it offers great value and is probably the best value fully-integrated canister fuel hiking stove on the market.
This backpacking stove is ideal for shorter trips unless you want the burden of carrying around multiple canisters, which take up precious space in your pack.
It's easy to use and is simple to light using the match ignition. The Jetboil Zip is fairly stable as it's mounted onto a sturdy gas canister preventing it from moving in the wind, making it a kickass portable hiking stove!
Our team rated this as their best portable backpacking stove due to just how lightweight it felt while packed away inside their bags. Jetboil is a trusted brand amongst outdoor enthusiasts and our team could easily see why. For its size and weight, it packs a real punch when it comes to speedy cooking and durable design.
For an equally awesome stove by Jetboil, check out our in-depth Jetboil Flash review.
Is the Jetboil Zip for you?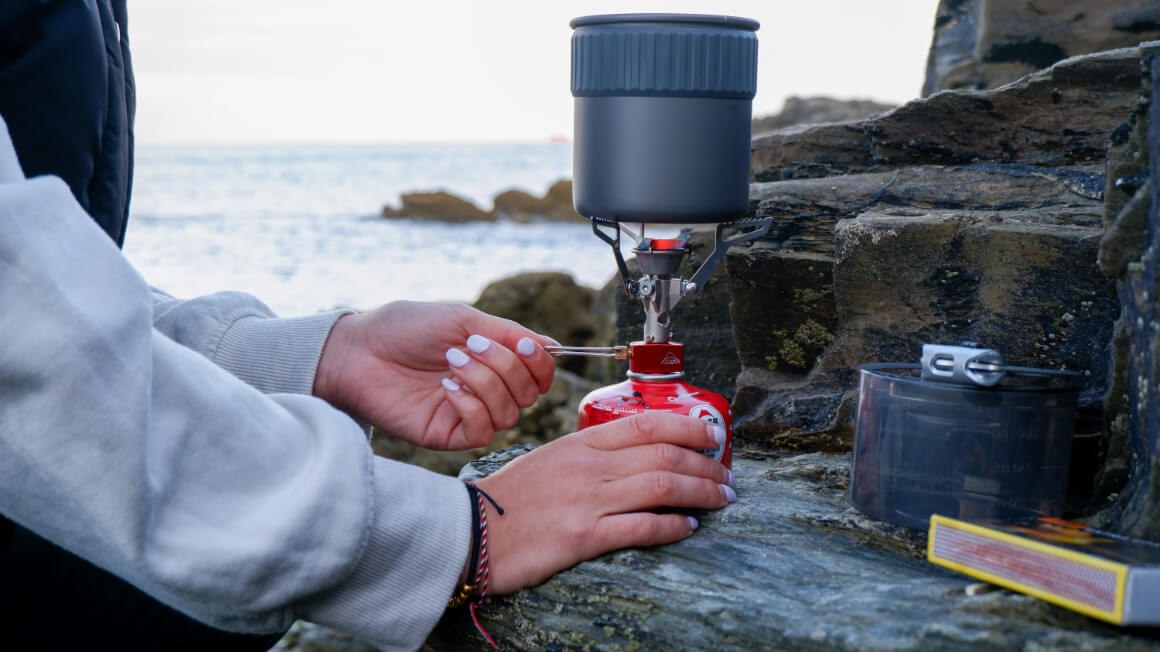 Great value, and possibly the best Jetboil for backpacking. Beware of the lack of a starter/lighter, but that aside, if you prefer the benefits of canister fuel, then you'll love the Jetboil Zip. Click below for the latest price.
#5 MSR WhisperLite – Best Liquid Fuel Backpacking Stove
There are some serious advantages to traveling with a liquid fuel burning stove – namely that you can find liquid fuel (such as petrol, diesel or alcohol) almost everywhere in the world.
If you are heading off into remote areas, a liquid fuel stove is an obvious choice. You also get a lot more bang for your buck by traveling with a liquid burning camping stove – one bottle of fuel is equivalent to seven canisters and liquid fuel is a lot cheaper than canisters in the first place.
What We Like and Don't Like
Pros
Liquid fuel burning
Great for cooking
Quiet for a gas stove
Cons
Has a learning curve to light correctly
Canisters are bulky
Mixed reviews on durability
Canisters are not heavy but they are bulky and it would be inefficient to travel with lots of them on a hike… especially since you can't easily dispose of them and would have to carry them around until you get out of the woods.
I strongly recommend a liquid burning stove to anybody who plans on cooking on their backpacking stove a lot. My first ever camping stove was a liquid burning stove and I later upgraded to the MSR WhisperLite – it's a fantastic piece of kit but there is a learning curve and it's not that easy to figure out without instructions. Make sure you know how to use it before you hit the road.
Liquid fuel stoves are not as compact or lightweight as canister stoves but they are cheaper to run, easier to source fuel for, and produce a hotter flame that can be used to cook up more advanced meals.
Our team felt this was the most durable and reliable stove on the market, in fact, some of our team have had one in their family for over 20 years and it's still going strong. If you're after a real workhorse of a stove then they feel this is the one to opt for. Beyond that, they felt the control system was pretty easy to use.
Is the MSR WhisperLite for you?
If you are heading off on real adventures or want to cook a lot, I recommend picking up a liquid burner over a canister stove. The MSR WhisperLite is one of the best liquid fuel stoves on the market.

Do You Want to Travel FOREVER??
Pop your email in below to get a FREE copy of 'How to Travel the World on $10 a Day!'.
BioLite CampStove 2+ Complete Cook Kit wood fuel stove plus, brings fuel efficiency to the next level.
Not only does it run on natural fuel (this stove can burn twigs, pine cones, and wood chips), it also uses heat to produce electricity. Essentially, this means that you can charge your cellphone while you're cooking dinner – which is pretty neat!
What We Like and Don't Like
Pros
Next-level fuel efficiency
Uses natural fuel
Produces electricity
Amazing product
Cons
Pricey
Heavier than other options
While Biolite is incredibly innovative in terms of energy use, it's not the lightest option on the market (because you're buying a stove, an internal battery, and a fan all-in-one). I'd recommend splitting the weight between a couple of people, if possible. Or use this stove while you're car-camping when weight isn't an issue.
I love this stove because its engineering is spectacular… It really is a game changer and us backpackers are always looking for multi-use products. The CampStove 2 definitely fits that description. But on top of that, it packs down to an impressively small size. Check out our full review of the Biolite Campstove 2 here. This is definitely the best backpacking wood burning stove on the market.
Our team really loved this nifty little stove and felt the extra features were well worth the extra price and weight. Being able to charge their phones whilst cooking their beans was a real game changer, add that to the fact that you can fuel this thing with natural materials, it made it the perfect device for wild camping.
Is the BioLite CampStove 2+ Complete Cook Kit for you?
If you can splurge, then the Biolite is worth every penny. Not only does it look awesome, but it's possibly the most efficient and functional backpacking stove on the market. The ability to use any type of fuel and generate electricity is a game changer.
Of course, wood fuel stoves do produce more smoke than other stove systems so be sure to factor this in.
#7 Lixada -Best Multi Fuel Backpacking Stove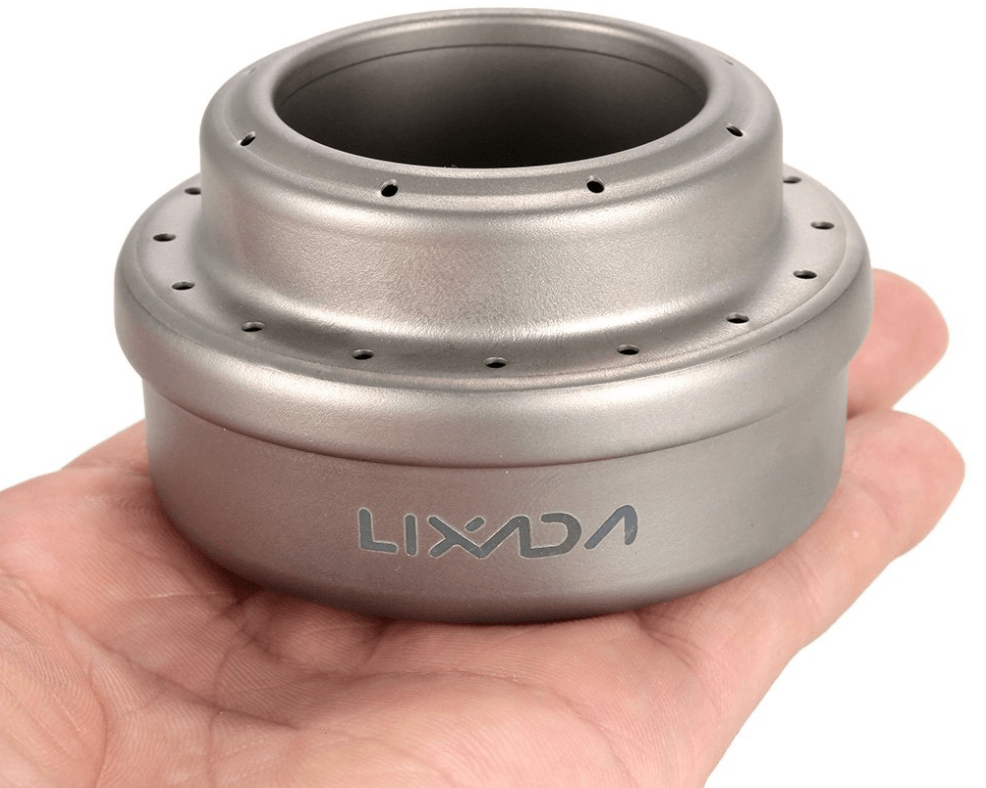 Lixada is the best multi-fuel backpacking stove and this bad boy can burn pretty much anything!
As the name sugggets, with solid fuel stoves and multiple fuel stoves, you can burn twigs, wood, alcohol, petrol, or other solid fuels. This very versatile hiking stove is made from titanium so it is ultra lightweight, durable, and, for the price it offers, fantastic value, making it the best portable multi-fuel backpacking stove.
What We Like and Don't Like
Pros
Affordable
Burns almost anything
Lightweight and durable
Cons
Durability
Lacks features
Not great for long term trips
Lixada's miniature size is convenient; you can take it anywhere and you'll be able to find fuel pretty much wherever in the world you are. To be honest, it's not an ideal backpacking stove for long-term trips but is perfect for solo short trips or weekends away, and it IS the best multi-fuel backpacking stove if that's what you're after.
The Lixada is a high-profile cheap backpacking stove, so stability isn't the best. But I do love the fact that it is environmentally friendly and uses twigs, pine cones, and wood as fuel. In case you can't find wood, you also have the option to use either alcohol or solid fuel (any stove that doubles as a solid fuel stove is good with us).
Our team rated this as their best multi-fuel camping stove because of how small and efficient this thing is. If you're looking for something super lightweight, small but powerful, then our team felt you should stop the search here. They also just loved the fact that it could be run on a variety of different fuels meaning they rarely ran out or had to carry with them heavy bottles.
Is the Lixada for you?
This portable hiking stove is meant for ultimate convenience at a very affordable price. If you are looking for something easy, and don't need it for a long trip, the Lixada is a great choice and is one of the best cheap backpacking stoves on the market. The button below has the latest price on Amazon.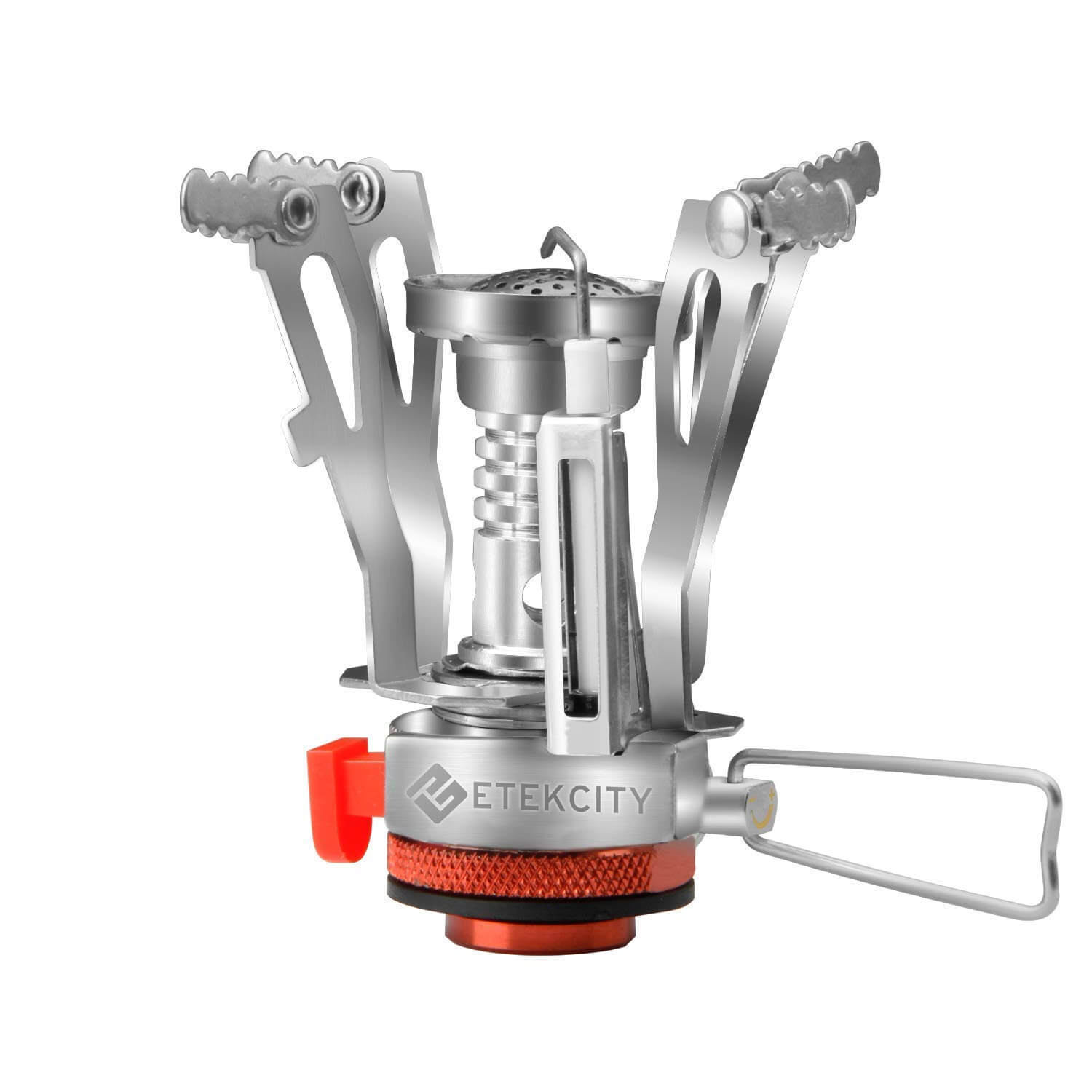 The Etekcity backpacking stove is ideal for hiking or even as an emergency backup (just in case) as it's so lightweight and compact. It's surprisingly strong, with extra long fold-able arms that can hold a 20cm pot and support a weight of up to 5 kilos.
This is definitely is the best cheap backpacking stove alternative on the market – it's well priced, reliable, and sturdy. It probably won't last forever but it'll get the job done when camping.
What We Like and Don't Like
Pros
Low price
Super lightweight
Compact
Cons
Lacks feautres
Canisters are bulky
Mixed reviews on durability
The Etekcity camping stove is suitable for 1-2 people and is fairly simple to use. The product quality is guaranteed with a 2-year warranty included in the price. It's a low-profile and cheap backpacking stove and is fairly stable thanks to the canister mount below the burner it one of the best budget stoves for camping or ultralight hikers.
Our team rated this as their best cheap backpacking stove simply because they felt it was so light and cheap that there was no reason not to take it with them. They felt it was a little unsteady at times but it still was able to heat up pretty quickly and took up hardly any room in their packs.
Is the Etekcity for you?
The cheapest, lightest, and most compact option on the list, the Etekcity rocks. It's certainly not of the highest quality (and therefore lacks total reliability) but if you are looking to save a buck, the Etekcity comes highly recommended.
The best present of all… is CONVENIENCE!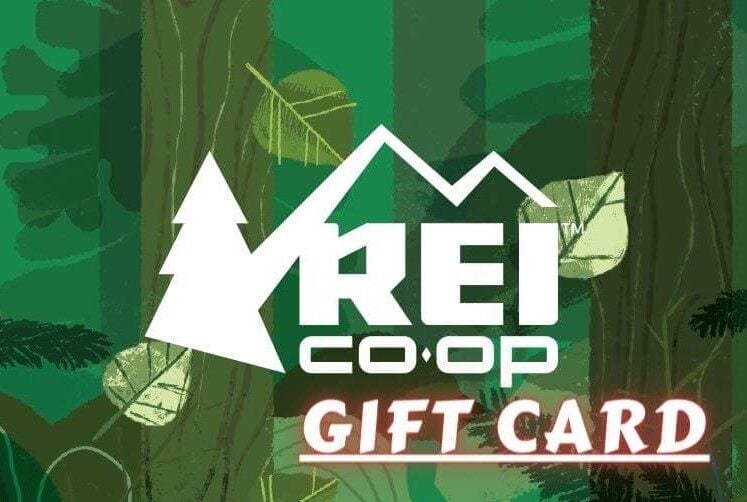 Now, you could spend a fat chunk of $$$ on the WRONG present for someone. Wrong size hiking boots, wrong fit backpack, wrong shape sleeping bag… As any adventurer will tell you, gear is a personal choice.
So give the adventurer in your life the gift of convenience: buy them an REI Co-op gift card! REI is The Broke Backpacker's retailer of choice for ALL things outdoors, and an REI gift card is the perfect present you can buy from them. And then you won't have to keep the receipt. 😉
Buy on REI!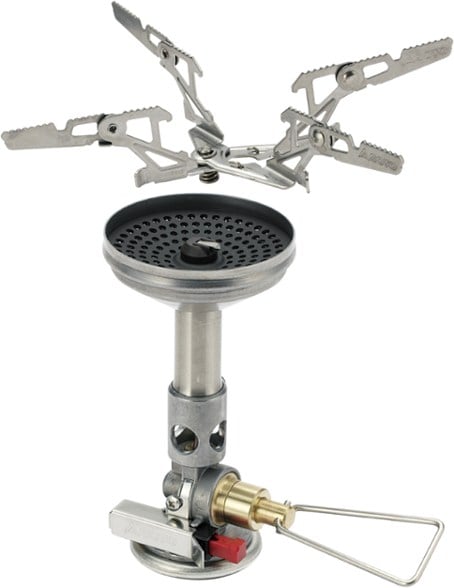 This stove is awesome. It features an actual award-winning micro regulation system which serves to provide strong performance in cold and windy weather making this stove a great choice for use in Autumn, Winter and for camping in the Northern Hemisphere. The Soto WindMaster stove also comes with a 4Flex pot support which helps in facilitating a strong and stable performance.
This stove can boil 2 cups of water in under 2.5 minutes which is as fast as my kettle at home. What's not to love? Our team felt the same way too, they loved how small and light this thing was especially given its awesome performance when it came to brewing up! They felt for the money it really exceeded their expectations especially when it came to producing a wide and strong flame.
What We Like and Don't Like
Pros
Low price
Nice and light
Isobutane-propane fuelled
Cons
Lacks features
Mixed reviews on durability
best backpacking stove

| Name | Weight | Dimensions | Price |
| --- | --- | --- | --- |
| MSR Windburner | 15.5 ounces | 4.5 x 8 inches | $149.95 |
| MSR PocketRocket Deluxe | 2.9 ounces | 3.3 x 2.2 x 1.8 inches | $69.95 |
| MSR PocketRocket 2 | 2.6 ounces | 3.1 x 1.7 x 1.3 inches | $44.95 |
| Jetboil Zip | 11.75 ounces | 4.1 x 6.5 inches | $84.95 |
| MSR WhisperLite | 10.9 ounces | 6.5 x 5 x 4 inches | $109.95 |
| Biolite CampStove 2 | 2 pounds 1 ounce | 8.25 x 5 x 5 inches | $111.93 |
| Lixada | Not Available | 2.2 x 1.6 inches | $21.99 |
| Etekcity Ultralight Portable | Not Available | 3.15 x 2.36 x 1.81 inches | $18 |
What to Consider When Picking a Lightweight Camping Stove
Fuel Type
Size and Weight
Group size
Trip length and location
Ease of use
Boiling or simmering
Stability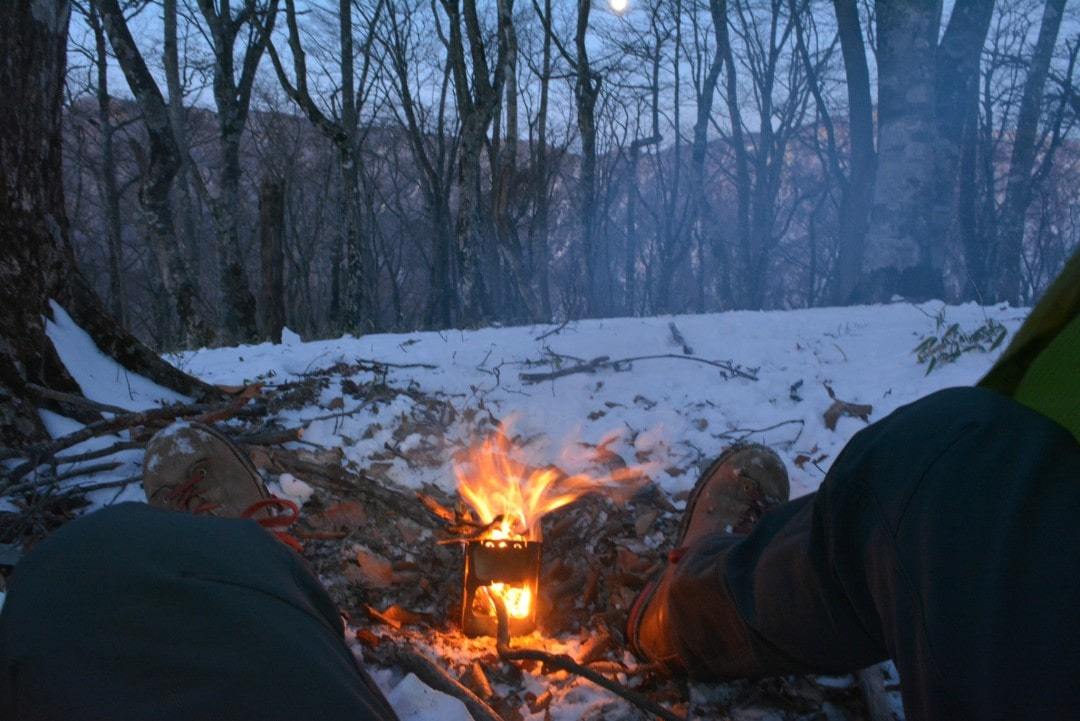 Different Fuel Types
There are various fuel types you can use on backpacking stoves, which can cause some confusion. You should consider what type of backpacking stove is suitable for you…
I've categorized camping stoves into four main fuel types:
Canister Stoves
Alternative Fuel Stoves
Wood Burning Stoves
Liquid Burning Stoves
Canister stoves are usually the most popular option for travelers as they are ultralight, compact, stable, durable, and easy to use. In my opinion, they're the best type choice of stoves for backpacking as they perform well even in the harshest climates. Canister stoves are ideal for hiking and trekking as canister burners are so compact that they don't take up much space in your backpack.
The best part about canister backpacking stoves is just how easy they are to use. All you have to do is simply screw the canister into your stove and light it up for a quick, easy meal. Most canister stoves run on pressurized gases that are self-sealed and detached from the stove itself. Primarily isobutane gas is used, however, some models also run on propane.
You can modify your flame control enabling you to cook more elaborate meals while you are travelling which makes it a great lightweight camp stove that packs some real oomph which can feed you nicely.
Emerging technology has lead to the release of integrated all in one backpacking stoves, which, typically, include a cooking pot and/or mug. They're ideal for hiking as the boiling times are fast and they are windproof, compact, light, and even fuel-efficient!
The Jetboil Zip is a really cool lightweight canister stove which offers full integration. If it wasn't for the price, the Jetboil would probably be my top choice for the best value canister backpacking stove category but the MSR PocketRocket takes the gold as it offers incredible value… Still, you would need to buy a cooking pot and it won't offer the same kind of integrated ease of use as the Jetboil.
What We Like and Don't Like about Cannisters
Pros
Lightweight and compact
Stable and durable
Easy to use
Fuel efficient
No pumping or priming required
Cons
Fuel is expensive
Hard to find fuel in remote locations when trekking or travelling
Doesn't work well in the cold (sub-zero temperatures)
Difficult to measure remaining fuel
Alcohol Backpacking Stoves (Like the Lixada)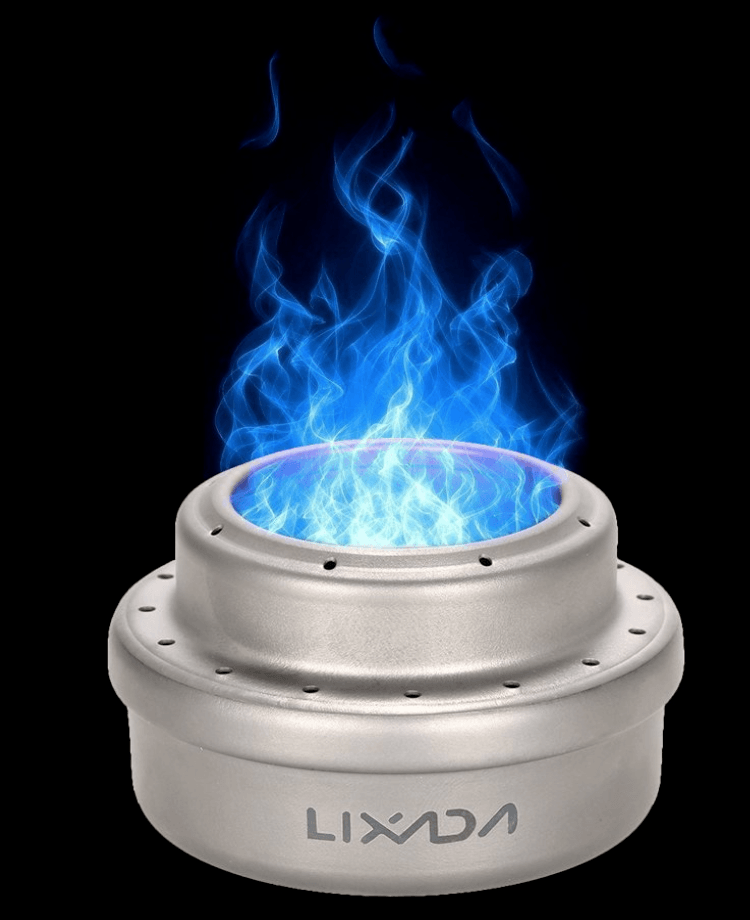 The best backpacking stoves are ultralight, which is why alcohol stoves are popular among trekkers and travellers. Denatured Alcohol is rather cheap and is widely available internationally. Alcohol backpacking stoves are best used for boiling water, to cook dehydrated meals, or for brewing coffee.
Although they burn silently, they're not very fuel-efficient and are very sensitive to wind so they are not a solid choice for cooking up a hearty meal when camping. Lixada is the best alcohol burning stove on the market and it can run on pretty much anything – wood, solid fuels, or alcohol.
What We Like and Don't Like Alcohal Burners
Pros
Ultralight
Relatively cheap
Fuel is widely available internationally
Light and burn silently
Cons
Not good for cooking
Slow to boil (7-10 minutes: 2 cups of water)
Poor fuel efficiency
Very sensitive to wind
Wood Burning Backpacking Stoves (Like the Biolite)
Choosing the best wood burning backpacking stove can be tough as there are a lot of options on the market. Luckily, there are a couple of companies that are doing epic things and create products that are clearly superior to the rest of the market.
Cooking on a wood burning camp stove is quite similar to cooking on a campfire: just find some twigs and get that baby burning! Note that cooking on a wood burning stove is much faster and more efficient than cooking on a campfire. You don't have to worry about carrying around fuel because you can gather fuel pretty easily whilst camping.
Wood burning stoves are definitely a cheaper option because you can find your own fuel and burn twigs, pinecones, leaves, and other renewable energy sources. The only downfall is that this puts you at the mercy of the weather and if all of your potential fuel is soaking wet, it can be tough to get a hot flame going.
It can require a lot more time and effort to light your camp stove which can get annoying after spending the whole day trekking. The other thing I dislike about wood stoves is that the soot rubs off onto your pots and hands when cooking.
Biolite is currently leading the way with their epic BioLite CampStove 2+ Complete Cook Kit that can not only cook, but also charge your devices through the USB port.
What We Like and Don't Like about Wood Burning Stoves
Pros
More environmentally friendly
That authentic campfire smell
Minimal fuel cost and weight
Cheap as you don't need to buy fuel
Cons
Hard to find fuel when it's raining
Slow cooking time and little heat control
Heavy and tedious to start
Leaves black marks on cooking equipment
Can't use where fire bans are in place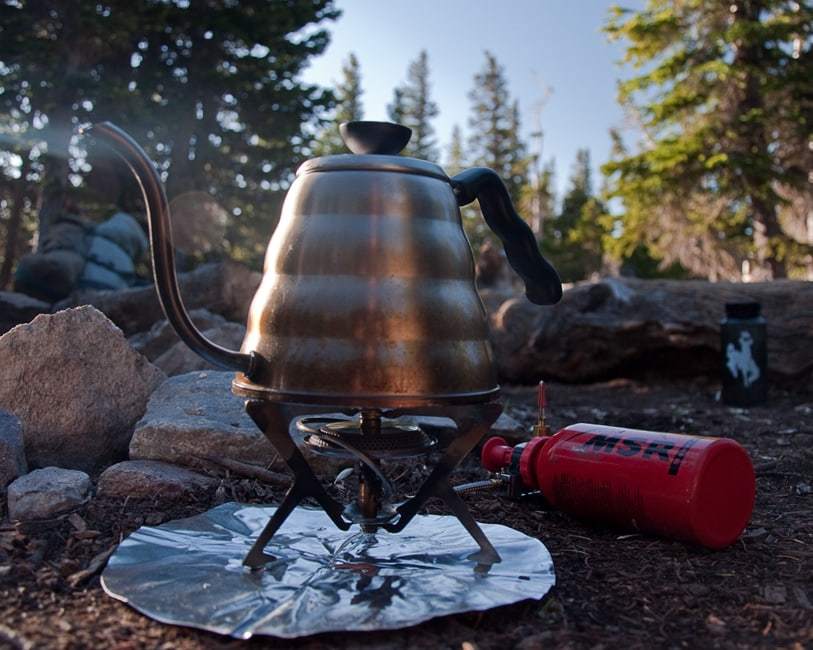 The best backpacking stoves for extreme conditions are liquid fuelled stoves. I have used an MSR Whisperlite, the best liquid stove on the market, in the past but right now I'm rocking a Pocket Rocket canister stove instead, which is lighter. Liquid stoves are bulkier and if you spill your fuel in your backpack, it can be an absolute nightmare.
There are some pretty massive advantages to traveling with a liquid fuel backpacking stove though – the best part about liquid fuelled backpacker stoves is the flexibility. Some stoves burn multiple types of liquids like white gas, kerosene, unleaded fuel and, even diesel – the ability to burn these easily accessible fuels make liquid fuel stoves a solid choice if you are trekking to remote locations.
If you're off on a truly epic adventure, then it probably is the right choice to pick up a liquid fuel stove but if you're simply a humble backpacker or traveler, I would go with a canister stove as they take up less space.
Saying that, it is significantly cheaper to run a liquid fuel stove and because you can find the fuel everywhere, liquid fuel stoves are a good choice if you plan on using your stove a LOT.
The majority of liquid stoves have a really stable design that enables you to handle large cookware and feed many people. Beware of the roar of the stove as it can get quite loud at times. The MSR Whisperlite is one of the best liquid fuelled stoves in the market.
What We Like and Don't Like about Liquid Burners
Pros
Durable
Works well in extreme conditions
Flexible and cheap to find fuel
Stable design to handle large cookware
Great for traveling internationally
Cons
Bulky and heavy design
Loud
Majority of the models require priming
Needs maintenance
How important is group size when choosing a backpacking stove?
Typically one backpacking stove (depending on the model) is adequate to feed two people. However, some ultra-light backpacking stoves are designed just for the solo traveller. The best hiking stoves are the ones that minimise weight whilst maximising how many meals they can cook.
If you're travelling in a larger group I'd recommend picking up a liquid backpacking stove as they're fairly stable and suit larger cooking equipment. Some larger liquid backpacking stoves cater to a maximum of three people; so if you're planning to cook for your travel crew, it might be a good idea to bring along an extra stove…
Which stove is best for short trips?
The length and location of your trip determines the amount of fuel you'll need for your entire journey and what fuel best suits your whereabouts.
Typically canister backpacking stoves are best used for shorter trips, as they're compact and lightweight. The empty canisters weigh next to nothing but can take up a moderate amount of space in your pack. Be sure to pack enough fuel for your trip, as they're extremely difficult to find in remote locations and internationally. I love using canister stoves for camping as they've got great temperature control and can do a lot more than just boiling water.
Liquid Fuel Stoves are my go to for long term backpacking adventures, expeditions and real raw adventures. Liquid fuel tends to last a lot longer than a canister and liquids like white gas, kerosene, unleaded fuel are readily available even in small remote towns. In case of an emergency, you can easily take a spare bottle of fuel there is no need to lug around the empty containers afterwards. Liquid stoves are by far the best backpacking stove for long treks and hikes.
Other alternative fuel backpacking stoves like alcohol, are good for ultra lightweight travellers who don't mind being patient while their water boils. If you'd prefer to stick to the good old fashioned wood backpacking stove, be prepared to do the hard yards – preparing, lighting and cooking your food.
I personally wouldn't recommend a wood burner for long term trips, unless you're just boiling water for your dry meal or are prepared to gather fuel every night.
Size and Weight considerations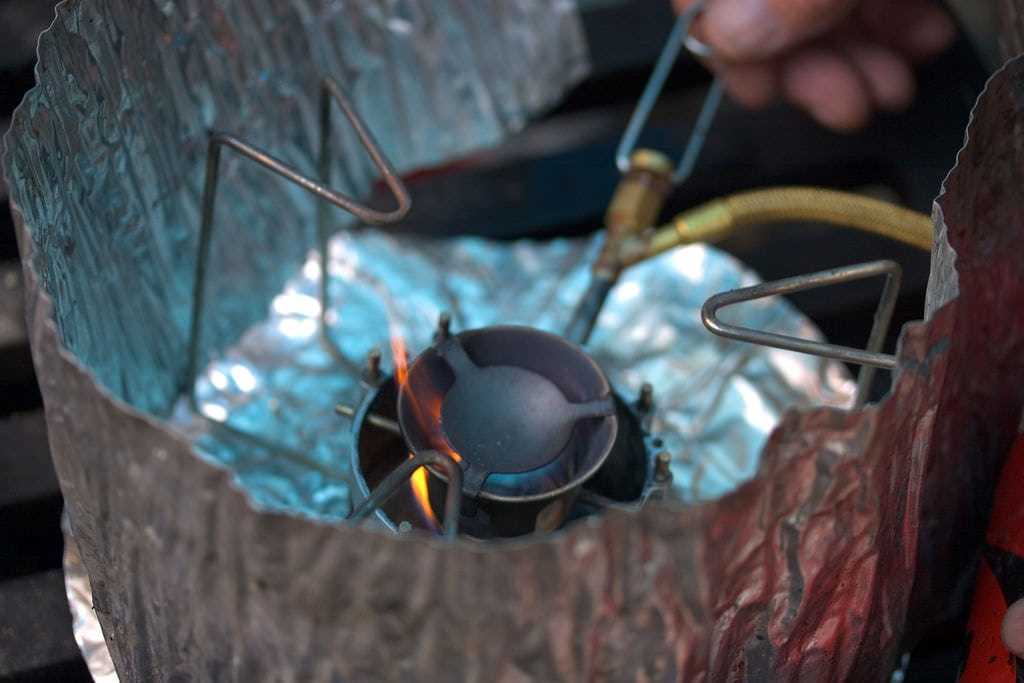 If you plan to set off on a hike or a trek, then you want your backpacking stove to be as light as possible.
Canister stoves are great to use as they're compact, lightweight, easy to use and you have more control over the temperature. Ideally, one canister should last you your whole trip, therefore you don't have to lug around multiple canisters taking up precious room in your backpack but it's hard to know and one mistake – e.g. leaving it on by accident – will waste all your fuel.
Alcohol backpacking stoves are also great for short-term trips because they're ultralight weight, but they're mainly used just to boil water. So if you're just heating up water for your dry meal, then it's ideal for you. However, you might get sick & tired of bland army meals by the end of your trip.
For longer trips, I'd recommend taking a liquid fuelled backpacking stove. Although your liquid fuel will add more weight to your pack, it's far more compact. The fuel will go a lot further than canisters, as one bottle of liquid fuel is equivalent to seven canisters.
Ease of Use
The ease of use is an important factor in determining the best backpacking stoves for you.
Canister backpacking stoves are by far the simplest and easiest to use. Most canister stoves won't require any maintenance; all you have to do is screw the gas bottle to the backpacking stove and light like any other gas burner.
Liquid Fuel Stoves require regular maintenance and need to be primed prior to using them. Each model has a different method for priming, which can take a while to ace.
Alternative fuel backpacking stoves such as wood burners are quite hard to use unless you're a seasoned camper. Not only does it take a long time to find wood and set up, but they can also be quite difficult to light, especially if it's windy. Even if you pick out the best wood camping stove on the market you might struggle a bit to get it going!
Alcohol backpacking stoves are neither too simple nor too difficult to use. The main issue with alcohol backpacking stoves is the wind's effect on the flame. It can be difficult to keep it lit even with a windscreen, so alcohol backpacking stoves definitely require a little extra patience. However, it helps to have the best multi-fuel stove with you so you can hustle and get it going with any kind of fuel!
Stability of your stove
The stability of your backpacking stove is important, especially when you're planning to cook a large delectable meal. More often than not, you'll be cooking on uneven terrain, therefore you need a backpacking stove that's stable on the ground and won't easily fall over.
The best backpacking stove with regards to stability is a model that's low-profile. A low profile backpacking stove sits on its fuel bottle or canister, connected to it is a tube which feeds the fuel to the burner. Because the fuel container is heavy & bulky, it provides you with a stable cooking environment.
High profile backpacking stoves tend to be lighter, more compact and therefore easier to move or fall. They're not ideal for holding large cooking equipment & are prone to being unstable, as the burner sits over the canister rather than on the ground. The MSR Windburner is a great example of a perfectly stable backpacking stove and it is the best MSR stove in the market even though it may not be the most lightweight backpacking stove out there!
Boiling or Simmering
What kind of camping master chef are you? Do you want to cook delicious food or simply boil water to cook your freeze dry meals? Your answer will lead you to the type of backpacking stove that'll suit you the best.
There is a range of different models available that can do both, however one function tends to outdo the other. If you plan to do both, then you'd want a backpacking stove with a quality flame control, enabling you to adjust the height of the flame. Be sure to invest in a good quality burner if you aim to go all master chef in the wilderness, as cheap burners don't run too smoothly on low heat.
How We Tested To Find The Best Backpacking Stove
There is no perfect or exact science when it comes to testing out travel and outdoor gear. But we've spent enough time out in the field to confidently say we can put this list together and tell you definitively what the best backpacking stove for 2020 and beyond is.
Whenever we test a piece of gear, one of our team takes it out for a spin to put it through its paces in a variety of different ways. In all cases, we pay close attention to how well-made a piece of gear is, how heavy or light it is, how packable it is and of course, how well it fulfils its primary purpose. So in this case we'll be looking at it's cooking abilities on the road.
Finally, we also take into the price of each item – So expensive gear that underperforms is judged pretty harshly, whereas the cheaper items that perform well for their price, will be treated more sympathetically.
FAQ about the Best Backpacking Stove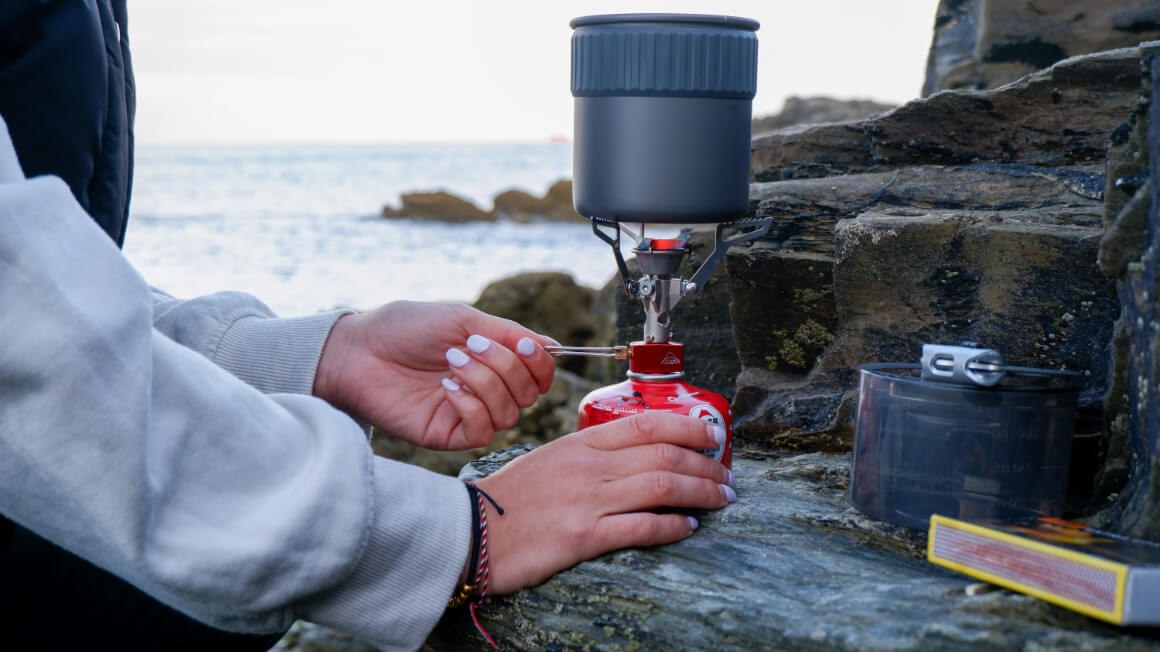 Still have some questions? No problem! We've listed and answered the most commonly asked questions below. Here's what people usually want to know:

Our GREATEST Travel Secrets…
Pop your email here & get the original Broke Backpacker Bible for FREE.
Conclusion: Do I really need a backpacking stove?
If you are heading off for a jaunt around South East Asia and have got plenty of money, a backpacking stove may not be necessary.
If however you are an adventurous soul and plan on hitchhiking, camping and basically travelling on a budget then a backpacking stove is well worth having and can save you a fortune. Whether you opt for the best budget backpacking stove or something higher-end, just make sure you know how to use it before you hit the road.
The best backpacking stoves are reliable, durable and long lasting – your stove should last for years. When determining the best backpacking stove for you, take into consideration the various fuel types, trip length and location, size and weight preferences, people in the group, ease of use, boiling or simmering and stability.
Buy the best stove out there before your awesome wilderness adventure. Happy cooking amigos!
---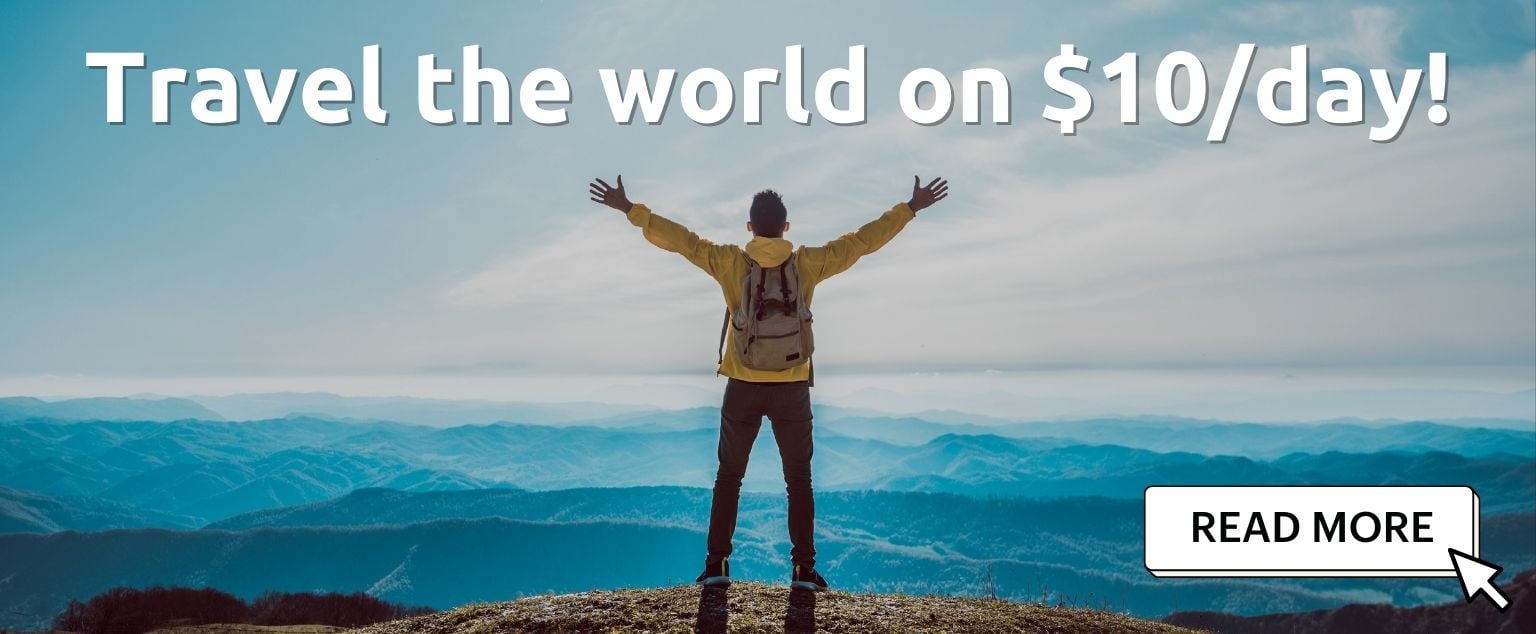 And for transparency's sake, please know that some of the links in our content are affiliate links. That means that if you book your accommodation, buy your gear, or sort your insurance through our link, we earn a small commission (at no extra cost to you). That said, we only link to the gear we trust and never recommend services we don't believe are up to scratch. Again, thank you!