Although nothing quite beats a good open-fire cooked meal, it's not always feasible to build a fire every time you want hot food or boiled water on a camping trip. Whether it's your morning coffee or dinner after a long day, portable cooking stoves can quickly become a camper's best friend while on the road.
Having the right backpacking stove gives you endless freedom to prepare your own meals and coffee from just about any location.
I have been using the Jetboil Flash for the last 5 years. This stove has accompanied me to more than 20 countries and on hikes totaling more than 3,000 miles. I guess you can say that I got to know this thing pretty damned well in that time.
If you are going to invest in ONE backpacking stove – the Jetboil Flash is my overall top favorite.
Maybe you have already tried out a few camping stove models, or perhaps you're checking out the market for your first product. Either way, we're here to point you in the right direction with this in-depth review of the Jetboil Flash Cooking System, which is arguably one of the best cooking stoves currently available!
After reading through our Jetboil Flash review, you'll have all the information you need to determine whether this fantastic piece of gear deserves a place in your backpack.
Let's dive right in…
Quick Answer: Why the Jetboil Flash Kicks Ass
Have we sparked your curiosity? Here are some of the key points we'll look at in our Jetboil Flash review.
What makes the Jetboil Flash special?
How much does the Jetboil Flash cost?
How does the Jetboil Flash compare to other camping stoves?
What are the safety factors of camping stoves?
How to successfully travel with a backpacking stove
How a backpacking stove can save money
Winter is coming… WARM UP!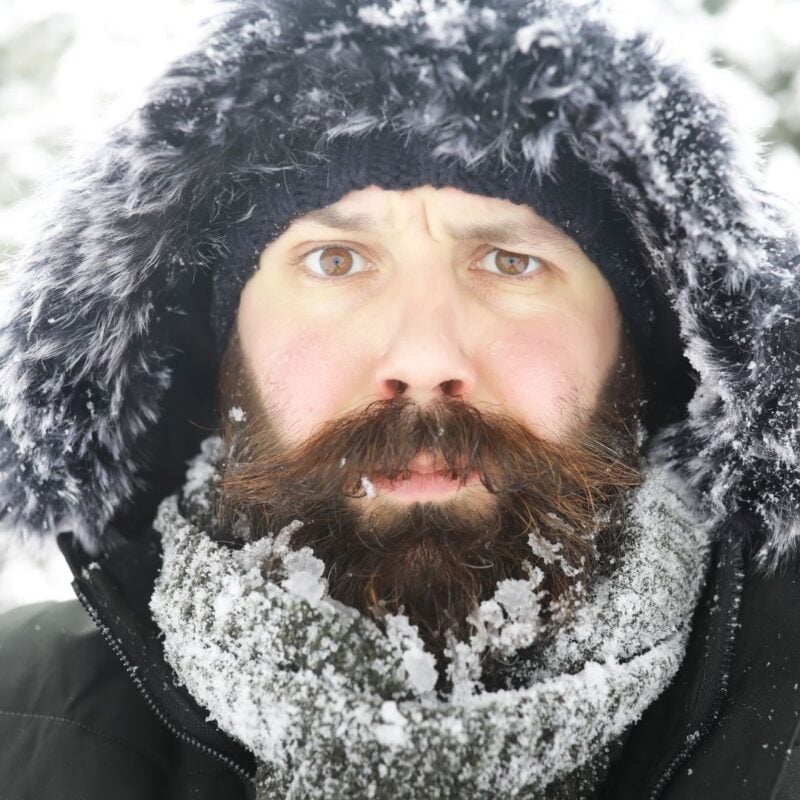 Get up to 50% OFF when shopping gear for the winter on REI.
Warm up for the holidays and SAVE on outdoor gifts all the way through Dec 18!
View on REI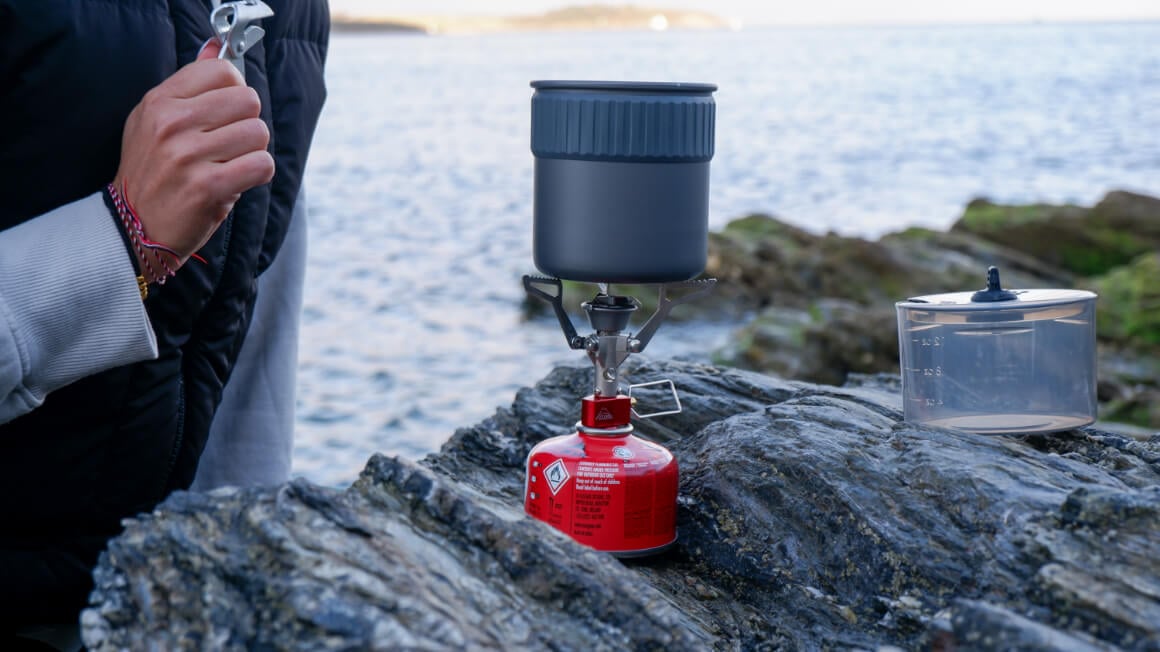 The Jetboil Flash is a camping stove that lives up to its name; if you're looking for speed, then this is the way to go! It takes about 100 seconds to boil 16 ounces of water, which significantly reduces your wait time for coffee, a hot dinner, or safe drinking water while you're on the road.
Each fuel canister holds 100g of isobutane-propane, which is enough to boil 10 liters of water (some variation depending on temperature and elevation). In terms of backpacking stoves, this is a pretty good mark to hit and means you won't have to carry around as many fuel canisters as you would with other stove options.
Aside from the super-fast boil time, the other key feature of the Jetboil Flash is how compact it is. The fuel canister fits into an integrated pot system, and the bottom cover even serves as a bowl or measuring cup! This saves even more space in your backpack for other essential items.
The one downside to the Jetboil Flash is that it's hard to get a gentle "simmer" when boiling. This can cause some difficulties when cooking food like rice or pasta and means you have to be ultra-vigilant to make sure your soup doesn't boil all over the ground on your campsite.
However, this problem is fairly common among camping stoves. Other backpacking stoves may be slower, but once a boil is reached, it still tends to be very strong – even on low settings.
Another coolness point the Jetboil Flash scores is the color-changing logo to indicate water is boiling. It's surprising how much fuel can be wasted simply because you don't realize the contents are already fully heated!
Compact: 7.1 x 4.1 inches packed, and has an integrated pot
Relatively lightweight: 13.1 ounces
Fast: It takes about 3.5 minutes to boil 1 liter
Durable: Stable design and stainless steel burner meant for outdoor adventures
Conserves fuel: Fast boil and color-change heat indicator give you more use from one fuel canister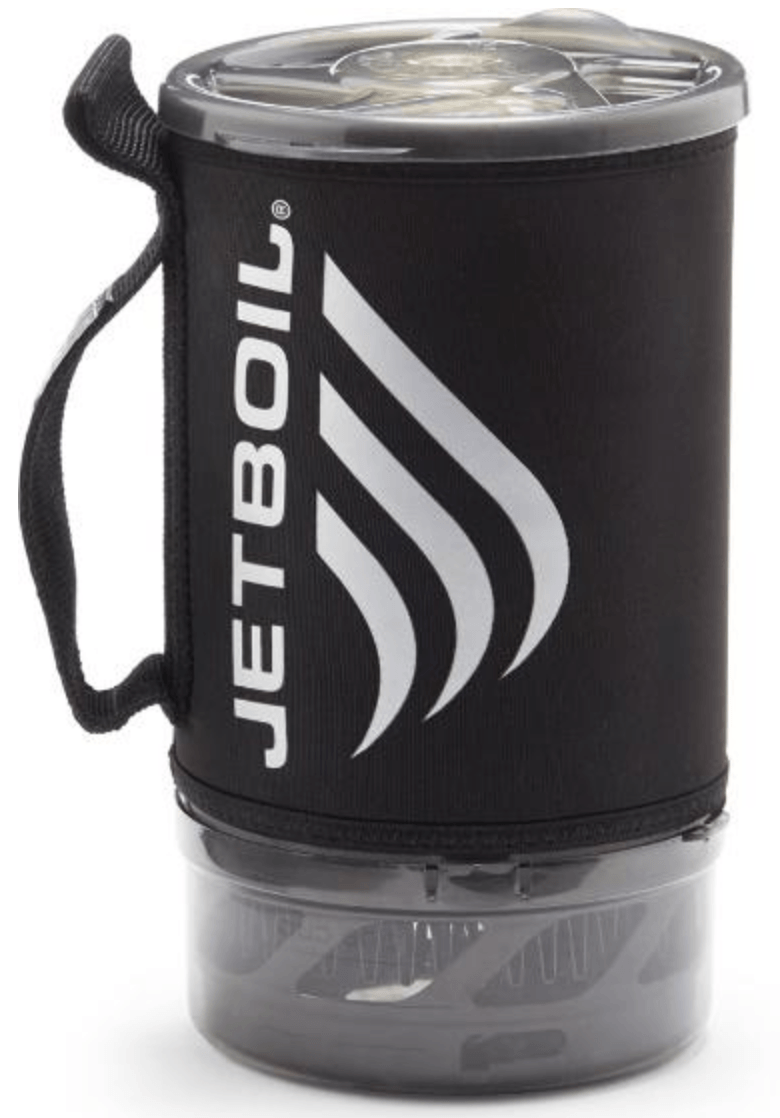 In the world of backpacking and camping stoves, there certainly are cheaper options on the market than the Jetboil Flash. However, as with many camping items, you can't think of it as a one-time purchase, but as a future investment.
Camping stoves can save you money in the long run, but they also cost money to maintain. The biggest future cost you'll be looking at is fuel. In the case of the Jetboil Flash, the amount of cooking time you can get from one fuel canister is much greater than other models.
Fuel costs can add up quickly, especially if you plan on camping a lot. The little extra you pay for the Jetboil Flash will be made up quickly since you won't need to purchase new fuel so frequently.
Although the price tag on some pieces of camping equipment can seem outrageous, in general, a higher price also means more convenience.
The Jetboil Flash certainly fits this description. If you're the sort of person who doesn't like to wait and watch water boil, then investing in the Jetboil Flash could be a good option for you.
After going through our Jetboil Flash review, you can decide whether all the cool benefits of this camping stove are enough to make the price worth it!
Go to any camping outlet or do a quick search online and you'll find plenty of options for backpacking stoves.
Do any of these really hold up to the test of use and time in comparison to the Jetboil Flash?
We've already established in this Jetboil Flash review that this camping stove is superior in terms of speed, but if you're wondering what your other options might be, here are a few of the leading competitors of the Jetboil Flash.
MSR Windburner Stove System
Weight: > 15.5 ounces
Dimensions: > 8.3 x 4.5 x 4.5 inches
Average boil time for 1 liter: > 4 min. 30 sec.
Price: > $149.95
Integrated pot: > yes
Jetboil MiniMo Cooking System
Weight: > 14 ounces
Dimensions: > 5 x 6 inches
Average boil time for 1 liter: > 4 min. 30 sec.
Price: > $149.95
Integrated pot: > yes
MSR Pocket Rocket 2
Weight: > 2.6 ounces
Dimensions: > 7.25 x 5 x 4 inches
Average boil time for 1 liter: > 3 min. 30 sec.
Price: > $44.95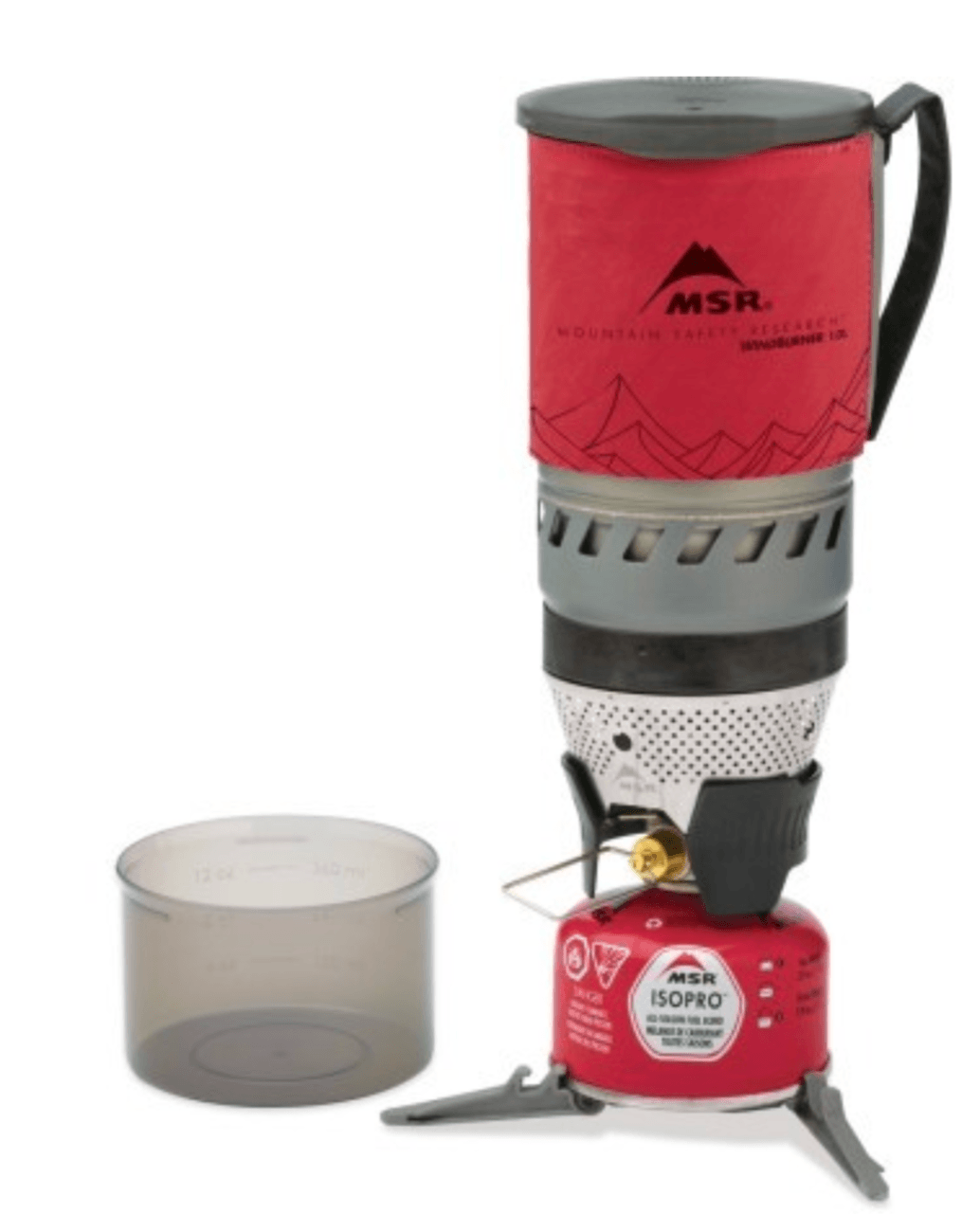 Weight: 15.5 ounces
Dimensions: 8.3 x 4.5 x 4.5 inches
Average boil time for 1 liter: 4 minutes 30 seconds
Price: $149.95
Integrated pot: yes
Slightly bigger and slightly slower than the Jetboil Flash, the MSR Windburner also happens to be even more expensive. You might be wondering why we included it as a competitor, and the answer lies with the wind protection design included in the cooking system.
If you know for a fact that you'll be camping in places with lots of wind and little protection, the extra expense of the MSR Windburner might be worth it.
The MSR Windburner has an enclosed design and internal pressure regulator, which allows it to hold up to strong winds and external elements in ways other stoves just can't match.
However, the boil time is about a minute slower than the Jetboil Flash. This might not seem like much, but think about how much fuel one minute of cooking time can save in the long run.
Like the Jetboil Flash, the MSR Windburner also has an integrated pot system, so everything packs neatly into one case. It is a bit heavier and bigger than the Jetboil Flash, which can make a big difference if you need to maximize the space in your backpack.
The other big drawback to the MSR Windburner is that it has no heat indicator. The handy color-change indicator of the Jetboil Flash helps further save cooking time and fuel, but with the MSR Windburner, you'll have to keep manually checking whether your water is ready and boiling.
Weight: 14 ounces
Dimensions (packed): 5 x 6 inches
Average boil time for 1 liter: 4 minutes 30 seconds
Price: $149.95
Integrated pot: yes
Again, you might notice the price tag and think, why highlight a product that's even more expensive than the Jetboil Flash? Well, although there are some downsides to the MiniMo besides price, the high-performance design still earns it a place in our Jetboil Flash review.
For starters, the Jetboil MiniMo packs to an even more compact size than the Jetboil Flash, which can make a big difference for a lot of backpackers. It's also designed to perform in temperatures down to 20 degrees F, which makes it a good option for winter campers as long as the temperatures don't drop too drastically.
However, the biggest highlight of the Jetboil MiniMo is the valve technology that gives you much better regulation than any other camping stove model. Those difficulties of achieving a nice simmer for your pot of soup? Well, the Jetboil MiniMo solves those issues.
If you're the kind of person who really enjoys cooking, not just heating a quick camping meal, then this added luxury might make the Minimo worth your dollar.
There are still a few downsides to the Jetboil MiniMo, particularly in comparison with the Jetboil Flash. First off, it's a bit slower to boil – that said, even with the slower boil, the Minimo is indeed more fuel-efficient (the MiniMo can boil 12 liters with 100 g of fuel vs the Flash's 10 liters with 100 g).
The MiniMo also doesn't have great pot support, so even though the flame is protected from the elements, some campers have gotten creative and stabilized the pot with rocks or other material on hand.
A few people have also had issues with the push-button igniter failing fairly quickly after purchasing, which might be a technical flaw or possibly damage on the trail.
Overall, if you want a camping stove that will truly allow you to control the temperature and achieve light simmers while cooking, then the extra cost of the MiniMo might be worth it.
The best present of all… is CONVENIENCE!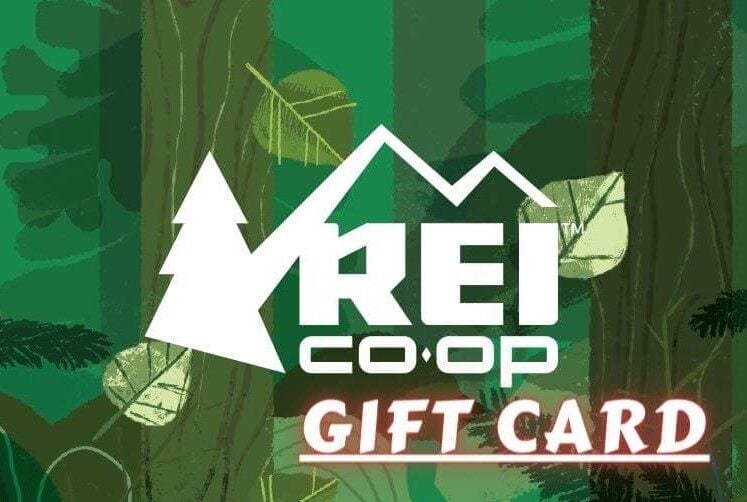 Now, you could spend a fat chunk of $$$ on the WRONG present for someone. Wrong size hiking boots, wrong fit backpack, wrong shape sleeping bag… As any adventurer will tell you, gear is a personal choice.
So give the adventurer in your life the gift of convenience: buy them an REI Co-op gift card! REI is The Broke Backpacker's retailer of choice for ALL things outdoors, and an REI gift card is the perfect present you can buy from them. And then you won't have to keep the receipt. 😉
Buy on REI!
You were told as a child never to play with fire. Sure, some rules can be bent – particularly when it comes to fun camping trips, but one still must remember crucial facts of safety to keep something fun from turning into something disastrous.
Thankfully, camping stoves have come a long way in terms of overall safety features, but proper operation and observation are still required every time.
As long as you know the ins and outs, there's no reason why cooking with a camping stove should ever be dangerous.
The number one thing to remember is never, ever cook inside your tent. First and foremost, tent materials are typically highly flammable, so operating a camping stove inside of one (or even in the vestibule) can literally turn deadly.
In addition to the fact that tents are flammable, some manufacturers list carbon-monoxide poisoning as a risk. However, this is usually only the case in high altitudes where there's already a lack of oxygen and a camping stove is operated in a sealed tent.
It's also important to remember to be careful with your fuel canisters. Yes, they are in specially-made containers designed to carry flammable substances, but the bottom line is that they are still flammable.
Check the seals before packing things away. If a fuel canister gets damaged, it's best to avoid using it. Sure, there's a chance it might be fine, but the risk really isn't worth the small expense to buy a new canister of fuel.
When you're camping, you can't always be super picky about where you put your stove, but it's still important to be mindful. Check for proper ventilation and find a level area to place the stove.
For campers, it's also important to remember that smells of cooking food will attract wild animals, so in addition to being careful with the stove itself, it's a good idea to hang your food pack from a tree or use a secure "bear-safe" food container, depending on your situation.
Backpacking Stove Safety Checklist
Cook on level ground
Clear the ground you're cooking on (don't leave flammable grass or leaves underneath)
Make sure there's proper ventilation
Never cook inside your tent
Don't leave your camp stove unattended while cooking
Canisters of gas can explode when left in direct sunlight
Don't pack the camping stove while it's still hot
Be mindful of what animals might smell your cooked food or the food stored in your backpack
When cooking while it's light out, be aware that the flame is often difficult to see
Be careful when lighting a camping stove, particularly with gloves on (decreased dexterity)
Remove the canister from the stove when it's not in use
Keep your stove clean to maintain proper performance
Store camping stoves and gas canisters in a dry place
It's a big mistake to buy a product without any real idea about how to use it. Whether you're a seasoned traveler who already has experience with camping stoves or a novice, we wanted to include a few tips and key considerations in our Jetboil Flash review.
The Jetboil Flash is small enough that it won't take up tons of extra room in your pack. However, depending on how long you plan on being on the road, you'll also have to account for fuel.
Usually, it's reasonably easy to find camping stores where you can stock up on fuel canisters. But if you're planning a long hiking trip, bicycle tour, or wilderness adventure, you'll probably want to have a spare canister on hand just in case you can't find a retail store. Hot morning coffee is too important to take a chance!
Finding Fuel on the Road
Since the Jetboil Flash is an isobutane-propane stove, it's not difficult to find places that sell fuel. You can get Jetboil brand fuel if you want, but this isn't strictly necessary to power your camping stove.
And if you're wondering about just how far you can bring this stove, the answer is just about anywhere! Flying with a camping stove is allowed; you just have to make sure it's in your checked bag and there's absolutely no fuel.
A lot of budget backpackers and international nomads travel very successfully with camping stoves like the Jetboil Flash. Having the means to boil water for drinking or prepare a hot meal wherever you are on the road can greatly expand your boundaries for travel!
If you do plan on traveling internationally with the Jetboil Flash, it might be worth doing a bit of research to check what fuel brands are available in the country you're visiting. Talking with other travelers and campers you might meet at hostels is always a great way to get tips about any nuances to traveling with a camping stove in a given place.
Cook Your Own Food: Tips for Backpackers
The decision to own a backpacking stove is pretty much unanimous among long-term and serious travelers. The numerous benefits greatly outweigh the drawbacks of expense and extra weight in your backpack.
Some hikers still opt for "no-cook" traveling. If you absolutely love trail mix and peanut butter and jelly sandwiches, then you might be fine with no-cook hiking or bike tours. However, if you don't feel alive in the morning without hot coffee, definitely invest in a camping stove.
International travelers can also make good use of camping stoves like the Jetboil Flash. Of course, a big part of visiting another country is sampling the food, but depending on where you're visiting, eating out can become expensive quickly.
Love Coffee?
Learn More: Best Travel Coffee Makers review
Save money, Eat Out Less
Not only can you save money, but the convenience of having a way to cook food is a huge asset when traveling internationally. It's much easier to get off the mainstream tourist path when you have your own food preparation tools.
In order to make traveling with a camping stove successful, often some sort of meal planning and preparation is required. Chances are when you're out on the trail, you're not going to have access to a residential refrigerator or a large supermarket.
Finding camping meals that are easy to pack and prepare helps. Quick and flavorful solutions like soup broth mixes or salt blends are easy to carry and can turn plain rice or pasta into a yummy meal.
Traveling with groups of friends is also a lot more fun when you can share meals together after a day of hiking or wake up to hot coffee every morning.
There's no doubt that backpacking stoves add a whole new level of independence to all your adventures. And with the Jetboil Flash's super-speedy cook time, you can dig into a hot meal even faster after a long day on the road.

Our GREATEST Travel Secrets…
Pop your email here & get the original Broke Backpacker Bible for FREE.
Final Thoughts: Jetboil Flash Review
If you're considering getting a new camping stove or upgrading from an older model, then the Jetboil Flash will not disappoint. Cut down your cooking time and save on fuel with this great integrated cooking system.
Now that you've had a chance to go through all the details of our Jetboil Flash review, it's time for you to decide for yourself whether this camping stove deserves a place in your backpack.
Remember that a camping stove is an investment for far down the road: think of all the time you'll spend traveling, and how much easier your adventures can become when you have your own means of cooking!
Whether you're a solo backpacker or frequently travel with a group of friends, discover a new level of freedom with the Jetboil Flash.
What is our final score for the Jetboil Flash? We give it a rating of 4.7 out 5 stars!

---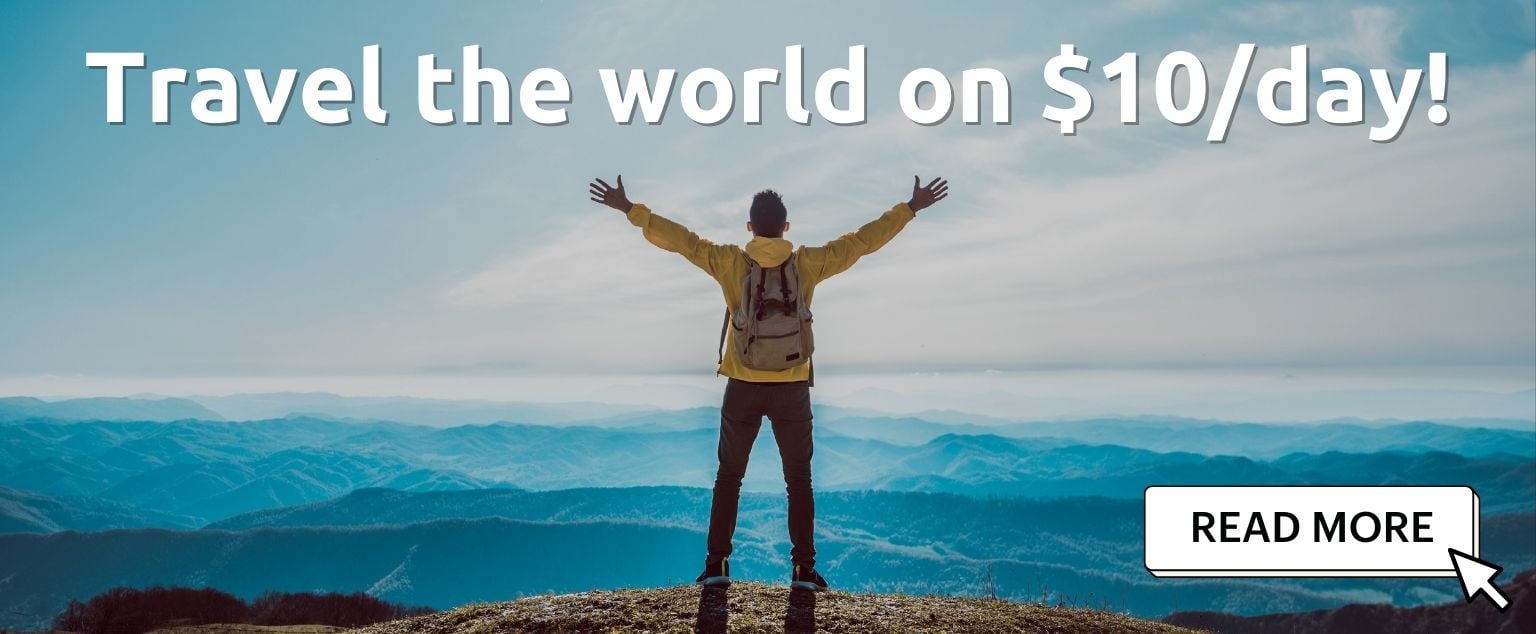 And for transparency's sake, please know that some of the links in our content are affiliate links. That means that if you book your accommodation, buy your gear, or sort your insurance through our link, we earn a small commission (at no extra cost to you). That said, we only link to the gear we trust and never recommend services we don't believe are up to scratch. Again, thank you!